Whether you're looking for a pair of pants for your quick grocery run or formal business meetings, the right fit for your short hourglass body can definitely take you to places! You may see lots of flattering pants for hourglass figures but this can be way trickier if you're short.
More than being a petite woman at 5'2 myself, I also own a petite clothing line wherein I work with models of all shapes and sizes (like Wendy, 5'2″ with an hourglass figure), which gives me understanding and experience in styling petite hourglass figures. I know how choosing the right pair of pants can be a total struggle and I don't want you to go through that hassle!
So in this blog post, let me narrow your choices down to the best ones by sharing which key styling points to consider when choosing pants for your short hourglass body shape.
Styling Goal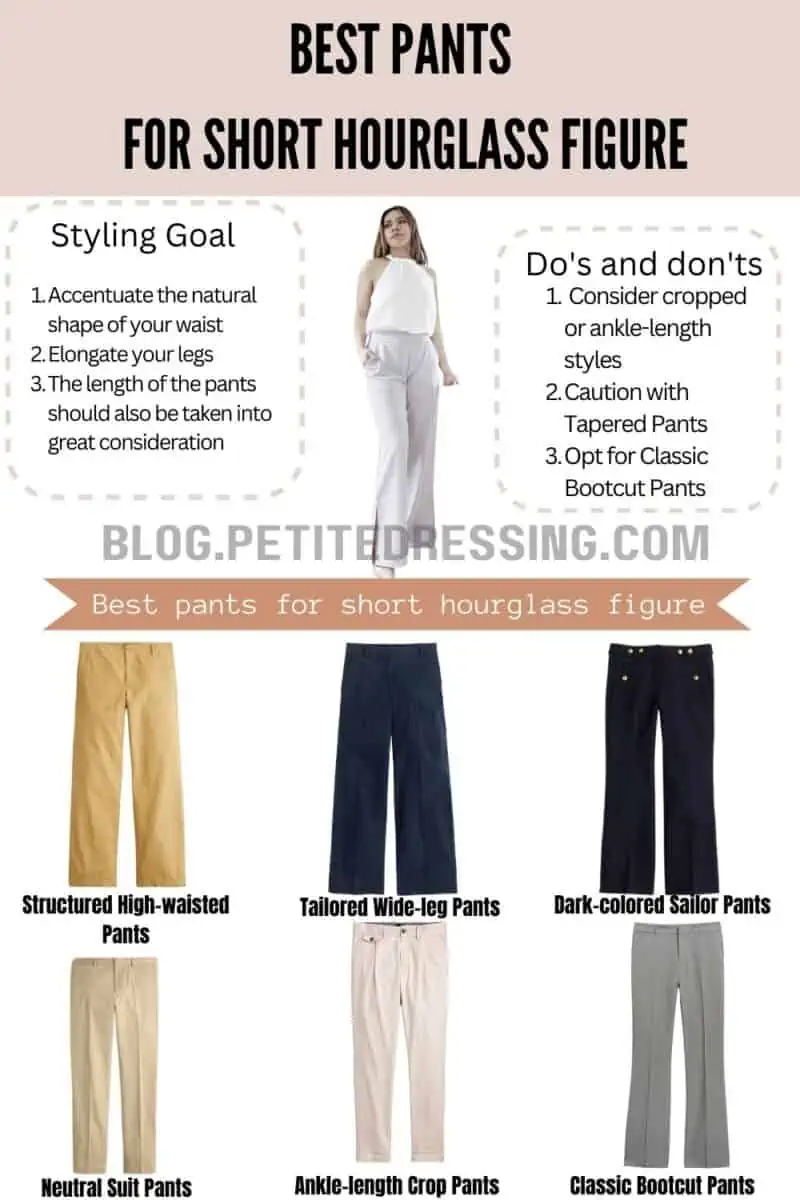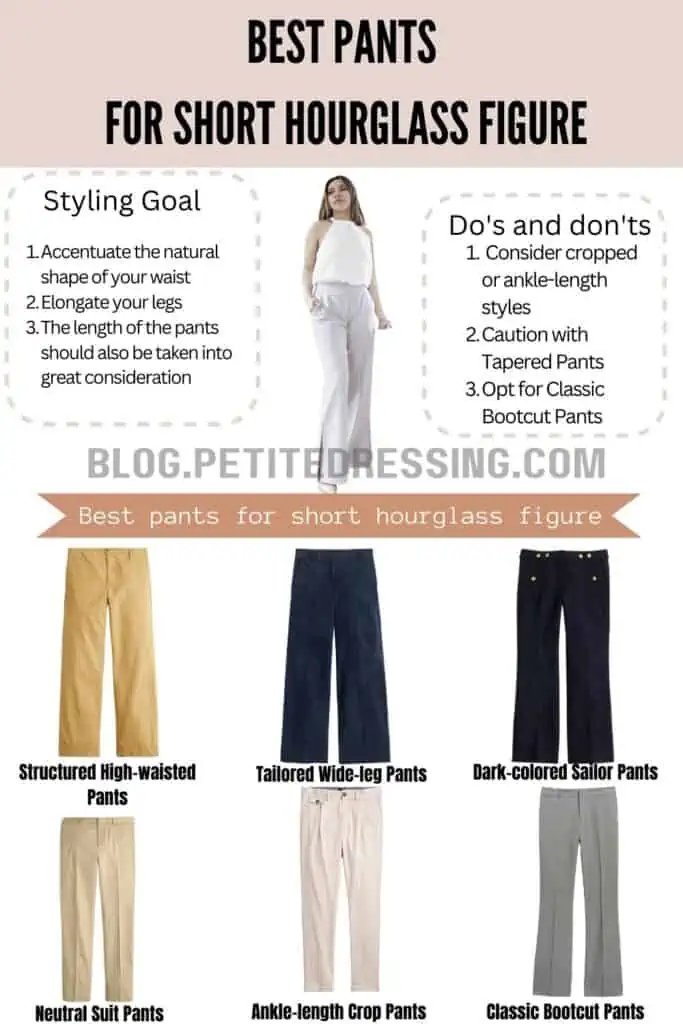 Look for pants that will accentuate the natural shape of your waist. Your well-defined waist is one of your best features so you have to wear pants that won't overwhelm this area.
Elongate your legs by opting for visually lengthening structures and patterns for your pants. Some samples of designs that make the legs to appear longer are vertical lines, pinstripes, and wide-leg cuts.
The length of the pants should also be taken into great consideration to flatter your height. Consider cropped or ankle-length styles because they cause an optical illusion of longer legs due to the continuous vertical line they create on your lower body.
Ready to plan your style coordinates? Then, here are different styles of pants you may want to add to your fashion shopping list to compliment your short hourglass body.
Structured High-waisted Pants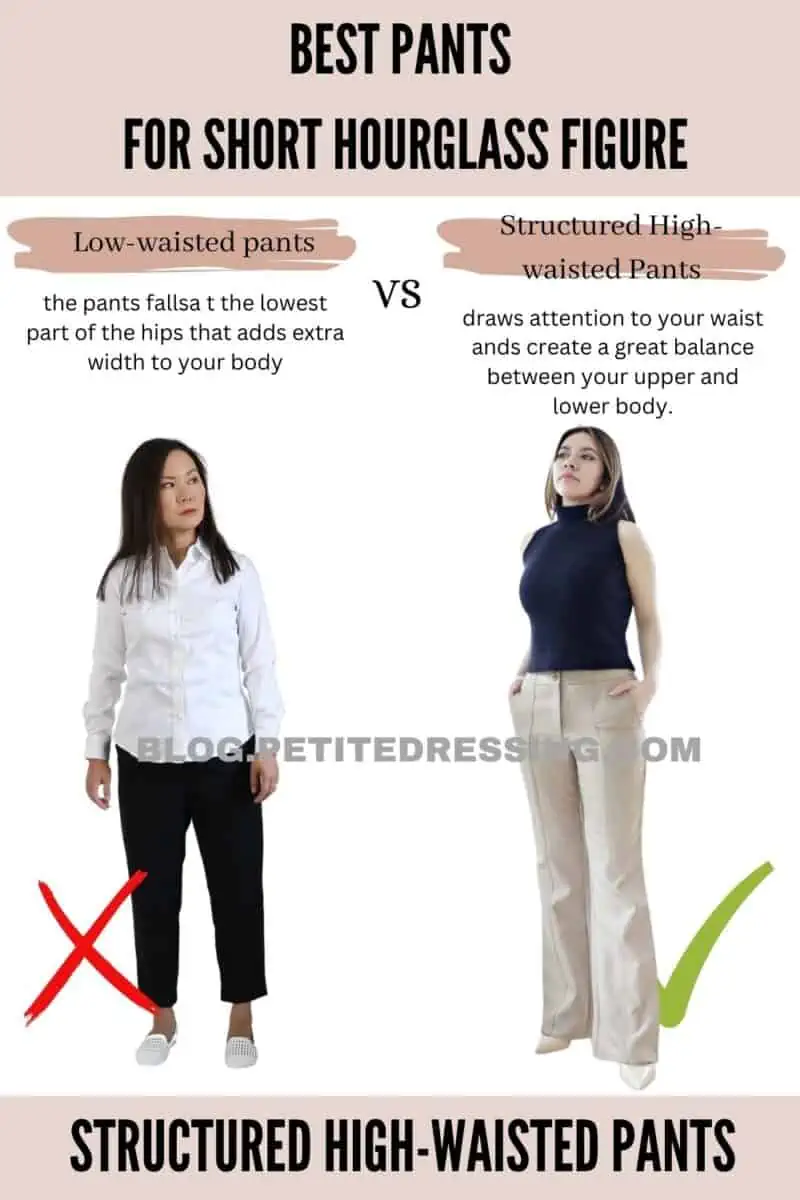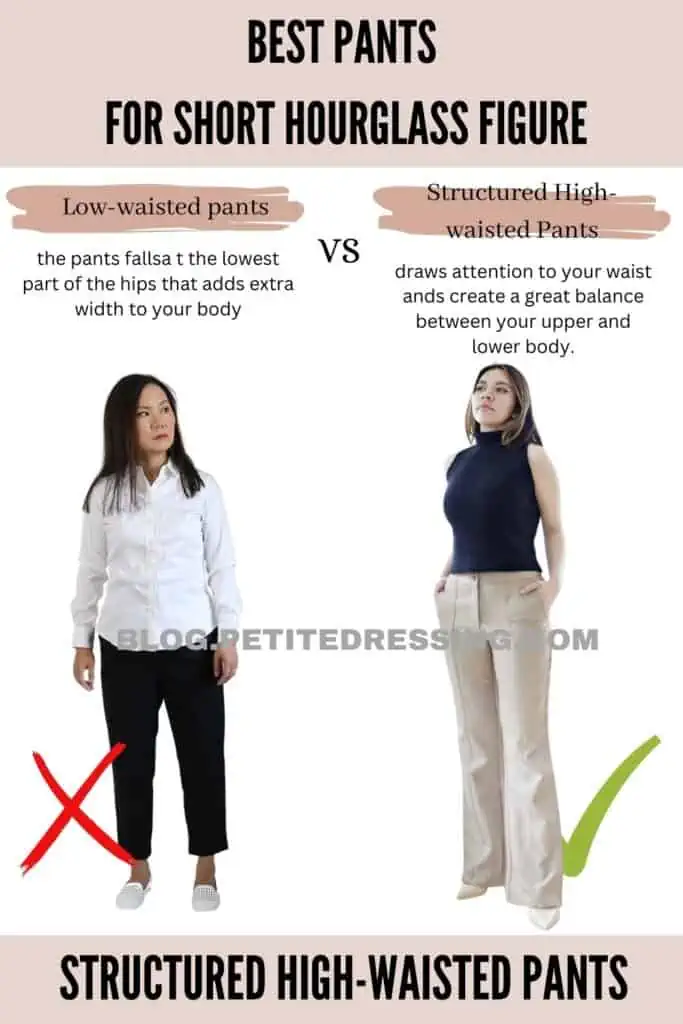 High waisted pants are a must-have for your shape! That explains why they are always the best sellers in my petite pants collection.
High-waisted pants feature a waistband that sits at or above the natural waistline of the body. They have a higher rise than traditional pants, which makes them more versatile and universally flattering, especially for petite hourglass frames.
High-waisted pants can come in a variety of styles which can generally flatter petite hourglass body shapes. As they sit at a flattering point on the waist, high-waisted pants draw more attention to this key asset of your body and therefore create a great balance between your upper and lower body.
Tailored Wide-leg Pants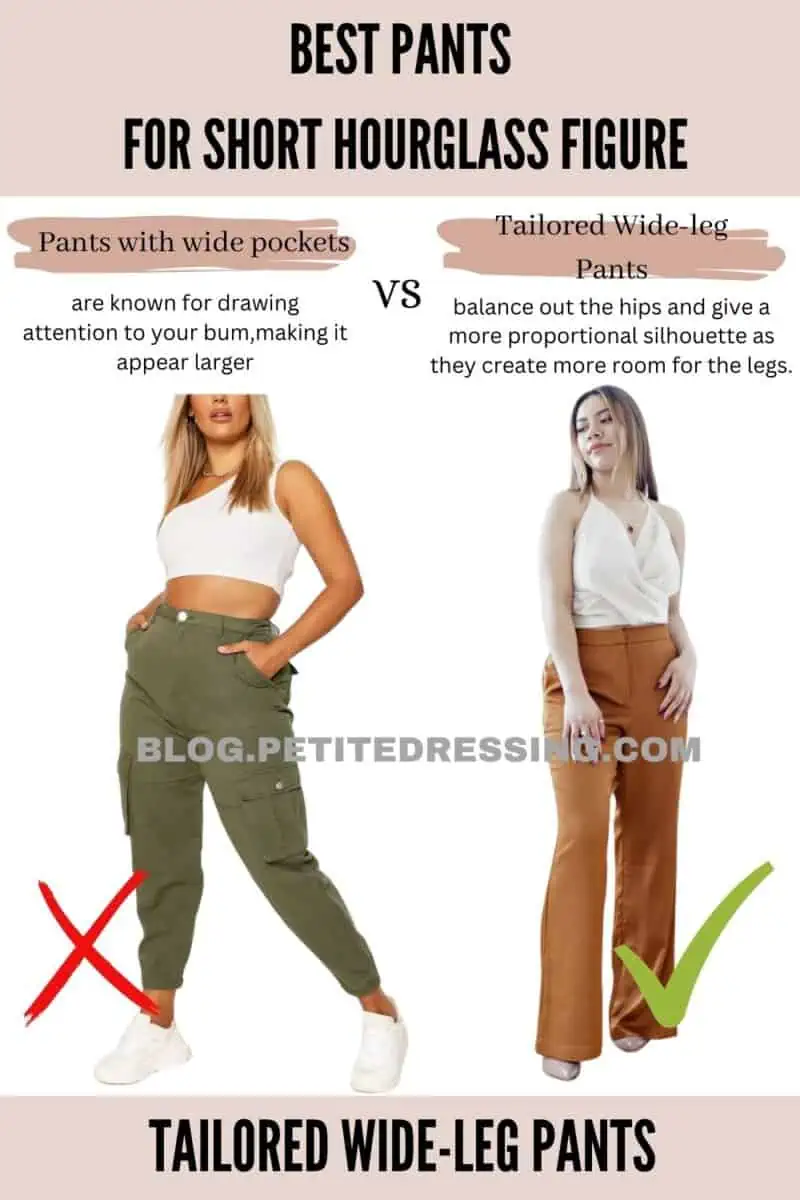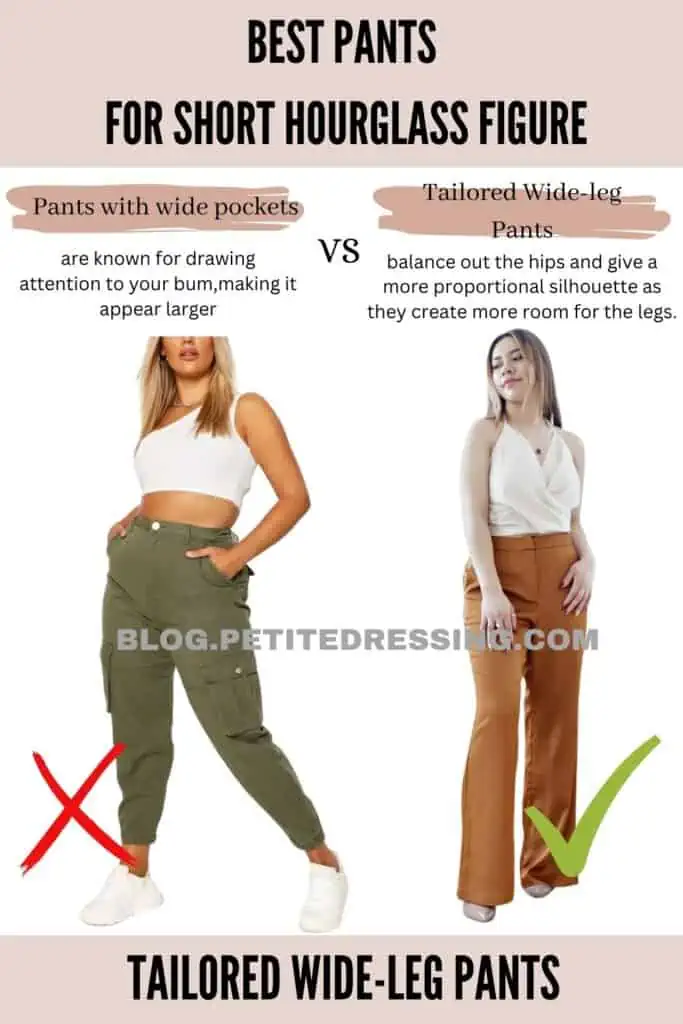 If you're looking for a pair of pants to give you that instant long-legged look, wide-leg pants won't fail you at all. They balance out the hips and give a more proportional silhouette as they create more room for the legs.
Additionally, the wide leg structure helps visually elongate the legs for a more streamlined look. To fully maximize its structure's elongating effect, it will be ideal to go for high-rise wide-leg pants paired with form-fitting tops.
Additionally, be mindful of the fabric and drape of the pants – heavier fabrics or styles with too much volume can be unflattering on a shorter frame. This is why I'd personally recommend finding ones with a nice, tailored fit for a neat look.
Dark-colored Sailor Pants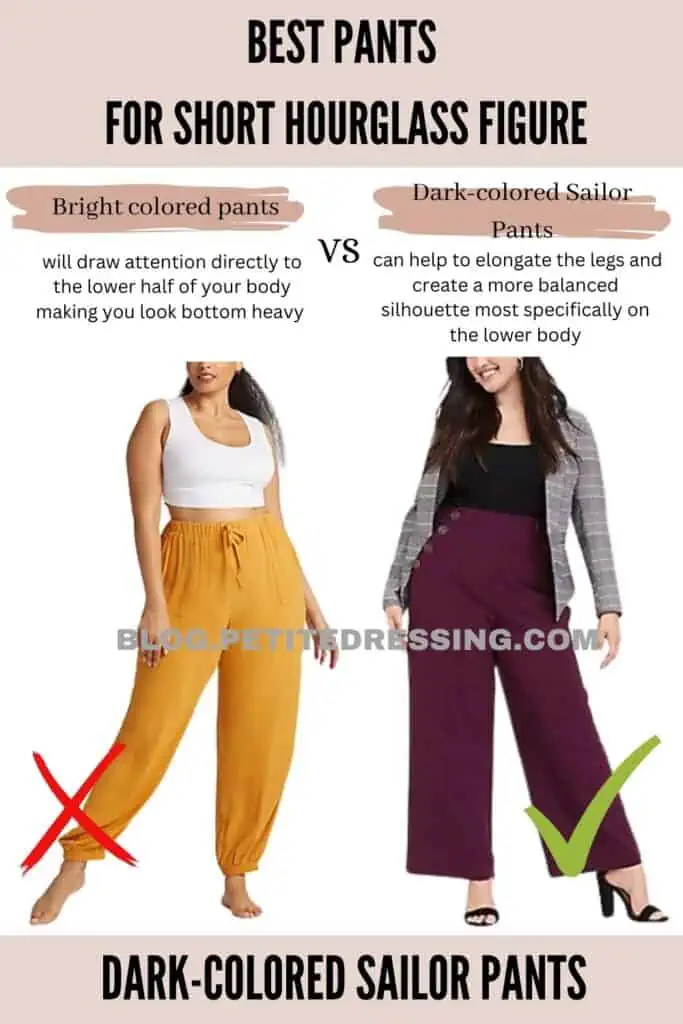 It's difficult to resist the elegant charm of sailor pants because of their structure and sophisticated golden button embellishments! For short hourglass girls out there, sailor pants can be a very good fit for you.
Sailor pants typically feature a high waist and wide legs, which can help to elongate the legs and create a more balanced silhouette most specifically on the lower body. Additionally, the button detailing and nautical style can add visual interest to your outfit and create a more polished and put-together look.
They come in many different colors and of course, you're always free to pick the hue of your choice. However, dark colors such as black and navy blue have more efficient slimming effects which can make your legs look leaner and longer more instantly.
Neutral Suit Pants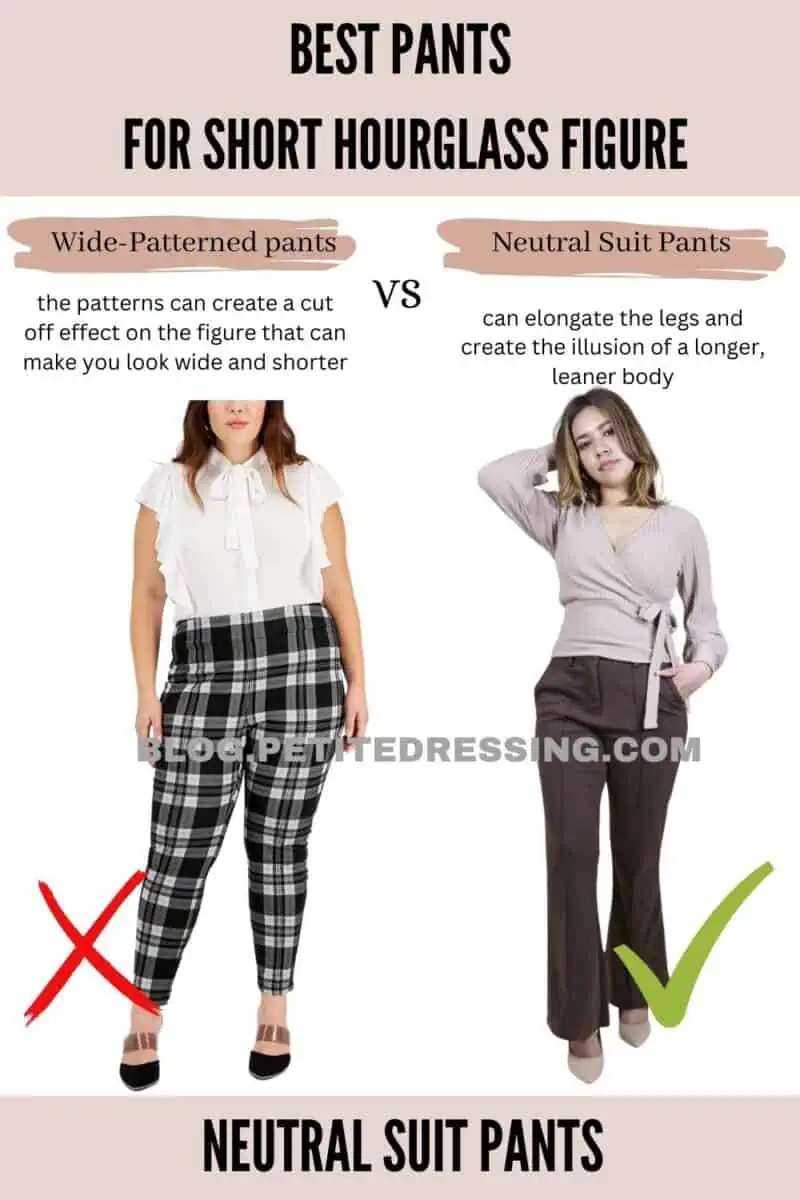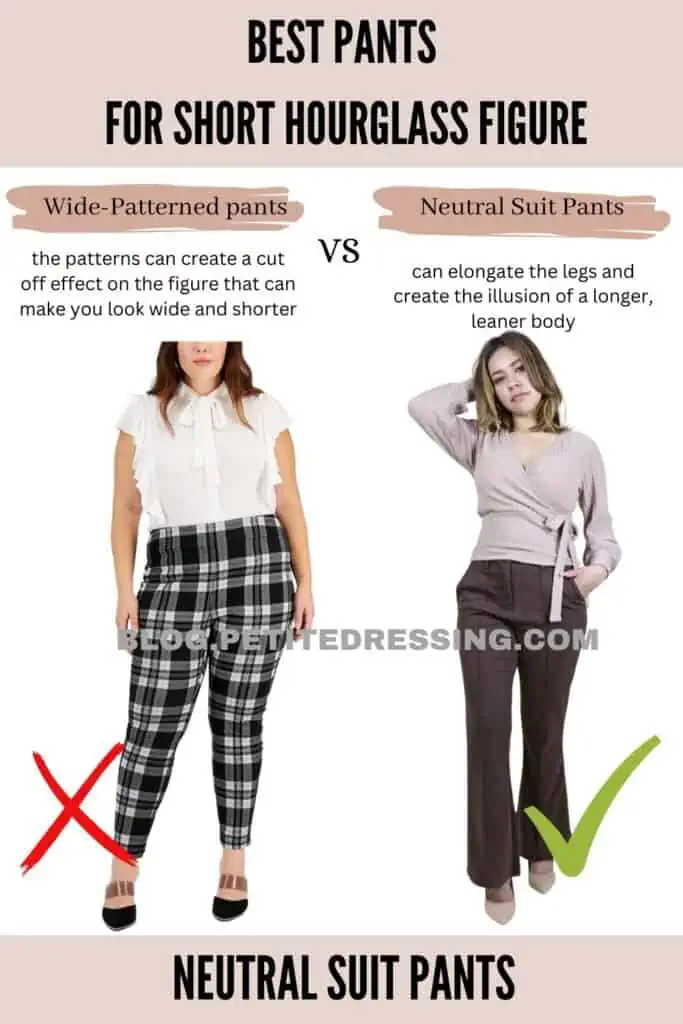 Petite hourglass frames look phenomenal in corporate suits and a pair of bespoke-inspired suit pants should be a must-have in your collection of office wear! Suit pants are a style of pants that are designed to be worn as part of a suit and are usually paired with a matching suit jacket.
Suit pants are mostly made from a lightweight wool or wool-blend fabric and have a classic, tailored fit with a straight leg and a flat front. Such details greatly contribute to making your hourglass figure stand out, as well as helping to elevate your height.
The tailored fit of suit pants, especially if you go for neutral colors, visually streamlines the silhouette. This can elongate the legs and create the illusion of a longer, leaner body which is especially important for shorter individuals who may be looking to add height to their frame.
Ankle-length Crop Pants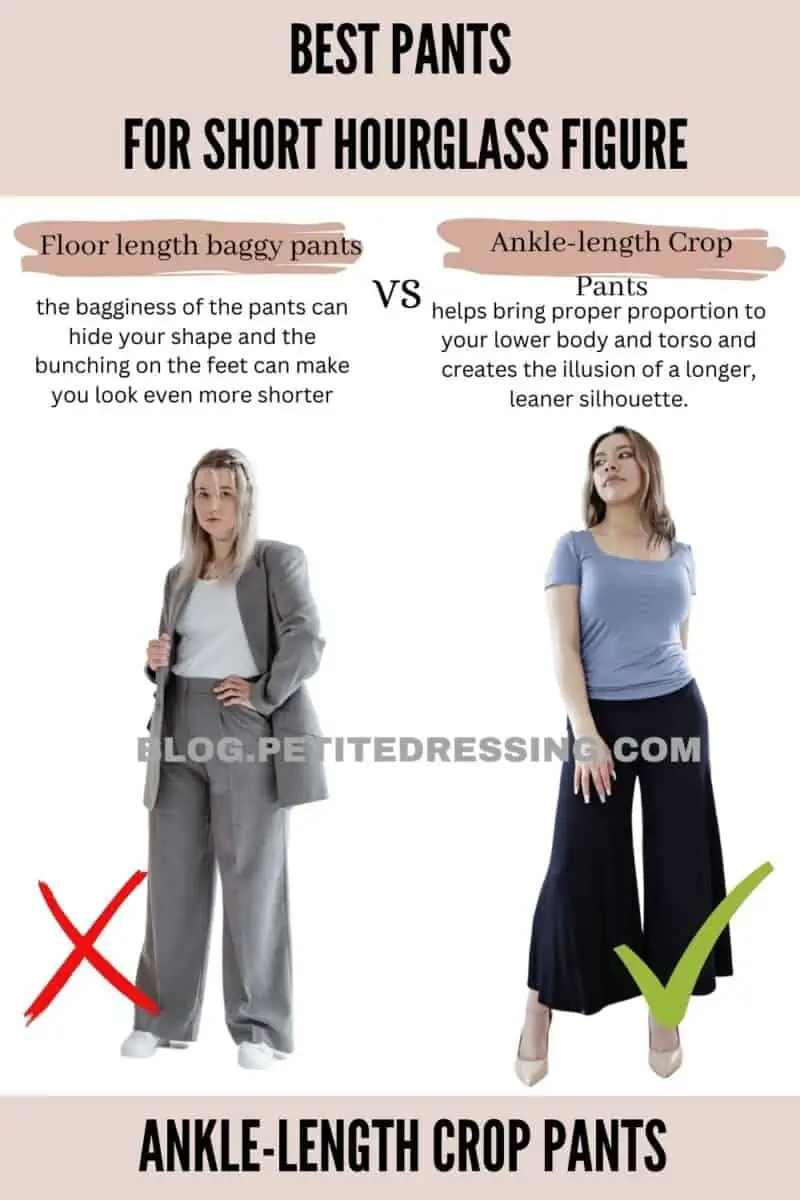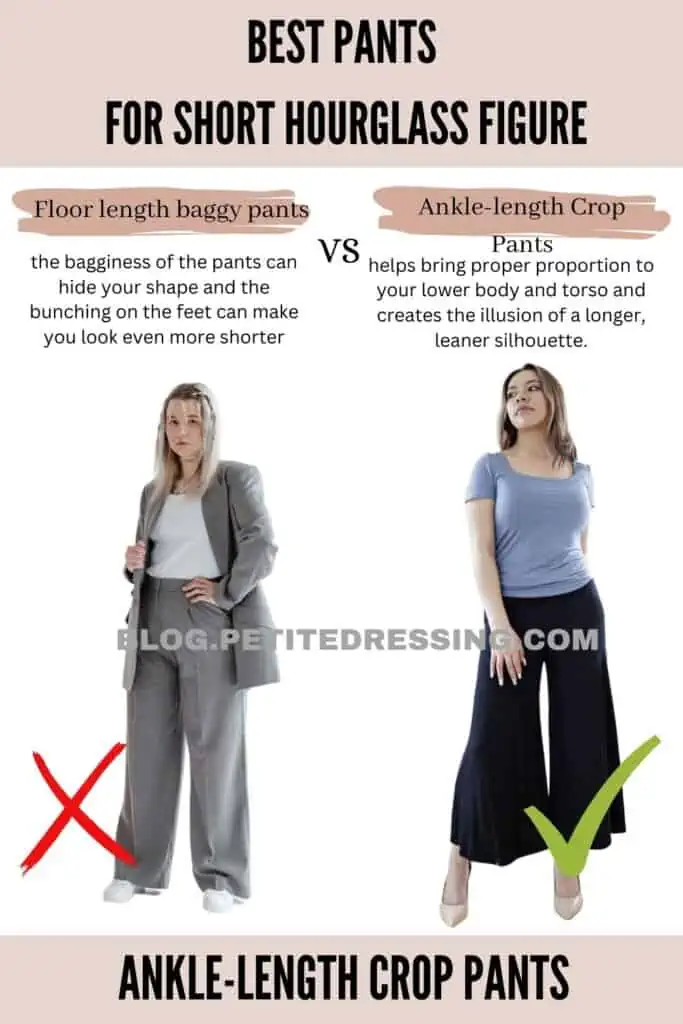 Remember how we briefly mentioned the importance of the proper length of the pants earlier in our "Styling Goal" section? Here's a pants style that ticks that box off!
The hem of ankle-length crop pants ends at or just above the ankle, which is a subtle visual effect to make the legs appear longer. This effect helps bring proper proportion to your lower body and torso and creates the illusion of a longer, leaner silhouette.
What's even better is that since this type of pants bares the ankles, they look great with high heels or wedges. They make a great pair with your chosen shoes to showcase your elevated height!
Classic Bootcut Pants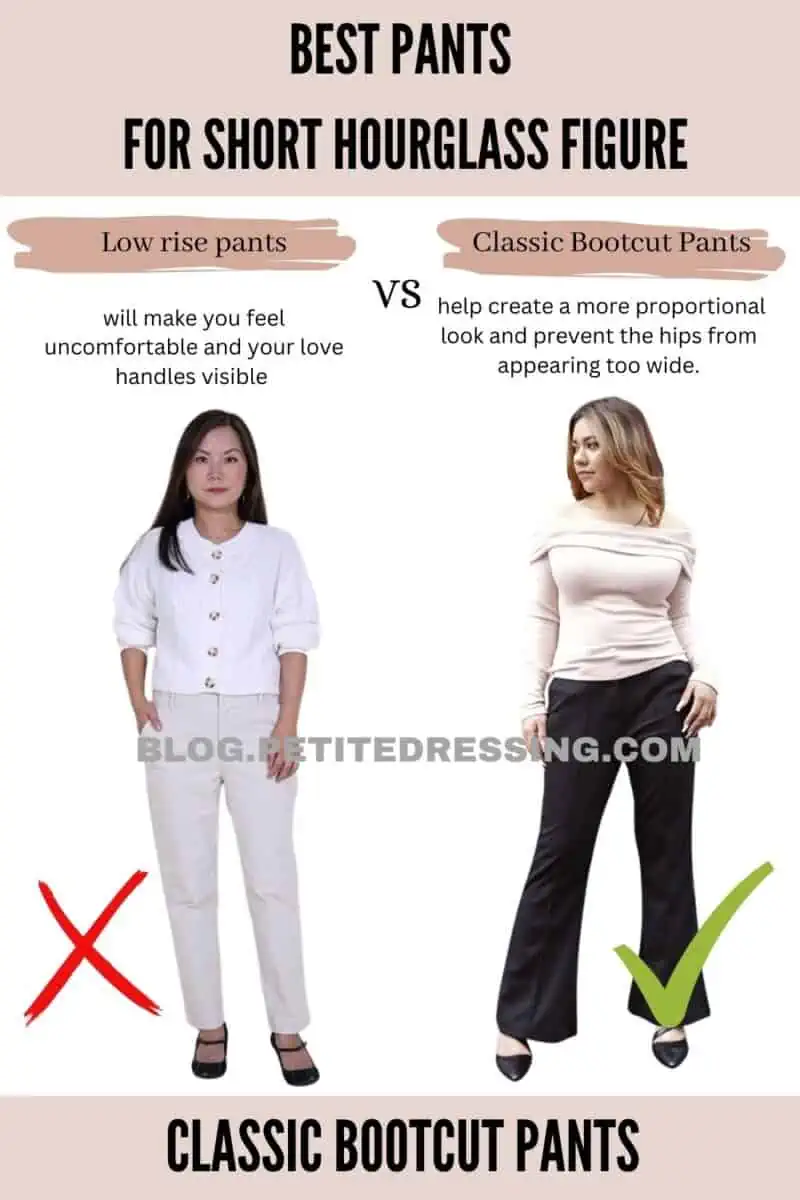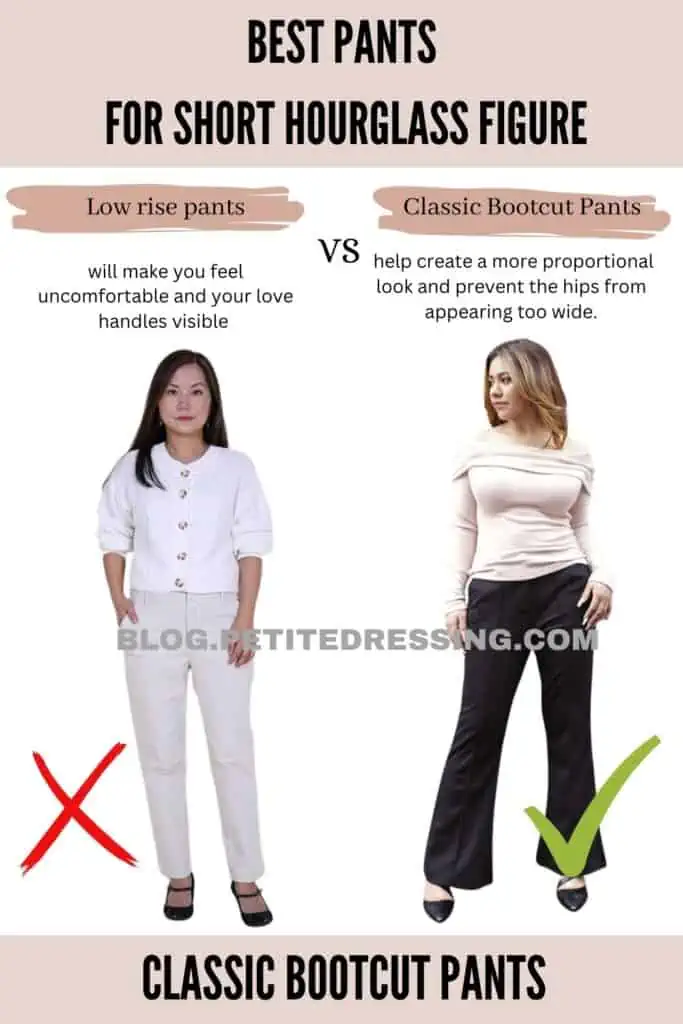 Bootcut pants are undeniably great with accentuating curves, most especially hourglass figures! They are characterized by their structure that's fitted through the thigh and knee and then slightly flares out from the knee to the hem, resembling the shape of a boot.
Short hourglass figures often have curvier hips and thighs, and bootcut pants can help balance out this area by providing a slight flare from the knee to the hem. This can help create a more proportional look and prevent the hips from appearing too wide.
Just like all the pants styles in this article, bootcut pants also feature elongating effects. The slight flare of bootcut pants visually stretches out your legs to make you appear leaner and taller.
Pinstripe Palazzo Pants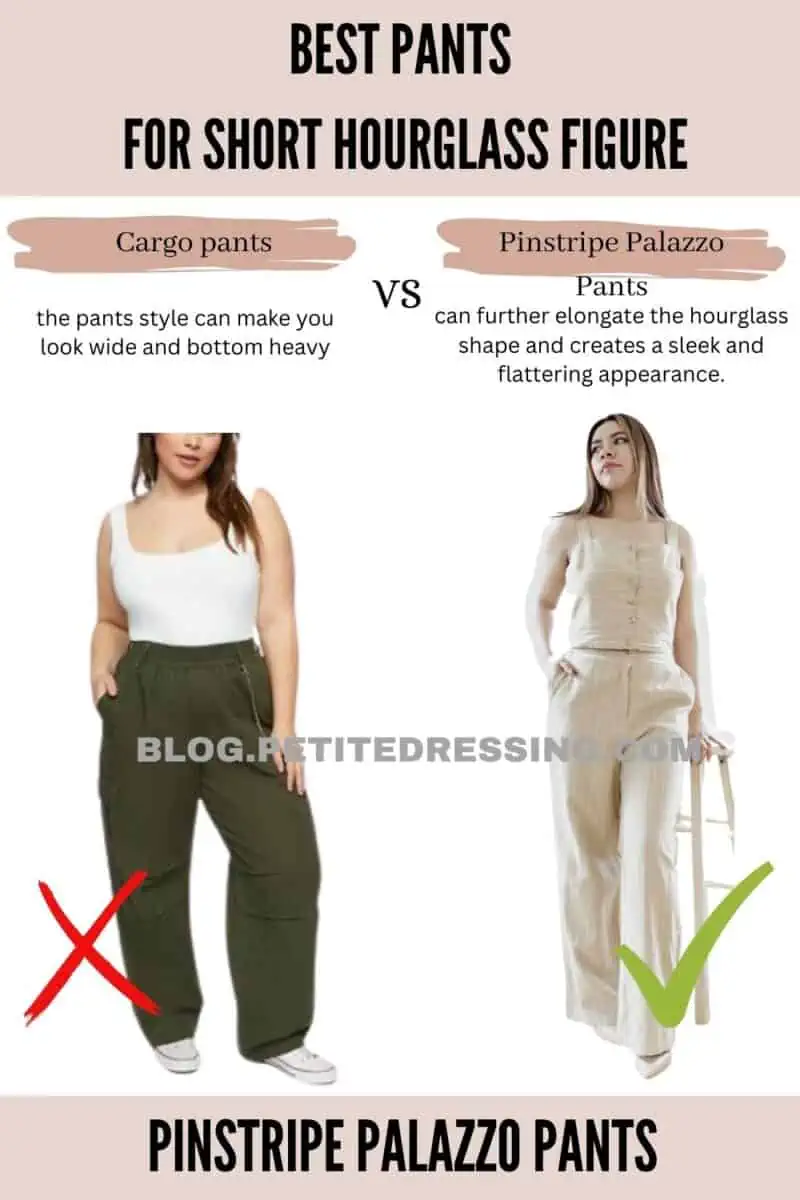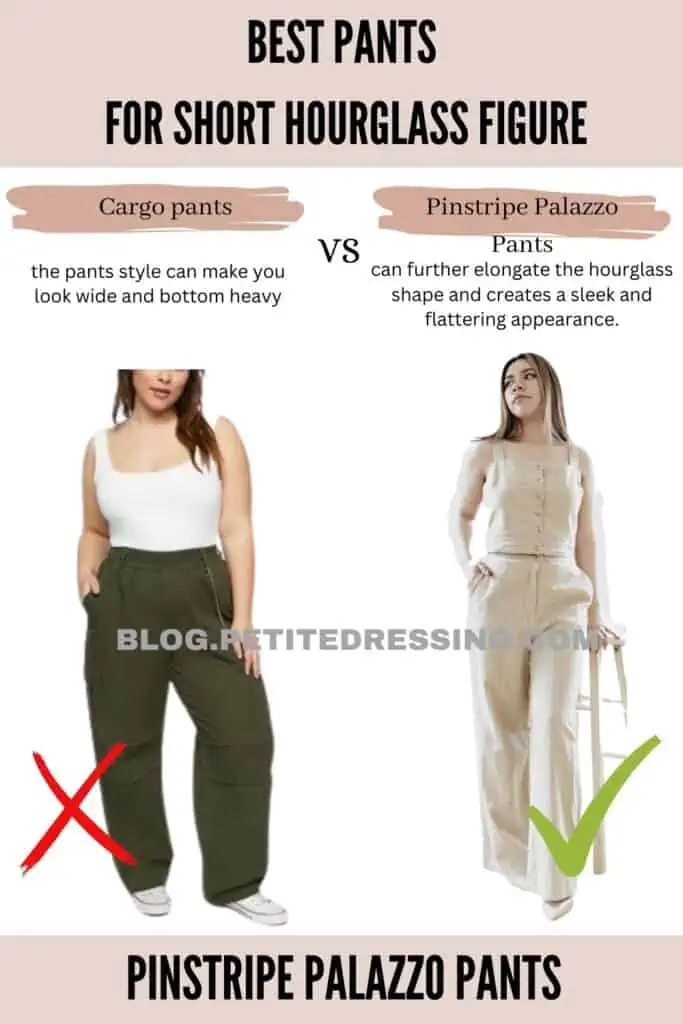 Palazzo pants are a popular style of loose-fitting pants that are particularly well-suited for creating a stylish look, most particularly with summer-style ensembles. They typically have a straight, wide-leg cut that makes such style very flattering on petite hourglass figures.
These pants feature a wide leg that is able to comfortably accommodate curvy hips while also maintaining a balanced overall look. Additionally, the feminine feel of palazzo pants can serve to further elongate the hourglass shape of the wearer, creating a sleek and flattering appearance.
Additionally, pinstripe patterns also make a great design for palazzo pants as you can absolutely maximize your height with this combo.
Caution with Tapered Pants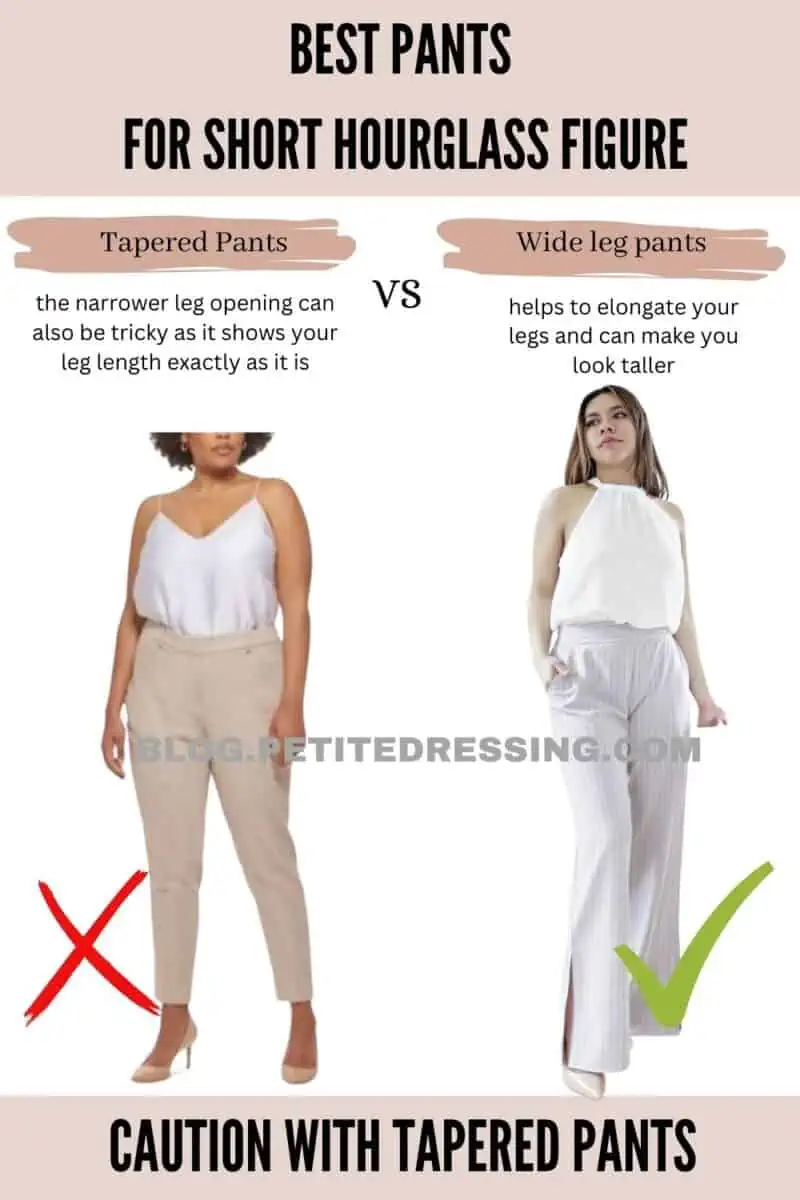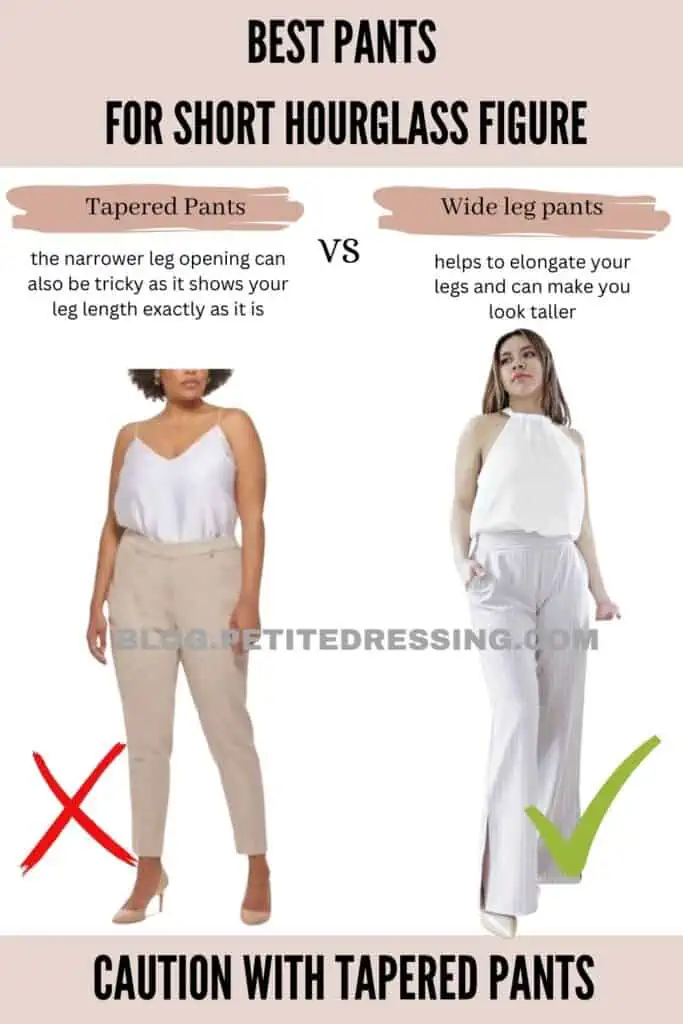 Tapered pants are a style of pants that have a narrow leg opening that gradually narrows towards the ankle. They can come in various lengths and styles, and ankle-length crop styles are some of the ideal ones to suit short hourglass figures.
Tapered pants accentuate the natural curves of an hourglass-shaped body by hugging the curves of the hips and thighs while still maintaining a slim and streamlined look. This can create a flattering and feminine shape without adding bulk or volume to the lower half of the body.
On the other hand, the narrower leg opening of tapered pants can also be tricky for someone who is short, because it shows your leg length exactly as it is.
So, use caution when you are choosing tapered-leg pants, pair them with heels, and match the color of your shoes with your pants for a more leg-elongating effect!
The Key Takeaway
You have got to be comfortable in your own beautiful figure! Choosing the right style of pants for your short height and hourglass body can have a significant impact on how you look and feel.
The right pair of pants can help to flatter your figure, accentuate your curves, and create a more proportional silhouette. This is why it's very important to understand the key factors that will affect your overall ensemble.