Every body has its own beauty. If the person is confident in what they are wearing, they can carry whatever they want. That said, being a curvy girl does come with a unique set of challenges when it comes to finding the jeans that fit you.
Here is the must-know tips for curvy women to find the best jeans for your shape.
6 Best Types of Jeans if you are Curvy
There are so many different types of jeans- not all of them look equally good on a curvy woman. Choosing the RIGHT type of jeans comes first and foremost if you are curvy.
Of all the types of jeans, these are the best for the curvy figure:
Straight leg jeans
This is a universally flattering leg shape, and it can suit curvy women as well. They have a straight cut from knee to ankle, giving you a slim fit.
Meanwhile, since it's not clinging to your legs like the skinnies, this can balance out your curves if you happen to have a bigger bum.
2.High rise jeans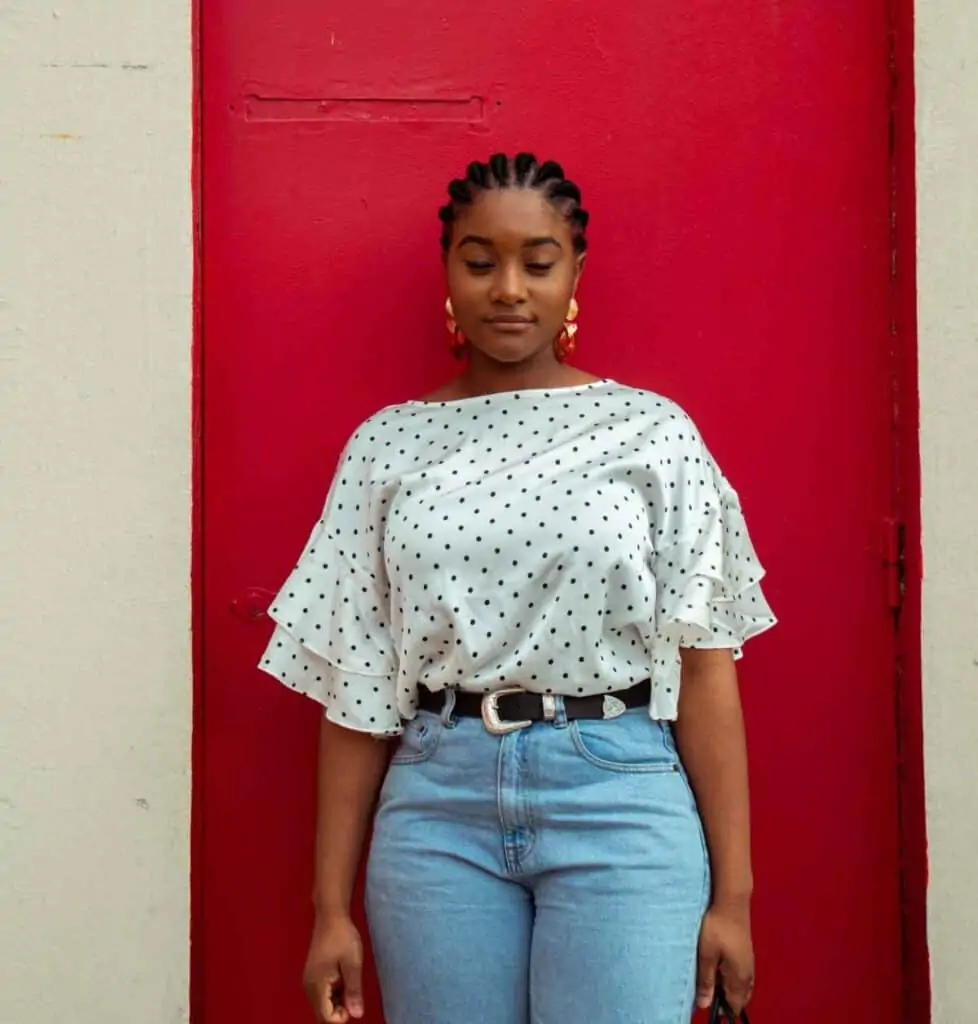 If you are curvy and have a muffin top, high rise jeans is a must.
As it gives you the most coverage in the stomach, this can smooth out your midsection.
Not only that, for women with a tummy (which is the case with many curvy girls), high-rise jeans are also the most comfortable, especially when you sit down.
3. Flare Jeans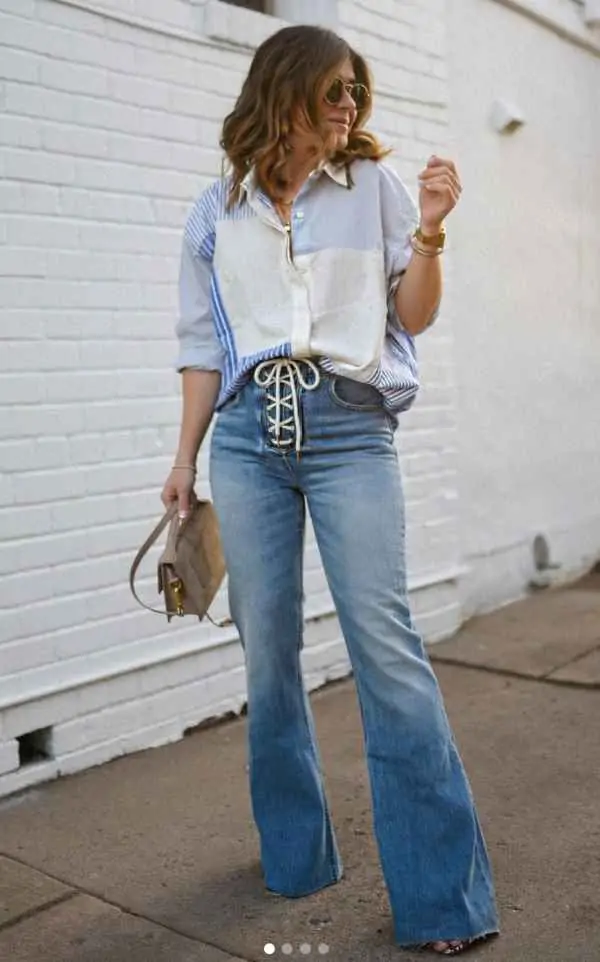 Flare jeans or bell-bottoms are back in fashion big time!
These fit slim from hips through the knee, and flares out under your knee.
Because of the additional volume in the flare, they can create a perfect balance for your curvy shape.
Regardless of your height, you can wear flare jeans, but if you are petite and curvy (i.e. under 5'4″), flare jeans is also one of the best jeans that can elongate your legs and make you look taller.
4. Boot cut jeans
These are similar to the flare jeans, therefore they are also considered universally flattering, including for the curvy womnen.
They are fit from the hip and thigh side and then widens gradually from knee to ankle. The flare is not so obvious, but they are there to accommodate a boot under them, thus the name.
Just like the flare jeans, these are also heaven-sent for girls who are short and curvy.
5. Boyfriend jeans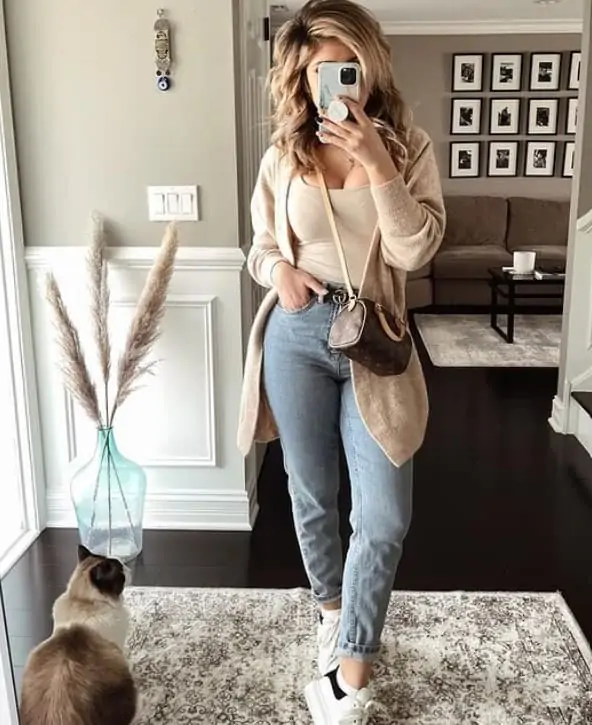 Boyfriend jeans are designed in a way that it fits at the hips but has a relaxed cut through the legs.
Because of their comfortable wear, they are a go-to choice for every fashion enthusiast.
Boyfriend jeans can also work well for a curvy figure and give you a more comfortable fit.
6. Mom jeans
Mom jeans are similar to boyfriend jeans but with more space in the hips and thighs.
This is the kind of cut that can make you feel most comfortable if you have thicker thighs.
Should curvy women wear skinny jeans?
This is really a personal preference.
Some curvy women like to show off their curves, others prefer a more balanced look.
Skinny jeans indeed highlights every lump and bump of your body.
So, ask yourself, is that what you want?
If your answer is yes, then go for it!
If, on the other hand, you prefer a more balanced look, then go with a leg shape that doesn't emphasize your curvy shape as much, such as the straight leg.
Or, you can go with a boot cut or flare jeans, which show your curves but also balance it out.
How should jeans fit your body?
No matter what type of jeans you choose, the key is they need to fit your curves.
Every pair of jeans fit differently on different bodies, as we all have unique curves and shapes.
In general, this is how your jeans should fit :
Fit on your waist: you should be able to put in at least two fingers in between the waistband. If you see a muffin top, it is a possible sign the waist is too tight. Meanwhile, you do not want any obvious "gaping" between you jeans and your waist.
Fit on your hips: you should be able to comfortably sit down in your jeans or move in them.
Length: depends a lot on type of the jeans, but generally you want to avoid excessive fabrics bunching up on your shoes, which is a sign your jeans is too long for you.
Do jeans fit on the hip and not the waist?
This is the universal problem for many plus-sized ladies out there, especially if you have an hourglass body type or a pear body shape.
What is the exact reason behind it?
If your waist is significantly smaller compared with your hips, most likely the jeans that fit your hips will end up being too loose for your waist.
Vice versa, if the jeans fit your waist, they are going to be too tight for your hips.
Either way, it is tempting to think going up in sizes will solve the problem, and that is why many girls will choose a bigger size in order for the jeans to not be too snug on the hips.
That is only going to increase the "gaping" on your waist.
Here is the truth:
If the silhouette of the jeans does not fit your body shape, getting a different size will not change that.
Introducing curvy fit
More and more brands have now added a "curvy" fit to their jeans.
What exactly does it mean?
Curvy jeans basically have more room for thighs and hips and less room for the waist, so it gives you a perfect fit.
Curvy Fit is specifically designed to solve the issue for women with the "gaping" problem with their jeans.
Since curvy jeans are cut to fit a smaller waist relative to the hips, you will not have the same "gaping" issue, or at least to a less degree.
With the curvy fit, you also do not have to go up on sizes in order for the jeans to fit your hips.
Popular brands selling the curvy fit jeans
There are increasing number of brands who have added the curvy fit to their jeans line. Below are some of the popular brands based on the feedback of our readers
What jeans is suitable for thick thighs?
If you are curvy and have thicker thighs, it goes without saying the best jeans are those with ample stretch in the thighs.
Certain types of jeans, such as the Mom jeans, are designed with more space in the hips and thighs, therefor they are most accommodating for curvy girls with prominent thighs.
One important measurements for you to look for in jeans, is the leg opening.
The wider the leg opening, the more space you will have in your legs. That means you will feel more comfortable in the thigh area.
What to avoid?
What you wear is totally your own business and nobody else's, but in general, low rise jeans are not the best type of jeans for curvy women.
The reason is they do not have enough coverage for your tummy, thus making it quite uncomfortable, especially when you sit down.
If you have a heavier midsection (many curvy women do), low rise jeans are only going to make them look more obvious.
Besides, low rise jeans also cut in to your leg length.
So, if you happen to be a curvy petite woman, low rise jeans can totally make your legs look even shorter.
Even though low rise jeans are coming back in fashion, I strongly suggest curvy girls think twice before you follow this trend.
How to take your body measurements?
To find the perfect fit jeans for as a curvy woman, it is important to know your body measurements. All you need is a measurement tape, and then you can start taking your size.
To measure your waist, stand straight in front of the mirror, keep the legs a little apart, keep the stomach relaxed and wrap the tape around the waist. Do not keep the tape too tight or too relaxed.
To measure your hips, circle the tape around the fullest part of your hips, and that is going to give you the hip measurements.
For accurate measurements, it is preferred that tape should have direct contact with your body, and no clothing should be in between.
Now that you have your waist measurement compare your size with the brands' size chart and grab the jeans that fit your size.