Whether your shape and height classify you as Petite or not, looking shorter generally isn't a style goal many women have for themselves when getting dressed daily.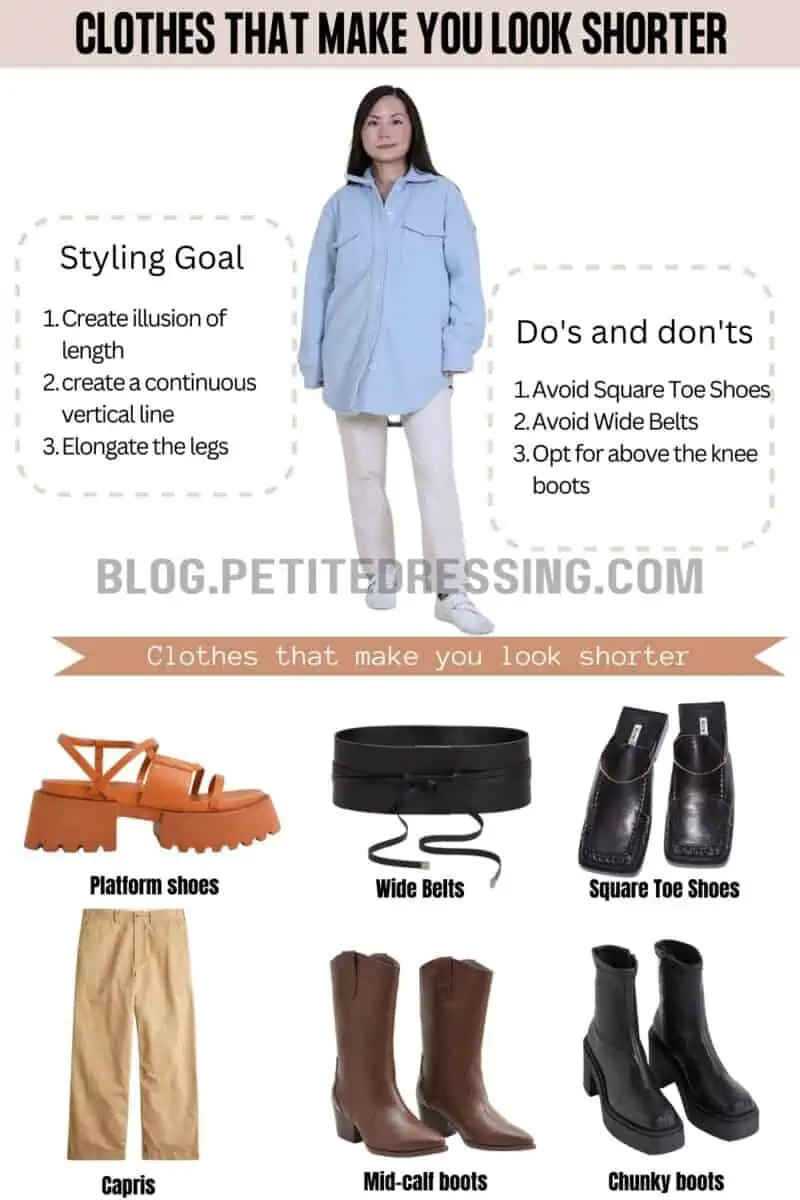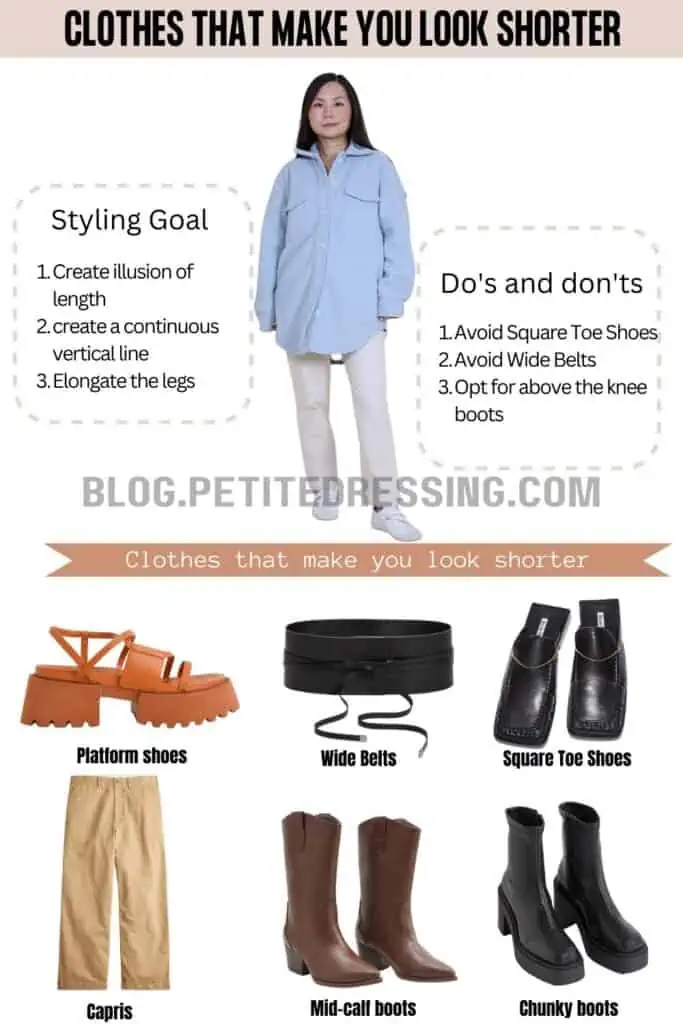 The main problem that arises when clothes make us look shorter than we are is they tend to shorten and widen our body's as a whole.
That being said, you may be wearing some things that are causing you to look shorter without even realizing it. This list is a breakdown of some of the most common clothing mistakes women make that cause them to look shorter.
Midi skirts
If you take nothing else away from this list, hopefully, it's this!
Hemlines play a major (emphasis on major) role in how tall or short you look in clothing. If you often feel like something feels a bit 'off' with outfits, there's a big chance it's due to the hemline you're wearing.
Midi length is very hard to look good on women of any height, and they are for sure challenging if you already have short legs.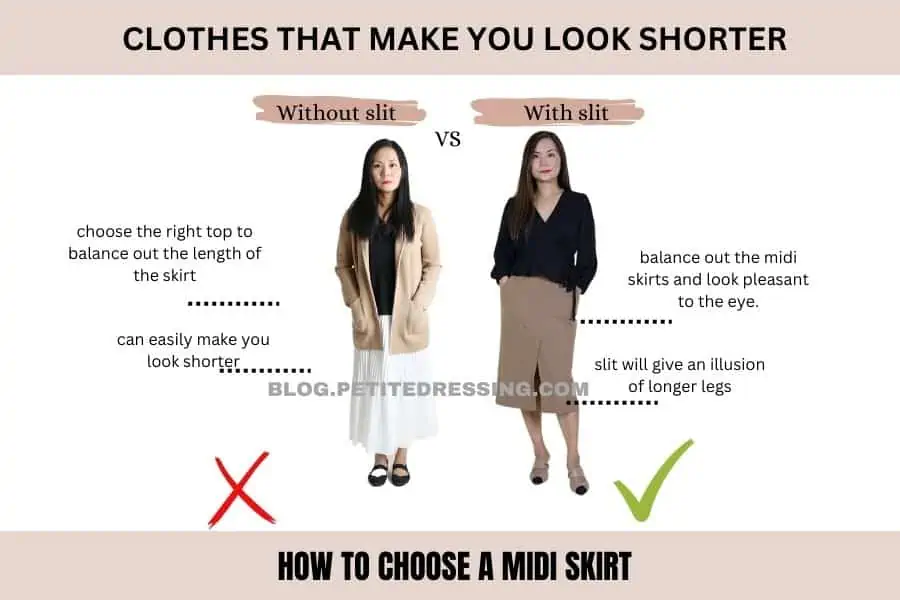 It's not that they will never look good on shorter girls, it's just that you need to make sure your top is just the right length to create a body proportion that balances out the midi skirts and look pleasant to the eye.
Midi dresses
Like the midi skirts, midi length dresses can also make your legs look cut-off.
Because they fall below your knees, the eye is only going to see part of your calves, therefore, they can easily make you look shorter than you actually are!
Again, it's not that short girls should never wear midi dresses, but it's critical to choose the RIGHT midi dress, such as one with a slit.
When the midi dress has a slit, the eye can get a peek of the legs when you are walking, which will visually extend your legs and counterbalance that "cut-off" effect" from the midi length.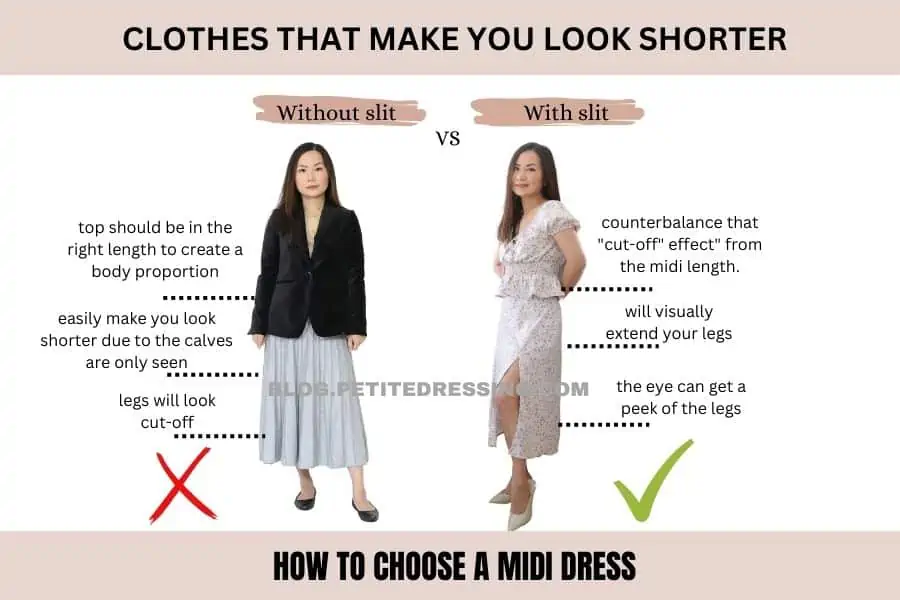 Square Toe Shoes
Something a lot of women don't realize is how shoe choices affect how tall your body looks.
Square-toe shoes are best to be avoided if you don't want to shorten your leg line.
The problem that arises with both of these shoe shapes is they create a harsh stop at the toe that, in turn, creates the illusion of a shorter leg.
Shoes with more of a pointed-toe shape are much better alternatives because they give the foot the visual of more vertical space, lengthening the body.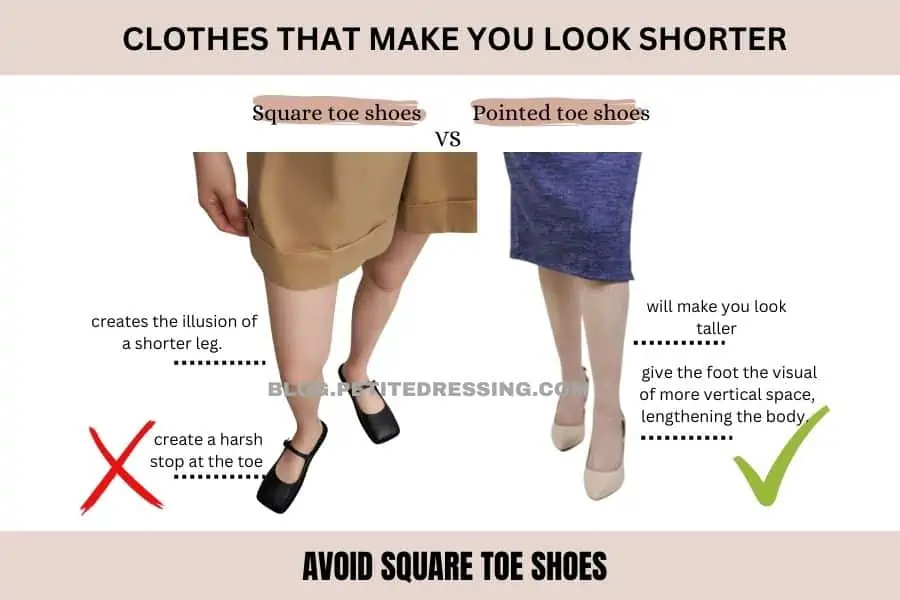 This is something to consider whether wearing high heels or flats – begin paying close attention the toe shape and skip the square toe if your goal is to appear taller.
Awkward hemlines
This is similar to the concept of midi length, but not quite the same.
The main thing to consider in regard to the hemline is where it is laying on your body. Always avoid hemlines that rest at the widest area of that body part.
For example, if you're wearing a skirt that rests above the knees, stay away from a hemline that sits at the widest area of your thighs.
Instead, wear something that's just above or just below that space on the leg.
The reason this is SO important is that when we wear hemlines at the widest area of the body it creates a shortened effect on the body.
Switching the hemline to be just above or below creates a longer, leaner appearance. Sometimes it's only a matter of an inch or two difference but it makes a HUGE impact.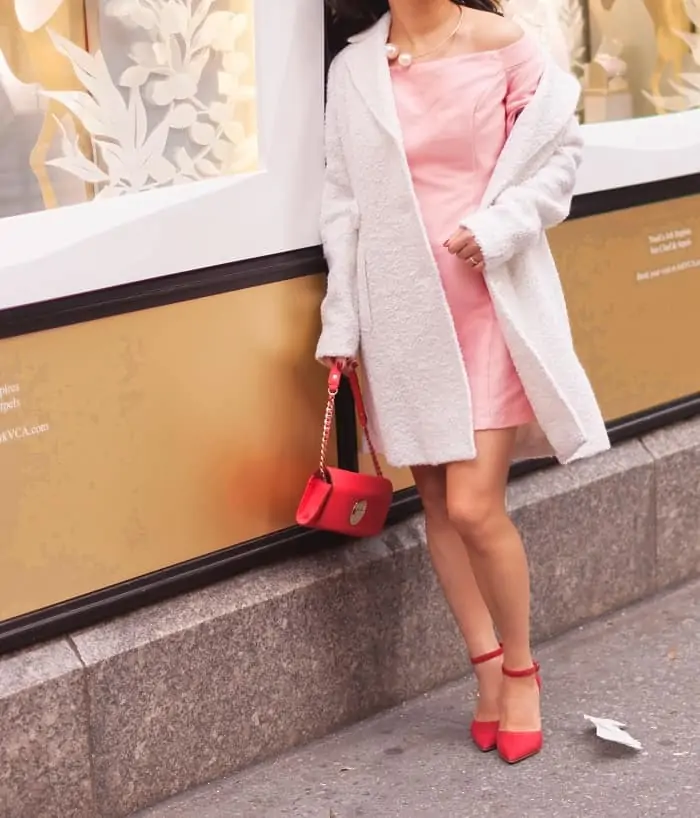 Wide Belts
Belts are another 'small' detail that could be making you look shorter.
Wide belts, more specifically, are something to avoid if you want to appear taller.
Belts that are wide, this is really any belt that's more than 3" in width, take up a lot of space around the torso area which is why they shorten the body.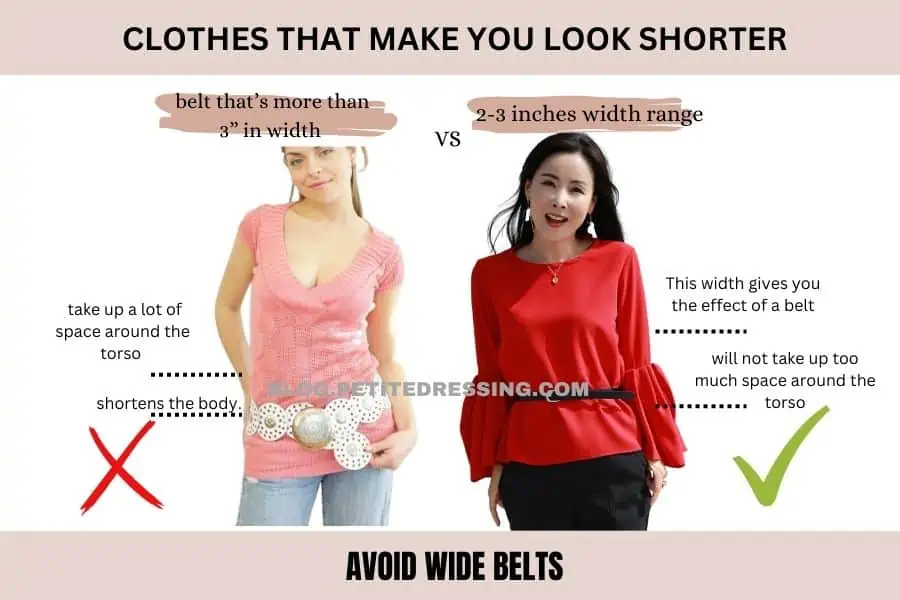 Anytime there's one item being worn that overwhelms some part of the body it automatically shortens that space.
This is why it's best to stick with belts that are slimmer and no wider than that 2-3" range. This width gives you the effect of a belt, whether functional or just for style.
Capris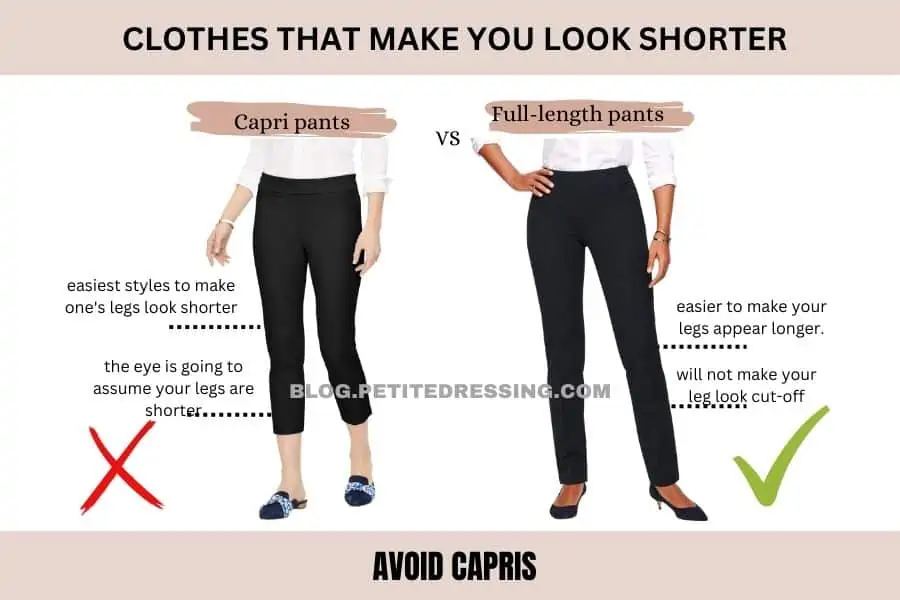 Capris are some of the easiest styles to make one's legs look shorter!
It's quite simple. Your legs are only as long as the hem of the pants.
If you are wearing capris, the eye is going to assume your legs are shorter, because, well, your pants are shorter!
There are ways to make capris work on shorter women, like wearing heels, but in general, full-length pants are much easier to make your legs appear longer.
Mid-calf boots
In the winter or fall, when you wear tall boots, the one thing you need to keep in mind is that your legs are only as long as your boots!
That means, if you are wearing boots that reach the middle of your calf, then that's how long your legs will appear to the eye.
So, any type of mid-calf boots have the risk of making your legs look cut off and they are not the best boots for women with short legs.
Platform shoes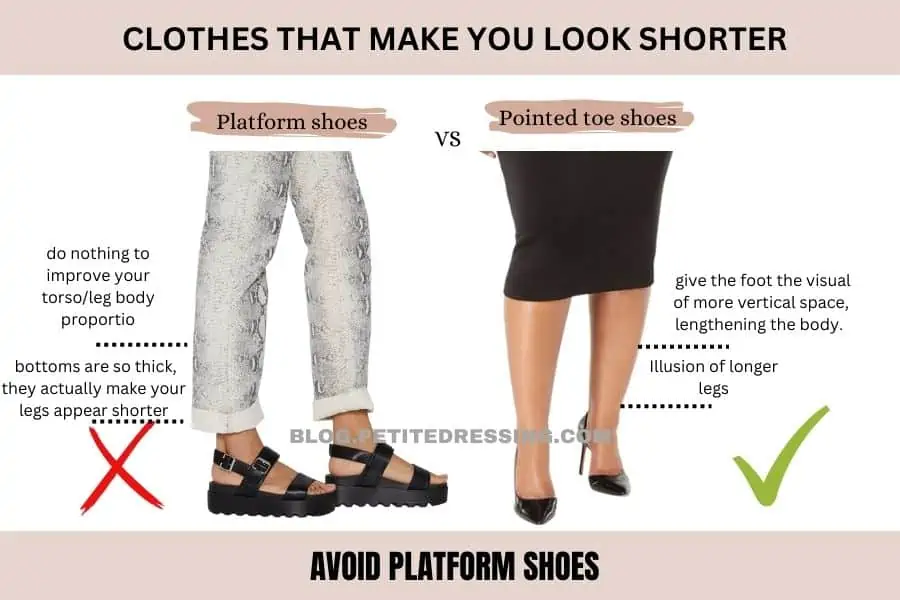 This one sounds really counterintuitive because most women wear platform shoes in order to appear taller, but in reality, platform shoes do exactly the opposite, i.e. they make your legs look shorter.
Here is the problem.
When you wear platform shoes, yes they do make your absolute height go up, but they do nothing to improve your torso/leg body proportion, which is the key thing to make the eye believe you are taller or shorter.
Besides, since the platform bottoms are so thick, they actually make your legs appear shorter because of all that heavy weight you carry at the bottom of your shoe!
Chunky boots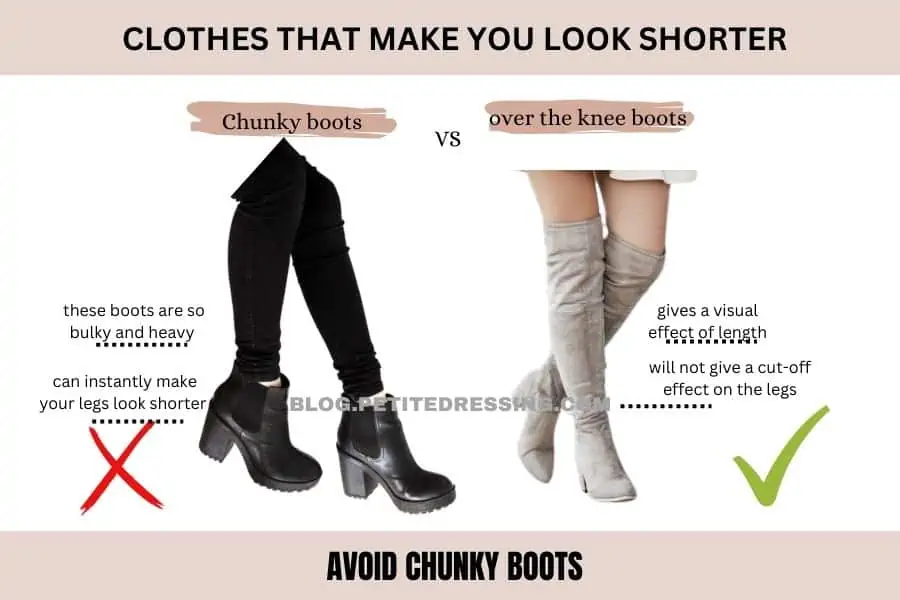 Chunky boots are one of the hottest trends right now. Overnight they've become the favorite of every designer from Prada to Zara.
The issue is these boots are so bulky and heavy, they can instantly make your legs look shorter.
They all have higher boot shafts and chunky bottoms (the lug soles), a combination that can look disastrous on women who already have short legs.
Cowboy boots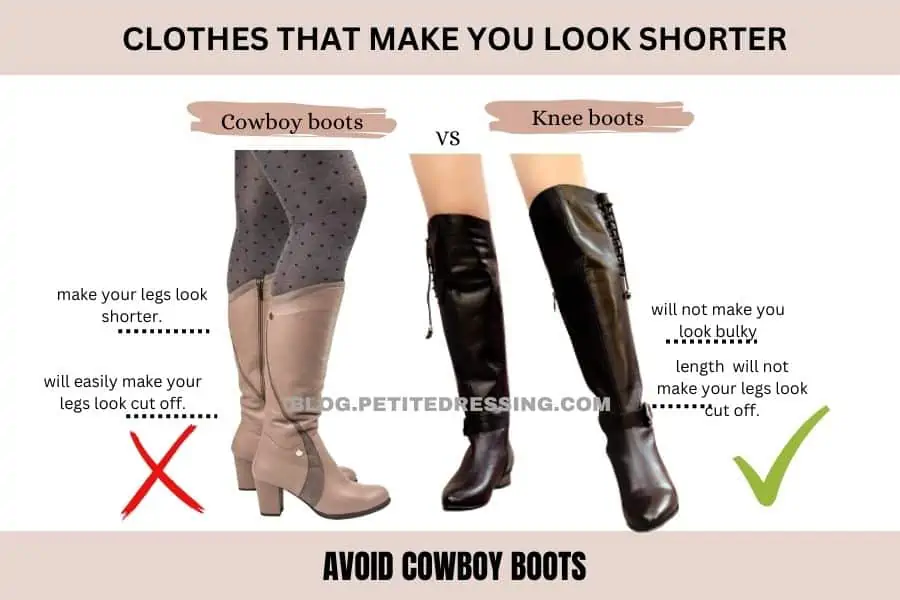 The cowboy boots are having their moment in the fashion spotlight, but they can indeed make your legs look shorter.
The issue is first and foremost the shaft height. Cowboy boots are mostly mid-calf.
As mentioned, this is the length that will easily make your legs look cut off.
On top of that, they are typically bulky, making you look bottom-heavy.
The combination of the above just makes cowboy boots one of the hardest things to wear and look good on anyone.
Uggs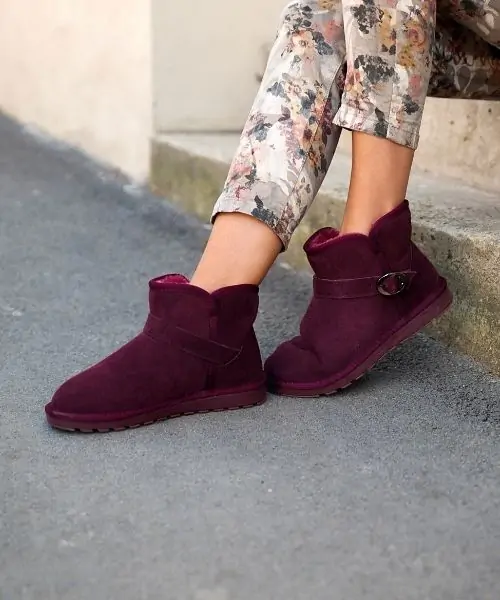 Yes, uggs can easily make your legs look shorter!
The reason is they are bulky, besides they also have lug soles, which adds more to the weight of the shoes, therefore they can totally make you appear shorter than you actually are.
Shapeless Dresses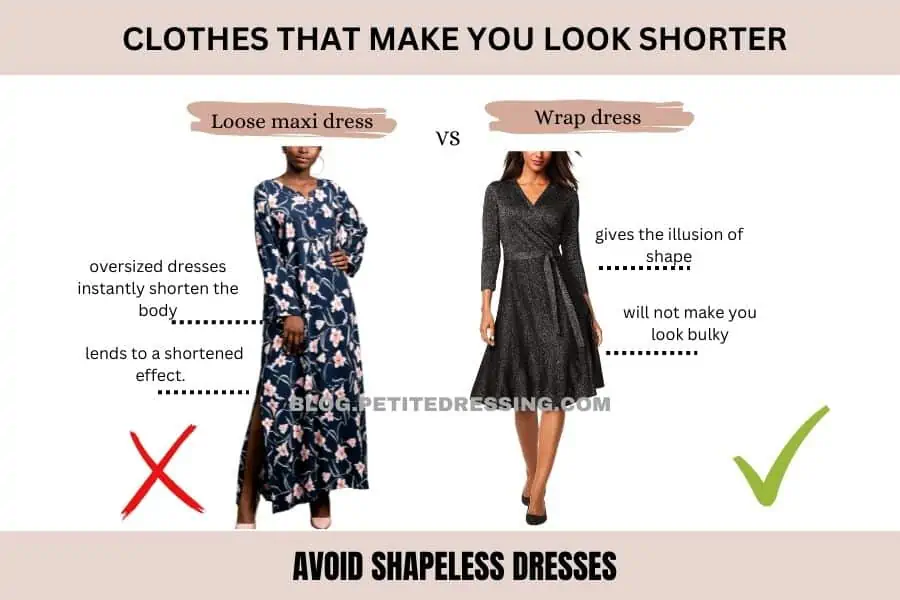 Oversized fits are trending right now but they're not always the best option for figure flattery.
In general, oversized dresses instantly shorten the body. This occurs because a shapeless silhouette causes the entire body shape to be lost and it takes up a lot of space on the body, which lends to a shortened effect.
If you're petite you've probably heard this many times, but it's something that can happen to non-petites as well.
Even if you enjoy wearing an oversized shape, aim to find options that still show where your shape is at so you're not entirely lost and shortened in the dress.
Most style experts would suggest avoiding these styles altogether but of course, if it's something you genuinely enjoy wearing that's the most important factor to keep in mind! Just understand it may shorten your body.
Tunic Length Tops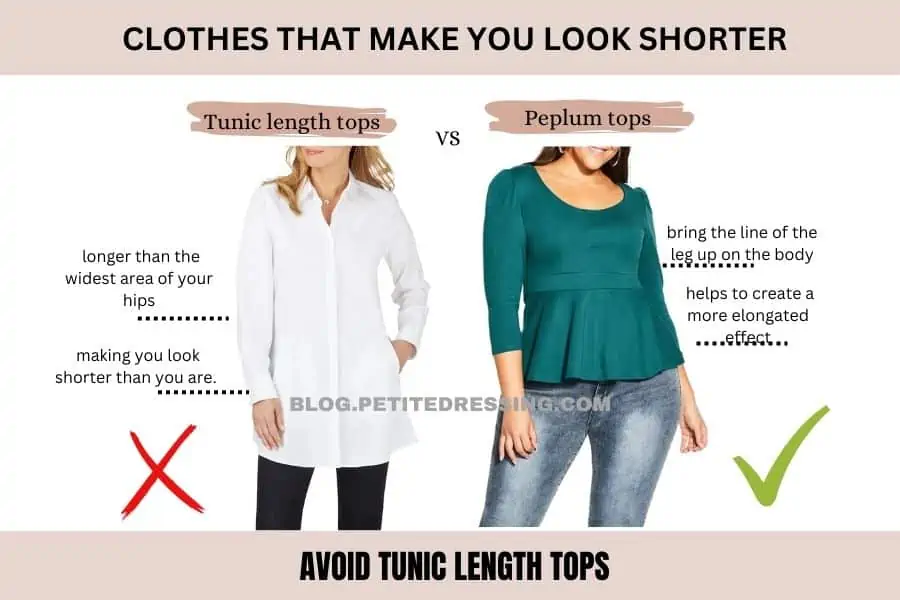 Length of tops worn may be another area of your wardrobe that's causing you to look shorter.
Any top that's longer than the widest area of your hips is going to have you running the risk of looking shorter than you are.
To put it simply, it's because the longer the top is the more it visually drops where your legs begin – making them look shorter.
Shorter-length tops bring the line of the leg up on the body, which helps to create a more elongated effect. Most style experts suggest avoiding any long-length tops if you're petite, have short legs, or just don't want to look shorter than you are for these reasons. Favor tops that rest right at the hip line and above.
Long Blazers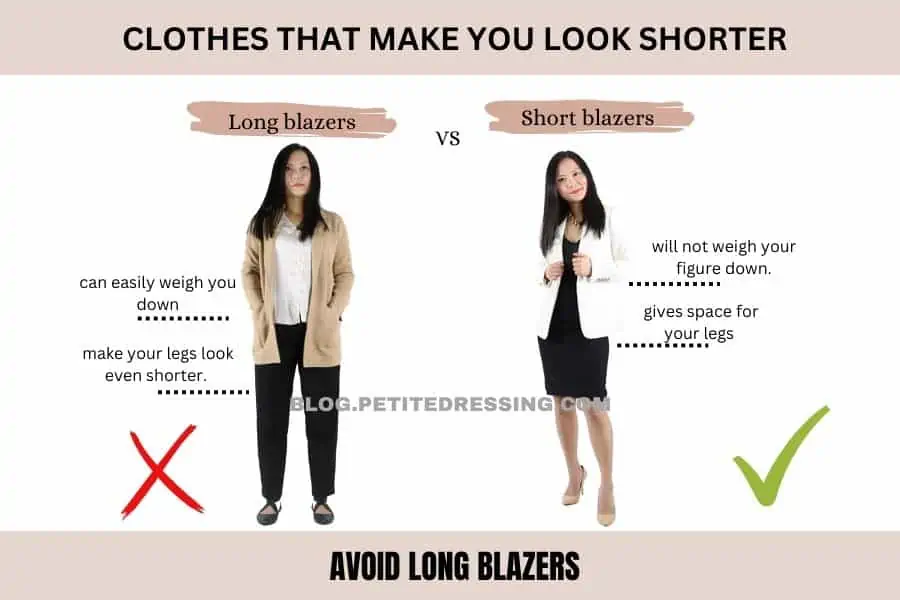 Long blazers are generally not flattering on someone who is already short, because they can easily weigh you down and make your legs look even shorter.
There is a very big trend of long blazers, especially what is known as the "boyfriend blazers".
These blazers are not only long but also wide, in other words, they can swamp you completely, without proper styling.
If your goal is not to shorten your legs, long blazers are a no-go.
Bold Horizontal Stripes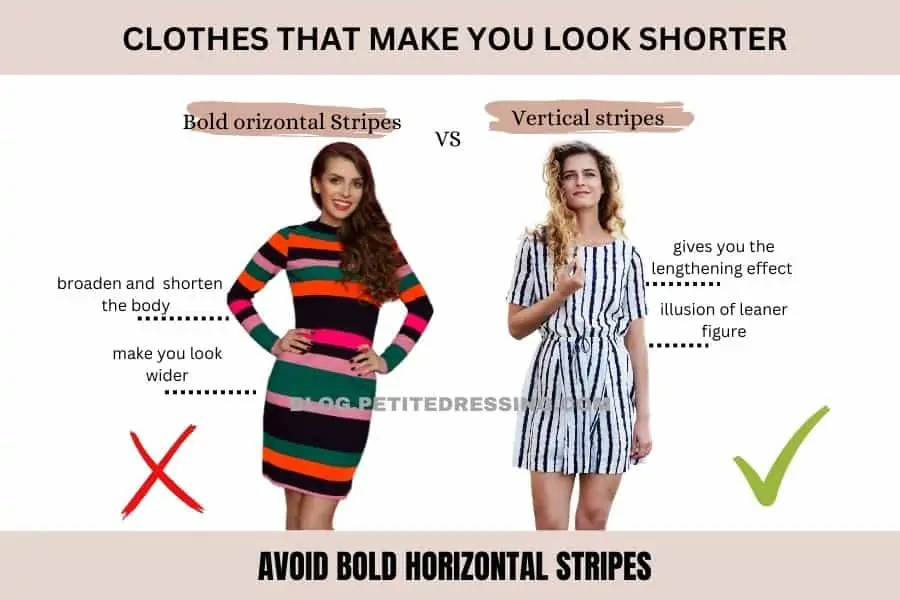 Of course, you've heard to avoid horizontal stripes if you want to look slimmer, but it's also something to steer clear of if you don't want to look shorter.
Because horizontal stripes broaden the body, they also shorten it.
Keep in mind that anytime an item of clothing creates a broadening effect it's joined by a shortening factor. Vertical stripes are a much better option for both slimming and lengthening.
Large Handbags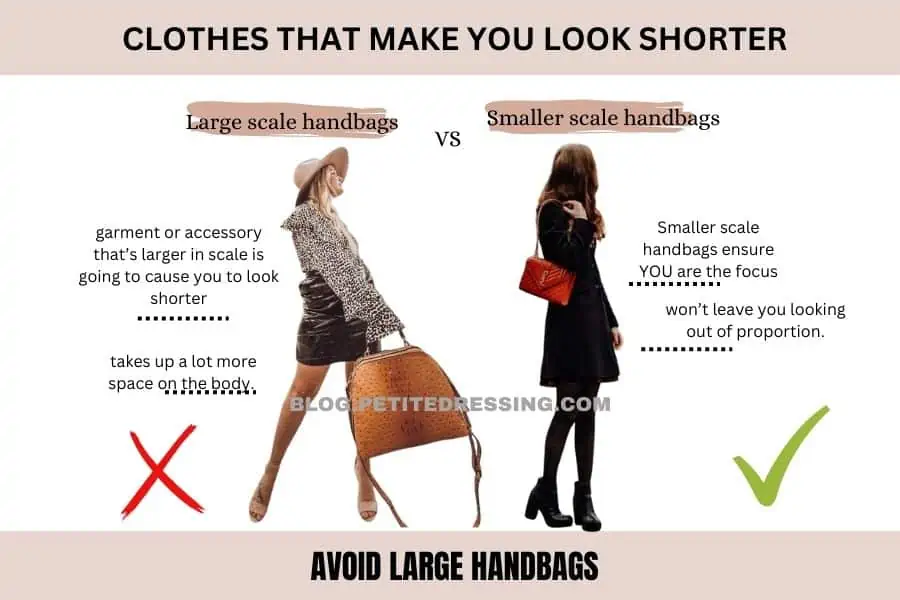 Notice a theme throughout this list?
Any garment or accessory that's larger in scale is going to cause you to look shorter because it takes up a lot more space on the body.
This includes large handbags! Stick with handbags that are small to mid-size to ensure the scale doesn't take away from and overwhelm your body too much.
Smaller scale handbags ensure YOU are the focus and won't leave you looking out of proportion.
High Necklines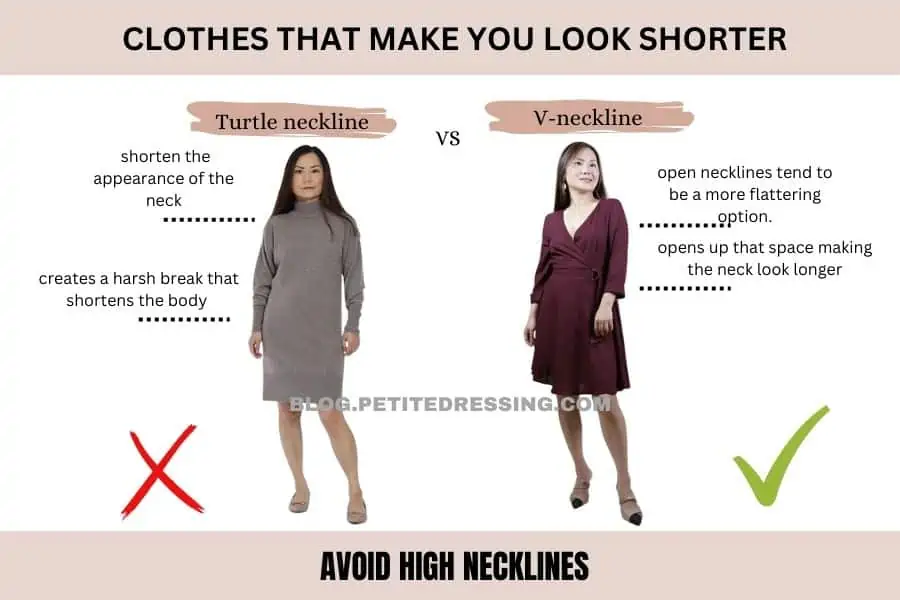 Ever notice the way a turtleneck, or any other high neckline, breaks up your body?
Well…it does! Because high necklines are such a strong line on the body it creates a harsh break that shortens the body quite easily – not to mention these types of necklines also shorten the appearance of the neck entirely (making you look shorter as a whole). This is why open necklines tend to be a more flattering option.
With even just a little space around the neck it opens up that space making the neck look longer, which also helps YOU look taller.
Oversized sweaters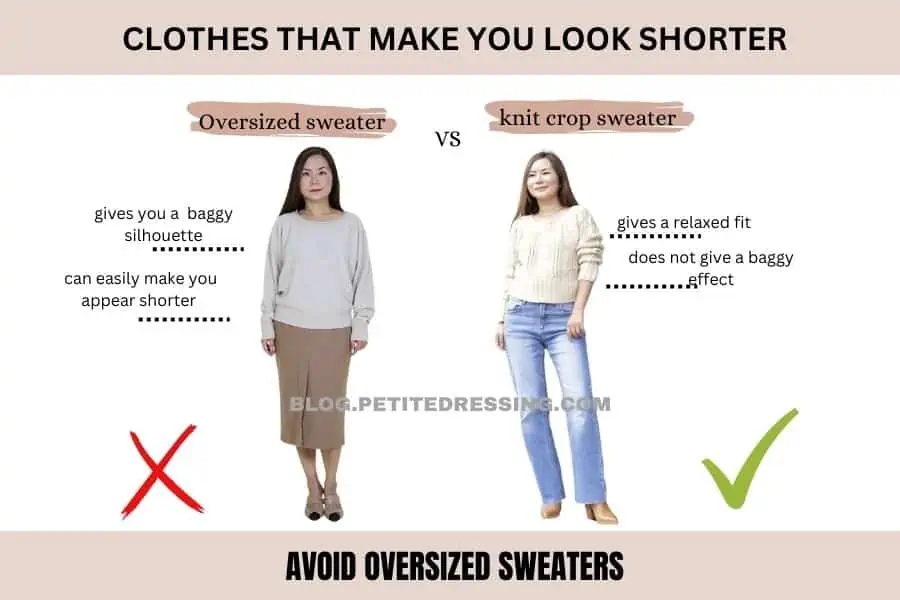 Most of these come with super long sleeves and a baggy silhouette- a combination that is designed to look "relaxed" but at the same time can easily make you appear shorter than you actually are.