Are you petite height? Ever wonder how you should style your accessories to flatter your petite body frame? Before we get into that, let us first define what is petite height. Petite is a French word that is translated into small or tiny in English literally.
There is some common misconception that the word petite women is referring to skinny and slender women, but that is not the definition of petite in the fashion world. What is petite in fashion and clothing? According to Wikipedia, a petite size is a standard clothing size designed to fit women of shorter height, typically shorter than 162 cm (5 ft 4 in). So, petite is really just talking about the height, and not referring to the weight.
The cut-off of petite height typically refers to 5'4", although some designers defines petite height as 5'3".
If you are petite height, your choices of accessories should be different than ladies over 5'4", in order for them to work well with your petite body frame.
Here are 5 things you should keep in mind when styling your accessories
Go skinny
When picking out a belt, scale is the most important thing when deciding if it is right for your petite height.
Most petite women have shorter torso, in other words, short waisted. Therefore, a wide belt will take up the entirety of your torso and make your waist look even shorter. So, avoid super wide belt, unless you want to look like a chest on top of hips. Women of petite height in general look better with skinny belts, which is in proportion with petite body frame. If you happen to be petite but have long waist, then skinny belts may look a bit too small and you should go with wider belts. 1.5 inch belts work well on most petite women.
Wear wide belts same color as your outfit
So, should short women completely forget about wide belts? Not necessarily. Nothing is absolute when it comes to fashion rules. We have seen petite celebrities (Mira Duma, 5 feet, is a perfect example) wearing wide belts creatively and look stylish and chic. Therefore, if you are petite height but a die hard fan of wide belts (like myself), there are still ways to wear them without looking overwhelmed by the belts.
The key is to wear them in a monochromatic color as your outfit, or at least your top. That way, the focal point will not be purely on your wide belt, while at the same time adding interesting dimension to your outfit. Learn more about this technique and Why Short Women should Learn Monochromatic Dressing.
Long pendants flatter your petite height.
Many women of petite height have shorter necks. A necklace with a long pendant is a great choice to elongate your short neck. The reason is long pendant draws the eye up and down, thus making your neck look longer than they are. If you are petite height, you also do not want the necklace to be too long as to be hanging below your chest and look unsuitable for a short person. A universally flattering length is a necklace that hits 2 to 3 inches above the chest, which will draw more attention to your face and can be worn with any neckline.
Stay away from giant statement necklaces
Despite the current trend of wearing a bold and chunky statement necklace, women of petite height should be aware they are not the best accessory for a short person. Petite women can look overwhelmed by a giant necklace, unless you are petite and plus size. If you are petite and curvy, then a delicate chain may look lost on you and you are better off with a medium sized necklace (still, it should not overwhelm your petite height).
If you love the bib-shaped statement necklaces, which is trending right now, opt for one designed to hit lower on your frame which has a medium to small airy design. Always avoid enormous statement necklaces that sit high on your clavicle.
Wear your scarves the right way
If you are petite height and have shorter neck, you need to be careful about wearing scarves, as covering it up runs the risk of making your neck look even shorter. However, women of petite height could also style a scarf smartly to flatter and de-emphasize the short neck, if worn the right way. The trick is to either wear it short, or wear it long. By wearing it short, I mean wearing a skinny scarf high above, which will draw attention up your face, while de-emphasizing your neck.
Or, if you want to take more fashion risk, try to wear a blanket scarf, like some of the most popular petite bloggers. The key of wearing a blanket scarf without looking being drown in it is to make sure it is the same or similar color of your sweater top. If you are going for the blanket scarf look, opt for those with either solid colors or vertical prints. Vertical prints normally elongate women of petite height by creating the illusion of height.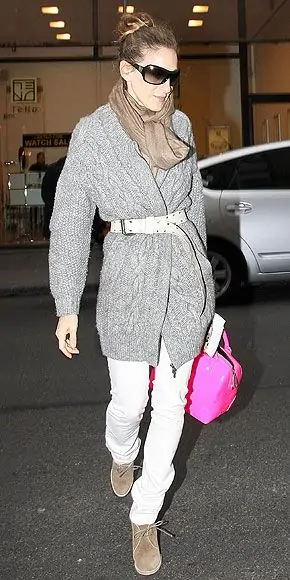 Proportion to your body
Whether you are a corporate executive or art director, there is many benefits of carrying a large bag that can hold everything. We all need the space in our bag to hold our daily planner, smart phone, wallet, keys, lipsticks and compact, to name a few. While large bags are very useful for practical purpose, they are not the best fashion choice for women of petite height. Big bags can dwarf the person that carries them. For women of petite height, it is important to choose bags in scale to your body size. That does not necessarily mean every one can only carry a tiny purse or clutch to work, as that is not feasible for our busy professional life. For women of petite height, it is advisable to always draw people's attention to your face and not lower. . Petite women should carry bags proportional to their sizes, i.e. small to medium size bags. On the other hand, we are not saying smaller is always better for women of petite height, since petite women are not all tiny and skinny. If you are a curvy petite girl, opt for a medium size bag that is in balance with your overall body size.
How you carry your bag matters
Did you know how you carry your bag makes a big difference if you are short? Carrying a medium size tote on your shoulder is a smart choice for women of petite height. Another great choice is chain bags, which are very flattering to petite girls and a medium size can still hold a lot of stuff. The important thing is to choose the right length for the chain, so that it should not hit below your hip. Otherwise it will drag people's attention down, and make you look shorter than you are. The same principal applies to any other shoulder bag you carry. Lastly, small to medium size backpacks are also a good choice. They free up your hands and are very easy to carry, and the benefit to a short girl is they will not draw people's attention to your height.