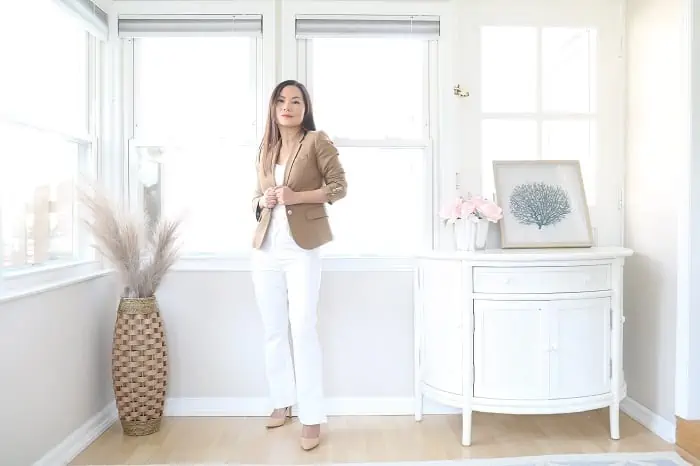 Whether you're petite or not, looking taller than you actually are is never a bad thing. In fact, regardless of your natural height, if you're able to dress in a way that makes you look taller, it not only lengthens your body but also visually slims your shape. Definitely a double win in the style world.
Choosing clothing strategically is key if you are interested in appearing taller. Because jeans are such a staple in most women's wardrobe, this is a break down of some of the best jeans that can make your legs look longer and therefore make you look look taller.
High Waisted Jeans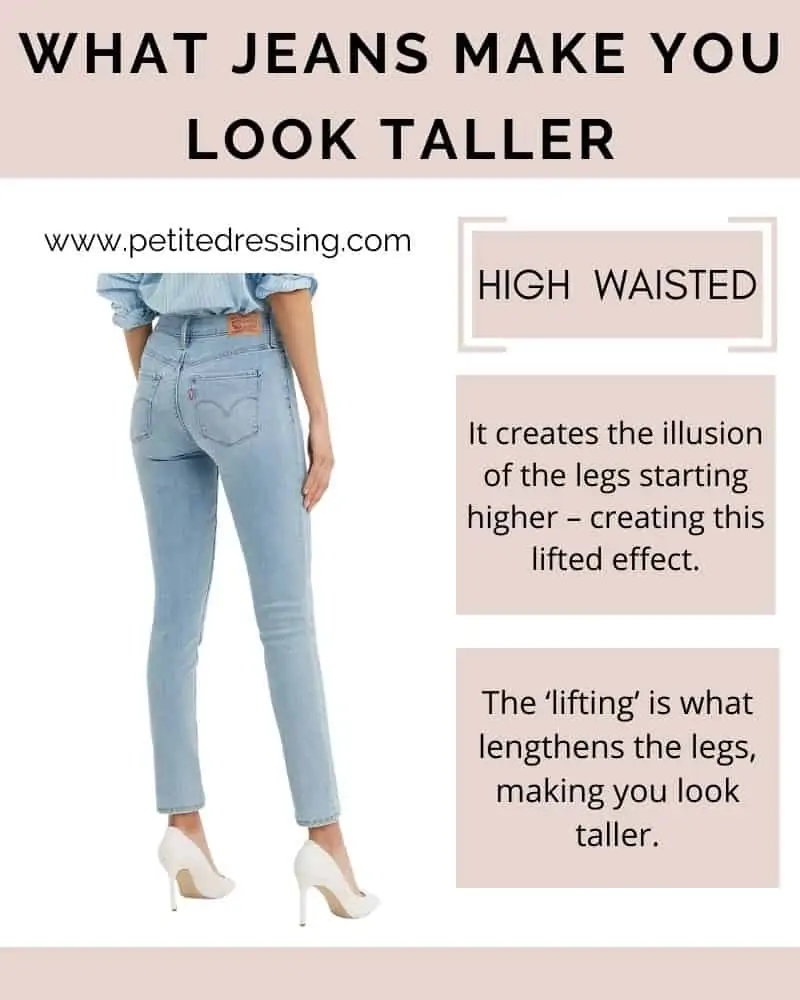 Anytime you want to instantly add length to your legs, and body really, with jeans always opt for a high waisted fit. Because a high rise jean sits, well, higher on the body it creates the illusion of the legs starting higher – creating this lifted effect.
The 'lifting' is what lengthens the legs, making you look taller. Another pretty great bonus from the high waisted jean is the slimming effect it provides. Lifting the waistline and lengthening the legs brings more emphasis towards the smallest part of your waist – making you look taller and slimmer.
If looking taller is your goal, skip the low rise jeans at all costs. Unfortunately, low rise jeans shorten the appearance of legs. In the way high rise lifts, low rise shortens. Not to mention low rise jeans also have the tendency of highlighting the tummy area in a way most women don't love.
Straight Leg Jeans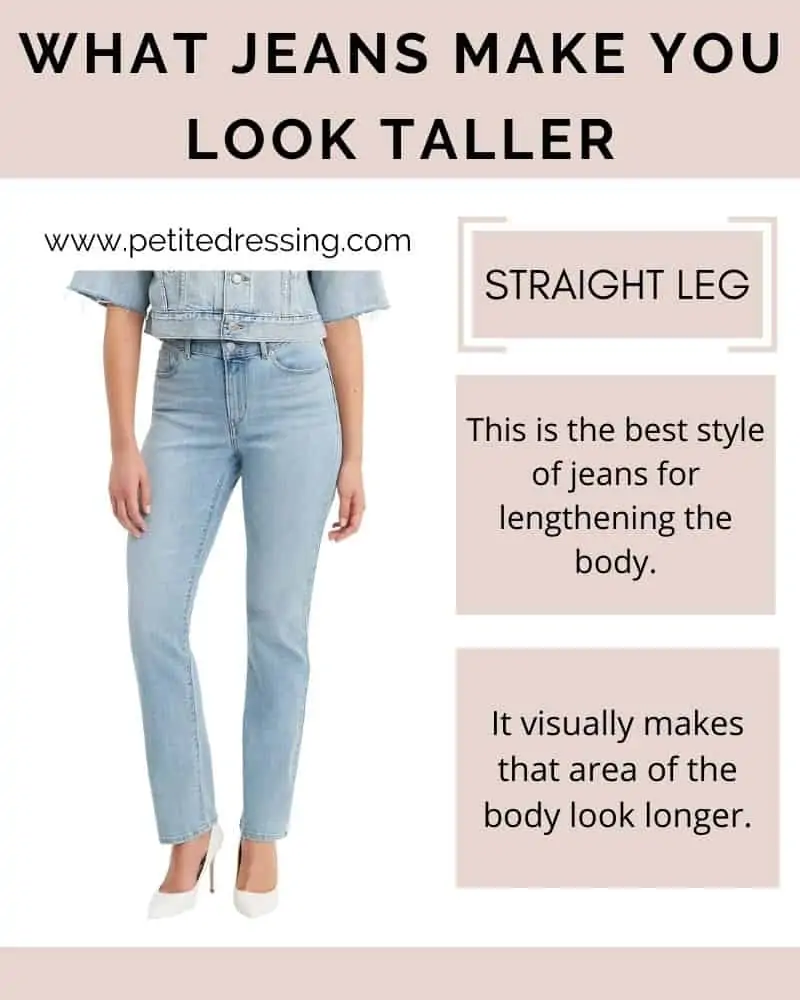 The rise isn't the only way to lengthen legs, the silhouette (or fit) of jeans can also play a role in elongating your shape. Straight leg jeans are known by style experts everywhere as one of the best style jeans for lengthening the body.
There's really one main reason straight leg jeans are such an easy choice to lean on here. It's because of the straight line that is established on the body with this style of jean. Unlike some other denim styles like an exaggerated flare leg, for example.
When a clear straight line is established with a garment, as is done with straight leg jeans, it visually makes that area of the body look longer. This is why a true straight leg denim jean is such a flattering option.
A couple of fit attributes to consider to make the most of a straight leg jean pertains to fit and length. With fit, if your goal is to look taller in the jeans, you will want to ensure that the jeans aren't too baggy anywhere as this can add bulk and shorten your shape.
With length, make sure you're choosing a straight leg jean that lays in a flattering part of the body. In other words, avoid anything that hits in an awkward calf area as this can also shorten the leg – defeating the purpose of the reason you're wearing straight leg jeans.
Boot Cut Jeans
Known as a pretty classic denim style, boot cut jeans aren't just easy to wear for classic reasons but they're also an ideal fit to wear when you want to look taller.
While a boot cut jean has a slight, subtle flare at the bottom (giving it the boot cut silhouette). It's slight enough that it still provides a fit similar to the straight leg, giving extra length to the body when worn. Of course, the key here is to ensure that the boot cut is on the subtle side to make sure you're reaping the benefits you desire.
Boot cut jeans tend to be a great option for women who have broad shoulders or an apple shape. Naturally, everyone can wear boot cut, but these body types in particular are enhanced by the boot cut by adding just enough balance to the top half of the shape.
It may go without saying at this point, but it's best to adapt boot cut jeans in a high or mid rise fit. Either of these will do but as mentioned above, the high rise is going to be the most flattering in regards to adding length to the body.
Flare Jeans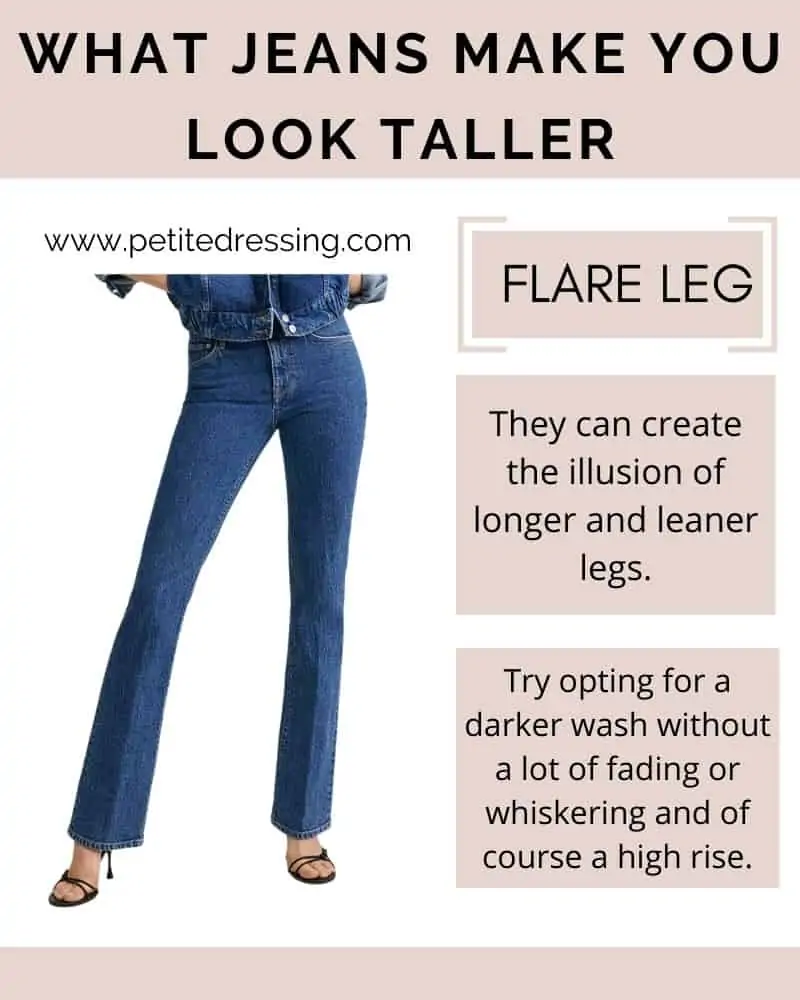 Flare leg shape is one of the best jeans for short women!
Because they are fitted on your hips and thighs and then widens under your knees, they can create the illusion of longer and leaner legs.
If you are petite or have short legs, make sure you have at least one pair of flare jeans.
That said, flare jeans are not all the same. There are different types of flare jeans, and depending on your height, you will notice not all of them look flattering on you.
For someone who is short, if the flare is exaggerated, it can totally overwhelm you and it's best to avoid it.
Flare leg and bootcut are quite similar. The subtleness of a boot cut lengthens.
However, a big flare leg is much more exaggerated with a prominent flare at the bottom. That is why it isn't the best option for lengthening. In fact, flare-leg jeans can sometimes (often really) shorten the leg line.
If you really want to wear flare leg jeans, try opting for a darker wash without a lot of fading or whiskering and of course a high rise. These additions to a flare leg will balance out the bottom and prevent the legs looking shorter.
Slim Fit Jeans
These are new versions of jeans that have become quite popular in recent years. Strictly speaking, they have a straight leg cut, therefore they are not clinging to your calves like the skinnies. Compared with the traditional straight-leg jeans, these have more narrow legs and therefore look slimmer.
These are a happy middle ground between straight-leg jeans and skinny jeans. These can elongate your legs and make you appear taller, especially when you pair them with heels.
Avoid Skinny Jeans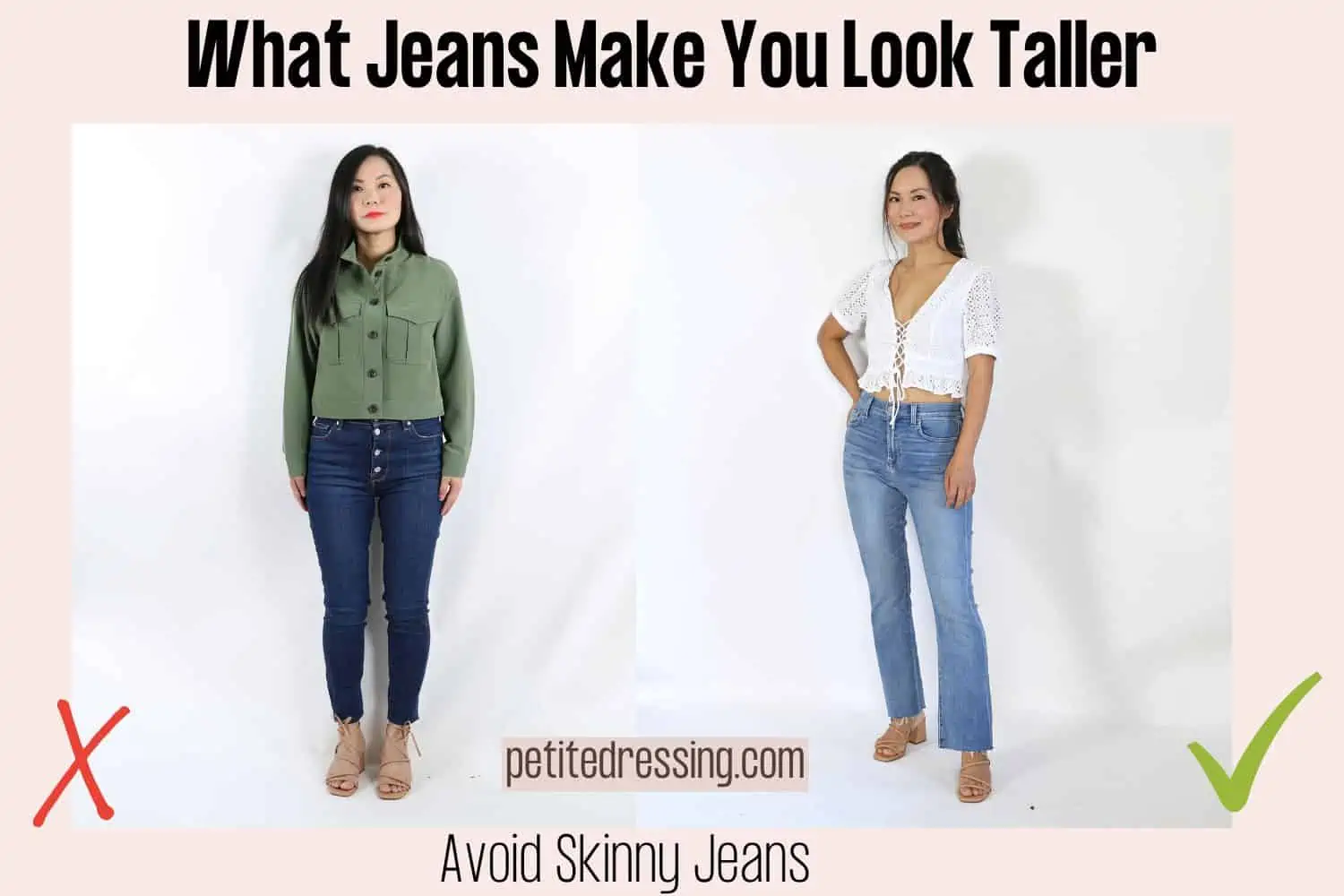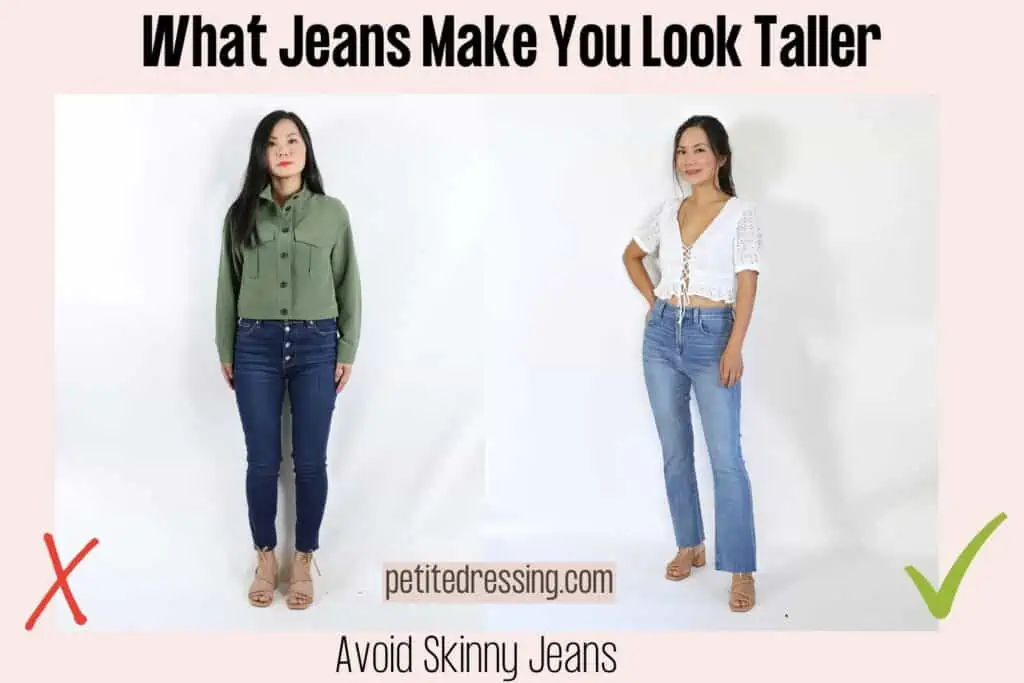 Skinny fit jeans and flare leg are on opposite ends of the spectrum when it comes to their silhouette. However, they both notoriously shorten the leg line. With a skinny fit it's primarily due to the way they taper in at the ankle, drawing all the focus to that part of the body – visually shortening it.
That being said, when you want to lengthen your legs you'll want to steer clear of a skinny fit jean. Skinny straight legs are a nice alterative as they don't taper in as much around the bottom of the jeans, but still give you the slimmer fit.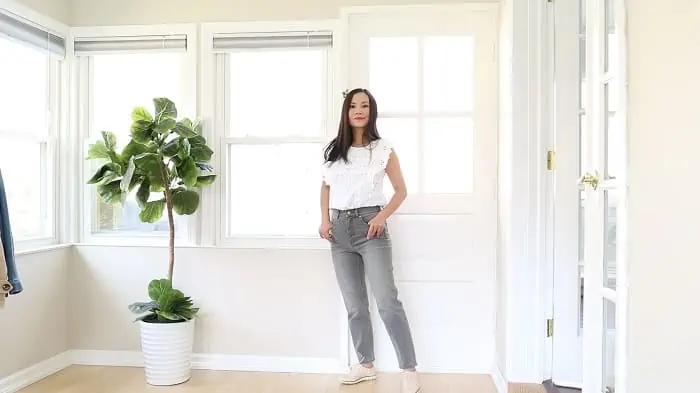 If you really enjoy wearing skinny fit jeans and want to find ways to still lengthen the legs a bit just ensure you're opting for a high rise. It's also typically recommended to stick to a skinny jean that doesn't have a lot of distressing or anything throughout the jean, those distressing elements break up the body and can add to shortening it.
Avoid Bunched Jeans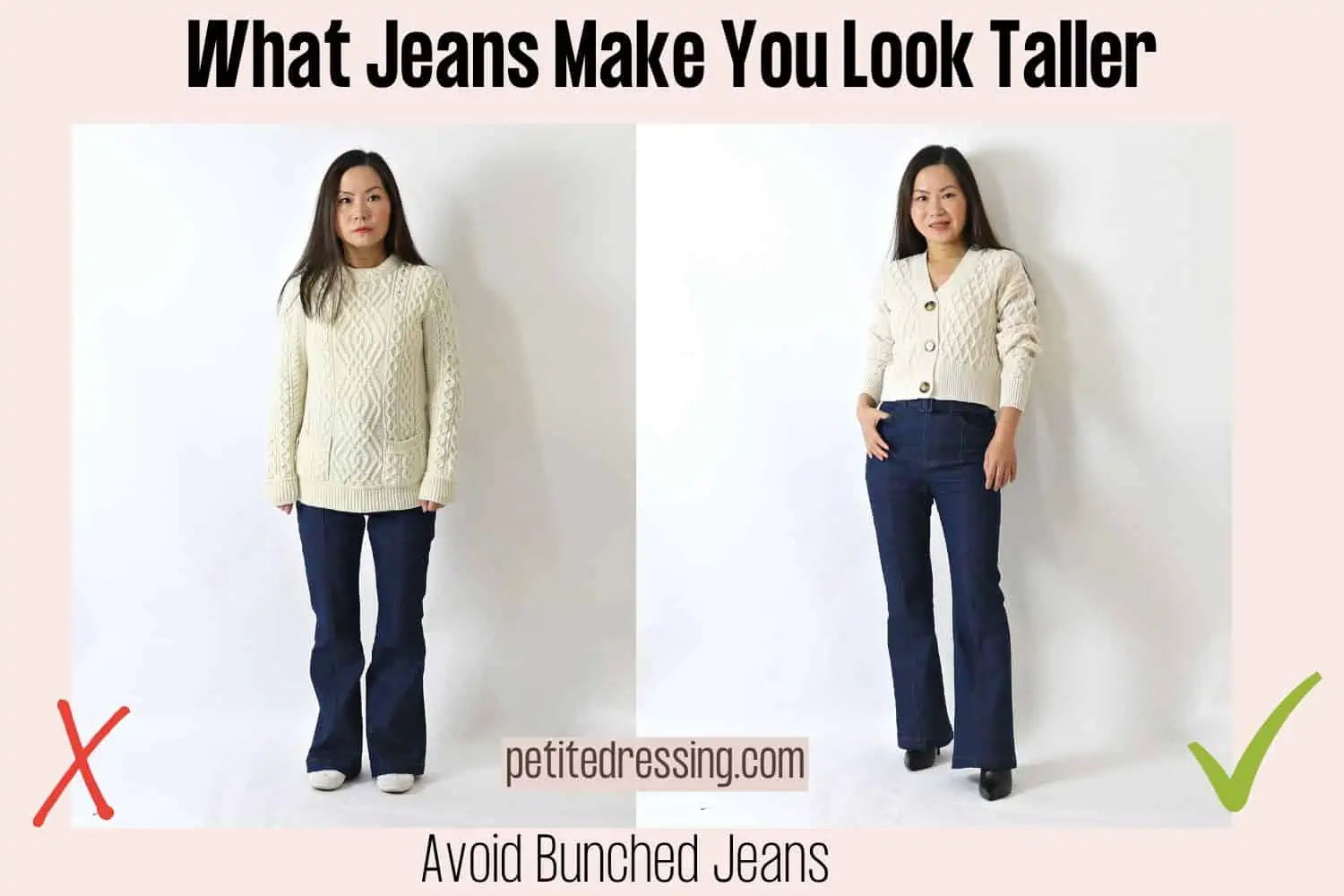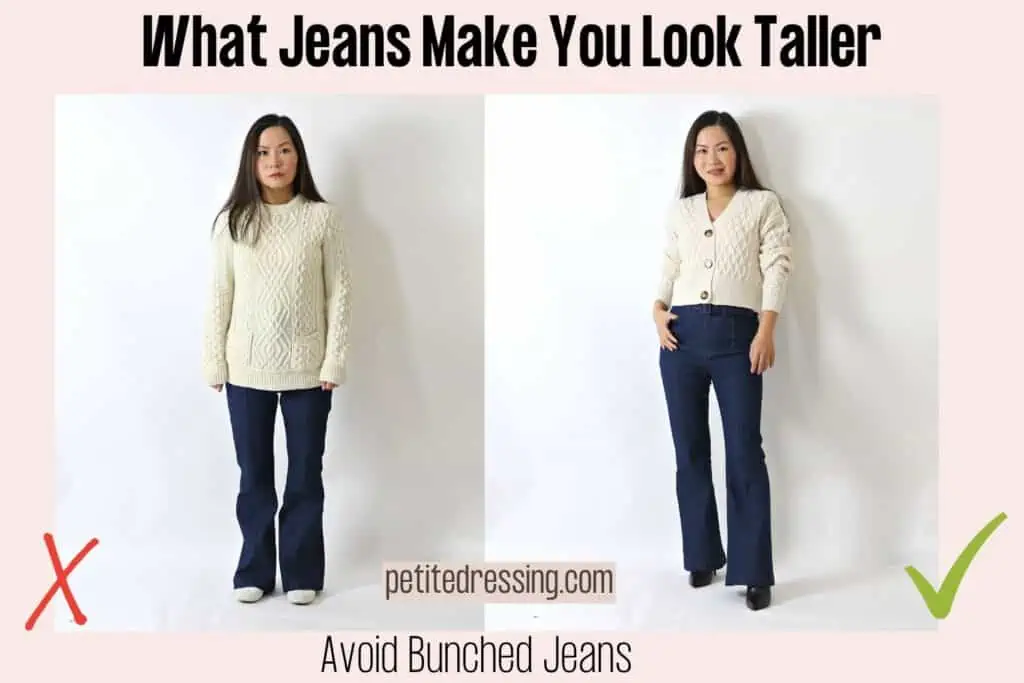 No matter what leg shape of jeans you are wearing, and no matter how tall you are, always avoid any jeans that are bunching at the bottom.
This typically means they're too long and need some tailoring done. That bunching shortens the look of legs which is why it's so important to get tailored when needed.
Avoid slouchy jeans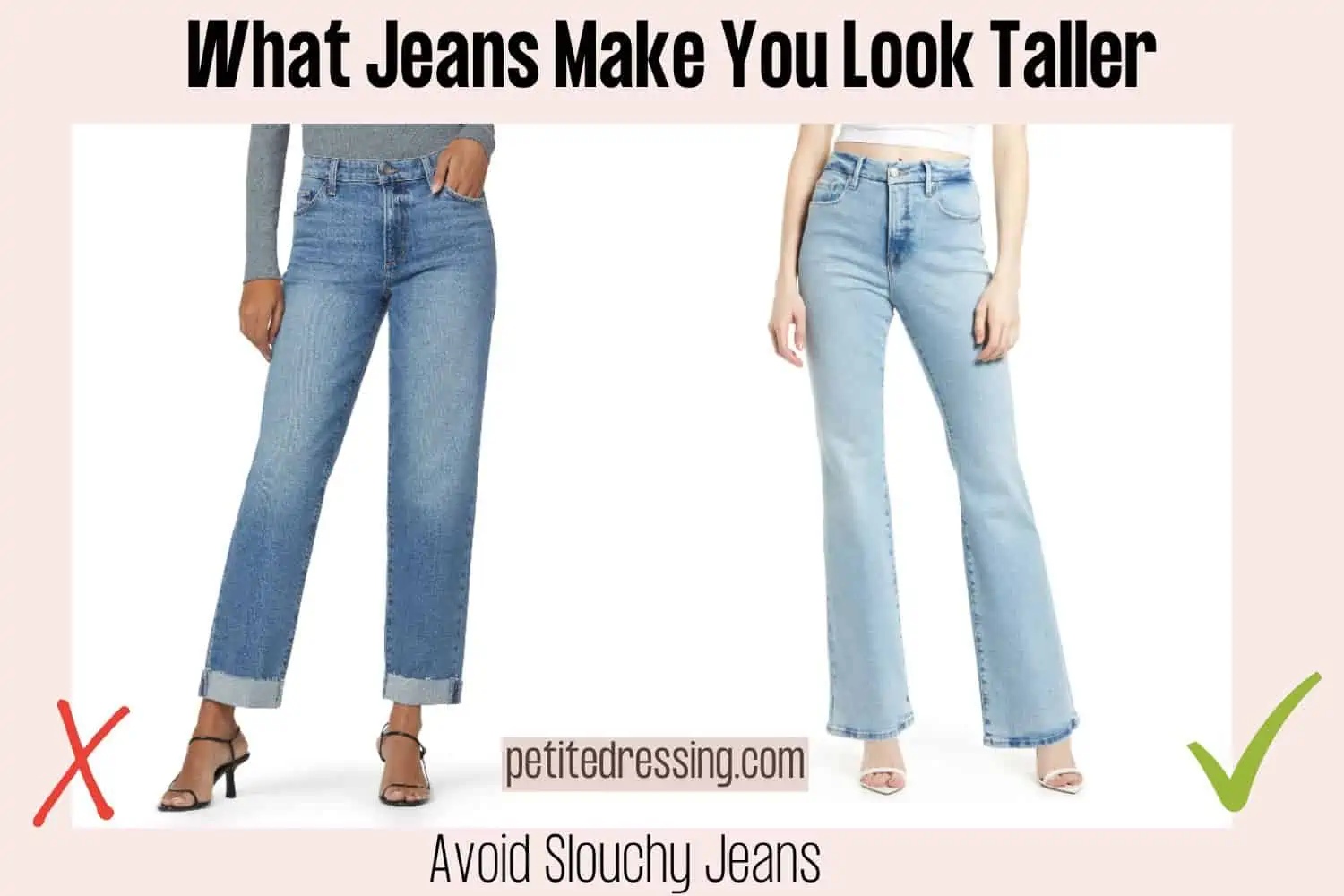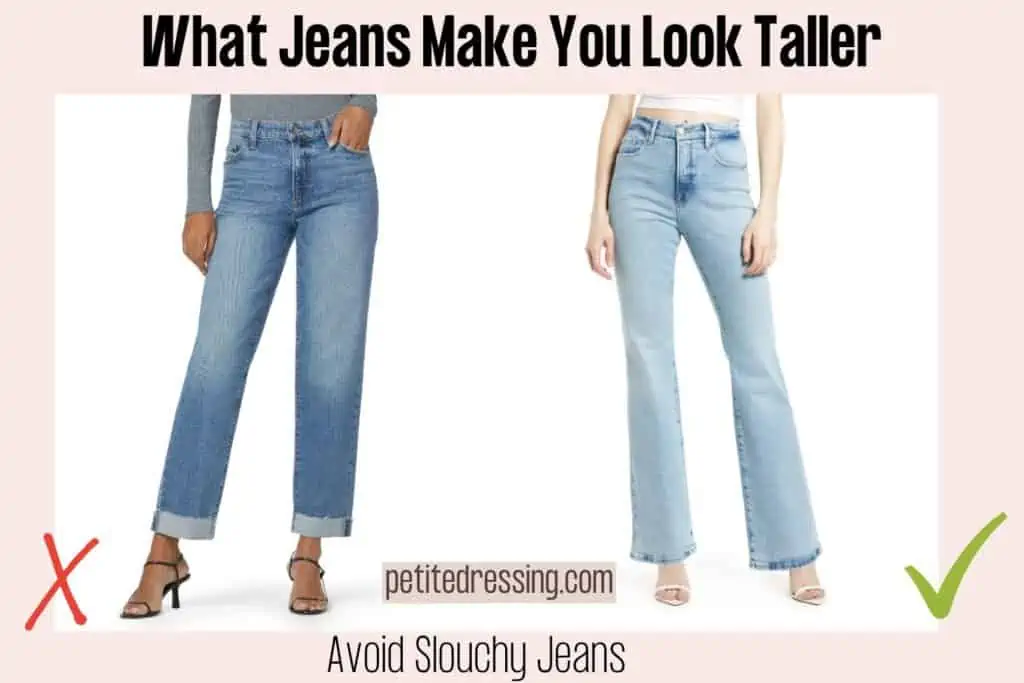 If your goal is look taller, then stay away from any jeans with slouch fit.
The loosely fitted jeans are very much on trend in the last decade, but to be honest, they are really not the most flattering style on anyone, especially if you are already on the short side.
Slouchy jeans can come in different names, some are boyfriend jeans and others could be Mom jeans. No matter what they are called, if the leg shape is too roomy, they will only expand you horizontally and shorten your fame instead of making you look tall.
If you're a petite woman chances are you're already in the habit of getting clothing tailored. Petite or not, tailoring jeans can make a huge difference in how tall or short you appear in your denim.