Cropped pants are very much on trend, but they are not the easiest style to wear if you happen to be short like me (I'm 5'2″), or have short legs. The reason is inseam of pants or jeans play a huge role in how long our legs look.
Typically, our legs only look as long as the inseam of the pants we wear. That means anything cropped are likely going to make your legs look shorter (trust me, I learned this from first hand experience!). That said, you CAN still wear ankle length pants, even if you are petite. Here is my best tips on how to look good in cropped pants, even if you are short.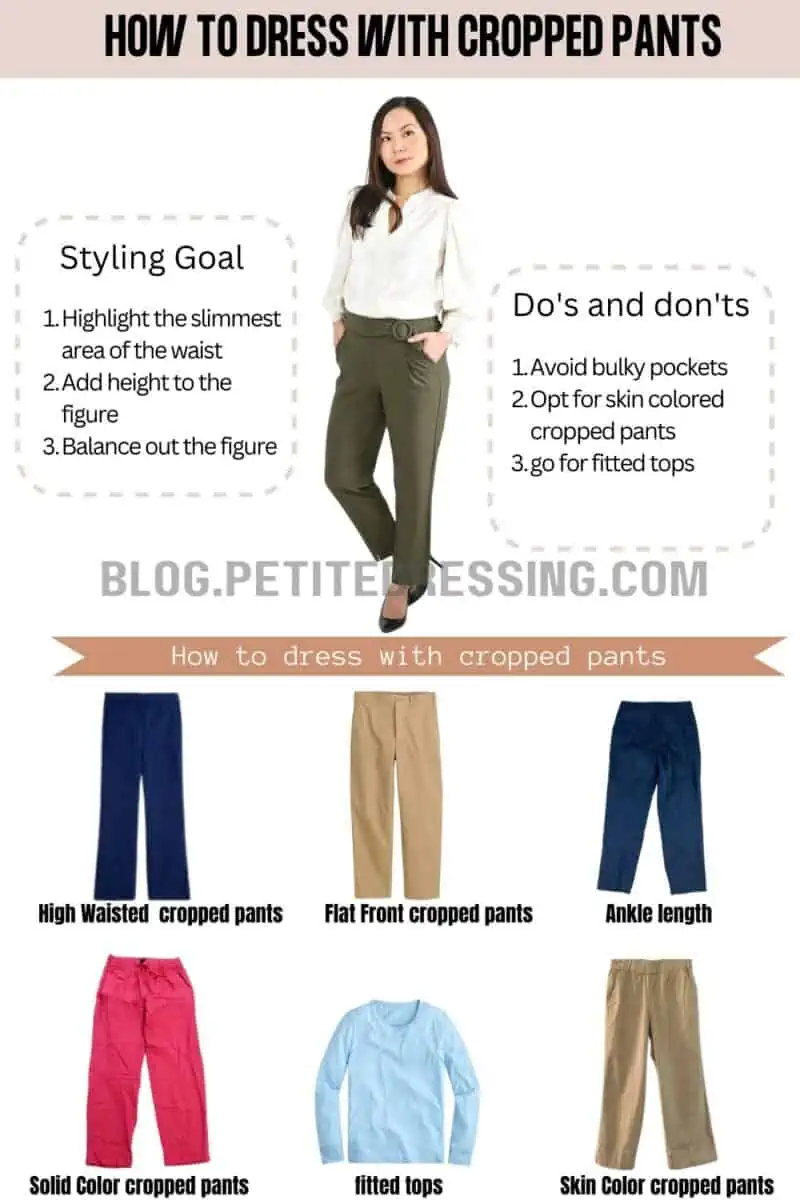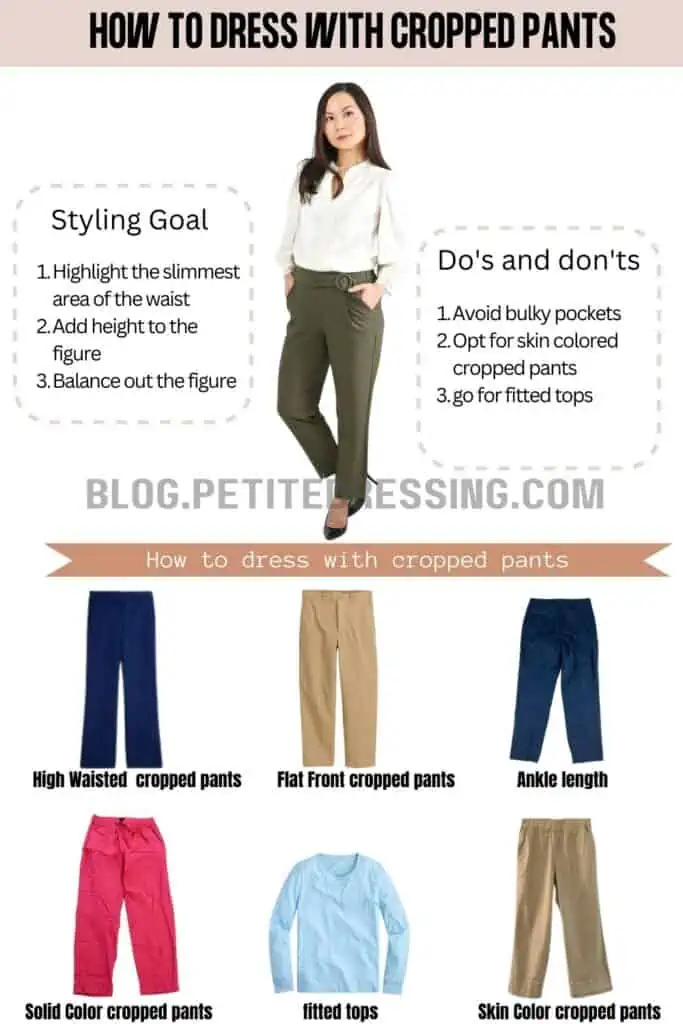 The Fit
It's no secret that cropped pants CAN shorten the body which isn't something that's ideal when you're already short.
This is why it's best to select cropped pants with a slim fit.
Opting for a slim-fit style gives a tapered look to the legs that helps add a few extra inches to the body.
That being said, you're going to want to avoid wide leg and baggy cropped pants.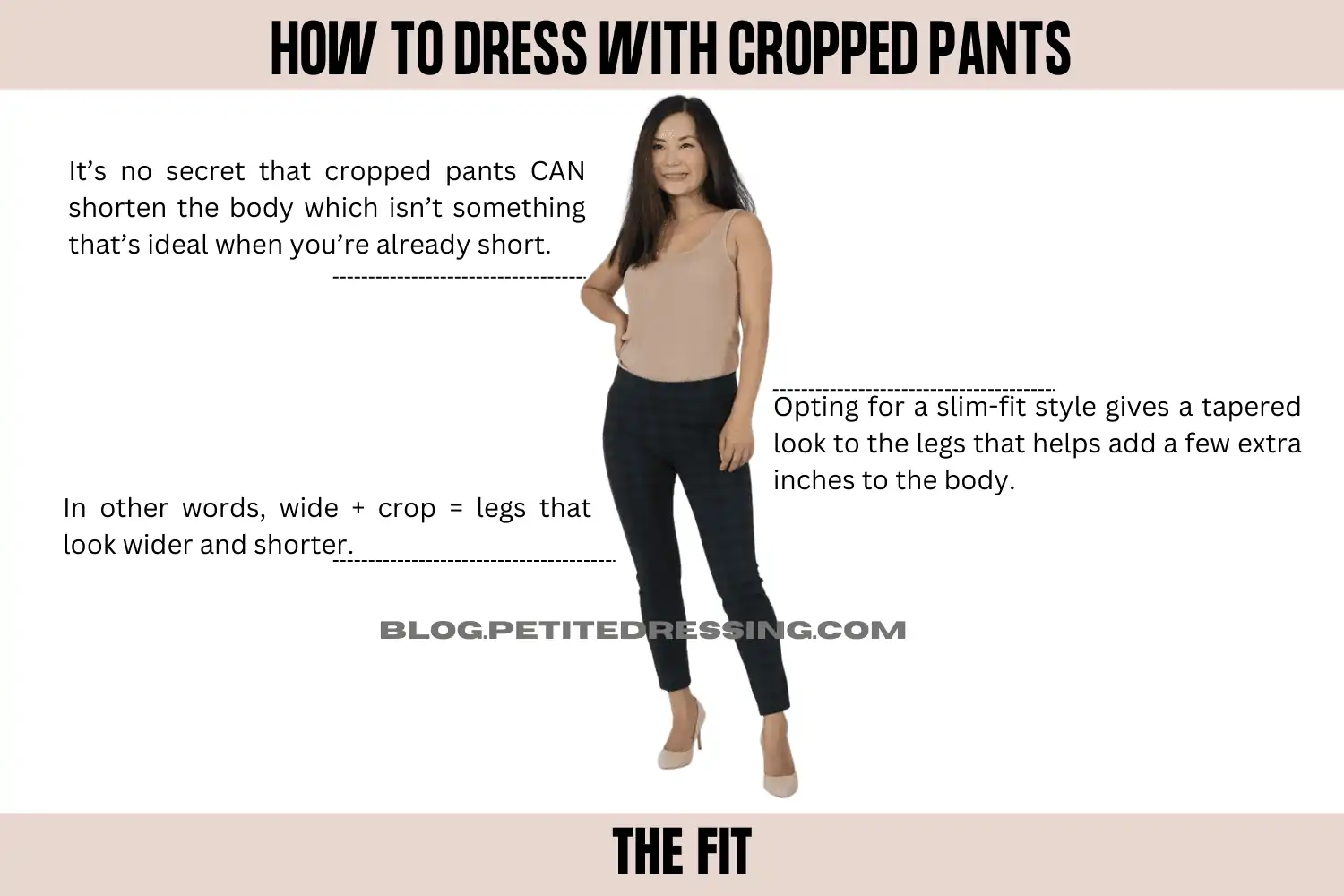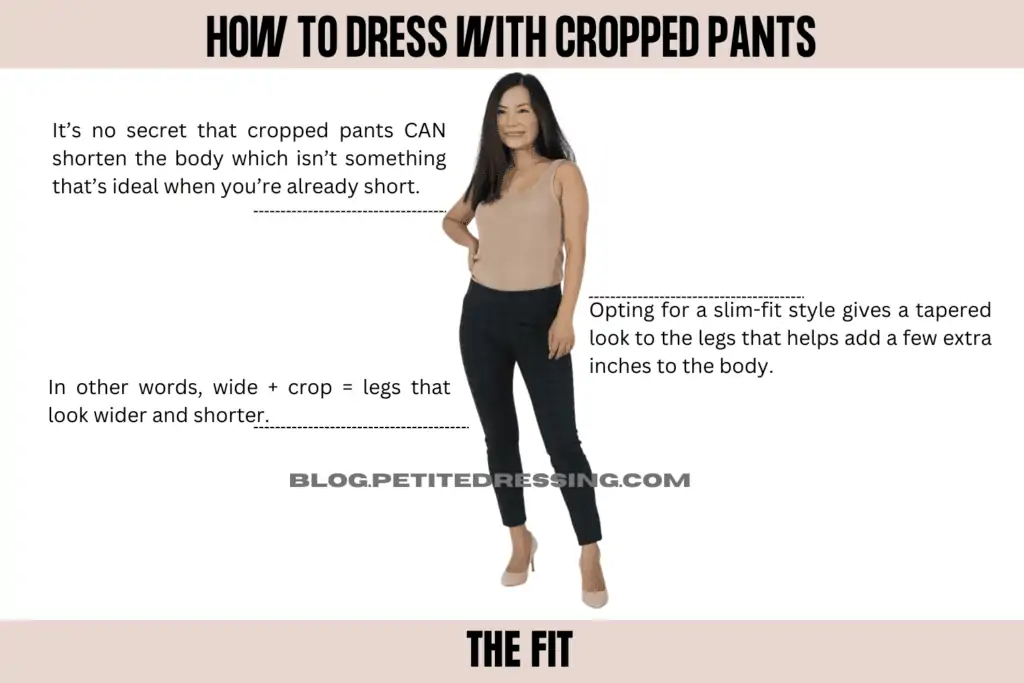 Unfortunately, wider leg cropped pants is a double negative for petite women.
In other words, wide + crop = legs that look wider and shorter.
Best Styles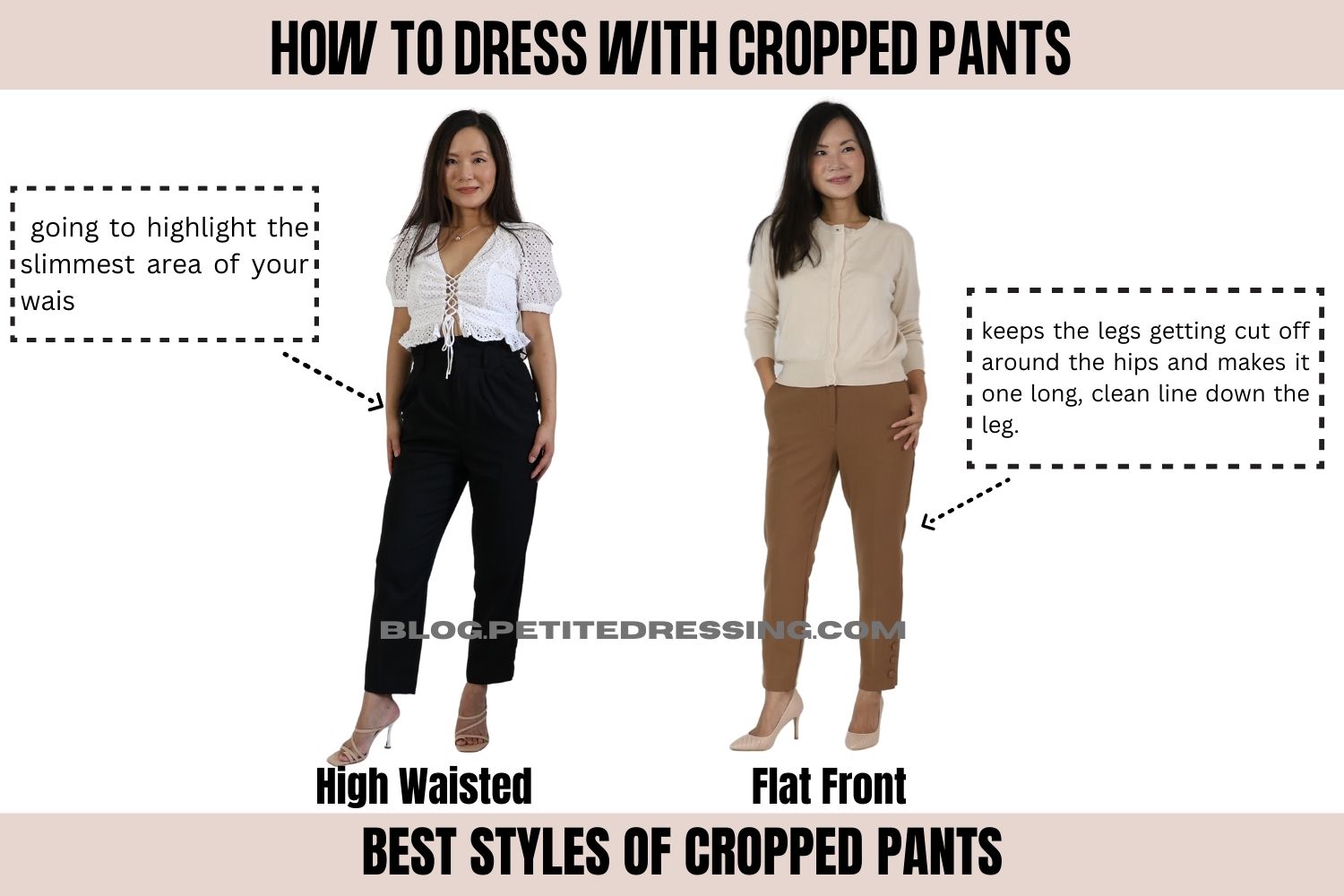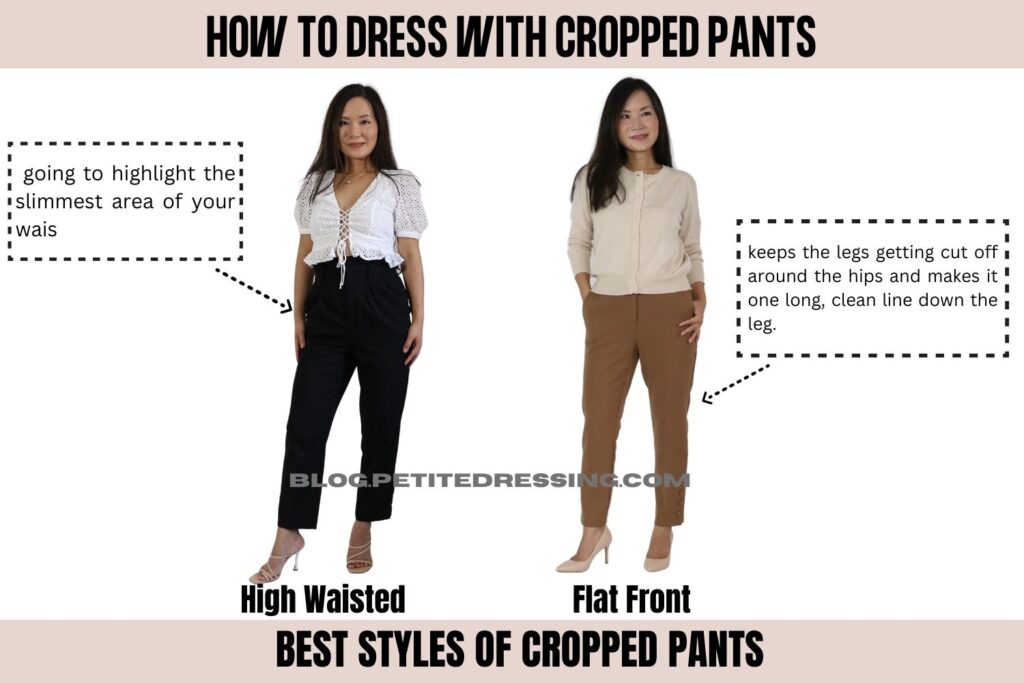 High Waisted
One of the must-know keys to not look shorter in cropped pants? Only wear high waisted options. High waisted cropped pants can actually be incredibly flattering for petite women.
By opting for a higher rise it visually lifts the legs and makes them look much longer than they really are which gives extra length to counterbalance the cropped leg. More than that, high-rise options are going to highlight the slimmest area of your waist making you look longer and leaner altogether.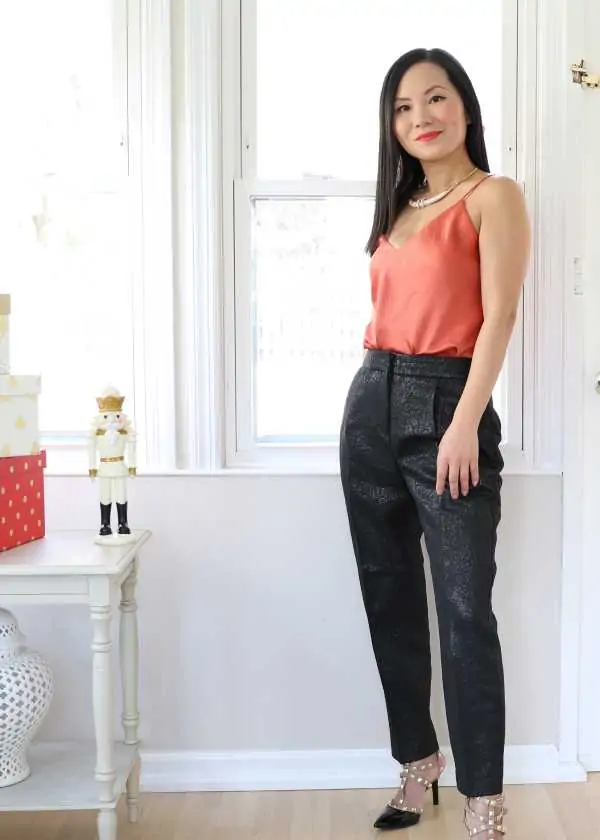 Flat Front
When selecting cropped pants for your wardrobe pay close attention to these details and try to favor pants that are flat in the front. This is going to keep from the legs getting cut off around the hips and instead make it one long, clean line down the leg.
Avoid bulky pockets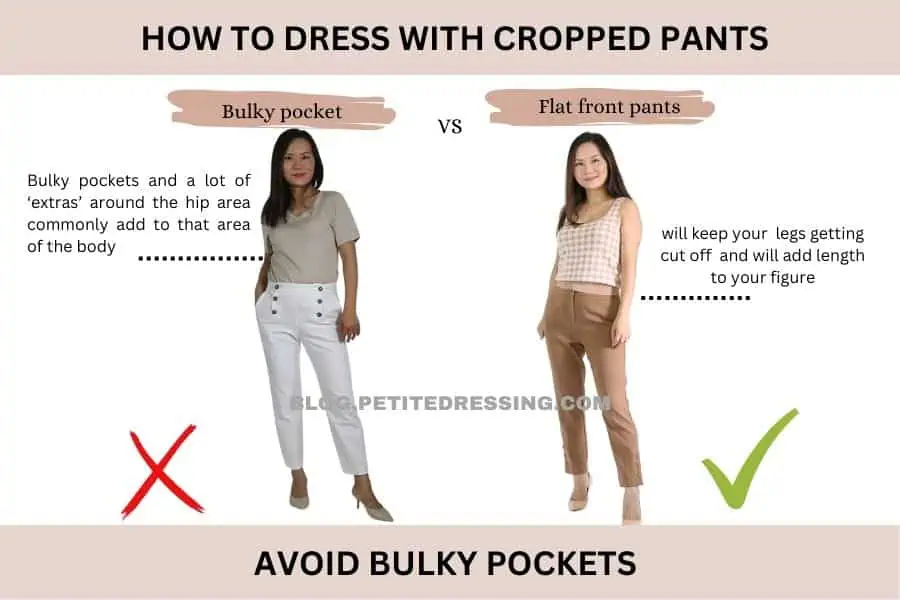 Bulky pockets and a lot of 'extras' around the hip area commonly add, well…bulk to that area of the body. The issue with this, with cropped pants in particular, when you are petite is adding bulk on top of a cropped length isn't going to do any favors to your figure.
Instead, it tends to make the body look shorter and bulkier as a whole.
Best Length
Cropped pants aren't all created equally, meaning that they can come in different lengths. As you are probably well aware, length of any garment is a major factor to pay attention to when you are short – cropped pants are no different.
Ankle length
The best length of cropped pants is going to be the slimmest area of the leg.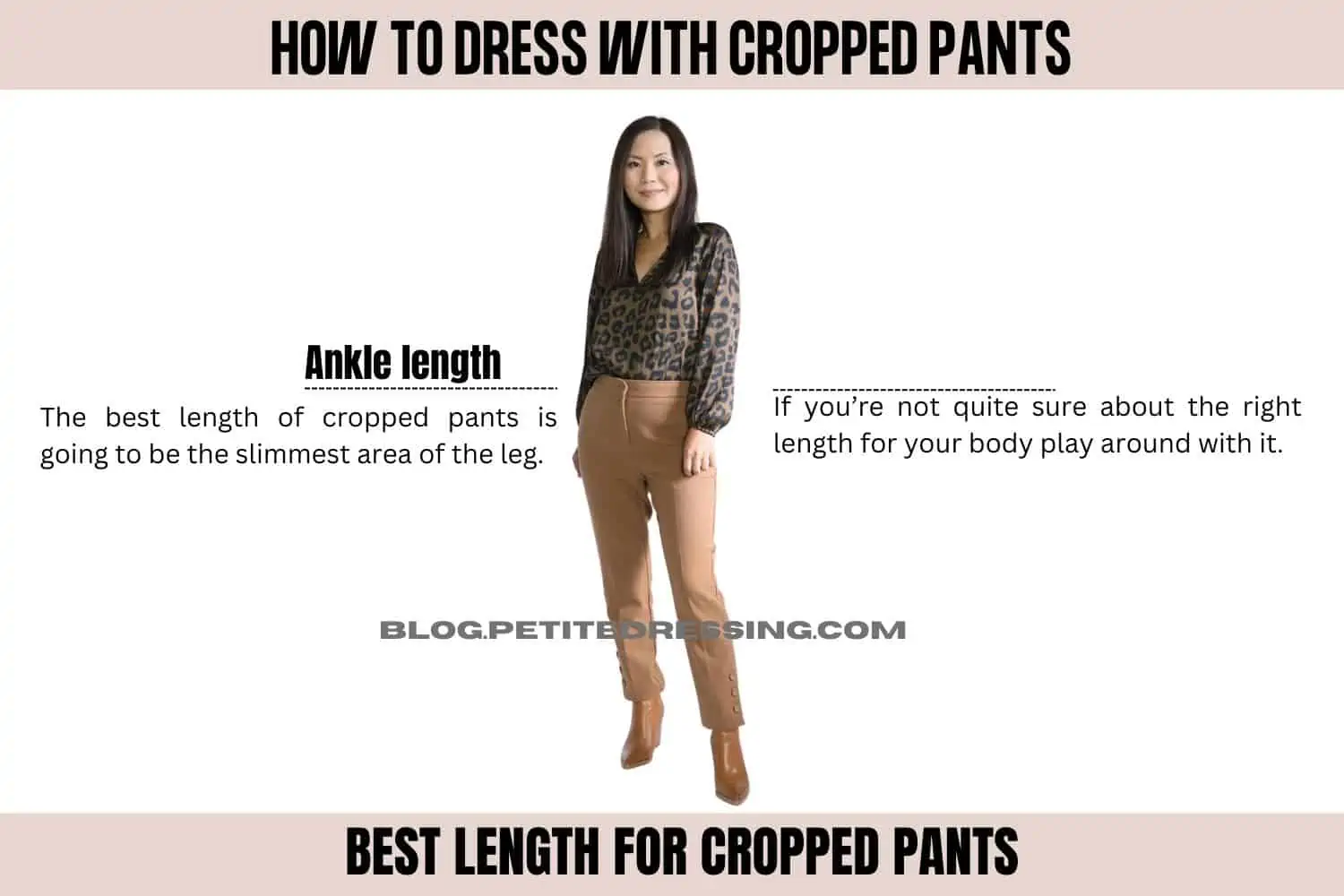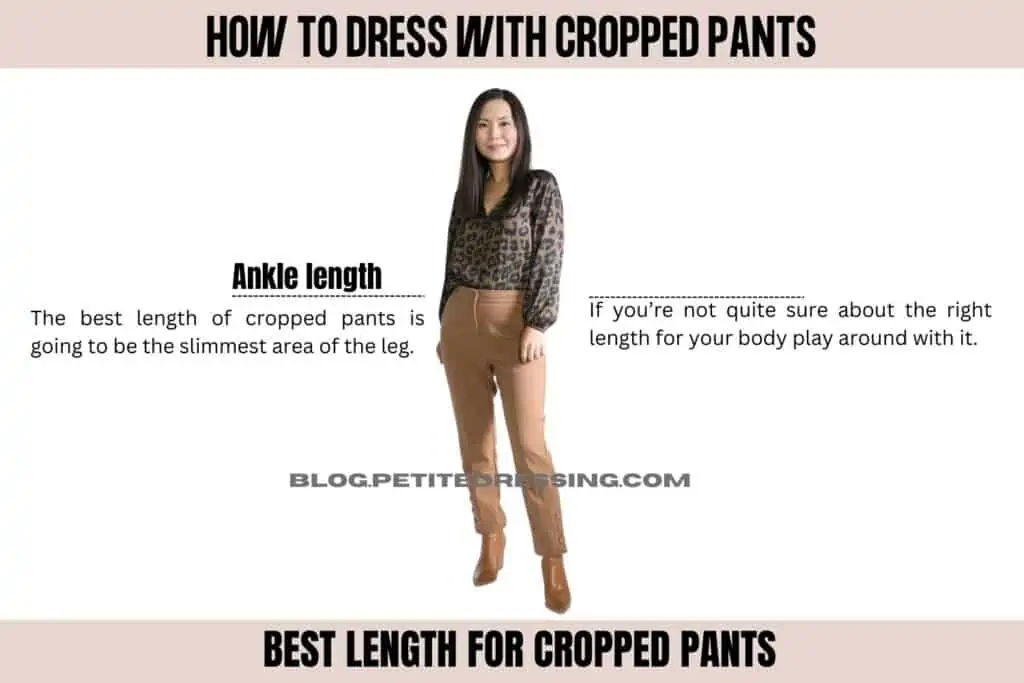 Say, for example, you have a pair of cropped pants that is around the ankle and lower calf region.
It may be difficult to find cropped pants off the rack that fit the perfect length for your body – this isn't something that's new to Petites of course. Don't hesitate to get cropped pants tailored!
This is such an important style tip that makes such a big difference in how flattering cropped pants look. If you're not quite sure about the right length for your body play around with it. Try pinning the pants in different lengths to see exactly where it needs to be to flatter.
Avoid calf length
Stay away from a length that rests at the widest part of that area of the leg as that will widen and shorten the appearance of the legs. Instead, the pants should be just above or below the widest part.
Avoid Wide Leg Cropped Pants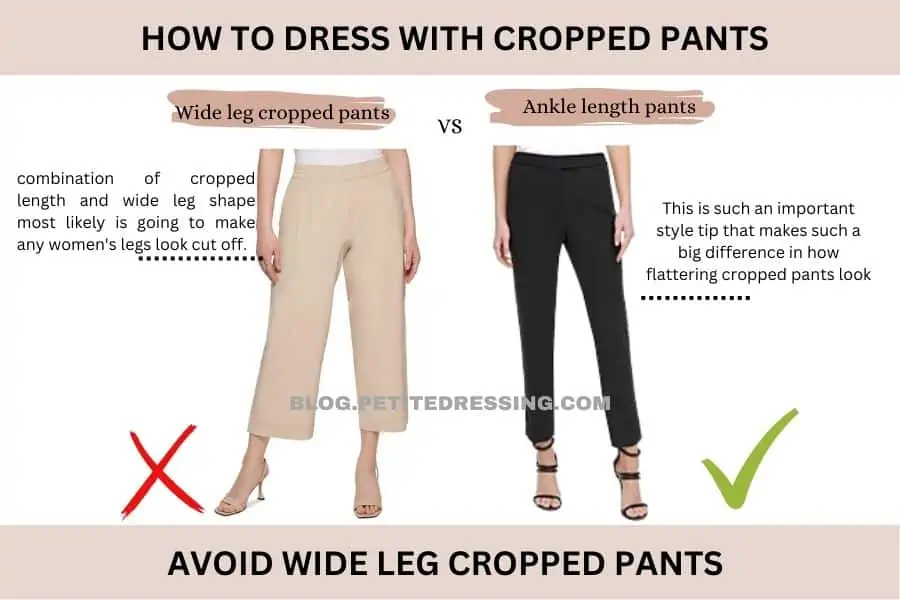 Wide-leg cropped pants are currently very popular, but if you are short, they are not your best friend. Wide-leg pants themselves can be quite a challenge for women who are short because they have so much volume and they form a horizontal line at your ankle.
Therefore, the combination of cropped length and wide leg shape most likely is going to make any women's legs look cut off. If you are tall, you may not care about it, but if you are shorter like me, the wide-leg cropped pants is something we should avoid.
Best Colors
Skin Color
Nude color pants are one of the best pants for short women, no matter what length they are. The reason is the color of the pants can blend with the color of your skin, making it hard for the eye to tell where your legs end.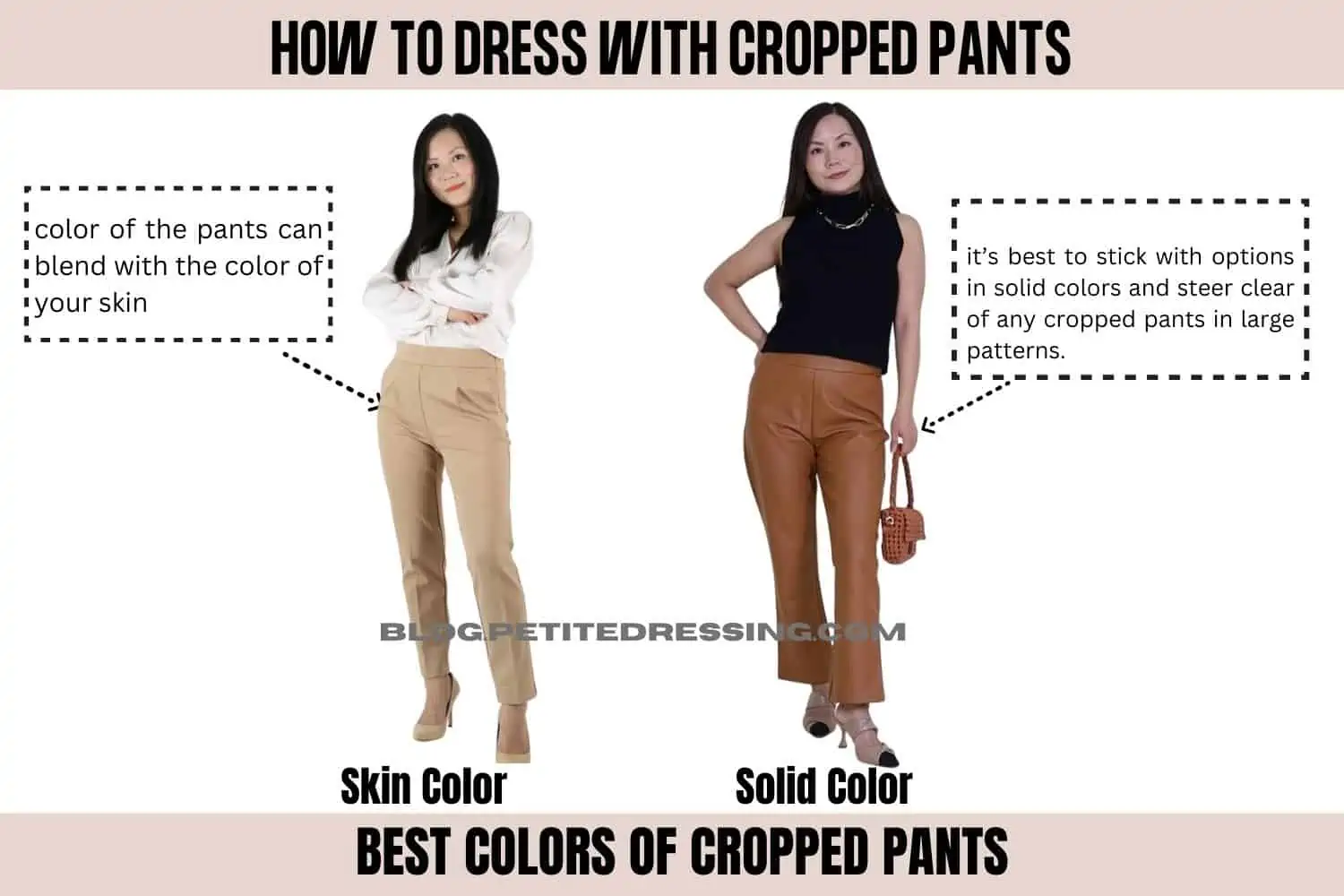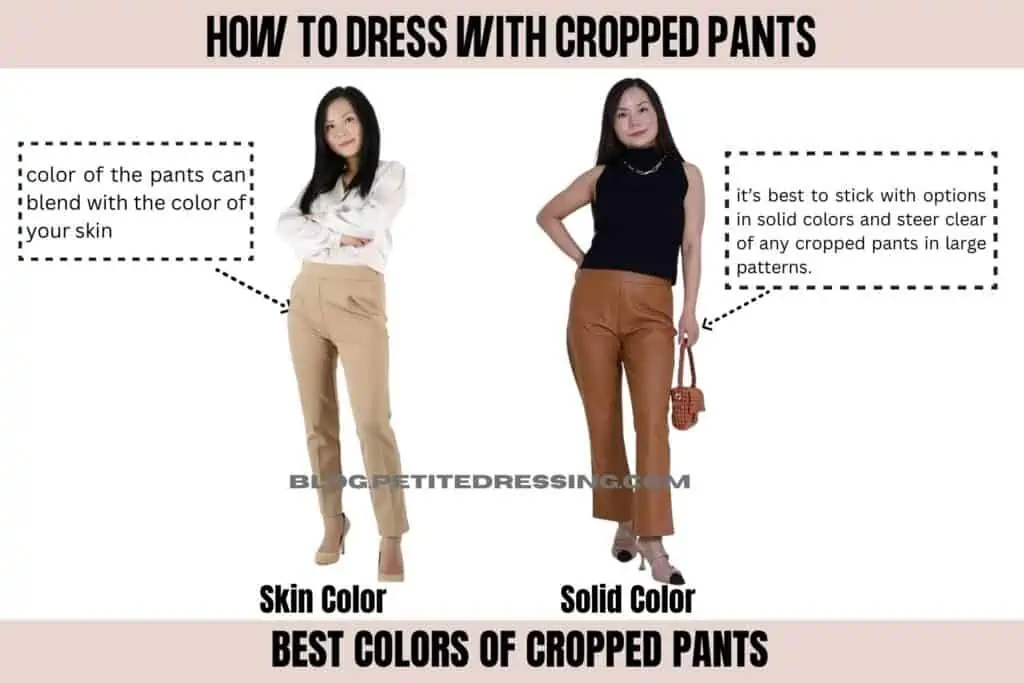 So, when you wear cropped pants in nude color, these are going to balance out the "cut-off" effect of the ankle length of the pants! I especially love the nude colors in spring and summer, because they are so versatile and literally go with everything in my closet. But of course you can also wear them in other seasons, as they are going to make your legs appear less cut off even when your pants are cropped!
Solid Color
Cropped pants can be found in various colors, fabrics and even patterns.
When you're short, however, it's best to stick with options in solid colors and steer clear of any cropped pants in large patterns.
While pants with patterns can be really fun they can also overwhelm a short body, which isn't a great combination when the pants are already cropped. Solid color pants keep it simple and flattering for a short body.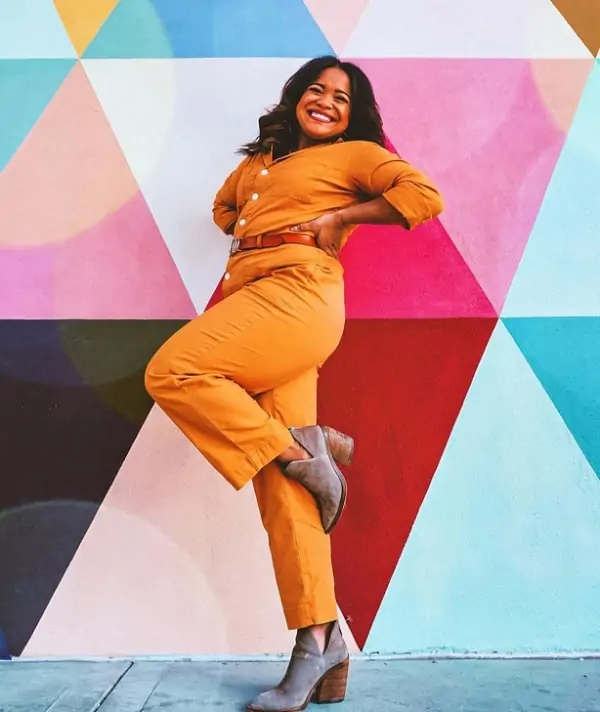 Above, Jordyn's cropped pants look incredible in this solid orange color.
How to Style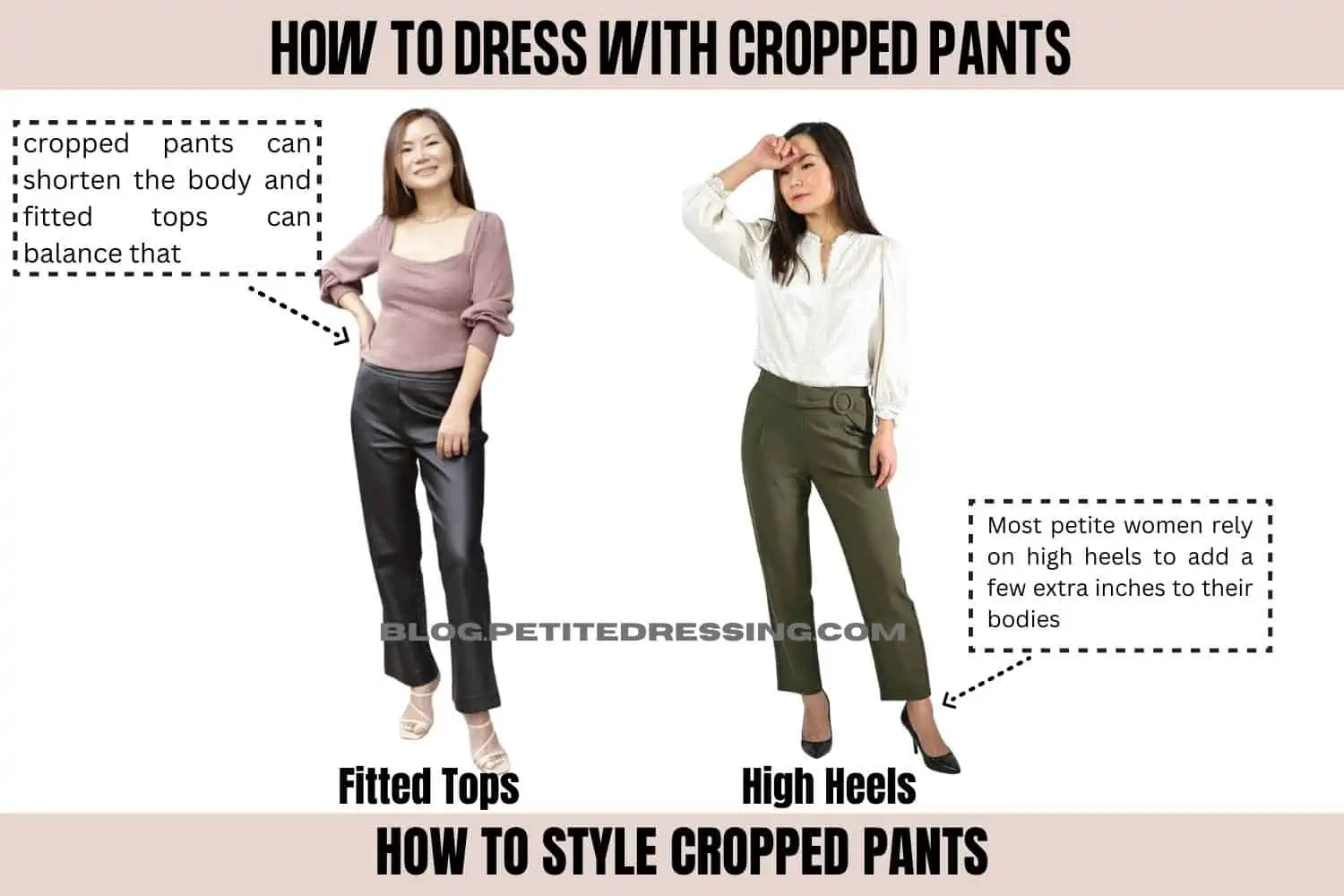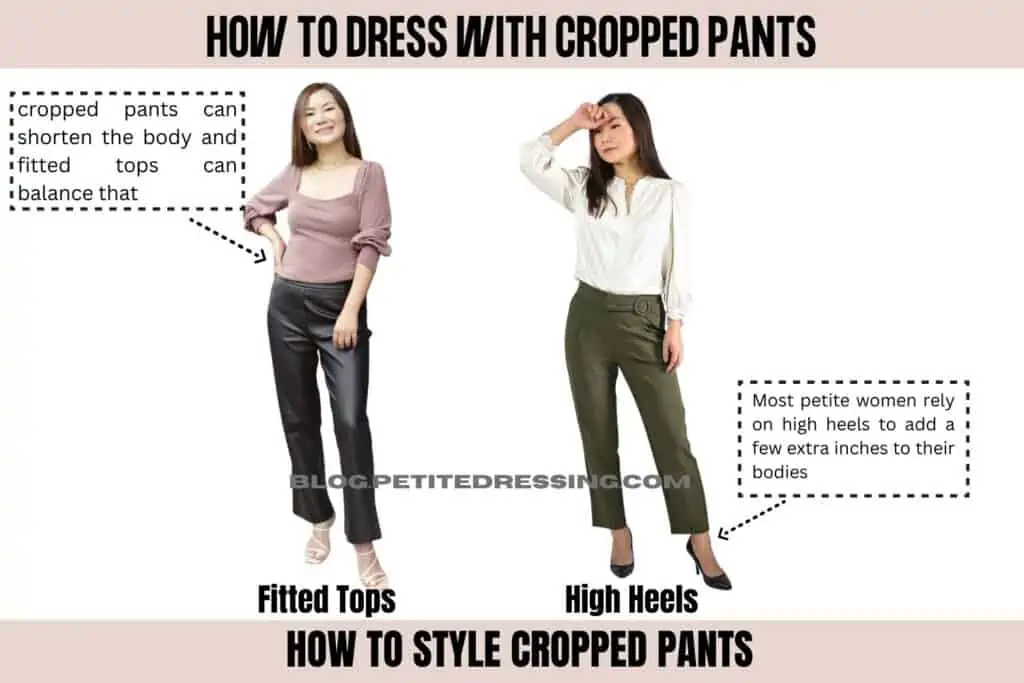 Fitted Tops
The tops you style with cropped pants play just as big of a role in how flattering cropped pants are, as the pants themselves.
Dressing a petite body is all about proportions and finding strategic ways to lengthen the body.
Because cropped pants can naturally shorten the body, it's essential the tops you wear are balancing that. The #1 rule of thumb is to wear tops that skim the body and avoid any top that are very loose and shapeless.
While this is a good rule to follow in general as a petite woman, it's even more crucial when styling cropped pants.
Body skimming tops are going to ensure that your shape and height is enhanced and flattered subtly.
High Heels
Most petite women rely on high heels to add a few extra inches to their bodies, regardless of the rest of the outfit.
Of course, this is a hack that can definitely be utilized with cropped pants. Instantly elevate your frame, even in cropped pants, with a high heel.
To make the most of your high heel addition stick to shoes that closely match the color of your skin.
This will add even more length to the body and ensure that legs aren't getting cut off in any way by the shoes selected.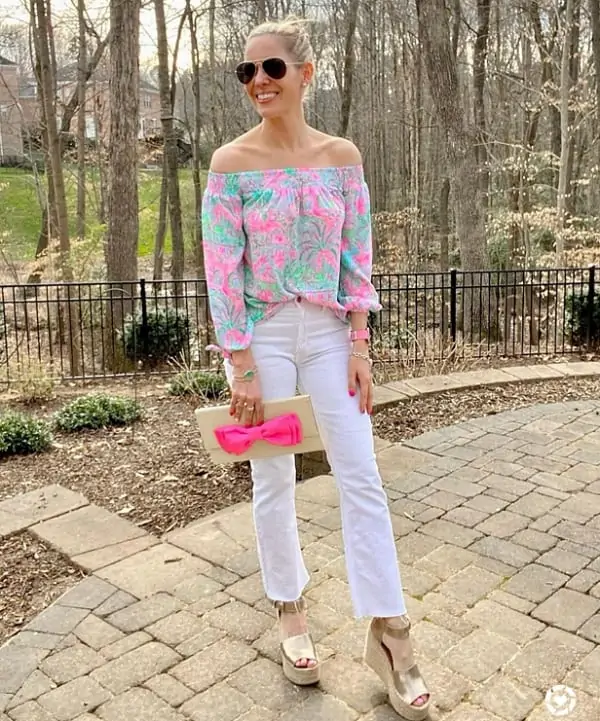 Ashley styled platform wedges to add length to her cropped jeans.
Shorter tops
The length of the tops worn with cropped pants is also an incredibly important detail to pay attention to.
Tops can be short crops or just above the hip, as long as it's on the shorter side.
Short-length tops are going to help play with the proportion of cropped pants and create more balance to the body. Not to mention this is a subtle way to highlight your waistline which is also beneficial to flattering a petite woman.
Above, Natalie is wearing a cropped top with the perfect pair of high waisted cropped jeans.
Avoid tunics
Because the goal is balancing out cropped-length pants, you're going to want to avoid long, tunic-length tops. Wearing tops that are at or below the hip in length is going to bring down the waist and shorten legs even more – which isn't a great combination with cropped pants. Keep tops that rest above the sides area of your hips.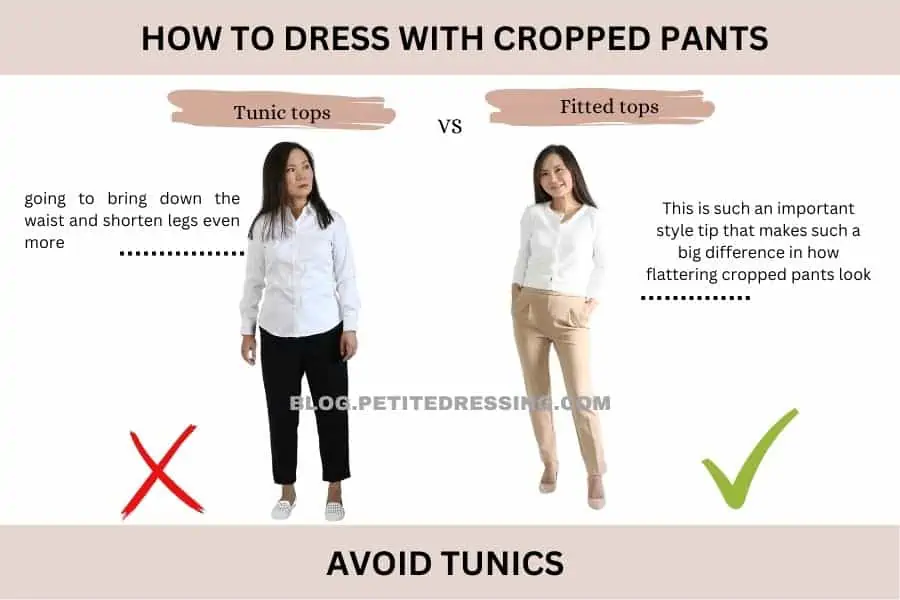 Same Color Shirt
Here's a little styling trick that can work wonders for styling cropped pants: style them with a shirt that's the same color!
This is also called monochromatic dressing and it's an incredibly stylish, subtle way to enhance your body type and ensure that your body doesn't look shorter in cropped pants.
Styling a top in a color to match the cropped pants gives your body this column-like appearance so instead of breaking the body up in the middle with a contrasting color top, you create a long line.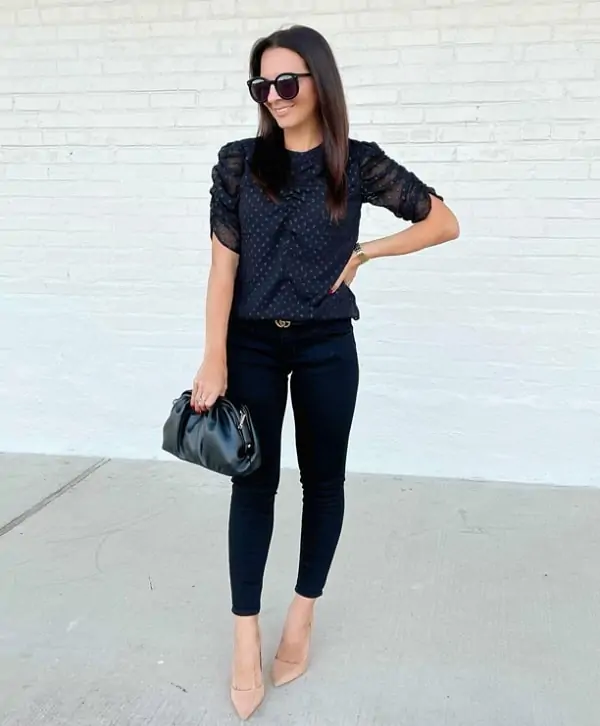 Amy styled her cropped pants monochromatically for the ultimate figure flattery.