It is incredible the effect necklines have on an entire outfit, especially if you are a plus size curvy woman. Even a slight shift in the shape and depth can completely change how your body looks in something, along with the general aesthetic. Shopping and getting dressed everyday is an opportunity to have fun and express yourself.
That being said, it always helps to have a bit of tried and true tips to help you along your style journey. This list is a breakdown to help you choose the right necklines to flatter a plus size shape, regardless if you are petite plus size or average height. If you're a plus size woman, scroll through the list to see if there are any necklines you've been missing out on wearing.
Asymmetric Necklines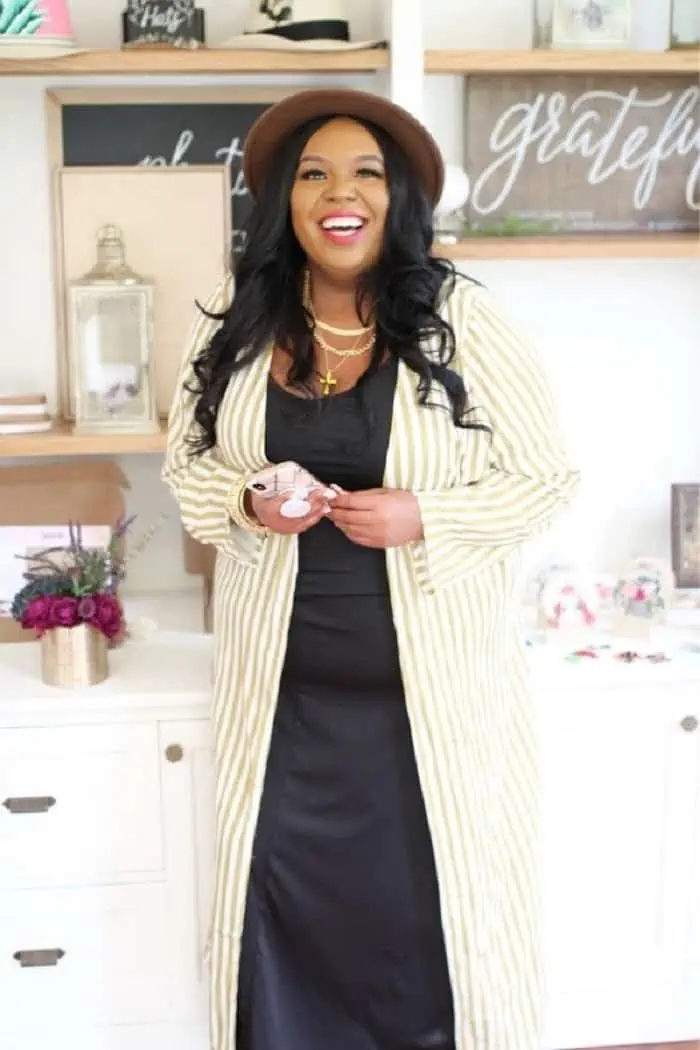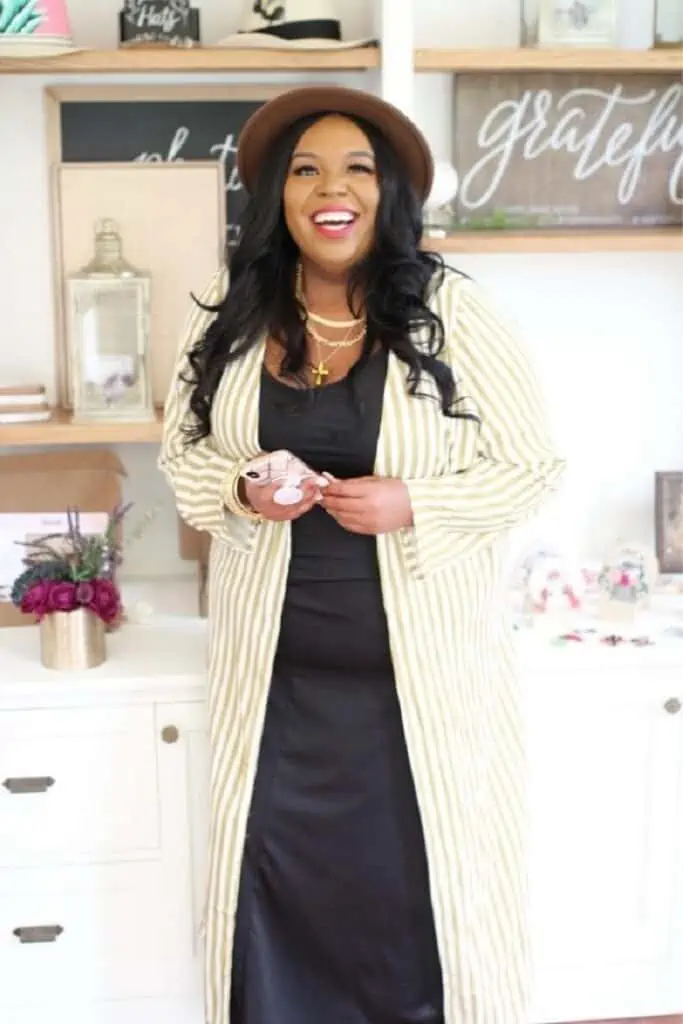 A neckline that some women steer clear of, in fear that it's not flattering on someone who is chubby, is the asymmetric neckline. The good news? It's one of the best options when you're plus size because of how figure flattering it is.
What many women don't realize is that the asymmetry is a great trick when working with illusion and clothing. Because of the shape that is created by an asymmetrical neckline, it gives the appearance of more narrow shoulders and waist – not to mention it's been found to make the body have a more hourglass appearance.
Even if you don't like to expose a lot of your arms or shoulders you can make use of this particular neckline. It's really anything that has, well…asymmetric elements to it.
It's not uncommon to find tops and dresses in a very subtle asymmetric neckline shape. This is perfect for anyone who wants to reap the illusion benefits without committing to a one shoulder type of look.
Cowl Neckline
The cowl neckline is another winning style choice in plus size tops and dresses. It's something to favor for a couple of reasons, too.
First, it offers a soft and subtle draped effect to the garment that doesn't add a lot of excess bulk to the body. It's important to stay away from garments that do add bulk because it can translate to adding bulk to your shape.
Second, the softness of the cowl neckline is a really pretty way to enhance a feminine aesthetic to an outfit. A lot of sharp and structured pieces can sometimes feel overpowering on the body, the softness feels fresh and light.
Additionally, cowl necklines draw more attentions towards the face helping to create more balance to the body. This is even more beneficial if you want to distract from the midsection.
Off-the-Shoulder Neckline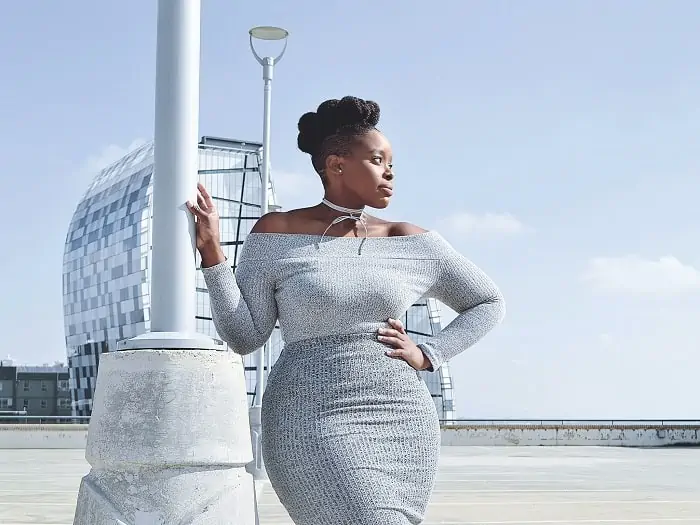 Another trendy neckline that's incredibly flattering for plus size women. Some style experts suggest this is one of the absolute best necklines to choose from, particularly if you're plus size with a pear or hourglass figure.
The way an off the shoulder neckline sits on the body draws a lot of attention towards the shoulder and chest area of the body. Because of this it can be incredibly flatter in balancing a pear shaped figure.
If you have a naturally balanced figure meaning your top and bottom halves are quite similar in size, this is also a neckline to favor in your wardrobe. The shape it creates when worn further emphasizes a balanced shape, adding extra balance to your figure.
One thing you will want to pay close attention to with this neckline in particular is the fit of it around your shoulders and chest. You will want to ensure it fits but isn't too snug. When this kind of fit is too tight on the body it won't provide you with the figure flattery benefits. Plus, it can be difficult to feel comfortable moving around freely in the garment.
V-Neckline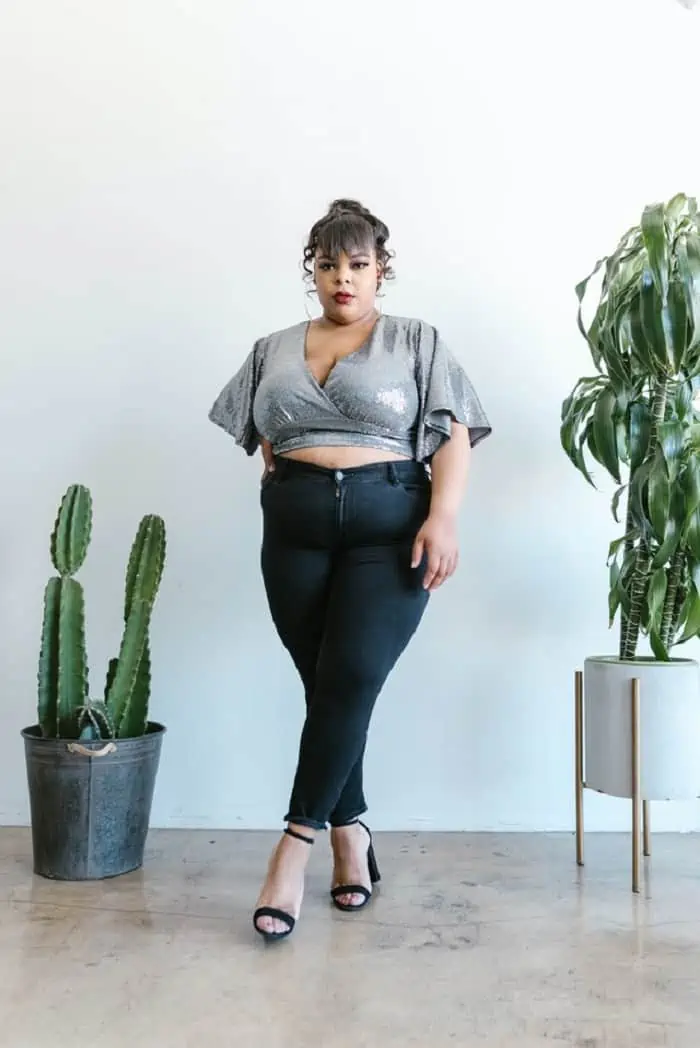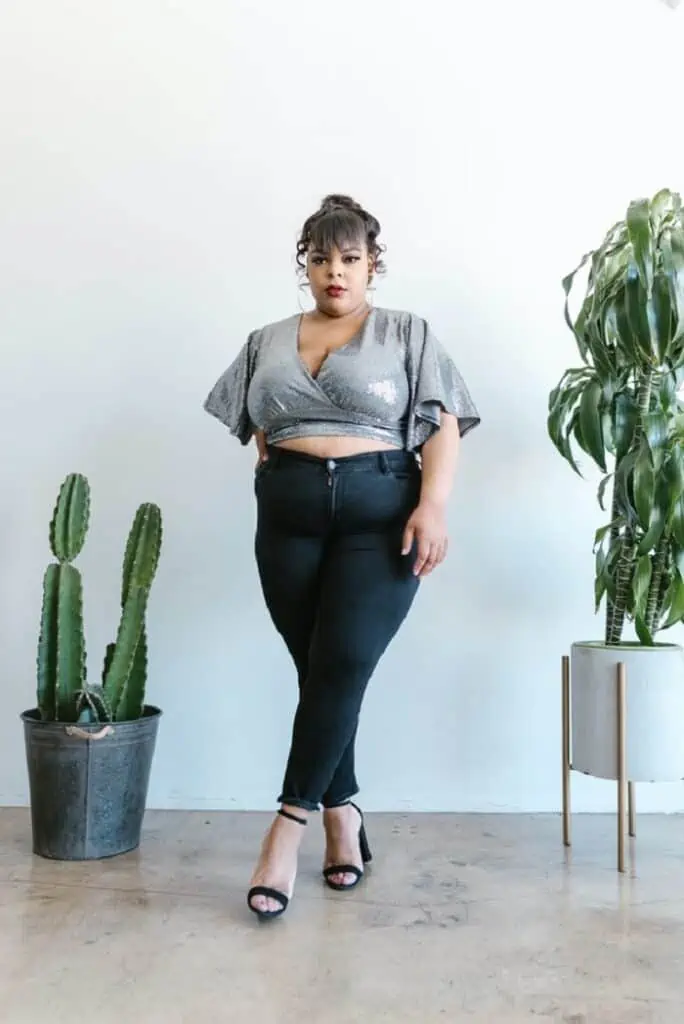 The ever-favorited v-neckline couldn't be forgotten on this list. To be quite honest, it's a neckline that works for every body type but it's definitely something to choose as a plus sized woman with big bust.
The main benefit that comes from a v-neckline is the elongation effect that's presented. Thanks to the distinct v shape, with straight lines, it adds length to the neck and chest area of the body when worn. The reason lengthening is flattering for a plus size woman is because it establishes a slimming effect as a byproduct.
If you have a wider neck or broad shoulders, for example, this is definitely the perfect neckline for your shape. The elongation will visually balance those wider body parts, giving them a more narrow look.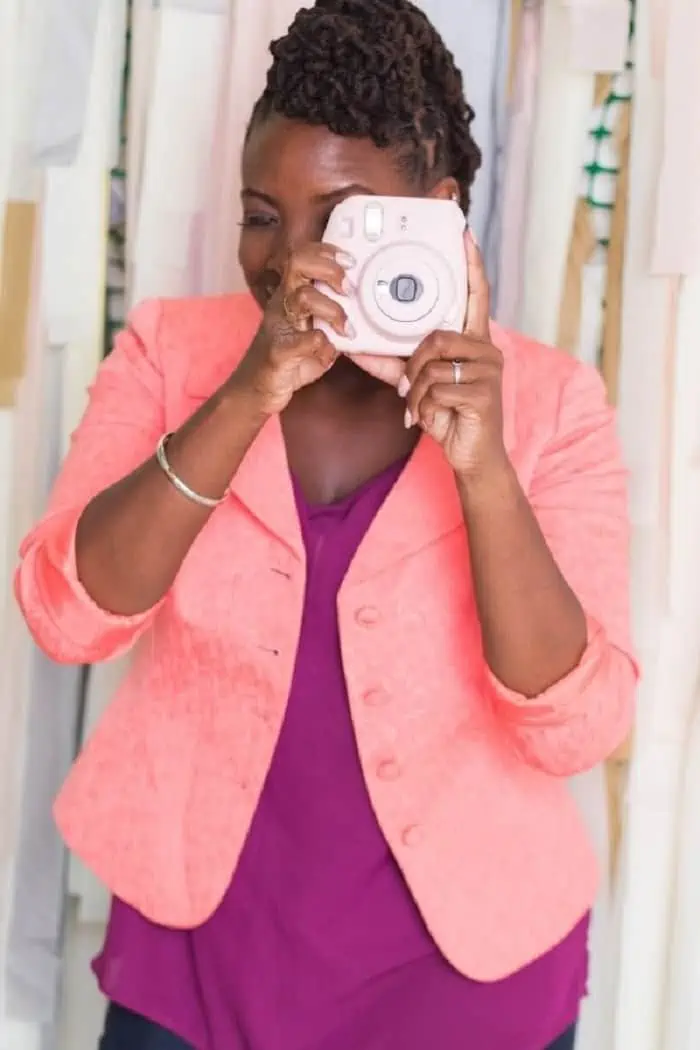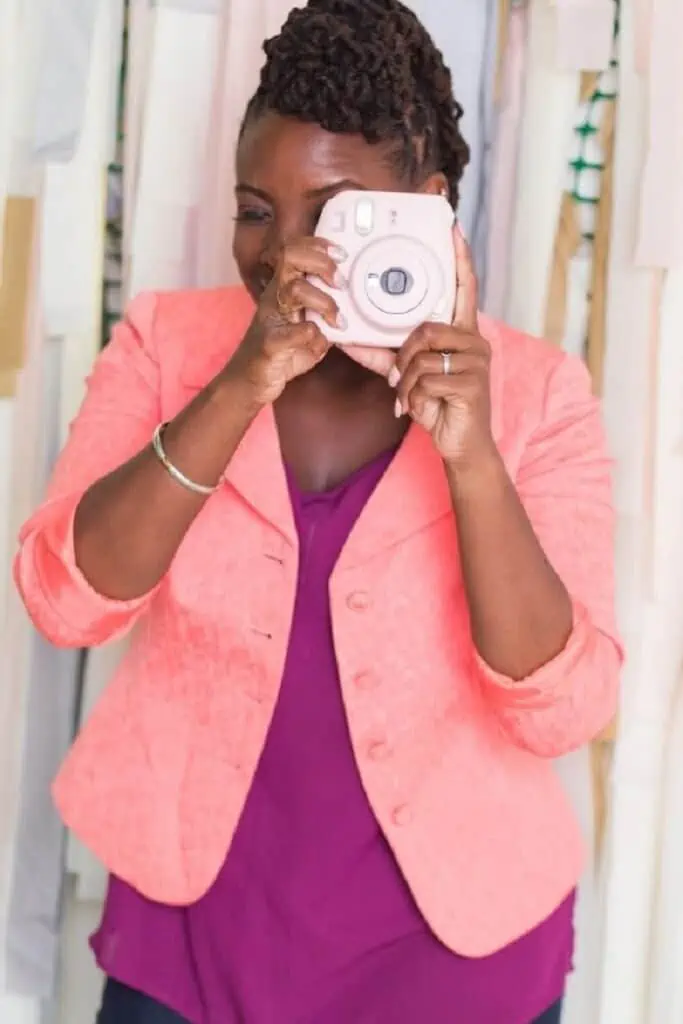 Scoop Neckline
Second to the v-neckline is the scoop neckline, in terms of how wearable they are. Scoop necklines are another flattering choice if you are plus size.
Similar to the v-neckline, scoop necklines provide a slimming effect to the neck and shoulder areas of the body. The great thing about the scoop neck is the soft, feminine aesthetic it provides to the body without the need to show a lot of skin or cleavage.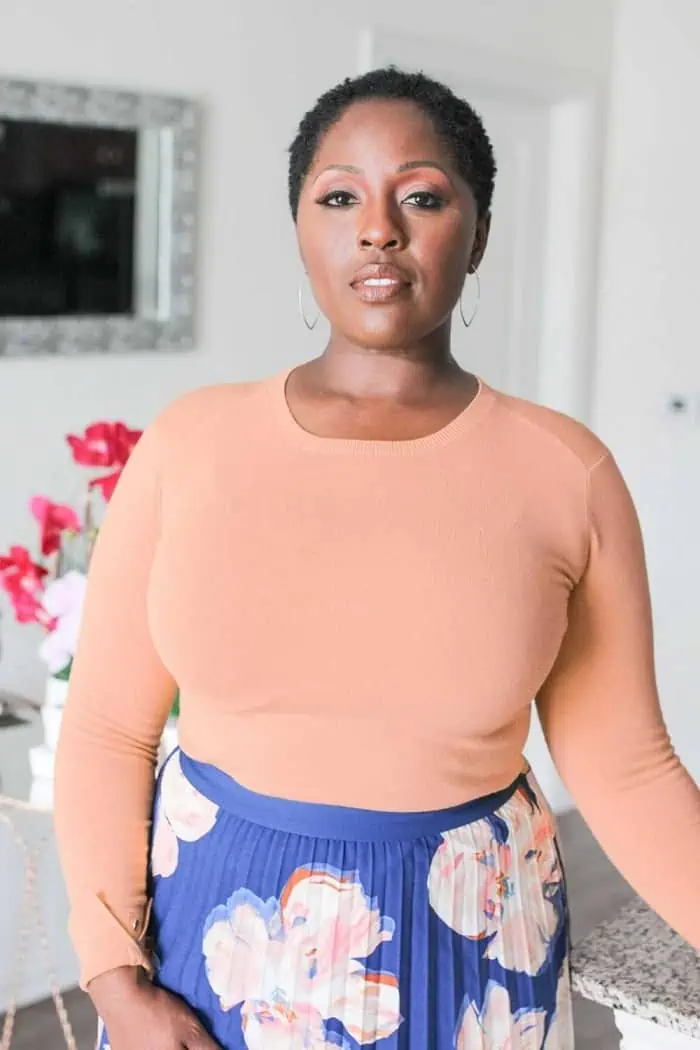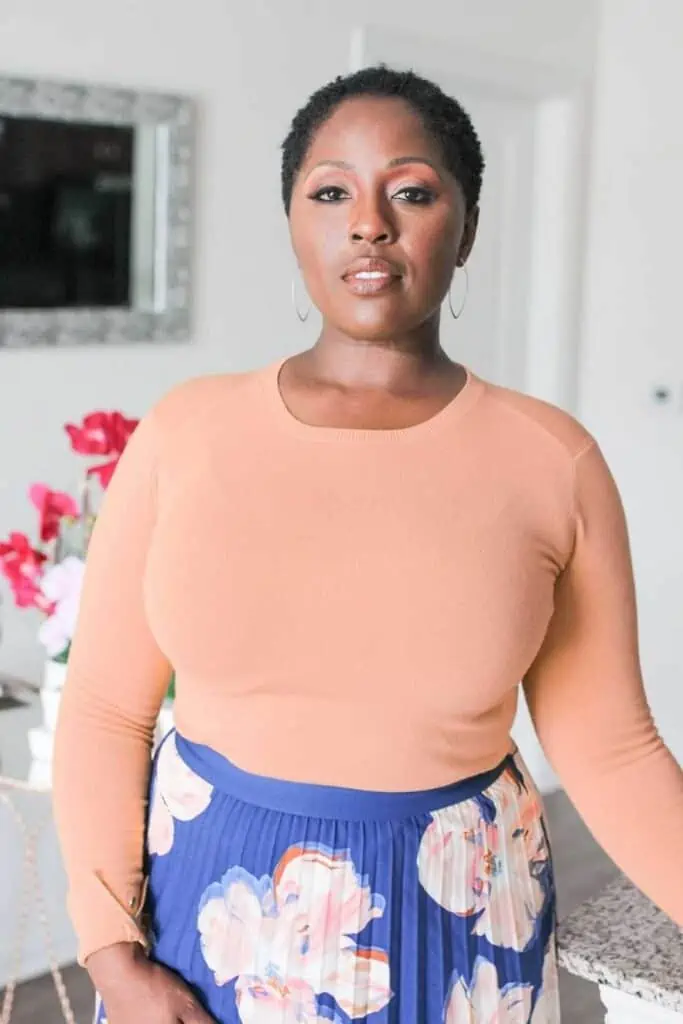 Halter Neckline
It may come as a surprise to learn that halter necklines are a great choice with a plus size shape. In general, halter necklines are ideal for women with a fuller chest. If that's you, then it's something to give a try.
The main benefit that comes from a halter neckline is the lifting and slimming effects. Because of the shape that a halter neckline provides it draws the eye closer to the center of the body, which is where the slimming effect comes into play.
Because of the way a halter neckline sits higher up on the neck and shoulders, this is where the lifted effect comes in. Lift + slim = major flattering perks.
Sweetheart Neckline
Last but not least is the sweetheart neckline. While this is a popular neckline in formal gowns, it's not limited to that area of fashion – fortunately.
This is a great neckline to choose when you want a very feminine look that flatters a plus size figure. The rounded shape gives this romantic, feminine feel to any garment the neckline is on.
What really makes this neckline stand out is the way it kind of mimics the shape of the body naturally. You will find the rounded shape is paired with a slight v-shape, or dip, in the middle. This 'dip' continues the figure flattering by drawing the eye in, giving the wearer a slimming effect.