Finding that pair of perfectly fitted jeans is never easy, especially if you are looking for jeans for big thighs!  Since I have a petite clothing line, I receive feedback from thousands of my customers of all body shapes and sizes, some of whom have thicker thight.
The common issue my customers with bigger thighs have mentioned to me is jeans that fit you elsewhere always end up being too tight for your thighs. Meanwhile, if the jeans accommodate your thicker thighs, they tend to gap on your waist.
Based on the feedback from my customers on what works and what doesn't, I've put together this complete denim guide for women with thicker thighs on how to find that perfect pair.
What to Look for
Ideally, the right pair of denim should make your hips and thighs look slimmer
If you have shorter legs, they should also make your legs look longer and leaner
They should avoid the gapping on your waist, i.e. fit both your waist AND your hips like a glove
The Fit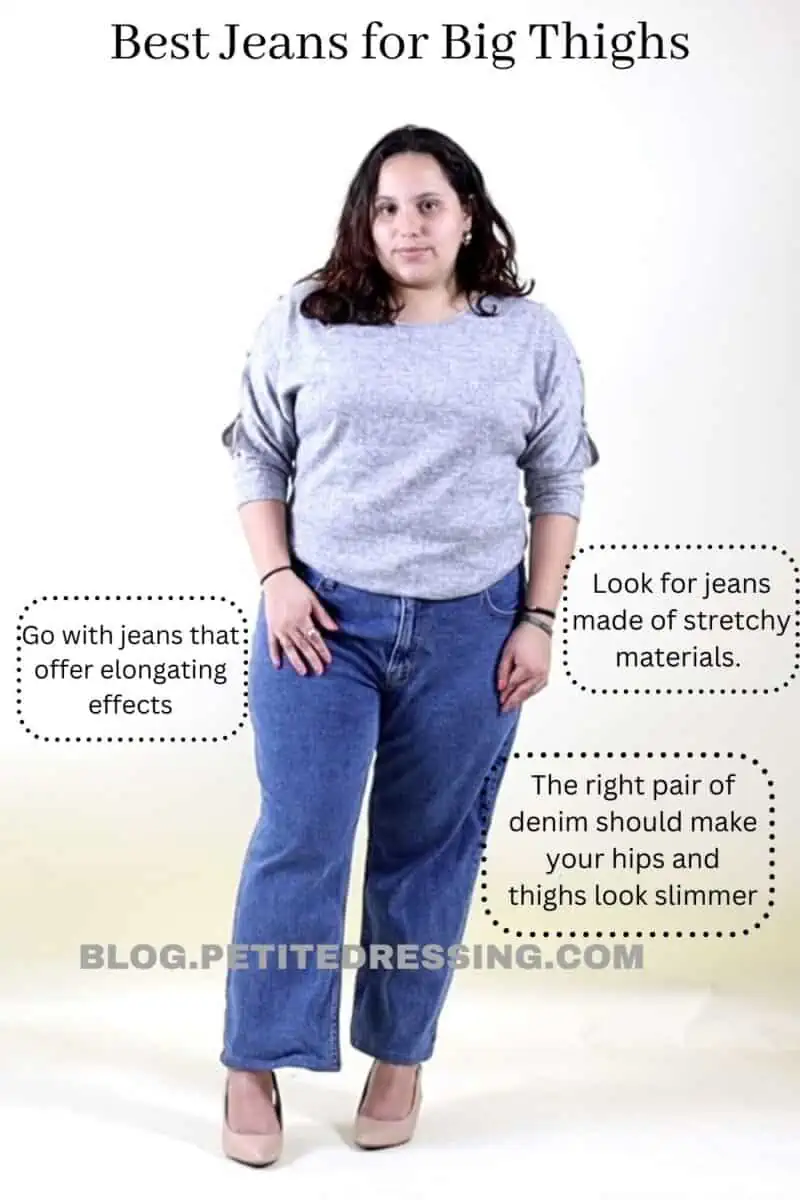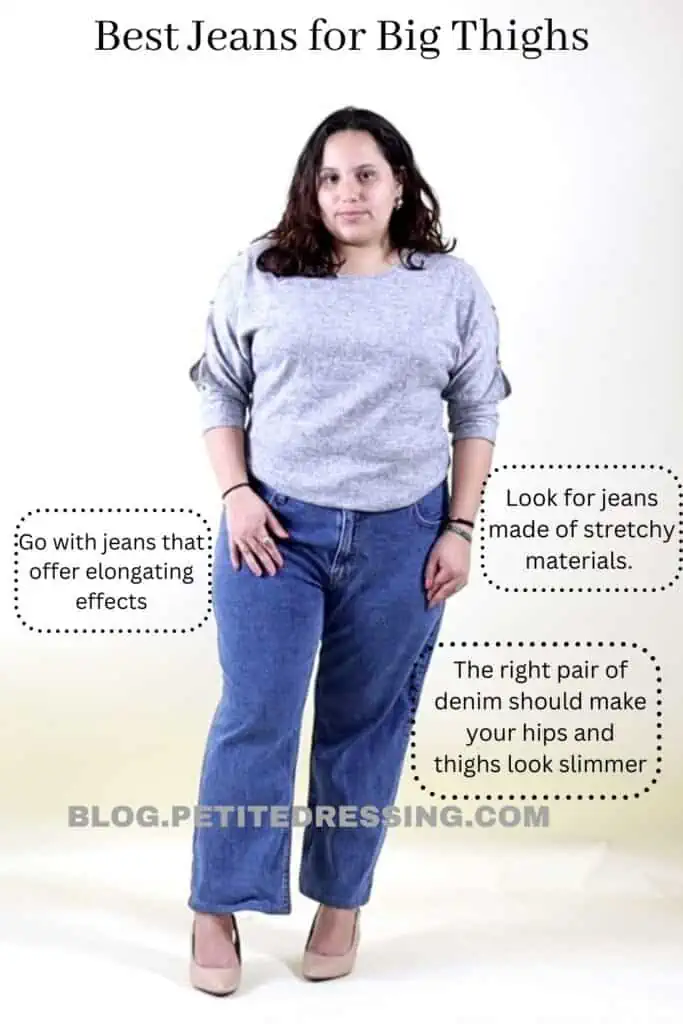 More and more denim brands have introduced the "curvy line" to their jeans, and these are the best jeans for the curvy figure.
What exactly is the curvy fit?
These are cut with more space in the hips and thighs and they are smaller in the waist.
If you have thicker thighs, one of the biggest challenges is to find jeans that fit your thighs but at the same time, are not too loose on your waist.
The curvy jeans are designed exactly to solve this issue!
Best Color
You probably already know that black is the most slimming color. The best jeans for thick thighs should have a slimming effect on the legs. That doesn't mean women with big thighs should only wear black jeans. Did you know dark wash can do the same to flatter your thick thighs?
Here is a bonus tip: when you pair dark-washed jeans with a brighter top, the slimming result doubles! It works even better than if you are wearing darker colors from top to bottom.
The reason is bright color forms a sharp contrast with the dark jeans and draws attention to your top, which totally distracts people's attention from your big thighs!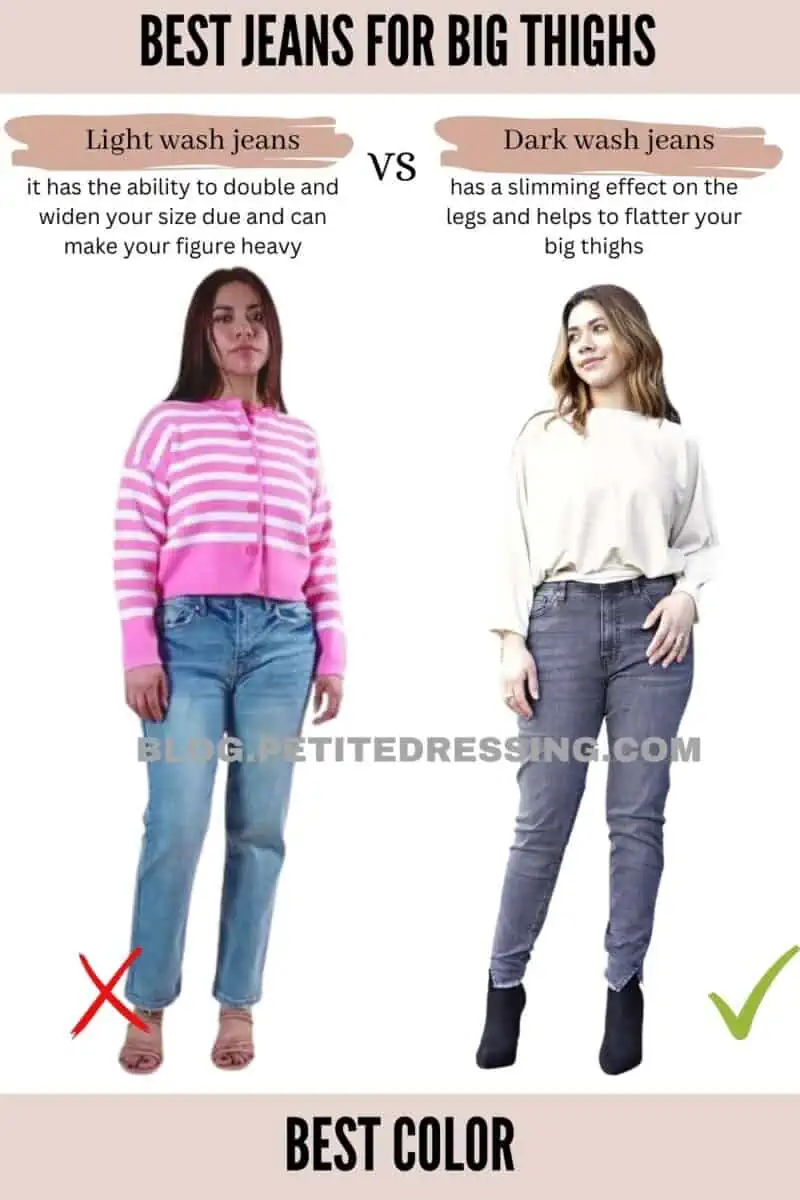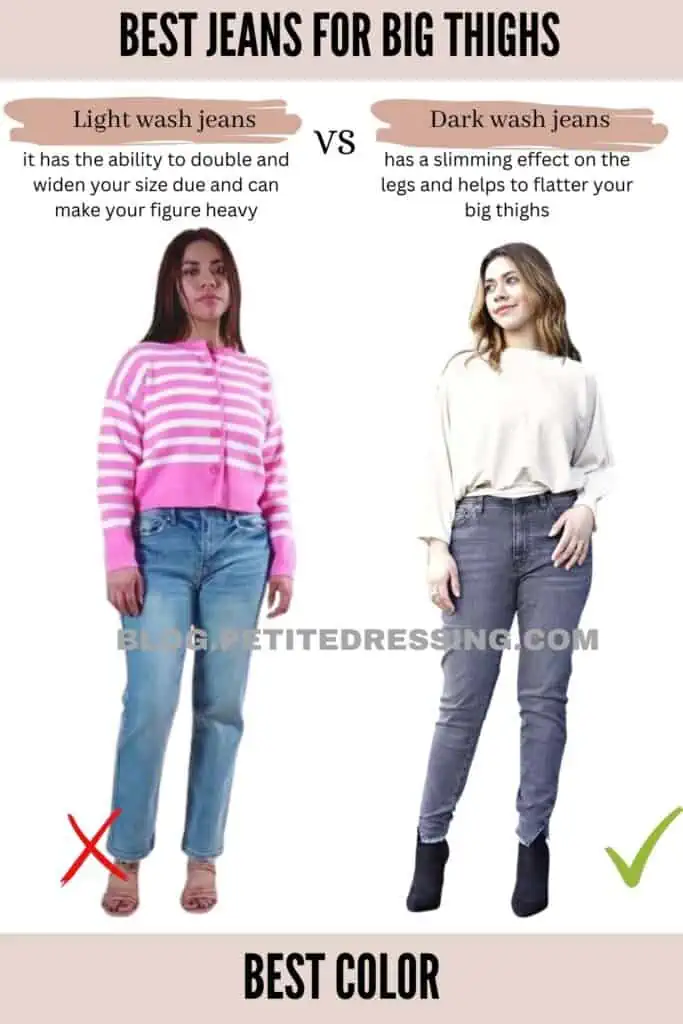 The Fade
We all know jeans come in different colors and fading. Did you know that choosing the right fade can impact how your thighs look?
The right jeans for big thighs should have faded in the center of the leg, which will make your legs look thinner and your thighs looks less thick. If you have thicker thighs and short legs, fading on the center of leg can also make your legs look longer. This pair on Kim does the perfect job!
If fading of the jeans is right on the thigh area, that will bring all the attention to your big thigh, which is the opposite of what you want!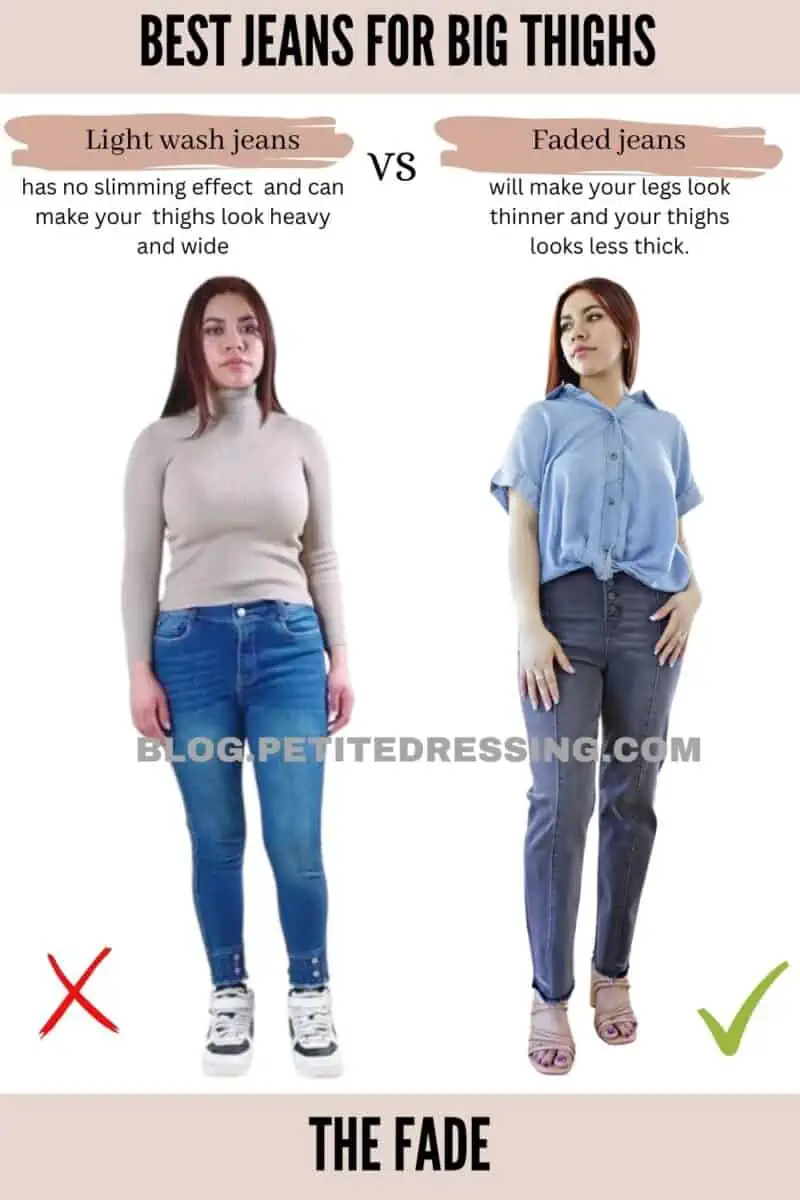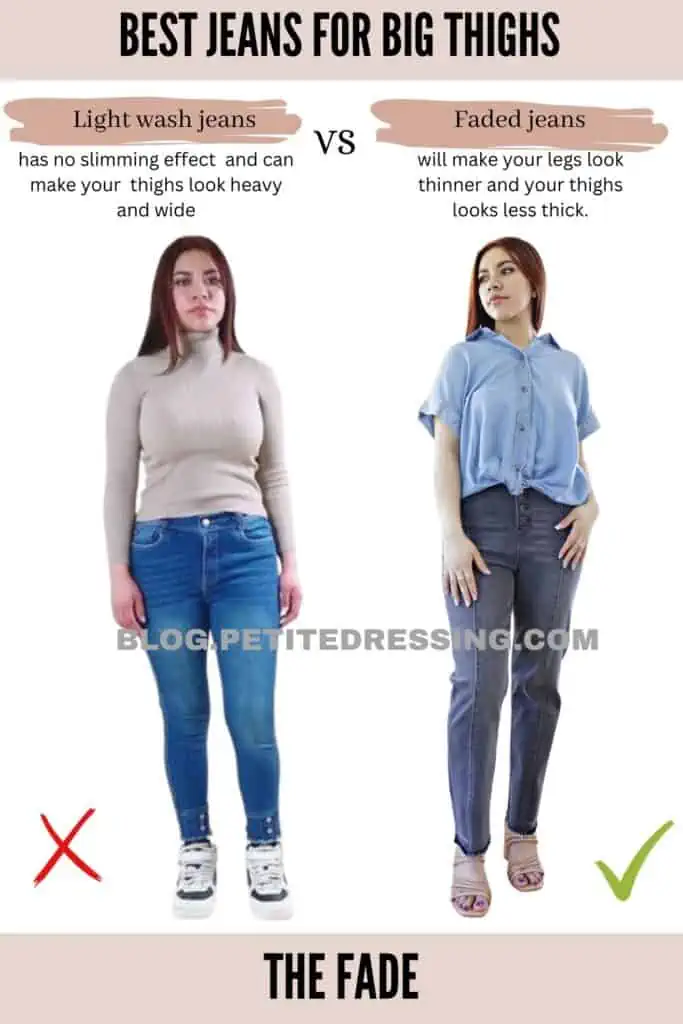 Best Fabrics
If your body type is thick thighs but slender everywhere else, then you might be constantly struggling with finding the jeans for big thighs that will not be too loose in the waist area. If that is you, one possible solution is to look for jean made of stretchy materials.
Look for jean blends that include lycra, elastane, polyurethane, or spandex.
Meanwhile, jeans with contour waistband will keep the jeans from creating a gap between your back and the waistband of your jeans.
Best Style
Since jeans have many different leg styles, it is critical that you choose the most flattering jeans style for big thighs. Let's go over each one and see what works best for women with thick thighs.
Mom jeans
Okay, these should be the cornerstone of your closet, as these are made to accommodate thicker thighs.
Since Mom jeans are cut with more space in the hips and thighs, nothing will make you more comfortable than these.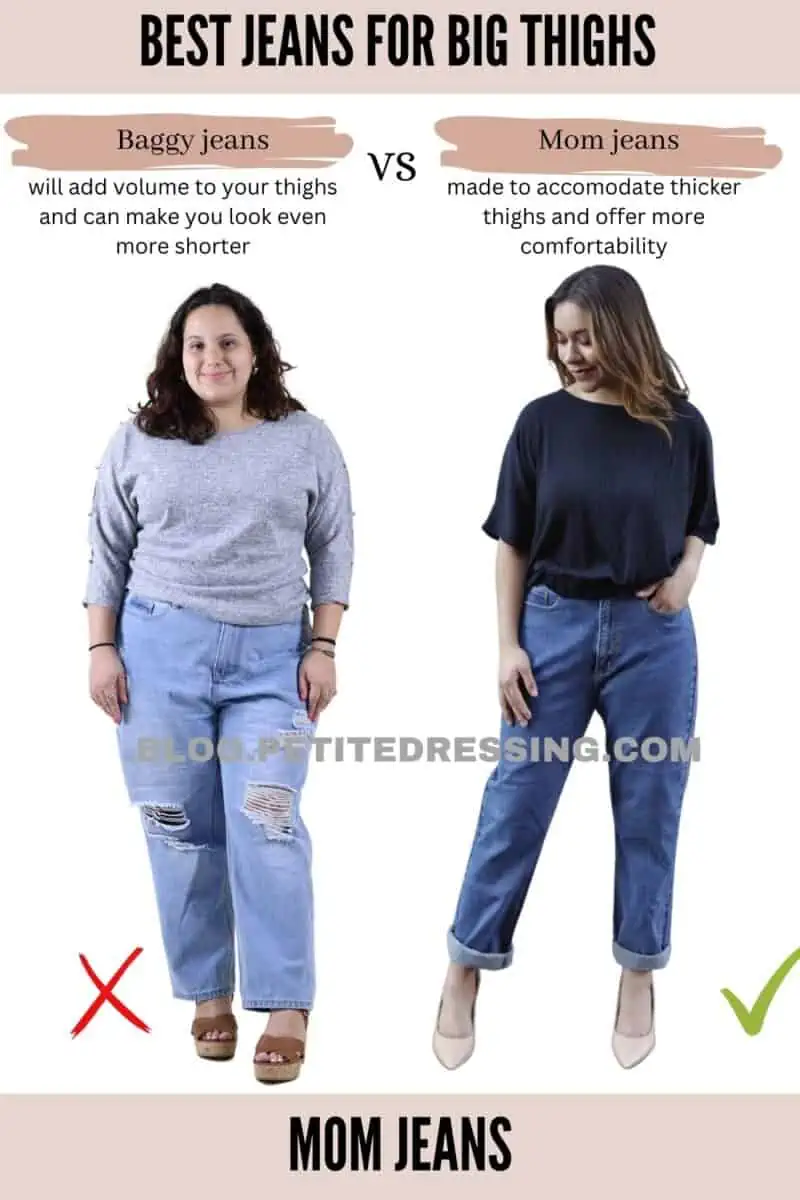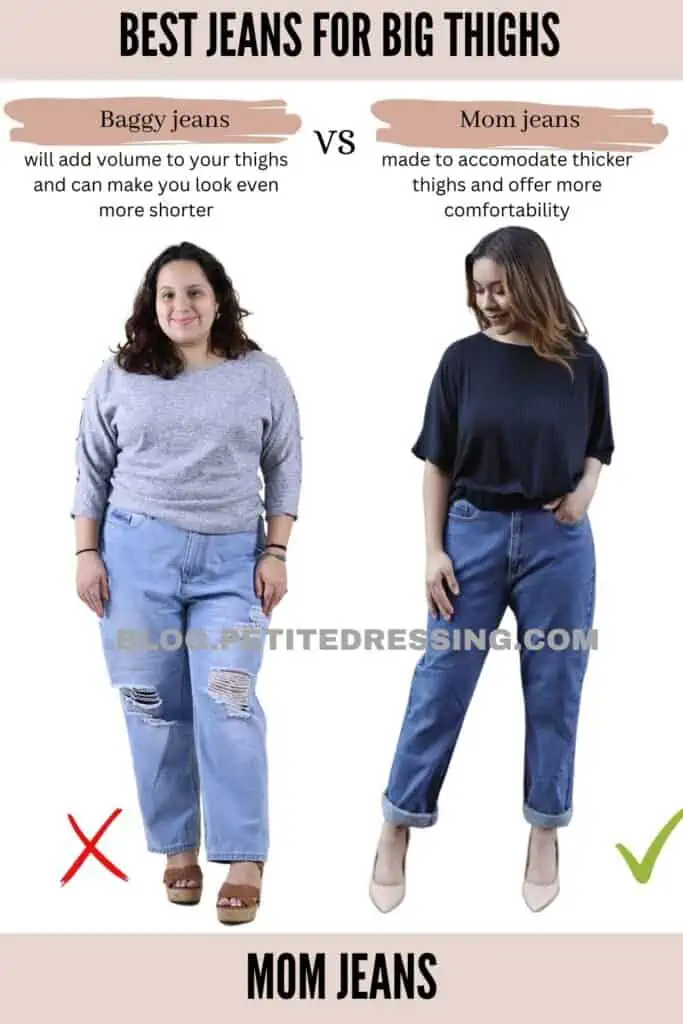 Bootleg jeans
Bootcut jeans are stylish and universally flattering to women of all body types.
First, what is boot cut?
This jean style is straight through the thigh and kicks out just below the knee to create a gently widened hem (typically about an inch wider than the knee).
Since they are not as tight as skinny jeans under the knee area, they draw less attention to your legs and make your thighs less prominent.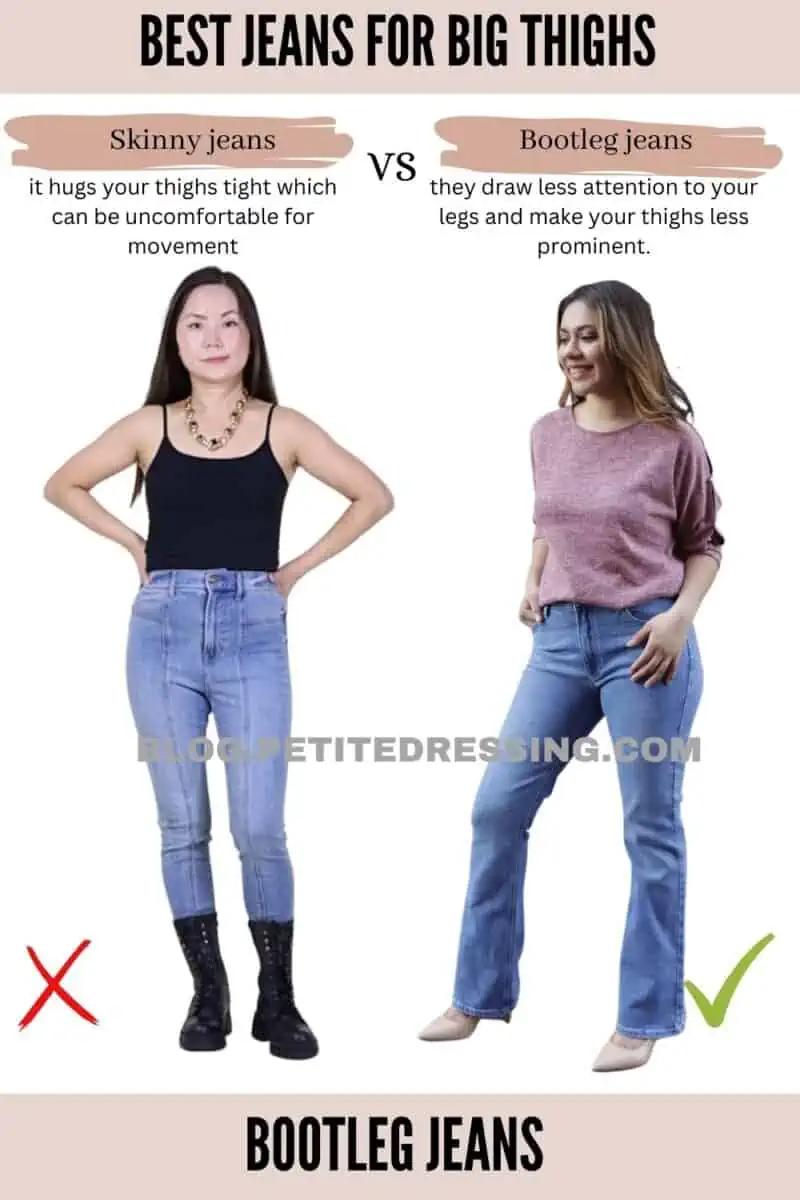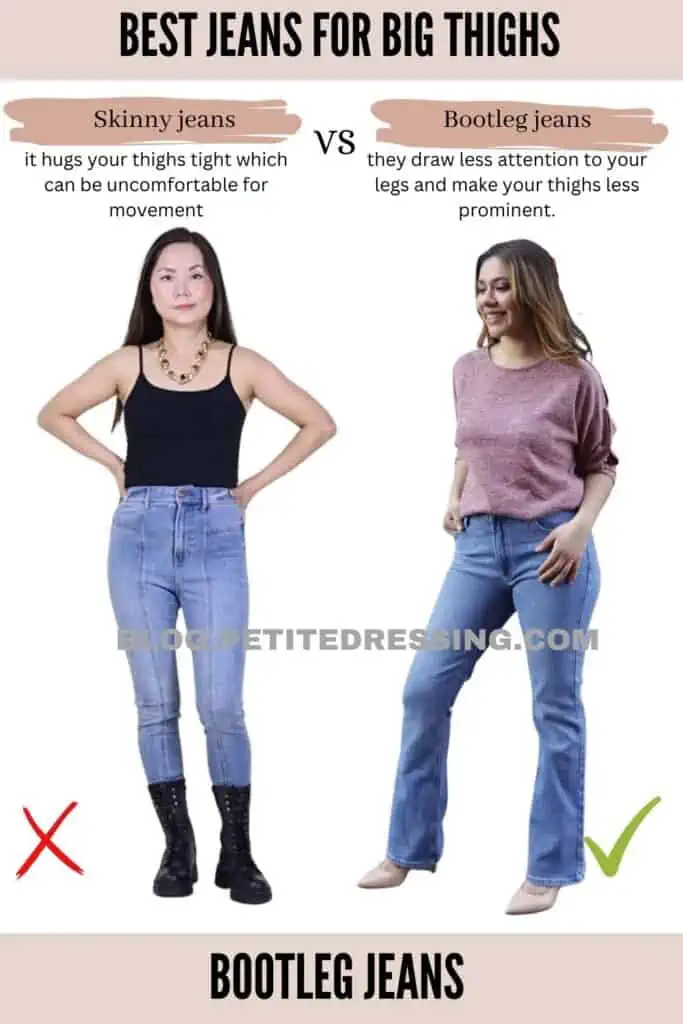 Flare leg
This style is heaven-sent jeans for women with big thighs, particularly if you have thick thighs and short legs! Many women with bigger thighs have the pear body type, which is bottom-heavy. The flare leg balances out your wider hips and thigh areas perfectly. Flare leg also has the magic effect of elongating your legs!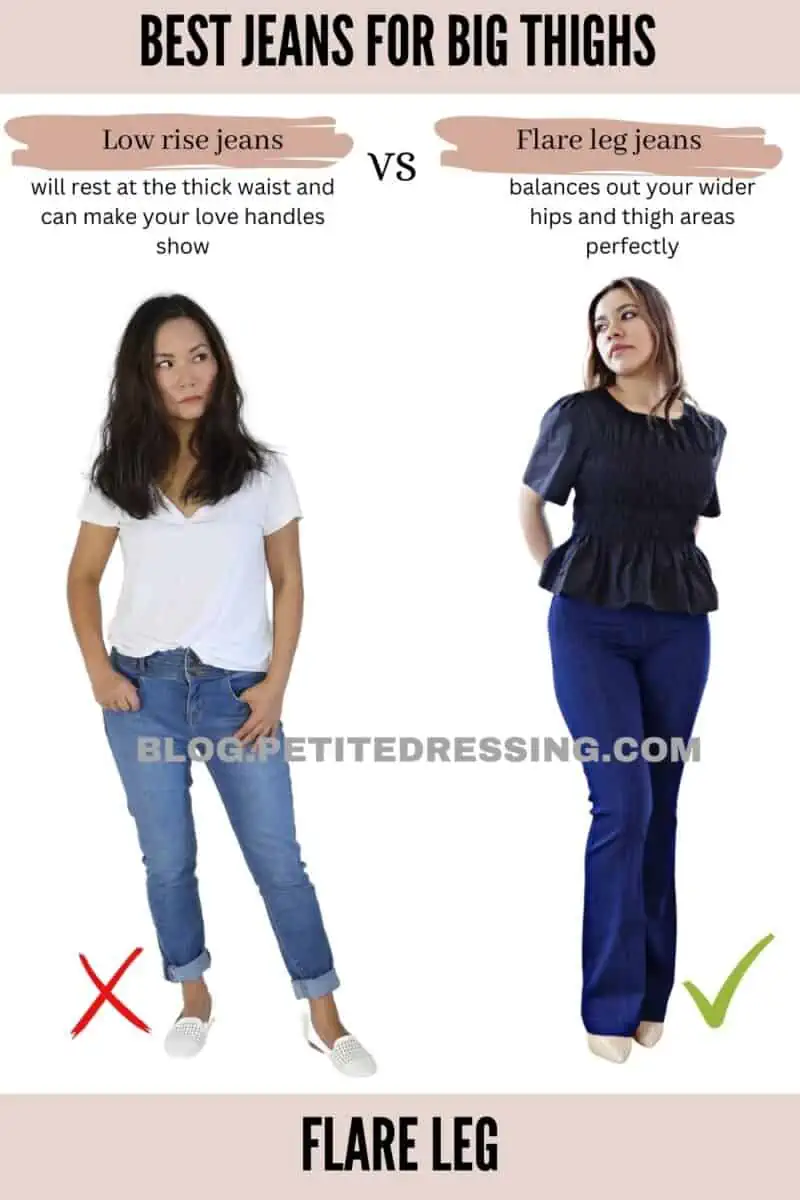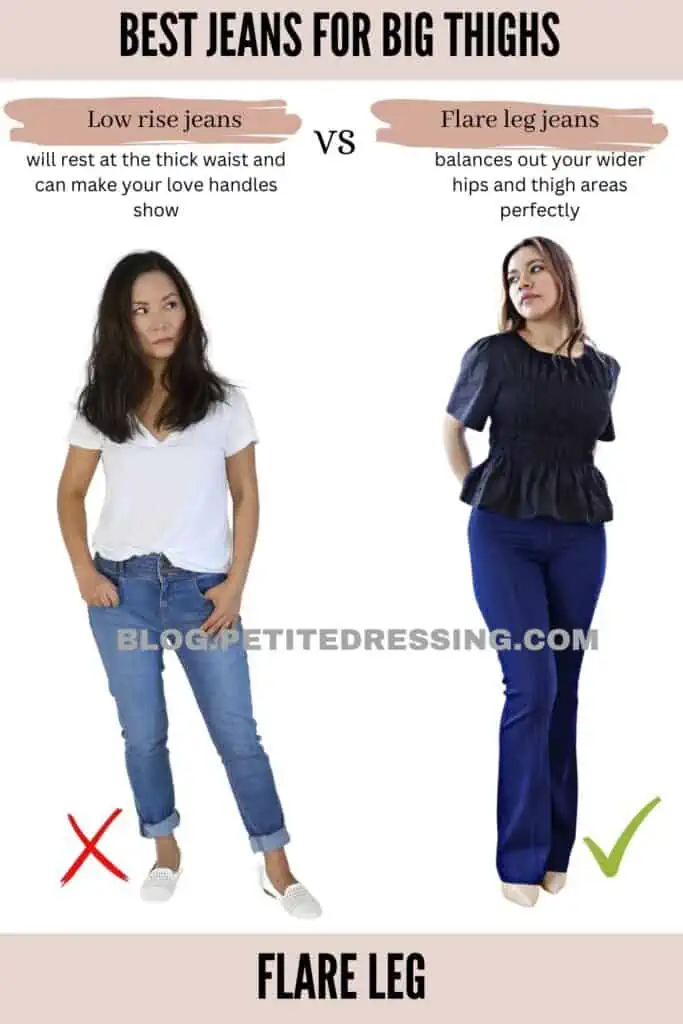 Wide leg
Does it sound counterintuitive to you that wide leg could be a good option of jeans for thick thighs? The reason is because wide leg is roomy in the thigh area, this style will make your thighs look less prominent, especially if you wear dark wash.
The key to wear wide leg jeans for women with big thighs and short legs is to make sure you pair it with a well tailored top. Since the wide leg adds volume to your bottom half, it is important to balance it out with a fitted blouse or tank top to avoid looking swamped in fabrics.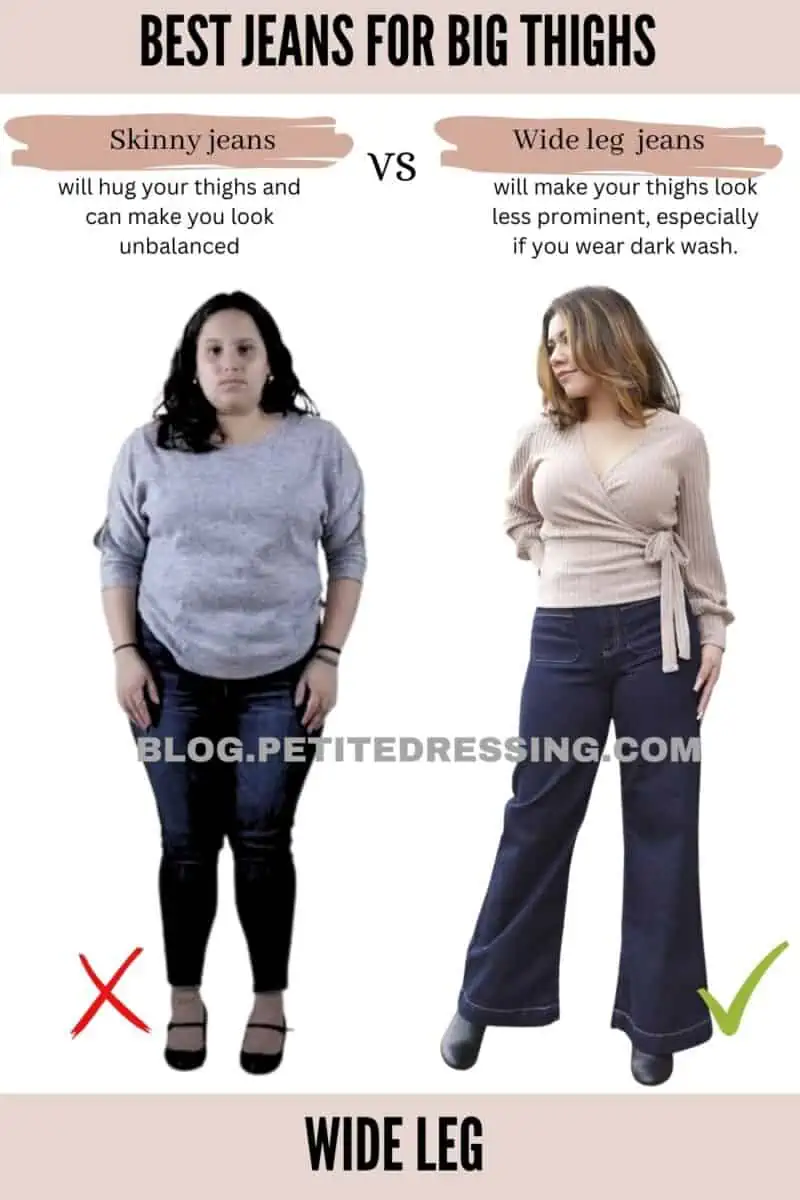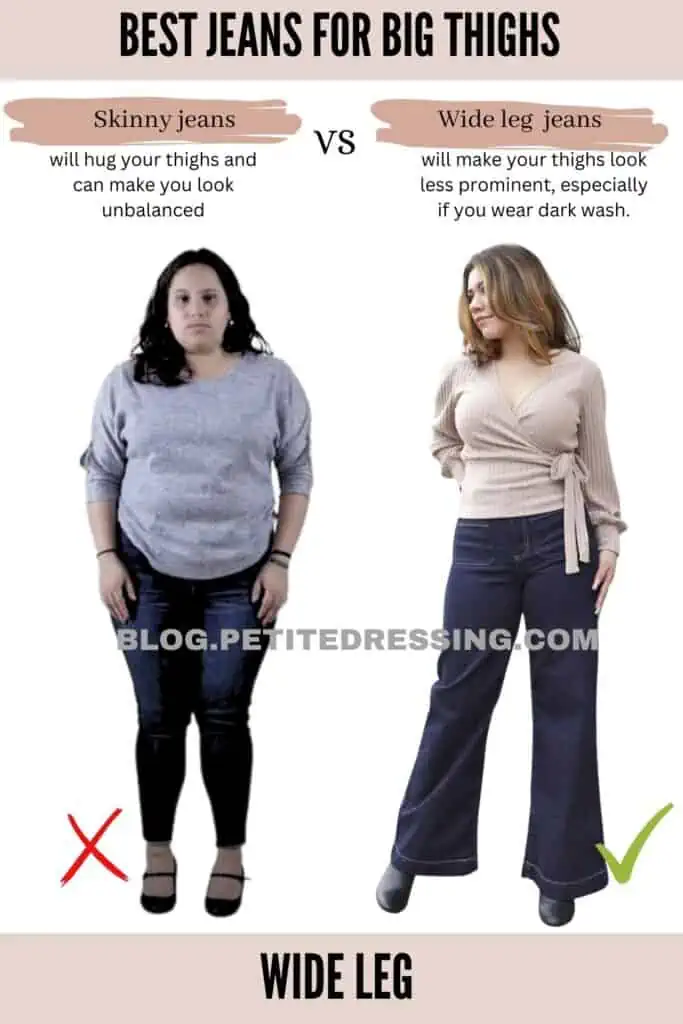 Straight leg jean
Straight leg jeans are universally flattering.
This is the most classic jeans style that works great on women with big thighs. You can find them at almost all denim brands and they go with everything in your wardrobe.
Skinny jeans or not?
Would skinny jeans look good on women with big thighs? This a constant debate! While some may argue skinny jeans are too tight for bigger thighed women, others might see them as trendy and cool.
In my view, you don't have to ditch the skinny jeans trend just because you are concerned about big thighs. If you follow the earlier advice in this article to pick out a pair of dark washed skinny made from thicker and stretcher fabrics, you can totally rock the look! In fact, Kim Kardashian's signature look is skinny jeans!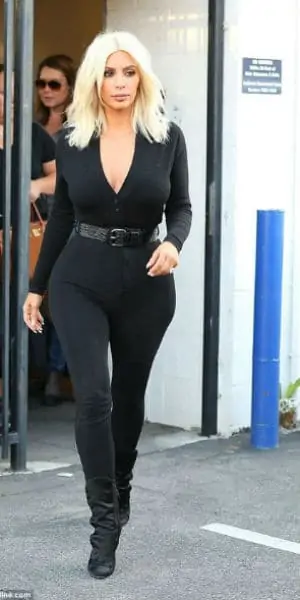 There is one hack for skinny jeans that works particularly well for women with big thighs, that is, the length of the top. I will talk about that next.
How to Style
Did you know the length if your top could totally change the look of your thighs? If you don't want to draw all the attention to your thighs, avoid tops that ends right on your thighs. Instead, wear a longer top that falls below your thigh area, which will totally direct attention away from your big thighs.
Whatever denim style you are wearing, make sure to choose a top with the flattering length!
Best Brands
Finally, let's take a look at the best jeans brands for big thighs, based on the feedback of our readers.
Lucky Brand Lolita Skinny Jeans
Our readers love the Lolita cut! It works the best for women with big thighs and hips.
Lucy Brand doesn't have a petite size line, but the inseam is 29″, which could work for some petites with longer legs.
NYDJ
Our readers are raving about this brand! Some even made as far as "this is probably the only brand I'm going to wear now that I have discovered them!".
Regardless the style, every single pair slides right up over the thighs with no trouble, to this brand in general is well designed to fit women with thick thighs.
This brand is on the expensive side, with regular prices between $90-$120. But, many of our readers believe they are worth the price and are good quality so they will last a long time. Plus, you can always stock them up when they are on sale!
Top shop Joni High Waisted Jeans
This is the all time favorite of our readers! Comes in both regular and petite sizes. High waisted design works the best for petite women who want their legs to look longer (who doesn't?). Small in the waist and hug the ankles with lots of stretch for the thighs!
DL1961
This is one of the premium denim brands with a higher price range. Our readers voted this brand as their going out skinny jean, because they are so well made and look sophisticated and sexy. If you tend to make your jeans saggy in the butt over time from sitting, you won't be disappointed by these- they hold up, thus they are worth the investment according to our readers. DL1961 does not have a petite line, but some styles have 26″- 28″ inseam, which work perfectly for petites.
Hudson Skinny Jeans
Another premium denim designer highly voted by our readers for one of the best brands for women with big thighs. Slim cut in the hip area but comfortable for bigger thighs. Some of our readers swear they probably are the best fitting pair of jeans. They don't have a petite line, but some styles have 28″ inseam, which works just fine for petites.
Regular price is $180-$195, but you can find them Round $110-$120 when on sale. They last a long time- so might be worth the plunge!
INC jeans
This in-house brand of Macy's is voted high up on our list of best jeans brands for big thighs. These are very reasonably priced, and you can find them for under $50 a pair when on sale. The best part is they have petite size, so you don't have to hem them and that saves $10-$15 bucks of tailoring cost!
American Next Level Jegging
This is the newest version of their famous Eagle Sateen X Extreme Leggings. Perfect for anyone who gets stuck trying to wiggle skinny jeans over their thighs, only for the waist to still be too big. They make short length, which is perfect for petite women. The best part? You can't beat the price of $49.95. That is the regular price, and you can buy one get one 50% off when on sale!
American Apparel Easy Jean
They are super stretchy! So sizing to your small waist and calves should still leave room for your thighs. Some of our readers commented they fit like they were tailored to suit them! They are extremely high waisted, so they may not be the best choice if you don't like high rise jeans. They are 30 inch inseam. So, for most petites, you will need to have them altered.
Urban Outfitter BDG jeans
These are quite big thigh friendly, and reasonably priced. They make ankle length (29″ inseam), which can work just fine for petites.
Gap True Skinny
Our readers love Gap jeans. From the 1960 Always Skinny a few years ago to the later version of Resolution Skinny, Gap has been making some really comfortable and affordable jeans for women with big thighs. The current version that our readers like is the True Skinny.
Loft
This is a brand most petite women are familiar with. Their reasonably priced jeans can fit bigger thighs quite comfortably and is on the list of best jeans brands for thick thighs according to our reader vote.
H&M Jeggings
They're super stretchy! That makes them fit just about any body type, and they are really flattering. The back pockets could be the biggest gripe for women looking for jeans for thick thighs, but these are perfect. The fabrics are stretchy enough to fit women with big thighs, meanwhile it is also thick enough.