Whether your body has changed since the beginning of the pandemic, or you just strive to look slimmer in your daily life you can utilize your clothing choices as a way to achieve that goal.
Of course this isn't a supplement to a healthy lifestyle, there's no harm in using clothing to your advantage to look and feel a little better throughout your day.
If you want to learn some stylist approved tips that make you look slimmer, this list has you covered to get started.
Heeled Shoes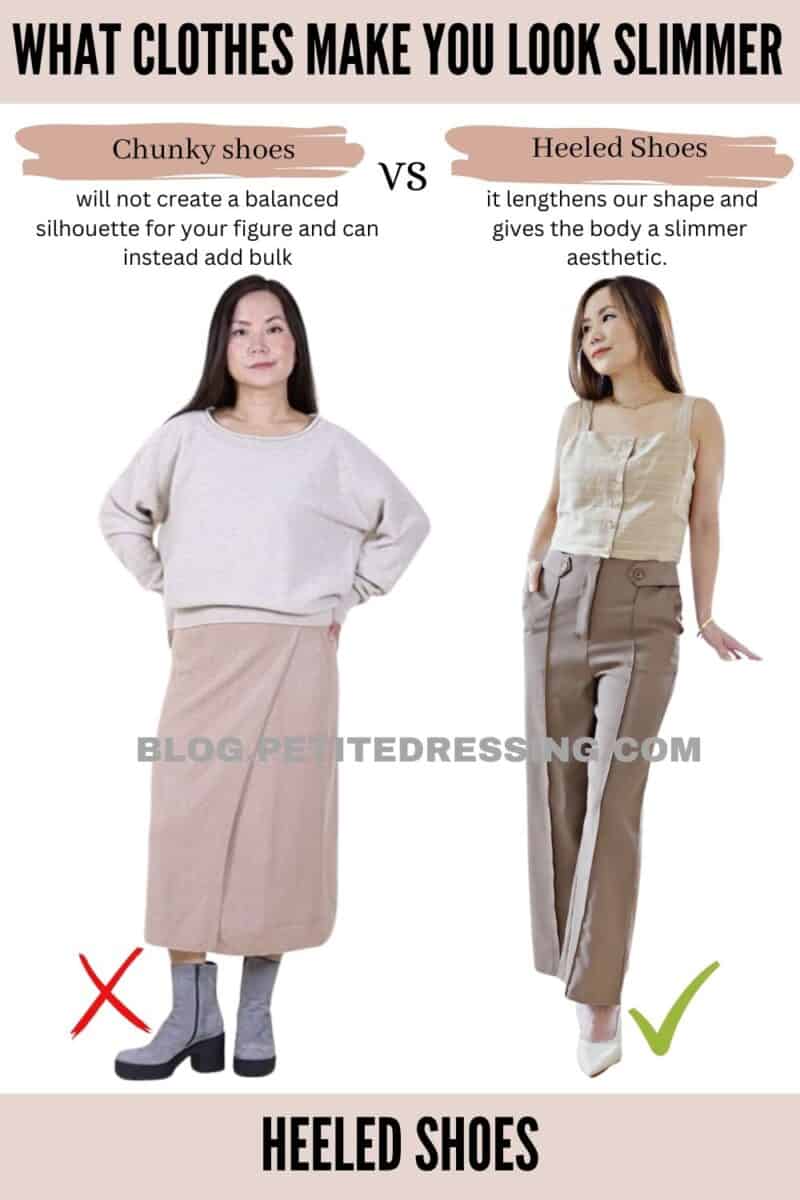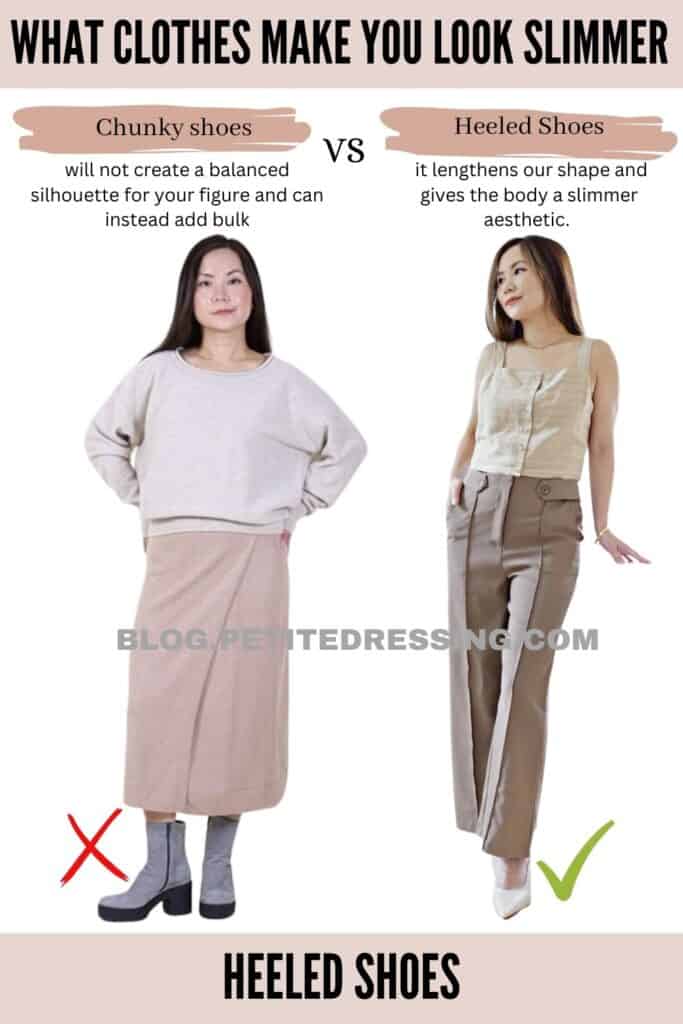 One area that tends to be forgotten about when it comes to dressing slimmer is what shoes are chosen. Believe it or not, shoes can aid in providing a slimmer appearance to the body.
The reason is simply because when we look taller, it lengthens our shape and gives the body a slimmer aesthetic.
Pretty cool, right?
It's something so simple to do anytime you feel like you need a little boost to the look.
The good news is you don't have to wear sky high heels in order to benefit from this trick either.
Even simply opting for platform sneakers in place of a super flat option can add a bit of a slimmed effect.
Monochromatic dressing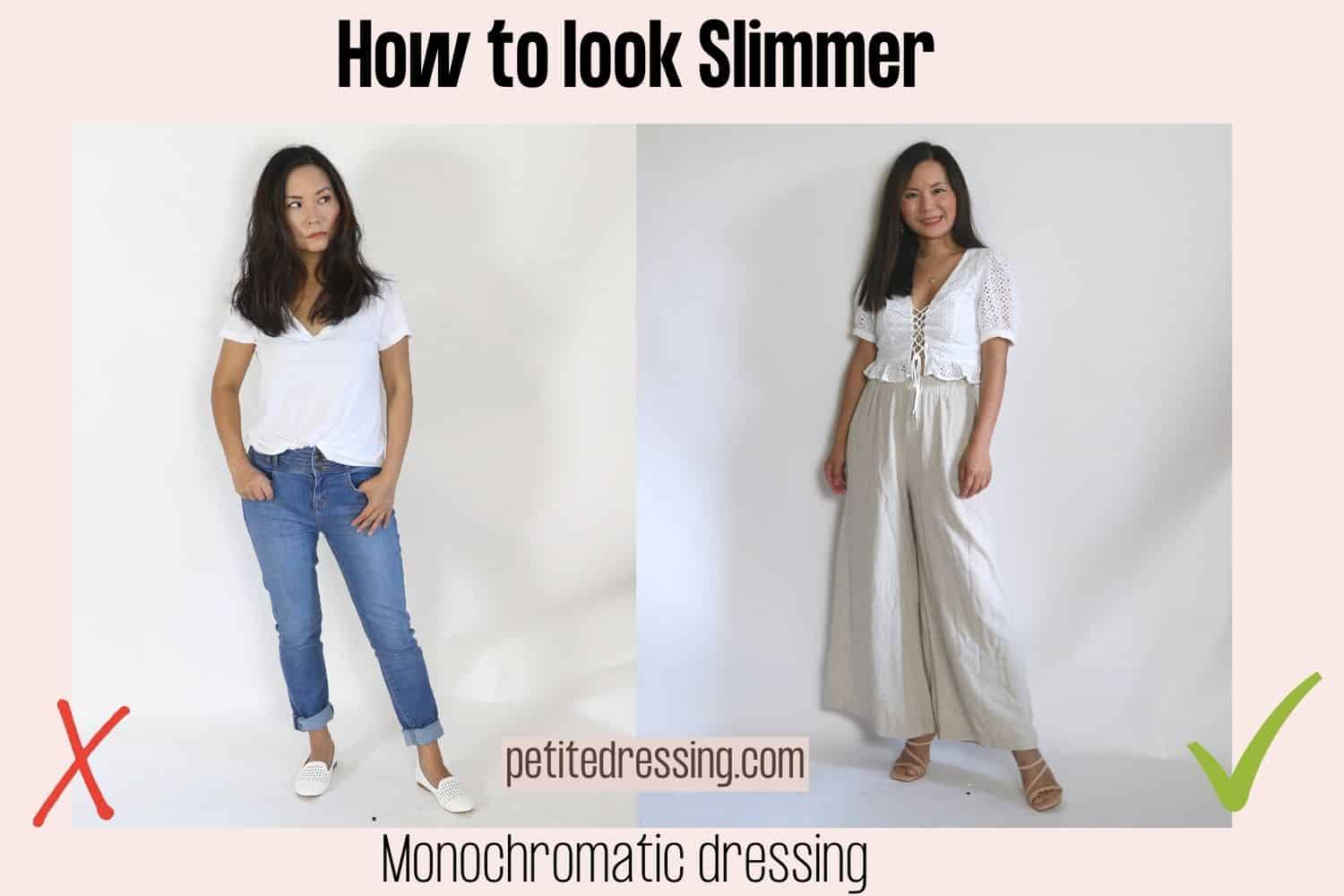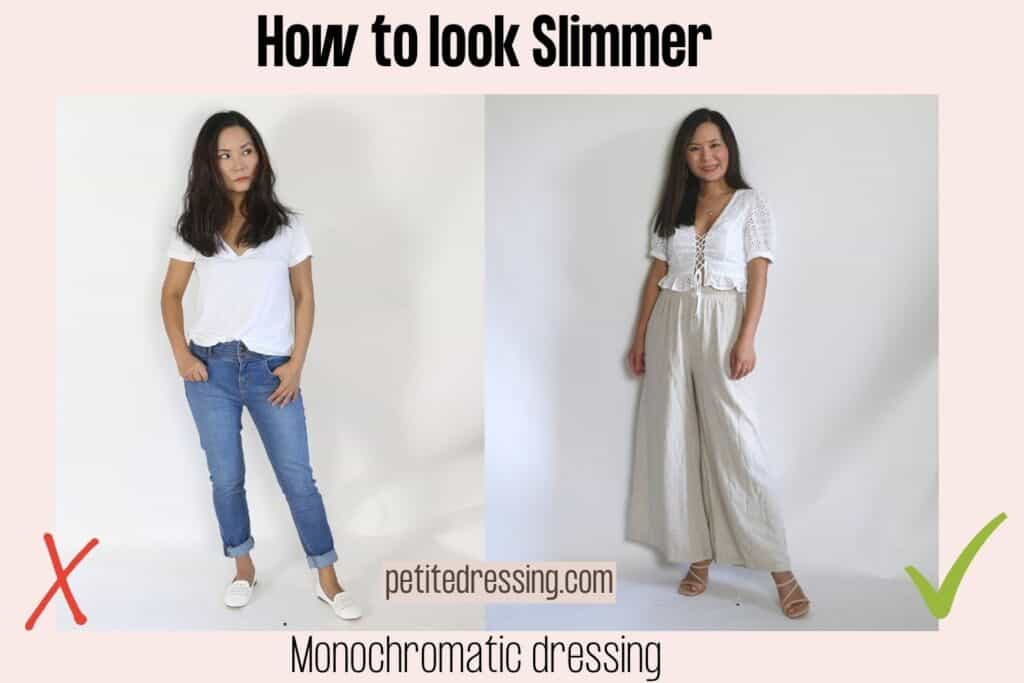 This is a trick a lot of style professionals utilize when dressing celebrities because it's a way to look chic AND get some pretty great benefits along with it.
Wearing one color from head to toe, also known as monochromatic dressing, is that trick. The color chosen can be anything from black to a bold red – the slimming benefit will remain the same.
There's a reason this is such a leaned upon styling trick, well a couple of reasons.
First, it's an easy way to style a look because it removes the need to worry about colors matching or meshing together well since it's the same color throughout the outfit.
Second, because the outfit includes one color there are no 'breaks' on the body. Instead it gives the body one long, lean looking line from head to toe which is what gives the slimming effect when worn.
Ruched Clothing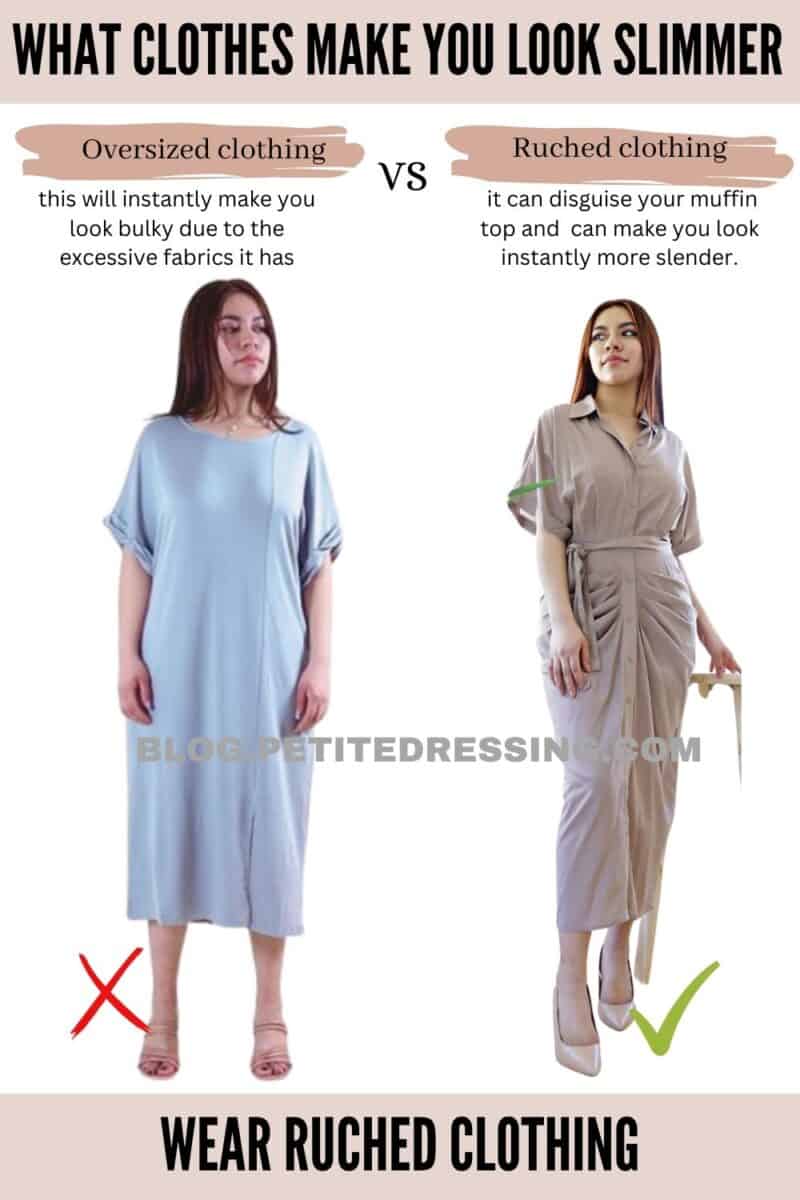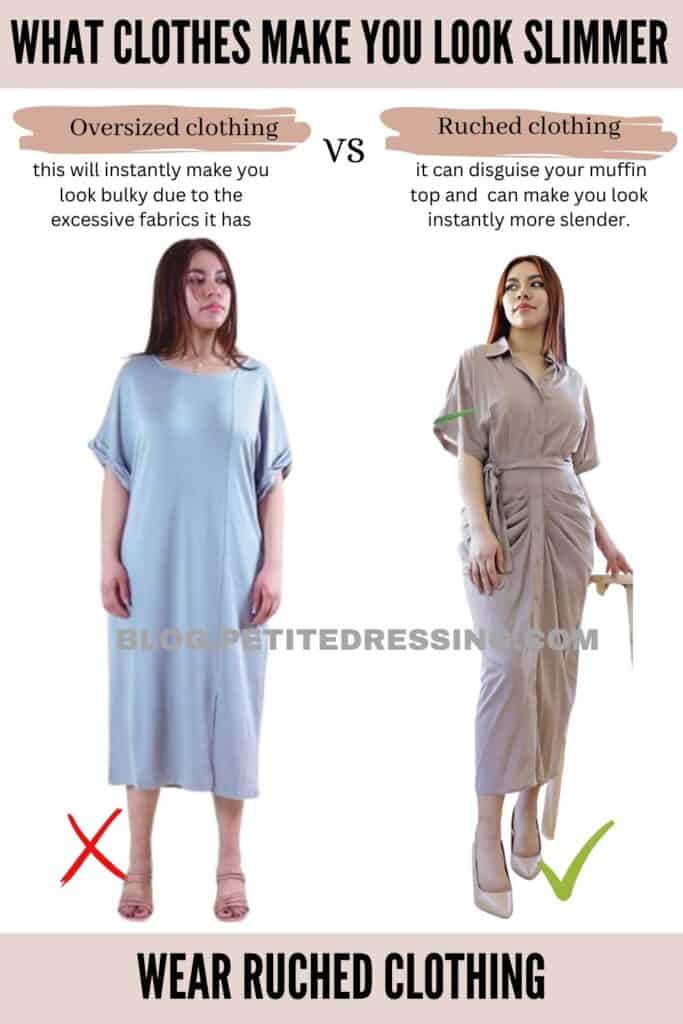 If you want to look slimmer, especially in your tummy area, you need to get a ruched top or ruched dress!
This term "ruching" may sound foreign to you, but I promise you this works like magic!
Ruching is a type of design you can find in tops, swimsuits, or dresses where the garments look "wrinkled", like the one I'm wearing above.
But, of course the "wrinkle" is deliberate, so that it can disguise your muffin top. In other words, the eye is tricked into believing that the extra fabrics on the garments are what's causing the volume, instead of your belly fat!
I think this is one of the most genius designs out there that can make you look instantly more slender.
V-Necklines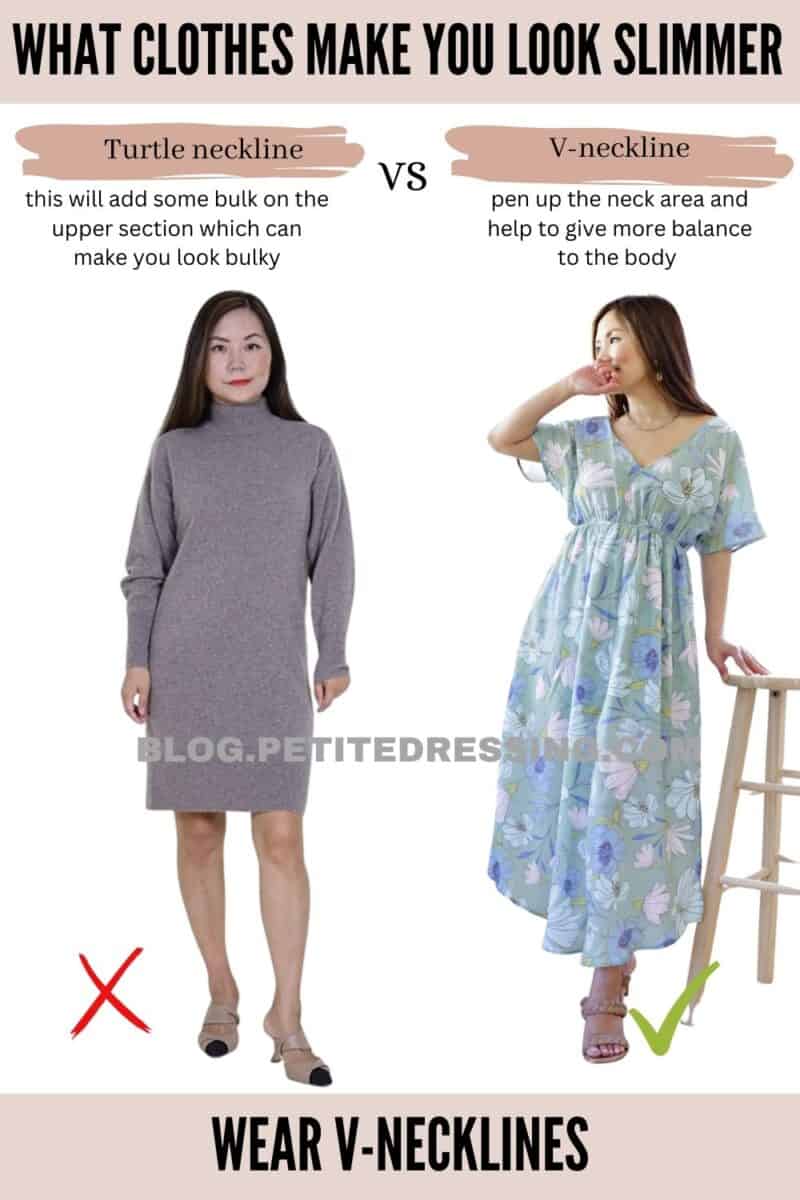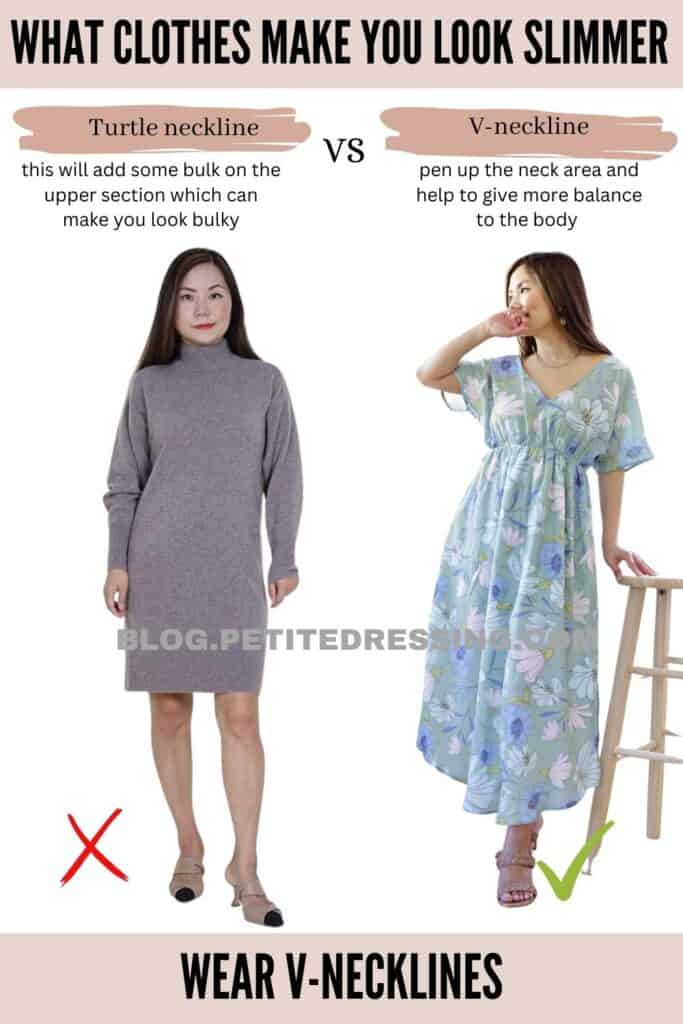 Another tip that may seem like a small detail but it makes a big impact to helping to appear slimmer in clothing.
The neckline of an outfit changes the look entirely, whether you realize it or not.
V-necklines are something to favor when you have a goal of looking slimmer.
These necklines are so great because they provide a lengthening effect to the chest and torso area of the body that gives the illusion of a slimmer body.
Not only that, v-necklines open up the neck area and help to give more balance to the body which is also something that helps slim the shape entirely.
No need to feel like the v-necklines chosen have to be deep and show cleavage, even a subtle v-neckline will reap the figure flattering benefits.
The Right Fitting Undergarments
One of the easiest, most impactful ways to instantly look slimmer in your clothing is to have the right style and fitting undergarments.
Seriously!
Undergarments play such a big role in the way we look in clothing.
Wearing ill fitting undergarments can add bulk and weight to the body because they prevent clothing from laying properly, whereas the right fit and style allows clothes to fit the way they're intended – helping to give that slimming effect.
Most women don't have the necessary undergarment wardrobe.
If you feel like you're lacking or struggling in this department it's a good time to make some adjustments. Make it a goal to get fitted for bras, especially, at least one time per year. It may seem excessive but experts all over the world recommend this practice as our bodies change and evolve so often as women.
High Waisted Bottoms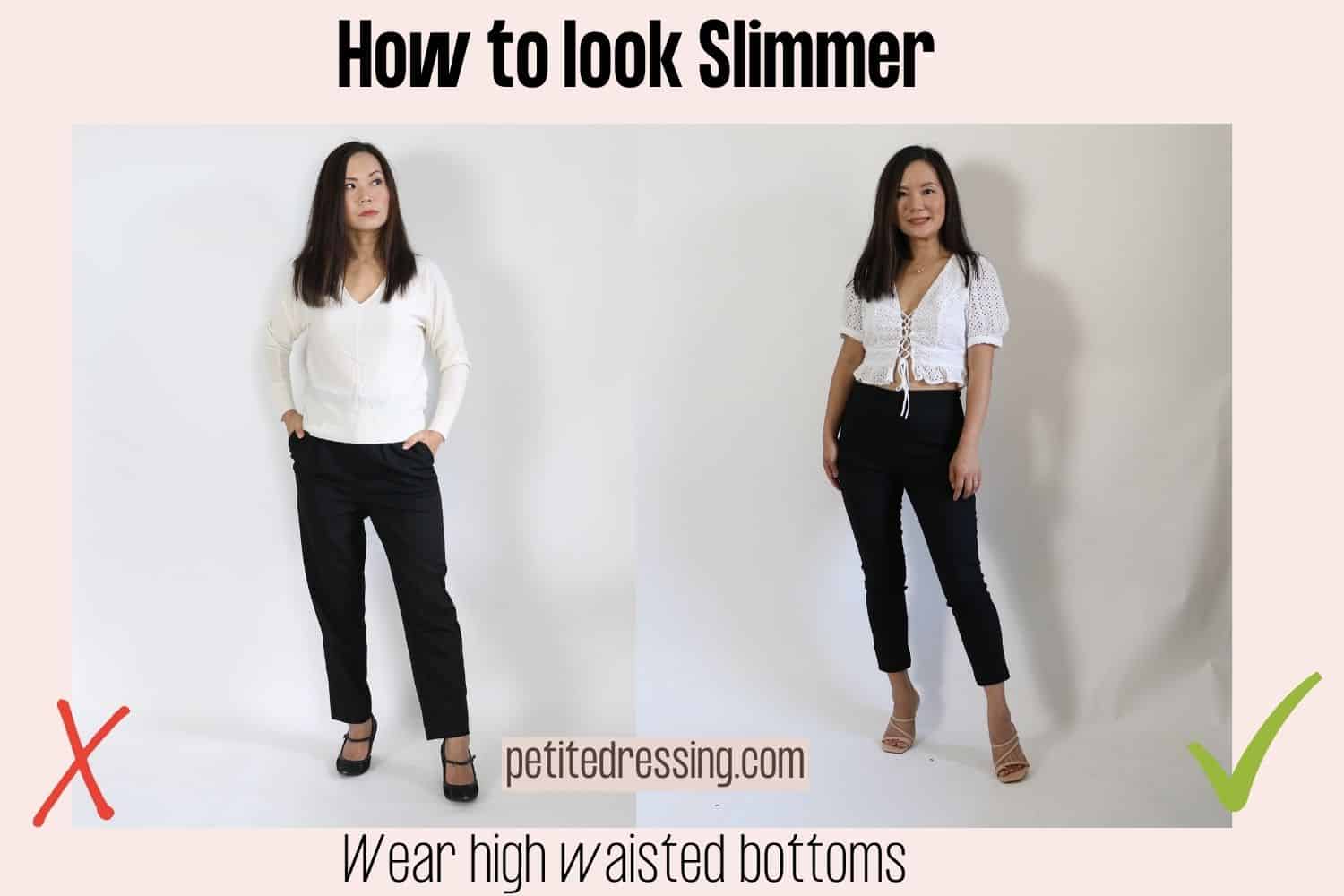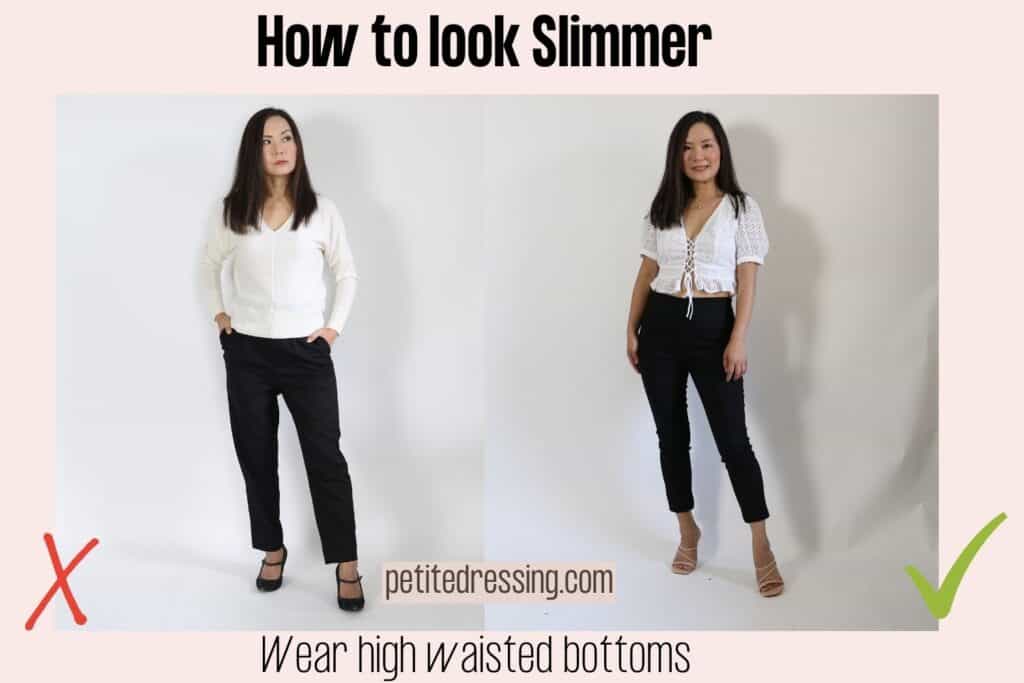 Finding ways to define your waist is another stylist approved trick to looking slimmer in clothing.
High waisted bottoms are an easy way to create that waist definition.
Whether you have a naturally defined waist or not, high waisted bottoms create the illusion of a defined waist that, in turn, slims the body. That explains why high rise jeans are one of the most slimming jeans.
Try focusing on high waisted bottoms that also offer some structure to them.
Bottoms that are very flowy and loose, even if they're high waisted, can add weight to the body instead.
High waisted bottoms don't have to be skin tight, however, either.
It's really about finding a nice balance that you feel confident wearing. If you're new to high waisted bottoms and feel a little uncomfortable, feel free to add some shapewear underneath to provide a little added support and structure to the body.
Pointed Toe Shoes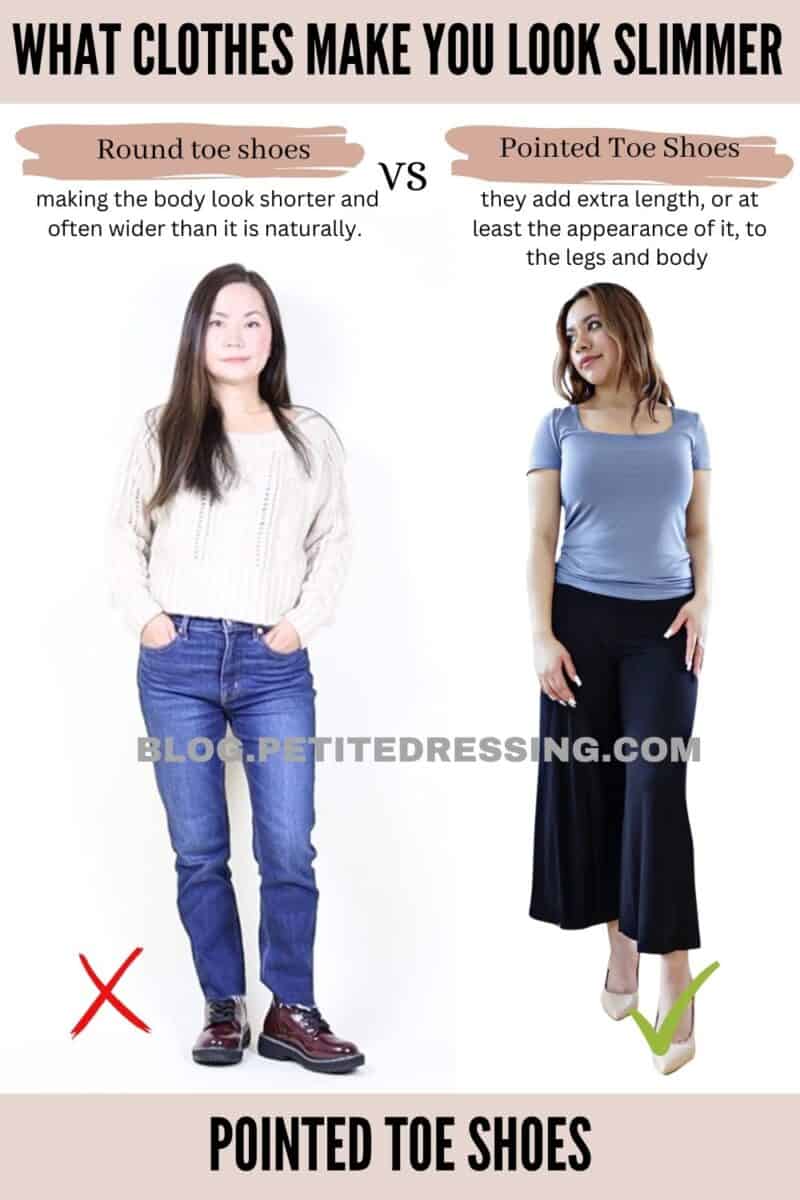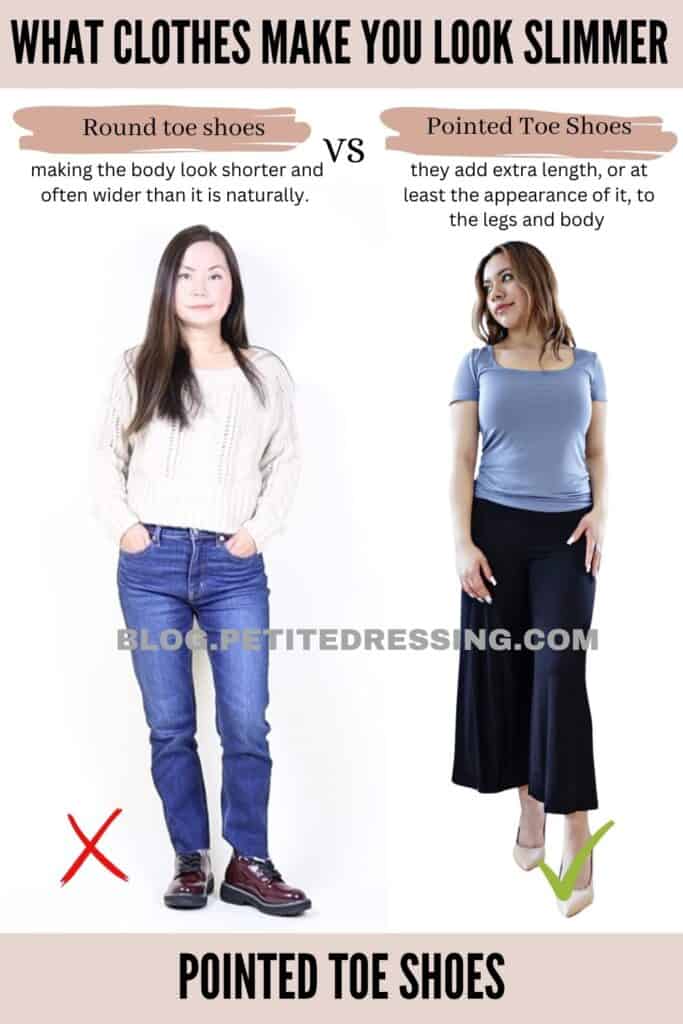 Circling back to shoes, because they play such a big role in an outfit, we have pointed toe shoes.
These are something to bring more of into your wardrobe when you want to look slimmer.
Round or square-toe shoes shorten legs, making the body look shorter and often wider than it is naturally. This is where pointed-toe options come into play because of the shape they add extra length, or at least the appearance of it, to the legs and body – which instantly slims the figure.
Structured Garments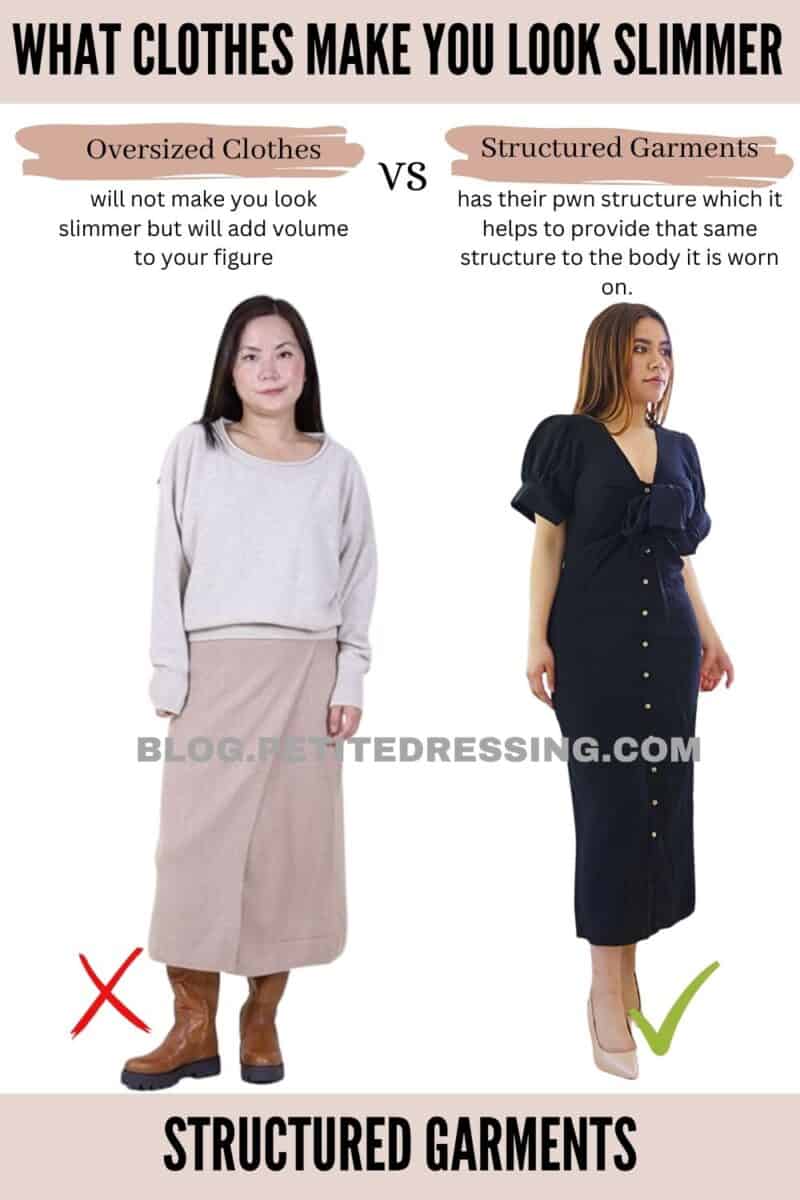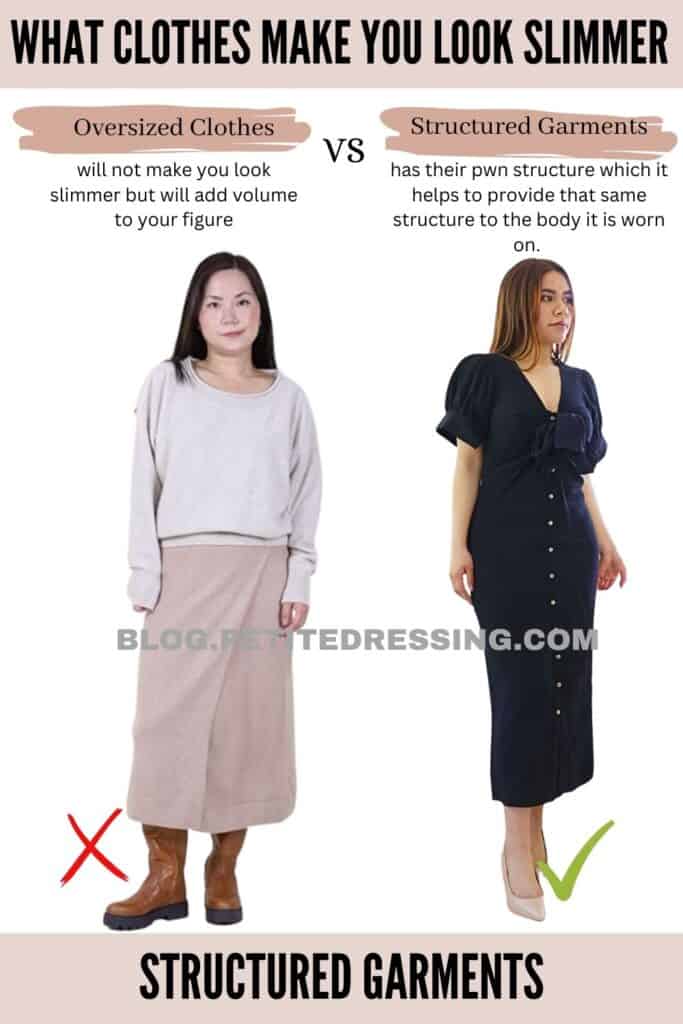 Flowy, loose clothes may be 'comfortable' but they're also known to add weight and bulk to the body.
This is why they're best to be avoided anytime you're striving to look thinner.
Instead, opting for clothes that offer some structure and shape to them is a much more beneficial route. Anytime a garment has structure to it on its own, it helps to provide that same structure to the body it is worn on.
Think of pieces like a structured blazer or dress. The sharp lines within them lengthen and slim the figure beautifully.
Long Layering Pieces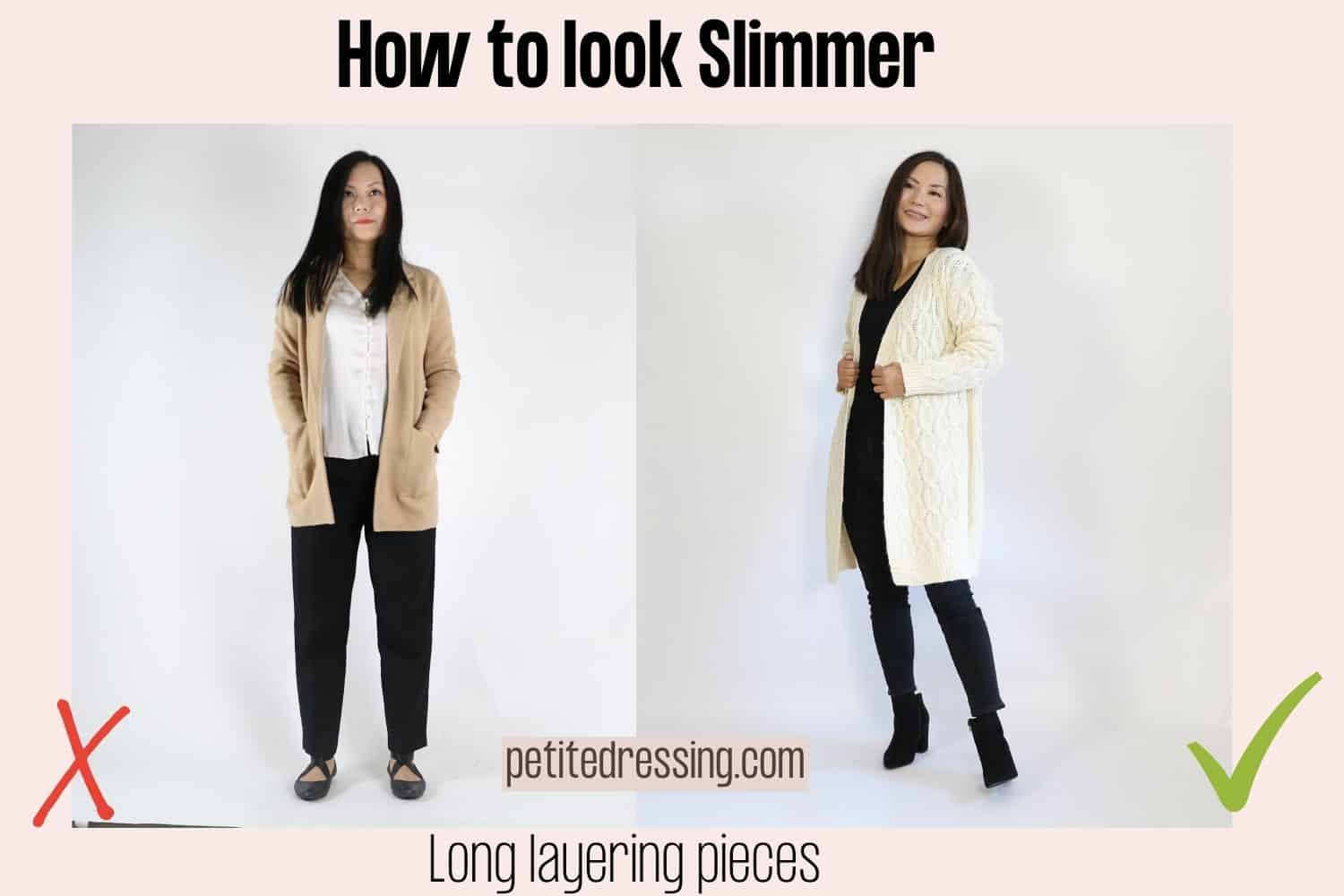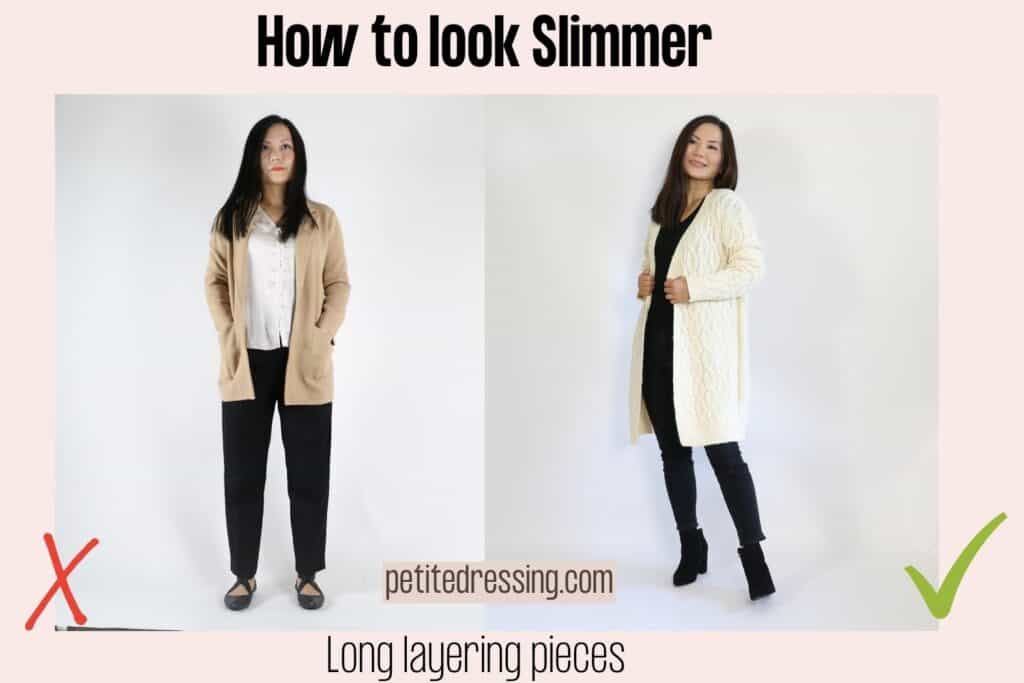 Longer length clothing items can be intimidating for many women because we've long been told they're not always the most flattering, especially for petites. However, that's simply not always the case.
In fact, long layering pieces can be incredibly flattering and offer a slimming effect when worn over other clothing.
The added length well, lengthens the body and creates these defined vertical lines down the center to help slim the shape.
These long layering pieces can be anything from a long cardigan to a trench coat.
Try styling one of these types of pieces over and outfit and see how much it lengthens your body.
Flat Front Pants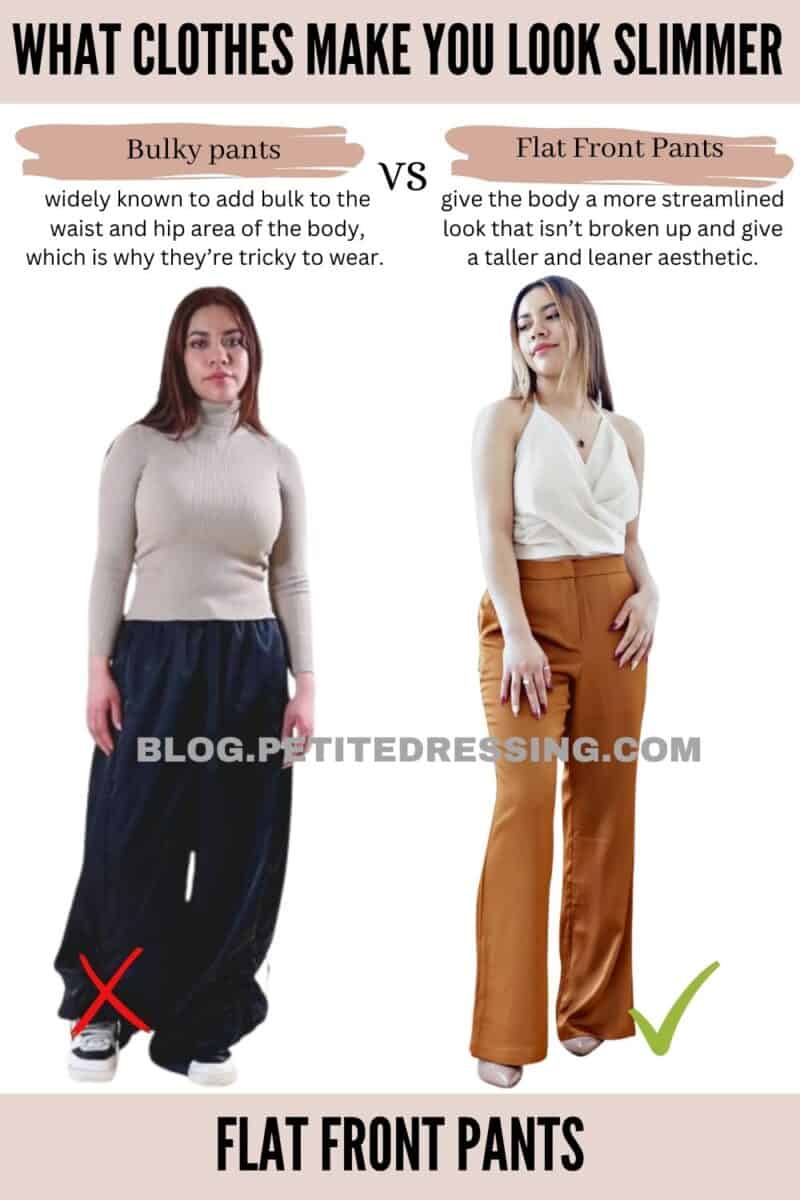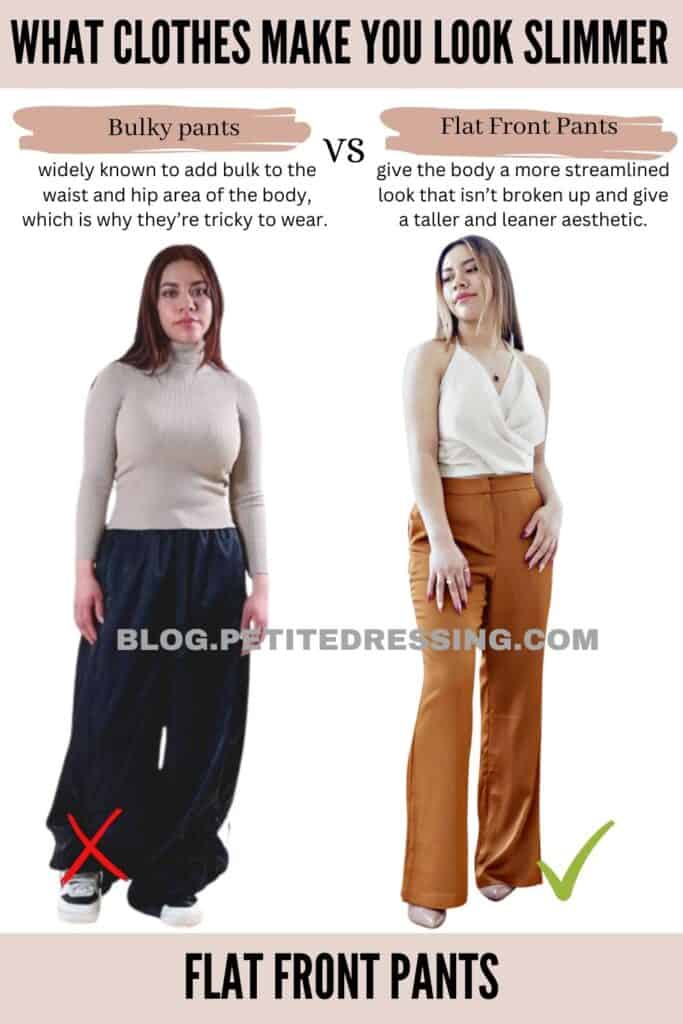 Pants with a lot of 'extras' on them should be worn with caution if you want to look slimmer.
These extras can be things like pleating and bulky pockets, for example. While they're fun details they're widely known to add bulk to the waist and hip area of the body, which is why they're tricky to wear.
Flat-front pants should be your best friend instead because of how flattering they are on the body.
These 'flat front' styles give the body a more streamlined look that isn't broken up, as those 'extras' tend to do, and give a taller and leaner aesthetic.
Long Necklaces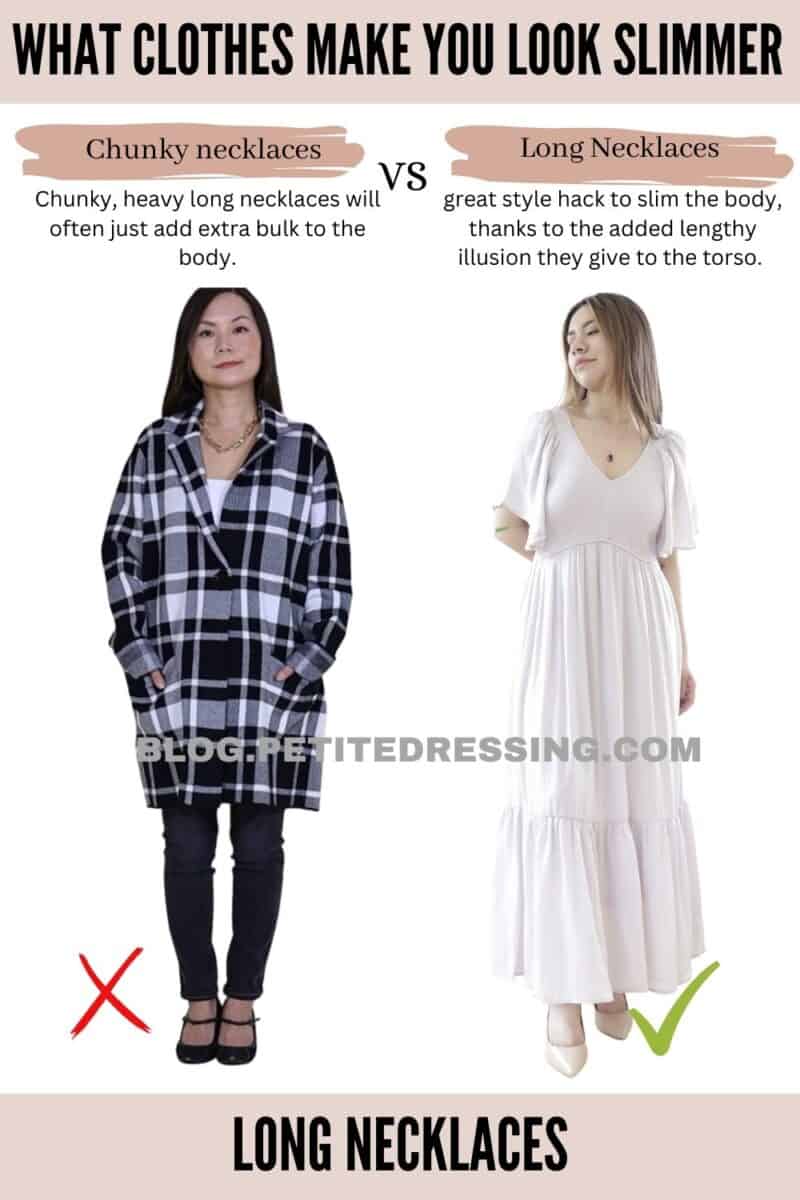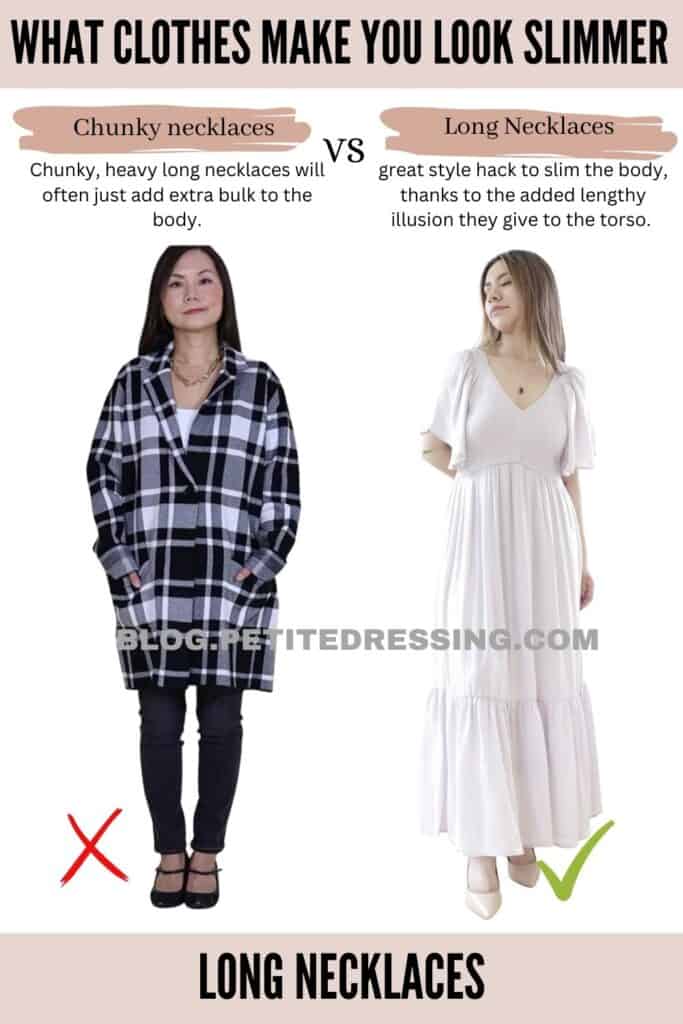 Yes, even something as small as a necklace can make you look slimmer.
Long necklaces are a great style hack to slim the body, thanks to the added lengthy illusion they give to the torso.
As you've likely figure out by now, anytime the body looks longer it also appears slimmer as a byproduct.
It is important to note that long necklaces provide this figure enhancement when they're on the daintier side. Chunky, heavy long necklaces will often just add extra bulk to the body.
Vertical Lines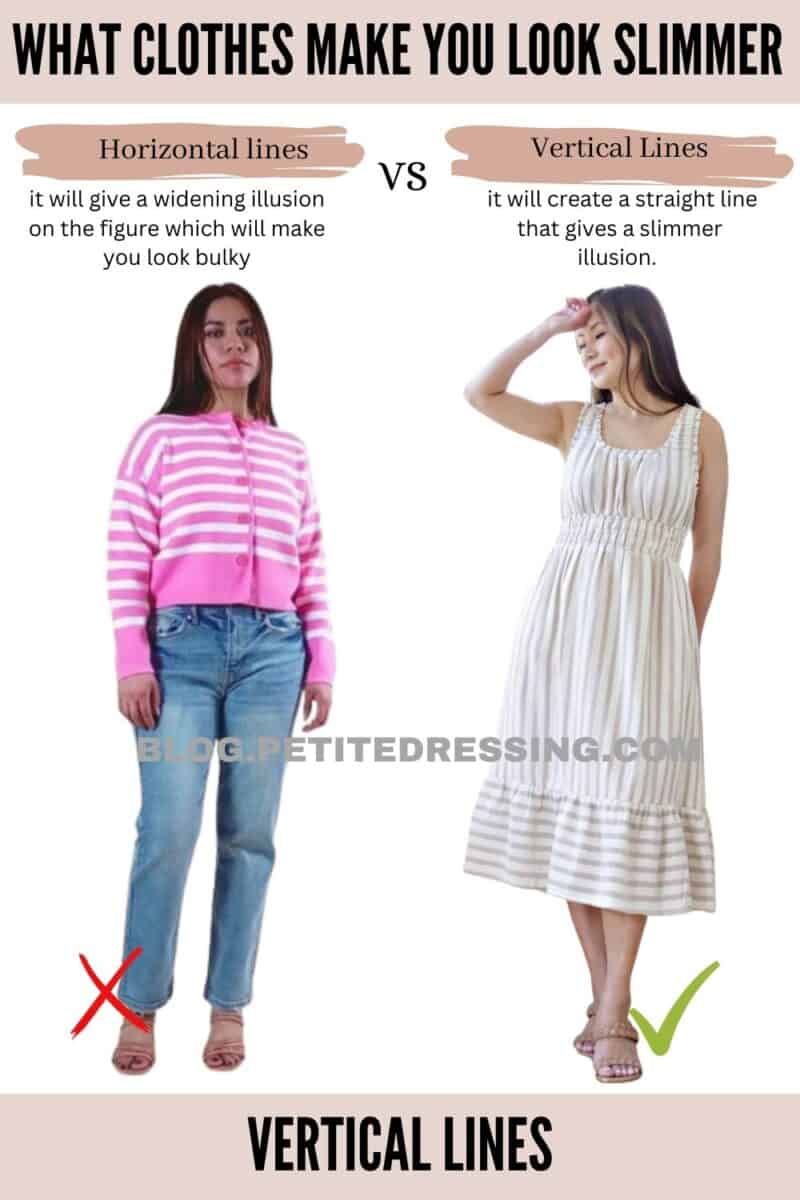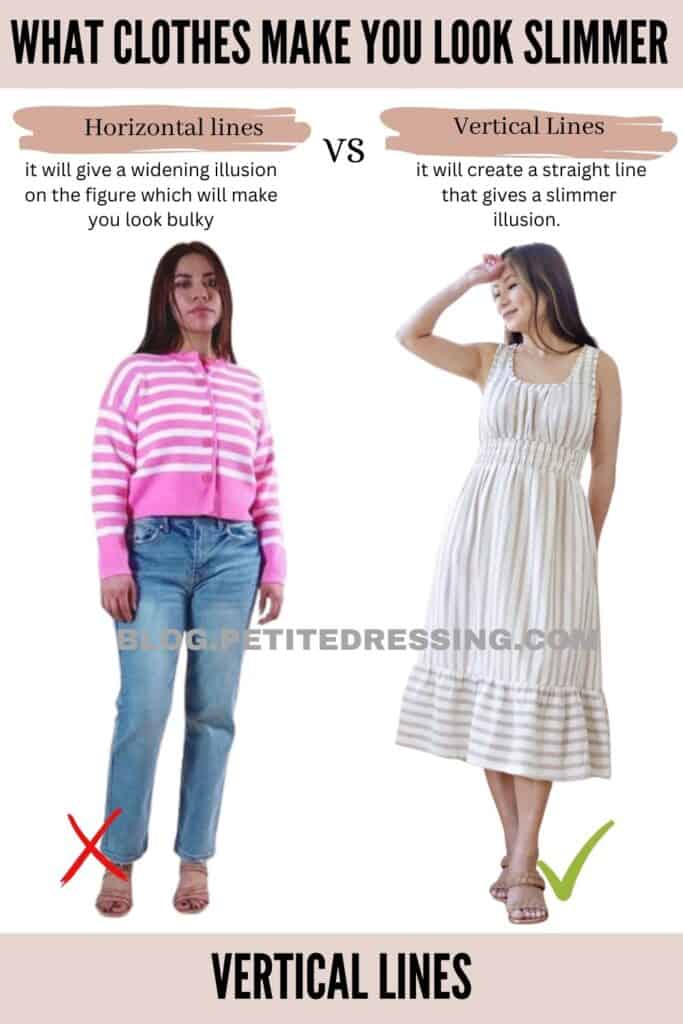 Patterns, in general, can be a tricky area for some women to feel confident wearing.
That being said, you can always count on vertical lines for being flattering.
As mentioned quite a few times by now, vertical lines down the body also give a slimmer illusion.
Whether it's a vertically striped shirt, blazer or pants you can trust they're going to make you look long and lean.