There could be many reasons you might need clothes to hide belly at this point in your life, and it is important to know that you are not alone! How to find clothes to make our belly less noticeable? That is the question I constantly get.
As we go through life, it is easy to gain weight, and quite natural that our waistline no longer looks like our 20s. Some of our readers mentioned after they went though surgery and the recovery, the belly fat just would not go away. Also many of them mentioned peri menopause or menopause left them with the stubborn belly. Additionally, genetics play a big role too. If you happen to have an apple shaped body, you tend to gain weight on your waist even though the rest of your body could be skinny. I am a 5'2" apple body type, and I certainly know that first hand.
Regardless of your reason, it is totally fine and understandable, because we probably all want to know how to dress to hide belly fat at some point in our life! That is what has prompted me to put together this post to share with you some of the best tips for women concerned about their midriffs.
Now let's dive right in. I have put summarized the tips of what you should avoid in this video.
Now, here's another video on what you SHOULD wear. I highly recommend you also read this full article in order to get all the detailed tips!
This post may contain affiliate links, which means I earn a small commission (at no cost to you) if you follow the links and make a purchase Click here to learn more .
High waisted everything
High waist works magic when it comes to hiding belly fat! Whether it is high waist jeans, pants or skirts, if you have a heavier mid section, they will smooth out for you very nicely.
Since I'm an apple shape, I have all things high waisted in my closet when it comes to the bottoms! They are my go-to and I live in them year round. When I put on the high waist jeans or pants, I can instantly feel the waist area get smoothed out, which will make me feel much more comfortable and less conscious about the mid section.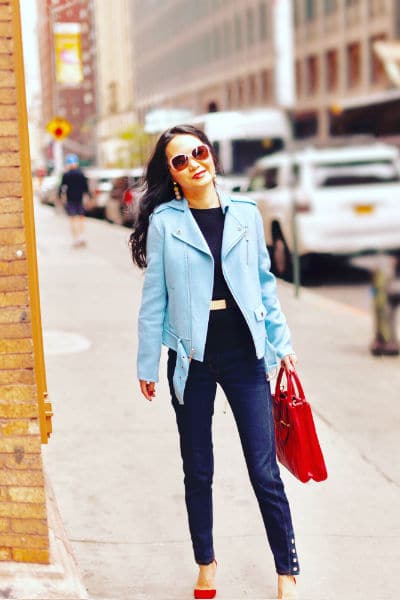 If you are petite, a huge bonus of wearing high waist style is that they also improve your proportion and make your legs look longer!
Ruched design
Ruching is the most genius design in fashion in my opinion. They are heaven sent for women looking for clothes to hide belly. 
These two from Nordstrom are my picks for the new seaon.

I personally own many dresses like these with ruching on the waist, because they are incredibly flattering for women with heavier mid section. 
Not only dresses, some tops also have ruching, which is also excellent choices for women looking to hide the muffin top.
Shift dress is your best friend
For ladies who want a dress to hide belly, you will love the shift dress for two reasons.
First, the silhouette is straight up and down, so it balances out your curves. 
Second, the shift dress has plenty of space so it will move as you do, avoiding drawing attention to your belly.

These two are my top picks from Nordstrom for the new season.
If you are looking for dresses to hide your belly, shift dress should be your top choice!
Asymmetrical hem flatters
This type of design will make your belly less noticeable, because one side is longer and one side shorter. 

These two are my picks from Macy's this season. They distract people from focusing on your mid section!
Avoid paper bag
This is one of the hottest trends right now, and you see paper bag style pants on every fashion bloggers. The issue is the focus of this kind of the style is the paper bag waist.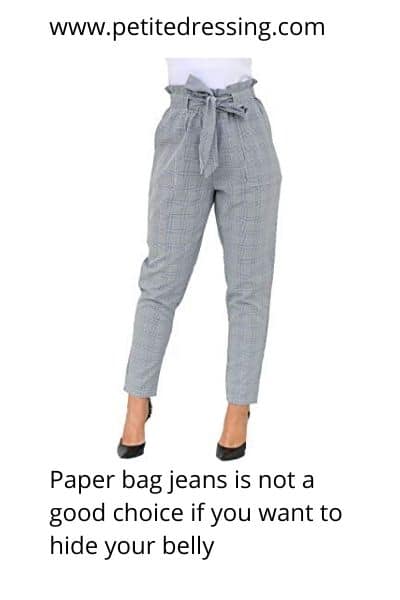 As cute as they are, they draw all the attention to your belly! If your intention is to wear clothes to hide belly fat, this is the opposite of what you want!
Avoid button front jeans
Again, another very trendy item!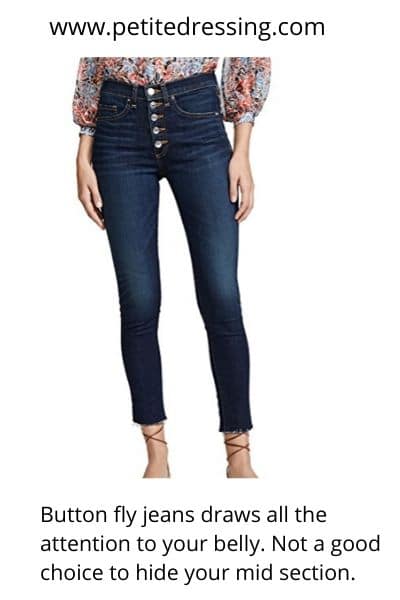 Personally I think the button fly jeans are the cutest design ever and I adore them. The issue here is the buttons are designed to draw attention to your belly. So, if you do not what everyone to notice your love handles, then is style is probably not a good idea.
Avoid anything too tight
This may sound too obvious but not everyone knows it (I didn't, for years!).
Many apple shaped women like myself have skinny arms and legs but heavier mid section. Since I am an overall skinny person, bodycon dresses were my favorite for years, without realizing that they are too tight for the belly area, let alone to hide anything!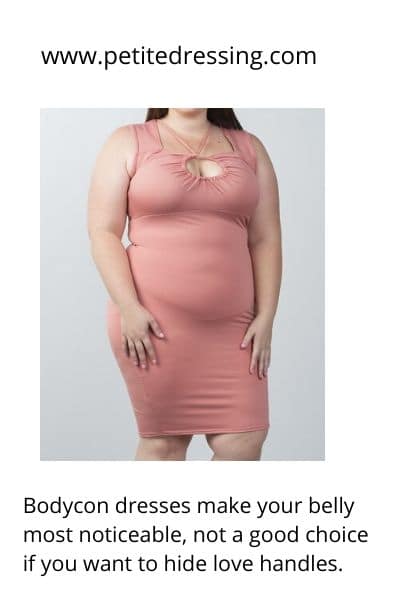 Whenever something is very tight on you, it highlights everything, including the muffin top.
Avoid oversized clothing if your are short
So, this is the opposite of wearing something too tight- this to wear something too loose.
Even if you want to hide the belly, you still need clothing with a shape and structure. If you wear something that is too big, first they make you look like you are swimming in it and second it could leave people wondering if you are trying to hide something.
Especially if you are petite, you should never wear anything too oversized, because they could totally swallow your short frame.
Avoid thin fabrics
Fabrics is the key factor of how any clothes looks on you. Thin fabrics tend to stretch out more than the thicker ones and they look cheap.
Avoid sheer fabrics
Sheer fabrics adds the illuminating effect to your outfit. They are good for certain occasions like parties but that's pretty much it. If you are looking for outfit to hide your belly, in general you should go with something that shrinks your mid section and avoid sheer fabrics which adds more volume to you overall.
Careful with tucking shirt
If you are petite, it's generally a good idea to tuck in your shirt under they pants or skirts. However, you have to be very careful with tucking if you are trying to hide the muffin top.
When you are tucking, your mid section probably will become the first thing that people notice on you, especially when you are wearing a top and bottom with contrasting colors. So, tucking is not recommended for women concerned about hiding the muffin top.
No skinny belt
Okay, this one is a common mistake that I see a lot of women making. Often times, stylists suggest short women to use skinny belt, because it sounds logical that smaller belts should go well with smaller women. However, not all petites are skinny. If you are a curve girl, skinny belt actually looks out of proportion on you.
Worse yet, if you are wearing skinny belt with contrasting color to your outfit, they immediately draws all the attention to your belly! So, to me, skinny belts are one of the least flattering accessories you could wear if you are trying to hide your muffin top.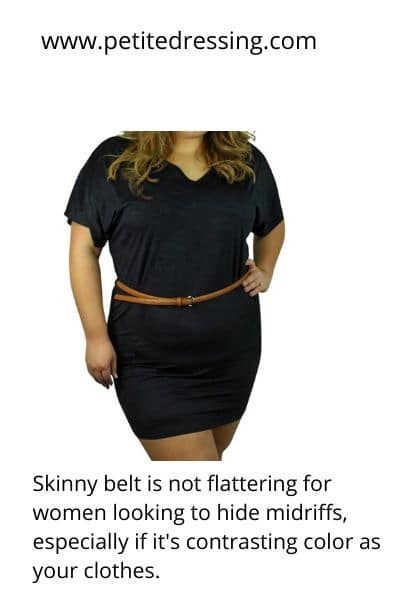 Wear empire waist carefully
I want to recommend empire waist to curvy women, but, I suggest use this one with caution.
Normally, stylists suggest you to wear this to hide your belly. It's not that it doesn't do the job, but it often times give you that pregnant look, if you know what I mean.
Not all empire waist dresses or tops are designed equally.  There are some that are not so exaggerated as to remind someone of a maternal dress, like these two from Nordstrom.

Try on as many as possible to find the design with a modest design that hides your belly strategically without giving that pregnant look.
Layer smartly
 If you are looking for clothes to hide belly fat, laying is an art.  I suggest you go with a longer cardigan on top of a blouse or shirt that is not too tight.

In order to get the best slimming effect, you should layers with a contrast. Either wear darker under layer and brighter outer layer, or vice versa. The contrast it creates will trick the eye into believing your waist is smaller than it actually is.
Wear loose long shirts with tights
 Another flattering way to layer is to pair a longer top, like a tunic sweater like these from Nordstrom, with a tighter bottom. 

The billowy design of the top will make people notice less about your belly, and the tight leggings will balance out the loose effect of the top.
You probably should not try to pair a billowy top with a loosely fitted pants, because that is adding too much volume to your top and bottom and will only make you look swelling overall. That is especially not flattering if you are also short, because they will make you look horizontally expanded and vertically shrunk!
Wear supportive bras
Most women with bigger belly also have bigger boobs. Your girls are your assets. When you wear good quality bra with nice support, the lifted chests will make your waistline look slimmer!
On the other hand, if you wear bra without much support, then not only would your boobs look sagging, but also it could look like your waist and chest lacks a clear definition. That is especially unflattering for short women, because our torso is shorter.
These are two minimizer bras I recommend because they are designed to provide ample support for your girls.

Wear pants and jeans with built in panels
If you want to hide your belly, I highly recommend you try the pants and jeans with built in waist band. Those waist bands have two benefits.
First, since they replace the zippers, they will not be drawing attention to your belly as the zippers.
Second,they work like built in shape wear. They can really smooth out your waist area without having to wear separate shapes.
These two pull-on style jeans are from NYDJ, available in petite and regular sizes.

Be selective with shape wear
Finally, I want to talk about shape wear. A lot of us (myself included) have mixed feelings about them.
If you are looking for clothing to hide belly, do you need some shape wear in your closet? Absolutely yes!
The flip side is that some of them are not very comfortable to wear, especially not for all day wear.
Another thing I notice about shape wear is that they do not necessarily make your belly look smaller, because all they do is to push that belly fat to a bigger area that it won't look as prominent.
With that said, shape wear does smooth out your belly area, so they are a good choice for if you are looking for an outfit for an event.
There is also different types of shapewear. It depends on your body shape in order to chose tts the right type for you.
For instance, a top with fitted waist band works the best for my body.  In comparison, just the shapewear pantries normally doesn't do anything for me.

So, I. do think you should take the time to try on different brands of shape wear and find out what works for your body.
I often get asked about shapewear for petites, so far I have not come across a brand with a dedicated petite line. I have been trying different shape wear to test which is petite friendly, and will share my results in a separate post.
These are my best tips for women interested in clothes that hides belly. Like always, we all have slightly different body that is unique, so it's always the case some will work while some won't work for you. I hope most of them can help you! If there are other tips you have discovered, leave a comment and let me know and share with other readers!
Apple Shape? Everything else you need to know
Having a heavier midsection doesn't necessarily mean you are an apple body shape, there are other factors that should be taken into consideration to determine your body type. If you already know you are an apple, then I highly recommend you read my other posts on how to dress the apple body type.