If you are petite, inseam length is an important factor to consider.  Whether you are looking for petite jeans, petite pants, or petite jumpsuit, the right inseam plays a critical role in whether they fit you or not.
Finding the perfect pair of pants or jeans with the right inseam length is not easy, if you are not an average height.  And, it is especially hard if you are petite (under 5'4") like myself (5'2").  (Click here to read about What is Petite). Since most brands carried in the department stores are made for women above 5'4", you probably already experienced enough frustration and disappointment looking for the right pants or jeans.  They are most likely dragging on the floor for petite women, or the knee caps are not at the right places.  The solution could be taking them to the tailor and hem to the right inseam length, but the cost adds up (plus, just making them shorter doesn't mean they will look flattering on you).  It will be better for you to know what is the right inseam length for you and find them so that no hemming is necessary.
Here is the guide to our fellow petites on the best inseam length-next time before you place an order, find your correct inseam length to ensure frustration free shopping experience.  If you are not familiar with the word inseam, read about What does Inseam Mean.  If you happen to be interested in DIY, read about How to Hem Jeans.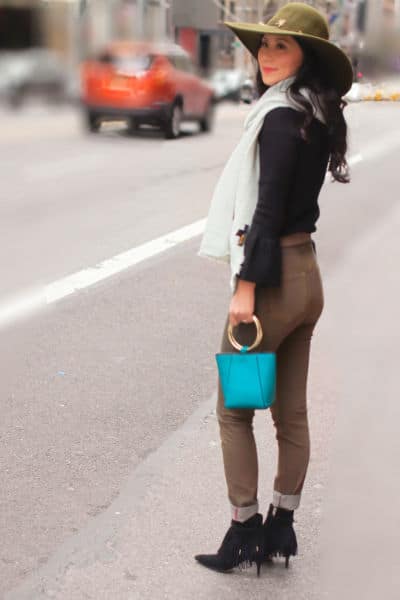 All petites are not created equally, and some are more petite than others.  The best inseam length depends on a lot of factors, even for petites.    Some petite girls are under 5'4", but they may be blessed with longer legs than fellow petites thus their inseam length needs to be longer.  The best way to find out if you are a long legged petite is to calculate your leg ratio (click here to understand why it is important for petite sizes). In general, the most flattering inseam length for most petites should be 27 inches, and anything longer than that will only look good if you wear them with heels.
Other than the difference in individual body proportion, inseam length also to a large extent depends on the style of the pants or jeans.  Skinny jeans should have different inseam length than wide leg pants, and boyfriend jeans should also be different than flare jeans.  Here we have summarized the suggested inseam length for the most popular pants and jeans for you to consider.
Since petite women can also have different height, someone who is 4'11" certainly need different inseam length than someone who is 54″.  If you are under 5 feet, read our post on "How to Dress if you are under 5 Feet Tall".
Cropped pants/jeans
Like suggested by its name, the cropped look is designed to show your ankles.  Therefore, they are meant to be shorter.  The best inseam length for petites should be between 21-23inches.  Now, the risk of wearing cropped pants is because they are shorter, they may make your legs look shorter than they are.  Ouch, that is the opposite of what a petite girl wants!  So, a general guideline is to not wear anything shorter than 21 inches inseam.  Of course, this is hard to generalize, as a petite girl could be 4'9" or 5'3", which makes a big difference!  If you don't know what exactly your best length should be, one rule of thumb is to show as much skin as the width of your hands.
If you are going for the cropped look, we recommend you opt for straight leg or skinny jeans instead of cropped jeans with flare.  Straight leg will fit most body shape, and skinny jeans will flatter those with slender legs.  Either way, they are well fitted and will suit petite women.  Cropped jeans with flare, on the other hand, will make your legs look more cut off, thus is not flattering to petite women.
Boyfriend jeans
If you like the causal style of boyfriend jeans, our recommended inseam length is 23'' to 26''.  They are meant to sit just above the ankle, and a lot of girls like the cuffed look of boyfriend jeans for that extra dose of effortlessness.  Therefore, expect the inseam to be a little on the shorter side than a classic straight silhouette. As much as we love the roomie fit of boyfriend jeans, we have to caution our fellow petites to do not wear those too loose or too boxy.  Any bottoms not well fitted will only make petite women look shorter and they are not flattering.  If you wear boyfriend jeans, the best look for petite girls is to dress these up with a pair of block heels (but not too chunky!) Or you could keep it casual with fashion sneakers, all while showing off some ankle.
Bootcut/flare
Flare and bootcut jeans have the most pronounced leg opening of them all, and they could be very flattering to petite women if you are wearing the right inseam length and matching them with the right shoes.  Yes, always wear them with heels!  The reason is they require extra length to reduce that awkward moment when the widest part of your jean hits your ankle. 30 to 32inches are the ideal inseam length for our petite girls.  Of course, it ultimately depends on your height and the heels you are planning to wear.  Bootcut and flare jeans with heels are universally suitable for any body shape because of their body slimming effect & flattering fit, and especially among the topped rated styles for petite girls, as they effectively elongate your legs to the max extent.
Wide leg pants/ sailor pants
Wide leg or sailor pants are meant to run a little longer, just like the bootcut and flare.  Therefore, these, more often than not, require a heel and should fall to the floor regardless of your height. Therefore, if your normal straight leg inseam (which hits just below your ankle) is 27", and you are going to wear them with stiletto, then go for 31 inches.  You get the idea.  These are the kind of style that could be a hit or miss.  Some may argue petite girls should not try to wear long pants like this, but you see them worn by petite celebrities such as Sarah Jessica Parker and Victoria Beckham and they look nice and chic.  The reason they could be flattering for petite women is because of the floor length, which make your legs longer than they are.  On the other hand, to pull off the wide leg look, the key is to remember any horizontal line in your outfit will only make you look shorter.  Therefore, make sure the legs are not too wide.