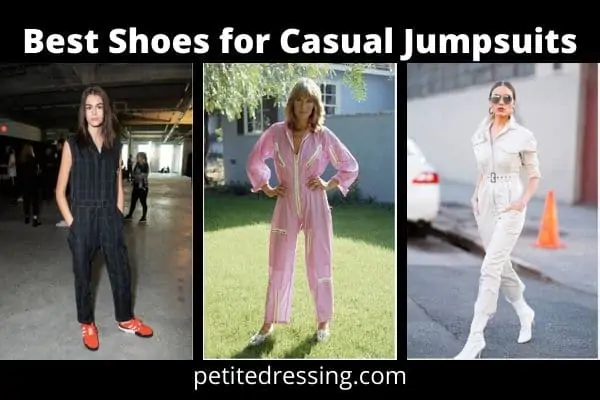 Choosing the right shoes for jumpsuits largely depends on the occasions you are going to and the style of your jumpsuits. Wearing jumpsuits to a wedding obviously calls for different shoes than everyday wear. Additionally, you also need to consider your height as well as your body type, for instance, whether you have thicker legs.
If you are wearing jumpsuits for dressier occasions such as a cocktail event or a wedding, the best shoes are satin pumps, strappy sandals or metallic flats (if for some reason you cannot wear heels). If you are looking for everyday shoes for casual jumpsuits, then your best bet is booties in the fall and winter, or you can wear sneakers year round.
Because minimal accessories are needed for jumpsuits, shoes are an essential part of creating the perfect look. Since there are different types of jumpsuits for different occasions, I'm going to break down the best shoes to wear with every type of jumpsuit so you're fully prepared.
This video summarizes my main points, and be sure to read the full post for all the details on finding the right shoes for your jumpsuits after you watch this.
Shoes to Wear with Casual Jumpsuits
Sandals, sneakers and booties are the 3 best shoe options for your casual jumpsuits. They match the casual vibe and keep from overpowering the look. This is how to choose them depending upon the season.
Flat sandals
In the summer, flat sandals are the best choice with a casual jumpsuit. It goes without saying they are very comfortable, especially if you need to walk a lot.
Whether you are wearing a denim jumpsuit or crop leg jumpsuit, flat sandals match perfectly with them.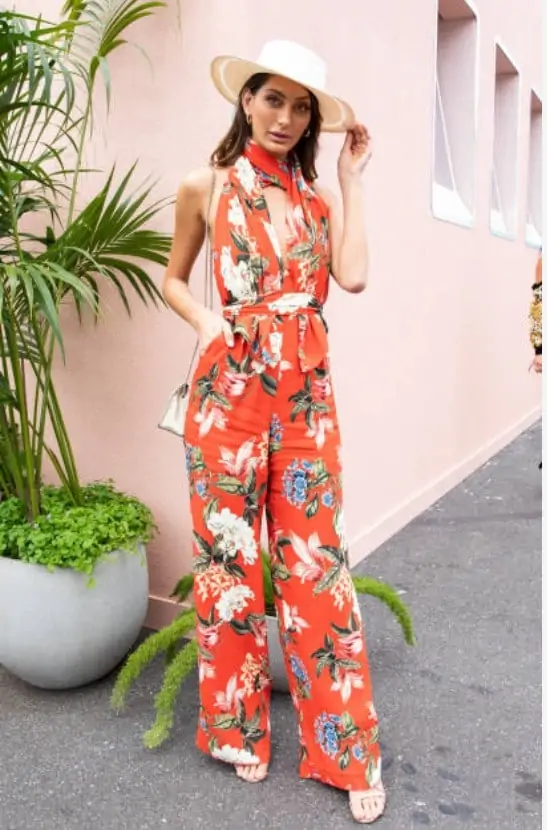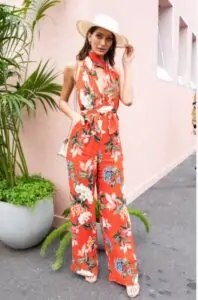 Black booties
Booties are great options in the fall and winter.
Many casual jumpsuits are cropped length, which can potentially make your legs look a bit cut off. If you are tall, you may not care about that. However, if you are petite like me, then you always want your legs to look longer, not shorter.
Booties provide a good solution to the cropped jumpsuit, because they extend above your ankles and reduce or completely cover the gap left by the cropped leg.
Typically, I suggest wearing booties when the weather is a bit cooler out, as they can feel a bit heavy during the warm weather months.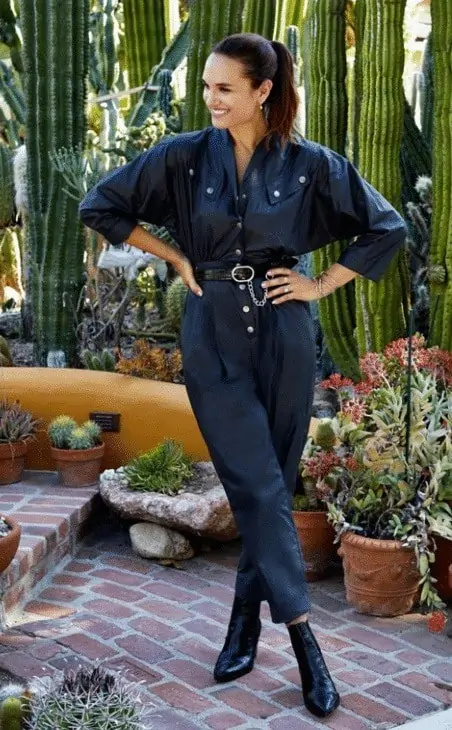 Red sneakers
Sneakers can work pretty well with jumpsuits all year long. They give you the comfort and convenience. Besides, sneakers will give your jumpsuit that athleisure and sporty vibe.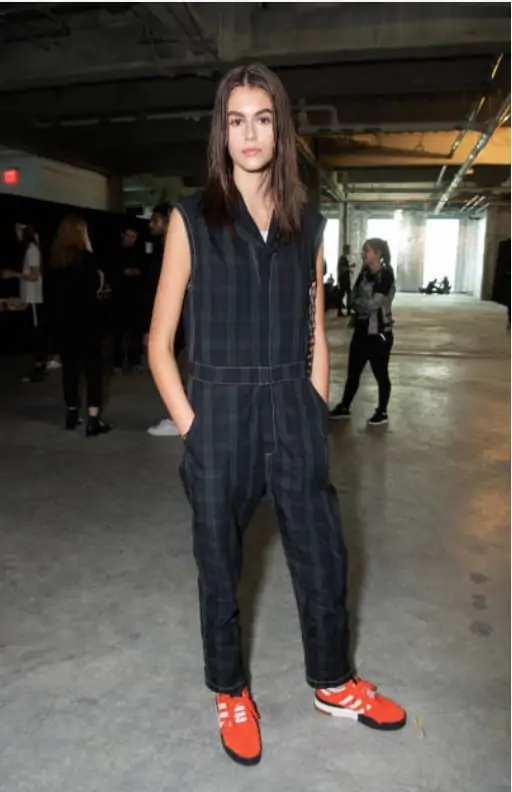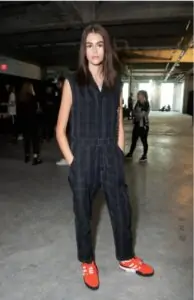 Shoes to Wear with Wide Leg Jumpsuits
Wide leg jumpsuits are comfortable to wear and rather trendy, but it's a jumpsuit style that a lot of women struggle to pair shoes with.
Best shoes to wear with wide leg jumpsuits are block heels (if you are going for a casual look) or pointy toe pumps (if you are going for a dressy look).
Nude sandals
To keep it simple, stick with neutral sandals in the summer. Nude goes with every color, so you can't go wrong with it.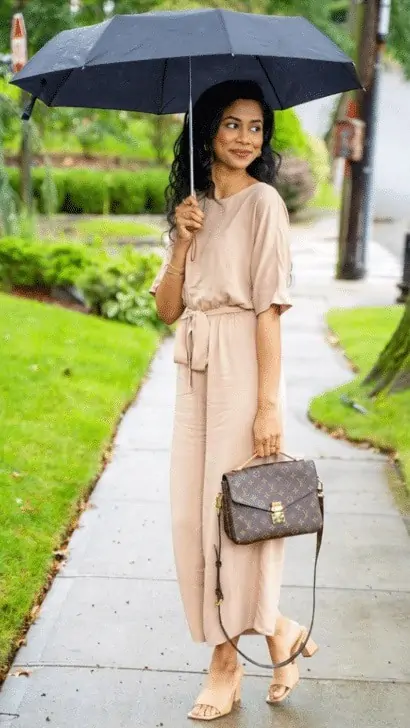 Neutral color pumps
Depending upon how dressed up you need to be in your jumpsuit, choose the height of your pumps. The higher the heels, the dressier they will make your jumpsuits look.
Heels have the benefit of extending your legs. If you are petite like me, you might find heels a better choice if your goal is to make your legs look longer in jumpsuits.
I was wearing the wide leg jumpsuits the dressy way in this picture. So, I went with nude heels with pointy toe.
Pointy toe flats
Even though heels can make you look taller and leaner in jumpsuit, you don't need to wear them all the time. Flats are okay too.
Just make sure if you're wearing flats, the length of the pants aren't dragging behind you.
The trick to make flats flattering with wide leg jumpsuits is to wear pointy toe flats, because they balance out the volume from the wide leg shape.
Shoes to Wear with Cropped Jumpsuits
The cropped length adds a trendy, edgy flair to jumpsuits, however, the cropped legs require more thoughts to choose the right shoes to wear.
For a causal look, mules, sneakers and flat sandals are the best choices to wear cropped jumpsuits. For a more dressed up look, opt for pumps, strappy sandal heels, bootie with a high heel.
They all have various style personalities, so you can choose the option that resonates with you and your style the best.
Mules
Mules are great options in the summer and fall. They are easy to wear with cropped leg jumpsuits and also add a stylish vibe.
Sneakers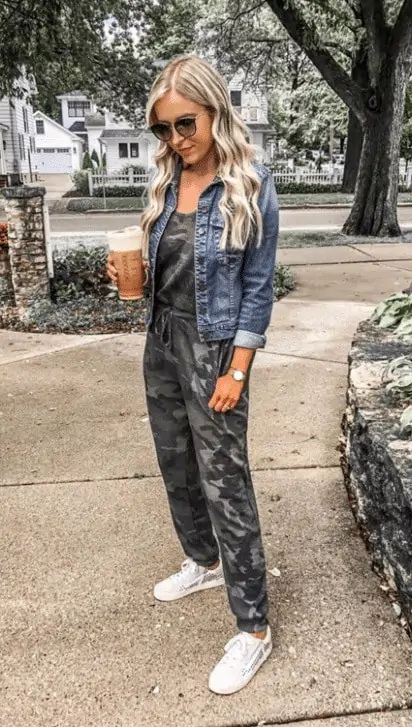 One thing to keep in mind here is just to make sure the shoes aren't too chunky. While the chunky sneaker look is a major trend right now, it can be a lot (too much) for cropped jumpsuits. Because of the length of the cropped pants, adding a chunky shoe to that takes over and really over powers the look as a whole.
Flat sandals
These are great to wear with cropped jumpsuits in the summer or when you go on vacation for a casual and dressed down look.
Pumps
The pumps are going to give you that cute dressed up look to your cropped jumpsuit, to make it perfect for dinner or night out.
Strappy sandals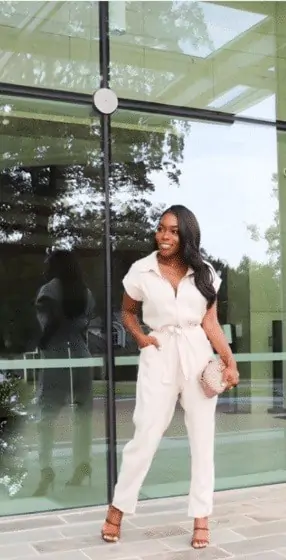 Booties
Booties add an edgier aesthetic, that can also help you transition a cropped jumpsuit from summer to fall.
Shoes for jumpsuits as wedding guest
Wearing a jumpsuit as wedding guest is such a fun style choice, something a little different from a dress, as many of us often opt for, but looks just as great. When you're styling a jumpsuit to attend a wedding, you need to ensure that you dress up the look so you're on point for the dress code of the occasion.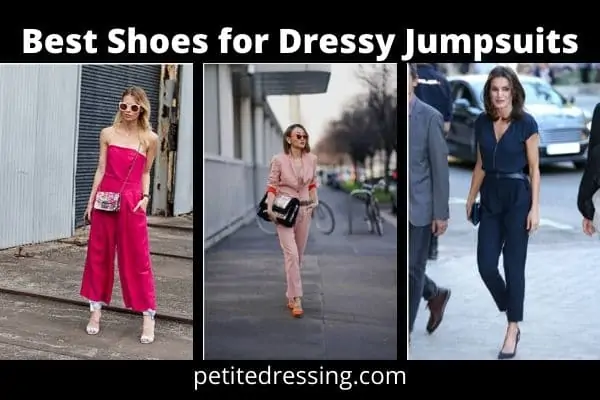 Neutral kitten heels
Kitten heels are great option to wear with jumpsuits to a wedding because when selecting shoes for your jumpsuit, it's best to avoid any styles that are really bulky and heavy.
Instead, it's best to stick with simple, dainty options. This helps to give the jumpsuit that dressed up vibe that's perfect for a wedding.
Neutral colors are the easiest choice because they literally go with everything in your closet and they suit any wedding theme. Whether your jumpsuits are solids, prints or patterns, you cannot go wrong with a pair of neutral color shoes.
If you want to keep it really simple, stick with a neutral shade like nude.
Peep toe pumps
If the wedding is the spring/summer, open toed options tend to feel more seasonally appropriate and vice versa for closed toed in the fall/winter.
Nude Wedge
Wedges are great to wear to a wedding with jumpsuit. Most of us would prefer to dressy up in heels as wedding guests, but I want to remind you to also take into consideration the comfort level when choosing the heels. The reason is wedding normally last hours, so you want to feel comfortable enough to walk around, socialize and dance! Here's my suggestions on how to make heels more comfortable.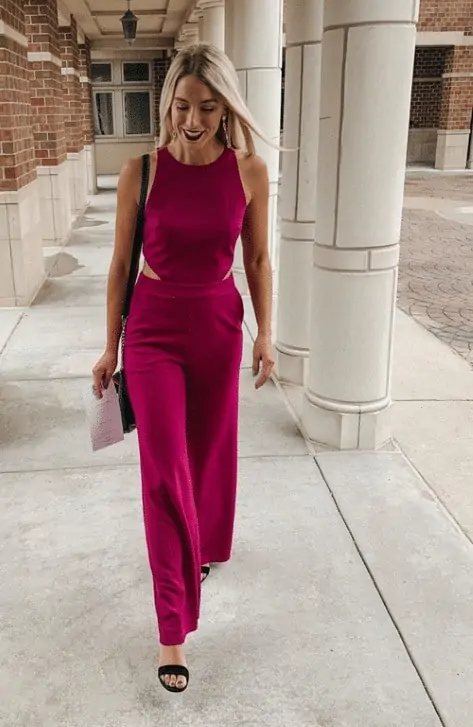 Metallic flats
Another comfortable choice of shoes to wear with jumpsuit to a wedding is flats. Specifically, metallic flats are the best colors.
Wedding is such a celebratory occasion, obviously you want to go with the ambiance of it. Metallic are great choice for wedding guests because they look festival and match the wedding occasion perfectly. Even if your jumpsuits are a bit on the casual side, when you put on pair of metallic shoes, you will immediately look much more dressier.
If you want to make a bit more of a statement and add a touch of glam, metallic is great.
I do also want to mention that you should avoid white shoes for a wedding. Why? Because white is the color for the bride on that wedding day!
A lot of us know that we should avoid white dresses or white outfits as a wedding guest, but shoes are often overlooked. That is why I want to remind you on this because it is one of the common mistakes made by wedding guests!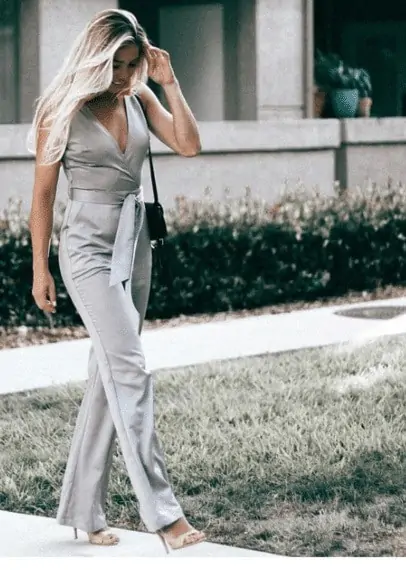 Shoes to Wear with Denim Jumpsuits
Best shoes to wear with denim jumpsuits are white sneakers, animal print booties or red pumps.
While denim jumpsuits are made of denim, just like classic jeans, like any new trend there can be a bit of question around the best types of shoes to wear it with.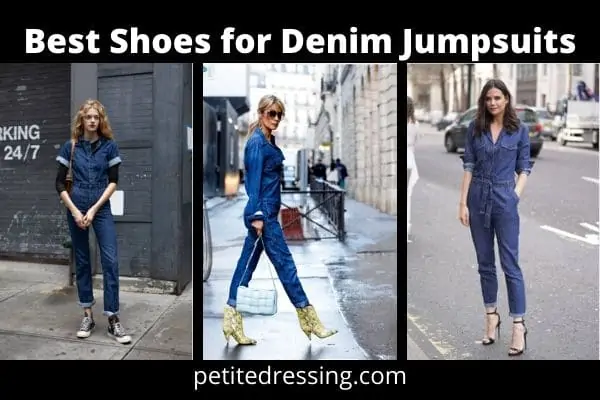 The good news about this trend is you actually have a lot of shoe options to play around with when styling your denim jumpsuit. I'll break it down into a few trendy, modern shoe options to get your inspiration going.
White Sneakers
This may go without saying but sneakers paired with a denim jumpsuit is a major style win. Just like your typical denim jeans and shorts, sneakers are an easy (super stylish) choice. You can really have fun with your sneaker choice too, since denim jumpsuits are rather neutral. White sneakers especially can add the sporty vibe to your look.
Red pumps
While denim jumpsuits feel more casual because of the denim fabric, they can easily be dressed up with the right pair of shoes. Similar to sneakers, you can really go all out with a pair of statement high heels if you want. Add a pop of color with red pumps, because they go especially well with the head-to-toe dark denim.
Animal print booties
Many of us wear denim jumpsuit in the fall, and animal print booties are the best choice to wear with them.
Booties have been pretty much everywhere the past couple of years and they probably aren't going anywhere anytime soon. Booties add an edgier twist to a denim jumpsuit. This is a great option during the colder weather months. Again, you can really express yourself and your personal style with the bootie choice.
Keep it neutral with black or white, or mix in some fun personality with snakeskin booties. Or add some pattern to the outfit with leopard print strappy heels. The options are pretty endless.
Shoes to Wear with Rompers
If you are wearing rompers in the summer, your best choices of shoes are flat sandals or sneakers for the casual look, or strappy sandals or wedges for a dressy look.
The major difference between jumpsuits and rompers is the (obvious) length of the pants. With rompers, you see the ENTIRE shoe where jumpsuits often hide the shoes you wear. That being said, wearing rompers gives you a chance to really style up your look with the right shoes. Truthfully, there are a lot of different shoe options that work with rompers.
For the casual romper outfit, sneaker and flat sandals are the perfect option. Just like with long jumpsuits, sandals and sneakers are easy to wear and super comfortable. Of course, they can add some fun style to your look as well.
Want to rock a heel with your romper? You're in luck because just about every heel type looks great with rompers, seriously! You can go for something really strappy that ties around the ankle, or keep it classic with a pump.
The main thing to keep in mind when selecting the shoes you wear with your rompers is the color/style compared to the romper itself. To really encompass that spring/summer vibe with your look open toed shoe styles are a great choice. They add to that easy, summertime feel we all love this time of year. For example, if the romper is really casual aesthetically you'll want to avoid a really dressy shoe type. Otherwise, it's really fair game!