If you have a thicker waist like me, it can be a challenge to find the skirts to flatter your figure. Even though I am overall thin, I do not have much natural waist definition. Besides, when I gain weight, it always shows in my waist.
After trying so many different skirt style over a decade, here's my recommendation for 6 best types of skirts that can slim your waist. I've also summarized below 7 skirt style that you should use caution, as they can make a thick waist look even more obvious.
High waisted skirts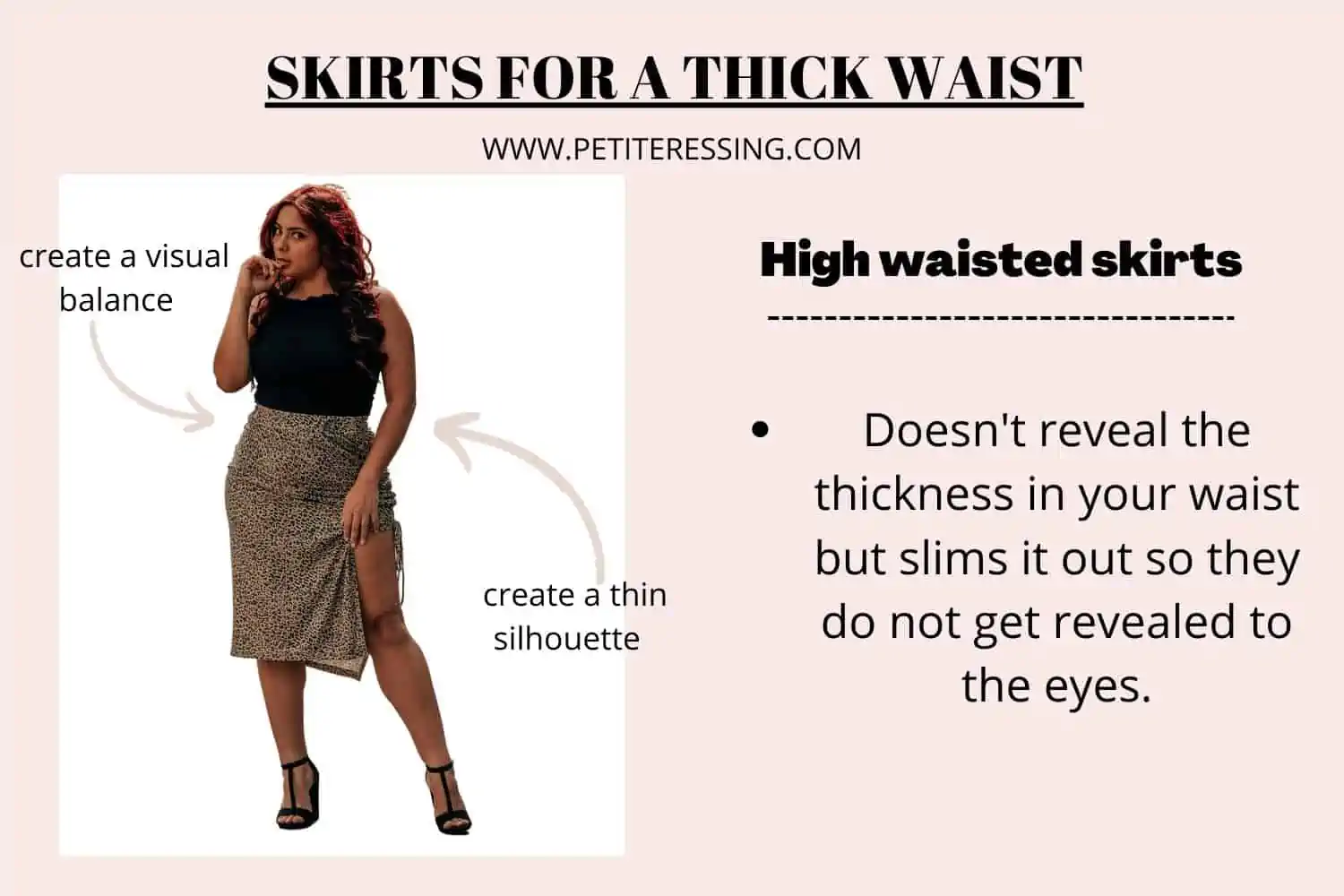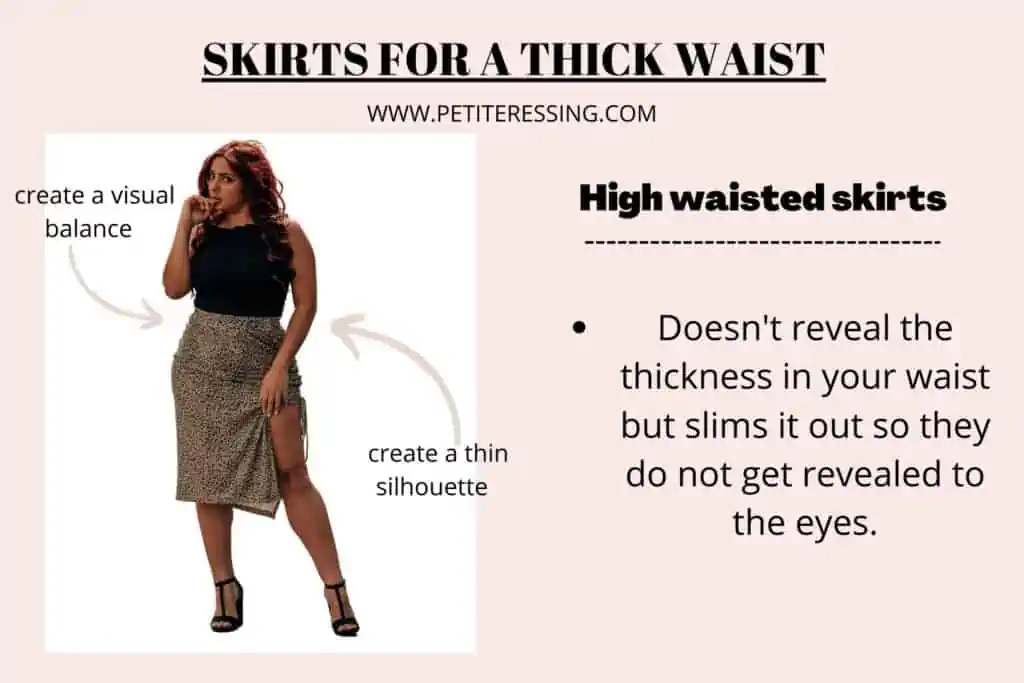 This skirt is among the most recommended skirt styles for your body shape because they have a rise that is above the natural waistline. The high-waisted skirt doesn't reveal the thickness in your waist but slims it out so they do not get revealed to the eyes.
It also helps to create a visual balance in both the upper and lower figure of the woman with a thick waist. This type of skirt is flattering and exceptional to your body shape so don't worry about styling them in ways that suit your shape.
High-waisted skirts are always in fashion because of their ability to create a thin silhouette for your feminine shape. The design is incredibly flattering on the thick waist and are fashionable enough to make the concerned area less visible to peering eyes.
A-line skirts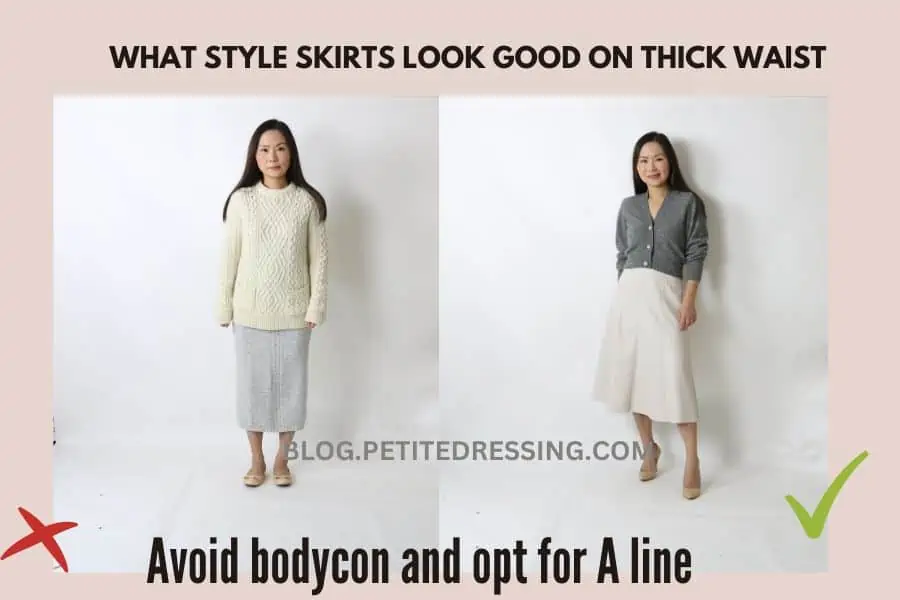 The A-line skirt is a skirt that is unique in efficiently minimizing the focus of the eyes around the waist. Most of them are designed to be higher than the natural waistline with a perfect waist level that fits perfectly on your figure.
The skirt has a gentle and feminine feel that helps to mask the thickness in the waist. They should be a go-to option for skirts for your body frame because they work well for your shape.
This skirt flares out over the thick natural waistline and that is a way to make it seem less obvious to the eyes. The A-line skirt is a very simple and comfortable skirt choice that should never be excluded from being a part of your wardrobe staple.
Well-tailored skirts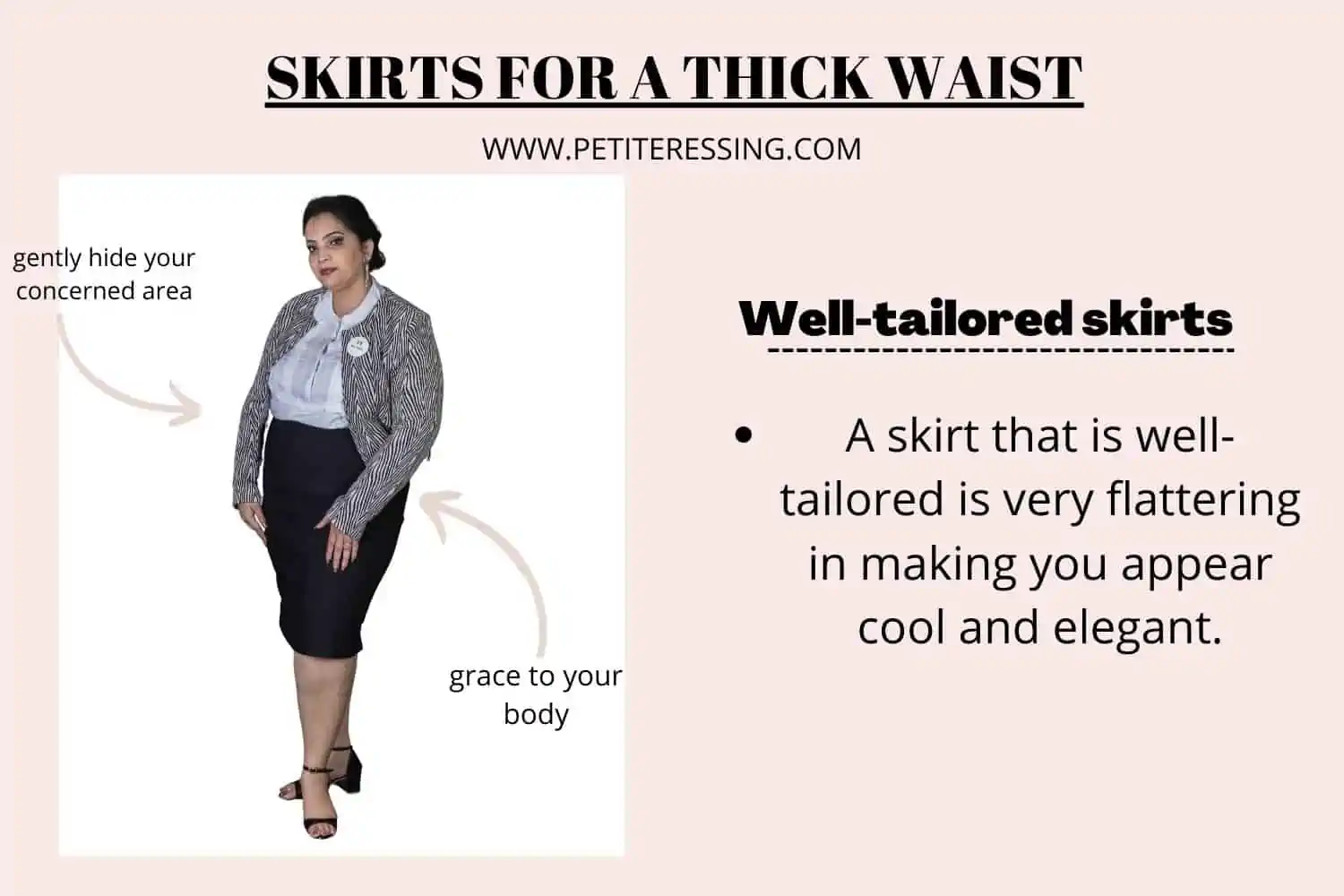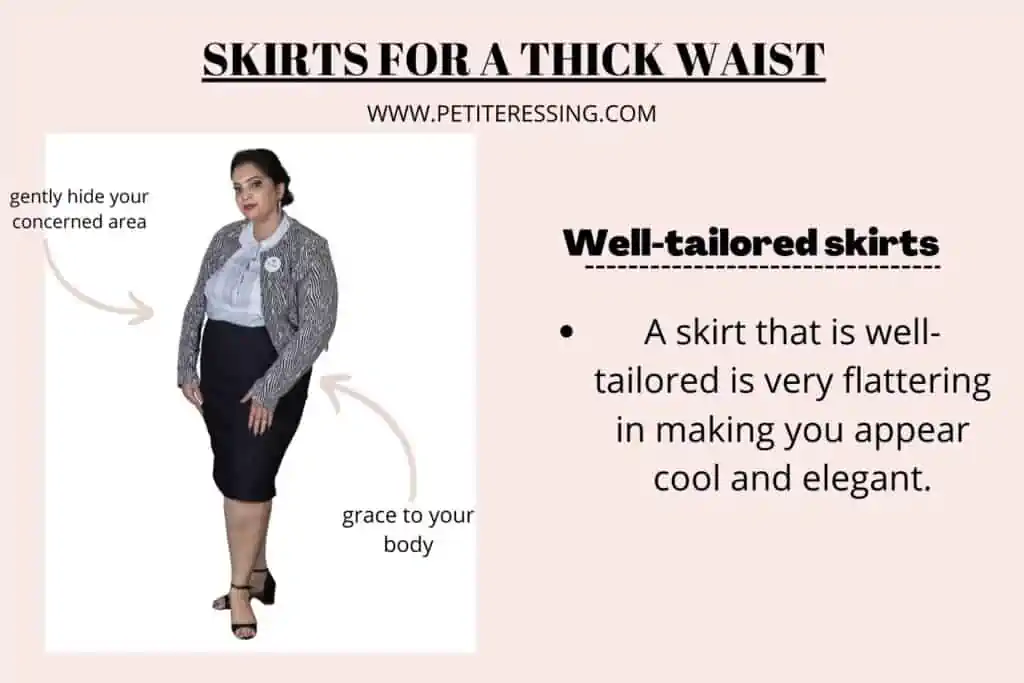 If you have a thick waist and wear a skirt that isn't well-tailored then that could be considered a fashion blunder. A skirt that is well-tailored is very flattering in making you appear cool and elegant.
A well-tailored skirt should gently hide your concerned area so you could be less conscious about your figure. Take loose skirts to the tailor to adjust them so they could sit perfectly on your frame.
Taking your measurements before making purchases for skirts is a simple way to reduce worry about getting the best skirt that suits your shape. A well-tailored skirt should be among your pick for skirts that could add grace to your body if you have a thick waist.
Skirts made of well-structured fabrics
Do not settle for just any fabric for your skirt if you have a thick waist because the wrong fabrics could make you look shapeless. Choose skirts made of wool, crepe, and a few other well-structured fabrics to make skirts that would conceal the thick waist.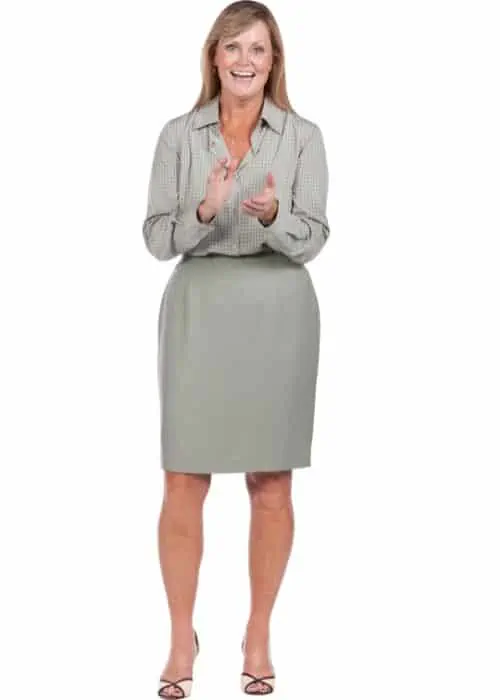 Structures fabrics in skirts are the best
These types of fabrics are also timeless pieces that are durable for your figure.
Having them as a major choice of fabric for your thick waist is a great investment.
Structured fabrics are a unique way to add class to the shape because they'd lay beautifully on the waist without focusing the eyes on the concerned region.
Dark colored skirts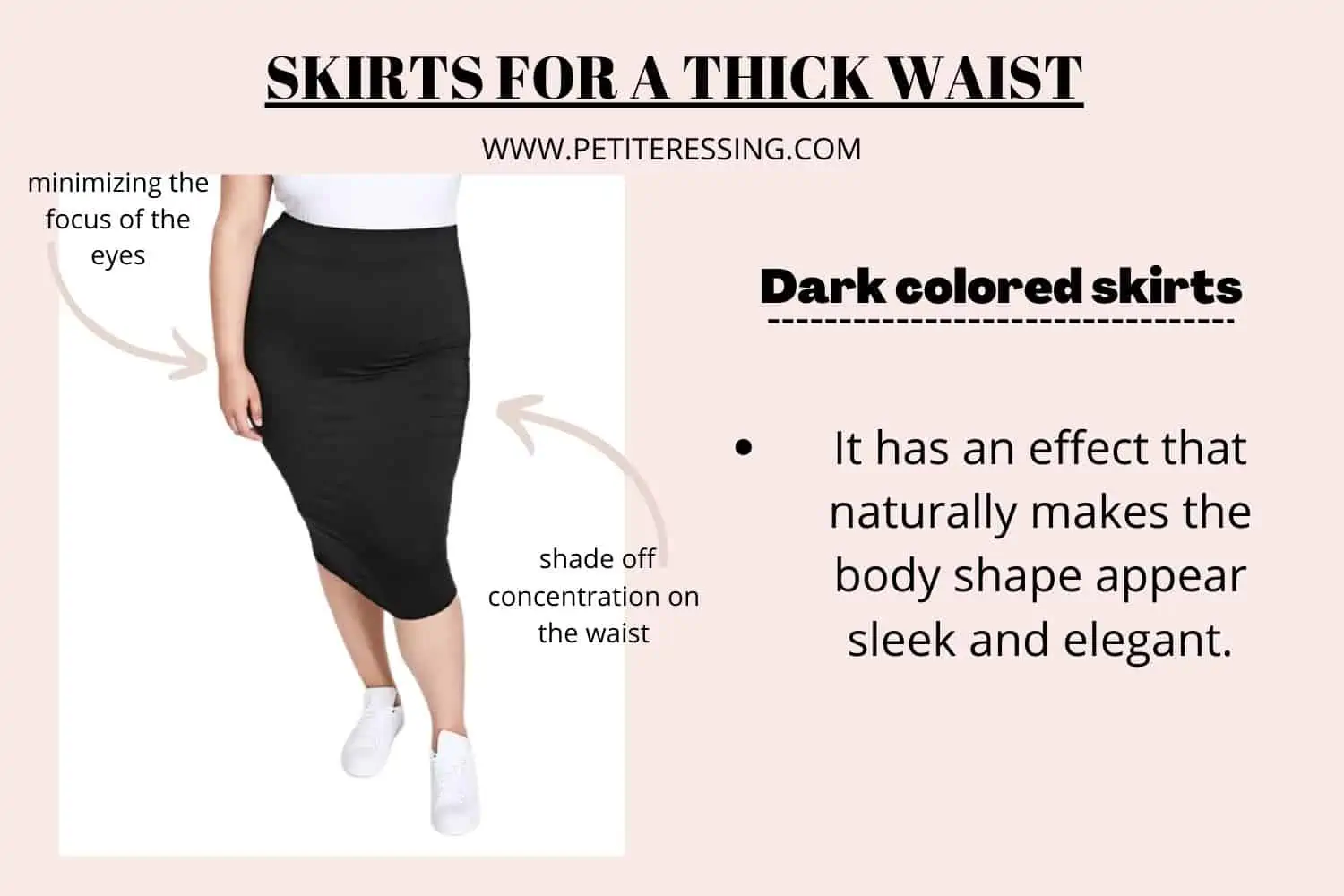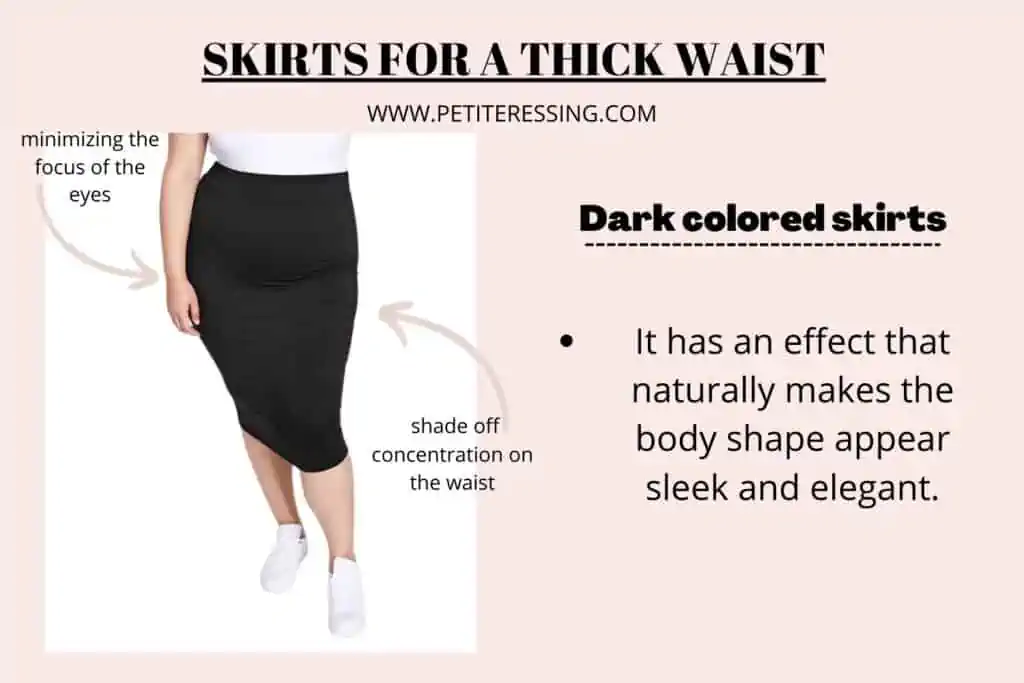 You should take into consideration the color of your skirt if you have a thick waist because colors have a way of minimizing the focus of the eyes on the concerned areas. A dark-colored skirt would shade off concentration on the waist.
It has an effect that naturally makes the body shape appear sleek and elegant so make them one of your most preferred colors of skirt for a thick waist. It's most effective on your shape if you pair the skirt with a bright top.
The focus should be drawn away from the lower part of your body with a shade that doesn't look too obvious to the eyes. It's for this reason that a dark-colored skirt should be worn on your figure if you have a thick waist.
Skirts with elastane
This type of skirt is a way to perfectly correct your shape by firmly holding the waist so it doesn't appear too thick, especially to the peering eyes. Skirts with elastane are fascinating because of their unique ability to conceal flaws in your overall figure.
You should lean into skirts with this classic structure if you do not want the concerned area in the figure to be highlighted. If you have a thick waist then it is best to make the waistbands in your skirts elastic in them.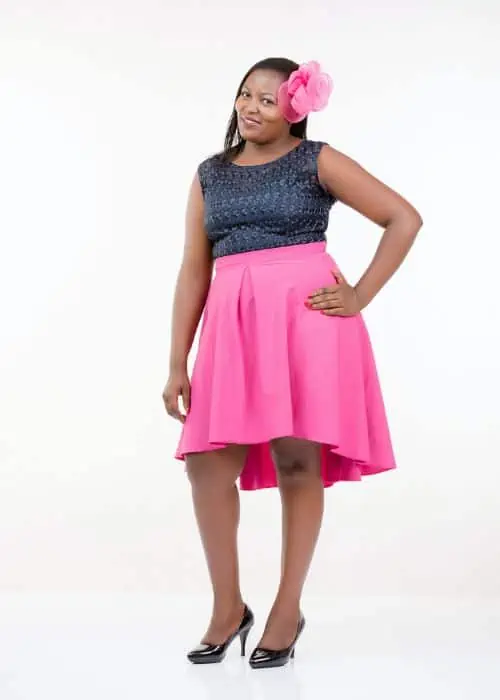 Expectations with Elastane skirts
They are special skirts that are flattering on the figure with a thick waist to help her feel confident and gracious on any occasion.
It has a strong slimming effect on the figure and that is a perfect way to minimize the thickness around the waist.
Avoid clingy fabrics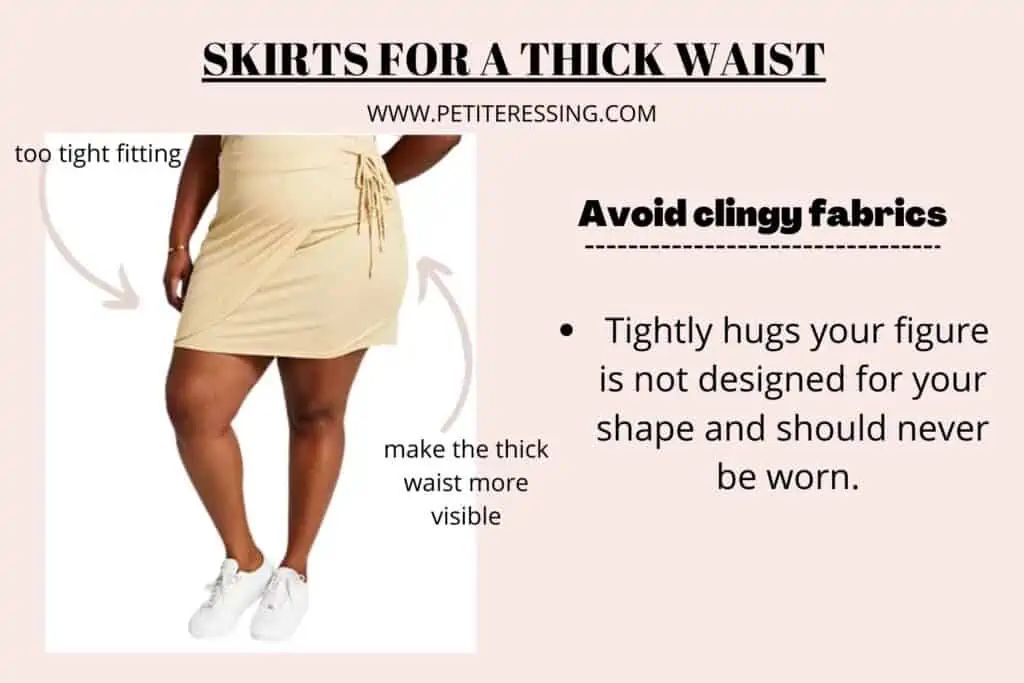 The body shape is undoubtedly a gracious one that you should gladly appreciate and style elegantly for any occasion. The only issue there is knowing what fabric works better and the one that doesn't work for your waist.
Clingy fabrics are too tight fitting on any shape and if you attempt hanging them on your figure, you would create a less flattering look for yourself. Your fabric should not cling too tightly to your skin so they do not make the thick waist more visible to peering eyes.
They should not be your most preferred choice of skirt so avoid picking them up for stocking your wardrobe. Clingy fabrics are never the most comfortable fabrics you should use in making your skirts because they are never designed for a woman with thick waist.
Avoid bodycon skirts
You should never wear bodycon skirts with a thick waist because they would create some sort of bulge in your figure and cause the thick waist to be noticeable. Avoid bodycon skirts for your shape as they would not flatter your figure.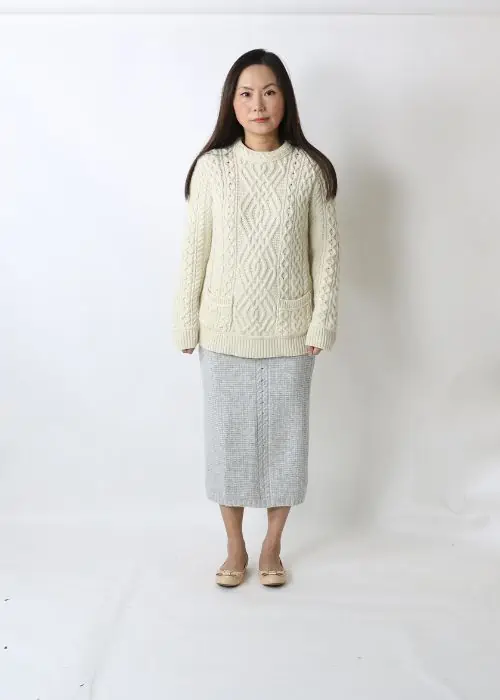 Bodycon skirts should be out of your wardrobe staple
They are tight-fitting skirt designs that have no effect on disguising the thickness of the waist so try to avoid them.
Bodycon skirts are also very uncomfortable and this could limit the cute and gentle feel of your feminine figure.
Making them part of your wardrobe staple should not be an option for you because they would not give your figure the required structure.
So, feel confident in other skirt styles and exclude the bodycon skirt from your style options.
Avoid mini skirt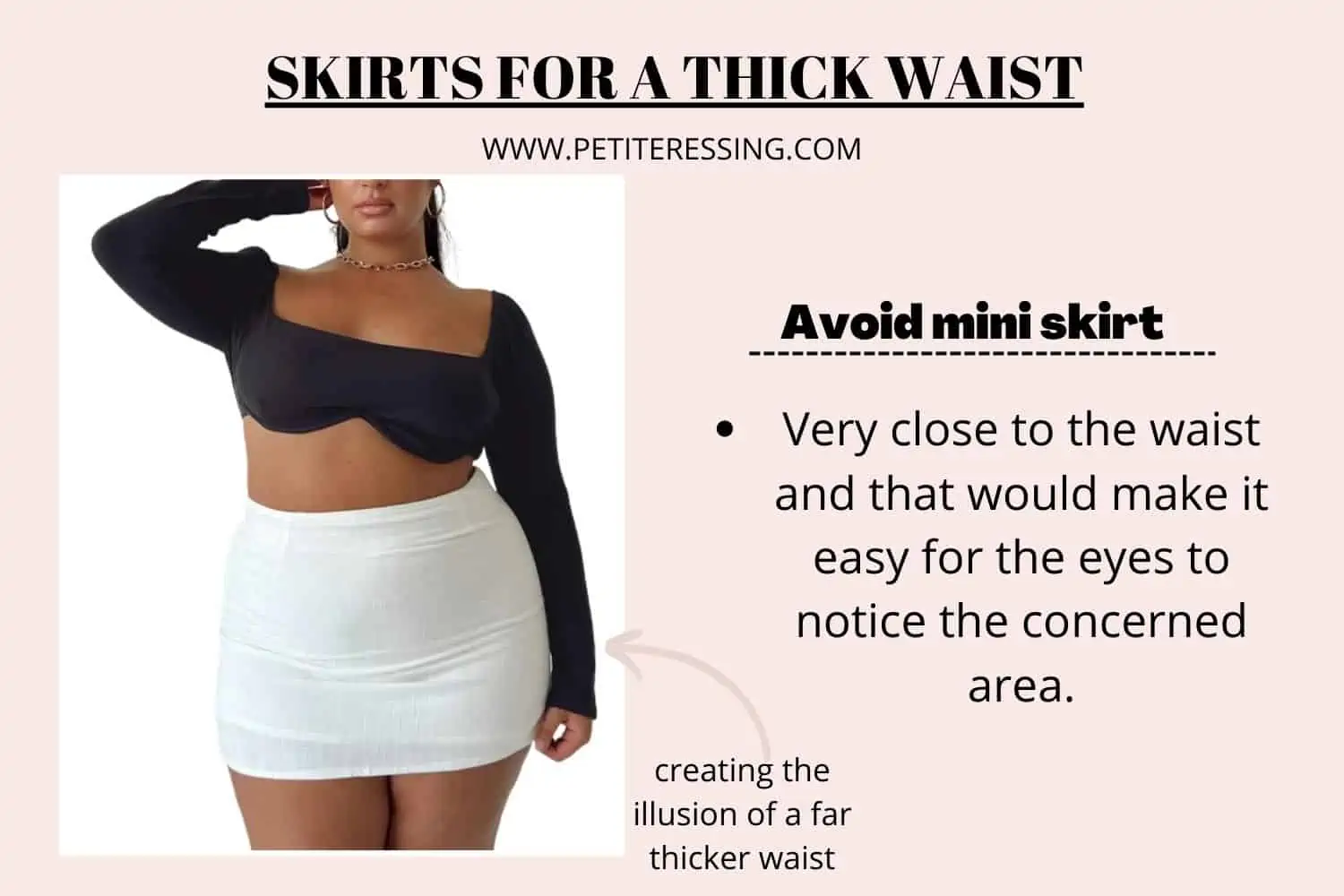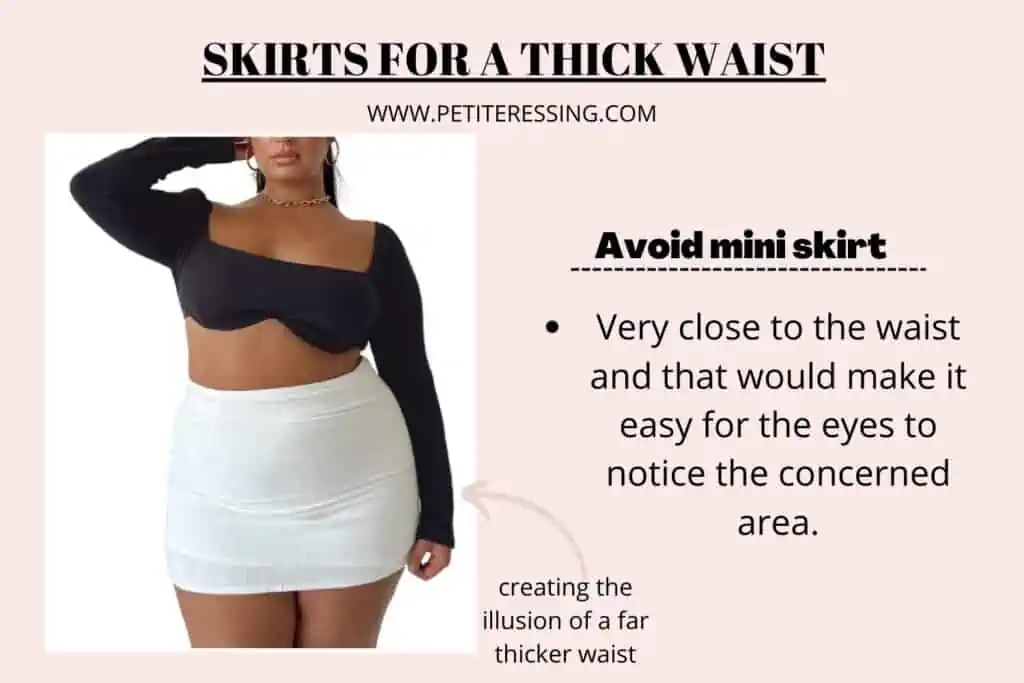 Do not ever make it a decision to opt for a mini skirt if you have a thick waist because you would end up creating the illusion of a far thicker waist. Mini skirts are very close to the waist and that would make it easy for the eyes to notice the concerned area.
You should focus on visually minimizing the thickness in the waist with whatever skirt you intend to wear and not maximize it with a mini skirt. Divert attention from the waist by not wearing the mini skirt design.
This skirt may have a positive effect on your leg but that isn't a major focus for you because of your waist. So to avoid passing the wrong message to the eyes, kindly avoid keeping mini skirts in your wardrobe not styling yourself in them.
Avoid bright-colored skirts
The brightening effect a bright-colored skirt gives to the lower half carrying the affected area is unnecessary and less flattering. In order to avoid attracting so much focus to your thick waist then you should avoid colors that are too illuminating.
Shift brightness to the upper half and you would gladly appreciate your shape just as intended by you. Keep the thick waist less revealing by opting for skirts that have bright colors that the eyes would notice easily.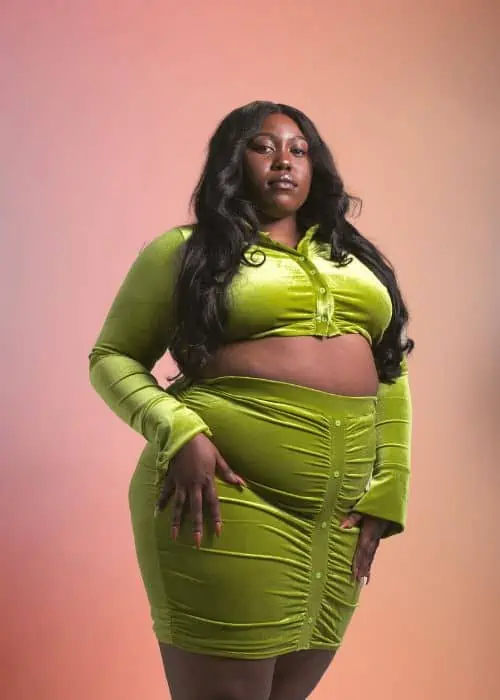 Why you should not opt for brighter-colored skirts
Any visually attractive skirt is considered a wrong option for a woman with a thick waist because it would highlight the concerned area.
Do not try to be fashionable with a bright-colored skirt, it is never suiting for your shape.
Avoid belted skirt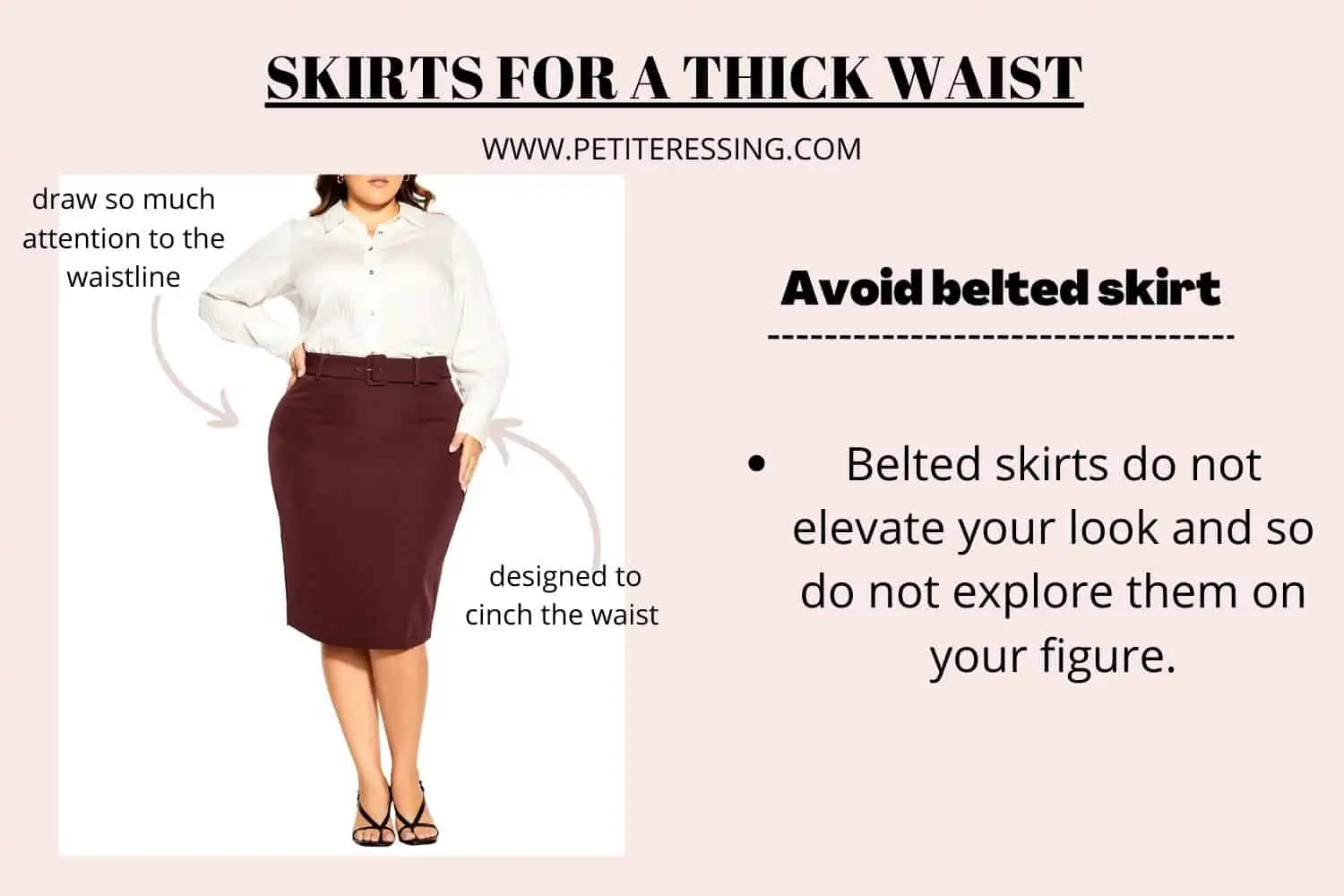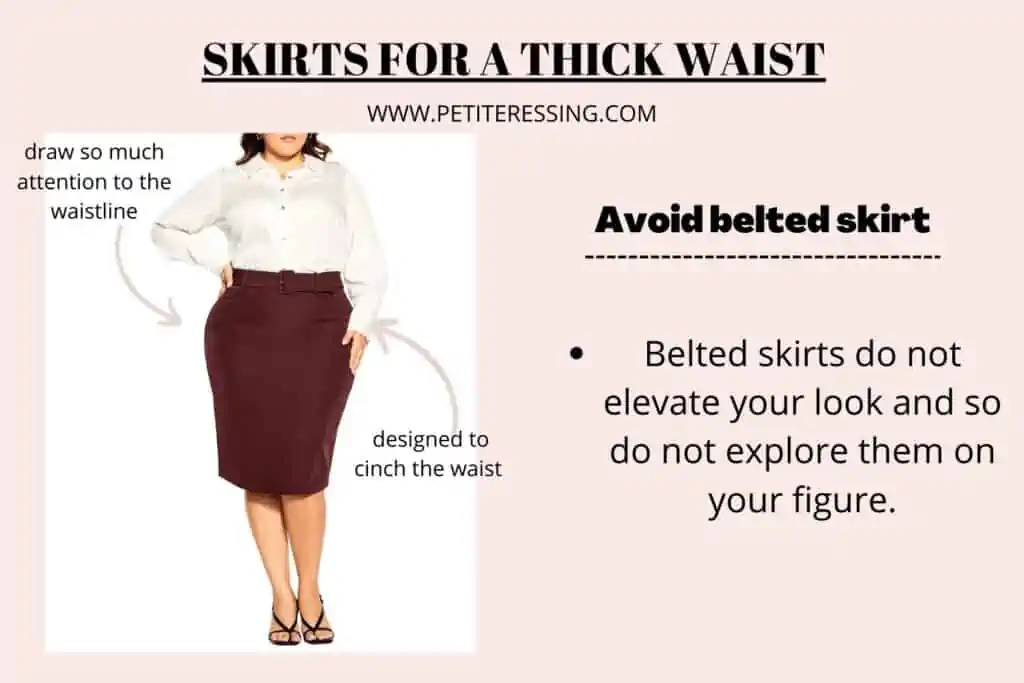 Belts are designed to cinch the waist and that is a feature that is never flattering for a thick waist. Belts would draw so much attention to the waistline and make the eyes notice the thickness of the waist.
Whatever way the belts may be, either small or big-sized belts, they should never be an option for you so do not wear belted skirts. If you feel the skirt is oversized, take them to your local tailor to adjust them to fit you but never attempt using belts to cinch your waist.
Belted skirts do not elevate your look and so do not explore them on your figure. They would not help to visually correct the shape off the woman with a thick waist.
Caution with a pencil skirt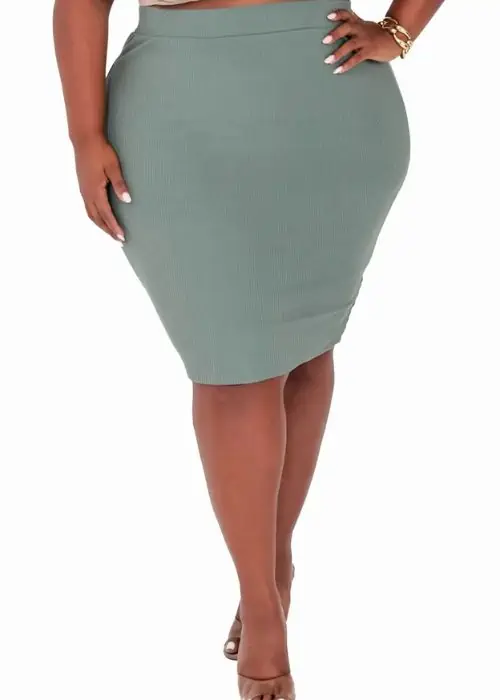 Pencil skirts are not the best when you have thick waist
Pencil skirts have straight cut that does not help to properly conceal the flaws in your figure.
The skirt may appear to be beautiful but if you intend to achieve the best fit then you should be cautious of the pencil skirt.
The skirt would highlight your waist and cause some sort of distortion in your body proportion.
It is best to caution with the pencil skirt for a better elevating look.