Are you invited to a wedding?  In order to understand what you should wear to a wedding, the first thing you should know about is actually what NOT to wear to a wedding!
When you get that beautifully crafted wedding invitation, what is the first thought that came to your mind? You are happy for the couple, I bet! Whether the bride is a good friend you have known since high school, or the groom is a cousin, I'm sure you feel their joy for this special day and are pleased to be invited to the celebration. Then, you probably start to wonder:
What should I wear to the wedding?
As much as we want to say that you should wear what you feel like is the most YOU, we do have to also mention that wedding is one of those occasions when you need to make sure you know the etiquette and plan your outfit accordingly.  Of course, contemplating what to wear to a wedding as a guest should not take away the fun you should have at the wedding.
That is why we have compiled a detailed guide that will walk you through all the faux pas and dress-up qualms that you must avoid as a wedding guest.
This post may contain affiliate links, which means we earn a small commission (at no cost to you) if you follow the links and make a qualified purchase, which enables us to keep creating amazing free content for you. Thanks! Click here to learn more.
These dos and don'ts apply to any wedding guest regardless of their height, weight and age.
Of course, what to wear to a wedding if you are petite might be different than the choices if you are tall.  There are several considerations that you must undertake while planning your outfit and your overall look. Our guide will make sure your wedding guest statement is elegant, classy and appropriate.
Now let's dive in the most common mistakes for wedding guests when it comes to what to wear to a wedding.
Say No to White
Wearing a white outfit is the most terrible mistake that you could possibly make as a wedding guest, and trust me, there's no forgiveness for attempting to steal away the bride's thunder (unless she told you to wear white, which we will mention in a little bit). Whether the wedding guest is petite or tall, curvy or athletic, she should show the basic respect to the bride by avoiding an white dress, for white is the traditional bridal statement.
Whether you are invited by the bride or the groom, this is the BIG Day of the bride, and you should allow her to be the center of all attention. As she shines bright in her ethereal white bridal gown, you mustn't clash with her glamour by showing the audacity to wear a white ensemble.
When you are contemplating what to wear to the wedding, avoid white or off-white. Instead, pick out other colors that mimic the grace of white, nude for instance, cream, beige and other hues that are subdued and angelic.
The only exception to this rule we can think of, is when the invitation has specified this is an "all white wedding". That means the bride and groom are inviting the guests to wear white as part of the theme. In that case, wear white all you want!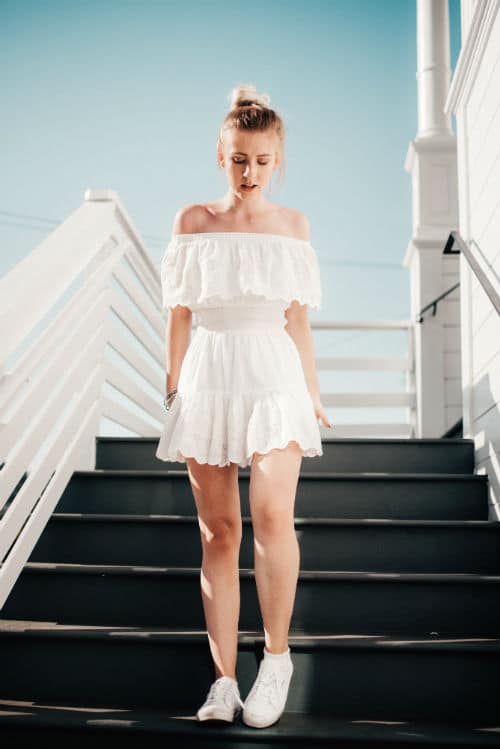 Jeans are a Faux Pas
Even if the wedding is taking place at the most laid-back and retro of all venues in the world, even if it is a denim manufacturing factory itself-don't even think about flaunting a pair of jeans at the wedding. It would be the most blatant disregard for formal and black tie dress codes, and you will certainly attract a lot of gossip and plastered smiles for being under-dressed and shabby.
In fact, truth be told, wearing anything made of denim is a bad idea, unless denim or jeans are a theme picked out by the bride and groom themselves.
People often think that a rustic or bohemian wedding is a good excuse to wear a pair of jeans, but regardless of the fact that couple are saying their vows in the jungle, you are not allowed to make a mockery out of wedding dress codes.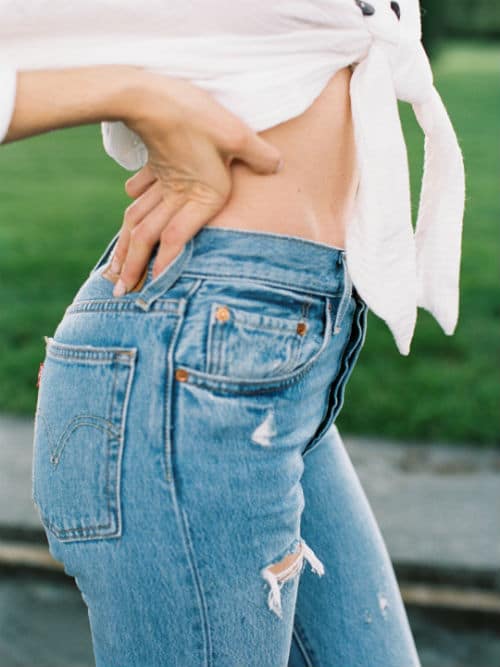 So, when you are planning what to wear to the wedding, put away those dark, sexy and slim fit jeans and take out a romantic and feminine ensemble that is festive or at least, graceful. Remember, your style statement is also a gift to the couple on their big day, and you must do them the favor of attending their wedding in a charming outfit. If you must add some denim drama, think about a sharply tailored blue tuxedo or even a navy off-the-shoulder jumpsuit.
Anything Too Tight or Too Revealing
Wedding is a happy event, and it often times involves band playing and champagne flowing on the rooftop.  But, hey, please be reminded it is different than clubbing, thus what to wear to a wedding should be appropriate for the wedding venue.
Are you attending the vow exchange ceremony as well as the reception in the same wedding guest dress?  Most of us do not bring two guest outfits to attend a wedding, so, most likely you will be wearing the same dress to sit through the ceremony and then go to the reception.
If that's the case, there's simply no excuse for wearing a dress that is too revealing or too tight as it draws attention towards you in a sexual and provocative manner, especially if the ceremony is in a church!
Often times we choose well fitted dresses, because baggy clothing just doesn't look good on shorter girls.  There is nothing wrong to show off your curves.   However, that doesn't mean you need to flounce all your assets at once.   Remember, you are not dressing up for prom, and outfits that are too loud and sparkly, awfully shiny and tight will make feel and look like the odd one out.
What's worse, a tight and revealing outfit will make you conscious about fixing your neckline and adjusting the thigh-high slits, and besides, if you want to dance and drink the night away, it's best to be comfortable in a dress that accentuates your body in an elegant manner.
If you're been planning to woo away some sexy-lookin' groomsmen, save that for later because wearing an outfit that is too tight, too bold, too revealing and too short will only attract you inappropriate attention at a wedding.
Dresses that are Too Short
Okay, this one is a common question.  When you are choosing what to wear to a wedding, should the dress be long or short?
On the one side, flaunting a short wedding guest dress will make you appear taller by elongating your legs and highlighting your frame. But on the other hand, a dress that is too short can quickly pass on as trashy and vulgar, and it will also threaten to deprive the bride from her limelight by drawing attention towards you.
We recommend you to tread with care and caution. If you must wear something short, be sure to make the statement as graceful and elegant as possible. If you absolutely feel the need to add a couple inches to your frame, do it with elegance and pick out a dress that is more feminine and graceful as opposed to revealing and trashy.
The rule of thumb is, if you are showing off your legs, then avoid showing your cleavage too much.
Dress up like the Bridesmaids
Your wedding guest dress should not be similar to the bridesmaid dresses.
Some guests make the effort to find out the wedding color scheme and choose a coordinating dress, which is a great idea. You can take that one step further by asking about what color and style (long or short, one shoulder or strapless) the bridesmaids' dresses are. Does that sound like too much effort? Maybe, but it is better to do the homework beforehand than to find out at the wedding that your dress looks just like the bridesmaids'.
If you do not feel like you are close enough with the bride to ask this kind of details about the bridesmaid dresses, then use your best judgement when you are choosing what to wear to the wedding. Bridesmaids dresses are traditionally made of several types of fabrics such as tulle, chiffon, organza, satin, etc. The styles could be short at knees or maxi length, and they are pretty easy to spot when you go to a bridal shop. Just keep in mind to stay away from those.
Having said that, coincidentally wearing a similar color or trend as the bridesmaids is not end of the world. At the end of the day, wedding is a happy event and attending the wedding in a good mood triumphs any worries or concerns you may have, if you happen to find out your dress looks similar to the bridesmaids'.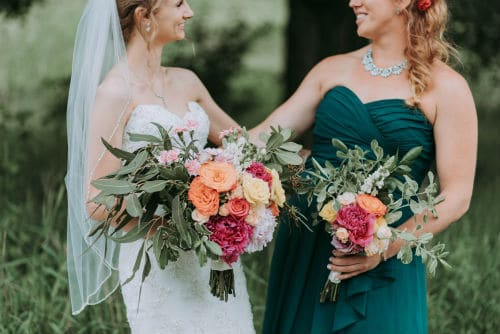 Uncomfortably High Heels
This is the most common dilemma of wedding guests.
For anyone who wants to look taller and slimmer (who doesn't?), high heels are a no brainer, especially for dressy occasions like weddings.  The most flattering shoes for anyone who wants longer legs are those with low vamps and skinny heels.  Not only do they boost your height instantly, but they also change how you stand and how you walk.  Basically, you feel sexier and more confident right away.
That said, there is a balance point. If your heels are too high, they never work in your favor at the wedding when it comes to dancing and drinking champagne without the fear of being tipsy. Think about it, uncomfortable and excessively high heels will only get in the way of all the fun you can have at the wedding. In addition to that, a wedding is a classy affair, excessively high heels (especially those with thick platforms) exude a trashy vibe that you really want to avoid.
So, when you are planning what to wear to the wedding, picking out the right shoes is such a critical part. You need to wear a pair of heels that allows you to stand and move around comfortably, along with dancing the night away without tripping over someone or worse, inflicting damage to your shoes and feet. This is why, mules, kitten heels and moderate platforms are such a great option for a comfortable and classy footwear statement, and if you're attending a bohemian wedding, you can even try festive sandals.
Read our advice on "7 Tips to Wear High Heels without Hurting".
Carrying Large Bags
When you go to a wedding as a guest, bags are one of the most important accessories.  You need to make sure you carry everything you need for the entire day and the evening.  For most women (petite or not), that includes a long list.
Cellphone (for those instagramable selfies!) obviously
Credit cards and some cash (in case you need to take a cab or tip the bar tender)
Powder compact (very important if you are going to a summer wedding especially if the venue is outdoors)
Lipstick (don't forget this if you are going to eat or drink at the wedding)
Mascara (if you tend to cry when you watch the couple say their wedding vows..)
Keys (duh!)
The list goes on and on. Sounds like you need a big bag to hold all that, right?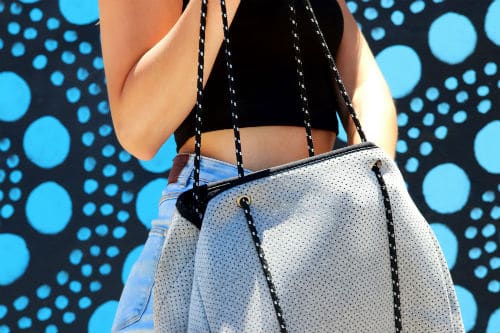 Well, as a wedding guest, it is very important to make sure your evening bag is nicely scaled to suit and flatter your body shape.
Most large bags, such as hobos, totes or backpacks, simply won't go with your wedding guest outfit, especially if you are going to a summer wedding.  Our recommendation for wedding guests are envelope bags, clutches and crossbody bags.  But even with those styles of bags, you need to carefully choose the size to make sure it will not overwhelm your body frame and hide up your curves.
What's more, if you are carrying a clutch or wallet on the chain, it is very important to make sure the length of the chain is flattering to your height. 
If you are petite, read more about what works best on petite girls, read my blog post on "Best Handbags for Short Women".
Does that mean the smaller the better? Not really. Remember your bag needs to carry all the essentials so that you can have a fun day/evening at the wedding without worrying about leaving anything behind.
Meanwhile, if you are a short girl on the curvier side, carrying a mini pouch might actually make you appear to be bigger.  So, the key word here is the scale, and it must be in proportion to your height and weight.
Over Accessorizing
When you are contemplating what to wear to a wedding, your outfit, of course, is not complete without accessories.  However, even if you absolutely adore wearing chunky necklaces, loud strands of pearls, bold statement earrings and stacks of bangles and rings, we strongly urge you to exercise caution while picking out accessories for the wedding reception.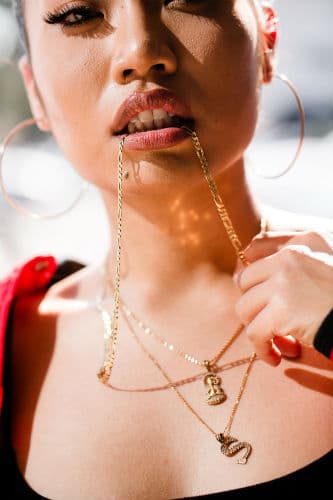 Adding more accessories to your outfit could overwhelm you, and you really want to accentuate your body shape rather than shrouding up your curves behind layers of necklaces and heavy ornaments.
Wedding guests are strongly advised to keep accessorizing to a minimal so that you can flaunt your favorite trinkets without overwhelming your body frame. As a rule of thumb, it is generally advisable to add no more than three accessories to your statement.
Here, it is important to reinstate that weddings are a classy affair and not the perfect occasion to add an overwhelming amount of sparkle and ornamentation to your look. And if you must sparkle, why not add a subtle pair of sparkly diamond studs and a sleek diamond bracelet to your wrist? You can also seal the deal with nothing more than a pair of chunky statement earrings
Not following the Invitation Dress Code
Believe it or not, this mistake happens more common than you think.  You would think guests would all take the time to read the invitation and plan what to wear to the wedding accordingly, right?  Not always the case.  Wedding guests could fail to read the invitation dress code and end up embarrassing themselves by failing to pick out the right style to match the dress code. You see, their wedding day is a very special day for the couple who has invited you to share their happiness and joy, and the least you can do for them is follow the dress code mentioned on the invitation card when you are contemplating what to wear to the wedding.

For instance, if the wedding is a black tie affair, you are expected to wear a cocktail dress or a ravishing evening gown. If the dress code is cocktail attire, a sharply tailored jumpsuit or a lace midi dress would be fabulous. And if the wedding is a daytime affair, a flared skirt, a summery dress or a summertime suit would be flawless.
It is important to pay attention to the dress codes to make sure you do not feel embarrassed or out of place. Save yourself the awkwardness by dressing as per the dress code mentioned on the invitation card!
Finally, if you are short, I want to remind you whatever you decide to wear, you should get it from petite clothing stores.  Whether it's petite cocktail dresses or petite maxi dresses, getting them in petite size is critical to ensure the best fit on you.  Even though attending wedding is an important event and you should get a few long lasting pieces as an investment, that doesn't mean you have to break your bank in order to do so.
Sometimes you can find well made pieces in discounted petite clothing stores as well. Planning early is key.  Start searching as early as you can is the best way to make sure you find what fits you the best and at the best possible price.