I am 5'2″, so I know how it can be a struggle for petites like me to find the right clothing to fit our short height. Because I have a clothing line for petite women and we launch 60 new styles every month, it is my everyday task to find the designs that are flattering for short girls.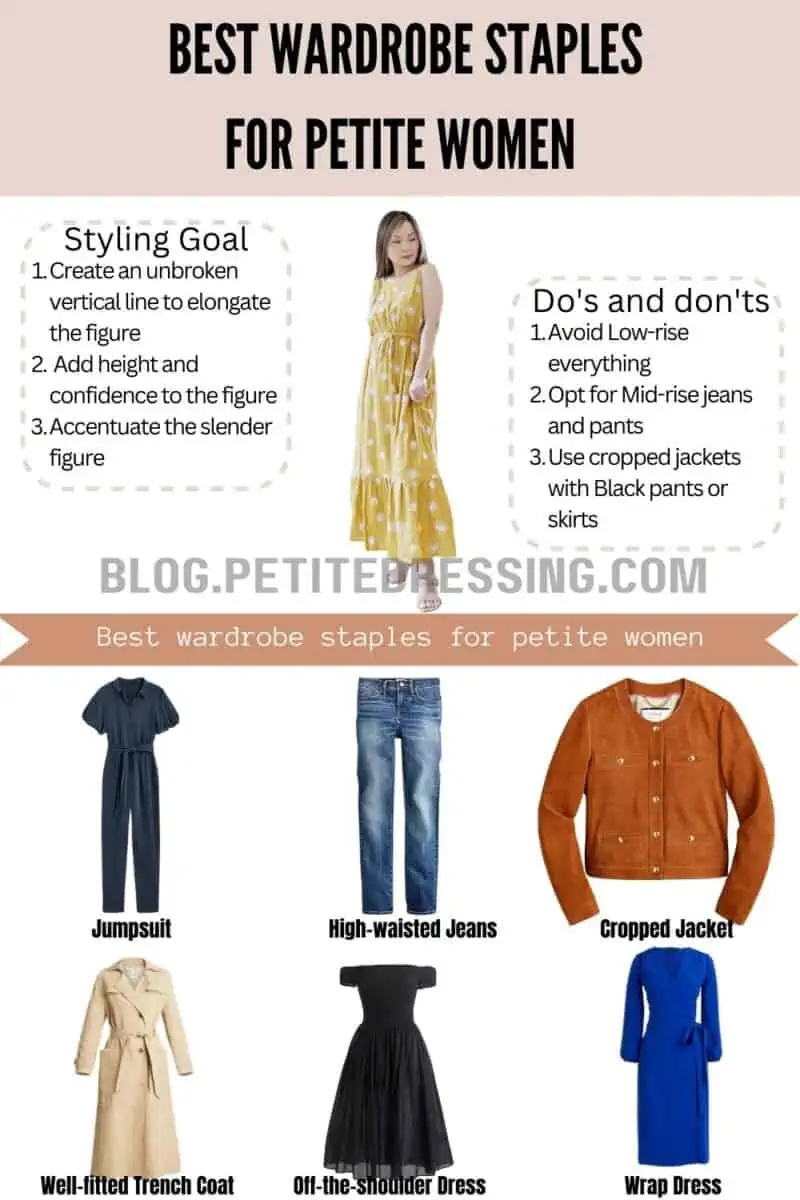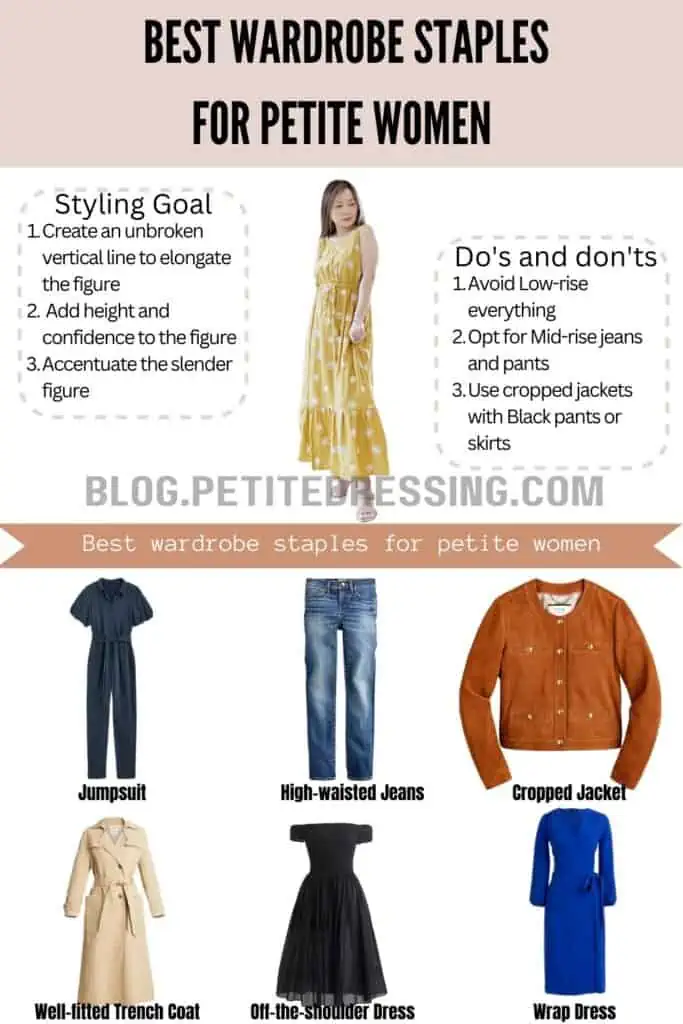 Trends come and go, classics are here to stay. Looking at what is trending this season as well as what are the best pieces that work on short women in general, below is my list of the evergreens staples you should have!
Jumpsuit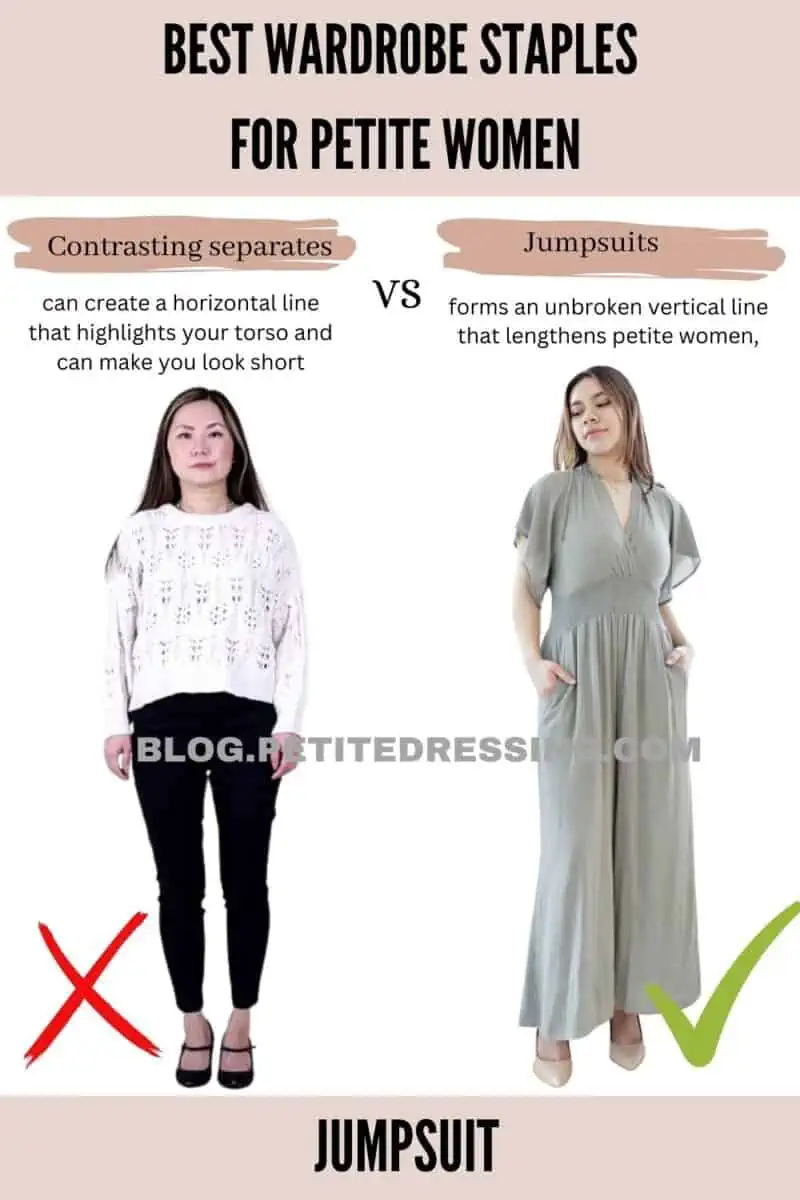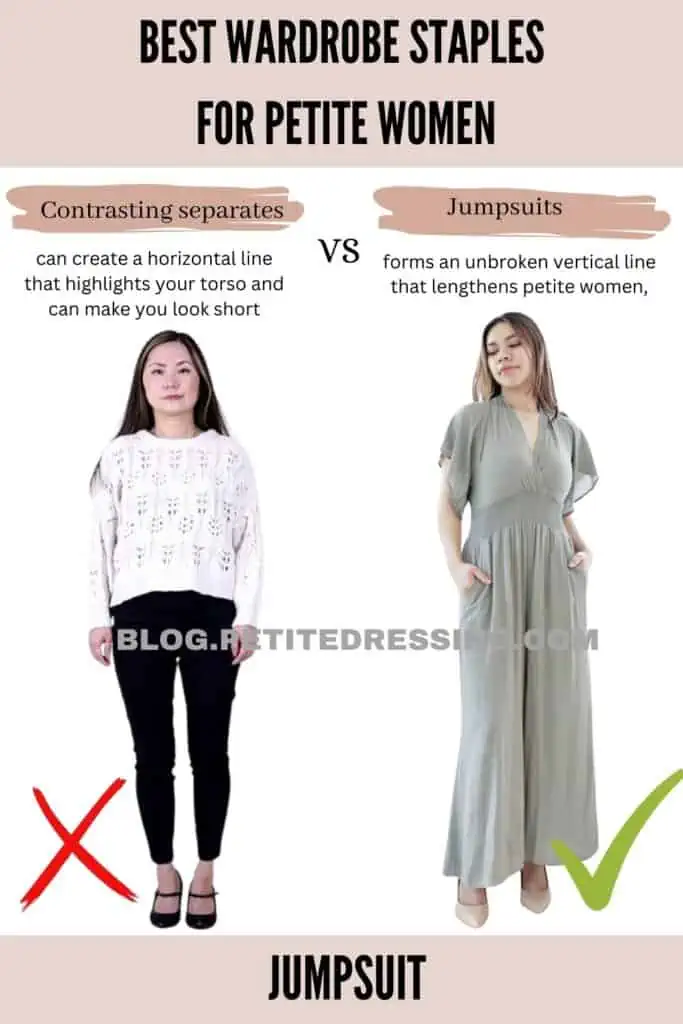 I have to admit that jumpsuits can be intimating for a short girl, if you've never tried it before. At least that's how I initially felt, and that is the reason I did not own a jumpsuit until I had my own clothing line. But, my customers LOVE them, so I started to wear them as well- boy, what a big difference they make in your wardrobe!
First and foremost, the one-piece design of jumpsuits forms an unbroken vertical line that lengthens petite women, especially if your legs are short. That is the main reason that you should definitely have at least one jumpsuit this season.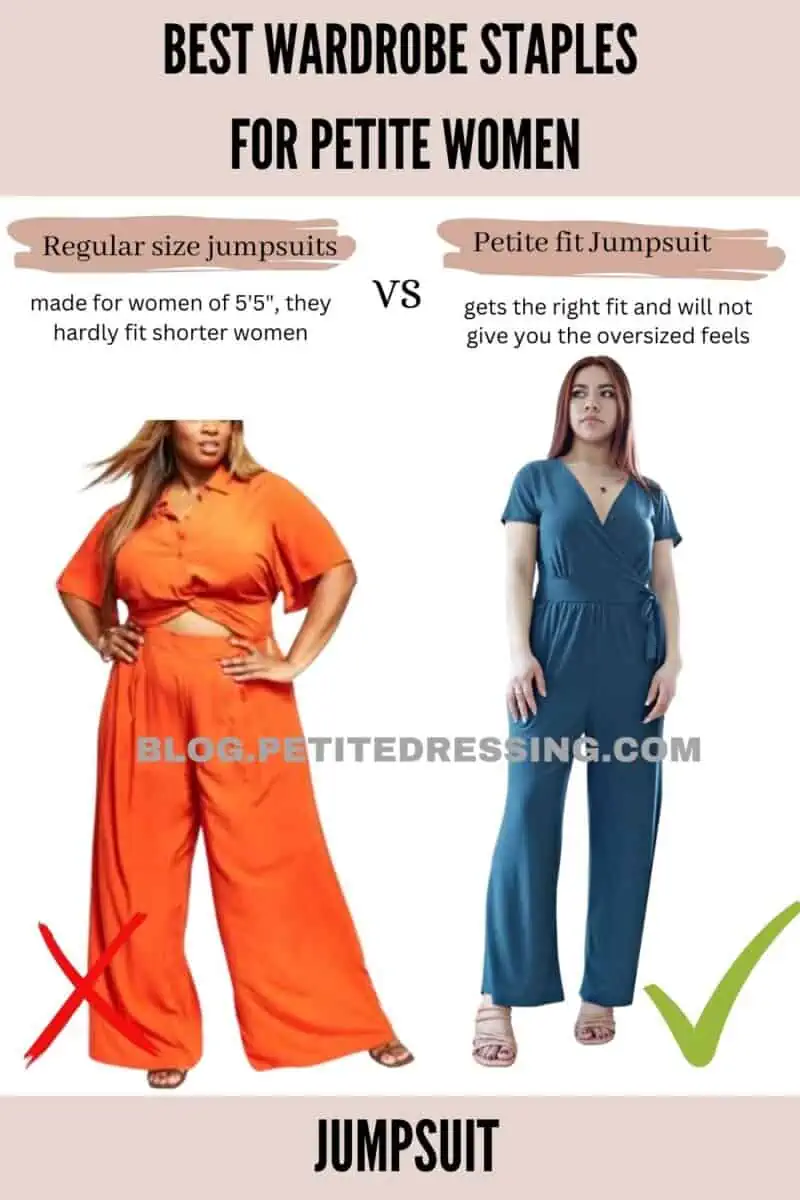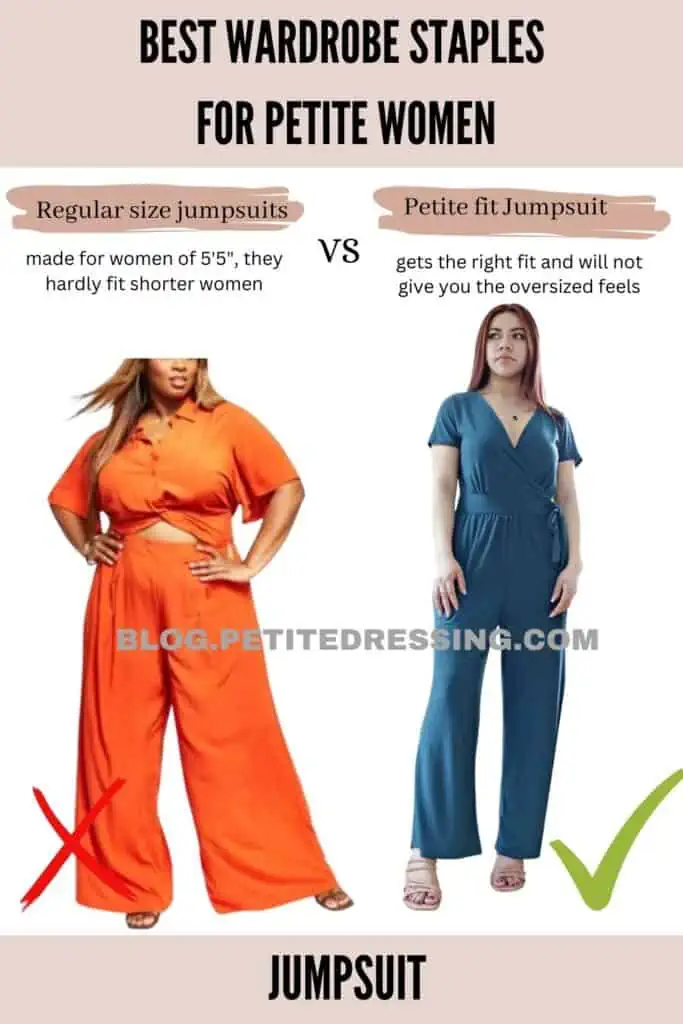 If worn correctly, a jumpsuit can really elongate the petite body frame and be one of the most flattering pieces in your wardrobe.
Another thing I noticed is that jumpsuits are automatically dressy and very easy to style. That is why many of my customers purchase jumpsuits when they are looking to put together a special occasion outfit (for example, a wedding guest or bridal shower).
I do want to point out that the most important thing to consider when choosing your jumpsuit is the rise, which can make or break the look.
Since regular-size clothing is made for women of 5'5″, they hardly fit shorter women. To ensure proper fit, it is critical that you get the right petite fit jumpsuits from specialists like us.
High-waisted Jeans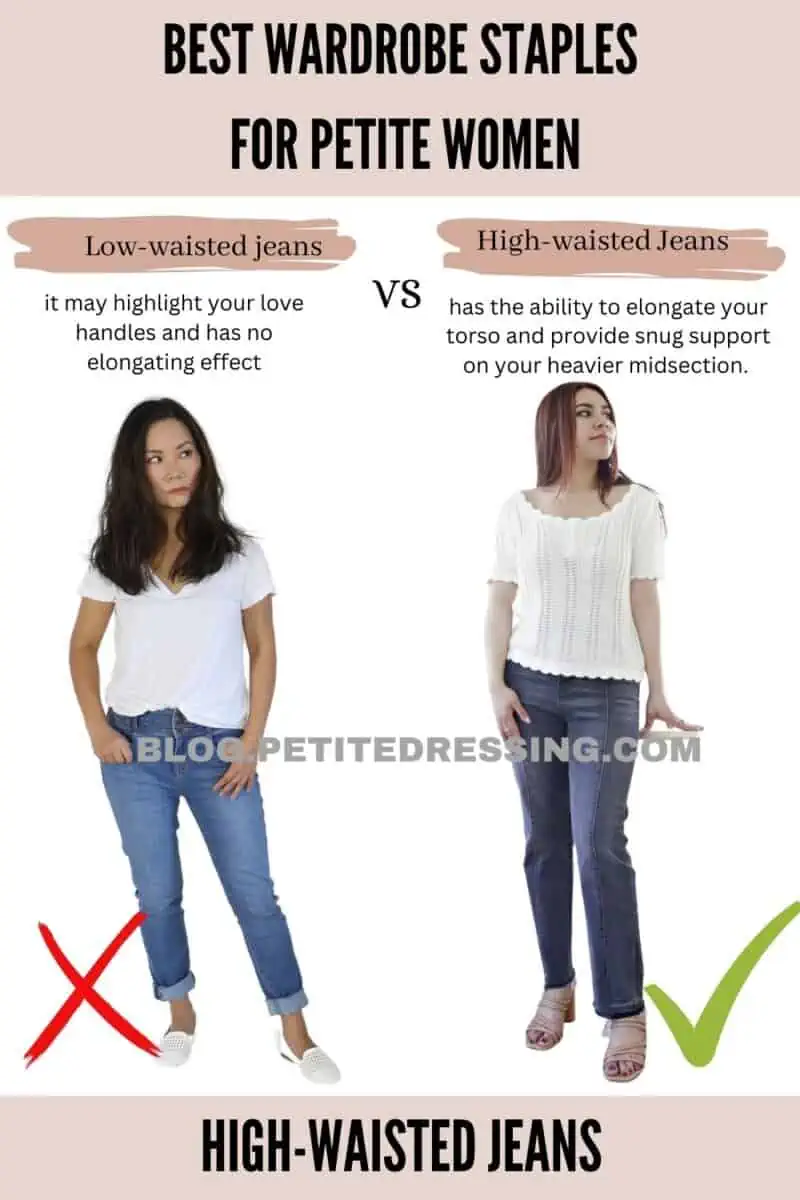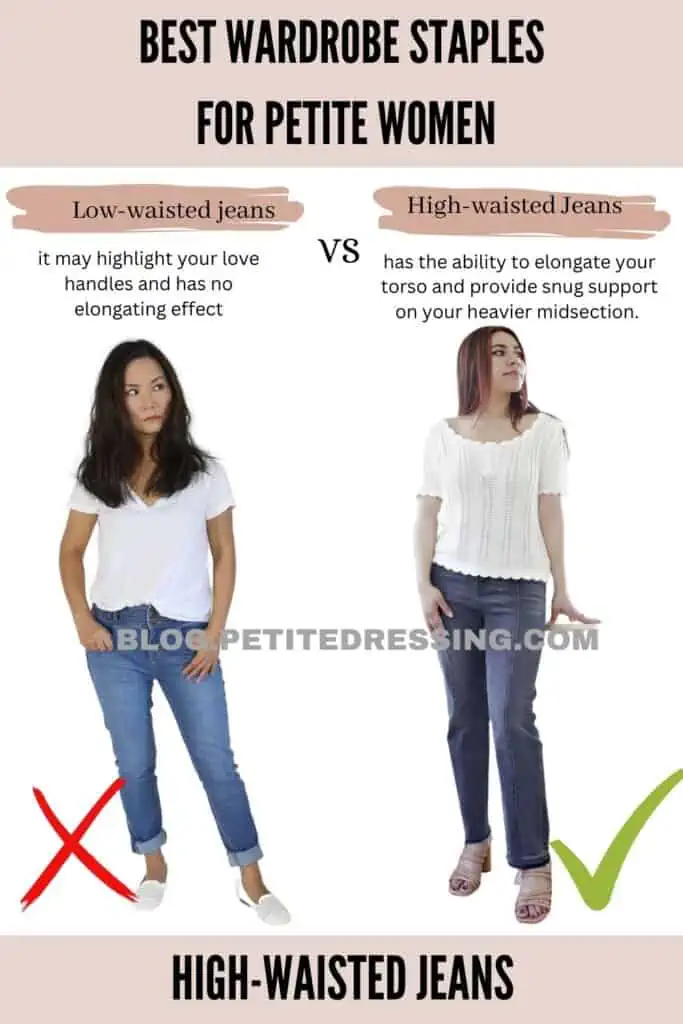 High-waisted style jeans are almost ALWAYS the best sellers in our petite jeans collection.
Why? It makes your waistline look higher than it actually is, thus creating the illusion of longer legs. This is especially flattering if you happen to have a long waist and shorter legs.
A general piece of advice for petite women is to go for dark color, as they will make your bottom half look slimmer. In terms of fabrics, make sure you pick those with stretchy materials, as they will make your high wasted pants very comfortable without feeling restricted, especially if you have an office job and need to sit in chairs for many hours a day.
The Rise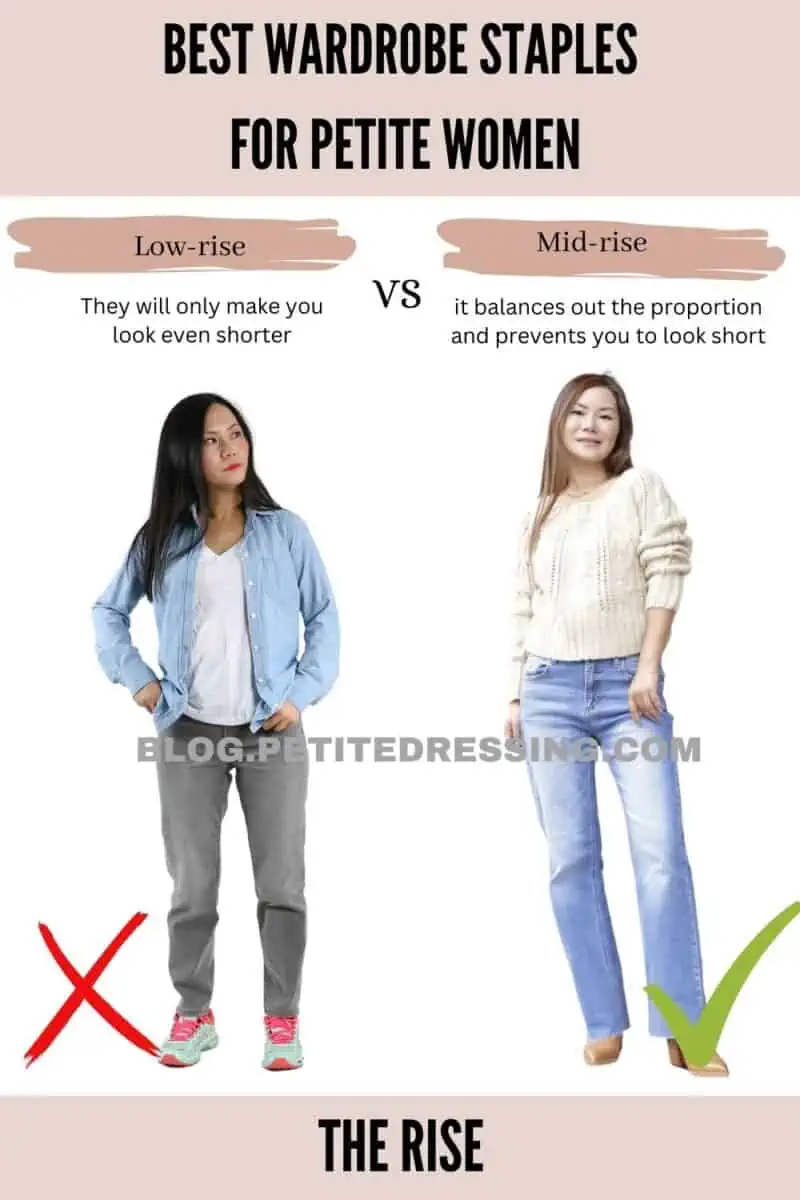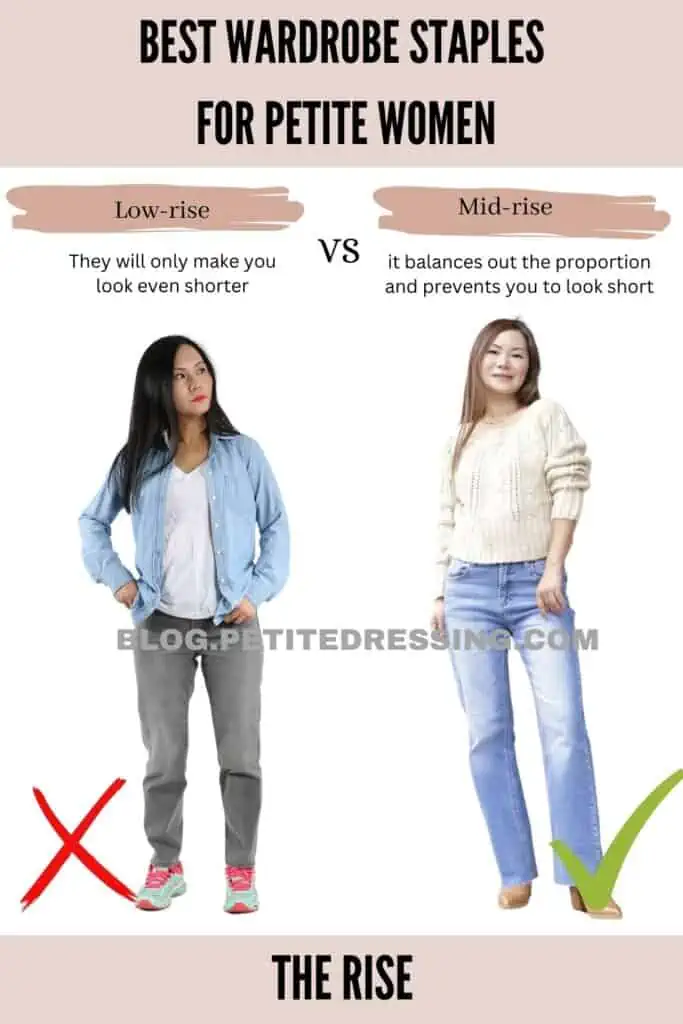 Now, I do want to mention that high-waisted jeans are not for everyone. If you happen to be a petite girl with short torso/long legs, then you may want to stay away from this style. In that case, your better option is mid-rise jeans. They are still comfortable, but they won't make your torso look even shorter like the high rise.
Low-rise jeans are making a big comeback this season. They are seen on the runway shows of multiple mainstream designers including Levis. No matter how cool they might look on models, we do not see a good reason for short girls to follow the trend. They will only make you look even shorter.
The Inseam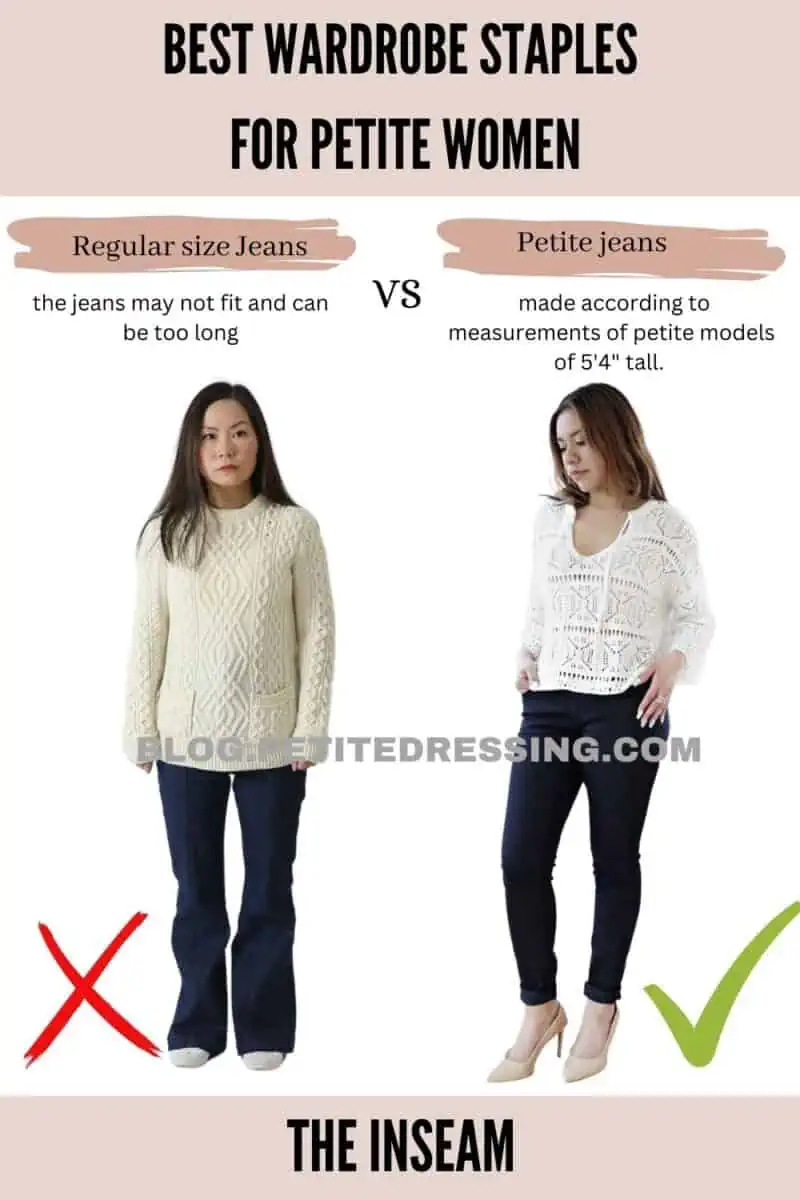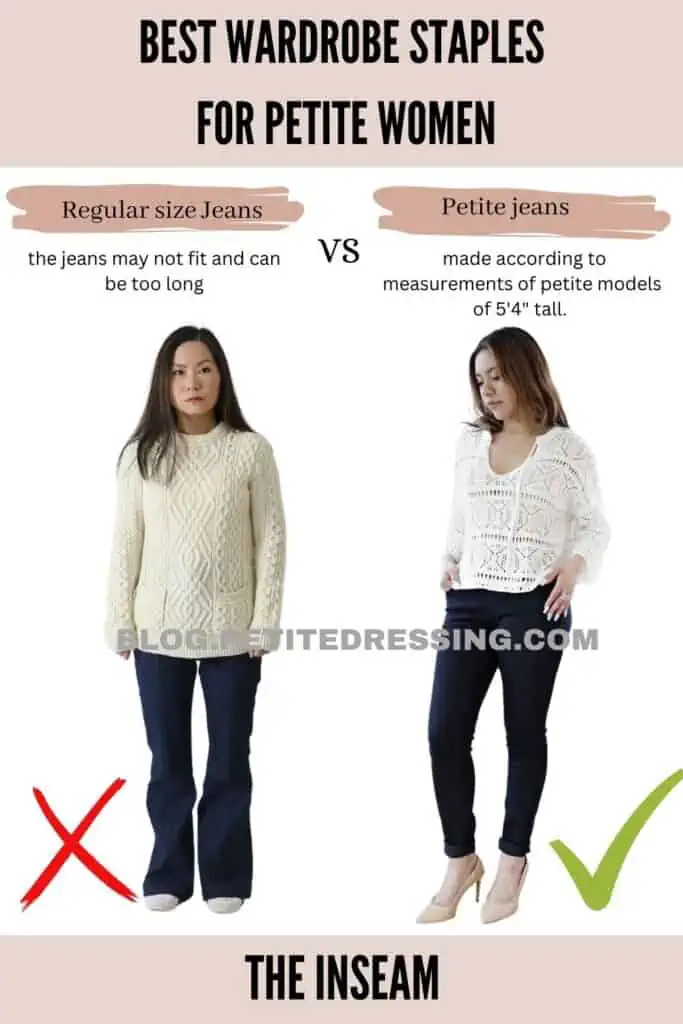 Finding the best jeans is never easy for petite women. The inseam is probably the Number 1 headache.
Read my guide to understand the meaning of inseam and what are the best inseam for petite women.
One thing you may not know about is that even petite sizes are made according to measurements of petite models of 5'4″ tall.
That means if you happen to be under 5 feet, then you probably will find even petite jeans might be too long for you. That is why every season we make an extra effort to launch jeans that will suit petite women of all heights!
Whether you are 5'4″ or 4'11", you can find jeans from 24″ to 27″ inseam in our petite jeans collection.
Cropped Jacket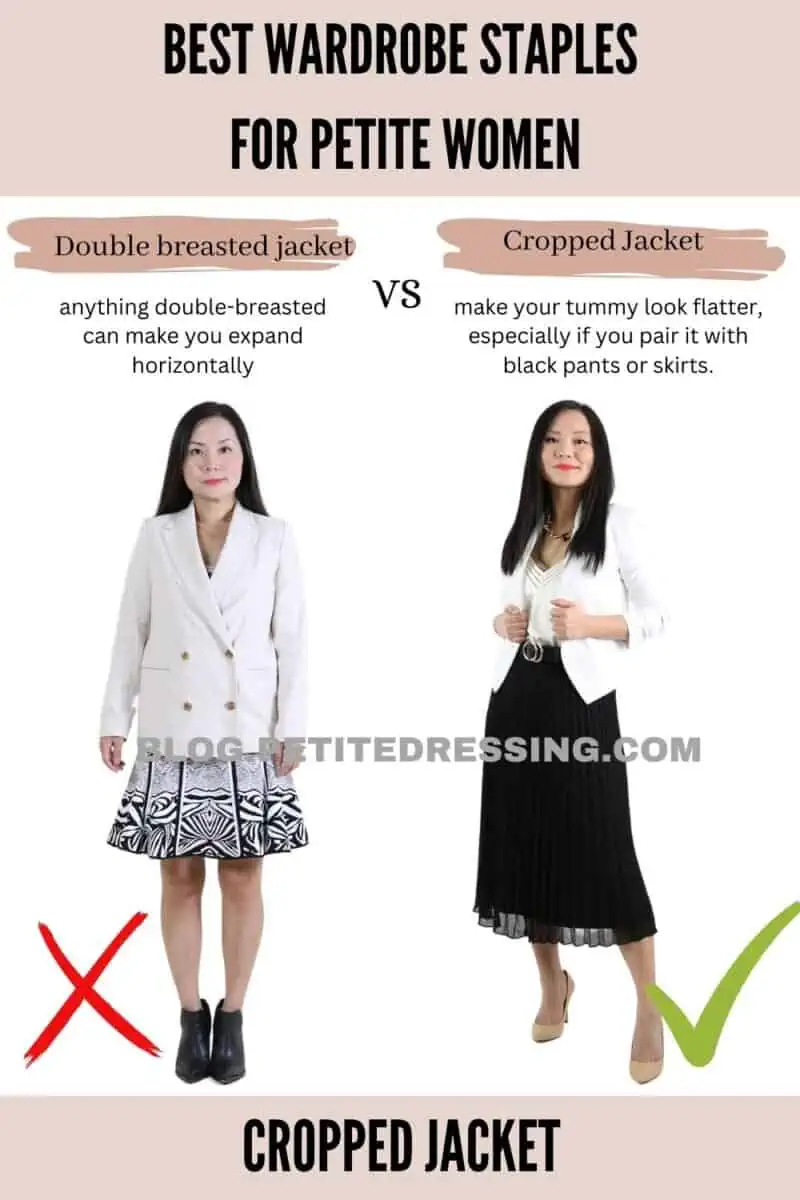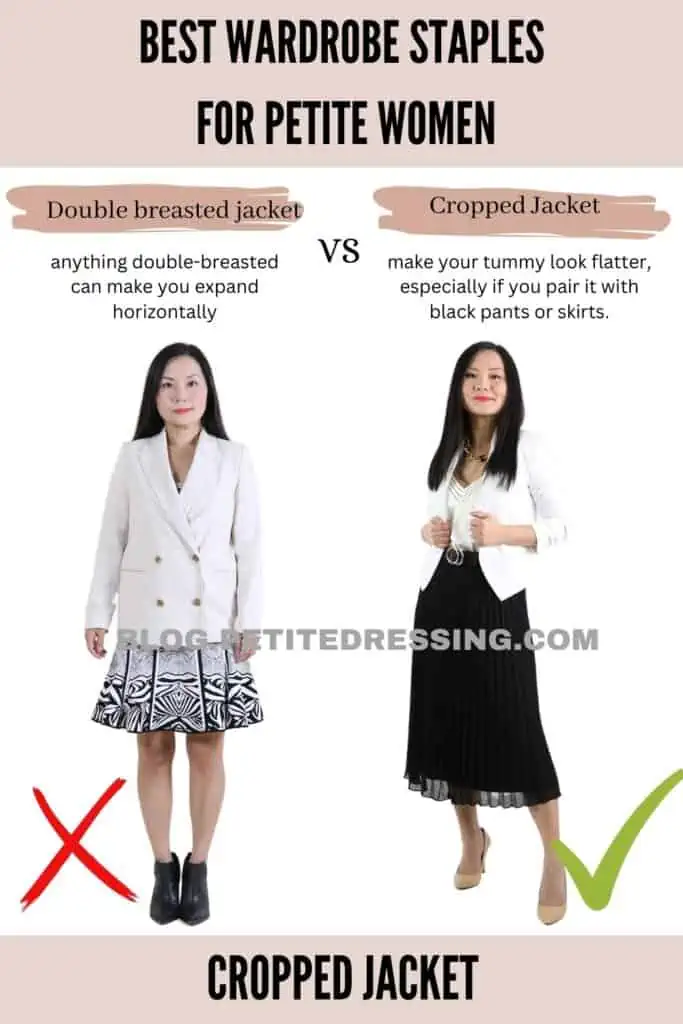 As a petite girl, you probably would like to make your legs look longer. A cropped jacket can elongate your bottom half and instantly make you look taller.
A cropped jacket can also make your tummy look flatter, especially if you pair it with black pants or skirts.
Here is what you may not know about. Not all cropped jackets are created equal.
Some are more flattering for petite women than others. An important tip when picking out the cropped jacket is to make sure the length of the sleeves and the hem of the jacket should not end exactly at the same point. Otherwise, the cropped jacket could create the width of one horizontal line across the middle of your torso and make you look cut off, which is the opposite of what we want to achieve.
What that means is cropped jackets will look best on a petite woman if the sleeves are only slightly longer or shorter than the hem of the jacket, which will break up the horizontal line.
Well-fitted Trench Coat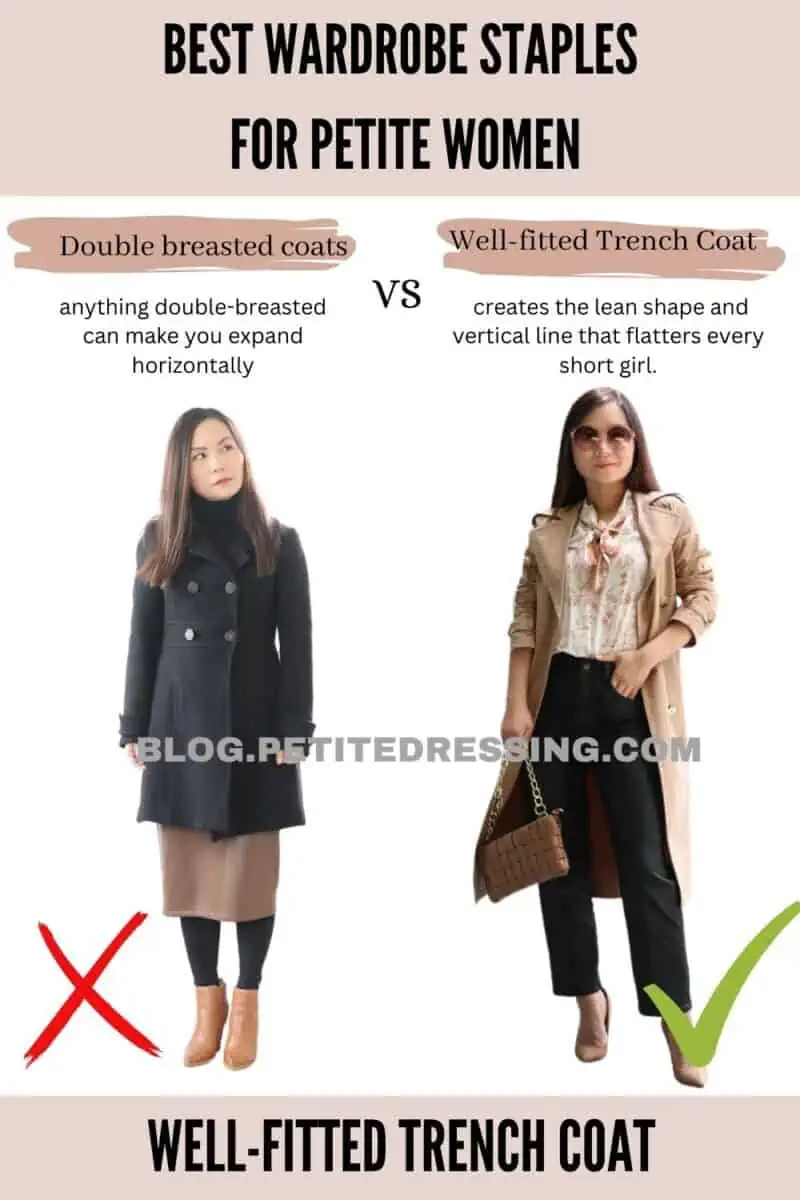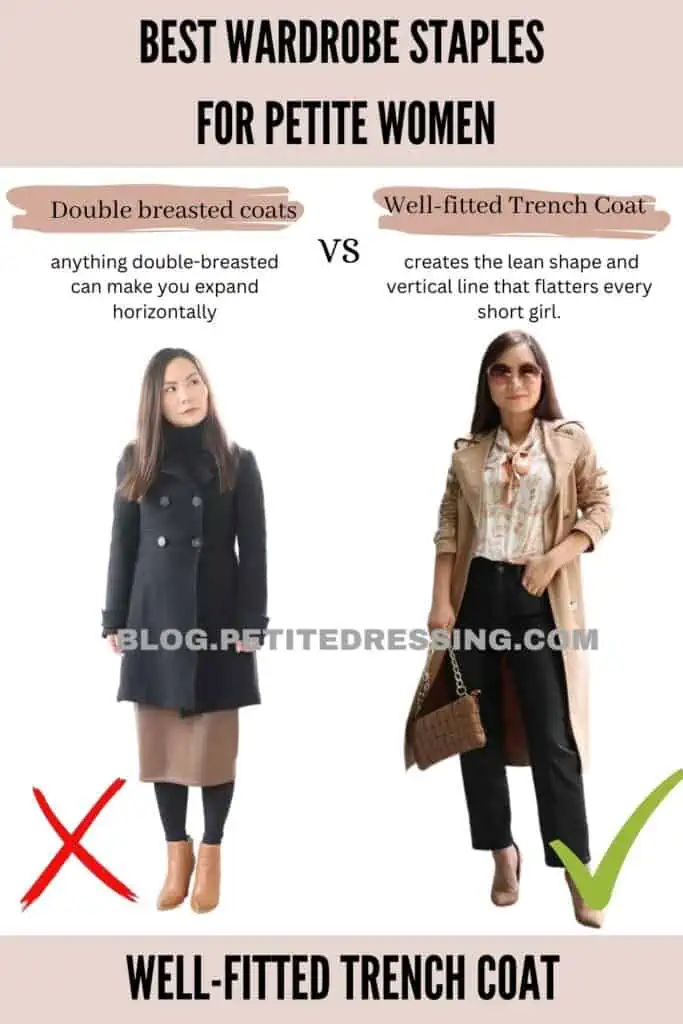 This is a wardrobe classic staple that every petite girl should have. The clean-cut silhouette creates the lean shape and vertical line that flatters every short girl.
For spring and fall, opt for a coat made from premium quality fabrics such as silk or cotton. Even if it might cost more than those made of polyester, it is the investment-worthy piece that will stay in your closet for years to come. For the winter, get one made of wool or wool blend, which will look premium quality and speak for your fine taste.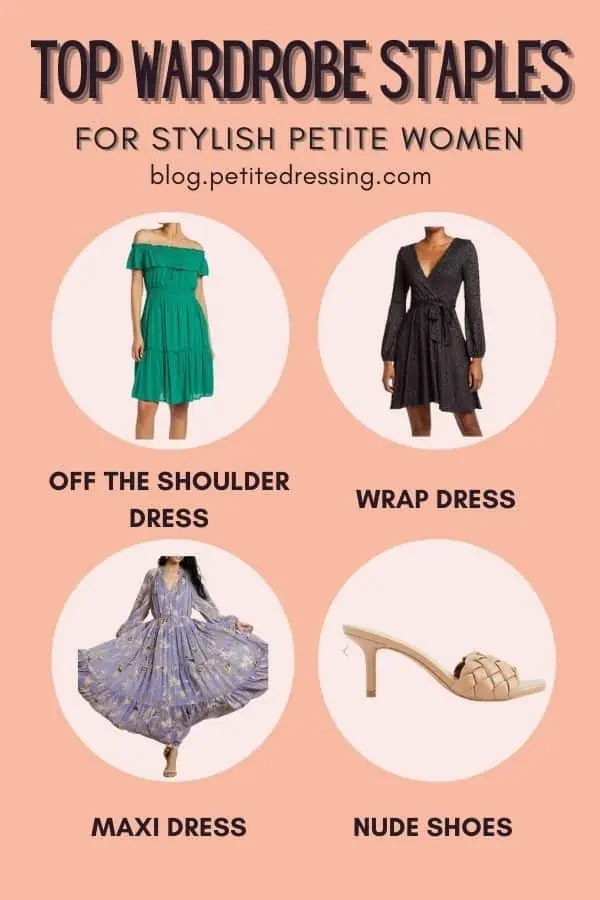 We have another post focused on "7 Steps to Find the Perfect Trench Coat for Petites". The key to making sure the trench coat is flattering for petite women is to tie the belt slightly above your natural waist. Not only will your proportion look better, but also it creates the illusion of waistline for girls who lack it such as the petite apple shape or petite rectangle shape.
Knee-length is the safest for petite women, but of course, you can go longer or shorter. Learn more at "11 Must-Know Tips to Find Best Coats for Short Women".
Off-the-shoulder Dress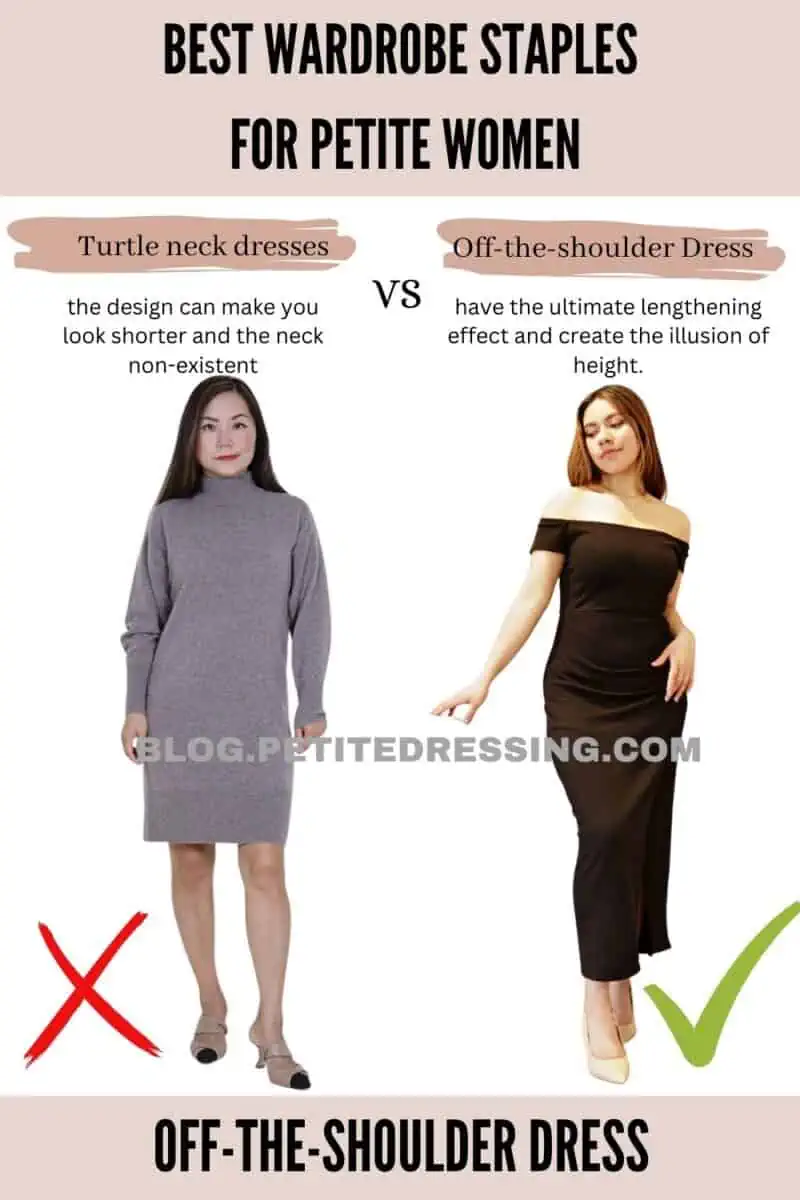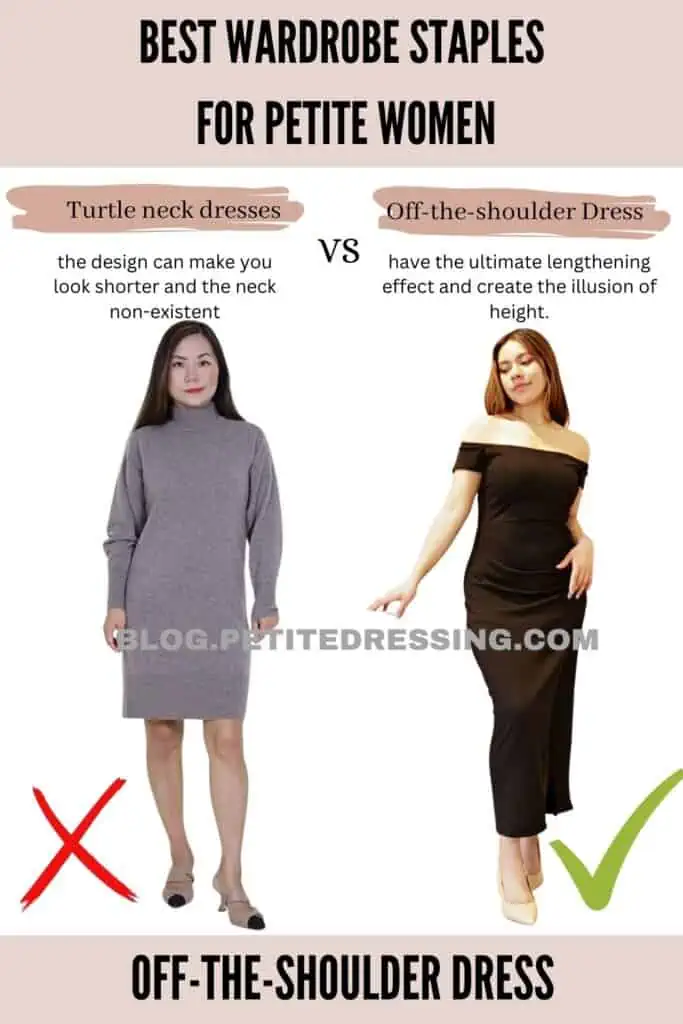 Dresses are probably the single most flattering piece a stylish petite woman can wear. Because of their continuous patterns of fabrics, dresses have the ultimate lengthening effect and create the illusion of height. We suggest petite women wear dresses as much as they can, regardless of the season.
It might seem easier for you to find dresses that fit you than to find pants, right? Even dresses from the regular departments are likely to look ok on short girls since you don't have to worry about inseam like jeans. But, did you know that neckline is an important factor to find the best petite dresses?
Different petite body types look good in different necklines. There are also certain necklines that are universally flattering to petite women. Off-the-shoulder dresses are one of them.
You may have noticed off the shoulder has been at the center stage of fashion trends in the last few years. You see them on all the famous celebrities petite or not (Olivia Palermo, Kendall Jenner, and Katy Perry), whereas models walk them down the runway in all seasons.
Every season, we see fashion magazines ask the same question over and over again "Is off-the-shoulder trend over"? The answer is obviously no, and they probably will stay in our wardrobe as a timeless classic. It may be true that off the shoulder is cooling off a little bit, but right away you see its cousin "cold shoulder" start to be featured everywhere. Off-the-shoulder design is incredibly flattering for petite girls, and the reason is it shows the right amount of skin, which is an important fashion rule of thumb for petite girls.
Wrap Dress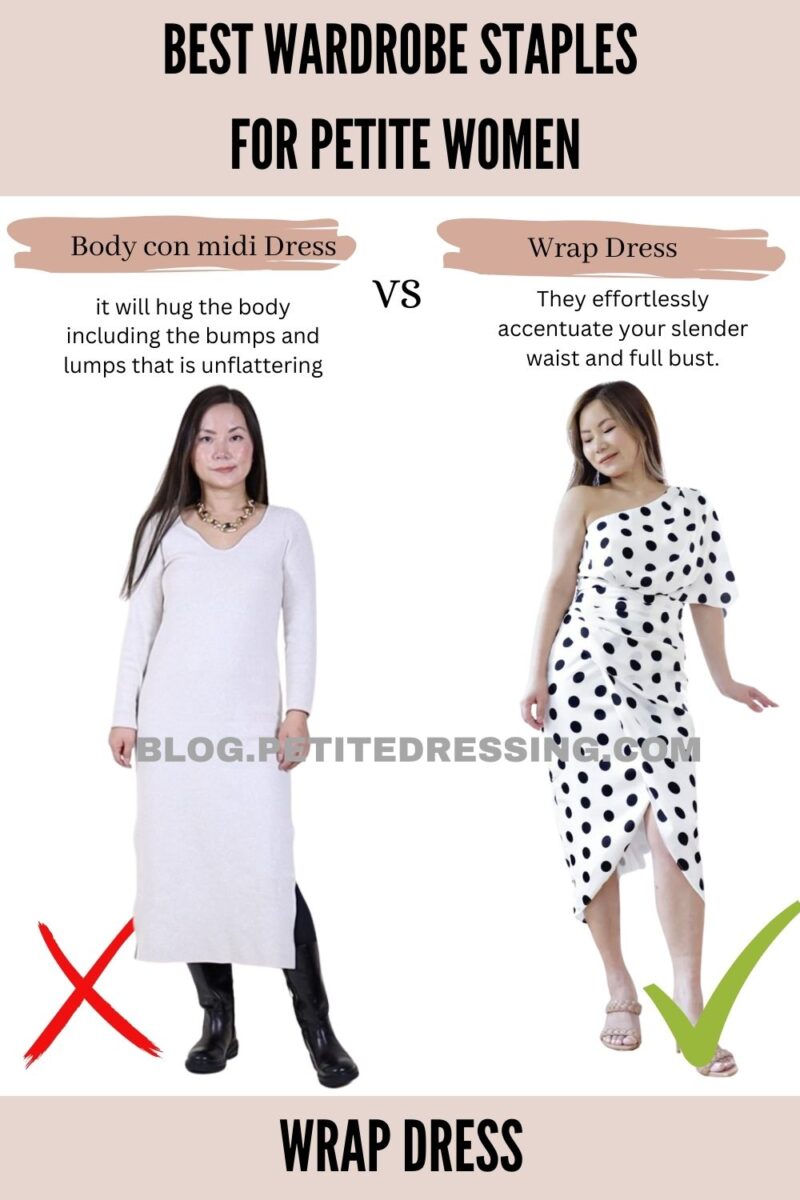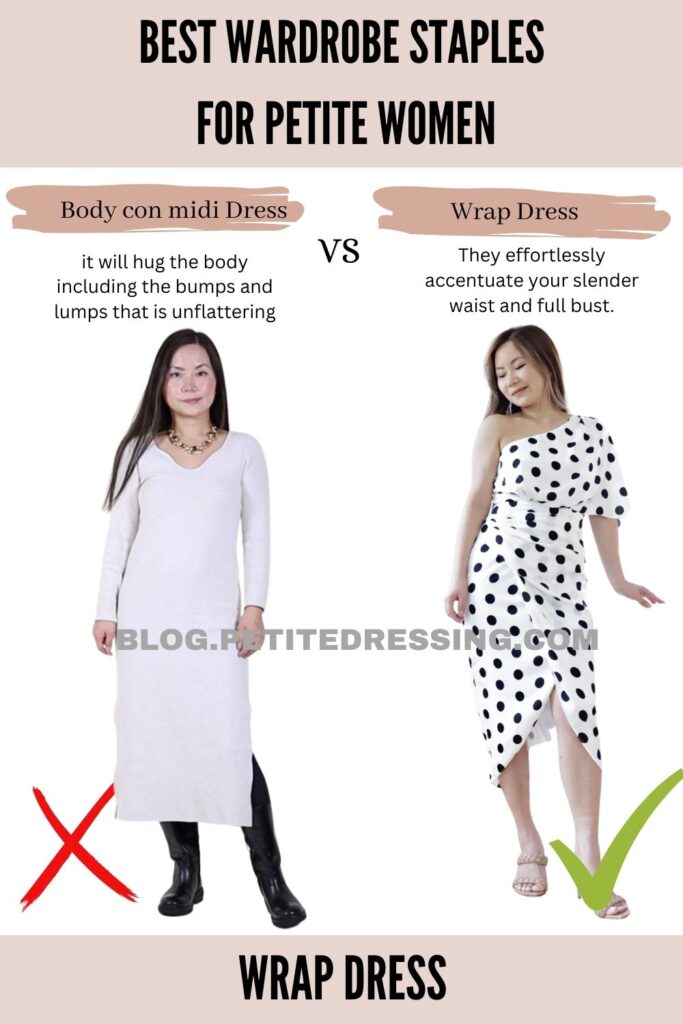 The wrap dress is one of the things that once you have, it is hard to understand how you have lived all those years without.
Wrap dresses are perfect for fashionable petite girls who would like to highlight their curves. They are one of our favorites among all the casual dresses for short girls.
If you happen to be a lucky petite hourglass figure, then wrap dresses are just made for you. They effortlessly accentuate your slender waist and full bust.
If you happen to have a boyish figure like the petite rectangle shape that does not naturally have a defined waistline, then wrap dresses can balance out your body type by adding feminine curves.
Maxi Dress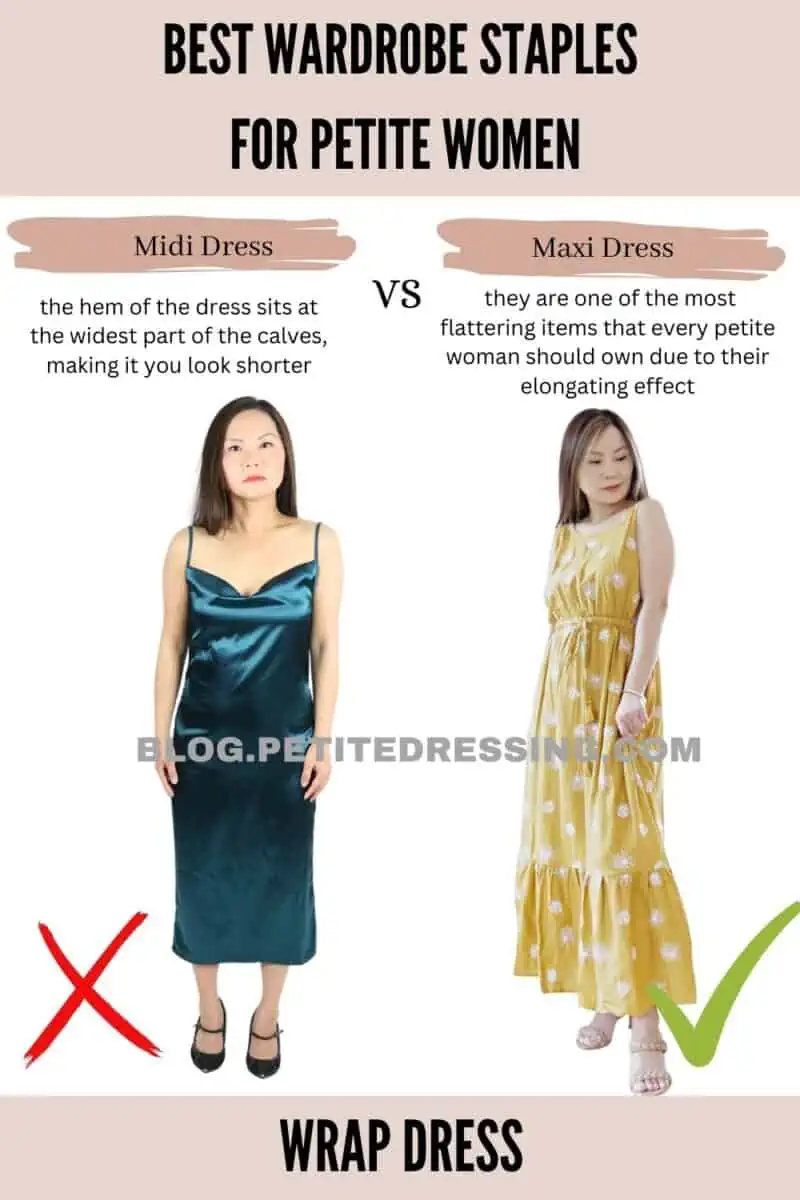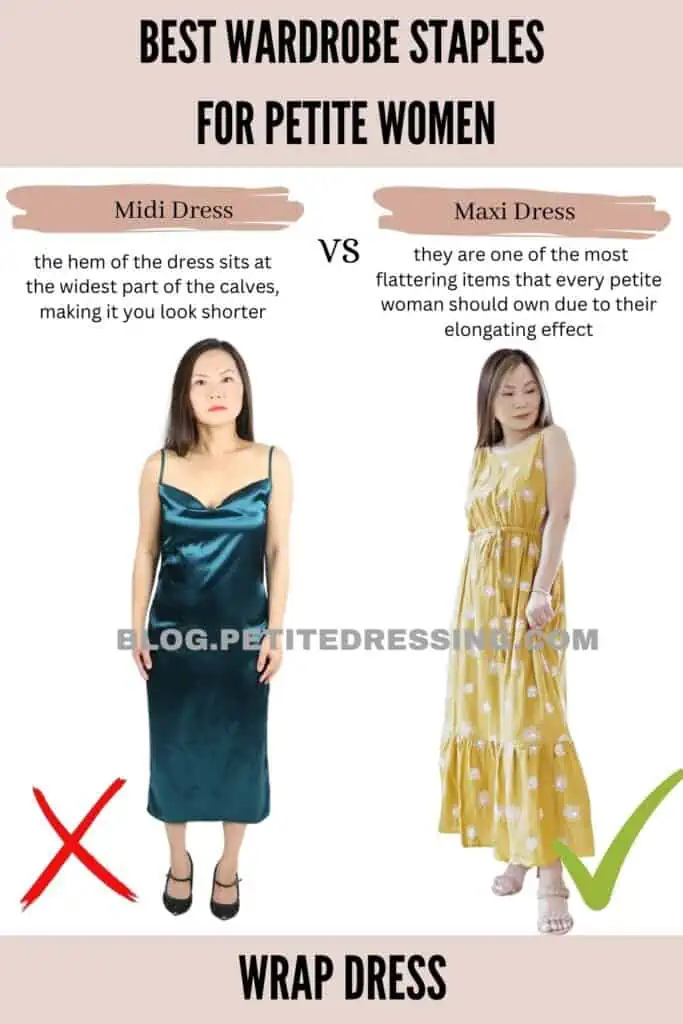 Are you surprised that maxi dresses are short girls' best friends? I was too, but now I'm convinced they are one of the most flattering items that every petite woman should own.
Numerous fashion editors out there are still giving advice to petite women that they should wear short dresses. While we agree short dresses always work for us, we know those fashion editors are either not petite themselves or if they are petite, they haven't tried maxi on. Because the moment you put on a maxi dress, you will notice you look taller instantly!
If you are under 5'4, the regular size maxi dress will probably be dragging on the floor for you. That is why every spring and summer, we make a huge effort to launch hundreds of maxi dresses that are fitted on petite models and guaranteed to work for someone who is short!
Other than length, other important things for you to consider include the fabrics, prints, and shoes to wear with them.
Breathable fabrics made of natural fibers are the best. The criteria is your dress should flow as you walk.
Whether you like prints or solids are your personal preference. If you go with prints, keep in mind that they should be scale with your size. Generally speaking, smaller prints with shorter girls' petite frame.
Maxi is one of our top choices for best sundresses for petite women.
One of the main reasons is they are so versatile! Whether you are looking for a beach wedding outfit or cruise wear , they will never disappoint. Because they are automatically dressy, whenever you are planning outfit for a tropical resort, feel free to throw a couple in your travel duffel and you are ready to go.
Nude Shoes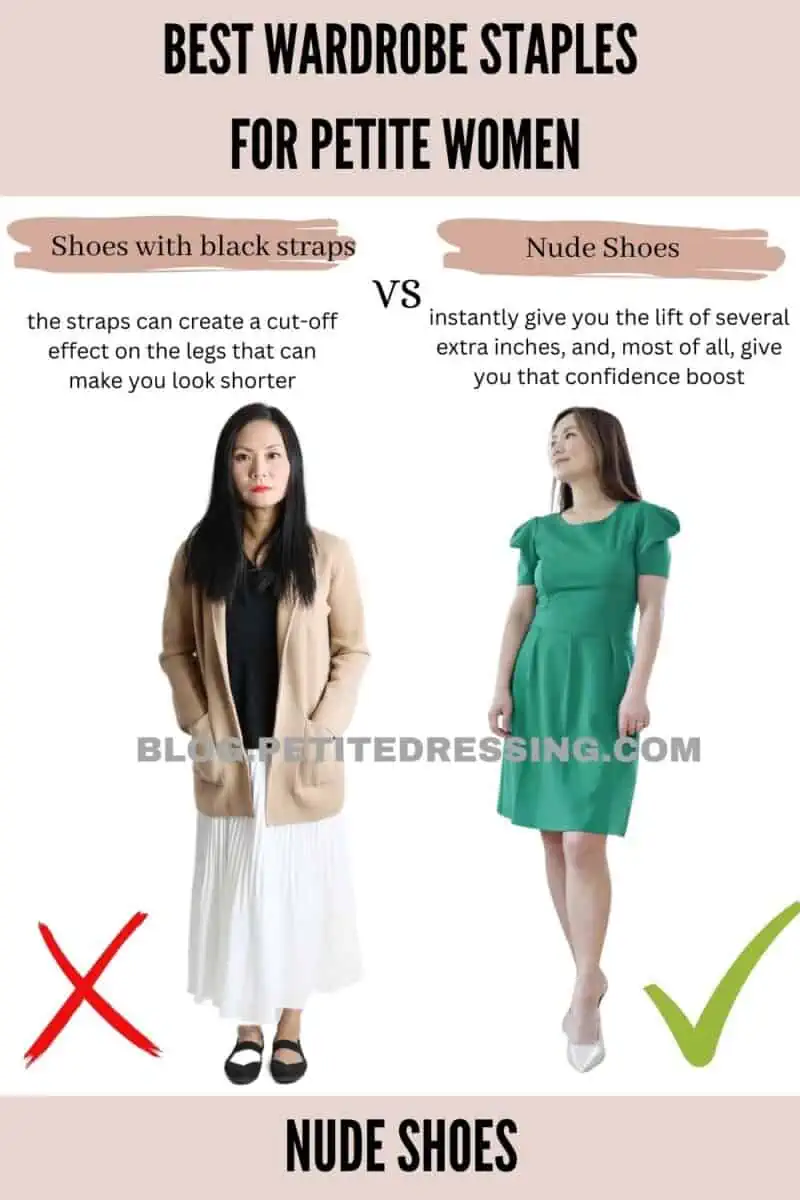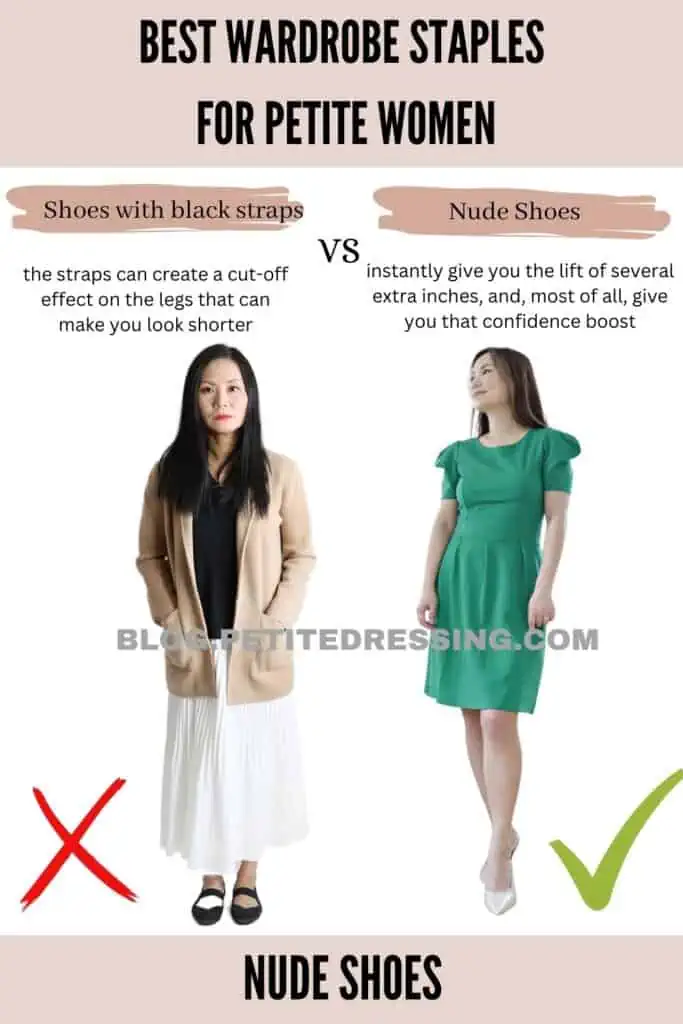 It goes without saying the most flattering shoes for stylish petite women are high heels. They instantly give you the lift of several extra inches, and, most of all, give you that confidence boost!
For petite fashionista, if you could only pick one pair of shoes, then it would have to be nude heels. Actually, skin-toned is the more accurate term, since we all have different skin colors. As a rule of thumb, you want your shoes to either be the same color as your pants or be a neutral color such as nude.
If you are wearing a dress or skirt, nude shoes blend with your skin color and make your legs look significantly longer. Nude shoes are also extremely versatile, and they mix well with almost every color and you can wear them to almost any occasion. If you are packing up for a trip and do not have a ton of space to bring too many shoes, skin-toned heels are always your best bet.
No ankle strap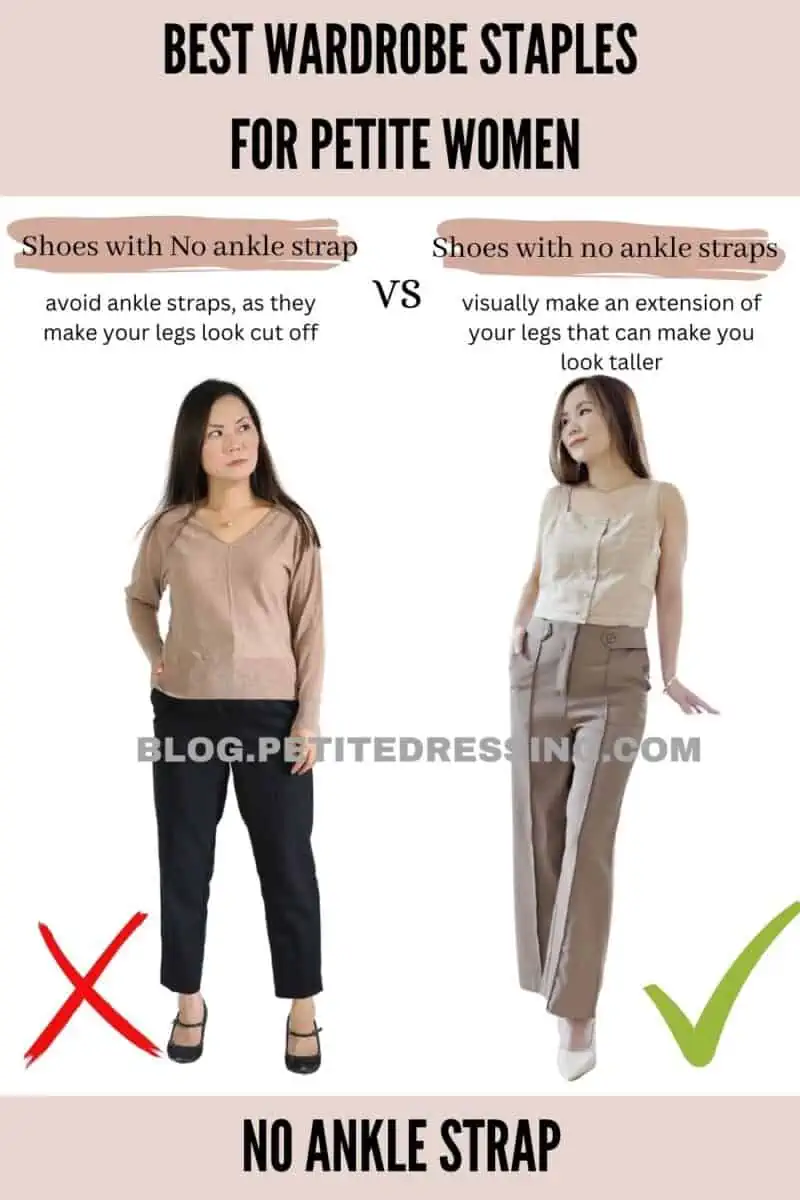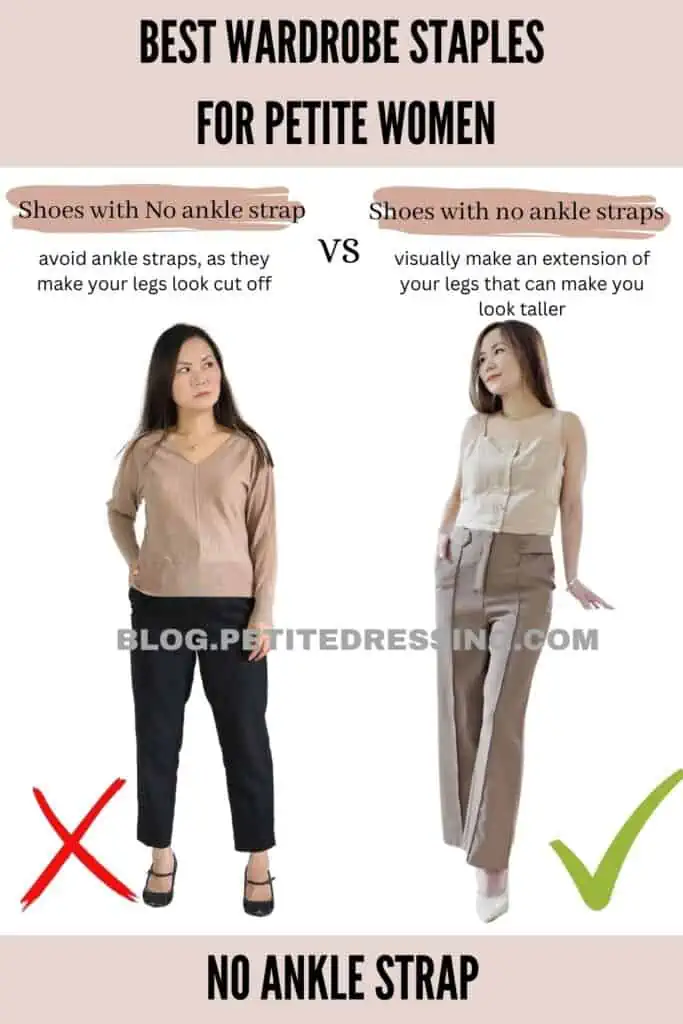 The important tip in picking the right skin-toned shoe is to avoid ankle straps, as they make your legs look cut off. That means the most flattering style pumps, compared with Mary Jane or other heels with straps.
Low vamp
Another tip not a lot of people have talked about is to go with the low vamp pumps, i,e, those showing a little bit of toe cleavage.
The reason is simple.
The lower the vamp is on the shoes, the less your feet are covered, therefore, the longer your legs look.
Famous designer such as Christian Louboutin makes low vamp heels to perfection. If you are in the mood to splurge, they are worth every penny, because they extend every inch of your leg length. If you are a bit hesitant about the price tag, don't worry, you can find similar styles at Sam Edelman and Nine West as well.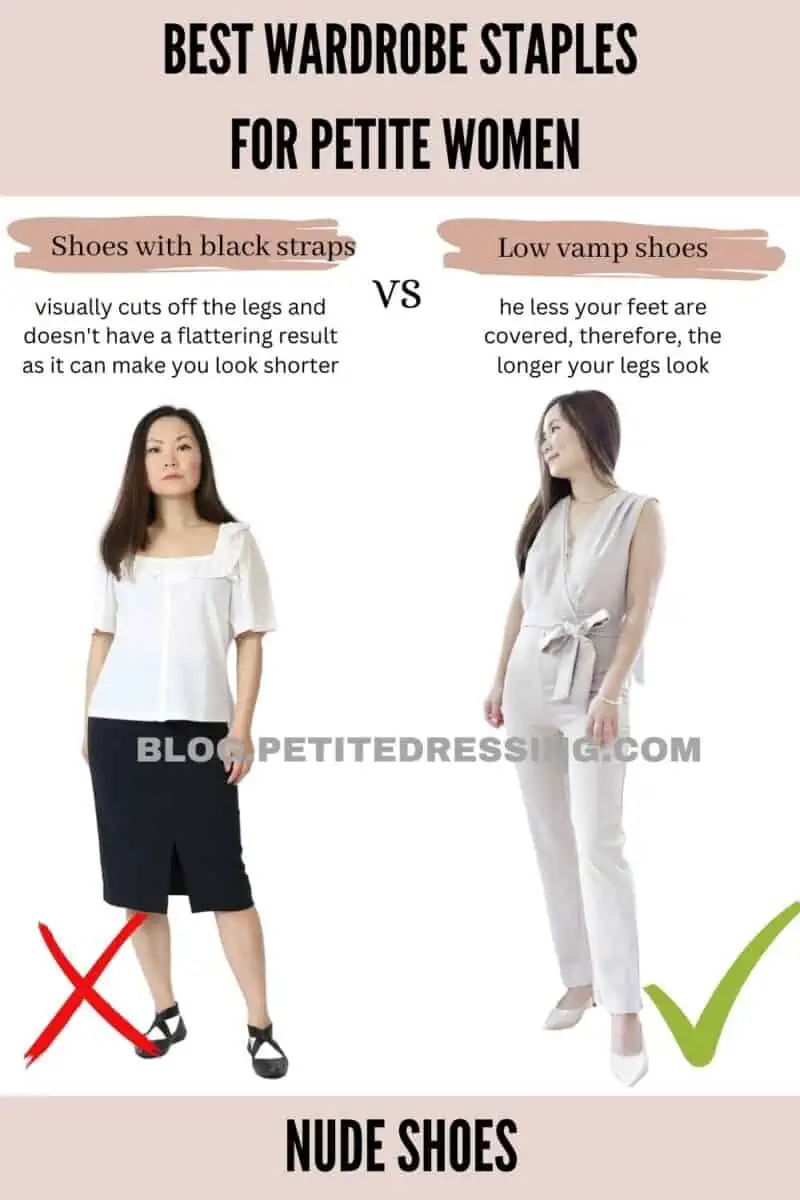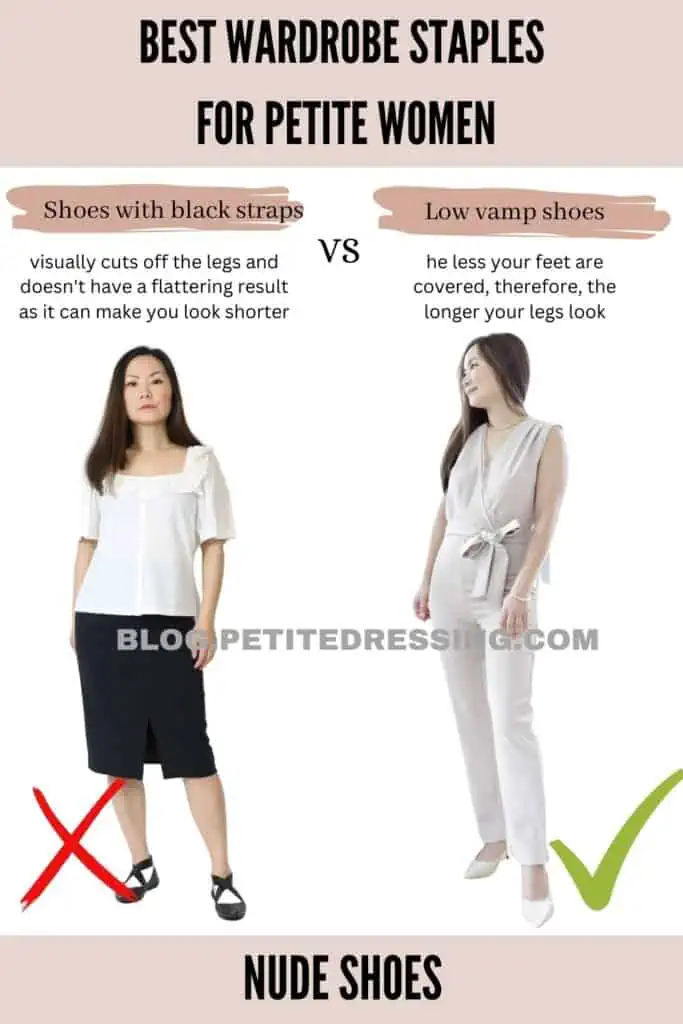 Read more on "The Best and Worst Shoes for Small Feet".
The only caveat, however, is if you are wearing black pants in the winter, then nude shoes may not be the best choice. The reason is to always avoid shoe color that is too much lighter than your pants.