It is common for petite women to view jumpsuits as a daunting fashion option. Due to your height, you may be afraid to tackle styling a jumpsuit.
The following pros and cons will help you understand whether or not you will be able to pull off a jumpsuit as a petite woman.
Pros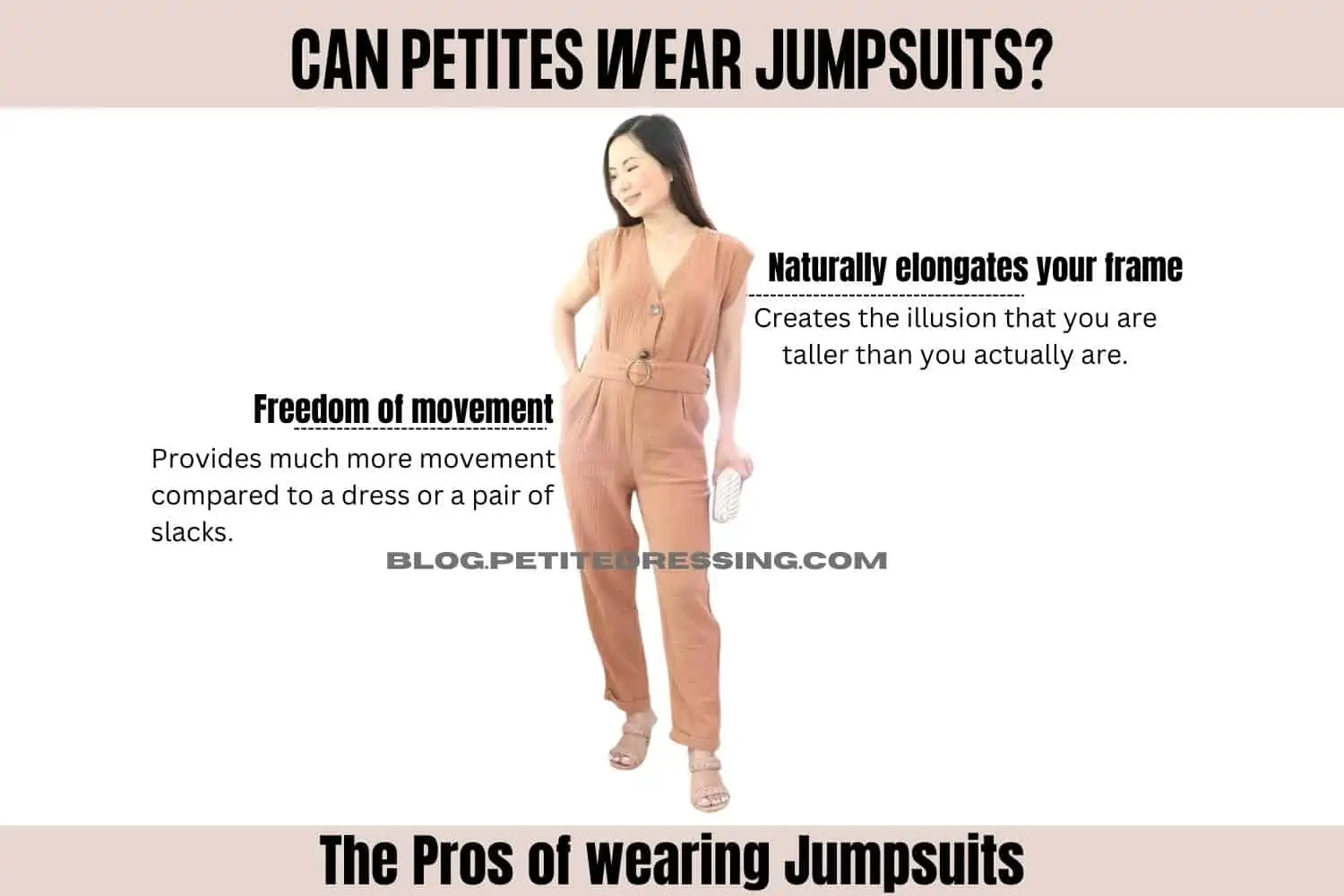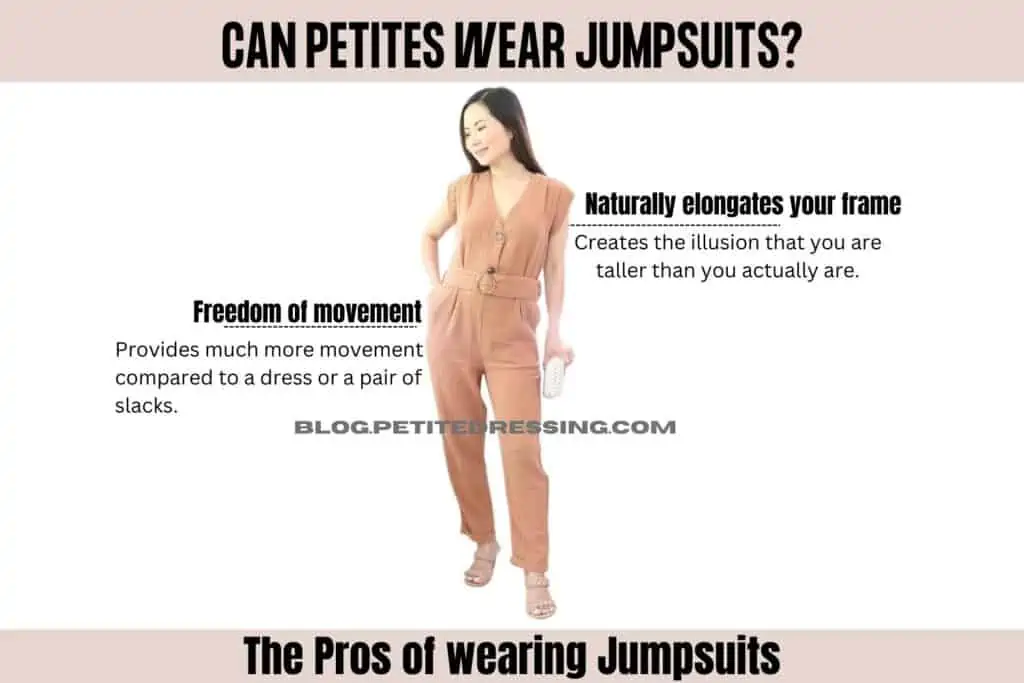 Naturally elongates your frame
Since jumpsuits create one solid column of clothing, they help create the illusion that you are taller than you actually are. This is due to the column method that is utilized to elongate your body. 
This will only be in effect if you wear a jumpsuit that is one solid color or shades of one color throughout.
Freedom of movement
Jumpsuits provide much more movement compared to a dress or a pair of slacks. They are typically made of stretchy material and allow you to move freely for various activities. If you have a day out with the family or want to go on a casual bike ride, you can look cute and chic while staying comfortable.
Even if the fabric is not as stretchy, jumpsuits are made to fit various different body types, so there will always be room for bloating, weight fluctuation, and some casual activity.
Cons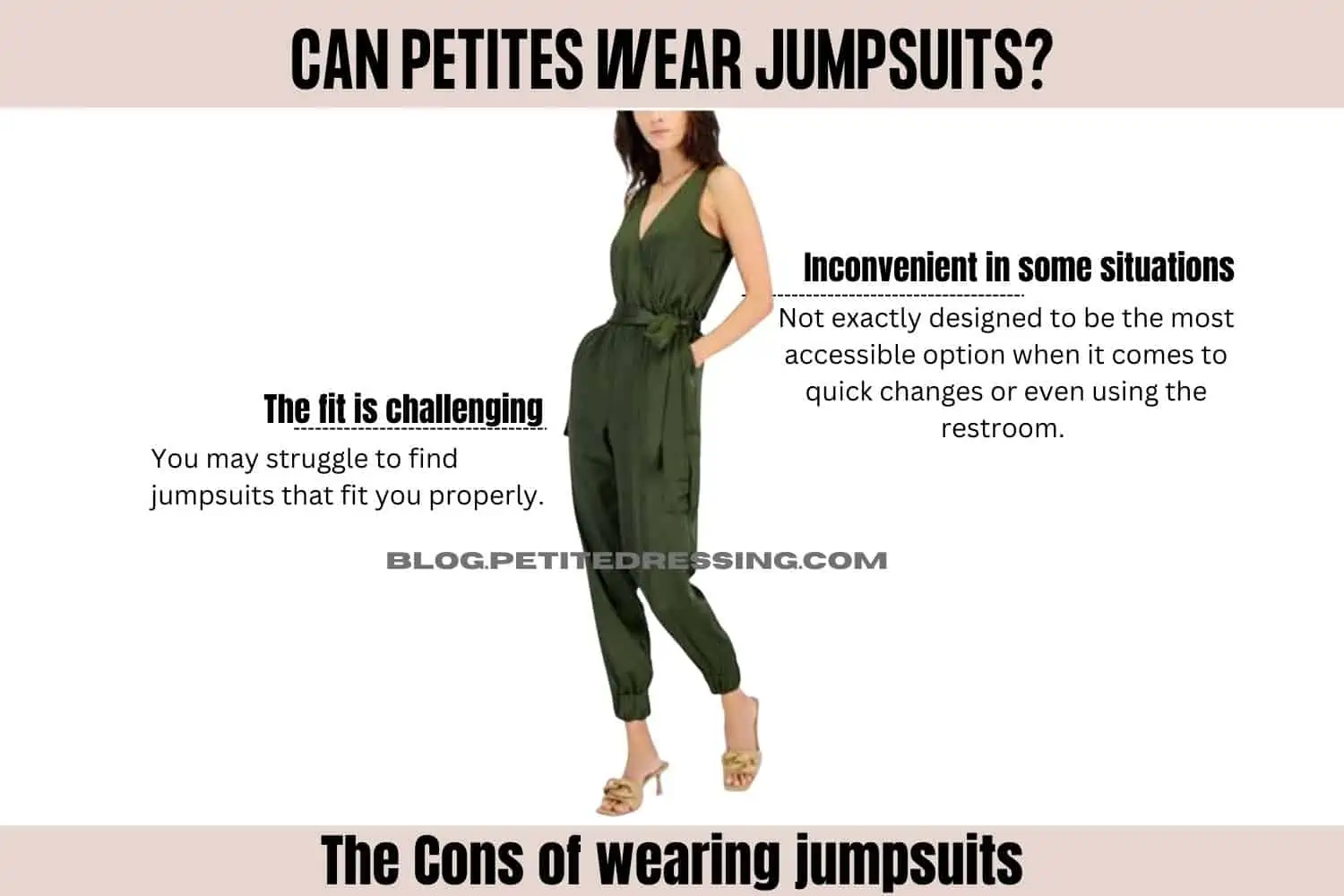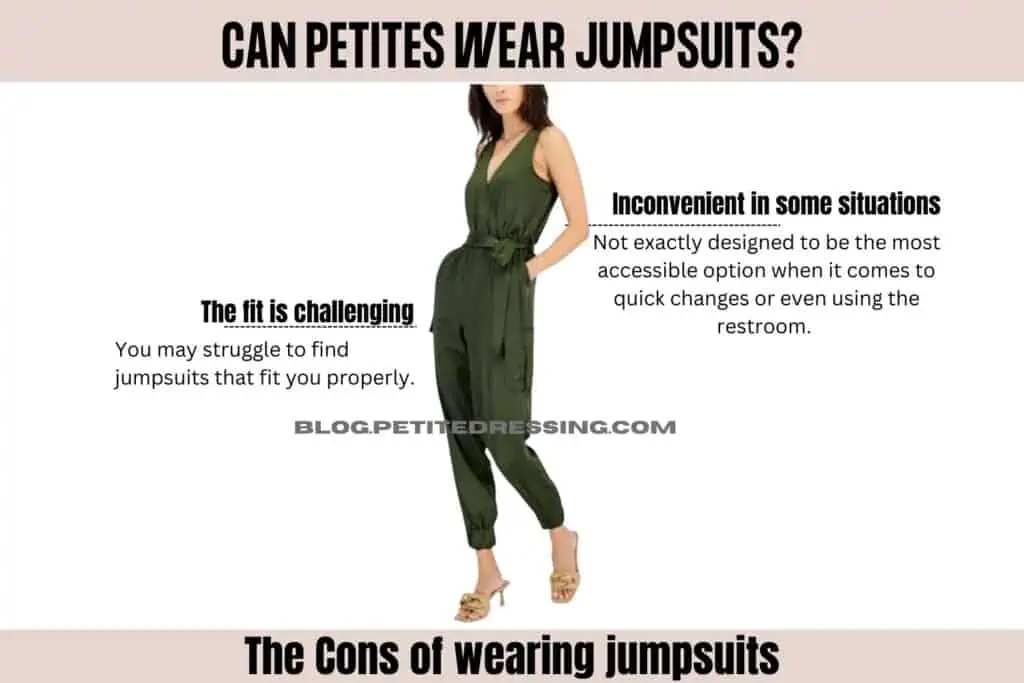 The fit is challenging
Due to your petite frame, you may struggle to find jumpsuits that fit you properly. If you have a larger bust, you may go for a size large, and then discover that it is baggy and too long on the lower half of your body. 
If you have the opposite problem with wider hips, the jumpsuit may be oversized and wrinkly on the upper half of your body. You may have to try multiple different sizes to find something that works with the shape of your body and your height.
Inconvenient in some situations
Jumpsuits may be extremely comfortable when on, but it can be quite the process to take them off. They are not exactly designed to be the most accessible option when it comes to quick changes or even using the restroom.
Despite being flattering, this issue is one of the main reasons some women choose not to add a jumpsuit to their closet. It isn't the most ideal situation, but it only requires some practice and patience.
It is more than possible to look amazing in a jumpsuit as a petite woman.
All you have to do is focus on how your style the jumpsuit and find the ideal fit. Below is a list of tips that will help you turn your jumpsuit into your most fashionable article of clothing.
HOW TO STYLE IF YOU ARE PETITE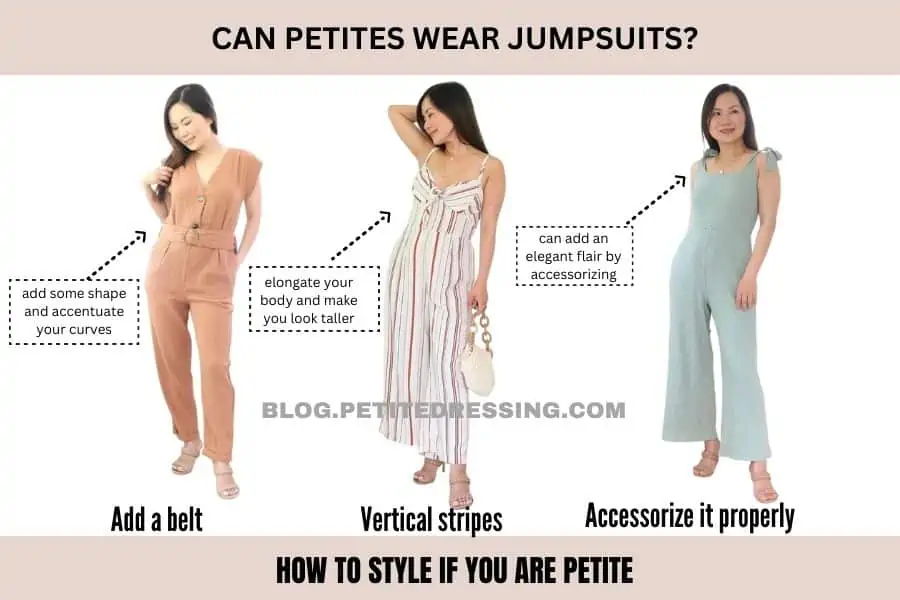 Add a belt
Some jumpsuits will look shapeless, especially on a shorter woman. In order to add some shape and accentuate some of your curves, you could try adding a belt. The belt can be used to cinch the waist wherever your choose.
It is essential that you don't wear a thick belt, since that will just take length away from your torso and make your frame look shorter.
Vertical stripes
If you want to add an interesting pattern to your jumpsuit, you should search for a vertically striped jumpsuit. The vertical stripes will work with the column method to create vertical lines throughout your outfit.
The vertical stripes will elongate your body and make you look taller. It is important that you only wear vertical stripes since horizontal stripes will create the opposite effect. Horizontal stripes will make you look wider and add weight to your frame.
Layer with a jacket
Some jumpsuits (due to the lighter material that they are commonly made of) will cling tightly to your body. If you are not feeling comfortable enough with such a form-fitting outfit, you may want to consider adding a jacket. 
When you want to highlight your waistline, wear a cropped jacket. If you are not ready to show off your belly, wear a longer jacket that provides more coverage.
Accessorize it properly
Jumpsuits can be very plain, and they typically become the center focus of your outfit. In order to add an elegant flair, you should consider accessorizing. You can add some earrings, maybe a few rings, and a simple necklace to create an outfit that is much more interesting.
Make sure you don't overdo it with the accessories. It could end up making your outfit look more flashy than you would prefer.
Add a light sweater
If you want to wear a jumpsuit but it is too cold outside or not appropriate to wear spaghetti straps, there are other options. You can throw on a light sweater and then use a belt underneath to create a seamless tucked or cropped look.
This will add a new layer to the jumpsuit and make the outfit more modest. You can also tie a sweater and highlight your waistline.