If you are a plus size woman, it is important to choose clothes that flatter your shape. Because of your generous curves, certain silhouettes and styles look better on you than others.
It is critical to draw attention to your assets, and distract the eye from anything you do not want others to focus on. Your best assets are your full bust and full hips. It is also quite possible that you have a smaller waist, compared to your hips, if you happen to have a plus size hourglass shape. If that is you, it is critical to highlight those assets you are proud of.
Meanwhile, many plus size women feel somewhat self conscious about bigger midsection, flabby arms or thicker thighs and legs. Therefore, the best clothes for you should be able to camouflage them.
Clothing That's Baggy and Shapeless
A common misconception women have is that dressing in clothes that are baggy will make their body's appear slimmer.
The truth is all baggy, shapeless clothes do is hide your body. As a plus size woman, you can and should wear clothing that shows off your shape! Try, as much as possible, to wear and purchase clothing that fits to your body – not to be confused with super skin tight clothing, there's a happy medium here. The key is finding clothing that shows that you are underneath those clothes, rather than hiding behind the clothes. Not only does this help you to appreciate and accept your body, it's also much more flattering.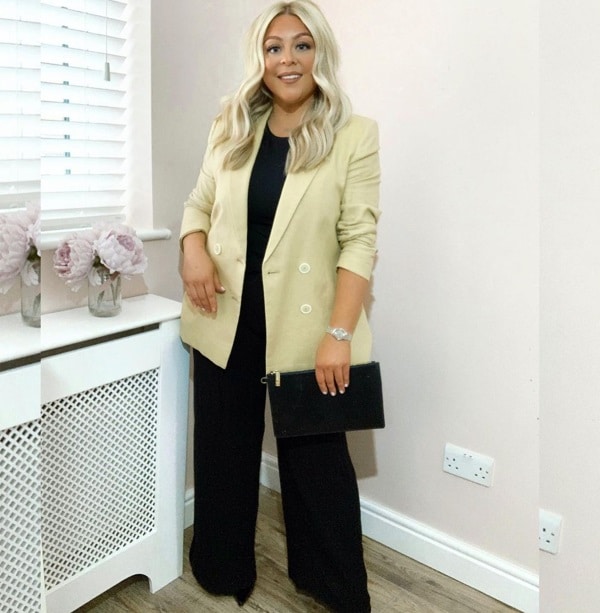 Samantha's blazer is oversized, but the structure still gives her shape which makes it work.
Ill Fitting Anything
Ok so this is something no woman of any size, shape or age should wear, but it's even more crucial when you are plus size. Wearing clothing that fits you the way it's supposed to makes the world of a difference in how they look on your body.
Not only will you look great, you will feel so much more comfortable in your clothing when they fit properly. This also goes for undergarments, in fact it's essential your undergarments fit properly. Think of undergarments like the foundation of a house, if there are cracks the rest of the house is off just enough to cause issues. The same applies to undergarments, when they're ill fitting clothes tend to pull and tug in ways that aren't so comfortable. While tailoring clothes is often known as something only petite women need to do, that's just not the case. As a plus size woman it's encouraged that you get clothing tailored as needed.
Pointy Toe Shoe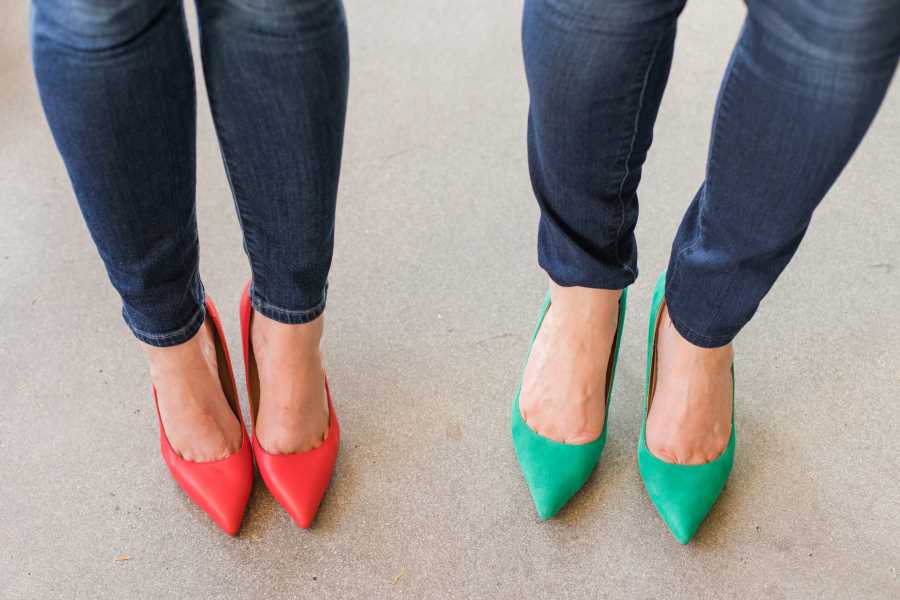 These are one of the hottest trends that have been the favorite toe shape for many women, regardless of age group or body type. It is true that pointy toe shoe can effectively elongate your legs, and make you appear taller. The caveat, however, is if you have generous curves, especially if you have thicker legs and ankles, pointed toe shoes can easily look out of balance on you.
Instead, go with rounded toe shape. These are one of the best shoes for curvy women with thick calves and ankles, as they are much more in harmony with your body than the sharp edge of the pointy toe.
Skinny Tight Clothing
If you are a plus size girl, use caution when you wear anything tightly fitted.
This is not to say you should stay away from skinny jeans or body con dresses altogether, but this means you want to be selective with the item and be strategic how you style them.
If you like skinny jeans, opt for a more voluminous top which can balance out the tighter jeans and create a more slimming silhouette overall.
For example, you may be a plus size girl with muffin top, in that case, look for ruching details if you are in the mood for form fitting dresses.
Clothes that Don't Suit Your Shape
As women, we all have different body shapes and types, a big don't for plus size women is wearing clothes that don't suit your unique body shape.
Being plus size doesn't describe your actual body shape, if you're not sure what your body shape is then it may be a good time to take some measurements and do some research so you're able to get in touch with your body.
Once you know your body shape well, it makes dressing yourself much easier! First and foremost, always focus on clothing that's going to embrace and highlight that natural shape you have.
It is important to note that the 5 common body types is based on relative measurements. For example, in order to have an hourglass body shape, it doesn't mean your waist has to be 24 inches. It just means compared with your own hips, your waist is 25% or more smaller. So, it is totally possible you are an curvy hourglass shape, even if you are plus size! In fact, many plus size models indeed have the hourglass body type.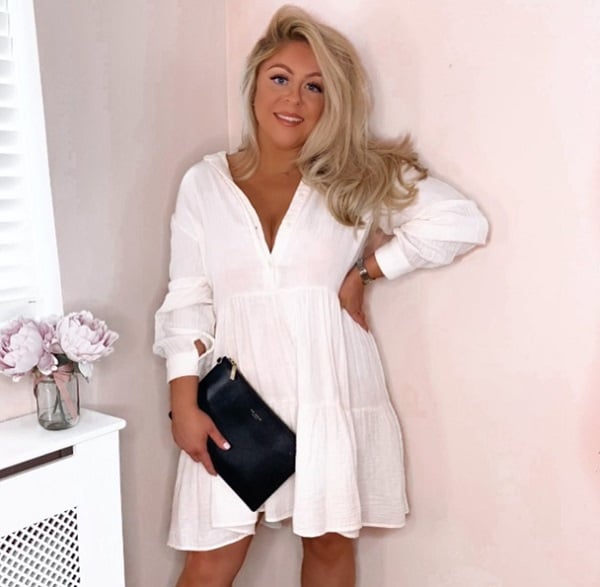 Samantha's dress perfect suits and flatters her body's shape making it a great style choice.
Only Wear Black
While it is true that black is (arguably) the most slimming colors, plus size women should think black is the only choice for a curvy woman. An old style 'rule' some time ago for plus size women was to avoid wearing clothing that's bright and/or light in color. That rule is no longer a rule.
While it's true that light and bright colors will bring attention to the part of the body you wear them on, that's not a bad thing. In fact, it can be a really great styling trick to dressing to flatter your body's shape. That being said, if you love wearing bright and light colors you're in luck because it's all fair game here. One good rule of thumb to keep in mind when wearing these bolder colors is to wear them in the area of the body you want the most attention. So for example, if you want to highlight your bottom half to create more proportion to your shape wear a bold color skirt or pants.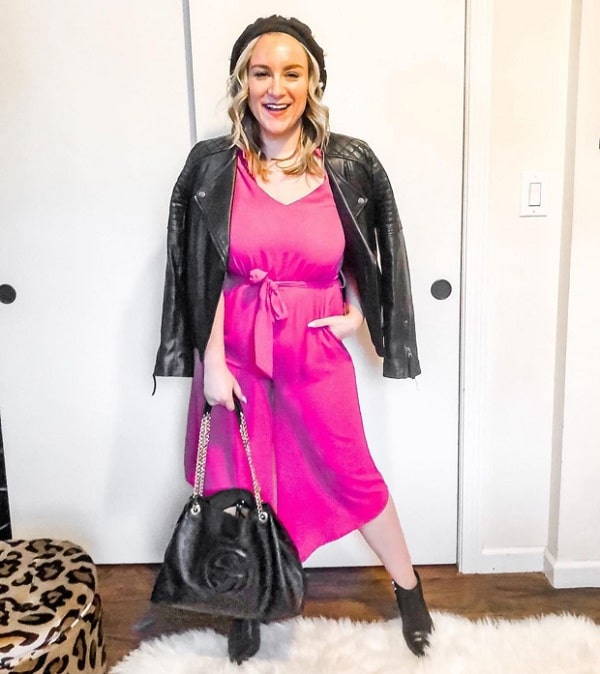 Tiny Prints
A lot of style rules can be broken, some should while others are good things to style yourself by. The scale of the prints you wear is one rule that can make a big impact. For plus size women, it's generally best to avoid prints that are really small and tiny in their scale. The problem with those small prints is they can look 'off' and sometimes look lost when worn on the body. Instead, try to look for prints that are relative to your body in size to really flatter and fit your body type.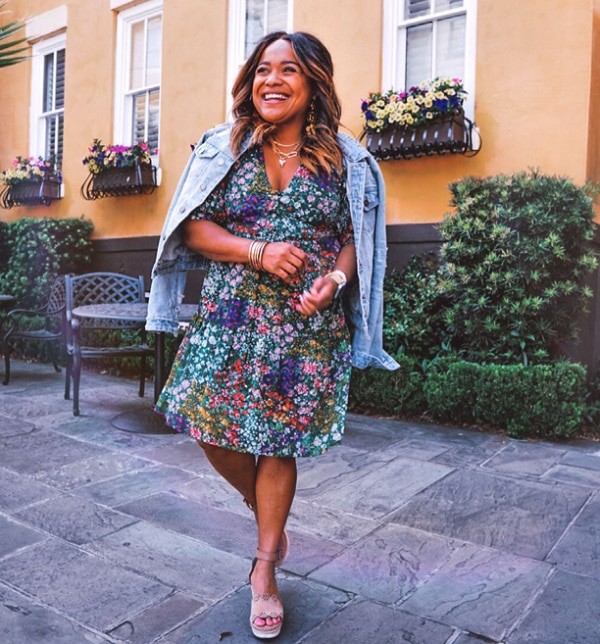 The print of Jordyn's dress is the perfect scale to suit her body.
Lacking Waist Definition
Many plus size women tend to go with dresses or tops that do not have a defined waist. The reason is they feel more self conscious with their midsection otherwise. That is quite a myth, and often times, it works the other way around. Even if you are plus size, it is still important to have a waist definition. One of the best ways to do so is to wear a belt.
Belts are one of the most underrated accessories in plus size fashion. Not only are they a fun accessory to complete an outfit with, but they're also really great at cinching the waist and giving the illusion (or highlighting) an hourglass shape. Not only do belts help to create a proportioned body shape, because they emphasize the smallest part of your waist they offer a slimming effect to the body. The best part? Belts are SO easy and can be added to just about any outfit. As a plus size woman, embracing belts is a must have trick to have in your styling arsenal. An added bonus is you can use belts as another opportunity to have fun with fashion and really add a unique twist to your outfits.
Clothes with a Lot of Bulk
Voluminous, flowy type clothing is unique but it's tricky to wear well in plus size. The issue that arises with clothes that are bulky and heavy on their own is they add that bulk and weight to the body when worn. If you love these types of garments just try to keep the volume minimal and make sure those details are on the area of your body that will add balance to your body shape. Clothes that lay flat and fit the body tend to be much more flattering for plus size dressing.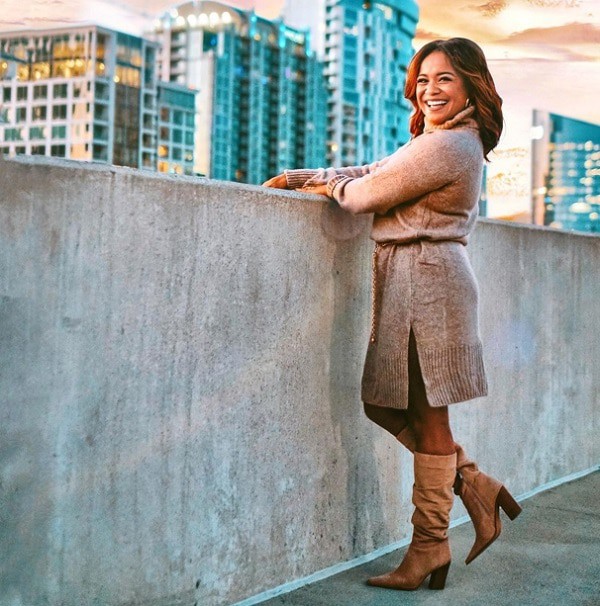 Tiny Handbags
Choosing the size of handbags should be done similar to the way the scale of prints worn and that is, in relation to the size of your body. Tiny, compact handbags may be a big trend right now do to the resurgence of 90's fashion but they can get lost (just like tiny prints). Mid-larger sized handbags will, instead, compliment your plus size figure rather than take away from it.
Waiting to Lose Weight to Enjoy Style
This is another thing that many women fall into the trap of doing: waiting to enjoy style until they 'lose weight' or are their 'perfect size.' The truth is the way our bodies are right now is perfect and reason enough to allow ourselves to enjoy style. Whatever your size or shape, don't feel like you have to wait until your body looks a certain way before you're able to really enjoy clothing and creating a personal style you love.