Are you currently planning on curating your wardrobe according to your petite apple body shape? Well, you're on your way to nailing your fashion style while flattering your beautiful figure!
I am 5'2 and I have a petite apple shape myself. Besides, I also have a clothing line for petite women so I receive feedback from thousands of my petite customers. I can confidently say that I have already figured out the best types of wardrobe pieces to flatter a short apple-shaped body through my fashion journey.
Styling Goal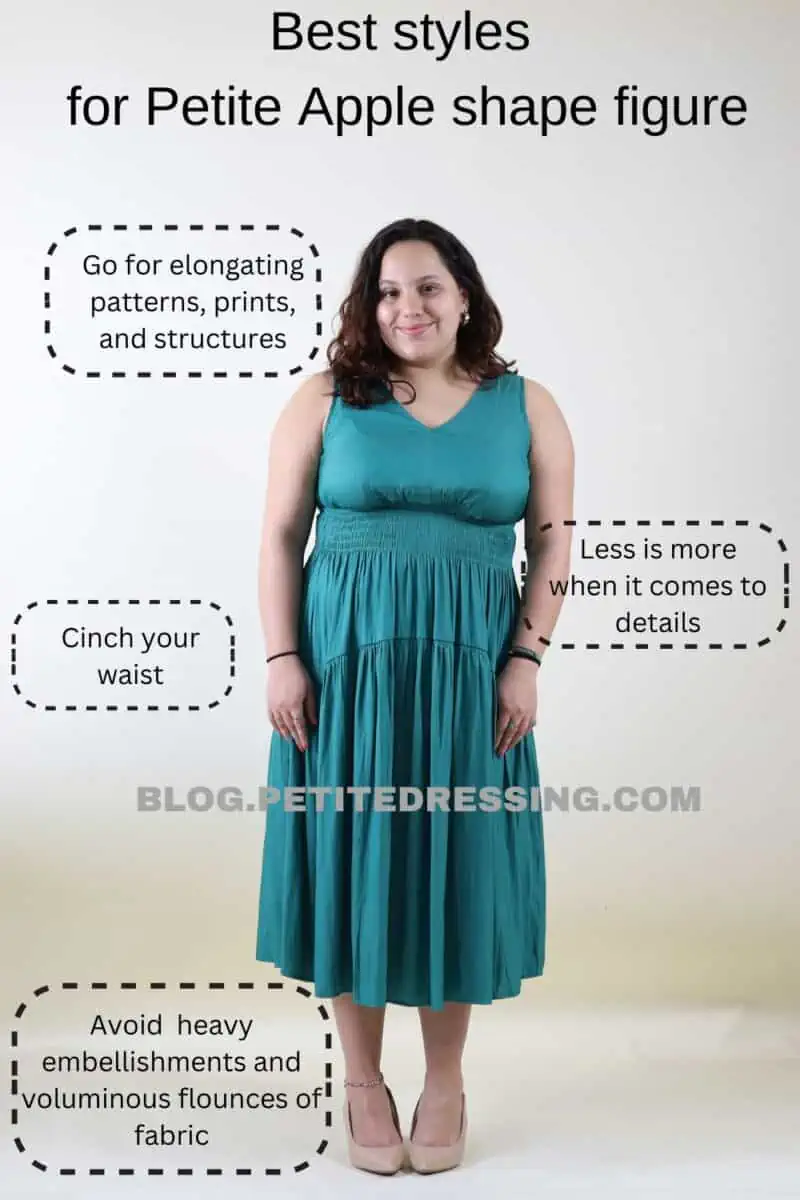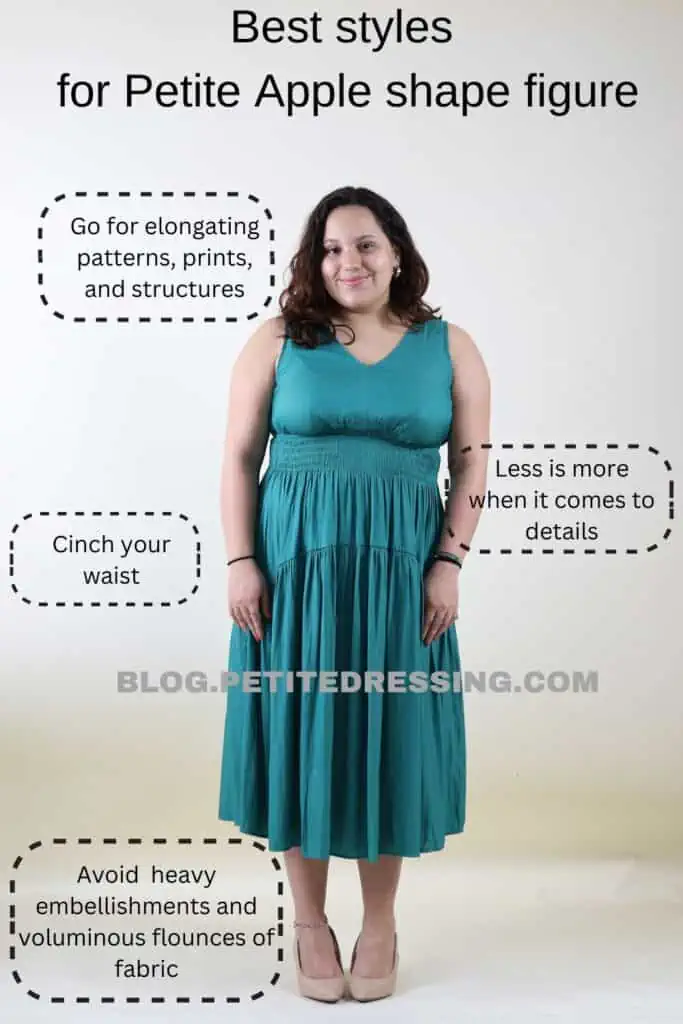 Create a flattering ratio between your upper and lower body by cinching your waist.
Go for elongating patterns, prints, and structures. As someone who's petite, your frame will look taller and leaner with patterns such as vertical stripes and neat seam lines.
Less is more when it comes to details. Details such as heavy embellishments and voluminous flounces of fabric can definitely overwhelm your frame so it's better to avoid them.
These styling goals apply to all kinds of wardrobe pieces so get your shopping checklist ready to see if your chosen apparel ticks these boxes!
DRESSES
A-Line (Fit and Flare) Dresses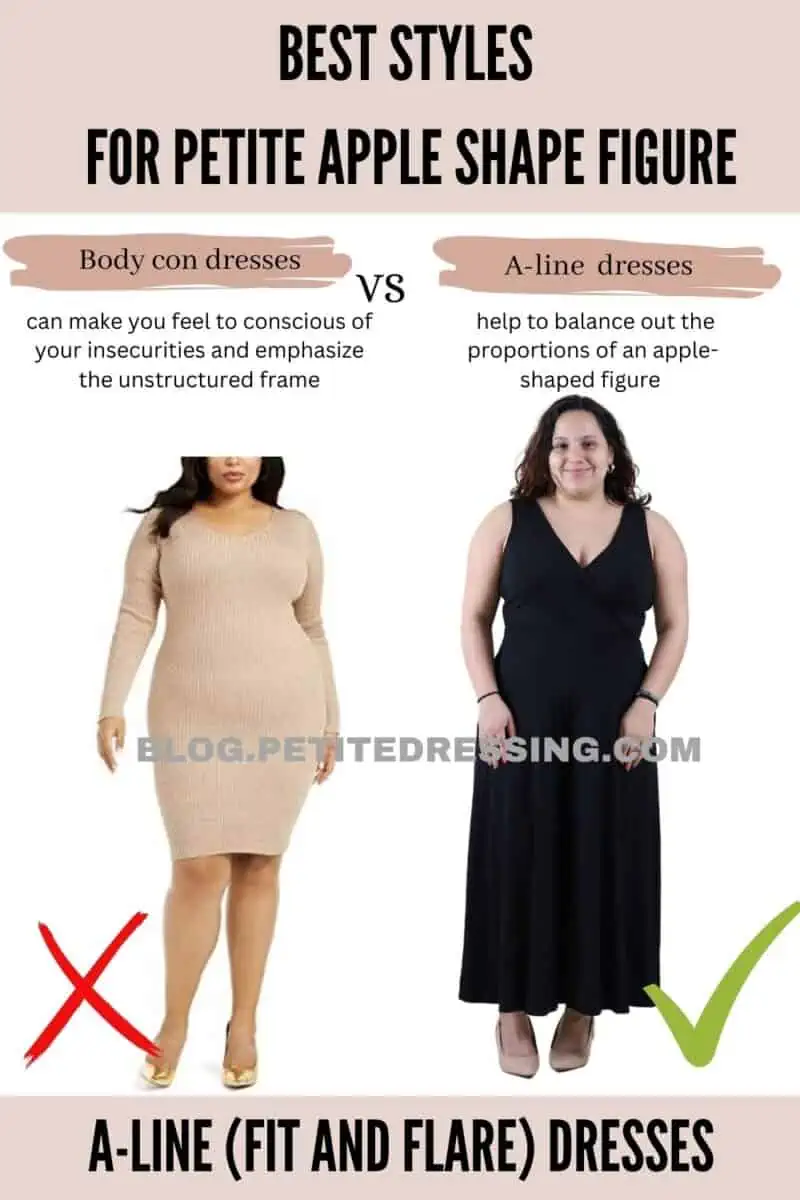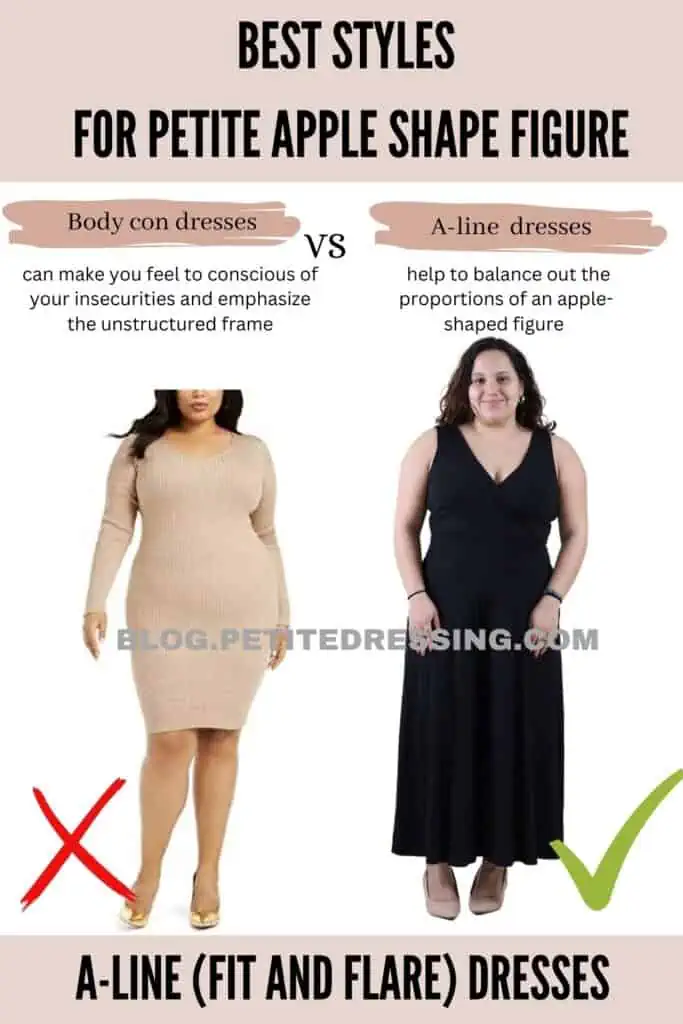 A-Line dresses are designed to be fitted at the top and gradually flare out towards the bottom that creates an "A" shape. This silhouette can help to balance out the proportions of an apple-shaped figure by neutralizing the midsection which is often bigger.
Additionally, A-Line dresses are often designed with a higher waistline, which can help to create the illusion of a smaller waist. This is particularly helpful for apple-shaped women, who may feel self-conscious about their midsection.
Dresses with Belts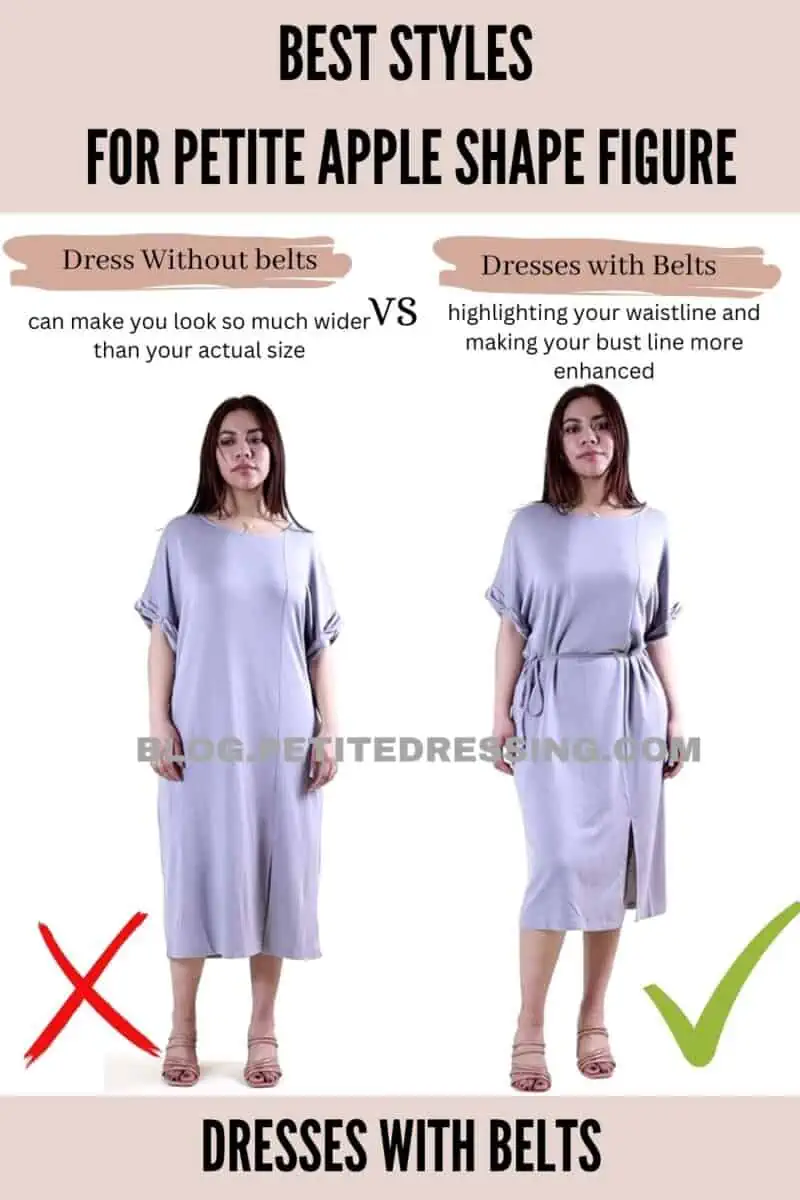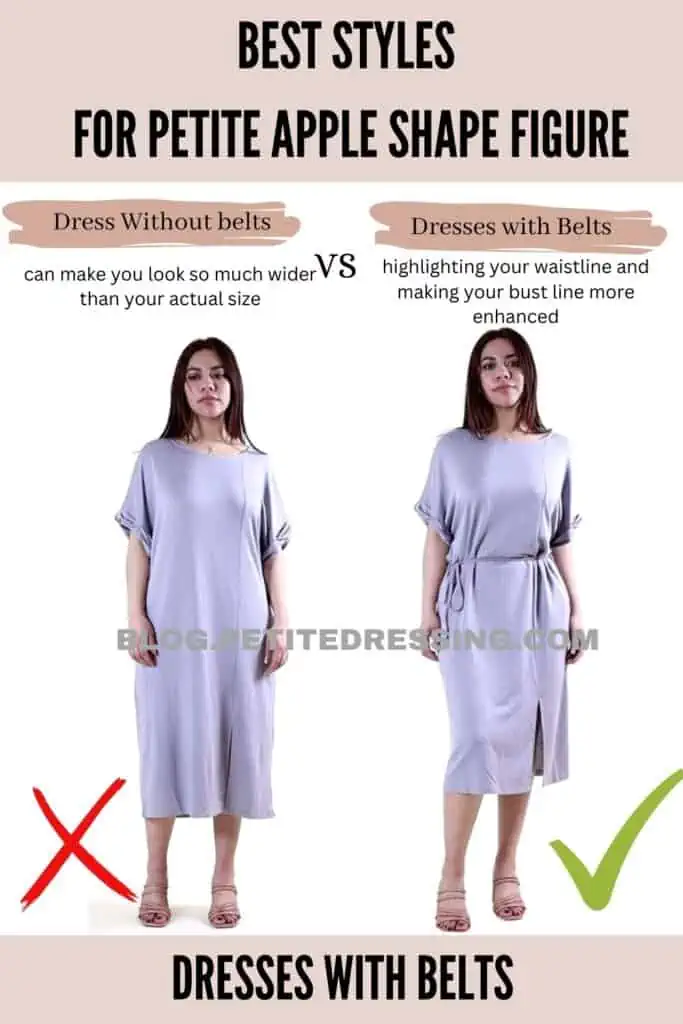 They draw attention to your best features by highlighting your waistline and making your bust line more enhanced. Belted dresses can draw attention away from areas that you may feel self-conscious about, such as your midsection, and draw attention to your best features instead.
Petite apple-shaped bodies are more prone to a midsection bulge called a "muffin top", which can make it difficult to create a defined waistline. However, belted dresses can help to bring better balance by cinching in at the waist and accentuating your curves.
Open necklines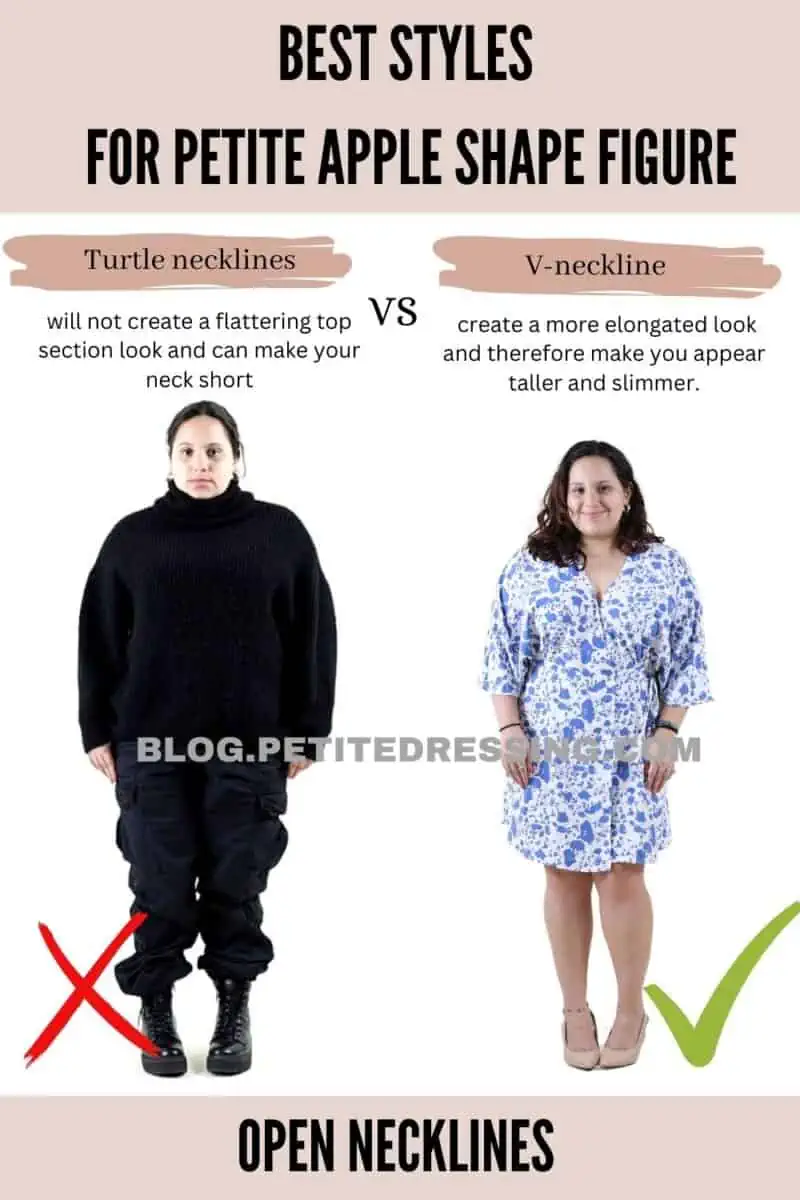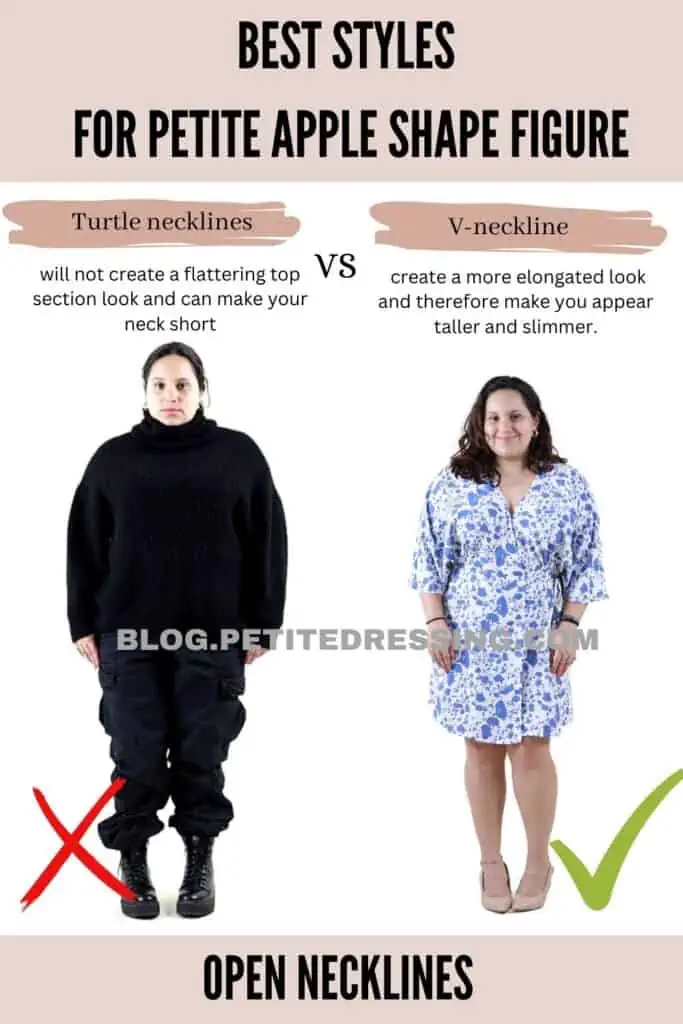 Open-neckline dresses draw attention away from your midsection, which is where most petite apple shapes tend to carry more weight. By exposing your collarbones and décolletage, these dresses shift the focus to your upper body and create a more elongated look and therefore make you appear taller and slimmer.
Dresses with open necklines such as V-Neck, square, or scoop are a flattering and versatile choice for petite apple shapes. By drawing attention to your upper body, customizing your neckline to fit your personal style, and pairing your dress with the right accessories, you can definitely flaunt your beautiful figure with no worries!
Dainty Wrap Dresses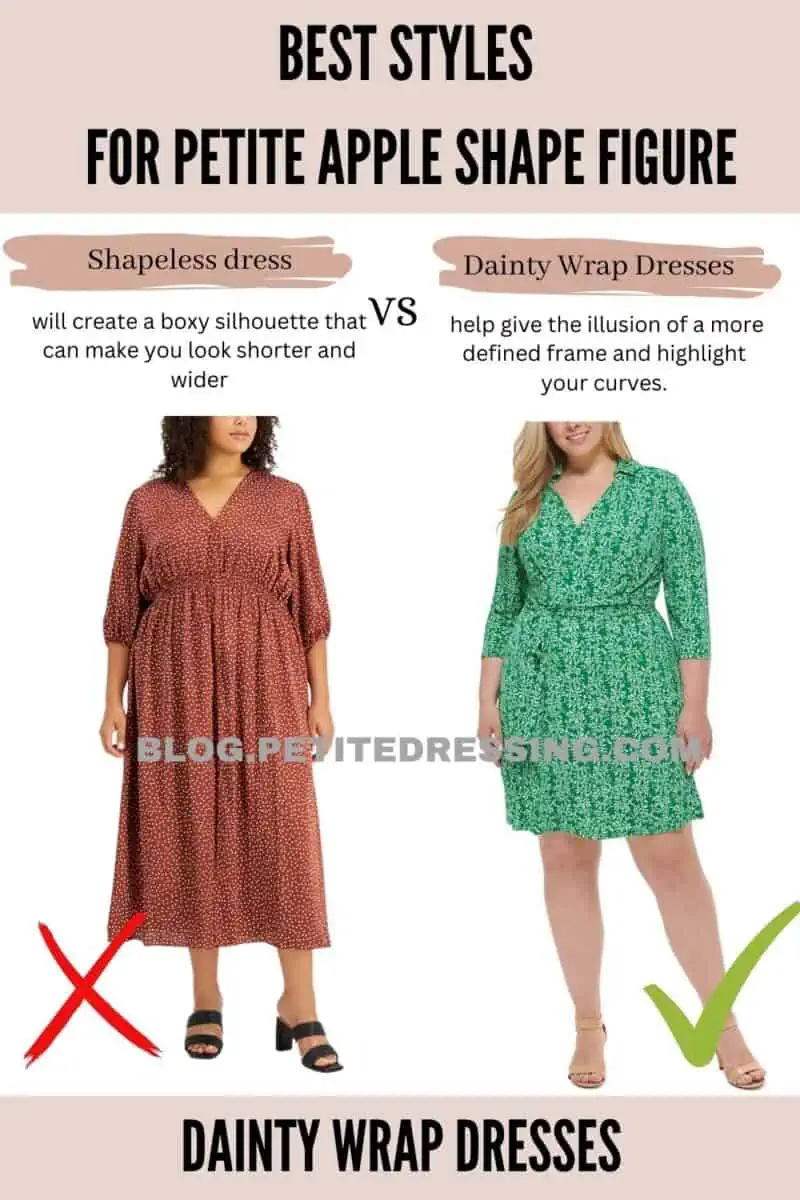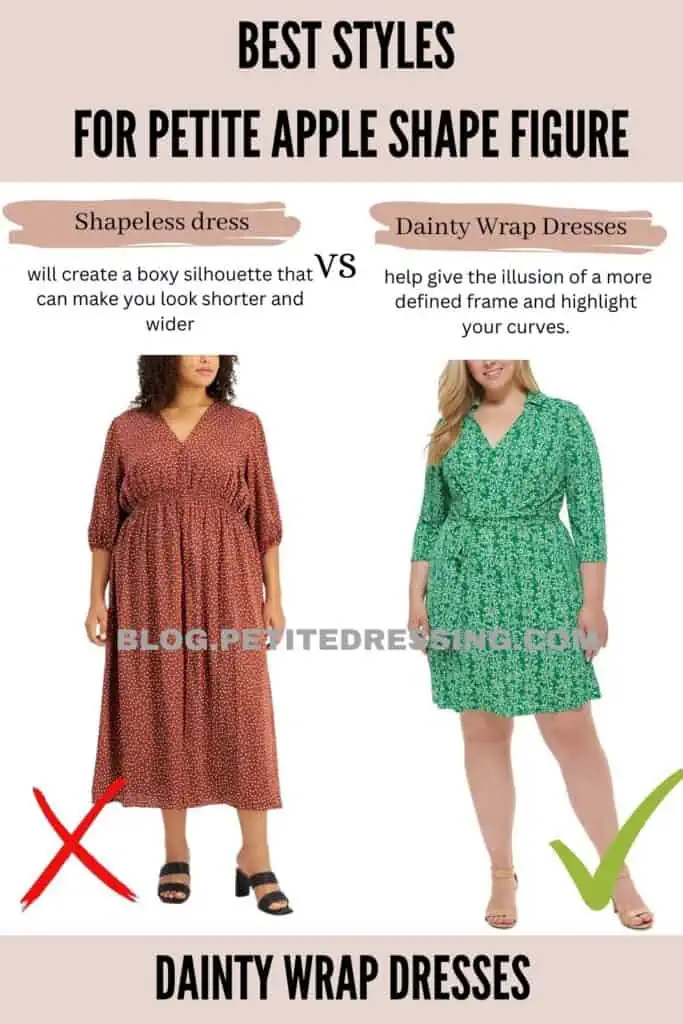 Wrap dresses are designed to create a more defined waistline, which is essential for balancing out your silhouette. By cinching in at the waist with an adjustable tie, these dresses help give the illusion of a more defined frame and highlight your curves.
Look for dresses with a wrap that neatly ties at the side as this will create a more streamlined look and prevent any extra fabric from adding bulk.
TOPS
Tailored Peplum Blouse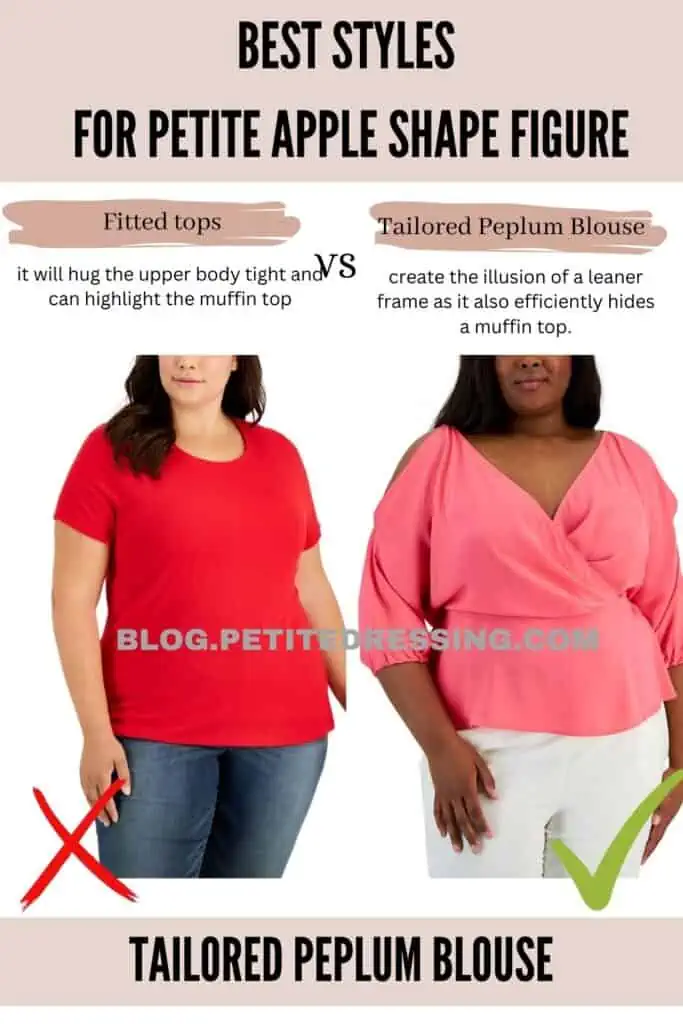 Are you looking to add some feminine flair to your ensemble? Then the good news is, peplum blouses are absolutely flattering for your petite apple-shaped figure!
Its ability to emphasize the waistline is one of the best attributes of a peplum blouse. By flaring out at the waist, these blouses can create the illusion of a leaner frame as it also efficiently hides a muffin top.
Ruched Waist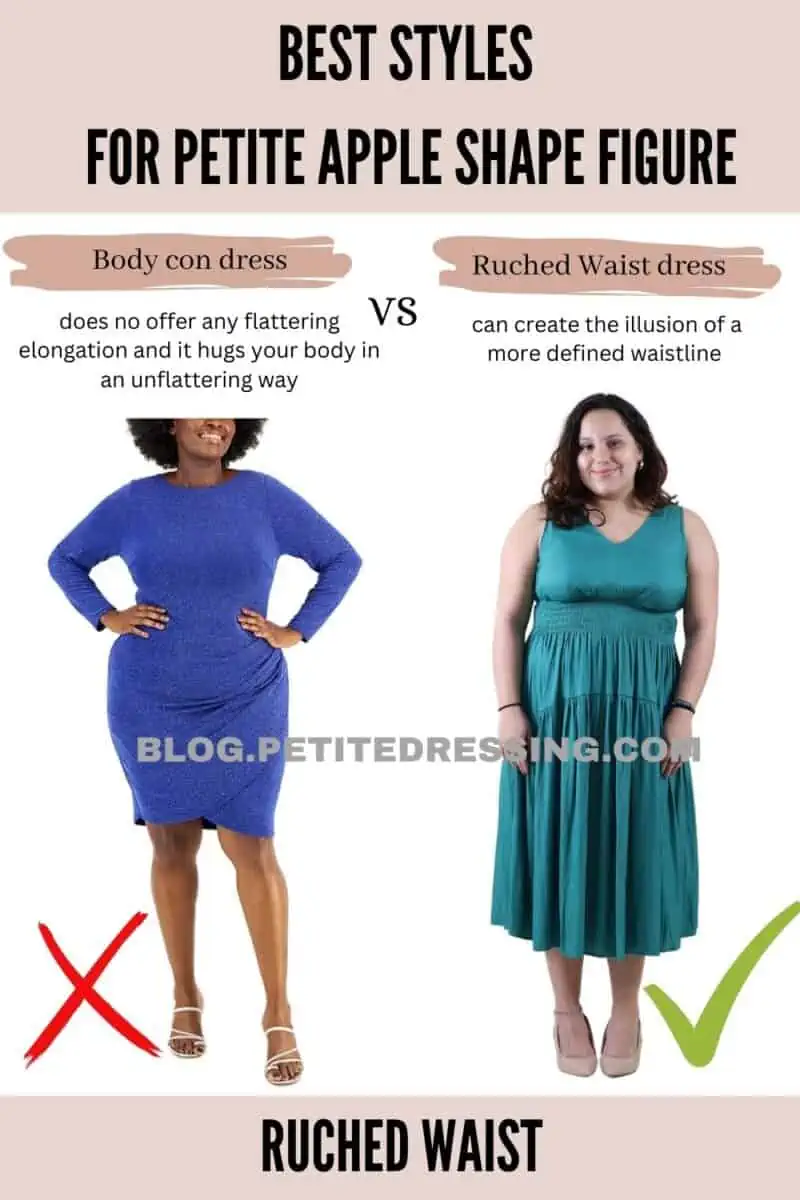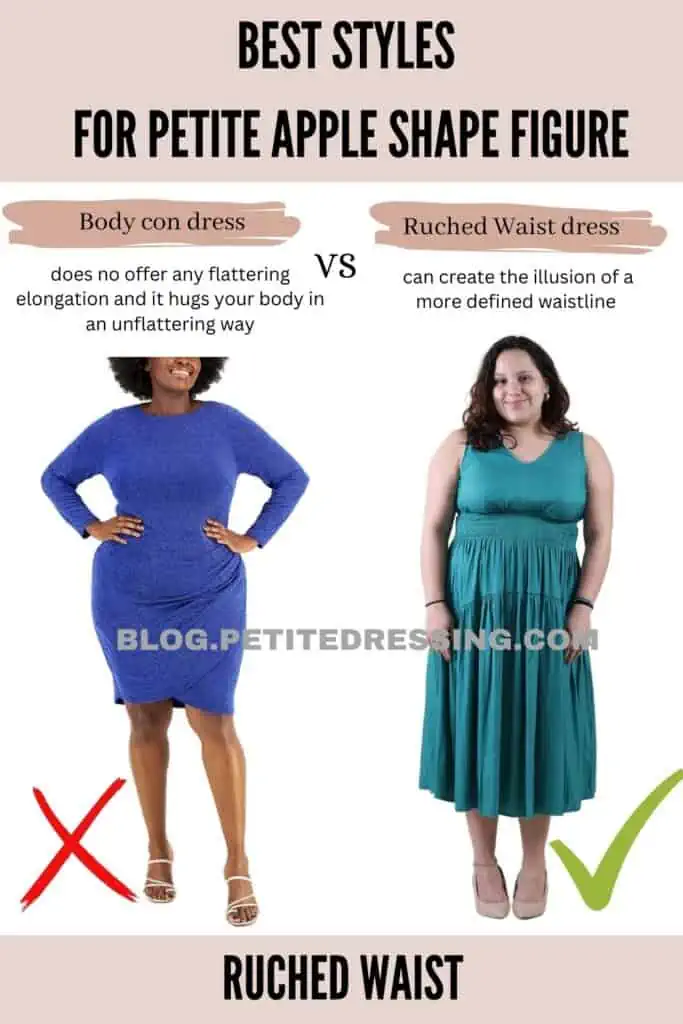 Ruched blouses can be a great choice for women with petite apple-shaped figures. It features a technique where fabric is gathered or pleated to create texture and dimension, which can be used to draw attention away from areas of the body that you may not want to emphasize such as the midsection.
For petite apple-shaped figures, ruched blouses can be particularly flattering because they can create the illusion of a more defined waistline. By gathering fabric at the sides or along the waist, ruching can help to visually cinch in the waist and create a more balanced silhouette.
Flowy Empire Waist Blouse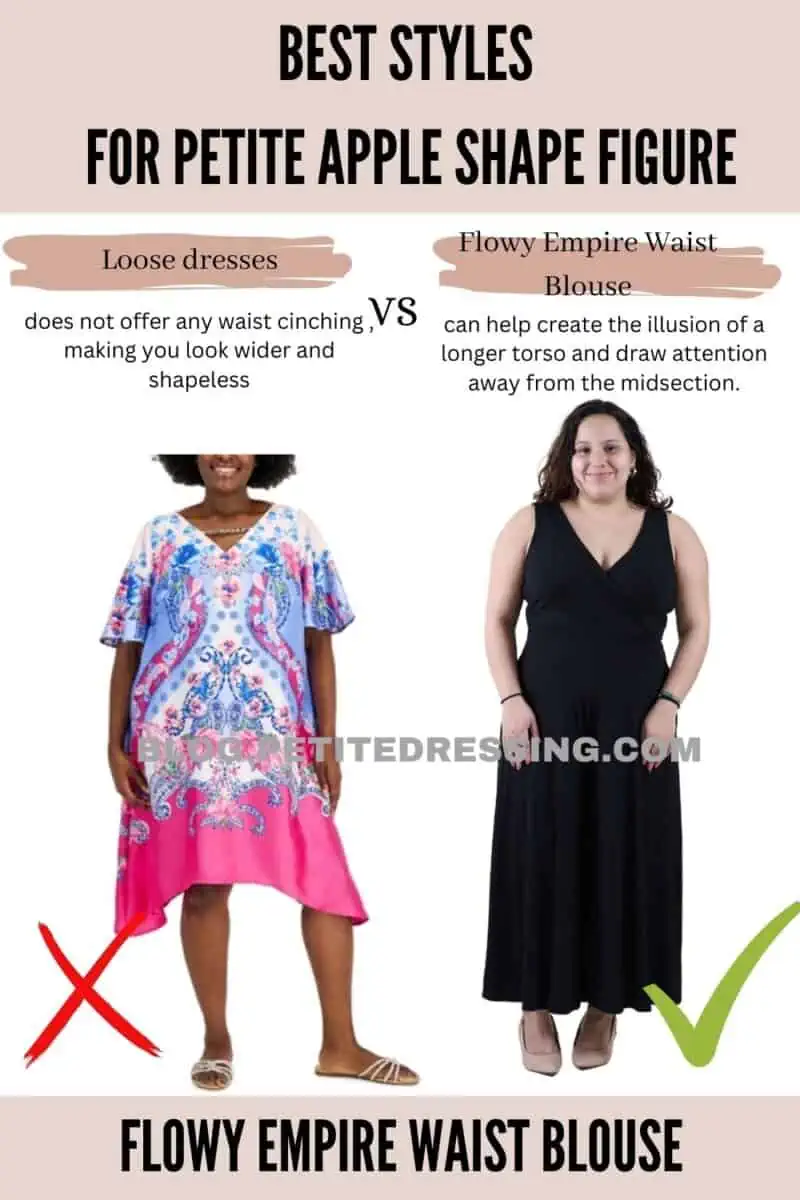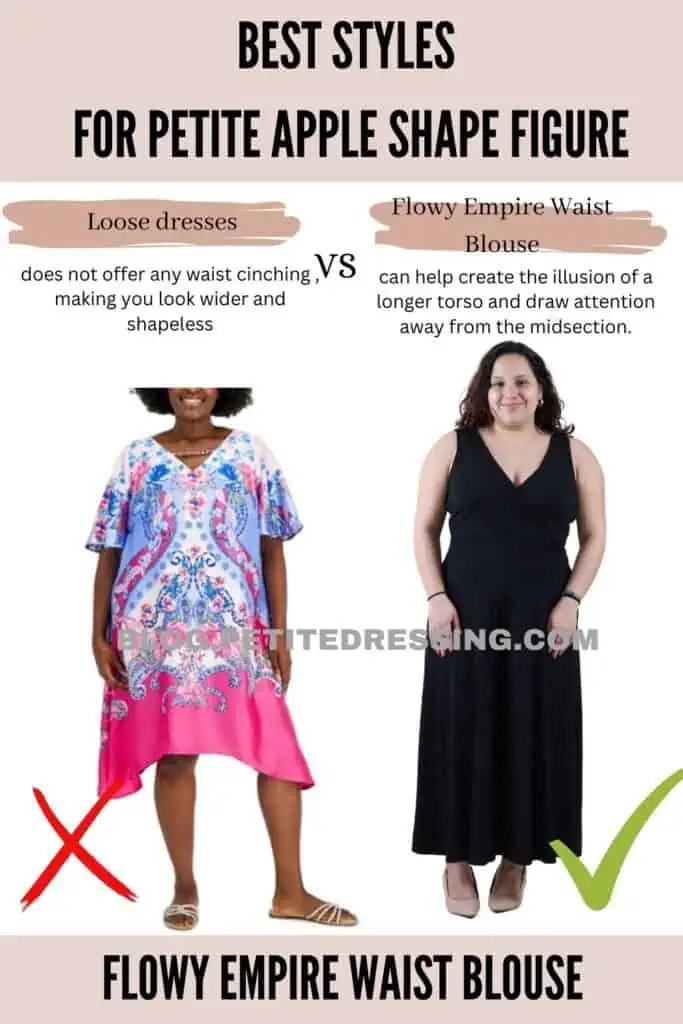 The empire waist is a style that sits just below the bustline, which can help create the illusion of a longer torso and draw attention away from the midsection.
For petite apple-shaped figures, an empire waist blouse can be particularly flattering because it can help to visually elongate the body and create a more balanced ratio between the upper and lower body. The raised waistline can also create a more defined waistline which an apple shape usually lacks.
JEANS
Structured Flared Jeans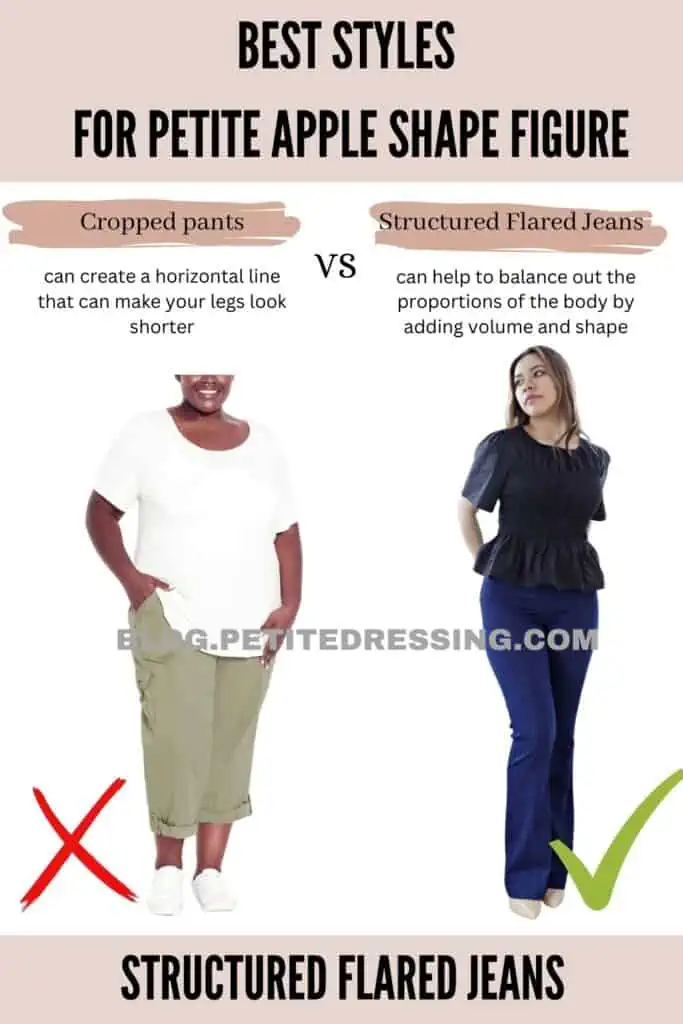 Flared jeans can be a good option for women with petite apple-shaped figures, but it's important to choose the right style to ensure a flattering fit. Flared jeans can help to balance out the proportions of the body by adding volume and shape to the lower half to match your more prominent upper body.
In addition, choose flared jeans with a subtle flare rather than an exaggerated bell-bottom style. This can help to elongate your legs and create a more streamlined look.
High-Waisted Wide-Leg Jeans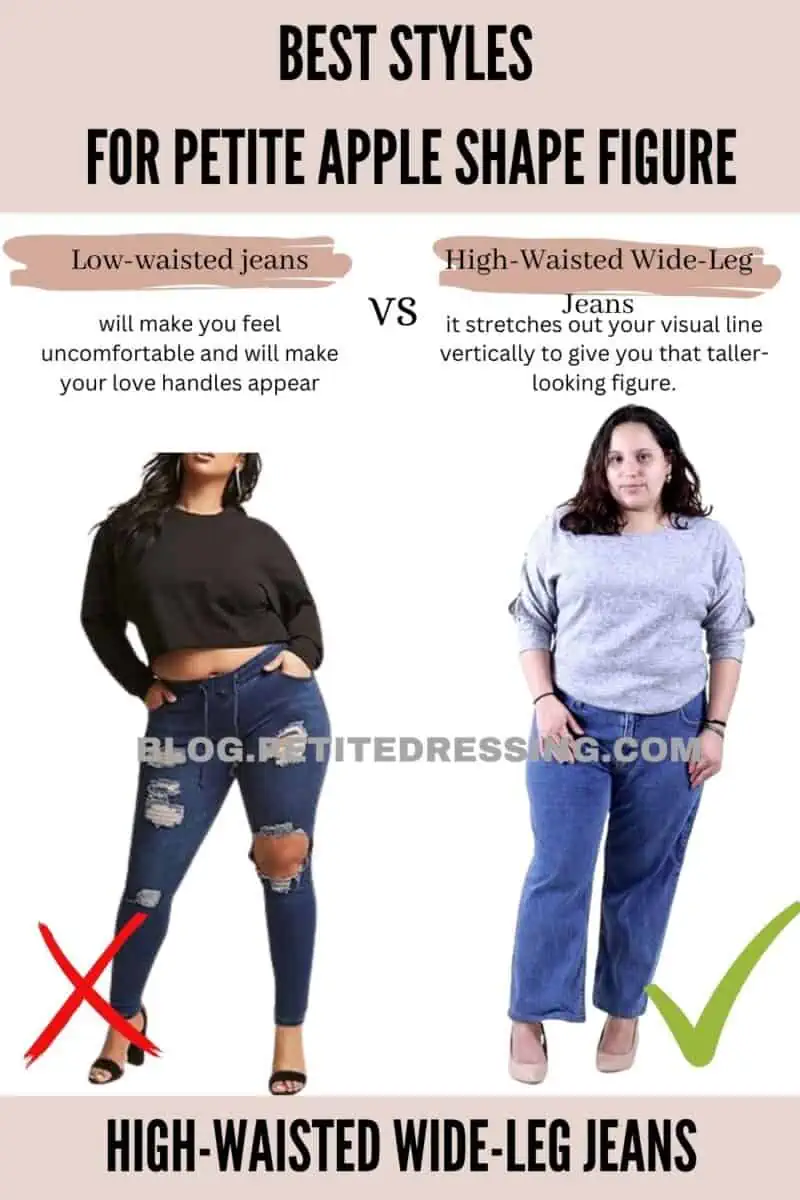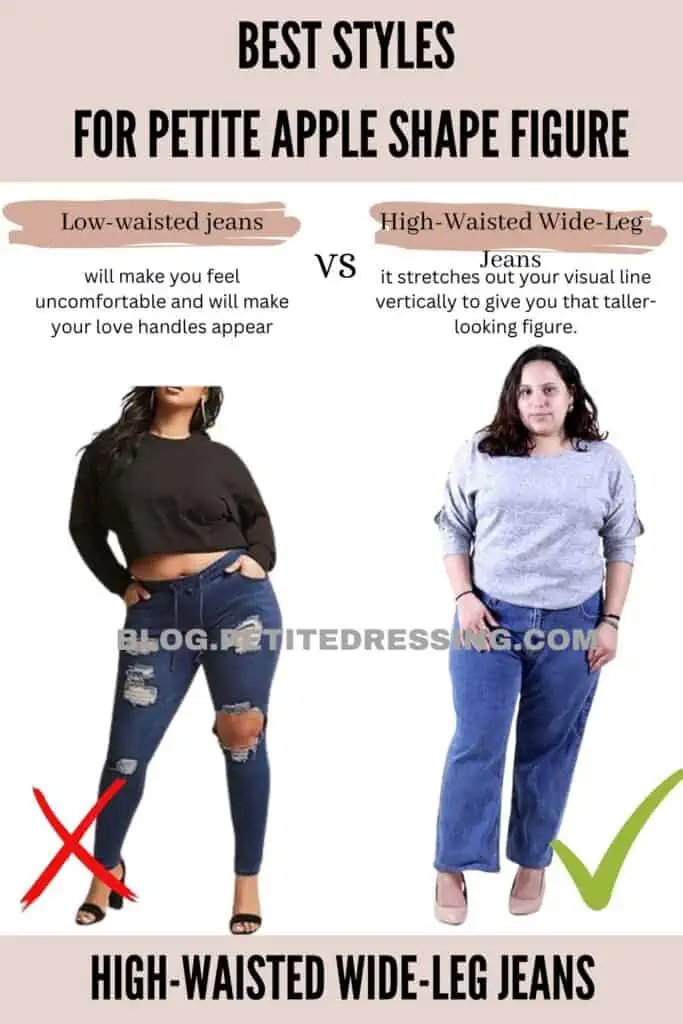 Wide-leg jeans can be a good choice for women with petite apple-shaped figures, as long as you choose the right style and length that are tailored to fit your body shape. Due to the wider room of the pants for the legs, it stretched out your visual line vertically to give you that taller-looking figure.
It's better to choose wide-leg jeans that come with a high-rise waistband in order to get a good hug for your midsection. This will prevent the appearance of a muffin top.
COATS
Tailored Straight-cut Coats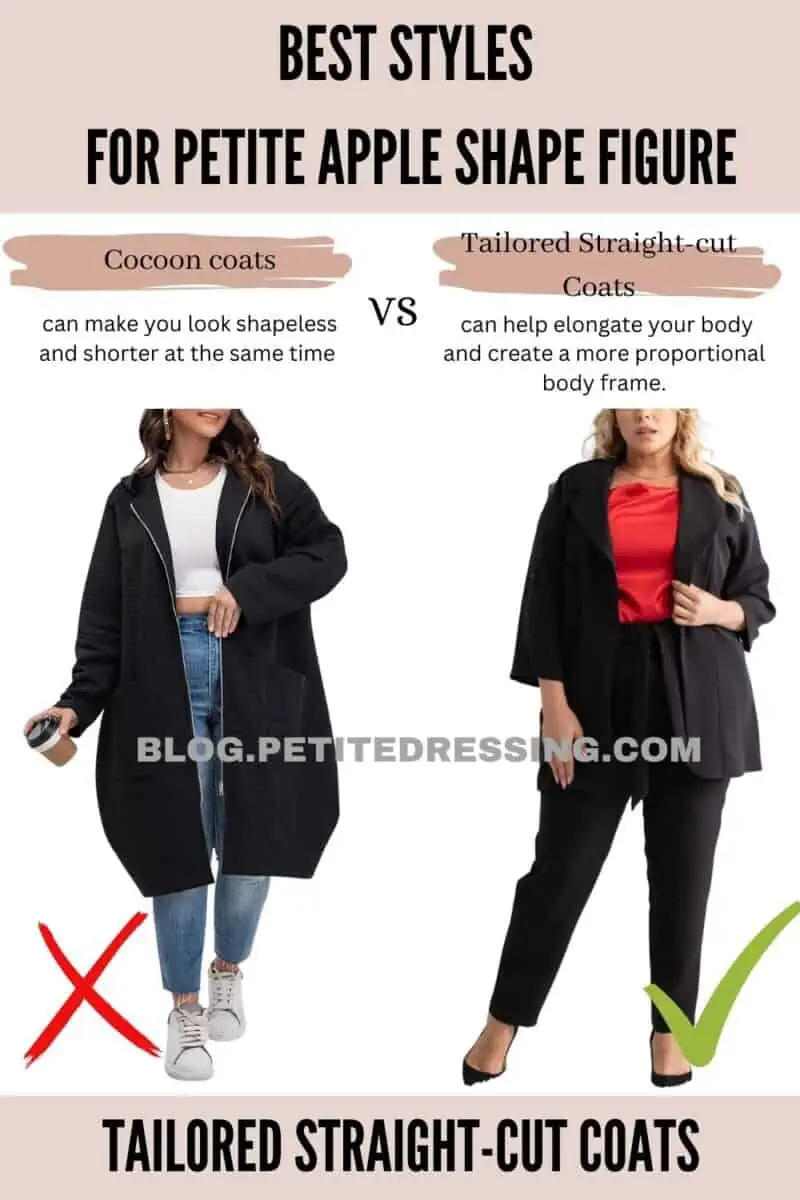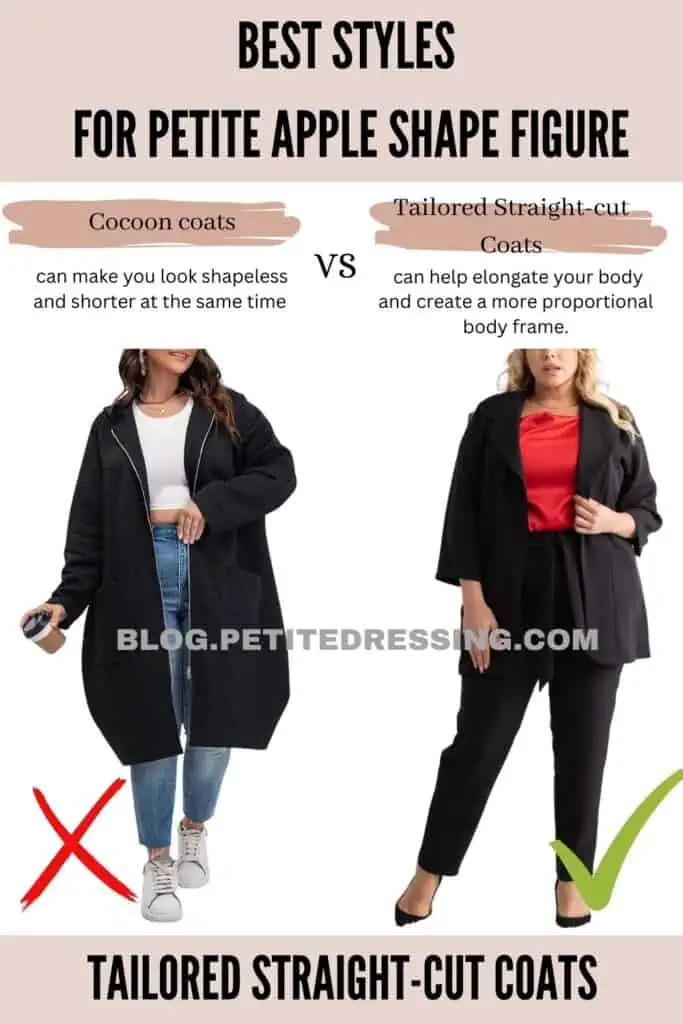 Just like what we discussed earlier, it's a good idea to stick to minimalist fashion choices if you have a petite apple shape figure. The clean lines of a straight-cut coat can help elongate your body and create a more proportional body frame.
This type of coat hangs straight down from the shoulders without any added bulk or flares. This is ideal for apple-shaped figures since it avoids adding extra volume to the body.
Neutral Single-breasted Coats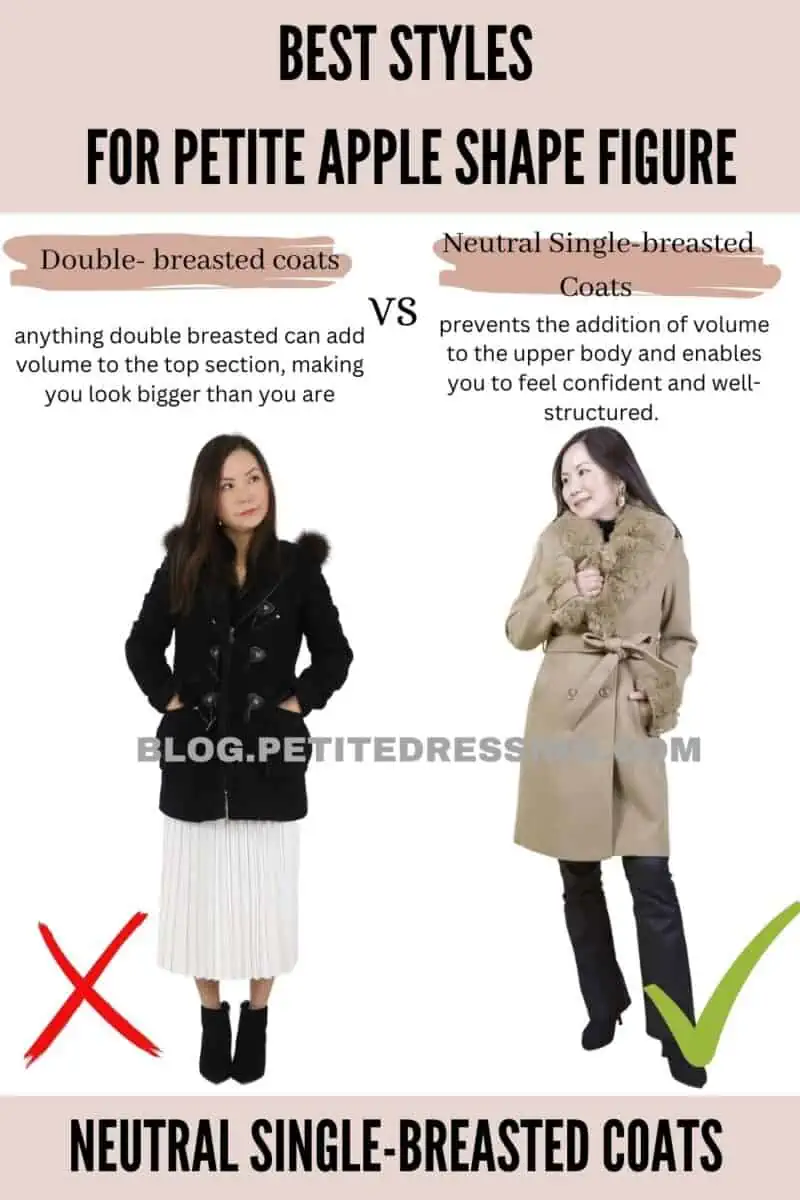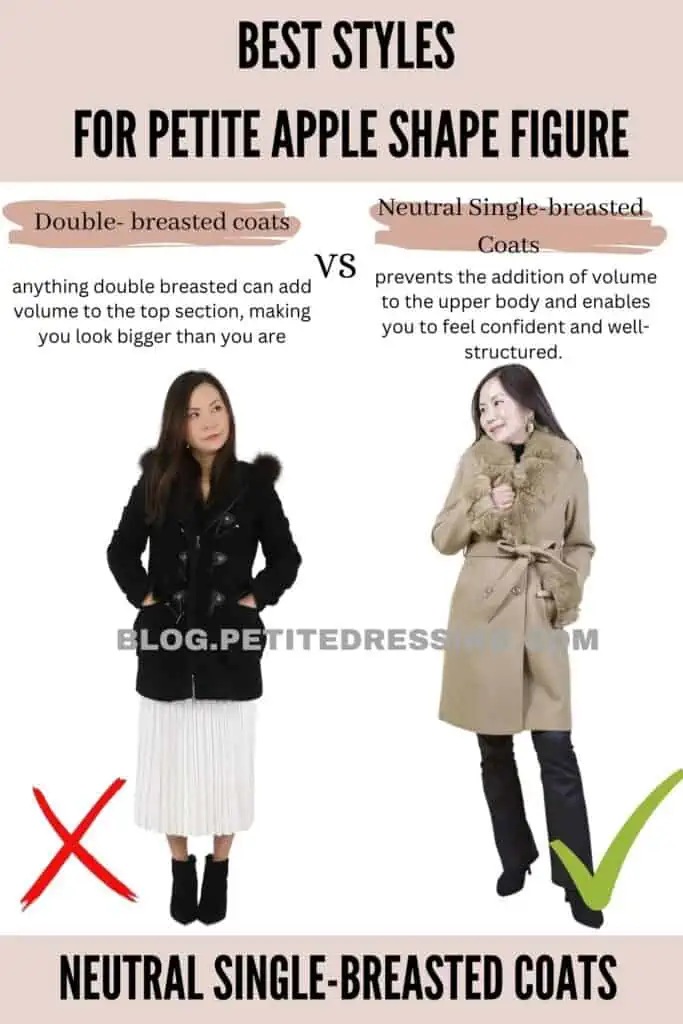 This type of coat is specifically designed to maintain the elongating line of your silhouette by avoiding any unnecessary detailing and horizontal lines. For women with petite apple-shaped bodies, single-breasted coats are especially flattering as they conform to your figure and create a streamlined look.
The front of the coat has only a single column of buttons, which prevents the addition of volume to the upper body and enables you to feel confident and well-structured.
Wrap Coats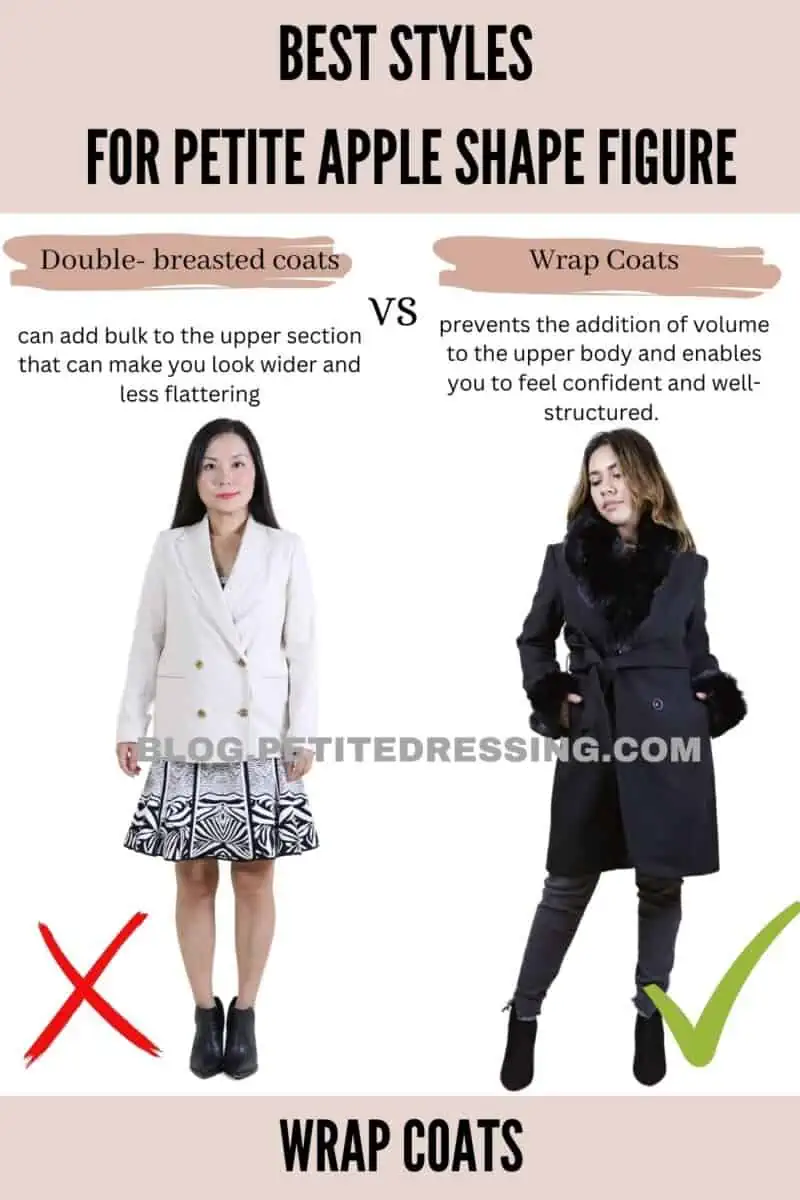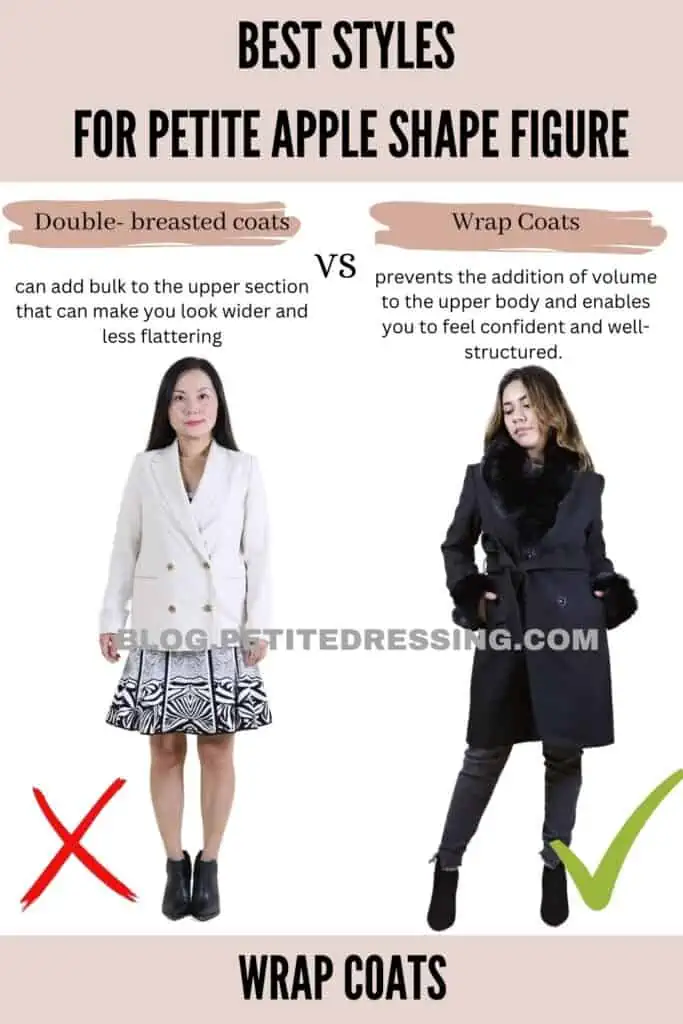 The wrap front design of these coats provides a guaranteed style option that flatters your figure. Cinching the waist creates a well-balanced silhouette and elongates your body and accentuates your curves.
Wrap dresses provide an adjustable closure, allowing you to customize the fit of the coat and avoid any bulky fabric that can overpower a smaller frame.
SKIRTS
Asymmetrical Skirt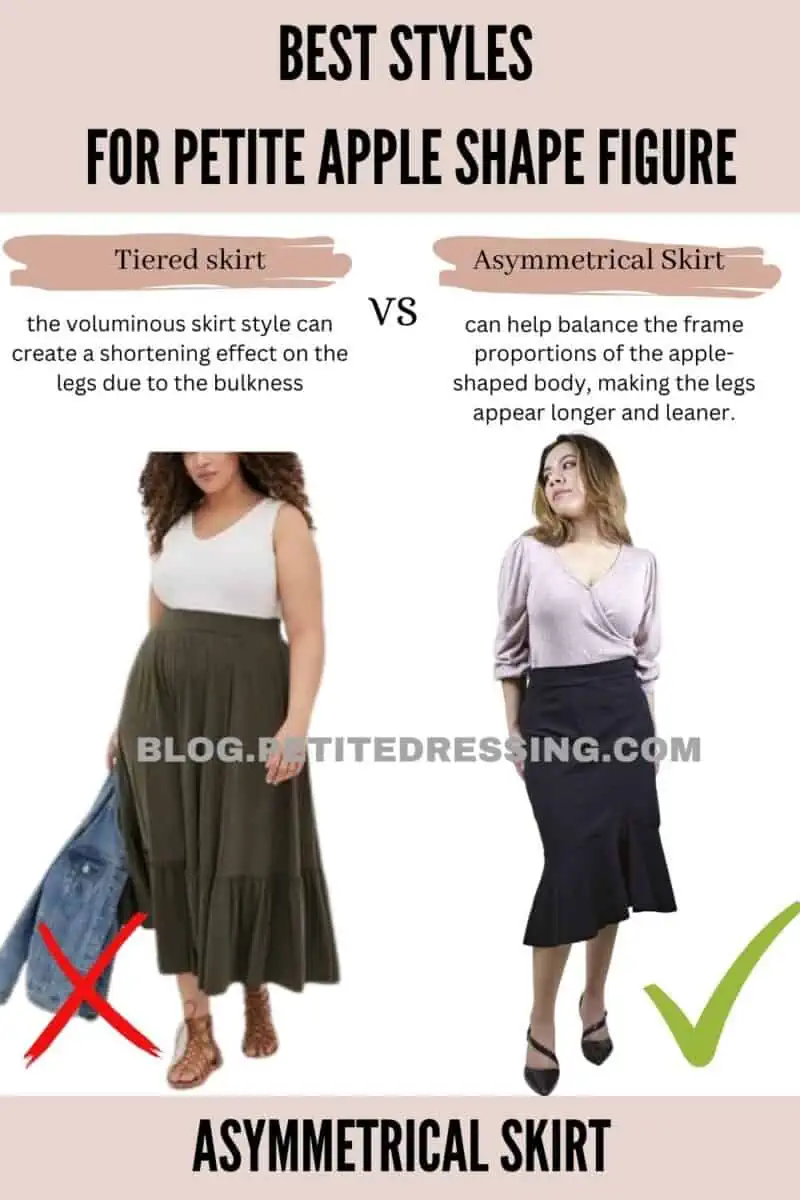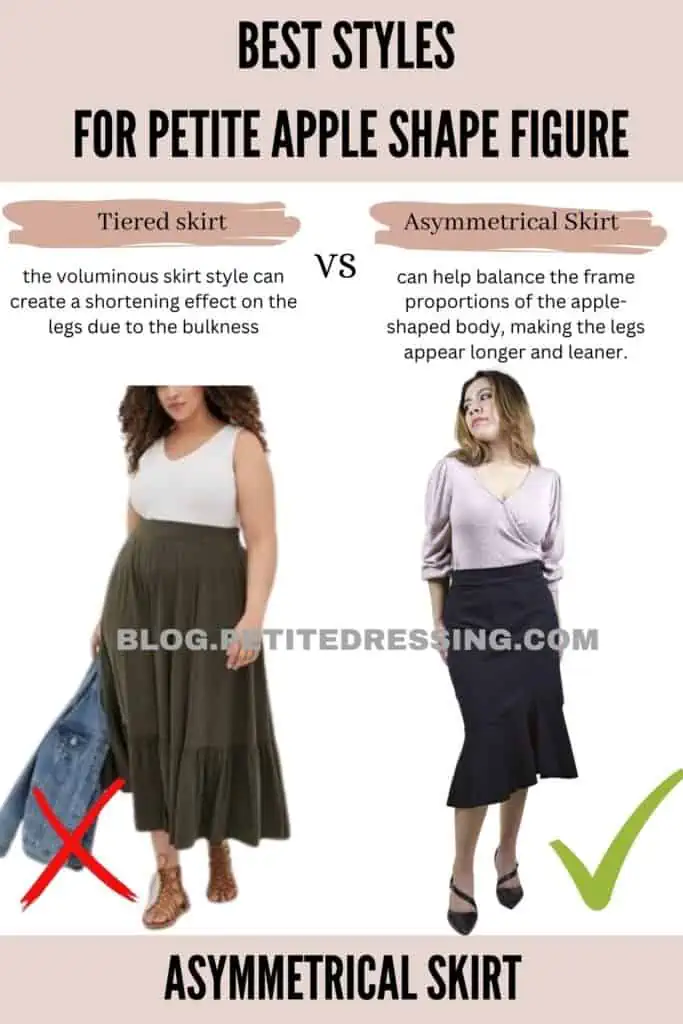 The asymmetrical hemline of the skirt creates a diagonal line that draws the eye downwards, creating an illusion of longer legs. This elongation effect can help balance the frame proportions of the apple-shaped body, making the legs appear longer and leaner.
The design of the skirt adds visual interest and detail to the outfit, diverting attention from the midsection and creating a more balanced look.
Form-fitting Trumpet Skirt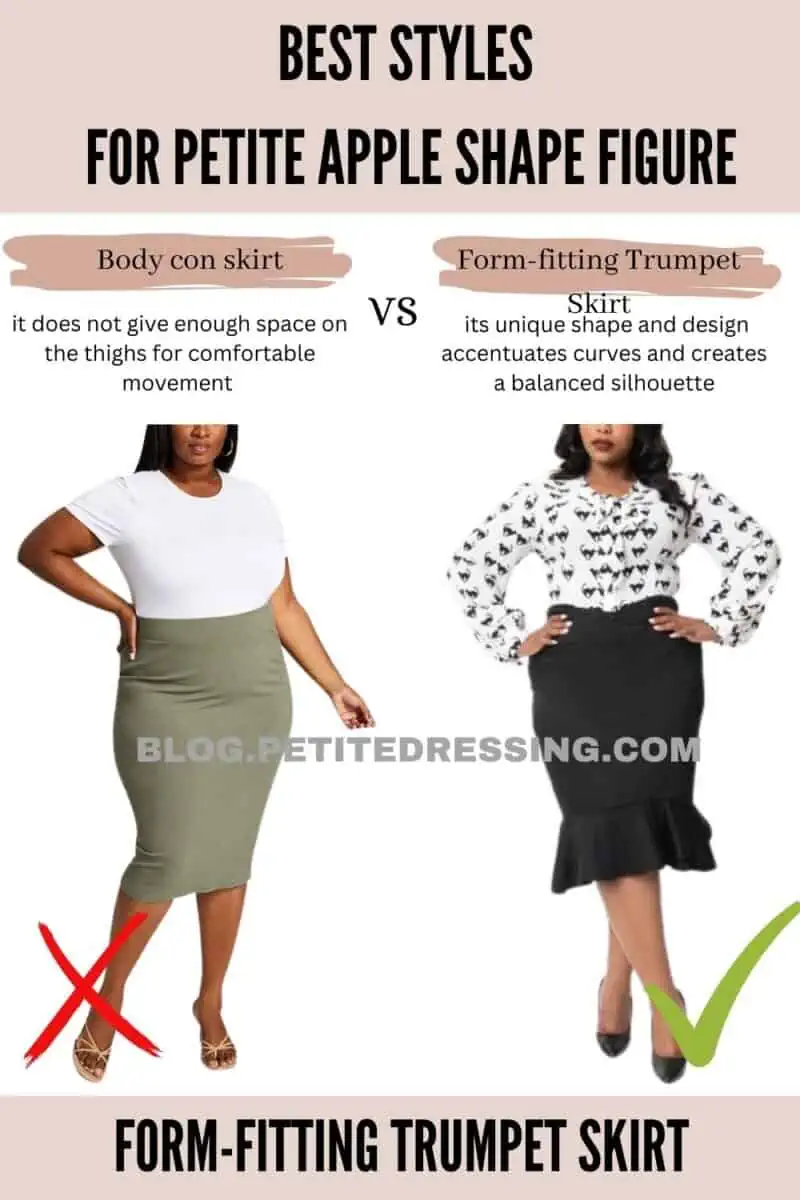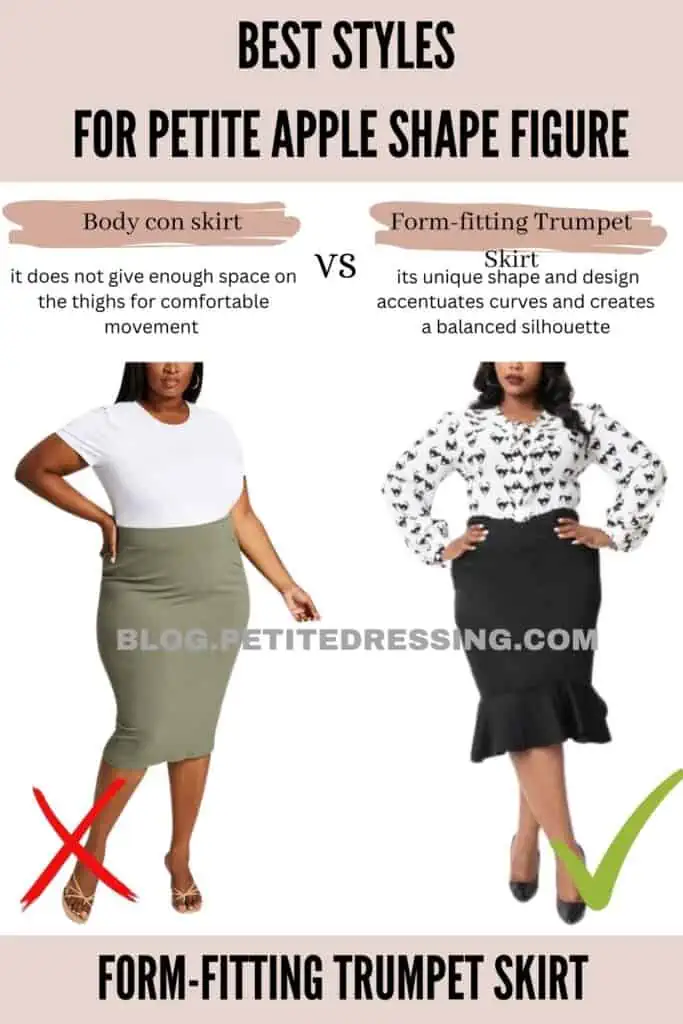 A trumpet skirt can be a great choice for petite apple-shaped bodies due to its unique shape and design that accentuates curves and creates a balanced silhouette. It is fitted at the waist and hips and then flares out at the knee which creates a flattering effect that results in longer legs.
Its structure can also help create a visual break in the torso's vertical line, making the waistline appear narrower and more defined.
Sophisticated Slit Skirt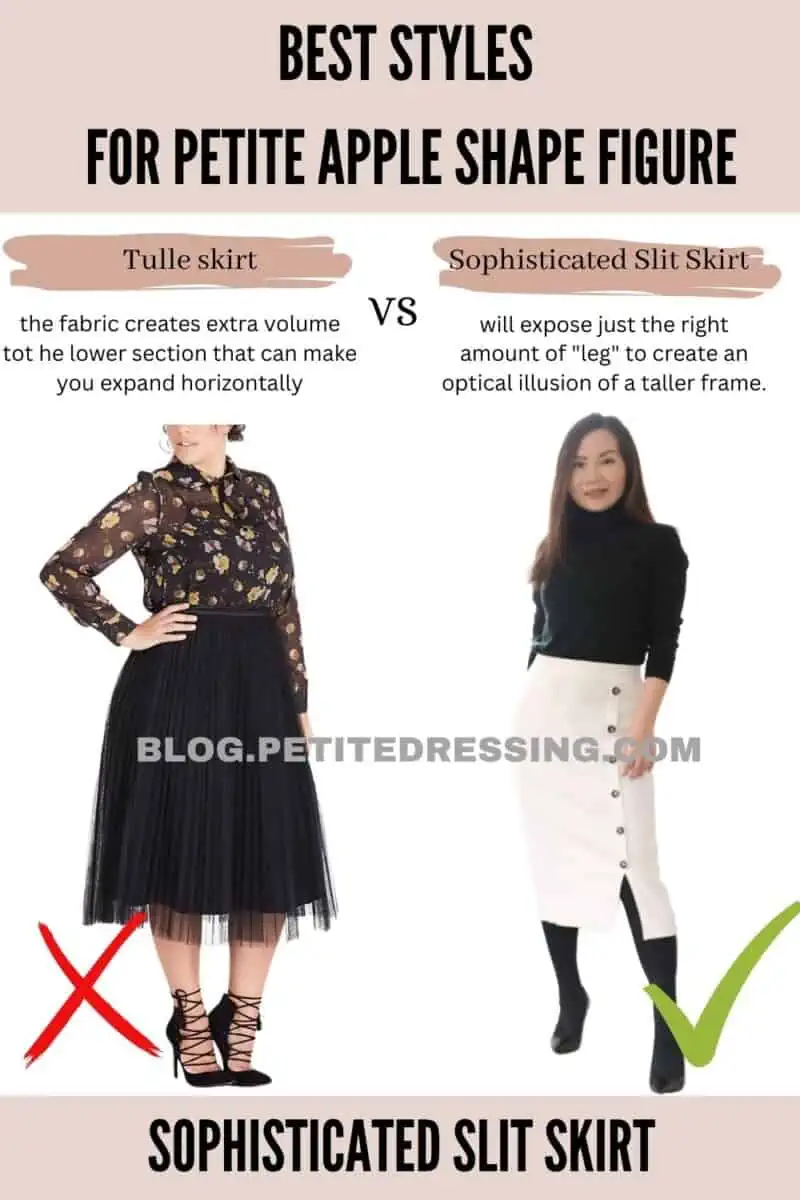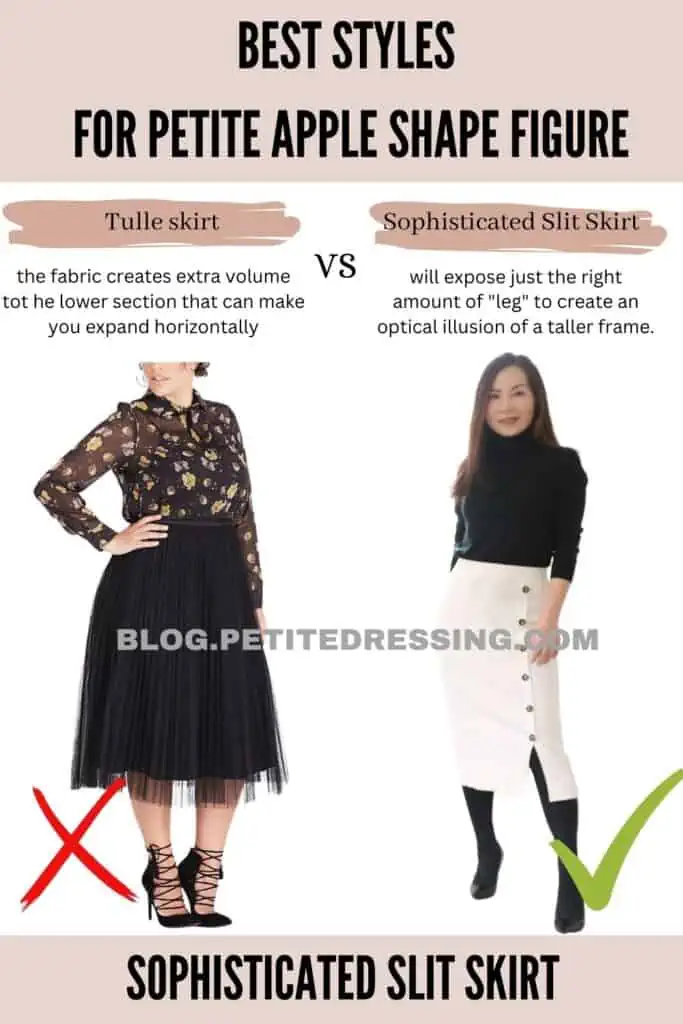 A slit skirt can look good on short apple-shaped women without looking too overwhelming. However, it is important that you choose a slit skirt with the appropriate length and style that suits your natural figure.
Short apple-shaped women should choose a slit skirt that falls no higher than mid-thigh to create a balanced look. The right length will expose just the right amount of "leg" to create an optical illusion of a taller frame.
Another tip is when wearing a slit skirt, it's important to balance your outfit by pairing it with a fitted top or a top that tucks in to create a defined waistline.
SHOES
Pointed Toe Pumps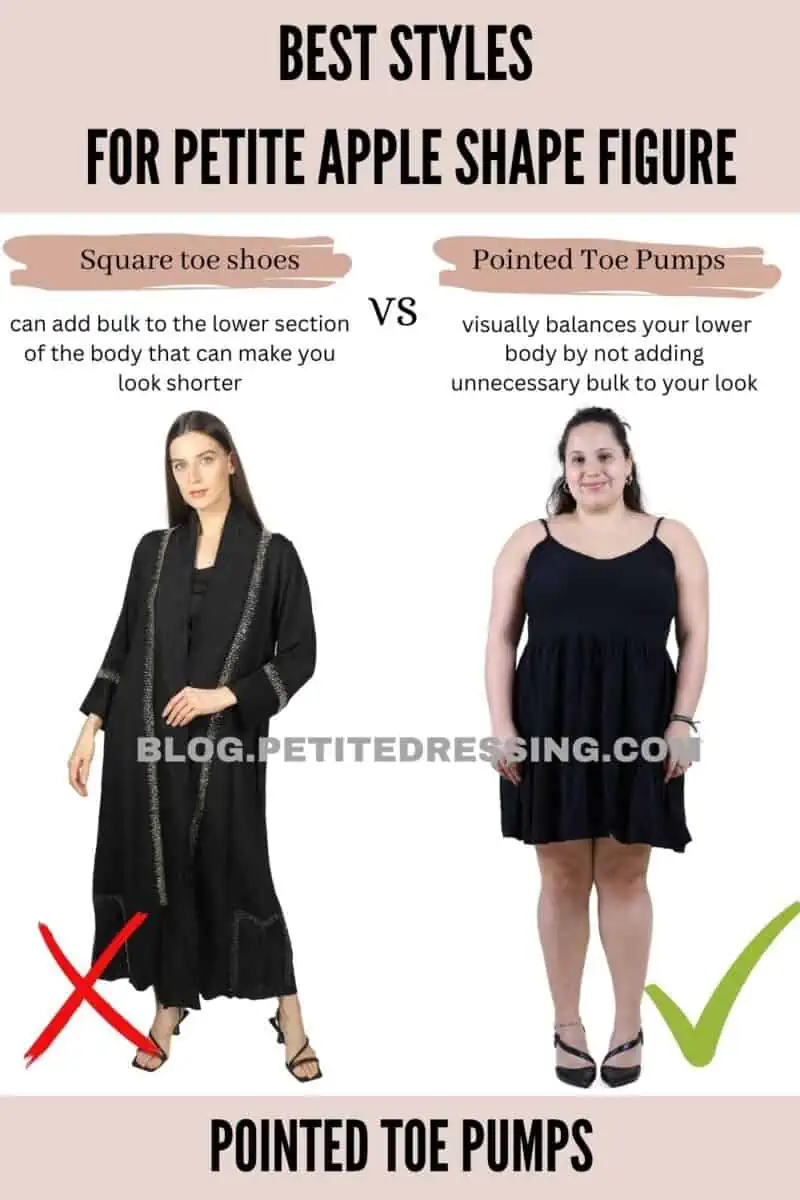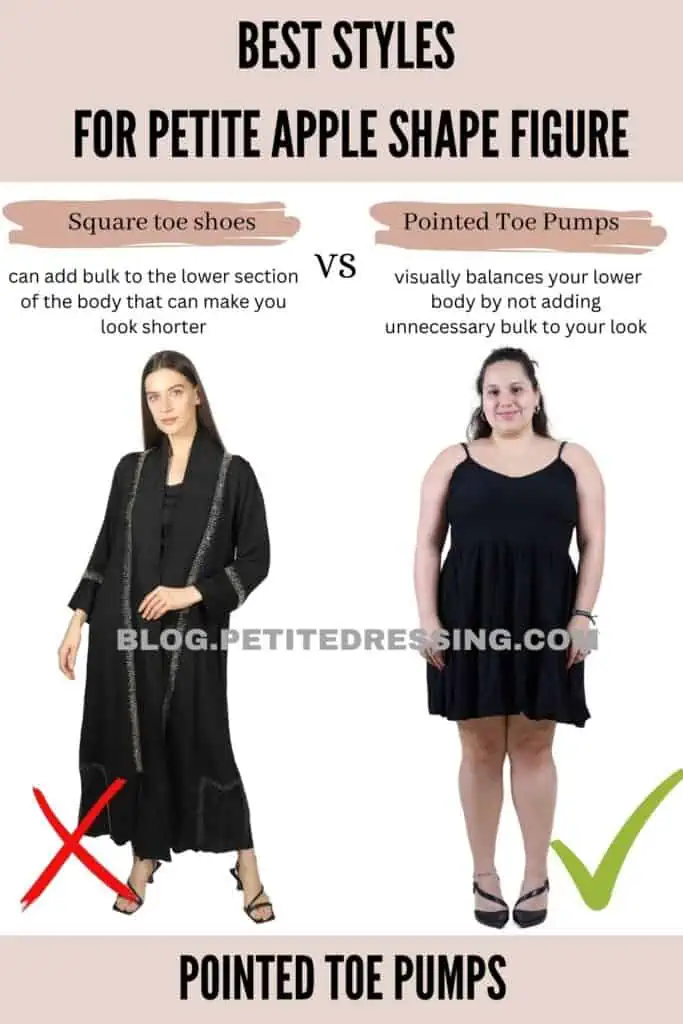 These stylish shoes create an alluring visual line that draws the eye from your legs to your toes, effectively elongating the legs and creating the illusion of length. They're versatile enough to be worn to any occasion, be it the office, a night out with friends, or a special event.
Additionally, the pointed tip of this shoe style visually balances your lower body by not adding unnecessary bulk to your look, unlike shoes with a square front.
Wedges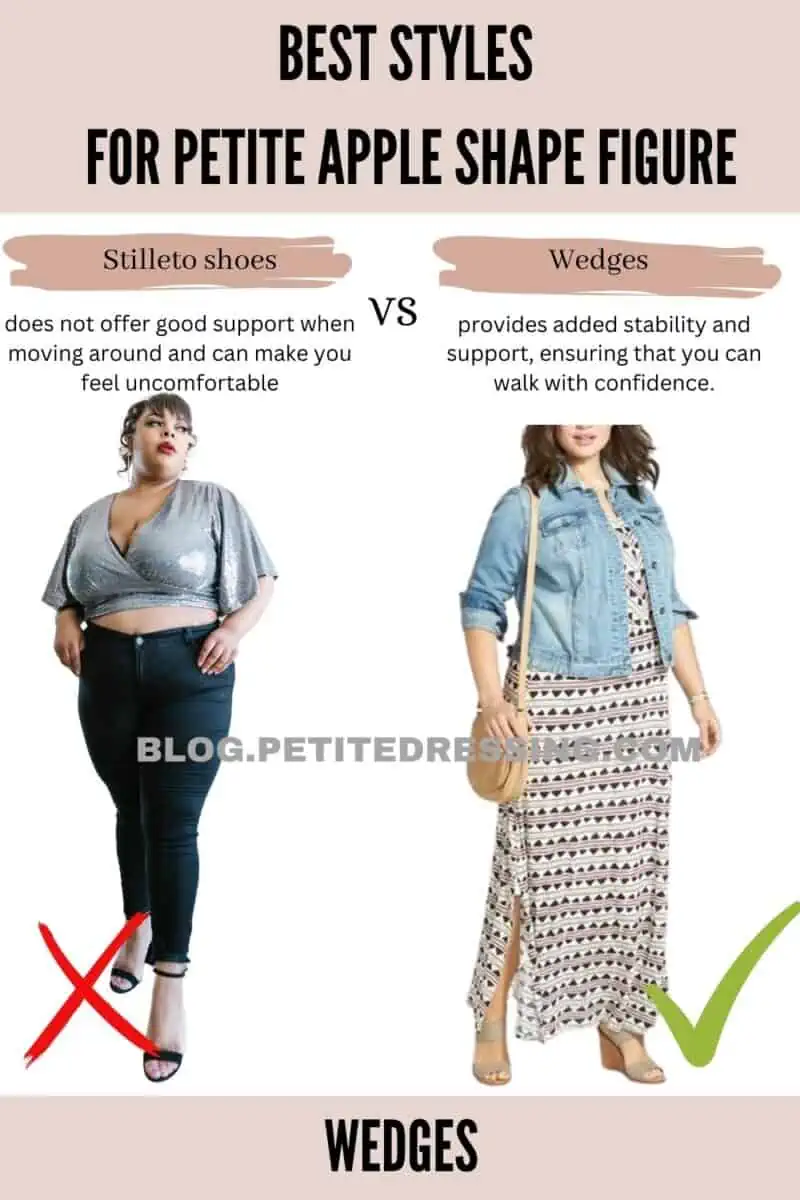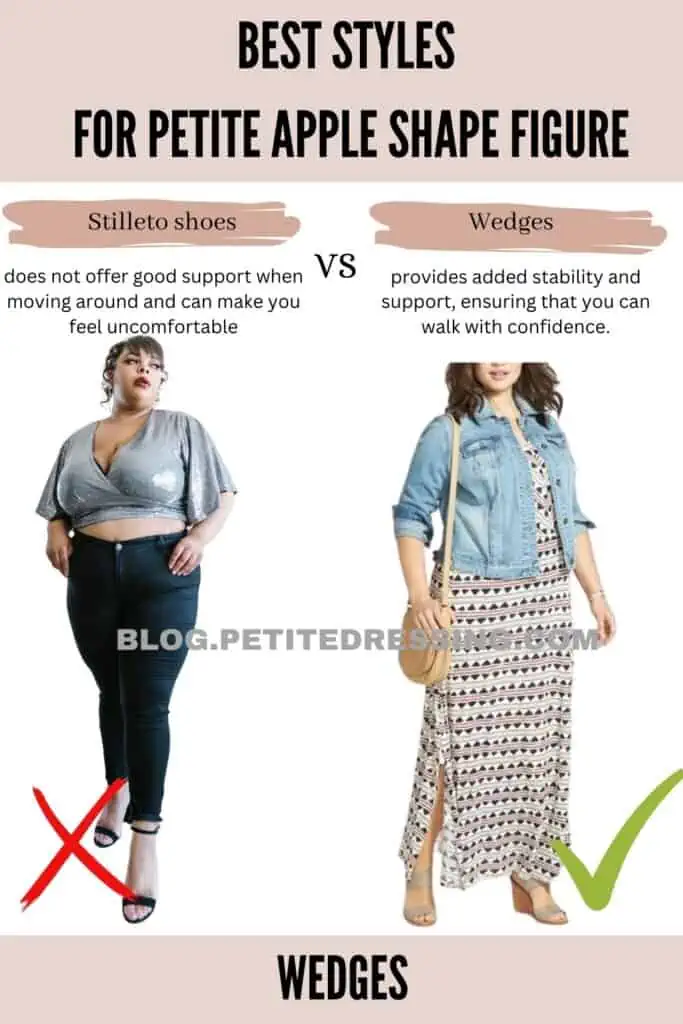 While you may feel self-conscious about your midsection, wedge shoes have a leg-lengthening effect that will make you appear taller and slimmer. The wider base of the wedge also provides added stability and support, ensuring that you can walk with confidence.
Despite the wide base of wedges, the elevation they provide doesn't add weight to your lower body. They're great to pair with your maxi dresses and wide-leg trousers for that additional lift!
Over-the-Knee Boots
Over-the-knee boots can be an excellent choice for a girl with a short height and an apple-shaped body. as these boots can help elongate the legs, creating a longer and leaner appearance.
The over-the-knee style of the boots creates a long vertical line that extends up from the feet, giving the illusion of height. In addition to the leg-lengthening effect, over-the-knee boots also provide coverage for the thighs, which can be an area of concern for many apple-shaped women.
ACCESSORIES
Long earrings
As a girl who rocks an apple-shaped body, your neckline and bust are your best features. By wearing long earrings, you are drawing the eyes to the upper half of your body and therefore making your neck look longer, your collarbones more prominent, and your bust more enhanced.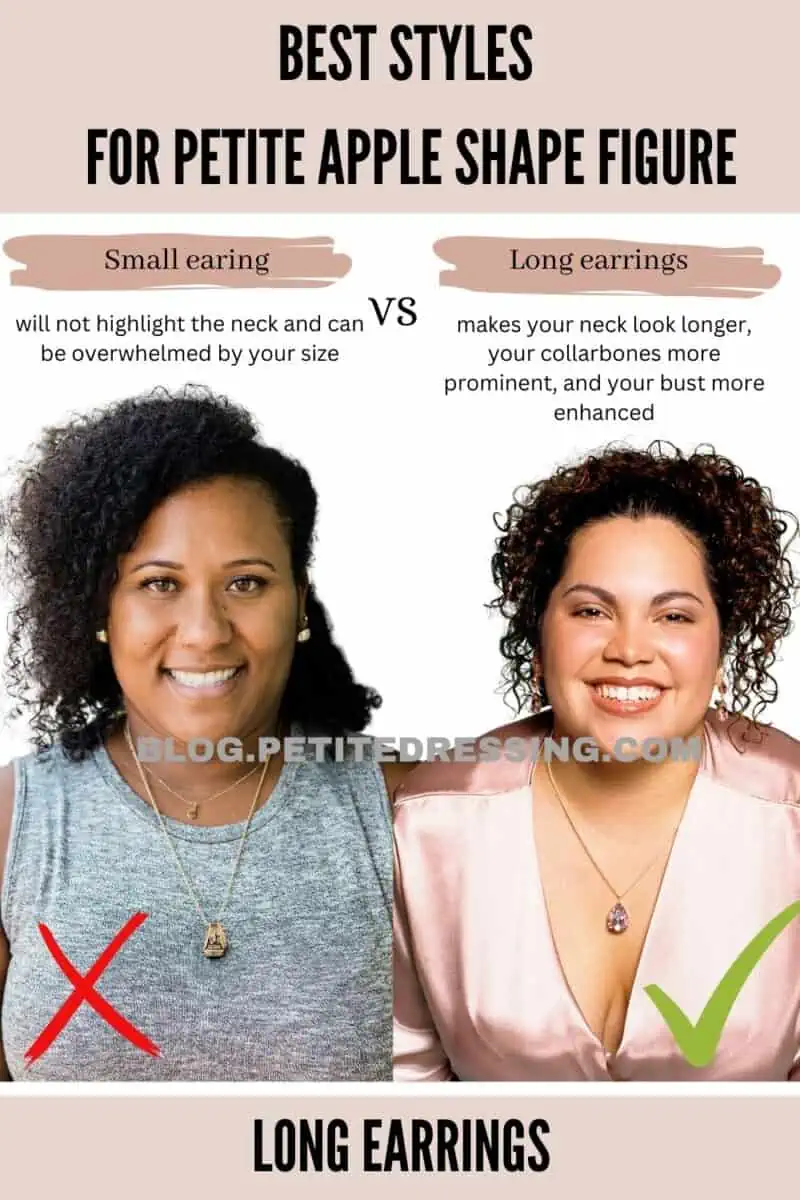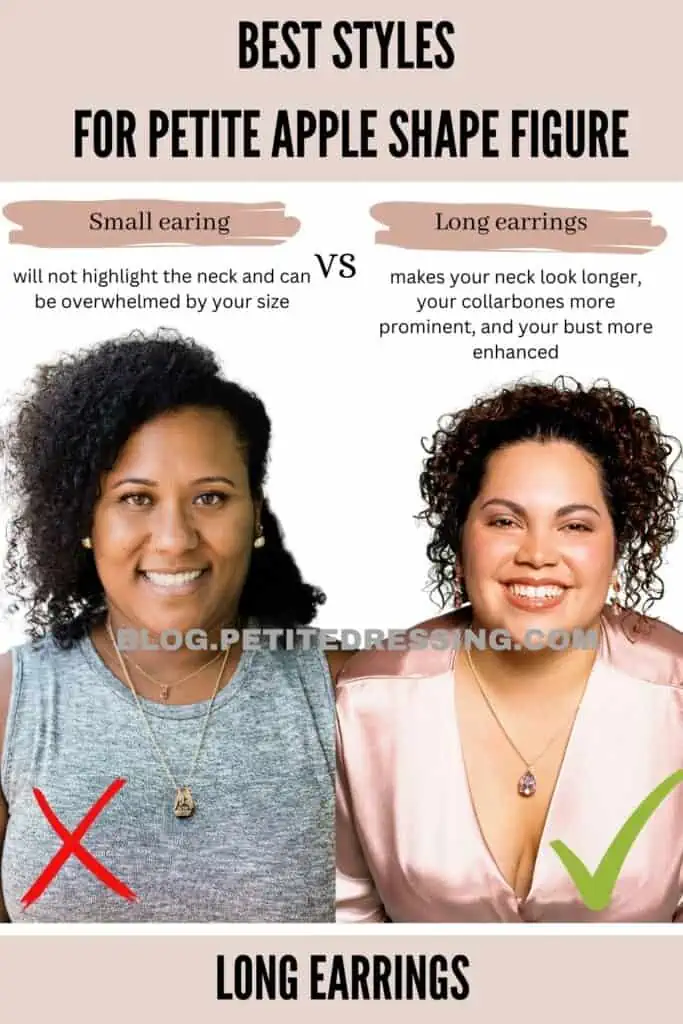 Plain-colored scarves
Need a bit of warmth during the cold seasons? Then you'd be happy to know that plain-colored scarves are great for short apple-shaped figures.
Plain colors are simple and dark colors are generally slimming. You can style your scarf in a way that one end hangs loosely on the front to create a flattering vertical line that can help elongate your figure.