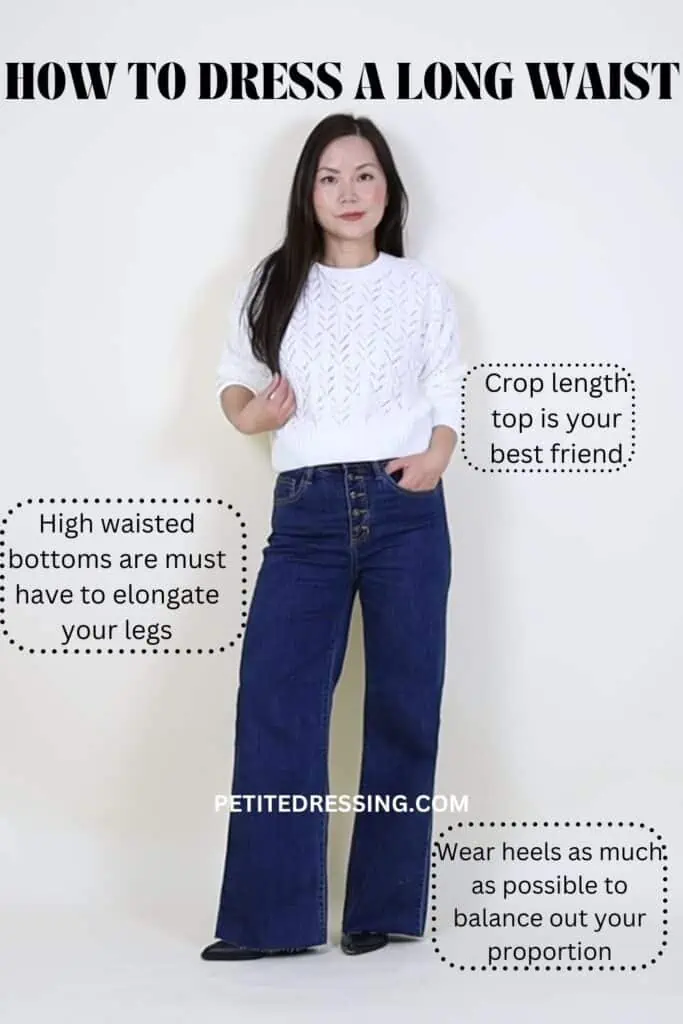 Having a long waist means your natural waistline sits lower on your body, in other words, the distance between your shoulders and your natural waist is longer than those with a balanced (average) waist. I know this from first hand experience, as my waist is also long.
Whether your waist is long or short is a concept of proportion, i.e. it is relative. Since we have different height, there is not benchmark measurement in inches or cm to define what is a long waist and what is considered a short waist.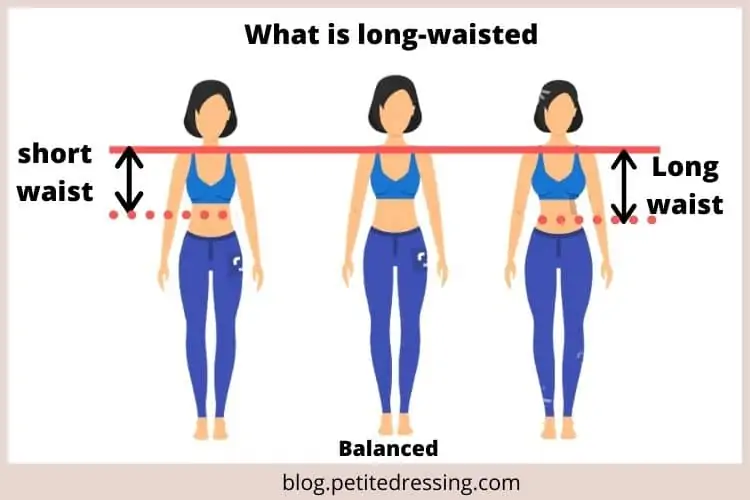 Having a longer waist sometimes is used interchangeably with having a long torso. However, they are not exactly the same concept. Having a longer waist means your waistline sits lower, which implies your legs are shorter and therefore your torso is longer. However, long waist is not the only reason that leads to a long torso.
Some women may have a higher natural waist, i.e., short-waisted, but they may have a long rise, which can still cause their torso to look long. Rise is the measurement between your waist and your crotch.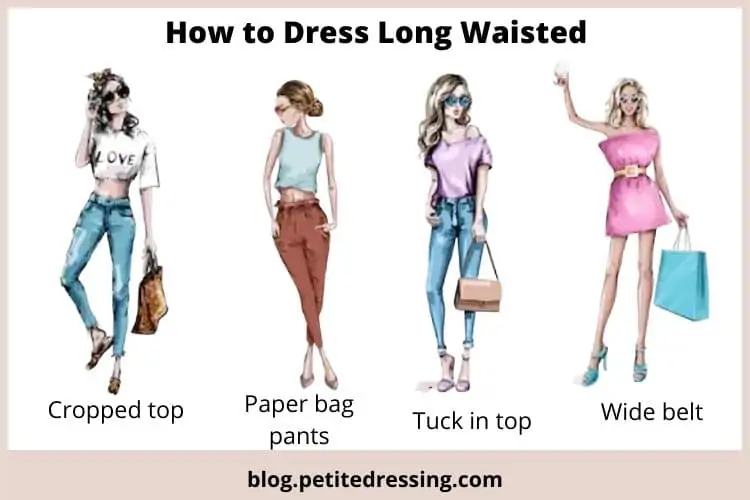 Styling Goals
If you have a long waist, it is important to dress to create the illusion of a higher waistline and make your legs appear longer.
You should wear crop length jackets or tops to visually shorten your torso and wear high waisted pants or skirts to extend your leg length.
The most flattering clothes for long-waisted women are one piece such as a dress, jumpsuit or romper, because they will make it less obvious where your torso ends and your legs begin.
If you are wearing separates, you should avoid high contrast tops and bottoms because such combination will draw attention to your long waist and short legs.
Instead, wear a blouse with a skirt in similar colors to make your long torso less obvious.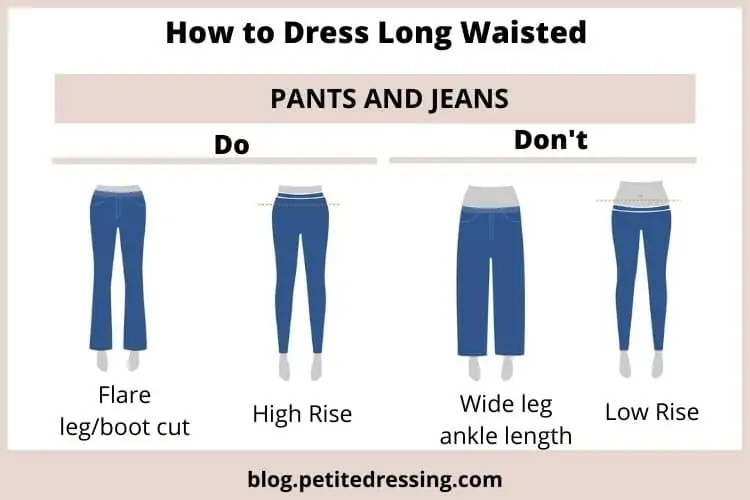 Having long waist or short waist is a vertical body proportion, and it can happen to any body type. Certain body types, such as the pear shape, tend to have more of a long waist, while the hourglass shape tend to have more short waist. Long or short waist also has nothing to do with your height. Someone can be tall with a long waist, just as someone can be petite (under 5'4″) and is still long waisted.
Regardless of your height or body type, here is how you can dress to balance out the impression of long waist and short legs.
Wear High Waisted Pants or Jeans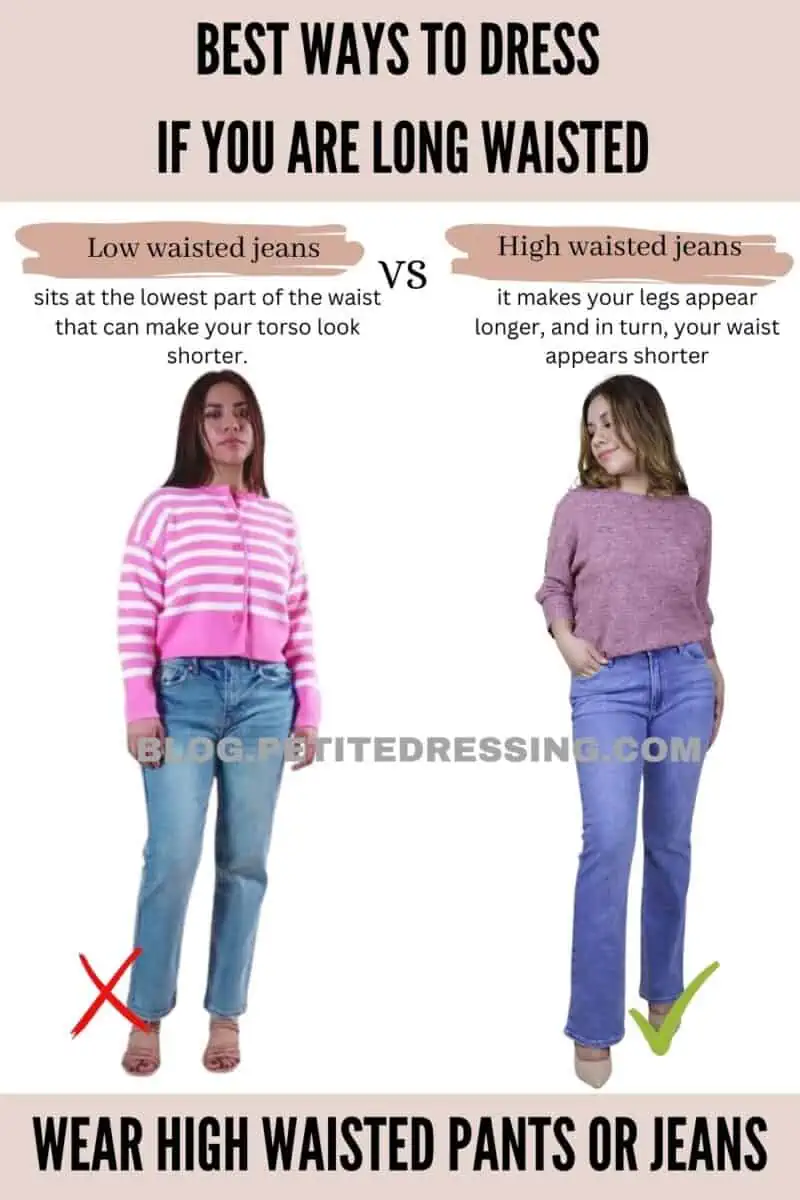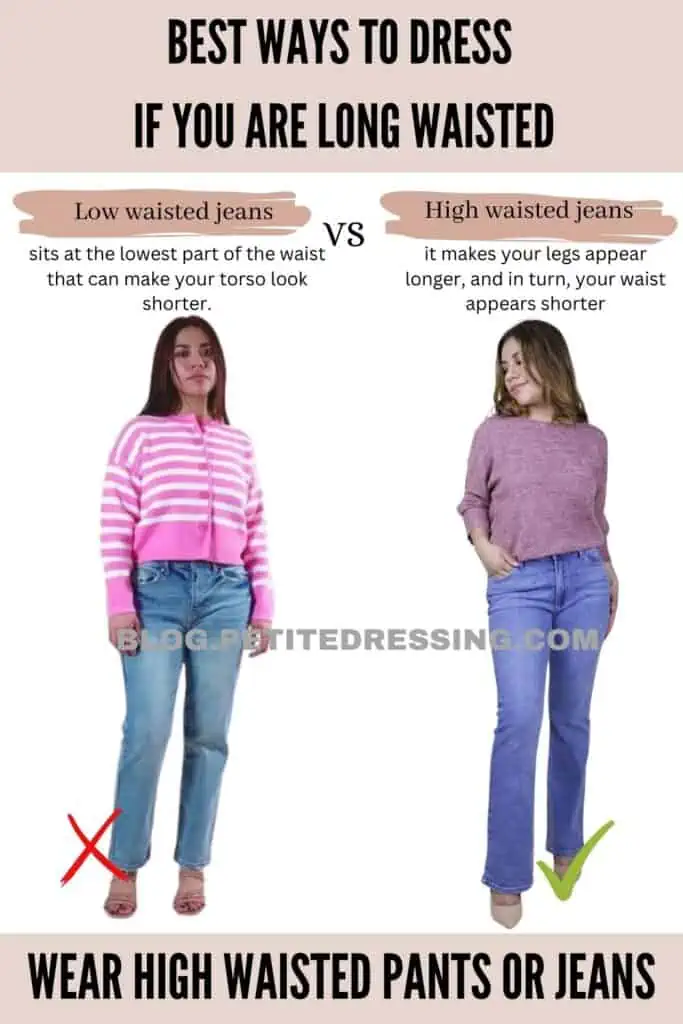 High-waisted anything is a must for anyone who is long-waisted. Because high-waisted bottoms sit higher up on your body, it makes your legs appear longer, and in turn, your waist appears shorter. Low-rise jeans are a major don't for long waists, as they will make your torso look even longer.
There are many different styles of high waisted jeans such as paper bag, Mom jeans or skinny jeans. No matter which style you go with, as long as the waist goes higher than your natural waist, they can make your torso look shorter.
Wear Vertical Prints or Patterns in Bottoms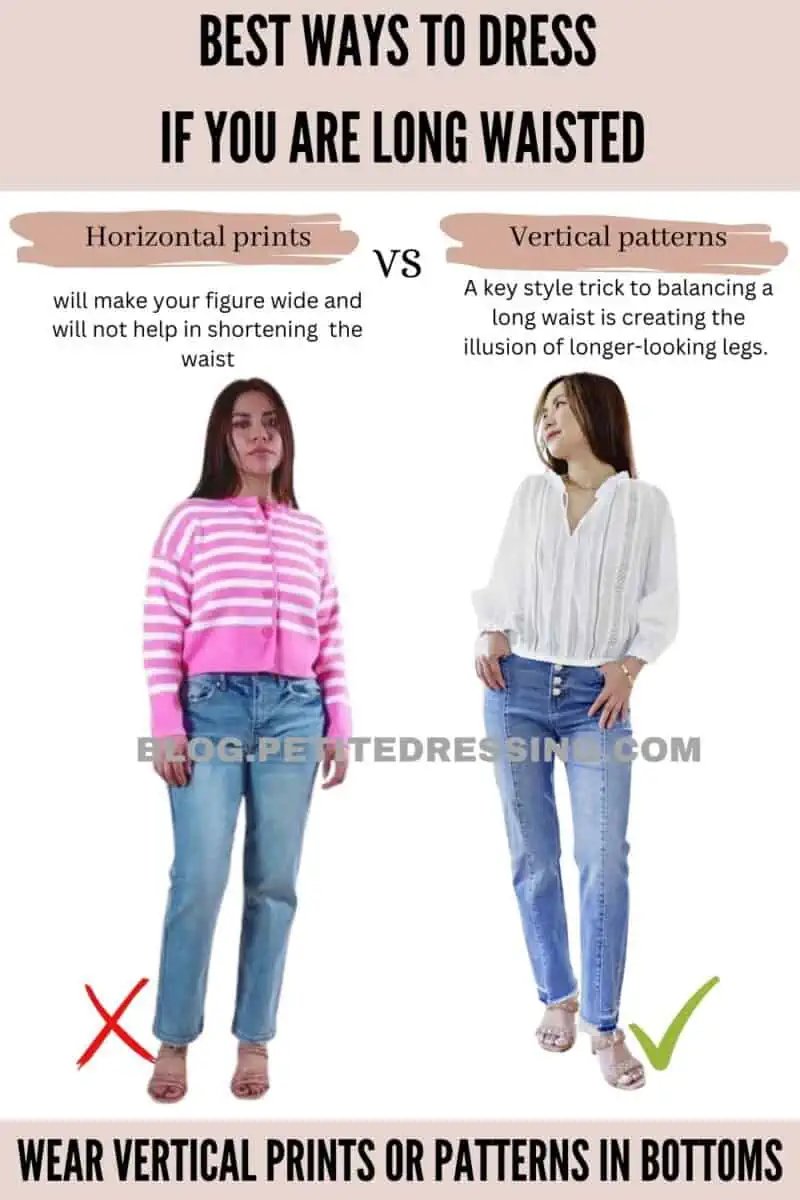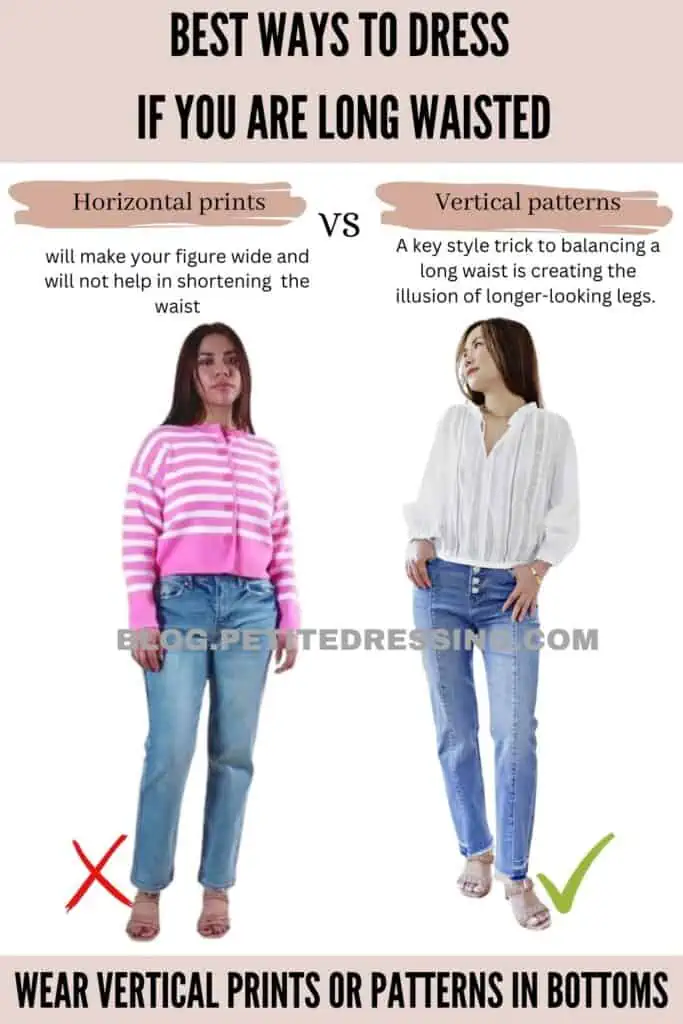 A key style trick to balancing a long waist is creating the illusion of longer-looking legs.
Vertical lines have long been known to add length to the body, which is why they're ideal to wear on the bottom half of your body when you're long-waisted.
Choose Shorter Jackets
If you have a longer waist, it is critical to play with proportions by wearing shorter jackets.
Any jacket that lays above your hip or higher is considered short.
Wearing a short jacket will not only create the impression of a shorter torso, but it also draws the eye upward, which will make your waist appear higher up on your body.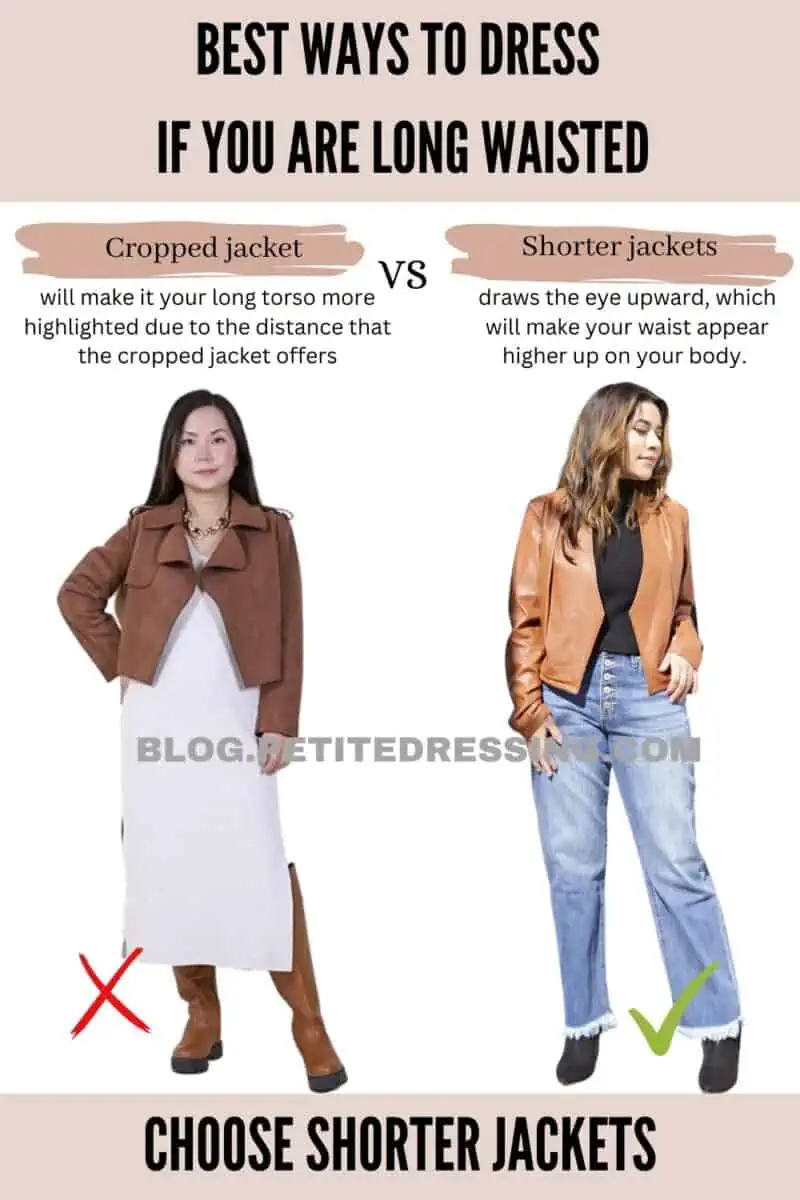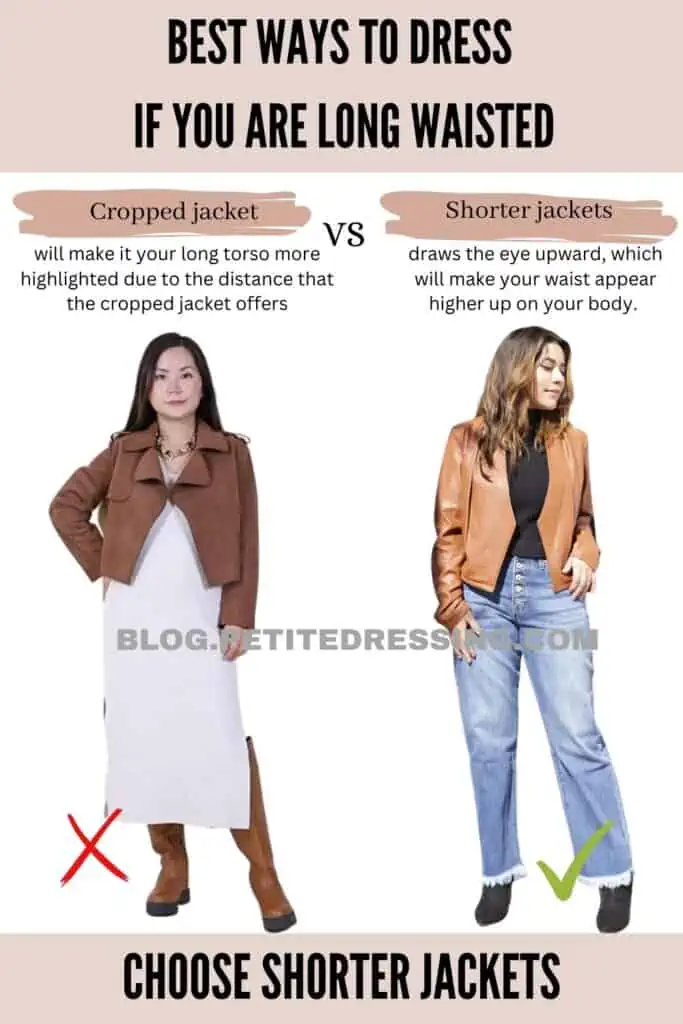 Monochromatic Dressing
Monochromatic colors refer to colors from the same scheme, and it does not necessarily mean the same color.Dressing in similar color is flattering for many body types, long-waisted included.
Monochromatic outfits instantly create one straight and long line down the body that elongates the entire body. In addition, the body isn't separated with contrasting colors which help to create the look of more balanced proportions.
This is one of the best ways to dress to flatter a long-waisted body type because it does not emphasize where your torso end and where your legs begin.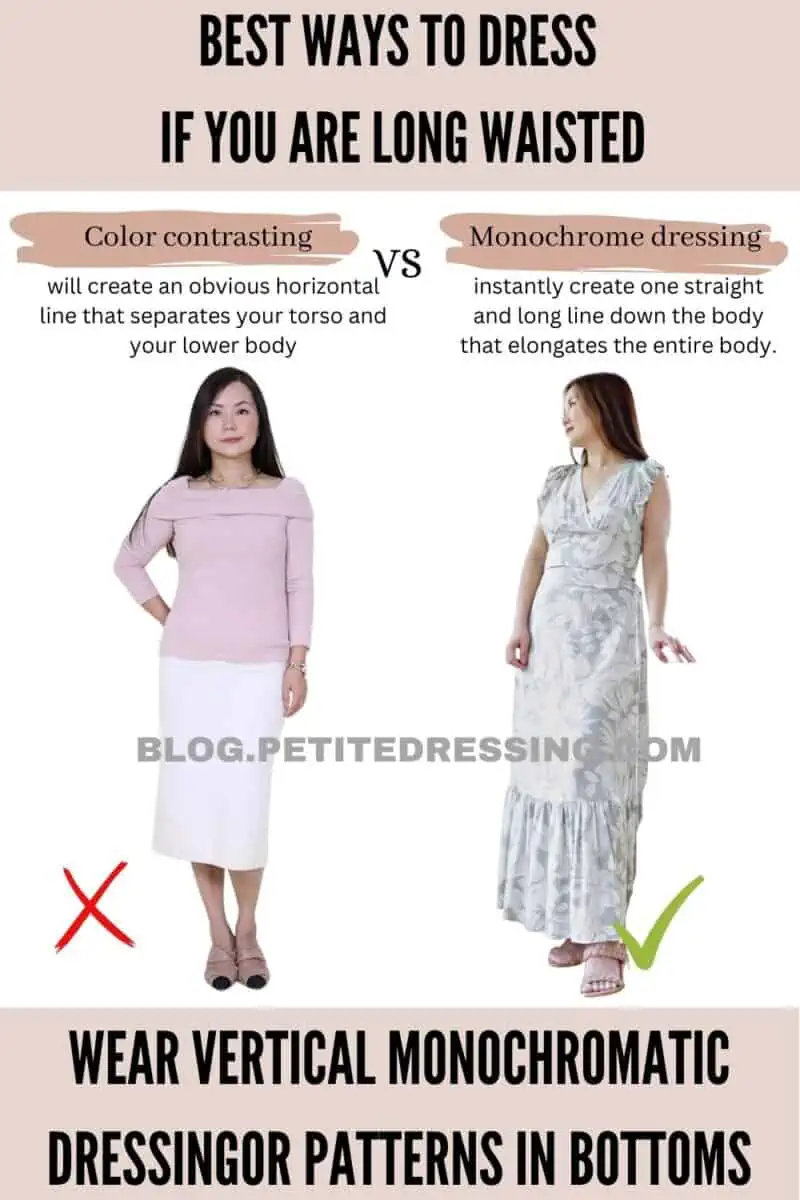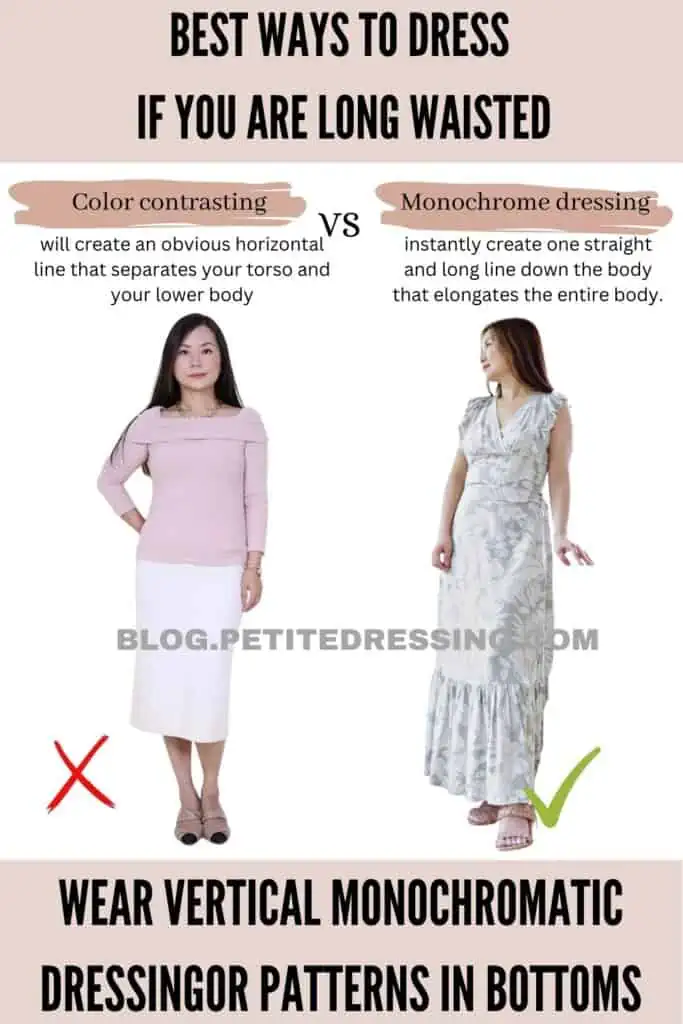 Wear a Wide Belt
Taking up space with clothing around your waist can help to shorten a long waistline. Wide belts take up a good portion of the torso, cutting off the naturally long area to give it a more balanced effect. Not to mention, wearing a wide belt high on the waist makes your legs appear longer.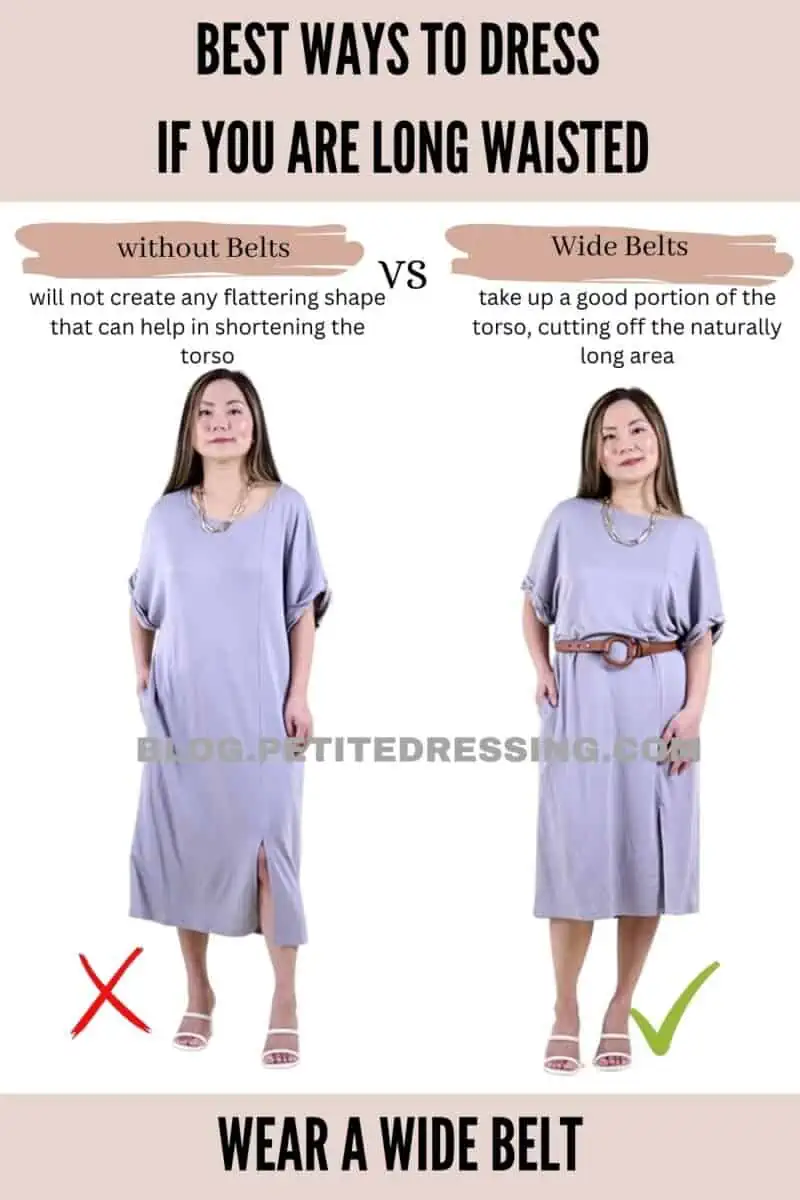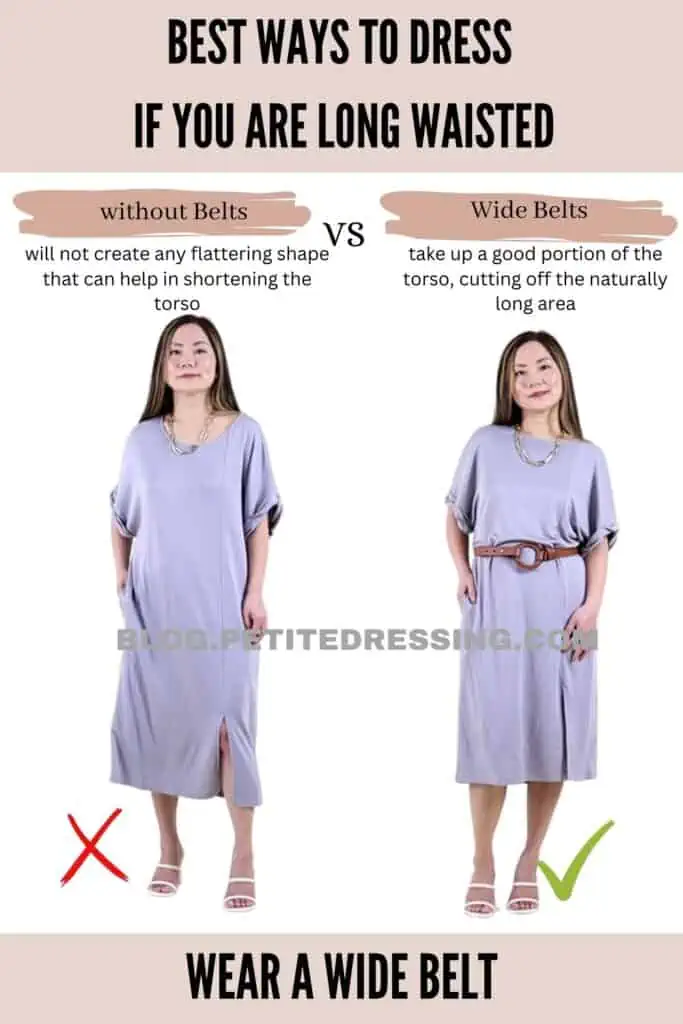 Wear Paper Bag Designs
Not just a popular trend, paper bag designs are great for women with long waists. Due to the extremely defined waistline that's often a high-rise, this silhouette is a must-have.Not only does it create an incredibly defined waistline, but it does also so higher up on the body to lengthen your legs and shorten your torso.
The caveat is you should be careful with the paper bag pants if you happen to be a curvy girl with a midriff concern. The reason is the waist design of the paper bag is meant to draw a lot of attention to your mid section. If you happen to be concerned about hiding your love handles, then you should use caution.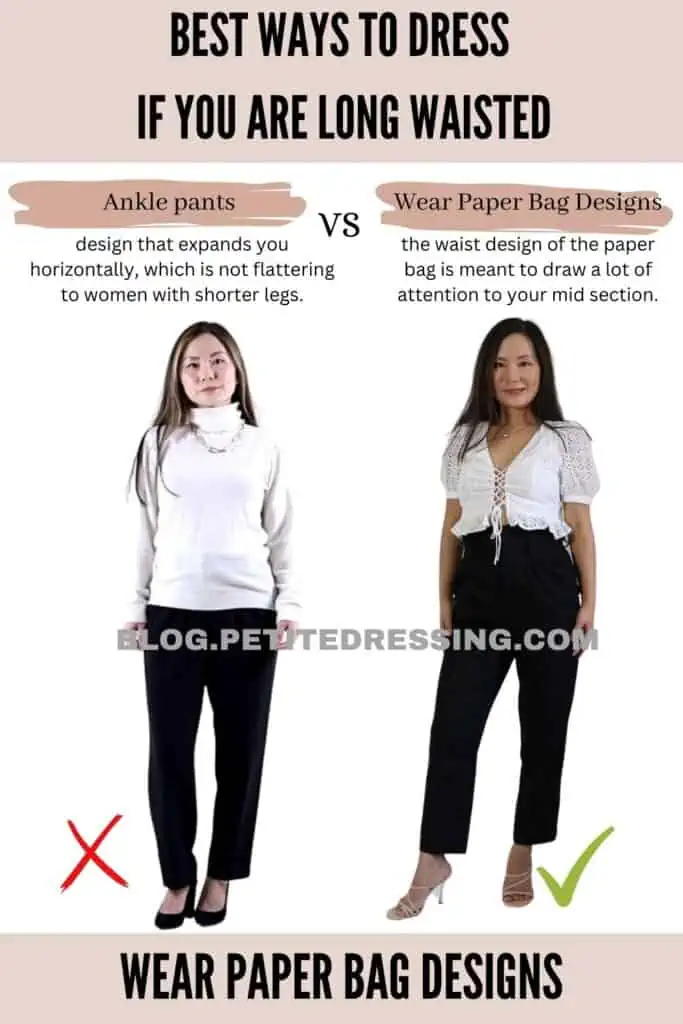 Color Match Belts with Pants or Skirts
Contrasting color belts can draw the eye to a long waist. Instead, choose belts that match the color of the bottoms you are wearing. This helps to keep the waist area in a monochromatic color scheme and gives the illusion of longer legs.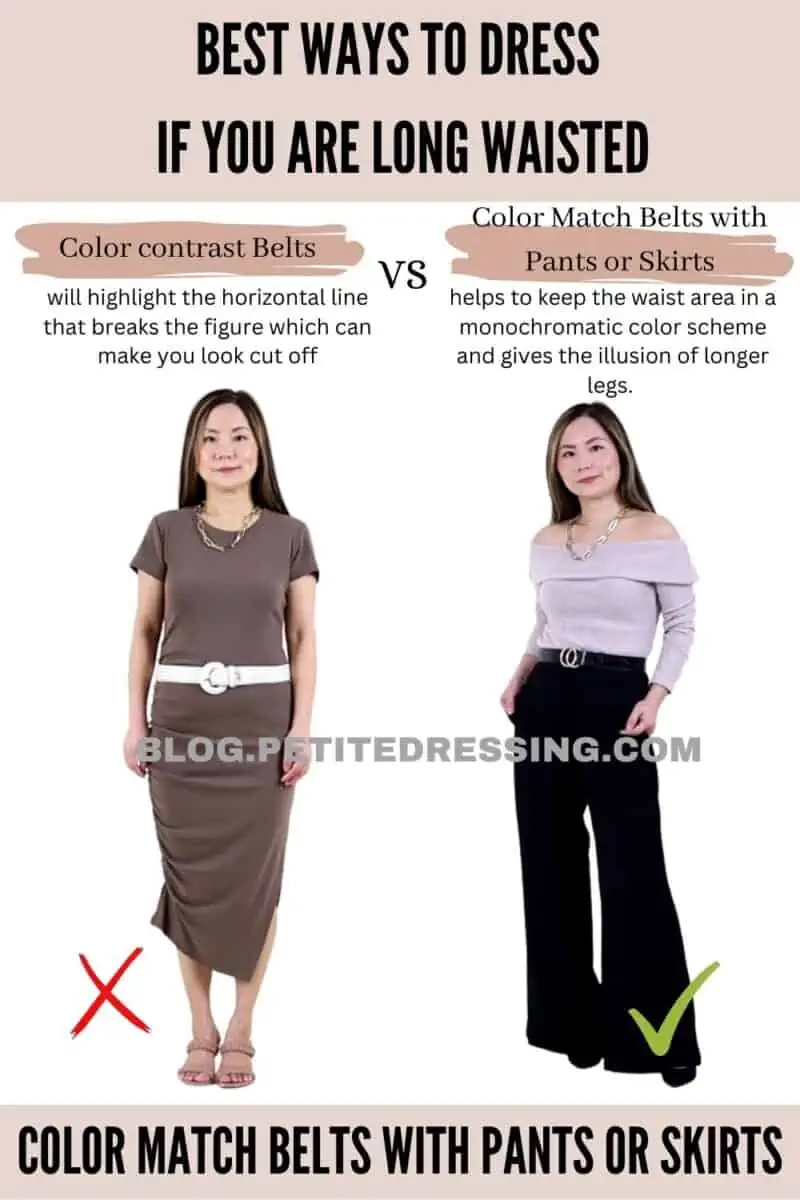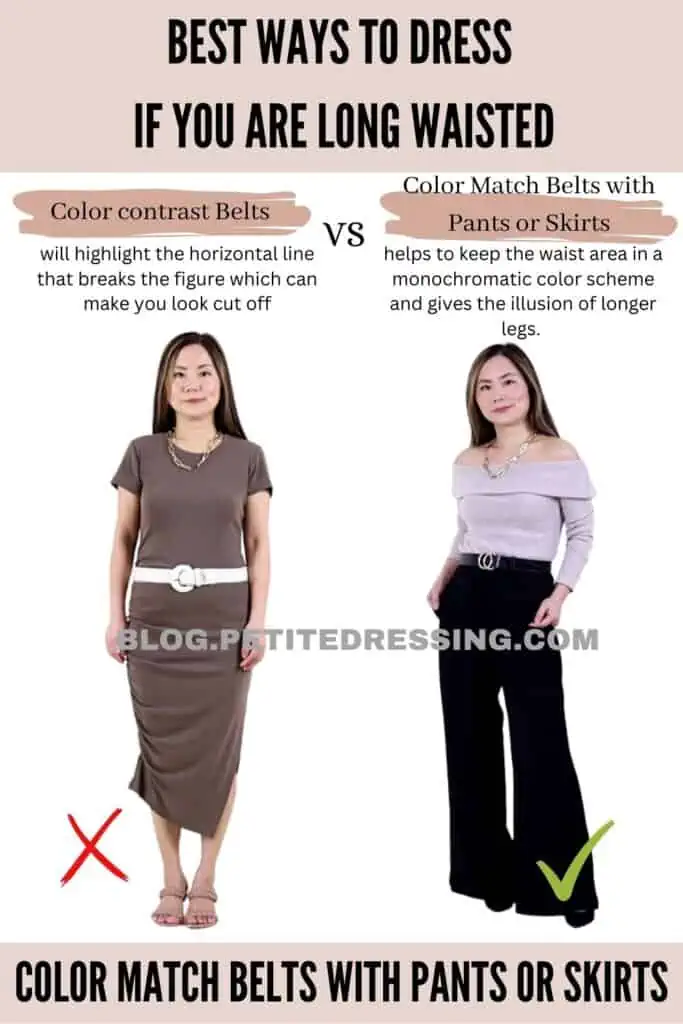 Tuck in Your Tops
A subtle trick to making your waist look shorter is simply tucking in your shirt. It's a small thing to bring the emphasis of your waist higher on the body to give your legs a longer aesthetic.
Many long-waisted women struggle to find tops that are the right length, tucking in is a way to make it work even if a shirt is shorter than it's supposed to fit.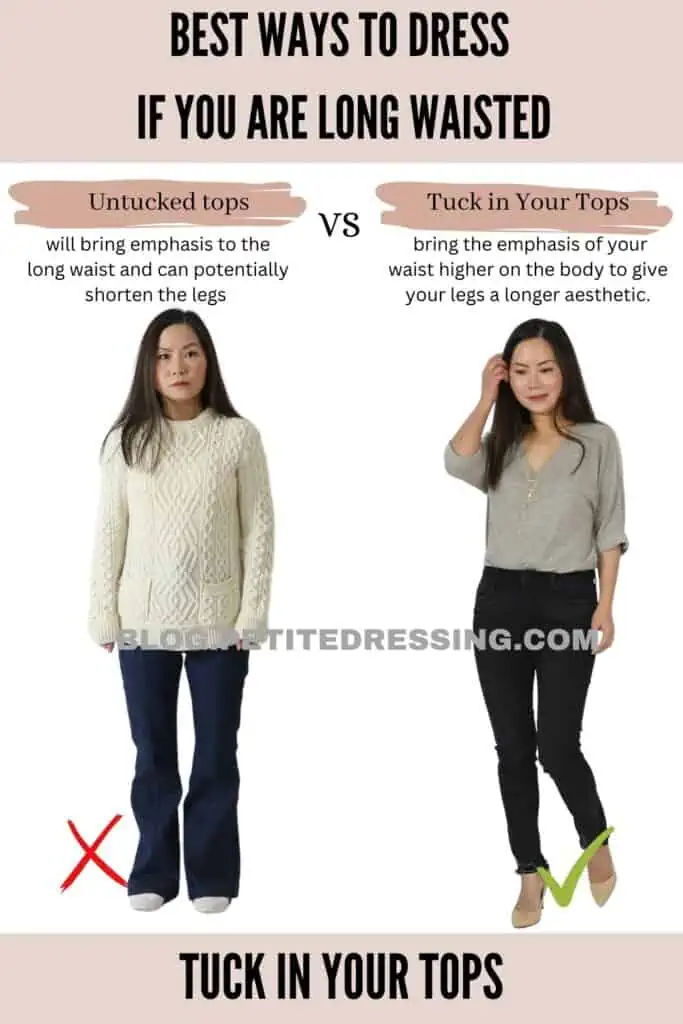 Avoid Ankle Length Pants
Because long waist means shorter legs, dressing to make legs appear longer is crucial. Ankle length pants cut off the leg, causing it to look even shorter. This is why it's best to stick with pants that sit lower on the leg so you achieve a balanced shape.
It is especially important for women with long waist to stay away from ankle length pants with wide legs. The reason is wide leg is a design that expands you horizontally, which is not flattering to women with shorter legs. They add too much bulkiness to your bottom half, and visually can you your legs appear even shorter.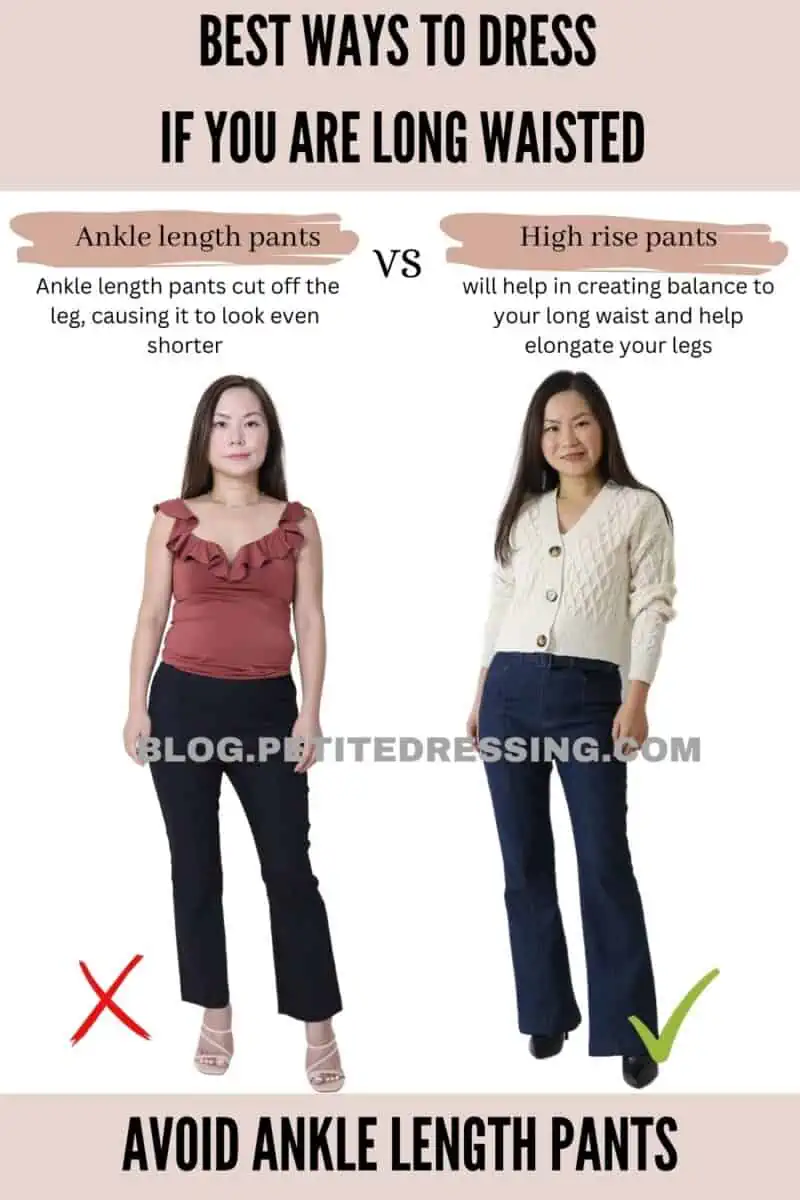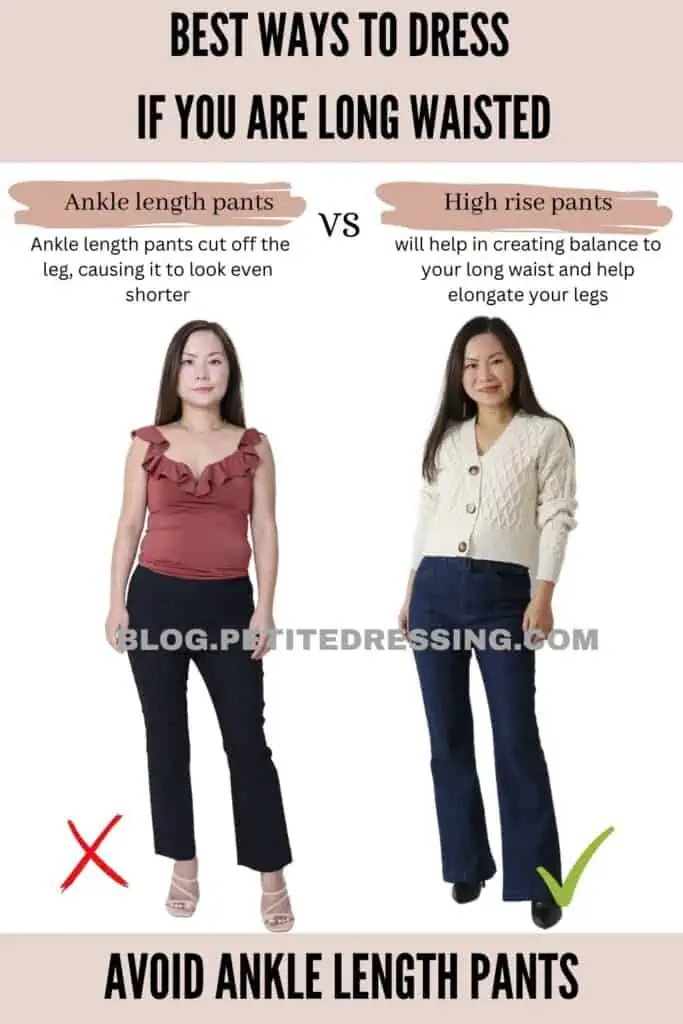 Avoid Shoes with Ankle Straps
Ankle straps on shoes function just like ankle-length pants when worn, they shorten legs. Not only that, when there is a lot of attention on the bottom half of the body (as ankle straps provide) it draws the eye down visually shortening legs.
Skip the ankle strap and opt for shoes with a pointed toe or show the top of your foot to add more length to your legs.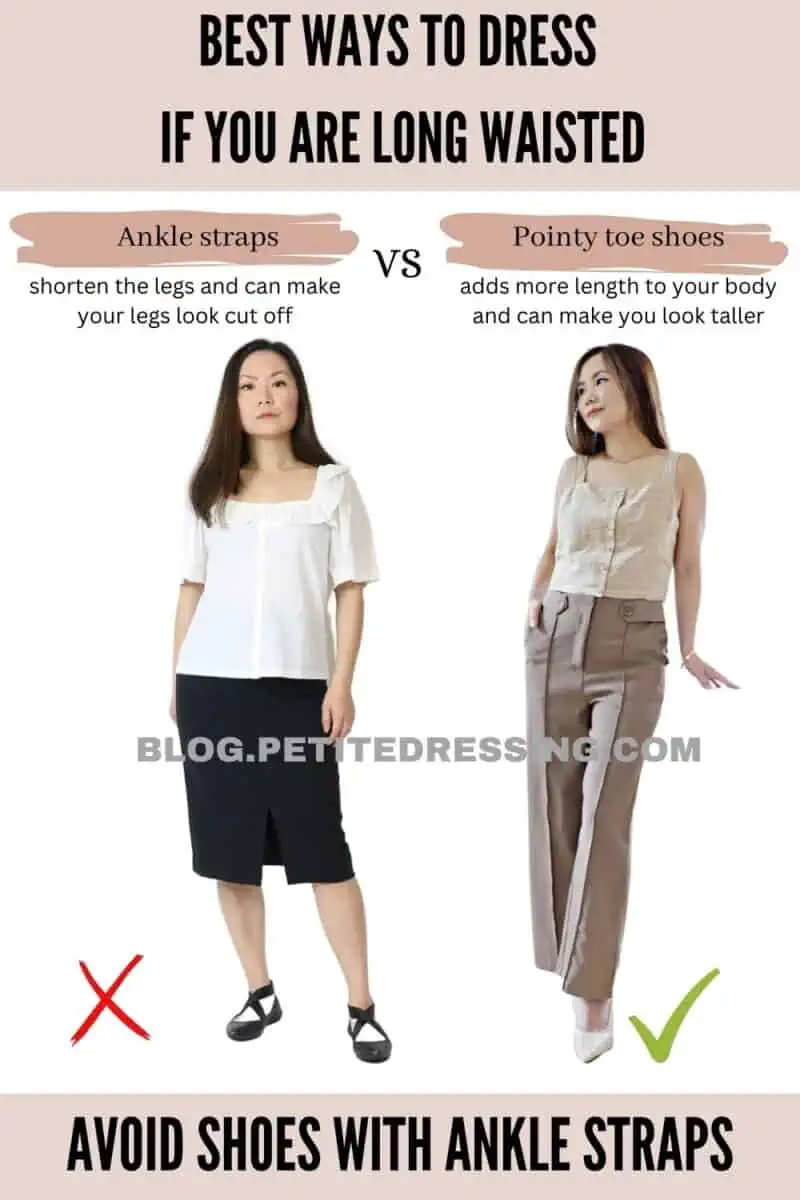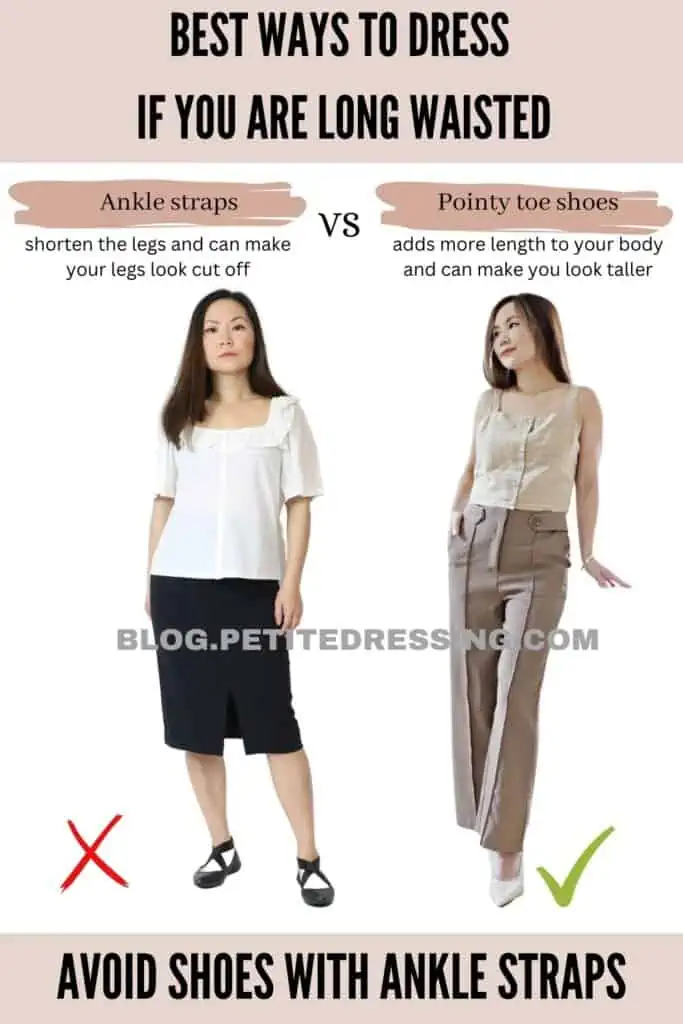 Avoid Low Rise Pants
Low rise pants will make your legs look quite short, and may even make them appear larger. They're a major don't for long waisted women for this reason. Instead, stick with mid to high-rise pants to elevate where it looks like your waist begins on your body.
Besides, if you happen to have a heavier mid section, wearing low rise pants will only make it look like your belly fat is spilling over your pants. They are a poor choice for anyone who want their body and legs to look longer and leaner.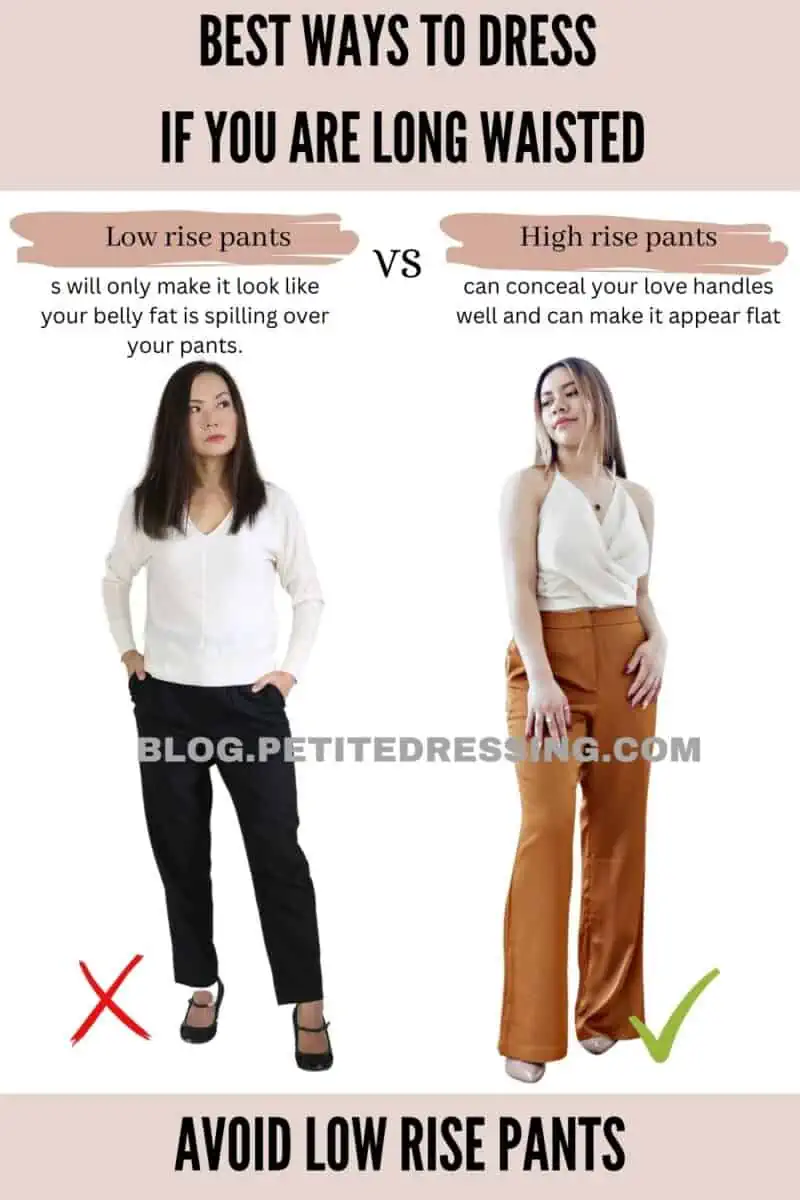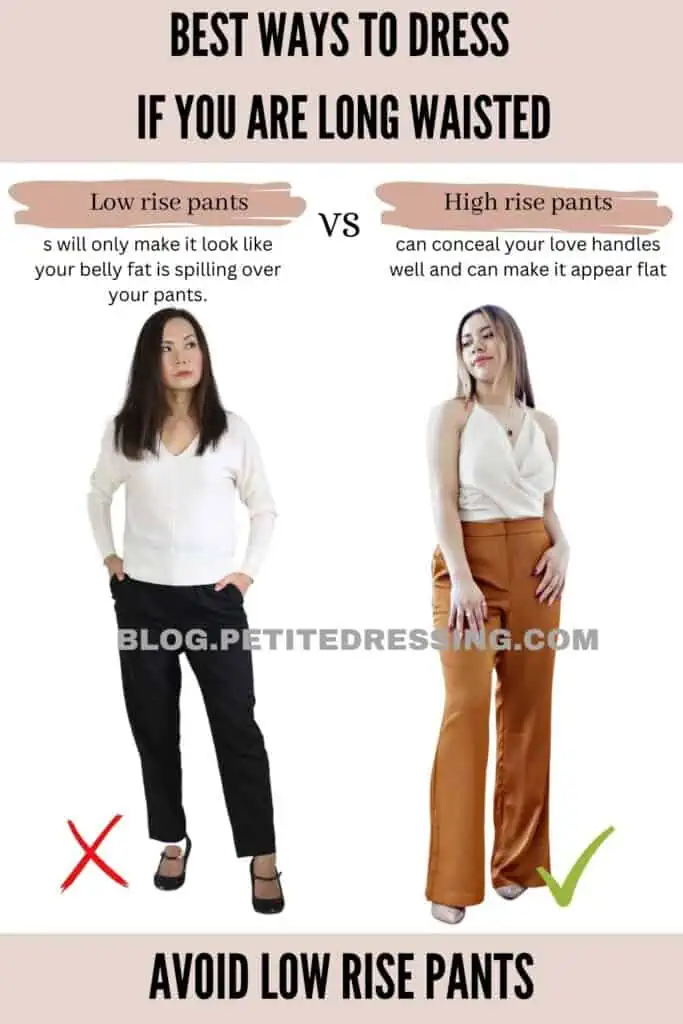 Avoid Drop Waist Dresses
Any garment that sits low on your waist is something to stay away from as a woman with a long torso. The lower the waist, the longer the waist looks.
The drop waist dress typically has a low waistband which usually falls more in line with the hips than at the natural level of the waist. This style of the dress gives the illusion of lengthening the torso and tends to have a width at the hips.
That is exactly the opposite of what you want to achieve if you have a longer waist.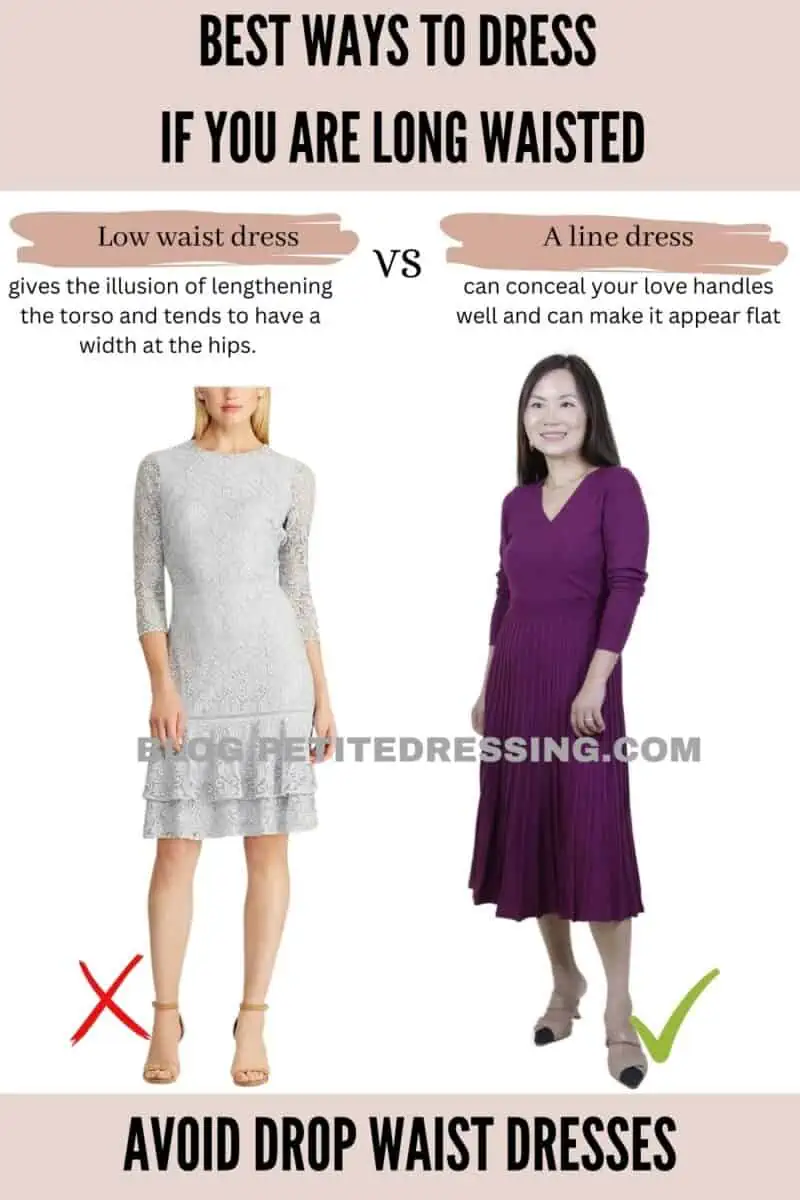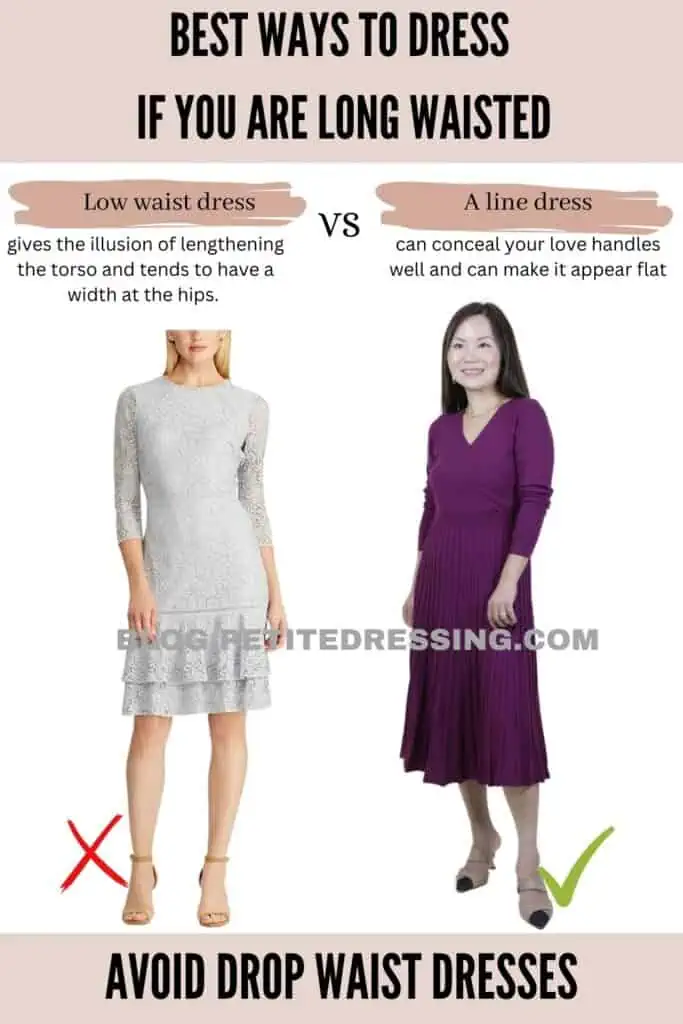 Rather than a drop waist dress, choose silhouettes that have a defined waistline that rests above your natural waist. Empire and wrap dresses are great options to try.