Are you short and do you have rectangle body type? If you are wondering what is the best way to dress the petite rectangle body shape, this is the right place for you.
First, I am petite as well. I am 5'2″, and I totally understand how frustrating it is to find petite size clothing that fits a shorter frame. Whatever your body type is, being petite just makes things a bit harder.
Now, if you are petite and a rectangle shape, then there is more you need to know in order to dress for your body type.
First of all, let's take a close look at the characters of rectangle body type (also known as the banana shape).
What is a Petite Rectangle Body Shape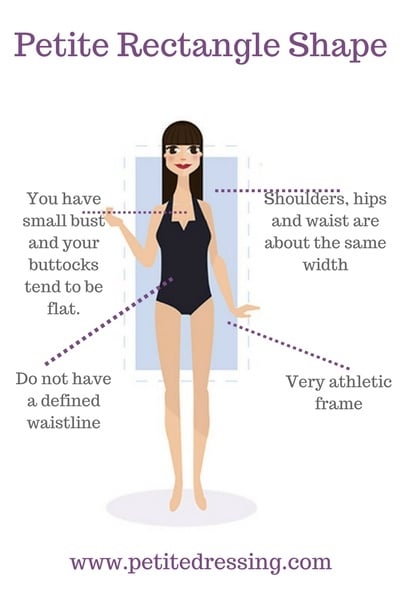 The following is the common traits of the petite rectangle shape. See how many of below applies to you.
Your bust and shoulders are about the same width as your hip-line.
You have a small bust size.
You don't have much waist definition naturally.
You've got a small frame in general, with little or no curves.
You might look shorter and heavier than you really are.
You have an athletic build.
You tend to have a flatter bum
How many of the above facts are you? If your answer is more than half, then you probably have a petite rectangle figure.
I have summarized the key points in this video on how to dress rectangle body type overall, regardless of your height. After you watch it, I highly recommend you also read this full article specifically on how to dress the petite rectangle.
Celebrities with Petite Rectangle Body Shape
There is still plenty of petite actresses with rectangle shaped body, here is the some of the most famous of Hollywood.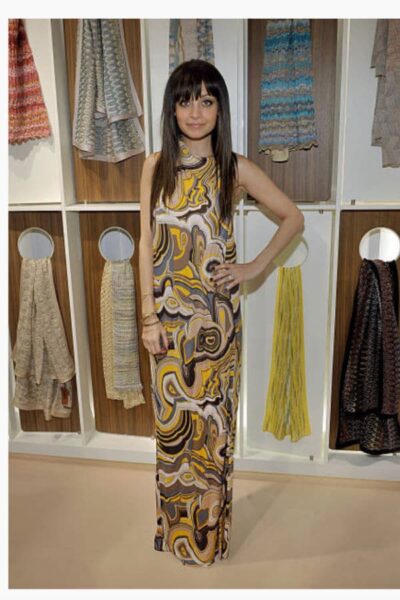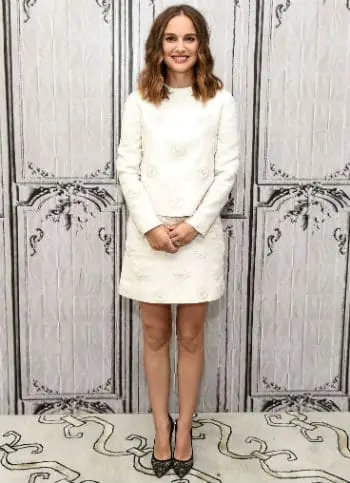 As I mentioned, rectangles are the classic model shape. You can tell both Nicole Richie and Natalie Portman has the typical rectangle shape that is straight up and down with slim hips, small bum and bust and not much in the way of a waist.
Strengths and Weaknesses of the Petite Rectangle Shape
The rectangle shape is known as the shape of the supermodels. A rectangle body shape can come with wide shoulders and chunky calves, which means you can look fairly athletic or masculine.
Even though you are under 5'4″, that still may apply to you. You may have longer arms and longer legs relative to your height, even though you are petite.
Regardless of your height, the rectangle shape is known to be the easiest to dress. The clothing industry makes clothes according to flat body type like yours, not for curvier body types like the hourglass shape or the apple shape.
That is a big plus, because it means it's hard to find something that you can't wear.
Additionally, if you are a petite rectangle body shape, your curves are evenly proportioned. One of the positive thing on being a rectangle shape is that you gain weight everywhere and lose it everywhere.
Your weakness?
Overall, you may come across as "straight up and down" or "boyish" type of body, which lacks curves.
You may have noticed that you do not have an obvious waistline, and that does not necessarily mean you need to lose a lot of weight. In fact, slim/athletic rectangular figure have small bone structures, with lower than average body fat percentage.
Therefore, petite women with rectangle figure normally do not need to lose weight.
Even if you do lose some weight, you probably still will not see much curves around your waist either. It is because of your wide waist you might appear heavier on top than you really are and even if your stomach is flat.
How to Dress Petite Rectangle Shape
If you are already petite, with the rectangle figure, you might look shorter and/or heavier than you really are. If you aren't very curvy (most rectangle figures aren't), your focus should be to create curves (in the right places).
Your main goal should be to create a waist on your figure and add more width to your upper and lower part – transforming your body into a proportionate hourglass shape.
You should accentuate your best features- the overall athletic figure is your valuable assets! Emphasize a pair of lean legs and toned shoulders.
For our petite rectangle body shaped beauties, of course you should also aim to look taller and make your proportion look better, in addition to creating curves in your figure.
Best Dresses for Petite Rectangle Shape
First, I want to mention that shorter length dresses always look great on petite women in general. The best length is 3 inches above your knees.
Especially with petite rectangle shape women who most likely have long and lean legs, you should not hesitate to show off those assets through mini dresses and high heels.
A line dresses
A line dresses, especially those with self-belts that you can cinch to create waistline definition for the rectangle shaped women.
Color blocking dresses
This is the easy way for the rectangle body type to add interesting shape to your body. It works on the rectangle body type regardless of your height. If you are petite, a shorter length will have double benefit by also making you look taller and legs look (even) longer.
Belted dress
The belted dress defines your waistline, which is exactly what you need. Because you are petite, you need to make sure the belt sits higher than your natural waist, so that it can create the illusion of shorter torso and longer legs, which is the most ideal proporiton.
Best Skirts for Petite Rectangle Shape
As I already mentioned, shorter length in general works great with the petite rectangle shape, which applies to not only dresses, but also skirts.
In addition, your focus with skirts should be to add interesting shapes and volume to your body. Focus on girly & flirty skirts that will give you a feminine shape.
Flounce skirt
In order to create curves for the rectangle shape, you need to wear skirts that add drama to your body. The best choice for you is the flounce skirt, the most feminine silhouette.
Aline skirt
The aline shape works great on the rectangle body, because it flares out which adds an interesting shape to balance out your straight up and down shape.
Belted skirt
The belted skirt is ideal for the petite rectangle shape women to define their waistline. Because you don't naturally have the waist, wear a belted skirt will easily achieve that for you.
Pencil skirt?
Since you have straight up and down figure already, generally we do not recommend a plain straight pencil skirts to you.
That doesn't mean you should completely stay away from pencil skirts.
Pencil skirts that are stitched down at the side seams add curves, which could be a good choice for you.
Another way to create the illusion of a curvier figure is to peg your pencil skirts. Find a good tailor who can make this easy adjustment by narrowing the skirt at the hem. Make sure the adjustment is done at the right length, otherwise you may not be able to walk in your skirt because it could be too tight at the hem!
If you are petite and slender, pegged skirt works best for you.
Best Jeans for Petite Rectangle Shape
If you have rectangular figure, you probably have amazing legs. Your athletic build allows you to wear boyish clothes as well as a wide range of feminine styles, so you have many choices when it comes to jeans.
Flare jeans
The best jeans for petite women with rectangle shape is the flare legs.
First, flare jeans adds shape, so it breaks up the straight up and down shape of your natural body.
Additionally, flare jeans is the best leg shape if you want to make your legs look longer.
Jeans with pocket details
If you prefer more feminine style, for instance, you want your buttocks to look less flat, then the best petite jeans for you are those with pocket details.
Pockets with flaps will add extra volume and will make your butt look less flat. Slit pockets also help to give you more curves back.
Boyfriend jeans?
Boyfriend jeans might look good on you, given your athletic frame. However, for petite women, we generally do not recommend boyfriend jeans that is too loose or too big, as that will overwhelm your small body frame.