If you are 5 foot and shorter, it can be a challenge to dress your shape. I know this from first hand experience as I am 5'2″ myself, and it's never easy to find anything that fits me. Besides, I have a petite clothing line, and many of my customers are 5 foot and under.
Based on my own experience and feedback from thousands of my customers, I've put together this guide to help you look and feel your very best.
Styling Goal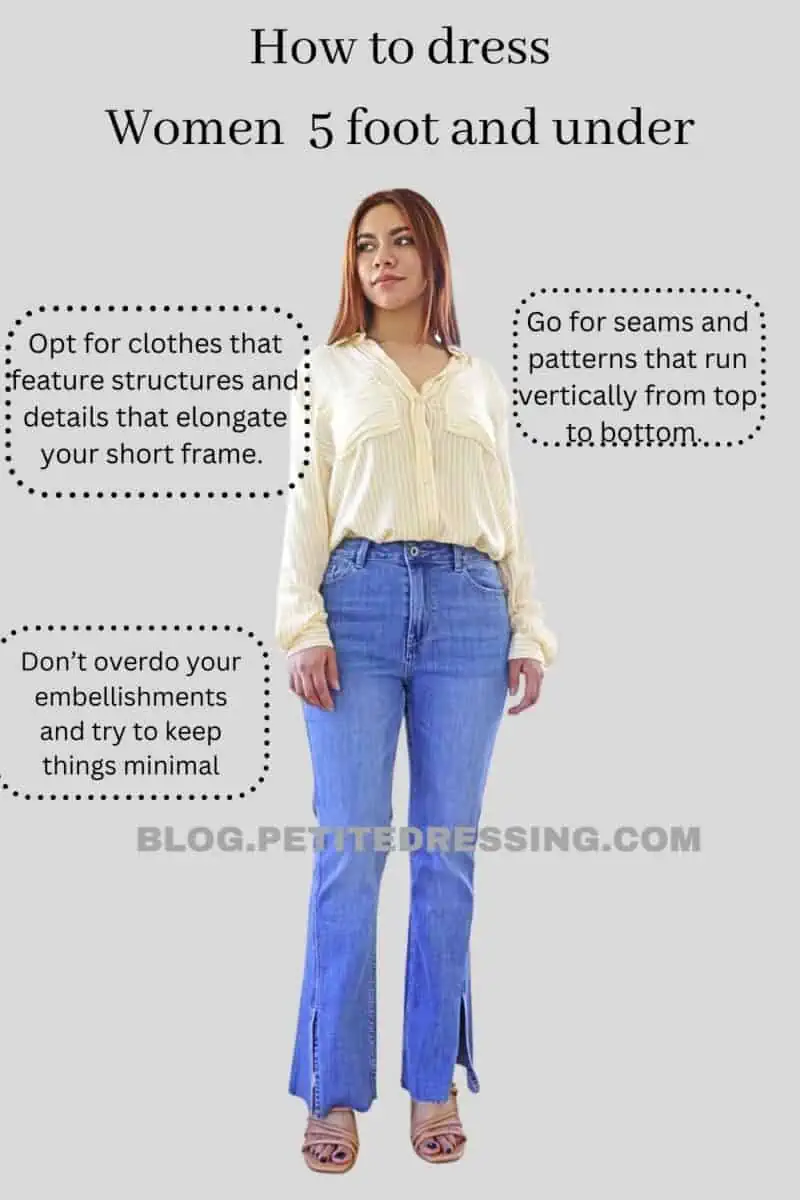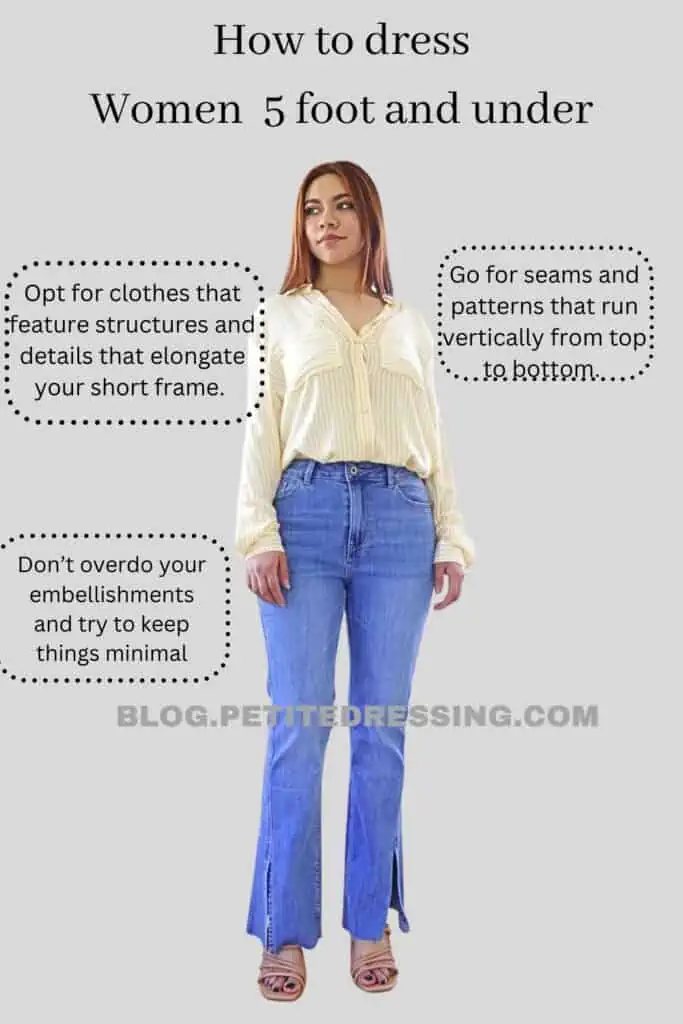 Opt for clothes that feature structures and details that elongate your short frame. Open necklines, structured fabrics, and neat vertical seams are some of the best samples of frame-elongating details.
Go for seams and patterns that run vertically from top to bottom. This gives a visual effect wherein your eyes are drawn continuously up and down to create the illusion of length.
Don't overdo your embellishments and try to keep things minimal. Steer away from details that are too bulky, baggy, or voluminous because this can cause your petite frame to be overwhelmed and therefore look shorter and wider.
Choose the length cut of your clothing pieces carefully. For tops, they shouldn't go past the hips while bottoms and dresses shouldn't go beyond the ankles because such lengths will easily drown your figure.
Now that we've already briefly discussed these styling goals that you need to weigh in, then let's now dive into the specific clothing styles that will surely flatter your height. I have broken it down to each wardrobe category so it'll be much easier and simpler!
TOPS
V-Neck and Scoop Neck Tops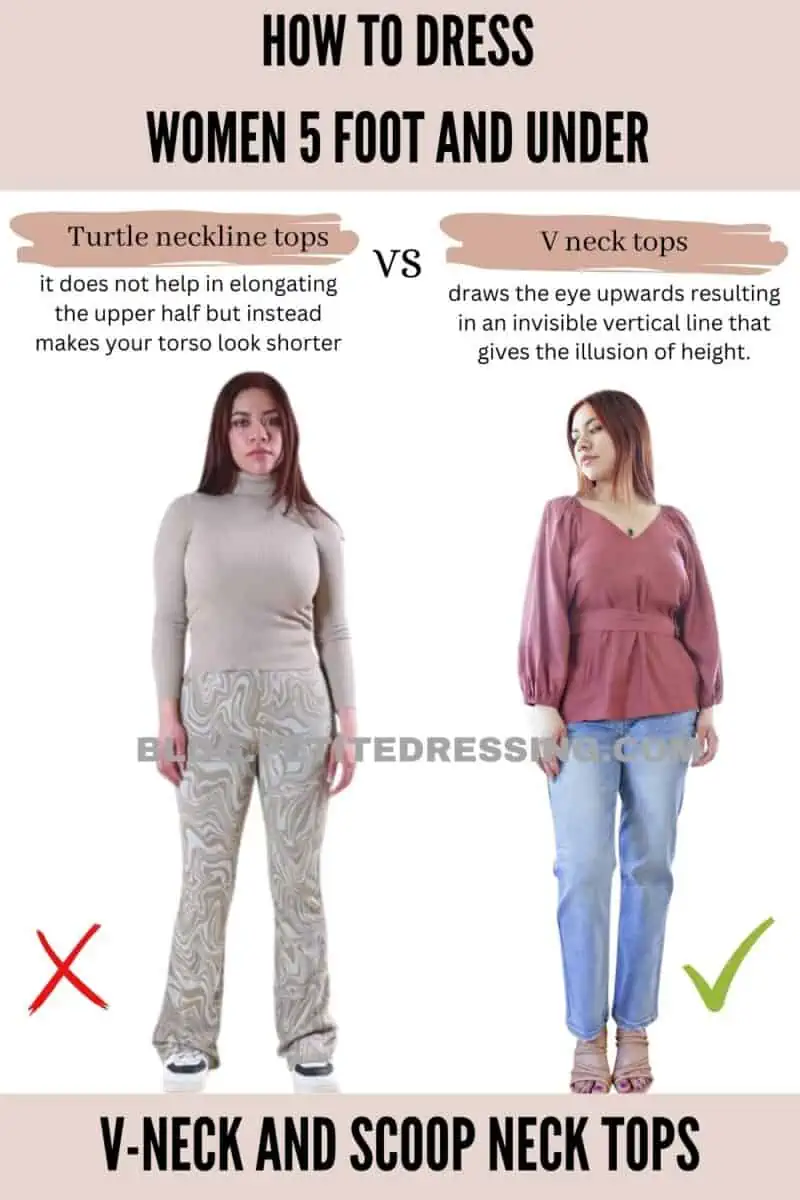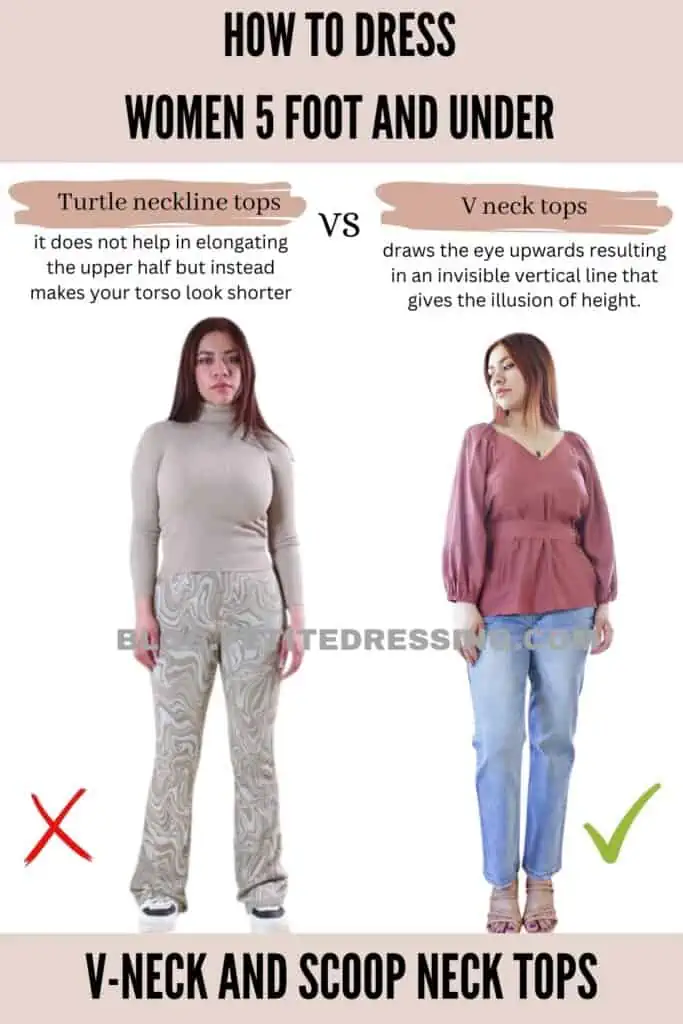 Open necklines are generally very flattering for short girls because of their ability to create an elongating effect on the neck and upper body. By exposing more skin on the upper half (neck and chest), V-neck and Scoop necklines draw the eye upwards resulting in an invisible vertical line that gives the illusion of height.
In addition to this, V-neck and scoop necklines can help balance out a shorter torso by creating the appearance of a longer neckline. This can also make the upper body appear more slender and therefore more proportionate to the rest of the body.
Crop Tops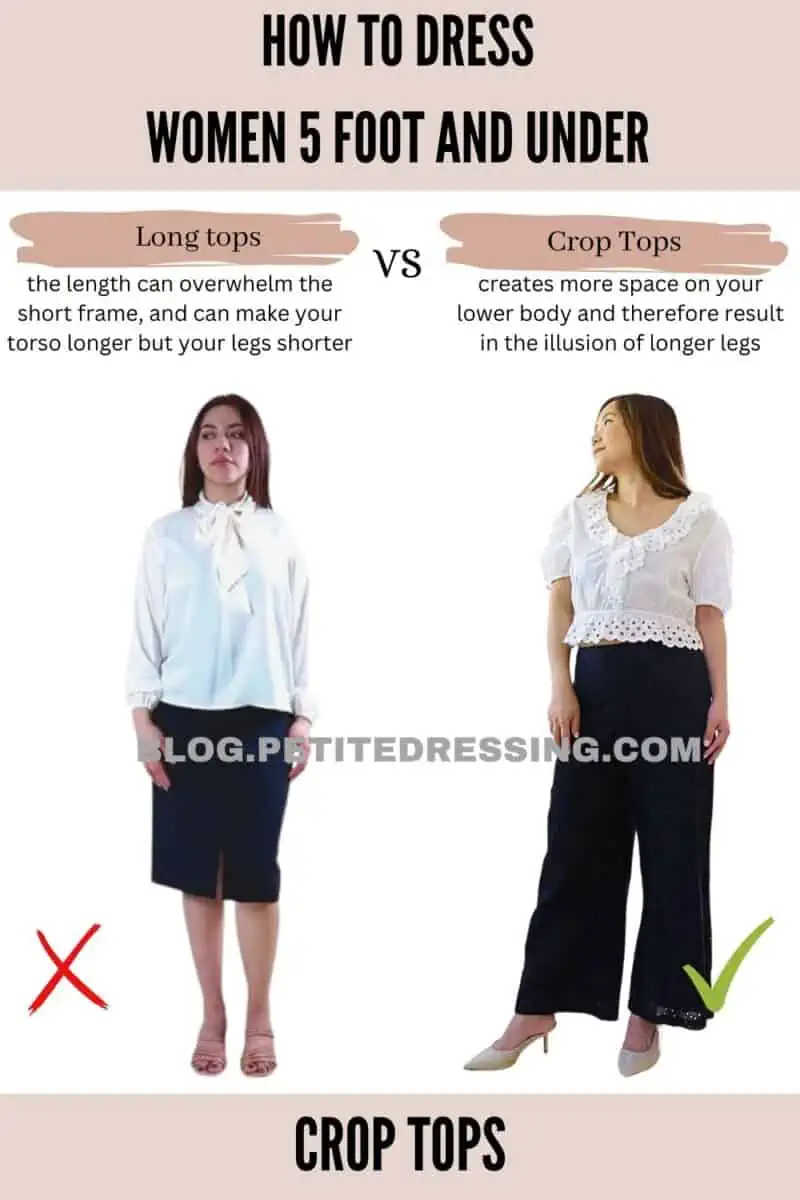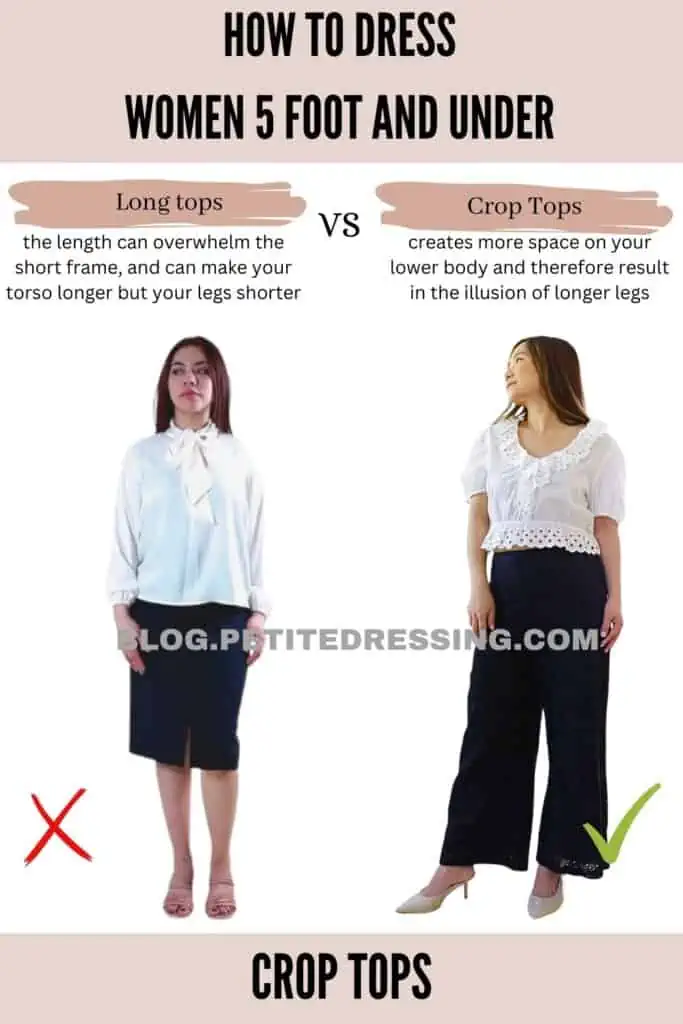 Petite girls, especially those who are around 5 feet and below will find crop tops to be very flattering! They create more space on your lower body and therefore result in the illusion of longer legs to make you look taller and more balanced.
Crop tops also draw attention to the waistline and help add definition to your waist. You can also amplify its lengthening effect by going for crop tops that feature a hem that ends at the midriff or slightly above the natural waistline, and pair them with high-waisted pants or skirts.
Peplum Tops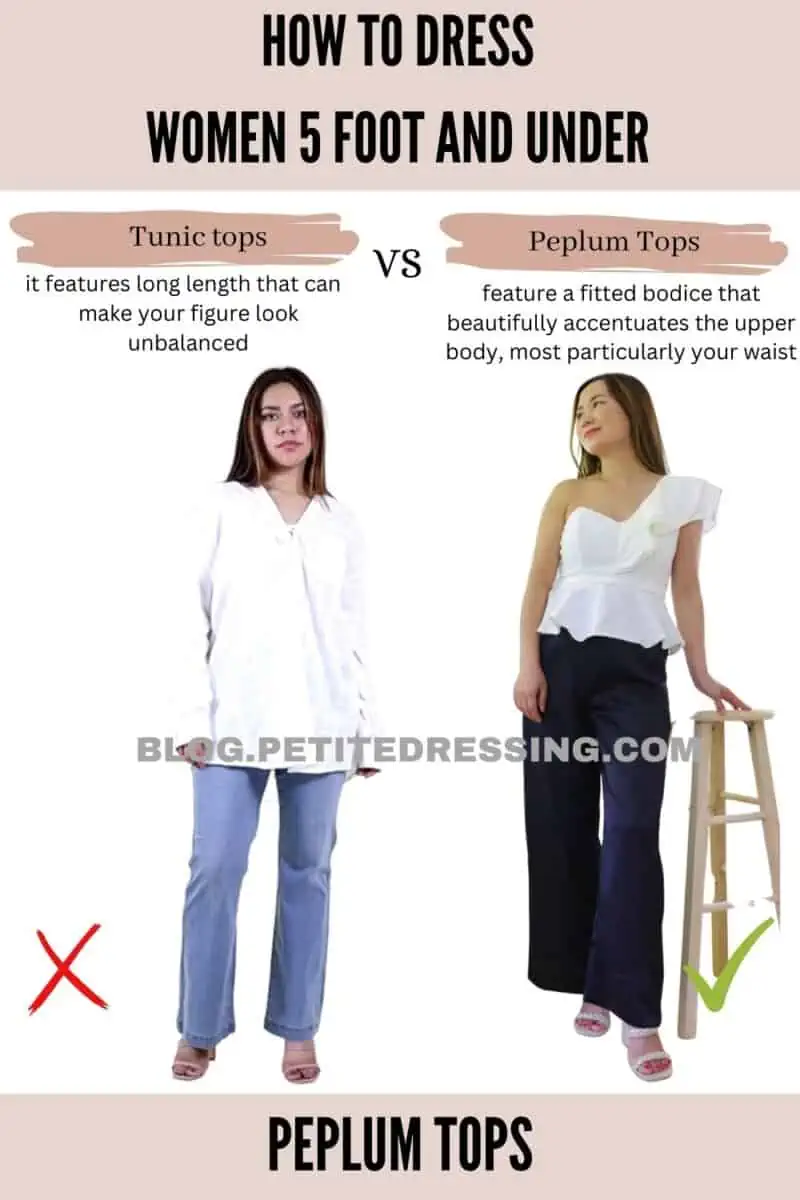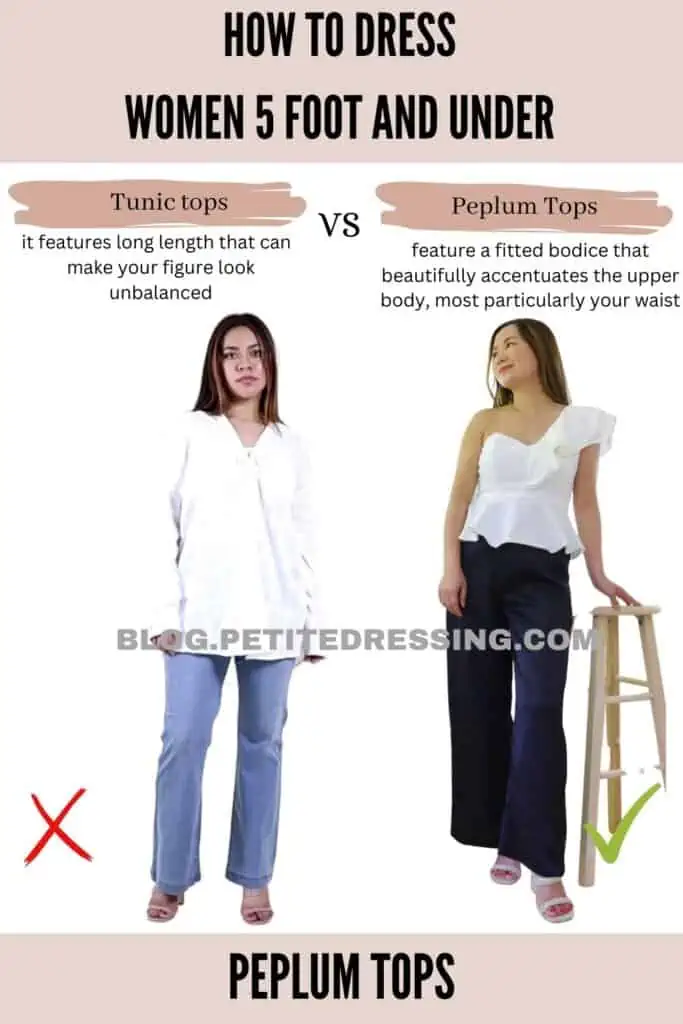 Peplum tops usually feature a fitted bodice that beautifully accentuates the upper body, most particularly your waist. This is one of the many reasons why they make a great option for women who are 5 feet and under.
Their flared silhouette not only cinches the waist but also adds depth to your overall figure for better upper and lower body balance. This creates the illusion of an elongated frame to make you appear taller, especially when paired with a form-fitting skirt or slim-fit pants.
PANTS
High-Waisted Trousers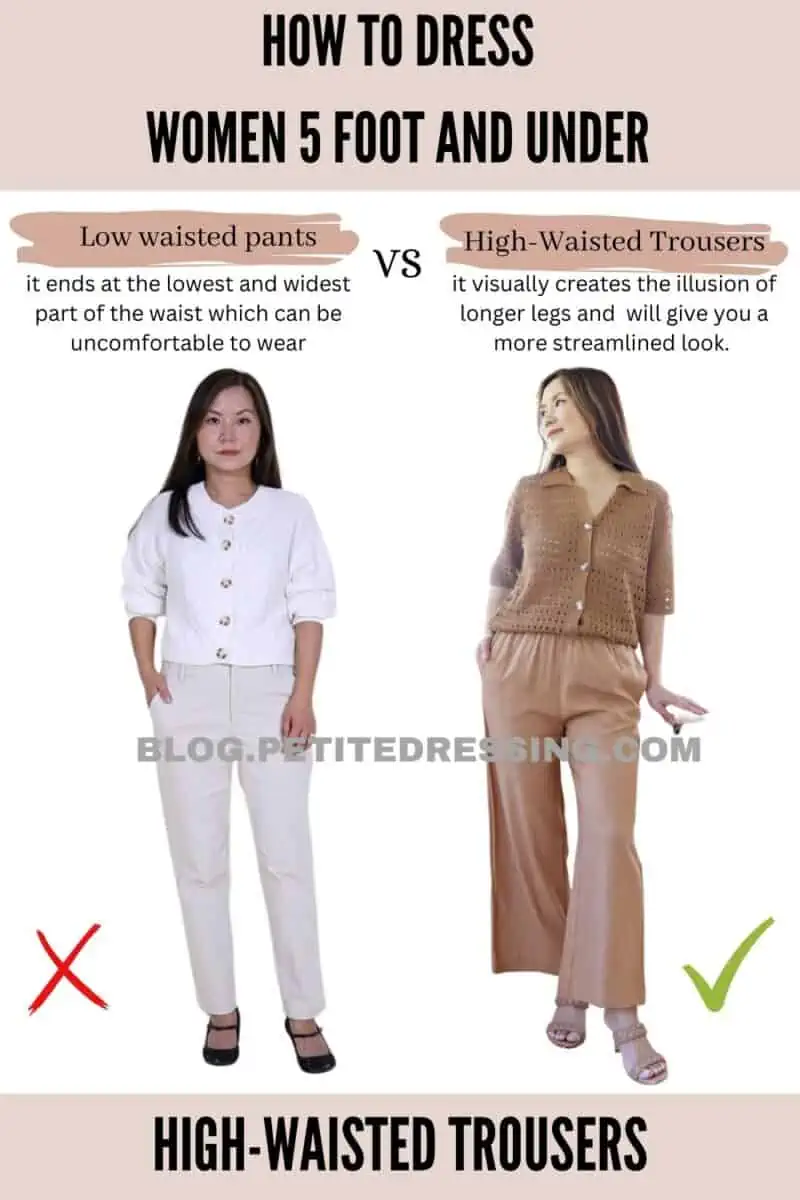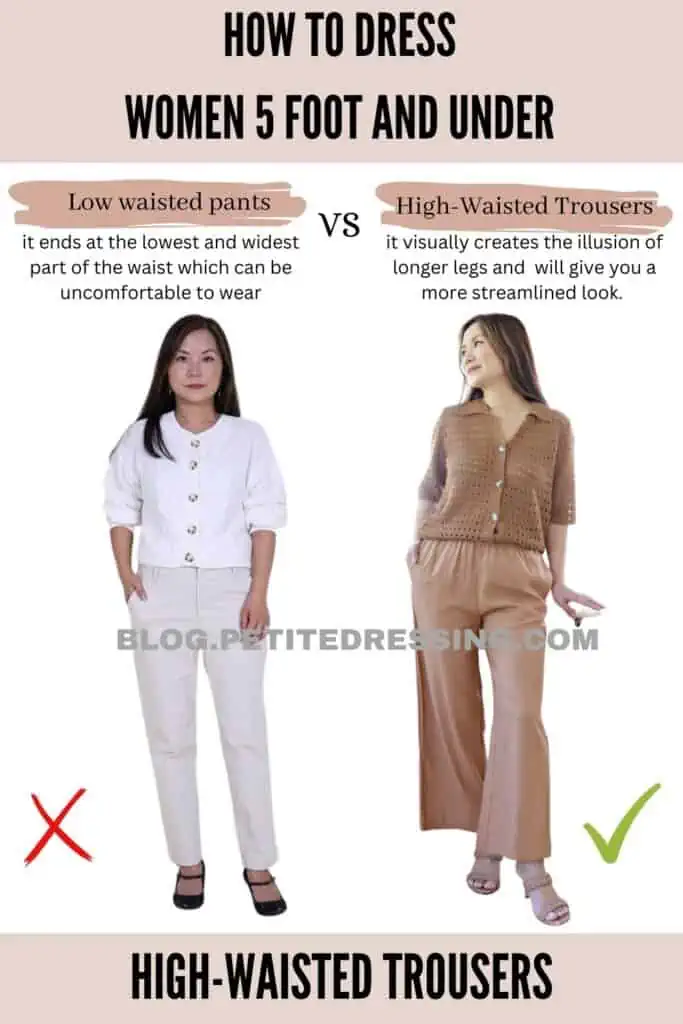 A high waistline visually creates the illusion of longer legs which is why it's quite a popular style for short ladies. This is particularly true if the trousers are paired with a tucked-in top or a crop top because they accentuate the high waist even more.
Cotton twill fabric is often very structured and holds its shape well and so I suggest you look for this material when looking for a pair of high-waisted trousers. This specific style of pants will give you a more streamlined and polished look.
Sailor Pants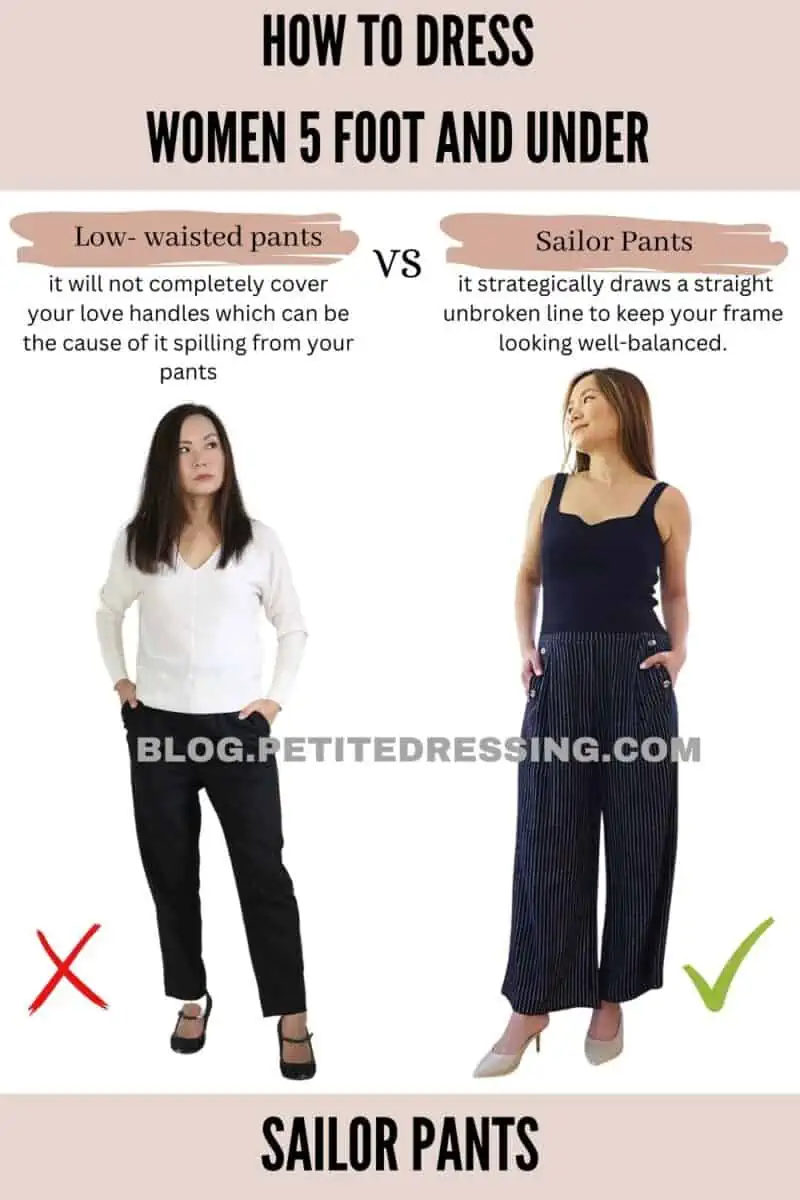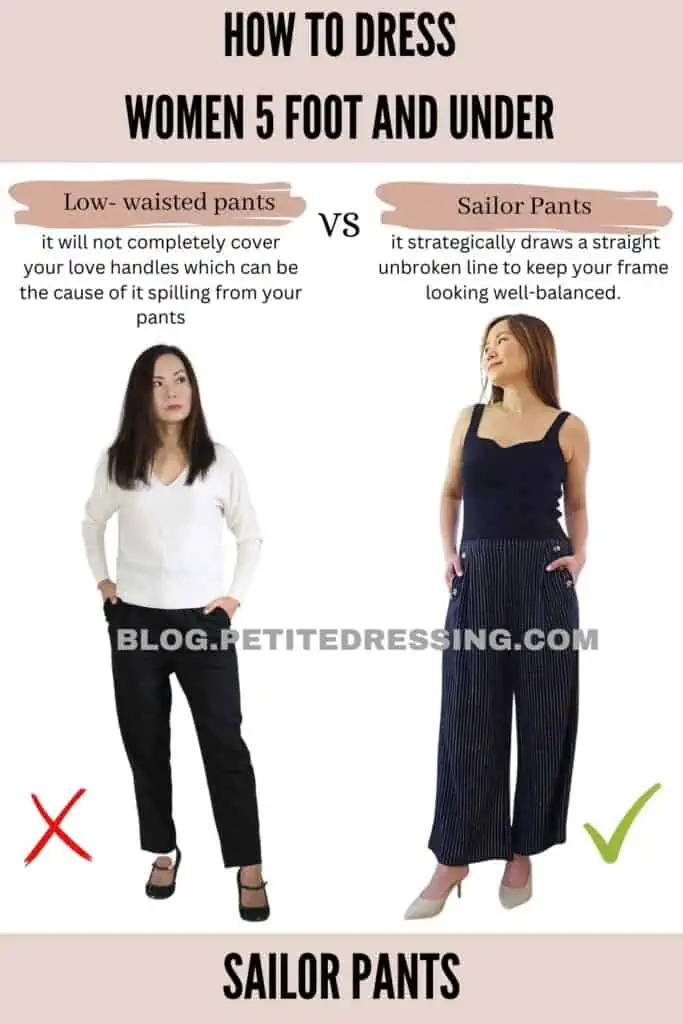 Sailor pants should be a wardrobe staple for every petite woman because they are incredibly flattering for short heights. Its high-waisted, wide-leg style lengthens the appearance of your legs and strategically draws a straight unbroken line to keep your frame looking well-balanced.
In addition, dark colors also have a slimming effect which creates a sleek and sophisticated look that's also easy to pair with a vast variety of top styles. They can be paired with a tucked-in blouse or sweater to showcase your waistline or worn with a flowy top for a more relaxed look.
DRESSES
Classic Wrap Dress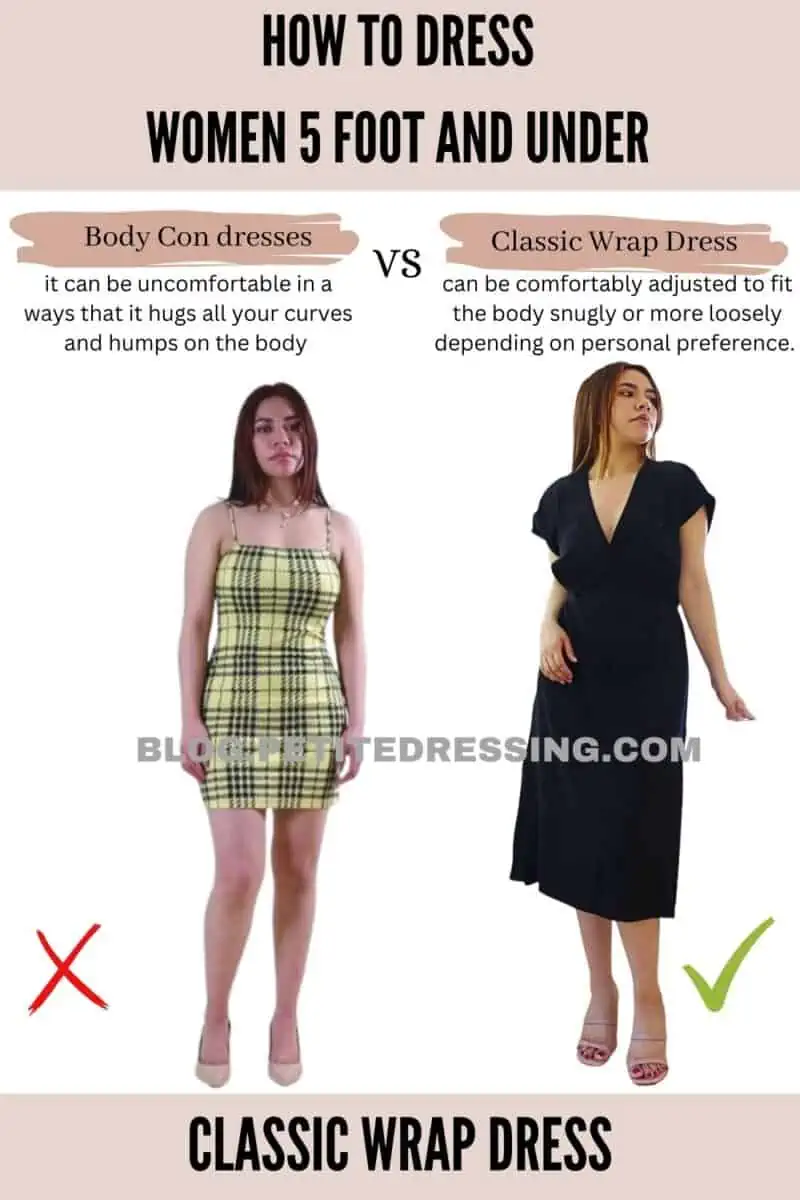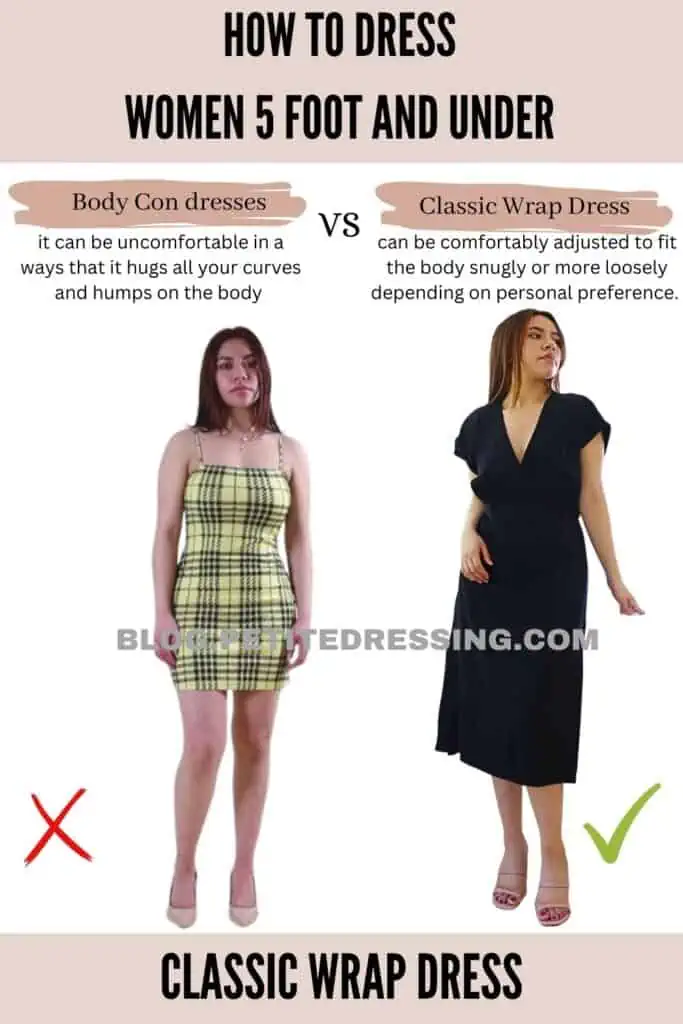 One of the best style benefits of the wrap dress is that it allows for customization in the fit with the use of the adjustable waist tie. The wrap style can be comfortably adjusted to fit the body snugly or more loosely depending on personal preference.
They are also a classic choice for any occasion and can be particularly flattering for short women who are 5 feet and under because of their magical ability to make the body appear longer, giving short girls an instant boost in height. Its frame-elongating features are all thanks to the structure, neckline, cut, and waist definition.
Empire Waist Dresses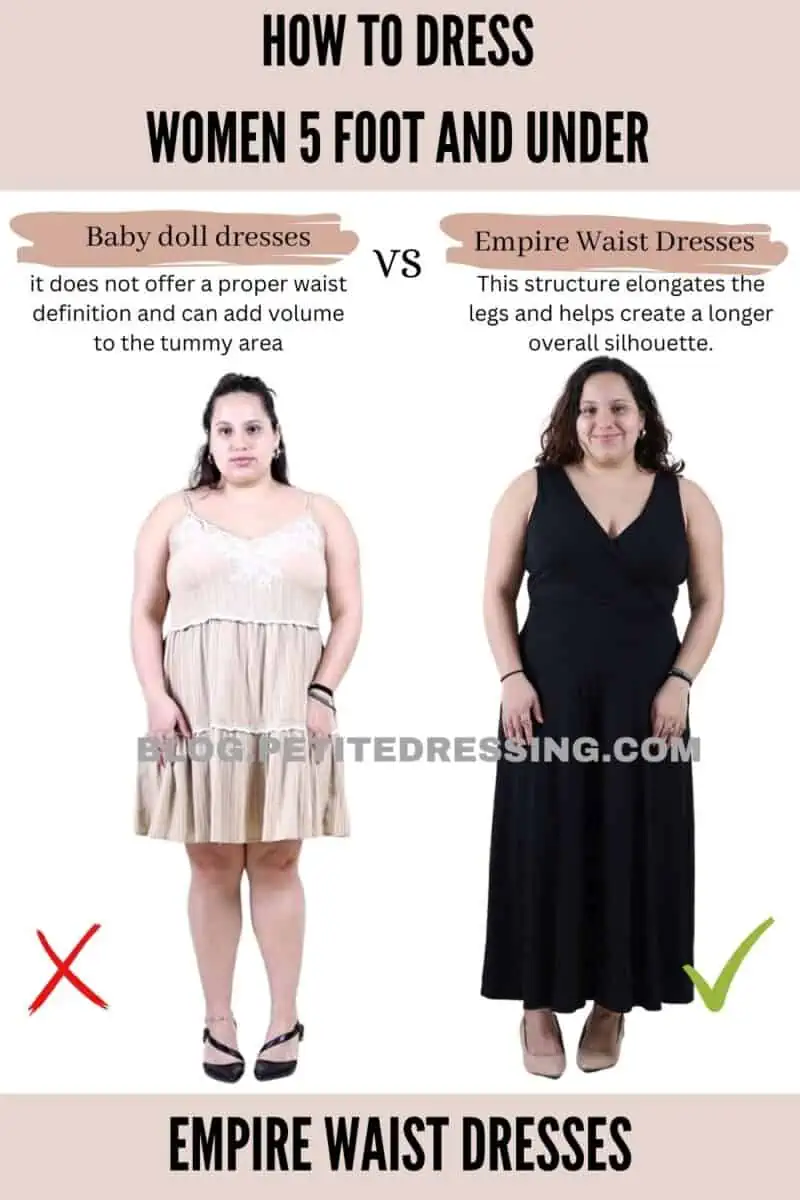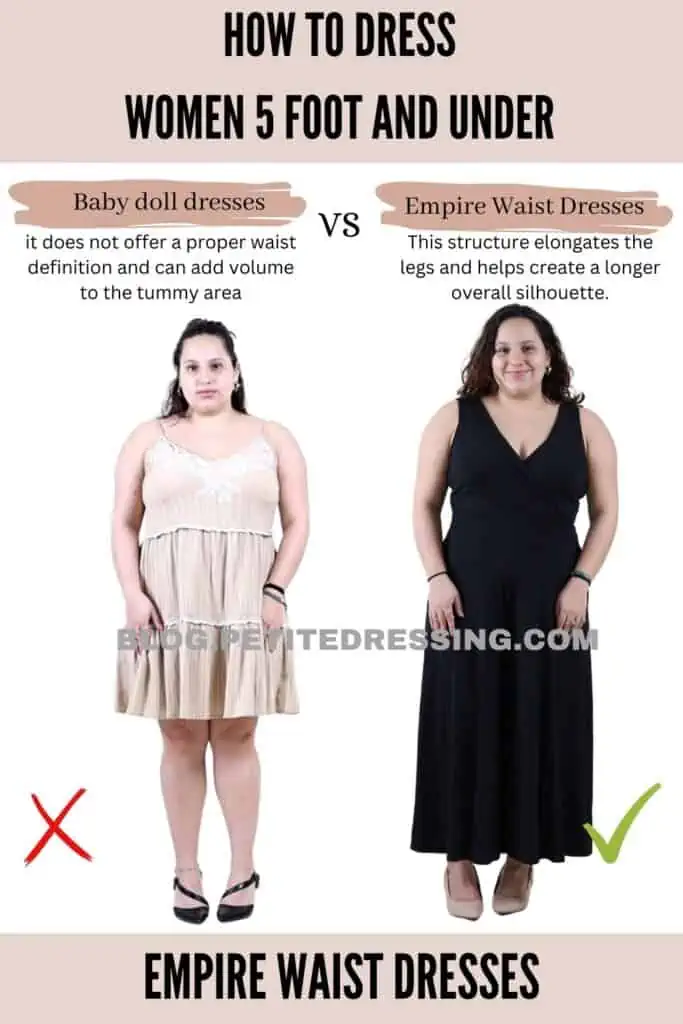 Flowy empire dresses feature a waist that's positioned above the natural waistline and just below the bust. This structure elongates the legs and helps create a longer overall silhouette.
Additionally, the flowy design of the dress adds volume to the bottom half of the dress, creating a more balanced look for shorter frames. The dress drapes gently over your curves without clinging too tightly to any specific area which is quite flattering for petite frames!
COATS
Tailored Wrap Coat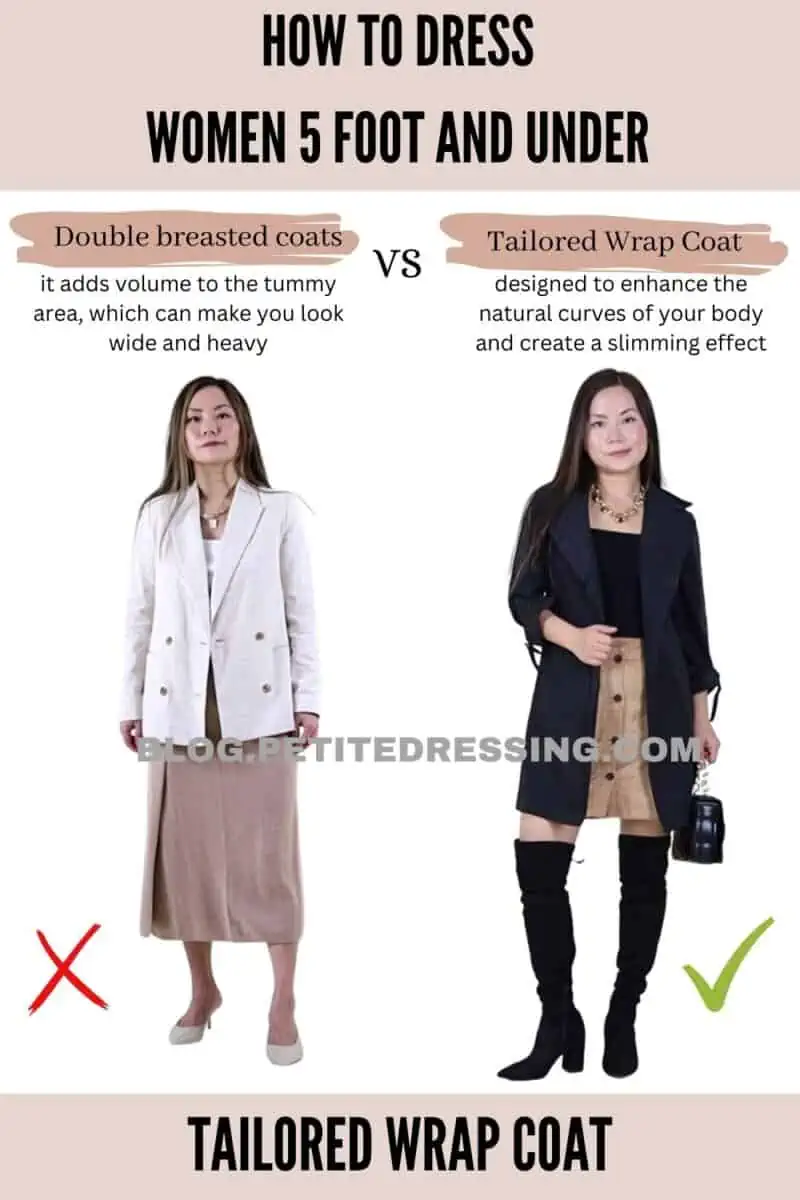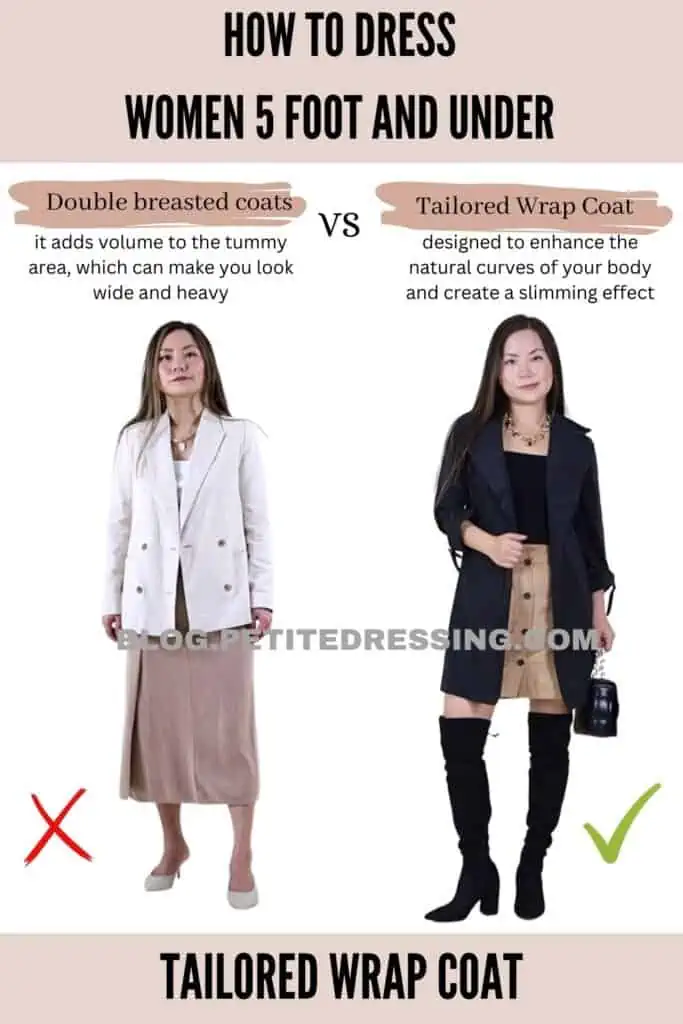 Wrap coats are simply flattering for most body shapes and heights because they are simply designed to enhance the natural curves of your body and create a slimming effect that is especially flattering for petite figures.
One of the key style benefits of tailored wrap coats is that they perfectly cinch at the waist, which results in a defined silhouette that helps to balance out proportions. This creates a visual effect of an elongated frame and still looks quite subtle and minimal.
Princess Cut Coats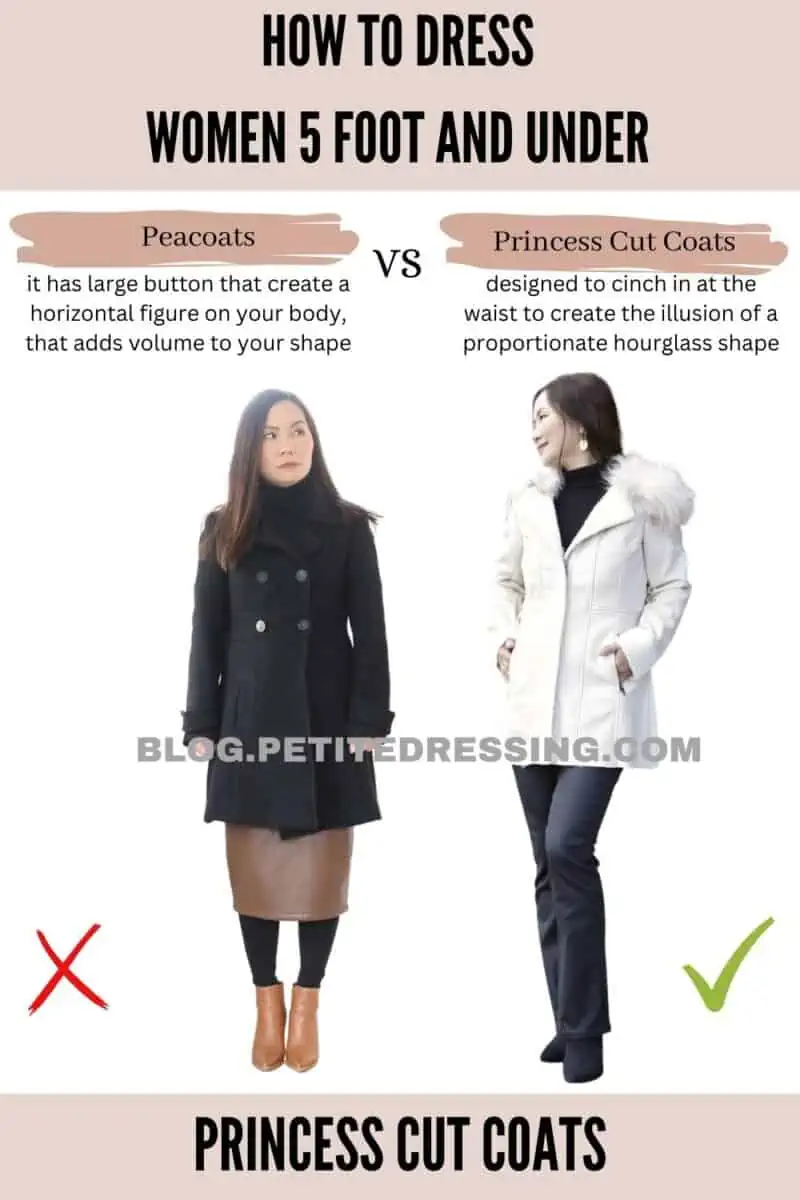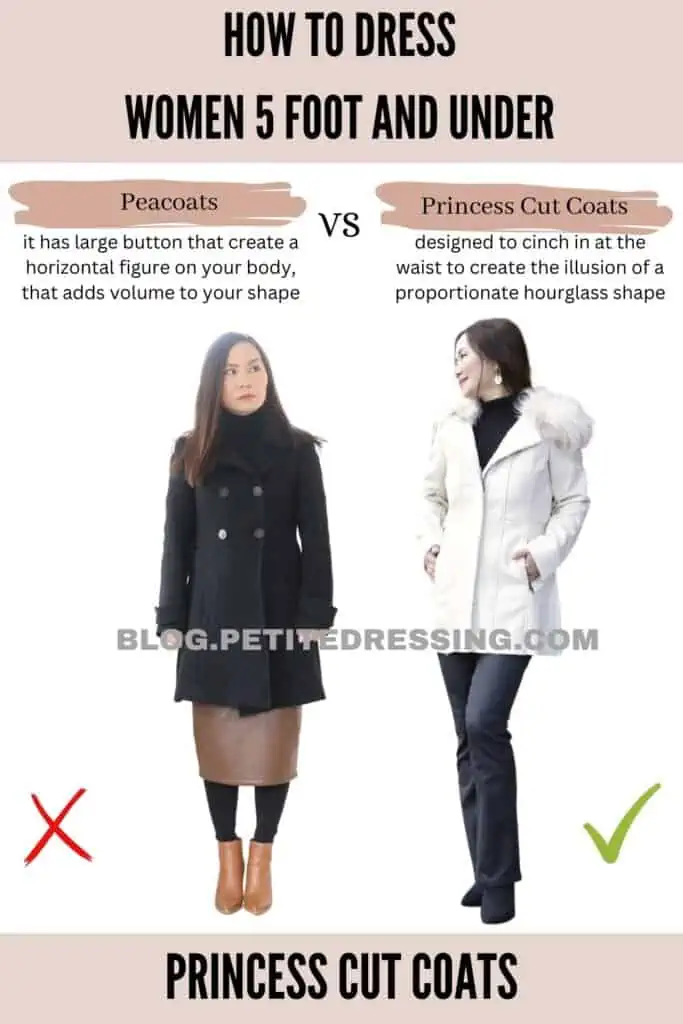 Streamlined princess cut coats are highly flattering for short women who are 5 feet and under because of their fitted and structured silhouette – features that all check our styling goal checklist! This type of coat is intricately tailored to flare out slightly from the waist, creating a sleek and elongated appearance.
The princess cut is designed to cinch in at the waist to create the illusion of a proportionate hourglass shape. Meanwhile, the streamlined design skims over the hips and thighs, giving the illusion of longer legs.
¾ Sleeve Coats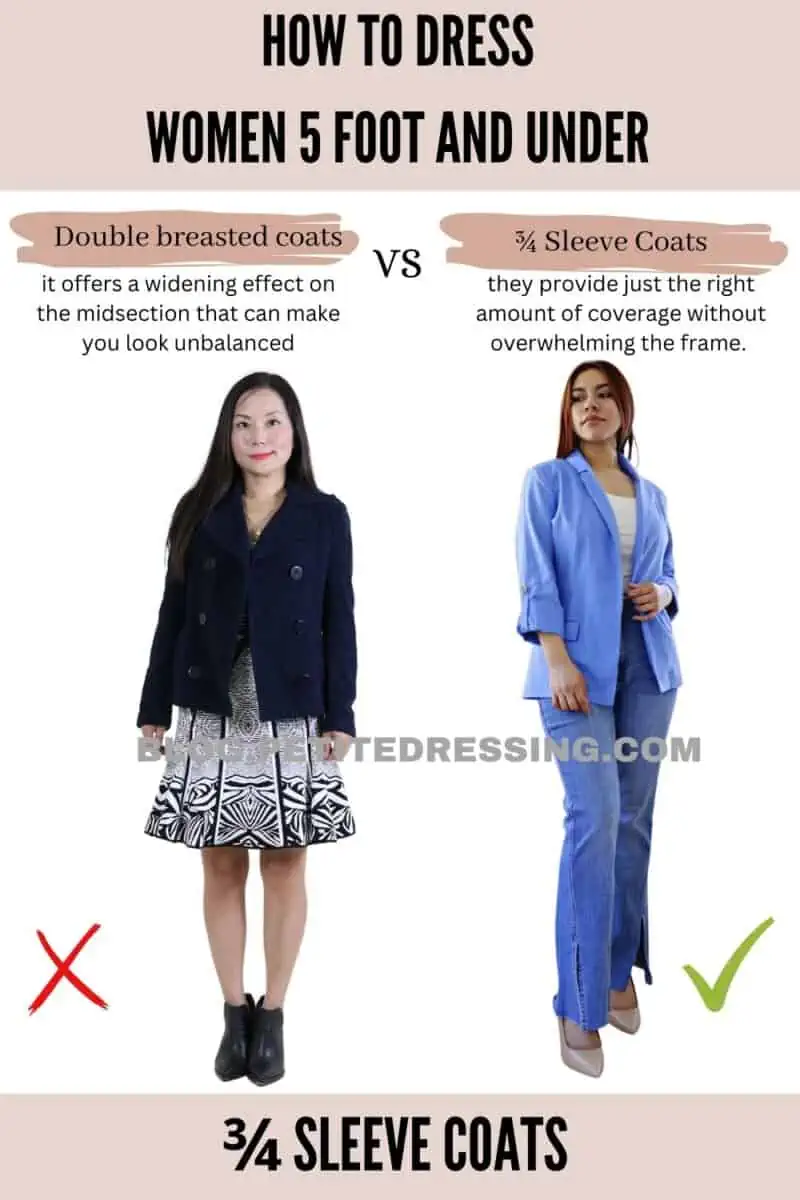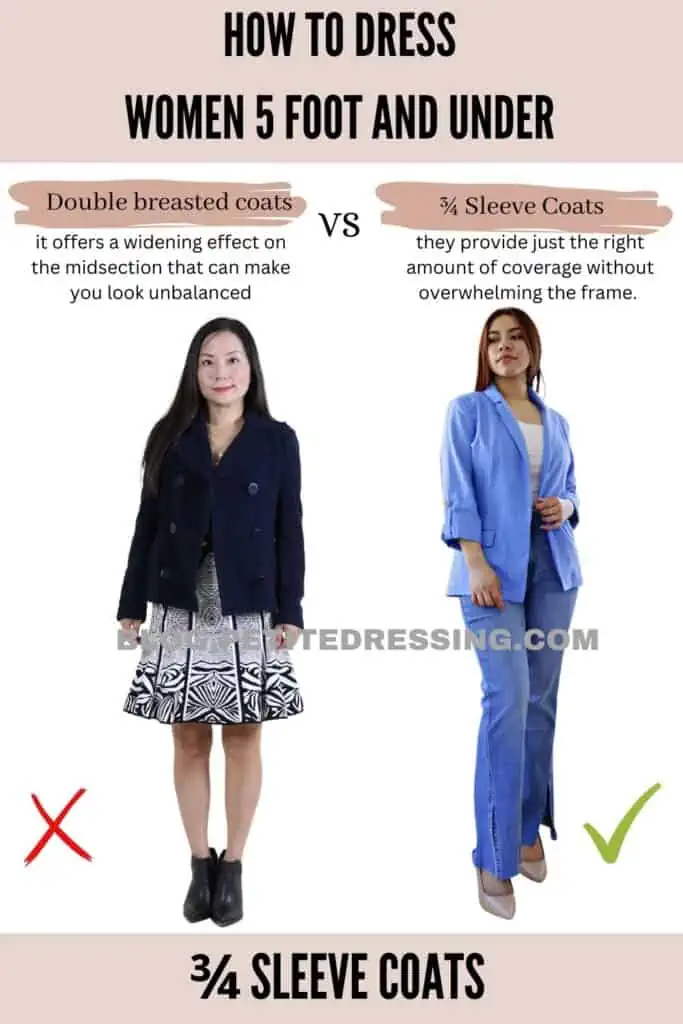 Coats with three-quarter sleeves are a stylish and practical option if you're seeking style and comfort at once! These sleeves are perfect for petite arms, as they provide just the right amount of coverage without overwhelming the frame.
Additionally, they provide an excellent opportunity to showcase jewelry, such as watches and bracelets, that might otherwise go unnoticed when you wear sleeves that are too long. They also become more flattering and versatile if you go for coats that come in neutral colors.
SHOES
Pointed Toe Shoes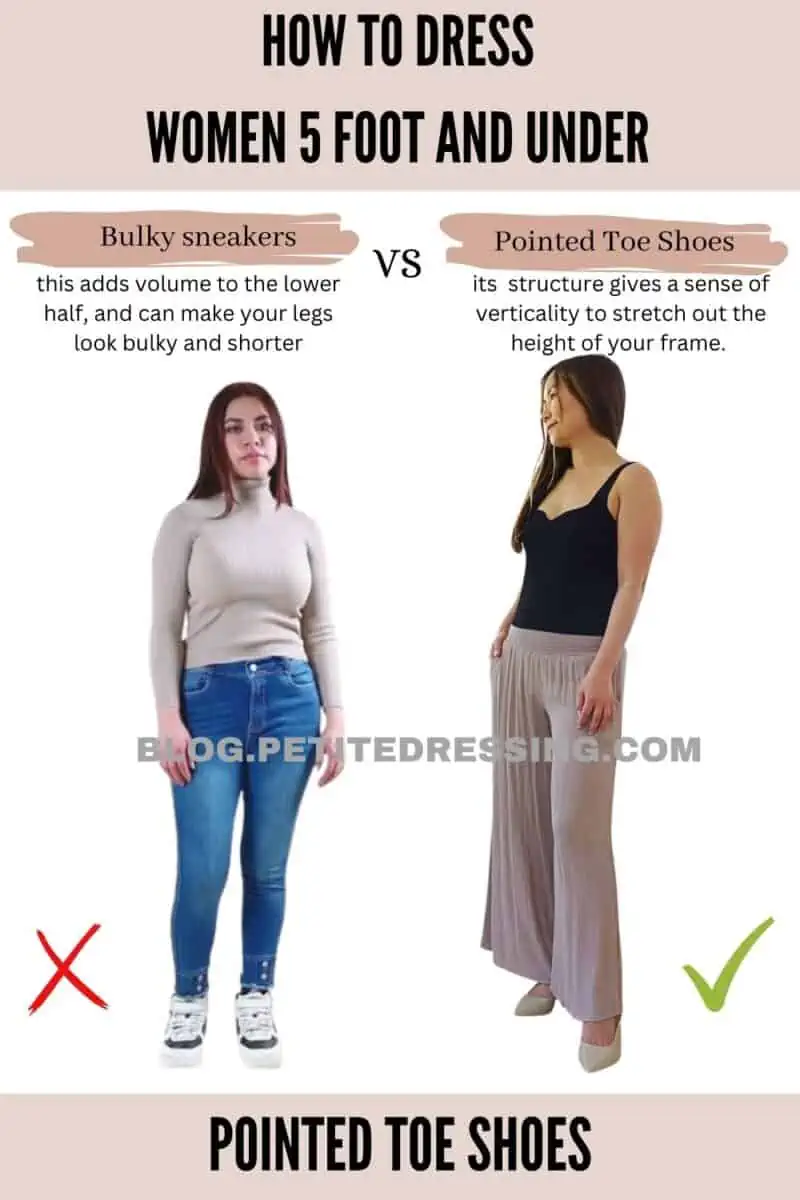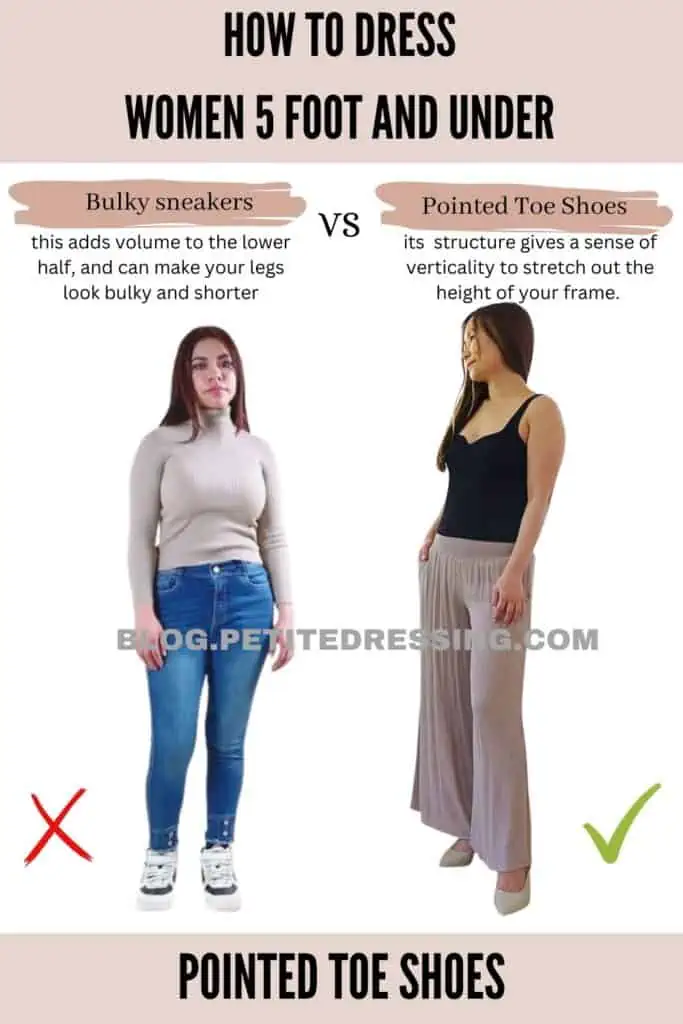 Pointed-toe shoes can be very flattering to short women because their structure gives a sense of verticality to stretch out the height of your frame.
When it comes to choosing pointed shoes, it's better to look for those that aren't extremely narrow to the tip so they can properly stretch and accommodate your feet. This will allow your legs to fit in comfortably but still maintain a lengthened effect.
Slingback Heels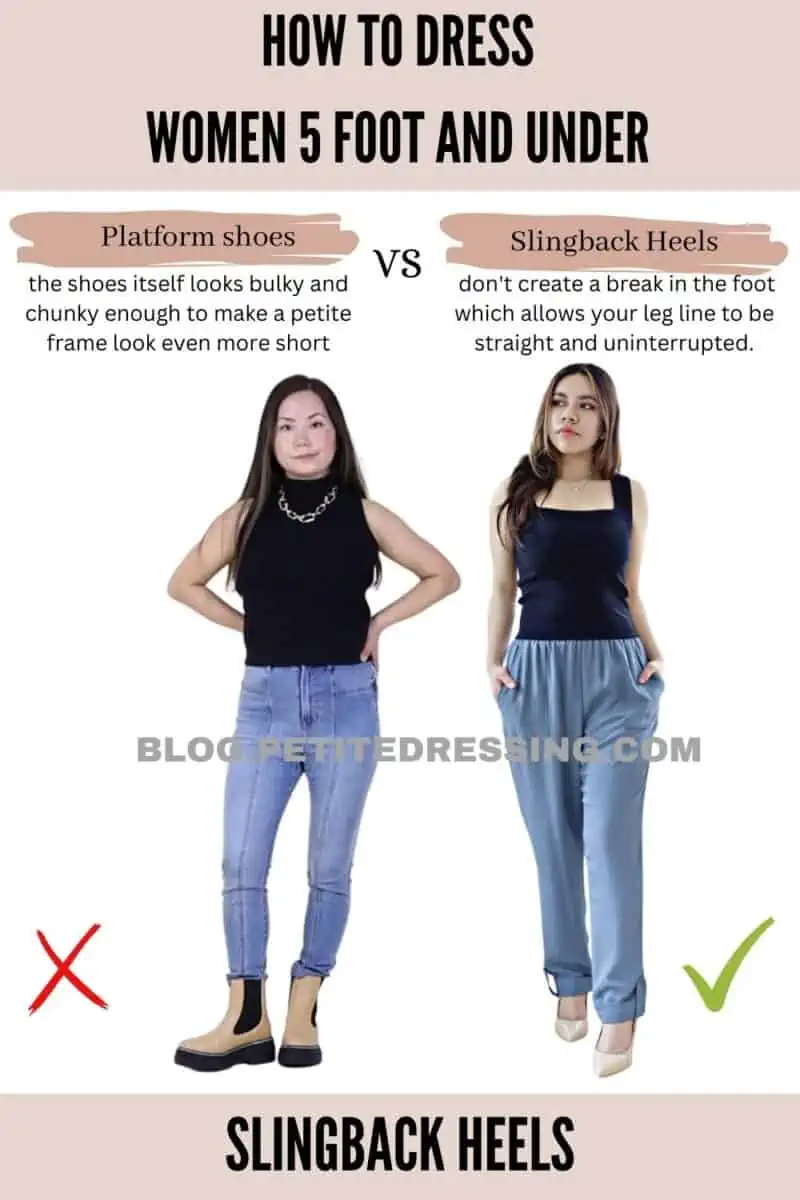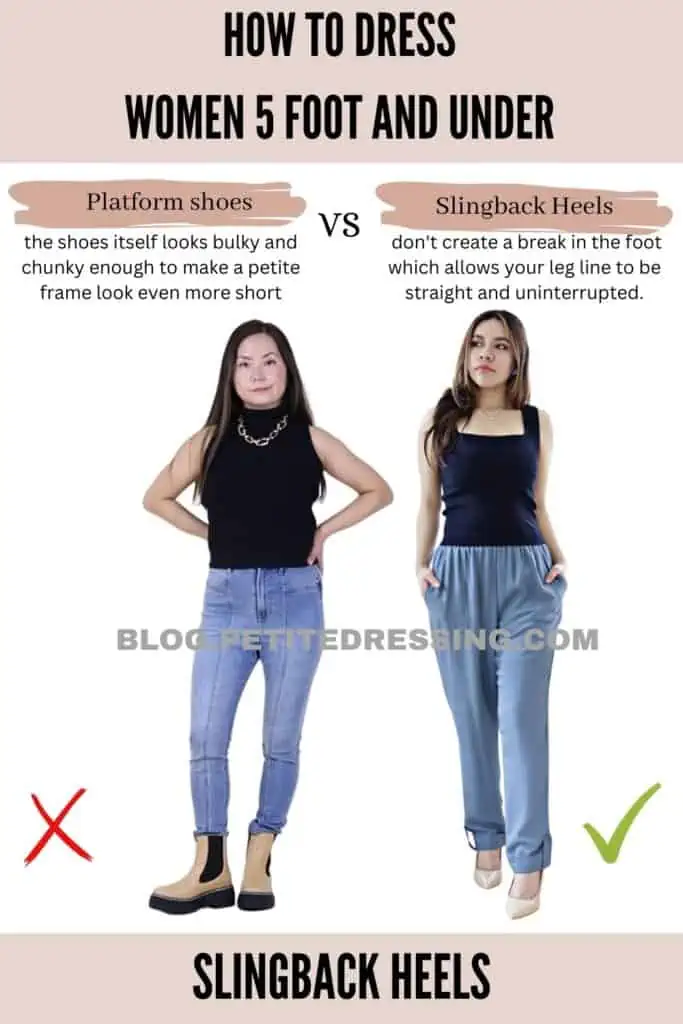 Slingback heels are a timeless and versatile style that can be worn for both formal and casual occasions. Apart from their elegance, would you actually believe that they also have an effect on your visuals by making your legs look longer?
The reason is that slingback heels have a strap that goes around the back of the ankle and this helps trick the eyes of having more elongated legs. By exposing the heel and ankle, slingback heels don't create a break in the foot which allows your leg line to be straight and uninterrupted.
Nude-colored Pumps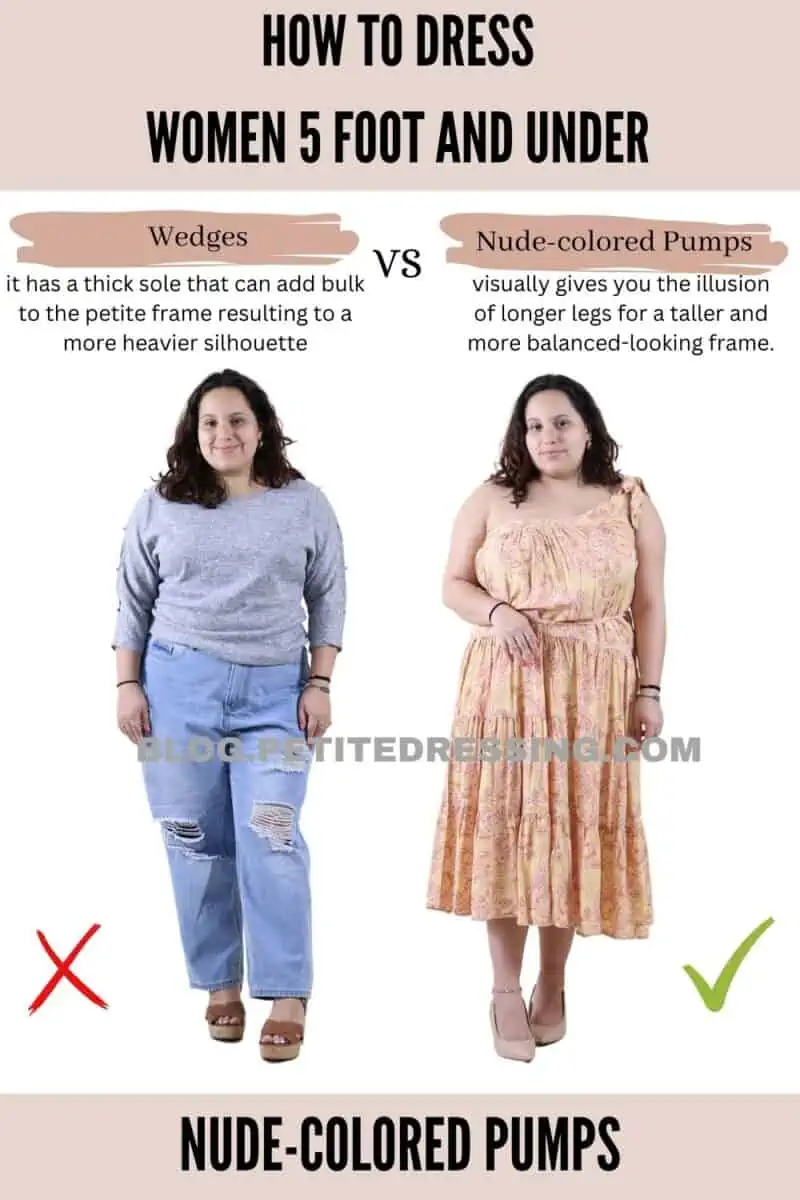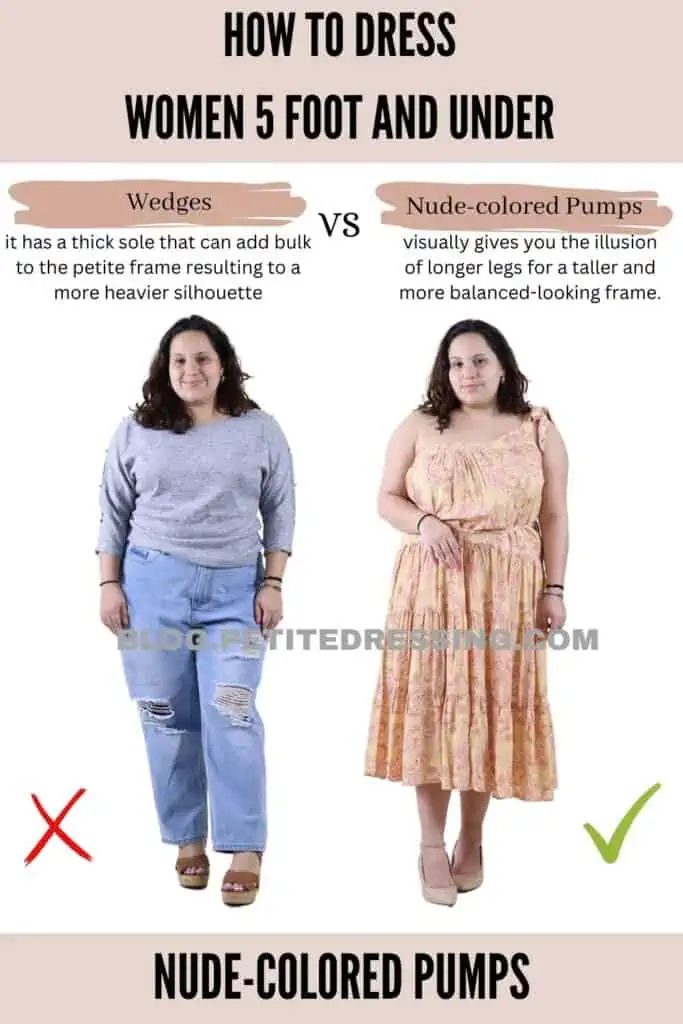 Nude pumps that are close to the color of your skin tone are an efficient way to create a vertical line along the body. This visually gives you the illusion of longer legs for a taller and more balanced-looking frame.
The reason why nude pumps work so well is that they draw less attention to the feet and legs. Bright or contrasting colors can break up the vertical line created by the body and make the legs appear shorter.
SWIMSUITS
Plunging V-Neck One-Piece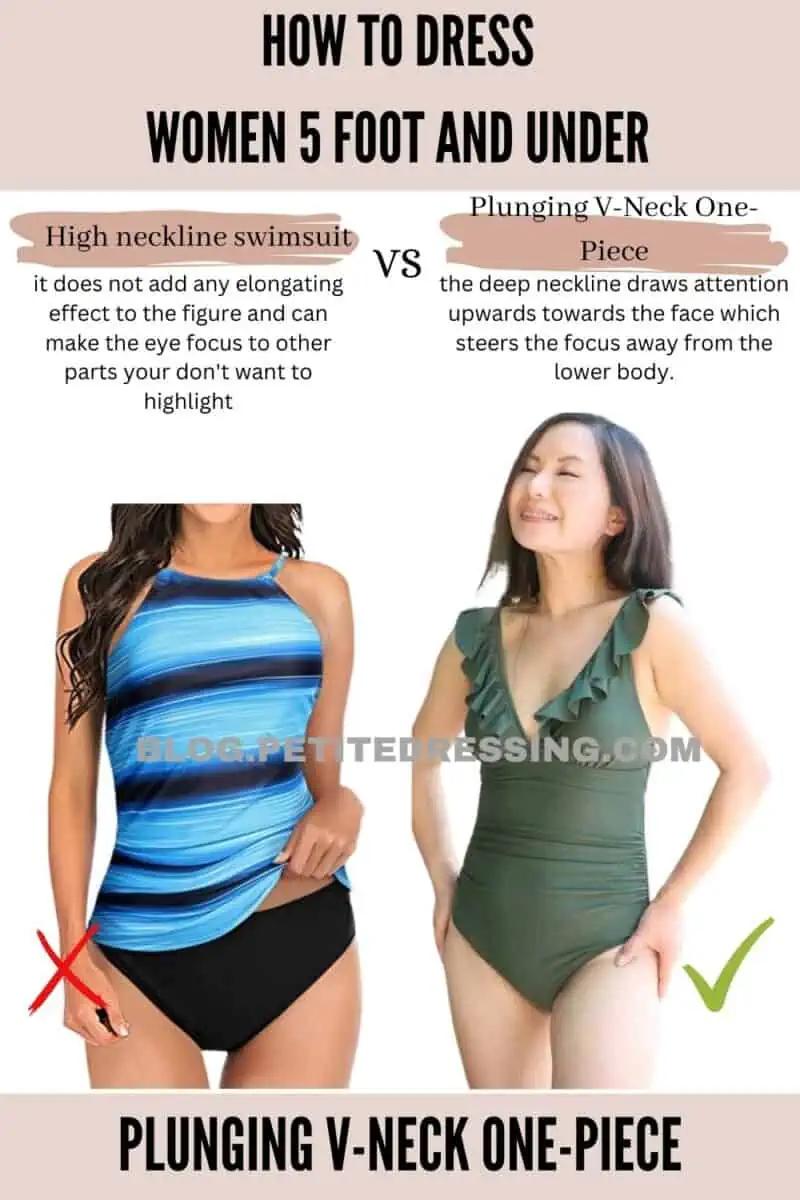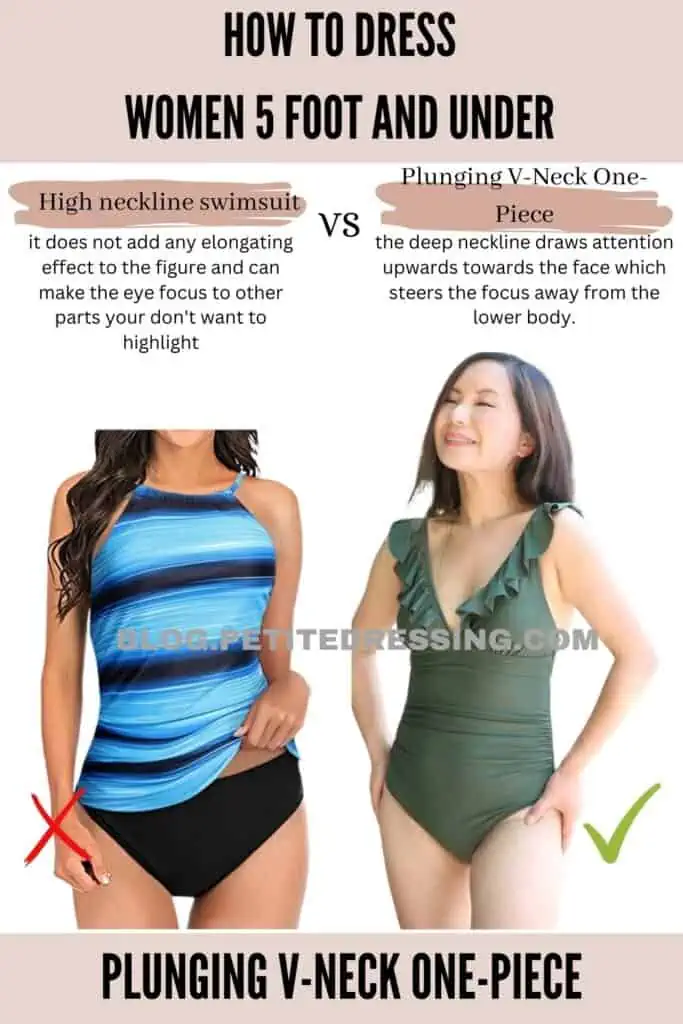 Plunging V-necks have the ability to visually bring balance to your upper half by elongating the neck and therefore making your torso longer and slimmer. Additionally, the deep neckline draws attention upwards towards the face which steers the focus away from the lower body.
The one-piece style is also a great option for short women as it creates a streamlined silhouette, making the body appear taller and leaner. Have it accompanied by a high-cut leg style to further create the illusion of longer and leaner legs!
High-Waisted Bikini Bottoms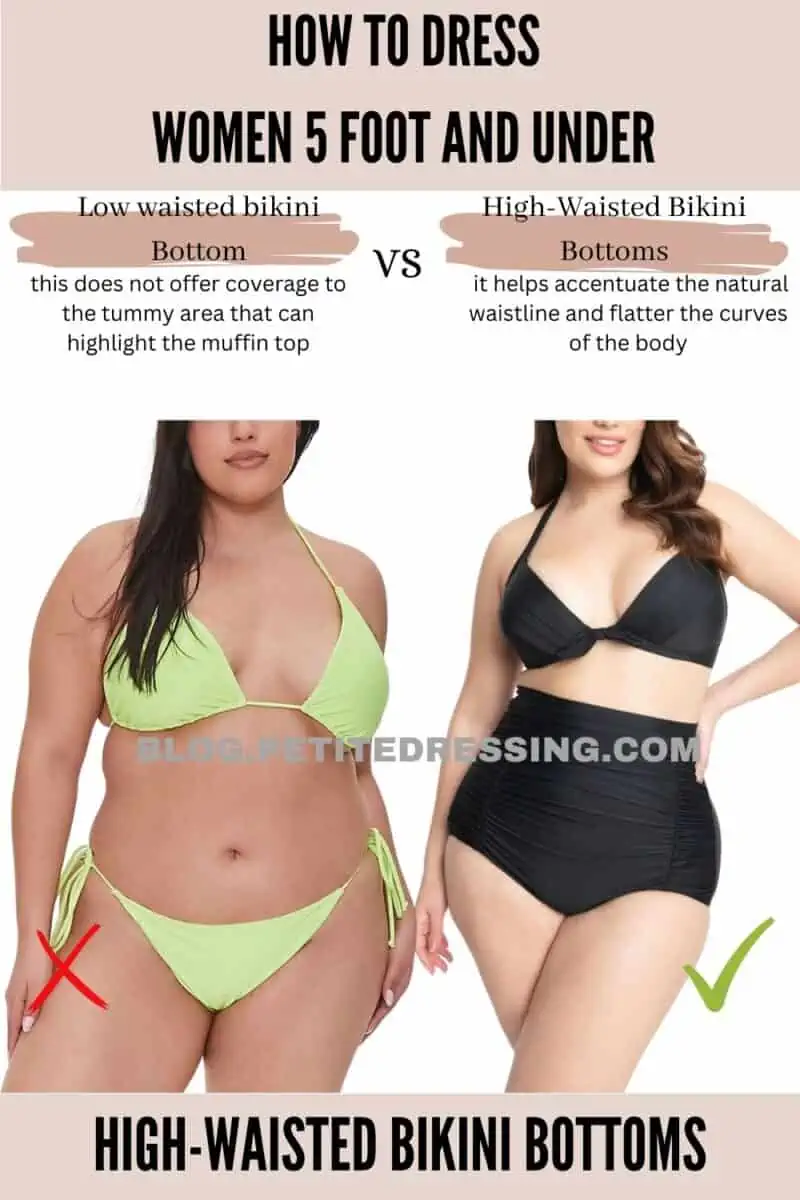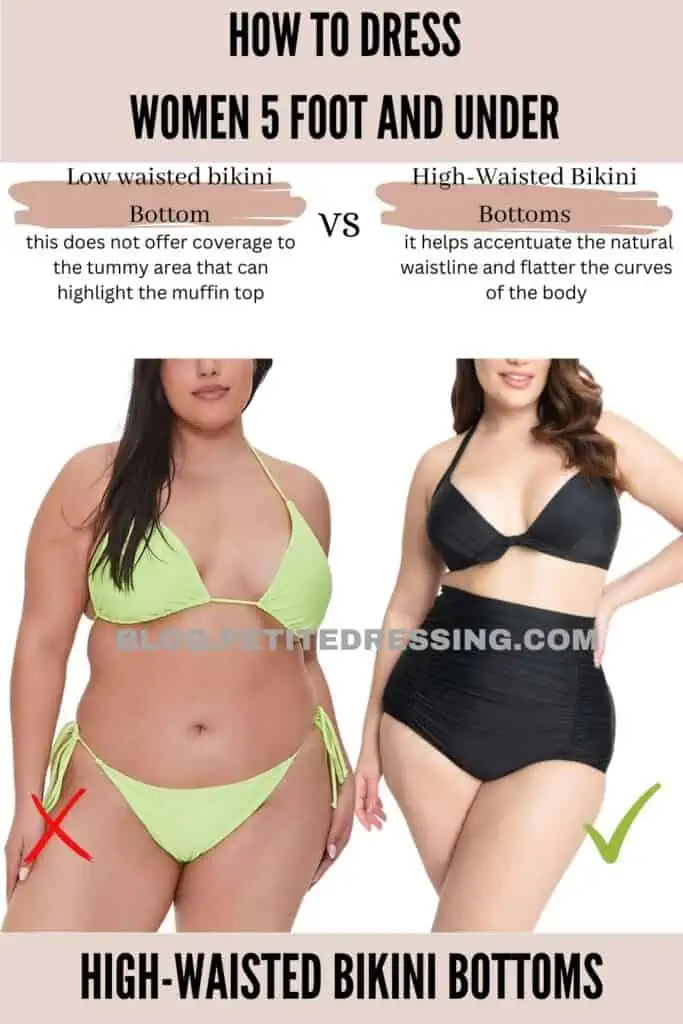 High-waisted bikini bottoms have the same elongating effect as high-rise jeans or pants because this cut tricks the eyes into thinking that you have longer legs. Apart from this, they also offer great coverage for those who feel a bit self-conscious about their lower abdomen area.
High-waisted bikini bottoms also help accentuate the natural waistline and flatter the curves of the body. Moreover, high-waisted bikini bottoms can be paired with a variety of bikini tops to create a stylish and trendy look and they can be matched with a number of different tops to make you stand out even more.
Off-the-Shoulder Bikini Top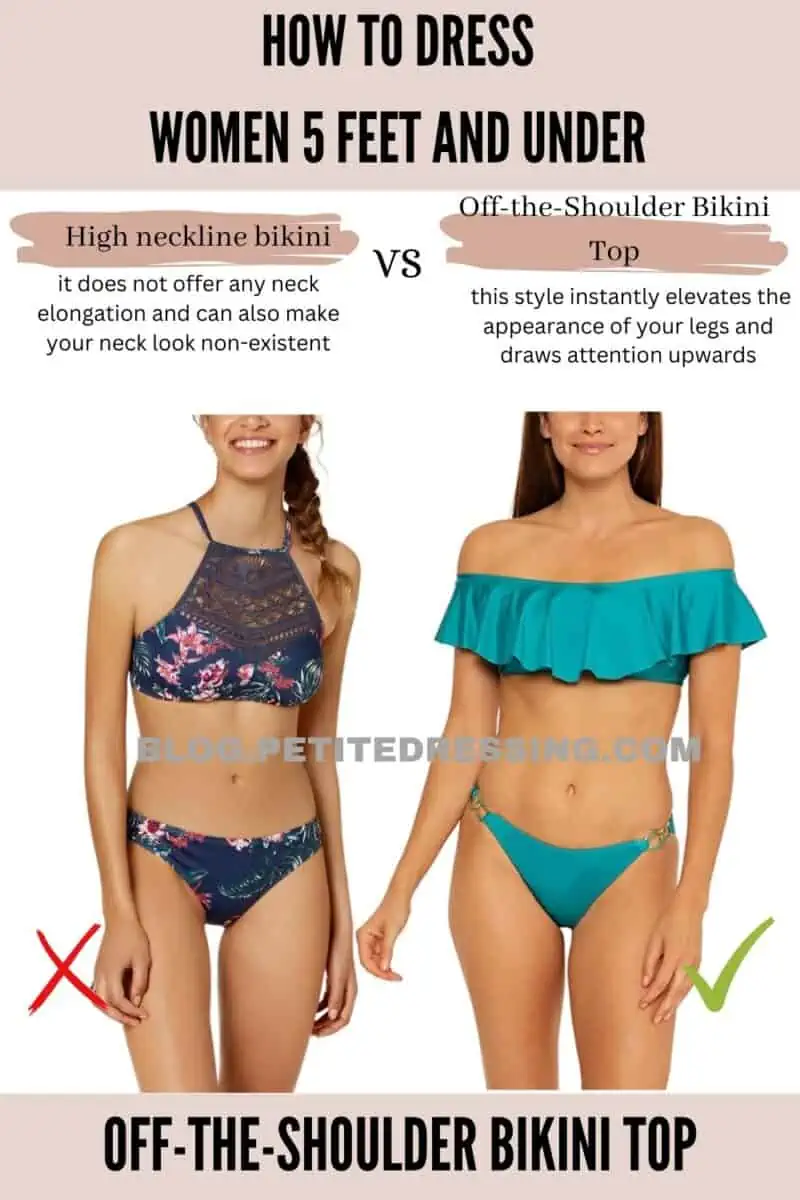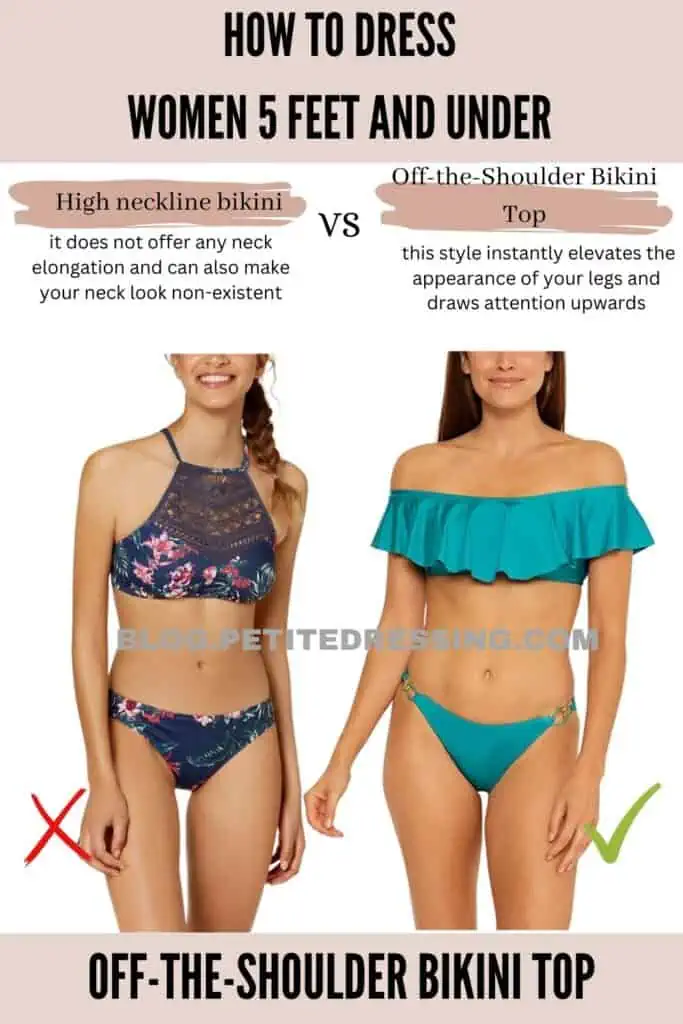 For petite pear-shaped women, the off-the-shoulder design opens up space on the upper half which beautifully highlights your collarbones, shoulder line, and neck. because of this. wearing an off-the-shoulder bikini top also balances out the lower body to give you a leaner and taller frame.
This design is perfect for short girls because this style instantly elevates the appearance of your legs. Additionally, the eye-catching design of the off-the-shoulder bikini tops draws attention upwards, away from the legs.
The Key Takeaway
When we look at fashion models and those tall girls who walk the runway, it's easy to get wildly intimidated when it comes to choosing clothes that fit us short girls, especially those 5 feet and under. But I hope that after reading this guide, you have realized that you have a vast variety of choices to express yourself through your individual style!