If you have a curvy figure, the best way to dress is to wear clothes that can accentuate your assets, and flatter your feminine curves. Since I have a petite clothing line, I style models of different sizes and body types.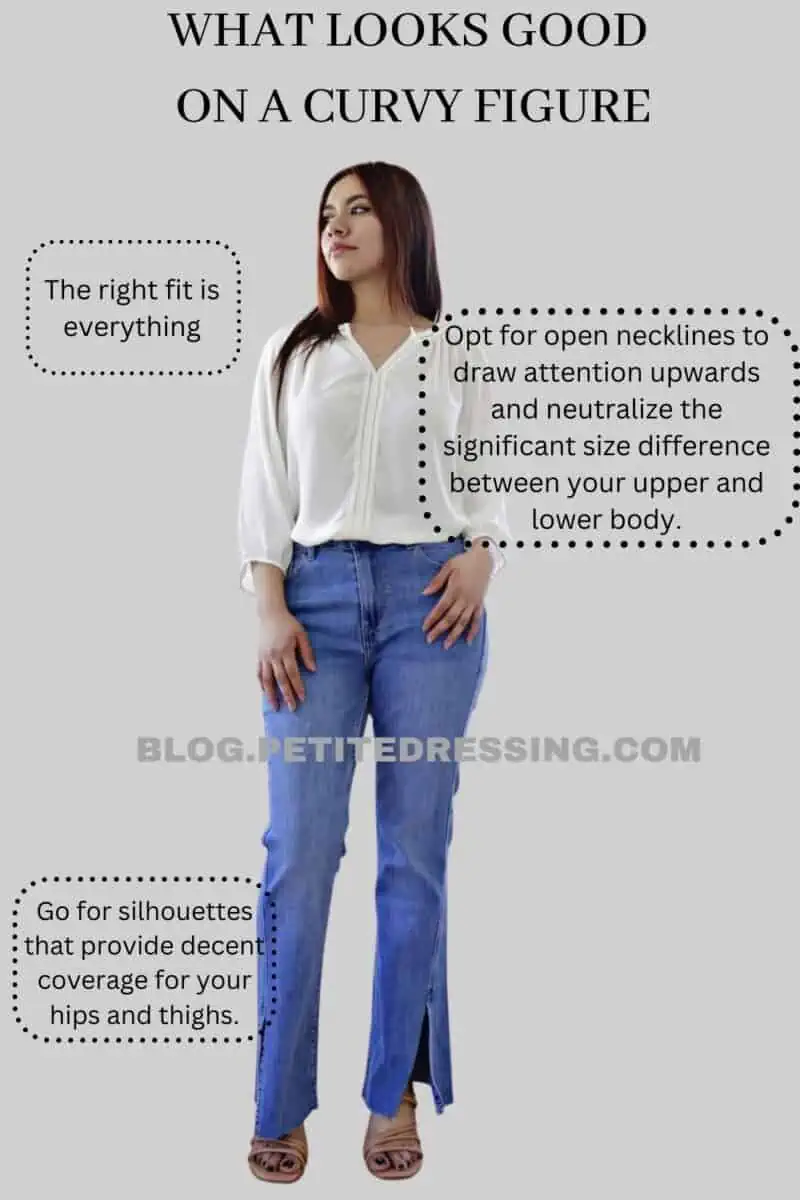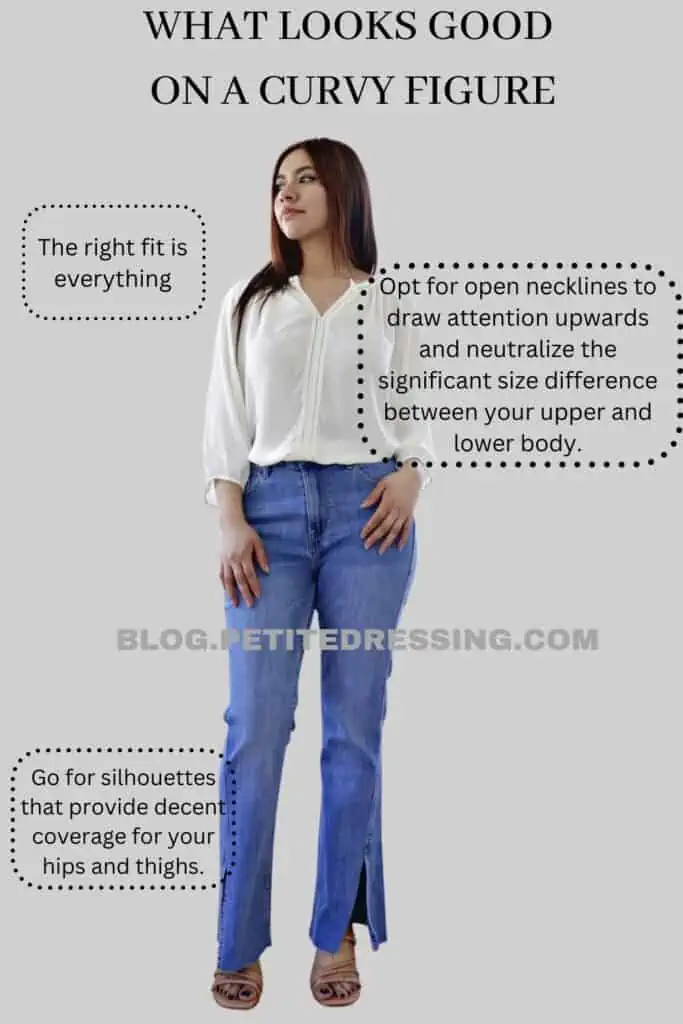 One of my models is Wendy, who is 5'2″ with 36D bust, a typical curvy hourglass shape.
Having curves could mean you are a plus size girl, or you are a regular size, but have a full bust and full hips,
In general, you want to stay away from clothes that are loosely fitted, as they can add too much bulkiness to your body, making you appear heavier than you are. These are the 14 styles that look the best on curvy women.
Waist Cinching Dresses
One of the must-follow tips for curvy figures is to focus your outfits around accentuating your waist.
As someone who is curvy, it's likely that you have a naturally defined waist. Add more emphasis to your waist by styling outfits and accessories to highlight that area of the body. This compliments your curvy figure beautifully.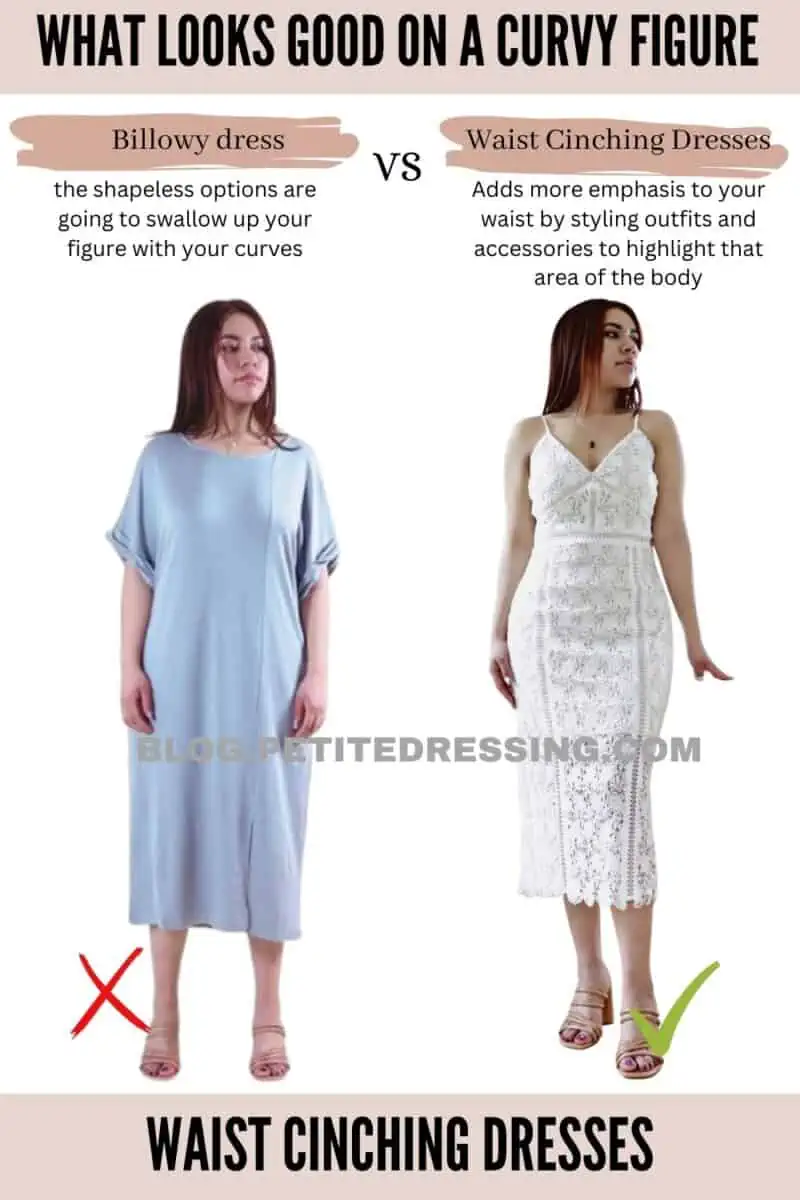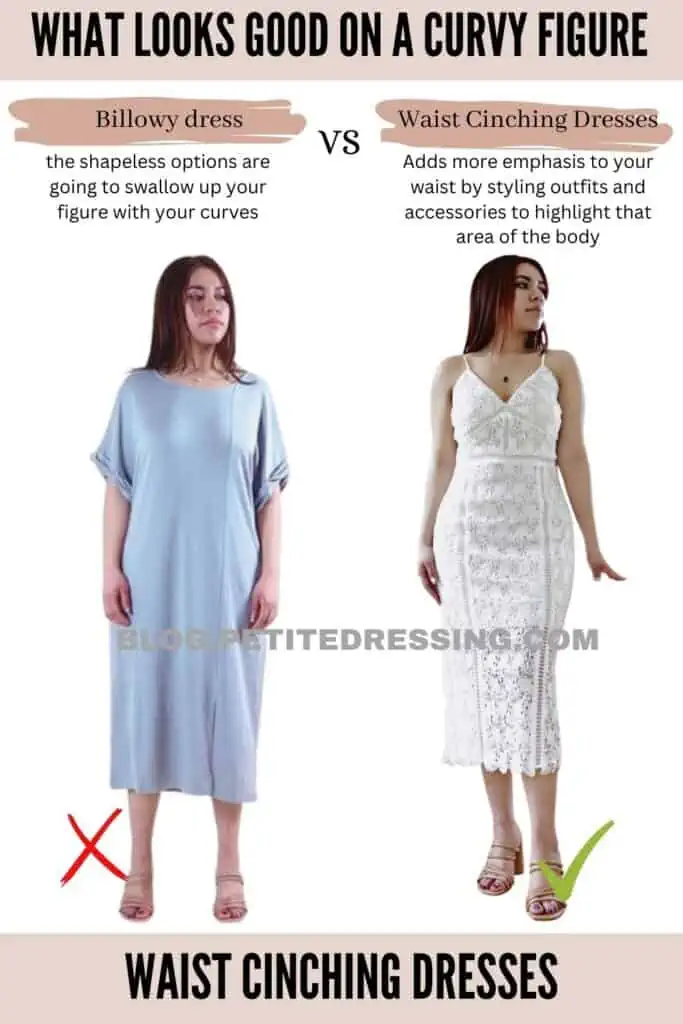 Fortunately for you, since you're curvy, you can accentuate your waist in a number of ways to adapt this styling trick to your outfits. Anything from tying a belt around your waist to wearing a dress with defined lines at the waistline, or even wearing high-waisted jeans with a crop top – the options are limitless for you but those should be some fun ideas to get you started.
Wrap Tops
You're probably familiar with the classic wrap dress, but this is also a silhouette that's common in tops. The good news? Both tops and dresses look great.
Just like the wrap dresses, wrap tops can also flatter women with a curvy figure, because it follows the womanly shape of your top, emphasizing your full chest and the smaller waist.
High Waisted Jeans
At this point in this article you may already know why high waisted bottoms are ideal for a curvy figure, but it's worth mentioning just in case.
Of all the different types of jeans, high waisted jeans is one of the best jeans for curvy women.
The elevated rise of high waisted bottoms defines the waist and gives the most flattering fit for curvy bodies.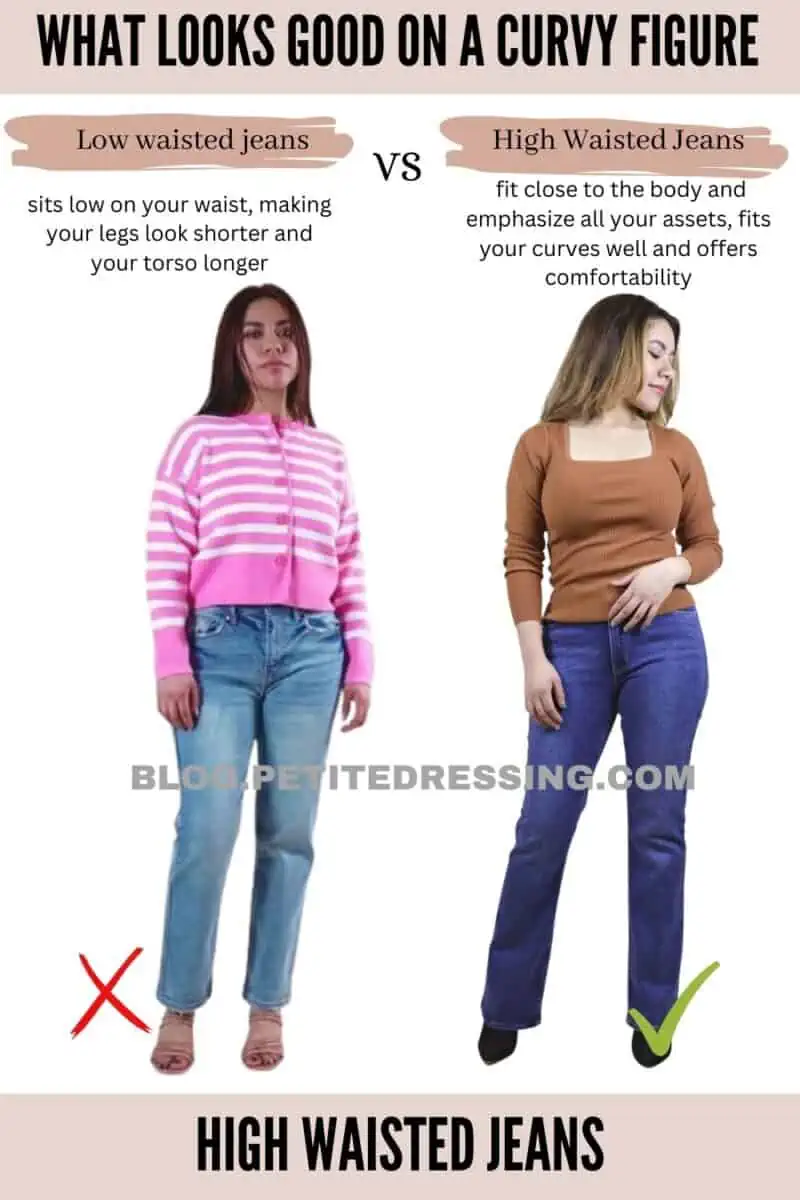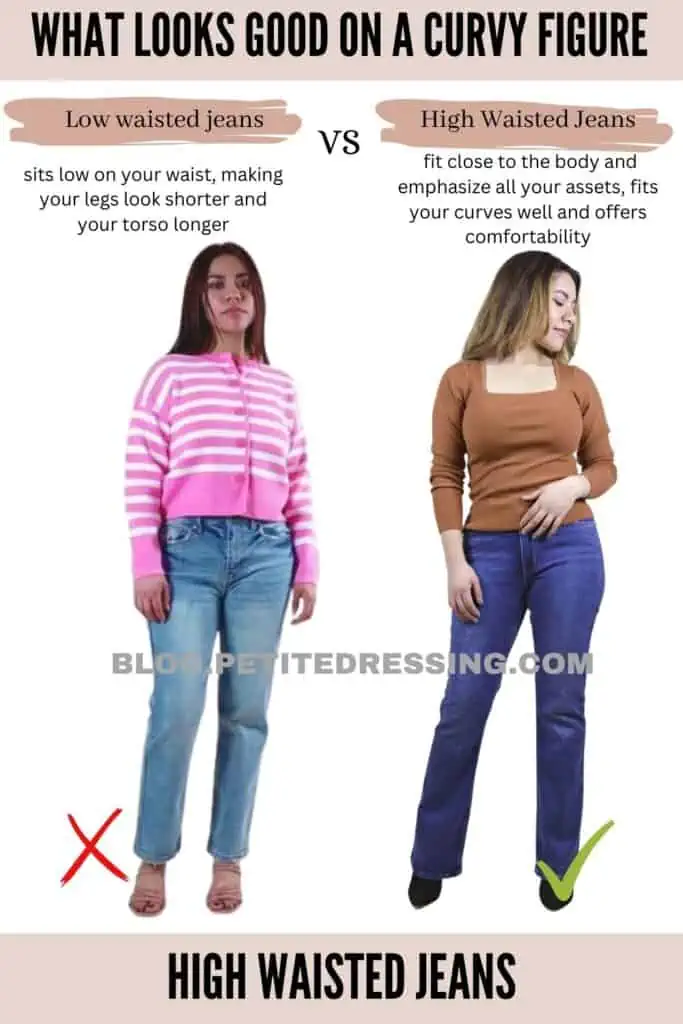 They fit close to the body and emphasize all your assets. Compared with mid-rise jeans, high rise is not only more comfortable, but also more sliming. The reason is the waist of the jeans ends at the narrowest part of your torso, and therefore emphasize the smallest part of your waist.
Typically, you will want to stay away from low rise bottoms for the reason that they tend to drag the waist down on the body and break up your shape in a less than flattering manner.
Wrap Dresses
If you want a style that's guaranteed to look incredible on a curvy figure, look no further than the wrap style. The wrapped shape of these garments offer do an incredible job of highlighting your waist and complimenting your curves. One thing many women love about wrap styles, too, is how comfortable and easy they are to wear. Flattering AND comfortable? Say no more.
Cropped Tops
Another go to style you can count on? Cropped tops. Once again, this is all about accentuating the waistline and crop tops are known for how they bring the focus of any outfit to the smallest area of the waist. This works the best for those with a natural waist definition, such as an hourglass shaped lady.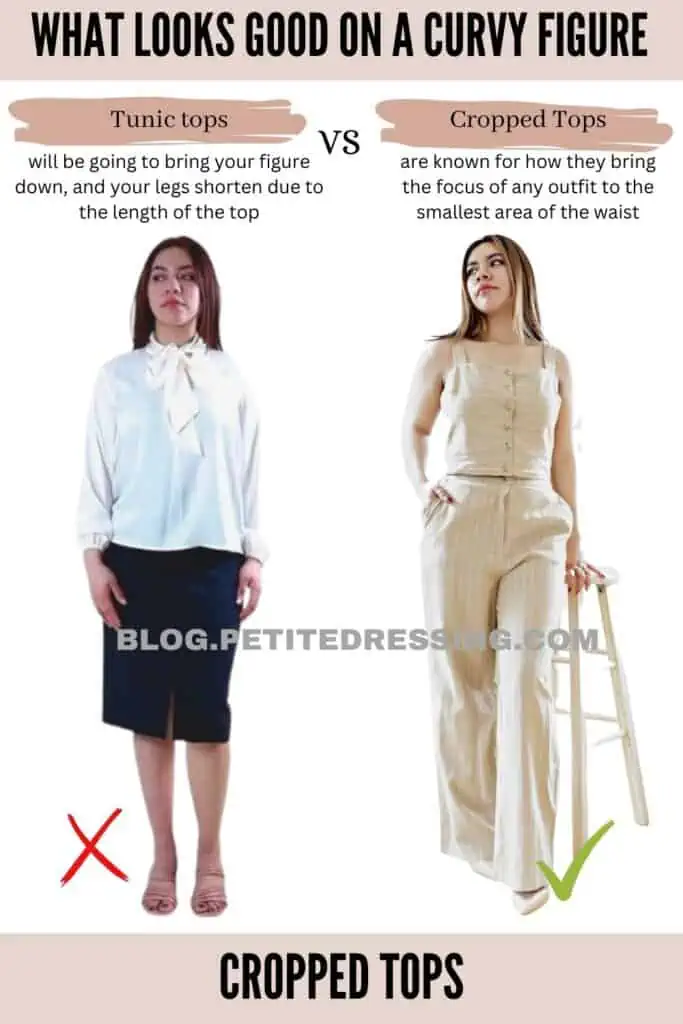 One caveat here is that if you happen to be a curvy woman with a tummy, then you want to be cautious about cropped tops, as they can make your belly more obvious.
Cropped Jackets
Crop tops are a major trend right now, but don't forget about cropped style jackets and blazers as well. If you like to layer during the cold weather months, seek out cropped styles to make sure your layering pieces are just as flattering as the rest of your outfit.
Form Fitting Clothing
If you have a naturally curvy figure, one of the best ways to embrace your body type is by wearing form fitting clothing. This is an absolute must tip, which style experts everywhere stress the importance of. Because you have curves, wearing clothes that don't hug your body tends to add bulk and weight to your body where you don't have it. Regardless of the type of garment, try to focus on pieces that fit close to the body.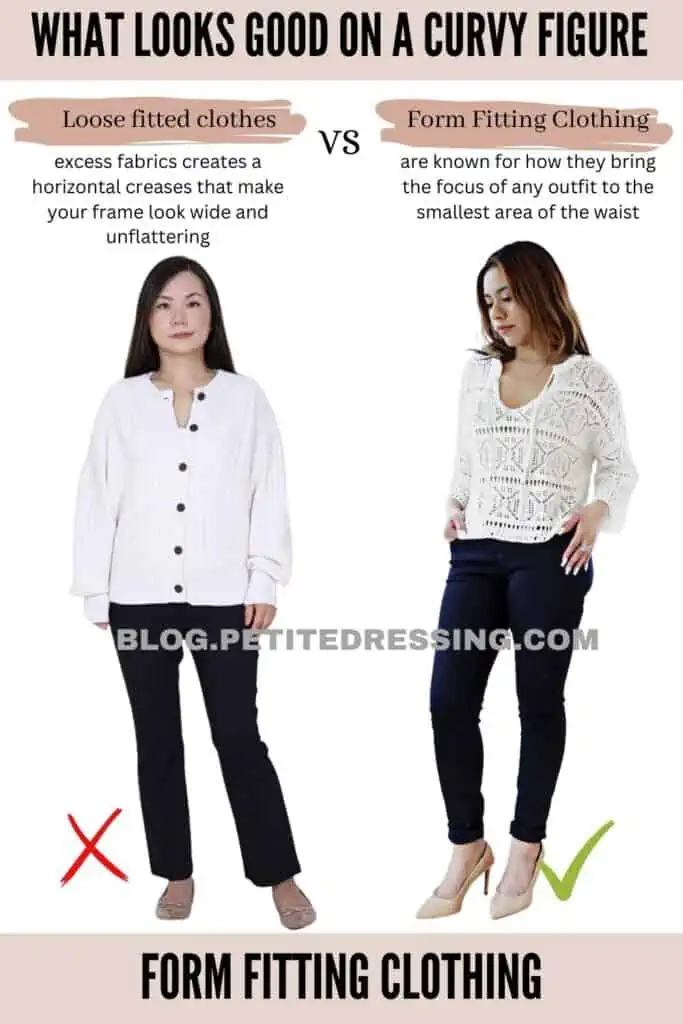 It's worth noting form fitting is different than suffocatingly tight. Form-fitting just means the outline of your body can be seen in the clothes, but they should still be comfortable and allow you to move freely.
The opposite of form-fitting clothing is loose-fitted clothes that do not have much shape or structure. Some curvy ladies tend to think these are the go-to styles as these seem to be accommodating to their generous curves. The issue is if the clothes do not define your shape, then they only disguise your curves, making you look even heavier. Because of your curvy figure, shapeless clothes do not flatter your body and you are much better off with clothing that does give your body some structure and shape.
Color Block Styling
The concept of color blocking is simply styling solid color pieces together in one outfit. These colors can be complementary colors or even the same color in different shades/tones. Wearing a solid color top and pairing that with a different solid color bottom (whether pants, skirt, or shorts) is a really fun way to style and enhance a curvy figure. Because the top and bottom are separated at the waist it's a subtle trick to defining the waistline.
Tailored Pieces
When it comes to dressing for the office, or business casual, in general tailored pieces are best for curvy figures. Avoid anything that's boxy and shapeless, as it doesn't do much to flatter a curvy shape. Tailored pieces, however, are perfection for figure flattery on a curvy body type. Because tailored pieces fit close to the body and really form to curves they're a curvy girl's dream!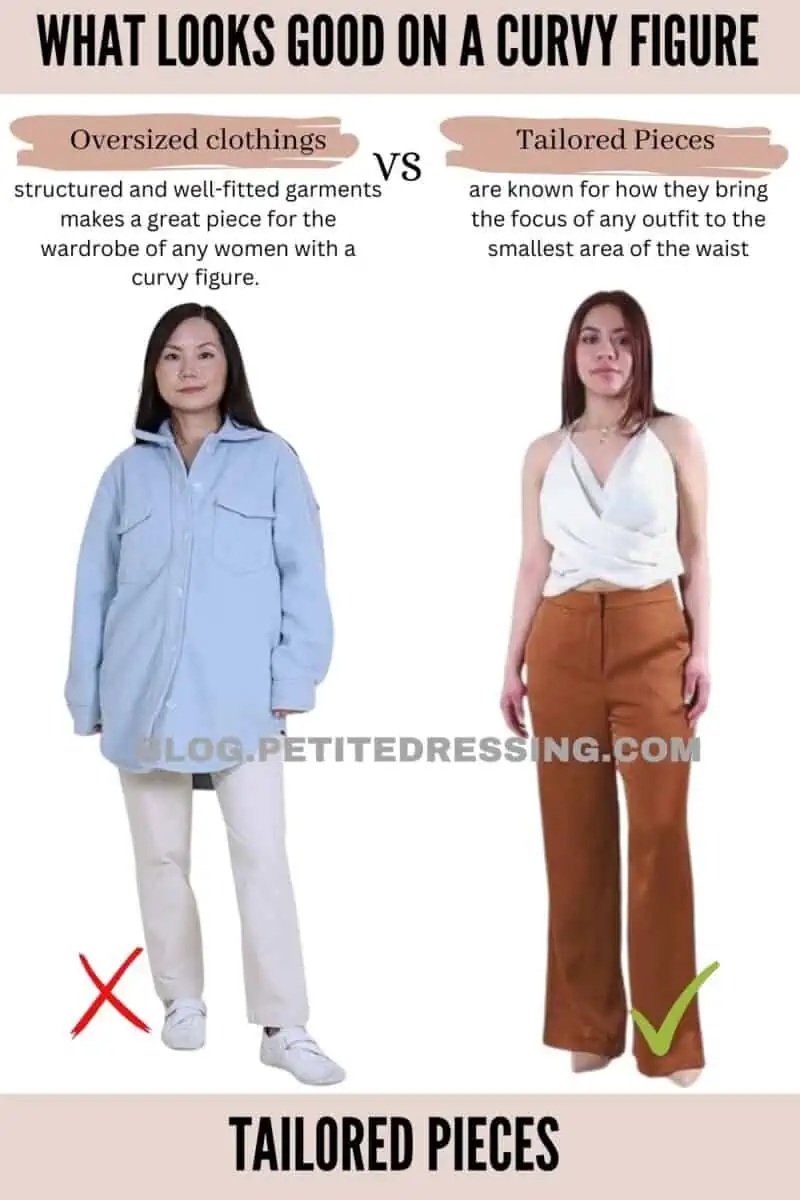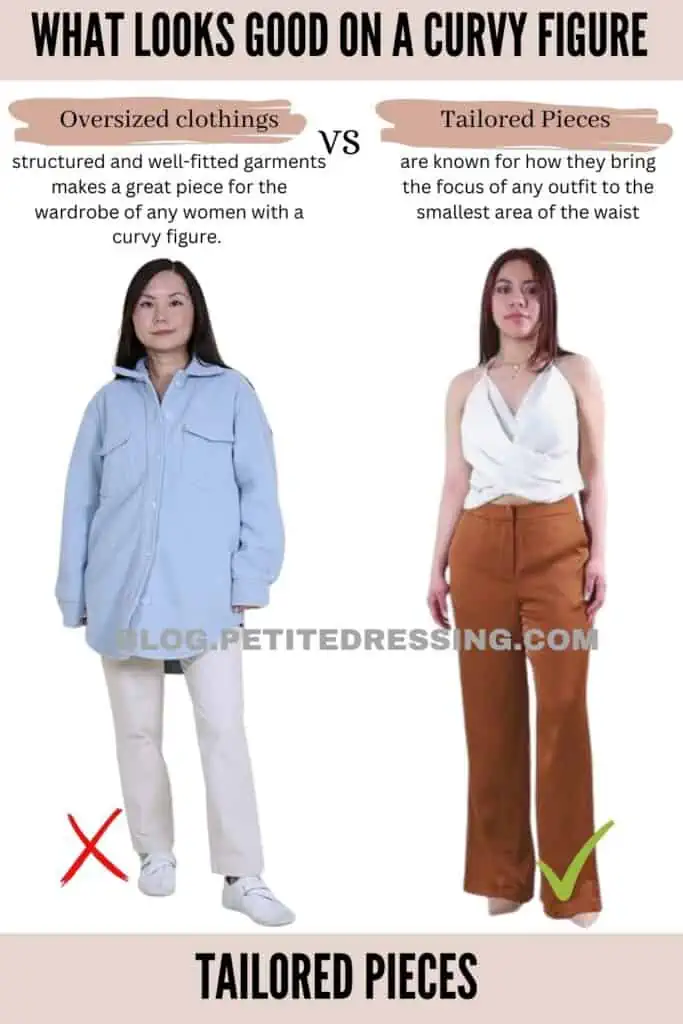 There are many options when it comes to tailored clothing, and blazers are a great example you can always count on. Blazers are typically structured and well-fitted, making them a great piece for the wardrobe of any women with a curvy figure.
Wide Leg Pants
Believe it or not, wide-legged pants are one of the most flattering cuts for curvy figures. What wide leg pants offer is the opportunity to create some balance to curvy hips and thighs by lengthening the bottom half of the body. If you want to look taller and have your legs look significantly longer wide-leg pants need to become your new style best friend. Just make sure wide-leg pants aren't overtly wide or shapeless as this won't provide you with the figure flattery benefits. Choose wide-leg pants that create some space and width to the legs, but your body is still seen while wearing them and isn't overwhelmed.
Skinny Fit Pants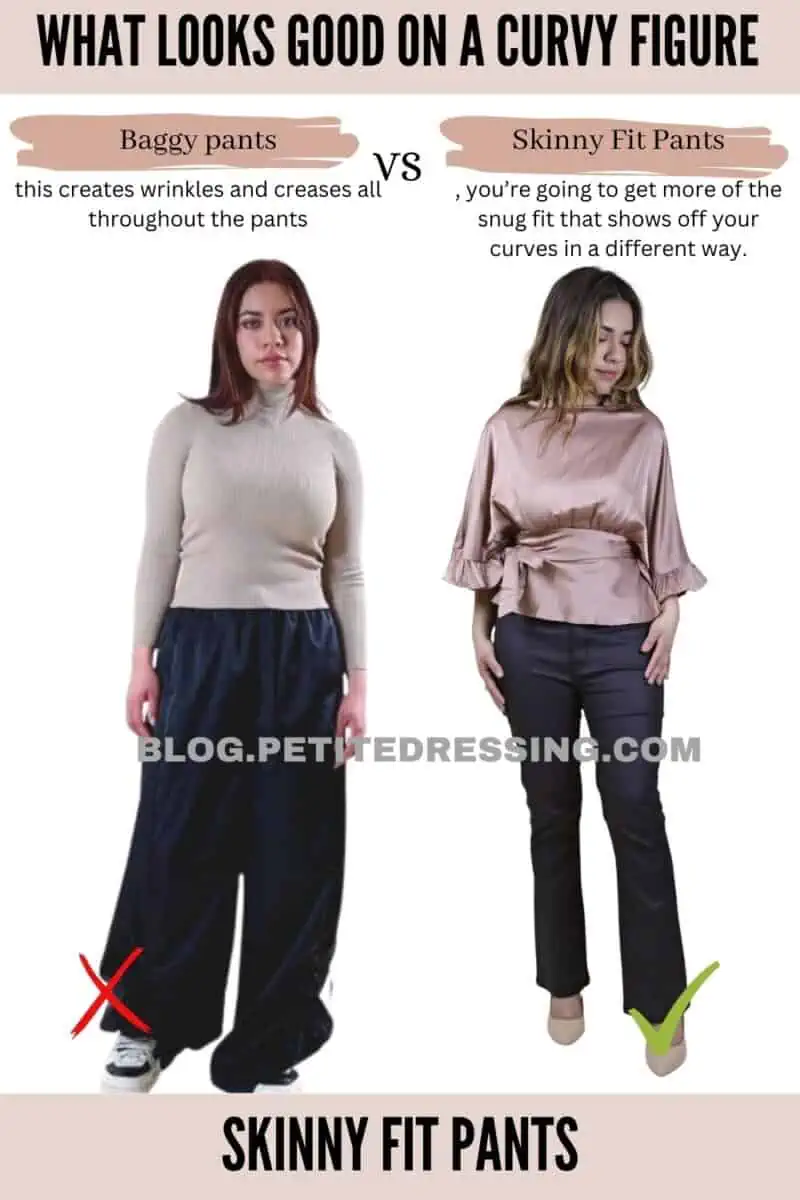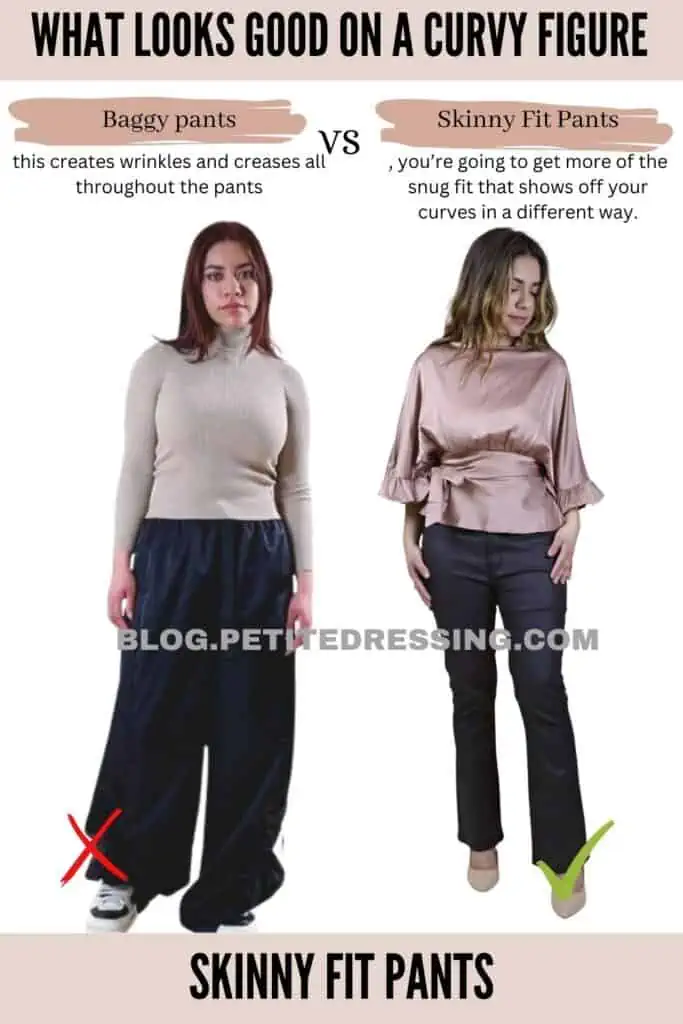 Lucky for you, curvy figures have the option to wear a lot of different styles of pants and know that they flatter their body. That being said, just as much as wide-leg pants are flattering so are skinny fit. They're on the opposite ends of the spectrum but because you have a curvy shape it works. With skinny-fit pants, you're going to get more of the snug fit that shows off your curves in a different way.
Sheath Dresses
The wrap dress isn't the only go-to dress silhouette for curvy figures. Sheath dresses are another shape you can trust will look incredible with curves. Because of the snug fit sheath dresses provide it's the perfect silhouette for when you want to show off your curves with a form-fitting style. The best part of sheath-style dresses is that while they are form-fitting they aren't too snug, offering enough room to feel comfortable wearing all day long.
V-Necklines
A classic neckline that's something to fully embrace with a curvy body type. Truthfully, curvy figures look great in a lot of different necklines, but the v-neckline is a staple you can count on every single time. The shape of a v-neck draws the eye vertically which brings more focus to a defined waist AND also frames the face – double the benefits with this.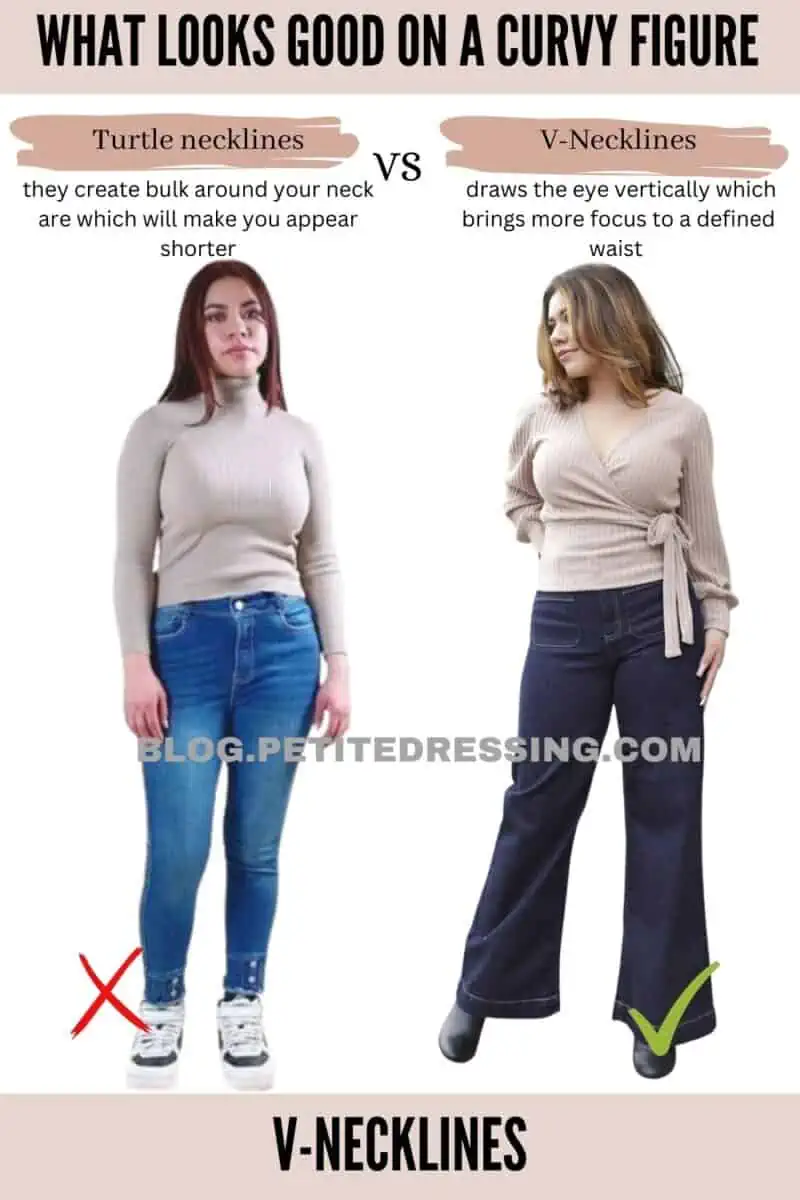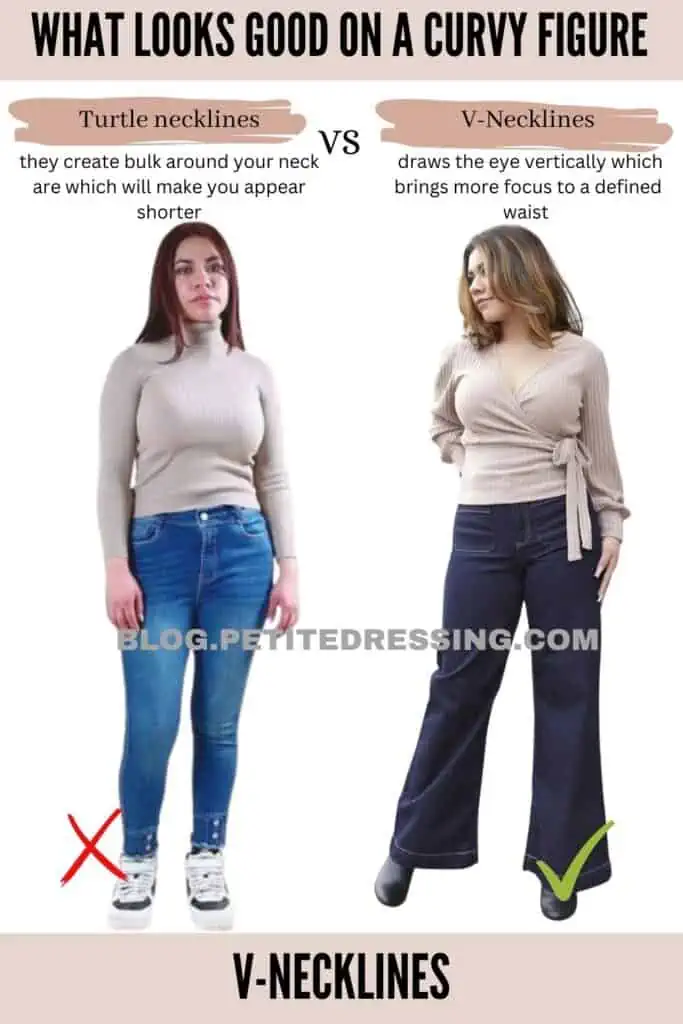 Peplum Silhouettes
One more of the most beloved silhouettes for curvy figures is the peplum silhouette. With the clearly defined waistline built in to this silhouette, it's a major style win when you have a curvy body. More than the waist definition, because of the a-line shape that is created at the peplum, it adds just enough volume to further enhance curvy hips and give nice balance to the top half of the body.