Being 5'2" and having a petite clothing line for women 5'4″ and under means that I've always had unique insight into the kind of dresses that will flatter petite women. Besides, I am also an apple body shape myself, because whenever I gain weight, it always first shows up on my tummy.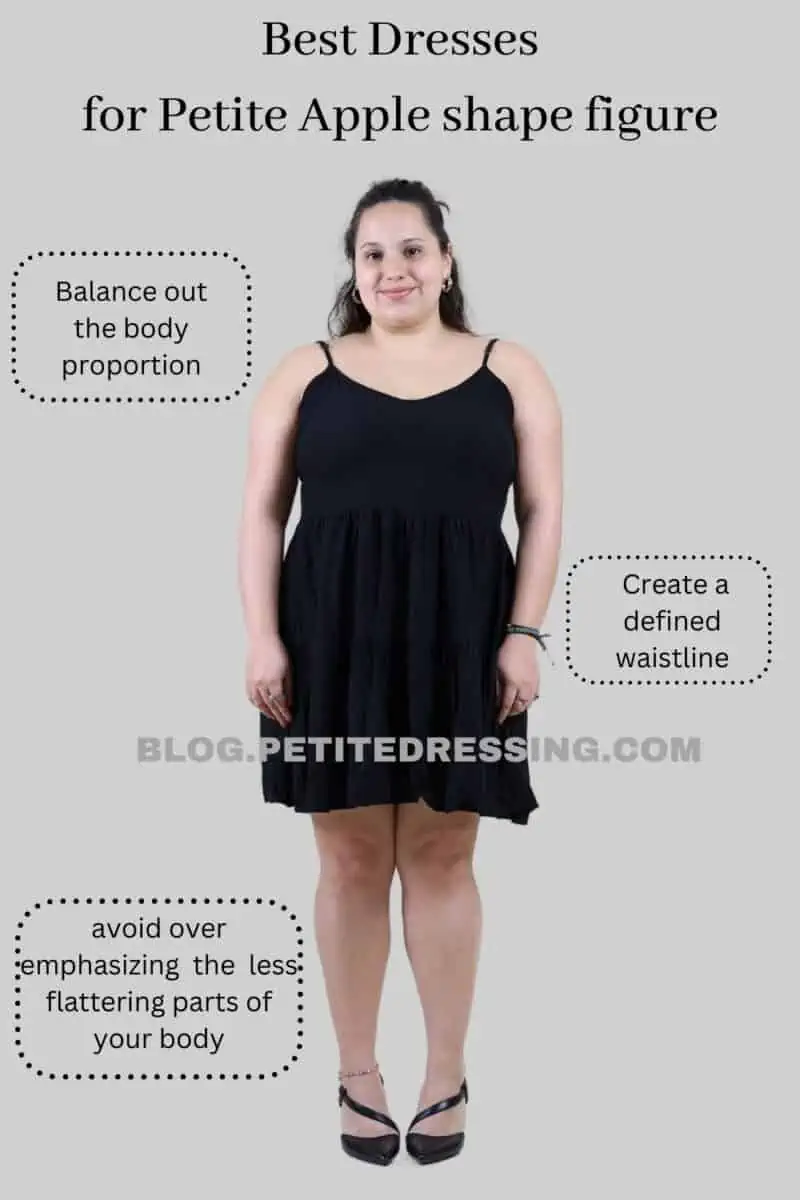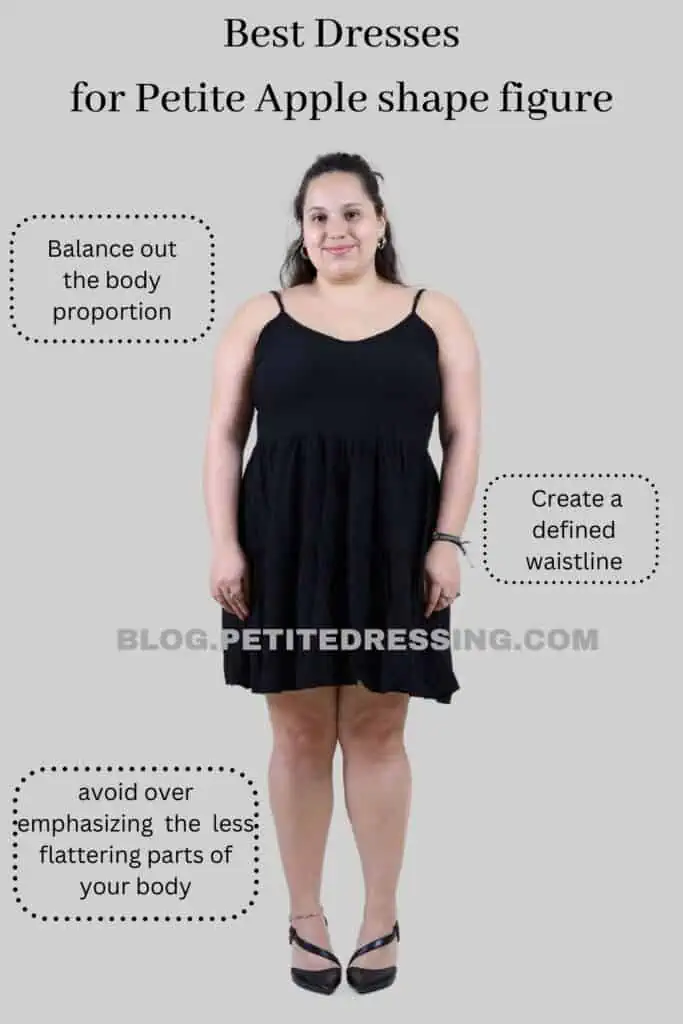 Based on my own experiences as well as feedback from thousands of my petite customers, I've put together this complete dress guide for petite women with apple shaped body.
Shift dress
Are you a huge fan of minimalist designs? All it takes is one look at shift dresses and you'll absolutely be in love with the simple yet sophisticated style of the dress. Shift dresses have simple seam lines that run down from the shoulders to the hem.
The attractiveness of shift dresses is not just in their simple design. It's incredibly flattering for women with petite apple shape. However, the key to enjoying this benefit is to choose shift dresses made with a flowy, soft fabric.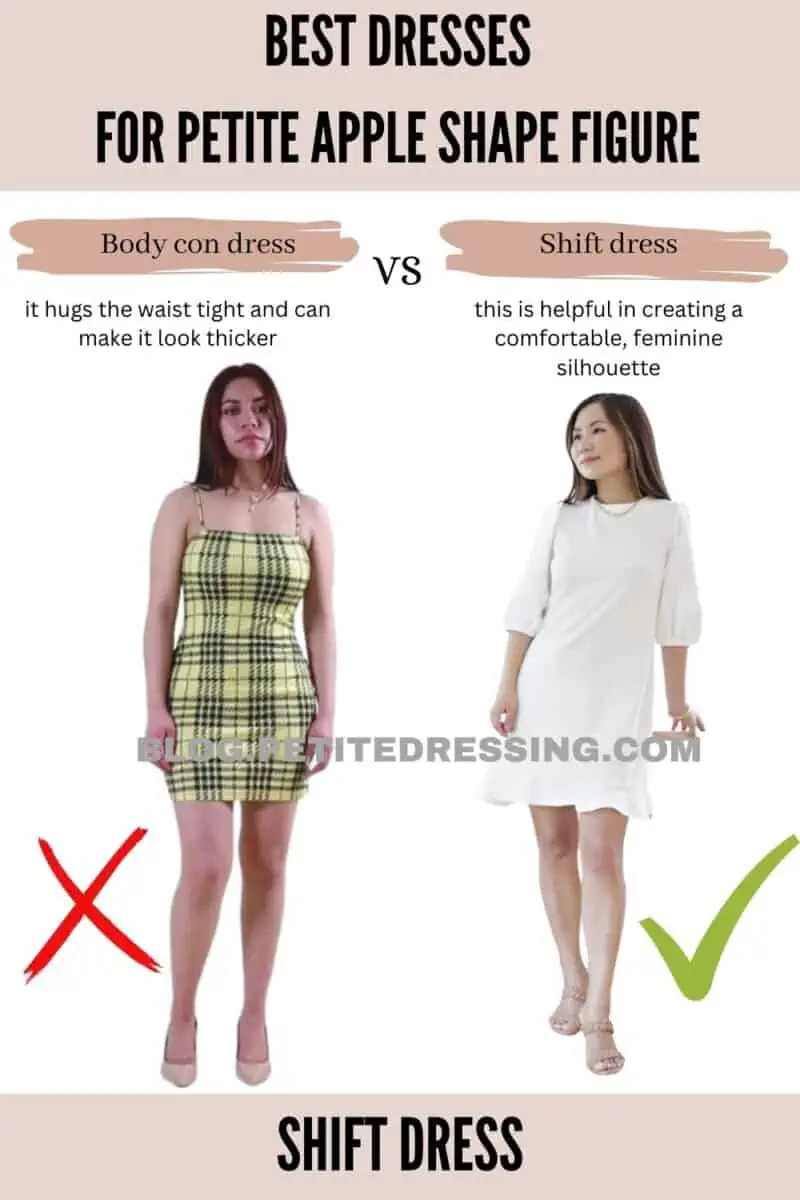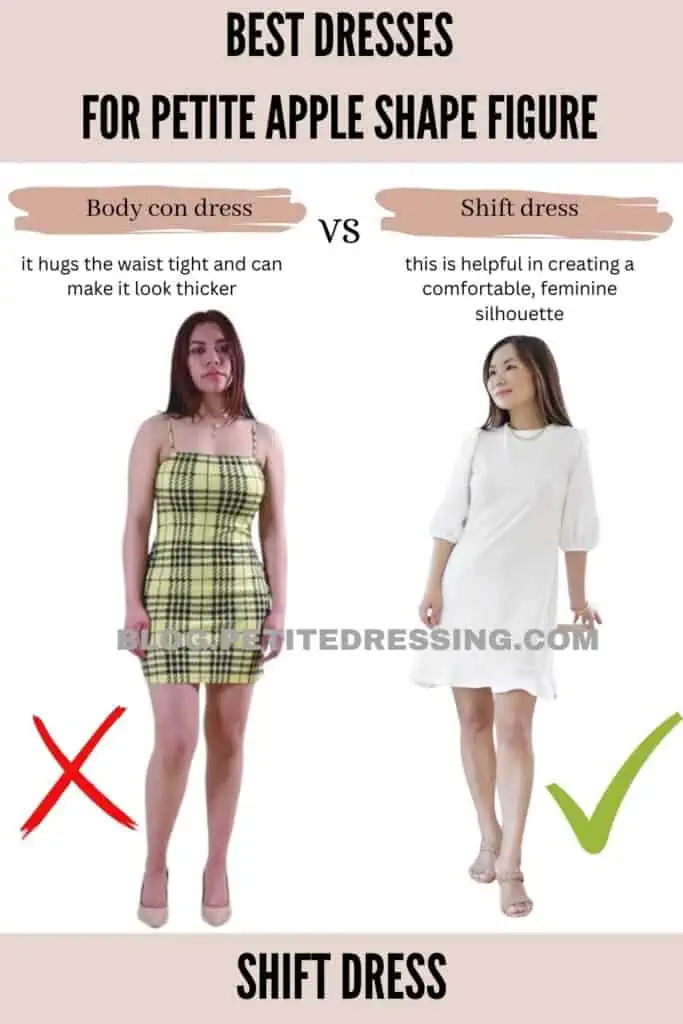 Avoid going for overly tight shift dresses, as clothing that clings too much to your body will only emphasize less flattering parts of your body, especially if you have a muffin top. Since the dress style flows seamlessly across your body and midsection area, this is helpful in creating a comfortable, feminine silhouette.
Knee-length wrap dress
For petite apple-shaped women, wrap dresses that cinch at the waist and stop just right at the knee are a must-have. The cinching of knee-length wrap dresses creates a defined waistline and flattering hourglass shape that complements your natural body figure.
Since most wrap dresses come with a v-neckline, this is a huge addition to your flattering feminine silhouette. This neckline style elongates your neck and draws attention away from your tummy area.
While I could have recommended a different length of dress, I believe the knee-length is perfect because there's nothing wrong with apple-shaped women showing a little leg. This hem helps you show off your legs while still balancing out your body proportions. A huge win in my books.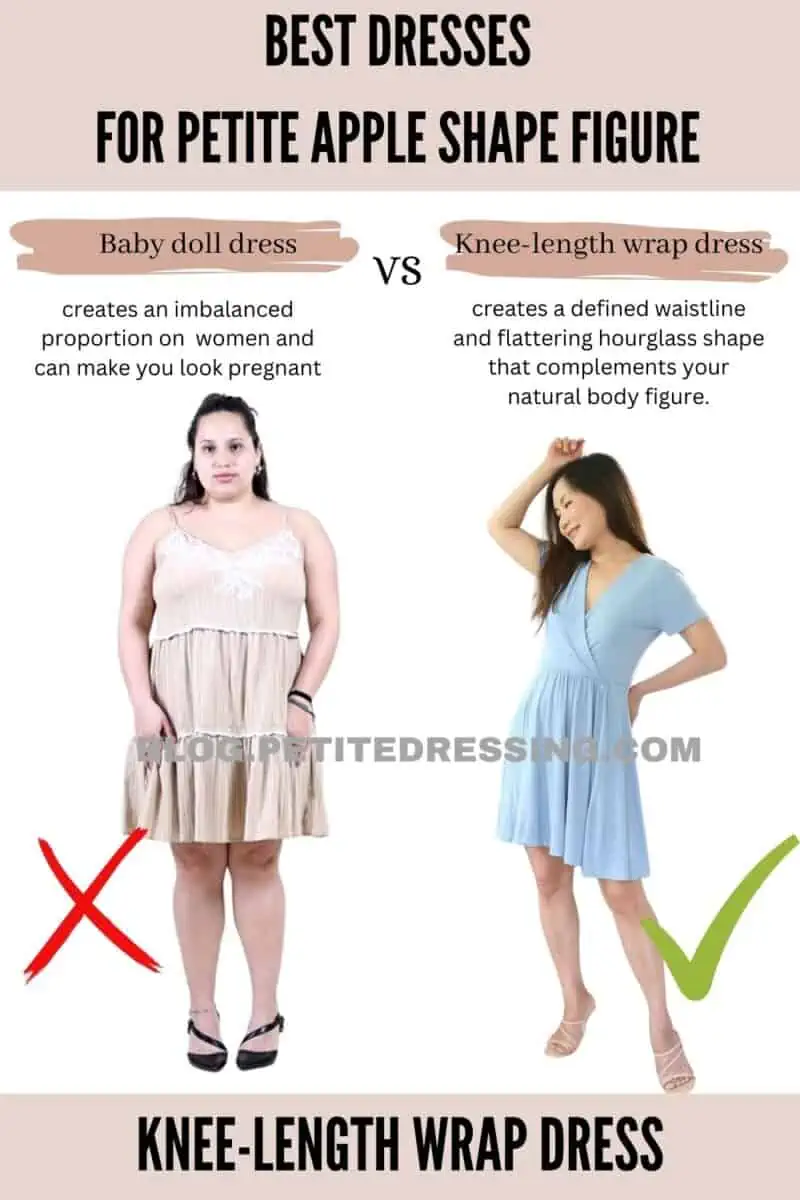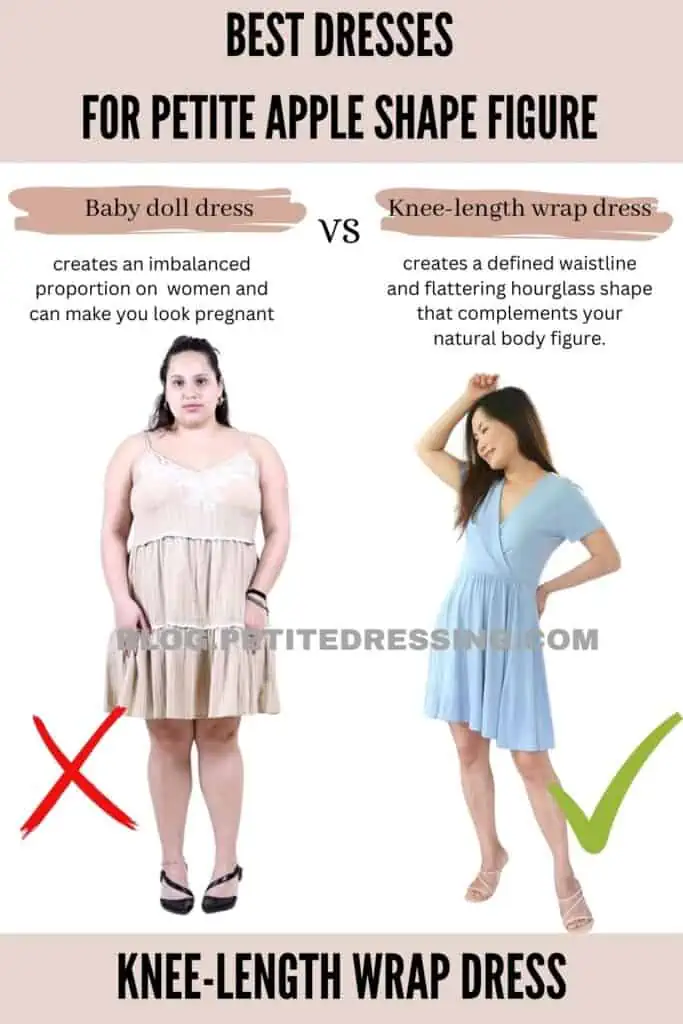 Meanwhile, look out for wrap dresses made from lightweight fabric, as you won't want to add much bulk to your body instead of highlighting your curves subtly. Knee-length wrap dresses with prints are a great idea but be sure to choose small to medium-sized prints so they don't overwhelm your petite frame.
Ruched midi dress
Ruching may not work for all body shapes but they certainly make women with a short apple shape stand out beautifully. Ruching on dresses, especially midi dresses, has a flattering and slimming effect on the tummy area.
So, if you're a little worried about how to conceal your tummy bulge without ruining your dress or being limited to a few choices, a ruched midi dress is just what you need. The midi dress also has the perfect length because it hits a point where it can effectively balance out your body proportions.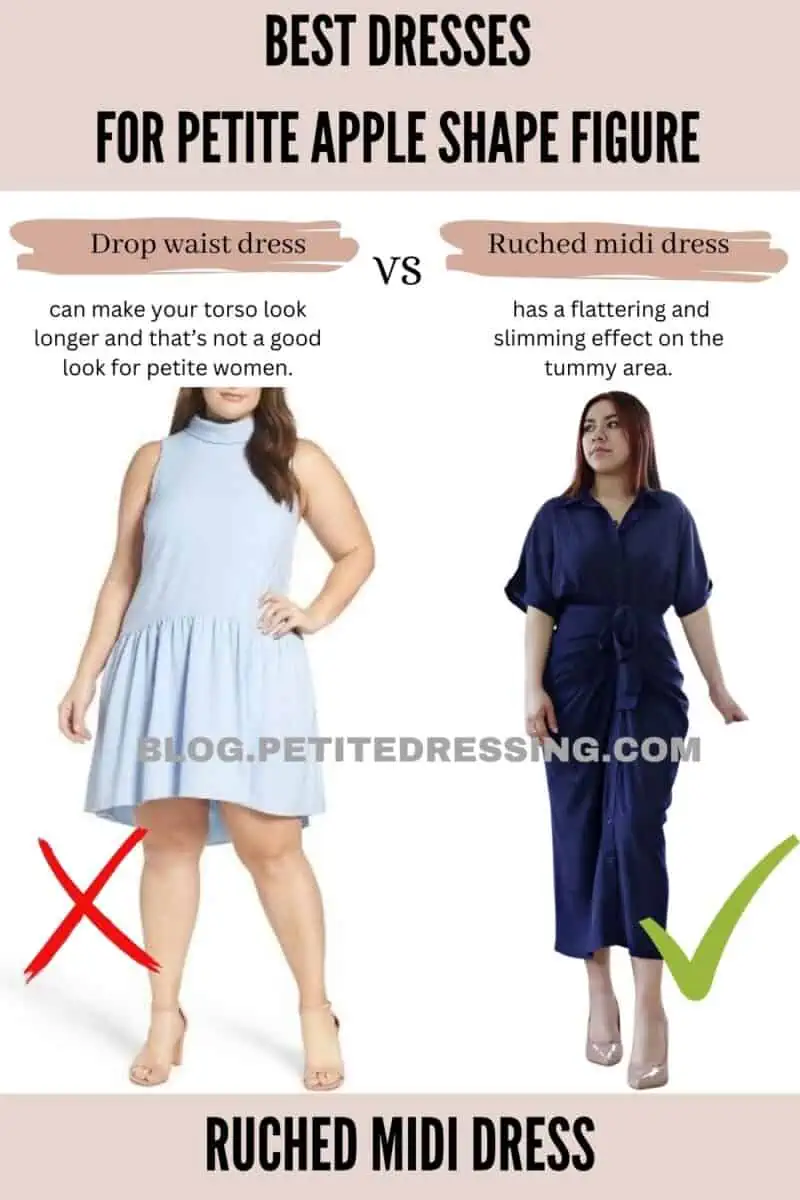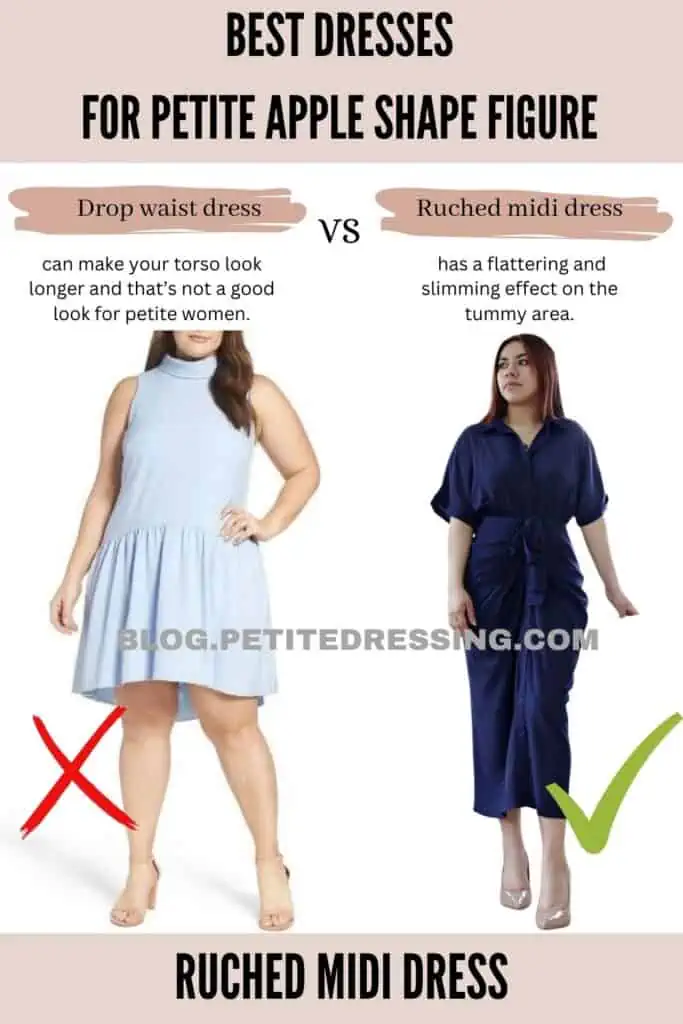 Another great effect of ruching is the structured look it creates where you give off a professional and polished appearance without looking too stiff. There are tons of options for you.
If you don't like flashy dresses, choose a solid-colored ruched midi dress and pair this with a statement necklace and classic pumps for a sleek look. Switch this to a more casual dress by choosing styles with fun prints.
Flowy maxi dress
When looking out for the perfect dresses, my go-to rule is never to compromise comfort and style. Luckily, this leaves us with a wide range of options, and flow maxi dresses are on that list.
The loose fit of this dress style contributes a lot to your overall comfort, while the long, flowing style creates a vertical line that also has a great effect on your body. A continuous vertical line creates the illusion of being taller as it elongates your body.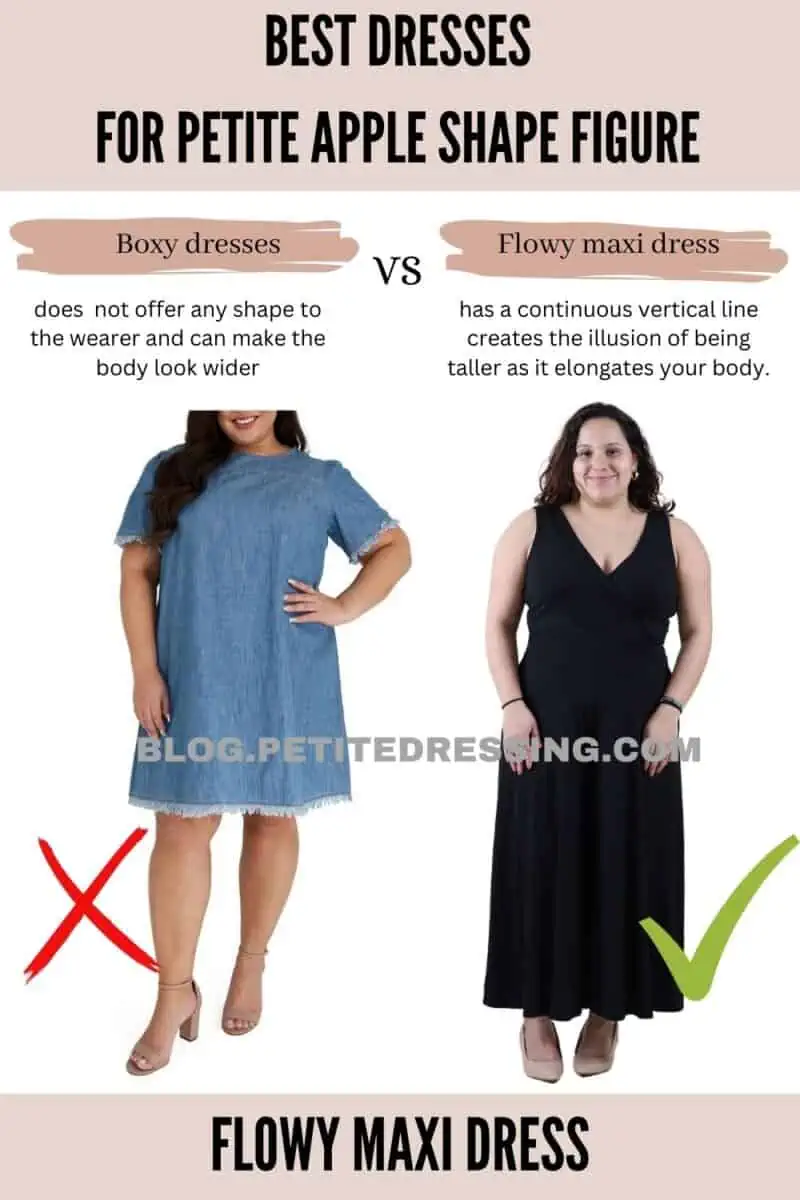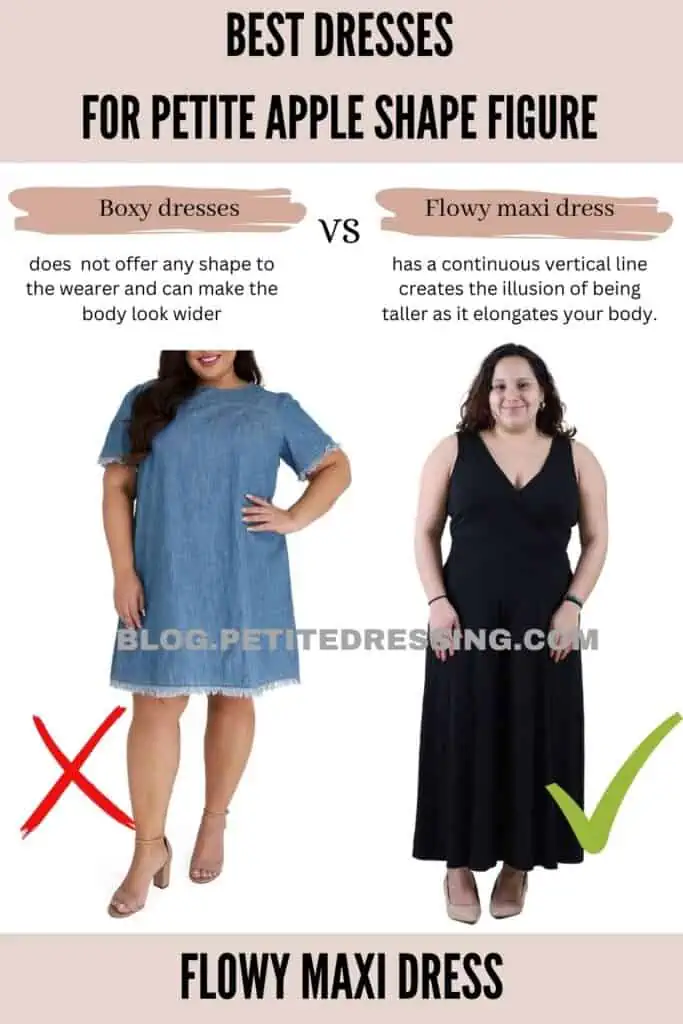 A flowy maxi dress is also not fitted and as the silhouette drapes over your curves, this helps in concealing any tummy bulge. If you're going for a casual yet effortless look, you can wear your flowy maxi dress with sandals in neutral colors.
I'm also a huge fan of minimal accessorizing, so a few statement pieces of jewelry will set the tone nicely. Remember to choose lightweight fabric like linen or cotton so that bulky clothing styles don't overwhelm your petite body frame.
A-line dress
While A-line dresses come in a wide range of lengths and styles, the common factor here is the A-line silhouette which creates a flare from your waist that looks a lot like the letter "A." This dress style provides a pleasant and balanced shape for women with an apple shape.
The fitted bodice at the top helps highlight flattering parts of your upper body while you can enjoy the benefits of an hourglass-like shape with the flared skirt that skims over your tummy area.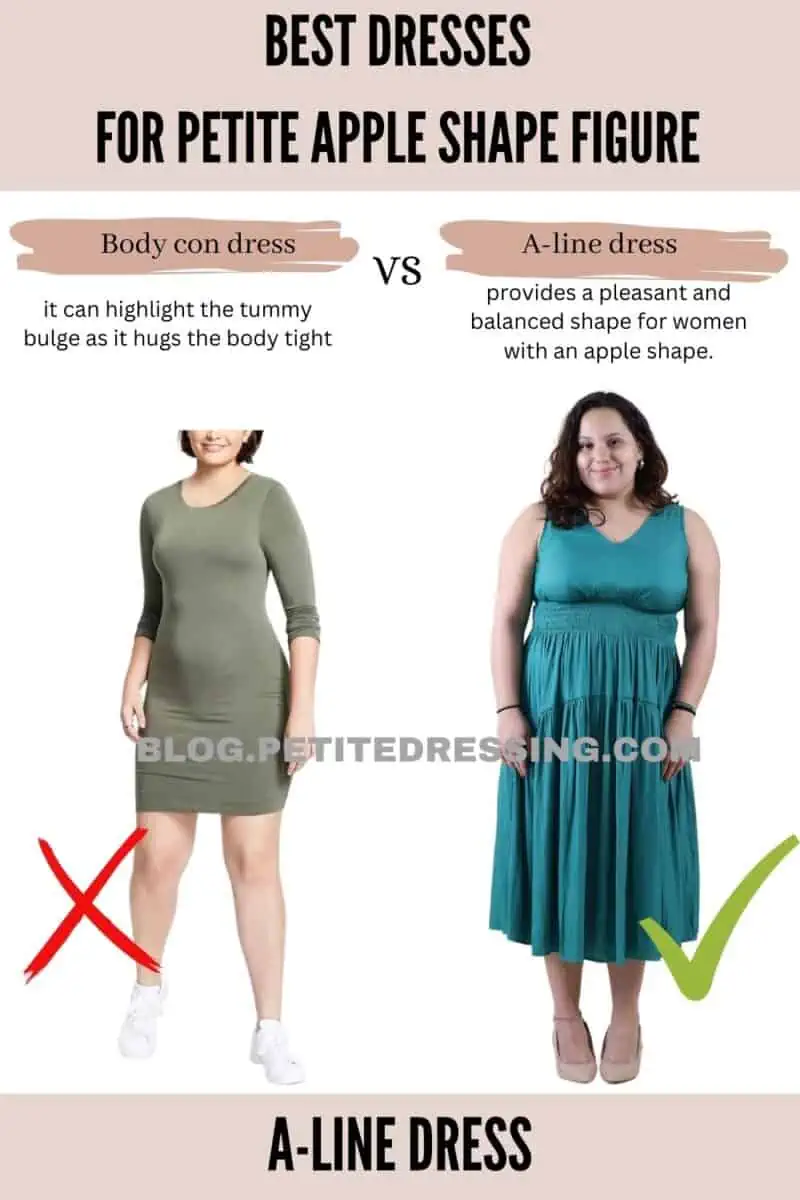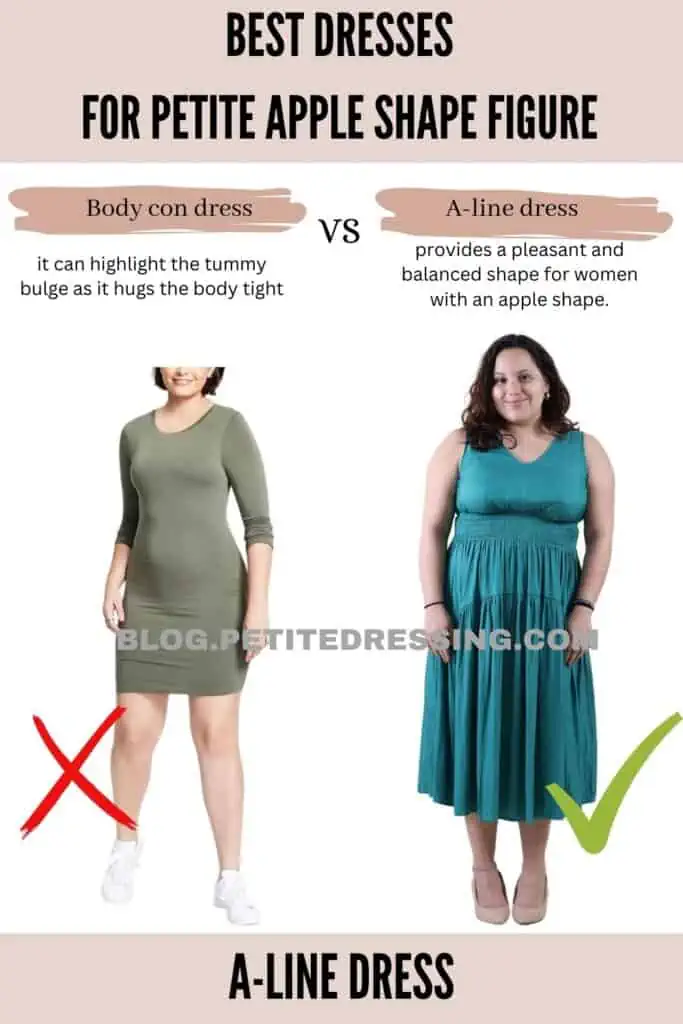 Make sure you choose an A-line dress that isn't tight around your midsection. You can pair your dress with a dark denim jacket for a more laid-back look, not to mention the extra slimming effect that comes from dark-colored clothing. Give this a more dramatic look by throwing on a pair of ankle boots.
Avoid babydoll dresses
Apple-shaped women should go for dresses that help in creating a defined waistline and babydoll dresses won't help you achieve this. Instead, they usually have a high waistline that won't hit above your natural waist, creating a top-heavy look that makes your body proportion unbalanced.
A top-heavy look also draws more attention to your midsection, making your tummy bulge more prominent. The flowy style of the dress is excessive and may exaggerate your apple shape instead.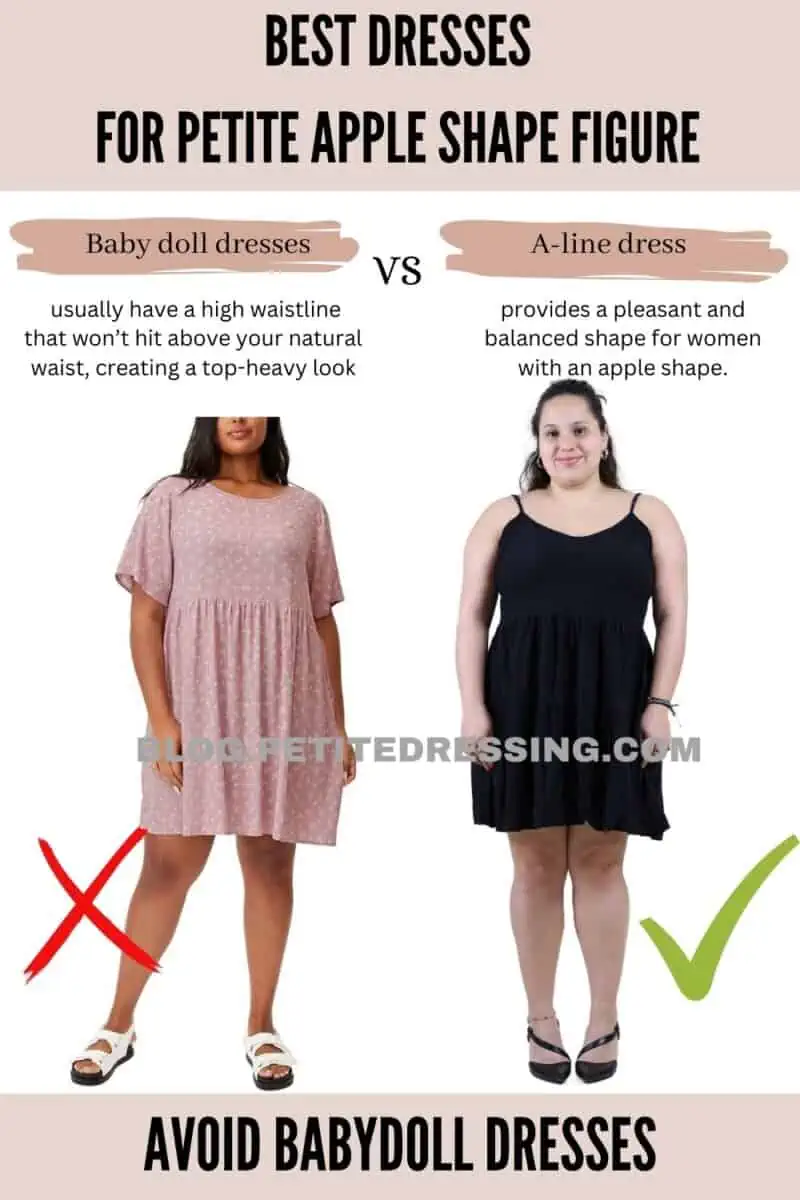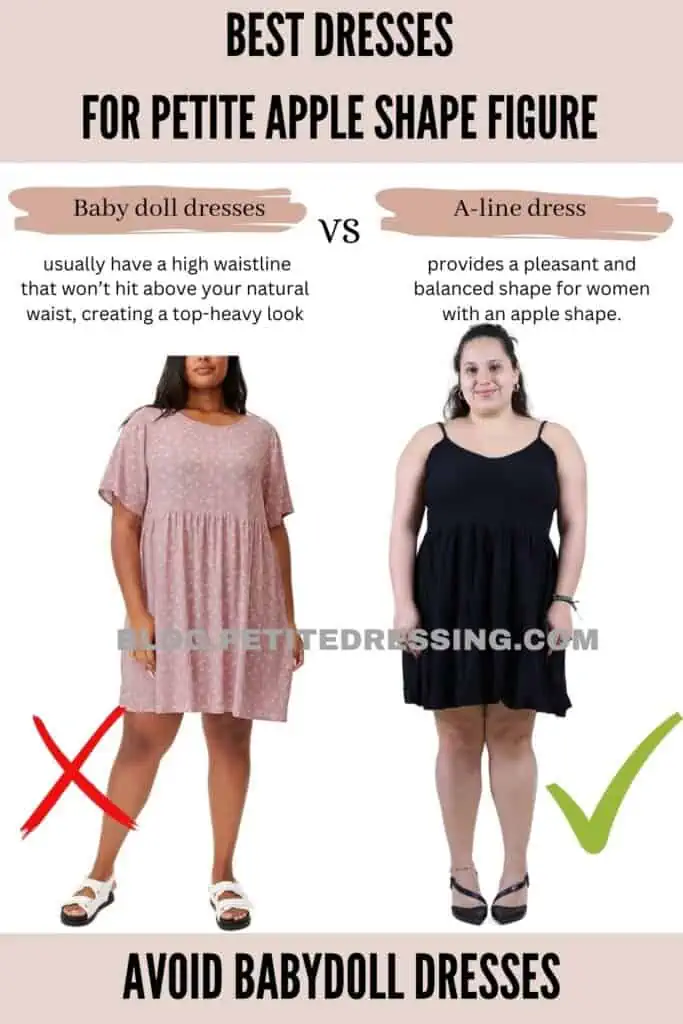 The key is to look for dresses that have a fitted bodice and flare out at the waist, such as a ruched midi dress or A-line dress. Therefore, it's not a great idea to buy babydoll dresses as a petite woman with apple shape.
Avoid dresses with a straight silhouette
As I mentioned earlier, dresses with ruching at the waistline can help flatter your midsection and create a defined waistline. However, the complete opposite of this are dresses with a straight silhouette.
Usually, these dresses are shapeless and won't create a defined waistline. A combination of these features will make your apple shape more exaggerated and draw focus to your tummy area.
Meanwhile, dresses with a straight silhouette don't have structure and that can give you a boxy look. Therefore, this is not a comfortable choice for your body shape and should be avoided.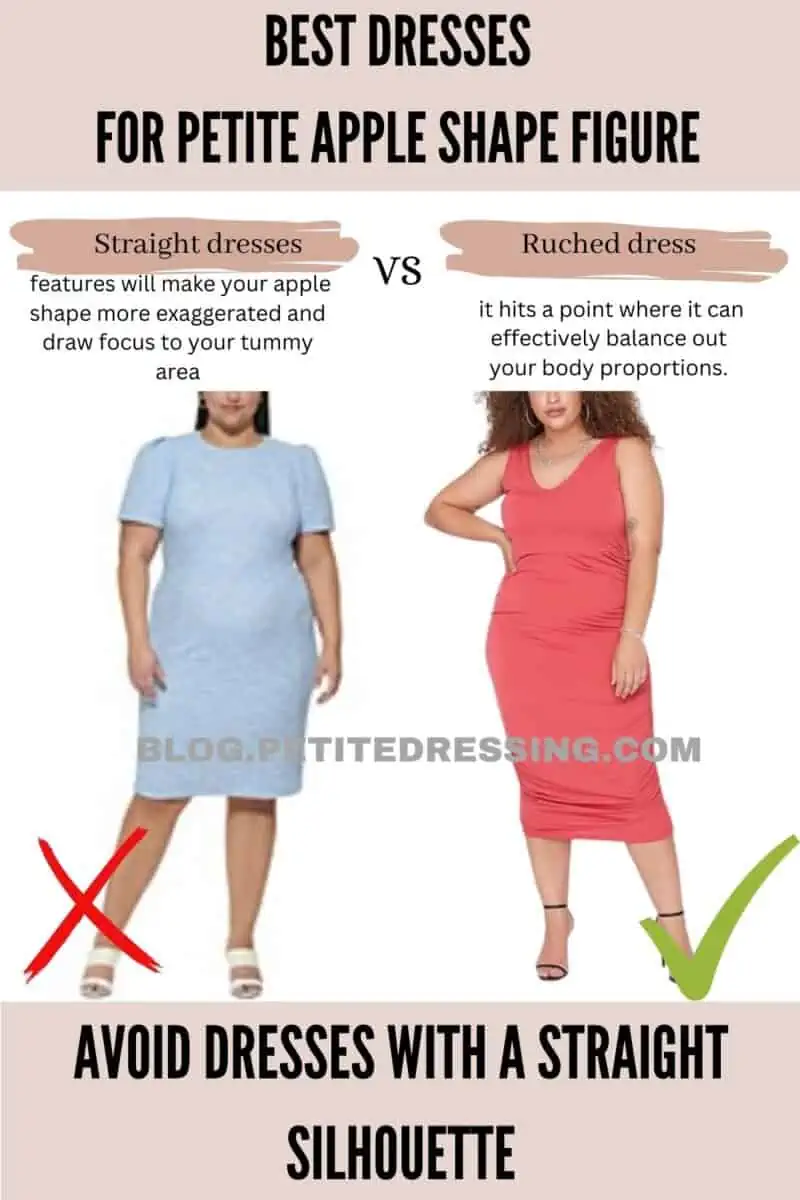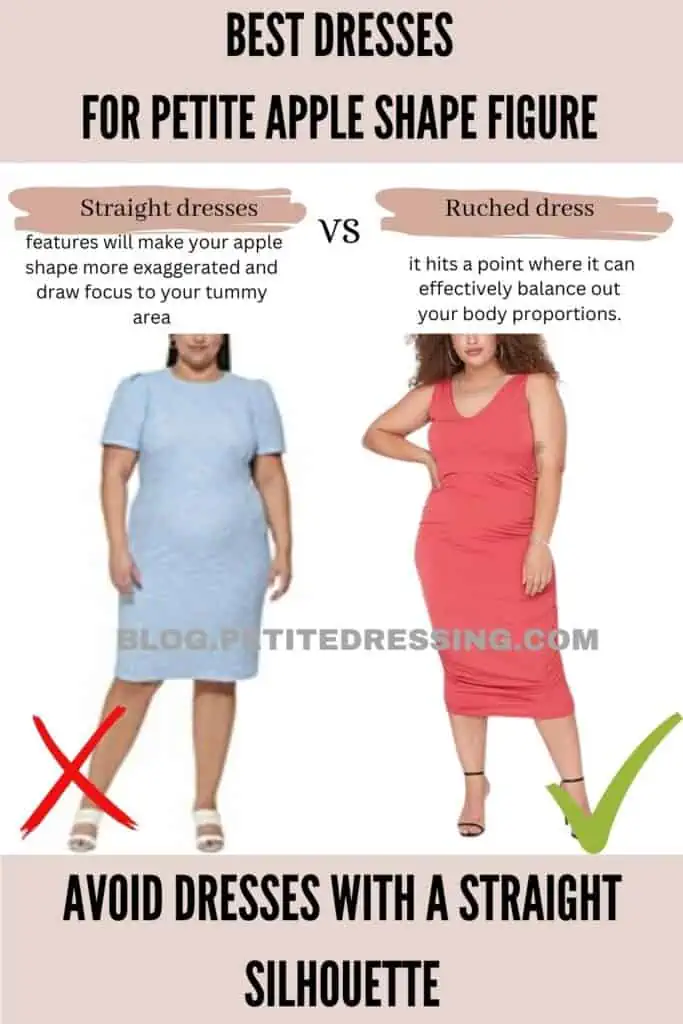 Focus more on wearing dresses that accentuate your waistline and draw your eyes upward. This will not only look good on you but also help you feel super confident as it flatters your body shape.
Avoid drop-waist dresses
Drop-waist dresses may sound stylish but it's best for petite apple-shaped women to avoid this dress style. Since this style of dress has a low waistline that sits below the natural waist of any wearer, this can make your torso look longer and that's not a good look for petite women.
Instead, this will create an unbalanced silhouette that's not flattering on your apple shape. The low waistline of drop-waist dresses will make your tummy area appear larger and that can distort your natural body shape.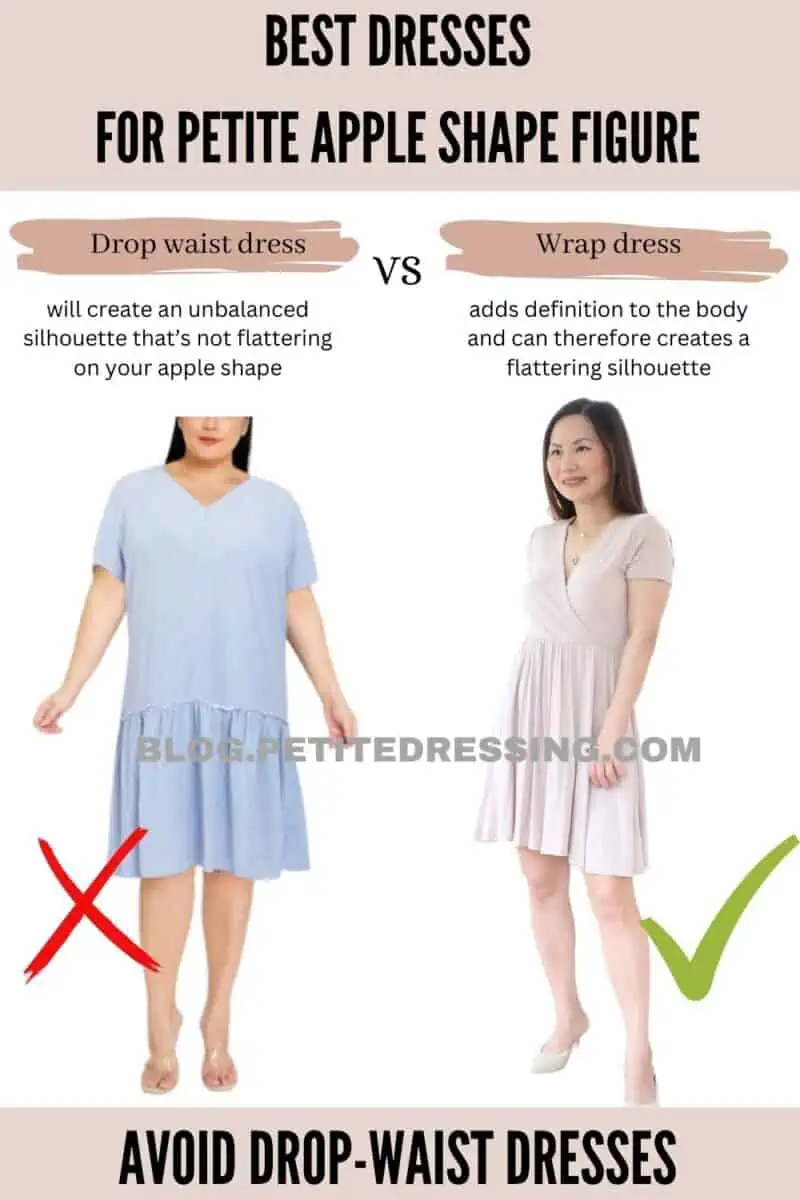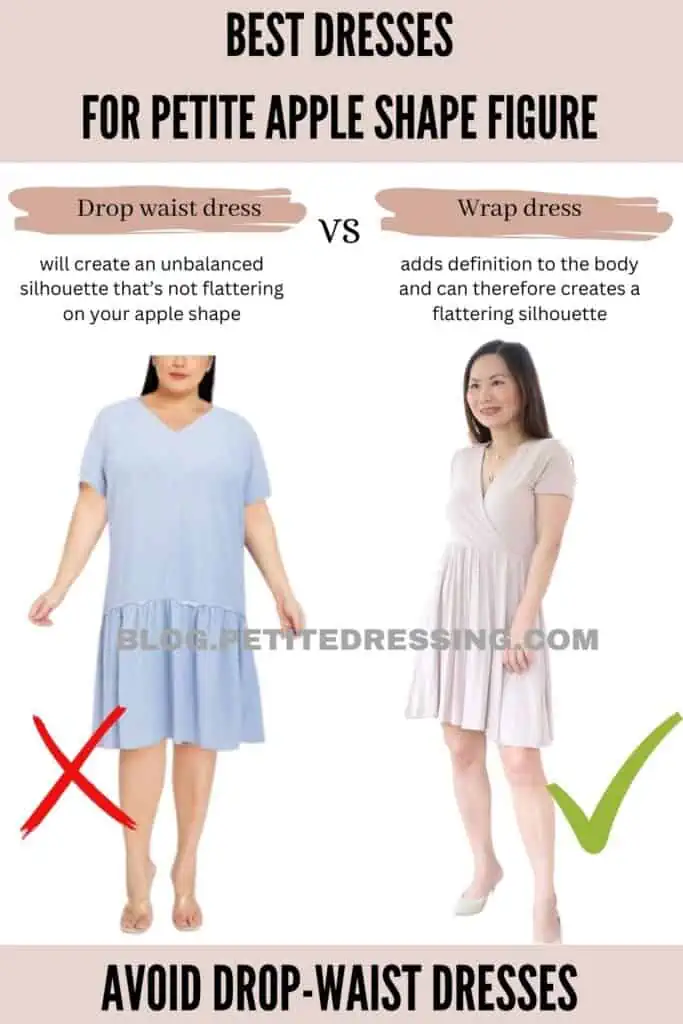 Since most drop-waist dresses come with a slightly flared or overly straight silhouette, this is not enough to give you a waist definition that will highlight your curves and give them an hourglass look. Instead, they will give you a boxy appearance that's not flattering to your figure.
The beautiful thing about dresses is how versatile they can be. The dresses on this list can be worn to various occasions, ranging from casual to formal. So, feel free to try out as many as you can to find one that fits your personal style.