If you are 5 feet and under, it can be a challenge to pull off the palazzo pants. I know that as I am 5'2″ myself, besides, I also have a petite clothing line and many of my customers are under 5 feet tall. That is why wearing the RIGHT styles and colors is critical in order for Palazzo pants to flatter your figure.
I've put together this comprehensive guide based on my own experience, as well as feedback from thousands of my petite customers, to help you find the best Palazzo pants.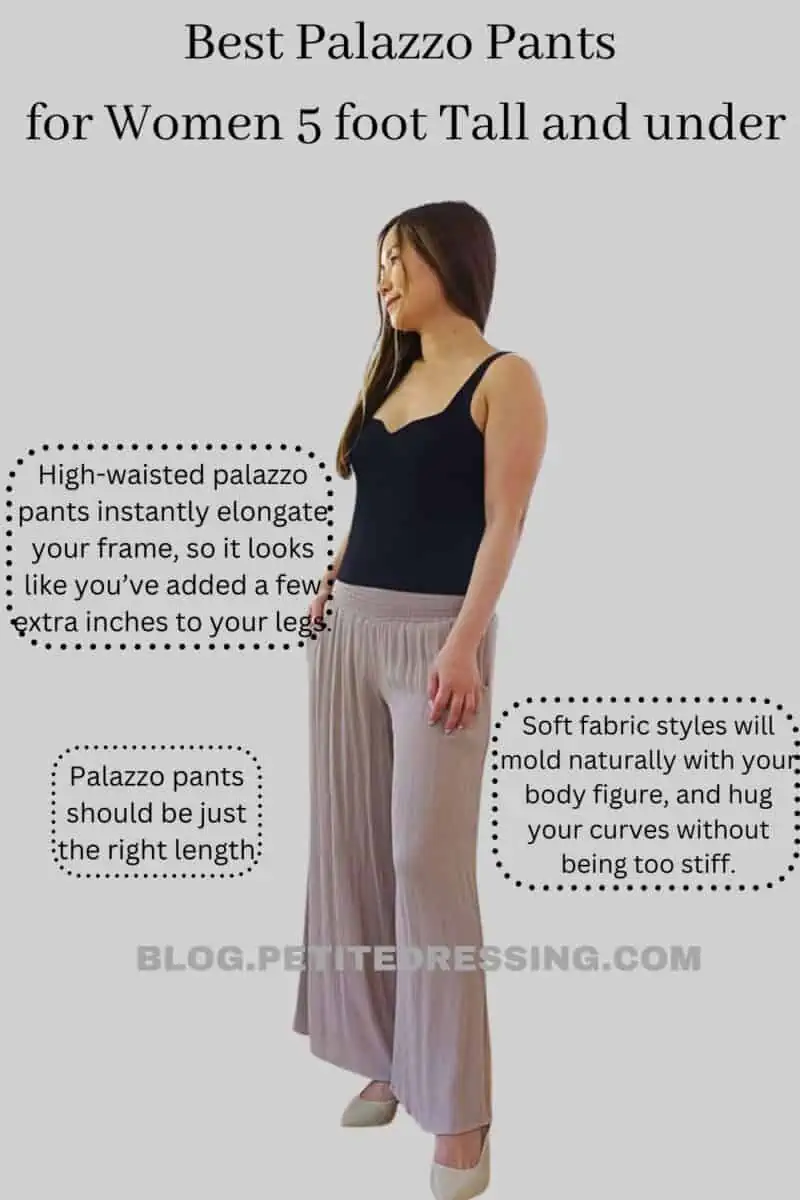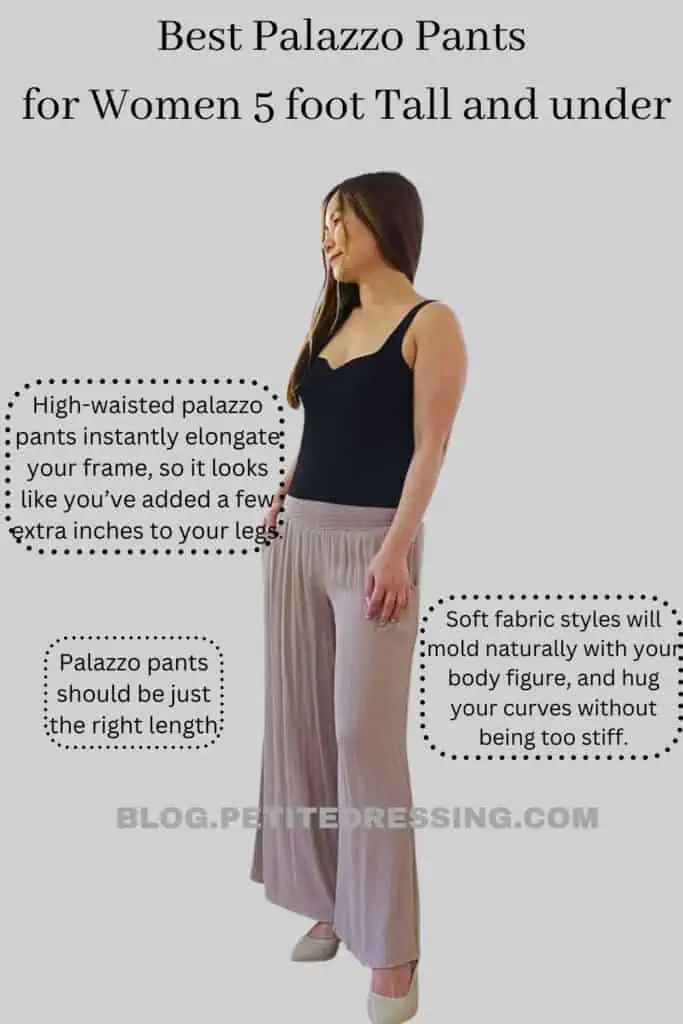 High Waist
Being a petite woman may have its challenges, especially when you're trying to choose clothing styles that won't overwhelm your petite frame. However, you can't go wrong with high-waisted styles.
In this case, I'm talking about how amazing high-waisted palazzo pants can be on women that are 5 feet tall and under. Personally, I do believe that this is one of the most flattering palazzo pant styles for short women.
The appeal of high-waisted palazzo pants lies in the fact that the waistline is higher than your natural waist. Doing this instantly elongates your frame, so it looks like you've added a few extra inches to your legs.
Make this even more amazing by choosing solid-colored styles for your Palazzo pants. These could be blue or brown, as these are simple yet statement-making colors.
Rather than focus on your petite frame, high-waisted palazzo pants can make you look taller, especially when paired with the right shoes. Lots of petite celebrities do this; just take a look at Kim Kardashian.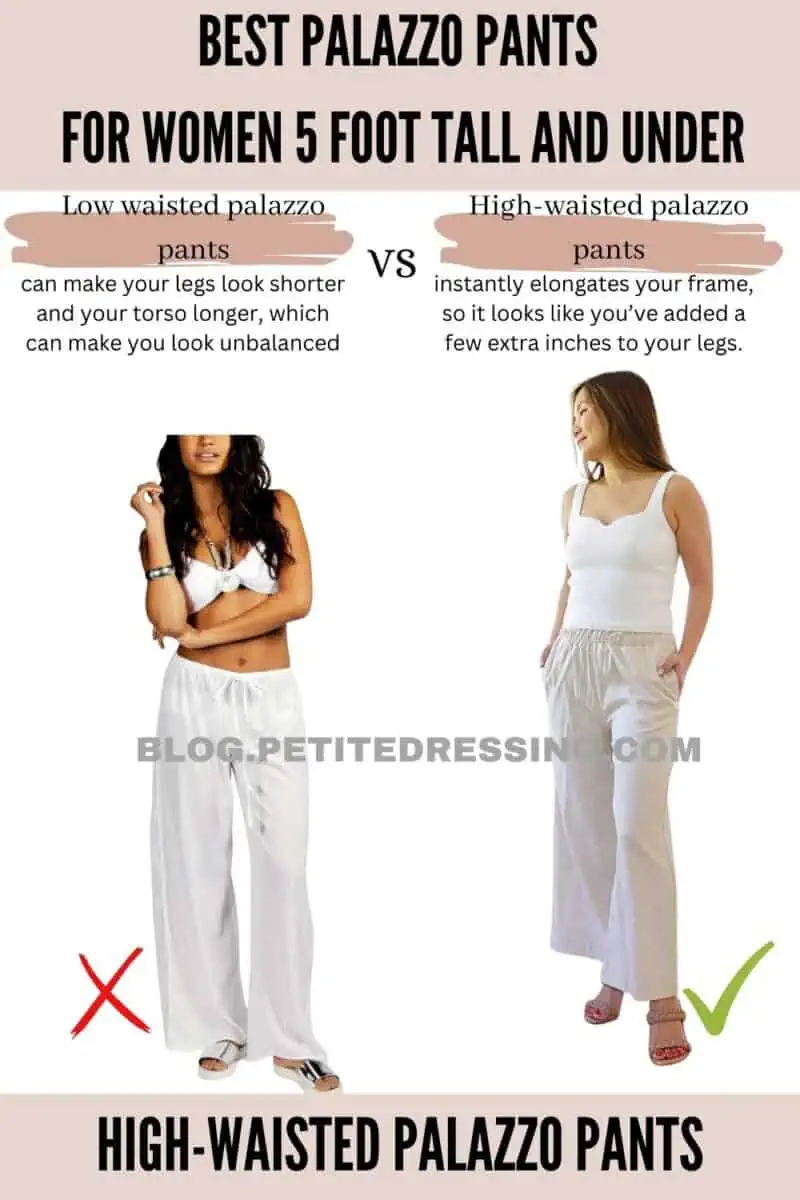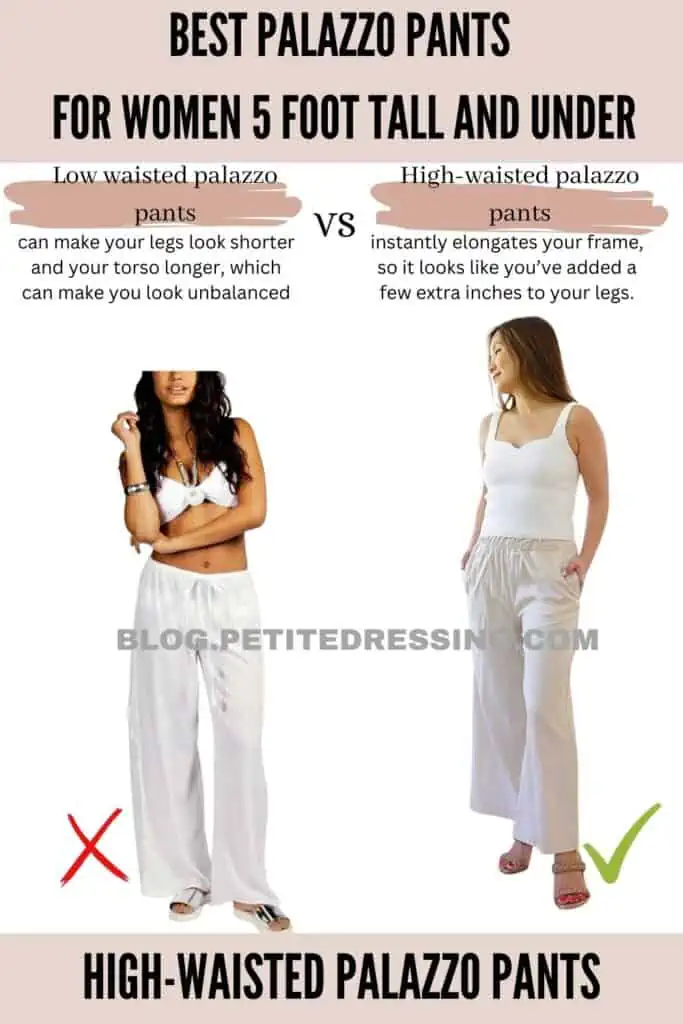 Avoid Loud Prints
Wearing palazzo pants with prints can be quite cool as they add more life to your clothing style. They are a bold choice to make, especially for women that are 5 feet tall and under. While I wouldn't completely condemn the idea of wearing palazzo pants with prints, this must be done with caution.
Too many prints on your palazzo pants will make them look extra busy and that can make your petite body frame look overwhelmed beneath all that busy print. It's important to find a balance, such that you can explore your love for prints without looking shorter.
Therefore, if you must wear palazzo pants with print, be sure to keep this to a minimal level. These should be smaller prints and not concentrated on one spot. You can also opt for polka dot styles.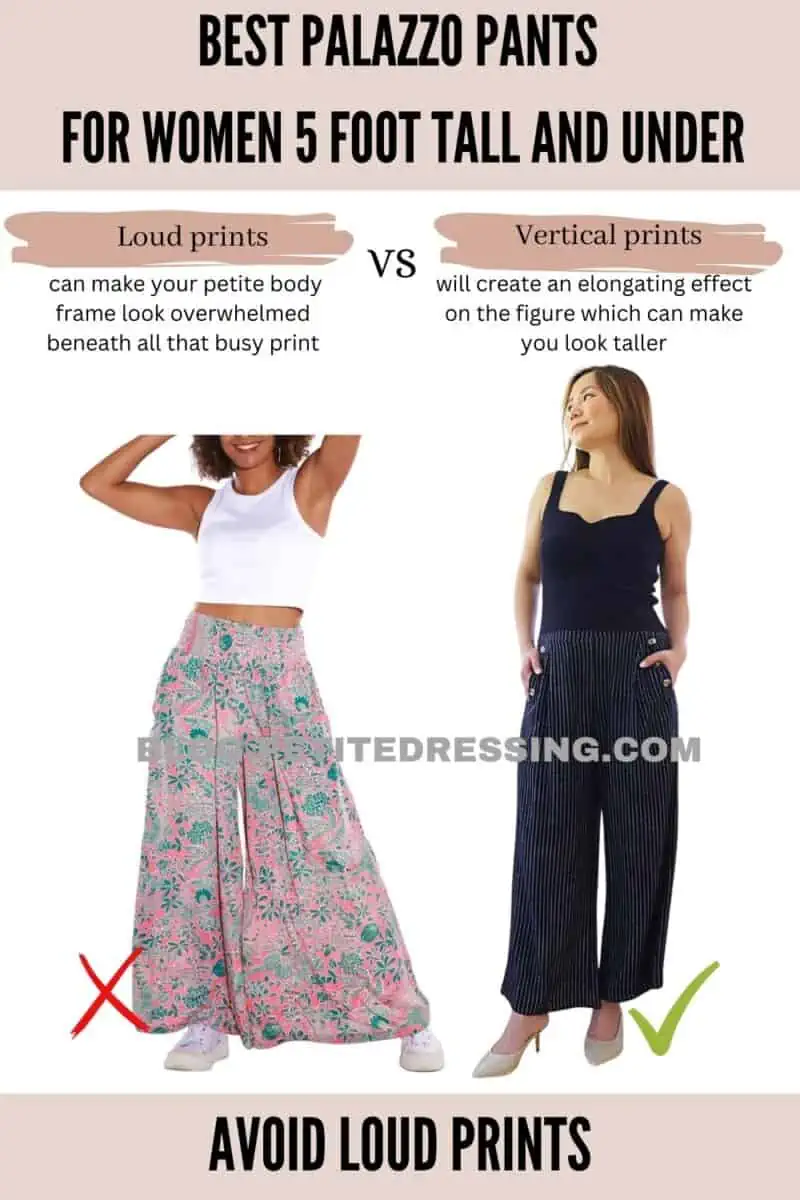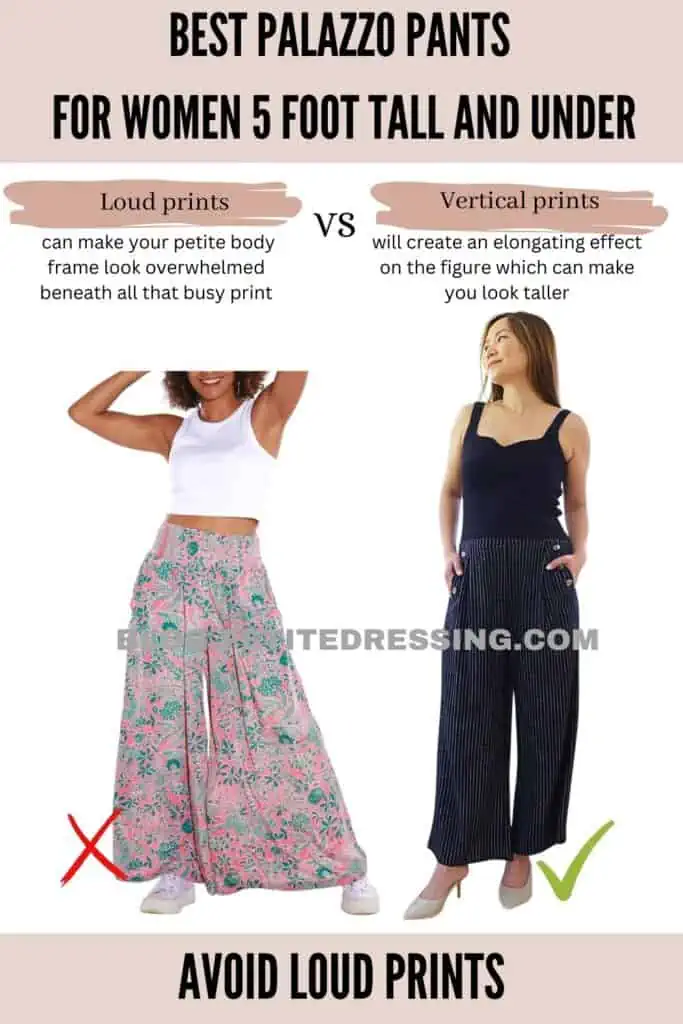 Dark Colors
It's not rare for petite women to be concerned about the wide-legged style of palazzo pants and how this could overwhelm their body frame. I was concerned about this initially until I discovered the fantastic effect of solid colors on short women.
You can counteract the effects of wide-leg palazzo pants on your body by choosing only those in dark colors, especially black or navy blue. These dark colors have an exceptional slimming effect on your body that helps mitigate the effects of wearing big Palazzo pants.
Here's how that works. Some palazzo pants have an expanding effect which could leave you looking a bit swollen up. However, you won't look this way with dark-colored palazzo pants as the dark colors will eliminate the widening effect.
You'll look taller and slimmer, which is perfect for your petite frame and draws attention to the most flattering parts of your body. When choosing dark-colored Palazzo pants, it's a great idea to pick plain ones with no designs or patterns on them.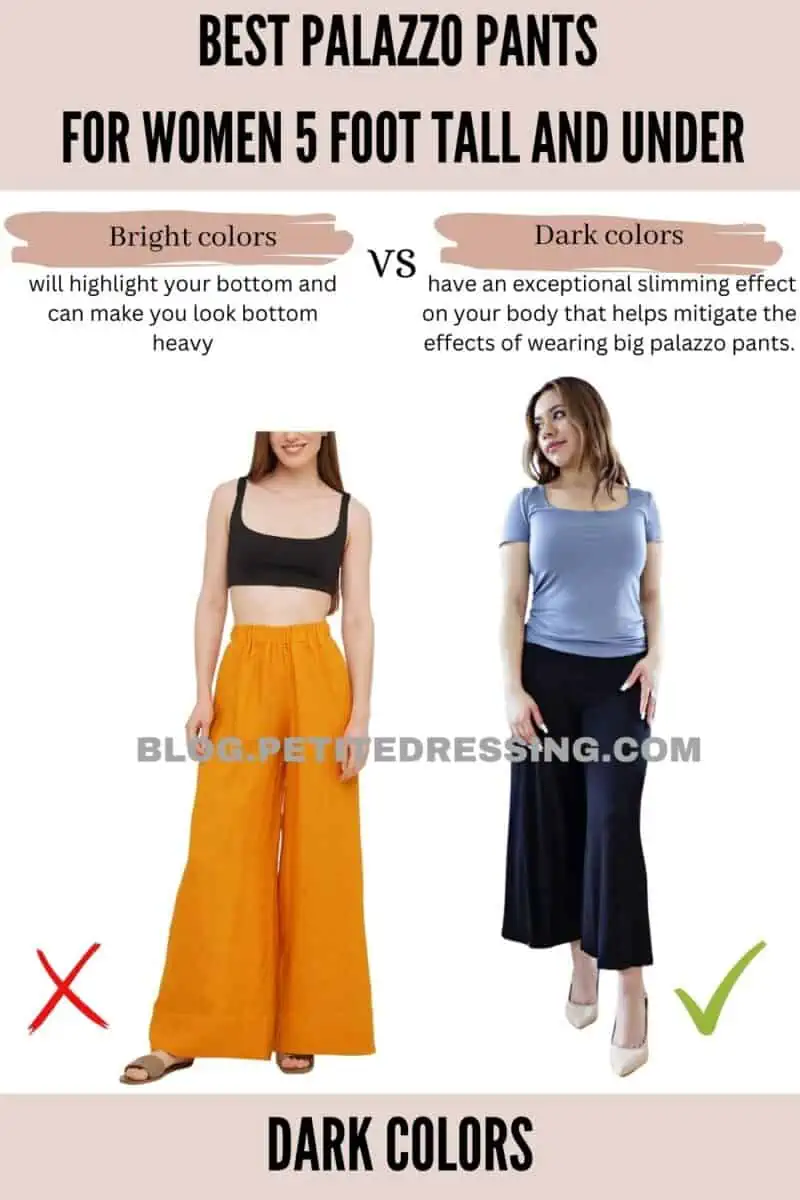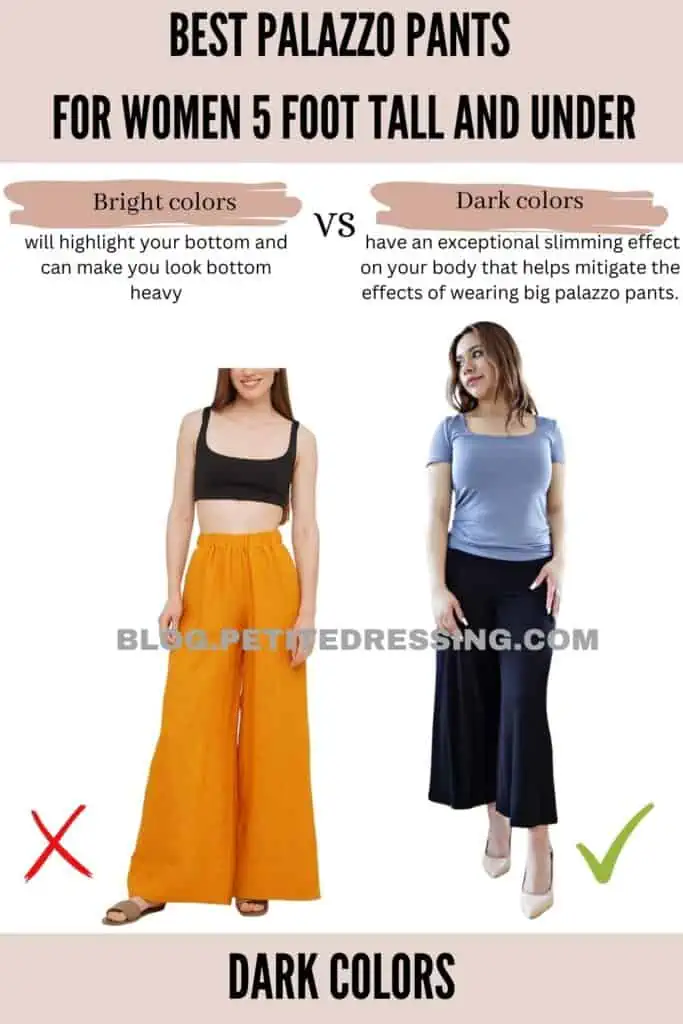 Vertical Stripes
Palazzo pants with vertical stripes are a must-have in your wardrobe as a petite woman who is 5 feet tall or under. Some palazzo pants have horizontal stripes which have the horrible effect of widening your body frame.
Overall, they will make you appear bigger and shorter, which is not flattering for your physique. However, palazzo pants with vertical stripes have a completely opposite effect. They offer the perfect counterbalance on the widening effect of the wide-leg style of the palazzo pant.
So, it's best to look out for these styles of palazzo pants, especially those with subtle vertical details. You don't want the thick lines to draw more attention to your body frame and have a negative effect on your outlook.
Therefore, as I mentioned earlier, avoid the busy and loud print styles, and opt for stylish vertical stripes in simple yet beautiful colors.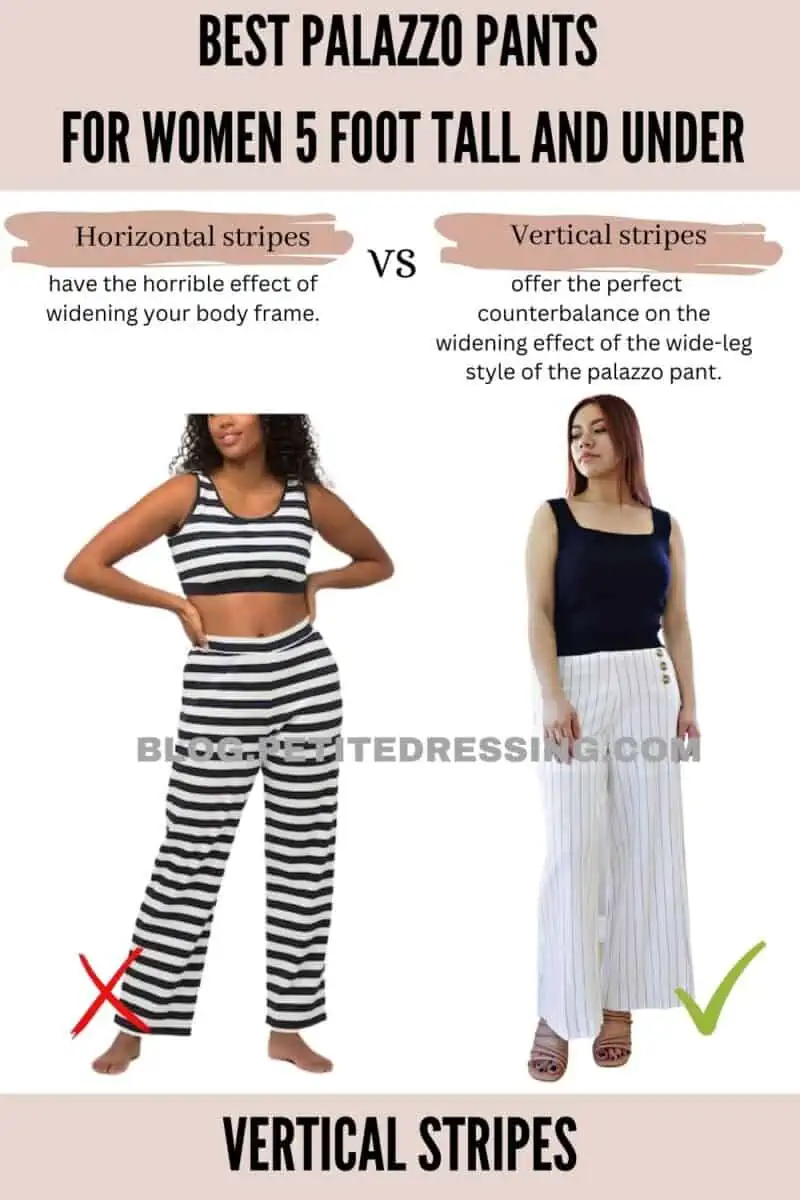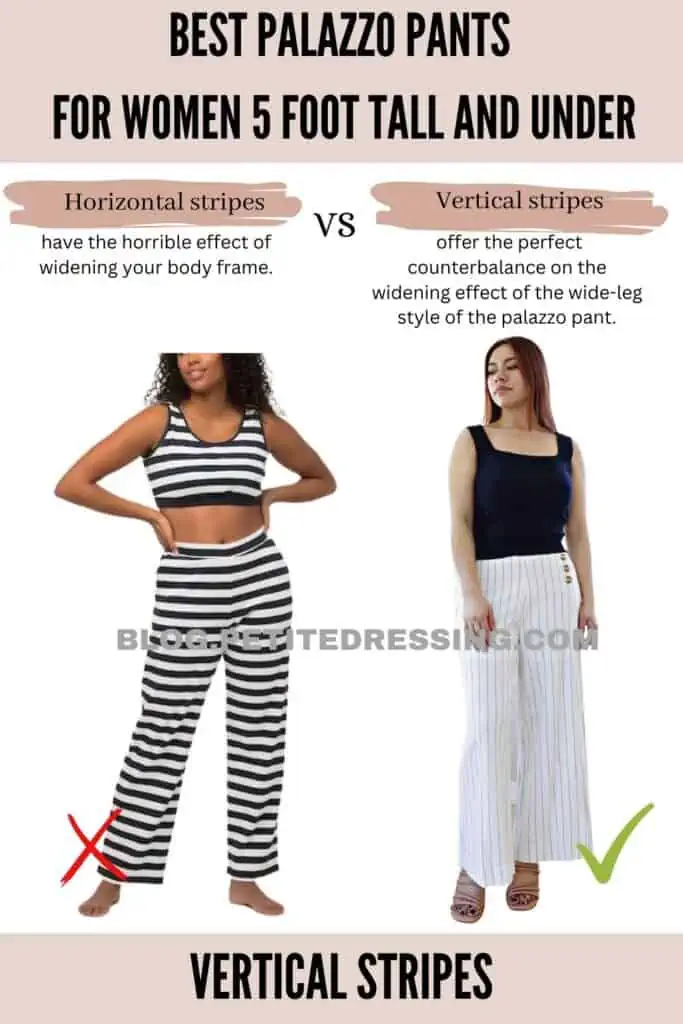 Flowy Palazzo Pants
When choosing palazzo pants, the fabric style matters too. For women who are 5 foot tall and under, the type of fabric chosen for your palazzo pants is the difference between one that flows with your body naturally and another that feels bulky on your body frame.
Therefore, it's always a great idea to opt for soft and flowy palazzo pants. The best fabrics for petite women include silk and jersey materials. These are soft fabric styles that will mold naturally with your body figure, and hug your curves without being too stiff.
Soft and flowy fabrics will definitely look good on you, especially if they have just the right amount of weight to stay flowy. Avoid clingy palazzo pants as these will draw a lot of unnecessary attention to your short legs.
These soft and flowy palazzo pants can be dark-colored or with subtle prints.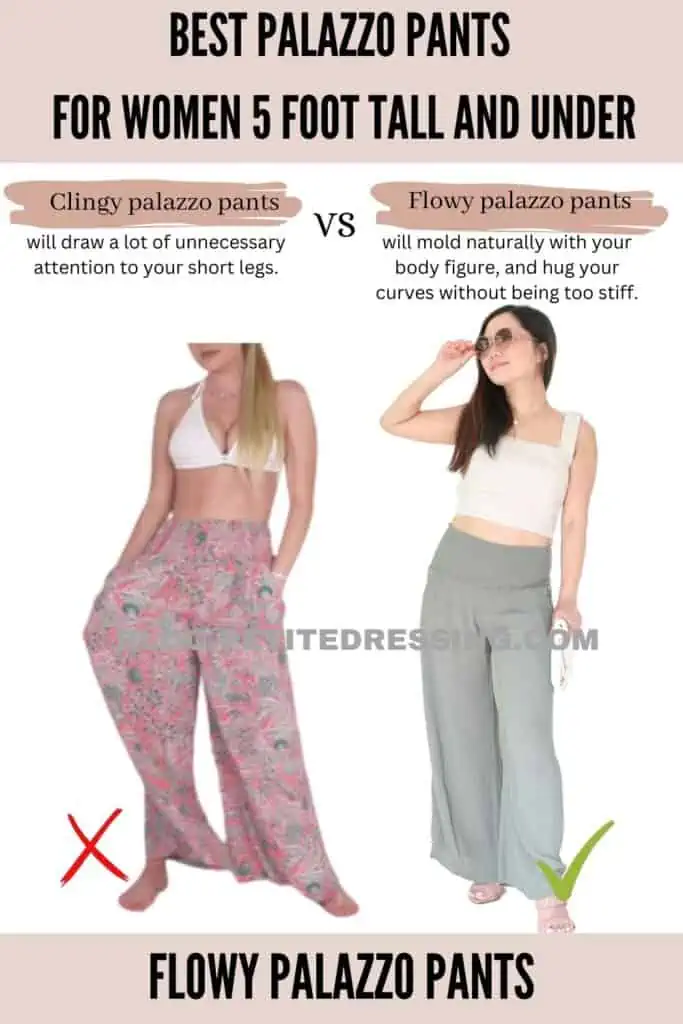 Full-length Palazzo Pants
How long should your palazzo pants be? If you're a woman who is 5 foot tall and under, you should definitely opt for full-length. This is very important for petite women as the right length has an extra elongation effect that will come in handy.
Full-length palazzo pants are those that hit just above the ground when you wear heeled shoes. Of course, you shouldn't go to lengths that would involve your palazzo pants dragging on the floor. Apart from the sloppy look, this is very dangerous as it could trip you at any point.
The major advantage of full-length Palazzo pants is that they make your legs look longer. Those that stop at your ankle have the exact opposite effect as they visually cut off your legs abruptly, and that leaves you looking a few inches shorter. This is not flattering for any petite woman.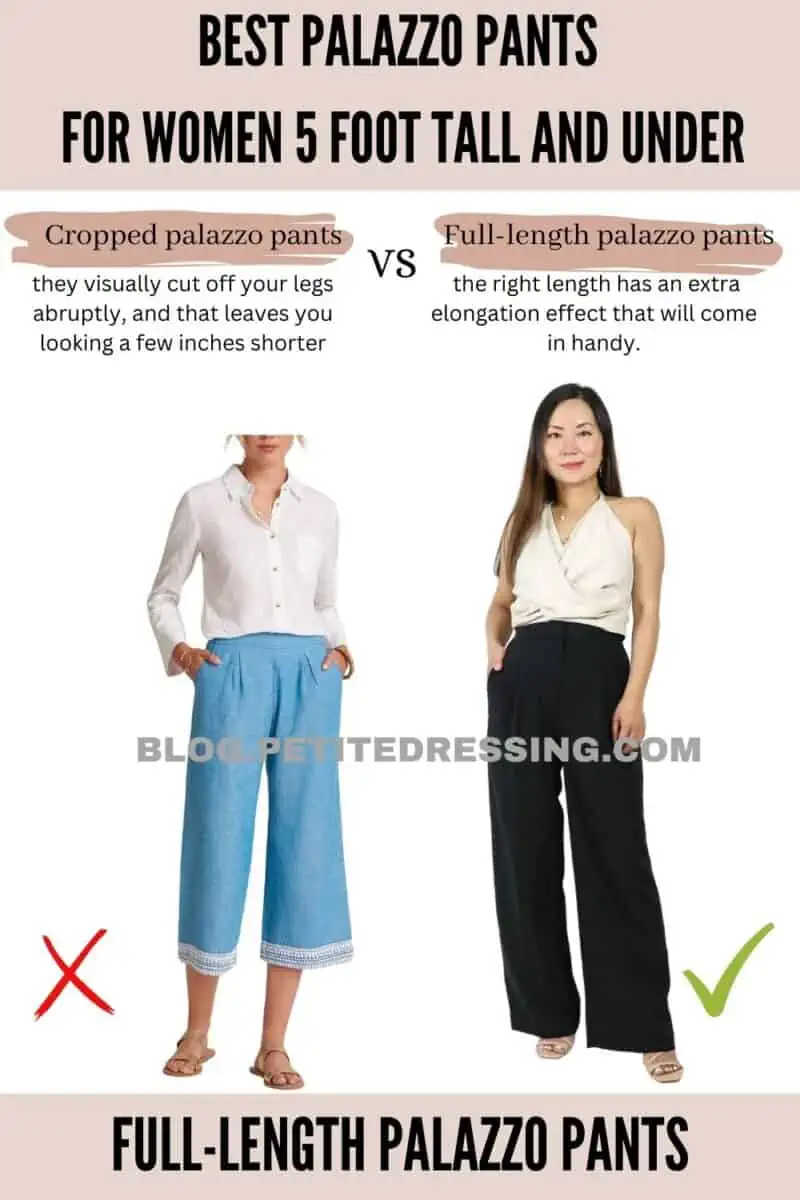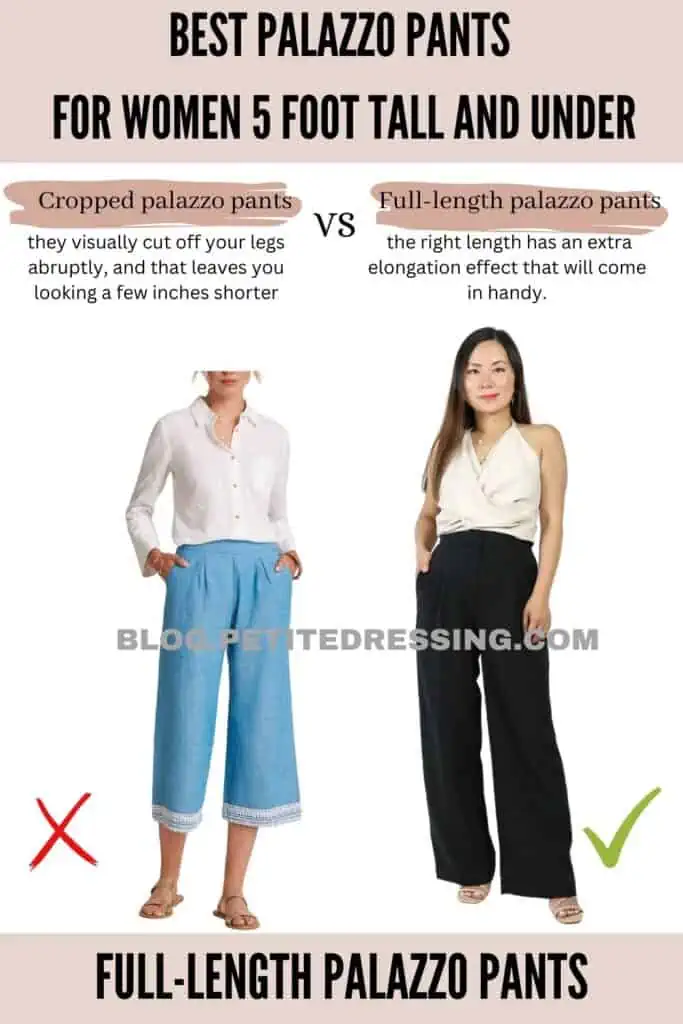 Avoid Too Cropped
Similar to what I mentioned earlier about the length of your palazzo pants being super important as a petite woman, this is one of the best tips to give you a visually amazing appearance.
Palazzo pants should be just the right length, as the wrong one won't be flattering to your petite frame. So, it's best to completely avoid palazzo pants that are too short. Styles that stop just a little below your knee or around your ankle visually cut off your legs.
So, this will only make you look shorter which is bad for petite women that are 5 foot tall and under.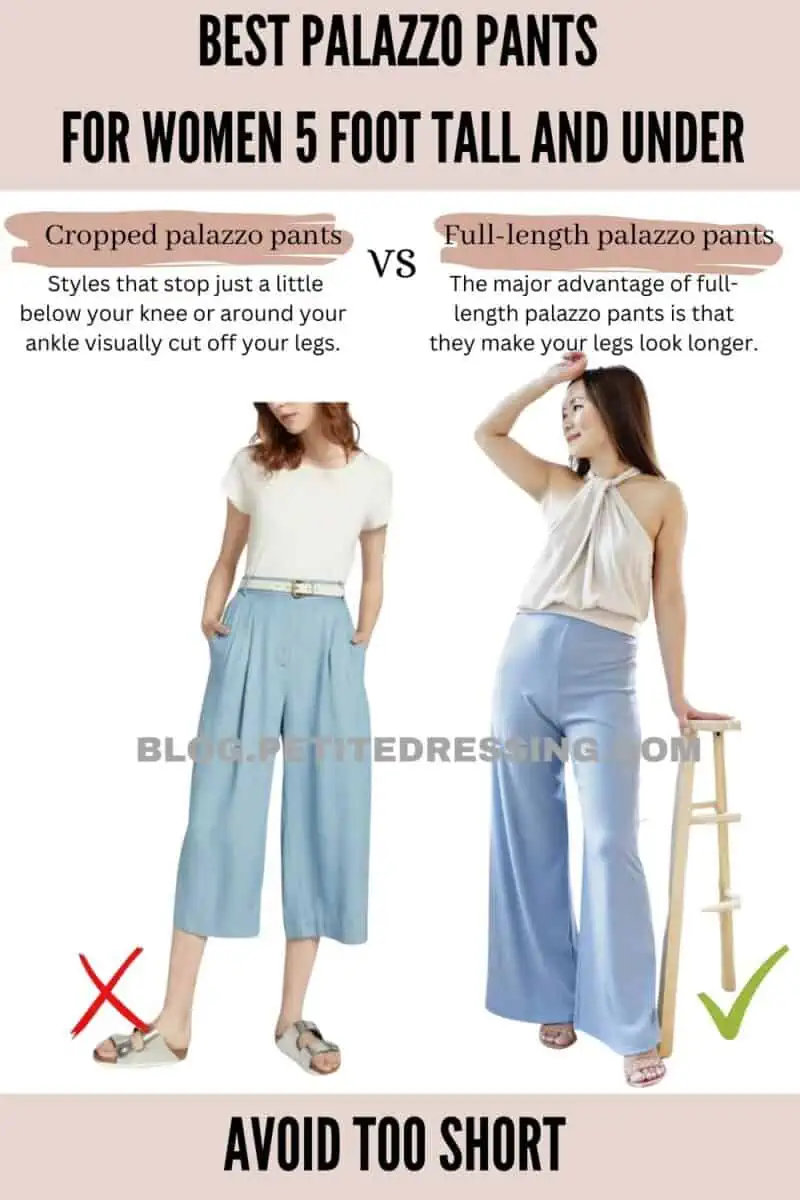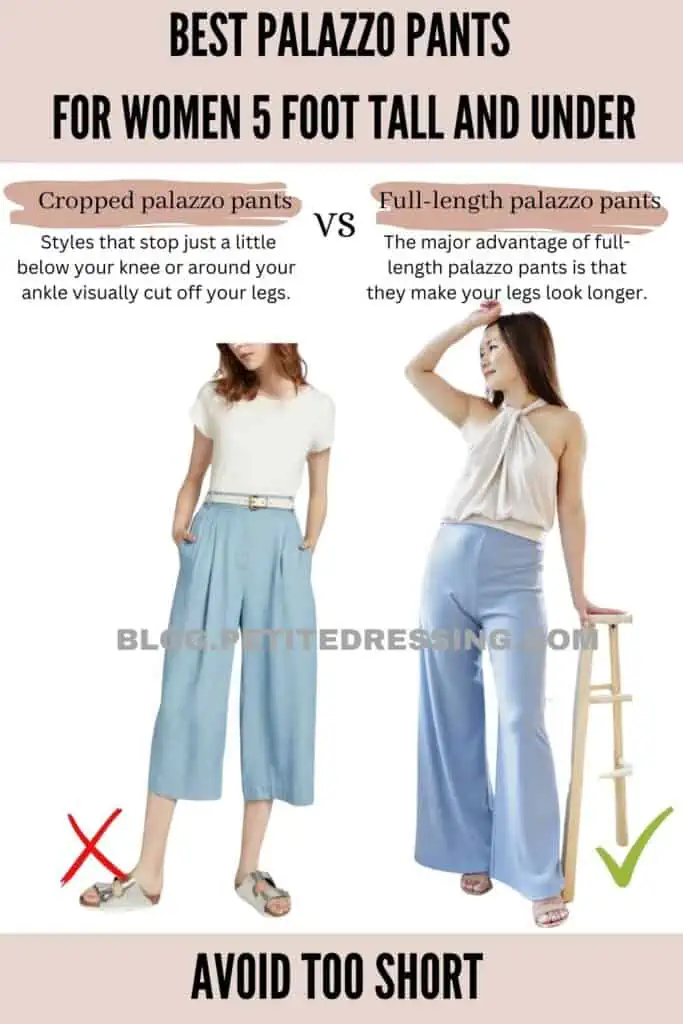 Shoe Pairing
Just as picking the right style of palazzo pants is important for every petite woman, your shoe pairing matters as well. You wouldn't want to put on shoes with straps as these can visually shorten your appearance.
While flats are not a complete no, it's a good idea for petite women to wear shoes that will add a few extra inches to their heights. This is where heeled shoes come in. For soft and flowy palazzo pants, you want to wear stilettos that won't make your bottom half heavy.
Therefore, avoid chunky heels that make your bottom half bulky. These can also be very uncomfortable. Skinny heels will extend your legs and complement your outfit in a way that flatters your body figure.
You can also look out for pointy-toed shoes like pumps as these are also incredibly flattering for women who are 5 foot tall and under. These are shoe recommendations that have been a hit for petite women and remain a huge favorite.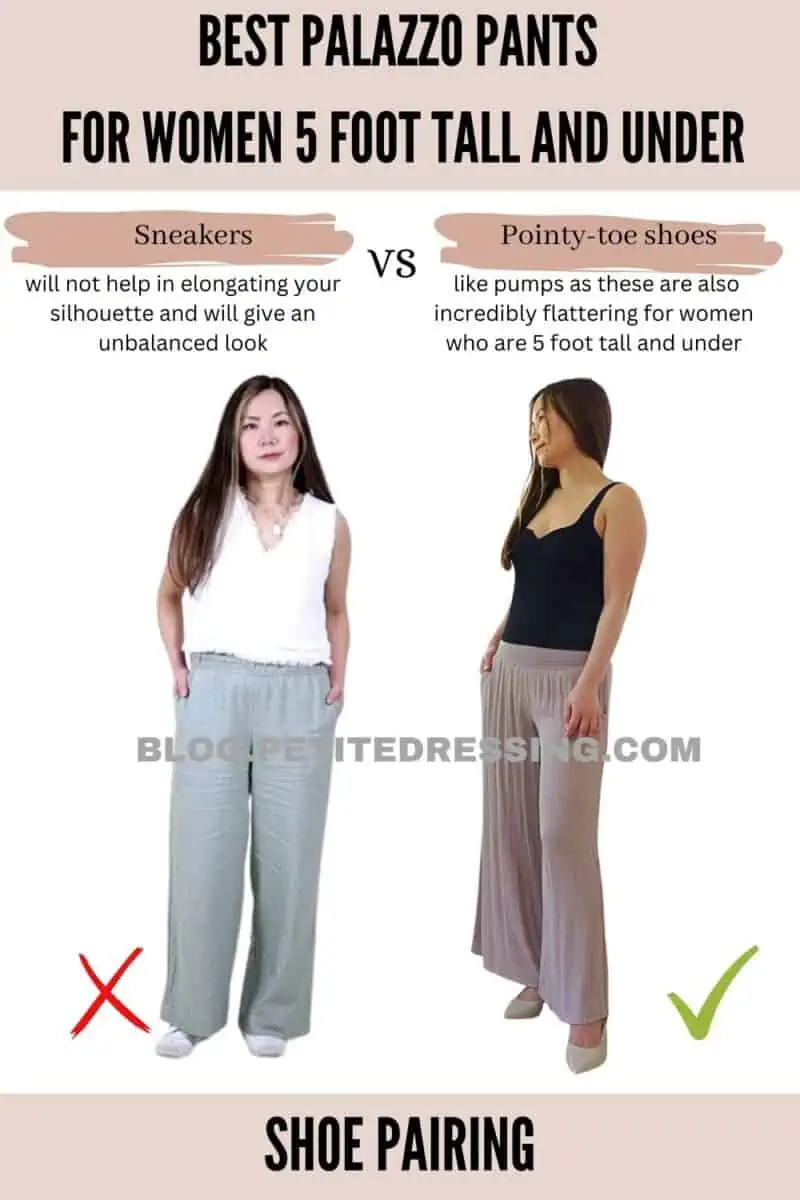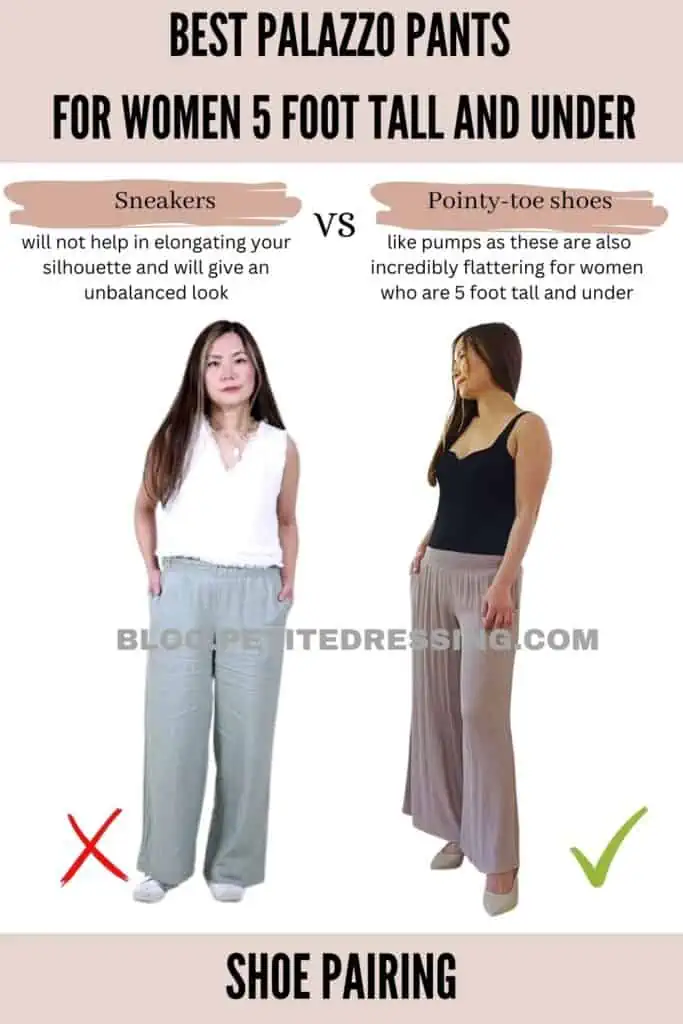 It's not uncommon for most people to advice petite women to stay away from palazzo pants since they are a wide-legged style that visually draw the eyes from left to right horizontally.
However, you can enjoy the comfort that palazzo pants bring thanks to the tips I talked about in this article. These will allow you to visually elongate your petite body frame and look breathtaking while at it.