If you are a curvy girl, finding the right dresses to flatter your shape can be tricky. The key is to find the right styles that emphasize your figure but still look tasteful and elegant.
The following are the 10 best dresses that look the best on curvy women.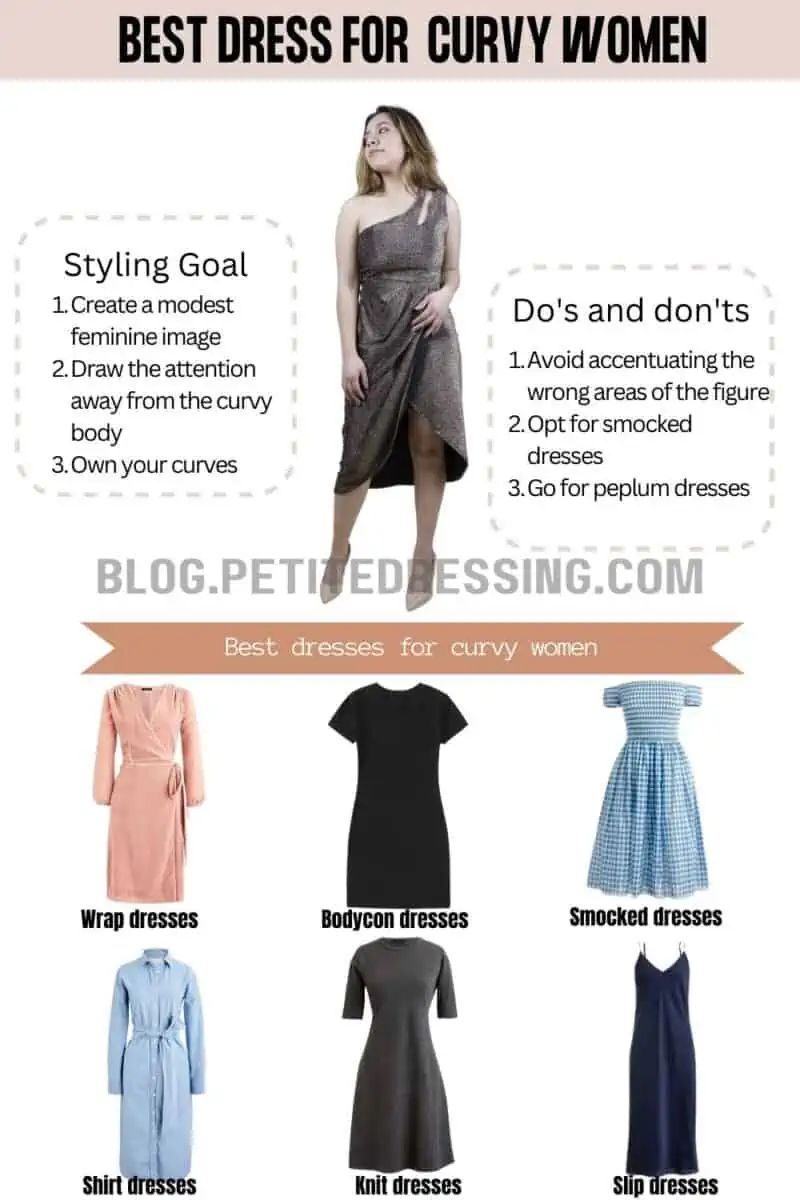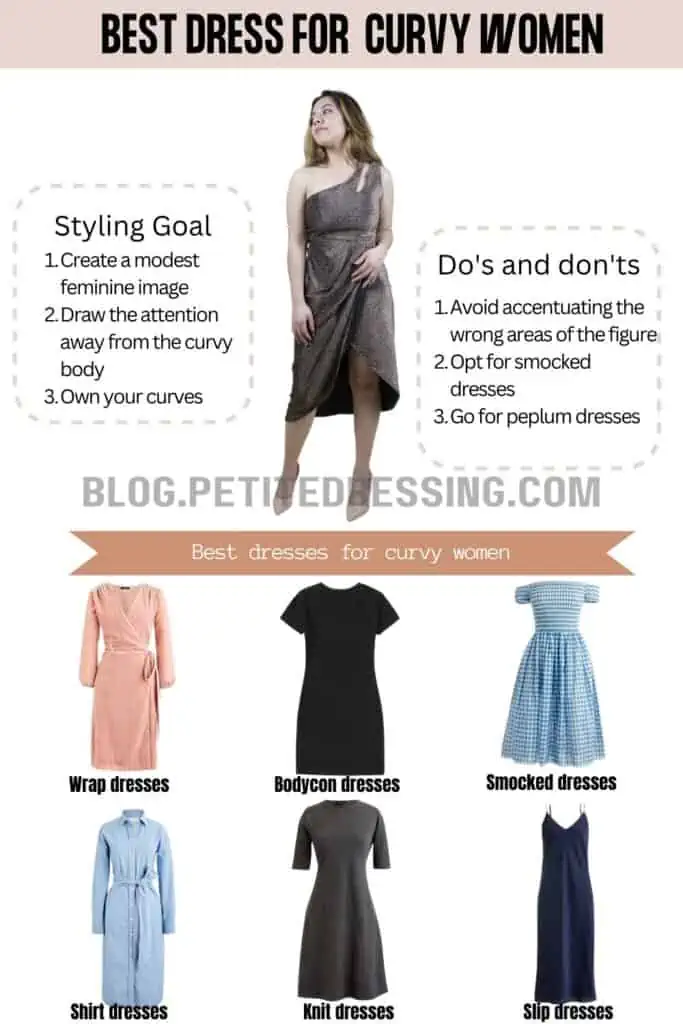 Wrap dresses
One of the most flattering dress silhouettes that can help you own your curves is the wrap dress. Wrap dresses not are absolutely beautiful and can be adjustable to fit the body perfectly and it is also appropriate to choose those wrap dresses that cinch you in under your bust.
Most wrap dresses were designed to have a V-neck that does well in drawing the eyes to the center and they also make you look gorgeous and are very comfortable pieces. The wrap dresses were made to help you embrace your curves giving you the illusion of a leaner and slimmer look.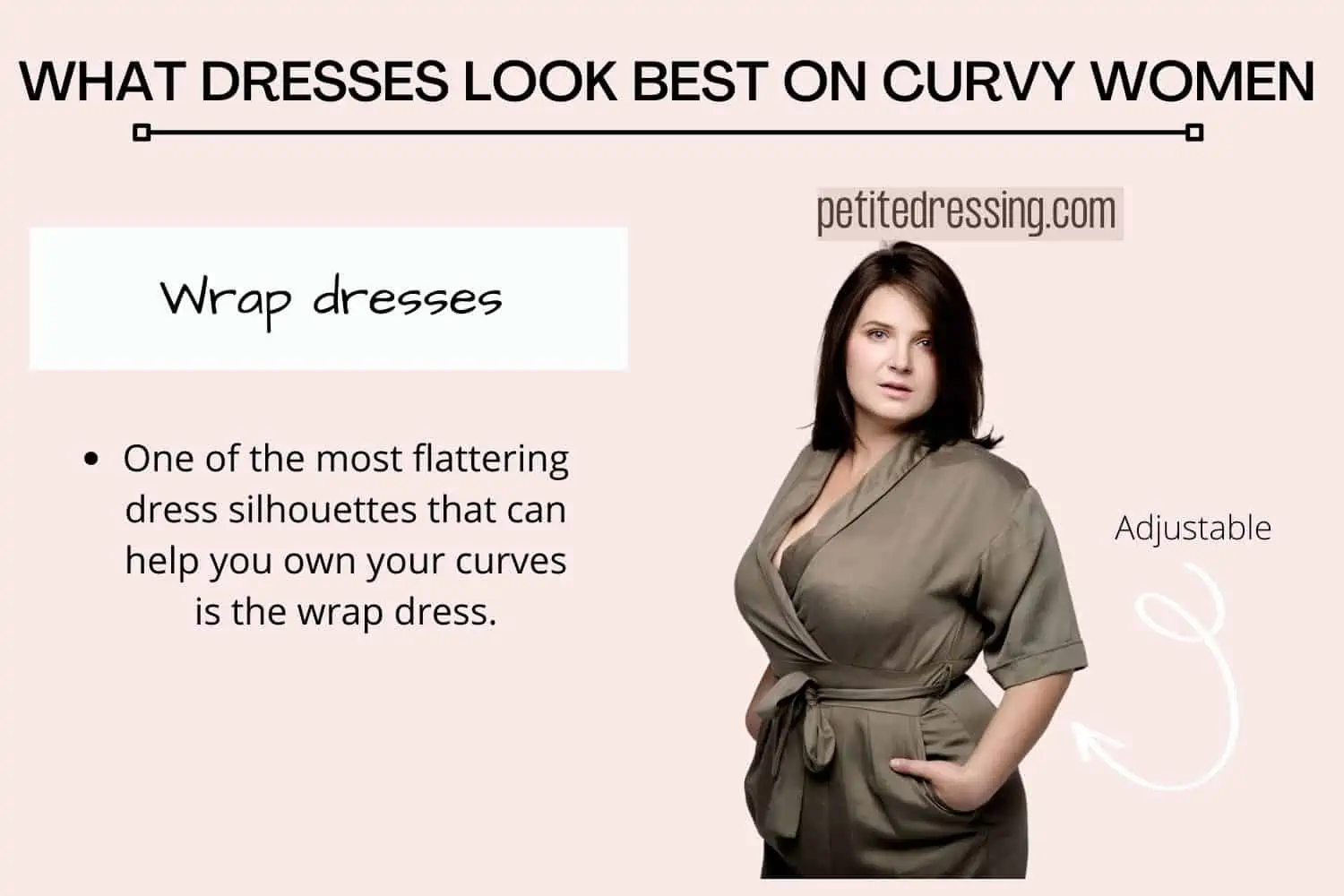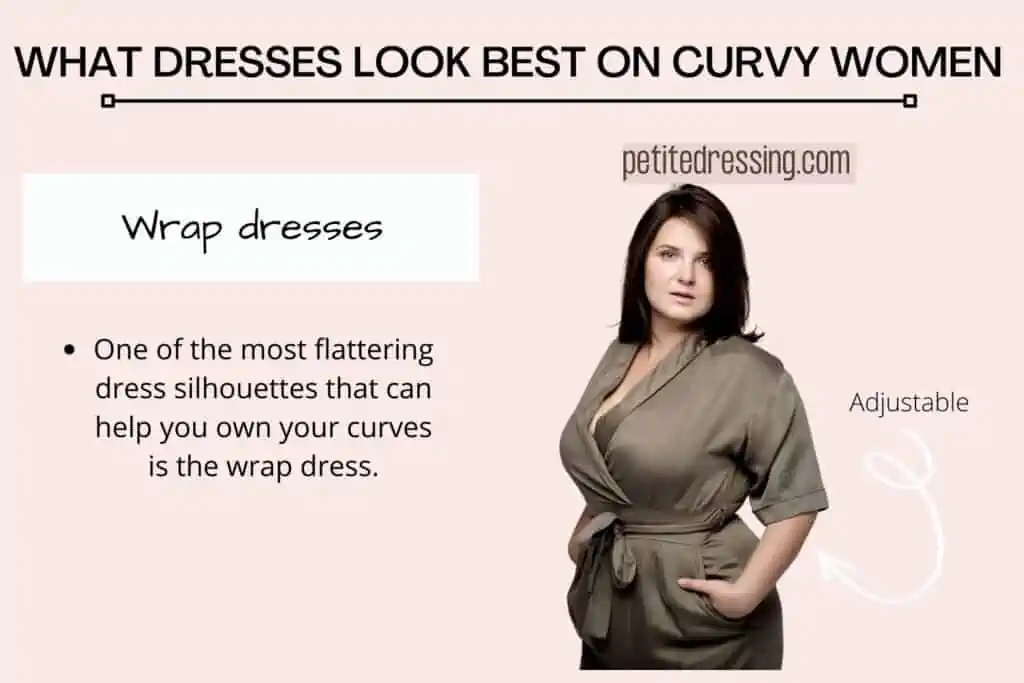 Bodycon dresses
The idea of bodycon dresses isn't for wearing very tight dresses that would make you uncomfortable but give you a gorgeous look that would help you stand out in your dress.
When purchasing bodycon dresses, avoid those thin material pieces that not only cling to your body but would accentuate the wrong areas and it is best to choose a thicker material that would give a more classy look perfect for a curvy woman.
Fitted clothing makes you look smaller and the most important thing is to look for the right fit and certain details that will make the best of your shape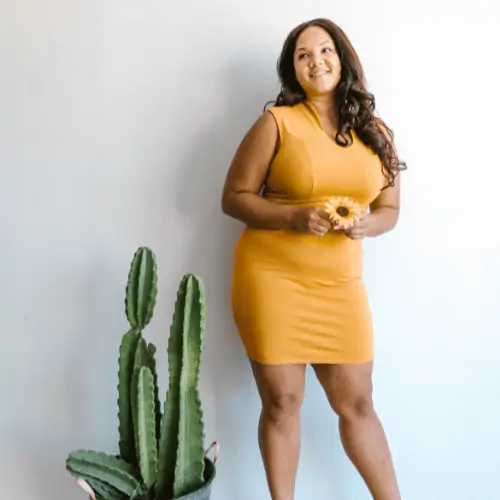 Why choose a Bodycon dress?
The Bodycon dress does hug you all over and remains a trendy fashion style that helps you flaunt your curves.
They give you the confidence you desire as such it is one of the best silhouette pieces for curvy women who like to show off her curves!
Bodycon dresses are form-fitting silhouette pieces that suit a curvy woman and could help her embrace her figure.
Smocked dresses
Smocked dresses are dresses with details in their stitching with the fabric gathered into pleats to form unique decorative details at the bodice, waist, or sleeves which causes it to stretch. The smocked dress is a great piece of silhouette designed to help you embrace your curves and is highly recommended for a curvy woman.
The detailed stitches in a smocked dress have a flattering, feminine aesthetic that looks pulled together without being constricting or uncomfortable. The smocked dress is another great choice of dress for a curvy woman because it's such a versatile, flattering, and comfortable style.
In addition to stunning details, multiple textures, and lengths make smocked dresses perfect for curvy women as they give the curvy woman a flattering fitted look.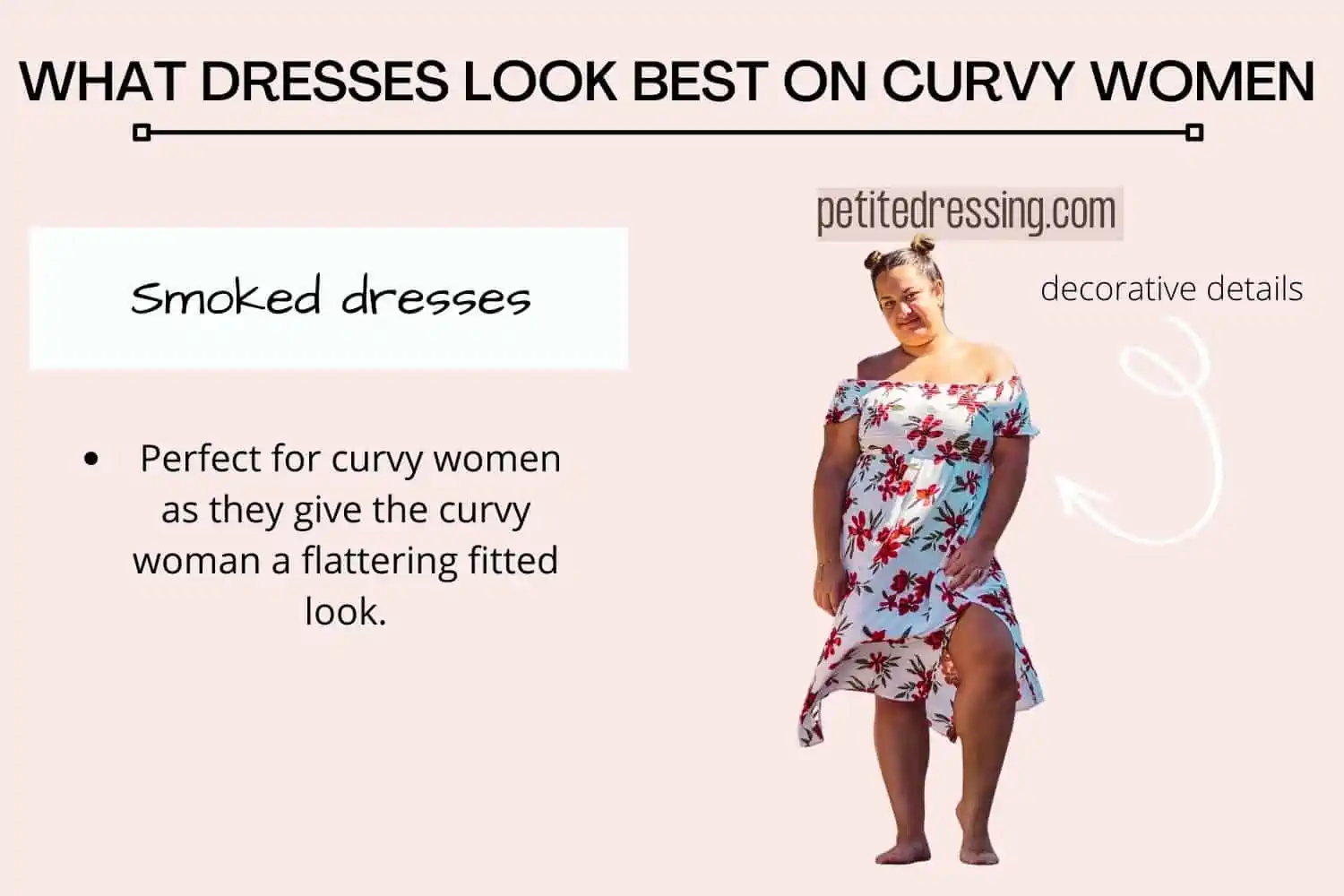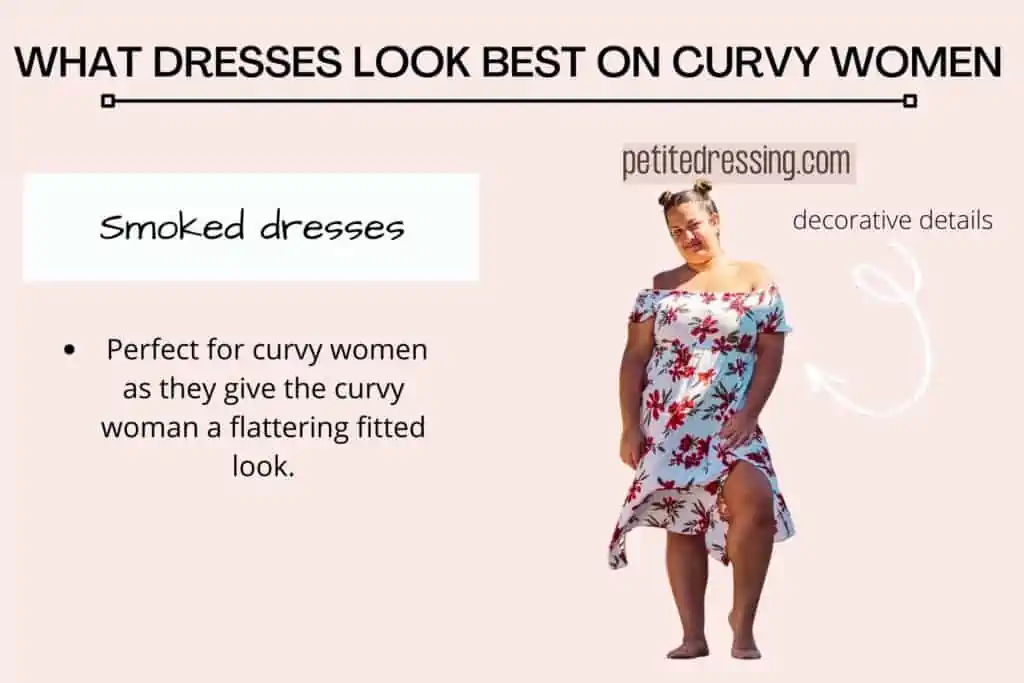 Shirt dresses
Shirt dresses are great silhouette pieces and are designed to suit the body of a curvy woman because they do so well in flattering her figure and accentuating her waist to build her confidence and give her comfort.
Belted shirt dresses would bring out your bust in a flattering way and this makes it an even better choice as they further help to highlight the waist and accentuate the curves giving a curvy woman and more chic look.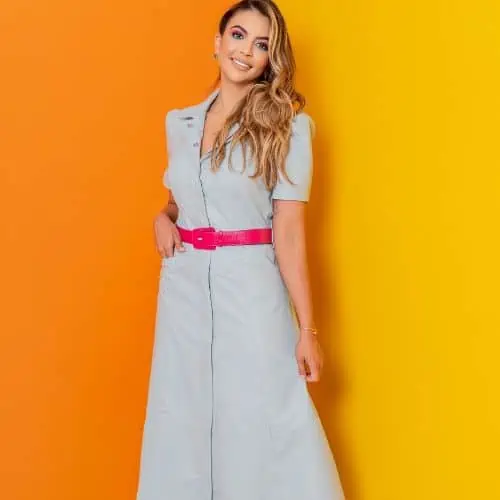 Why use a Shirt Dress?
They are easy to wear but you must pick the right size and length that is perfect for your body shape as shirt dresses remain a fashionable piece that should be sound among your wardrobe staple pieces.
Knit dresses
Ruching is sewing or gathering along the sides which creates soft folds in the fabric it is a little like smoke and is known for its comfortability making it the right dress idea for a curvy woman as it tends to sit beautifully on her curves.
It's important that when shopping for dresses you should not rule out knit dresses and also if you are going for knit dresses look for ruching on the sides and heavier knits that tend to hold you in rather than cling like lightweight jersey knits.
Knit dresses are flattering, gorgeous, form-fitting, and give comfort as well as add glamour to your figure making it a wardrobe. essential. The knit dress! With its natural allure and easy elegance, is soft and cozy but still polished and its year-round stability and day-to-night versatility make this piece a worthwhile investment for a curvy woman.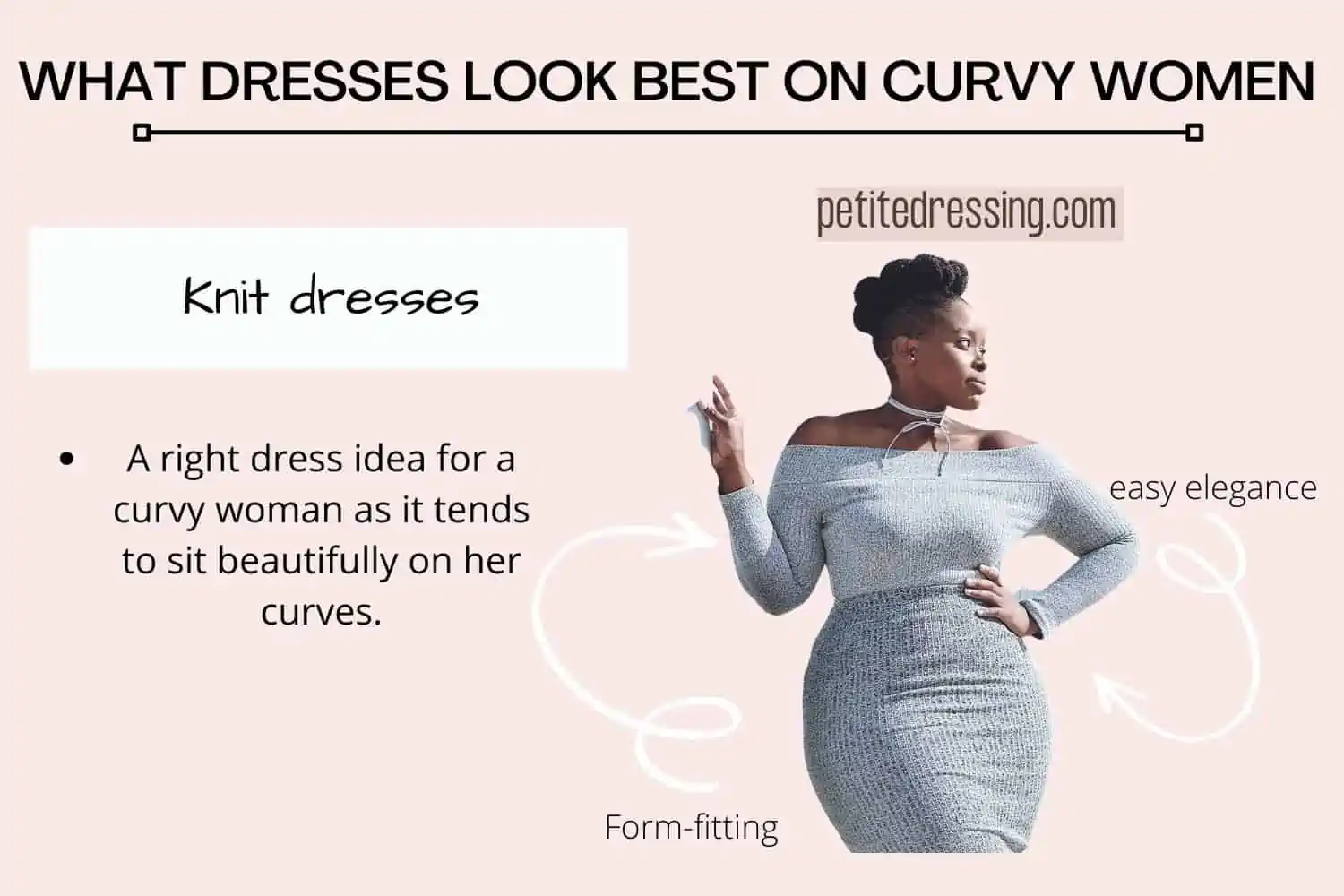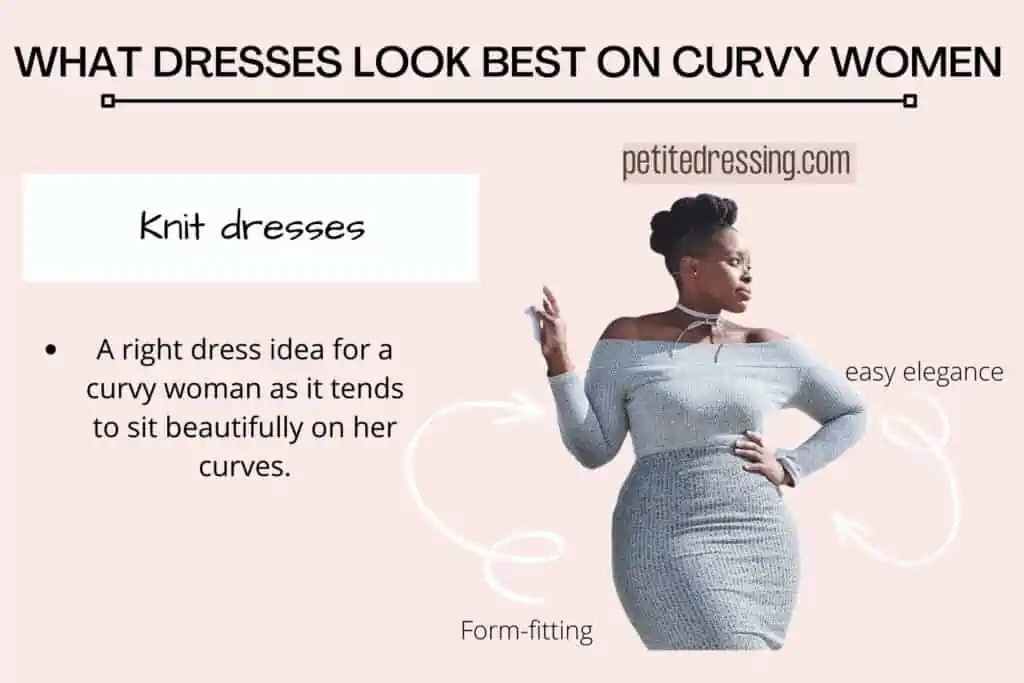 Slip dresses
Every wardrobe should have slip wear and a curvy woman's wardrobe should not be left out as they are light, easy to wear, and very comfortable ranging from mini to maxi designs. They are a pretty great choice as they could be styled in different ways and depending on one's choice it is best to choose those of desirable length to further help make styling easy.
Also, getting the right bra for the slip dress and be a little discouraging that is why the most recommended way to style your slip dress to create an amazing look for a curvy woman is the simple trick of layering.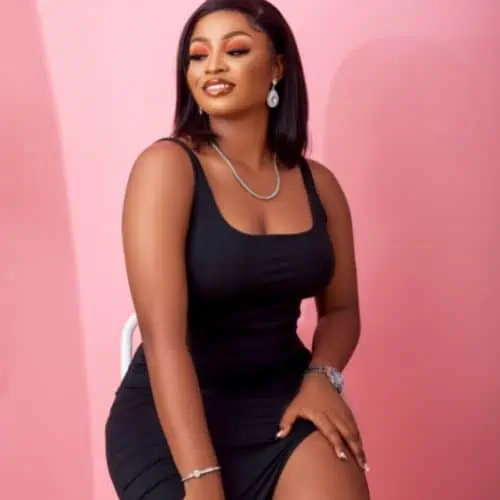 Ways to Style a Slip Dress
You could layer with a short denim jacket, a white t-shirt knotted at the waist, or even with a jean jacket.
Whatever way you choose to layer your dress, it should be to your taste and what suits your personal style the most.
Off-the-shoulder dresses
This style of dress helps you to show off your neckline and shoulder giving a sexy and fabulous look desirable for a curvy woman. Off-the-shoulder dresses feature refined detailing at the neckline to highlight this area and the style elognates your neck and streamlines your silhouette from the shoulders down.
The off-the-shoulder dresses can make a pretty good statement, are stylish, and elegant, and can elevate your look. So if you want to rock a soothing style for your curvy body then make sure you have an off-the-shoulder dress.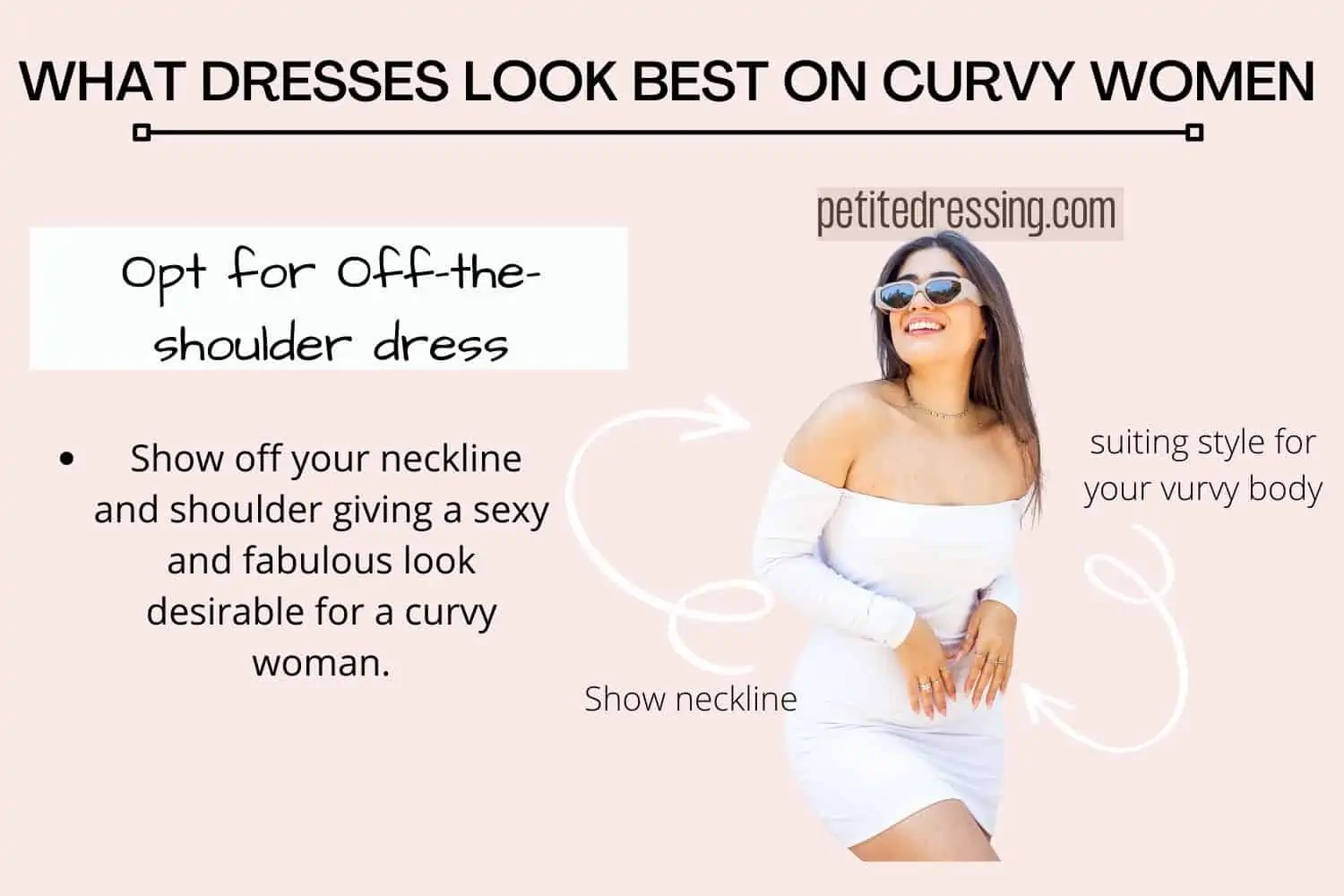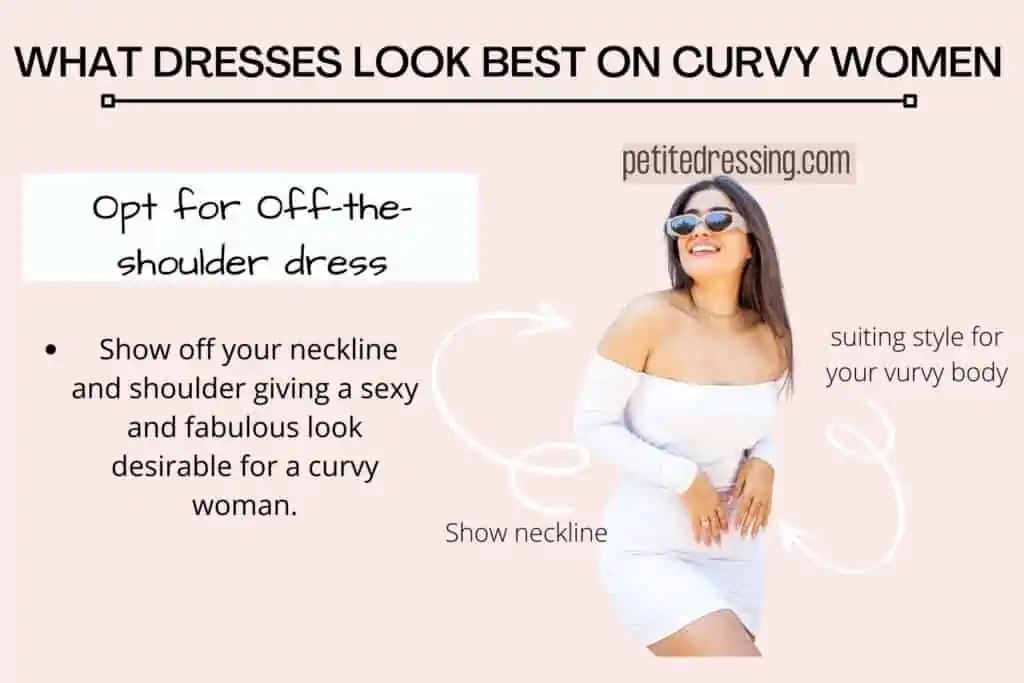 V-Necklines
While some persons feel pleased to show off their curves, others do not love the idea and if you're in that category then you have nothing to worry about. Choose clothes with necklines that tend to draw the eyes up and away from your curvy body.
You can never go wrong with a V-neck dress that exposes your cleavage and draws the eyes right to the center. You should also rock open necklines and sweetheart necklines, they are unique in their designs on clothes and do not in any way reduce confidence nor become less flattering for a curvy woman.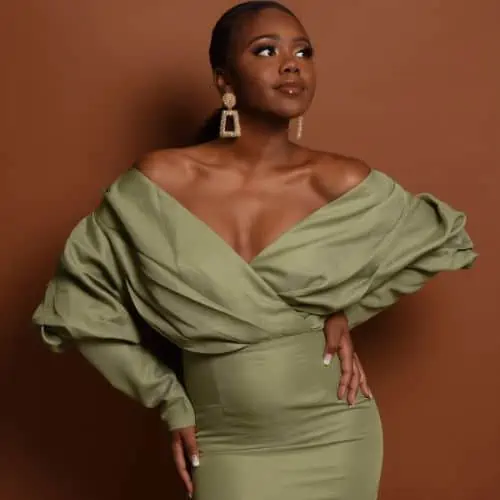 How to Choose a V-neckline Dress?
Choose clothes with necklines that tend to draw the eyes up and away from your curvy body.
You should also rock open necklines and sweetheart necklines, they are unique in their designs on clothes and do not in any way reduce confidence nor become less flattering for a curvy woman.
One shoulder dresses
The one-shoulder dresses are a perfect flattering dress that highlights the beautiful curves of curvy women as they have a way to show off the shoulders and neck and create a streamlined silhouette that leads the eyes from the neckline down the bodice. A fitted one-shoulder dress that is above the knee is a great choice for a curvy woman especially if it has a slit on the side and it also could be stylish, comfortable, and versatile.
They come in different fabrics such as printed and patterned and the one-shoulder dresses too are perfect sexy dresses for parties and also for formal events. Every curvy woman should have them for a classy appearance.
Sheath dresses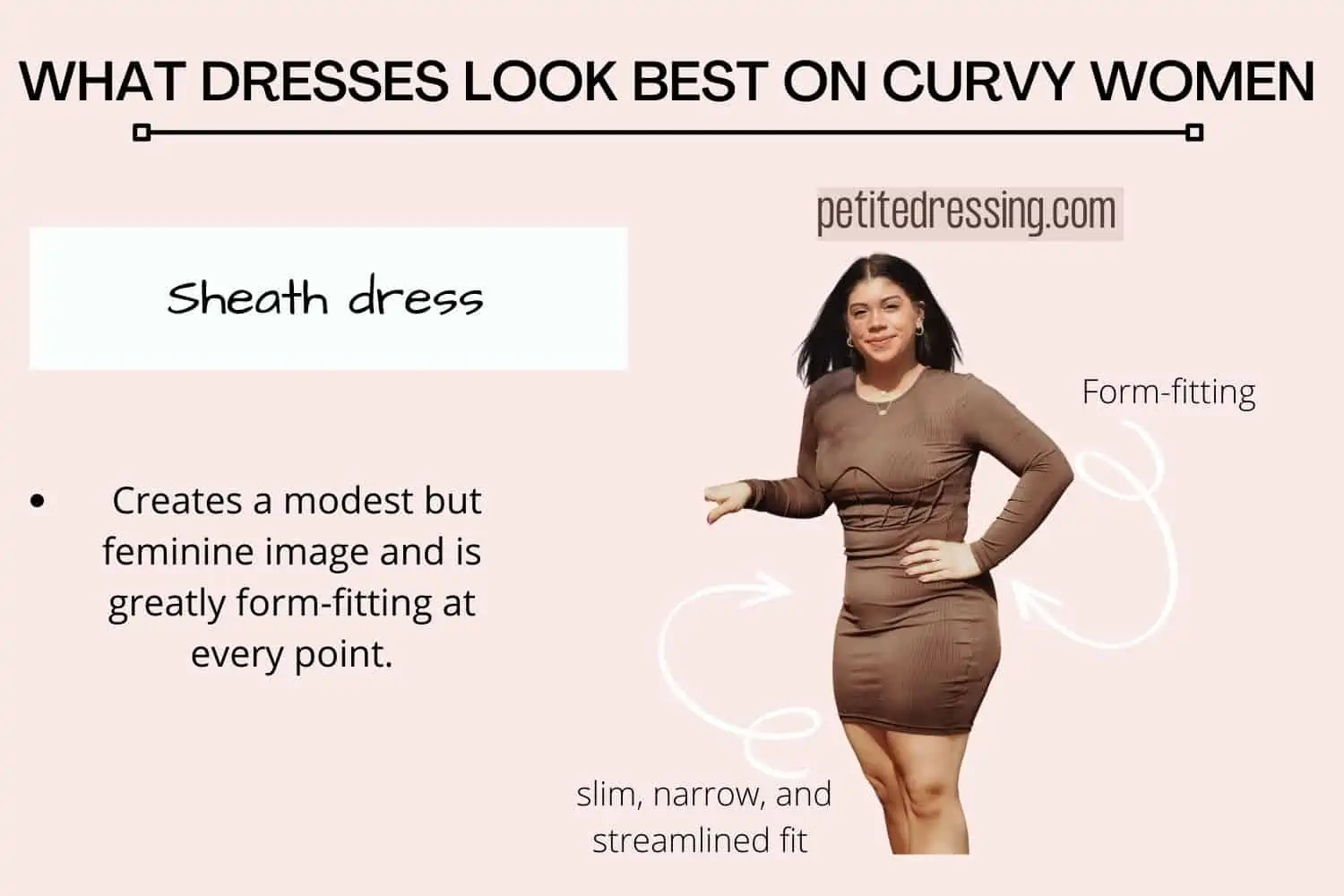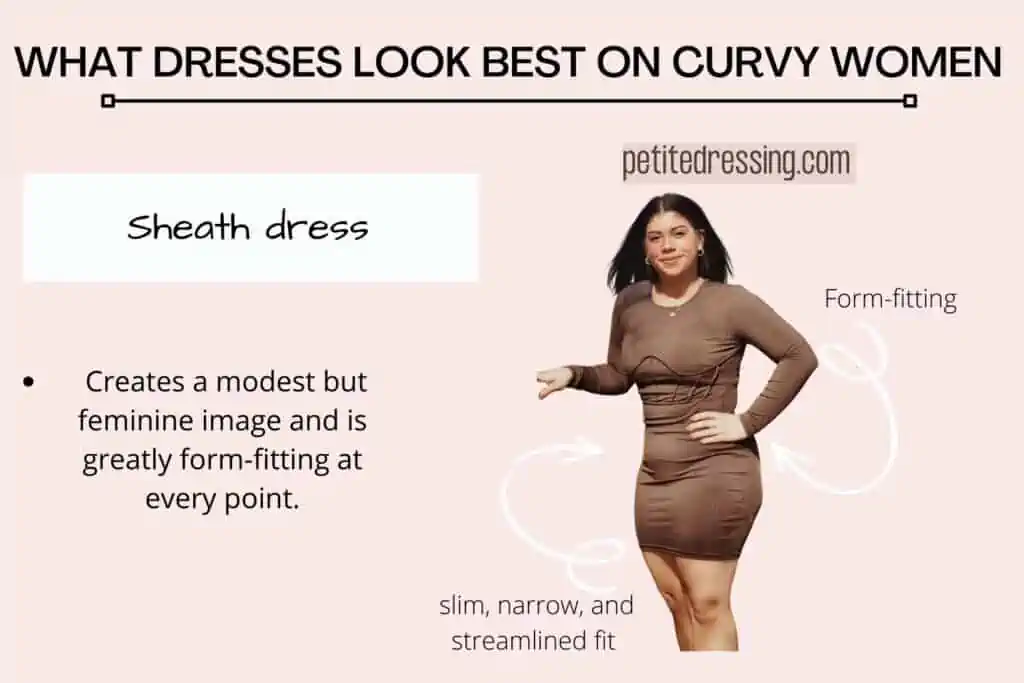 Several silhouettes were designed to flatter different body shapes or parts and one of those silhouettes meant to draw attention to your curves is the sheath dress. The main features of the style are the absence of a seam dividing the upper and lower parts and a slightly narrowed and fitted silhouette.
The sheath dress is a super flattering and versatile choice of dress that could be used to create a modest but feminine image and is greatly form-fitting at every point.—from your bodice to your hips to your hem and with the silhouette being so tight-fitting, sheath dresses will often feature slits to allow you to move freely. The sheath silhouette emphasizes your curves and is effective for curvy body types with slim waistlines, wide hips, and large bust areas as it also features a slim, narrow, and streamlined fit that is highly suitable for a curvy woman.
Sheath dresses are a trendy wardrobe staple taken in at the waistline to properly accentuate the structures of the silhouette, therefore creating quite a feminine, sleek, and sexy look for a curvy woman.
Peplum dresses
The peplum dresses are designed to be body hugging with gathered pieces of fabric around the waist and flares out making it a great option of style suitable for a curvy woman. The peplum dresses are a universally flattering silhouette that cinches around the waist and helps create the illusion of a defined look or accentuate the curves of a curvy woman.
This dress style can be figure-flattering but depending on where the peplum sits, it will alter or enhance your shape for a gorgeous new look. The peplum dress gives the body a pleasing feminine structure that helps a curvy woman appear sexy and more classy in style and should be one of her wardrobe pieces.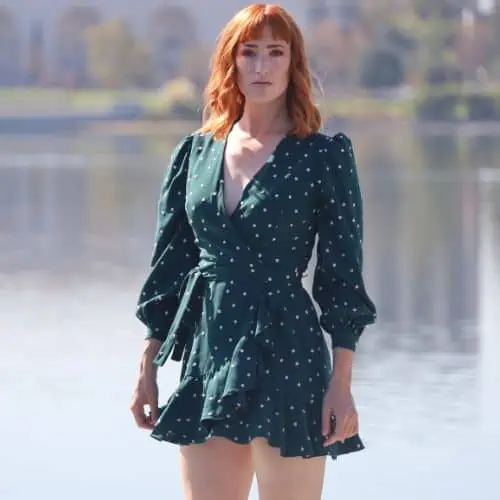 What is a Peplum dress?
The peplum dress is similar to that of a bodycon and is designed to help the body balance out properly making the waist look smaller compared to the shoulders and hips of a curvy woman.
The peplum dress has varied unique designs but the asymmetrical peplum gives an impression of being curvy making it a suitable silhouette piece recommended for curvy women.