If you are a curvy girl, a skirt outfit can make you look classy and elegant. The key to finding the best skirts is to focus on the right fit, color and length. The right styles will accentuate your curves, but the wrong ones can make you look bulkier and heavier than you are.
Below is a complete skirt guide for curvy women, with 10 best types of skirts as well as 2 types of skirts you should stay away from.
Full-length skirts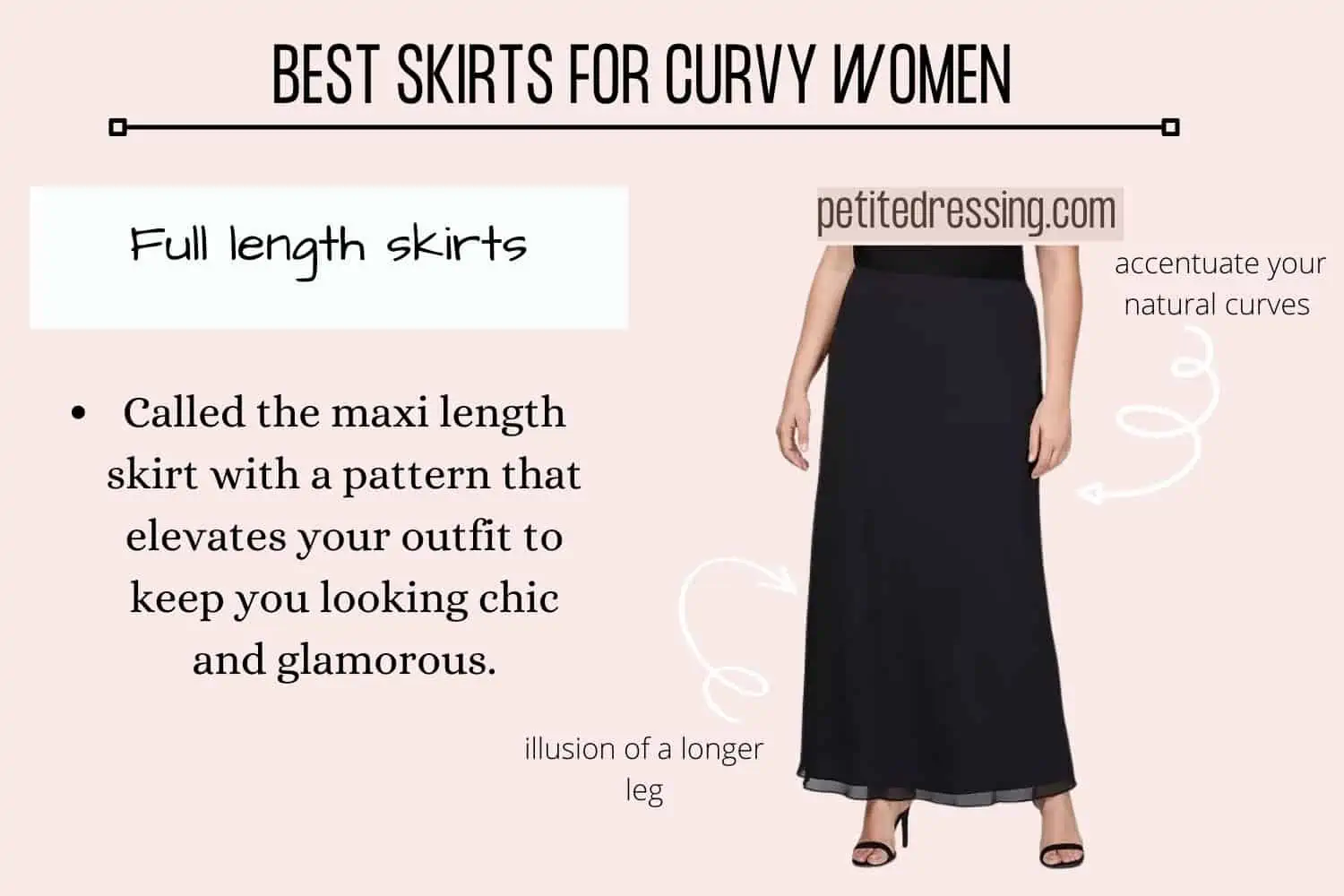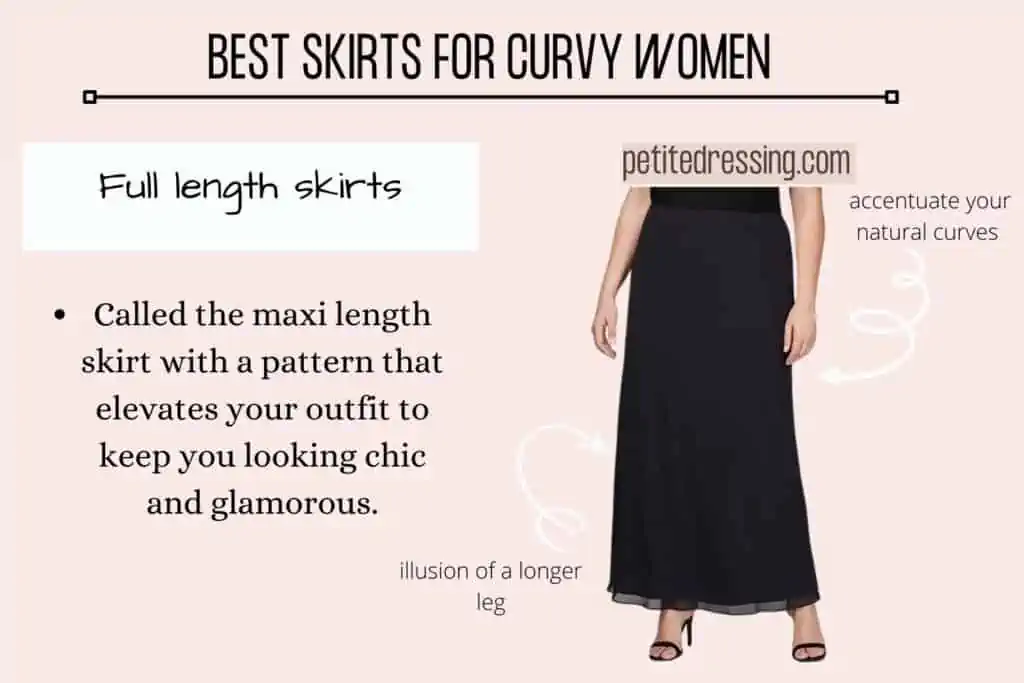 This design of the skirt is a safe option for a curvy woman that does not only take focus from your legs but also focuses attention on your waist. They are also called the maxi length skirt with a pattern that elevates your outfit to keep you looking chic and glamorous.
Full-length skirts accentuate your natural curves and give you a brilliant and outstanding style essential for your looks. They define your shape and reveal the general body outline that lets you feel good and excited about your curves.
The skirt is recommended for the curvy woman because it has a slimming and lengthening effect that gives the eyes the illusion of a longer leg. By this, a visual balance is attained and the body also becomes rightly proportioned.
Pencil skirts
The pencil skirts are designed to endow your curves with every taste of sophistication and simplicity essential for a curvy woman. They accentuate the curves and highlight your waist so you can feel good and secure about your shape.
Pencil skirts are essentially designed to be fit enough to accommodate your curves and elevate your feminine figure. They have a fantastic structure that adds class and fashionably dazzles your outfit.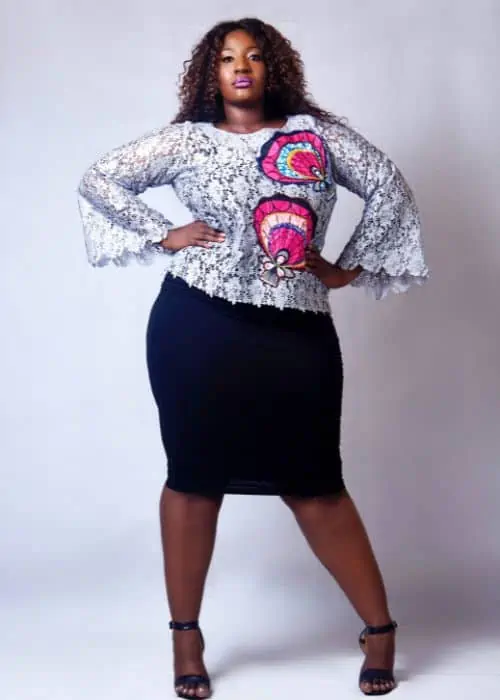 How to Choose a Pencil Skirt?
They are narrowly fitted to suit your figure and the most preferred are those that are not too tight on your body else they won't flatter you and could become very uncomfortable.
If styled properly, the pencil skirt could balance your body proportion and add a sexy vibe to your overall outlook.
High waist skirts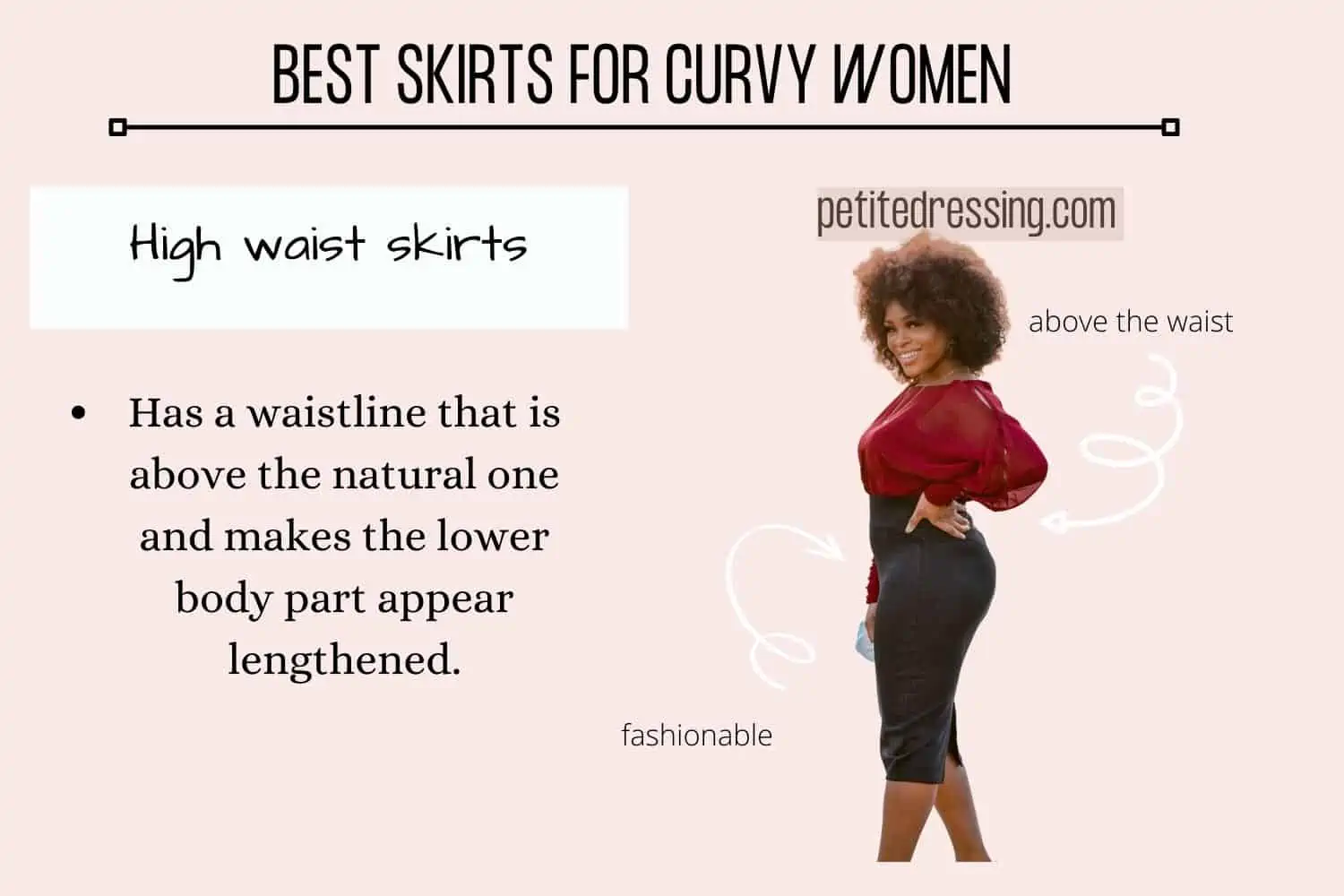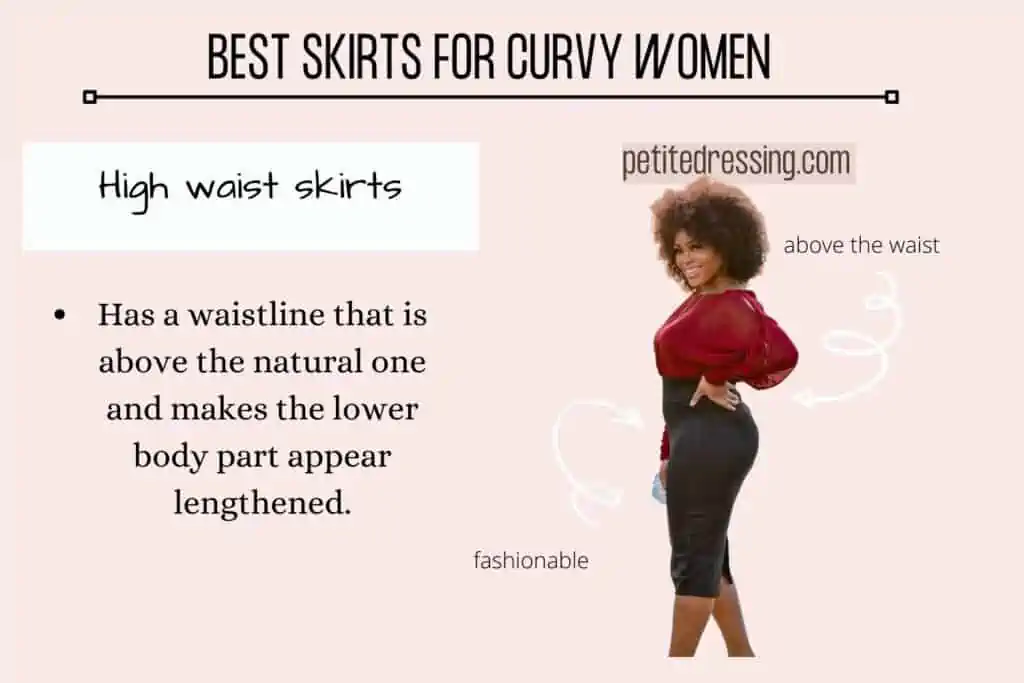 The usefulness of the high waist skirt in the shape of a curvy woman can never be underestimated as they have become a highly rated skirt style with unique features. This skirt style has a waistline that is above the natural one and makes the lower body part appear lengthened.
They are very warm and stylish designs with exclusive properties that suit the shape of a curvy woman without causing any bit of restrictions on the curves. They are fashionable and consistently create a wall of uniqueness around your curvy body.
High waist skirts are a very classy and outstanding design of skirt that allows you to appreciate your natural curves and should be given better preference than low rise skirts. Style them properly by keeping the tops tucked in as that is a simple way to eliminate broken lines in your figure.
Wrap skirts
Another simple and incredible skirt that is suitable to be worn by a curvy woman is the wrap skirt with a design that acts as a confidence booster for a curvy shape. They cinch the slimmest part of the waist and focus the attention of the eyes on the waistline.
Wrap skirts are very stylish with an overall statement that conveys the appearance of length in the curvy figure. Making them a wardrobe essential is a great styling idea for your curves as most wrap skirts have a high waist.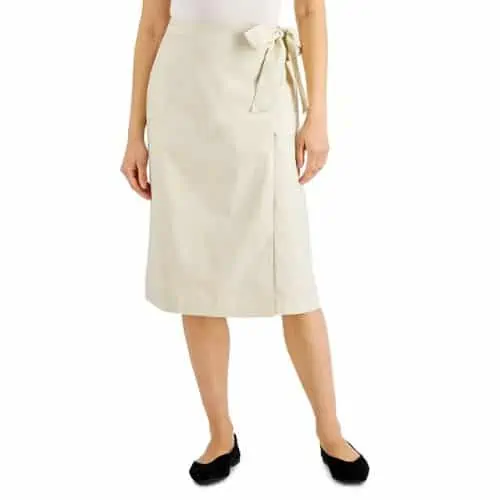 What to expect when wearing a Wrap skirts
Wrap skirts make the torso appear shorter and create a balance in the body proportion of your curvy frame.
They are structured to let the curves sit comfortably to bring out the best in your overall figure.
Skirts with pleats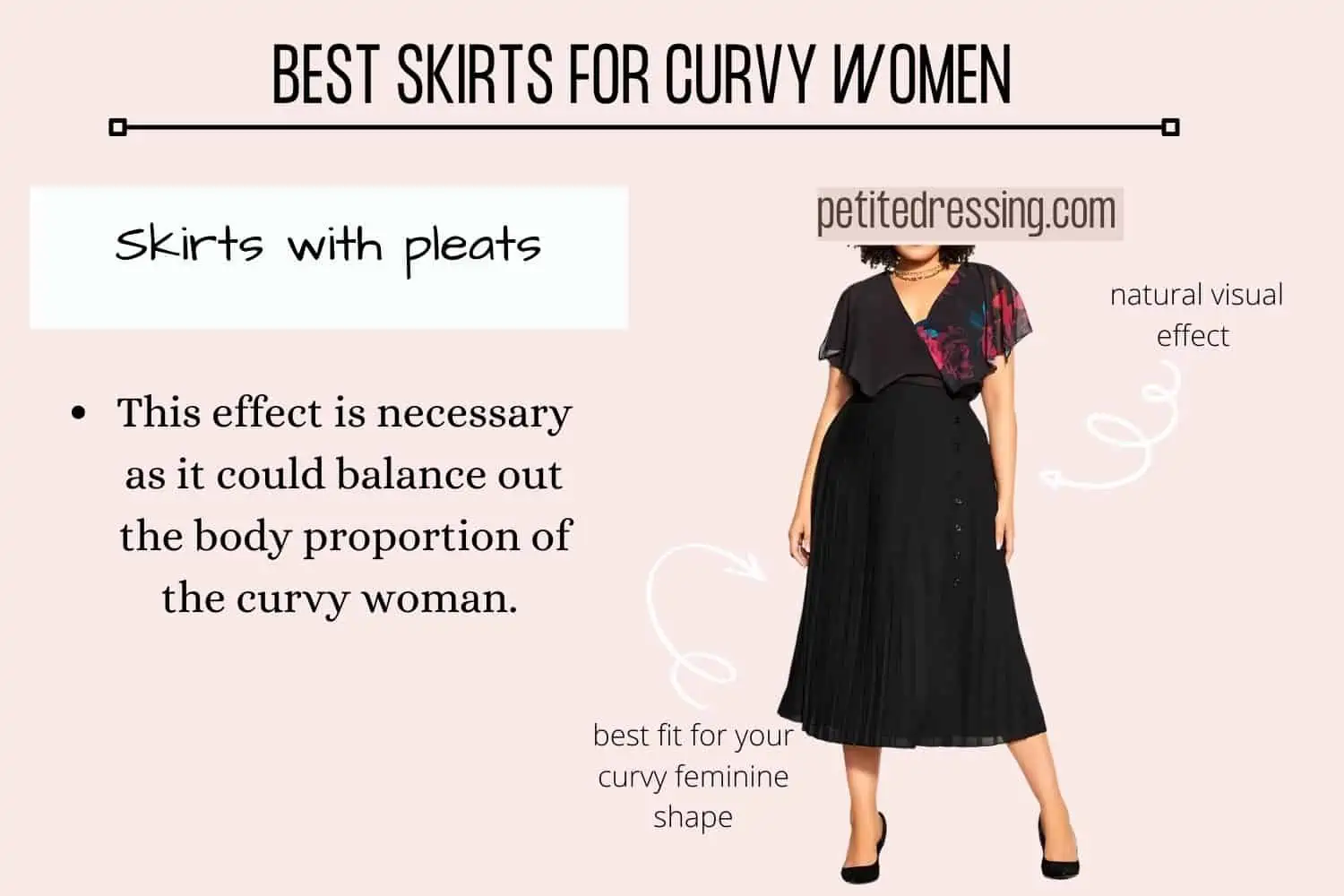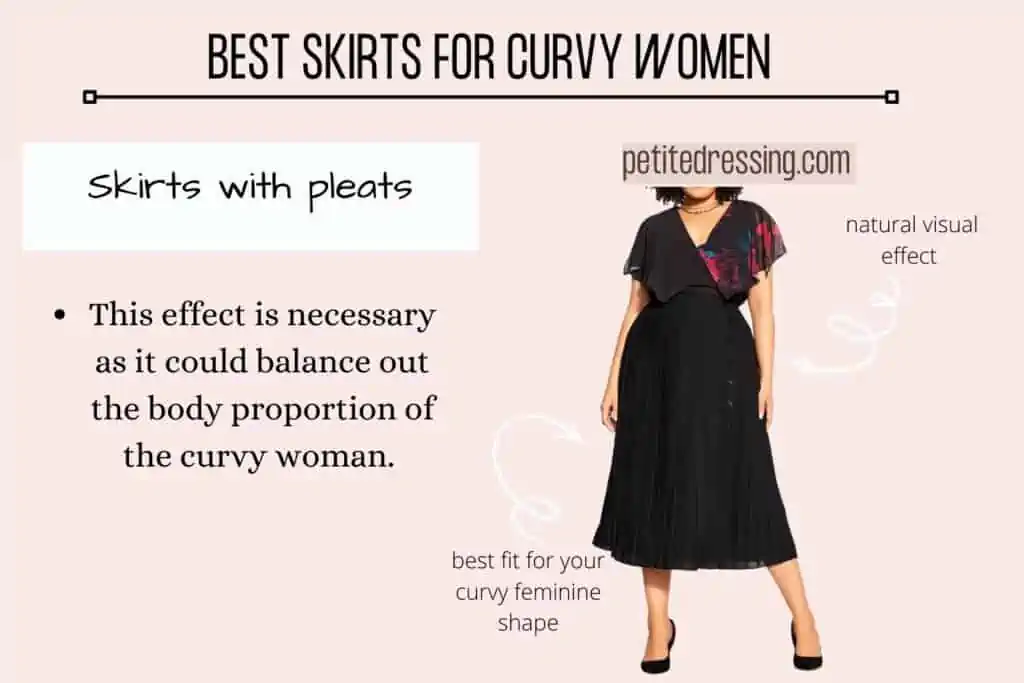 Aesthetically designed skirts with pleats are super flattering on a curvy woman and she can never go wrong in them. The series of folds on the skirts runs from the waistline to the hemline and this can create a natural visual effect on your body.
This effect is necessary as it could balance out the body proportion of the curvy woman. Be sure to choose smaller-sized pleats on the skirts because they are the best fit for your curvy feminine shape.
To avoid getting a contrasting effect of elegance on your shape, do not wear skirts with wide pleats as this would make your curves look too voluminous and also make them seem overwhelming to you. Simplicity is key so keep your style simple by wearing smaller-sized pleats on your curvy frame.
Mermaid skirts
A mermaid skirt is styled to be fitted from the waist down to the thighs with ruffles attached to the hem region. They are universally flattering because they highlight the waist and exaggerate the curves.
They are suitable for your curves and are super flattering on you making them a go-to option for skirts that could make you beautiful and uplifted.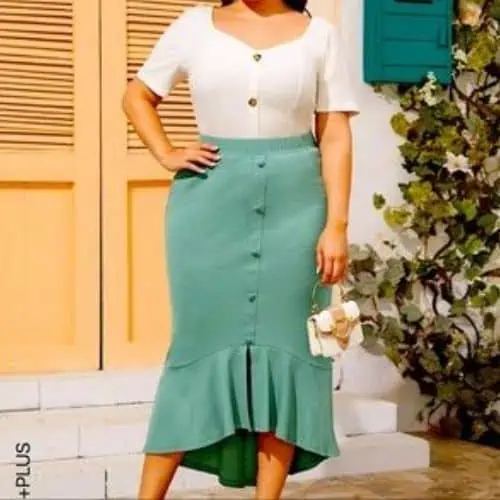 How to Choose a Mermaid Skirt
Choose mermaid skirts with moderate ruffles as that is the best way to create balance in the skirt.
Too many ruffles would only add bulkiness and reduce the necessary fit attached to mermaid skirts.
Fit and flare skirts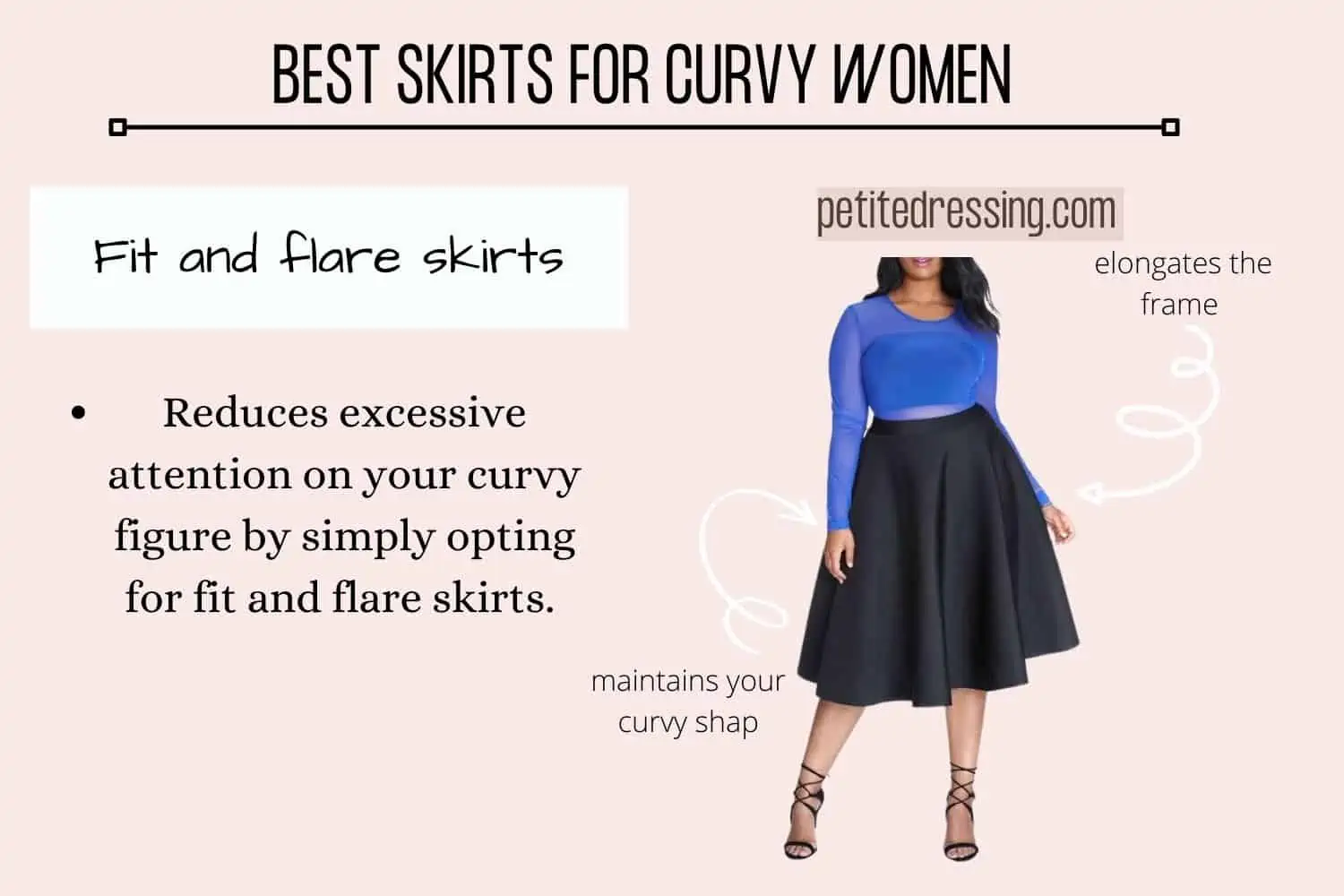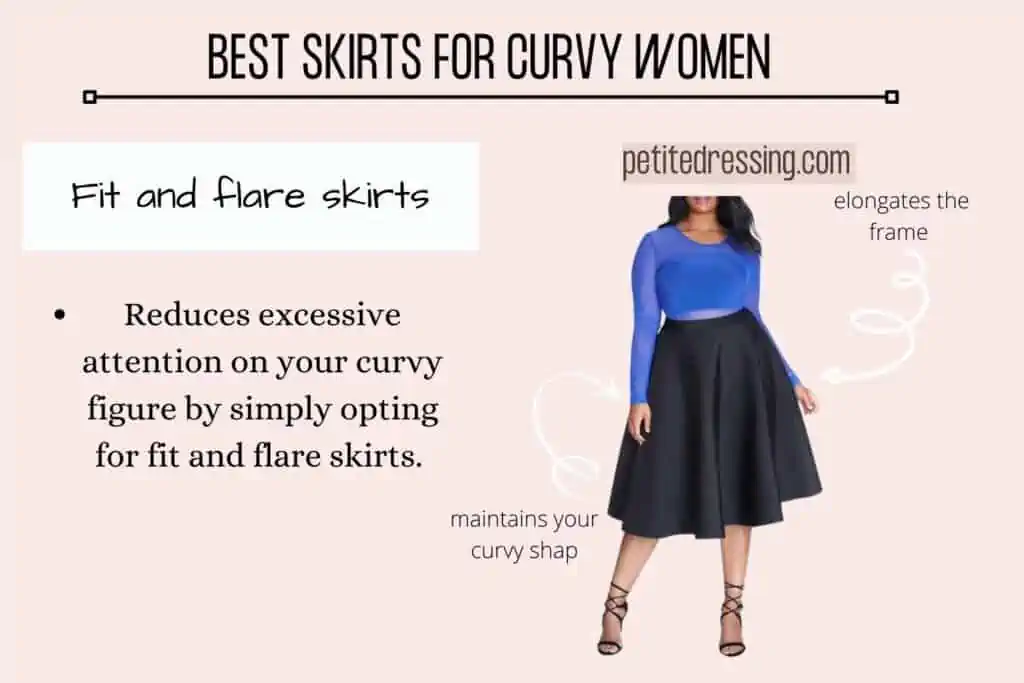 One fantastic way to reduce excessive attention on your curvy figure is by simply opting for fit and flare skirts. It has a shape that elongates the frame of the curvy woman by cinching in the waist and flaring out over the hips.
They complement the curvy woman's shape and do not cling tightly to her curves. Fit and flare skirts are very simple and not too complicated skirt style that maintains your curvy shape and uplifts your look.
This pattern of skirt is effortlessly cool and stylish with less detailing and embellishments that could alter your gracious figure. Essentially, they are pleasing and perfect skirt designs for the curvy woman so she can make them a part of her wardrobe staple.
Skirts with slits
Simple detailing on skirts like a slit is exceptional and flawless for the curvy woman to embrace her curves desirably. Slits on skirts expose the legs and divert the attention of the eyes from the hips to the legs and this can create an illusion of length.
They are designed to define the shape and offer comfort to your feminine figure. Skirts with slits are super incredible and could make you look sexy.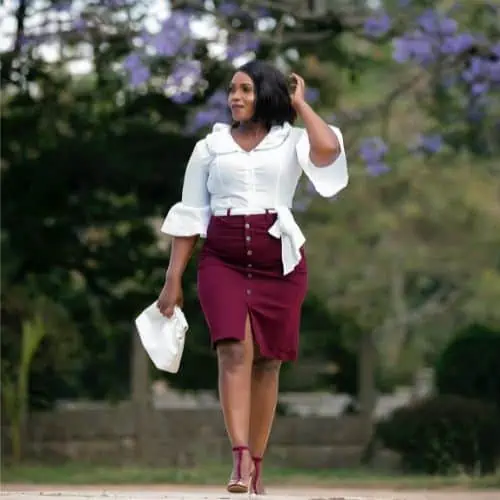 What to avoid when using a skirt with slit
Be cautious of the slit length to avoid from looking too provocative and passing a wrong message to the eyes.
The slit of your skirts should be moderate because that is the best way to feel good in them if you have a curvy figure.
Plain colored skirts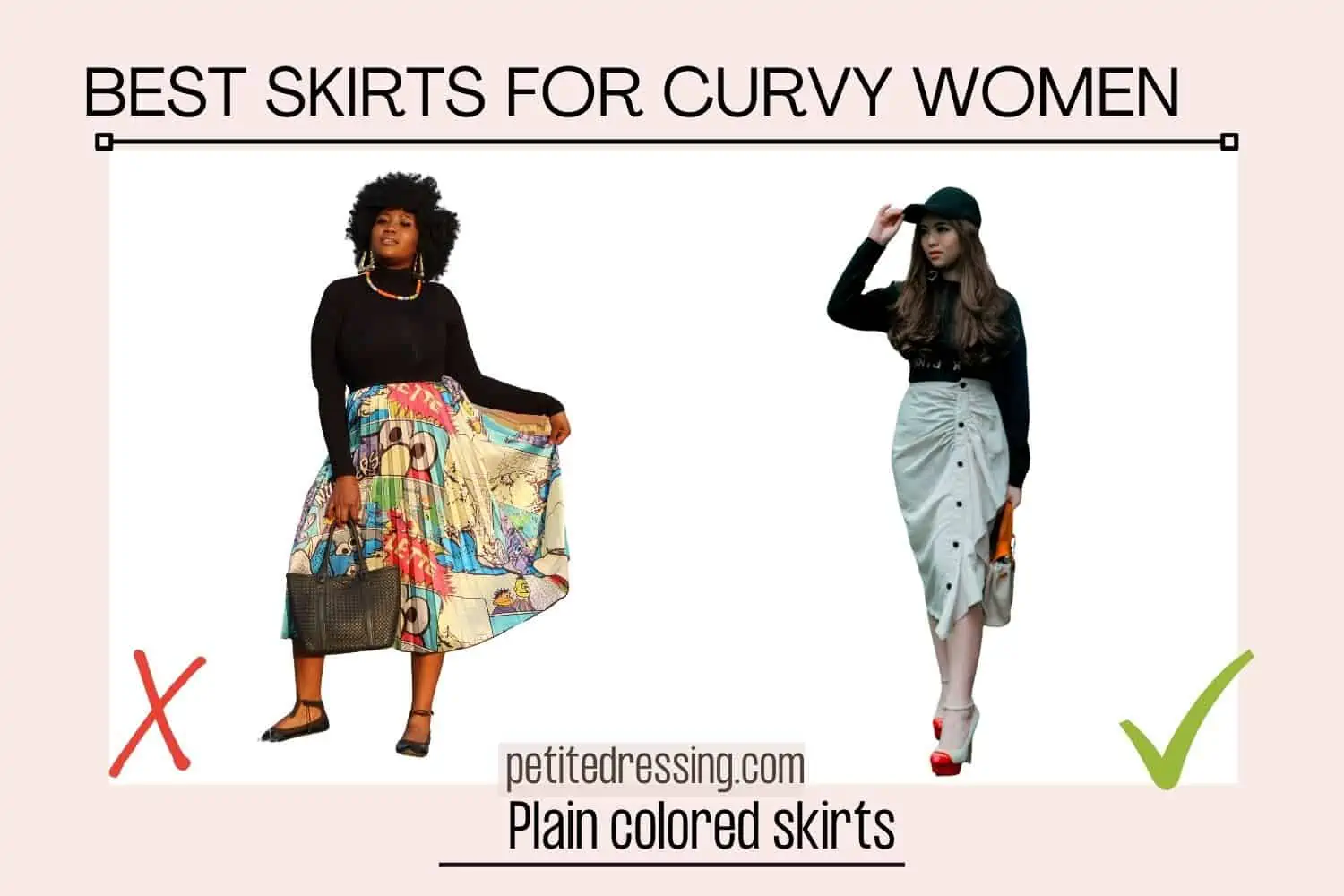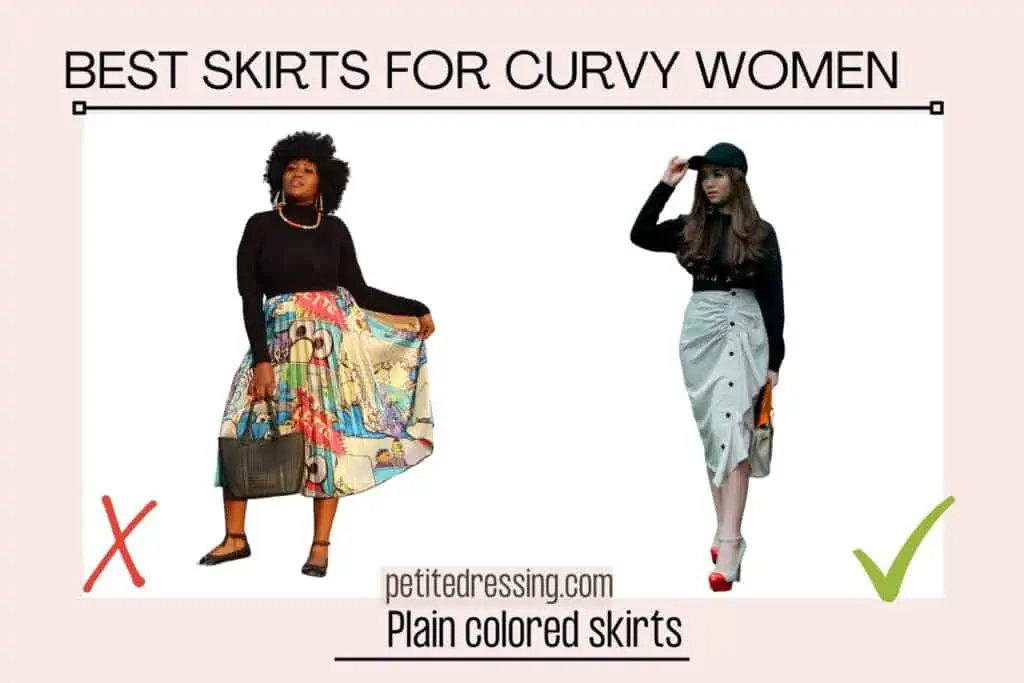 If you desire to have skirts with colors, then the most unique colors of skirts are the plain colored designs because of the naturally slimming effect attributed to them. They complement the shape of a curvy woman and give her a sleek appearance.
Brighter colors should not be a go-to option for skirts for curvy women because they would give room for the eyes to pay keen attention to the concerned area. You should either opt for nude colors or dark-colored skirts as they would make you look smart and classy.
Plain-colored skirts are very simple and could make you appear incredibly stylish for any occasion. Do not hold back from purchasing and owning the plain-colored skirt designs if you have a curvy shape.
Skirts with belts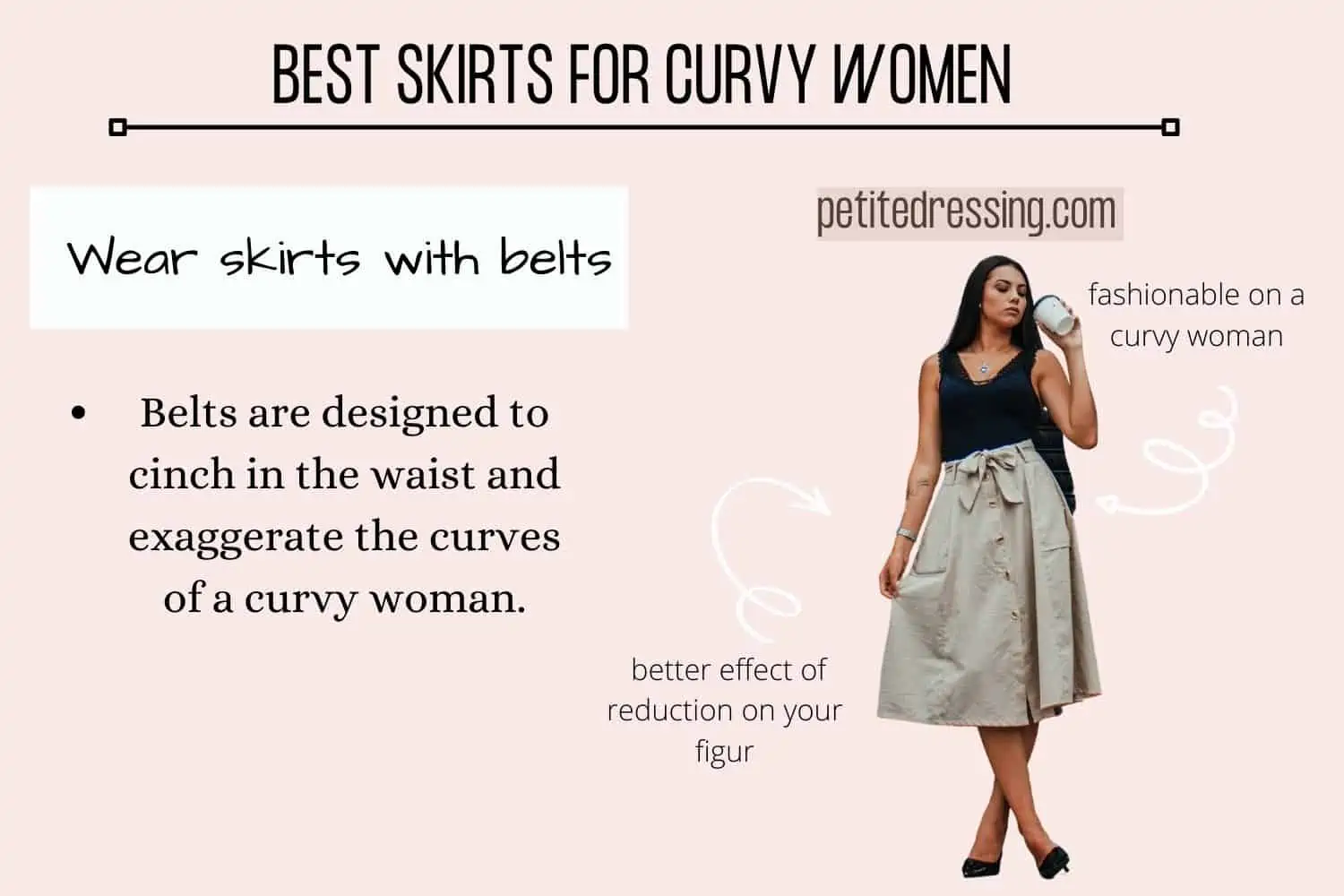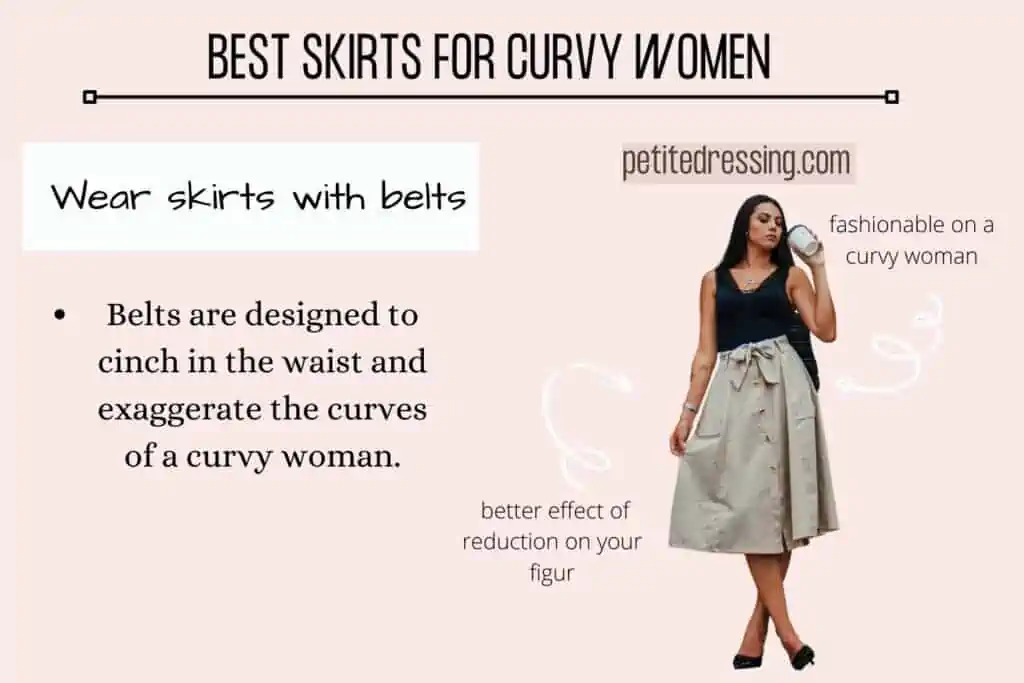 Belts are designed to cinch in the waist and exaggerate the curves of a curvy woman. Skirts with belts are very beautiful and can perfectly complement your shape to create a balance in your body proportion.
They are very fashionable on a curvy woman and give her shape a fascinating appearance that could boost her confidence. It is best to wear skirts with slim belts with a contrasting color because they offer a better effect of reduction on your figure.
Avoid tiered skirts
The tiered skirt is designed to add volume to the body figure and as such you should avoid wearing them if you are curvy. They tend to make your natural hips appear too voluminous and heavy.
This type of skirt has fabrics that layer all the way down from the waist to the hem of the skirt. Avoid them because they aren't the best skirt design required to exaggerate your feminine curves.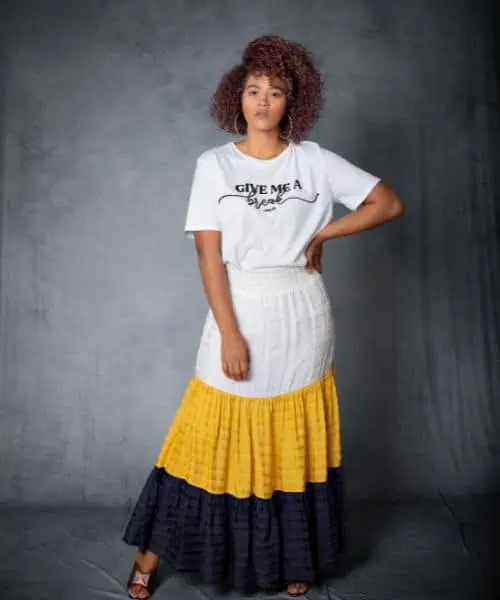 Why you should not opt for Tiered skirts
Tiered skirts are not flattering on a curvy woman and are least recommended to be part of your wardrobe essential.
Avoid wearing tiered skirts because they eliminate the idea of simplicity in a dress and are less flattering on your curvy figure.
Avoid voluminous skirts
There is no form of uniqueness and elegance in wearing voluminous skirts, so do not make them an option skirt for your figure. They would not only conceal your figure but they would give the eyes the illusion of wider hips.
So to avoid looking shapeless do not make voluminous skirts a wardrobe essential for your curvy figure. They do not flatter the curvy woman and are therefore not recommended as a style idea for a curvy figure.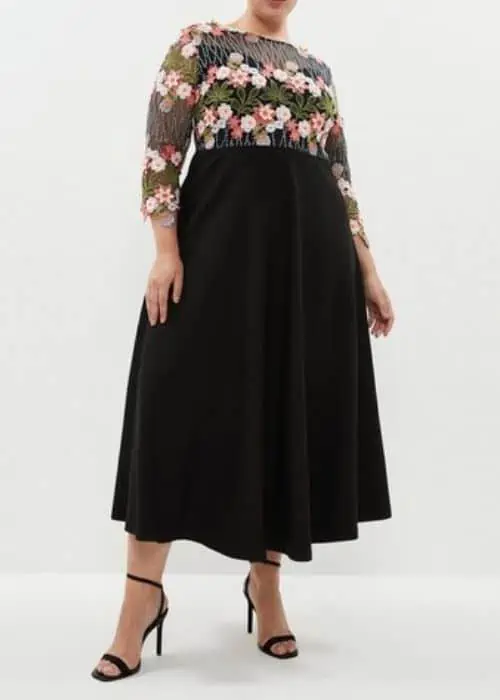 Things to remember when choosing a voluminous skirt
Do not feel insecure about your curvy figure by wearing voluminous skirts.
They are not fantastic on your feminine figure so make sure you avoid wearing them.