If you have a big bust, it could be a blessing to have the curves that make others envious, but meanwhile it could also be frustrating to find clothes that fit you and flatter you. Typically, women with hourglass shape or apple body type tend to have full chest, but you could also have other body type.
Styling Goal
Many women with a full bust are top heavy and have a shorter torso, because the bigger breasts are taking more space in your upper body and leaving less space between your chest and your waistline.
The key to dress busty women is to avoid adding more volume to your top, especially in the chest area, and in the meantime wear the right bottoms to balance out your shape.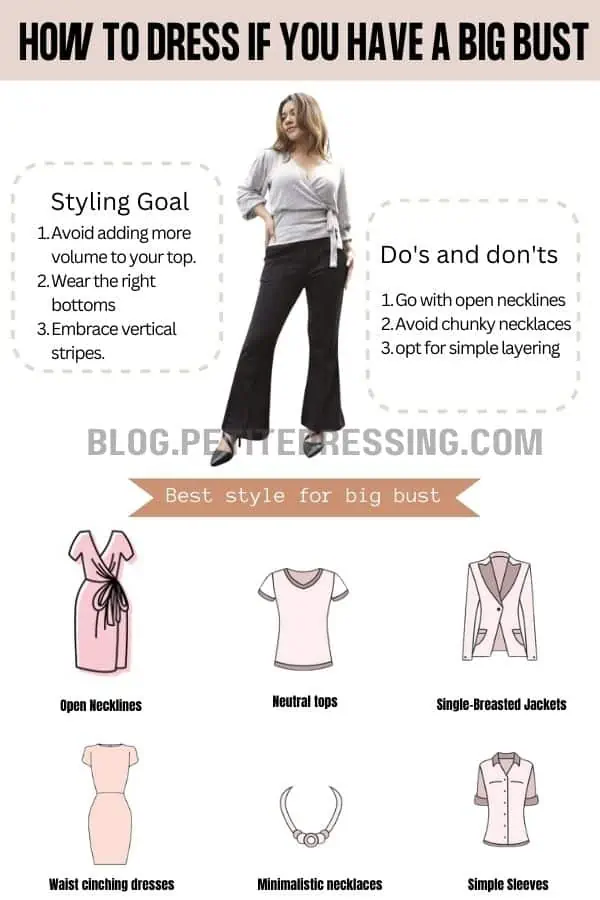 Necklines
Necklines play an important role in how we look. They are especially critical for women with a big bust.
Open necklines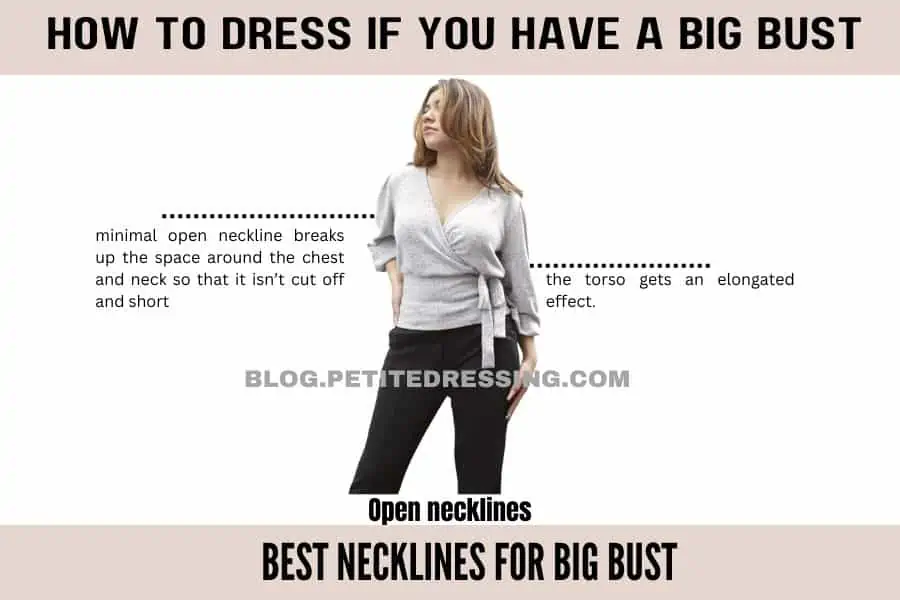 Open necklines like a scoop or v-neck are much more flattering options for a big bust. You don't have to wear a low neckline that may expose 'too much with a big chest. Even just a minimal open neckline breaks up the space around the chest and neck so that it isn't cut off and shortens the area, instead, the torso gets an elongated effect that's really nice.
Avoid High Necklines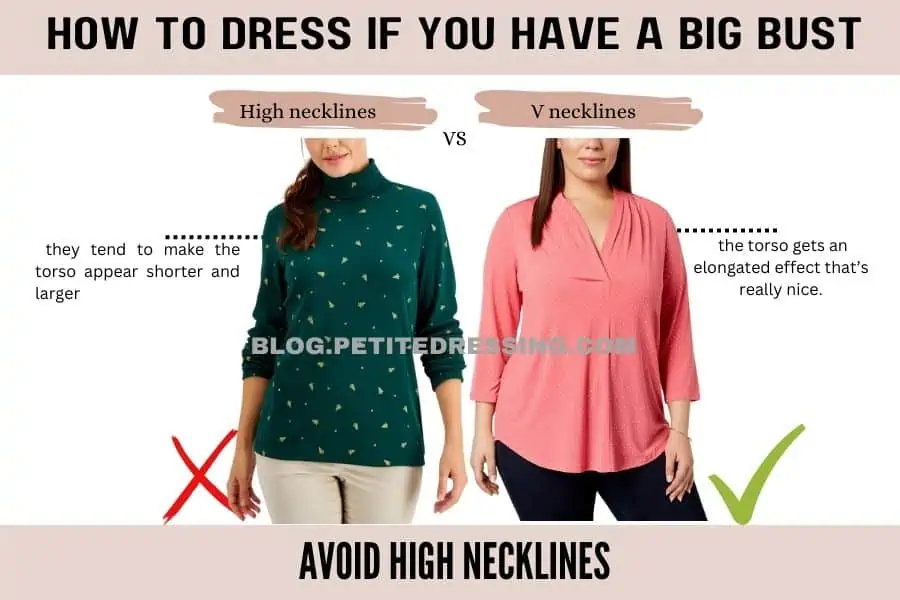 The problem with high necklines, when you have a big bust, is they tend to make the torso appear shorter and larger. High necklines include things like turtlenecks and crew necks. You will like notice when wearing these types of necklines, they cut the body off very severely.
Bras
It's no surprise that a well-fitting bra is important for all women. However, it's something that's absolutely essential for a big bust.
If you feel fussy with your current bra(s), it's definitely time to get fitted again. In fact, getting fitted by an expert is something that should be done on a fairly regular basis.
Believe it or not, bra sizes can (and do) fluctuate quite often and it's something that is often more noticeable when you have a larger chest.
Do your best to ignore the sizes and anything that you may believe or think about bra sizing in general, just go based on what fits the best and most comfortably.
Tops
Neutral tops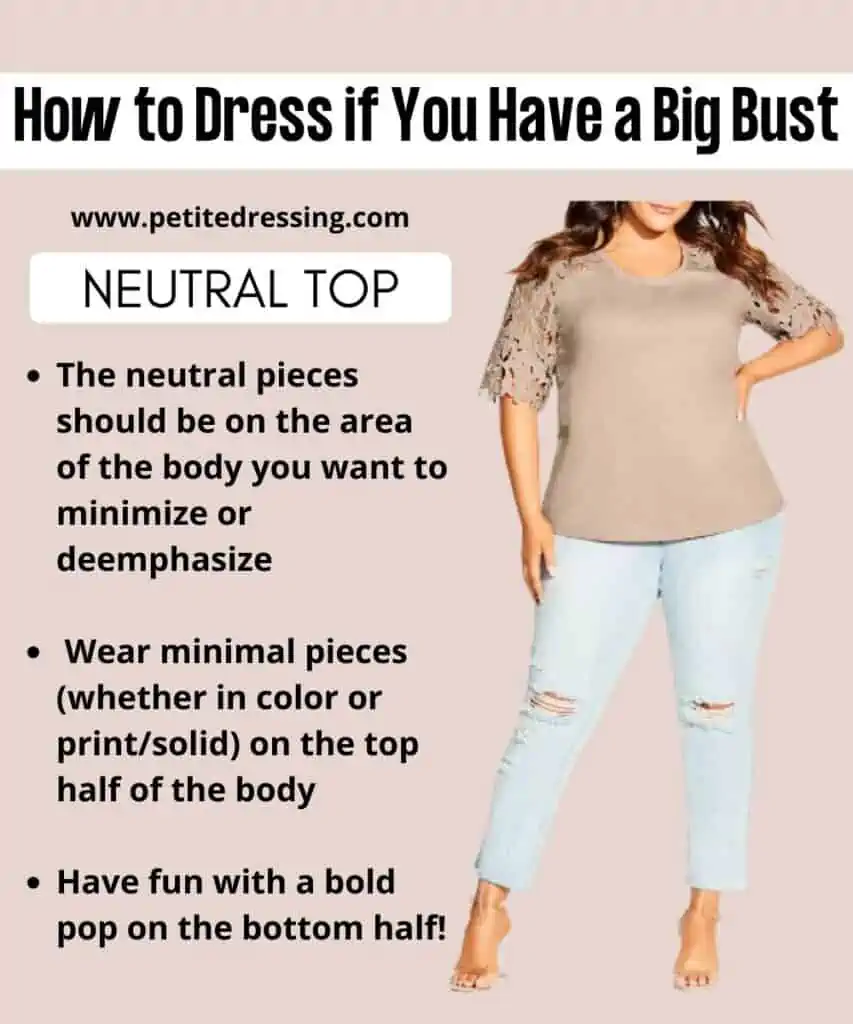 A styling trick that's something to utilize and adapt to any body type is to be strategic about where you wear colors and prints vs. neutrals.
In short, the neutral pieces should be on the area of the body you want to minimize or deemphasize, and the bolder pieces should be worn on the opposite areas to play up that part of the body.
In the case of having a big bust, you will want to wear minimal pieces (whether in color or print/solid) on the top half of the body and have fun with a bold pop on the bottom half.
Avoid Loose or Boxy Tops
It's common for women with larger chests to feel as though tops that are loose and boxy are ideal to 'hide' their shape. The problem with these silhouettes is they, well…HIDE your entire shape. And this is an issue because a hidden shape means a shape that looks bigger and shapeless as well.
Whether you have a naturally defined waist or hourglass figure or not – wearing clothes that highlight your body is always going to be a more flattering route to dress. This means it's time to start avoiding all those loose, boxy, and ill-fitting tops and replace them with options that have a clearly defined waist. No need to feel like you have to throw on skin-tight tops, just as long as it is something that shows your shape and emphasizes the waistline area of your body. Peplum tops are a great option to give a try!
Avoid Too Many Ruffles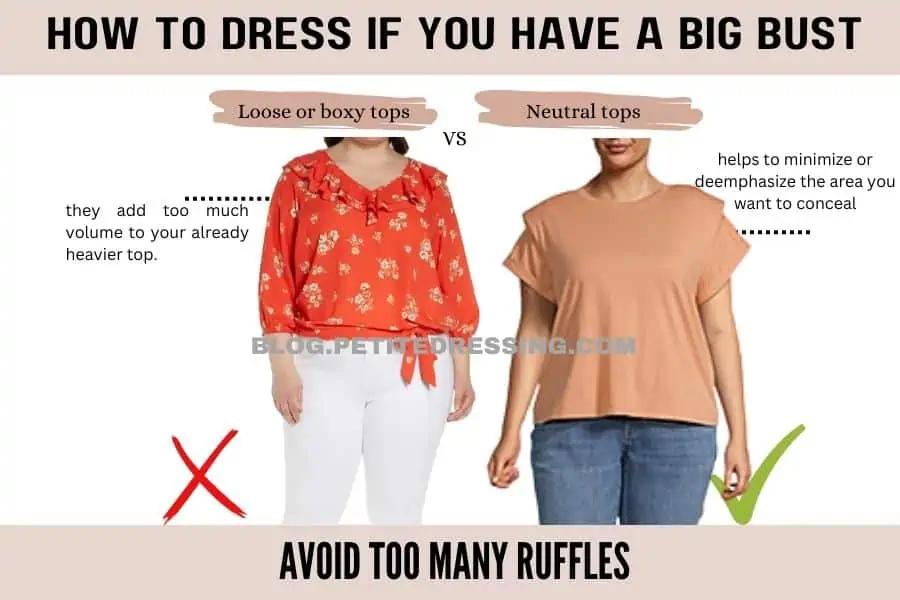 Ruffles are a very trendy design, and you can find much different clothing with ruffles such as blouses, shirts, tops, and dresses.
When you have a full bust, it is important to avoid too many ruffles in the upper body, because they add too much volume to your already heavier top.
It is especially critical to avoid any ruffles in the chest area, as these only make your bust appear even bigger and make you look heavier than you are.
Caution with Halter Styles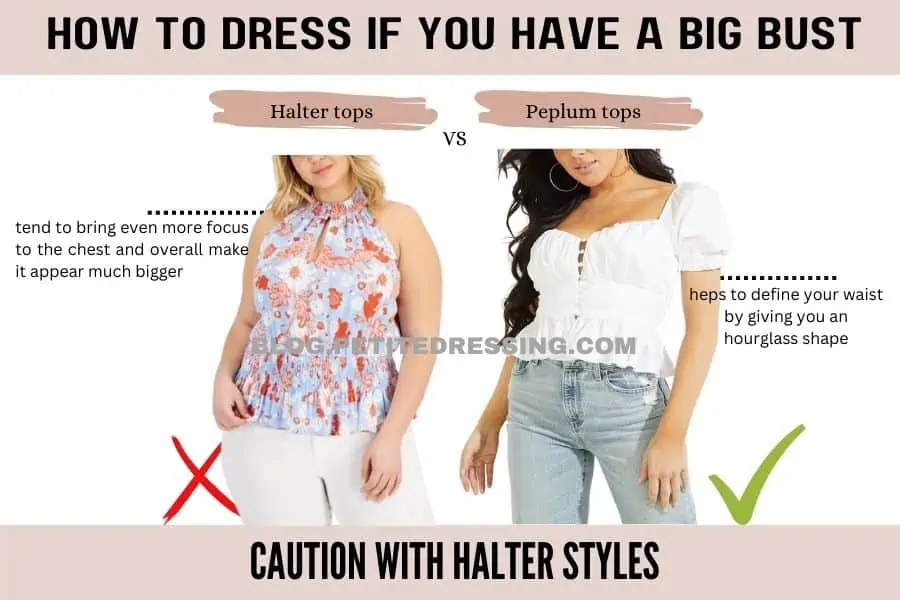 This may not be the most popular thing to say, but halter necklines aren't the best choice for a large bust.
Halter necklines tend to bring even more focus to the chest and overall make it appear much bigger. This means whether it's tops or dresses, it's better to stay away from this style.
Jackets
Single-Breasted Jackets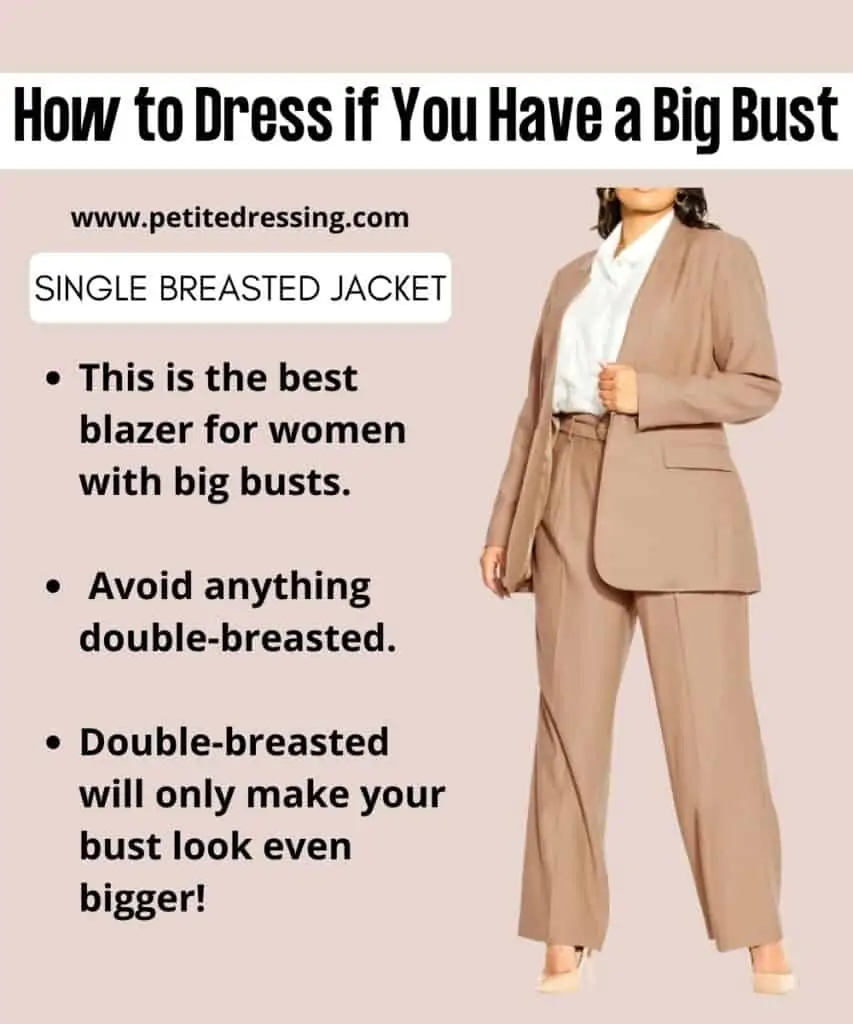 If you have full bust, the best blazers for you are the single breast. Anything double breasted are only going to make your bust look even bigger.
In addition, they can also make you feel restricted in the chest area, because of the additional line of buttons. That is why women with bigger busts should stay away from double breasted anything such as coats or jackets.
Avoid large collars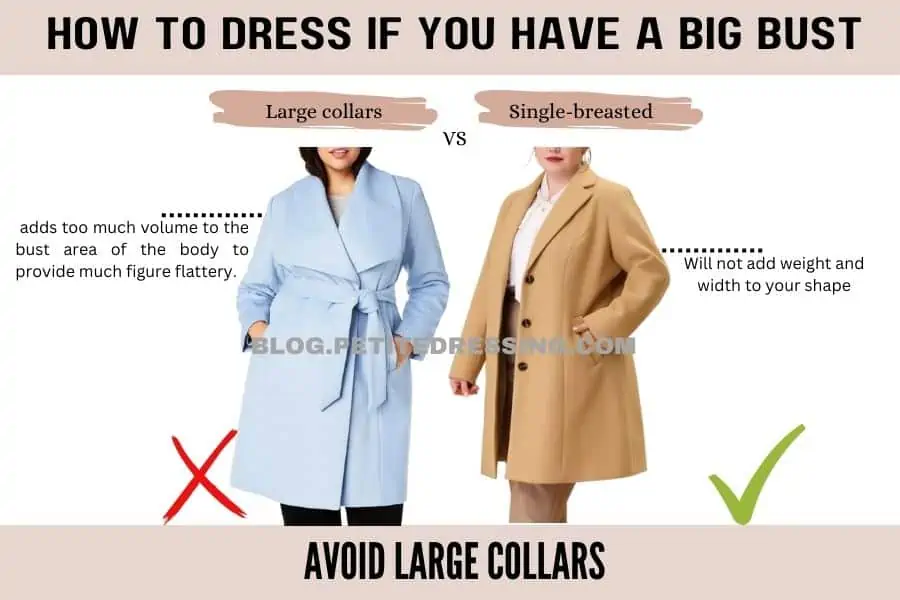 Blazers with a lot of 'extras' on them like pockets and extreme collars are all going to add too much volume to the bust area of the body to provide much figure flattery.
If you already have a full bust, it is best to stay away from any exaggerated designs.
Simple Layering Pieces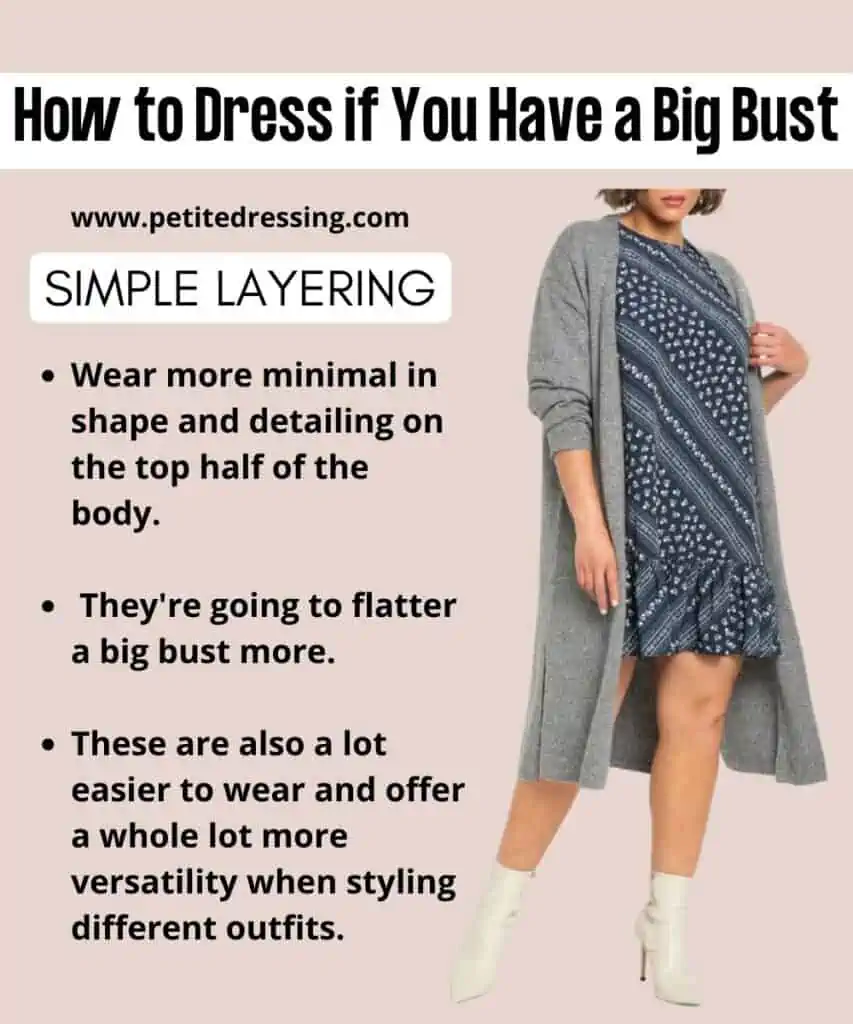 It has likely come clear by now that a big trick to styling a big chest includes wearing pieces that are a bit more minimal in shape and detailing on the top half of the body. This also applies to any layers you may wear over clothing.
This is especially relevant in transitioning weather such as fall or spring when you are most likely going to wear layers like cardigans when the weather is up and down. The key is to keep it simple and minimal with these layering pieces. Think cardigans without closures, etc. Not only are they going to flatter a big bust more, but these layers are also a lot easier to wear and offer a whole lot more versatility when styling different outfits.
Dresses
Wrap Dresses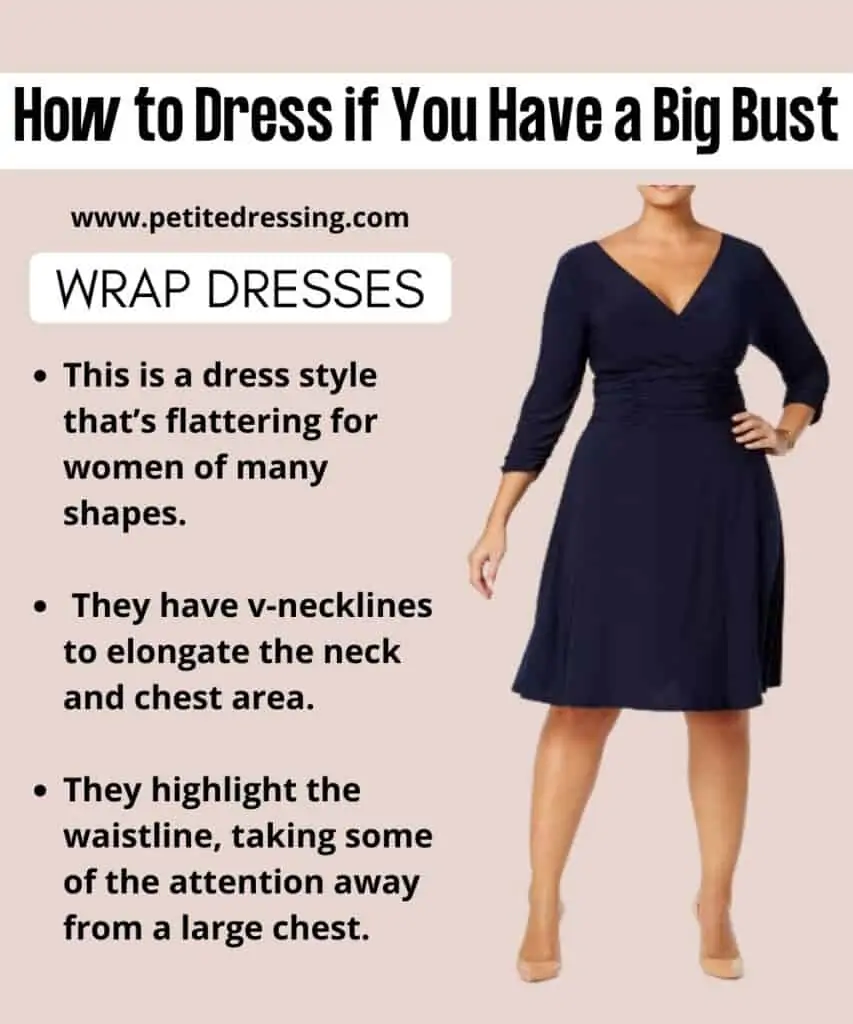 Ever wonder what the most flattering style of dress is for a larger bust? The wrap dress.
In all honesty, this is a dress style that's flattering for women of many shapes, but it's an absolute must for a larger chest.
Wrap dresses offer all the elements that are a must when you have a big chest.
First, they have v-necklines to elongate the neck and chest area. Second, they highlight the waistline with the wrapped style which also provides a cinching aesthetic that slims and defines that area of the body – taking some of the attention away from a large chest.
Waist cinching dresses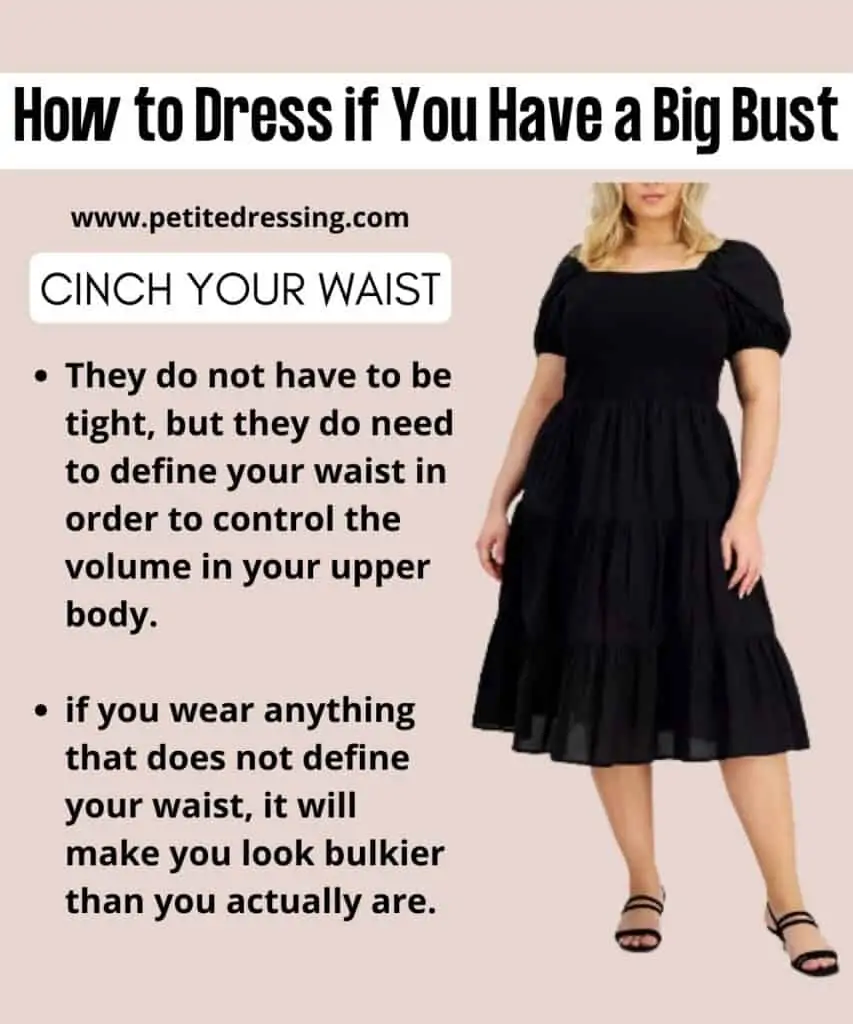 When you have a full bust, you come across as top-heavy. It is critical for you to wear tops that cinch your waist. They do not have to be tight, but they do need to define your waist in order to control the volume in your upper body due to the full chest. On the other hand, if you wear anything that does not define your waist, they are going to look like a "tent" hanging down from your waist, making you look bulkier than you actually are.
Simple Sleeves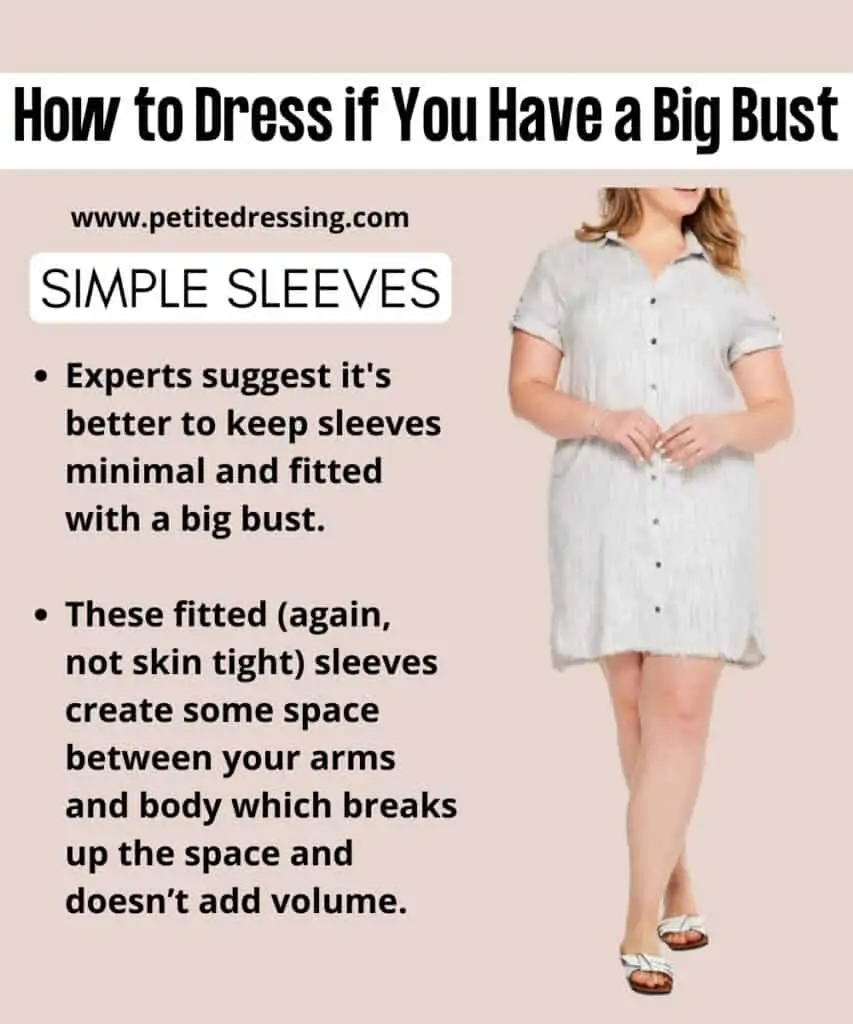 Similar to top silhouettes, sleeves play a role in dressing a larger bust. Yes, even the sleeves! While it may feel easy to opt for tops and dresses with voluminous sleeves – they're not the best style choice with a large chest. The issue that arises with these voluminous sleeves is they add volume to the top half of the body, where your bust is, and by nature it adds that volume to the chest as well. Experts suggest it's better to keep sleeves minimal and fitted with a big bust. These fitted (again, not skin tight) sleeves create some space between your arms and body which breaks up the space and doesn't add volume.
If you're someone who loves funky sleeves, keep the detailing around the cuff area of the sleeve so that it's further away from your bust.
Vertical stripes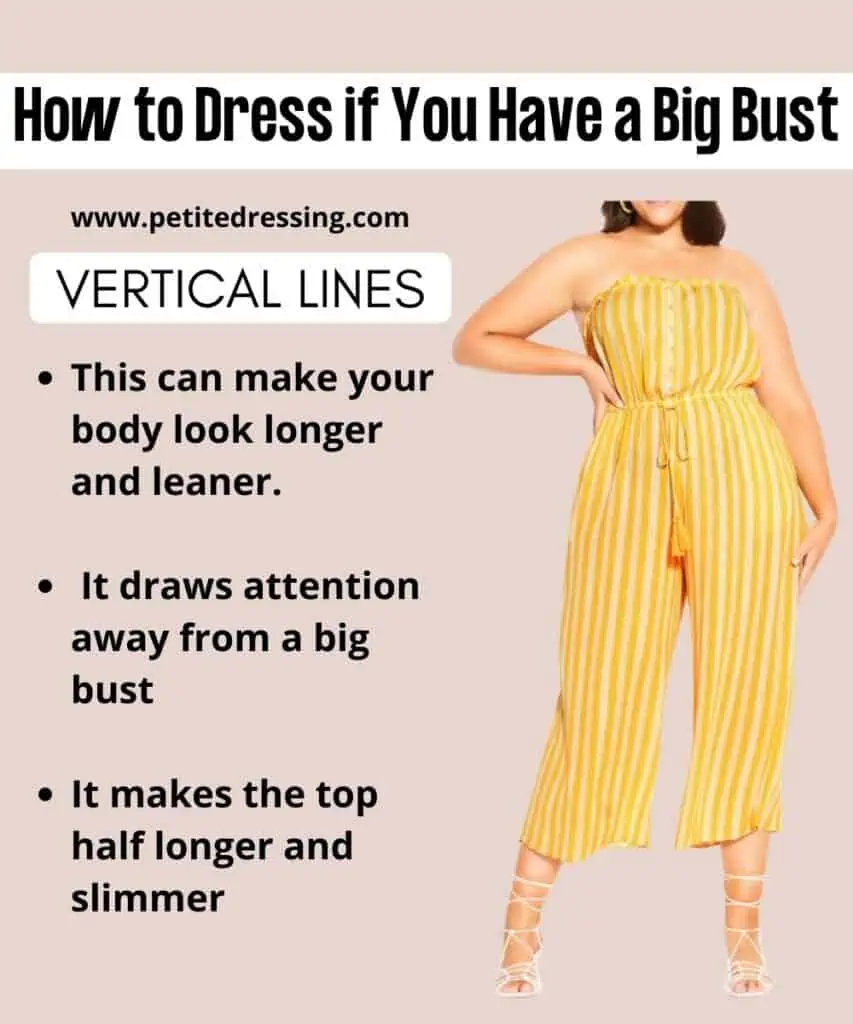 Striped clothing has gotten a bad rap, because contrary to what you may have heard striped clothing is incredible when it comes to making your body look longer and leaner. This, however, is based upon the direction of the stripes. To achieve the figure flattering element of stripes with a big bust, it's all about embracing vertical stripes.
Accessorizing
Accessories should be an area of the wardrobe where you have fun and express your personal style and personality. Much like actual garments, accessories can play a role in flattering your body.
Minimalistic necklaces
If you have a larger bust, necklaces in particular are a type of accessory that can make or break an outfit.
It's best to opt for necklaces that are more minimal in their design and weight. This is what will give you a chance to accessorize without adding bulk to your chest.
Avoid chunky necklaces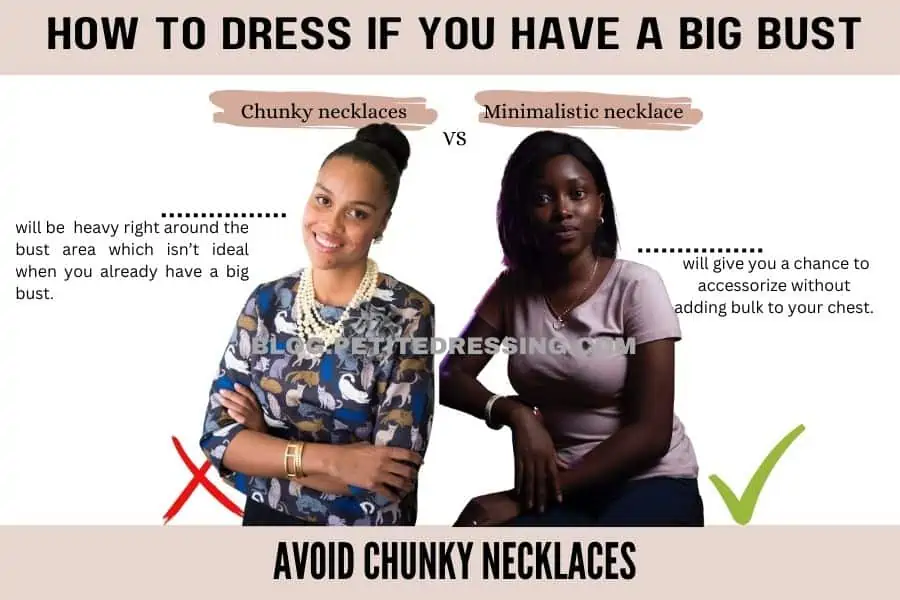 In general, when you have a big bust you'll want to be cautious with any necklace that's very chunky, heavy and overall 'big.'
These heavier necklaces tend to feel, well, heavy right around the bust area which isn't ideal when you already have a big bust.
Another good rule of thumb to keep in mind with a big bust is that the length of necklaces is best when they rest just above or just below the bust. Anytime a necklace ends right at the bust – that's where the eye is drawn. Additionally, long necklaces provide a lengthening effect to the torso that's really flattering.
Avoid Wide Belts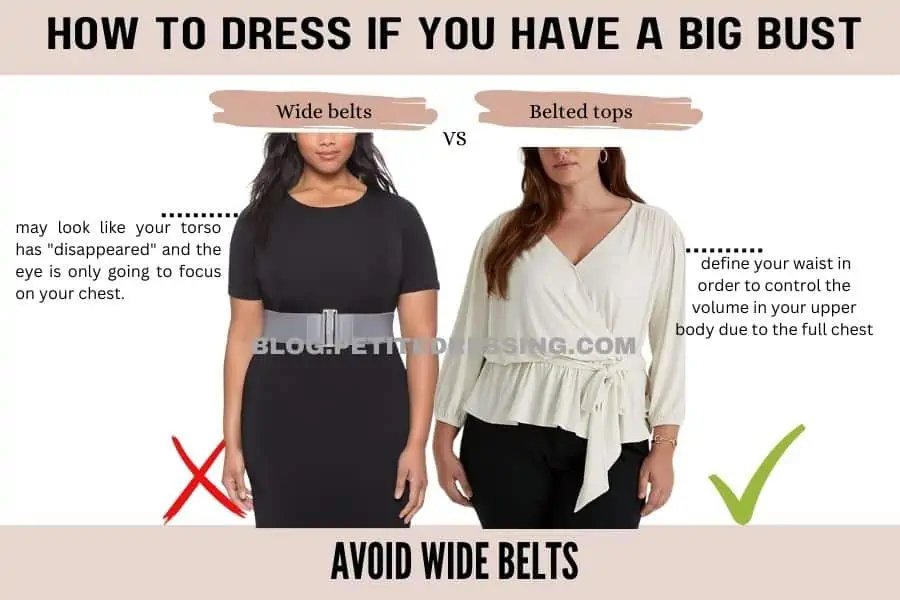 Many busty women have a shorter torso, because their full breasts take up a lot of space in the torso, and not leaving much space between the bust and the waist. That means you should avoid wearing anything that cuts into that space even more, such as wide belts.
This is especially critical if you happen to be a petite woman with large bust. If you are petite, chances are you may have a shorter torso to begin with, and your big bust only makes your short torso even shorter. If you wear a wider belt, it may look like your torso has "disappeared" and the eye is only going to focus on your chest.
Create a vertical line
Striped clothing isn't the only way to add vertical lines to what you wear.
This can be achieved by wearing a blazer unbuttoned, a long necklace, etc.
The reason creating vertical lines is important for you is because it draws attention away from a big bust and makes the top half longer and slimmer (just like the stripes do). Anytime you have a chance to create vertical lines down the body using clothing, make use of it!