If you are a curvy girl, finding the right pants is critical for your personal style. I know this as I have a petite clothing line and I style models of all body shapes and sizes every week for our product fitting and photos. One of my models, Wendy, has fairly generous curves.
I notice that the right styles of pants make you look taller and leaner, while the wrong styles can make you look bigger than you actually are.
Based on my first-hand experience, as well as feedback from numerous customers, I've put together a complete pants guide with the 9 best types of pants for women with curves, and also 3 styles you need to be cautious about or perhaps even stay away from.
High waist pants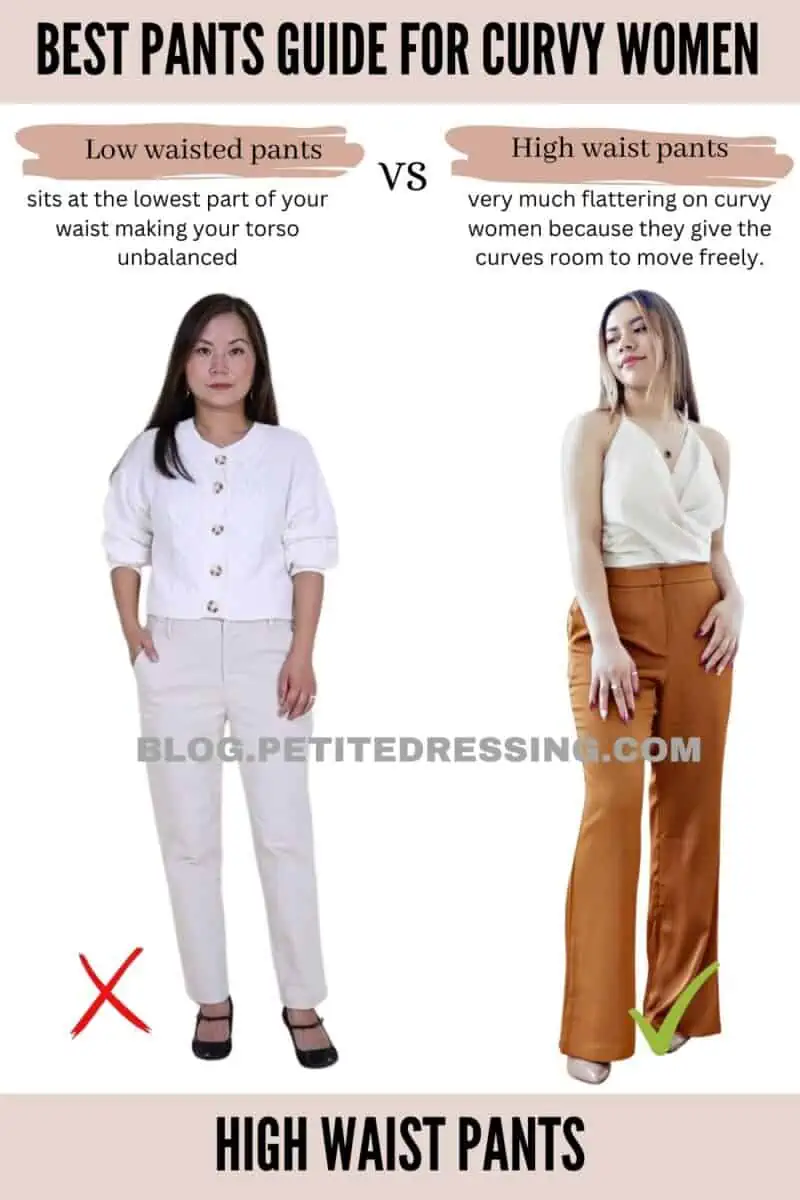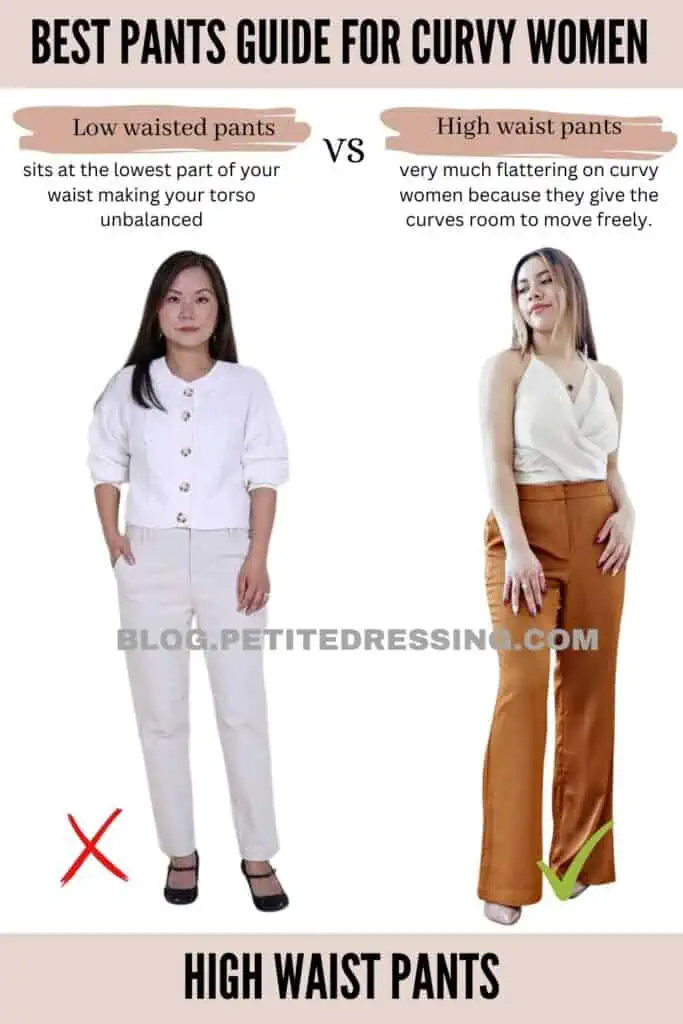 Looking for pants that would fascinate your curvy figure and still elongate your body frame? Then you should pick the high waist pant. The high-waist pant is very much flattering on curvy women because they give the curves room to move freely.
High-waist pants extend above the natural waistline and allow the eyes to assume length in your figure by reducing the torso and increasing the length of the lower body. Be sure to pair your high-waist pants with heels that won't make your curves look heavier.
This design of pants is very flattering on the curvy woman and should be a go-to option for an edgy and stylish appearance that suits the body shape. Make sure you have the high waist pants as part of your wardrobe essential for your curvy shape.
Pants with pleats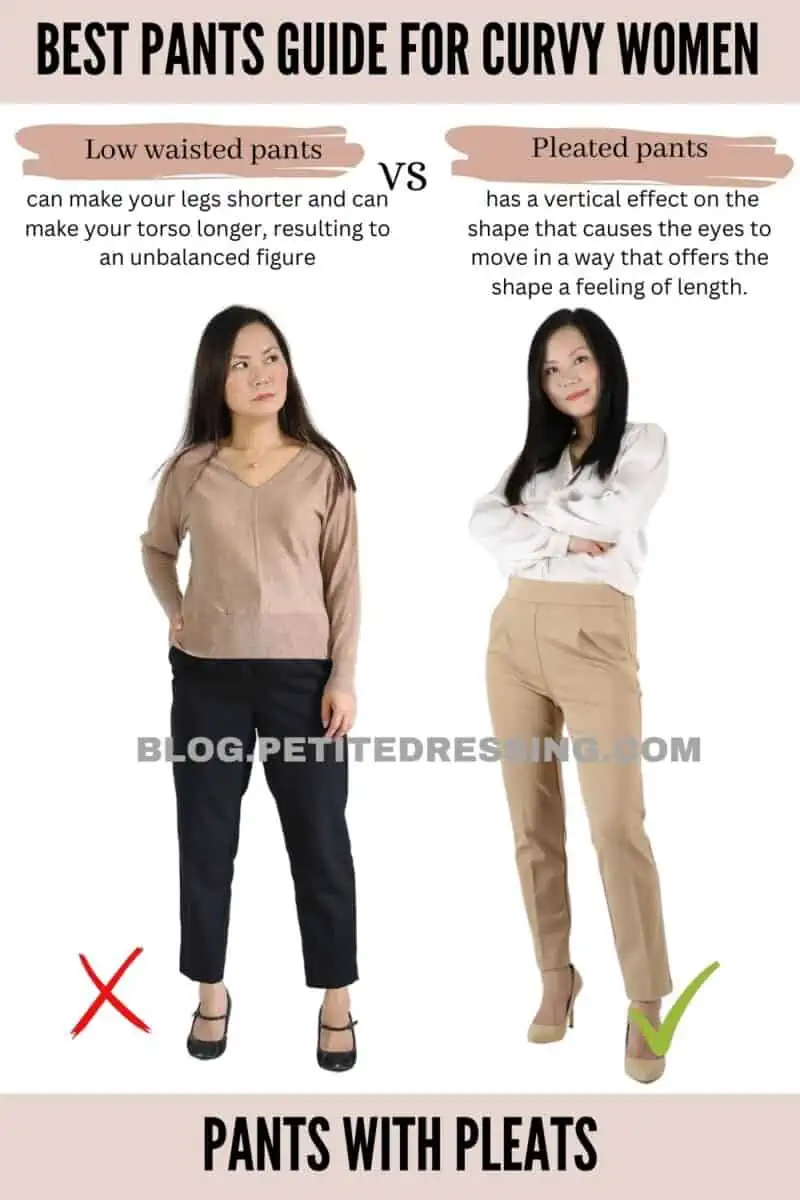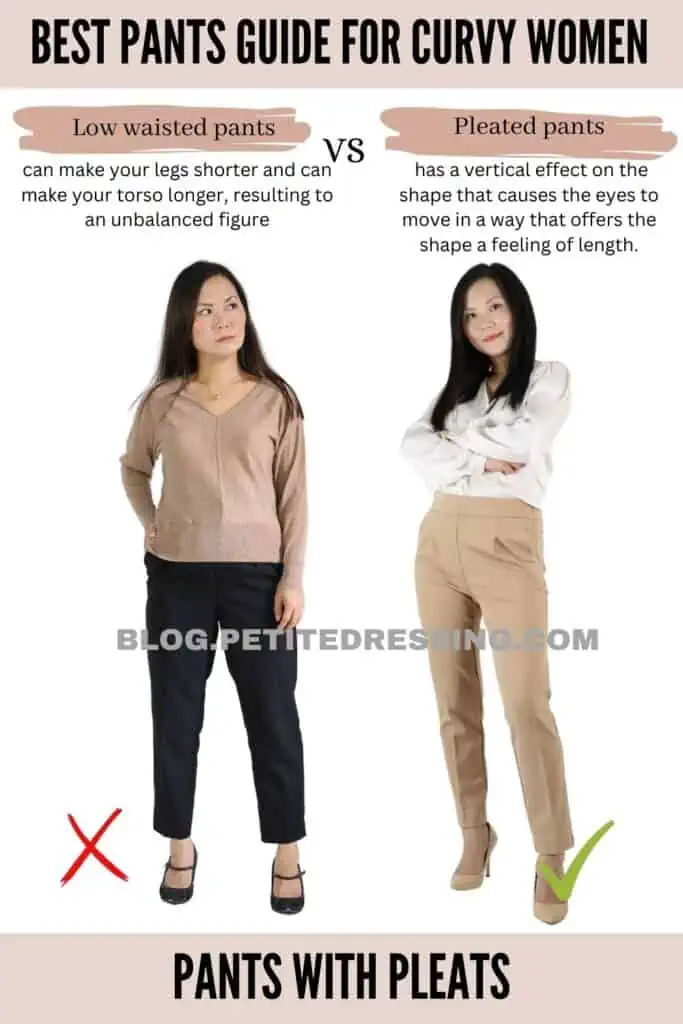 The most desirable pant patterns are those that give space to the curves and one of those very few designs is pants with pleats. The pleats in the pants run along the waist to the front to create room for the curves to be well accommodated.
The legs of pleated pants are usually well tapered towards the ankle and this is very much fitting for the shape of a curvy woman. It also has a vertical effect on the shape that causes the eyes to move in a way that offers the shape a feeling of length.
Pleated pants are very comfortable and can impact a slimming effect that reduces the width of your natural hips. They can also allow you to sit majestically without any form of restrictions around your figure and further help to prevent unnecessary seam tensions around the feminine figure.
Wide-leg pants with full length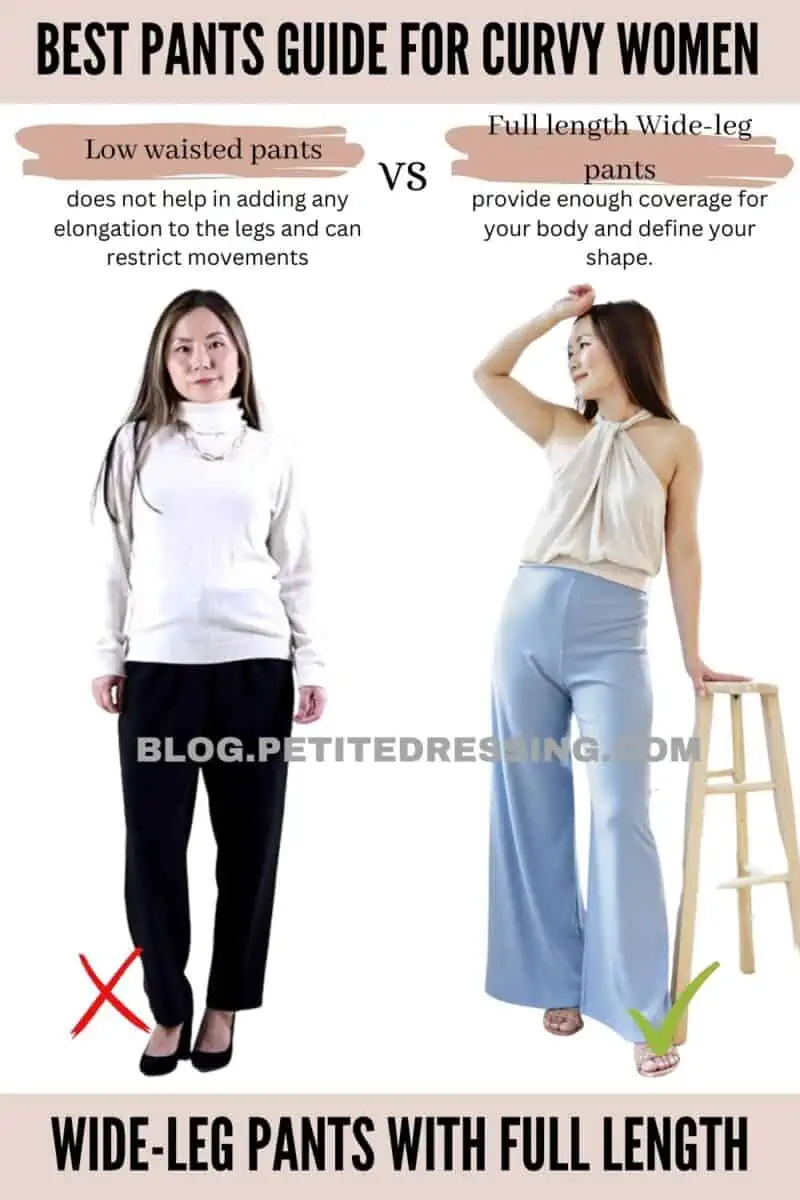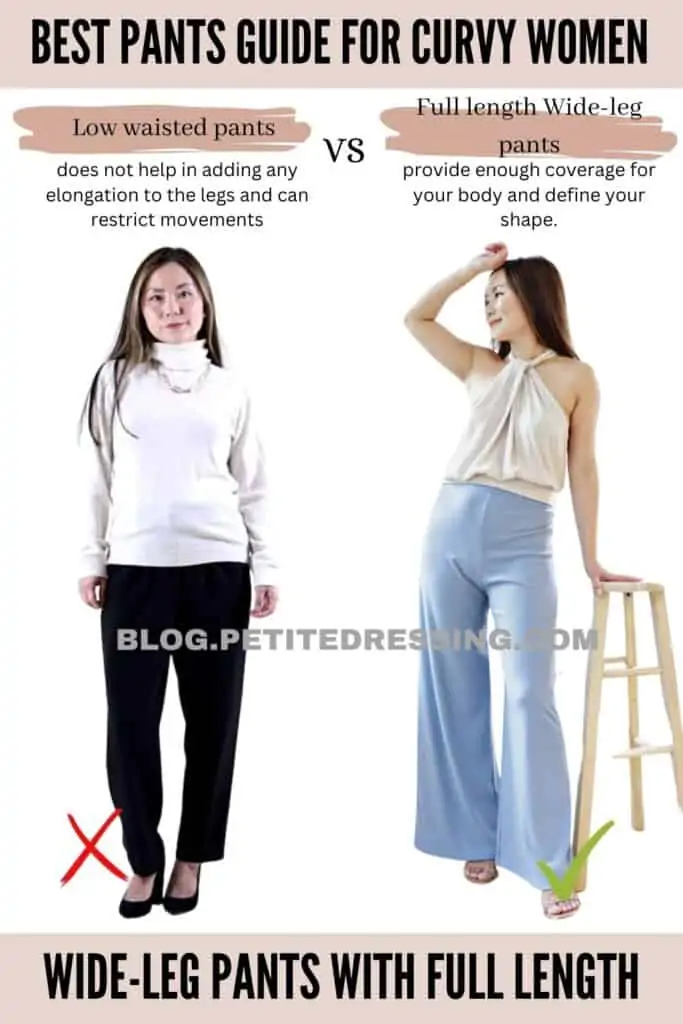 The best wide-leg pants for your shape are those with full length because they create more room for your curves and still elongate your whole body frame. They provide enough coverage for your body and define your shape.
Wide-leg pants are easy to wear and a brilliant style of pants that should be owned by a curvy woman. They add class to your body and present you with a contemporary and sleek look that easily conceals your concerned area.
This design of pants skims over your wide hips and makes you look polished in your general outfit. The wide-leg pants with a full length are edgy and stylish for a curvy woman and you can never look cheap in them.
Sailor pants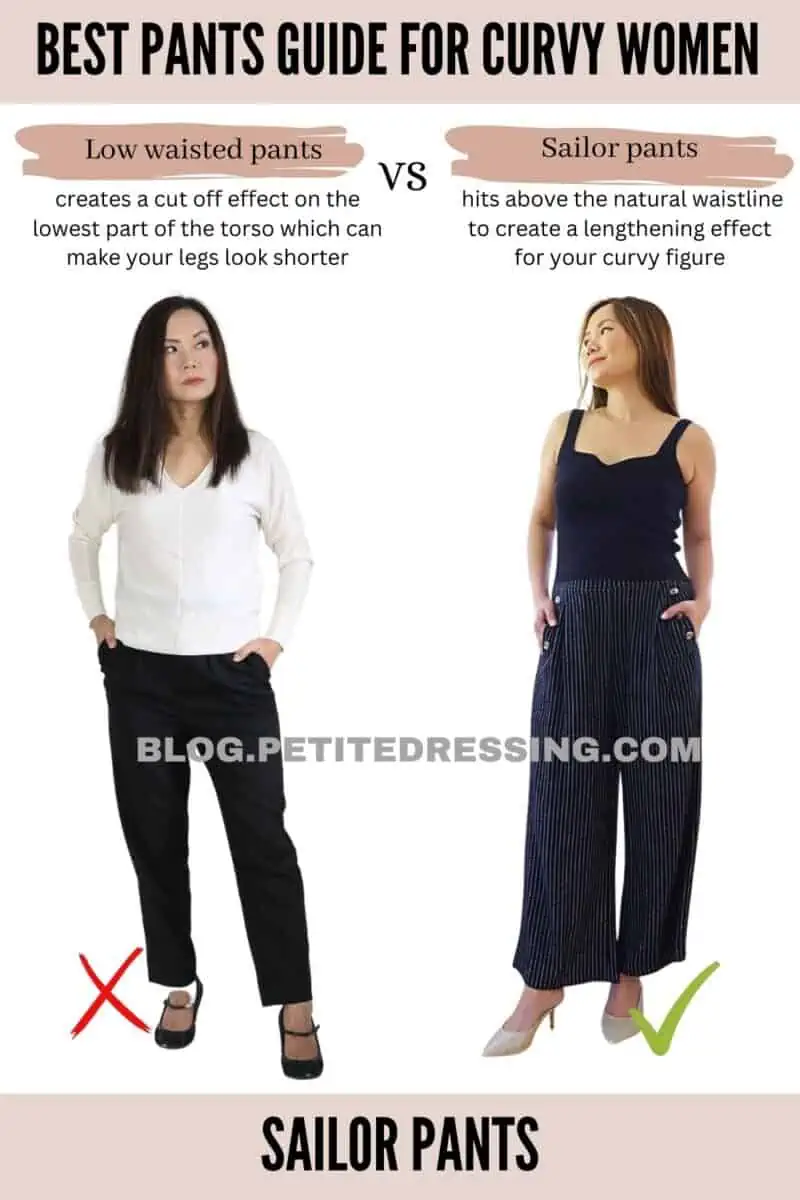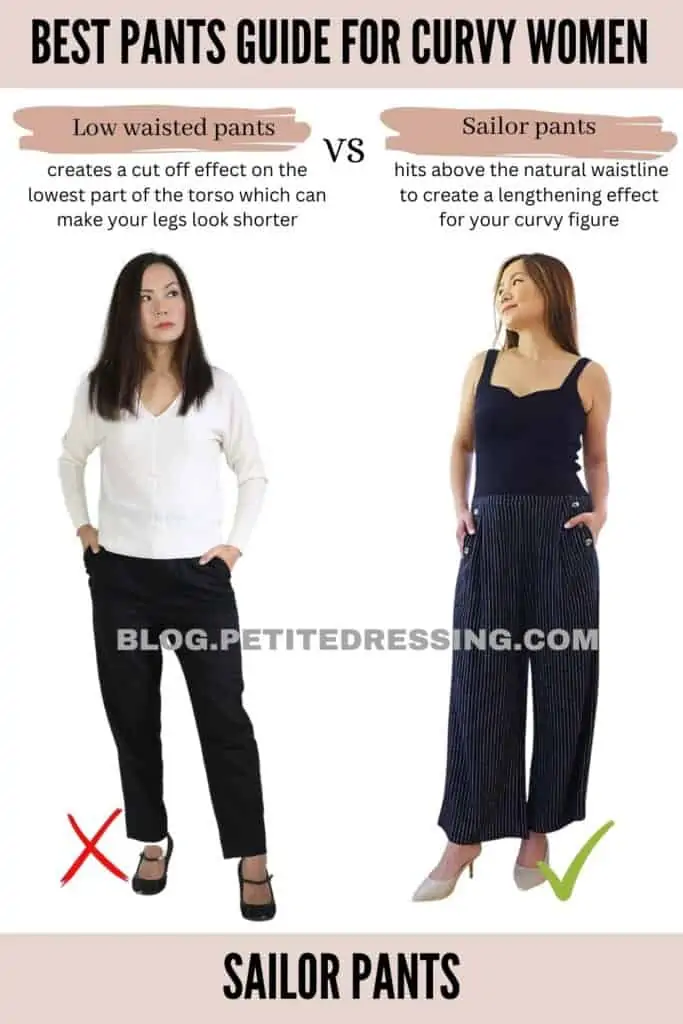 The sailor pants are versatile and flattering in the shape of a curvy woman with a structure that is defined to highlight the waist. Sailor pants are unique because they have an aesthetic structure that is very comfortable for the curvy woman.
It has a waistline that hits above the natural waistline to create a lengthening effect for your curvy figure. Sailor pants have varied lengths and no matter the length you choose, know that they would always retain and define your shape.
Pants with vertical stripes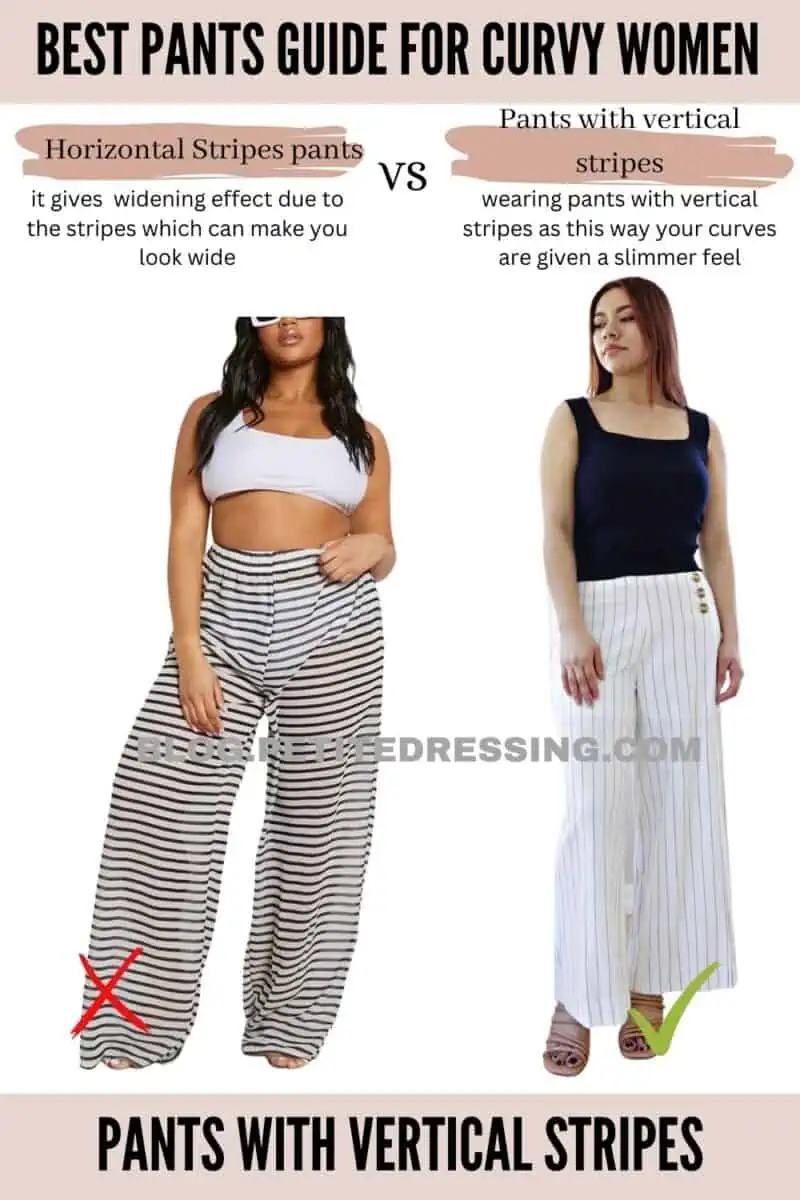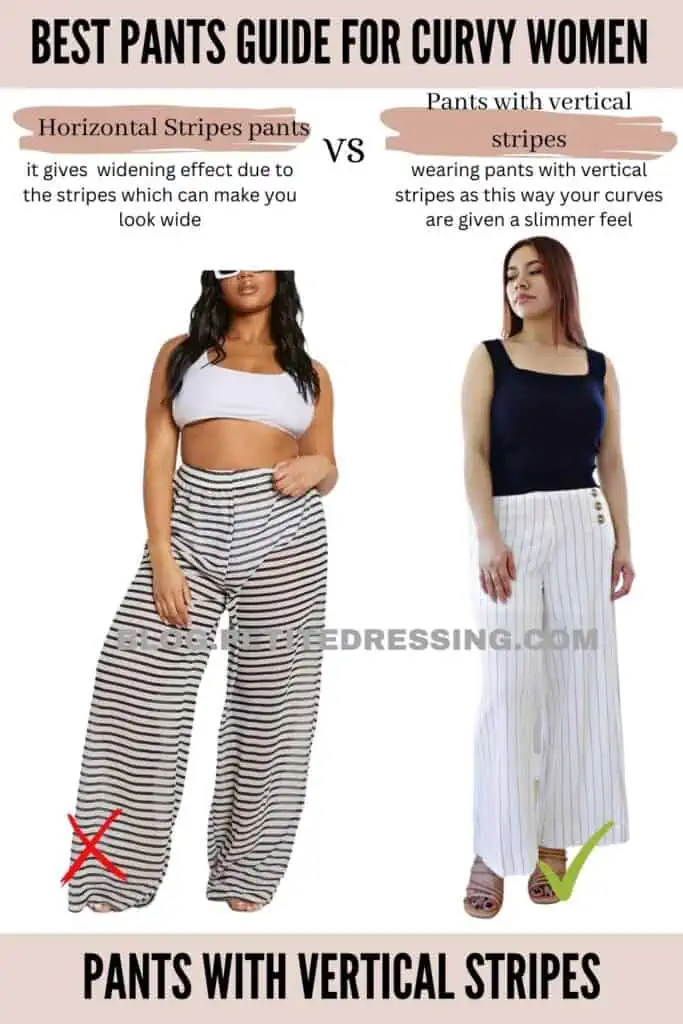 You can gain the confidence needed to uplift your curvy body by wearing pants with vertical stripes as this way your curves are given a slimmer feel. Vertical stripes on pants allow the eyes to keep its movement upwards and downwards rather than make it keep a keen focus on your curvy figure.
Stripes on pants are very stylish and the best stripes are the vertical stripes so give them a better preference than any other stripe design. Vertical stripes on pants worn by a curvy woman are very classy with a natural lengthening effect that adds height and balance to your overall figure. It defines your shape and does not allow your hips to appear too wide.
Wear pants with dark colors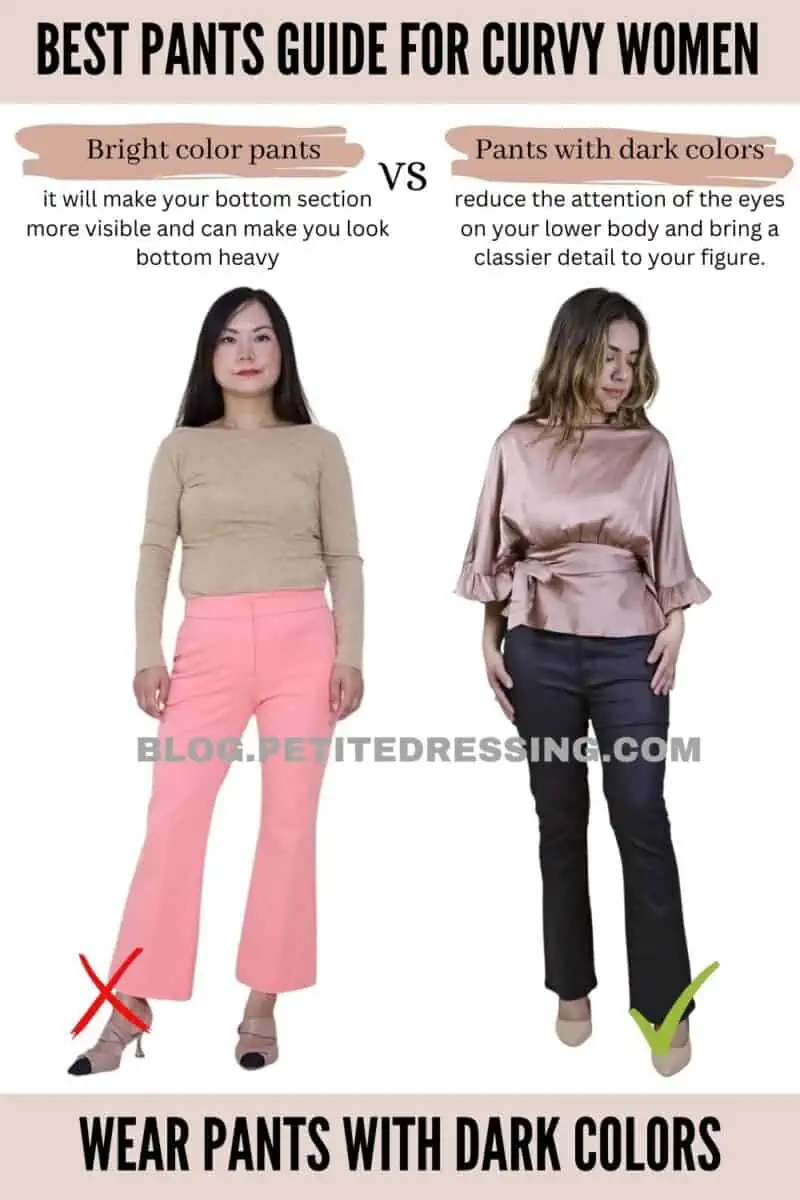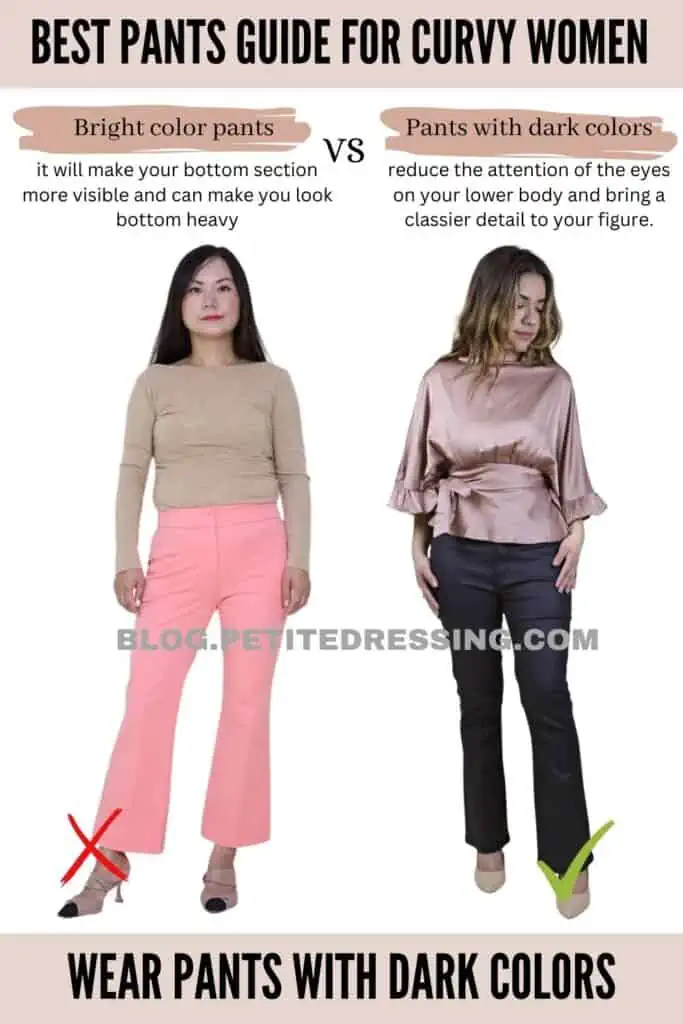 The choice of colors on pants has a role to play on your shape and that is why a curvy woman should own pants with darker colors. They are a great way to get started in creating an outstanding look for your curvy body.
Dark colors on pants reduce the attention of the eyes on your lower body and bring a classier detail to your figure. They are the best pant option for a curvy woman because they make the curvy figure appear slender and elegant.
Bright colors add a contrasting effect of width because it allows the eyes to focus their attention on the curves and that can be discomforting. For this reason, your best pick should be pants with a darker color as they would enhance your curves better.
Flare pants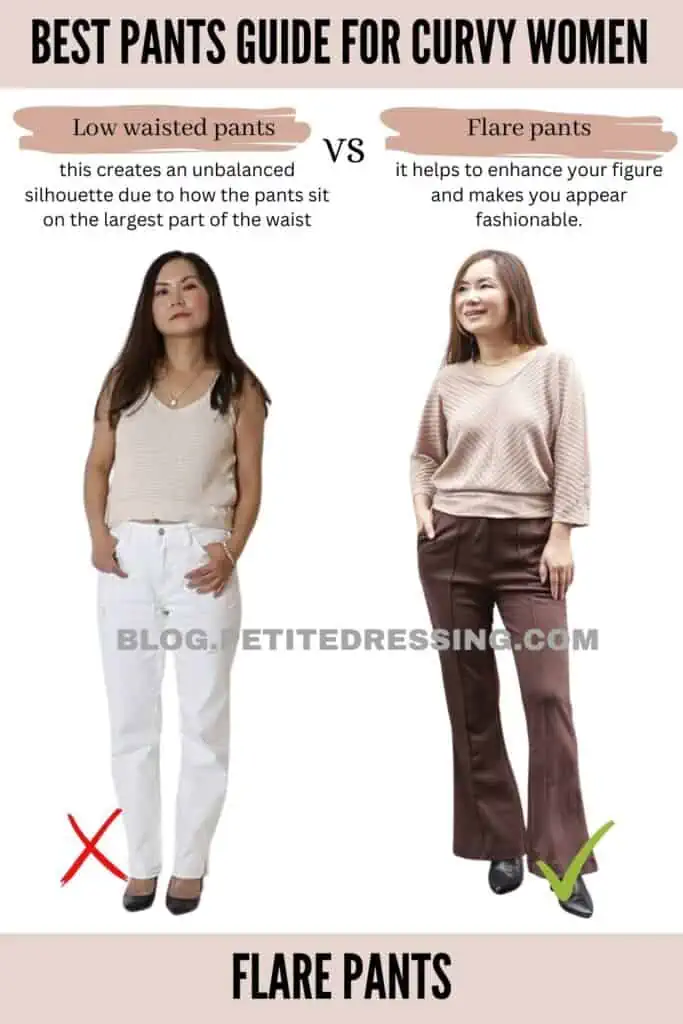 These designed pants are a must-have for a curvy woman because they are very comfortable without causing any form of restriction on her figure. They look great on your curves and also remove any form of cropped look that certain pants could have on your body.
They have a structure suitable to flatter and help you embrace your natural curves. Flare pants have a defined silhouette that enhances your figure and makes you appear fashionable.
Flare pants are uniquely designed to balance out your body proportion and elongate your curvy frame. You also have the option of choosing those designs with an embellished tie waist as these could further help to cinch in the waist and accentuate the curves.
Well tailored pants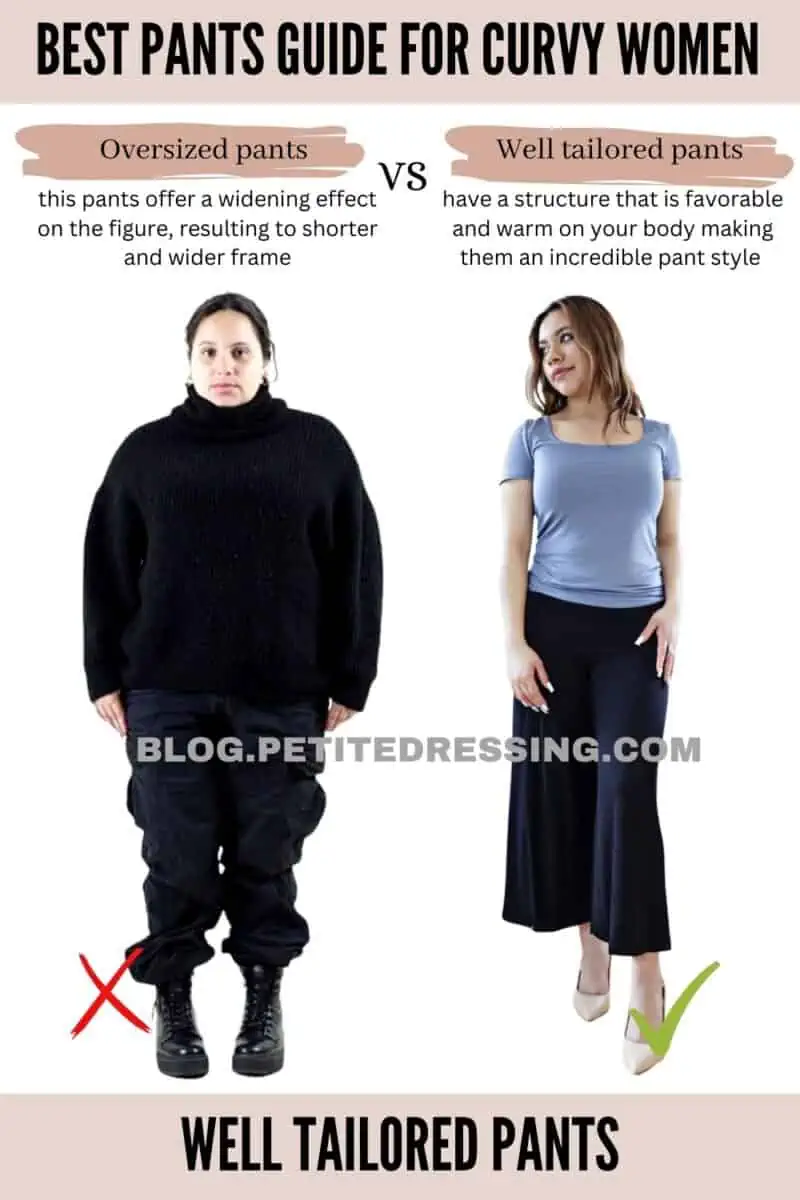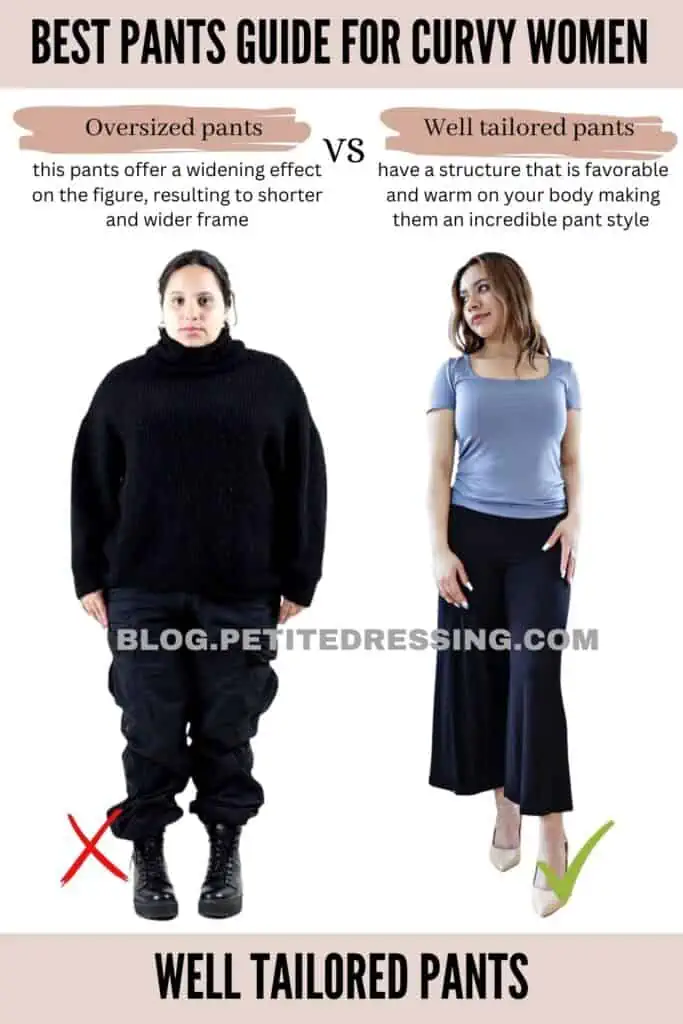 Most times it can be a herculean task to find pants that are most suitable for a curvy woman and that is why tailored pants are most recommended. If you are curvy, it is best to choose pants that are tailored to your figure because they are most comfortable and flattering.
Get a tailor to take an accurate measurement of your shape and make pants that would fit you properly. This way you would worry less about going around scouting for pants that would fit your curvy figure.
Well-tailored pants have a structure that is favorable and warm on your body making them an incredible pant style that could sharpen your wardrobe. Also, take your oversized pants to your local tailor to shape them to your exact size for the best fit.
Cigarette pants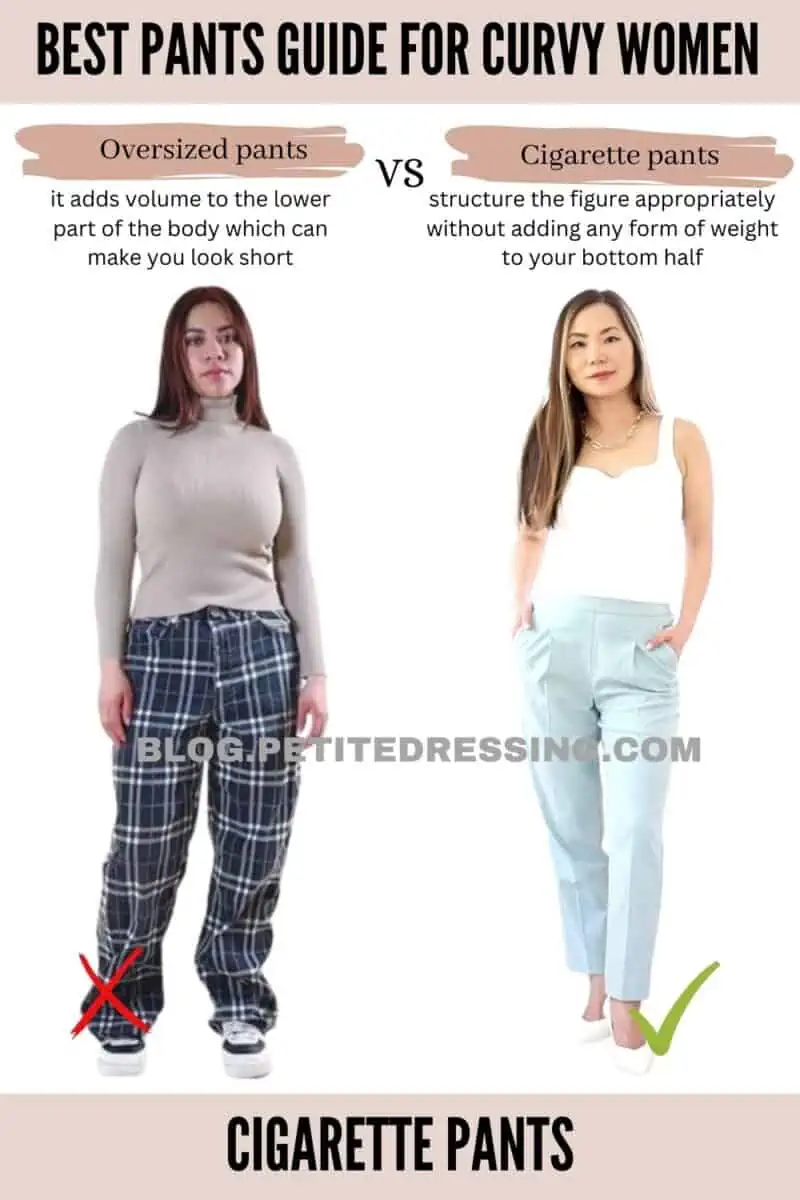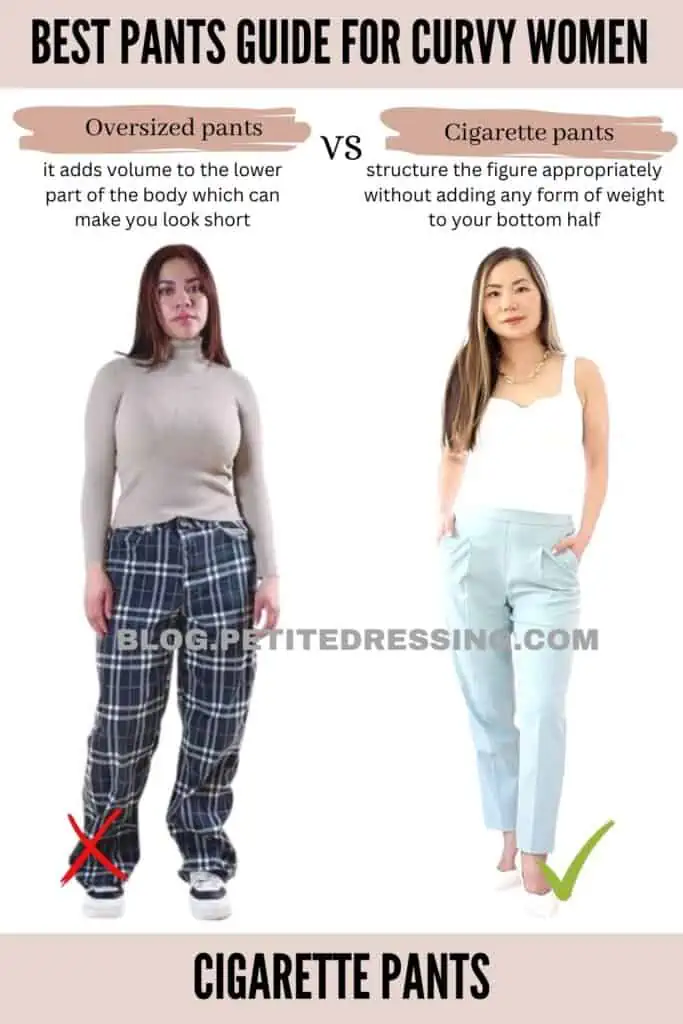 A curvy woman can wear cigarette pants because they would give her a comfortable feel and flatter her figure. They have a wide waistband, flat fronts, and a back zipper with narrow legs that end slightly above the ankle.
They give a suitable shape to the body by accentuating the curves and do not reduce the height of the curvy woman. They structure the figure appropriately without adding any form of weight to your bottom half.
They hug the curves in the best possible way and give them a contouring look and shape that allows your curves to breathe. The cigarette pants are a slim-fitting pattern of pants that are stylish and cool on a curvy woman.
Avoid oversized pants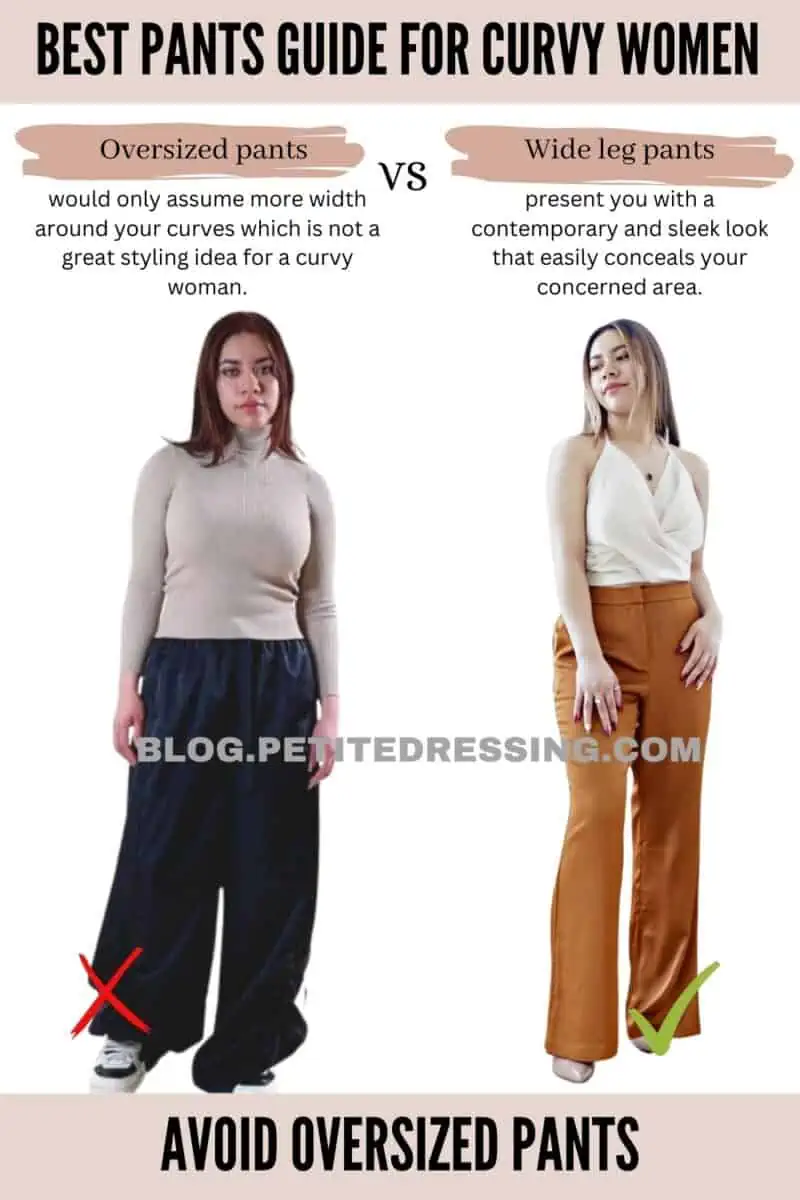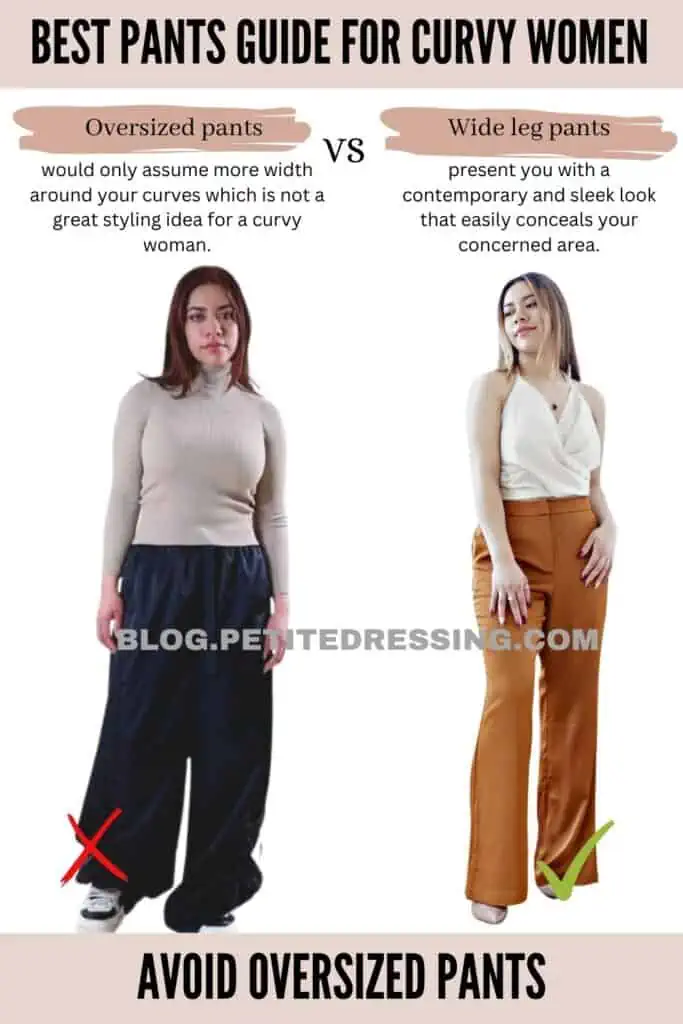 Your curve is an asset you should embrace and appreciate so there is no point in trying to conceal them in oversized pants. These types of pants would only assume more width around your curves which is not a great styling idea for a curvy woman.
Oversized pants would make a curvy woman appear shapeless and reduce the confidence she desires. As much as possible, do not hide your curves in oversized pants by trying to follow trends.
Your curves are beautiful and unique so make sure you wear pants that are sized to fit your curves.
Avoid bold patterns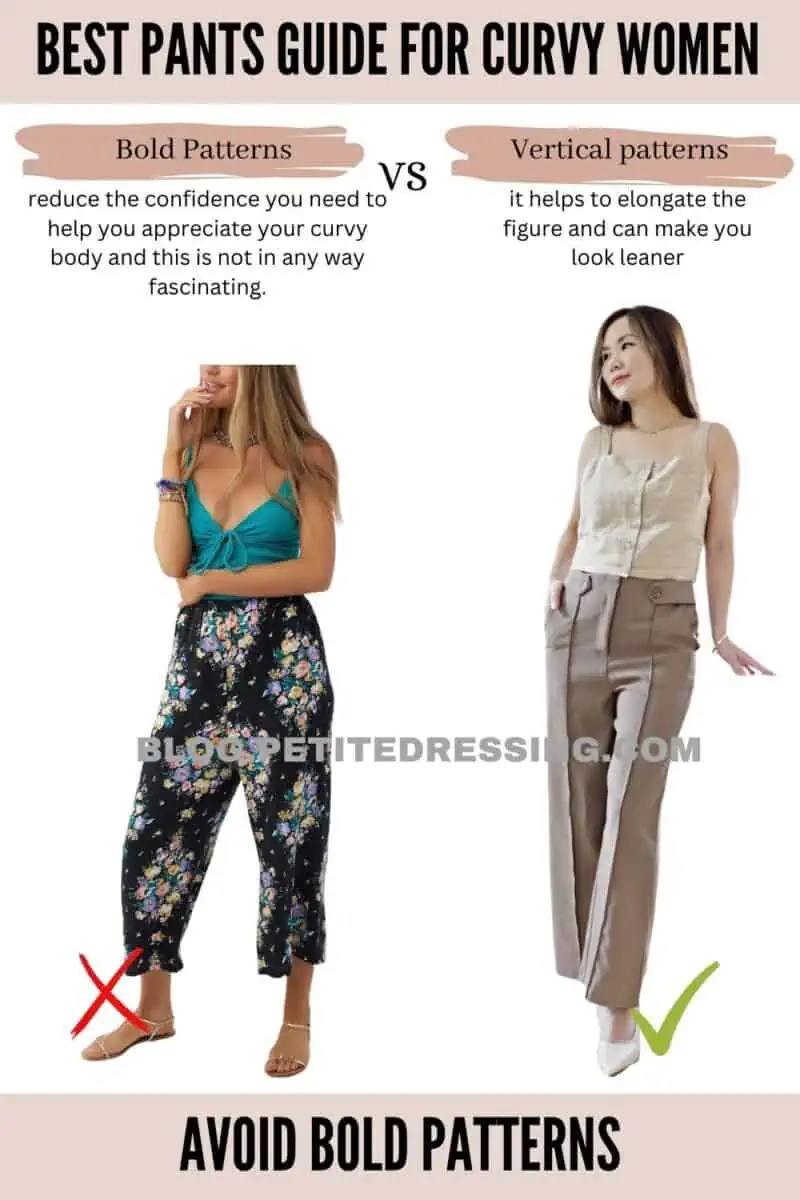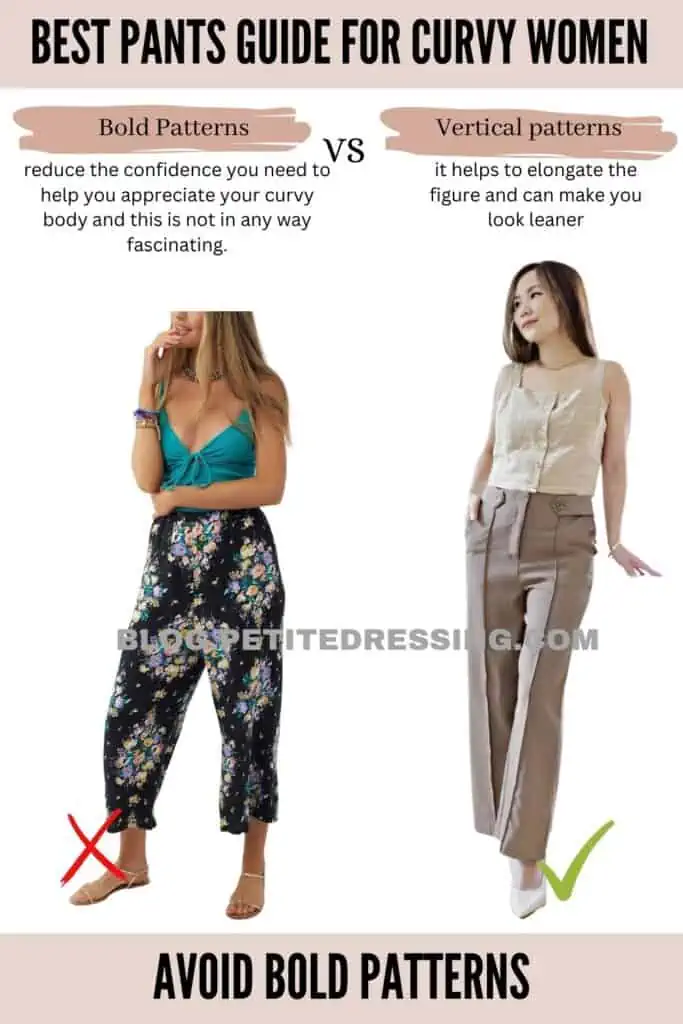 The lower body part carries the curves and you don't want to give the eyes keen attention to the concerned area so stay away from wearing pants with bold patterns. They do not make you appear elegant and as such you should not wear them.
Stay away from pants with bold patterns by not purchasing them or adding them to your wardrobe staple. They would only reduce the confidence you need to help you appreciate your curvy body and this is not in any way fascinating.
It is preferable to wear bold patterns as tops and not as pants. Patterns on your pants should be smaller as this is a better way to create balance in the body proportion of a curvy woman.
Avoid horizontal stripes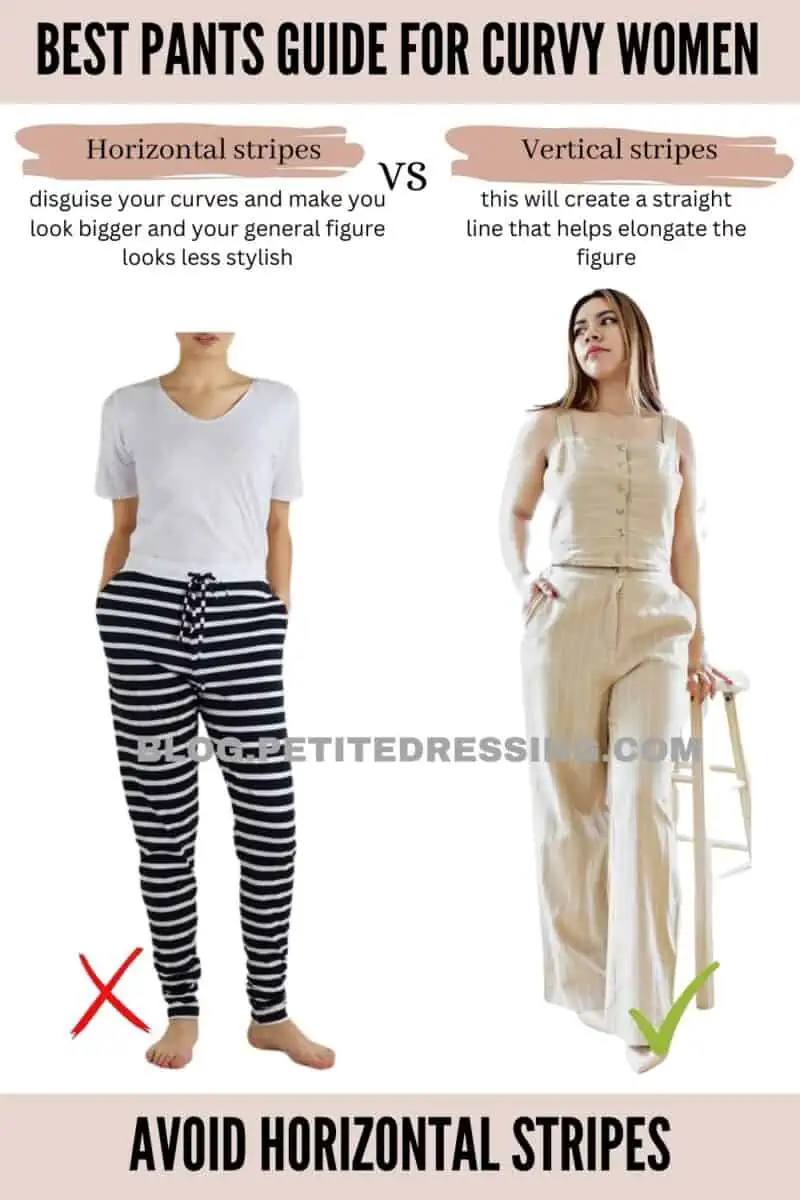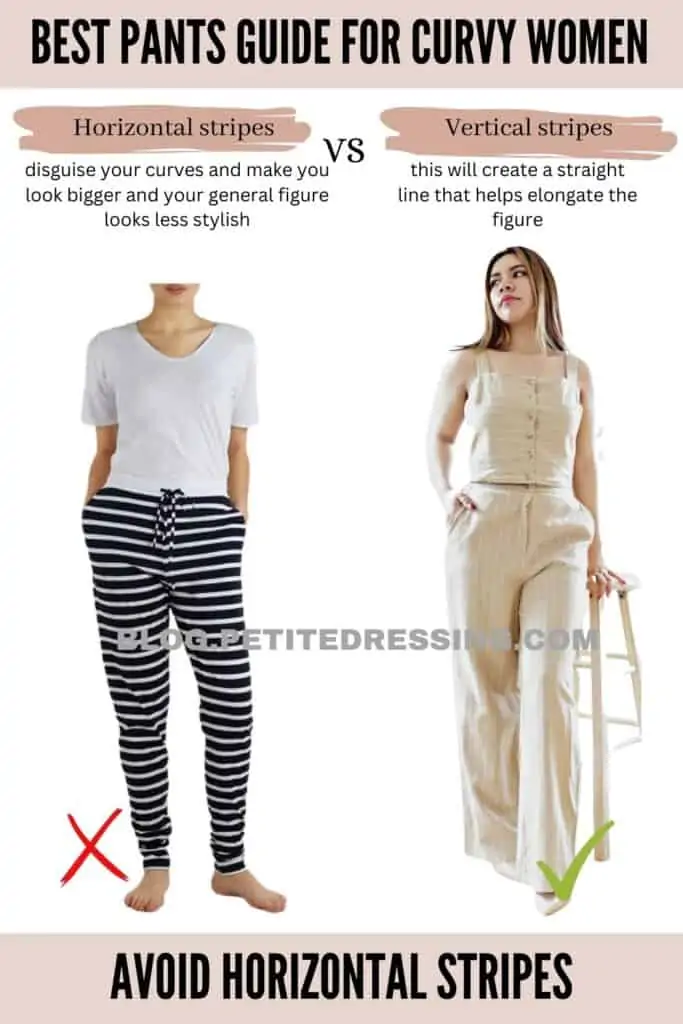 Horizontal stripes on pants would give a curvy woman the illusion of width by making your natural curves appear wider than normal. They also give the eyes the illusion that your figure has series of broken lines that allow the legs have the impression of reduced growth.
Do not go searching for pants with horizontal stripes if you are a curvy woman because they would not sharpen your wardrobe. They are neither incredible nor feasible for the shape of a curvy woman.
They disguise your curves and make you look bigger and your general figure looks less stylish. Horizontal stripes do not elevate your general appearance that's the more reason you should never opt for them as a choice of pants if you are curvy.