Wide-leg pants are very stylish wardrobe pieces that all women should have. They are quite versatile and can absolutely look very flattering on a woman with a curvy figure.
Since most curvy women lean towards the heavier side, going for bottoms that offer a wider leg room is definitely more comfortable. A pair of wide-leg pants doesn't limit your movements which makes it easier to wear and style.
If you're currently on the hunt for wide-leg pants that would flatter your curves, then we're here to walk you through this comprehensive style guide for you to find the right fit. Before we talk about each wide-leg pants style in particular, let's quickly go through these key styling goals.
Styling Goal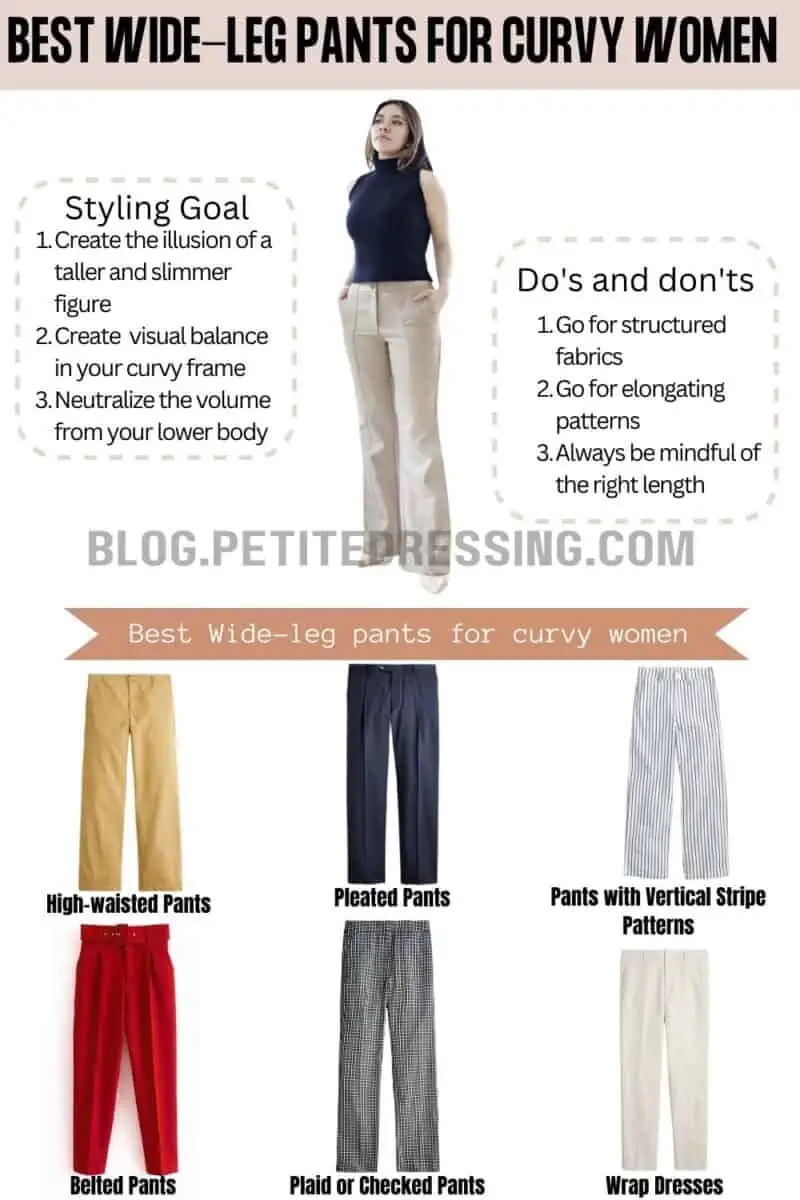 Always go for high-waisted wide-leg pants because this is the most efficient way to create the illusion of a taller and slimmer figure. Most curvy women get conscious about their heavy midsection so going for high-waisted will conceal a stomach bulge or love handles.
Go for structured fabrics that are form-fitting. This doesn't necessarily mean that the fabric needs to be stretchy but just enough to give a comfortable fit, although it's also preferable to opt for fabrics that stretch a bit.
Elongating patterns such as stripes, vertical prints, and pinstripes are also going to be very helpful in creating visual balance in your curvy frame. It's because it neutralizes the volume from your lower body but at the same time, doesn't completely cover up your curves.
Always be mindful of the right length depending on your height as this can affect your frame proportions. For instance, go for the ones that end right at the ankle if you're petite so it'll make you look taller.
Now without further ado, let's go through different styles of wide-leg pants that you can try out as a woman with a curvy figure.
High-waisted Pants
Curvy women tend to have a thicker midsection and in some instances, love handles may also be more apparent. These concerns can be easily resolved by going for high-waisted pants.
High-waisted pants are generally flattering for curvy women due to their ability to visually create the appearance of longer and slimmer legs. Since the waistband goes slightly above the actual waistline, it perfectly hugs the belly and therefore conceals possible bulges.
They are also very versatile and easy to style! You can pair them with a simple shirt or a fancy blouse and you're all good to go.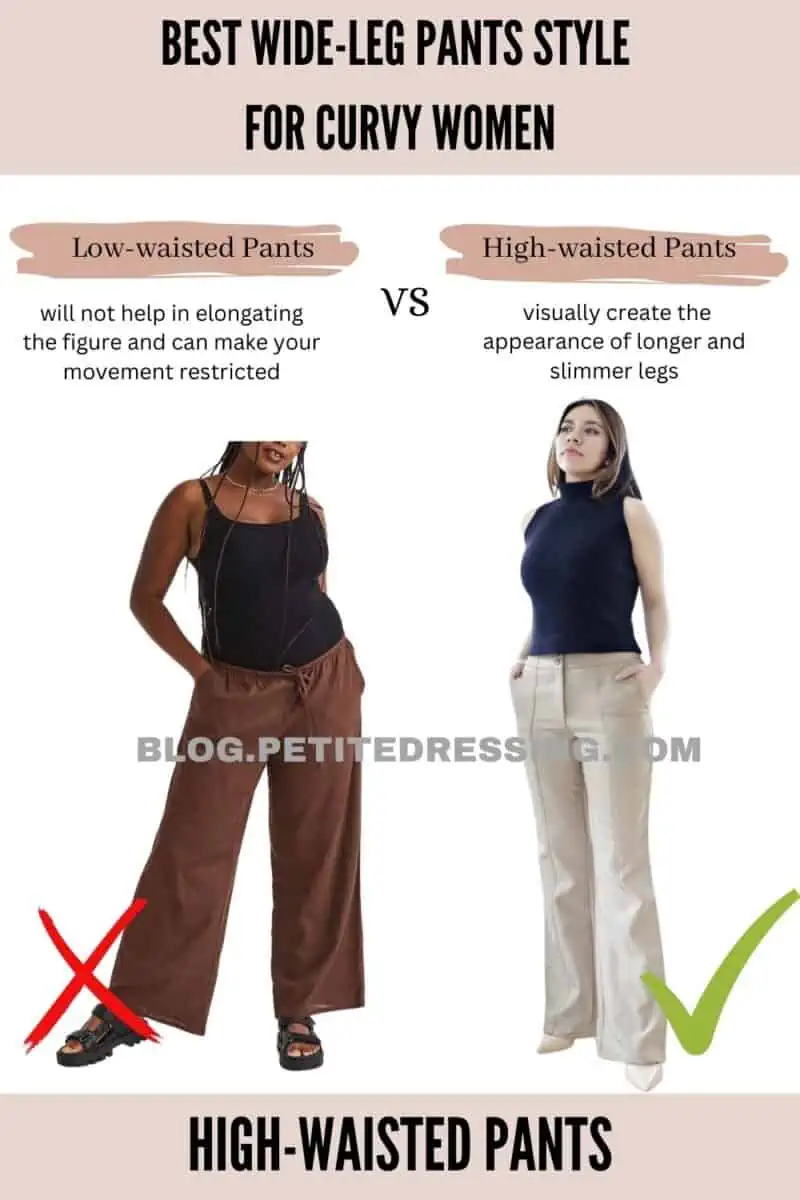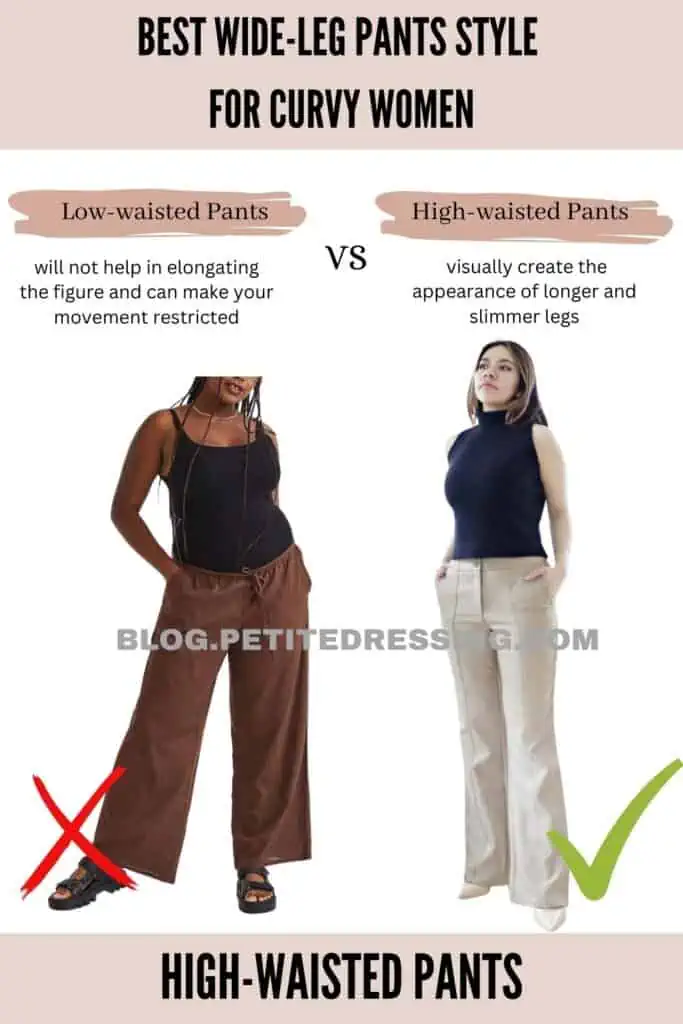 Pleated Pants
Pleated pants feature folds along the front of the leg, typically running from the waistband to the hem. These folds add dimension and texture to the pants and therefore visually extend your frame due to their elongating effect.
Wide-leg pleated pants can definitely look good on curvy women because of their relaxed structure. The pleats help cut down the volume on your lower body without completely erasing your voluptuous curves.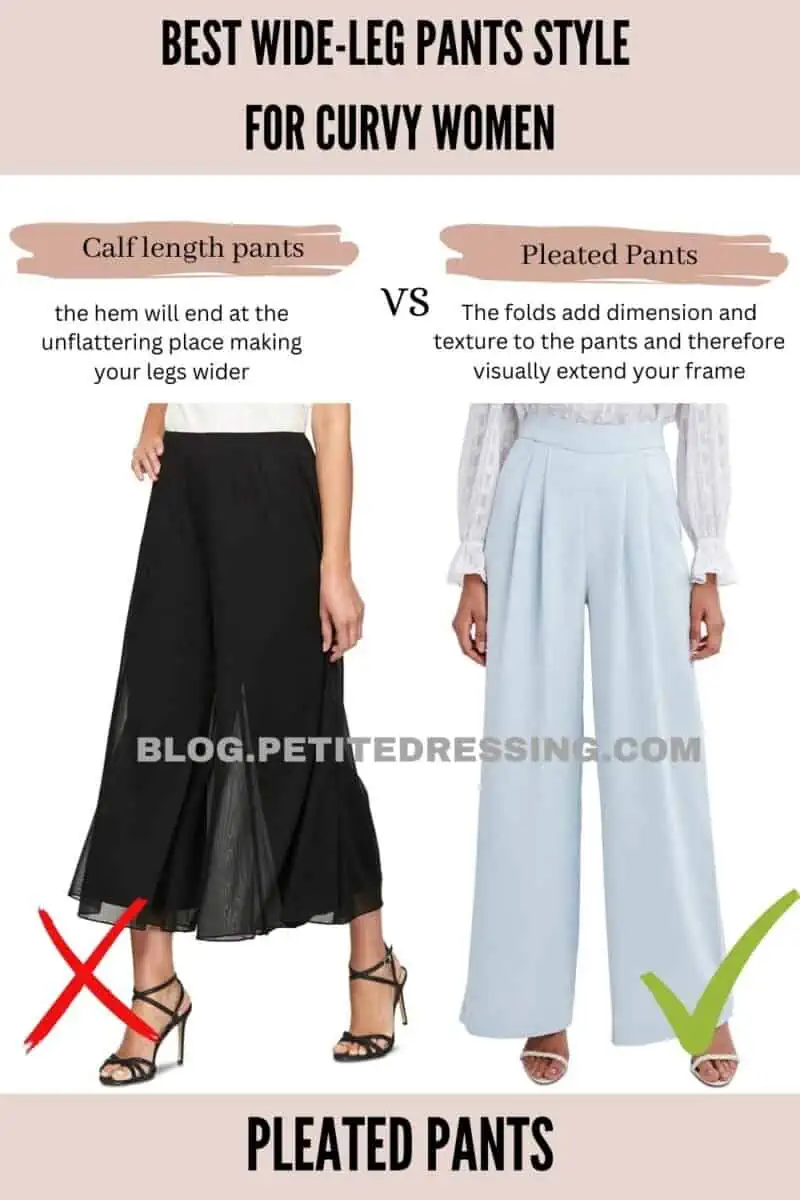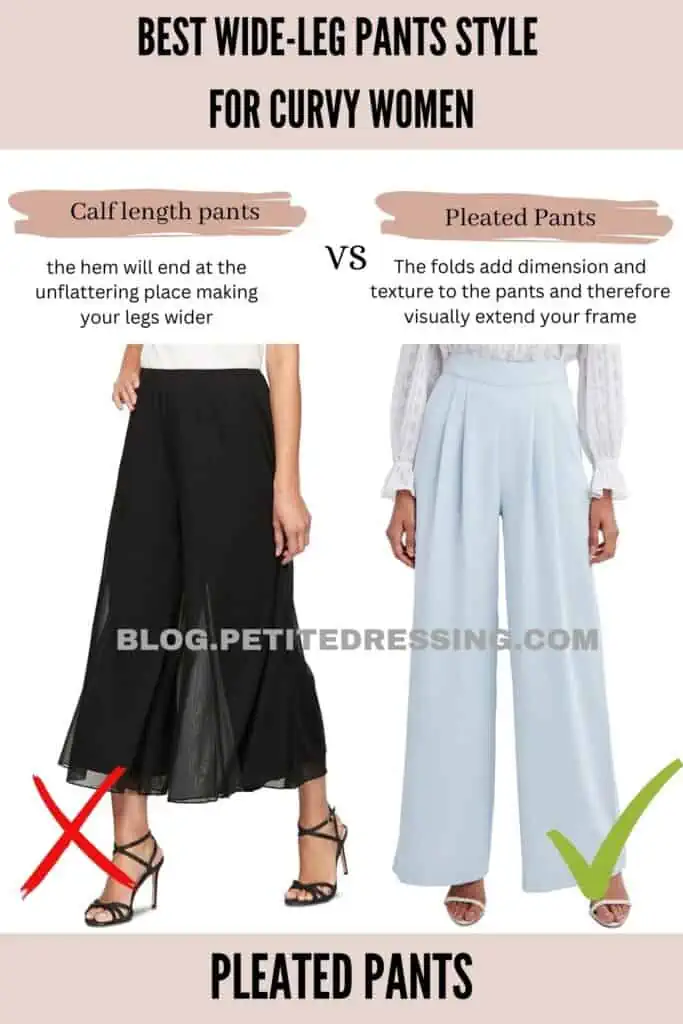 Pants with Vertical Stripe Patterns
Of course, when it comes to visually lengthening patterns, stripes will always be on top of the list! It's widely known that vertical stripes have a slimming effect due to their ability to trick the eyes into creating the illusion of a longer and leaner silhouette.
Vertical stripe prints are also quite edgy and you can easily style them with your plain tops and blazers. As it extends the length of your legs, it gives a nice upper and lower body ratio for a more balanced figure.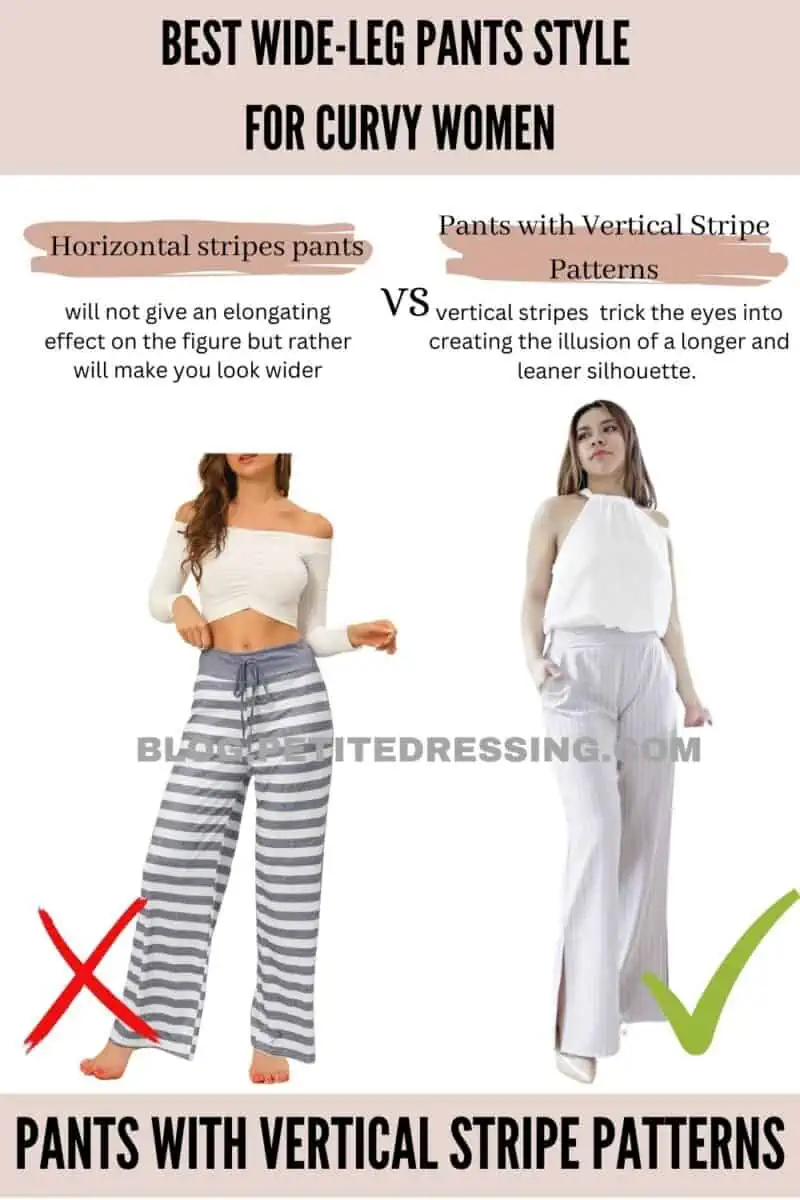 Belted Pants
Cinching the waist is one of the numerous effective ways of flattering a curvy woman's figure. Belts are obviously the best way to achieve that defined waistline.
The key is to choose a pair of belted pants that offer an adjustable fit so you can adjust the waist cinch according to the fit that's comfortable for you. It's also a good way to have full control of the fit and prevent it from looking too tight.
The right waist cinch will create the illusion of an hourglass figure as it will make the waist look smaller and accentuate the curvy shape of your bust and hips.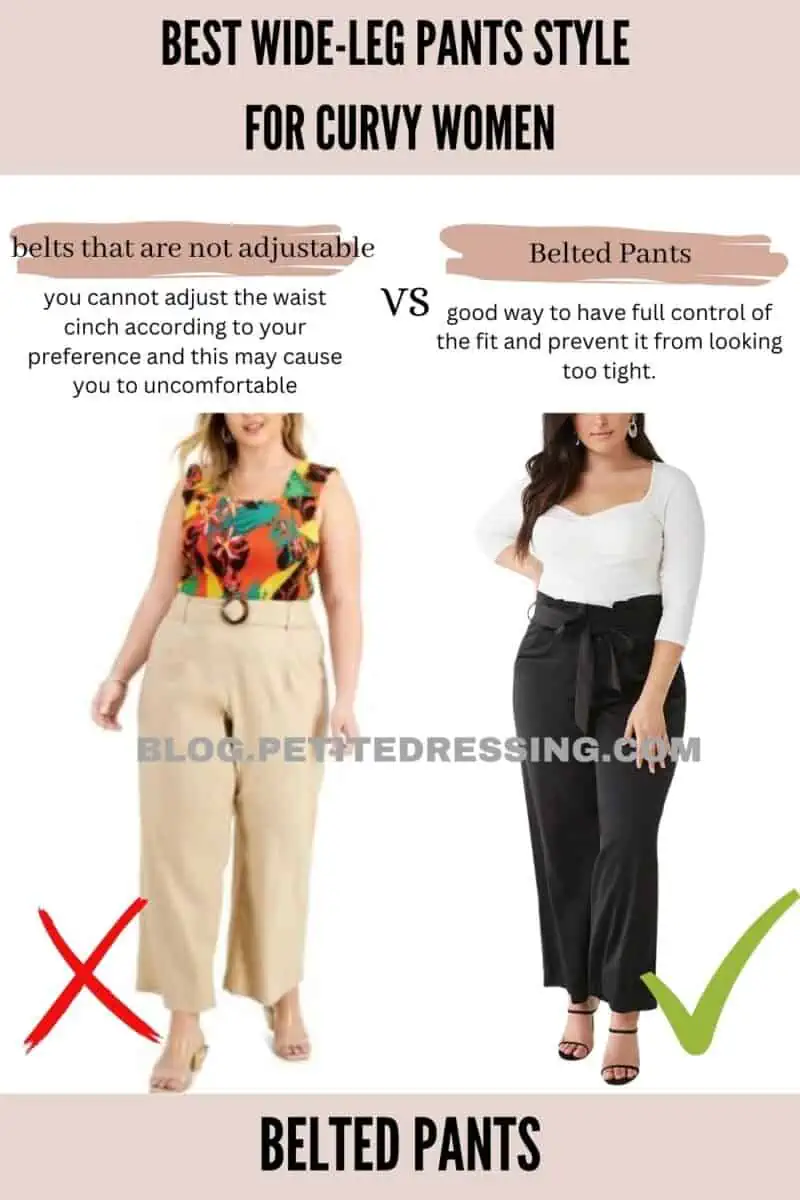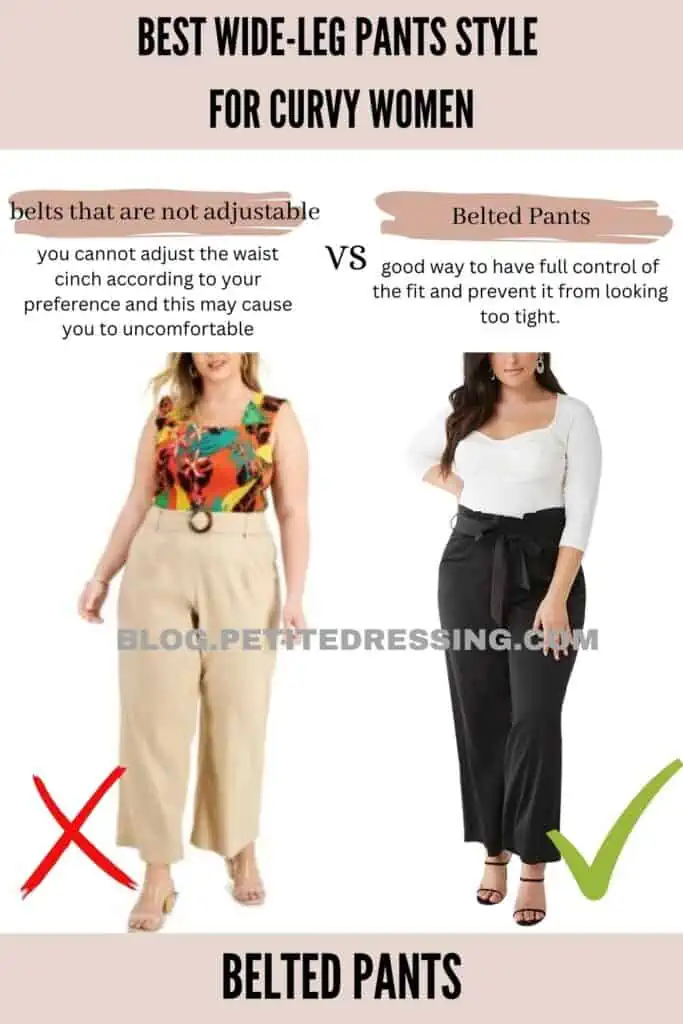 Plaid or Checked Pants
Here's another interesting print pattern that you may want to try out if you have a curvy figure. Just like stripes, plaid and checked prints feature slim lines that lowkey distract the vision to give you a slimmer and more balanced lower body frame.
While these types of patterns both have vertical and horizontal lines, they don't add volume to your figure as they are strategically patterned to look even and properly proportioned. Wide-leg pants with plaid or checked prints would look great with suits or plain tops.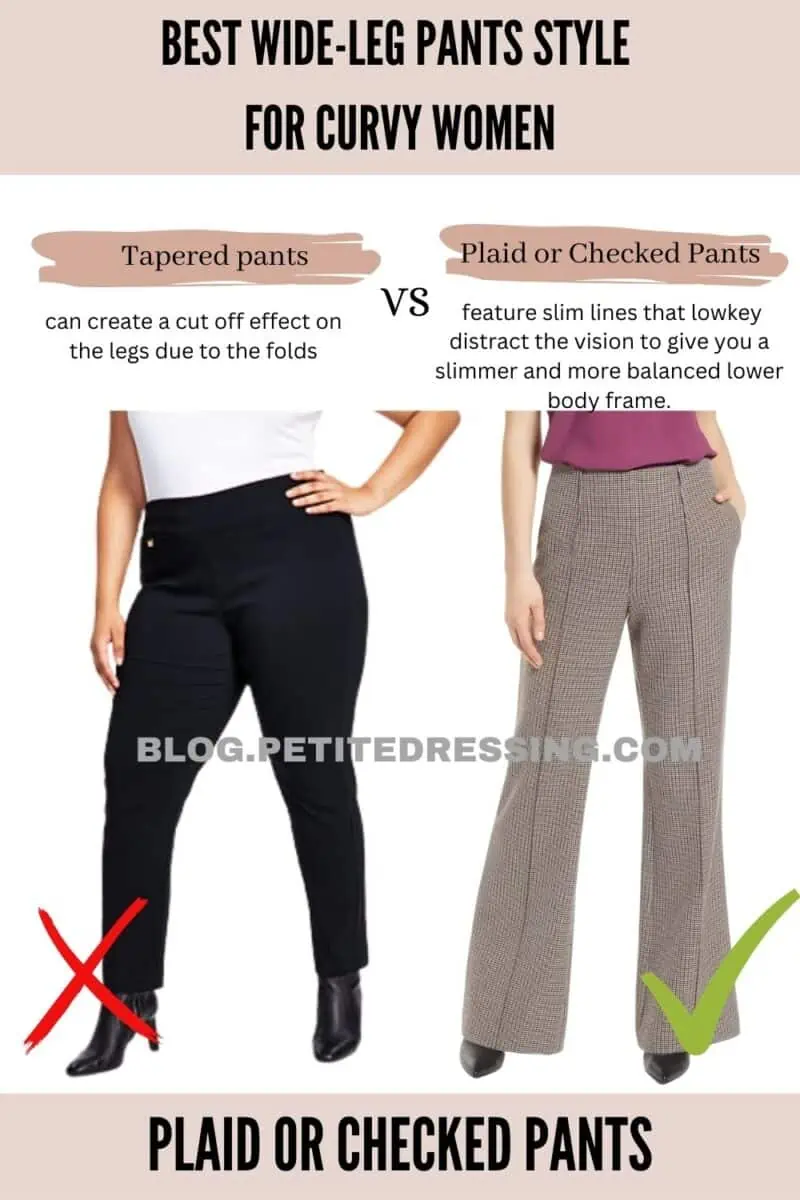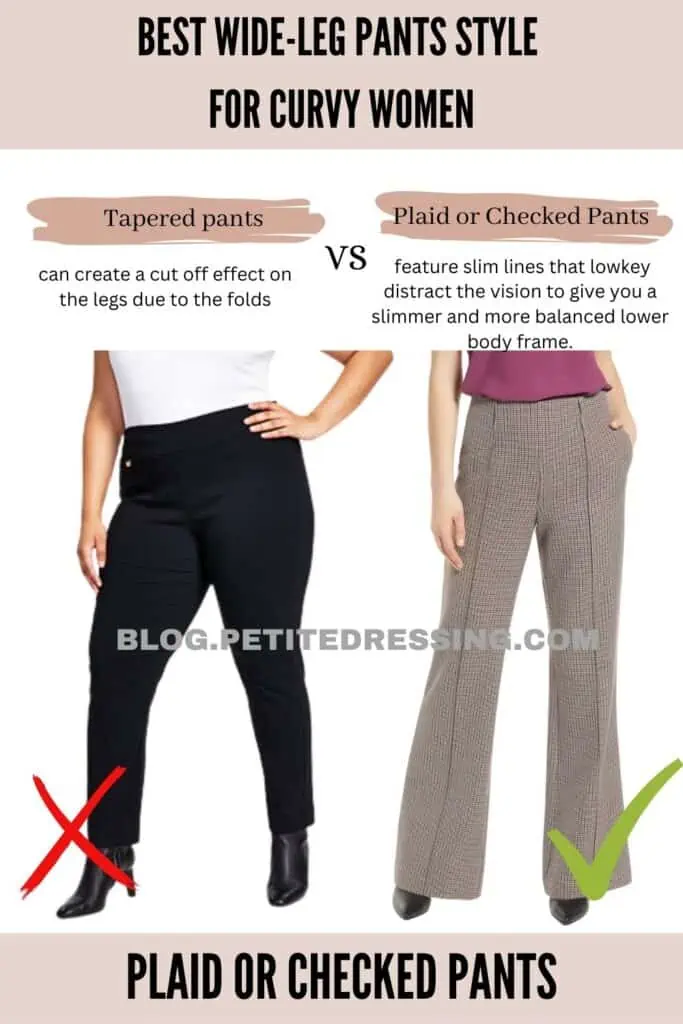 Pinstripe Pants
If you want a more subtle vertical stripe print for your wide-leg pants, then going for pinstripes is a good option for you. Pinstripes are thin and therefore less noticeable but since they also feature vertical stripes, they can also have a slimming effect on your curvy figure.
Unlike other vertical stripe patterns that are heavily printed on the fabric, pinstripes are so subtle that the pants sometimes look almost plain-colored. With this said, they can easily be paired with a wider variety of tops, including printed and heavily-embellished ones.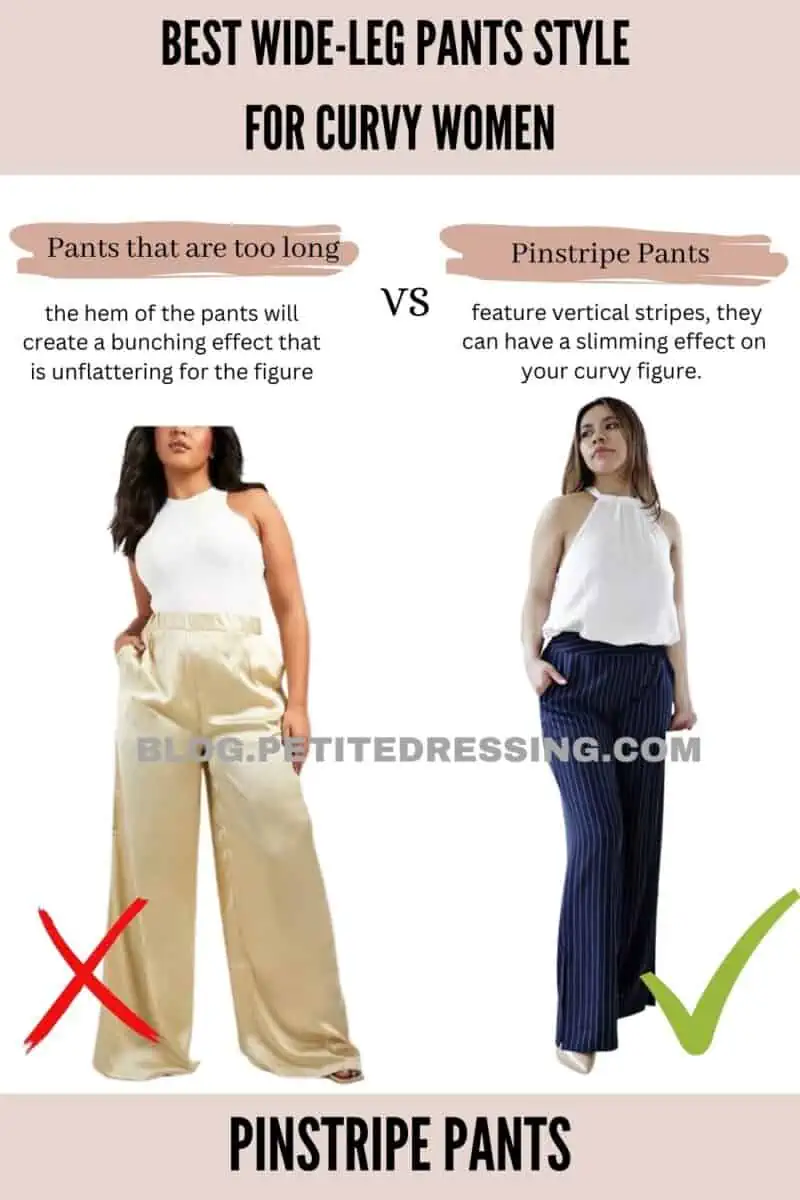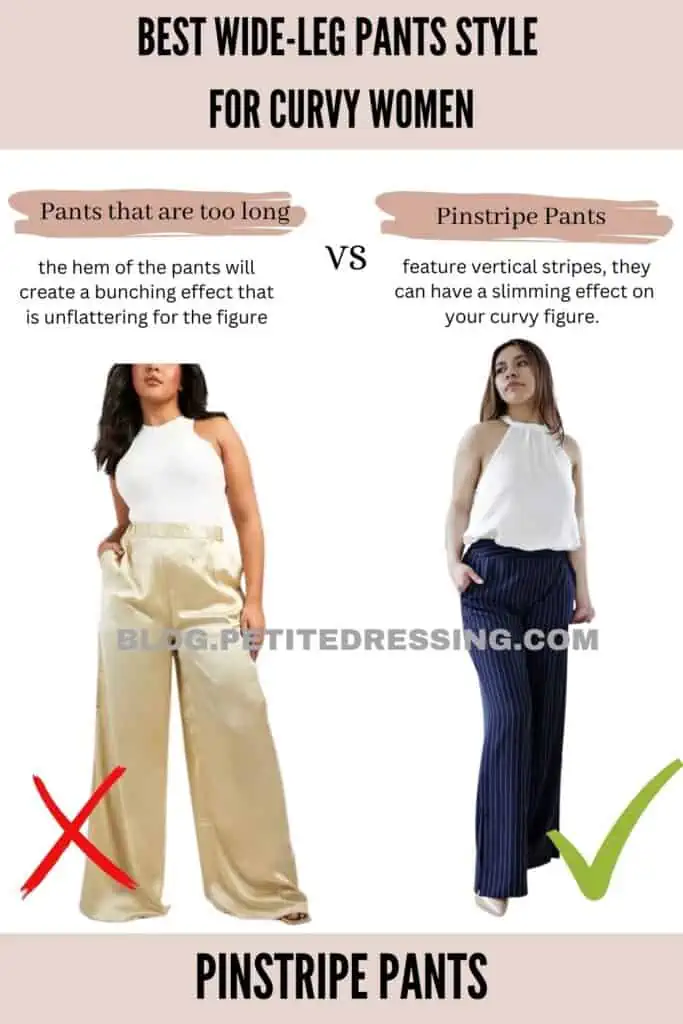 Suit Pants
Suit pants for women are pants specifically designed to be worn as part of a matching suit set, usually for formal or business attire. These pants are usually made of the same material as the suit jacket and are designed to coordinate with the jacket to create a polished and cohesive look.
Since they are often designed with a more fitted and tailored style, they also flatter a curvy figure quite beautifully. Its straight and sometimes slightly tapered leg gives more definition to the legs and also visually elongates the legs.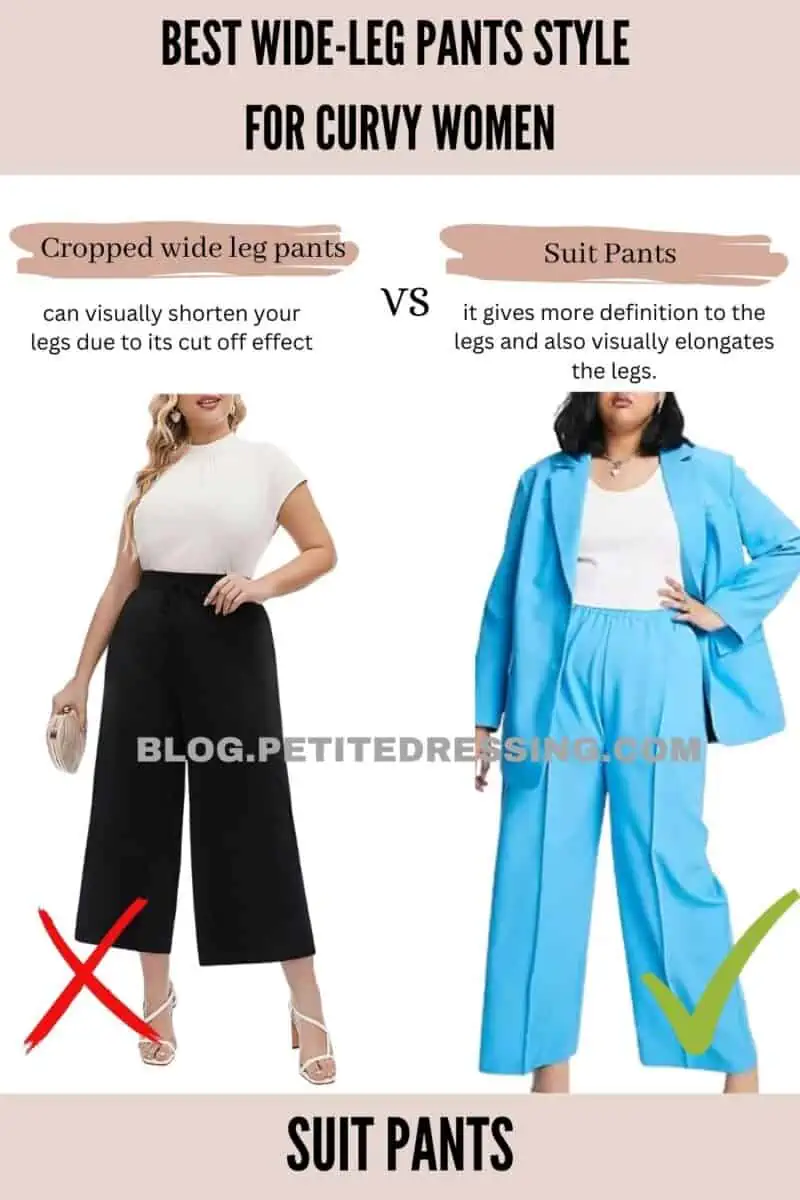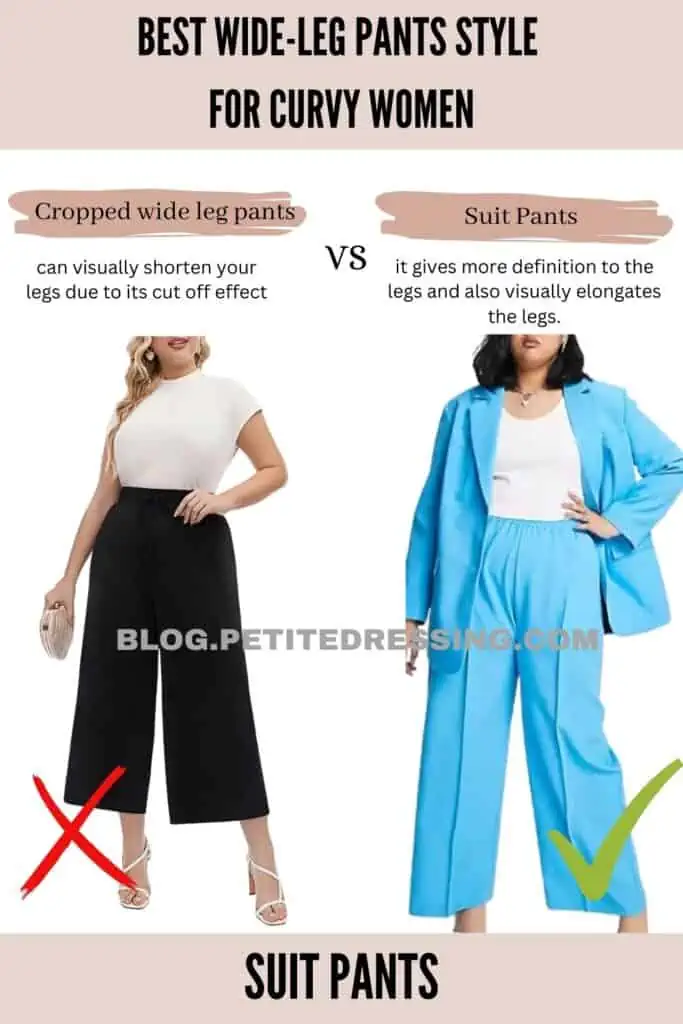 Wide-leg suit pants can be worn as part of a business suit or a formal suit, and come in a range of colors and fabrics to suit different occasions and personal preferences.
Tailored Pants
Just like suit pants, tailored pants are usually structured to look more business-appropriate. The difference is that tailored pants are usually bespoke so they are meant to perfectly fit your figure.
Tailored pants feature neat seam lines that skim through your legs and therefore give them a more flattering definition. Wide-leg tailored pants are great for corporate attires but their bespoke-inspired fit can also be a comfortable casual wear choice.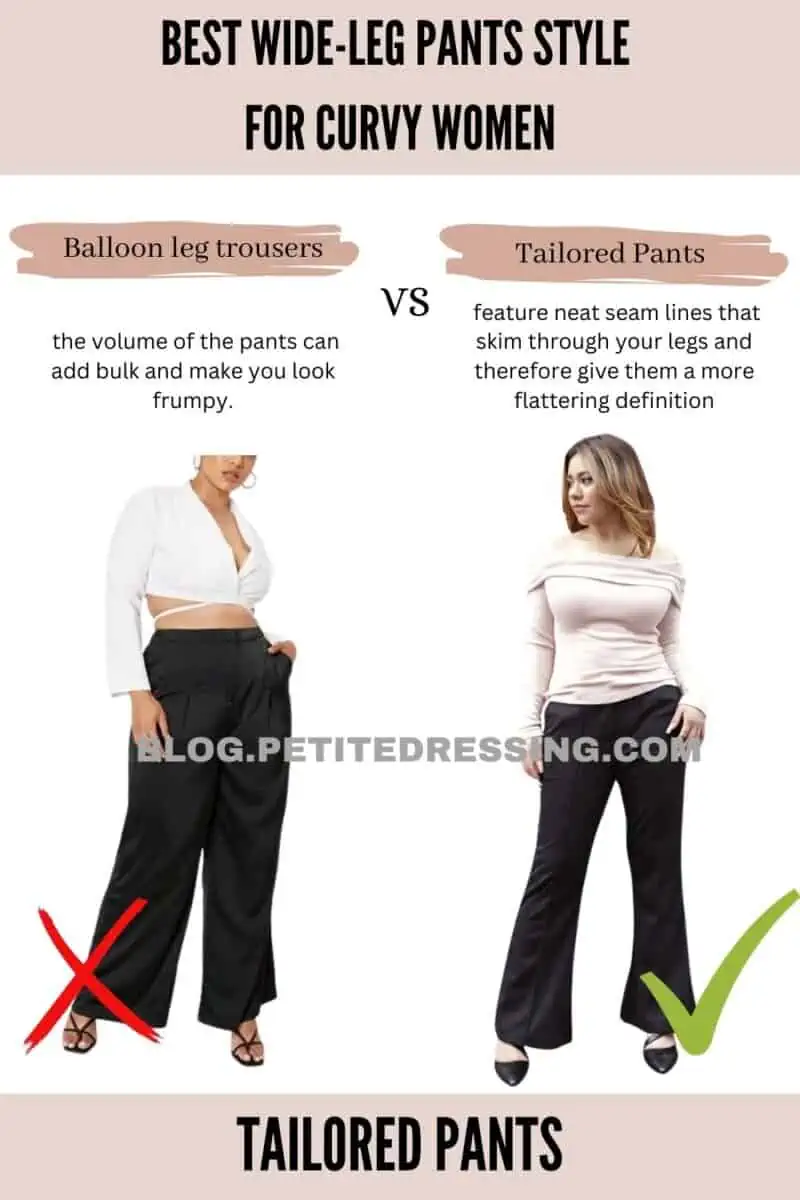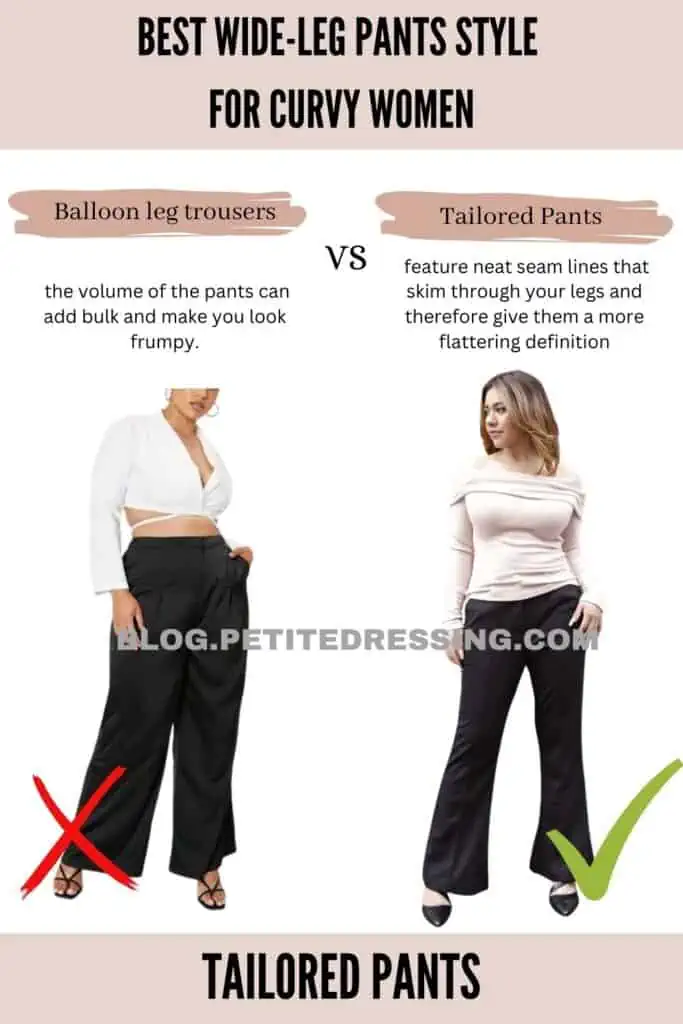 Straight-Leg Pants
Straight-leg pants can also be an ideal option for curvy women because they provide a balanced silhouette that also helps elongate the legs. However, straight-leg pants can also come in different styles and fit so it's important to find a pair that fit well and are comfortable, as ill-fitting pants can detract from the overall look.
Curvy women should look for pants with a high waist that sits comfortably at the natural waistline and provides adequate coverage. It's also important to find pants with enough stretch or give in the fabric to accommodate curves, while still retaining their shape.
If the pants are too tight, they can emphasize any lumps or bumps, whereas if they are too loose, they can add bulk and make you look frumpy.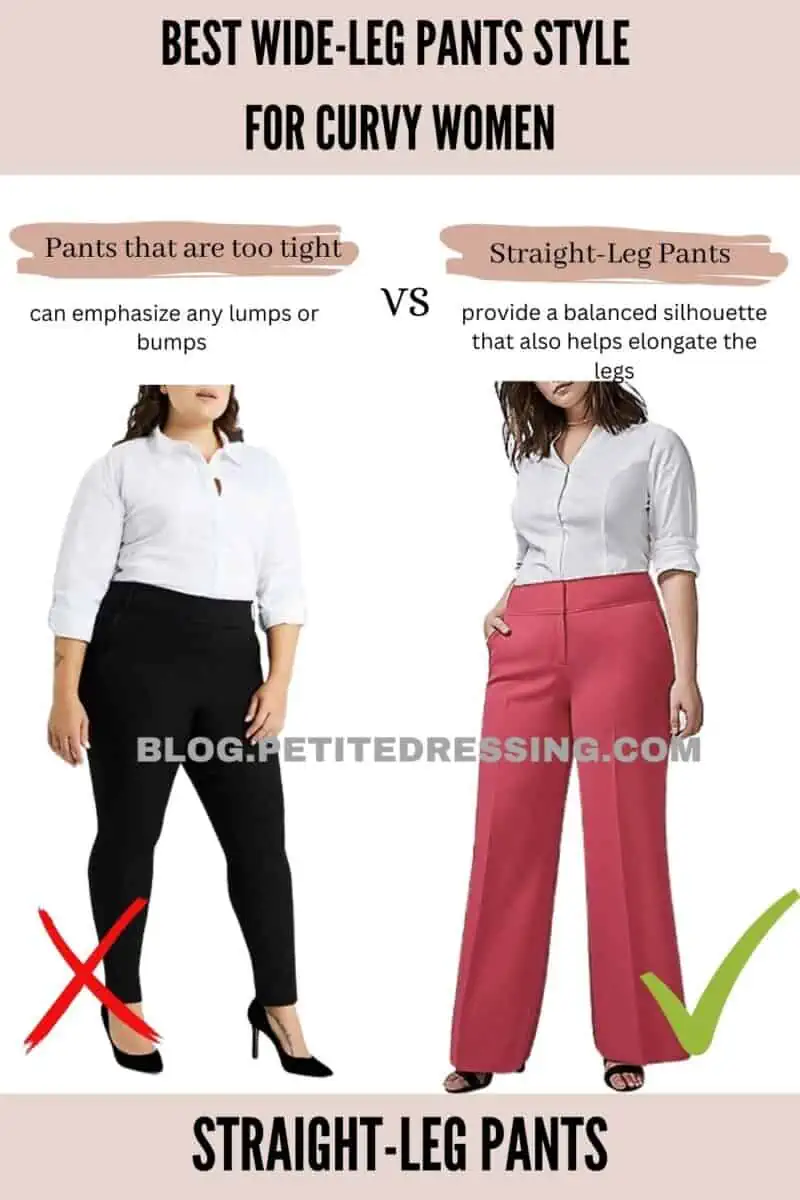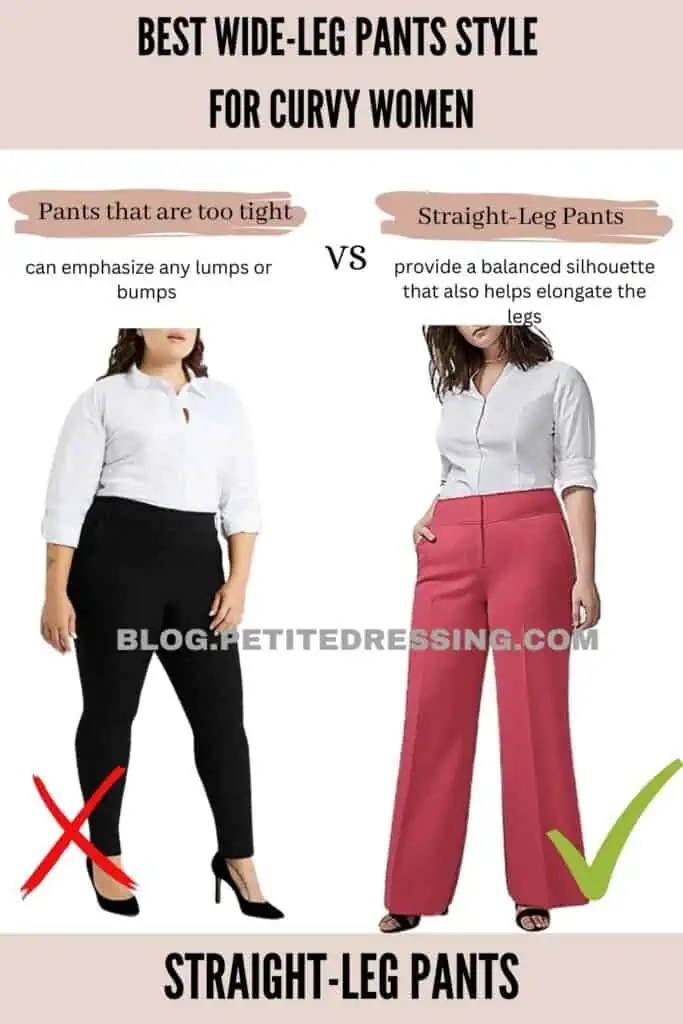 The Key Takeaway
It is no doubt that wide-leg pants are an absolute must for every curvy girl out there. All you really have to take note of is the certain types of styles that would flatter and not overwhelm your curvy figure.
Work with your proportions and understand your body shape better! This will help you make the right choice on which type of wide-leg pants would suit you perfectly.