The clothes you put on in the office say a lot about your personality and, of course, your level of professionalism. So, how can you find the perfect office wear as a curvy woman that wants to wear clothing that makes you feel both confident and comfortable?
Well, this office wear guide for curvy women covers everything you need to know to stand out in style. So, check out our guide for tops, skirts, dresses, pants, and shoes that are perfect for curvy women in the work environment.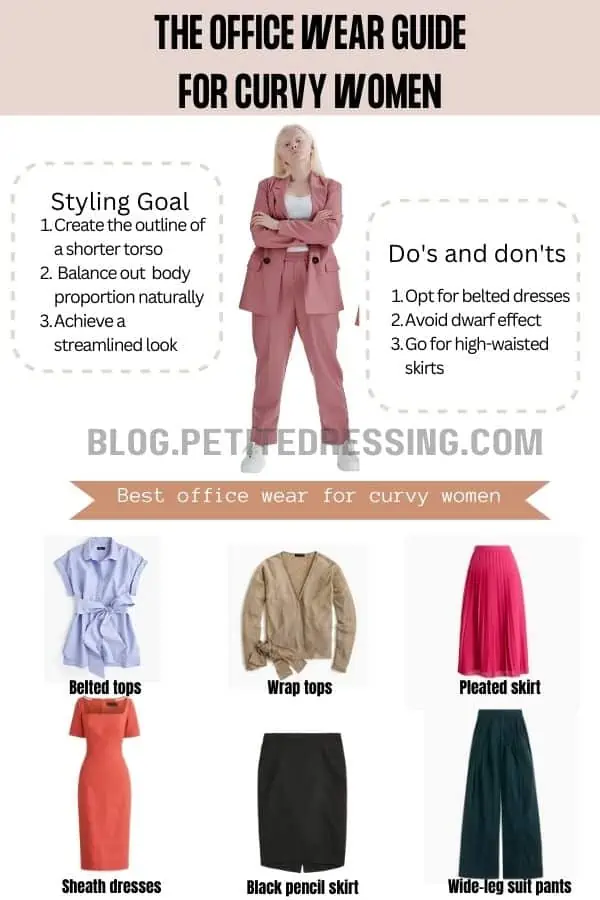 Tops
Belted tops
Let's kick things off beautifully with one of the best choices for curvy women who want a classy top for the office that cinches on the waistline. Belted tops are great because they work amazingly well in drawing focus to the slimmest part of your waist.
We recommend wearing tops that are a little loose and pairing them with a belt that makes that waist cinching flawless. With your curves more exaggerated to help you comfortably embrace them, everyone's eyes will be fixed on your waistline.
However, you shouldn't go for just any belted top. For curvy women, slim belts are best as they appear balanced on your body. If you must wear tops with belts that can be tied, tie them on your left or right-hand side so that there's less attention on your tummy area.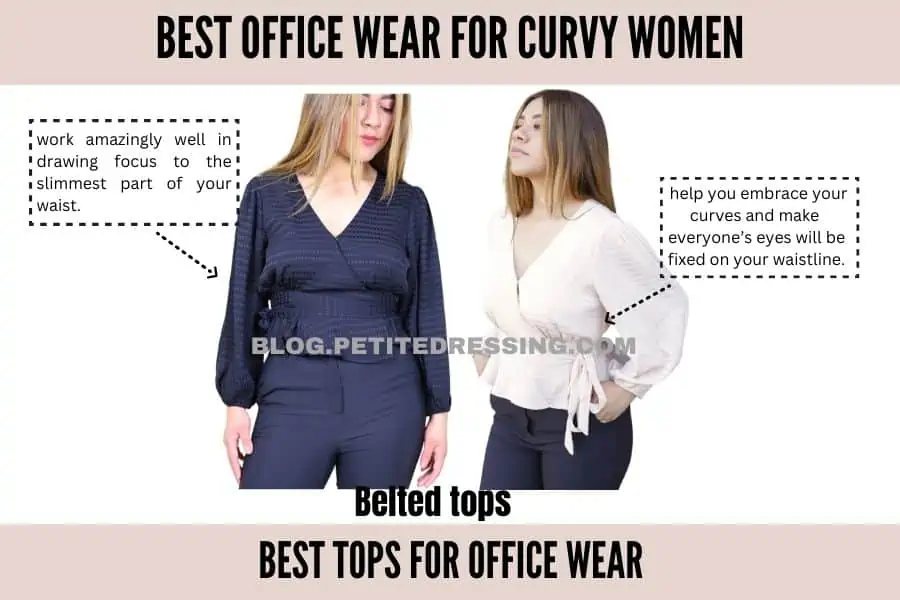 Wrap tops
Wrap tops are a win for curvy women at the office because they are incredibly flattering to that curvy shape, so you'll definitely step out with a lot more confidence and sophistication. That's more than enough to get through a day at the office.
Most wrap tops come with a v-neckline which defines your curves better while the wrap ensures that the top is not too loose or tight on your waist. It sits just right. Wearing a top with a perfect fitting is a plus for comfort.
Wrap tops are not just great for the office but also versatile enough to be worn to even casual occasions. You'll love how the wrap top will make you look slimmer and leaner, especially if you want to give that illusion of being taller.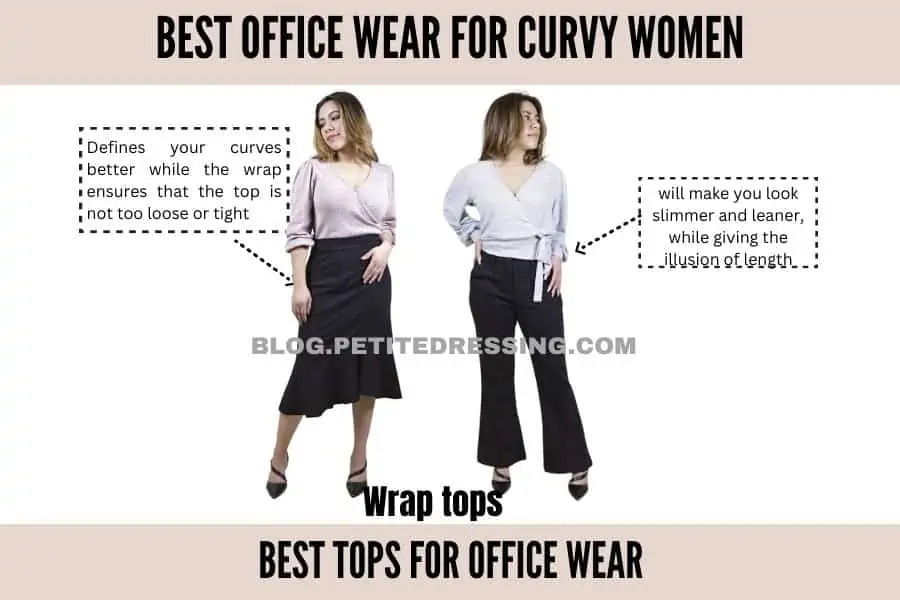 Skirts
High waisted skirt
The appeal of the high-waisted skirt is the waistline which is right above your natural waistline, which creates a classy skirt for curvy women. High-waisted skirts are uniquely designed to create the outline of a shorter torso, so anyone looking will be drawn toward your highlighted waistline.
The amazing result is that your legs appear longer, so you actually look taller. Of course, this is still an elegantly sexy look to rock in the office, especially as they are more flattering to curvy women than low-waisted skirts.
We recommend putting on a perfectly fitted top tucked into your skirt with a short blazer that puts everything together beautifully.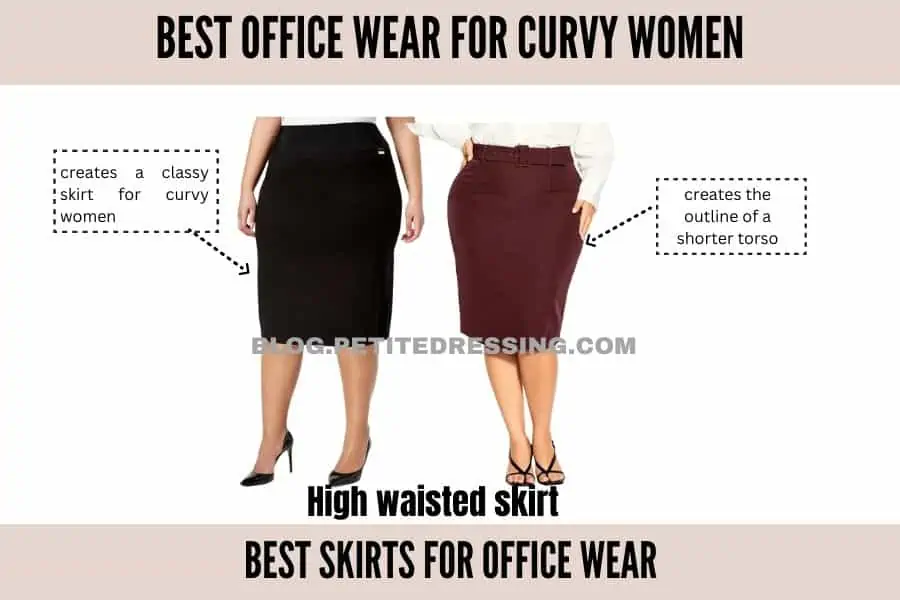 Pleated skirt
As soon as you see a skirt with several folds running down from the waistline to the skirt hem, you've got yourself a pleated skirt that is ideal for the wardrobe of every curvy woman.
All you have to do is choose pleated skirts with smaller folds so they don't take all the attention. Also, these should be as few as possible, as the goal is to use the pleats to balance out your body proportion naturally.
When the folds are too many and larger than normal, this will only overwhelm your body shape, which is not the kind of reaction you'd love as you step into the office for a typical workday.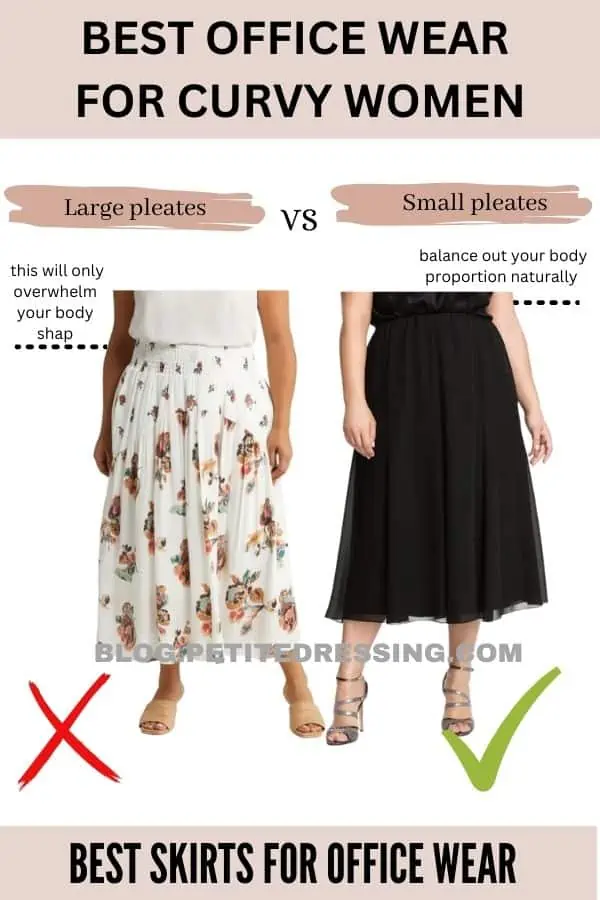 Black pencil skirt
Black has a natural slimming quality, and with black pencil skirts for curvy women, it's like you've hit the jackpot. Pencil skirts are highly recommended because they define your natural curves by forming a narrow fit over your body shape.
It's okay not to go for a pencil skirt that is too tight. Target the ones that are fitted just right at your waist and hips, carefully highlighting your beautiful figure and balancing out your body proportion as perfectly as possible.
It's also a great idea to wear pencil skirts of knee length, so you have the extra advantage of elongating your legs. Just like with high-waisted skirts, tuck in your tops when you wear a pencil skirt, as this will help you define your waistline.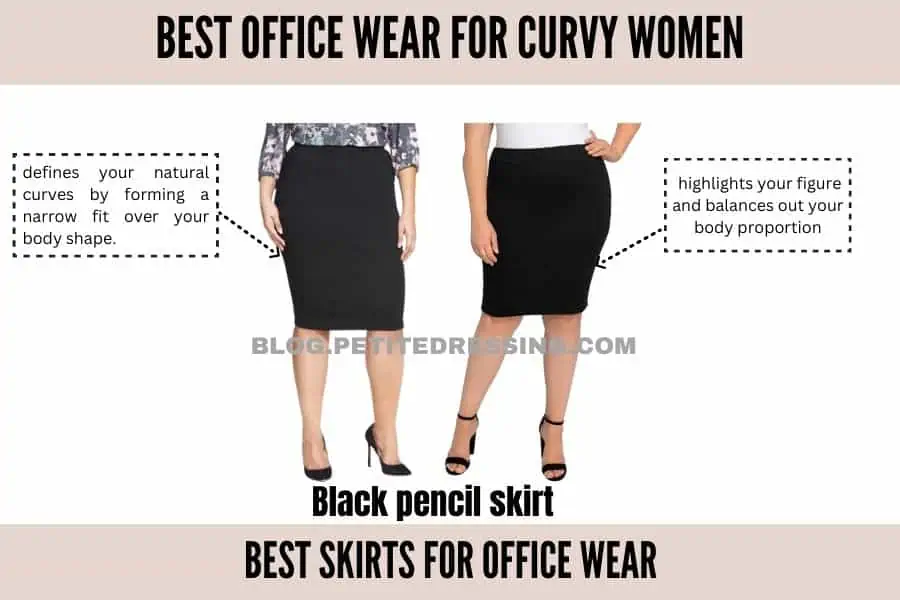 Dresses
Dresses with ruching
Ruched dresses have light folds in the tummy area that make this mid-section look flatter. Rather than wear uncomfortable shapewear all day, ruched dresses will hide your muffin top elegantly.
Dresses with ruching have been a major hit with women of all body types, especially curvy women who want to achieve a streamlined look that's red-carpet-worthy. It's great for accentuating your curves without being uncomfortable.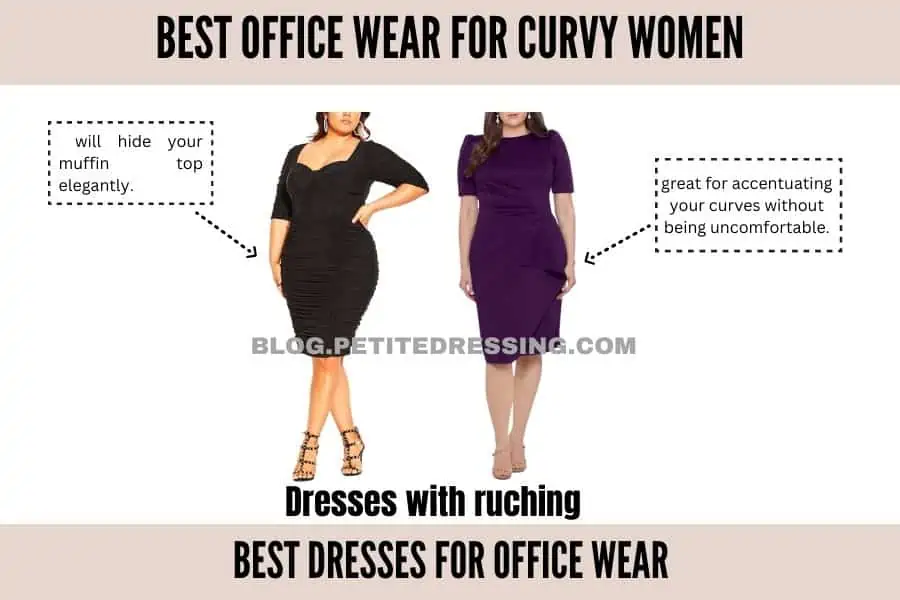 Sheath dresses
So far, you'll notice that the general theme for clothing that we recommend curvy women wear to the office are those that accentuate the curves and elongate the body in a stylish yet sexy way. It's not different with sheath dresses.
We love how flattering sheath dresses are on curvy women, especially as they are designed to highlight your figure without being too tight. On sheath dresses, you'll be drawing more attention to your waistline with the extra advantage of hiding any tummy bulge.
Overall, you'll also have a leaner appearance. Yes, it's that easy to look like a million bucks for the office.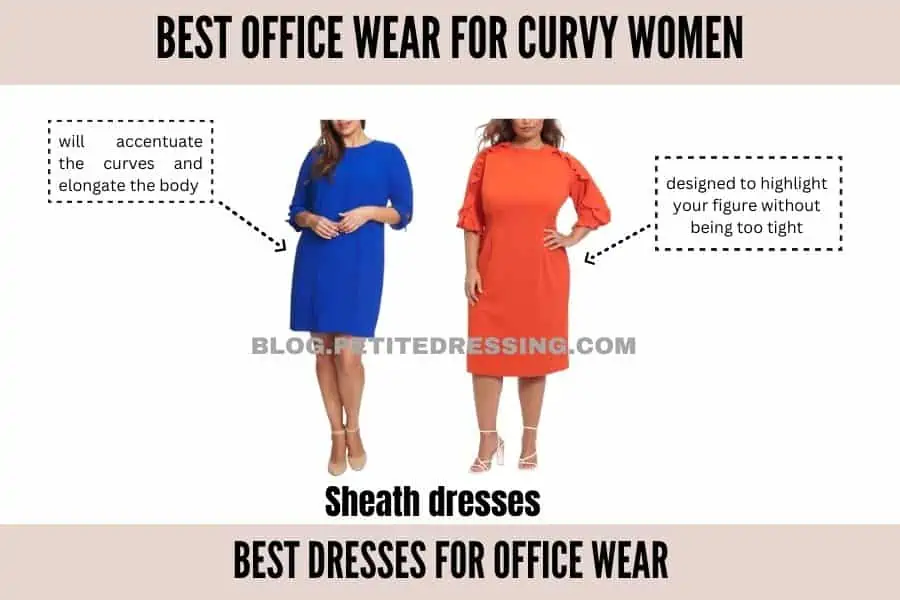 Belted dress
Similar to belted tops, belted dresses are designed to highlight the waist so they can accentuate your curves like the damsel that you are. Remember, it's not about going for the loudest belt you can find in bold colors.
In this case, it's better to keep it simple. Be sure to pick a small-sized belt that sits right on your waist. A belted dress is a must in the wardrobe of every curvy woman as it makes your legs look longer. Get ready to step into the board room, looking like someone ready to take charge.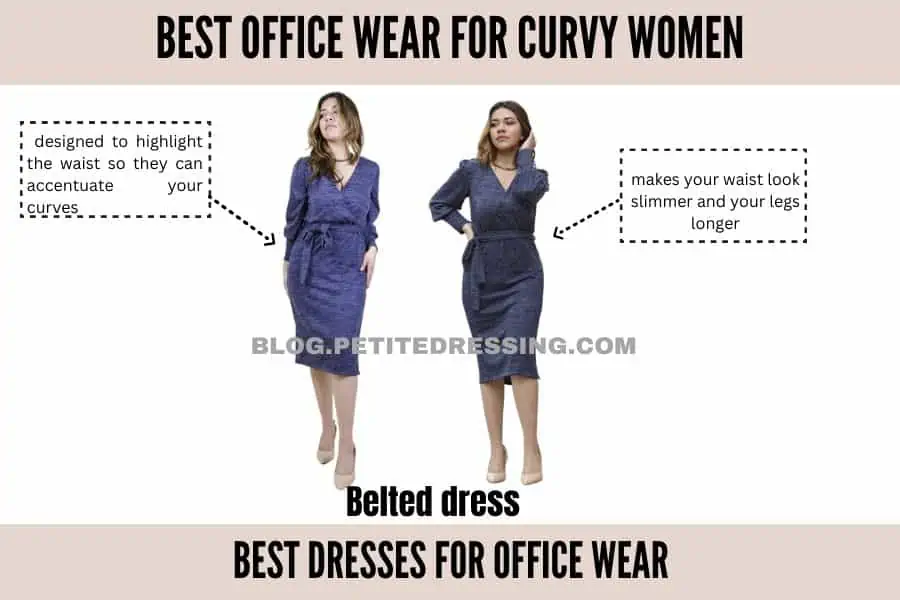 Pants
Wide-leg suit pants
Full-length wide-leg suit pants are a win all day, every day for curvy women. Apart from how comfy they are on the body, they cover up your figure without broken lines, so your body gives the illusion of being longer.
Of course, it's cool that it takes only a few minutes to get into the full-length pants, and you can wear a blazer of the same color with a simple blouse. It's perfect for curvy women who want to look sleek without revealing their curves.
Pair your suit pants with heels, and you'll look taller while the pants highlight the most flattering parts of your body.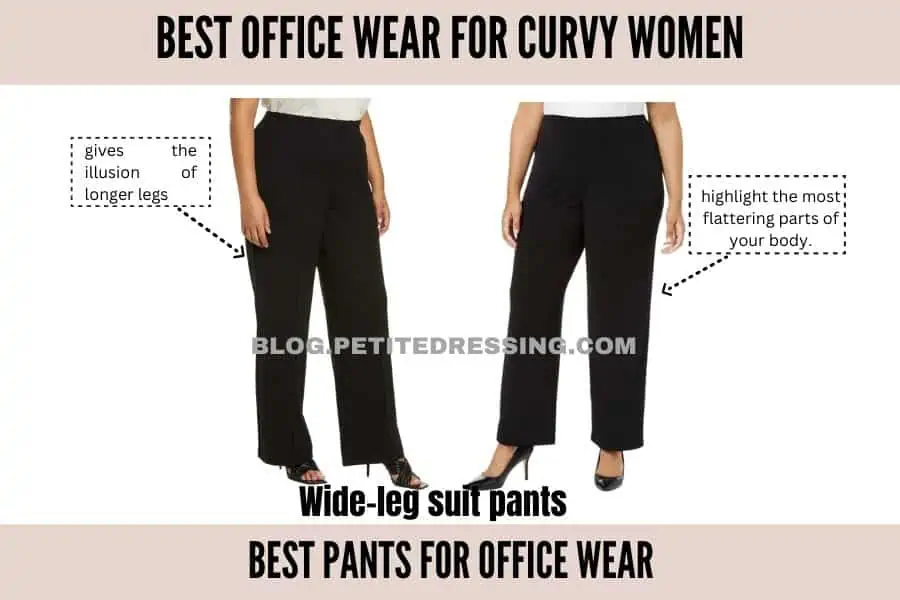 Pants with pleats
Since you're going to spend pretty much all day at the office in your clothes, it's always a great idea to target comfortable pieces of clothing. Pants with pleats have a relaxed fit that makes them perfect for curvy women.
Pants with pleats have more volume that gives more room to your curves without being baggy. So, these well-built pleated pants give your wide hips more room and won't alter the structure of your body frame since they mostly appear below the waistband.
Tight-fitting pants usually come with some stiffness around the legs, but that doesn't happen with pleated pants. They draw attention away from the figure of your lower body and have an overall flattering effect on curvy women.
Pleated pants can be styled with various top designs, but you'll definitely look good in a long-sleeved top with a v-neckline.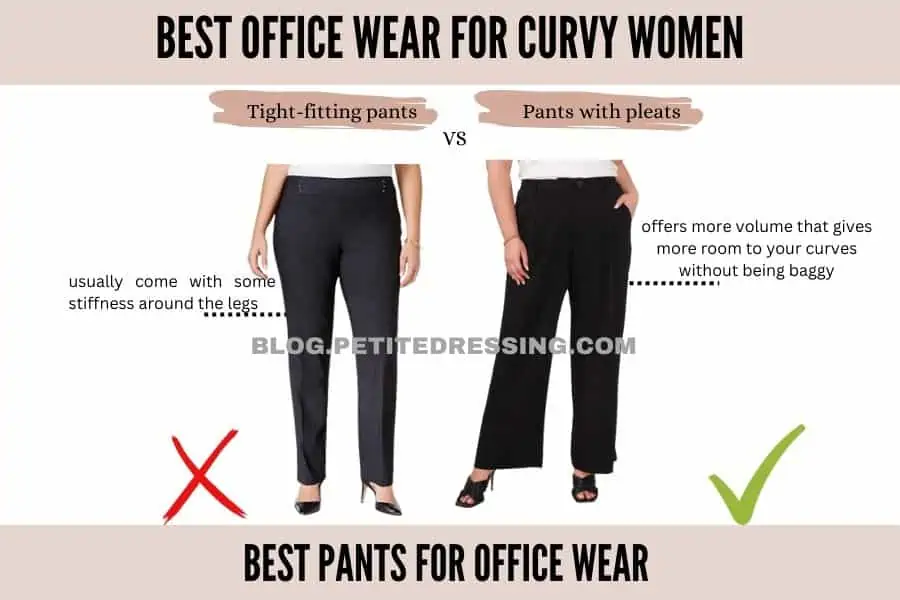 Shoes
Ankle boots
Ankle boots are both comfortable on wide feet and stylish enough to lengthen the legs. Of course, it's not just any ankle boot that can help you achieve this. We recommend that you specifically go for pointy-toe ankle boots so you're both comfortable on wide feet and stylish enough to lengthen the legs.
To make this more visually appealing, wear leggings that are the same color as your ankle boots. So, if you're putting on black ankle boots, be sure to go for dark-colored leggings as well.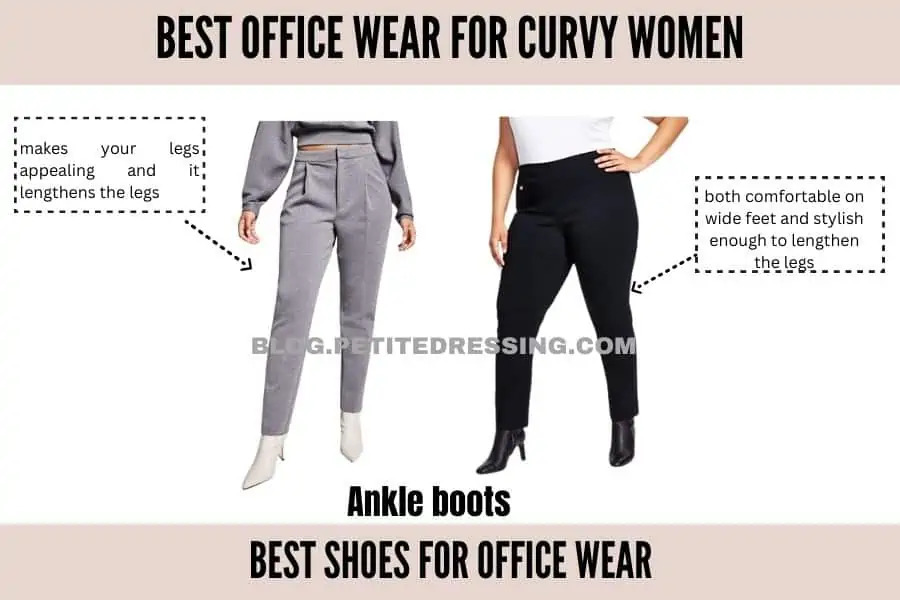 Avoid wedges
Although shoes are highly recommended as they make you look taller, and that's great for your curvy figure, wedged shoes don't have this effect. Sure, wedged shoes will add a few inches to your overall height, but the thick design of the shoes will dwarf this effect, so you actually appear shorter.
It's best for curvy women to avoid wedged shoes as these shoes can make you appear wider, too, as they draw more attention than needed to your curves. They make your legs look weighty, and this is worth sacrificing the stability they seem to provide on the feet.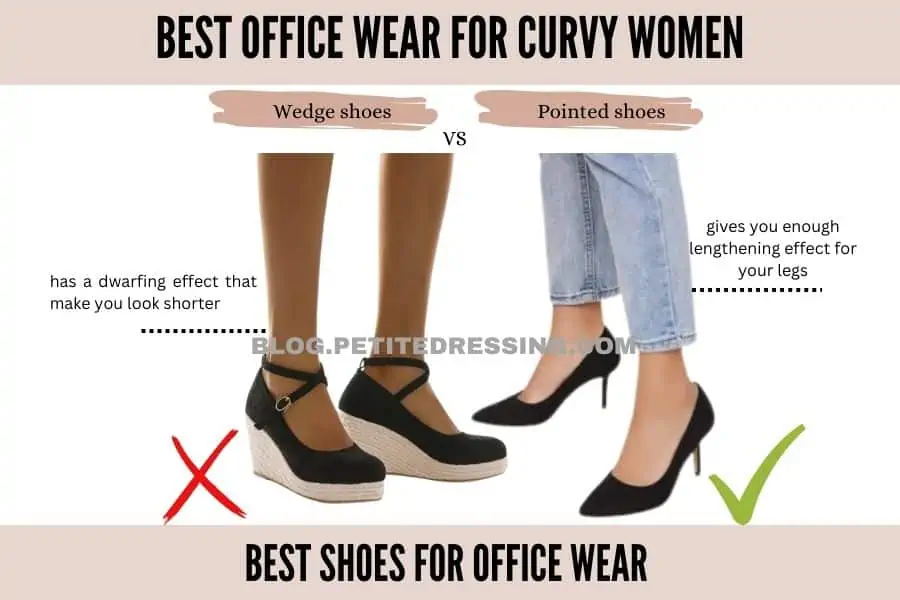 And that's a wrap. All that's left is to go shopping and feel free to choose colors that reflect your personality. The most important thing is wearing clothing that defines you rather than makes you feel awkward.