If you are short like me (I'm 5'2″), finding tops to look good on your petite figure can be a challenge. The key is to make sure your top is short enough to not overwhelm your short frame, but long enough to flatter your shape.
After many years of trial and error, I've put together this comprehensive guide to help fellow petites on the 10 best types of tops and what to avoid.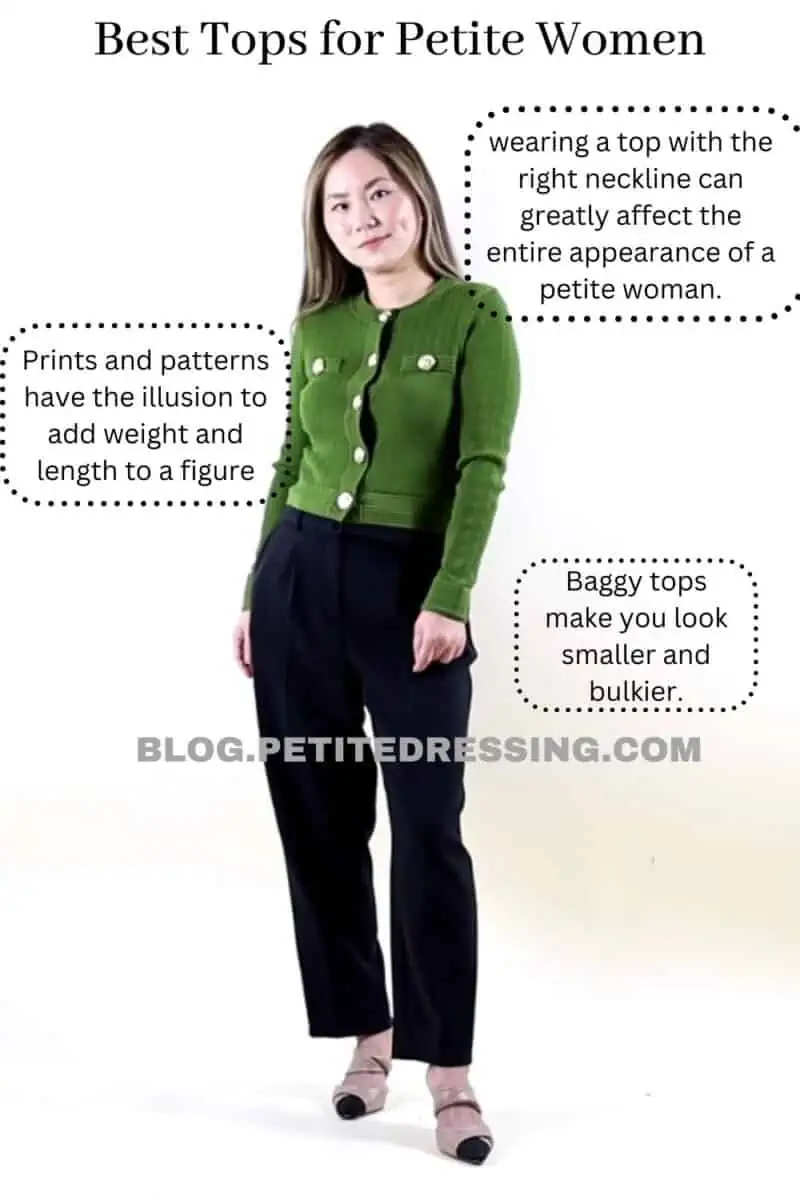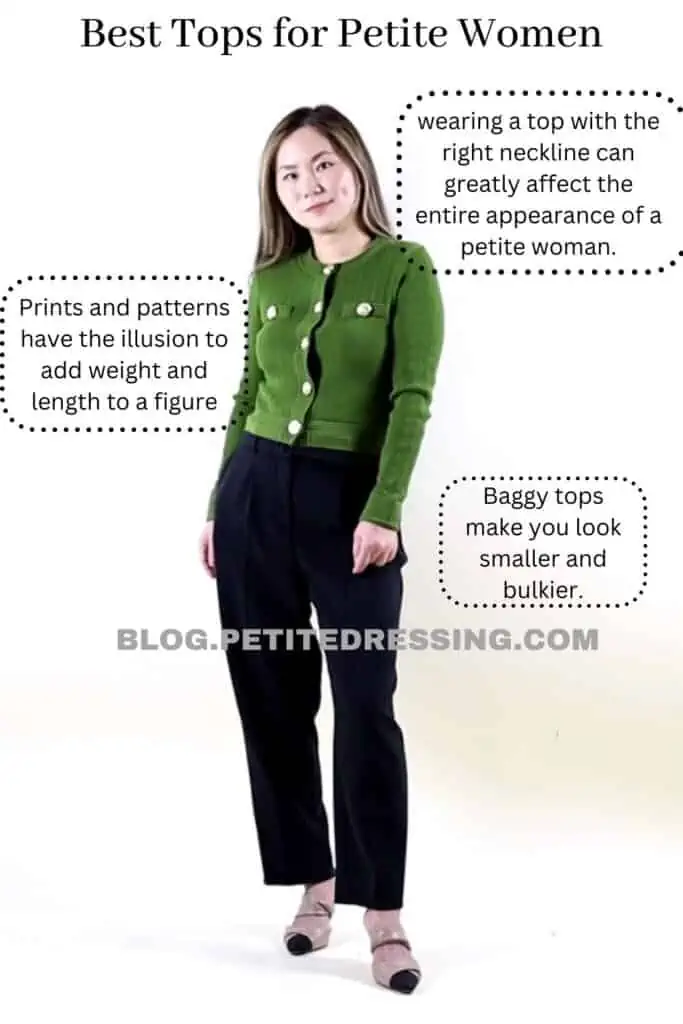 V-neck line tops
One of the most overlooked parts of a top idea for a petite woman is the neckline and there should be a turnaround with that because wearing a top with the right neckline can greatly affect the entire appearance of a petite woman.
V-neckline tops are the most flattering neckline designs for the petite woman because it creates a visual balance by directing the eyes to the chest region and this creates some sort of elongated figure for the petite woman.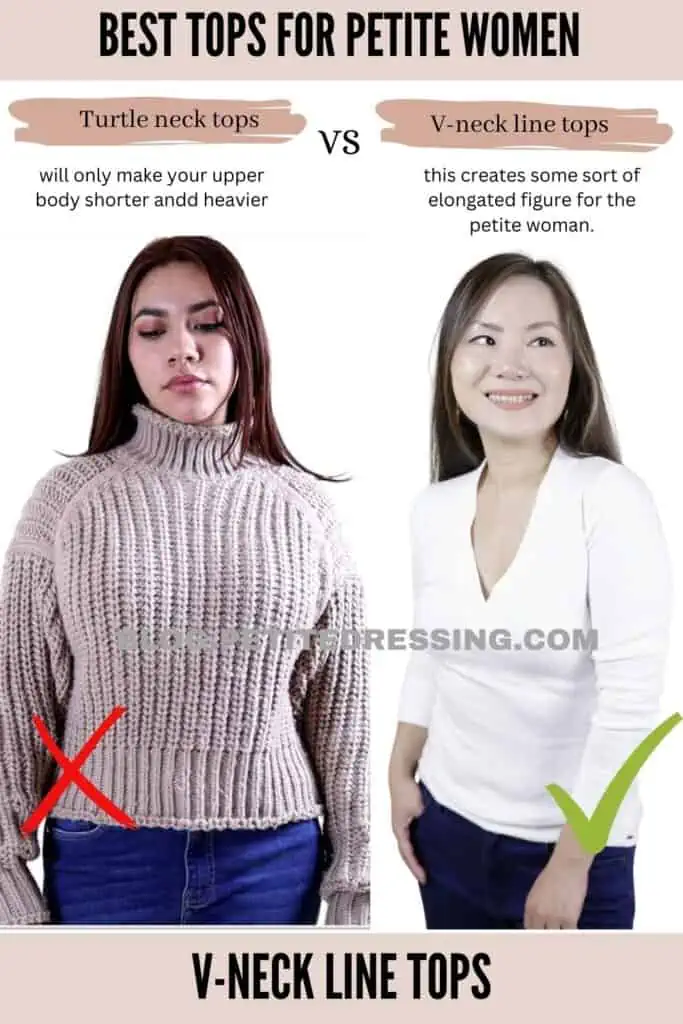 Other than the V-neckline, the sweetheart neckline could also be a go-to top option for the petite woman because it also reveals the skin at the neck region which could be an advantage to create a balanced proportion in a petite figure.
Off-the-shoulder tops
Another universally flattering top option for the petite woman is the off-shoulder top that is effortlessly styled to expose the skin on the shoulders. This stylish top creates an overall statement look that conveys the appearance of length and width by elongating your neckline.
The bare shoulders could also make the petite woman look sexy and sleek by keeping the focus of the eyes on the shoulders and causing a deviation from the concerned region. They should not be found missing in the wardrobe of a petite woman because they are trendy and suitable for her figure.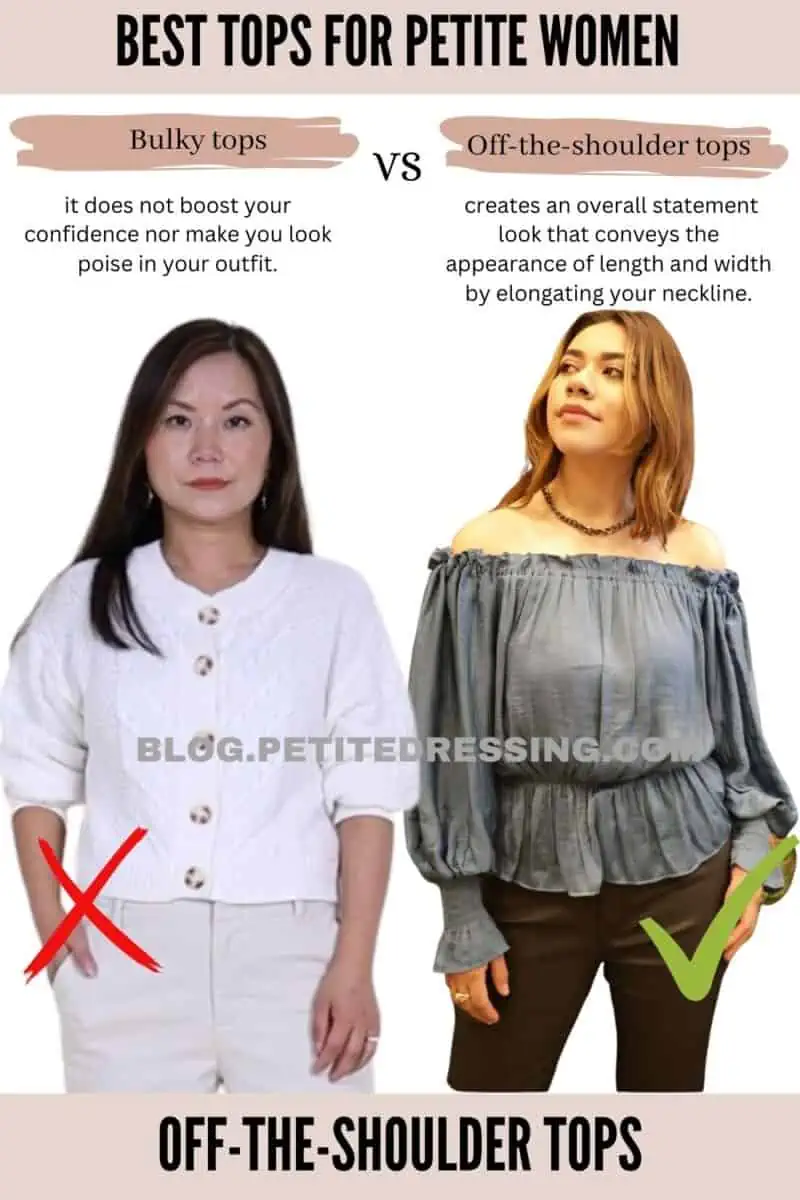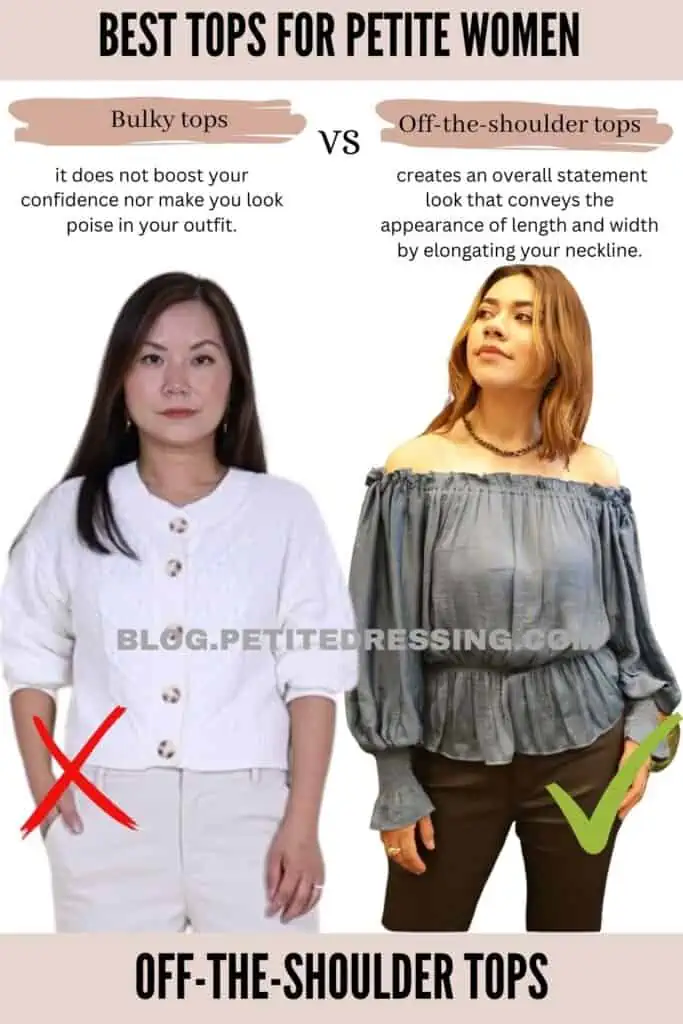 Off-the-shoulder tops are a must-have for every petite woman as it has a classic appeal that makes them versatile enough to be paired with different kind of bottoms to achieve a proportioned figure for the petite woman.
Wear well-tailored tops
The easiest and the most ideal way to flatter the figure of a petite woman is to wear tops that are fitted on the body. Baggy tops may look stylish on a petite woman but on the contrary, they make you look smaller and bulkier.
Tops should be tailored to the shape and figure of a petite woman as it is of utmost necessity. Wearing too bulky tops can also be less flattering and it does not boost your confidence nor make you look poise in your outfit.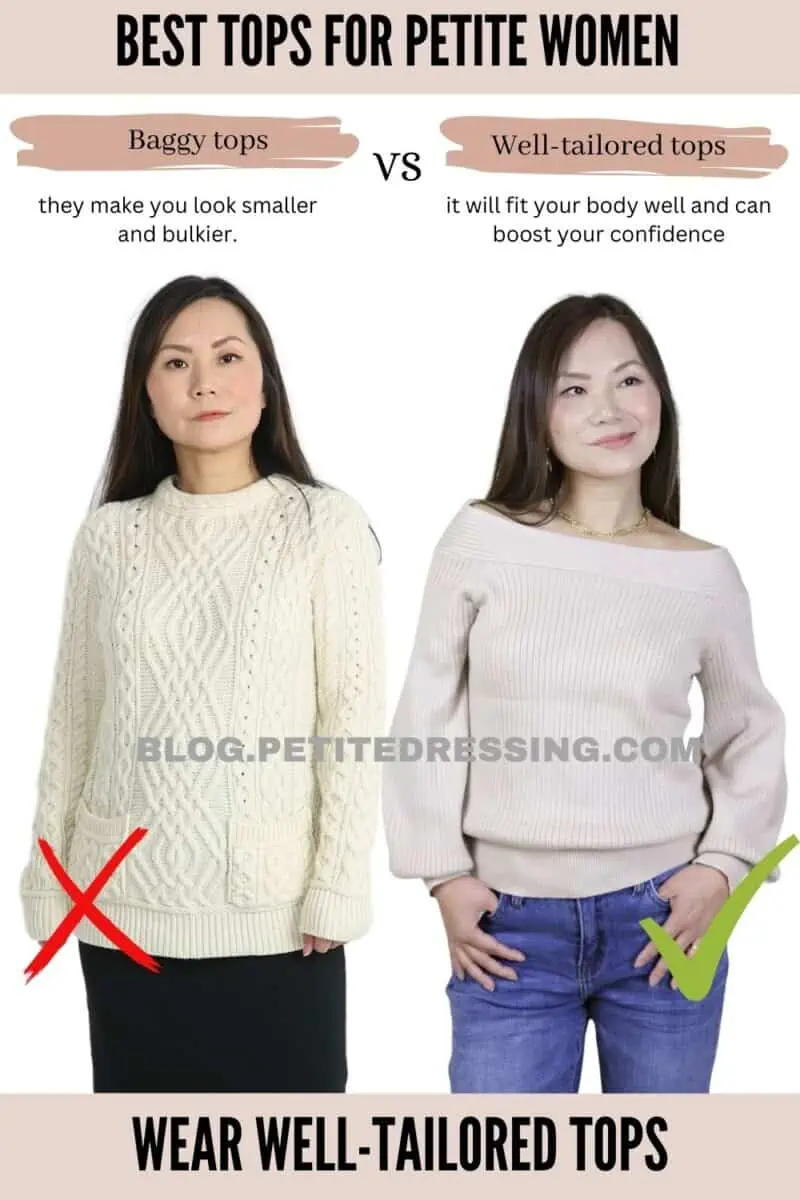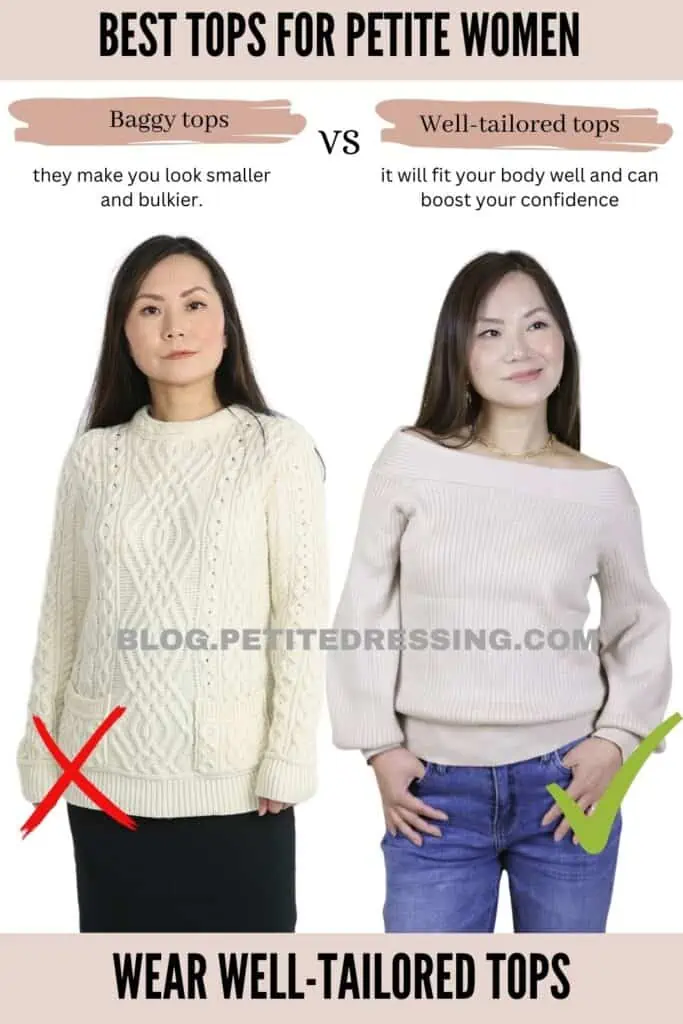 Petite women should wear tops tailored to fit their stature instead of trying to hide their figure in too baggy tops that would not give the illusion of added curves.
Vertical striped tops
One of the most flattering striped top a petite woman can wear is a vertical striped top. They are designed to give the illusion of a lengthened body to a petite woman. Horizontal stripes are preferable on the bottoms of a petite woman but not on the tops meant for petite women and should be avoided but the vertical stripes on tops are a better option because they tend to make them look longer.
Petite women are more flattering on tops with vertical stripes and should be chosen in preference to horizontal striped tops.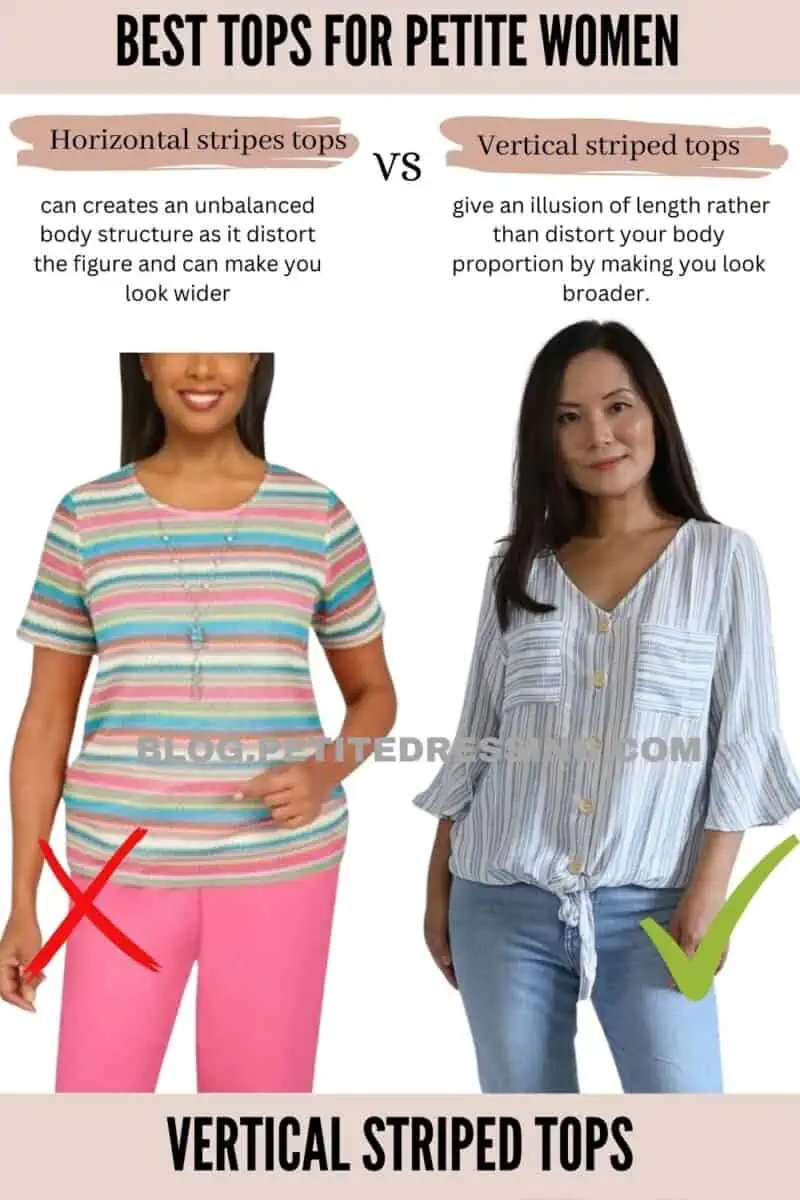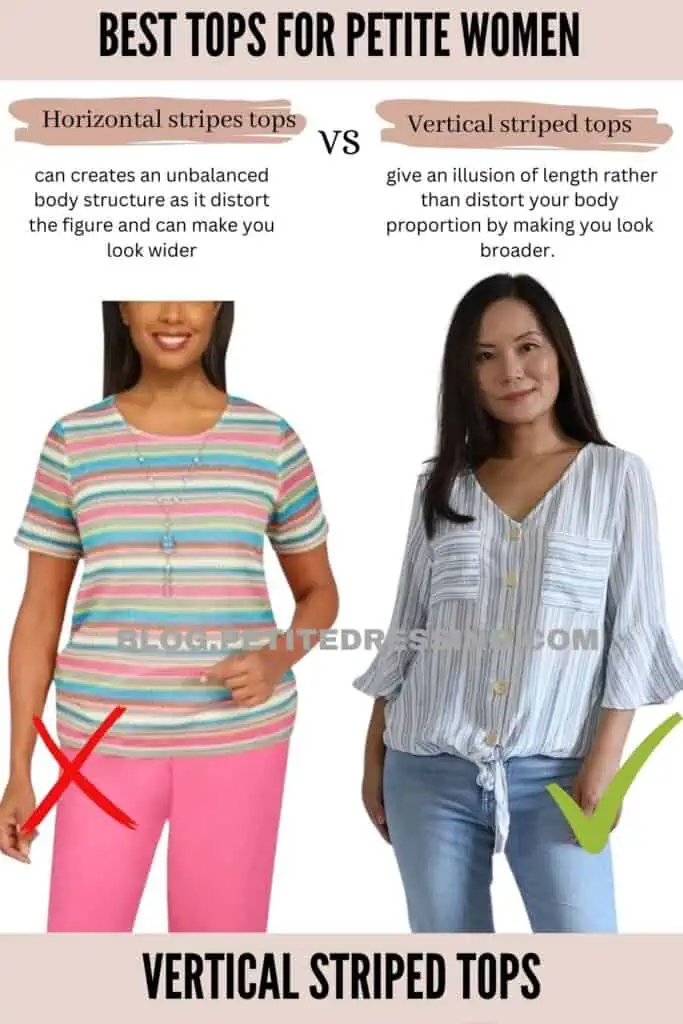 It is best to wear vertically striped tops if you are a petite woman as this would give an illusion of length rather than distort your body proportion by making you look broader.
Also, choose thin vertical stripes on tops as this would help balance the proportion of a petite woman.
Small printed and patterned tops
Prints and patterns have the illusion to add weight and length to a figure and this is an essential aspect to pay attention to if you are petite. The idea of selecting tops for a petite woman is to create an effect of width around the body.
It is best to opt for small and patterned prints on tops if you are petite as this would make you look lengthened. Smaller prints and patterns on tops for a petite woman would give a visual balance to your petite figure and make you look elegant in your outfit.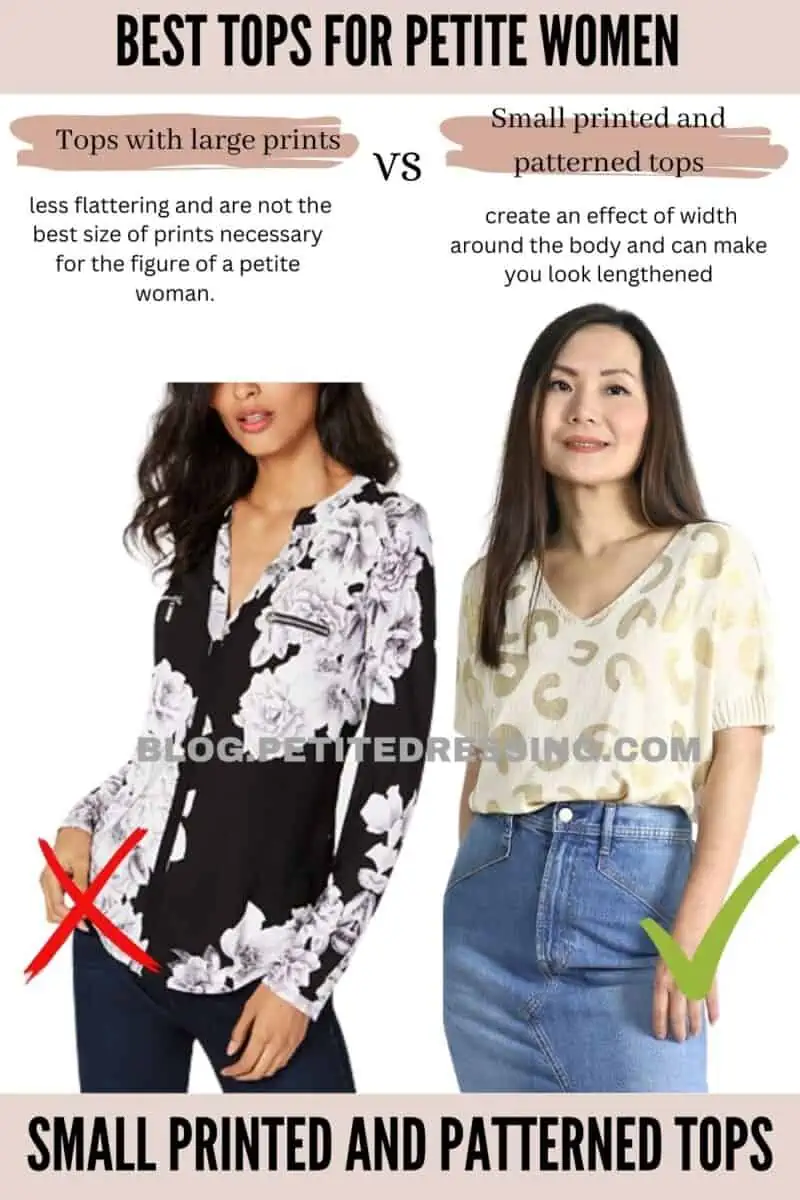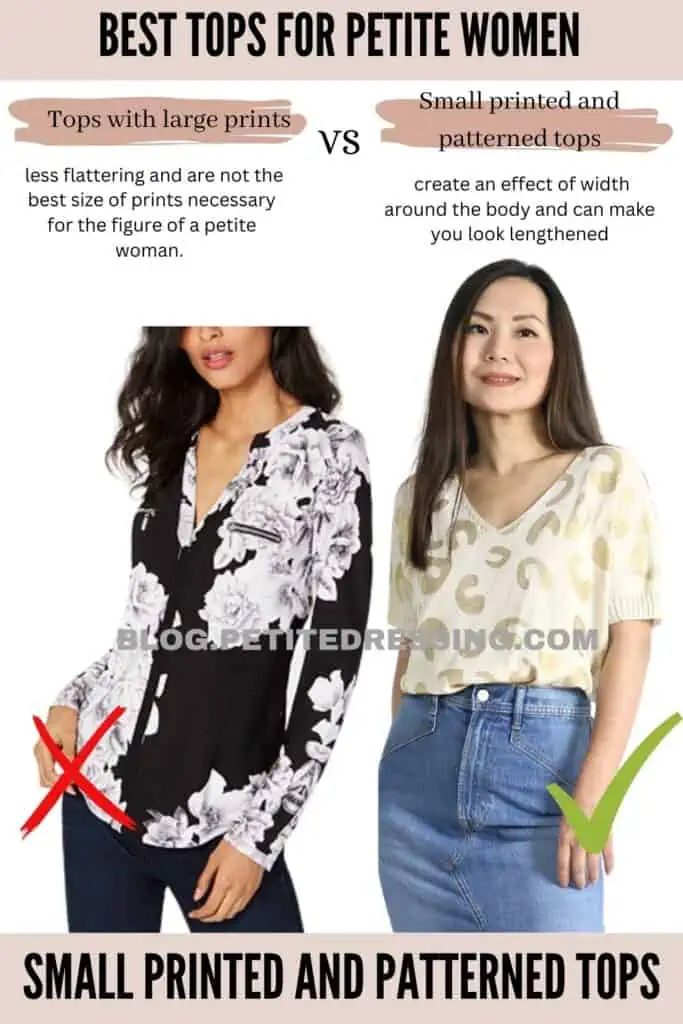 Medium and larger prints are less flattering and are not the best size of prints necessary for the figure of a petite woman. The overall statement look created by small prints and patterns on the top gives the illusion of a lengthened body and also a contemporary appearance on the petite woman.
Peplum tops
Certain tops are very classy and could also make a petite woman look elegant and not thinner than normal and one of those tops is the peplum top. Peplum styles are very simple and stylish tops designed to fit on the waist and flare out afterward.
Choose peplum tops that cinch the waist of the petite woman appropriately as it would do so well in creating a balanced proportion on her petite figure. Peplum tops are also very comfortable and they are great confidence boosters.
The flare on peplum tops emphasizes a wider figure and creates the illusion of curves around the petite woman.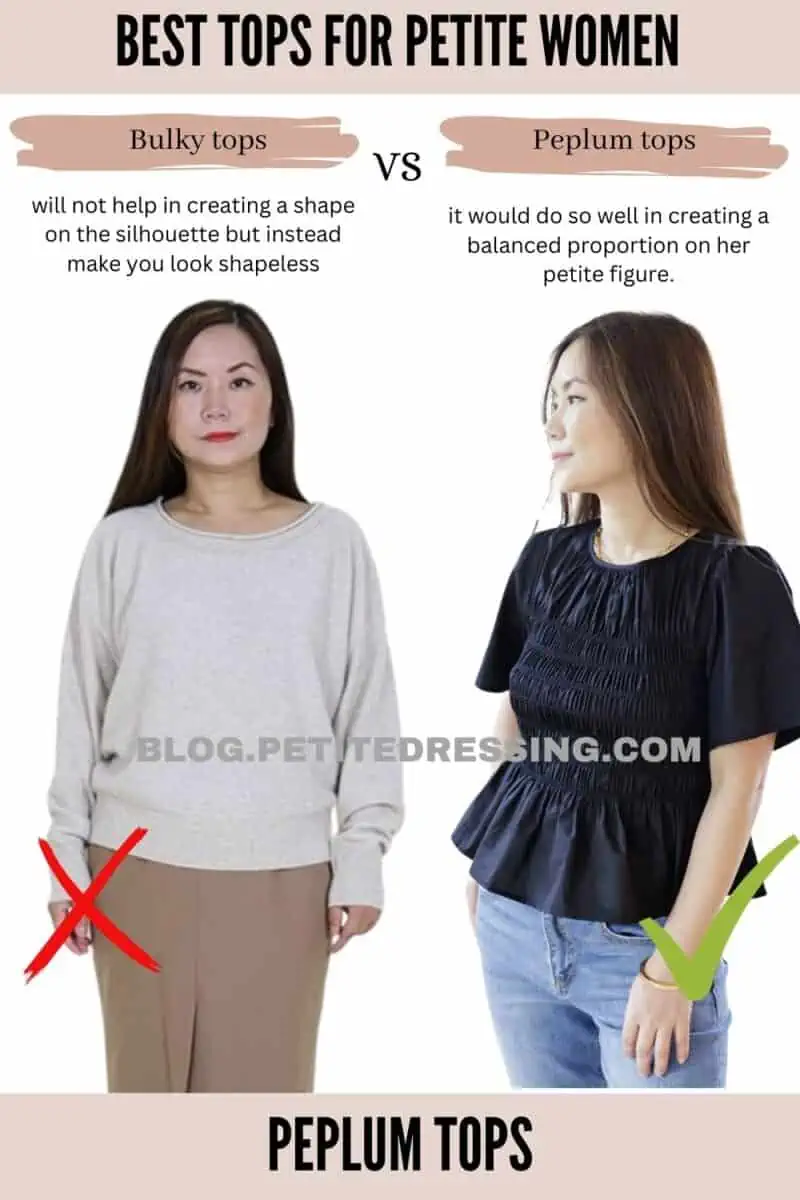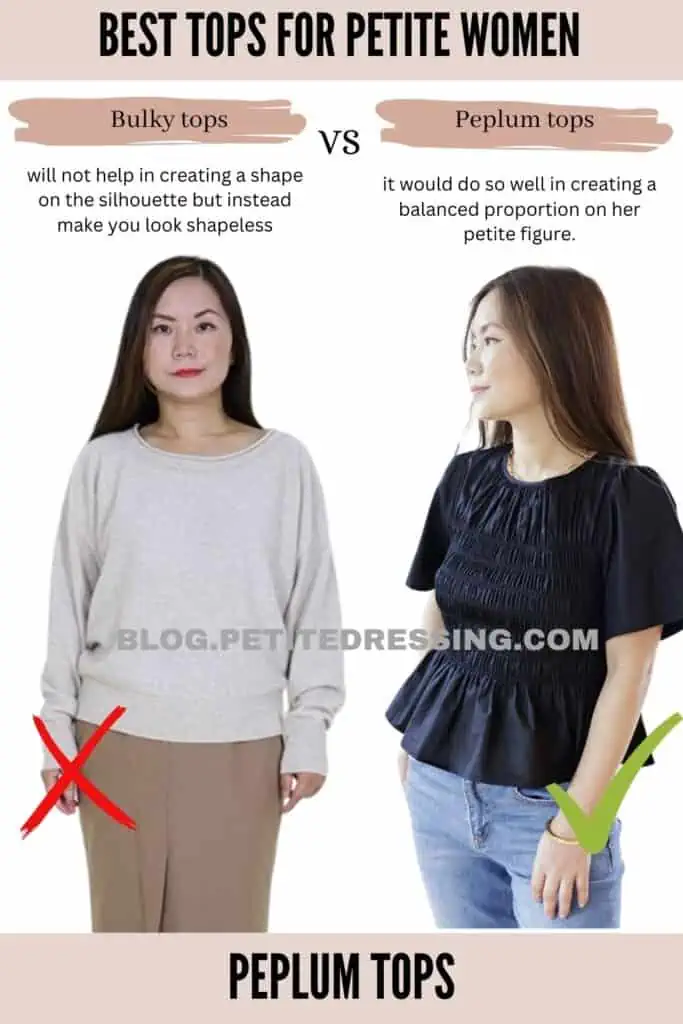 Peplum tops deviate attention from the concerned area but give the illusion of a lengthened torso to the petite woman and the flare at the hips is also perfect for giving the body more definition and length.
Belted tops
It is known that many petite women have somewhat short legs and it is for this reason that the choice of tops should be those that have a lengthening effect on the legs. The belted top is a great wardrobe staple for the petite woman because it helps to define where the lower body begins thereby creating the look of longer legs.
As flattering as belts could be on tops worn by petite women, styling them the wrong way could tamper with the overall appearance of the woman. The most preferred type of belt for the petite woman is the skinny belt because they are in proportion with the figure of a petite woman.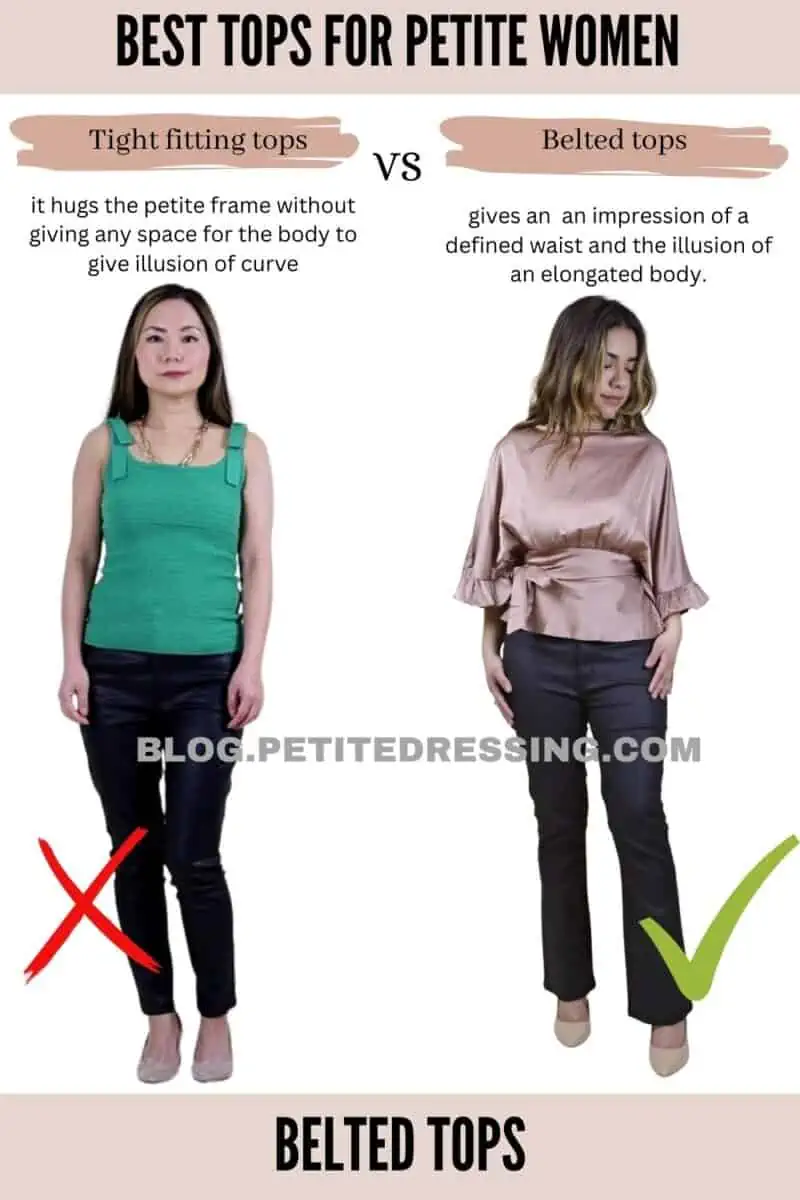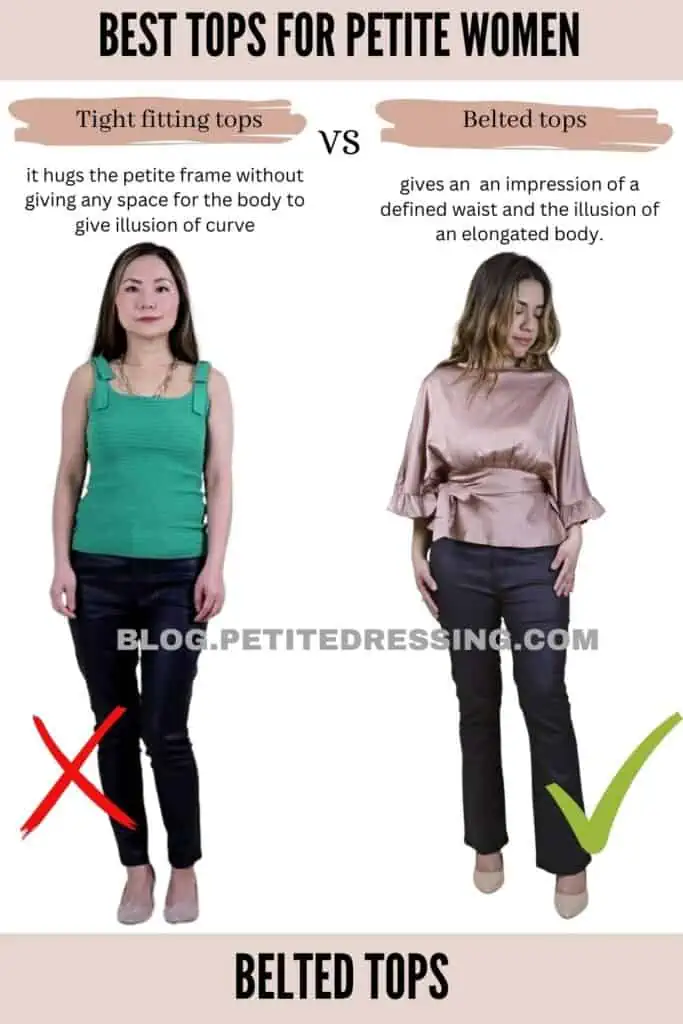 Wider belts are not the best for the tops of a petite woman because they would only break up the figure and that is why skinny belts are ideal to give the petite figure an impression of a defined waist and the illusion of an elongated body.
Shorter tops
A petite woman's first choice of the top would be those that could give her legs the illusion that they are longer. Shorter tops end slightly above the natural waistline or slightly above the hips and this makes the legs appear lengthened and are an easy way to add the best dimension to a petite woman's outfit.
Shorter tops are stylish and can help you show off your waistline as well as cinch in the waist which could in turn make your legs look longer. They are very comfortable and could greatly flatter the petite figure.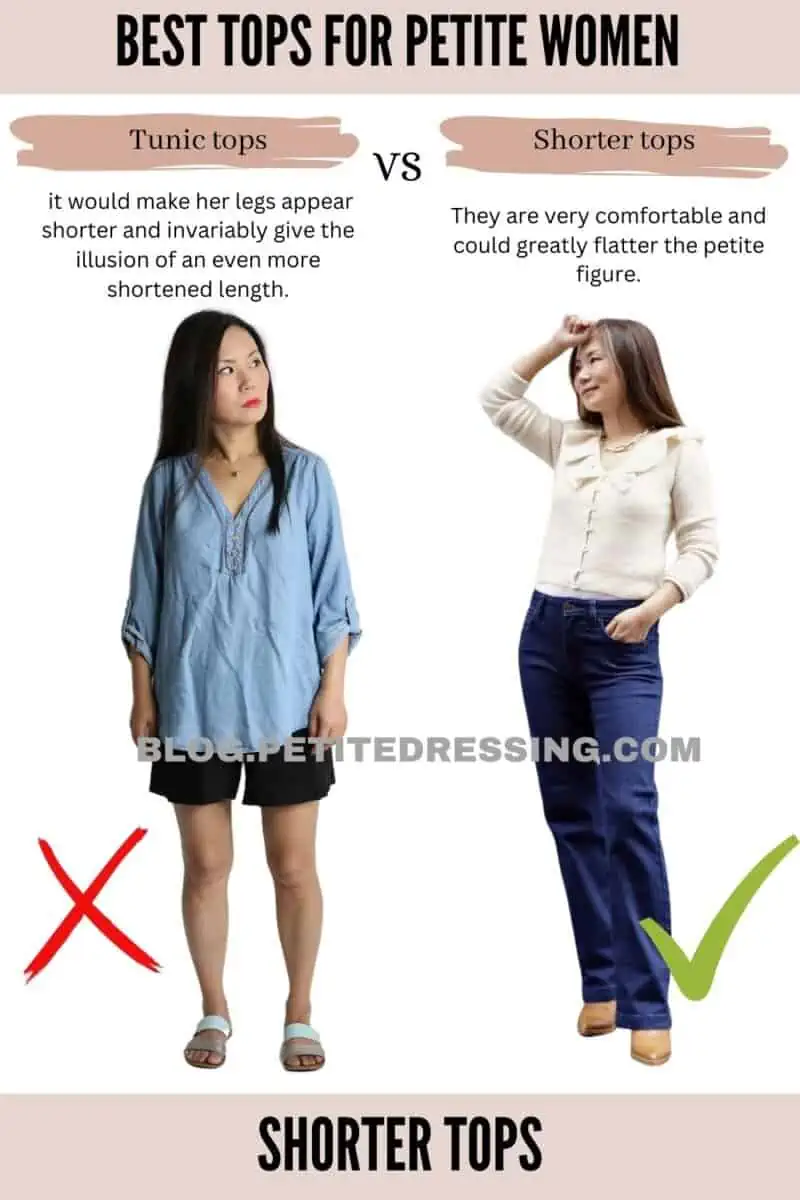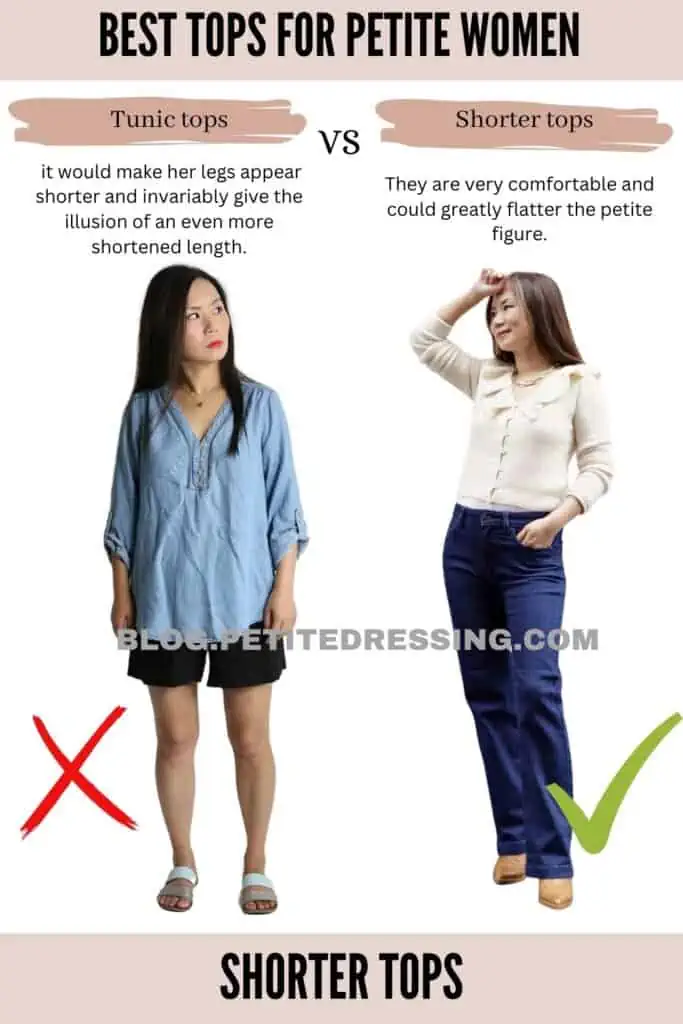 Petite women should wear shorter tops that are fitted and sized to their shape. Pair shorter tops with the right bottoms too if you must attain proper balancing.
¾ sleeve length tops
The most appropriate sleeve length for a petite woman is ¾ sleeve length and this is because most petite girls have shorter arms and that could be a major challenge in getting the right sleeves for their figure.
Long fitted sleeves could also be worn by the petite woman as long as it hits the wrist. That way, the body looks lengthened and it becomes an added advantage to the petite woman. Since a balanced proportion is important in the figure of a petite woman, wearing tops with the wrong sleeve length could reduce the contemporary look of the whole appearance.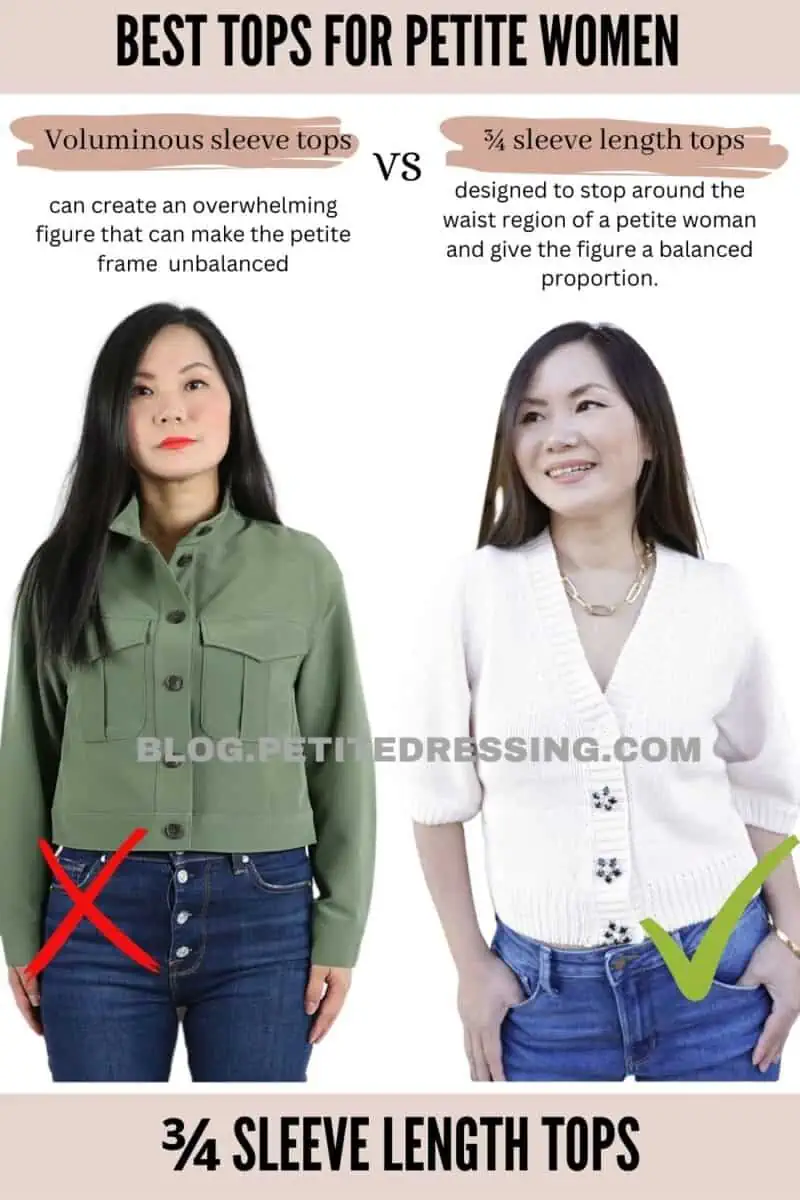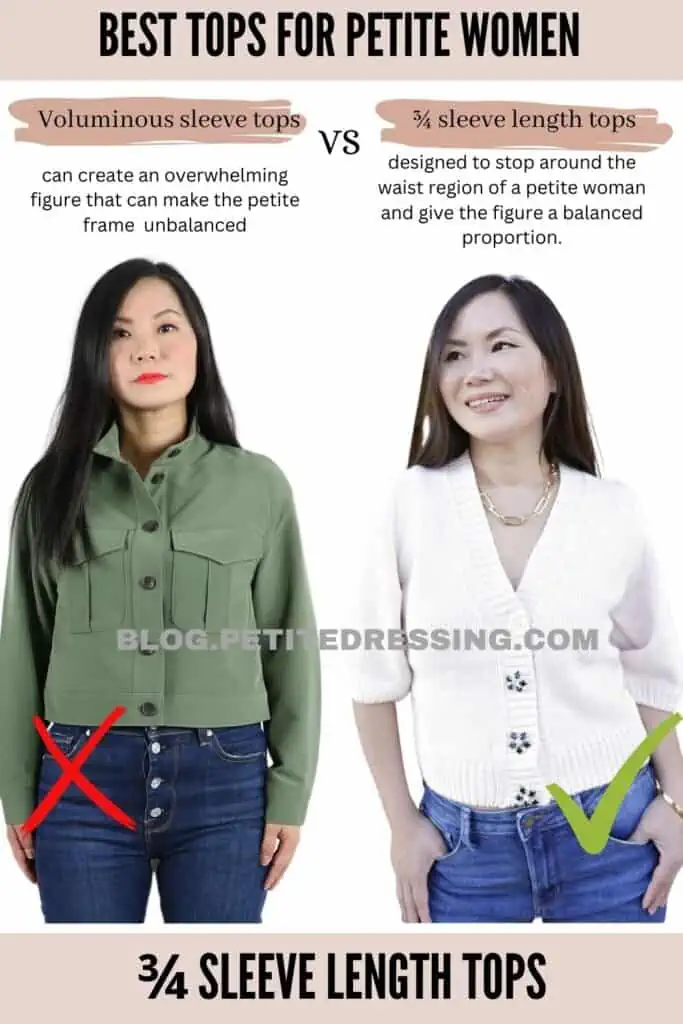 ¾ sleeve lengths are best because they are designed to stop around the waist region of a petite woman and give the figure a balanced proportion.
Tops made of light fabrics
Fabrics used for tops should be taken into consideration when choosing tops for a petite woman.
The right fabric to be used for a petite woman is a light one because thick and bulky fabrics tend to make you look fluffy and disproportionate.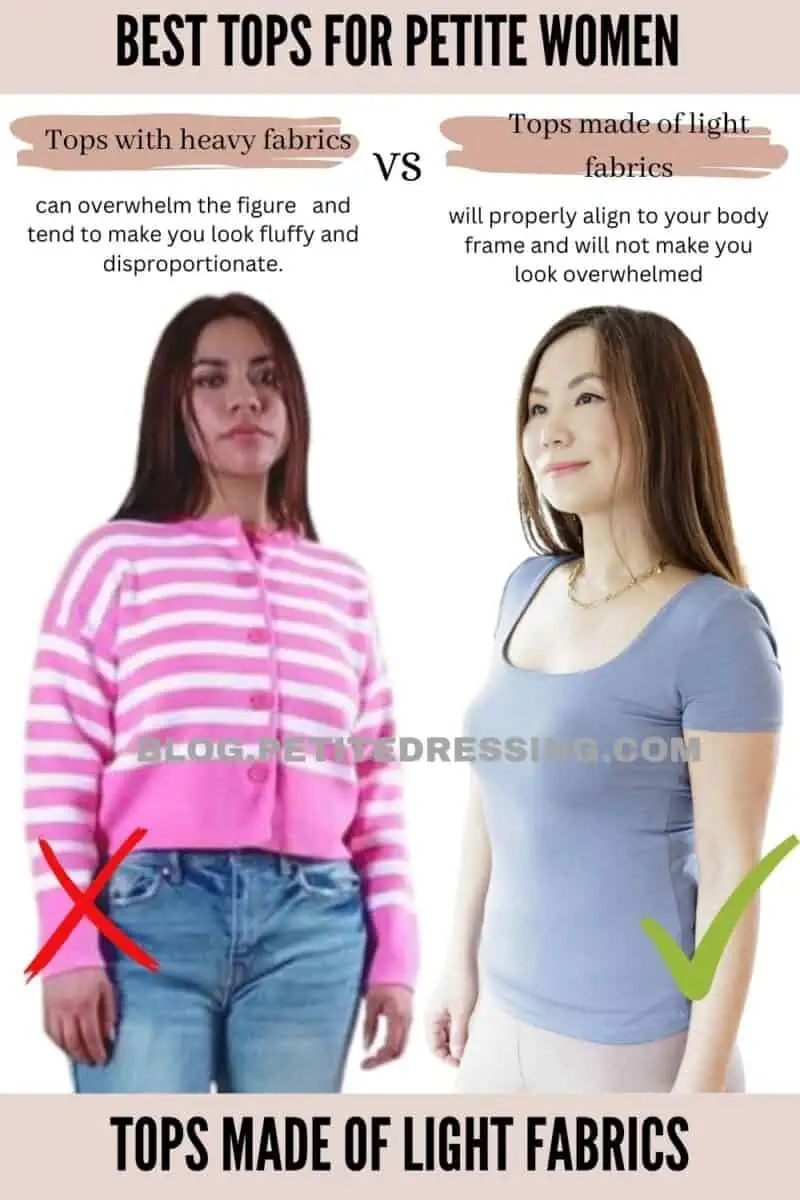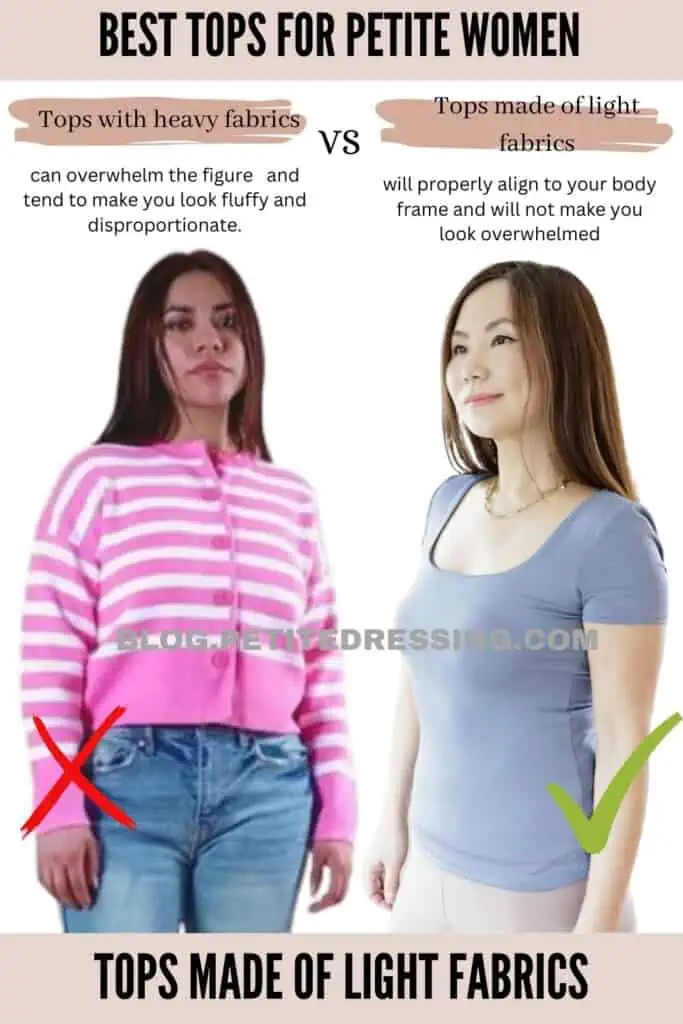 For this reason, it is best to avoid heavy fabrics by sticking to lightweight fabric that suits your petite frame.
Avoid voluminous sleeves
Petite women shouldn't wear voluminous sleeves as they can create a broadness that counters the look of leanness and length which you intend to achieve in your outfit.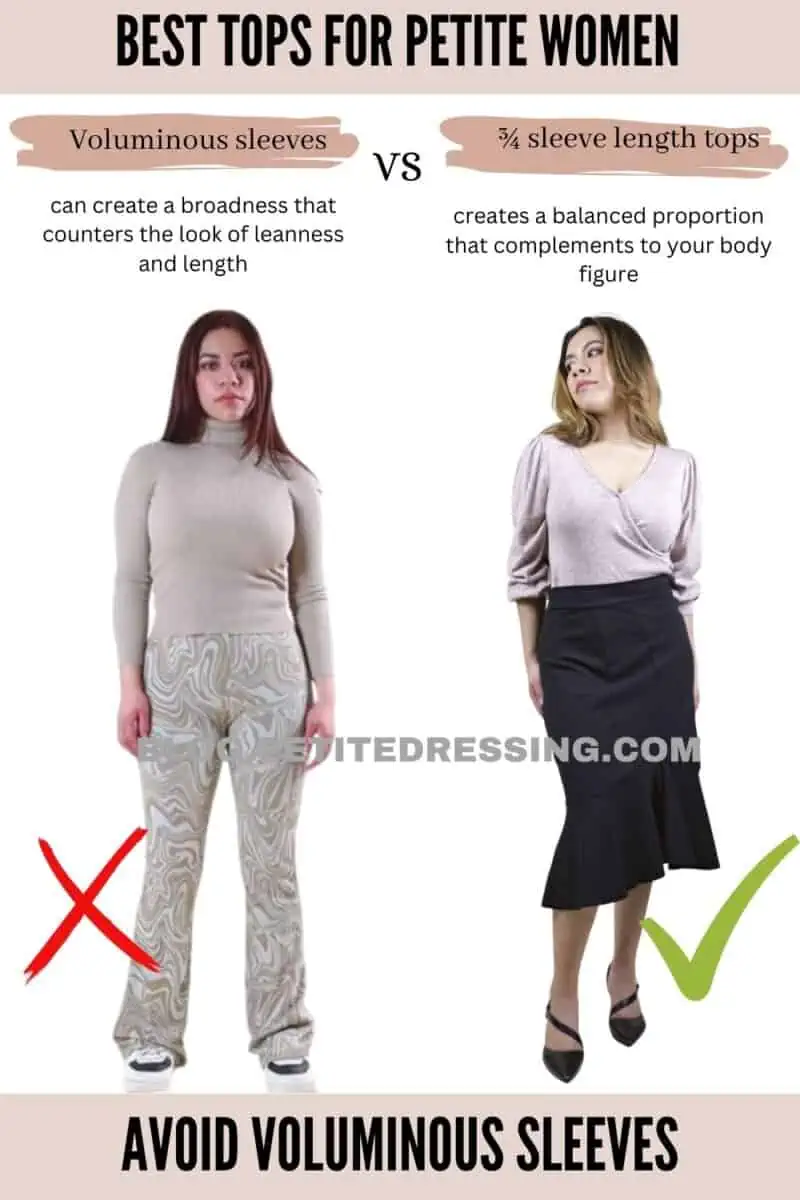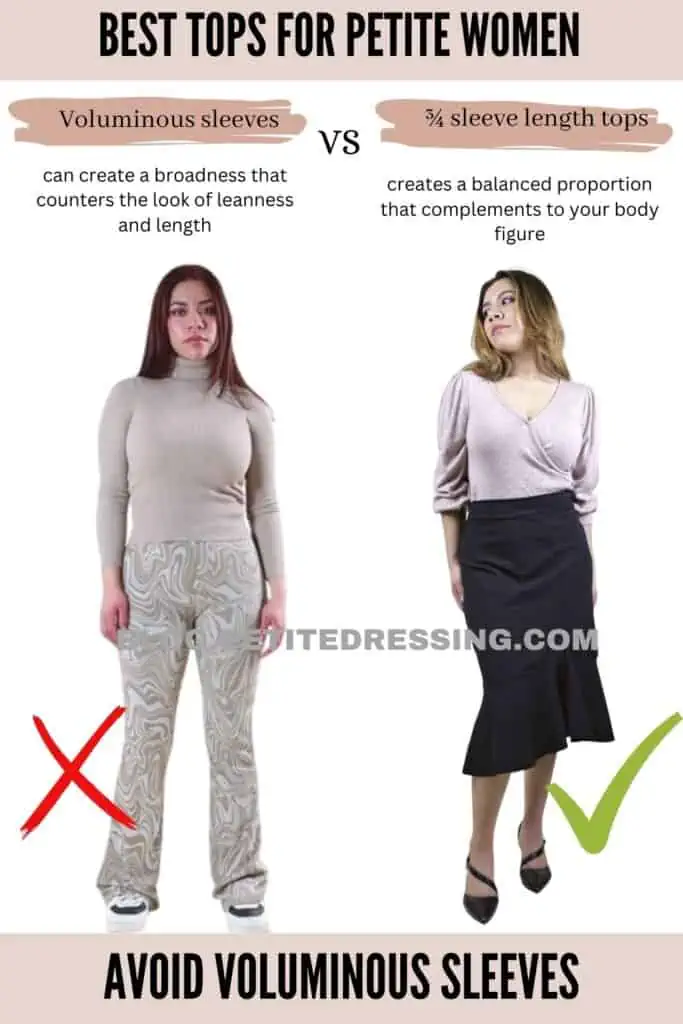 Avoid tunic tops
Any top that extends far below the hips is considered too long and unfit for a petite woman and such an example is the tunic top. It is not ideal for a petite woman because it would make her legs appear shorter and invariably give the illusion of an even more shortened length.
Preferably, opt for cropped tops as these are designed to stop above your waist and make the upper body look shorter and the lower body appear longer to give an added height to the petite woman. Cropped tops are essential tops designed for a petite woman to flatter and highlight her waist.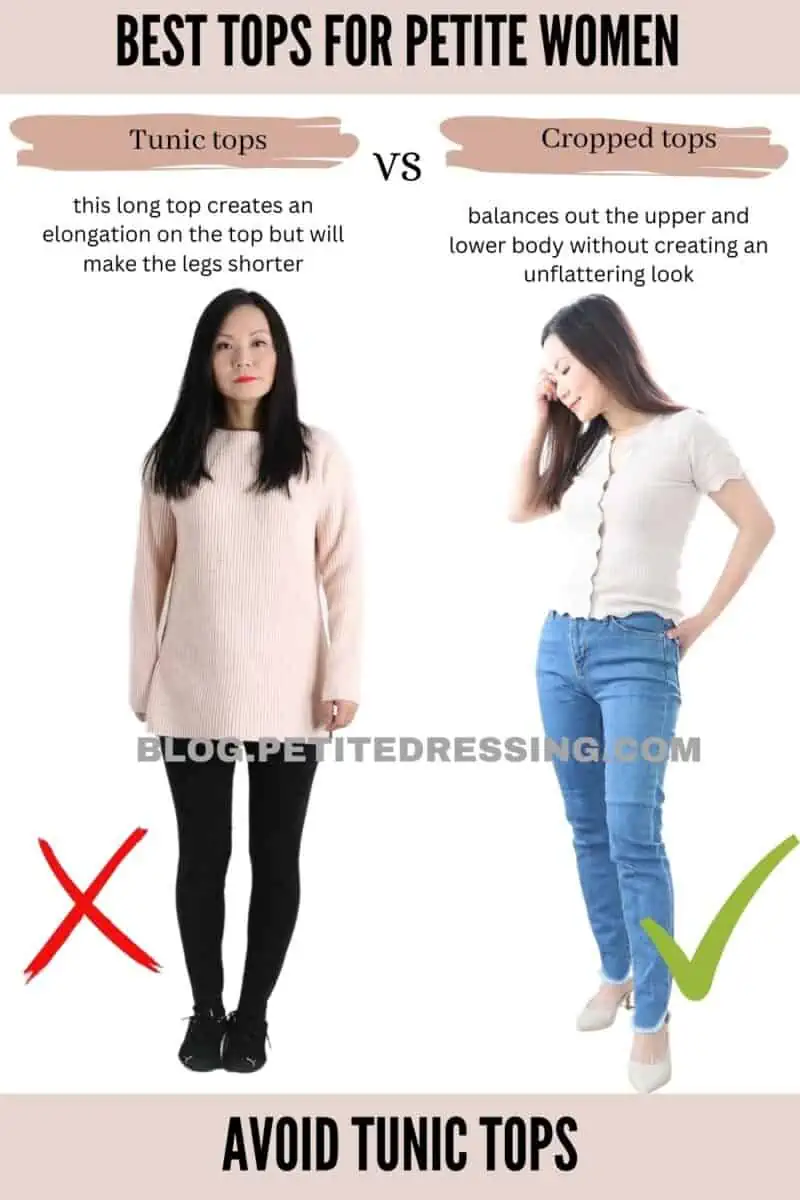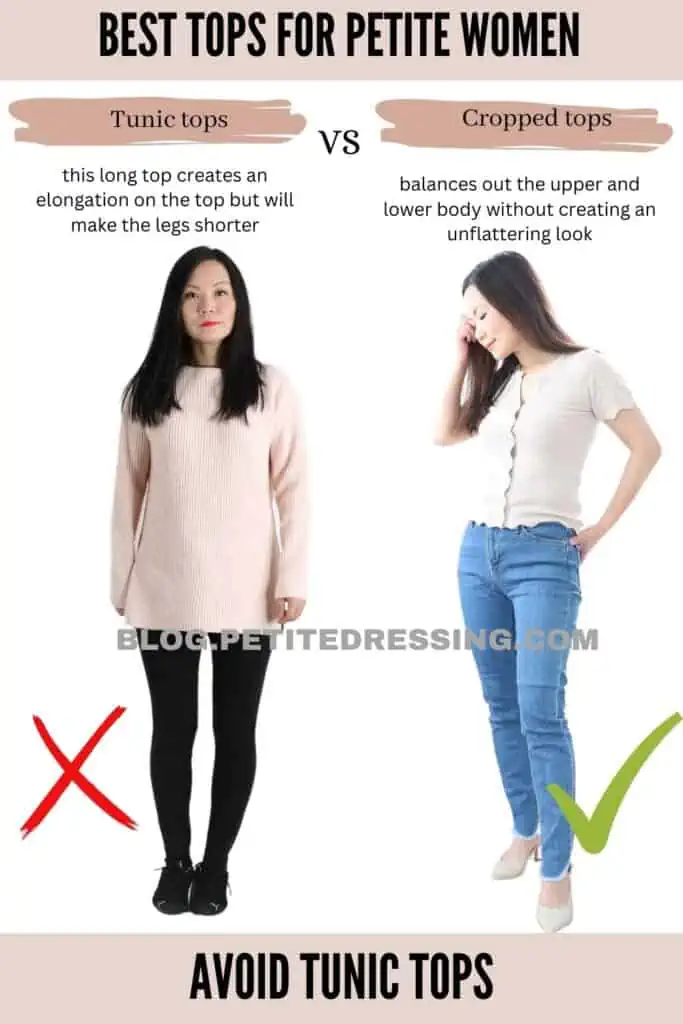 The overall length of tops for a petite woman should be put into consideration when choosing tops that are flattering on her figure. As much as possible, avoid wearing tunic tops.