Prom season is fun, but also can be stressful, especially when you are 5′ and under! It's not easy to find the right prom dress when you are petite, and I know that because I'm 5'2″ myself. Besides, I also have a petite clothing line for women 5'4″ and under, many of my customers are under 5 foot.
I've put together this detailed guide to help you find the most suitable prom dress that makes you shine like a star.
Flowy sweetheart-neckline dresses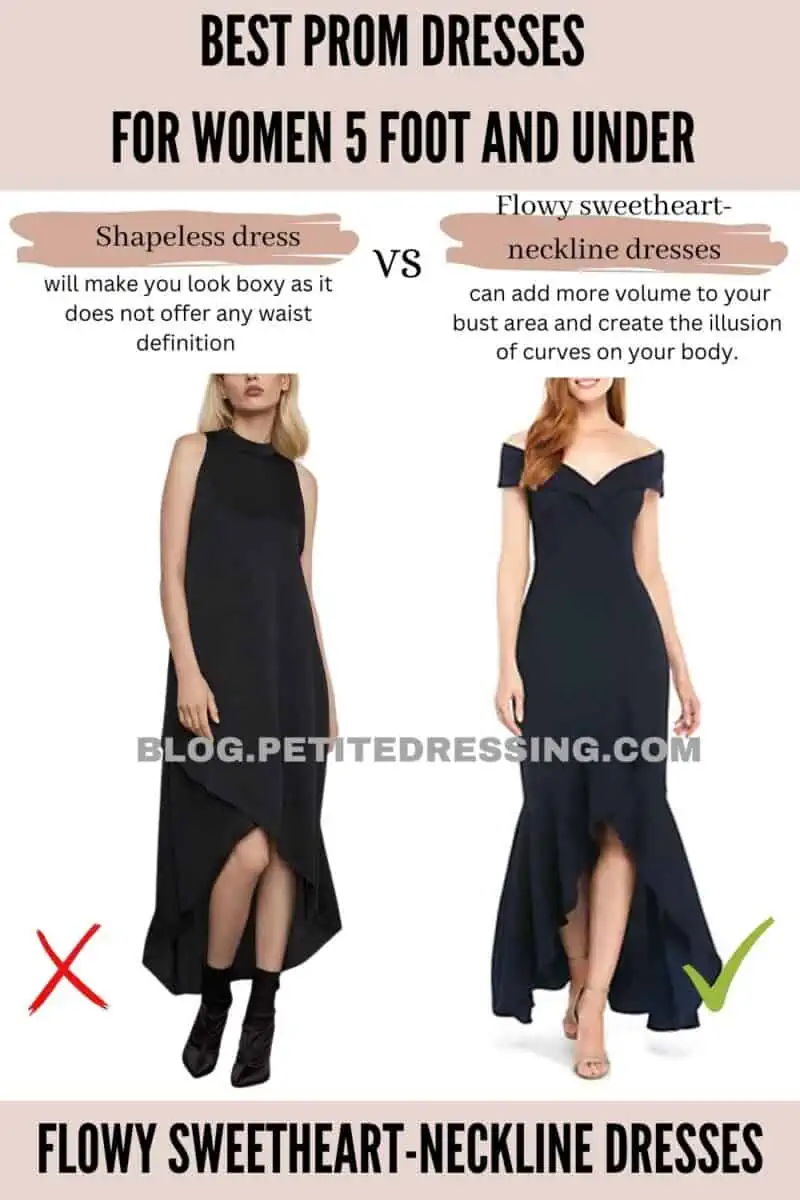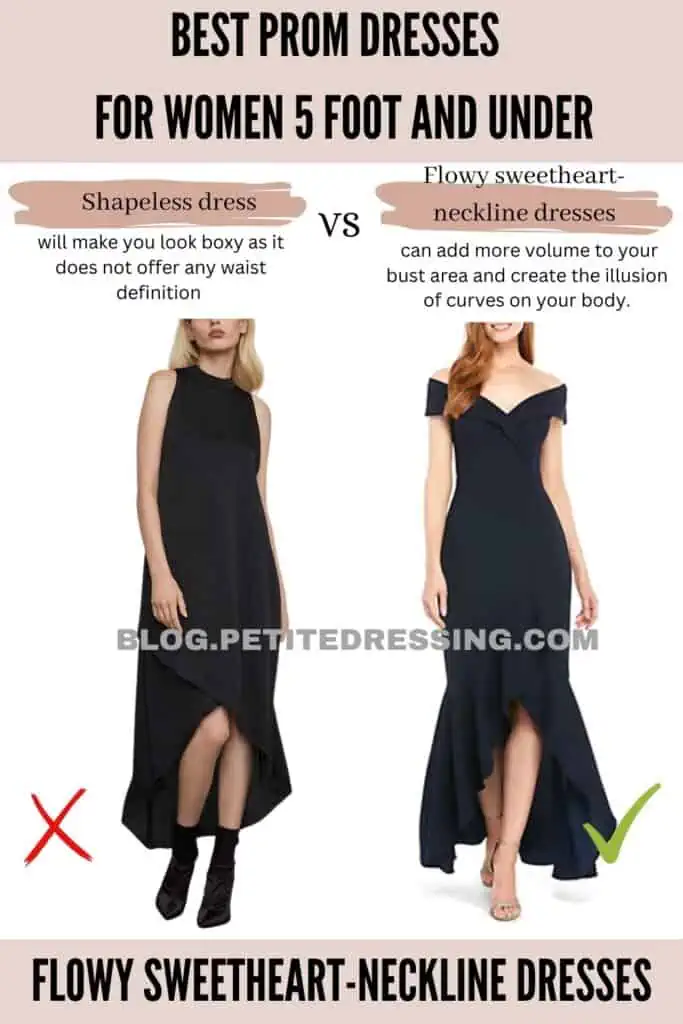 If you have a full chest and would like to accentuate your assets, then a flowy sweetheart-neckline dress is just what you need to make this happen. This neckline is super flattering for petite women and you can rock it to any formal event of your choice.
It also works great for women that are five feet tall and under with a flat chest. That's when you get to see the sweetheart neckline in all its glory. This neckline can add more volume to your bust area and create the illusion of curves on your body.
With this, there's more attention upwards which is also flattering for your neckline. This dress style is not limited to just prom, so feel free to rock this to your satisfaction. You can create a balanced look with a pair of heels, which adds a few extra inches and also elongates your legs.
Mermaid-style dresses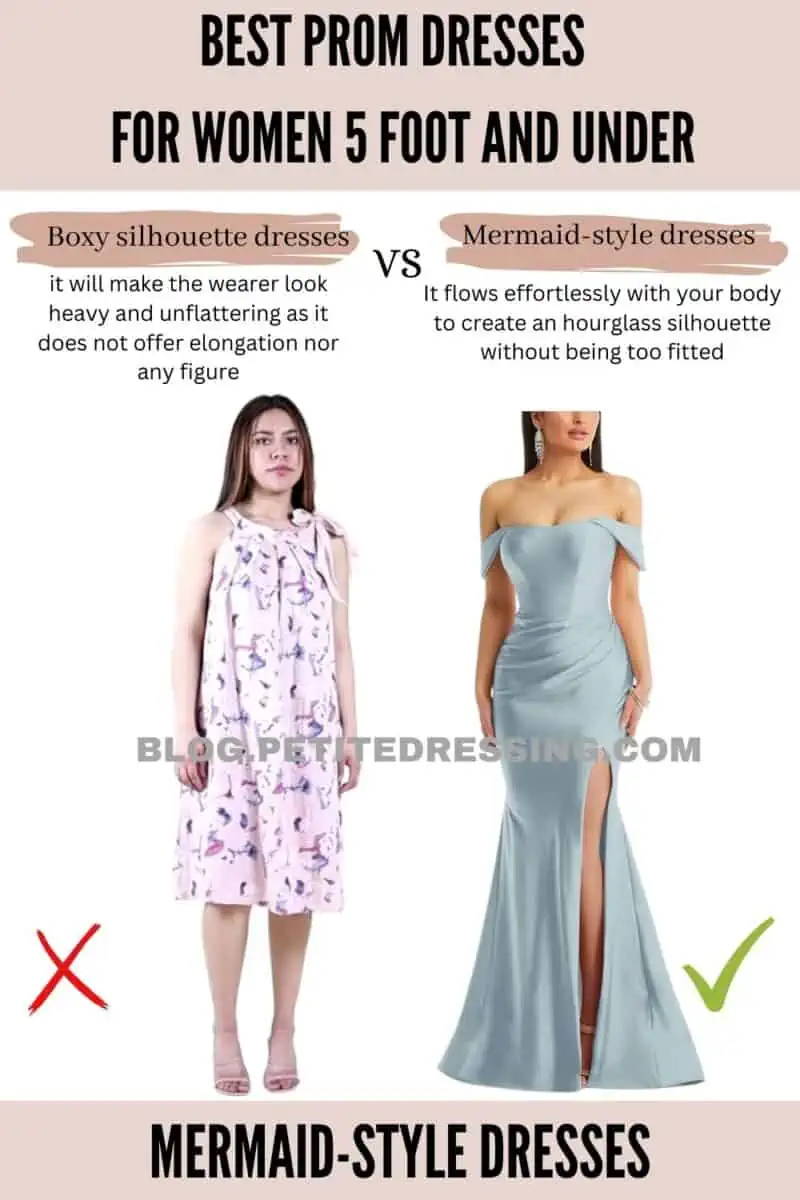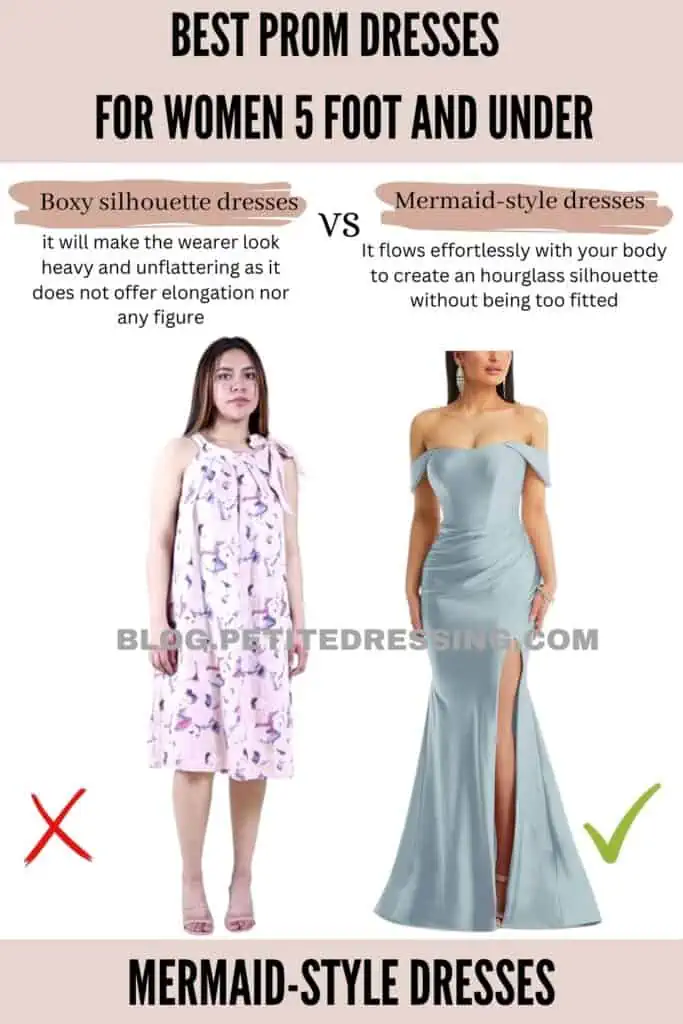 If dramatic and glamorous is more your style than subtle and calm, you're going to love the mermaid-style dress. This lovely dress got its name from how it's stylishly shaped around your body like a mermaid if they do exist.
It starts by hugging your body at the top before flaring out at the bottom into an eye-catching and dramatic silhouette. There's so much to love about the mermaid-style dress and why it's great for petite women.
Well, this style of dress is one of the best for creating a curvy silhouette. It flows effortlessly with your body to create an hourglass silhouette without being too fitted. These dresses come in various necklines but you should definitely check out the sweetheart neckline and deep V-neck.
Both neckline styles on your mermaid-style dress will flatter your bust area and create a more proportionate silhouette around your body. Complete the look with statement earrings and you're ready for an amazing time.
Fit and flare satin dresses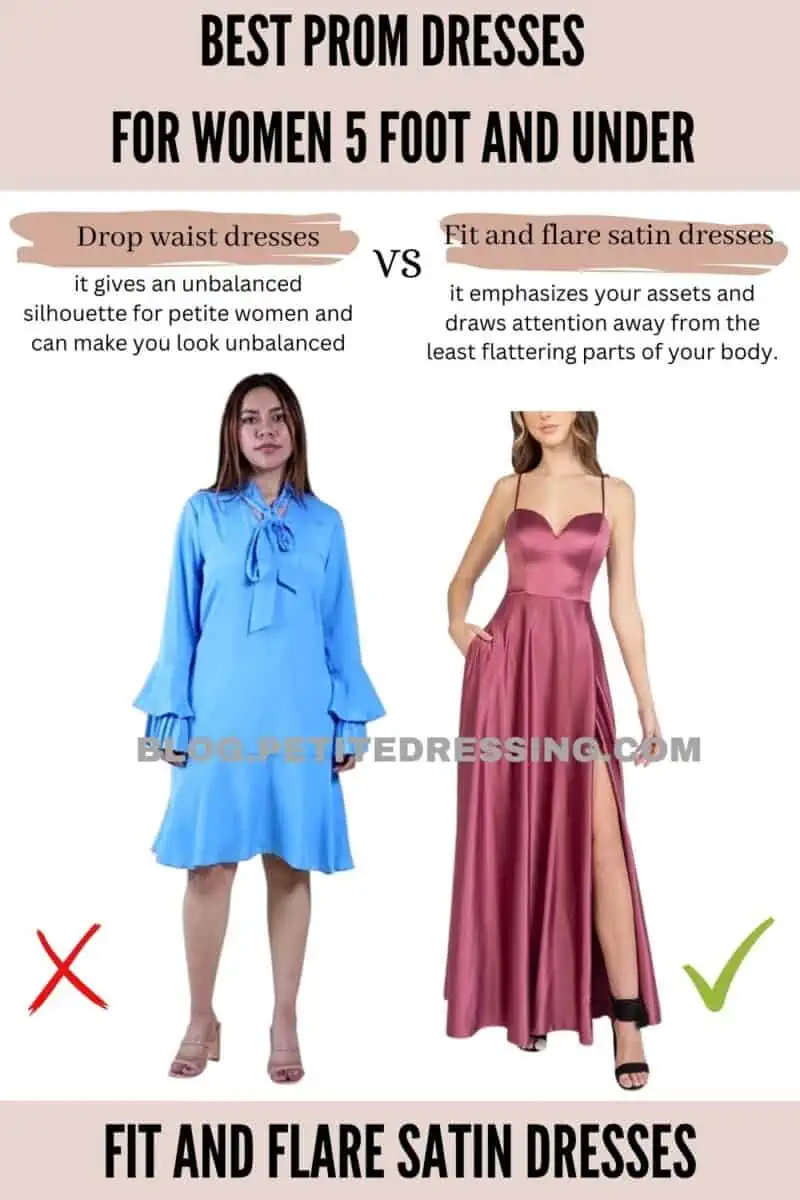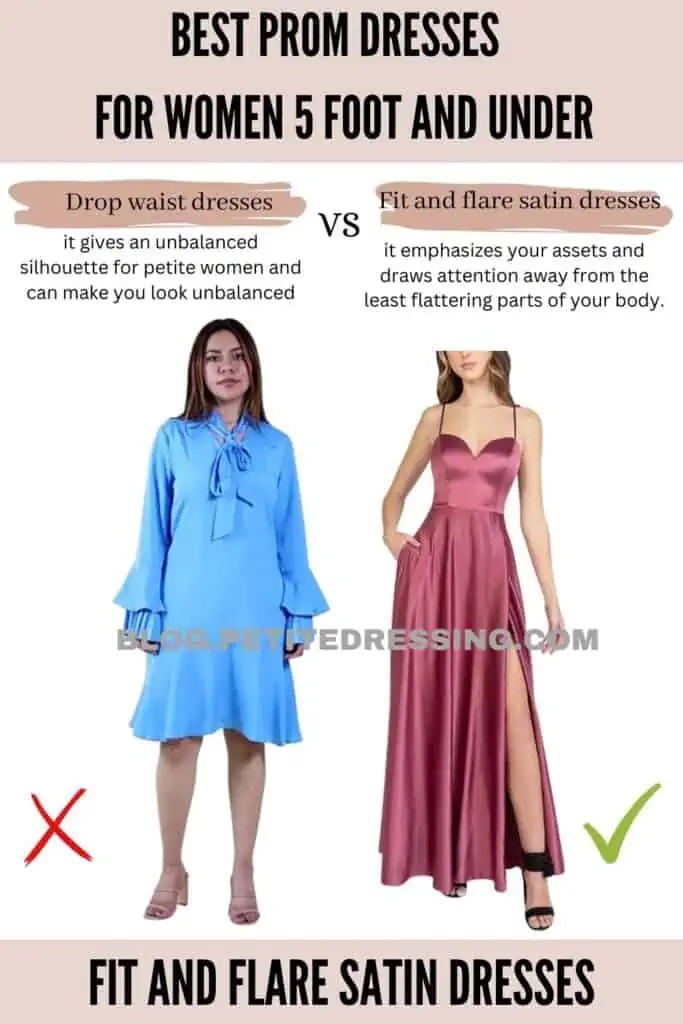 One of the most universally flattering prom dresses out there is the fit and flare satin dress. It's not too tight on the hips, it's not too loose on your body…it's just right. This makes it suitable for petite women in any body type.
So, if you're a woman that's five feet tall and under with an apple or pear shape, this style of dress is just what you need to emphasize your assets and draw attention away from the least flattering parts of your body.
The "fit" aspect of the fit and flare dress hugs your hip at the right spot on your waistline to create the illusion of curves or make you look curvier if you already have the hourglass silhouette. Then, the "flare" gradually flows outwards as the dress moves downwards creating the perfect A-line shape to camouflage muffin tops and prominent thighs.
This is perfect for pear-shaped petite women looking to conceal a wider bottom and achieve a nicely balanced shape. So, you get to show off your bust area without making your muffin top look obvious.
The fit and flare satin dress is the perfect choice for petite women looking for a more feminine look and a little more volume to their hips. With the right pair of heels, you can create the illusion of longer legs and balance your overall look.
Off-the-shoulder maxi dresses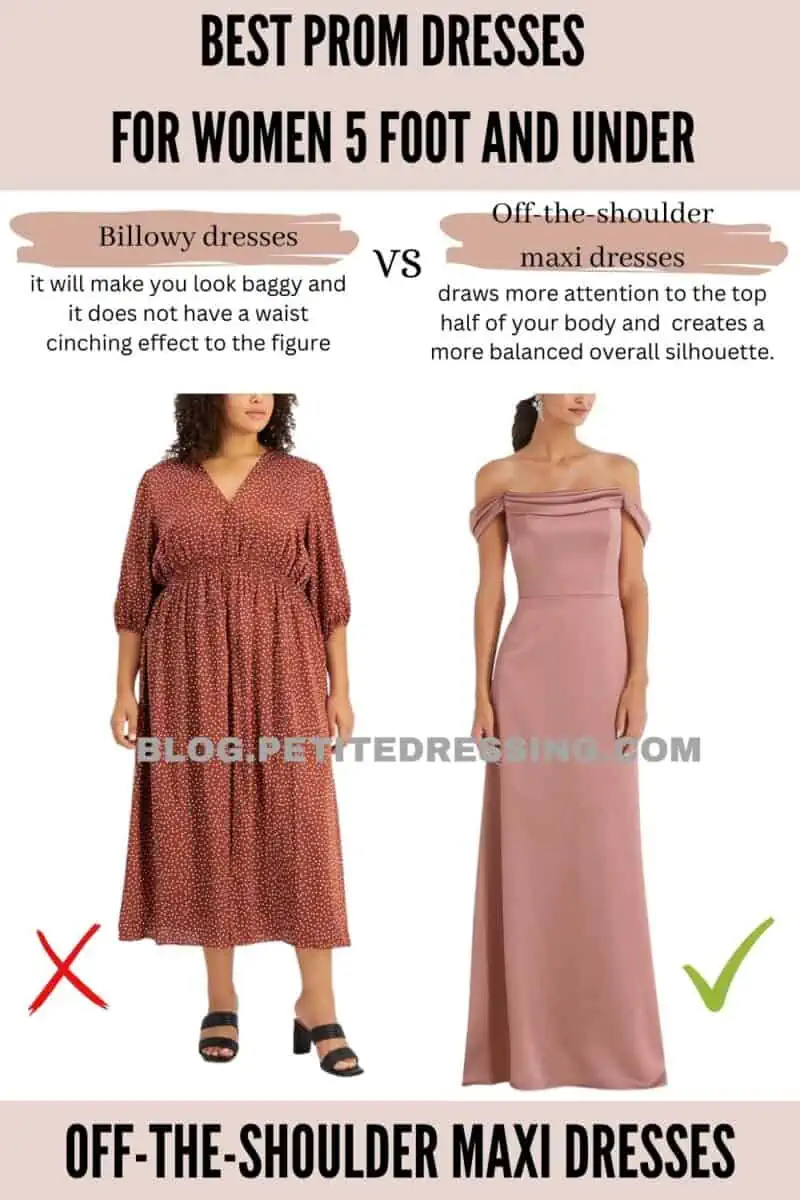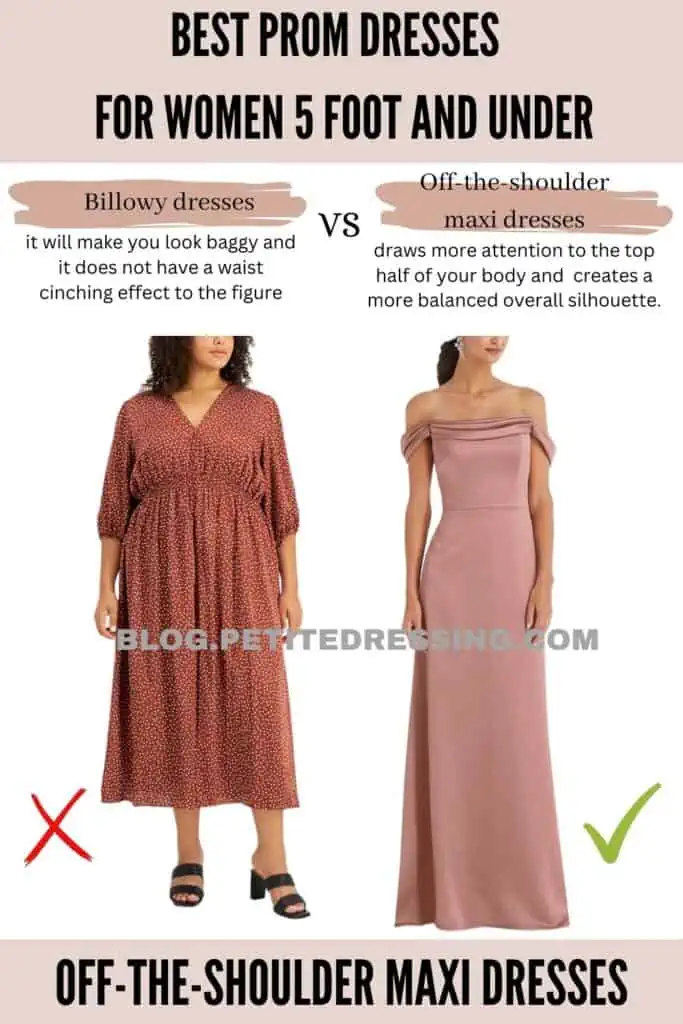 Off-the-shoulder dresses are another trend you definitely don't want to miss out on. They have been a trend for several years and it's not looking like it would end any time soon. So, what's so special about this style of dress?
Well, this neckline is one of the most universally flattering ones out there and there's almost no chance that you can't pull it off beautifully. An off-the-shoulder satin dress for prom is exactly what you need as a petite woman looking to stand out.
This is because this style of dress draws more attention to the top half of your body. If you're pear-shaped, this works even better for you as this creates a more balanced overall silhouette.
With this, women that are five foot tall can create a more bohemian and relaxed look. Use this maxi dress to accentuate your shoulders, especially when you pair them with stylish sandals.
Trumpet-style dresses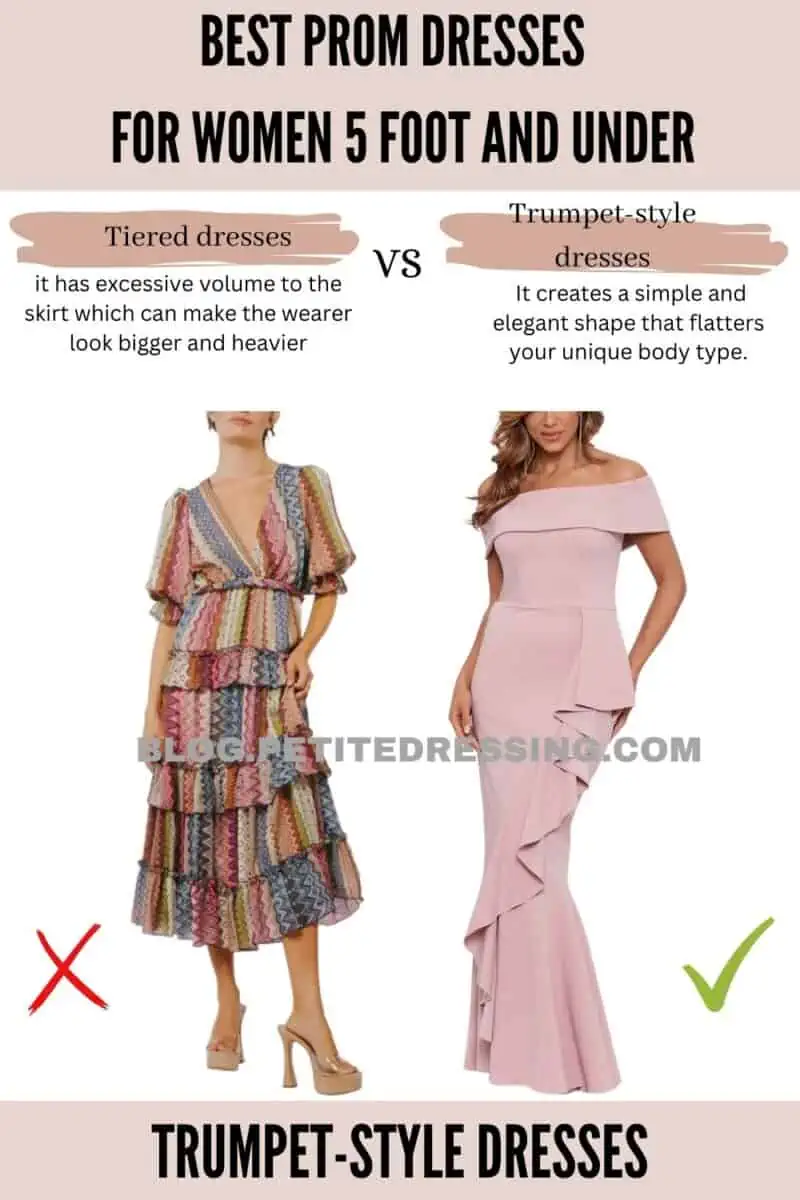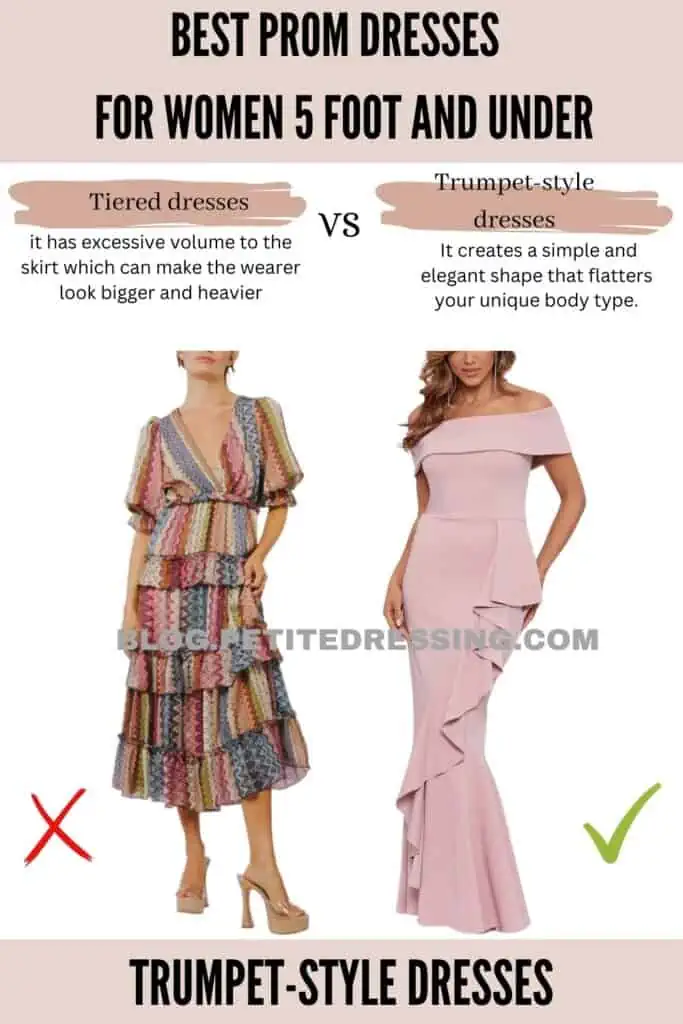 The trumpet-style dress is quite similar to the mermaid-style dress with a few key differences. The obvious one is that mermaid-style dresses hug your hips tighter than trumpet-style dresses. However, this doesn't mean that you won't be comfortable in either of them.
With the trumpet-style dress, the flare is more gradual under your hips. However, one glance at the results in the mirror and you'll fall in love. It creates a simple and elegant shape that flatters your unique body type.
So, if you're looking to create a classy and elegant look, you should definitely consider including this dress in your wardrobe. The appeal is in the dramatic silhouette that draws attention to your curves, highlights your body's best features and draws focus away from areas you could term weaknesses.
High-low dresses with deep v-neck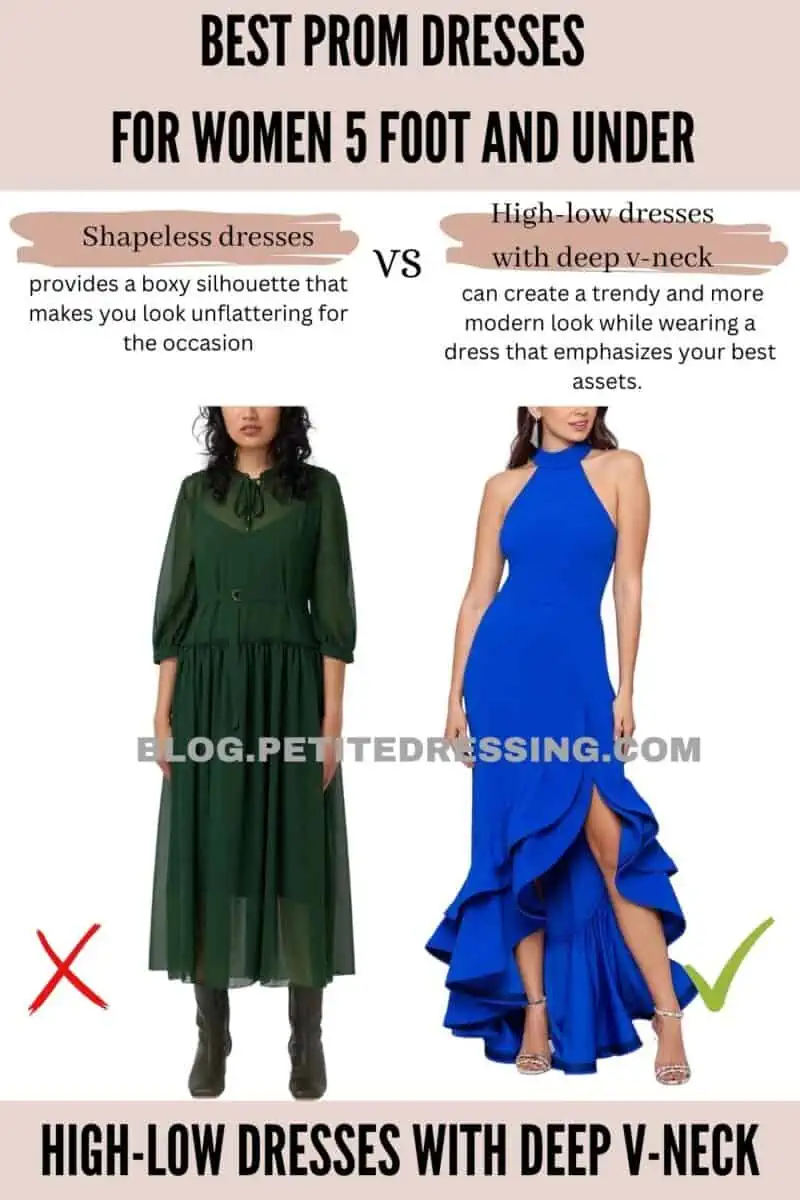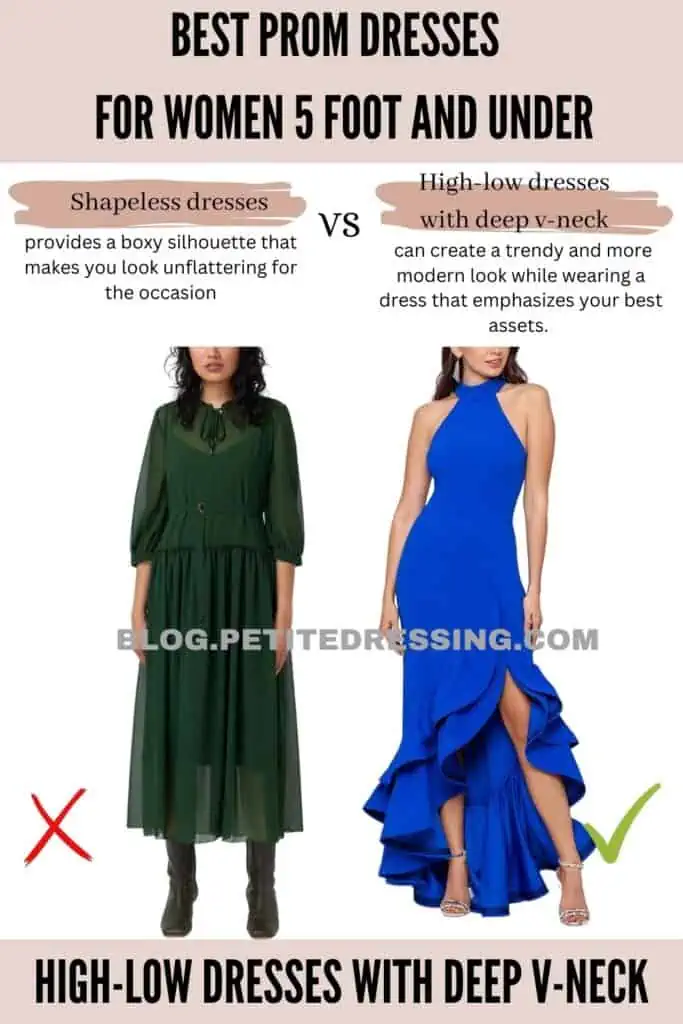 Here's another amazing news for women that are five foot tall and under. The high-low dress with a shorter hem at the front and a longer one at the back is a simple yet classic design that has rocked the fashion industry for years.
However, it's even more important for you. This dress style is specifically designed to flatter petite women because the shorter part of the hemline will make your legs appear longer. Since it can be quite overwhelming to throw on a really long dress and walk around in them all day, the high-low dress is a worthy alternative.
With this, you won't be swamped by extremely long dresses. Take this up a notch by shopping for high-low dresses with deep v-necklines. With this, you can create a trendy and more modern look while wearing a dress that emphasizes your best assets.
While the high-low hemline works to create the illusion of longer legs, the deep v-neckline works double-time to elongate your torso. Combine this with a pair of heels and statement earrings to truly stand out.
Dresses with a side slit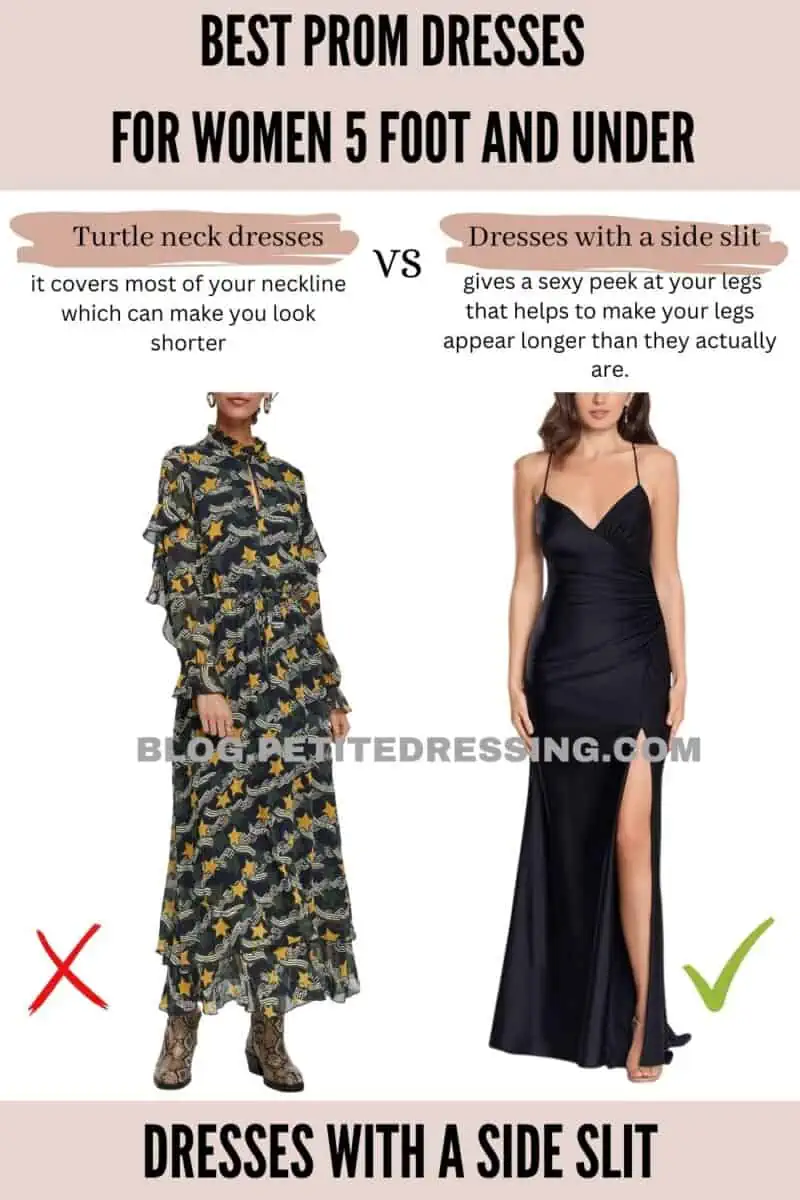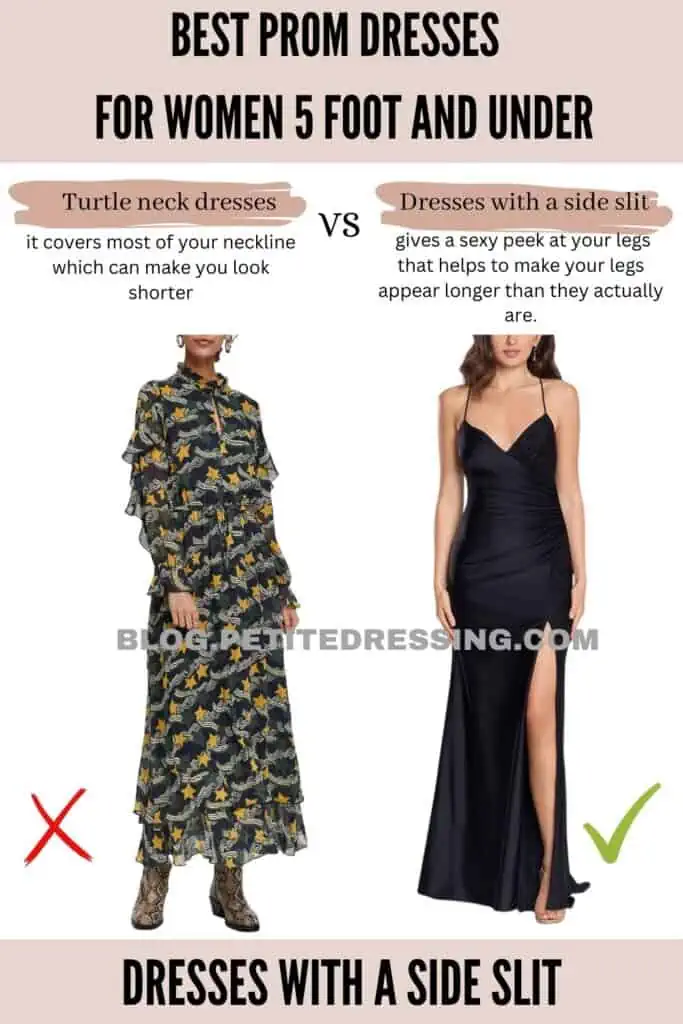 Side slits work wonders for short women, so you shouldn't miss out on this effect. No matter the kind of prom dress you choose, try to incorporate a side slit as this has an even more amazing effect for short women.
Dresses with a side slit are so flattering for petite women because they give that sexy peek at your skin while you walk and that helps to make your legs appear longer than they actually are.
Although it doesn't matter so much if the slits are on the side or front of your dress, I would recommend going more for a side slit as this makes the elongation effect even better on your petite body frame.
This is one of the most effortless ways to create a sexy and sultry look, especially with how side slits add more flow to your dress. All you need are a pair of nude heels to complete this look and you're good to go.
Off-the-shoulder print dresses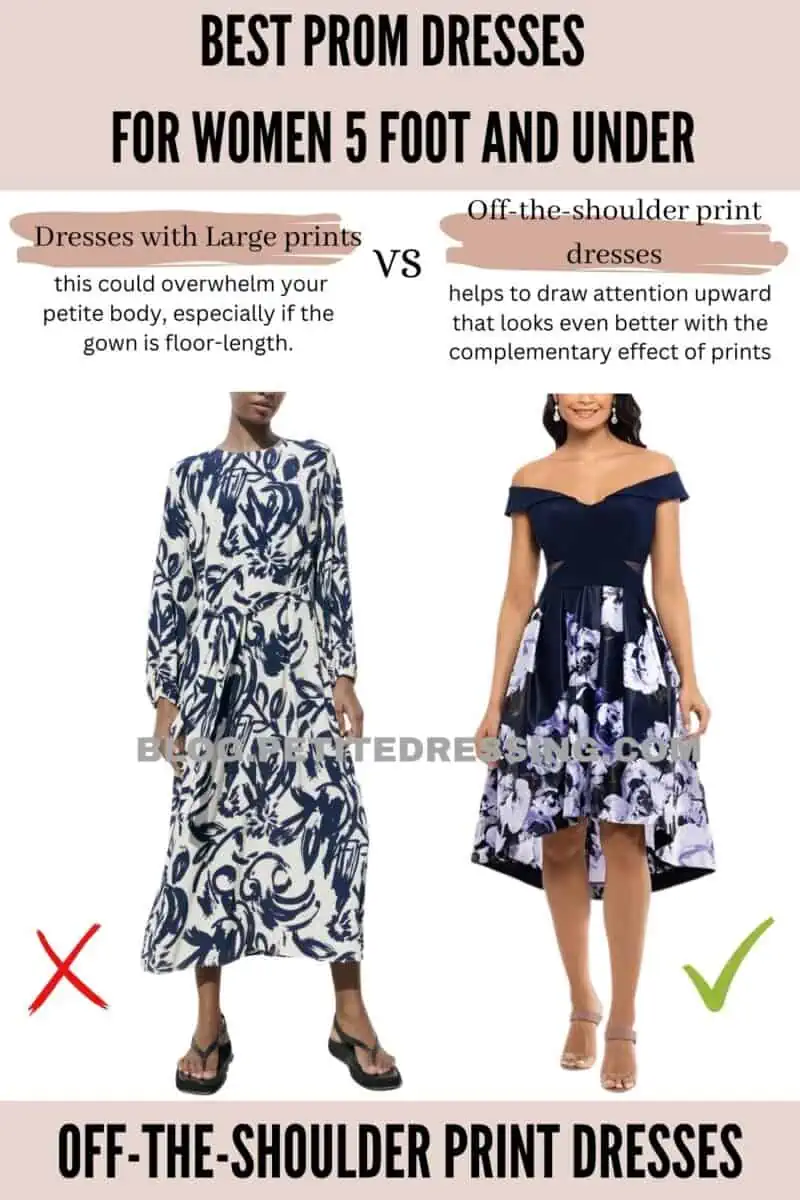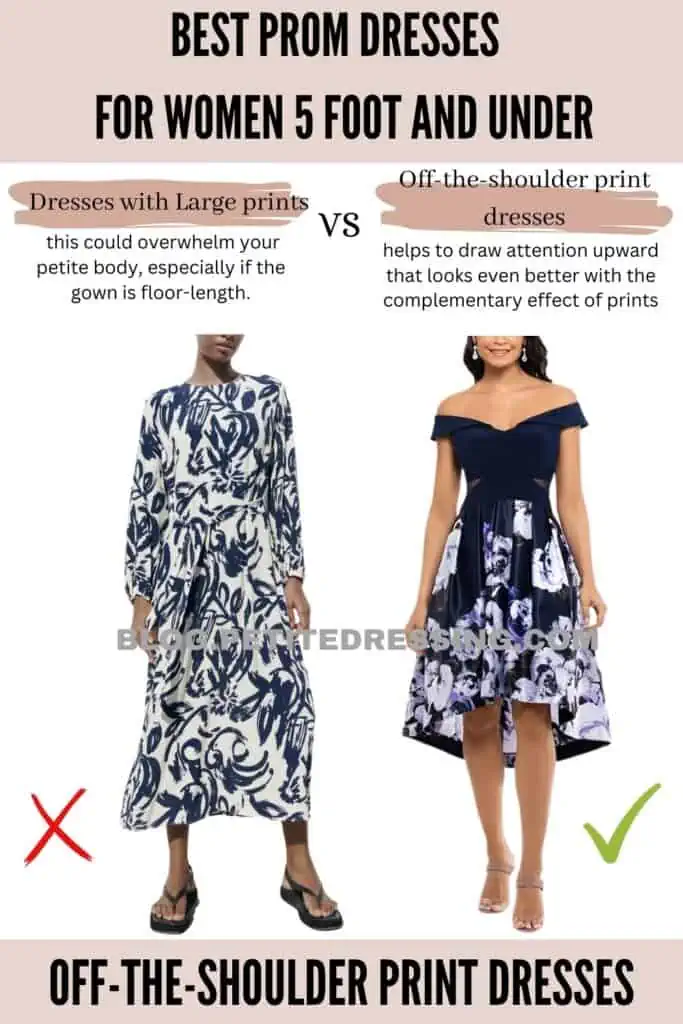 Add more flair and personality to your prom dress with an off-the-shoulder print dress. Of course, I already talked about how the neckline helps to draw attention upward but this looks even better with the complementary effect of print on your dress.
This adds a lot more texture and visual interest to your outfit. However, the results can be quite overwhelming for your petite body frame if you don't do this right. The most important thing to consider is the size of the print.
Avoid really large prints as this could overwhelm your petite body, especially if the gown is floor-length. So, go for a much smaller print on your dress compared to your body size. Of course, you should also look out for vertical print designs since they create the illusion of being taller.