Are you getting ready to head to the office but the daily routine of office wear styling is tiring you out? Well, women with short legs are not always easy to style because playing up with proper proportions can be sometimes quite tricky.
You don't have to repeat the same office ensemble every single time because you have more options than you think! As a girl with short legs, there are a number of different wardrobe pieces that can turn you into a stylish corporate professional while giving your natural figure some love.
In this blog post, we'll simply guide you on which office-wear garments should suit you and flatter your short legs.
Styling Goal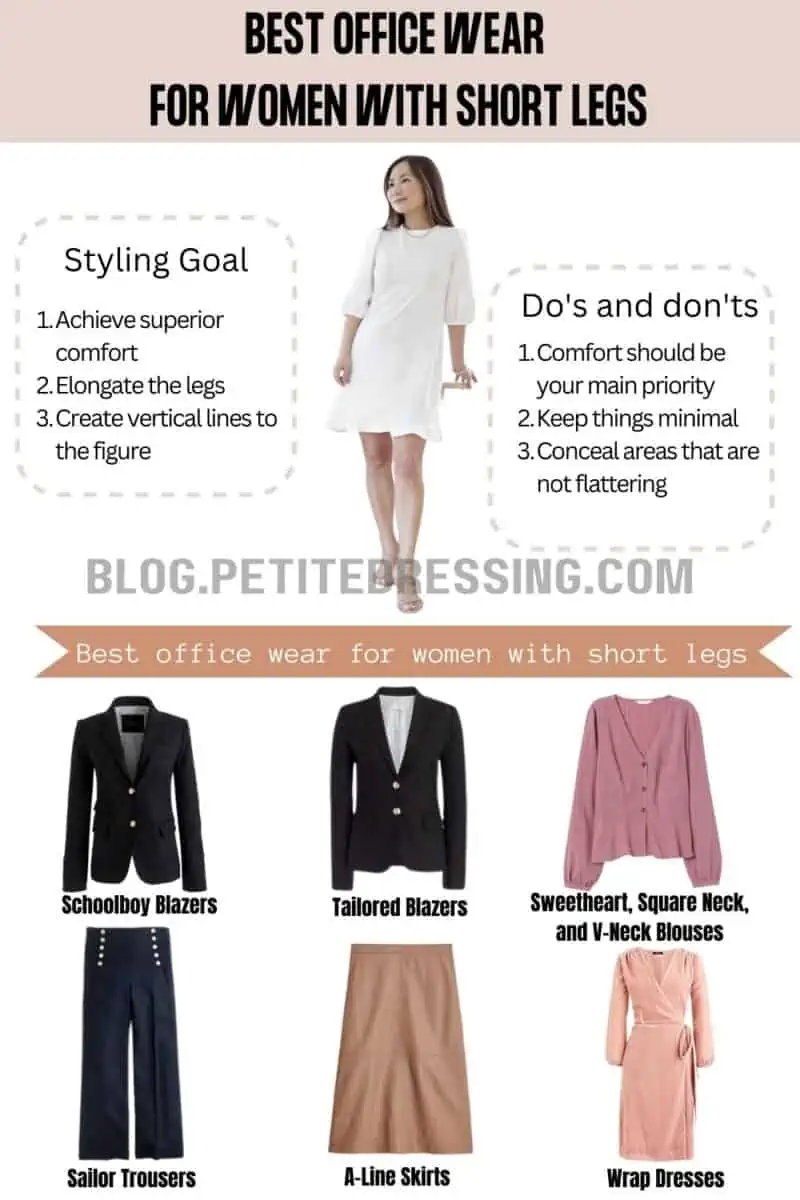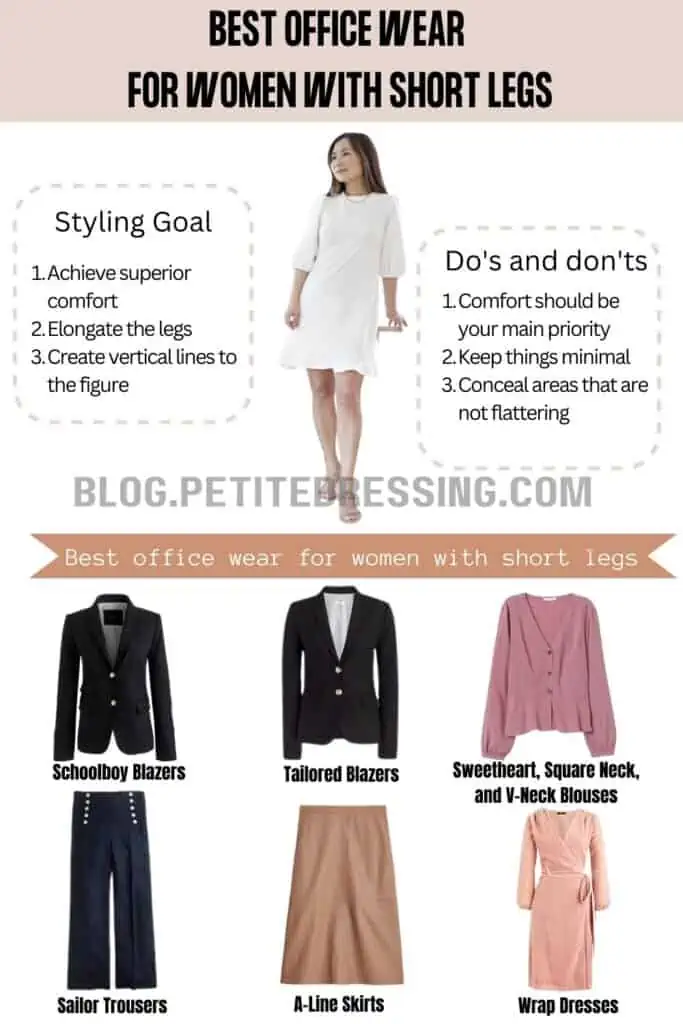 Comfort should be your main priority when choosing office wear pieces. For you to achieve superior comfort, you need to be very mindful of the fit of your corporate wear to make sure it suits your body figure without looking too overwhelming or tight.
Keep things minimal by going for classic pieces and neutral colors. Of course, you can always experiment with vibrant colors but you need to be careful not to go over the top to avoid drawing too much attention (from your co-workers and boss!).
Focus on elongating bottoms by choosing structures that draw the eyes up and down in a continuous manner. Plain and dark-colored trousers and skirts will always be your safe option.
No without further ado, let's dive into the types of office clothes that should look good on your short legs. We have also sorted them all by category for you!
BLAZERS
Schoolboy Blazers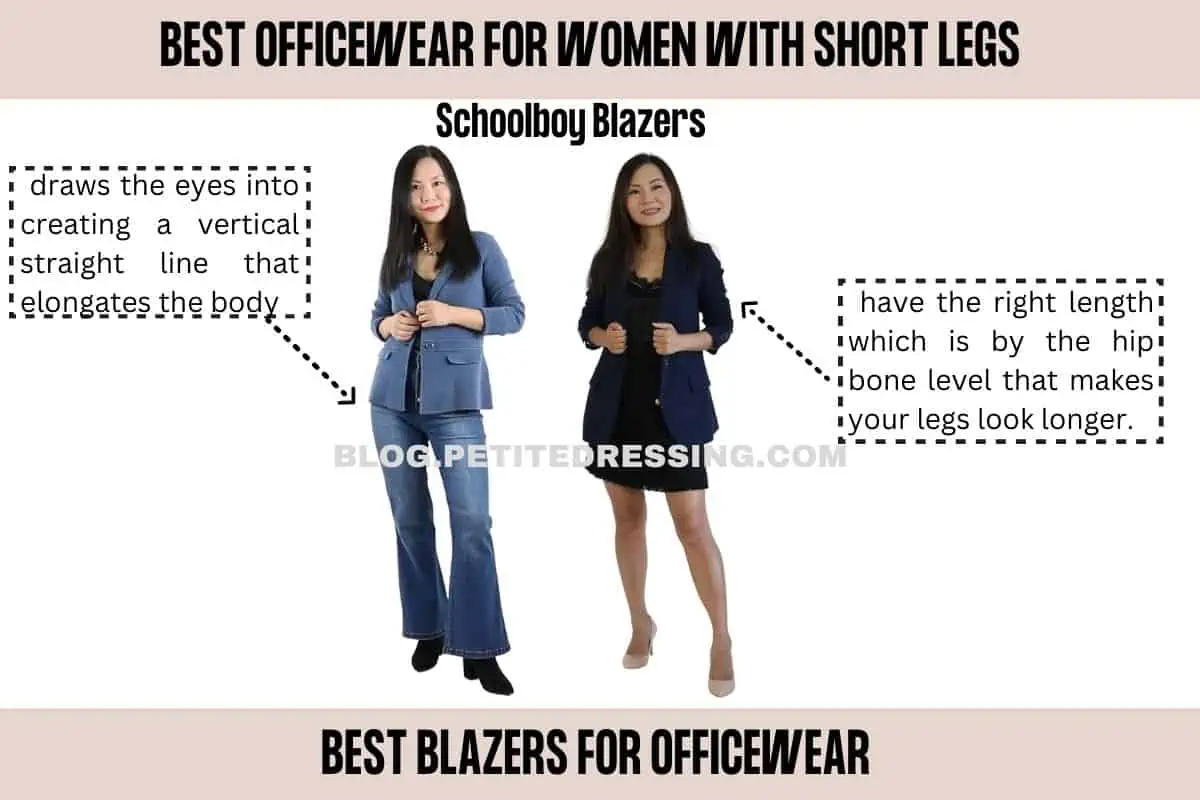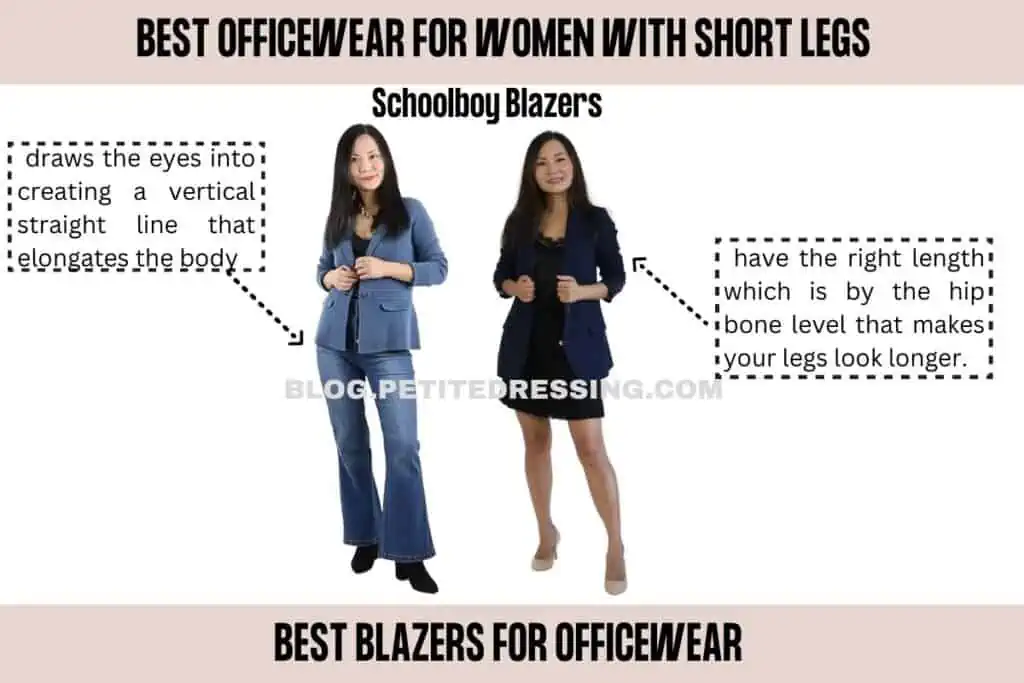 Schoolboy blazers feature a classic bespoke-inspired fit that beautifully flatters a short girl's figure. They usually have the right length which is by the hip bone level that makes your legs look longer.
They normally have two button enclosures neatly placed on the midsection which also strategically draws the eyes into creating a vertical straight line that elongates the body. They're also slightly nipped on the waist to enhance your curves.
Schoolboy blazers look better when fully closed but they also work just as nicely when unbuttoned.
Tailored Blazers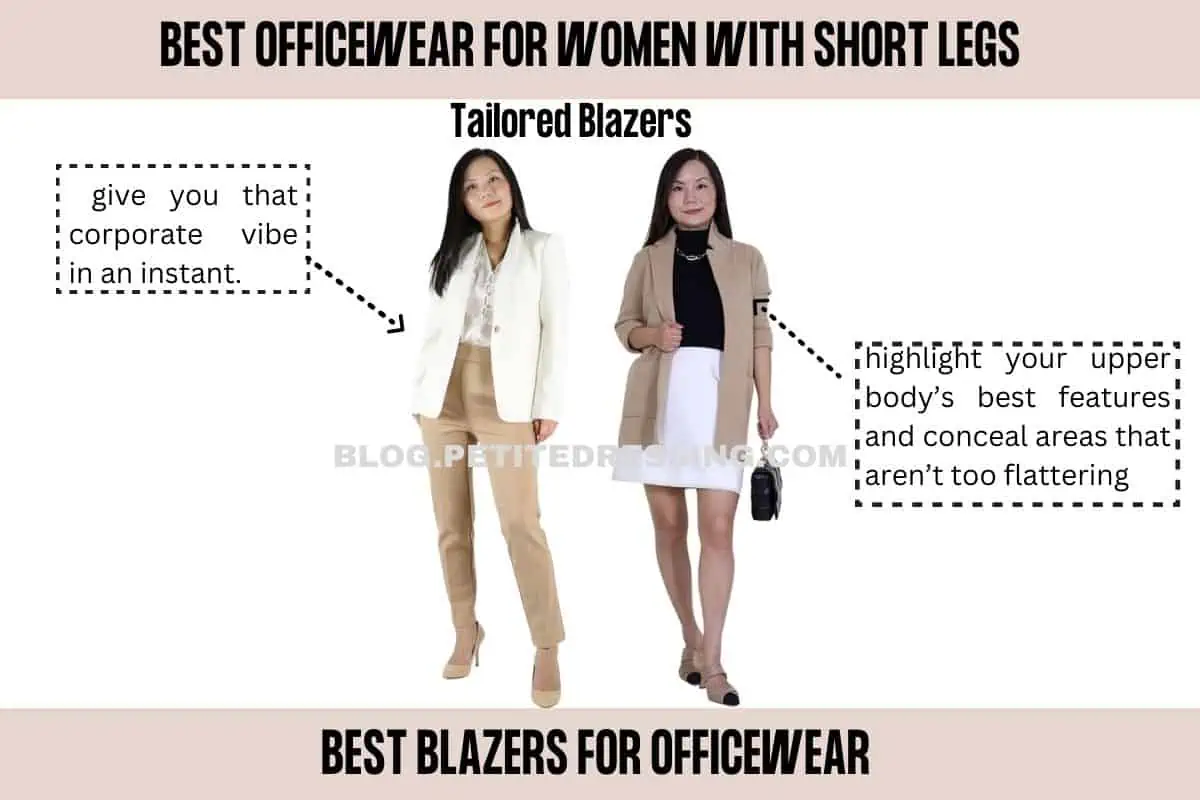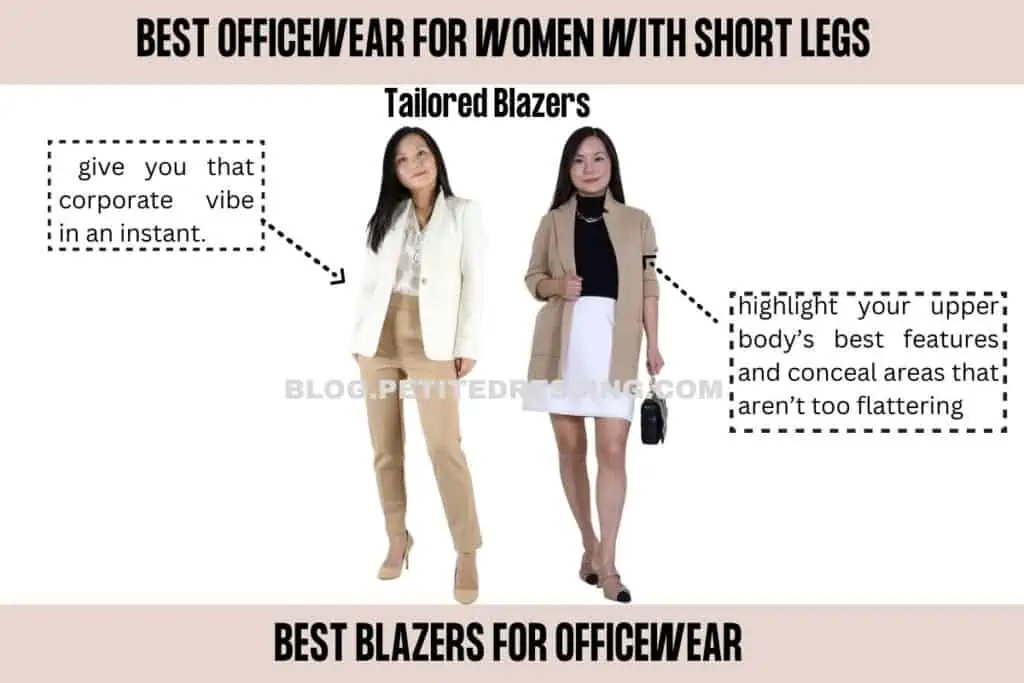 If you want something more sleek and sophisticated, tailored blazers should give you that corporate vibe in an instant. Tailored blazers are specifically designed to fit perfectly on your body which also means they highlight your upper body's best features and conceal areas that aren't too flattering.
The focal point of tailored blazers would be the sharp shoulders and nipped waist which is also a good way to draw attention away from your short legs.
Single-Breasted Blazers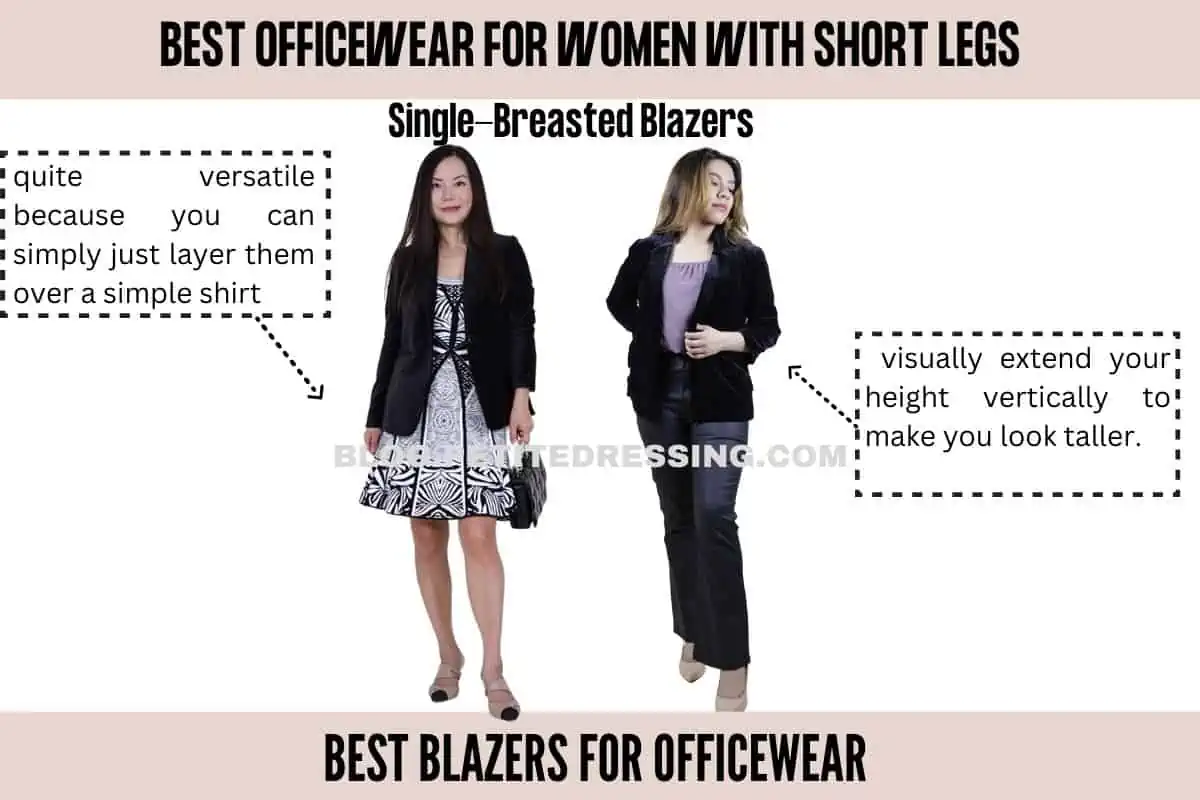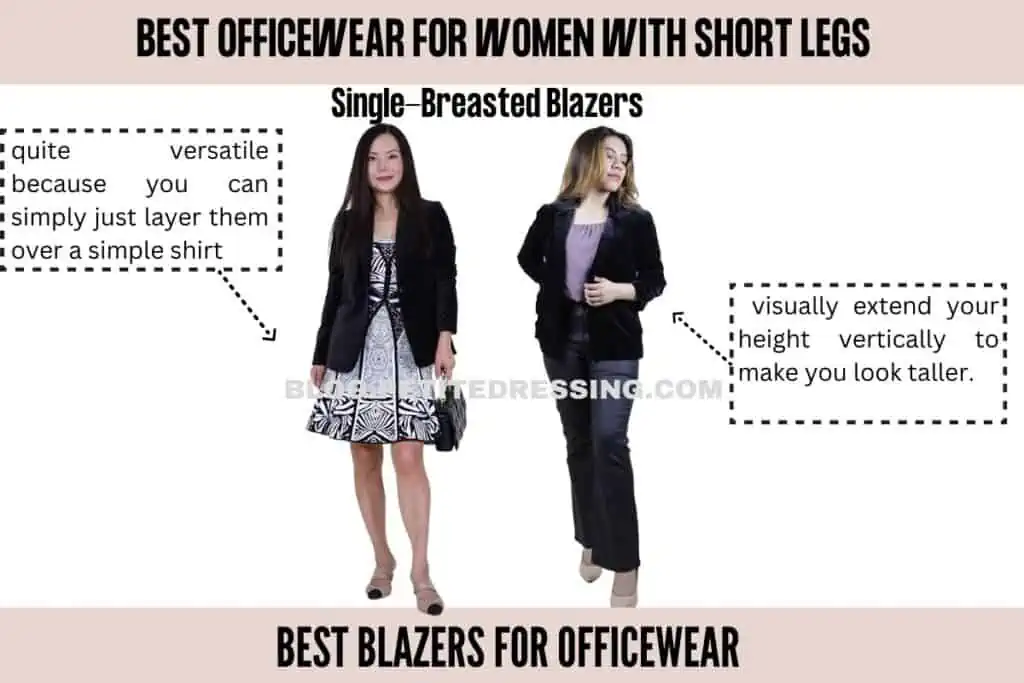 It shares the same button structure as schoolboy blazers wherein the buttons are placed in a single vertical line on the midsection. This is also a strategic way to visually extend your height vertically to make you look taller.
Unlike double-breasted blazers that tend to make you look wider, single-breasted blazers are quite simple and minimal for everyday office wear. They are also quite versatile because you can simply just layer them over a simple shirt and it'll instantly make your outfit office-worthy!
TOPS
Classic Button Shirts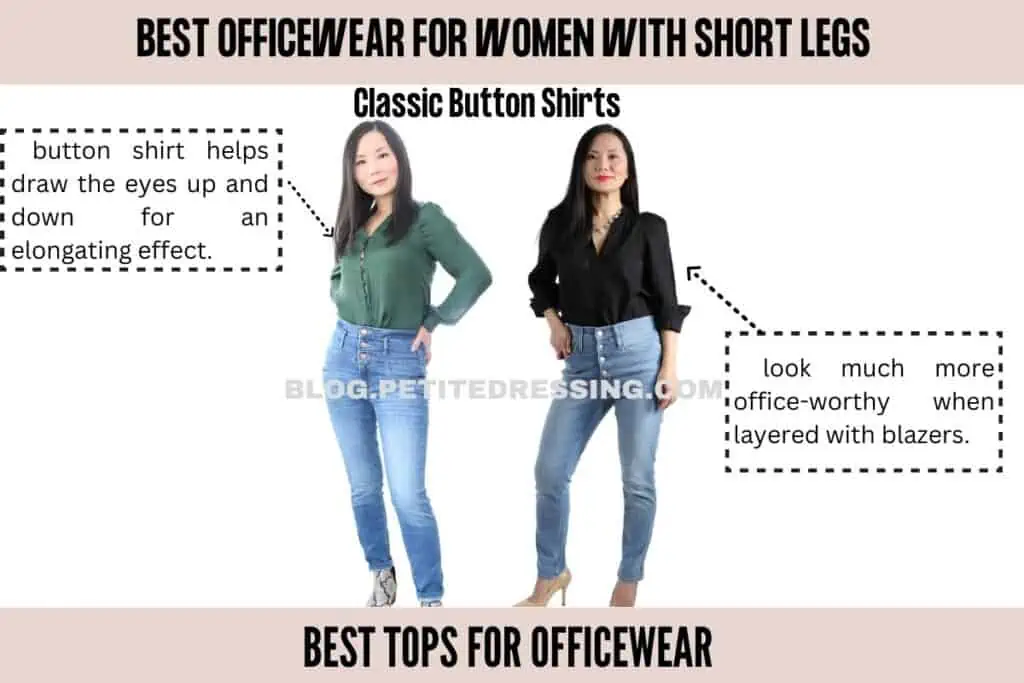 Button shirts will always be an office wear staple and they also make great wardrobe pieces for ladies with short legs. As the buttons are neatly lined up vertically, the basic structure of a button shirt helps draw the eyes up and down for an elongating effect.
Apart from this, they are also very easy to style by simply going for different styles of tucks like a full tuck, half tuck, or French tuck. All without compromising the length of your legs!
Button shirts generally look good by themselves but they even look much more office-worthy when layered with blazers.
Bow Blouses (Lavallière)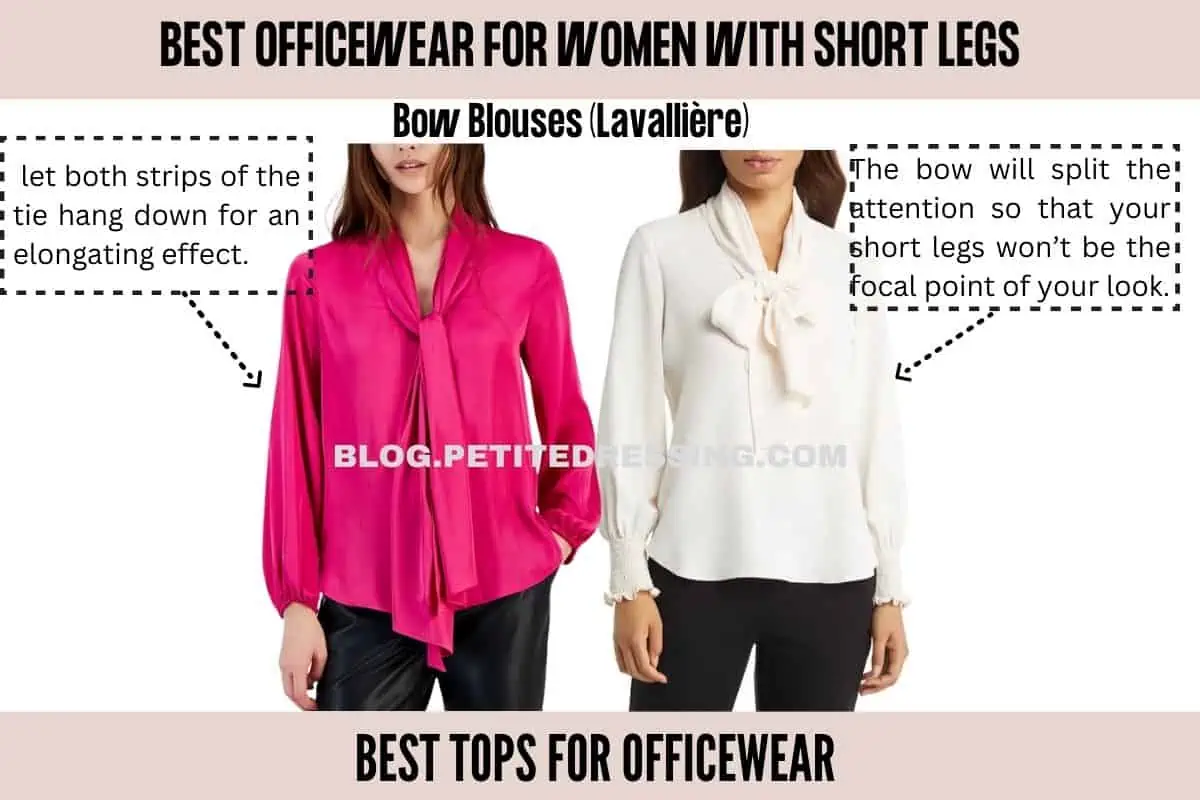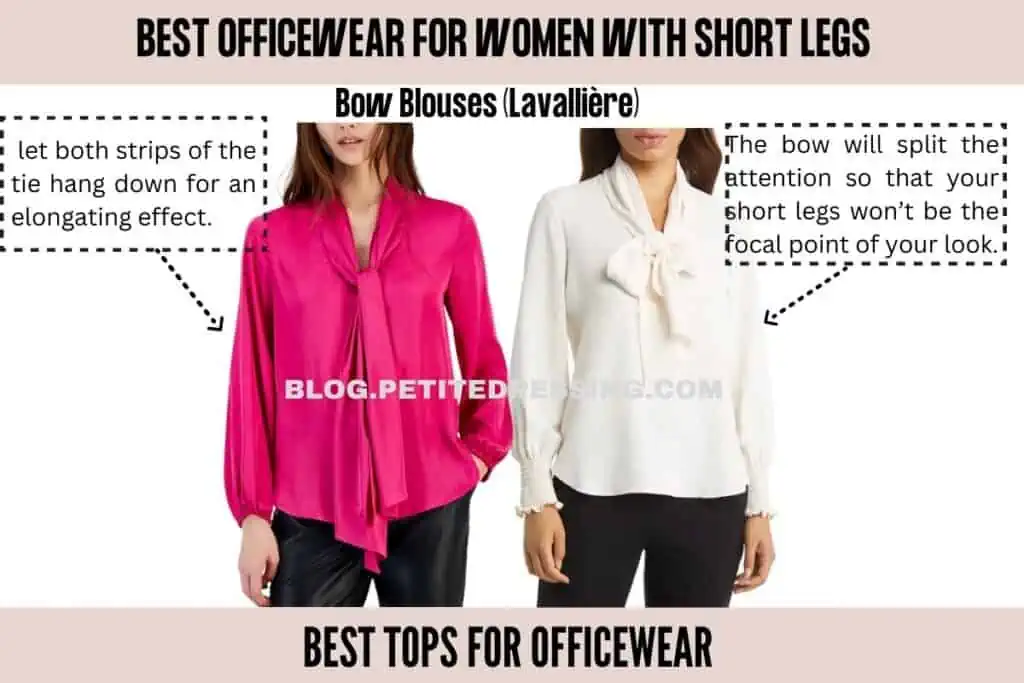 If you want something more dainty and feminine, pussycat bow blouses should also look flattering on your short figure. The key is to not tie the bow bulkily but instead, let both strips of the tie hang down for an elongating effect.
Pussycat bow blouses will be great to pair with high-waisted pants and skirts for they will create a balanced proportion that will make your legs appear longer. The bow will also split the attention so that your short legs won't be the focal point of your look.
Sweetheart, Square Neck, and V-Neck Blouses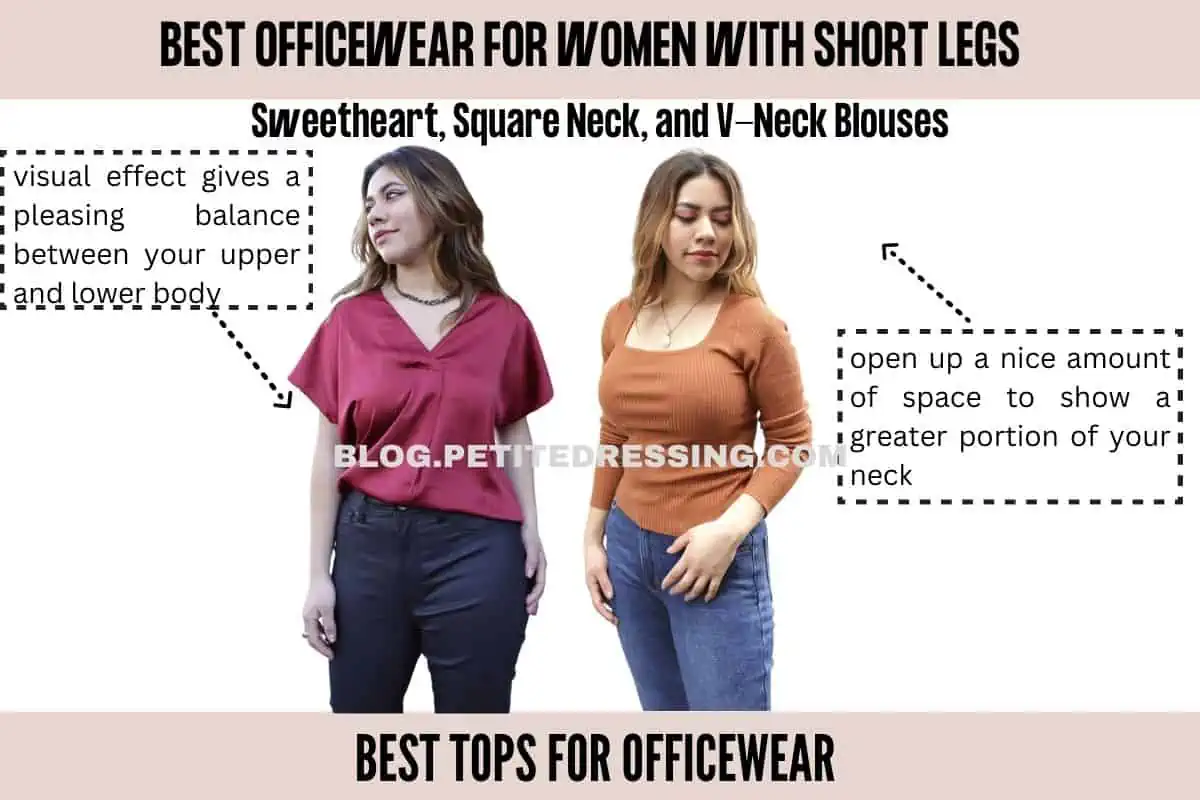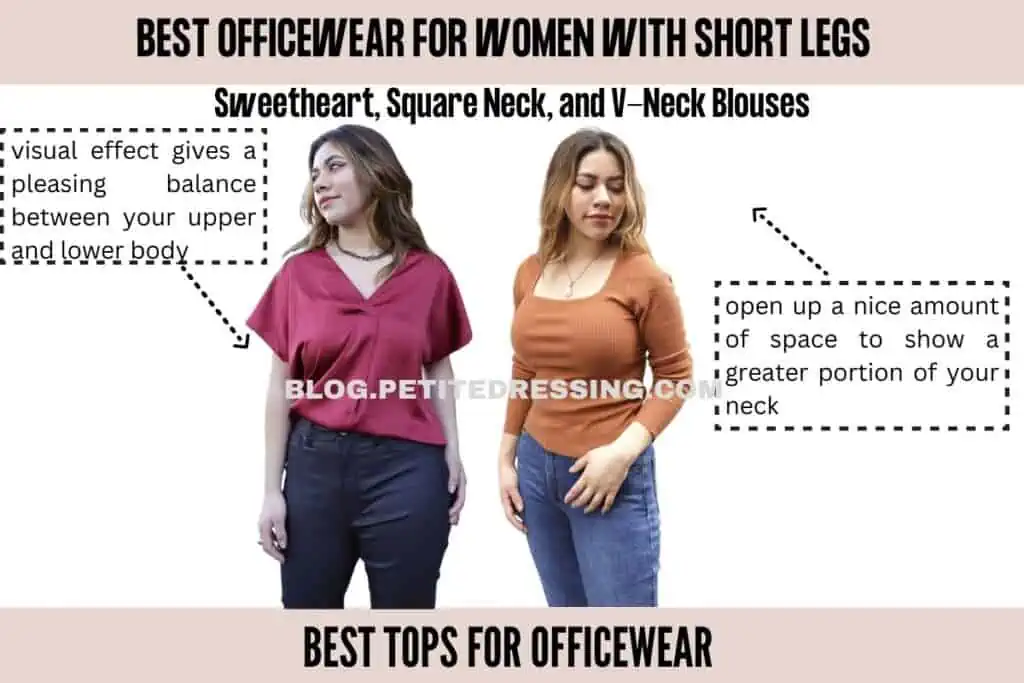 It's all about elongating necklines whenever you are styling a short body frame. These three necklines (sweetheart, square, and V-neck) open up a nice amount of space to show a greater portion of your neck and therefore also expose your collarbones.
This visual effect gives a pleasing balance between your upper and lower body so that your frame will fit into a flattering ratio.
PANTS
Tailored Pants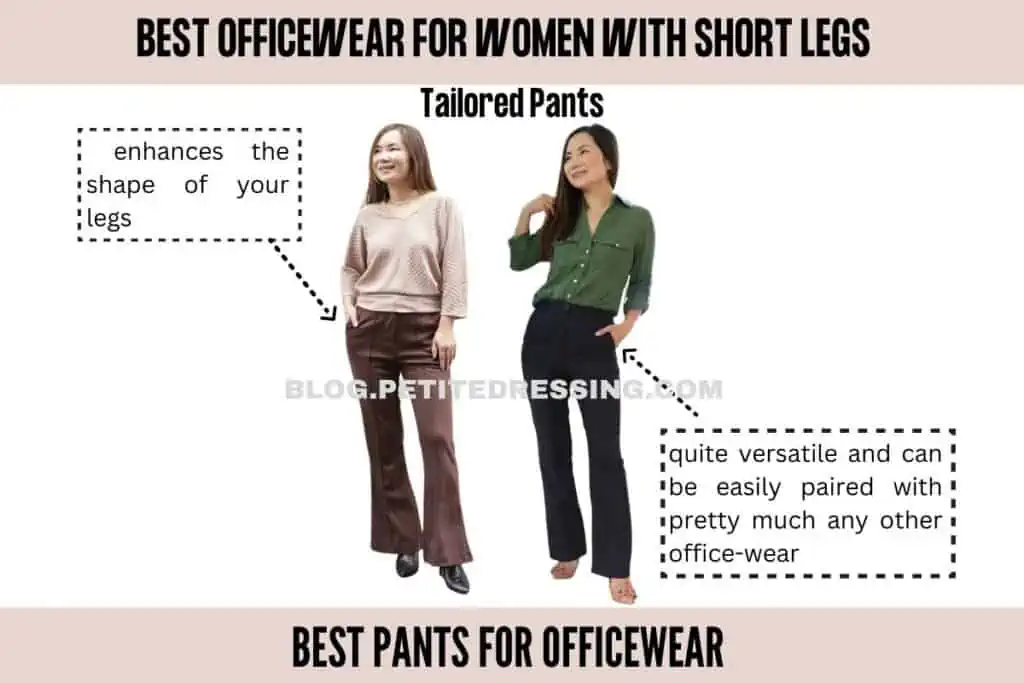 Tailored pants have a structured, bespoke fit that enhances the shape of your legs. Since tailored pants are quite minimally sophisticated, they are quite versatile and can be easily paired with pretty much any other office-wear upper ensemble you have in mind.
This would also be a nice type of pants to pair with your suit-type blazers for that edgy "Girl Boss" look!
Sailor Trousers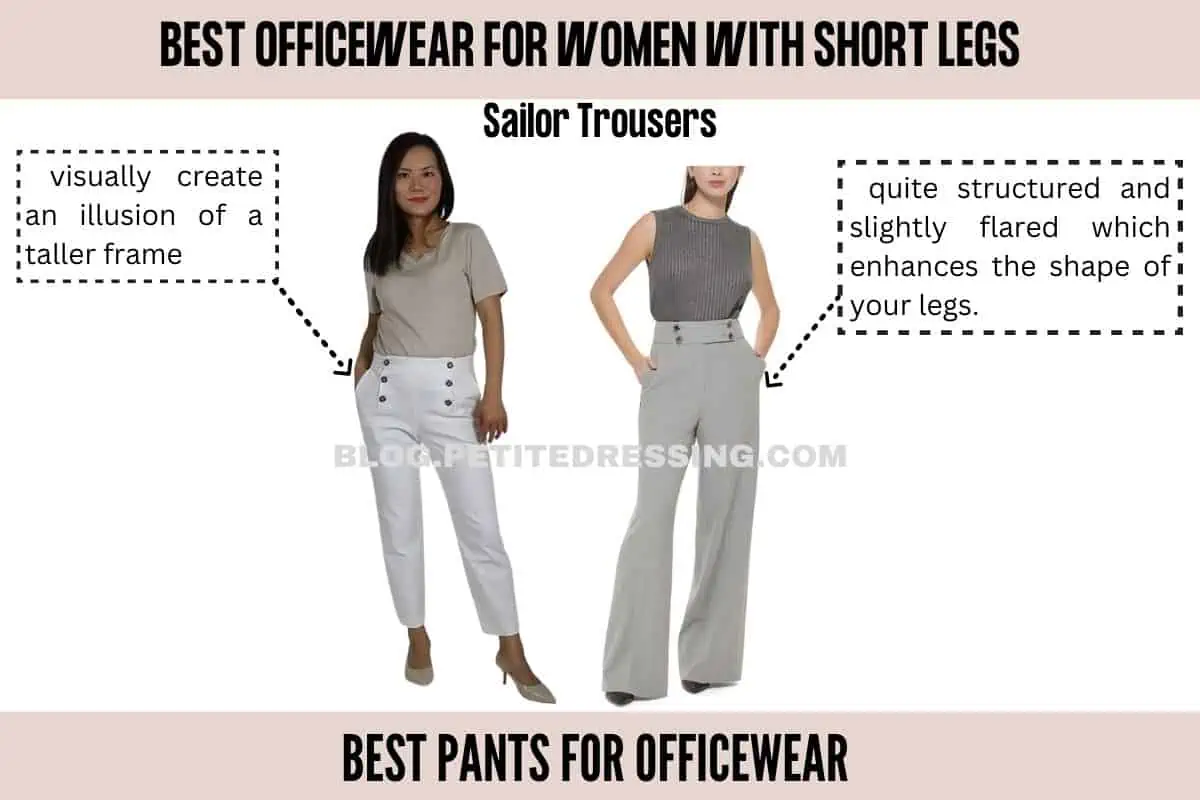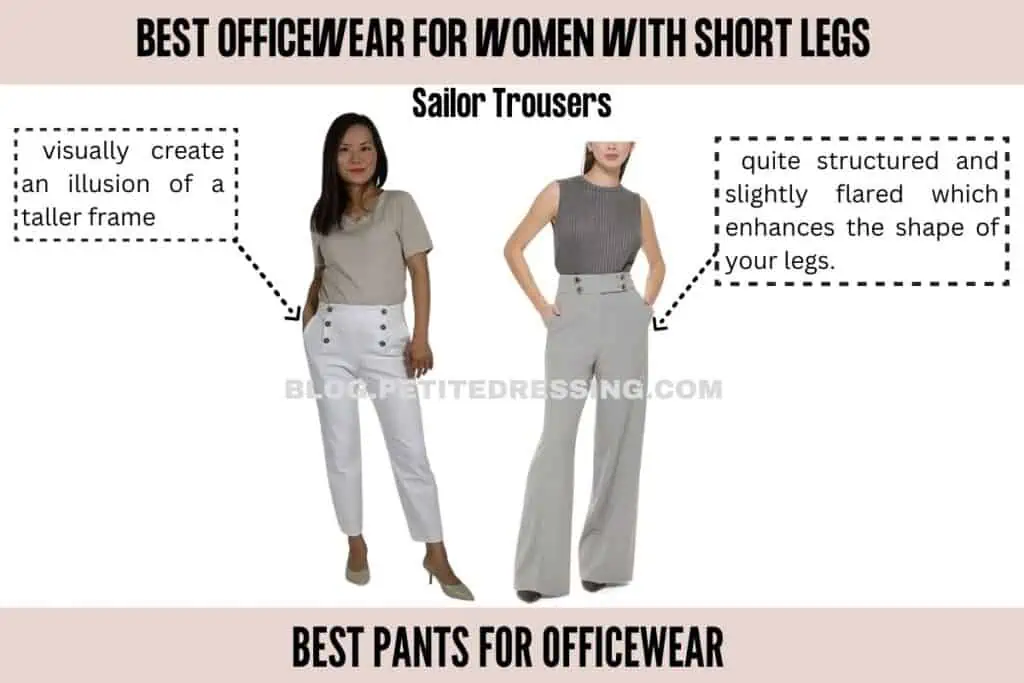 Sailor trousers or pants usually come in high-waisted structures with buttons placed along the pockets on both sides. The pants are also quite structured and are slightly flared at the bottom which beautifully enhances the shape of your legs.
Apart from having your legs look more defined, the button placements, high waistband, and overall shape of the pants visually create an illusion of a taller frame. Sailor trousers are quite edgy and modern so wearing a pair at work will really step up your office wear game!
High-waisted Wide-Leg Pants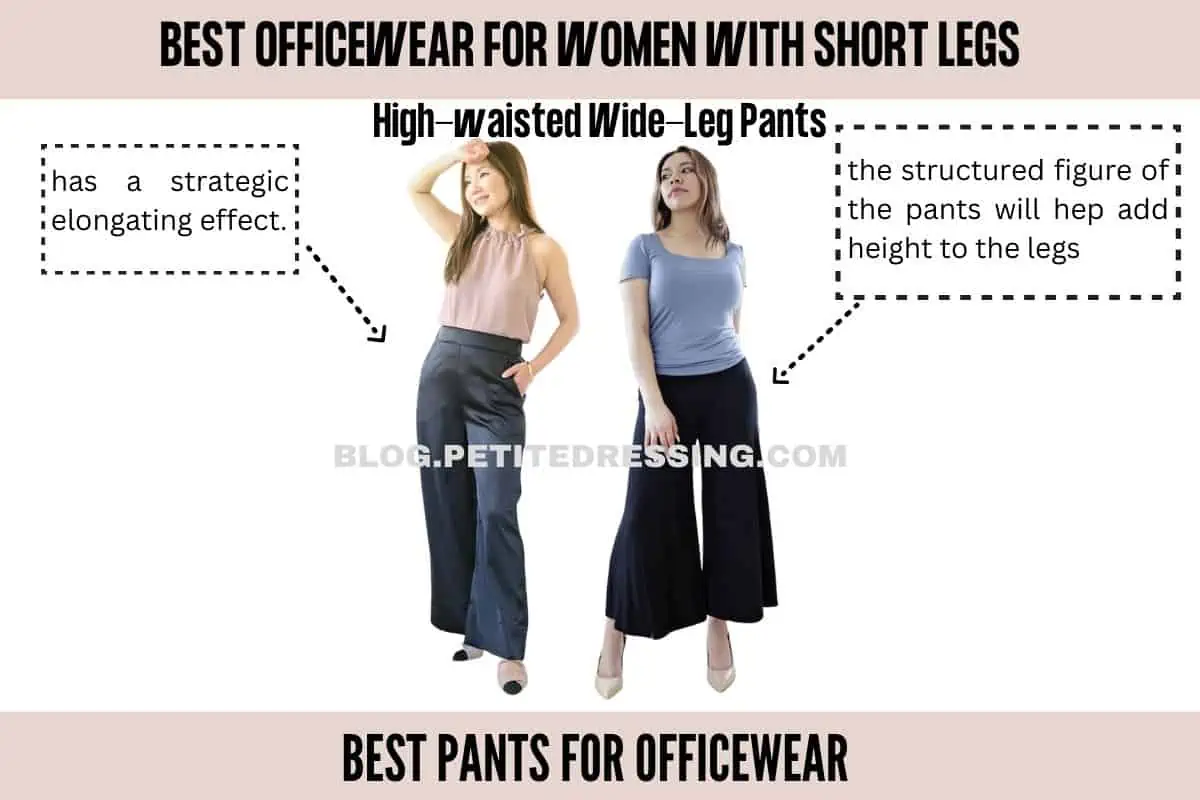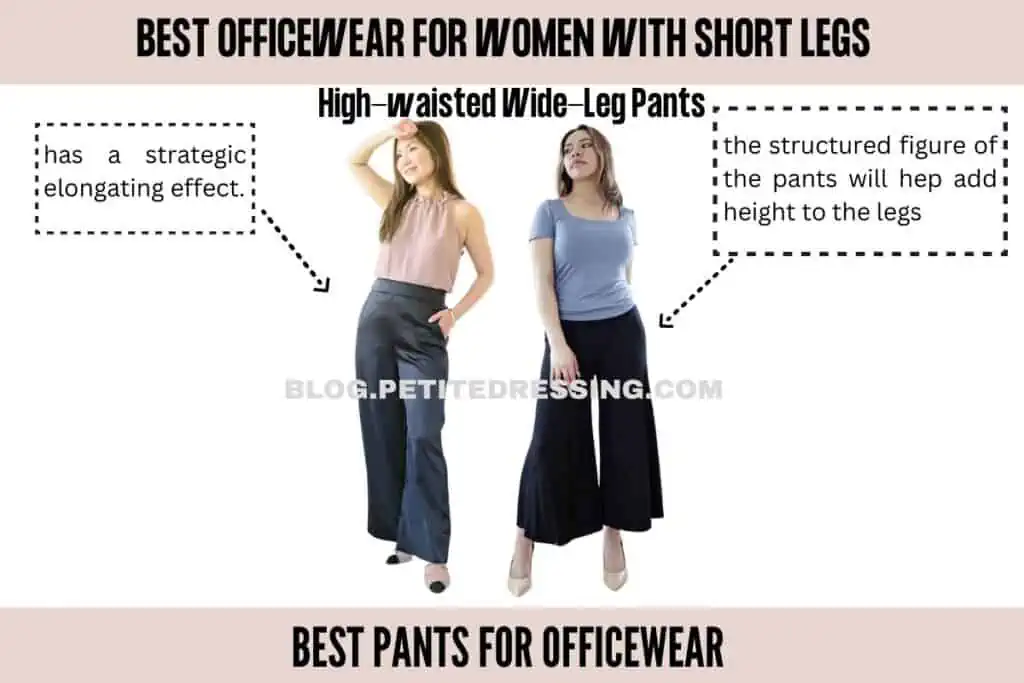 It's a given that high-waisted pants will always be a short girl's ever-trusted best friend. Another flattering high-waisted pants structure for girls with short legs would be wide-leg pants because of their strategic elongating effect.
High-waisted wide-leg pants would look so good with heels as the wide hem would subtly hide your heels. 
SKIRTS
A-Line Skirts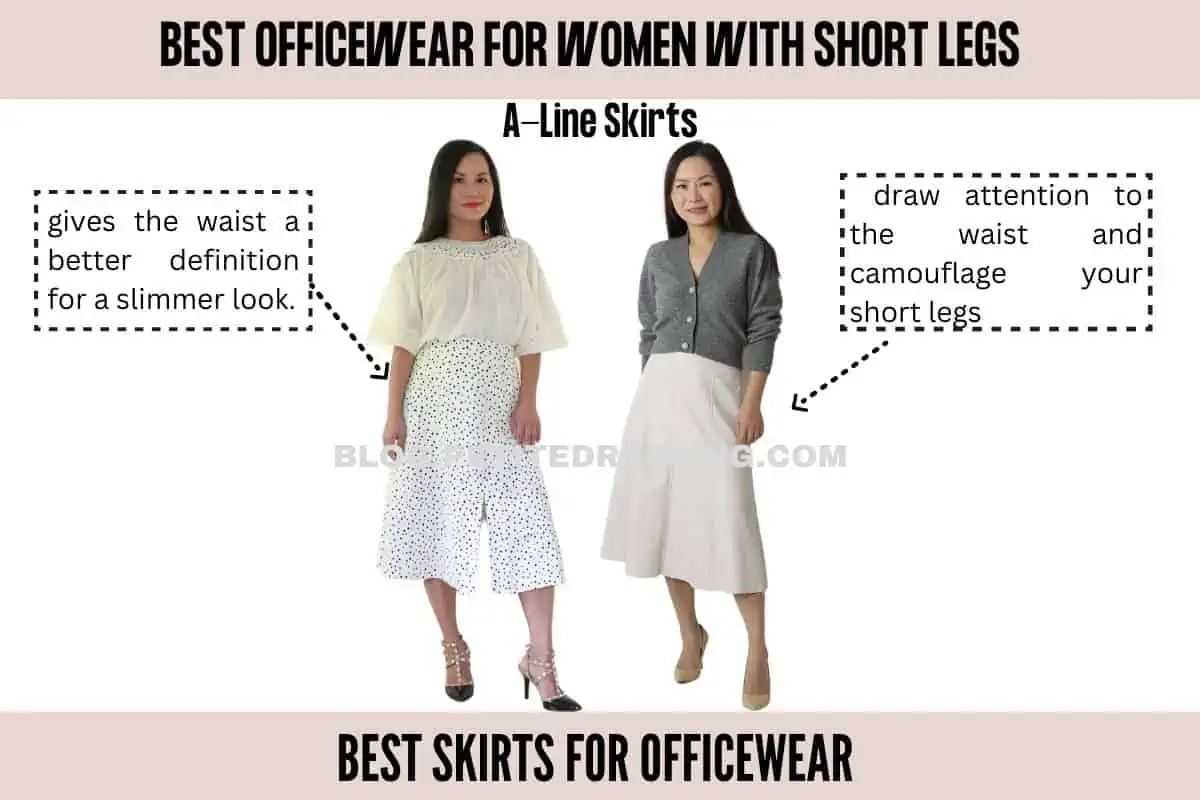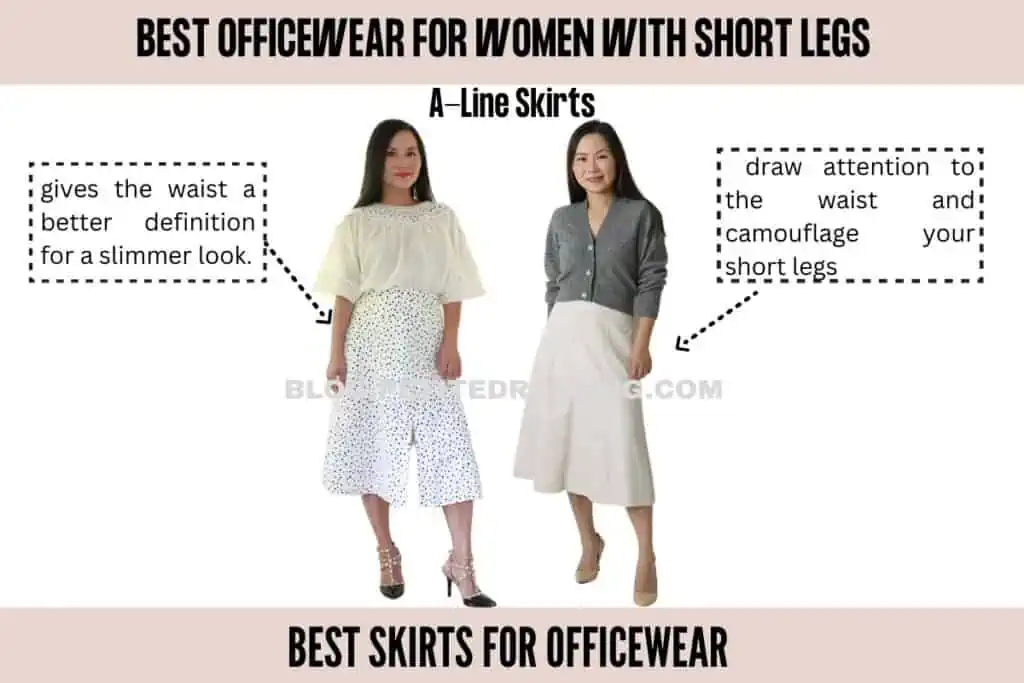 The dainty flare of A-Line skirts is a way to draw attention to the waist and camouflage your short legs with its wide and flowy silhouette. Its A-shape wherein the waistband features a snug fit, gives the waist a better definition for a slimmer look.
The key to perfectly flaunting an A-Line skirt for your short legs is to be mindful of the proper length. Have it slightly above the knee but remember not to go too short since you'd like a comfy and modest option for your office ensemble.
High-waisted Pencil Skirts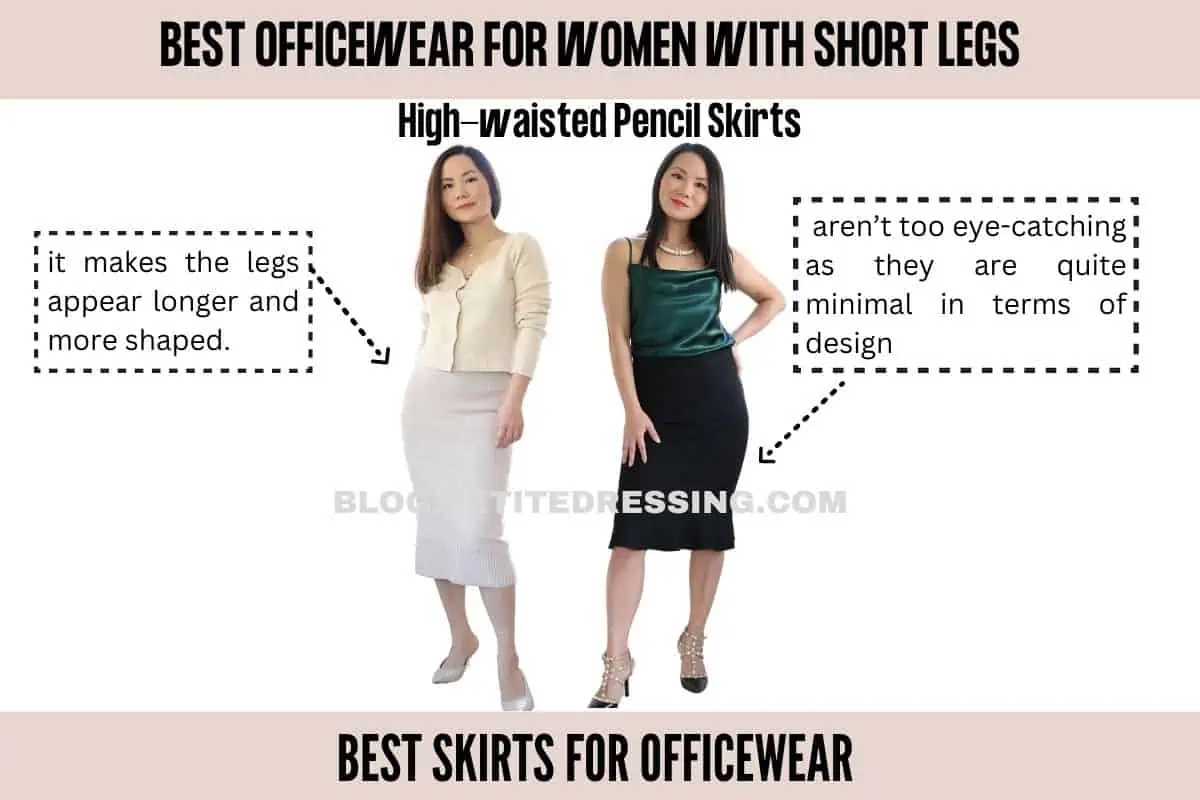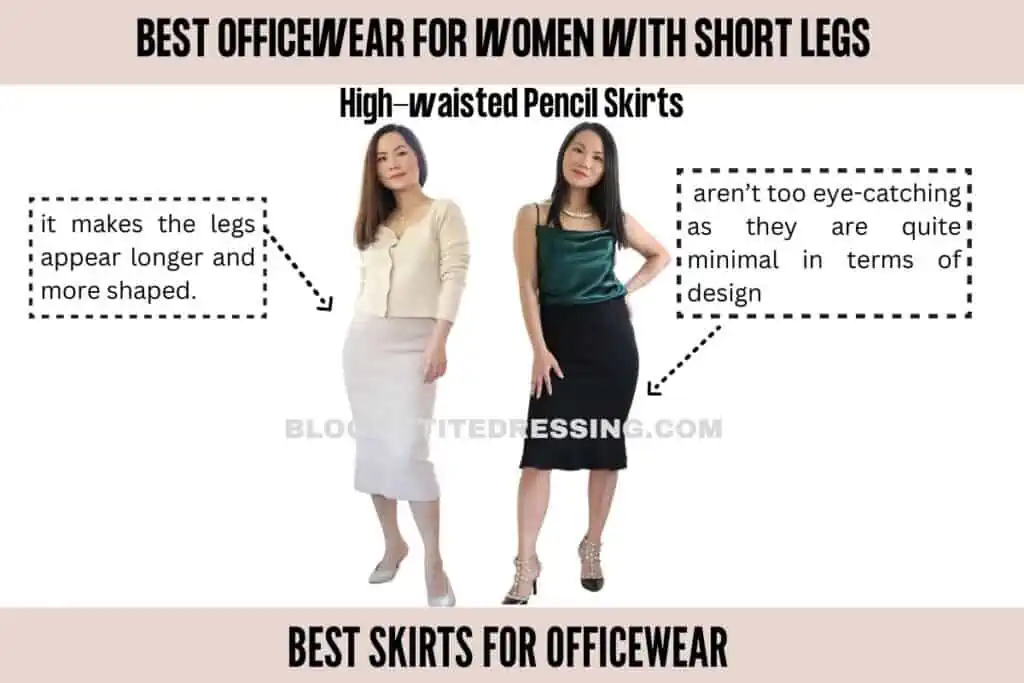 Pencil skirts are always a classic office wear choice too as they go especially well with blazers and office tops. High-waisted ones should look better on girls with short legs because it makes the legs appear longer and more shaped.
High-waisted pencil skirts aren't too eye-catching as they are quite minimal in terms of design. This way, you can easily pair it with tops with more prominent details to create a flattering balance between your upper body and lower body.
DRESSES
Wrap Dresses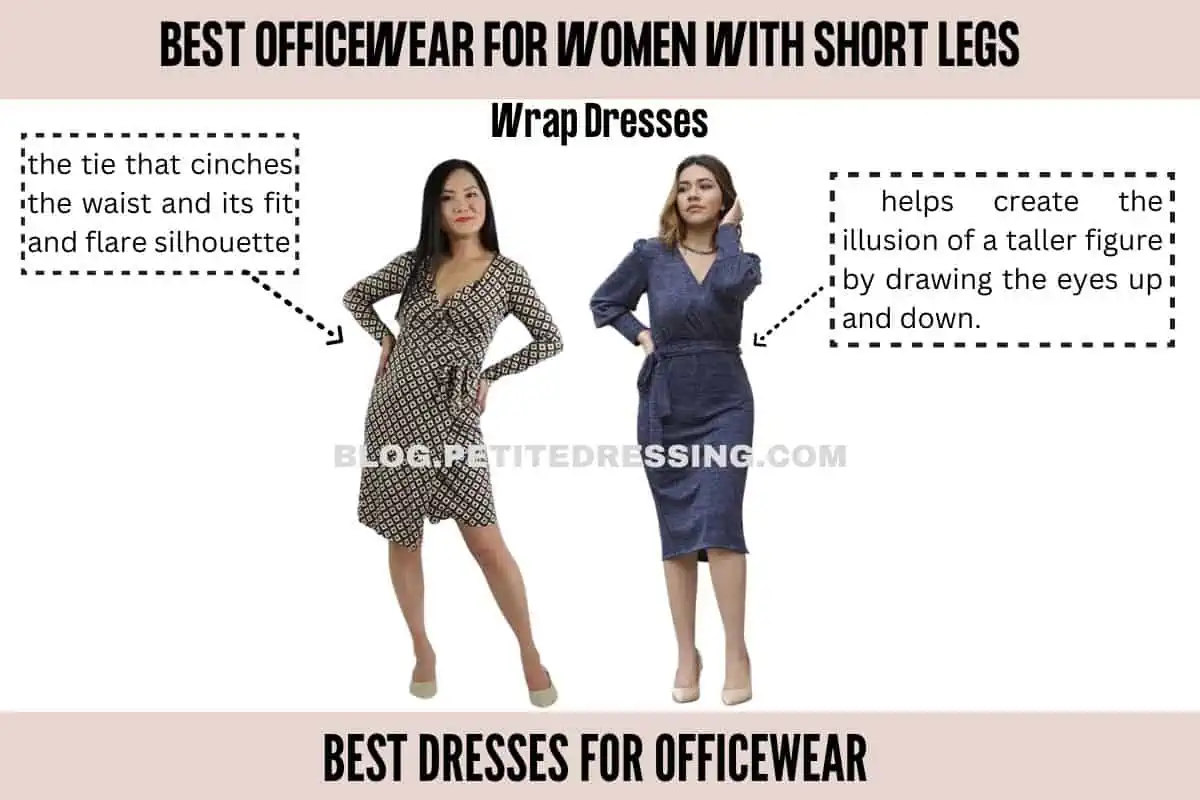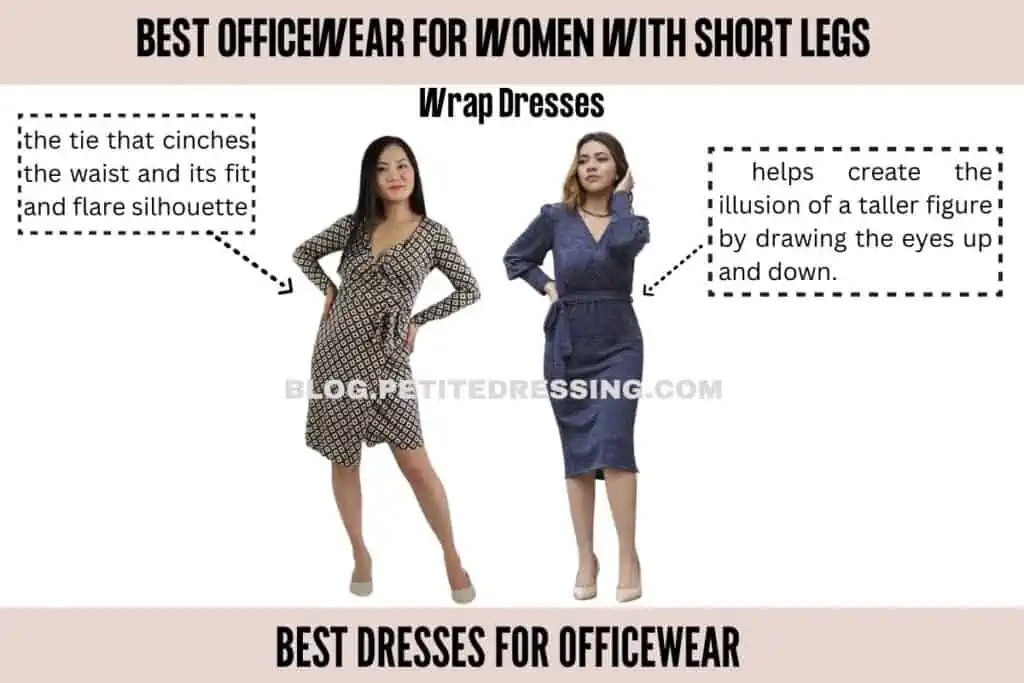 We will never get tired of recommending wrap dresses for every woman out there, especially short girls with short legs! Wrap dresses are just universally flattering and they are very easy to pull off without putting too much effort into styling them.
The best features of wrap dresses would be the tie that cinches the waist and its fit and flare silhouette. This gives a very sophisticated look perfect for work, as well as helps create the illusion of a taller figure by drawing the eyes up and down.
Sheath Dresses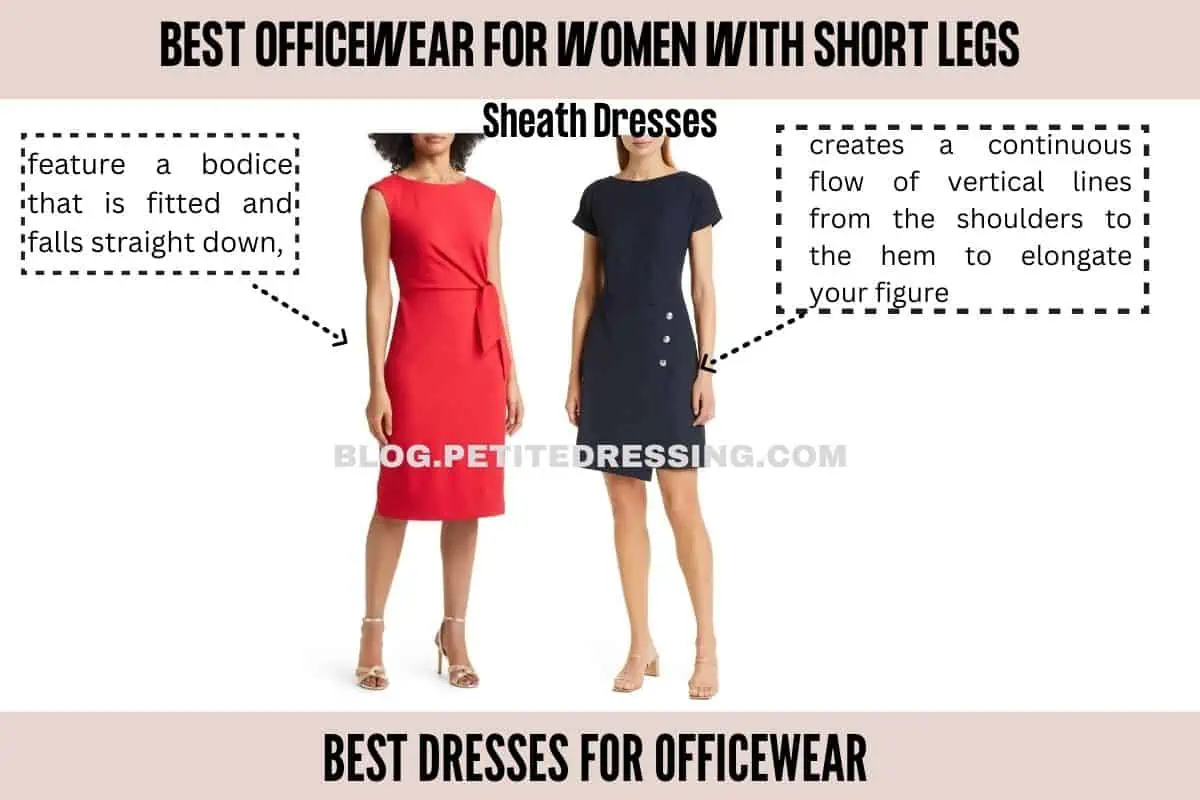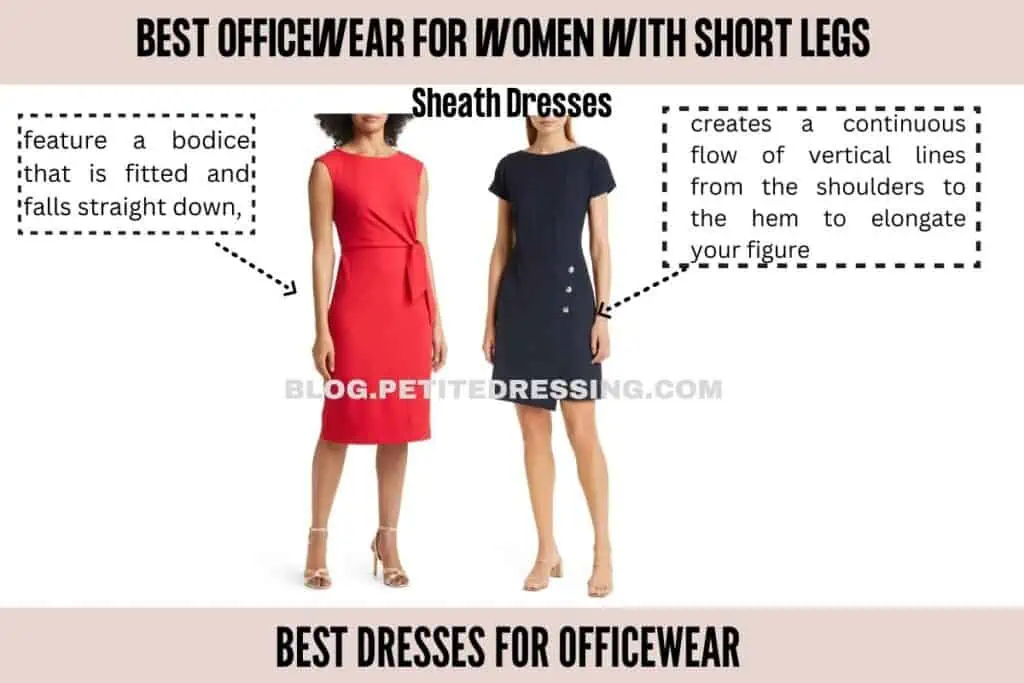 Sheath dresses feature a bodice that is fitted and falls straight down, typically without a full skirt. It is often made of a thicker, stiffer material and is considered a more formal or professional attire so it's perfect for office wear.
The name "sheath" refers to the dress's close-fitting shape which resembles a sheath for a sword. This silhouette creates a continuous flow of vertical lines from the shoulders to the hem to elongate your figure.
Shift Dresses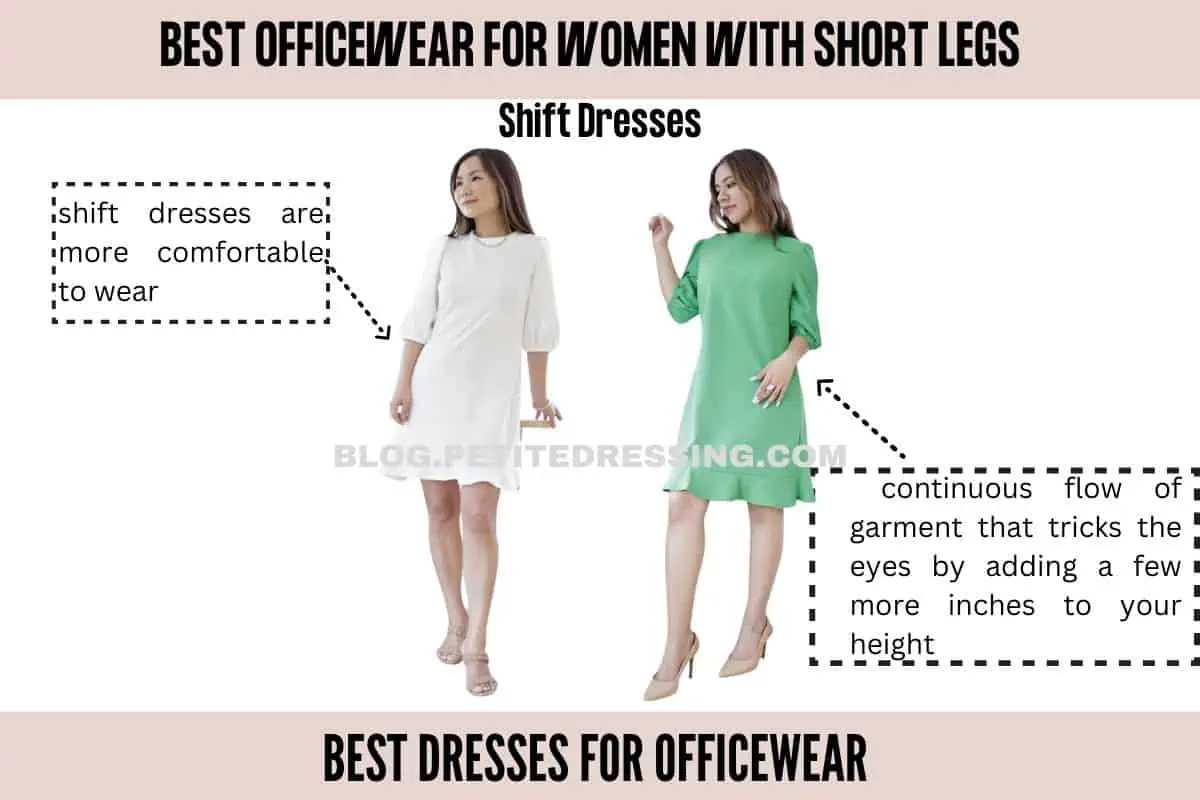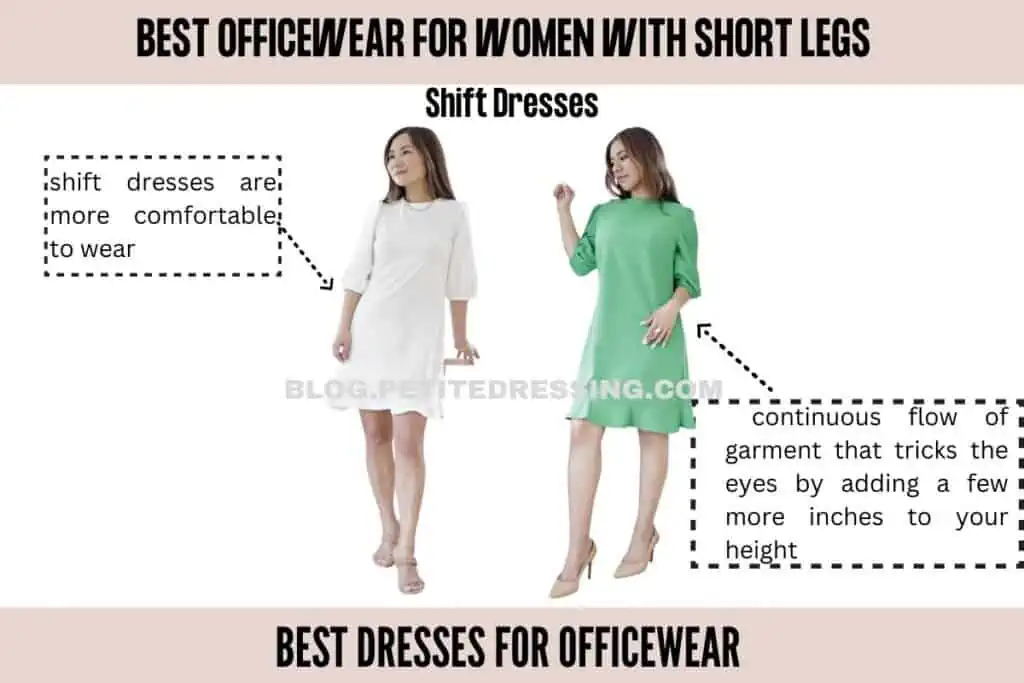 This may be the simplest type of dress out there due to its plain, loose-fitting structure but it's one of the most versatile wardrobe pieces out there that can take you to work. It features a structure that falls straight down from the shoulders and basically has no apparent waistline so its straight silhouette is a continuous flow of garment that tricks the eyes by adding a few more inches to your height.
It is often sleeveless or short-sleeved and may have a round or scoop neckline. Either way, shift dresses are more often paired with blazers and cardigans for that smart casual look. Because of their minimal and unfitted design, shift dresses are more comfortable to wear, especially considering the fact that you'll most likely wear them all day at work.
SHOES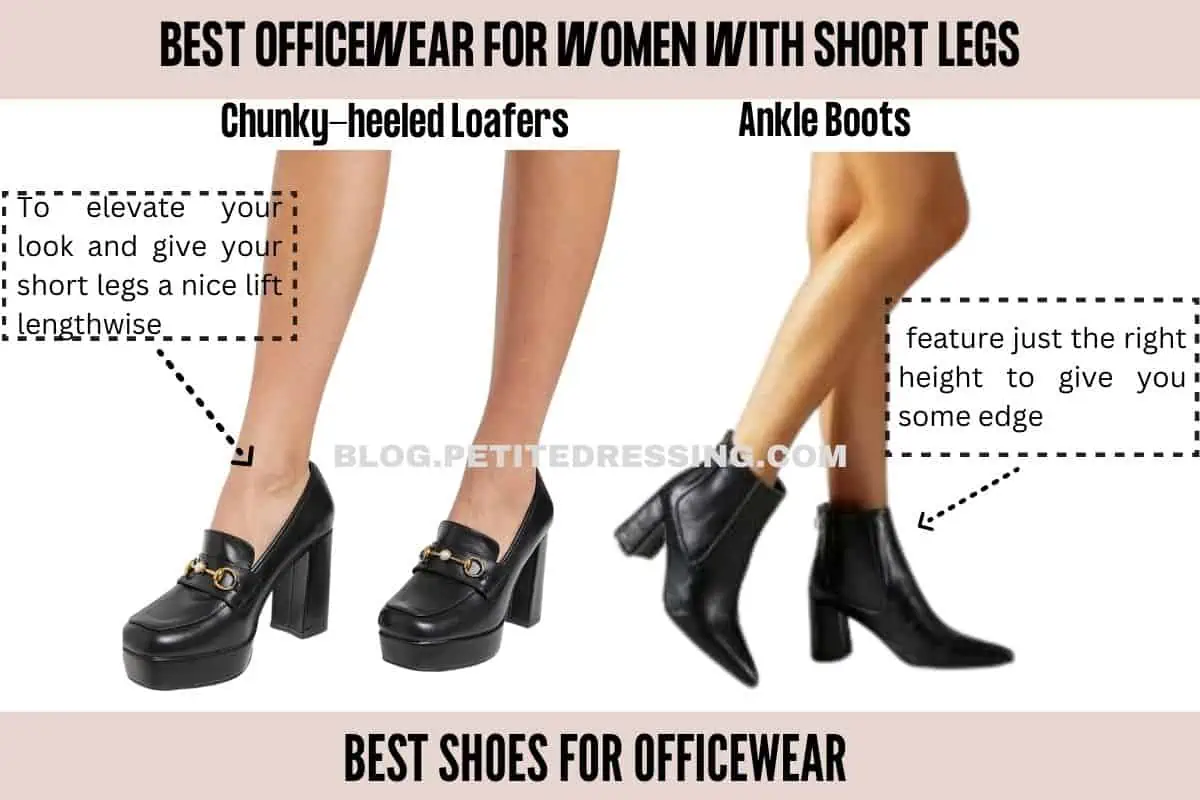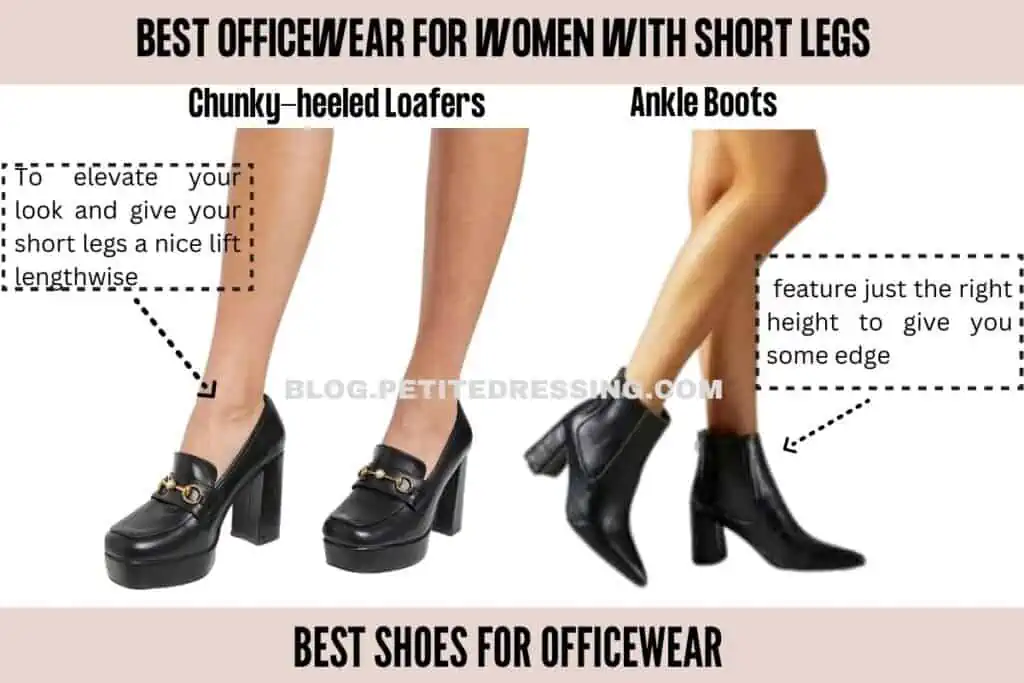 Chunky-heeled Loafers
To elevate your look and give your short legs a nice lift lengthwise, chunky heels are the way to go! Combine it with the smart sophistication of loafers and you're all set to flaunt your style to work!
Ankle Boots
Boots are always very tricky for women with short legs because there are certain styles that break the invisible line on your legs making them appear shorter. With ankle boots, they feature just the right height to give you some edge while also being worry-free in terms of shaft heights and unflattering leg ratio.