We're pretty sure you are quite excited about your big day (and probably very on edge as well)! That's absolutely understandable especially when you're already at the stage of picking the best bridal dress to suit you.
Every bride wants to look their best on their wedding day and one of the highlights of one's wedding is definitely a stunning wedding dress. When you have a thick waist, you may find it a bit challenging to find a wedding dress that would perfectly embrace your figure without highlighting the size of your waist too much.
If you're worried about your thick waist, then remember that you are not alone in this! We know the struggle and so that's why we're here to guide you out on which type of wedding dresses you may want to consider if you have a thick waist.
Styling Goal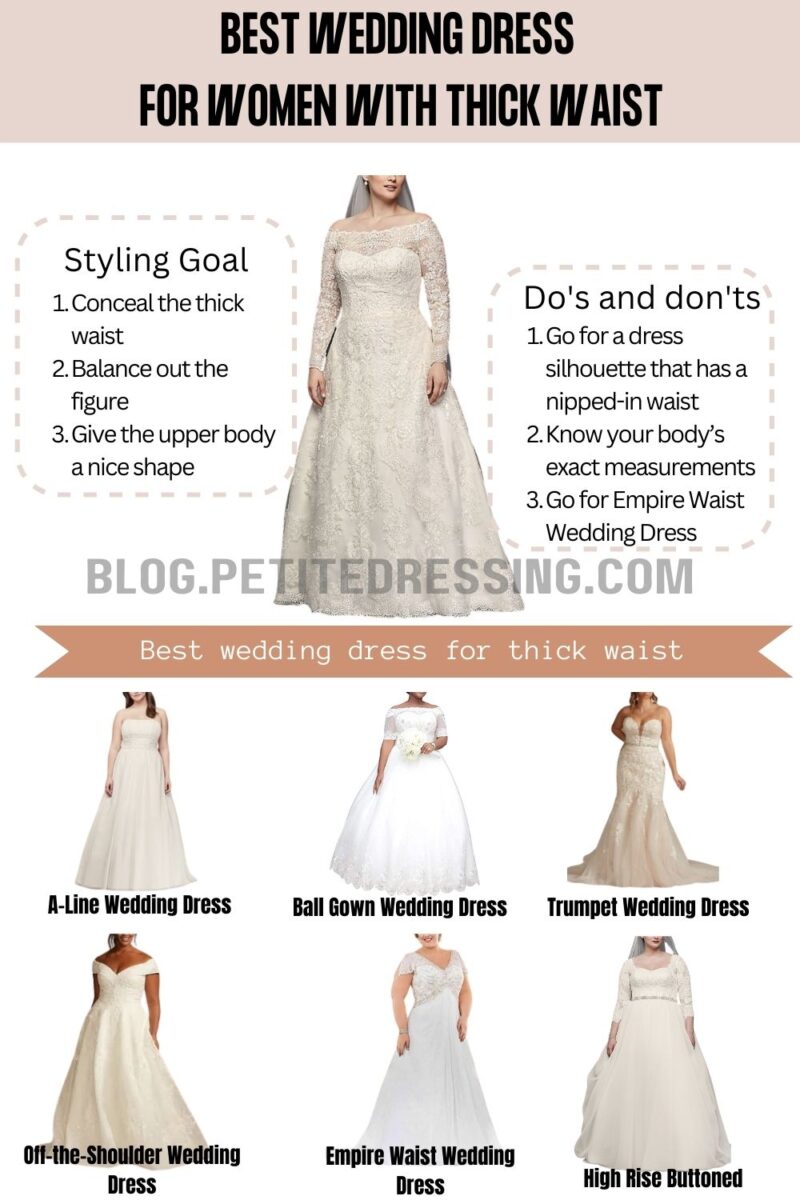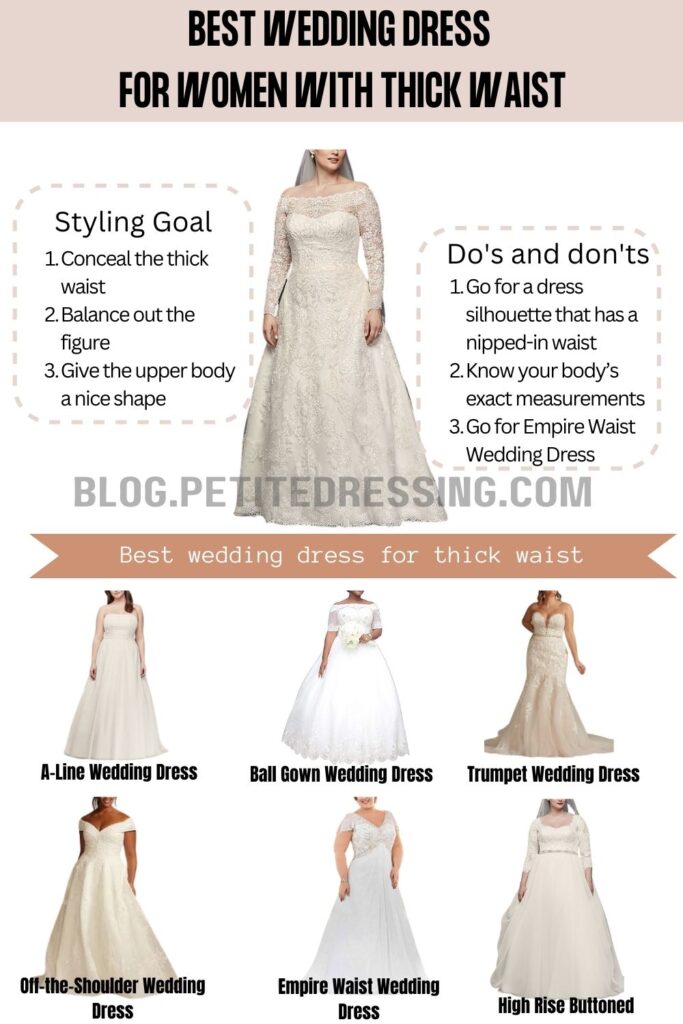 Go for a dress silhouette that has a nipped-in waist for added shape. Having a thick waist means that this portion of your body lacks definition so a cinched waist would help you neutralize this concern.
For ladies with a thick waist, necklines matter a lot because a flattering neckline would help significantly minimize the attention from your thick waist. In addition to this, certain necklines also have a visually slimming effect.
Most of all, nothing is more important than going for the right fit in terms of picking a wedding dress. Know your body's exact measurements not only to have a gown to flatter your figure but also to provide you comfort.
Now let's dive into the different wedding dress styles you can try out when your concern is your thick waist.
A-Line Wedding Dress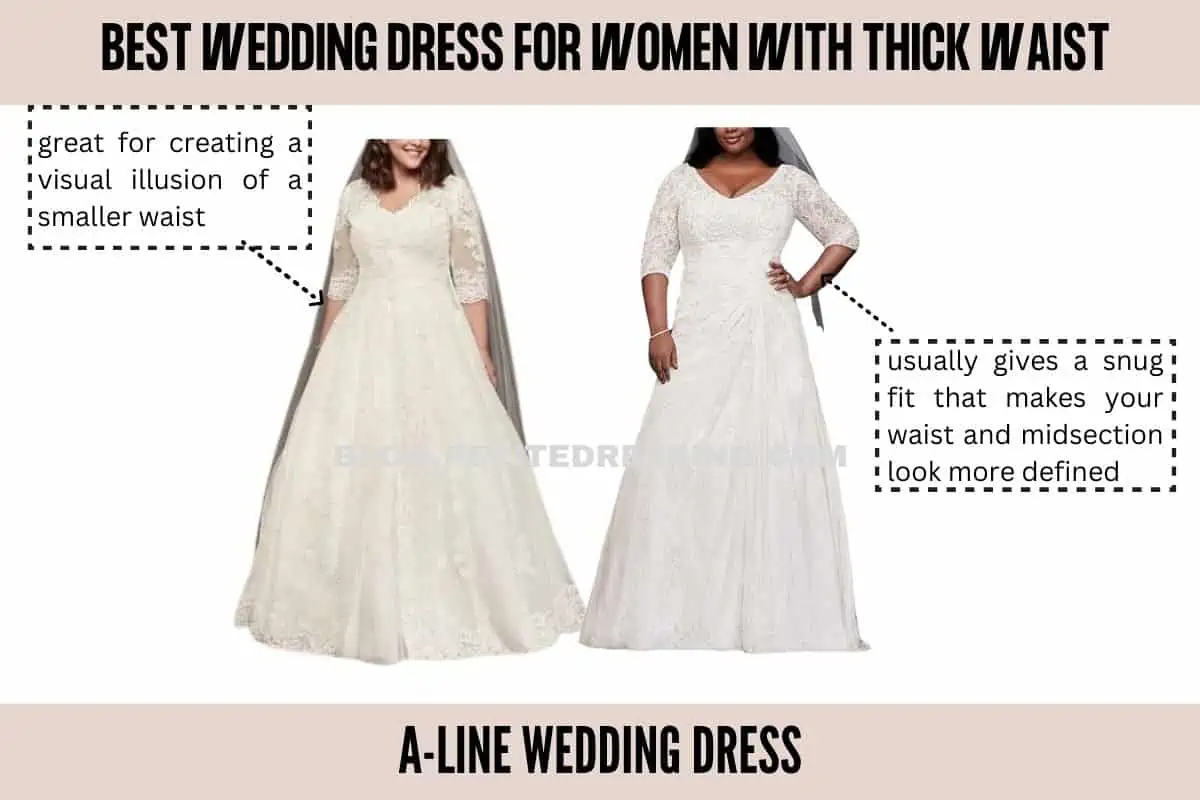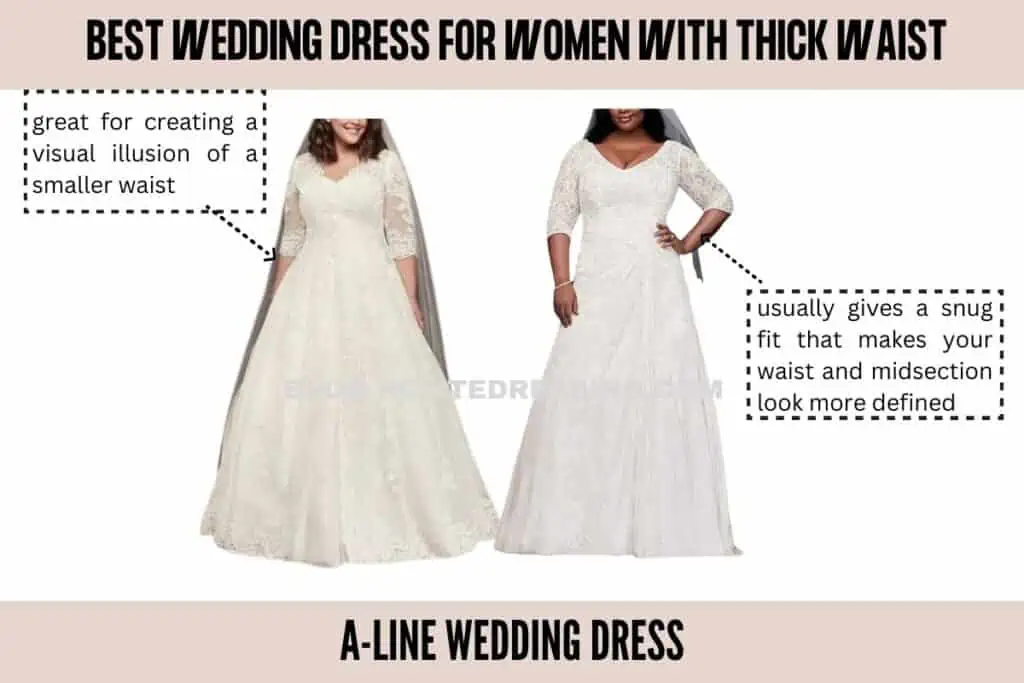 Fit and flare dresses are great for creating a visual illusion of a smaller waist due to their delineated cinch. The seam line that separates the top and the skirt usually gives a snug fit that makes your waist and midsection look more defined.
Depending on the design of the A-line dress itself, it can help highlight your other best features like your upper half due to its fitted bodice. Its flared skirt can also draw more attention and therefore distract the eyes from your thick waist.
Ball Gown Wedding Dress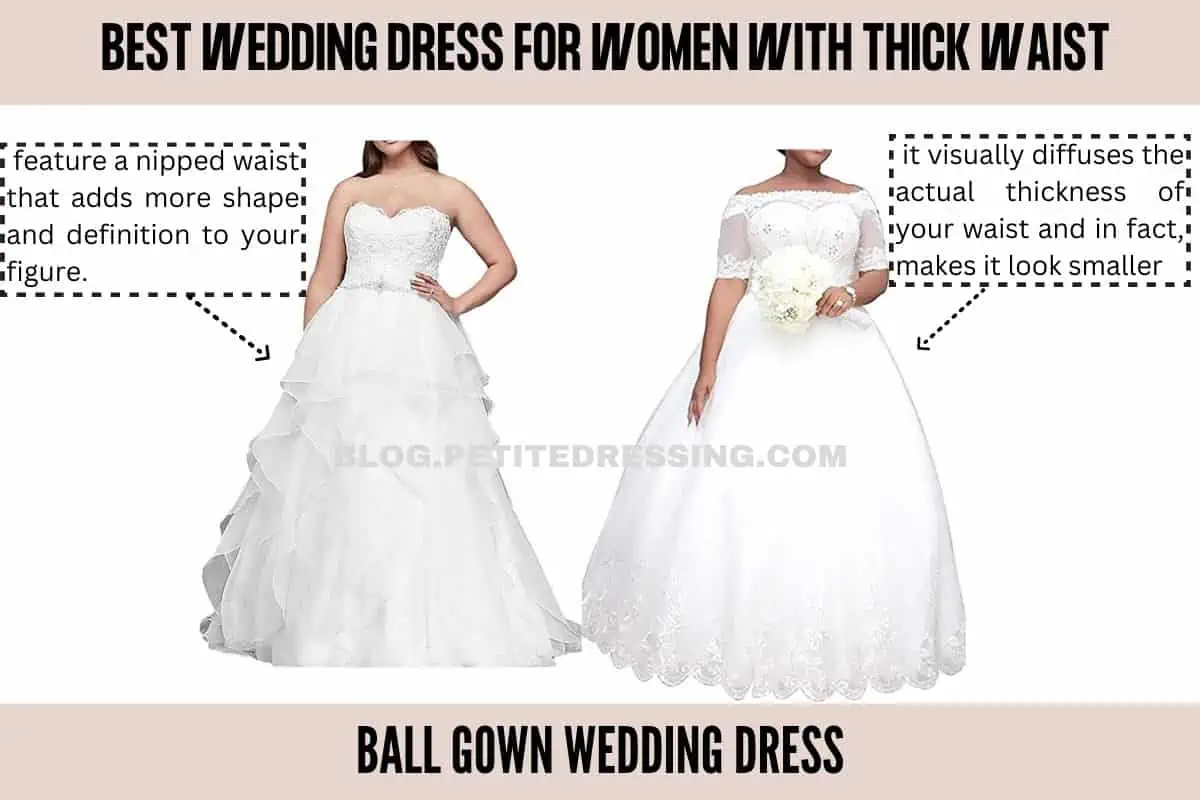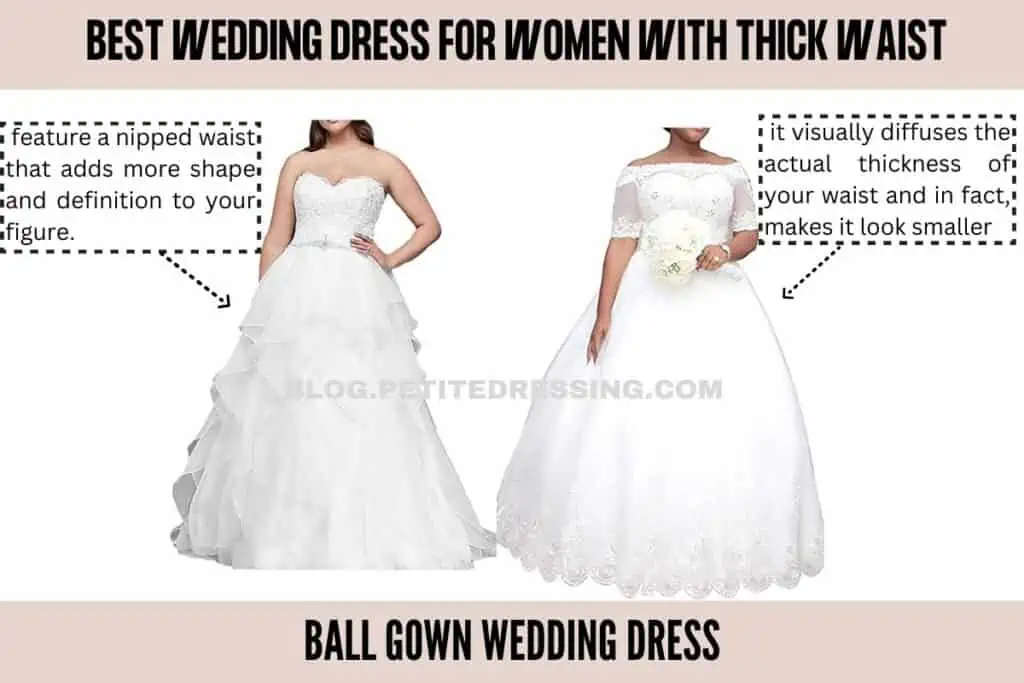 A ball gown is one of the most traditional and popular styles of wedding dresses due to its extravagant design and silhouette. Just like the A-line wedding dress, ball gowns feature a nipped waist that adds more shape and definition to your figure.
The key point of a ball gown is its dramatic full skirt that blooms out in a usually floor-length hem. Because of its voluminous skirt, it visually diffuses the actual thickness of your waist and in fact, makes it look smaller.
The bodice of a ball gown comes in a wide variety of styles but if you'd like to add a bit more height to your frame, opt for elongating necklines or patterns.
Trumpet Wedding Dress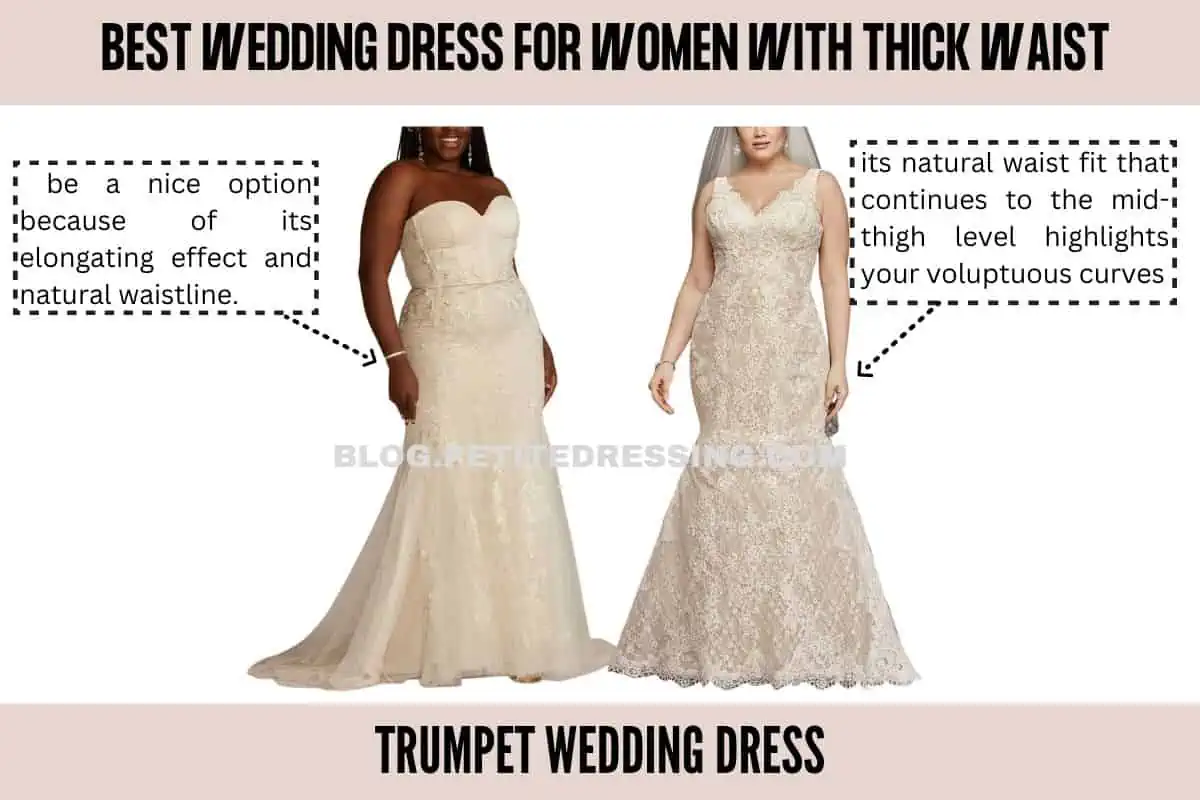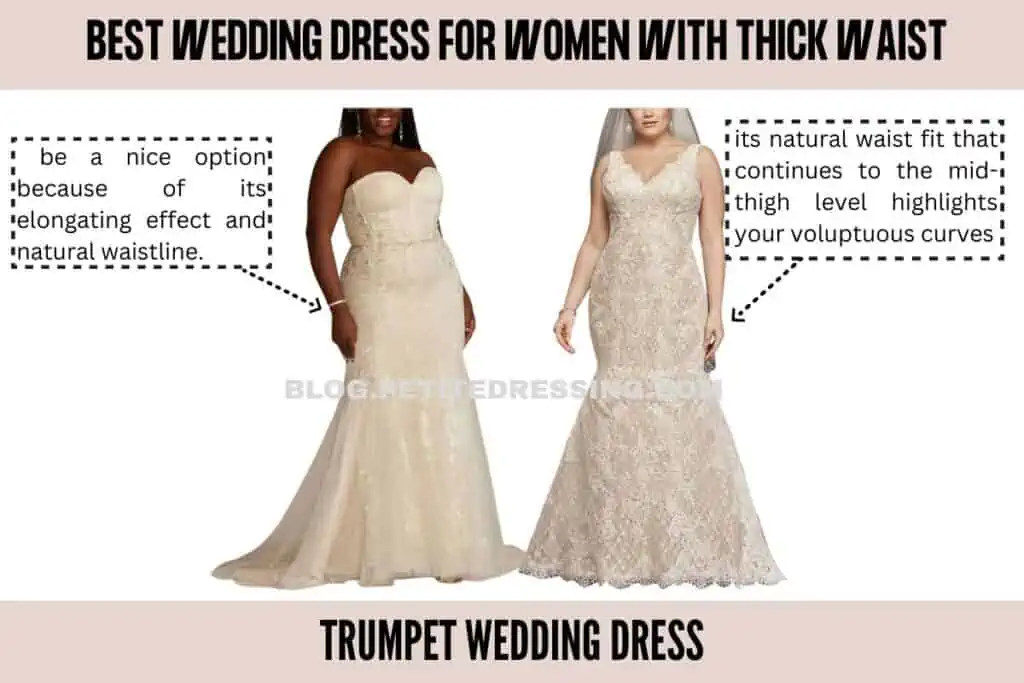 A trumpet wedding dress also features a flared skirt, but unlike the first two in this list, the trumpet silhouette has a fitted bodice from the upper body to the mid-thigh. If you have a thick waist, this can also be a nice option because of its elongating effect and natural waistline.
Trumpet wedding dresses don't have a defined cinched waist however, its natural waist fit that continues to the mid-thigh level highlights your voluptuous curves. In addition to this, the flared skirt resembling the mouth of the trumpet attracts the eyes more and therefore gets more attention compared to your midsection.
One thing to note about trumpet wedding dresses is that they can be a bit restrictive when you walk. This is where you should greatly consider going for a comfortable stretchy fabric so it can allow you to move around more freely.
Off-the-Shoulder Wedding Dress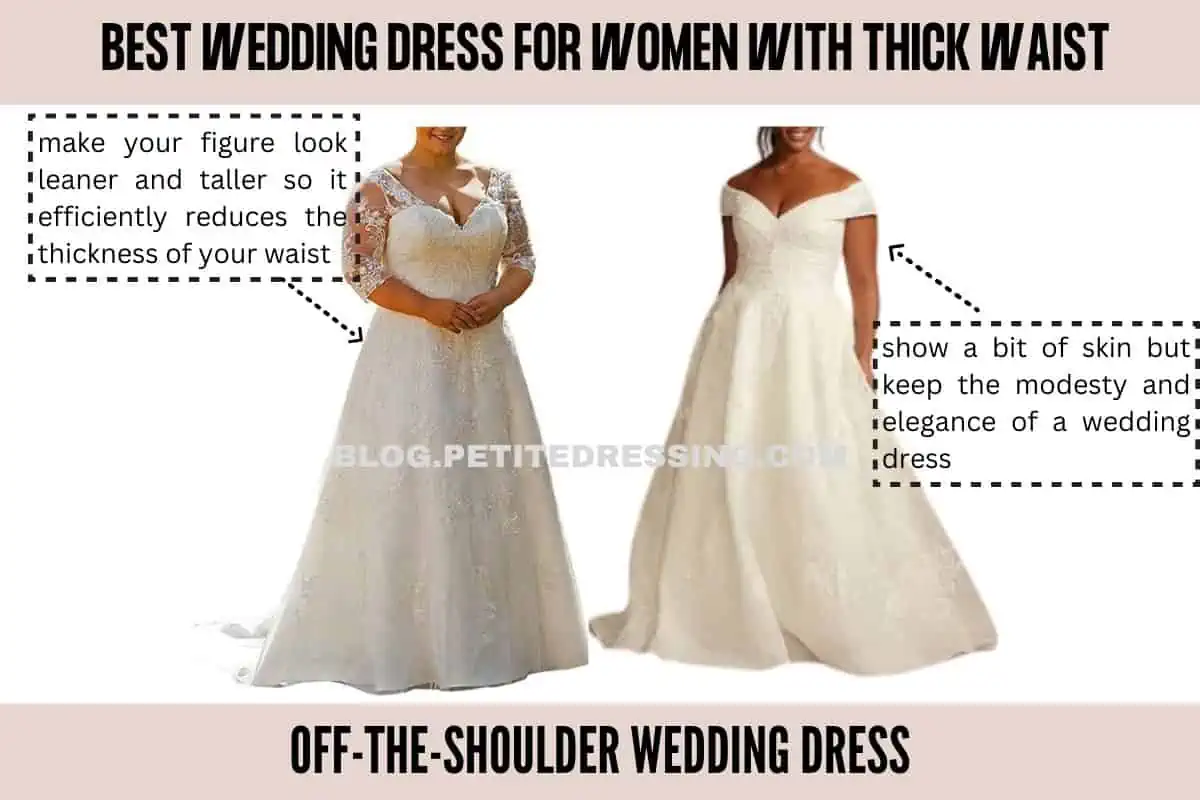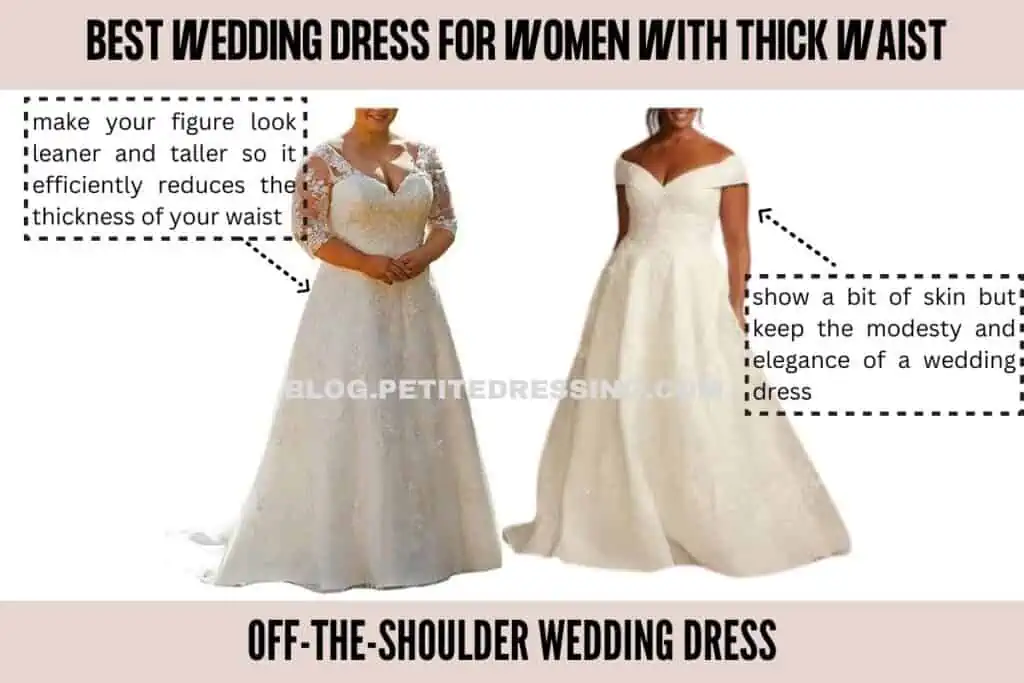 Another way to effectively veer the eyes away from your thick waist is by drawing them to the upper half of your body through an off-the-shoulder cut. Baring your shoulders opens up more space on your neckline which makes your neck look longer and your shoulders more prominent.
Off-the-shoulder wedding dresses also help make your figure look leaner and taller so it efficiently reduces the thickness of your waist. This type of silhouette can be quite sexy as well so if you're someone who likes to show a bit of skin but still wants to keep the modesty and elegance of a wedding dress, this might be your best option!
Empire Waist Wedding Dress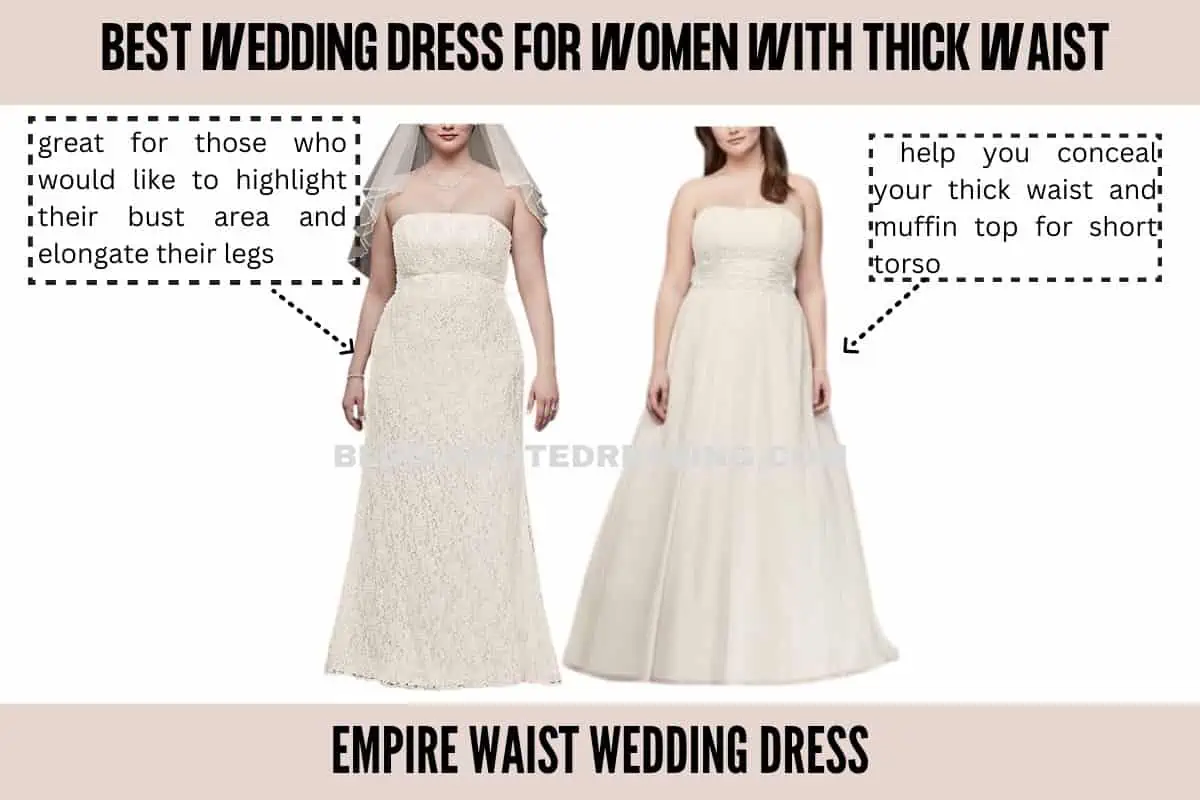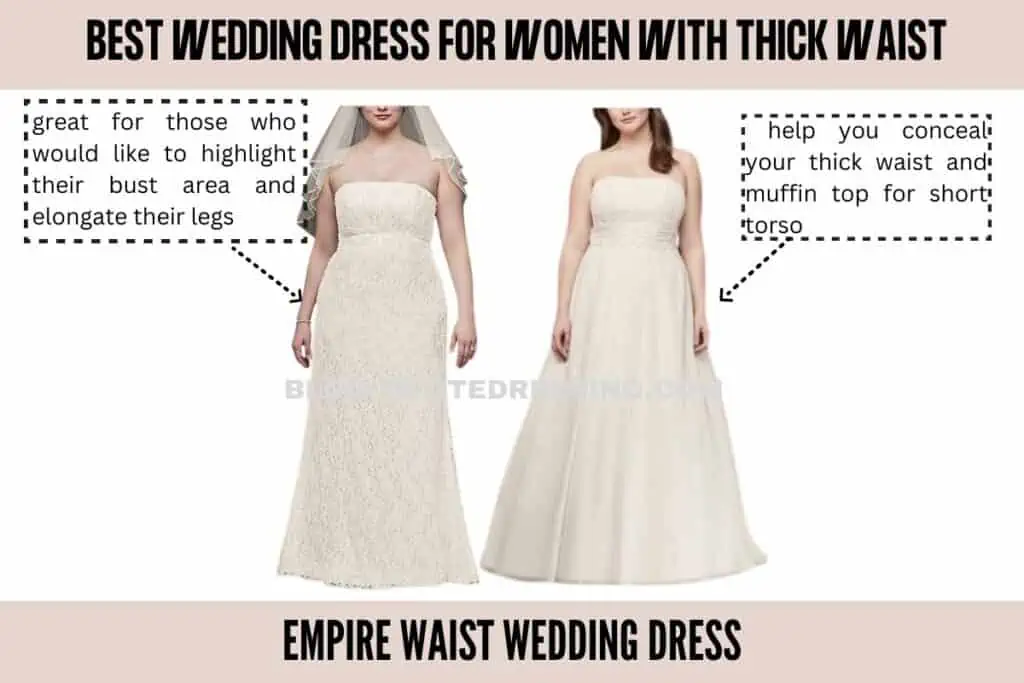 Camouflaging your thick waist or stomach bulge is something that an empire waist wedding dress can compellingly do. It features a faux high-waist skirt that begins just right under the bust line and then flows continuously to the hem.
As the "skirt" of the dress skims through your figure starting from underneath the bust line, it goes way past your waist so it won't be apparent at all. Empire waist wedding dresses are great for those who would like to highlight their bust area and elongate their legs for a taller-looking frame.
However, if you're someone with a short torso, you may want to opt for a different style of wedding dress. It may help you conceal your thick waist and muffin top, but if you have a short torso, this silhouette can make it look shorter and therefore unflattering.
Mermaid Style Wedding Dress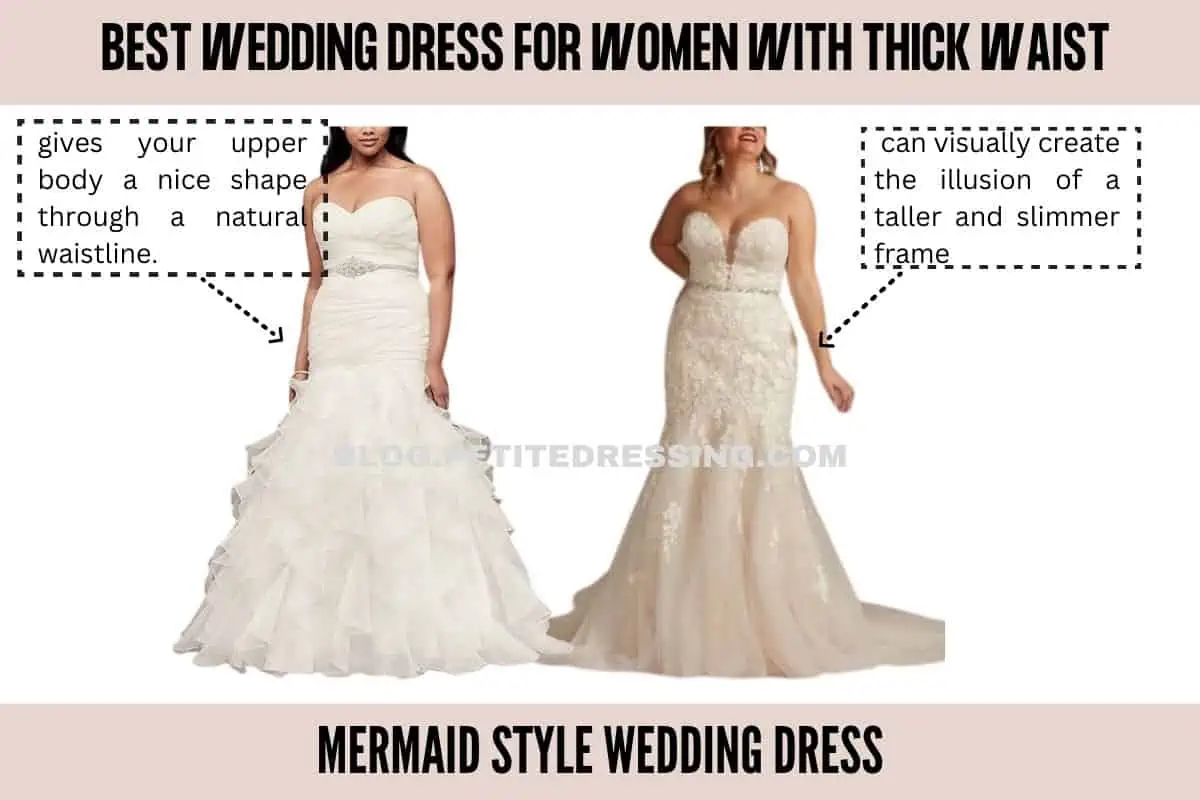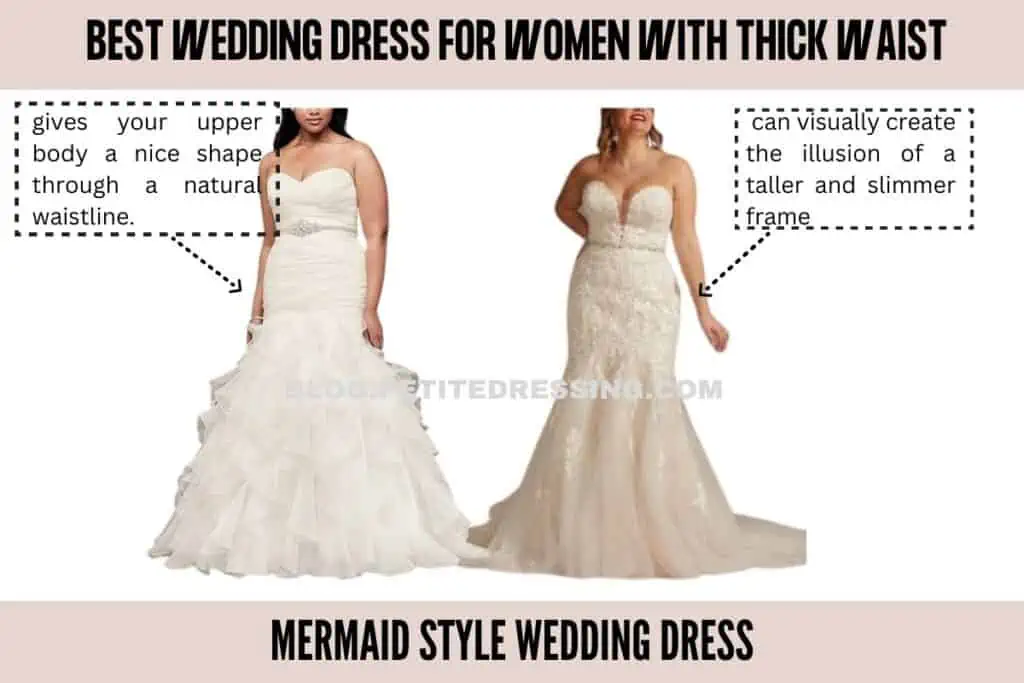 Mermaid style wedding dresses pretty much share the same style principle as trumpet wedding dresses. So, how are they different?
A trumpet silhouette features a skirt that flares out at the mid-thigh, while a mermaid-style silhouette flares right at the knee level (or even slightly lower). Basically, mermaid-style wedding dresses also draw more attention to the flare while still giving your upper body a nice shape through a natural waistline.
Mermaid dresses don't cinch the waist as well but their overall silhouette can visually create the illusion of a taller and slimmer frame. This neutralizes the fact that you have a thick waist.
Low Neckline Gowns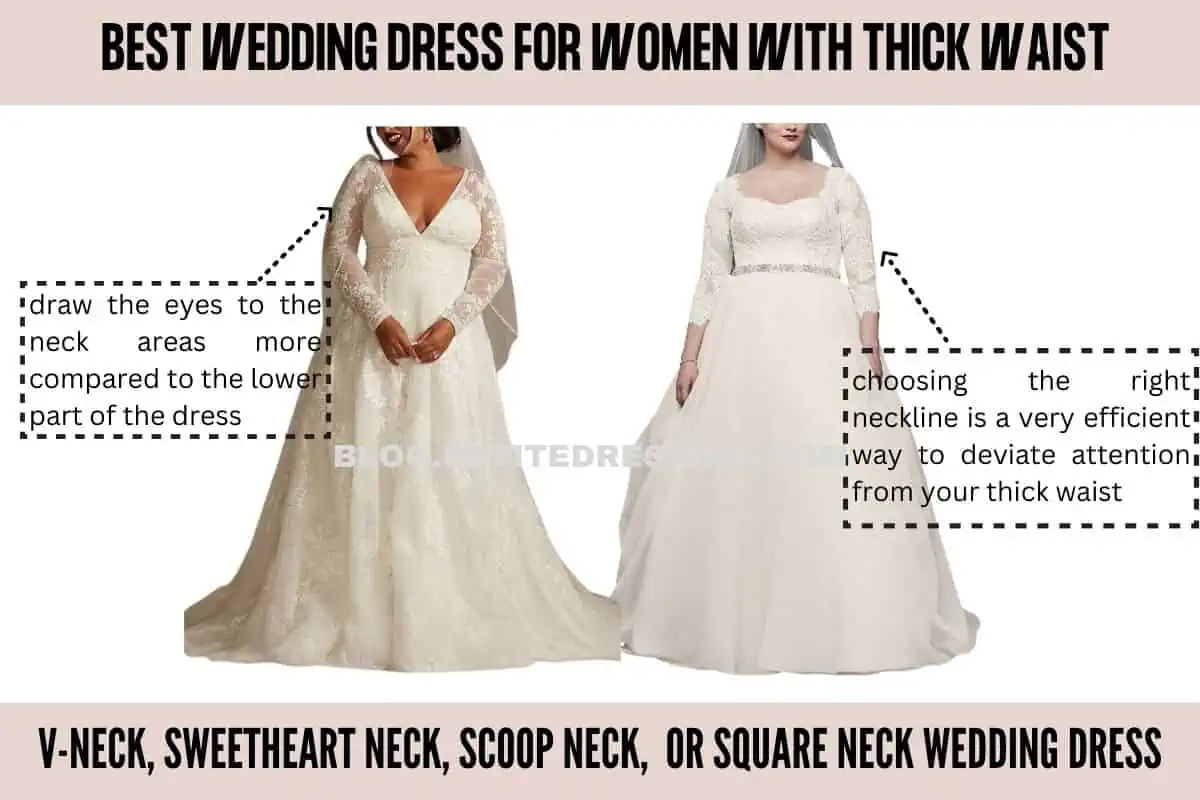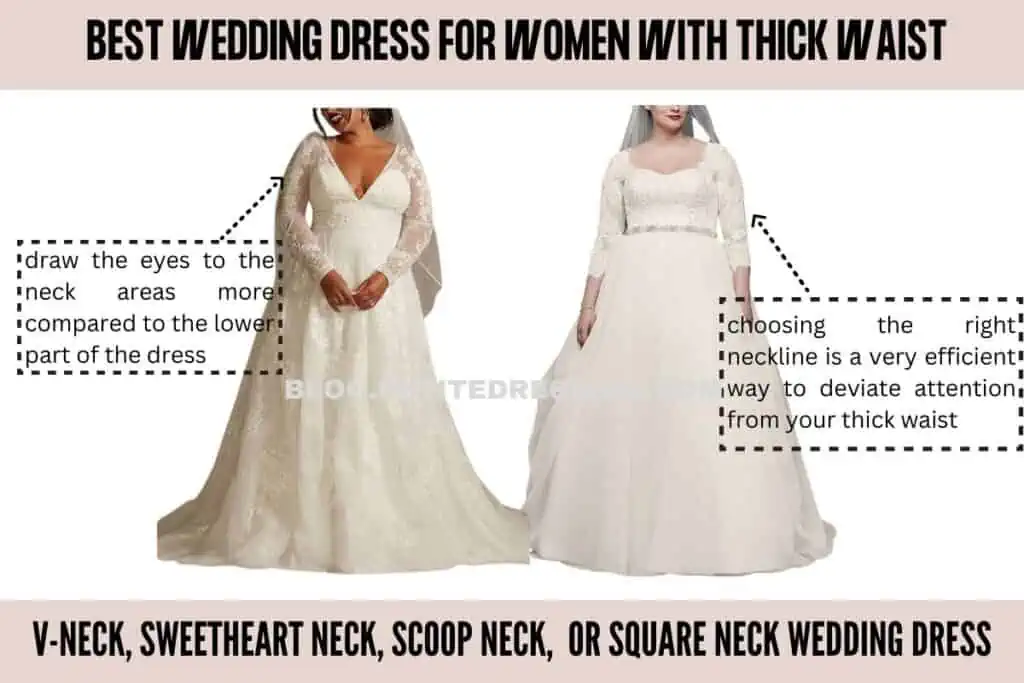 Just like what we have mentioned in the styling goal section, choosing the right neckline is a very efficient way to deviate attention from your thick waist. Necklines such as V-neck, sweetheart, square, and scoop are your best options if you want a taller-looking figure.
These necklines share one thing in common – they all have visually elongating features! This is because necklines that open up more space on the upper half of the body can make you look slimmer.
As these types of necklines usually bare the collarbones and a bigger area of the neck and shoulders, they draw the eyes to these areas more compared to the lower part of the dress. This means less attention for your thick waist.
Belted Gown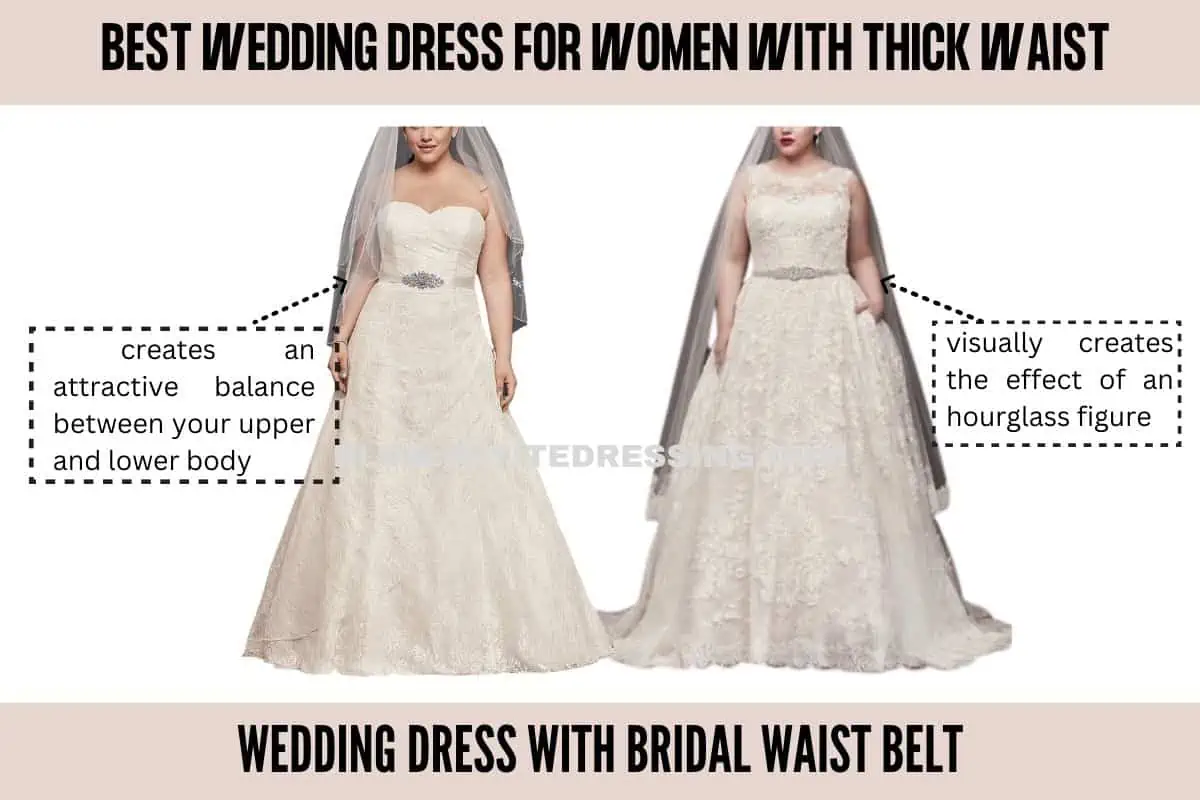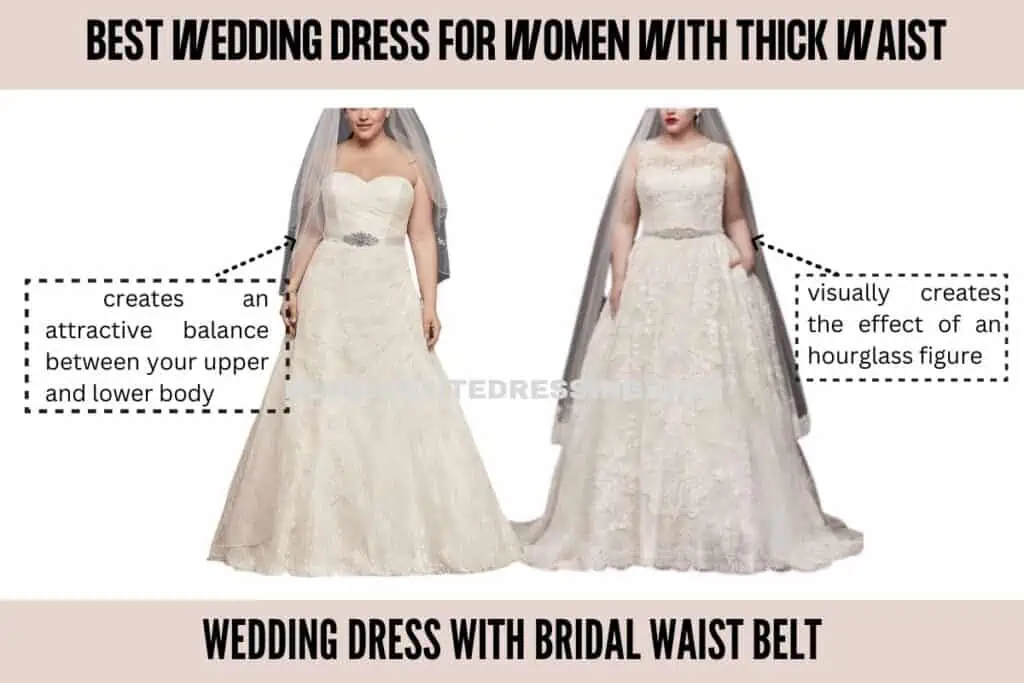 There are types of wedding dresses that already include a belt while bridal waist belts are also widely available out there as well as an additional accessory. Going for a belt is always a good choice if you want to give your thick waist added definition and shape.
Cinching your waist with a belt creates an attractive balance between your upper and lower body, which visually creates the effect of an hourglass figure. Bridal waist belts come in different materials and designs so it's nice to be extra mindful of how you'll match it with your wedding dress so that it won't look too overwhelming.
Bespoke Wedding Dress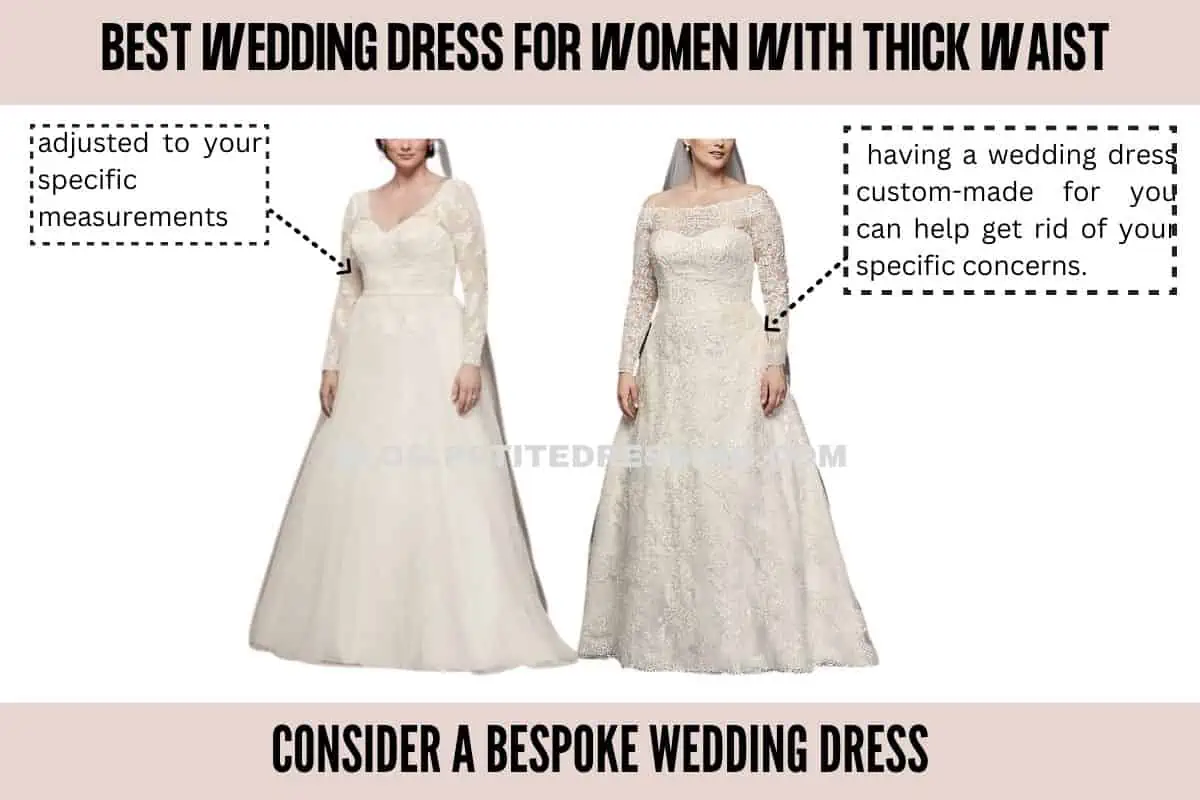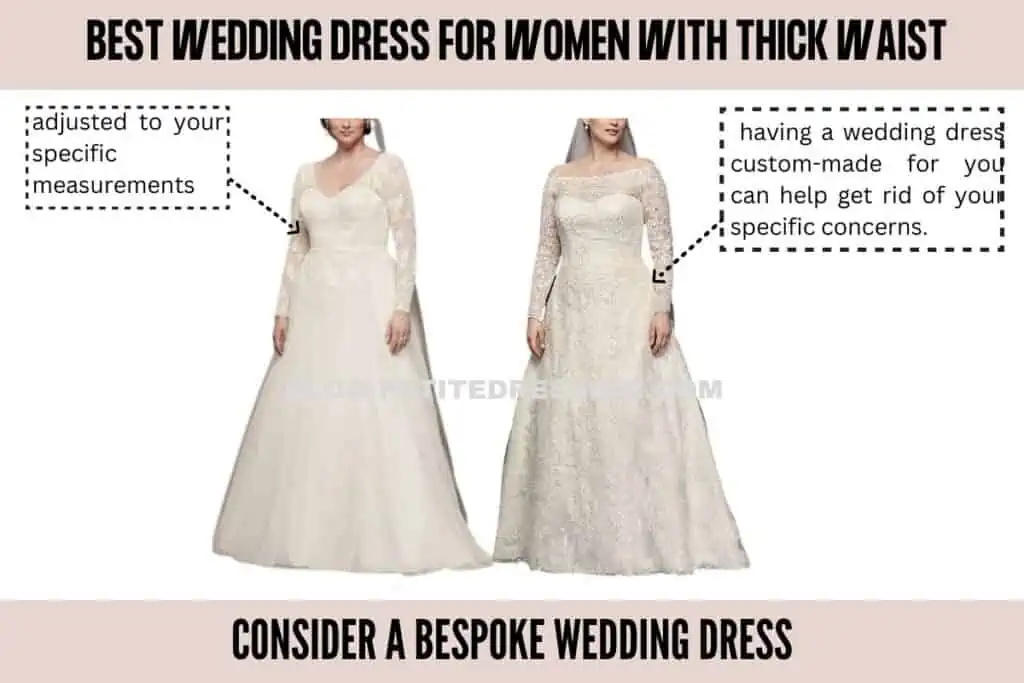 In this fashion-forward era where we can easily buy ready-to-wear wedding dresses, it's easy to forget how bespoke dresses will always be a bride-to-be's best option. Of course, there's nothing wrong with going for a ready-to-wear wedding dress, especially if you're someone who's extremely confident with your specific body measurements.
However, if you have particular concerns such as a thick waist that you'd like to hide, having a wedding dress custom-made for you can help get rid of these specific concerns.
The Key Takeaway
Picking the right wedding dress to flatter your figure shouldn't stress you out! This is why it's really important to understand your body by knowing your best features.
By knowing your best features, it'll be much easier to choose certain silhouettes that will bring out these assets and tone down your other body concerns such as having a thick waist.