I am 5'2″, and normally a size XS or Small. If you are short and skinny like me, the best ways to dress your shape is to wear clothes that can elongate your frame, and at the same time add a little curves (especially if you have a smaller bust) to your body. These are the 15 tried-and-true tips on what to wear if you are short and thin, and I have been using these tips for my own outfits on a daily basis.
Fitted Maxi Skirts and Dresses
Contrary to what you've probably been told – petite women can wear maxi dresses and skirts with confidence. In fact, maxi length can be incredibly flattering for petites.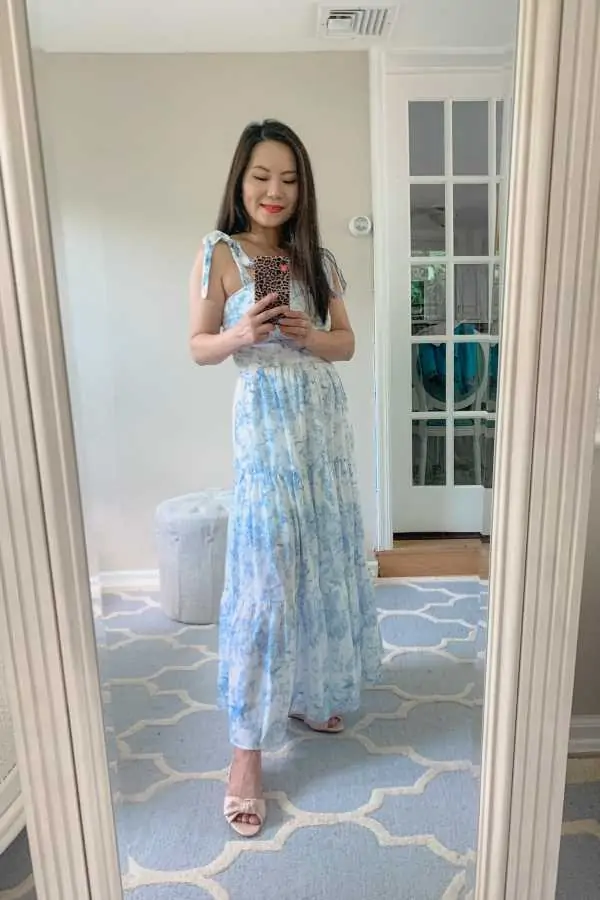 The only key here, to ensure that they're flattering for you is that they are fitted. You will want to avoid maxi dresses and skirts that are very voluminous and loose around the body as these can shorten the body incredibly quickly. Fitted styles CAN elongate a short, skinny body because they lengthen.
High Waisted Bottoms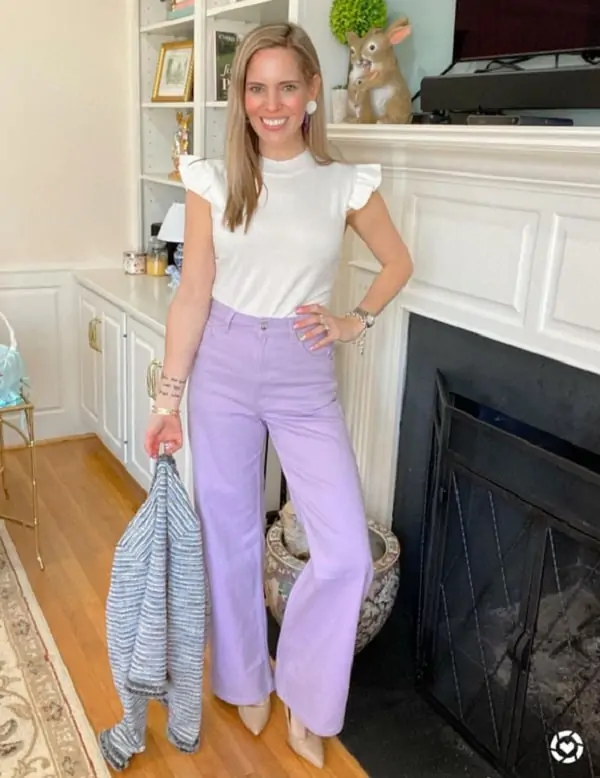 A major style rule for short, skinny women is to favor high waisted bottoms. As a petite woman one style goal (typically) is to create the illusion of longer legs, to add a bit of extra length to your body.
High waisted bottoms is one of the easiest styling tricks to accomplish this goal. Whether you're wearing jeans or a skirt – make high waisted rises your go to choice.
Besides, high waisted jeans can make a flat bum look bigger, which is a win-win!
Monochrome Outfits
As a short and skinny person, wearing a lot of different colors and prints within an outfit can overwhelm your body. When you don't have a lot of space for all this going on (i.e. shorter frame) it takes up a lot of your body. To appear taller and more streamlined, try to style monochromatic outfits more often. Wearing one color from top to bottom in an outfit eliminates breaking up the body and instead creates one long line down your body.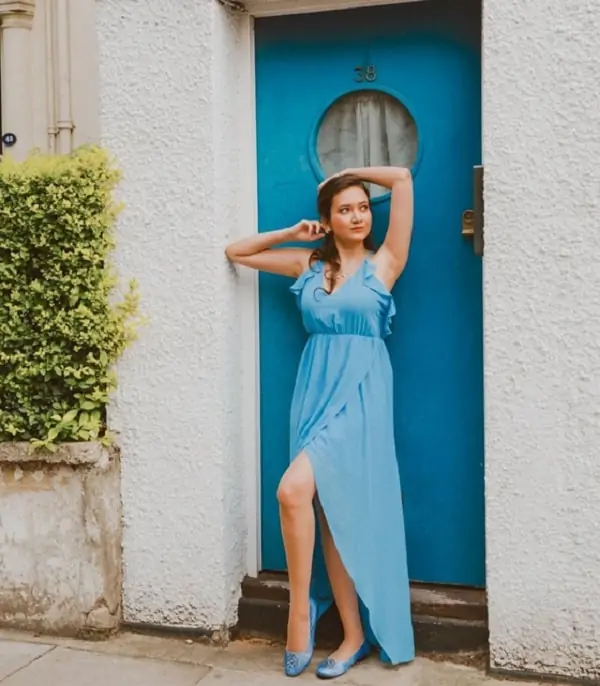 Above, Bushra's monochromatic outfit makes her look taller.
Wear A-Line Silhouettes
As an already thin individual, you have a lot of flexibility when selecting different dress and skirt silhouettes to wear. That being said, there are some that are more flattering than others. One silhouette you can always count on to enhance and flatter your body type is the a-line silhouette. This is such a flattering choice to embrace for a couple of reasons.
First, a-line is what many stylists recommend for all petite women to wear because of the way it helps to elongate the body. More than that, with a skinny figure a-line silhouettes create the illusion of an hourglass curve – even if you don't have a lot of natural curves the shape of the a-line cinches the waist and adds a touch of volume to the bottom half.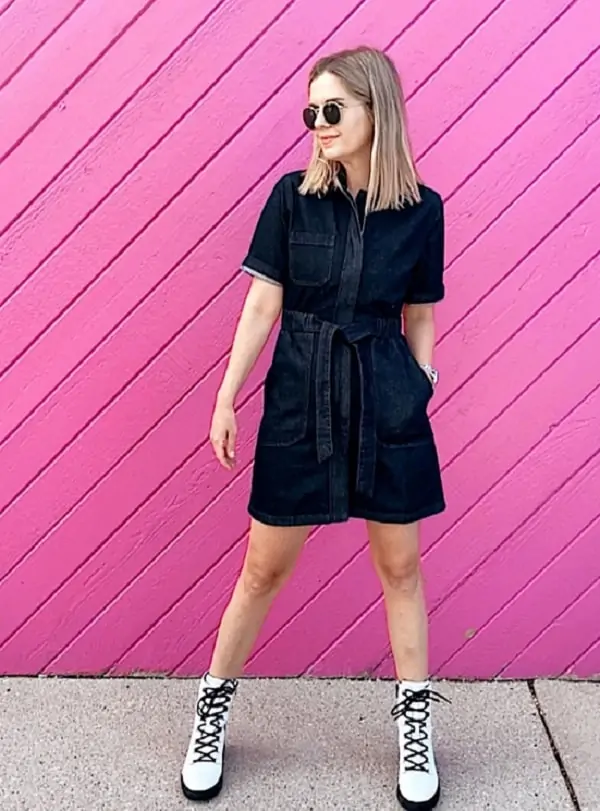 Natalie's a-line silhouette is a great example of how flattering this cut is on a petite frame.
Wear V-Necklines
Add extra length to the top half of your body with v-necklines. Among all the types of necklines, open necklines, like v-necklines, are ideal for short, skinny figures. Not only do they help to elongate your shape a bit, but they can also enhance curves a bit.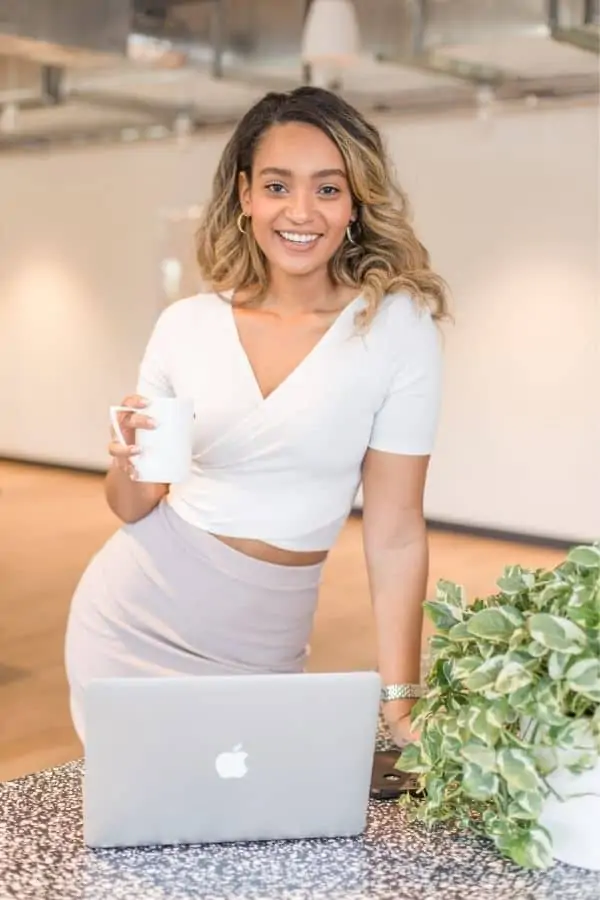 The good news is v-necklines aren't the only option here – sweetheart and scoop necks are a couple of other really flattering alternatives.
That being said, high necklines are best to wear cautiously as a short, skinny woman. The problem with high necklines is they create a strong line on the body that lead to shortening the body significantly.
Wear Pointy-Toe Shoes
You may not realize it but the shape of the shoes you wear can also play a role in enhancing your body type. If you have a short, skinny body type it's highly recommended to begin prioritizing pointy-toe shoes. These can be flats and/or high heels, of course high heels are an easy (and instant) way to add height to a petite frame.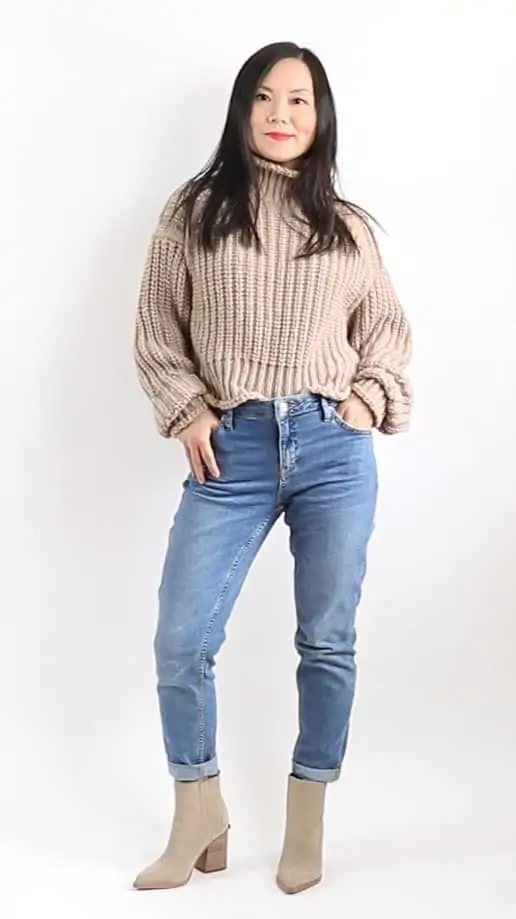 Regardless of a high heel or not, it's really the pointy-toe shape that plays a major role in figure flattery for you. Because of the line that is created with a pointy-toe shape it lengthens the foot and, in turn, adds extra length to legs. Definitely something to begin favoring if you don't already. That being said, round toe shoes are something to wear more cautiously for this very reason – the rounded shape makes the leg line look cut off and shorter.
Wear Shorter Tops
Length of skirts and pants elongate petite frames, and so do the length of various types of tops. When you are short and thin, tops that are cropped are best to give you the added benefit of lengthening your torso. Now, cropped tops can really mean anything that rests right above the widest part of your hips and anything higher up.
This applies to anything you wear on top, it could be a sweater, blouse or shirt. You can choose the length of the top that you are most comfortable with of course. If you want a bold and edgy look, a cropped top showing some skin can definitely make you appear taller.
However, wearing shorter tops does not necessarily mean your belly has to be showing! As long as your top is hip length and above, they can serve the same purpose of elongating your legs, and flattering your short frame.
Wear Cropped Jackets
By the same token, when your jackets are hitting your hips and above, it will visually shorten your torso and therefore. elongate your legs,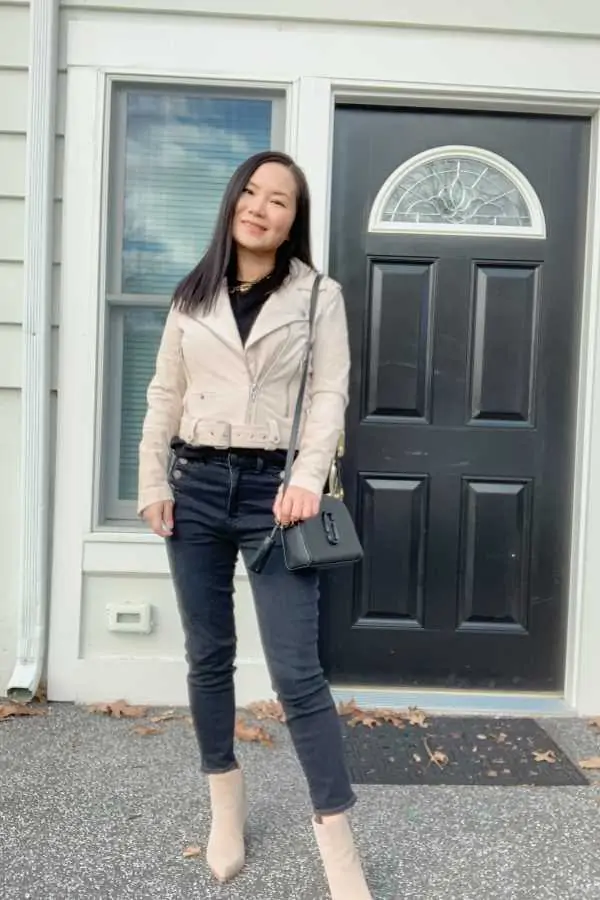 Not only are cropped jackets super flattering on someone who is short and skinny. but also they are very versatile. This is one of my favorite jackets in the fall and winter, thanks to its length! This length literally enables it to go with every bottom in my closet, including jeans, pants as well as skirts.
Avoid Boxy Tops and Dresses
This may go without saying but boxy silhouettes, whether a shirt, dress or even jacket, are difficult to pull off in a way that enhances your body. As a petite woman, boxy silhouettes are even harder to wear simply because the boxed shape shortens the frame instantly.
Wear Narrow Belts
Belts can do wonders for flattering the body, for almost any body type. Adding a belt to just about any outfit adds a waist cinching effect that slims and highlights the waistline. When you're petite and thin, choosing the right style belt is important so that you can reap the benefits of this accessory. For you it's all about the narrow width belt. Narrow belts are really anything that's within the 2-3" width. The reason you should begin favoring narrow belts is because wide width belts will likely take up too much space on your small frame and lead to shortening the torso area of the body.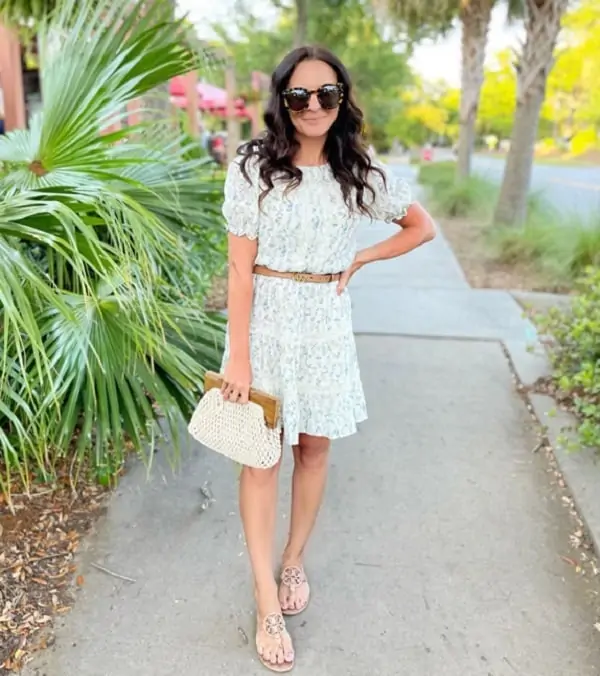 Here the width of Amy's belt is the ideal size for a petite body type.
Always Wear the Right Size and Fit
This may sound fairly obvious but wearing the right size and fit for your body, especially as a short skinny individual, is crucial. Clothing that hangs, is too loose or baggy will likely shorten your frame rather drastically. This style 'rule' really applies to all clothing – pants, skirts, dresses, etc.
To enhance and flatter your figure in the best way possible you're going to want to favor garments that fit to the body properly and show your shape. Now, you may need to get some things tailored every so often (or more often) but it's well worth the time and energy to have clothing that flatters your body.
Smaller Handbags are Best
Handbags are a fun accessory to experiment with in your style, and you should definitely have fun with them! For petite, skinny women though it's ideal to utilize handbags that are more in scale to your own body type. In other words, oversized and large handbags can likely overwhelm your figure and take away from it. When you wear handbags that are relative in scale to your own body they look more like an accessory rather than something that's taking over your entire body.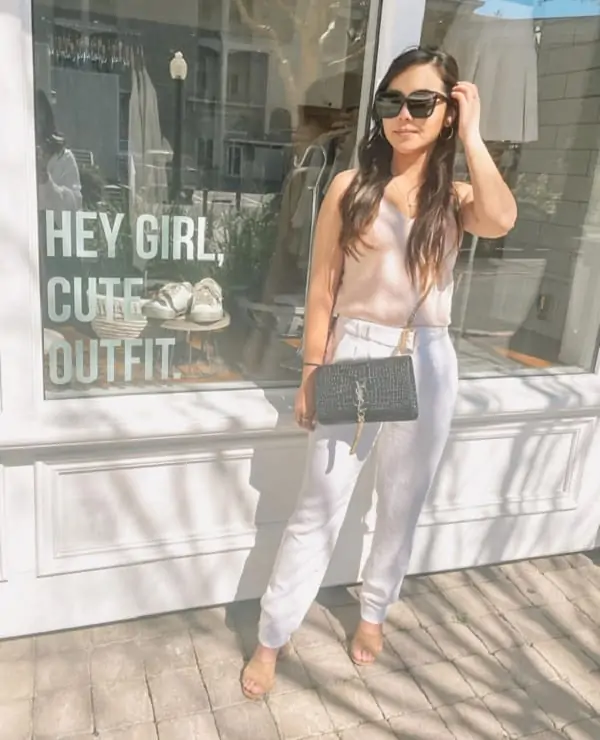 Elaine's handbag is the perfect size for her short, thin shape.
Avoid Ankle Strap hoes
Ankle straps are best avoided as a short woman. The issue that arises with ankle straps is the fact that they make legs look shorter by cutting off the leg line around the ankle. This is why ankle free shoes are a better option for petites. They allow your legs to look a little longer and it's a small detail that can really enhance your body type.
Caution with Tunics
Because cropped length tops are more flattering, this does mean that longer length tops aren't the best style choice. The problem with long, tunic length tops is they shorten legs by making the torso look longer and as a whole make your petite body look even shorter.
Delicate Jewelry
Similar to the way handbags should be chosen based on their scale in relation to your size, jewelry should be the same! Sure statement and big jewelry pieces can be fun but they can also take up a lot of space on your petite body that's often overwhelming and bulky. Instead, keep jewelry on the dainty side – or really just cohesive with the scale of your own body.