It may seem like the fashion world focuses on tall and thin people. The reality is that fashion has always given short and plus-size people the short end of the stick.
Thankfully, this is starting to change.
First of all, I am 5'2″ and I have a clothing line for short women 5'4″ and under. Having heard feedback from thousands of my petite customers (many of who wear size XL and above), I truly understand the challenges you are facing.
Below I'll share with you the tried-and-true tips to make you look and feel your very best, and my model is Bianca, my assistant, who is 5 foot tall and plus size.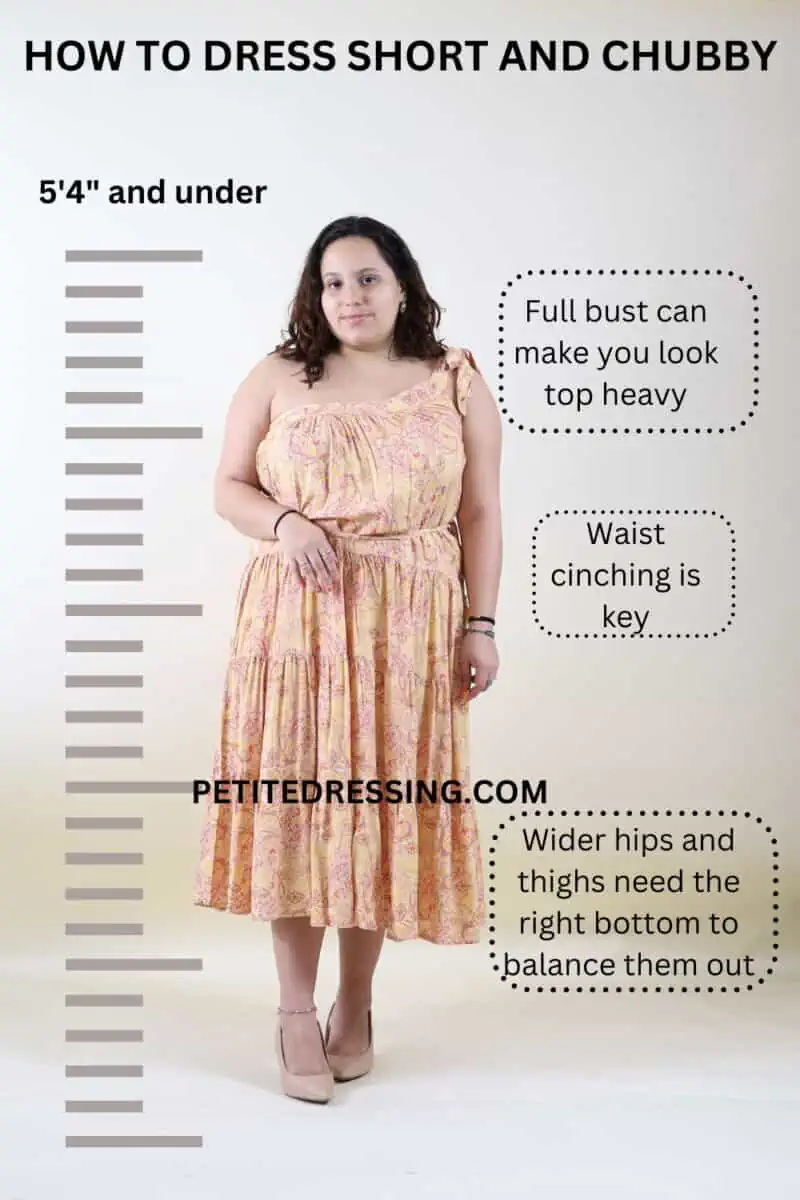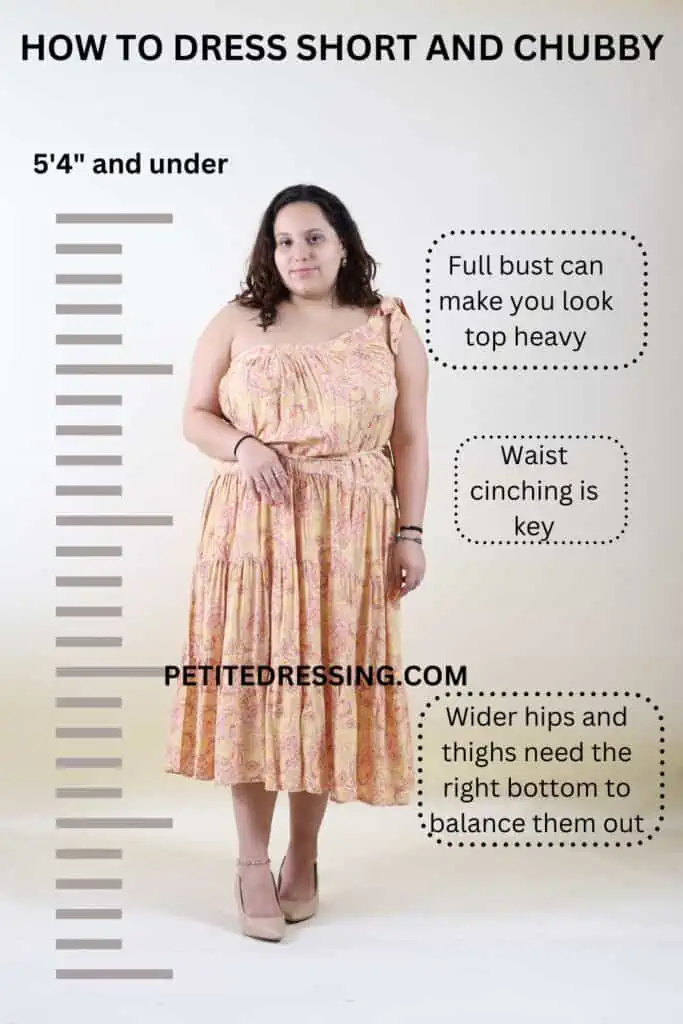 STYLING GOAL
Oversized clothes on a short and curvy or a petite plus size person can look disastrous. Even though you may be thinking they are "safe" as they can hide your shape, they really do no justice to your curves.
You need to embrace your shape, and show off your curves because you have them.
Shapeless clothes make you look bulkier, and they may make you seem shorter than you are. Avoid them at all cost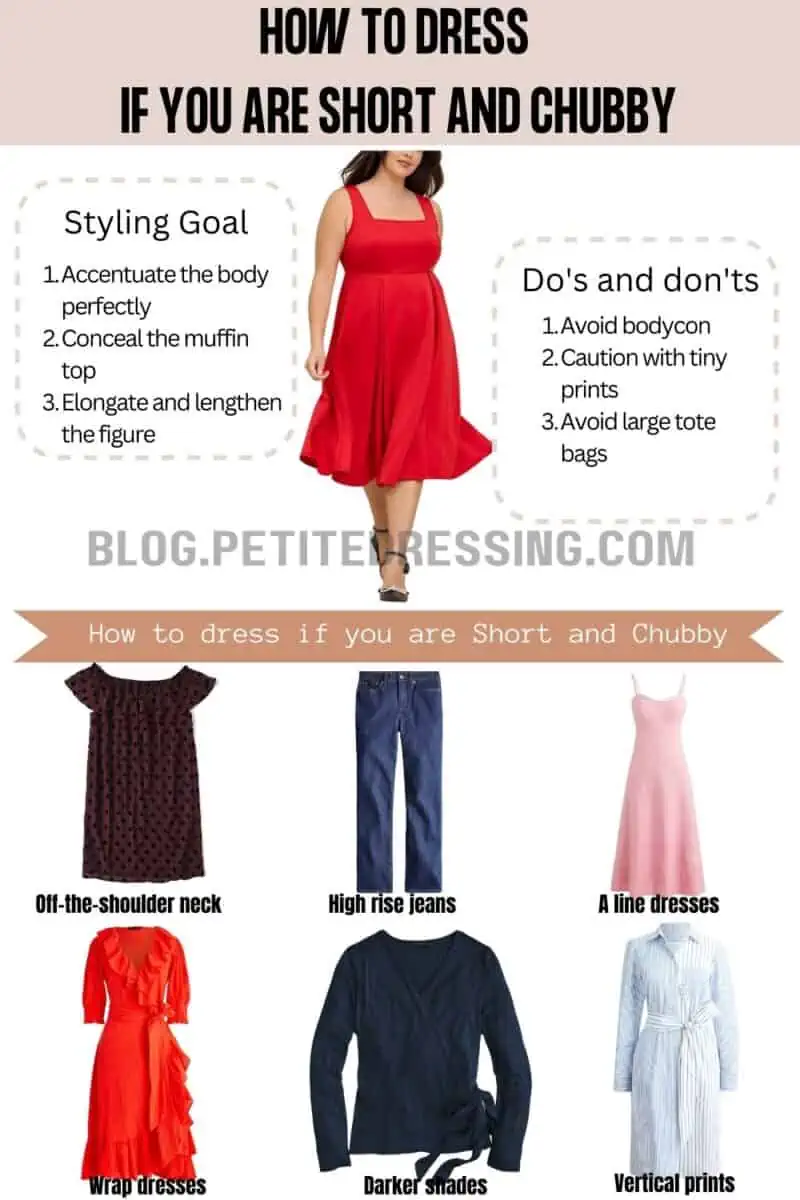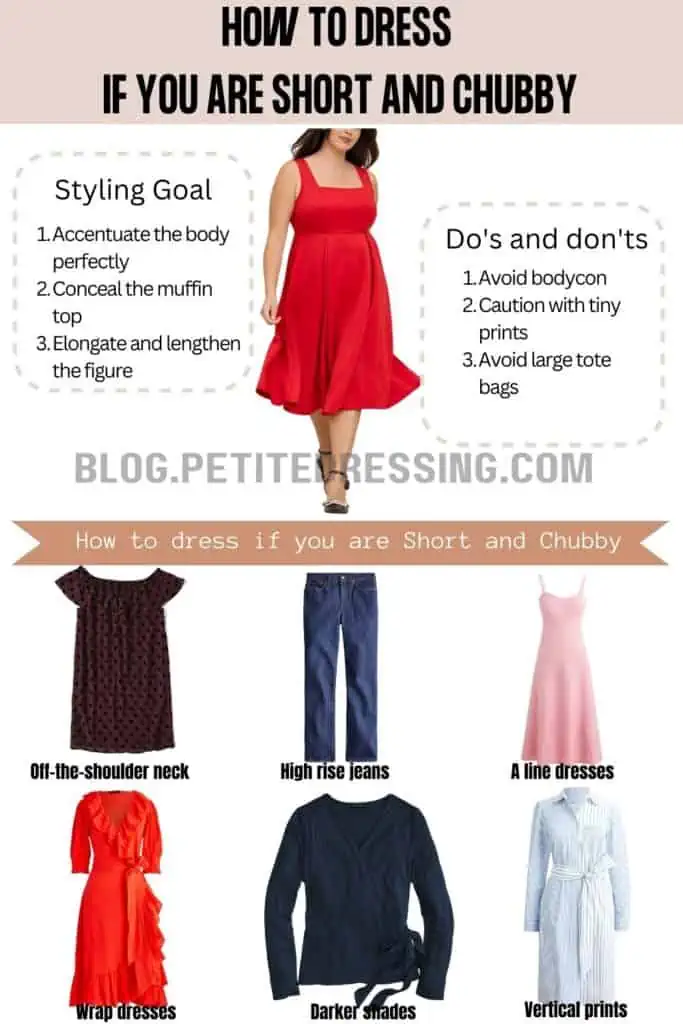 NECKLINES
Necklines play an important role in how we look, no matter what size or height you are. They are especially critical if you have a curvy figure, such as a plus size who typically have full bust. Wearing the right neckline can instantly make you look taller and leaner.
Open necklines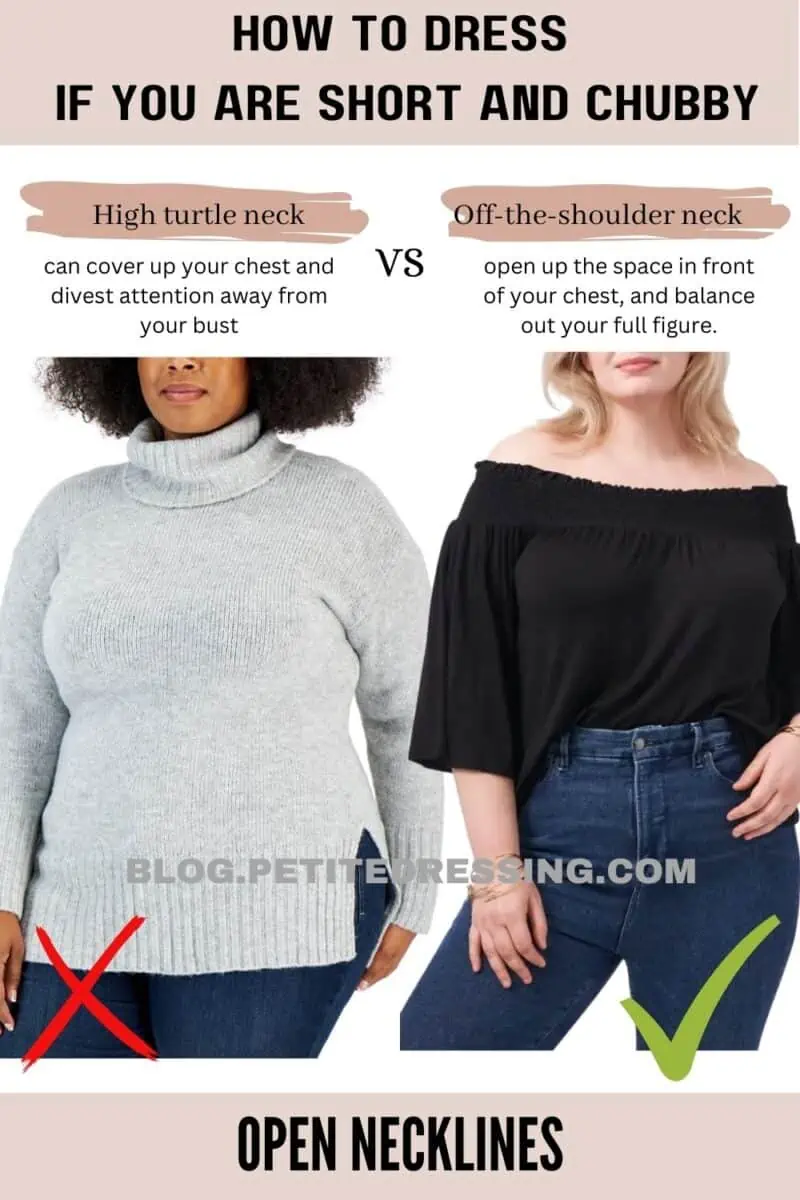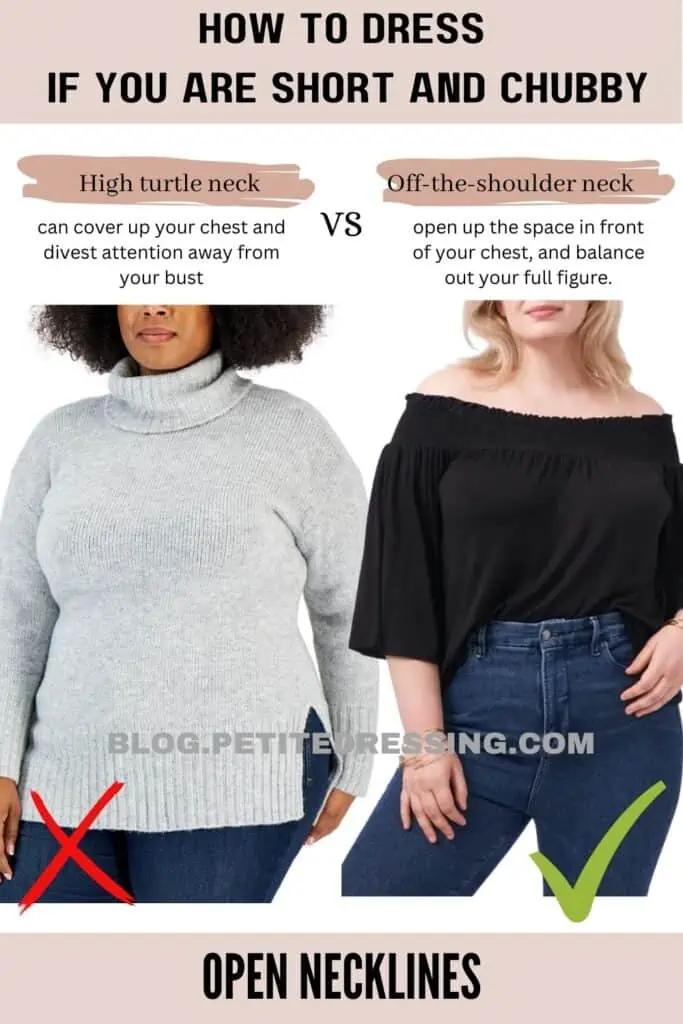 The most flattering necklines for plus size women with curvy figure like yours is the lower and open necklines such as
U neck
Off-the-shoulder neck
Boat neck
Sweetheart's neck
Because these necklines sit lower, they open up the space in front of your chest, and balance out your full figure.
Caution with high necklines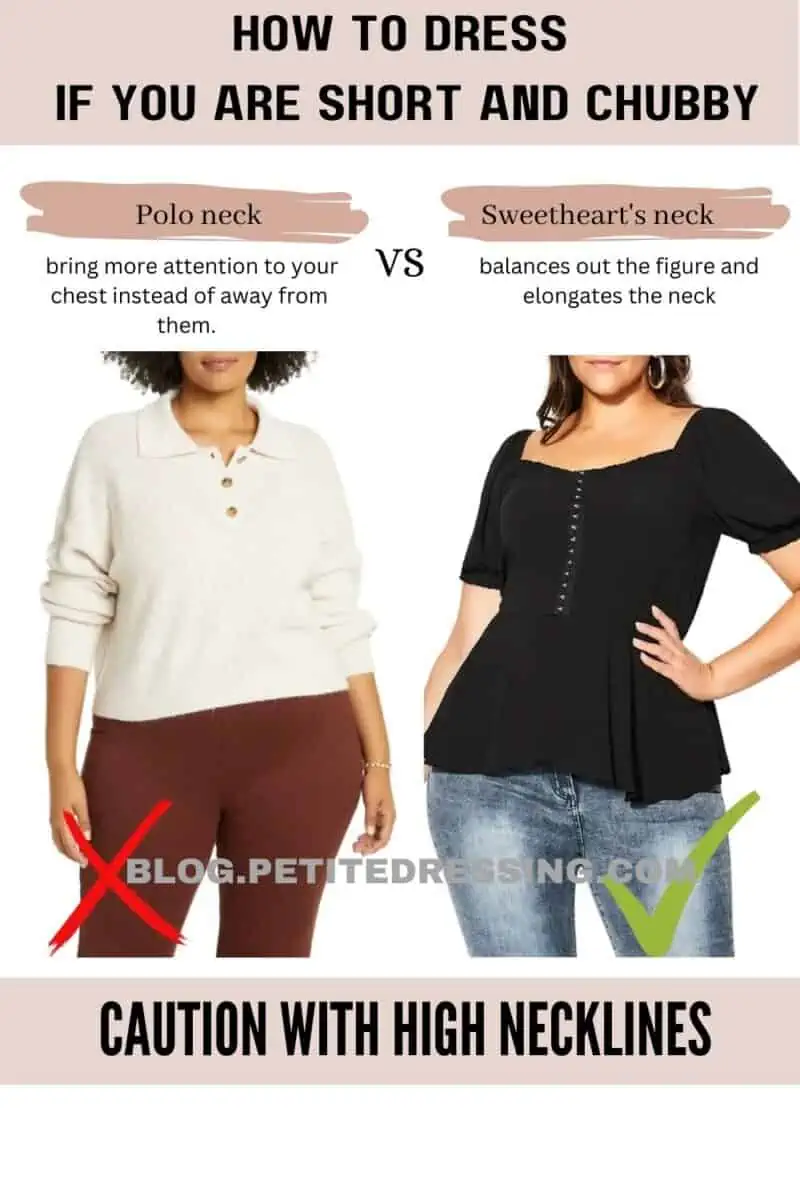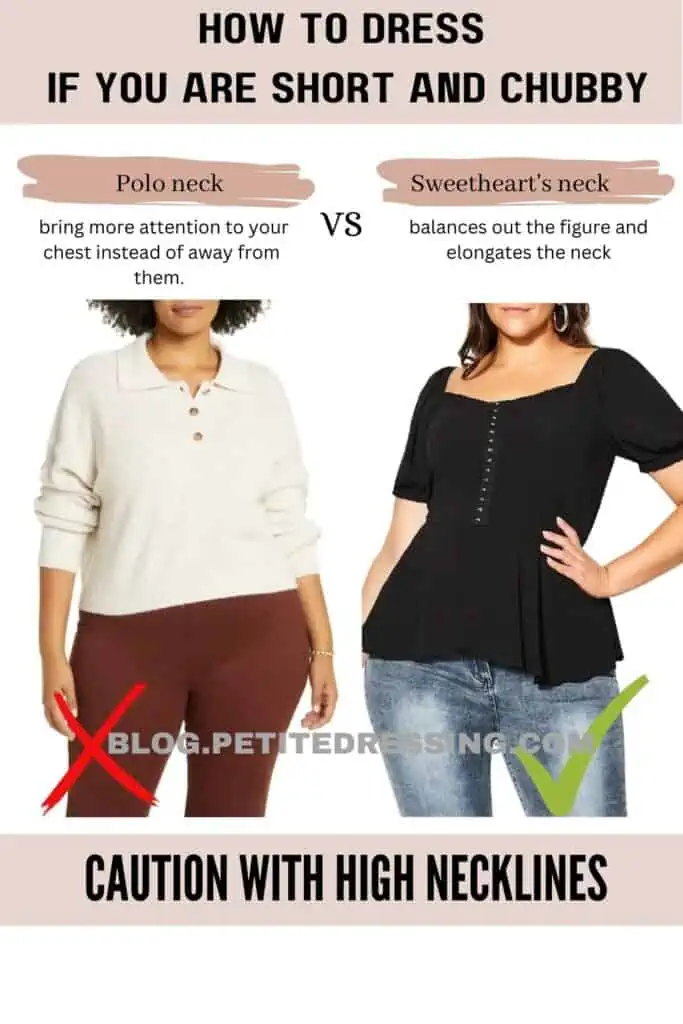 A short and chubby woman typically has a full bust, so sometimes you might think wearing high necklines can cover up your chest and divest attention away from your bust.
It actually works the opposite way.
Since high necklines cover from your neck to your chest, they bring more attention to your chest instead of away from them.
So if your goal is to look more balanced, be very careful with higher necklines such as
High turtle neck
High crew neck
Polo neck
TOPS
Avoid chest ruffles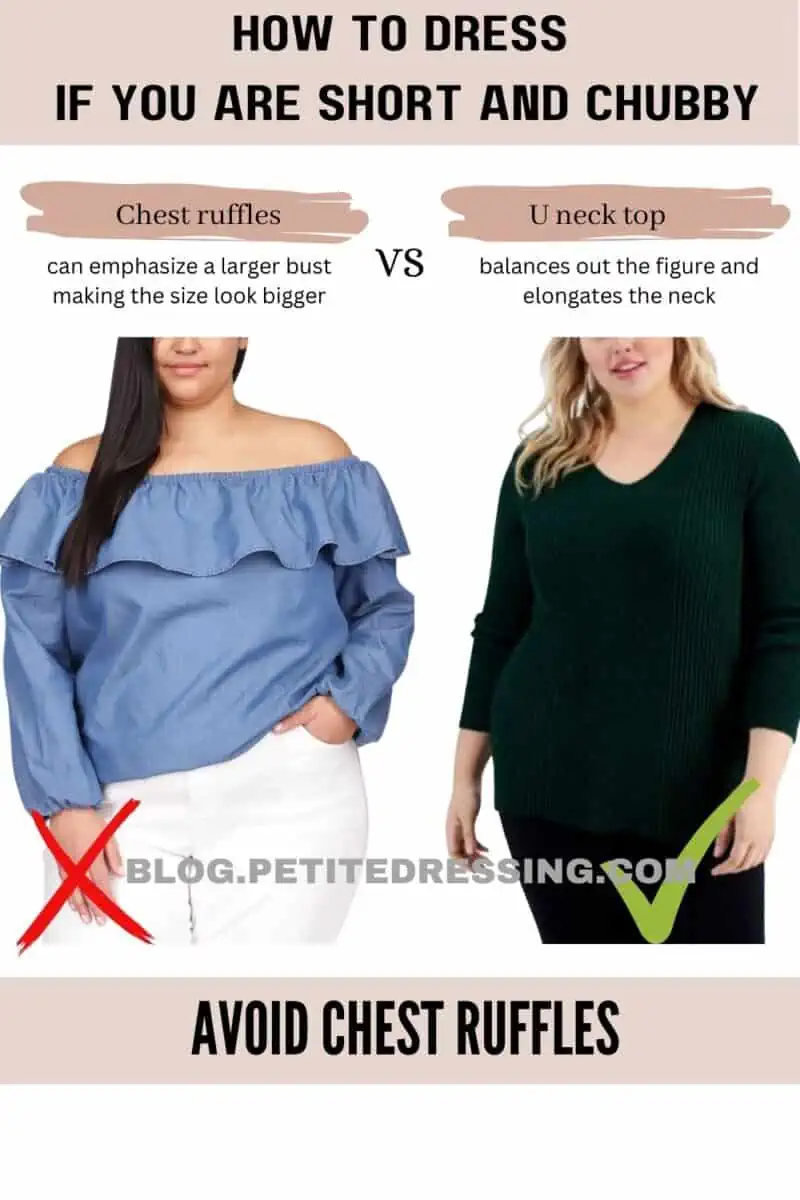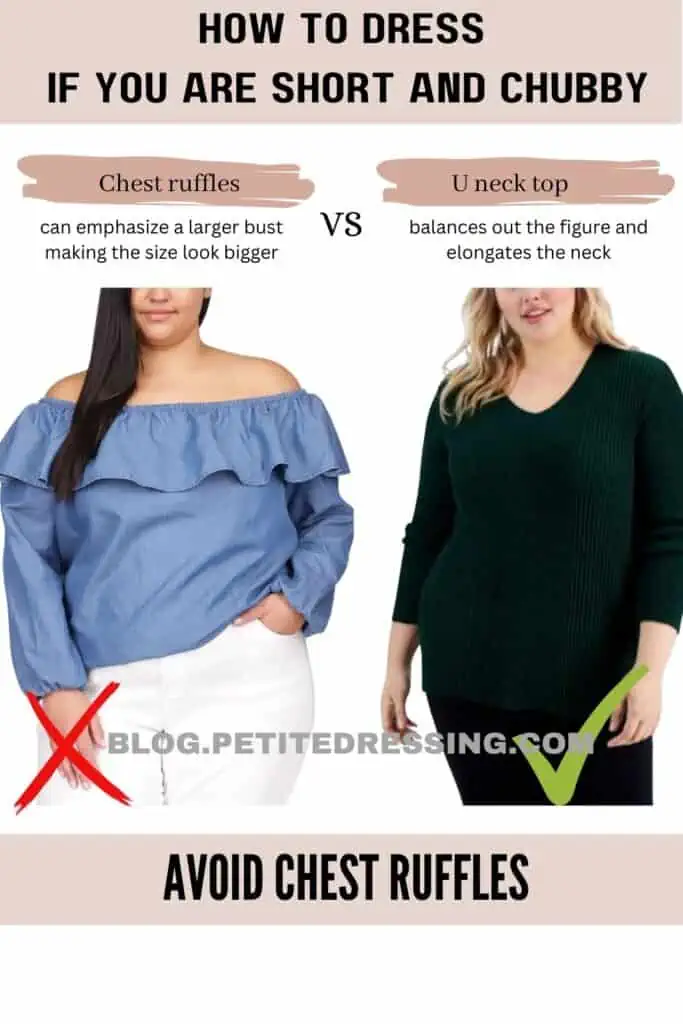 It is important that you stay away from bulky designs such as ruffles. While these may look great, they do make you look bigger.
Of course, it's nothing more than an illusion, but it's not the kind of illusion you want to create.
Because you already have a full bust, ruffles placed in front of your chest are something you especially want to stay away from.
Avoid balloon sleeves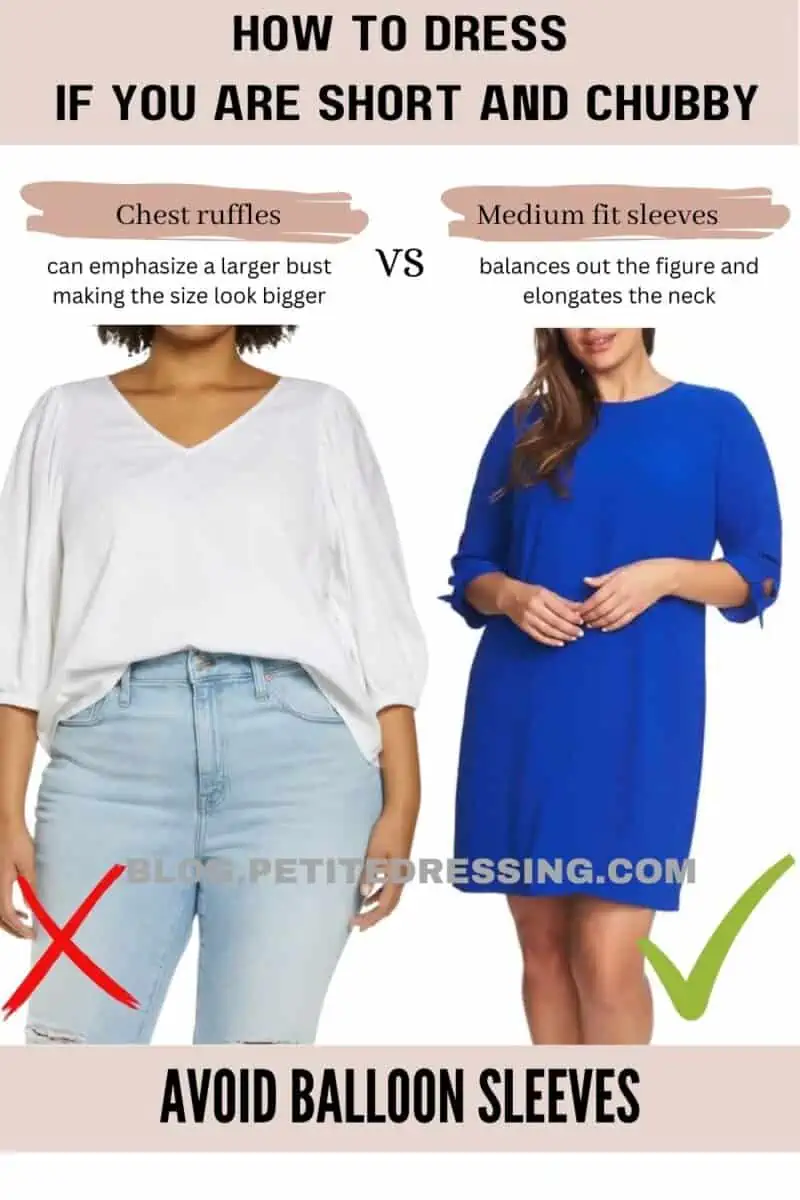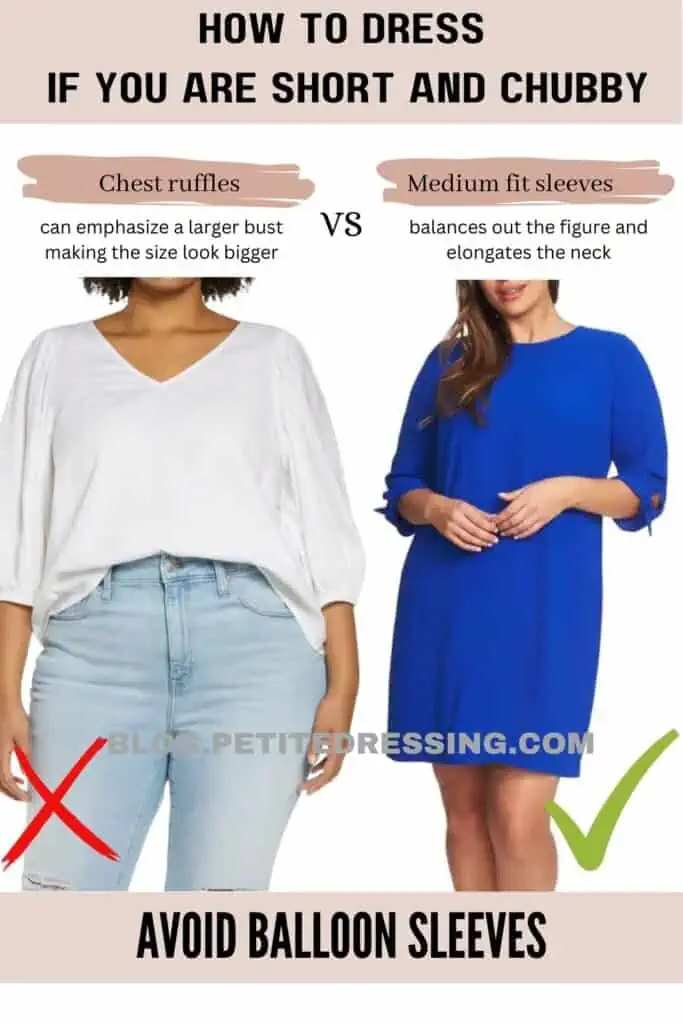 If you aren't sure what bulky clothes are, they include things with ruffles and puffy or balloon sleeves or skirts. It also includes pieces with dramatic shoulders.
Anything that looks like it adds to your body you probably want to stay away from. It's a shame you can't enjoy these types of styles, but everybody's type comes with its shortcomings.
BOTTOMS
Mid to high rise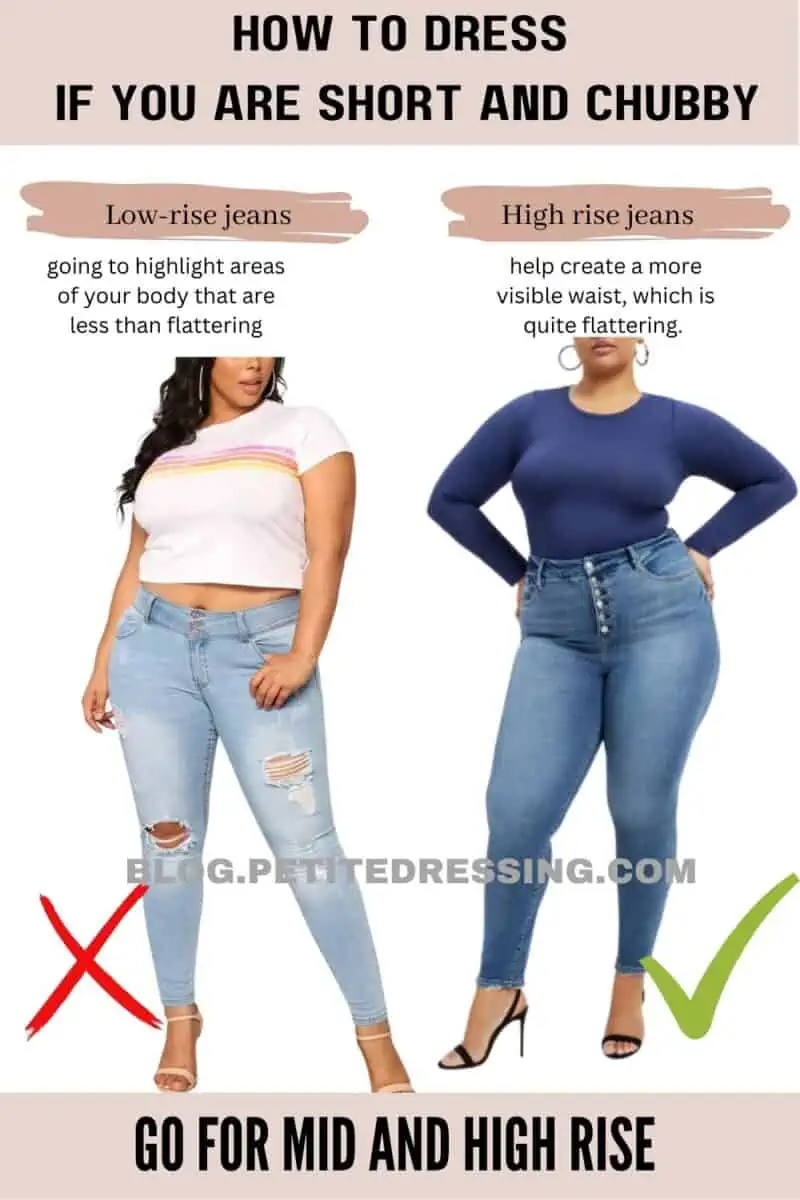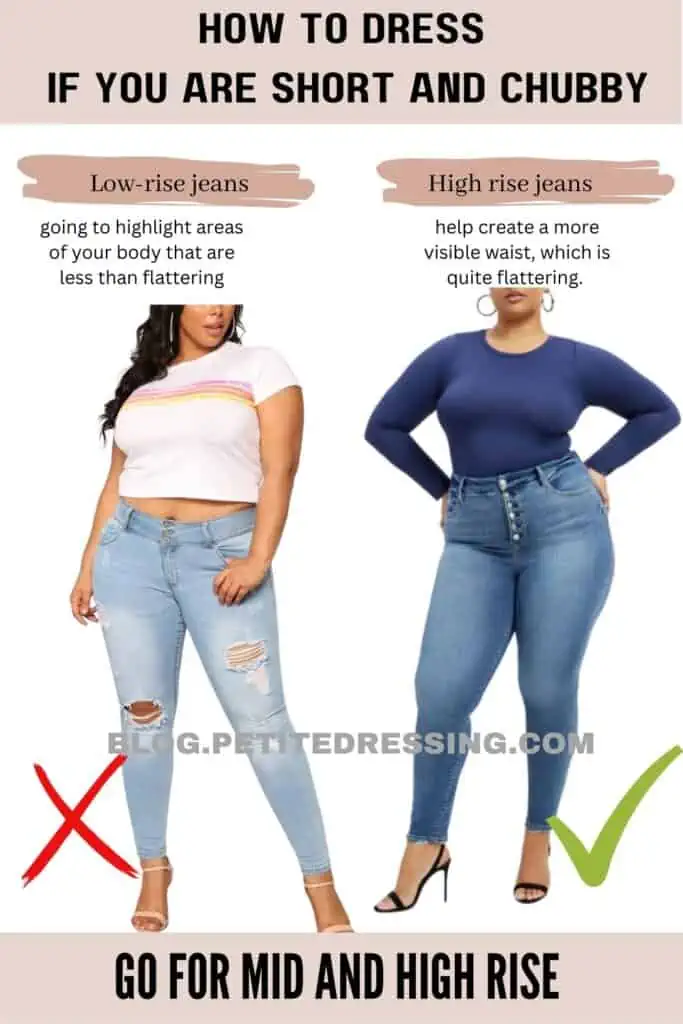 If you are a petite and chubby girl, you want to stick to high-rise pants and other high-rise pieces.
High rise jeans help create a more visible waist, which is quite flattering.
It also lifts the waistband, which is a good thing for you as they can make your legs appear longer and leaner.
This gives the illusion that your legs are longer than they are. You'll look taller than you are, and your shape is going to look sexier.
Avoid low rise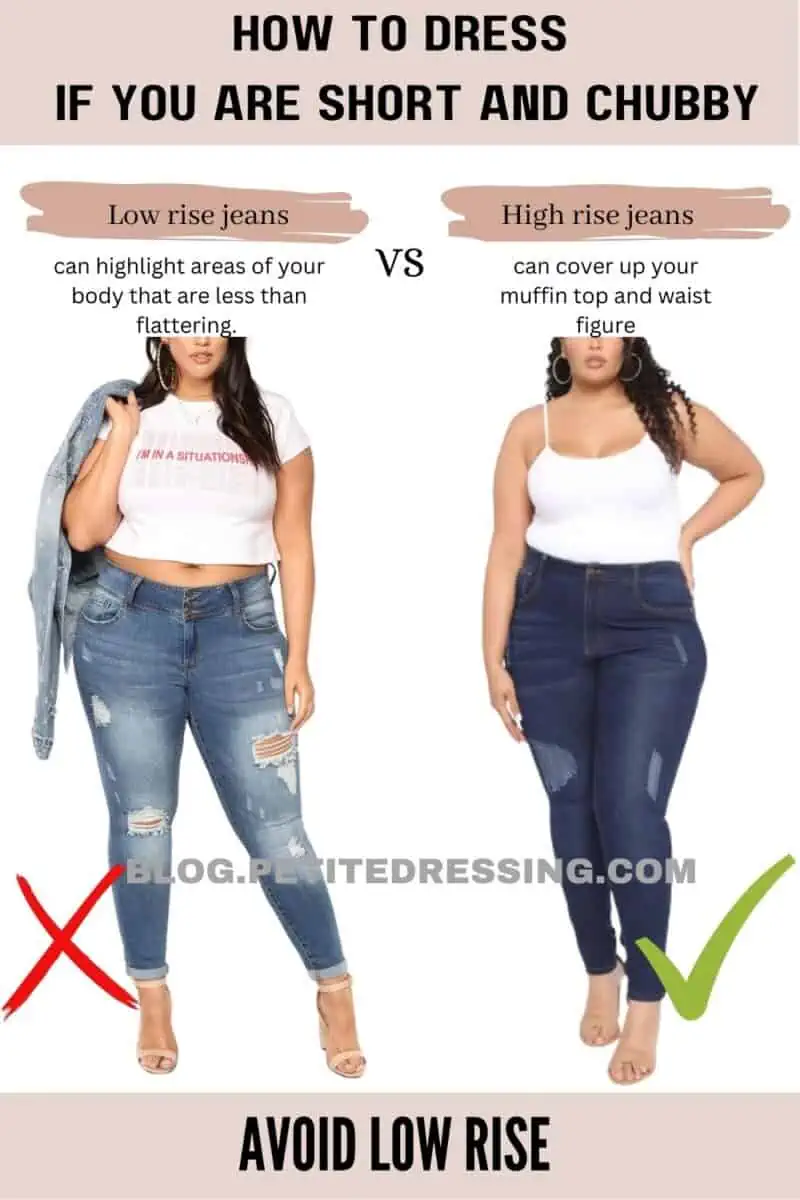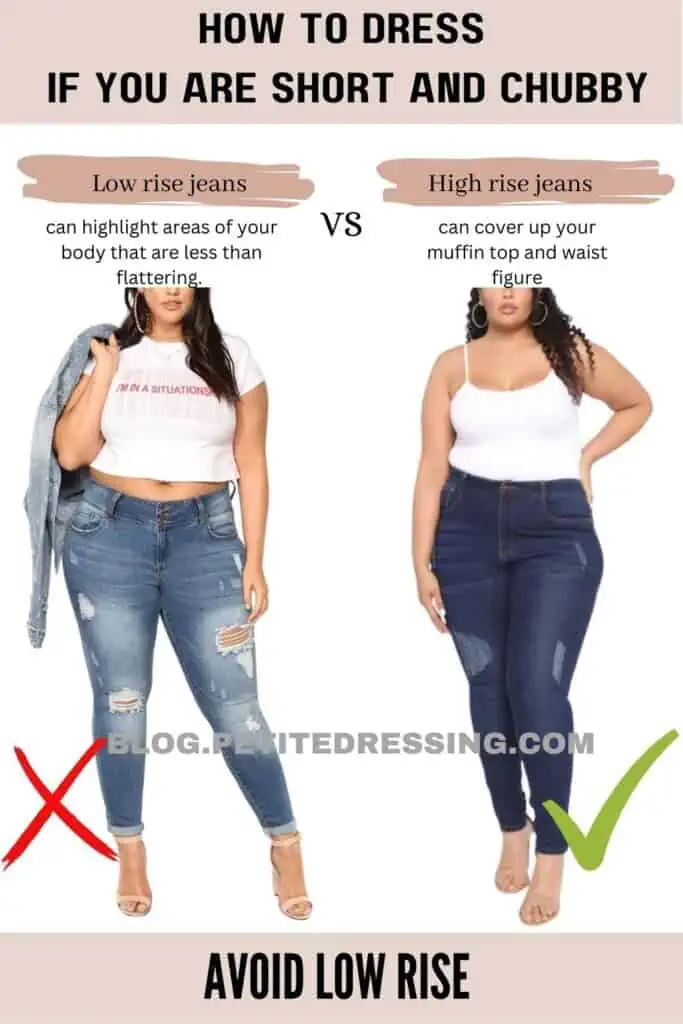 Low-rise pants seem to come into fashion every so often.
This does make sense, as fashion trends are like a revolving door that keeps repeating itself. They can be flattering for some people, but you want to avoid these sorts of pants, no matter what fashion magazines say.
These sorts of garments are going to highlight areas of your body that are less than flattering.
Avoid baggy jeans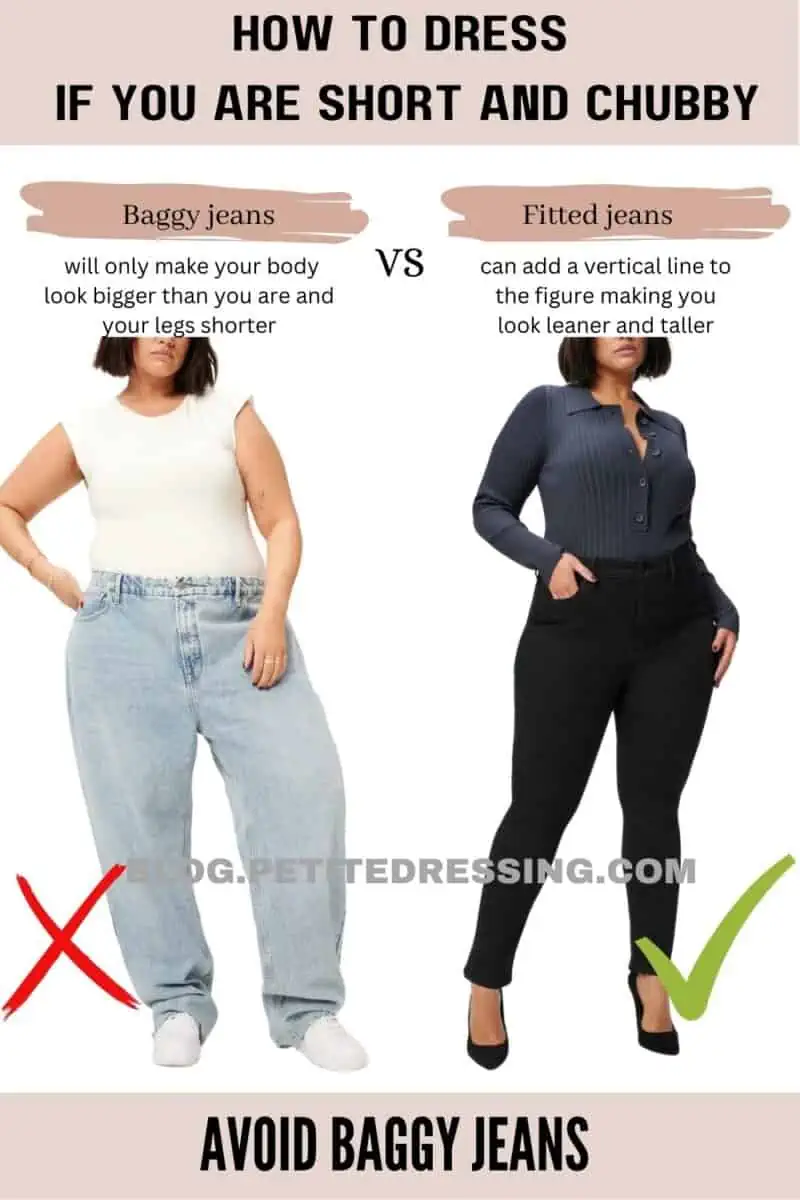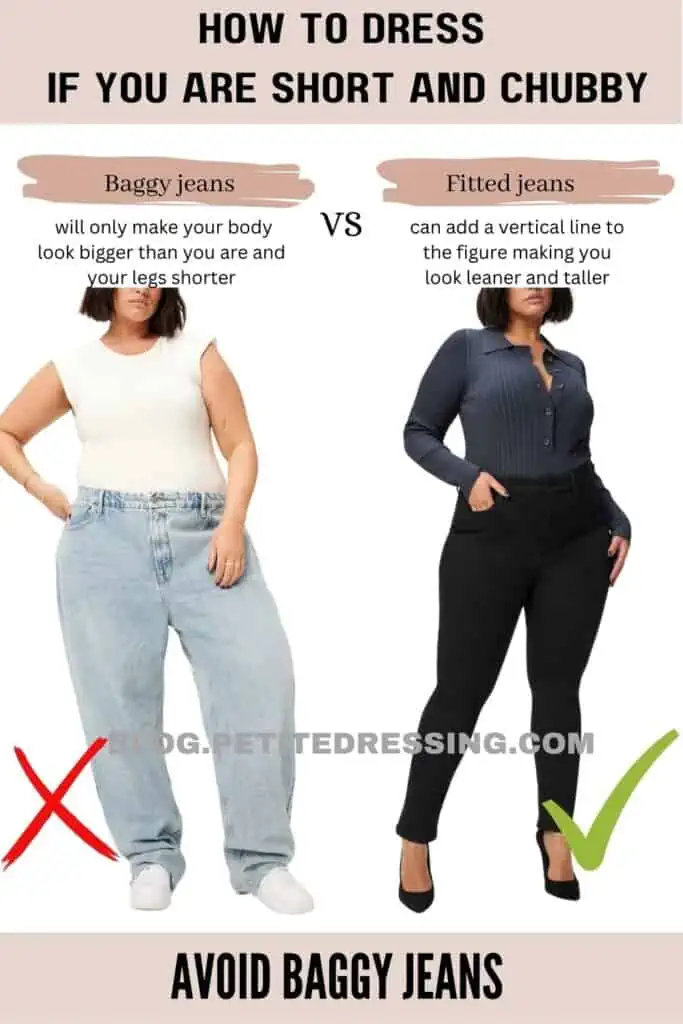 The 90s-style baggy jeans are making a huge comeback. It seems like overnight all the popular brands are promoting this type of loose-fitted jeans. However, if you are short and you are on the heavier set, you should resist this trend as they are not flattering for your shape.
The reason is that anything baggy will only make your body look bigger than you are. Not only that, because you are also short, jeans that fit too loose will only make your legs look even shorter.
DRESSES
A line dresses
The A-line silhouette is one of the most flattering on someone who is short and chubby. The reason is because they are fitted on top, and then they flare out under your waist.
This shape will create the illusion of a smaller waist, which is what every short and curvy girl wants.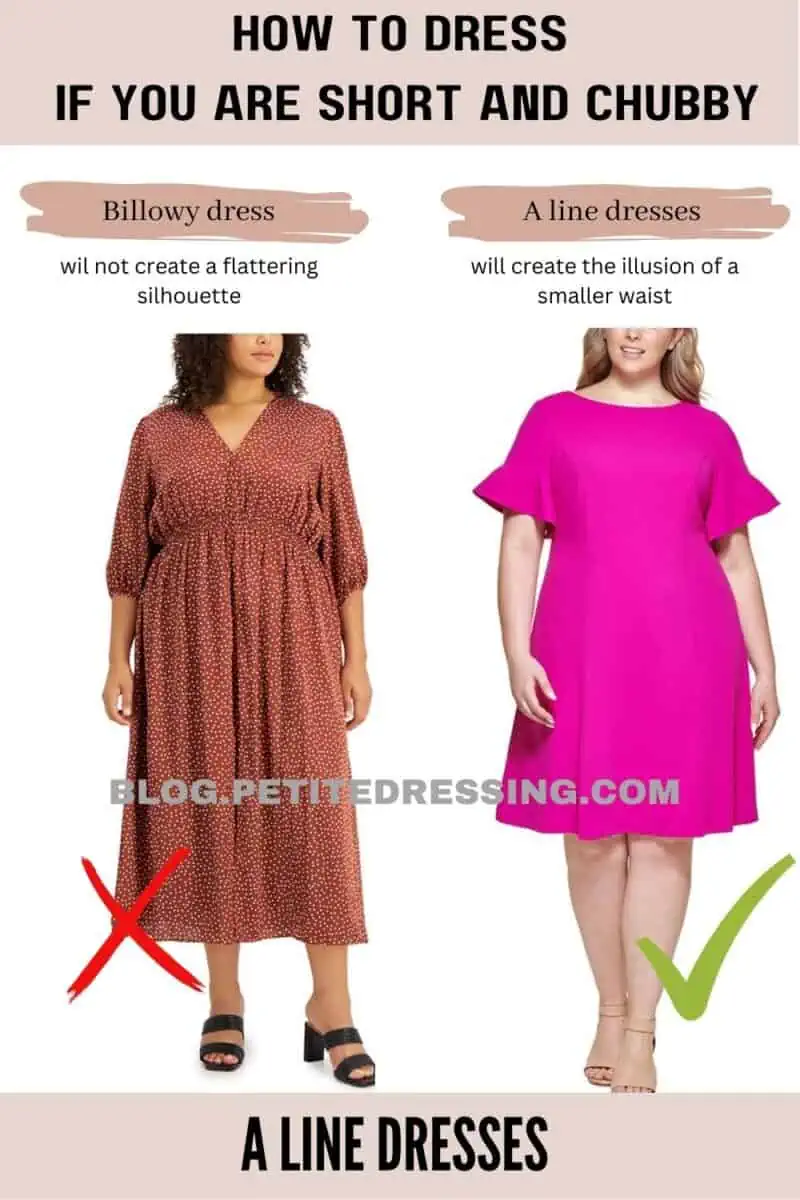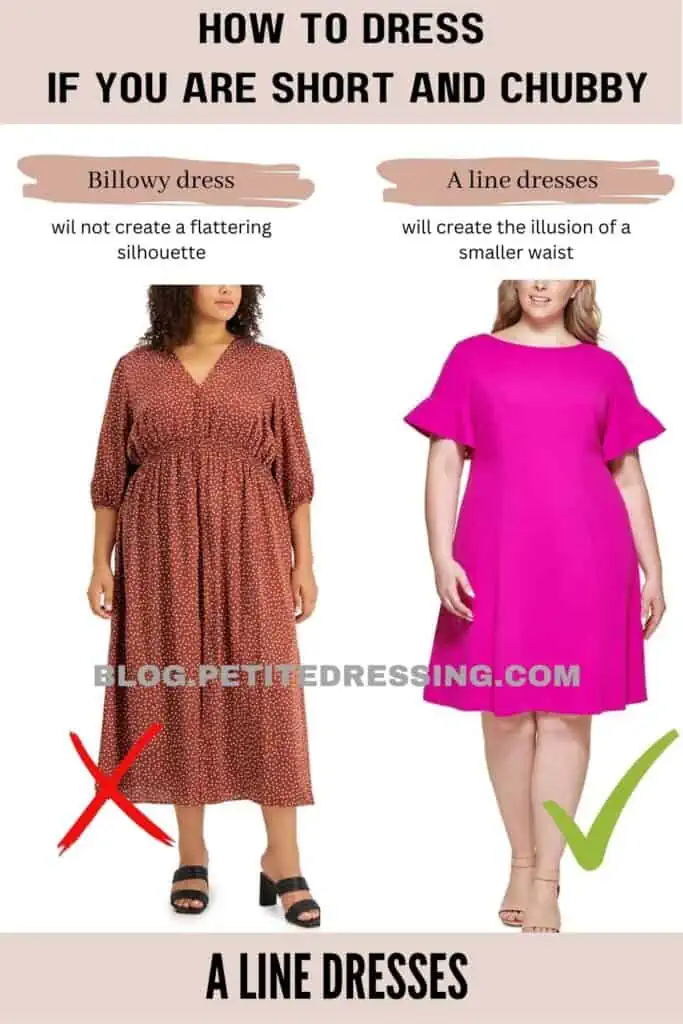 Wrap dresses
Wrap is a generally flattering design, but on someone who is short and chubby, they can really enhance your assets and camouflage your weaknesses.
The reason is because they come with a v-neck, which can break up the space in front of your chest and make your figure look much more balanced.
Meanwhile, wrap dresses also come with adjustable belts, which make them quite accommodating if you have a thicker waist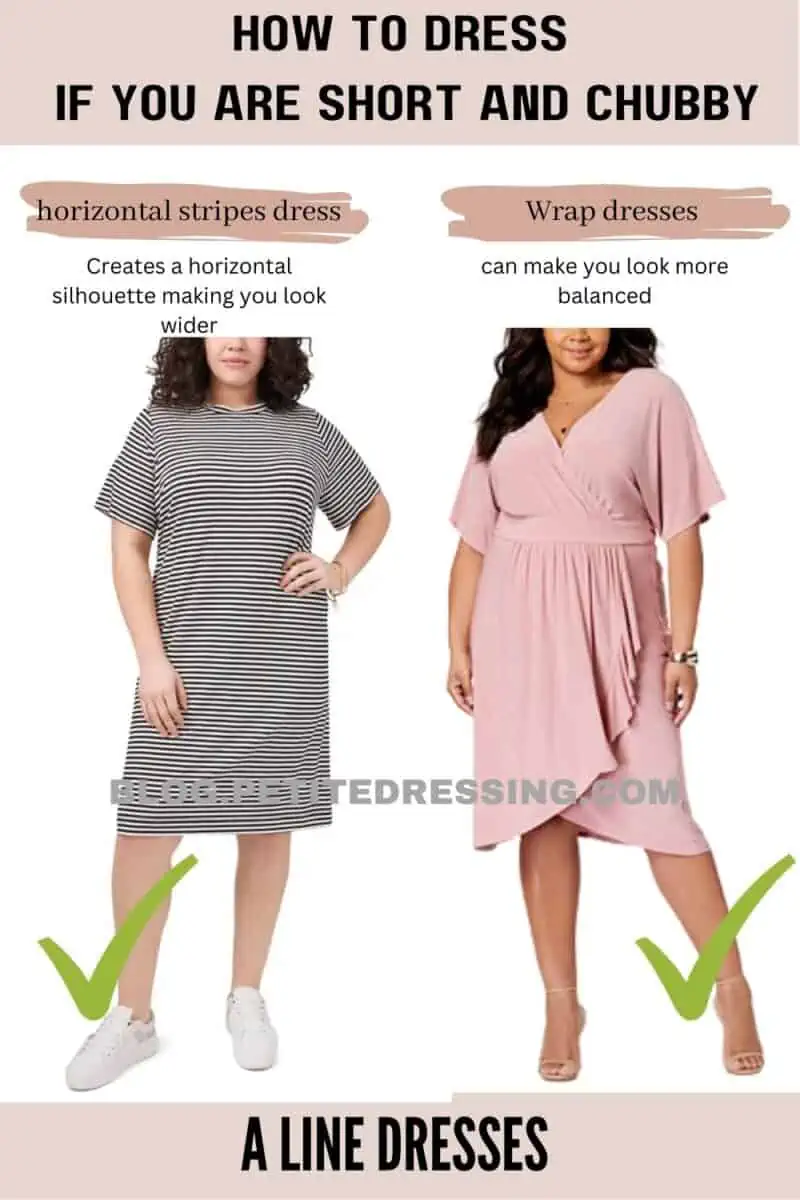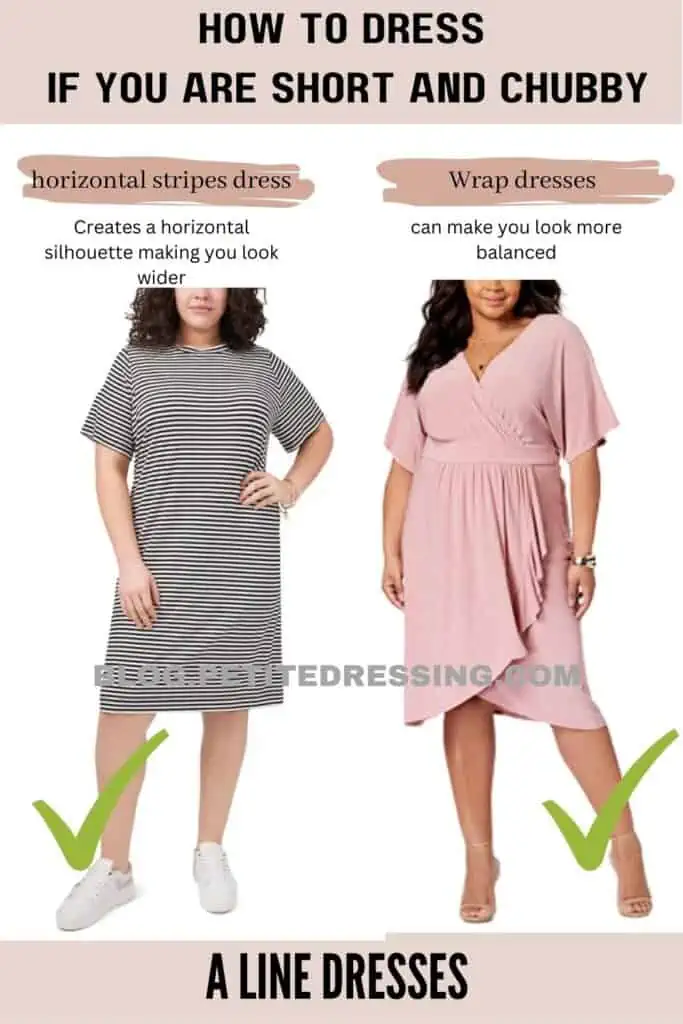 Avoid bodycon
You don't want clingy clothes.
While there's nothing wrong with wearing clothes that accentuate your shape, there's a difference between clingy and something that embraces your shape.
Clingy clothes can't help but highlight areas of your body that you might not want to show off, such as that muffin top or other areas that aren't for the world to see.
This doesn't mean your clothes have to be oversized as mentioned earlier. It just needs to hug your body just right, so consider clothing with some give. You can look for pieces with some elastic.
You can also choose clothes that are slightly snug in one area and looser elsewhere.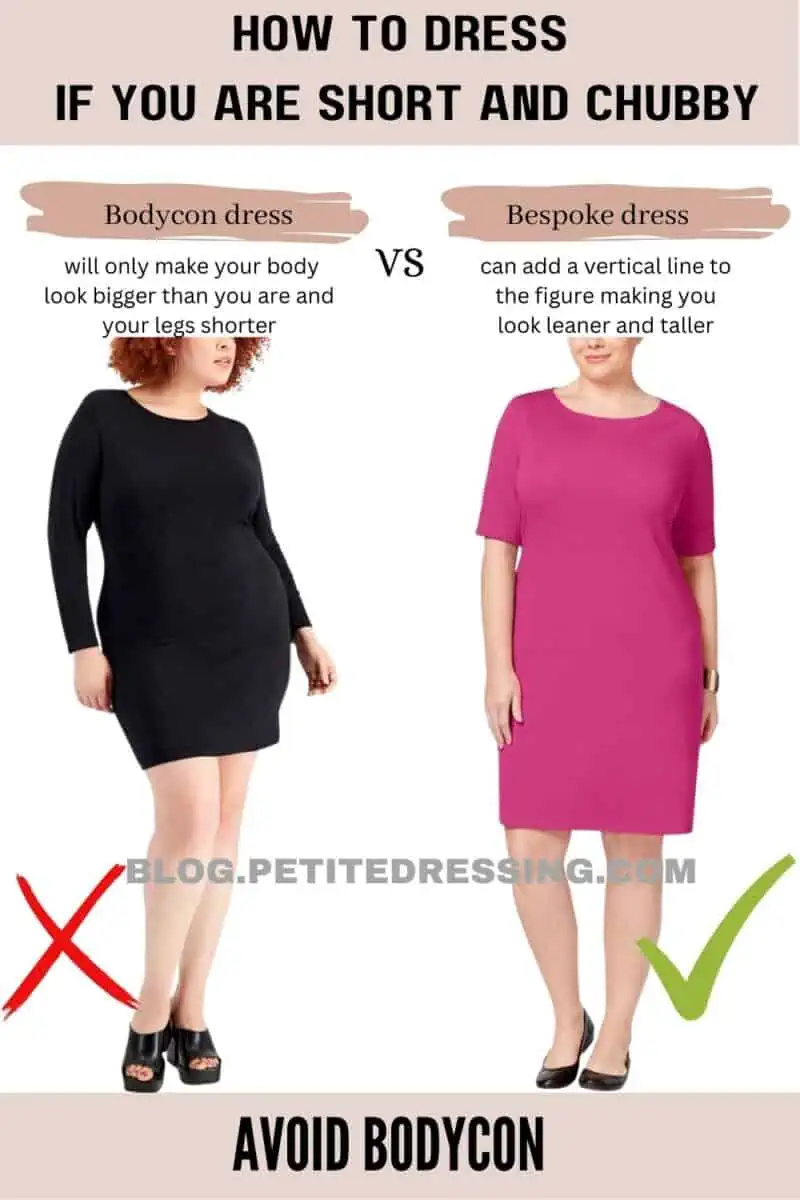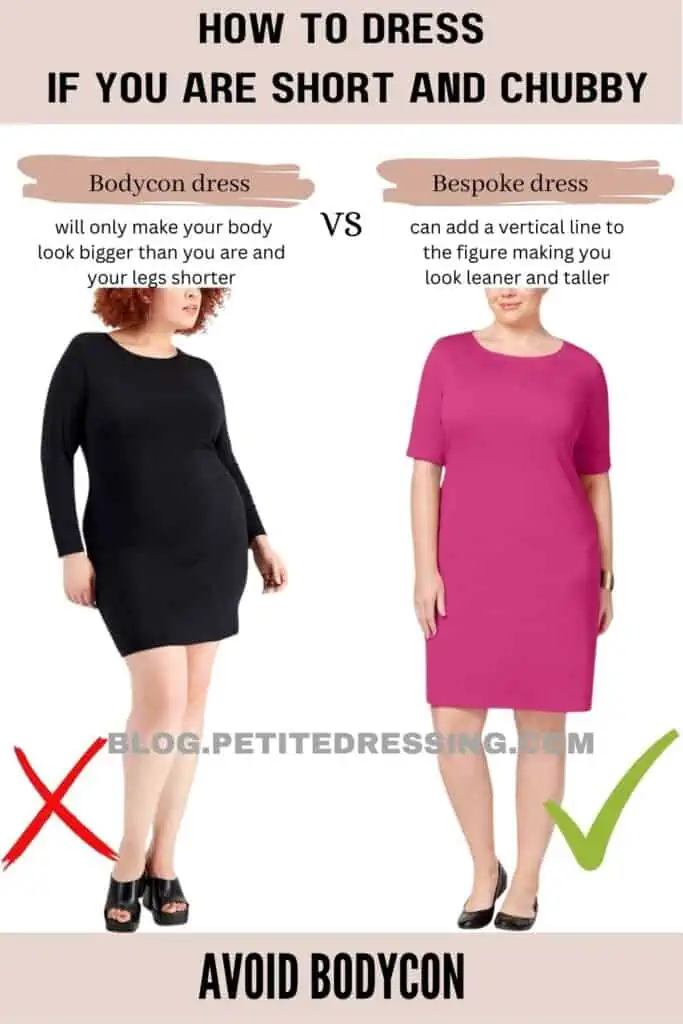 Bespoke dresses
The chances of finding dresses that fit you like a glove in the store are low. This isn't a criticism of you but on the retail businesses that ignore you.
It's a reality you have to accept, but you can do something about this.
You want to find clothes that sort of fit and work with a tailor. You must find one that can make your clothes fit as if they were designed specifically for your body. Look at reviews to see if this person can work with various body types.
It might not seem important, but well-tailored clothes make you look much better.
It accentuates your body perfectly and makes you look like a million bucks. It can be costly, but you'll feel happier and more confident in your clothes.
COLORS AND PRINTS
Darker shades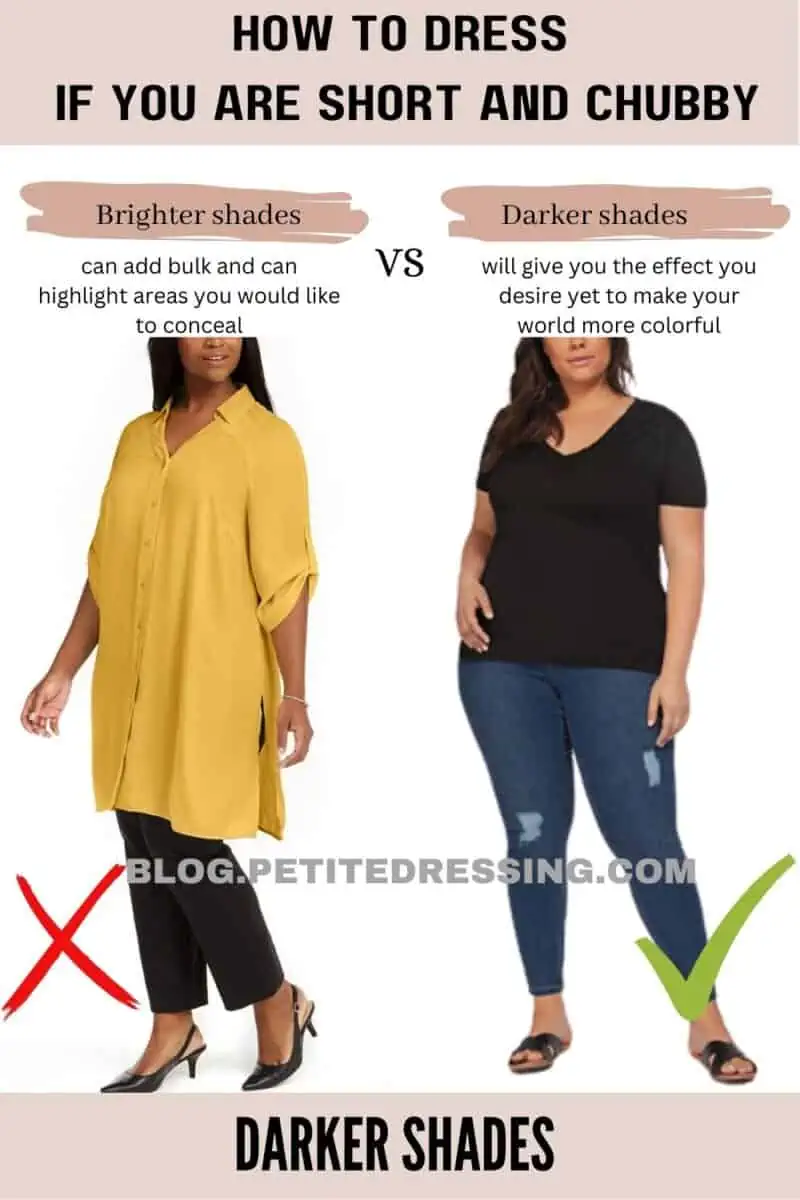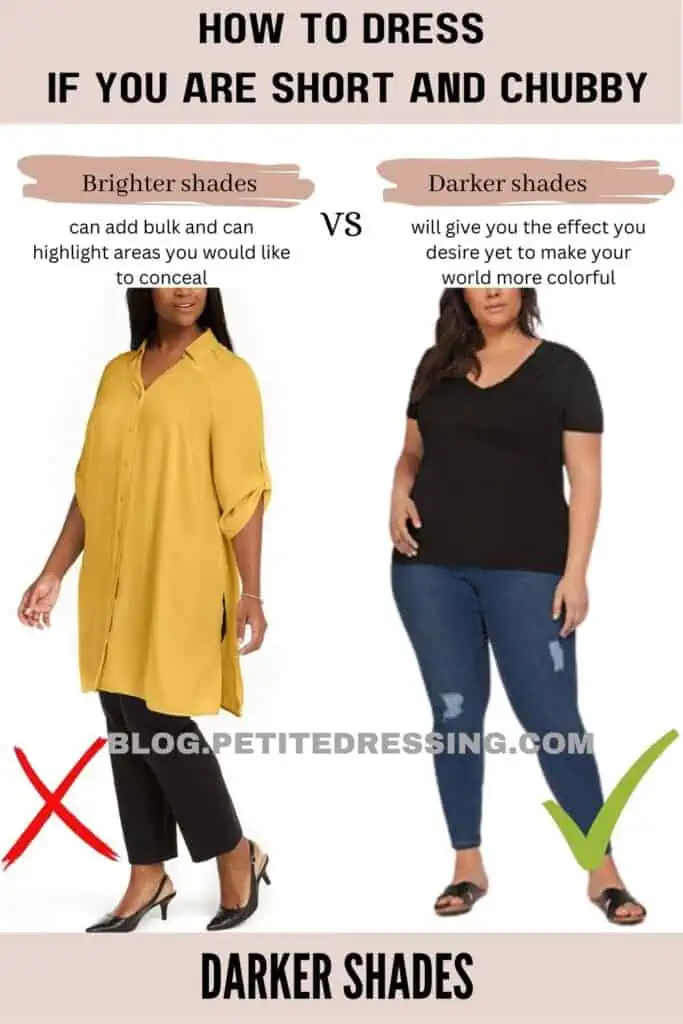 Black is definitely slimming, but some petite and curvy people think they can't wear anything else.
It's heartbreaking to feel that you can only wear one color because of who you are. The good thing is that there are more options that will give you the effect you desire yet to make your world more colorful.
One thing to do is opt for dark versions of any color you want, like dark blues, greens, and browns, which are just a few examples.
Vertical prints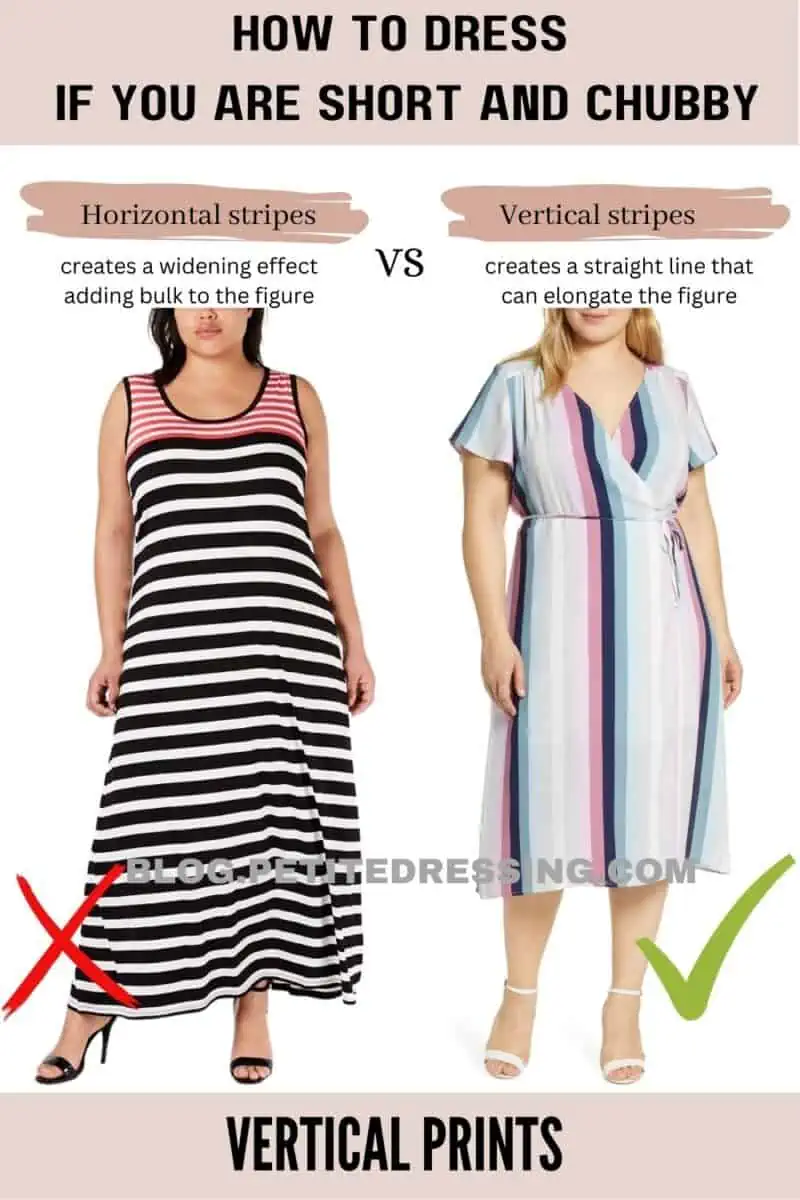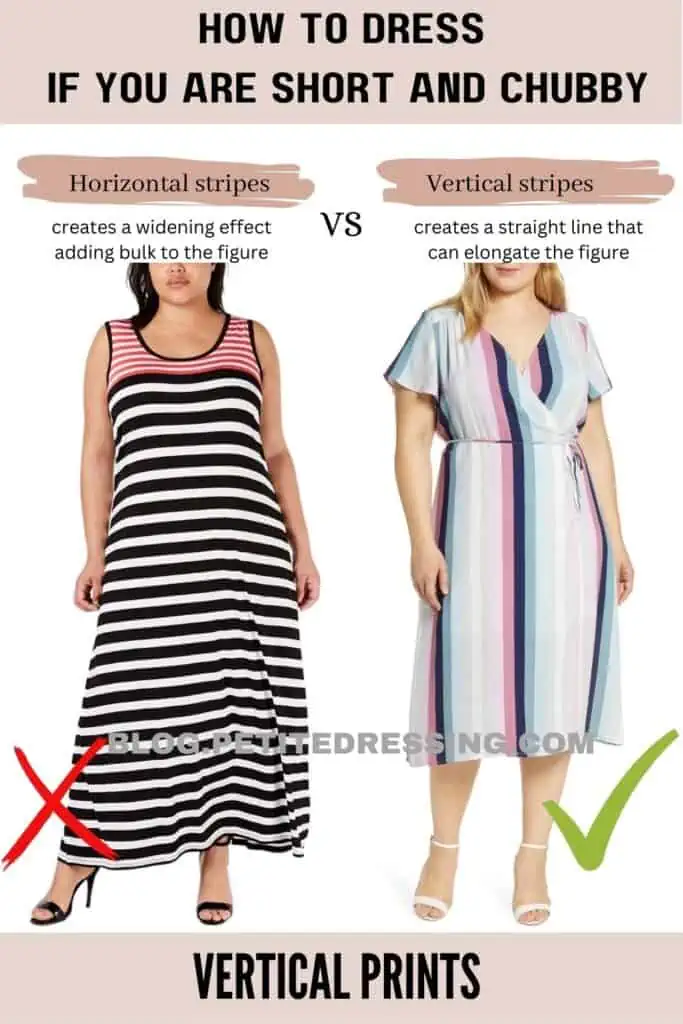 If you love prints but refuse to wear them because you're afraid they'll make you look heavier, you can breathe easier. There are options for you.
The key is learning how to wear prints.
In general, any vertical patterned prints can be quite flattering for your short and chubby figure.
Vertical stripe is an obvious option, but they are not the only option. Look for any prints that go up and down, versus left and right.
If you get this right, the outfit will complement your petite and curvy look.
Caution with tiny prints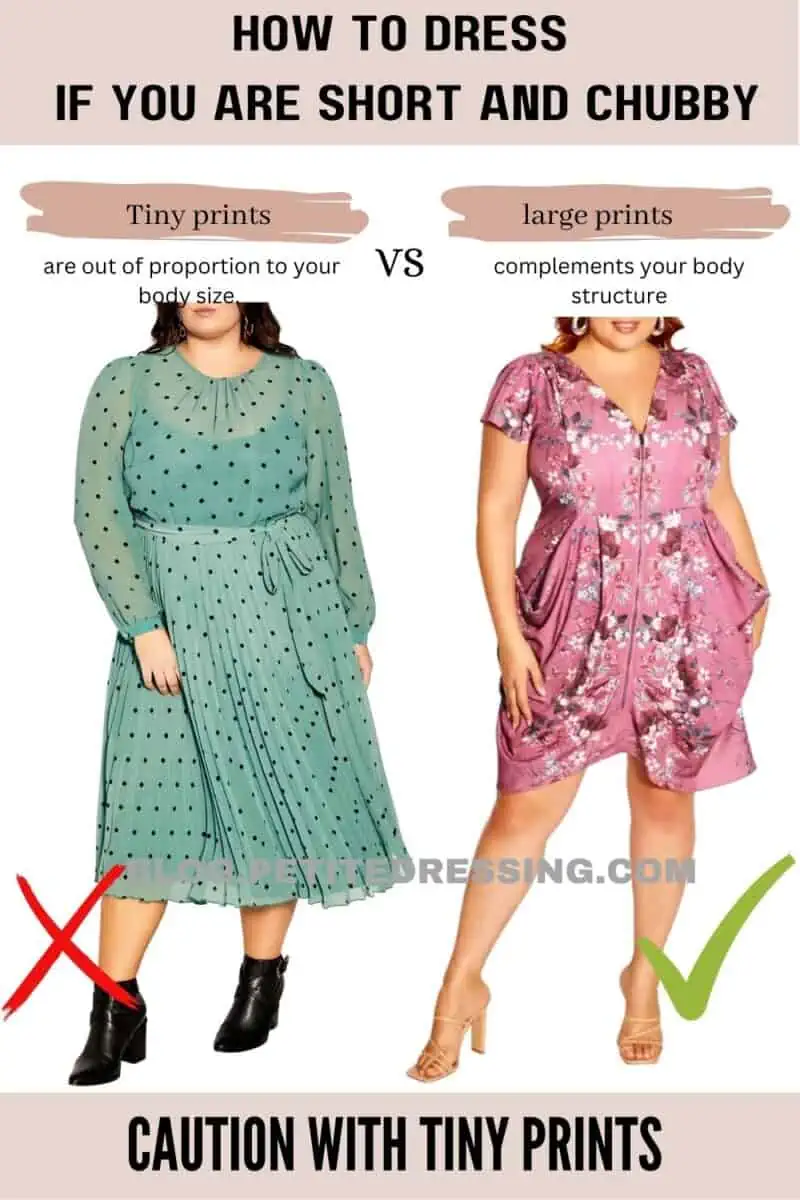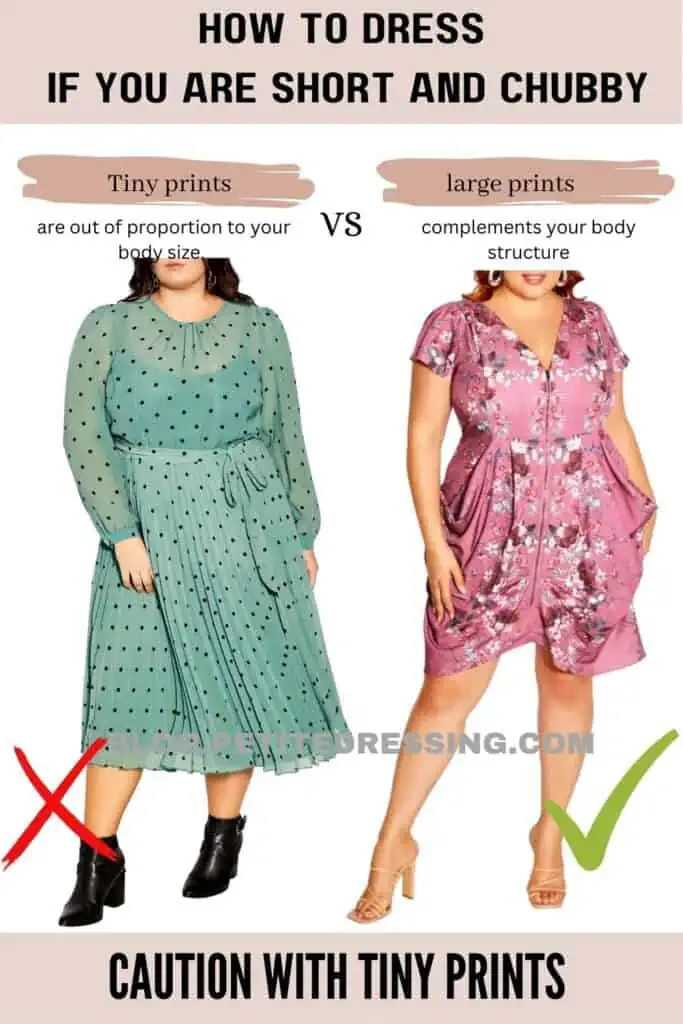 When you are short, everything should be in scale with your body.
This, however, can cause confusion sometimes.
Many short and chubby girls get the impression that because you are short, then you should only go for small prints.
In fact, if the prints are too small, even though they are in scale to your height, they are out of proportion to your body size.
ACCESSORIES
Avoid large tote
The next thing that has to be discussed is the size of your handbag. It's wise to purchase a handbag that matches your overall shape.
For the petite plus size shape, an oversized handbag will look out of place. It will overwhelm this body type.
Avoid tiny bags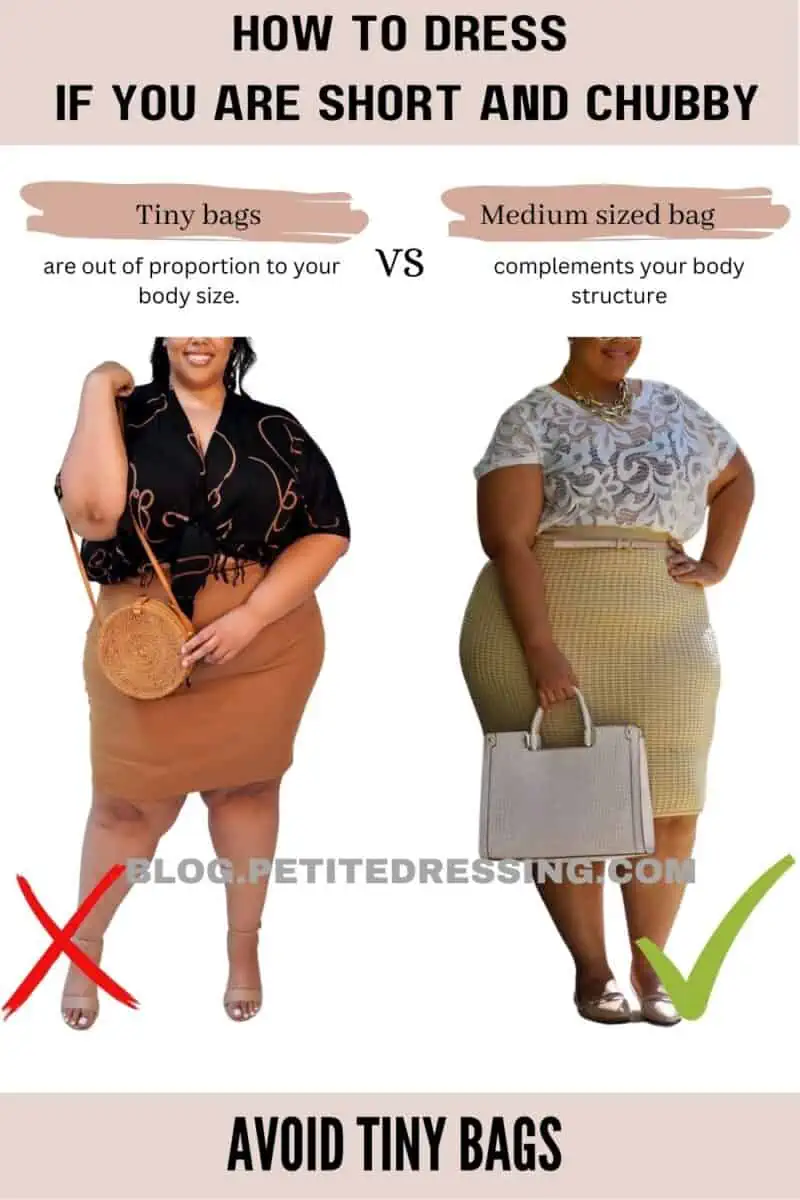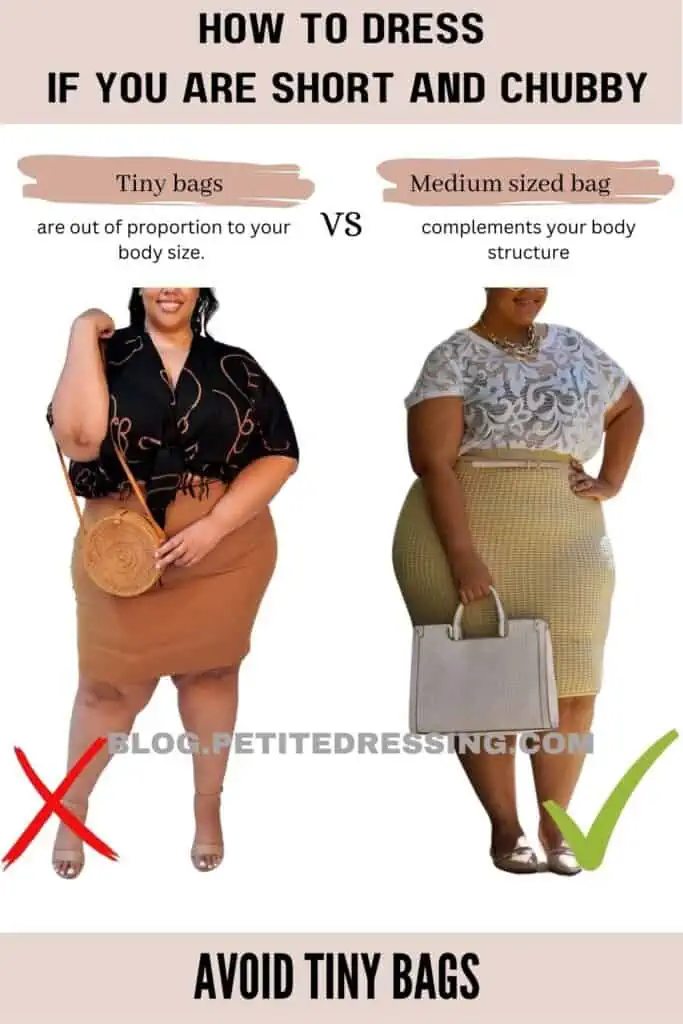 You want something in the middle. Nothing too small or it'll hurt your look but nothing too big either.
The micro handbag is trending, but following trends blindly is never the way to go.
Simple jewelry
When you wear a statement necklace, be sure the rest of your jewelry is petite.
Looking too busy will not have the effect you want it to have.
The good thing about dressing like this is that you can stretch out your statement pieces throughout the week or month rather than wearing everything in one day.
UNDERGARMENTS
A chunk of people doesn't know the importance of choosing the right undergarments.
People don't put much thought into their undergarments because they believe no one is going to see them. These folks usually just get something inexpensive that sort of fits.
While it's true that people will not see your undergarments, the truth is that choosing the right kind can make a big difference.
Bras
Because you have a full bust, your choice of bras is critical.
For your short and chubby figure, bras can serve two very important purposes.
First, they can give your chest the proper support you need. This will not only make you feel more comfortable but also will make everything you wear look better.
Secondly, they can also make your chest appear smaller, if that is what you want. Go for minimizer bras, if you prefer to make your bust look less of a focus for your outfit.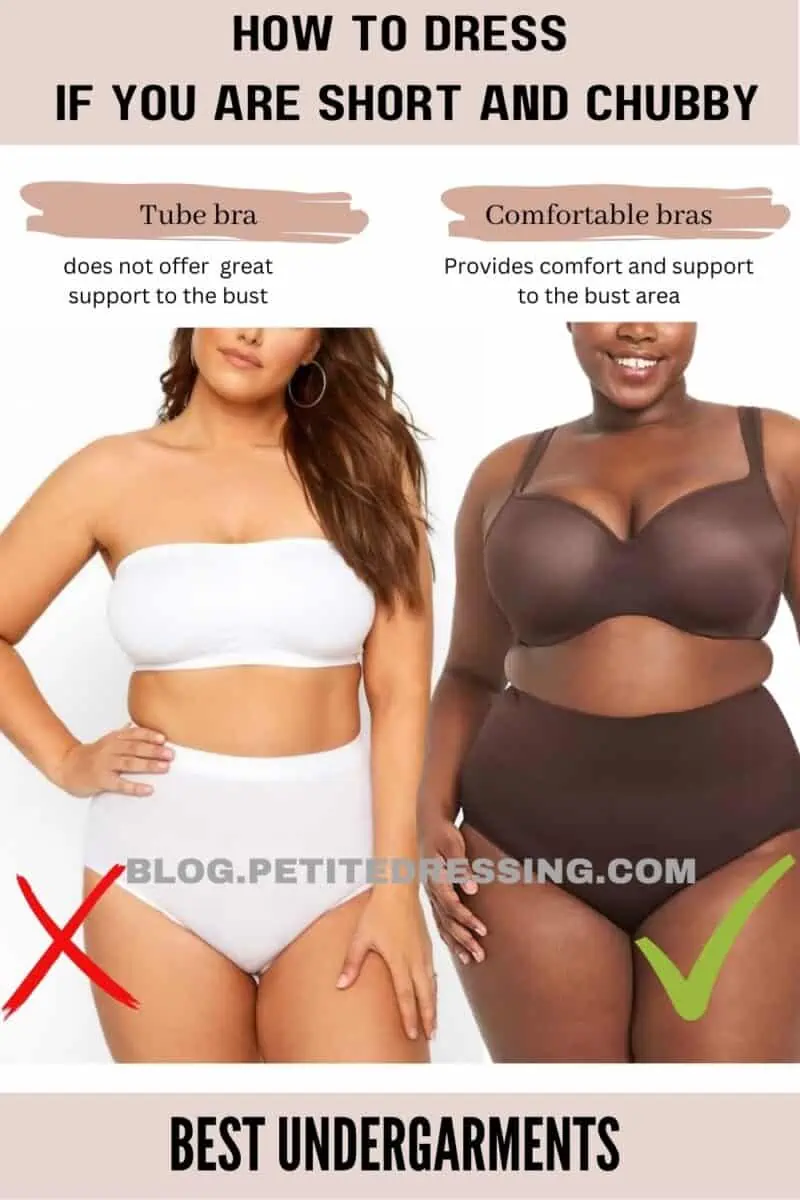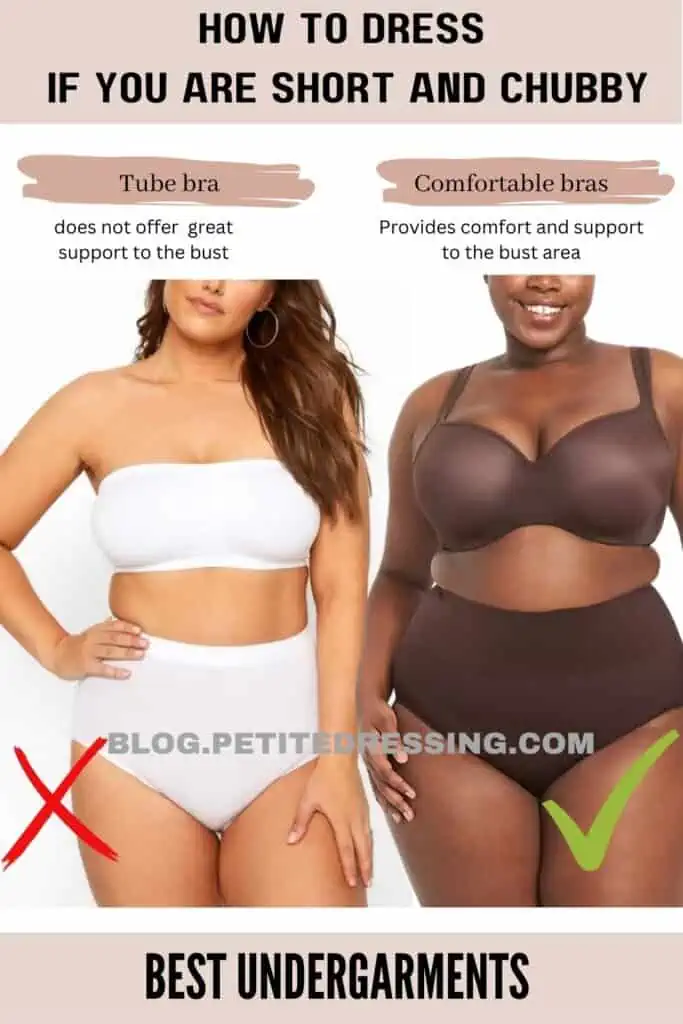 Shapewear
For many women, shapewear is something they would only reserve for a special event, i.e. when they need to fit into a tight dress. However, if you have a short and curvy figure, making shapewear your daily go-to can really make a huge impact on how you look overall.
If they fit like a glove, they can accentuate your body and help your clothes look better, no matter you are in a causal denim outfit or a form fitting dress.
You are going to have to spend more time looking for the right undergarments, and you may have to spend more on these garments, but it's worth it.