How can you make your legs appear longer without spending months in intensive yoga classes? The answer is simple: pants. Just by choosing the right style of pants, you can make your legs look longer without breaking a sweat.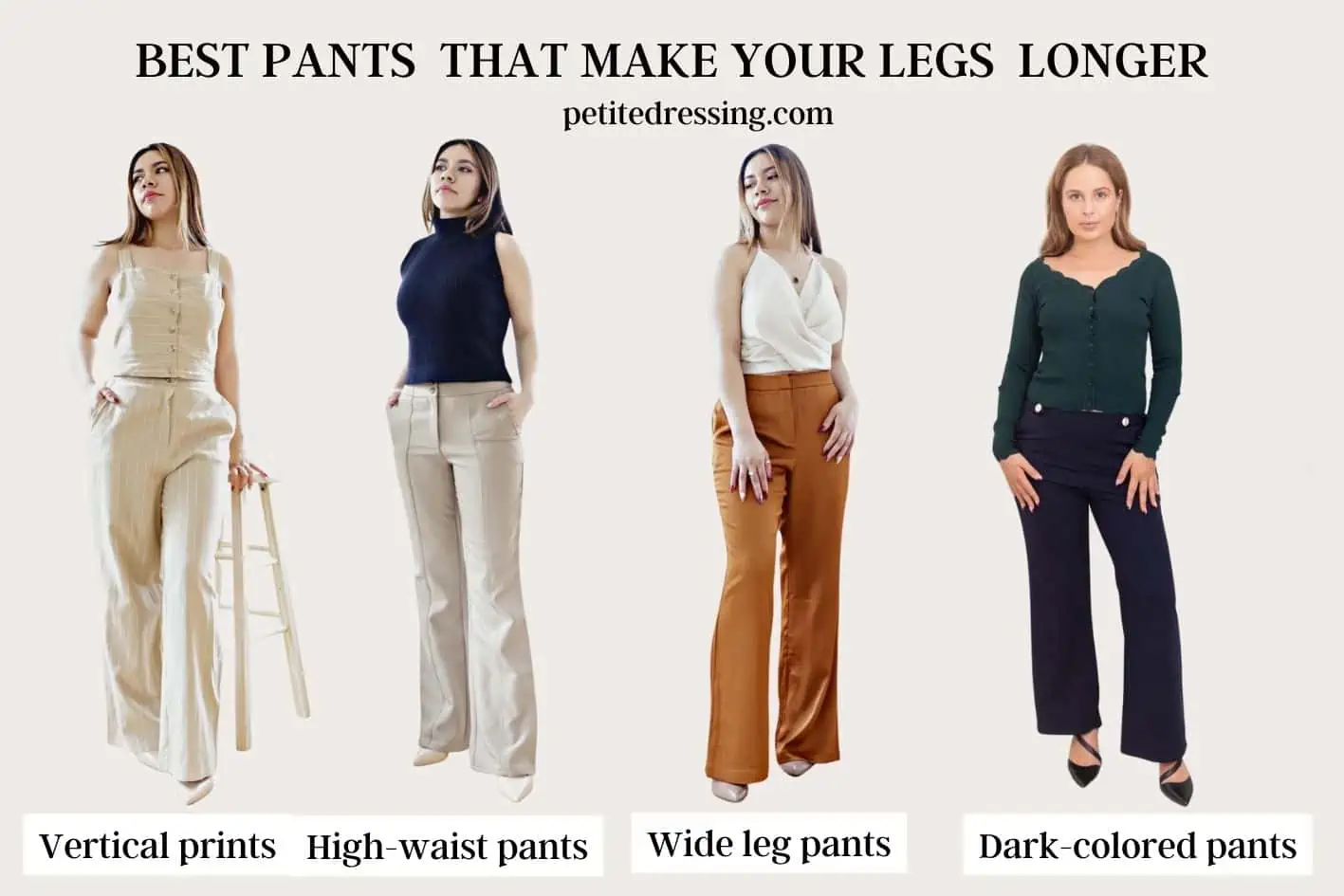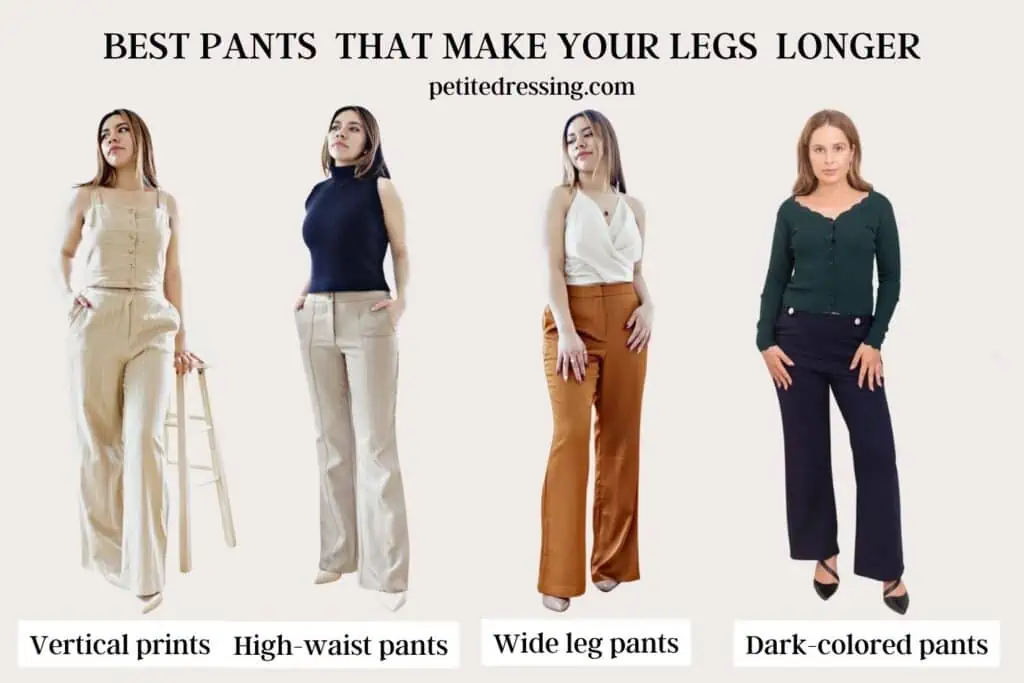 Interestingly, all our choices are not just high-waist pants. You'll be surprised to see a few of our choices, but these are all tested and trusted. So, read through our detailed guide on six pant styles to wear and two tips on what you should never wear if you want to elongate your legs.
High-waist pants
It's only normal that we start with one of the most obvious choices: high-waist pants. Only a few plants can give the perfect appearance of longer legs, and high-waist pants are on that exclusive list. Apart from making your legs look more than five times longer than they actually are, they also have an incredible slimming effect where your body appears smaller in a very flattering way.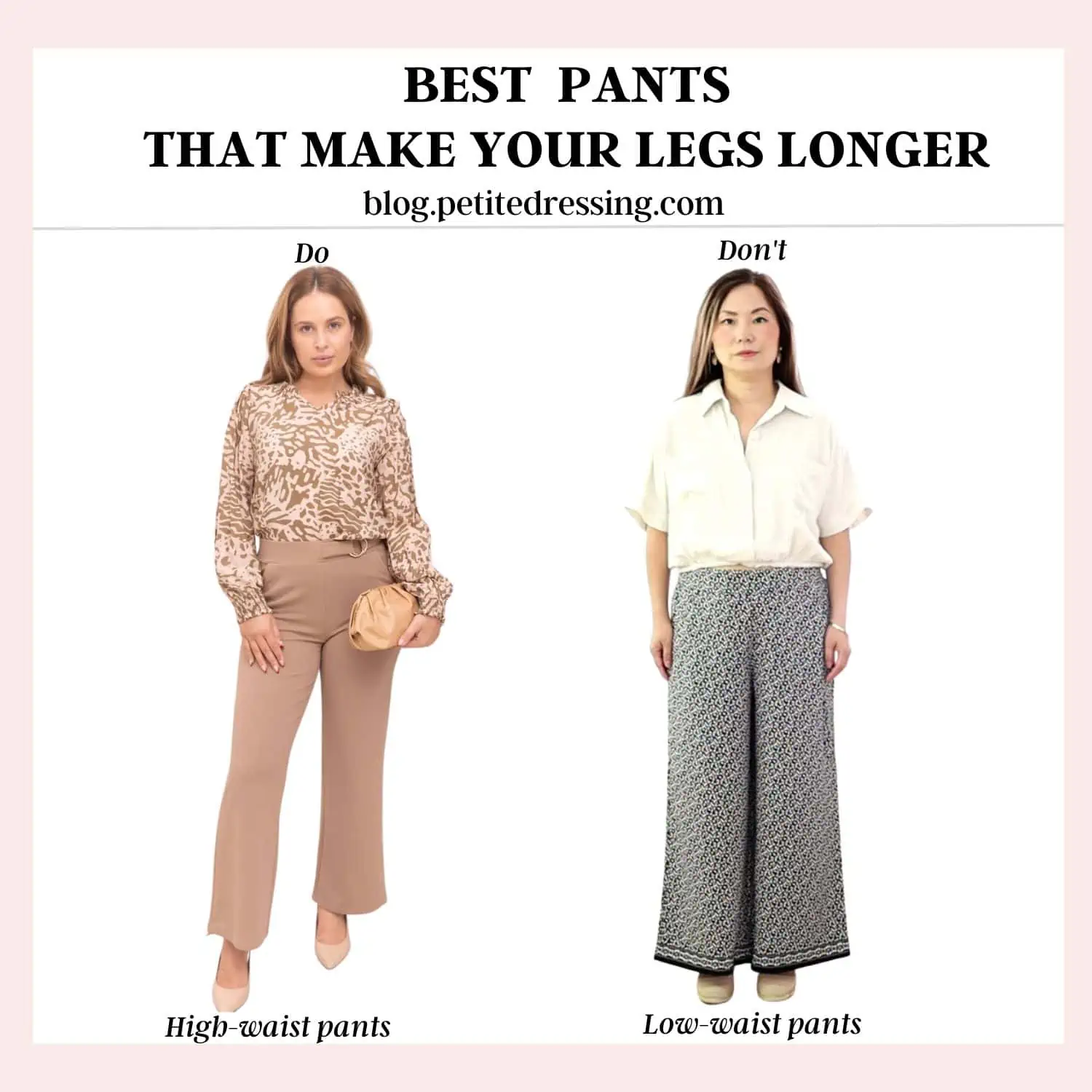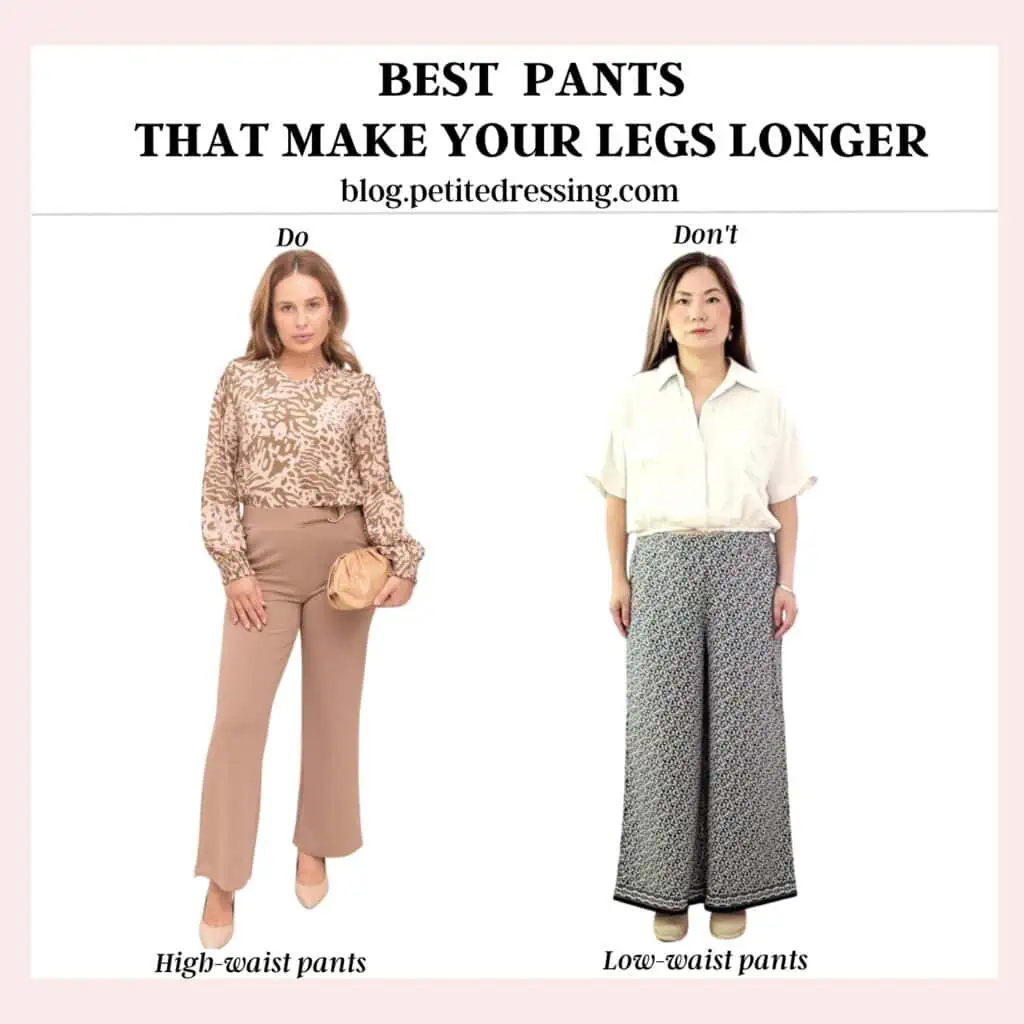 The math here is simple. The higher rise in your pants shortens your torso, which automatically lengthens your legs. So, put away those low-rise pants and get those high-waist bottoms paired with a crop top. Finish off this look with shoes in the same shade as the pants, and throw in pointy-toe shoes for that ultra-feminine look. The pointy-toe shoes also add at least an inch to your foot, which is good for your long-leg illusion.
Wide leg pants
It's super easy to fall in love with wide-leg pants; all it takes is one glance at how it flows smoothly around your legs. The best part about wearing wide-leg pants is that it makes it almost impossible to guess where the wearer's leg starts from and where it ends. You can't even tell the shape of their legs, either. 
And this is just exactly what you need to make your legs look longer. The wide-leg pants are tight on your thighs but flow out gradually from under your knees. If you want your legs to look slimmer, put on wide-leg pants in black colors. It's just like magic.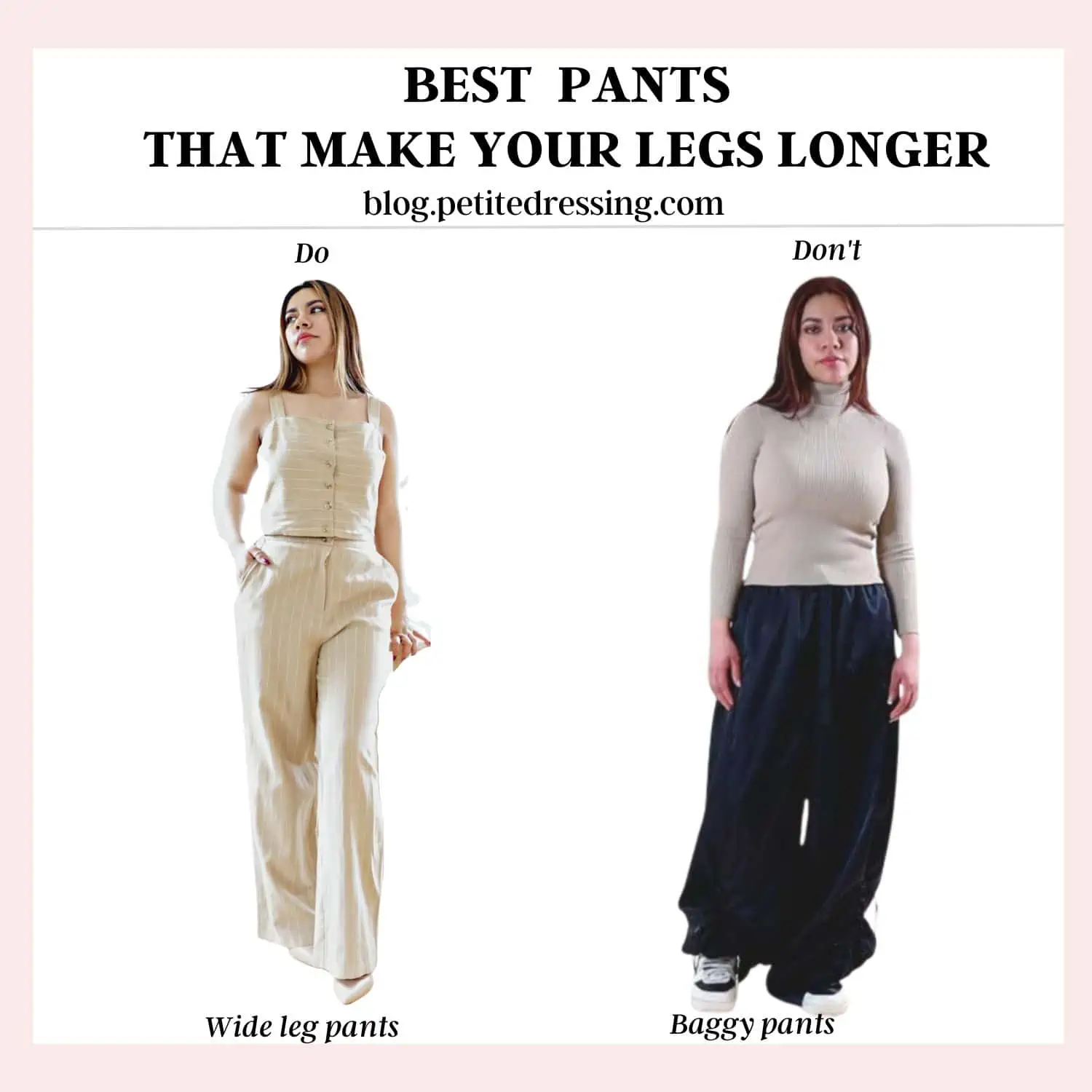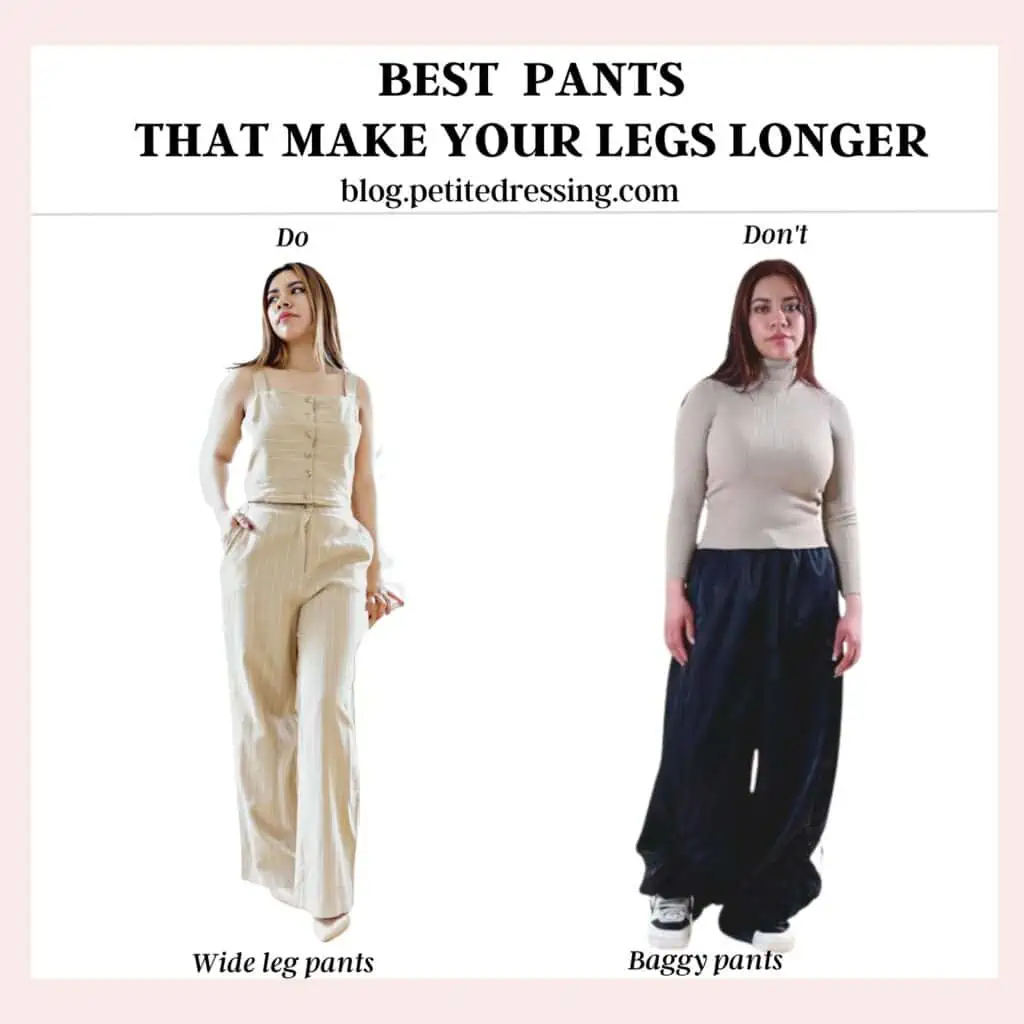 However, you should carefully choose the type of wide-leg pants you want to put on. Some have a more exaggerated flare than others, which may not flatter your body frame. So, don't be afraid to test out several styles to discover the one that works for you.
If you opt for wide-leg pants that are too dramatic, that will be more volume than necessary, especially for petite ladies.
Pants with long hems
You may have seen some people pull off cropped jeans, especially models that make it look effortless, but the results are not flattering on your body.
There's a better option. We recommend going for pants with long hems covering the top of your feet and completely hiding your shoes too.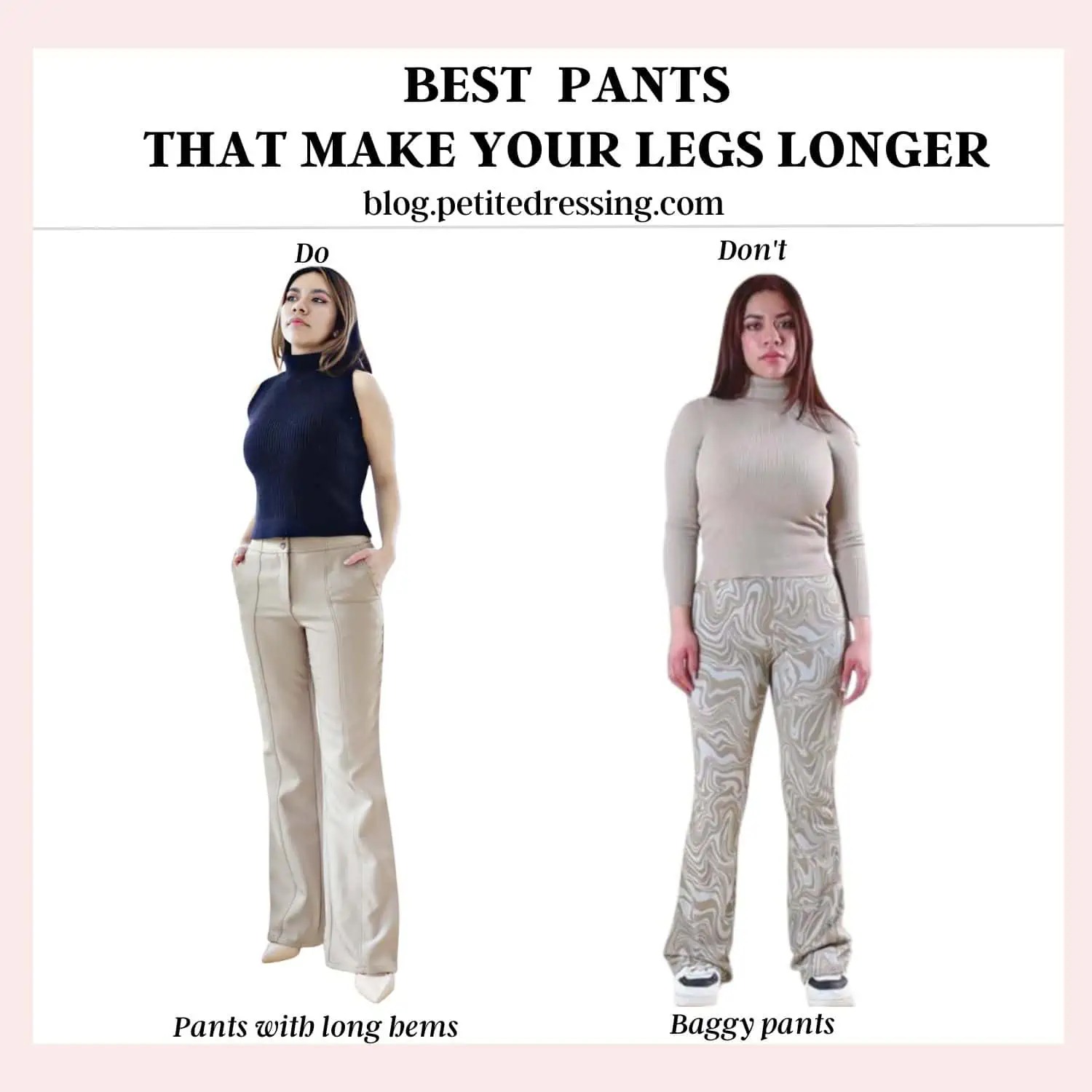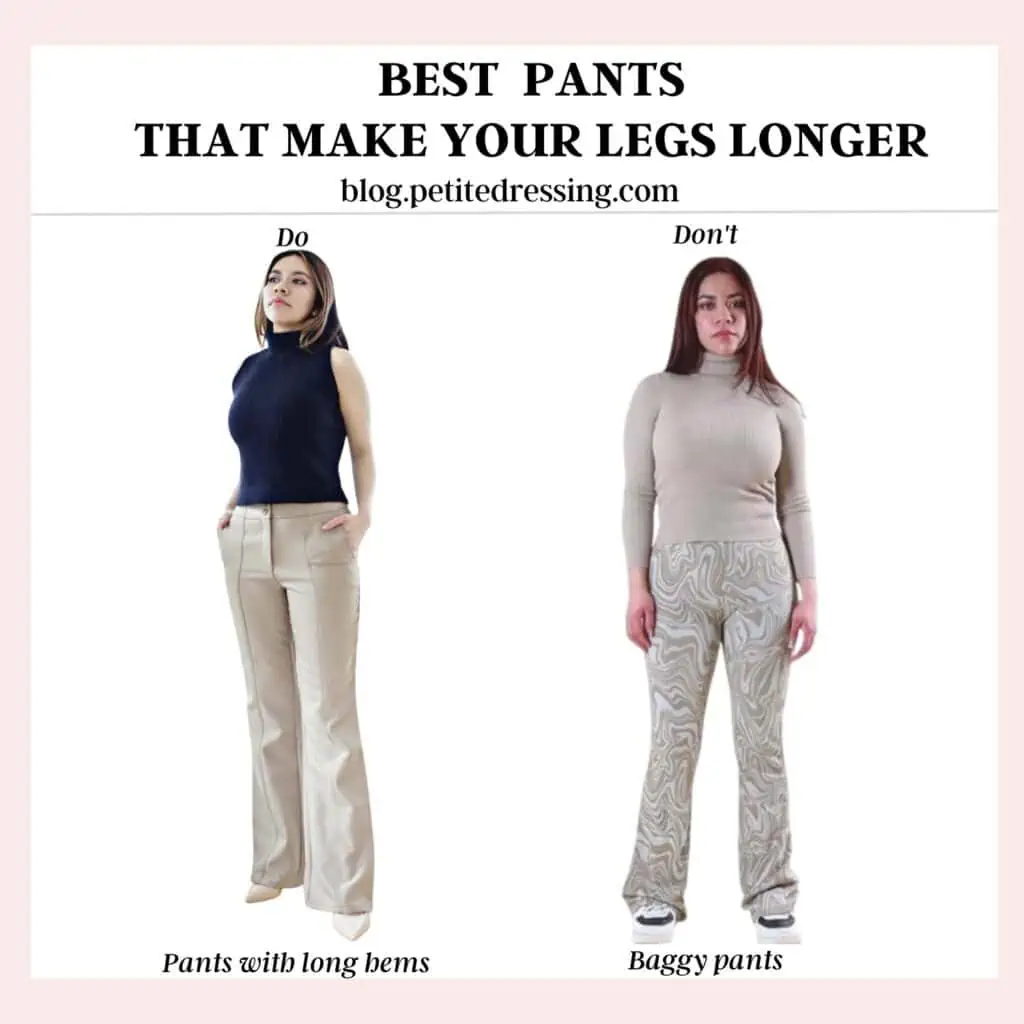 The crazy thing about pants with long hems is that they make your legs look exaggerated and super long. All you have to do is wear this with heels, and you'll end up looking elegant and chic. This is possible because pants with long hems form a vertical line that elongates your legs.
Of course, when you wear extra-long pants with heels, most people won't be able to tell where your heels start from and where your legs stop. They will only notice that your legs look longer but not how much additional length should be credited to your stylish heels.
On the other hand, pants that stop at your ankles will only do the opposite of elongating your legs. They give off that appearance of your legs being cut off, and that's not a flattering look.
Pants with vertical stripes
It's only natural that pants with creases, details or vertical stripes will give your legs an elongated appearance. Pair up your vertical-lined pants with a nude heel, automatically giving the illusion of legs that are longer than a list of Nick Cannon's children. 
Another way to make your legs look longer is to wear pants with vertical stripes, which lead the eyes to look up and down instead of side to side. This gives an overall lengthening effect that's great for pulling off a slimmer appearance.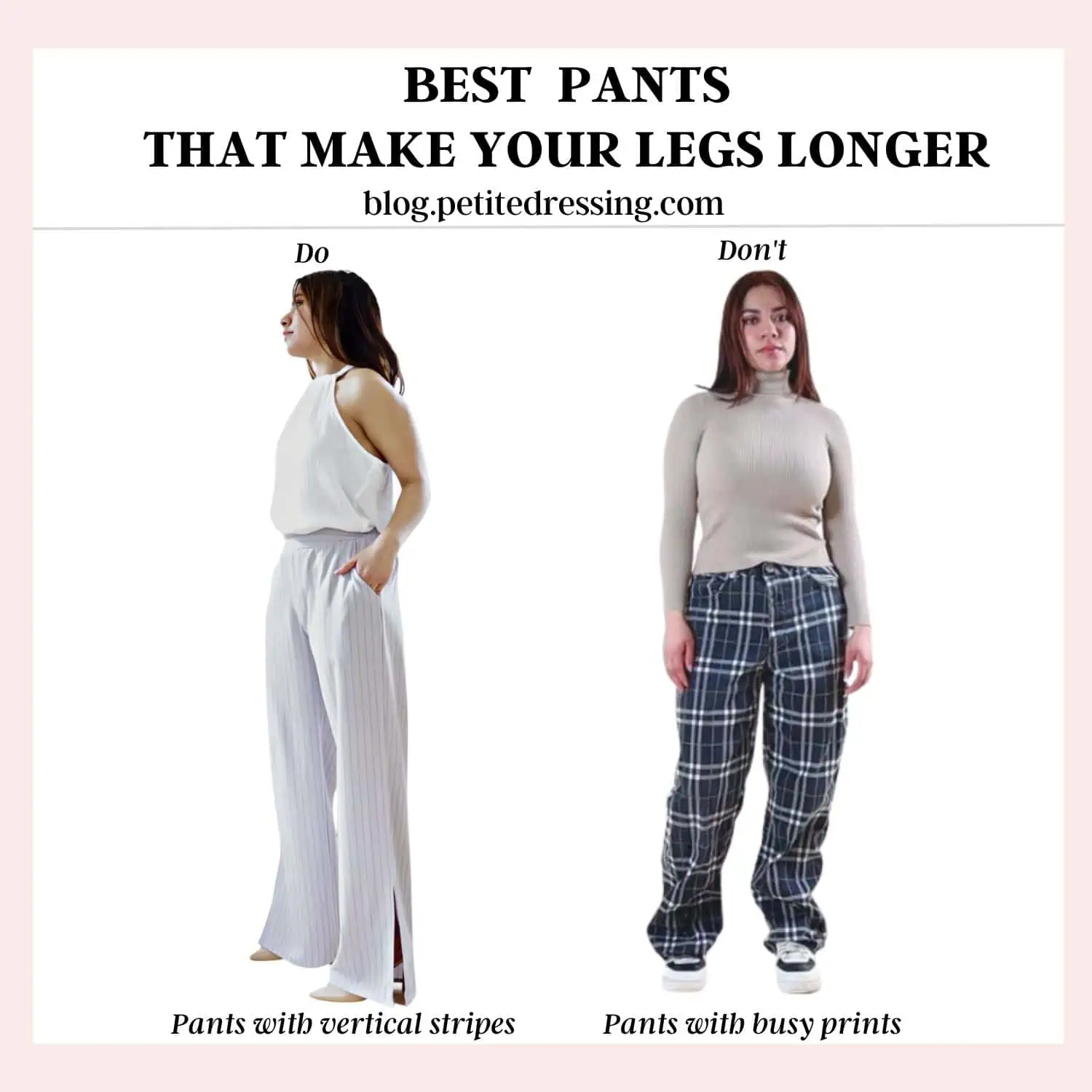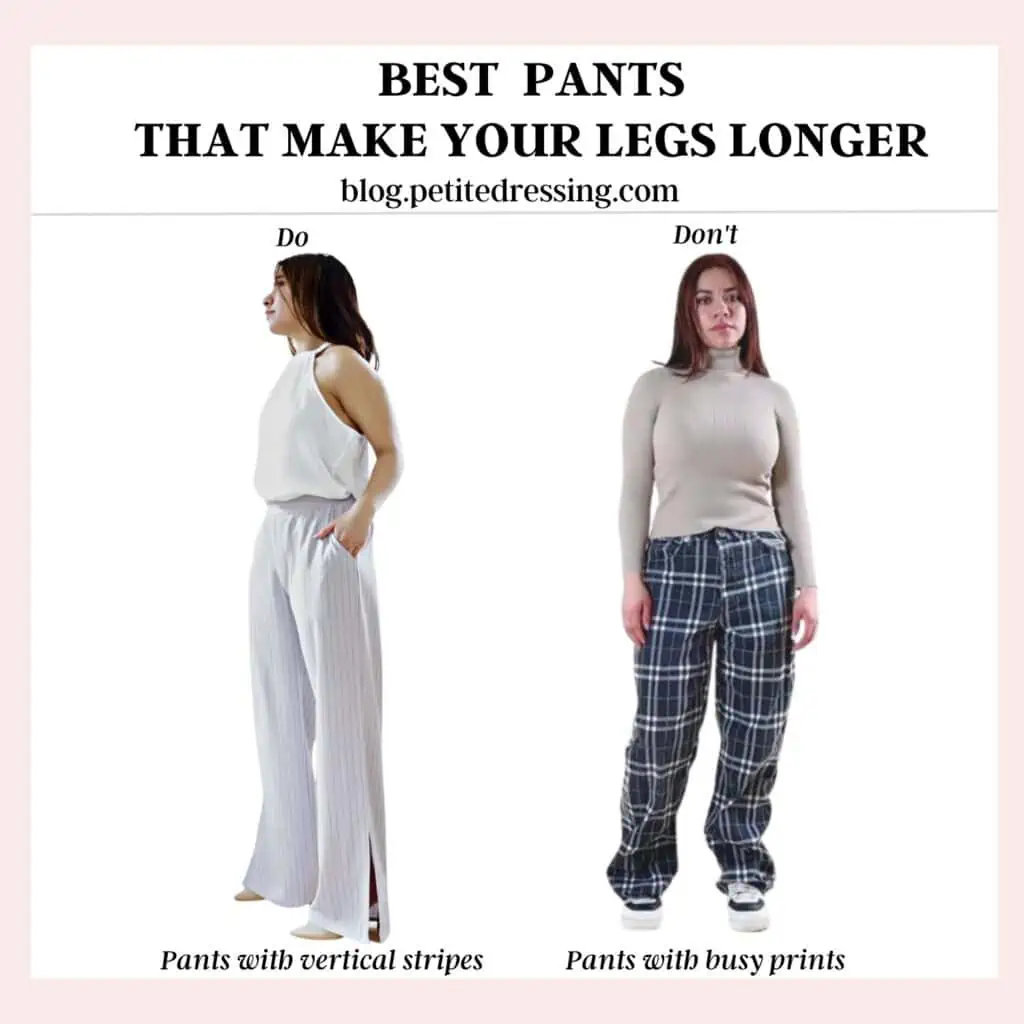 It's not uncommon to hear people talking about pants with horizontal lines that make women look fat. However, it's strange that people don't talk more about what happens when you wear the direct opposite: vertical stripes.
If you want to pull off a super cool look where your legs appear longer, pair your pants with vertical stripes with a tailored jacket. The overall result will be a stylish yet sleek silhouette that is incredibly flattering to your overall figure.
Dark-colored pants
Here's one of the biggest secrets in the fashion world: black is slimming.
This means that the color black has an amazing effect of making you appear slimmer than you actually are.
This is perfect if you're going for a chic and feminine look without wearing overly tight-fitting clothes.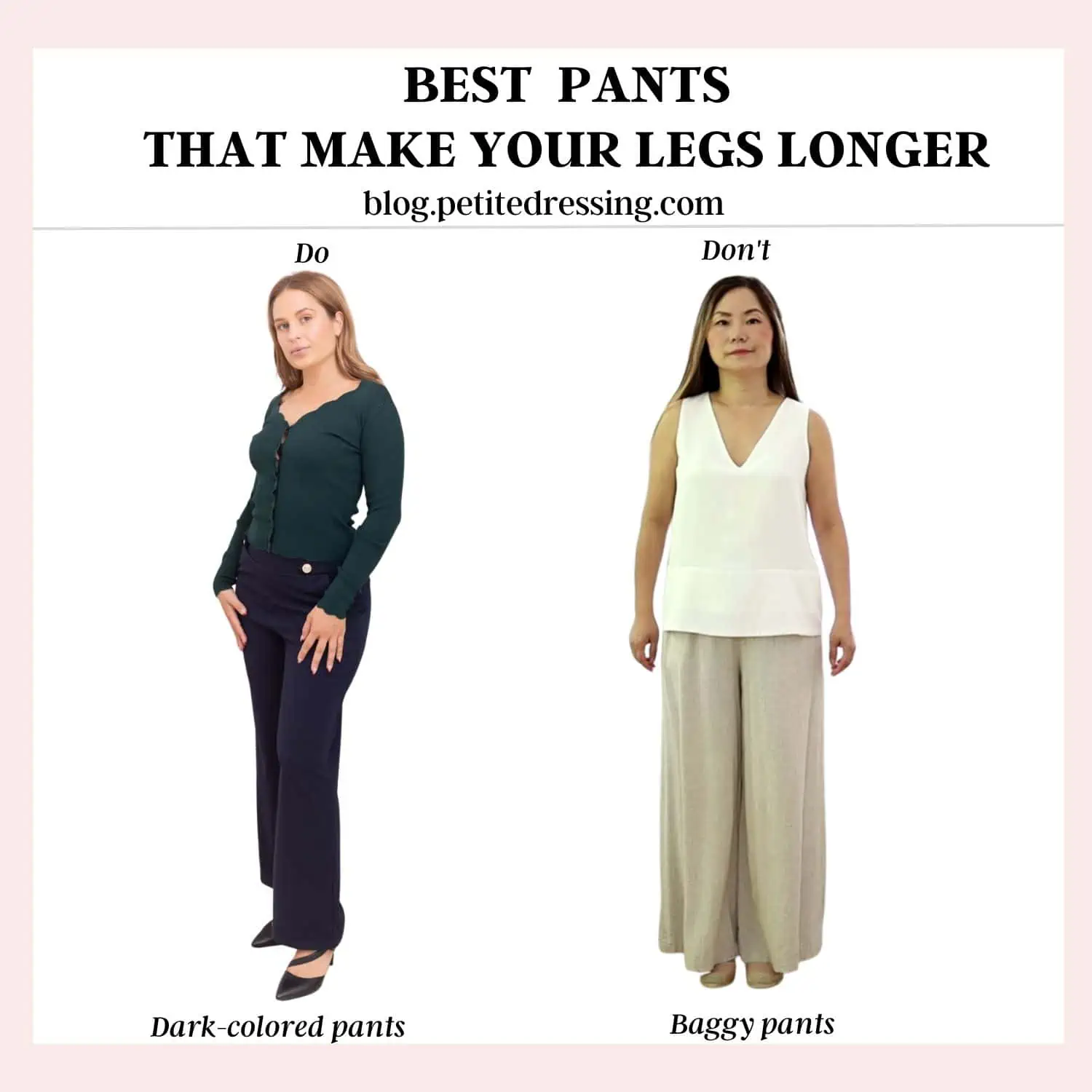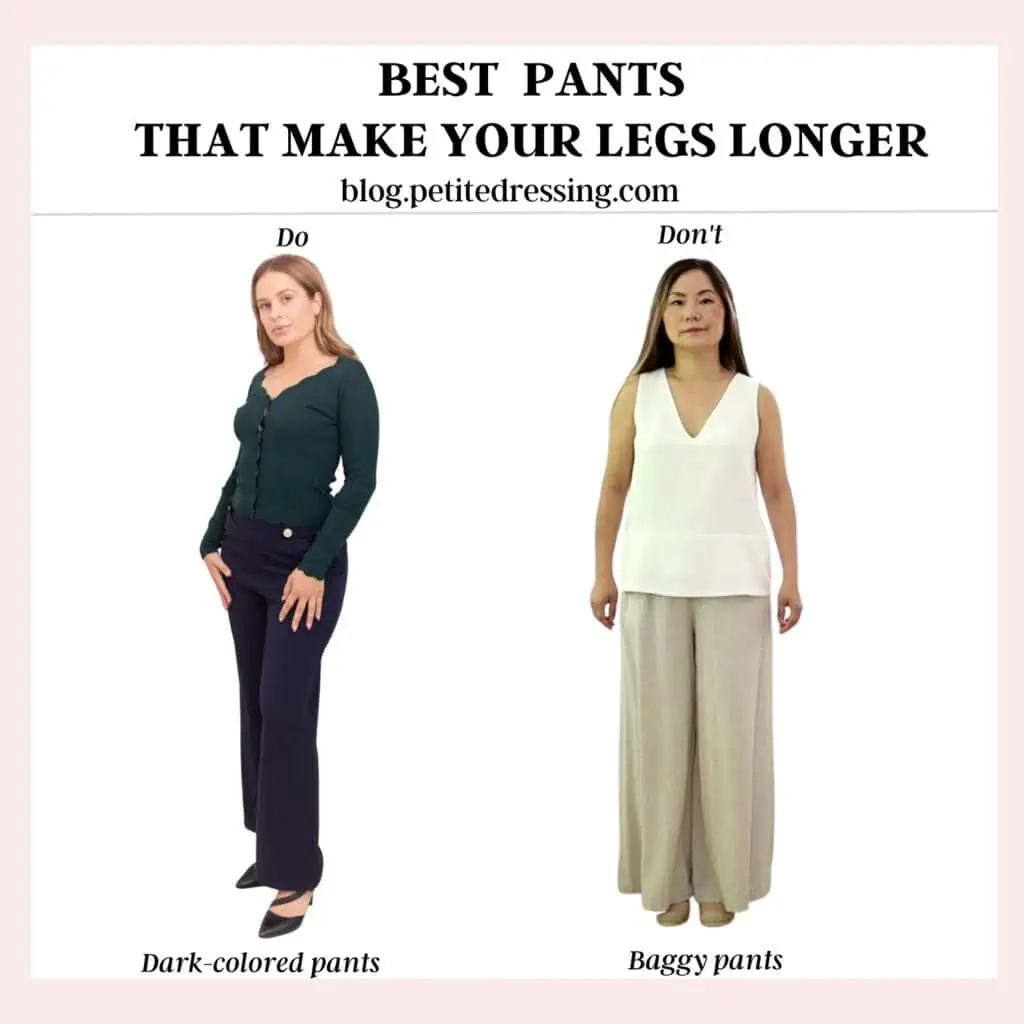 So, just as black is a slimming color, all you need is a pair of dark-colored pants with no extra flashy designs to lengthen your legs. Wear dark-colored pants with a clean silhouette, including no pockets, cuffs or other distracting features, and your legs will look longer.
Pair your dark-colored pants with similarly dark-colored footwear to have anyone thinking your legs go on for miles. That's how easy it is to pull off a supermodel look. Interestingly, black is not the only dark color that can help you have the appearance of longer legs.
You can also opt for other dark colors like brown and you'll look just as amazing.
Black jeggings with black ankle boots
Jeggings represent one of the most welcome trends in the fashion world in recent years as it's difficult to find anyone who isn't comfortable in them. While some jeggings could be made from denim, you can choose other types instead. 
Apart from black being every woman's favorite color, this combination works together to create a long bottom half that will definitely elongate your legs.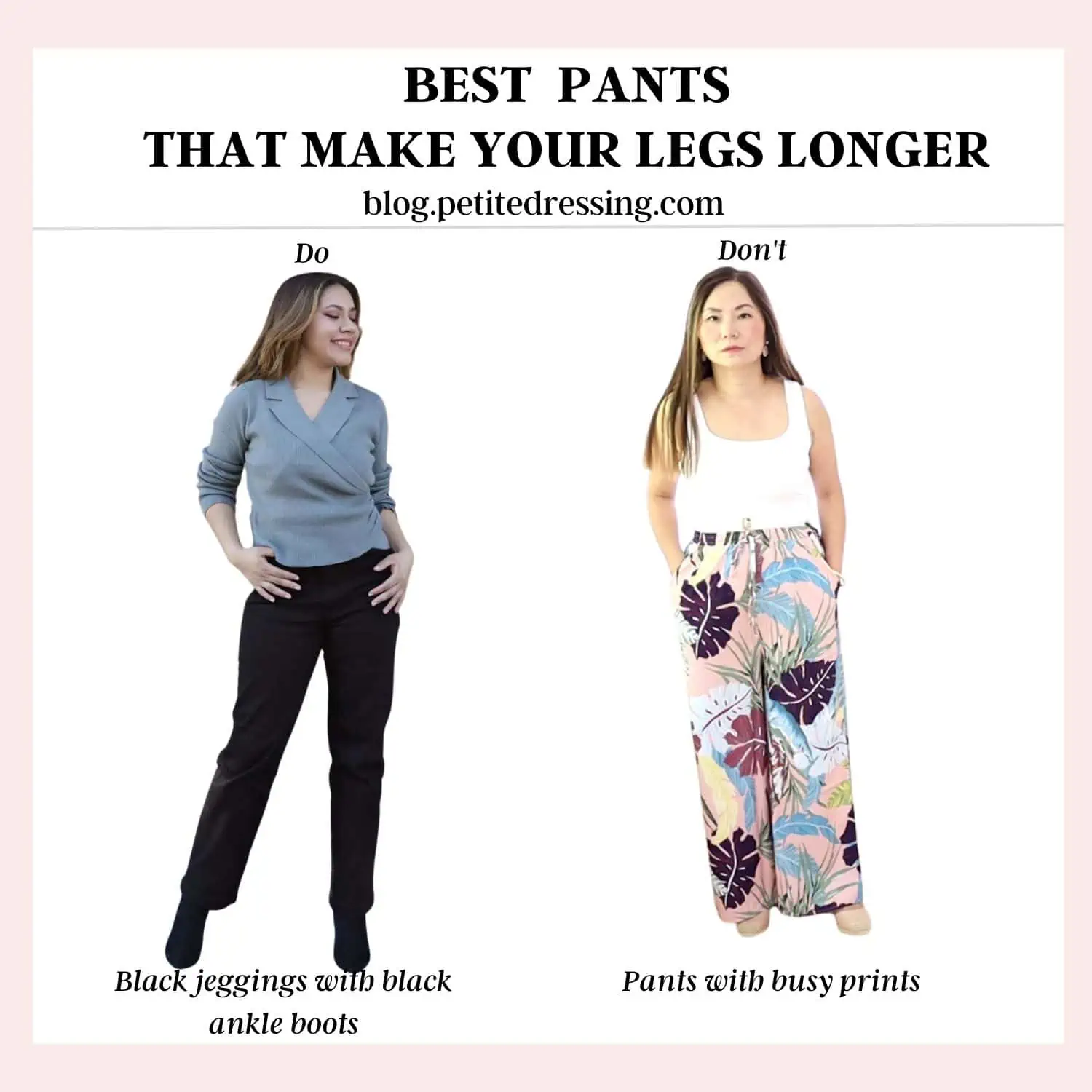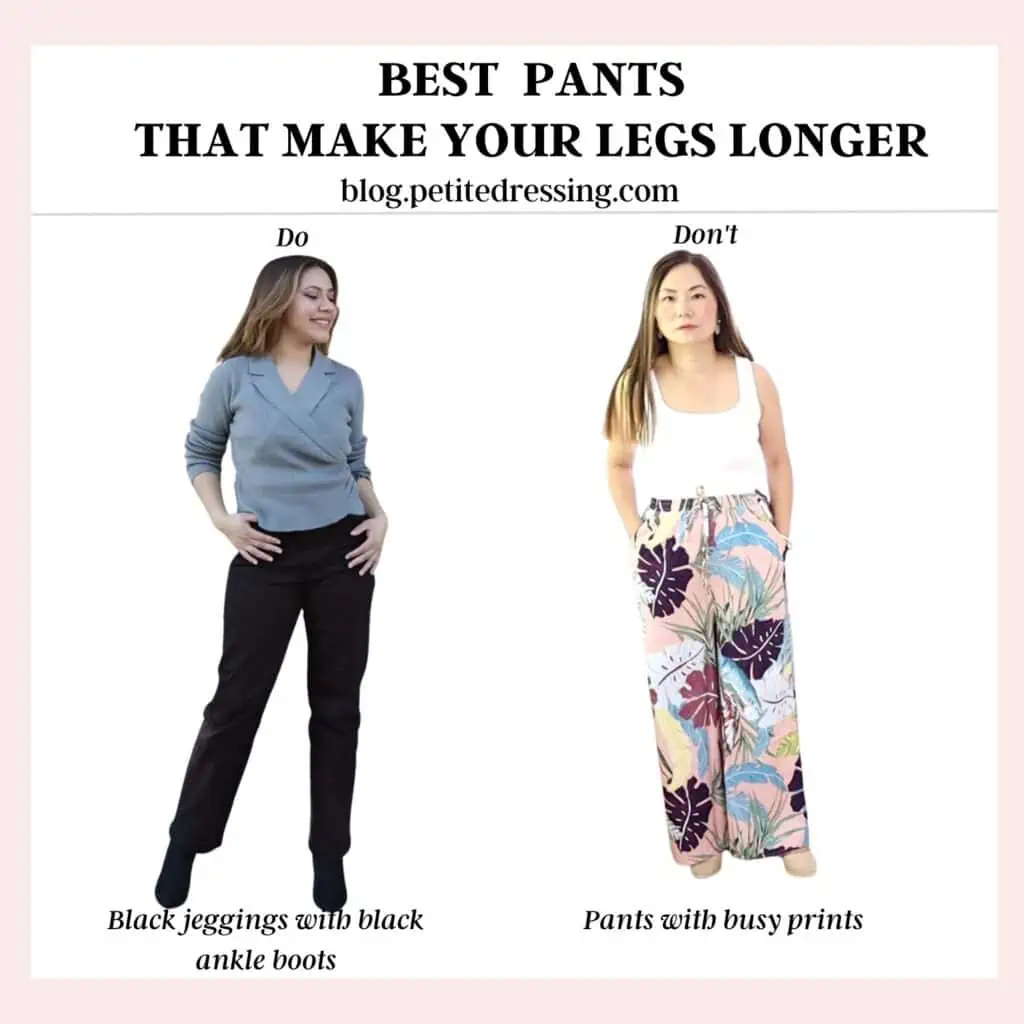 The major feature of jeggings is that stretchy feel that hugs your legs seamlessly. So, you can easily pull them on, and they are super comfy to wear anywhere, either at home or during a casual outing.
When you wear the right shoes with jeggings, they will look like an extension of your legs, and that's one of the easiest ways to make your legs look longer.
Avoid capris
Capris pants can be very tempting to wear, but you shouldn't if your aim is to make your legs look longer. However, what exactly are capris? Some may refer to them as pants that are longer than shorts but still shorter than what you would classify as pants. A better way to describe them is pants that stop at mid-calf.
So, you could call them ankle-length pants. We recommend you avoid capris, as this cropped look gives you a much shorter outlook. It's worse when the capris are baggy and don't flatter your frame.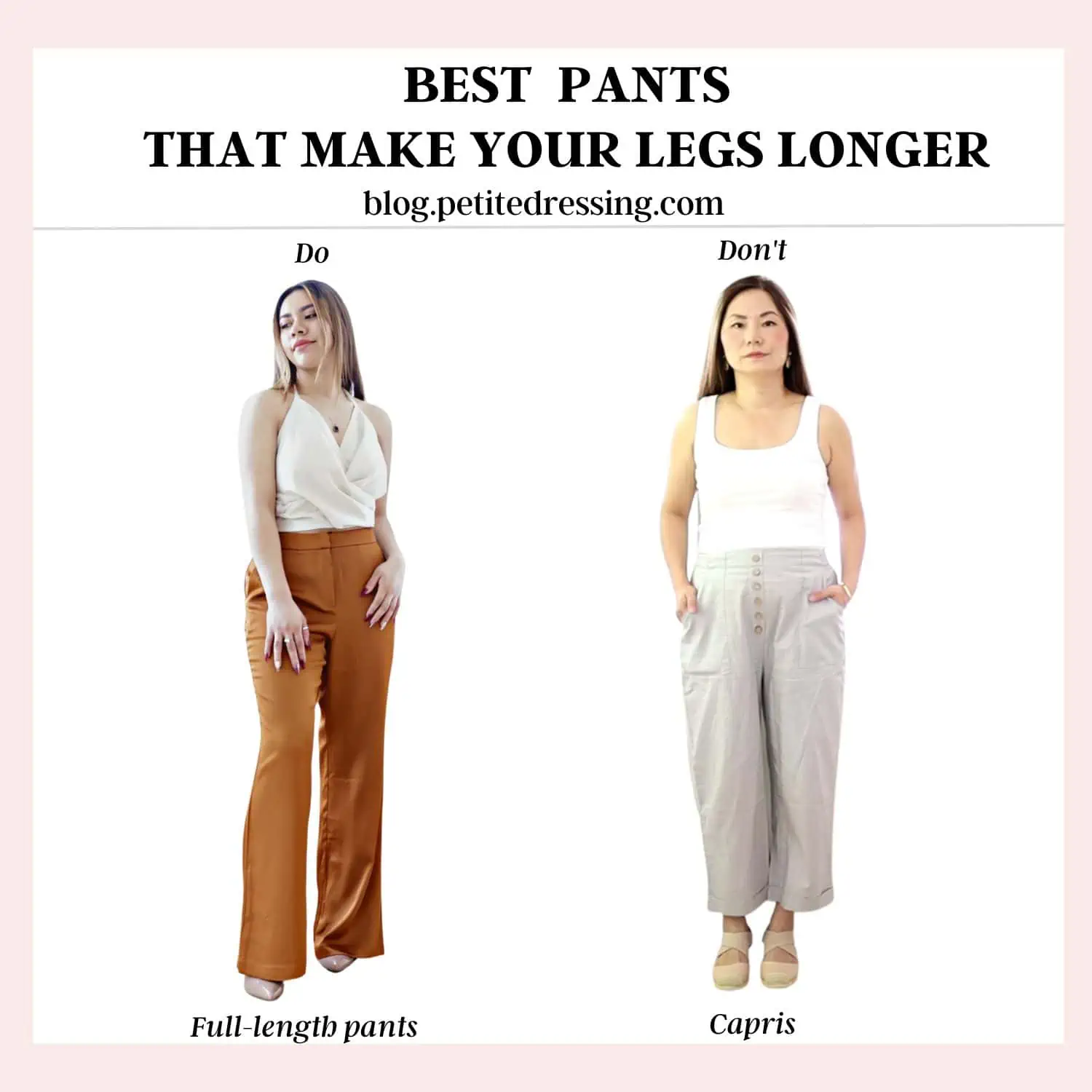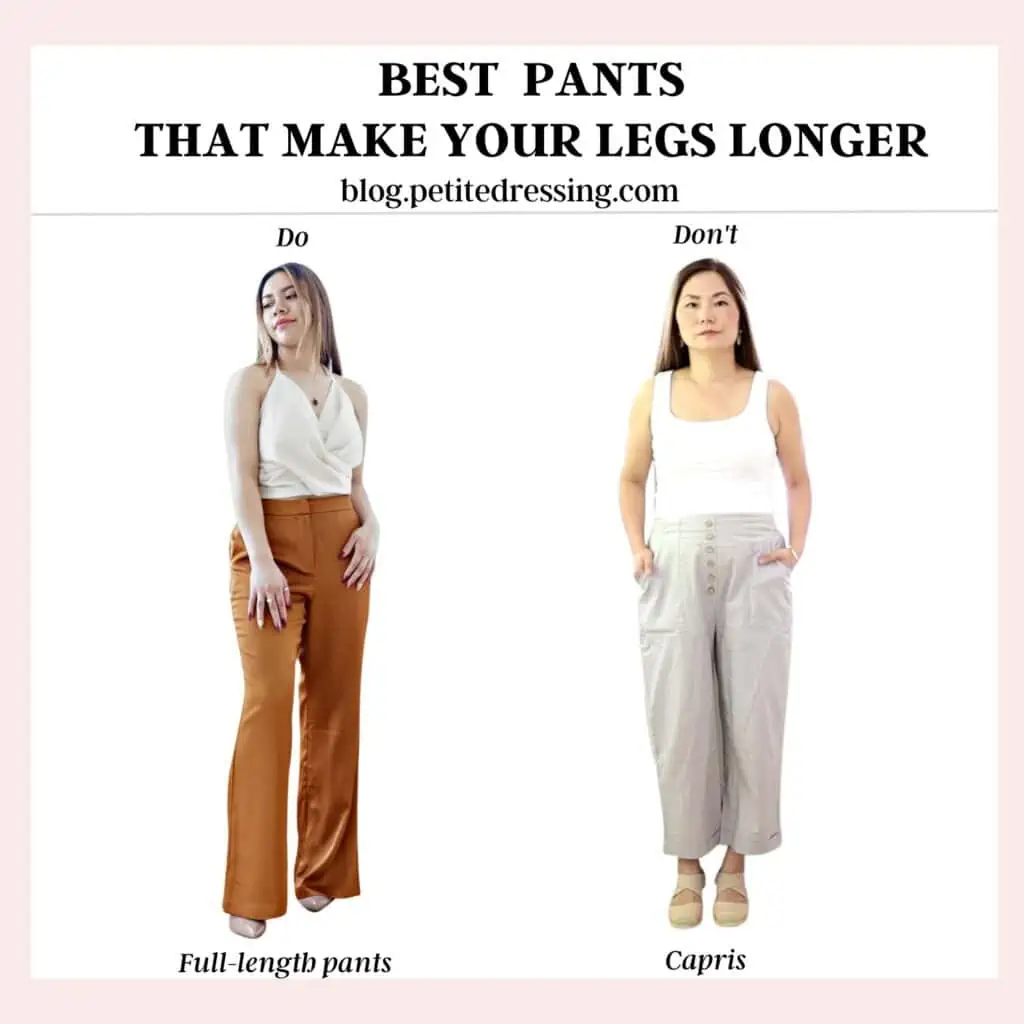 Overall, capris pants make you look shorter than you actually are, which is terrible for women with a petite frames. You should only wear cuffed capris if you're tall enough to pull off the look effortlessly. However, if you're not, then stay away. Any pants that break up your leg will make them look shorter.
Avoid baggy pants
Rather than wear baggy pants, shop for only fitted pants as these appear like they are custom-made for you and that means you'll appear long. There's a misconception that baggy pants can make you look bigger if you have a smaller frame. However, this is so far from the truth.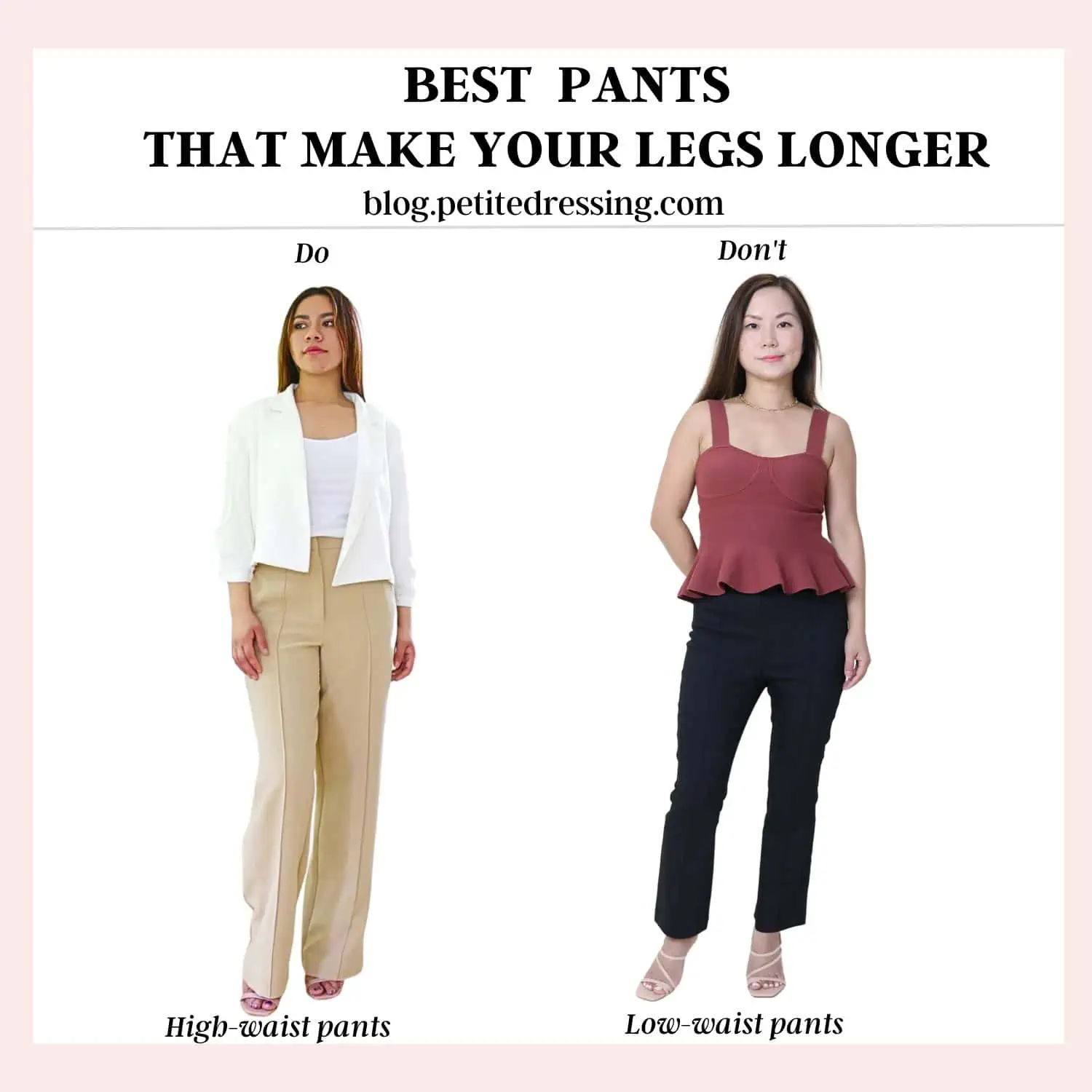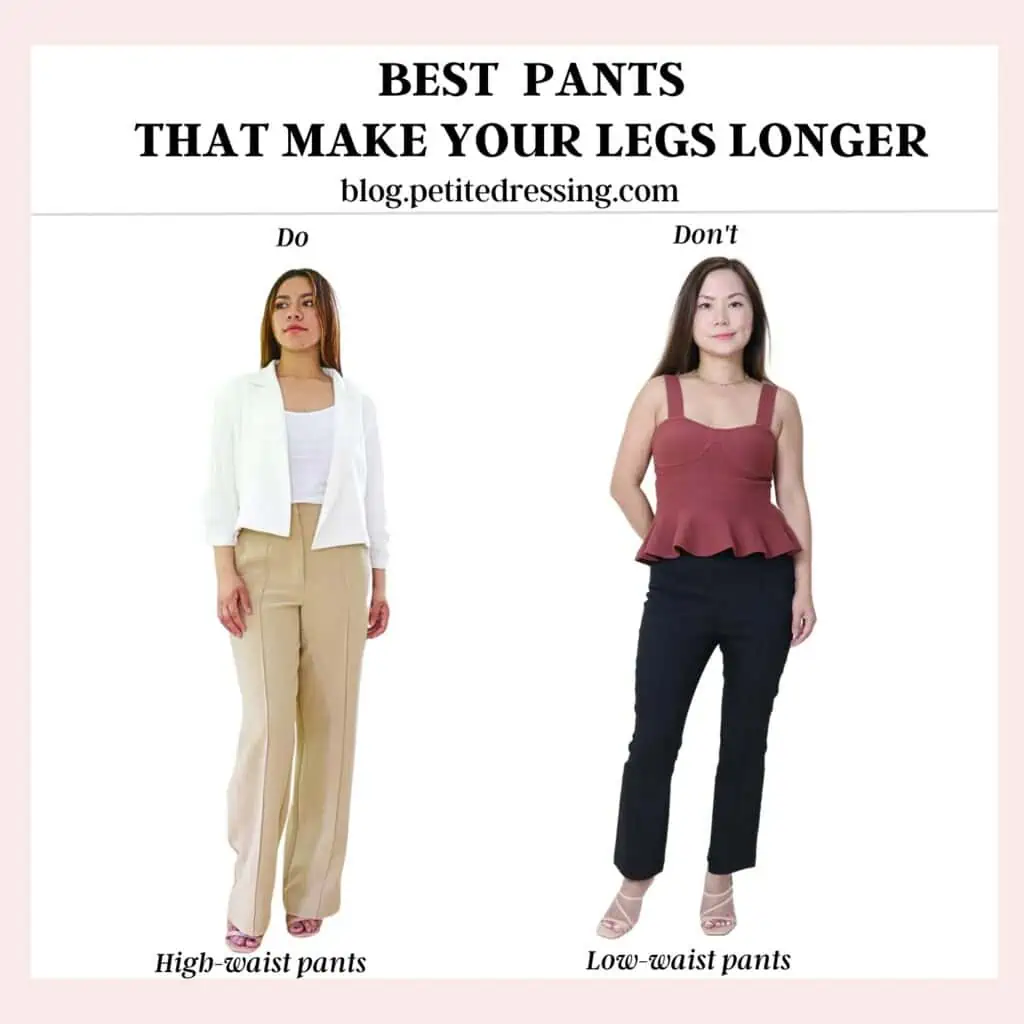 Baggy pants on women with petite frames will only make them sloppy and draw more attention to their small figures. To be honest, baggy pants are really not flattering on any body type or shape. You wouldn't want to look frumpy as most baggy pants don't do anything to lengthen your legs.
So, if you have difficulty finding clothes that fit you properly, it's better to go for tailor-made options where the clothes are made just for you.
Avoid low rise
Low-rise pants are a huge no if you want to make your legs look longer. They will make your legs look shorter instead due to how they shorten the proportion of your legs. These pants will rob you of what little height you have, giving you a more petite outlook. Overall, low-rise pants will instead make you look sloppy, which is not a cool look.
If you're a short woman who would love to step into events or occasions looking like the tallest person in the room, stick to the fashion tips in this guide and get ready to step out in style.