Blazers are always considered a wardrobe staple as adding them to your fashion ensemble can totally transform your look. You can instantly turn a sexy party dress into workwear by just putting on a blazer!
However, we have to say that while blazers are quite handy, they're not always the easiest to style – especially if you're a petite woman. No worries, because in this blog post we'll help you pick and style the best-looking blazers to flatter your beautiful petite body.
Styling Goal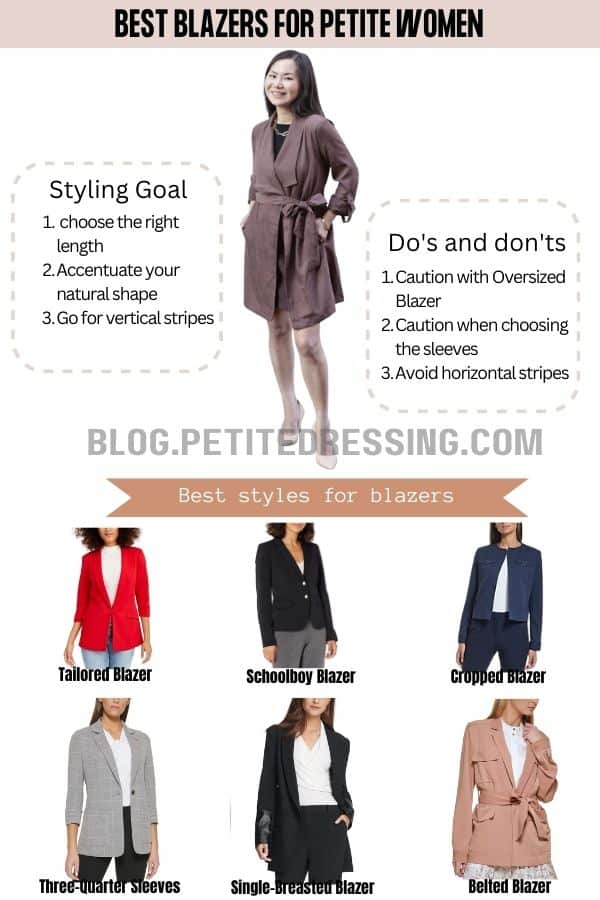 The key to styling your blazer for your petite figure is to choose one that won't drown your natural shape. It should create a nice balance between your upper and lower body by not elongating your torso but your legs.
Here are the three main factors you need to consider when choosing and styling a blazer for petite bodies:
Length – You should choose the right length to visually balance the ratio of your body. For instance, a blazer that is too long can make a petite girl's short legs look even shorter so you need to take extra caution when styling long blazers.
Proper Bust and Waist Fit – Choose a blazer that flatters your figure to accentuate your natural shape. If you'll go for loose or oversized blazers, you need to tweak your styling a bit to make it work. 
Sleeves – the length of your blazer's sleeves can be very crucial in styling petite figures. Sleeves that are too long are very unflattering for petite ladies because they will drown your natural figure and make your torso look longer compared to your legs.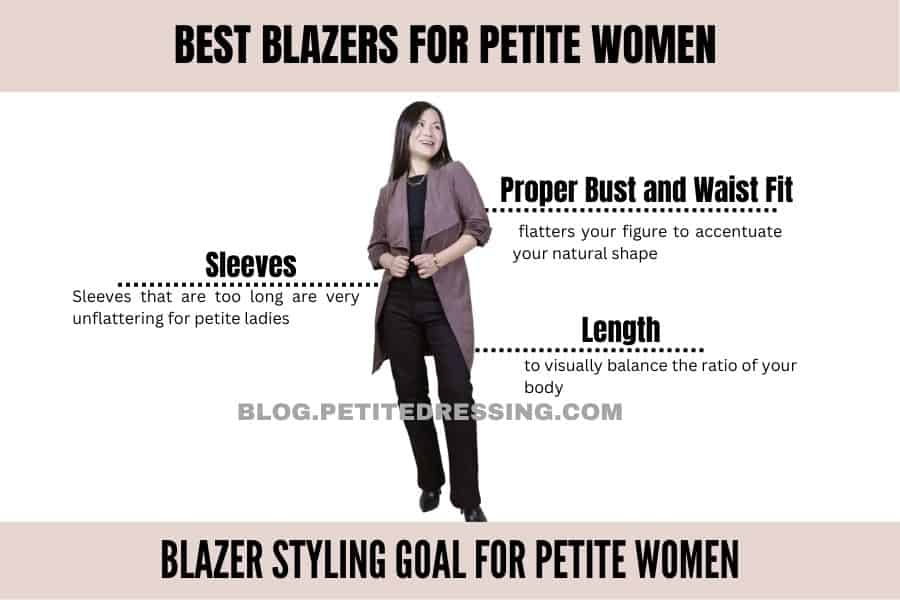 Tailored Blazer
Tailored blazers are specifically designed to nicely skim your body, most particularly your shoulders. It features seam lines that highlight your best assets and subtly get rid of unflattering focal points of your petite body.
Its structural design should enhance your body definitions by making your shoulders look sharper, which is one of the major factors to tweak your height a little bit more. Go for a tailored blazer that's just about your hip length as this will give you the illusion of longer legs.
Almost nothing can ever go wrong with a tailored blazer as it's universally flattering for different types of bodies, including petite figures.
Schoolboy Blazer
Another perfect blazer for petite ladies would be a schoolboy blazer. It features the classic waist-hugging fit and a length that hits just right above the hips.
One of its best features that is deemed flattering for petite women would be its length as it is short enough to bring the right upper and lower body proportion. Its silhouette creates a more defined torso and longer, slimmer legs.
Another thing we love about school blazers is their reversible cuffs that show a contrasting shade with pinstripes for additional style and edge!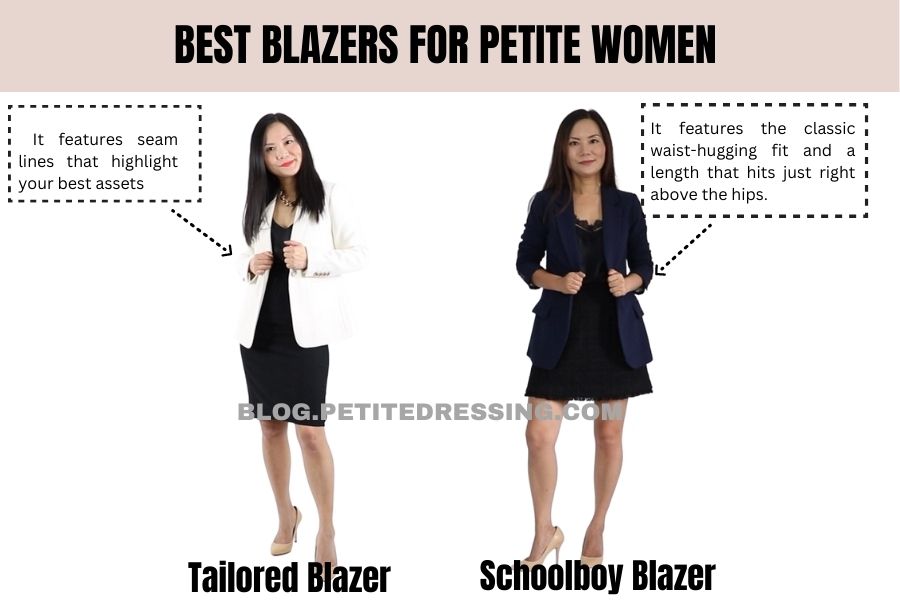 Cropped Blazer
Every petite girl should have cropped blazers in her closet as a part of her life's fashion staples! The blazer's cropped length is one of the best strategic ways to visually maximize the length of your legs.
A lot of petite women have longer torsos compared to the ratio of their leg length. This can be a frustrating concern for petite girls for it makes your overall look quite unbalanced.
To resolve this, opt for cropped blazers that have hems that cut just right above your hips, or maybe even slightly shorter. Be generous with your cropped blazer collection as it's the most versatile cut that flatters petite women among everything else!
Three-Quarter Sleeves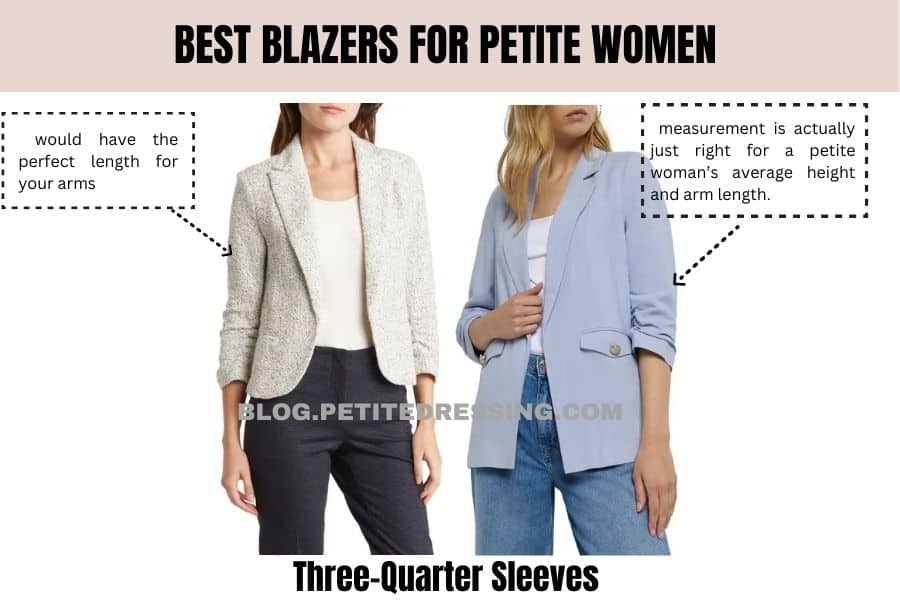 Petite women usually have short limbs so some blazers may look too long for the arms. If the cuffs go way past your hands (or worse, even fully hide them), then it's obviously a fashion disaster that's bound to happen.
Three-quarter sleeve blazers would have the perfect length for your arms as the edge would normally end on your wrist or maybe slightly higher. It gives a comfy fit while also giving the illusion of a longer body because it bares more skin.
Don't worry because it won't look too short since this measurement is actually just right for a petite woman's average height and arm length.
Single-Breasted Blazer
It shares the same principle with schoolboy blazers as it has a classic fit that skims through the waist for added definition. Since single-breasted blazers feature just one column where the button is placed, then it creates a vertical line that gives your silhouette a bit more height.
Single-breasted blazers vary in length so for a petite girl, you have to opt for something that doesn't go to the level past your crotch. Hip-length or shorter would be the most ideal.
What's great about single-breasted blazers is that it's very easy to wear them with pretty much any other wardrobe piece. You can wear it buttoned or opened and it will still look beautifully befitting for your petite body.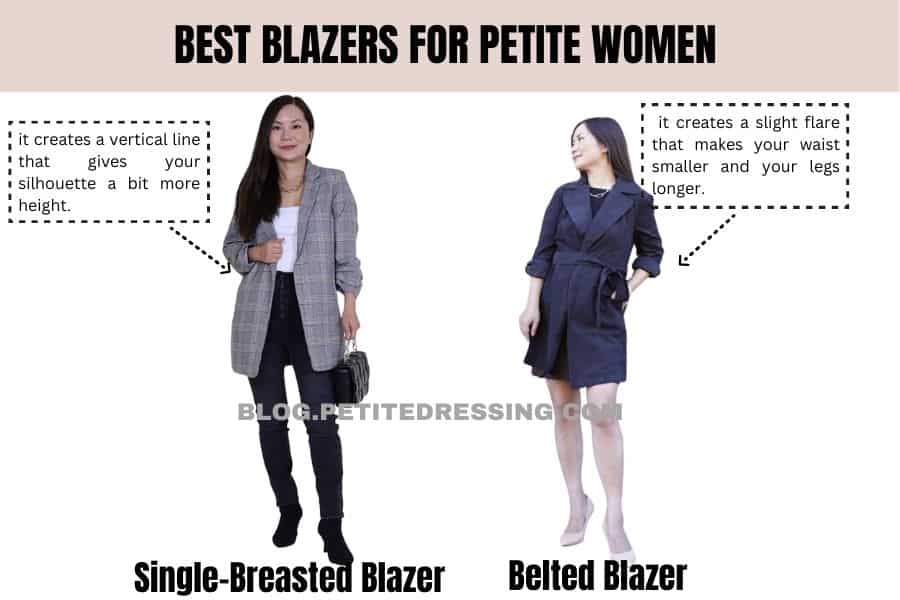 Belted Blazer
Belts instantly create more depth to the upper body but apart from this, it also pulls your entire ensemble together to create a better balance between your torso and legs. As your belted blazer nicely cinches your waist, it creates a slight flare that makes your waist smaller and your legs longer.
The key to choosing the right belted blazer for your petite body would be the design and fabric. Plain colors and subtle designs don't draw too much attention which is good if you'd like to bring more emphasis to visually adding a few inches to your height.
On the other hand, thicker and slightly stiffer fabrics look better for Petites because it looks more structured.
Peplum Blazer
Peplum attachments in every type of wardrobe piece always give a stylish feminine touch to every look! For petite ladies, peplum blazers are absolutely heaven-sent!
Its short overskirt that graces just right on the hip level gives the length of your legs more exposure. In addition, the silhouette of peplum blazers creates an hourglass figure effect that highlights the smallest part of the waist.
Peplum blazers work well with dresses and trousers so it's also quite versatile. For petite body types, it's much better to go for those with a deep V-neck and sharp lapels because this will make you look taller and slimmer.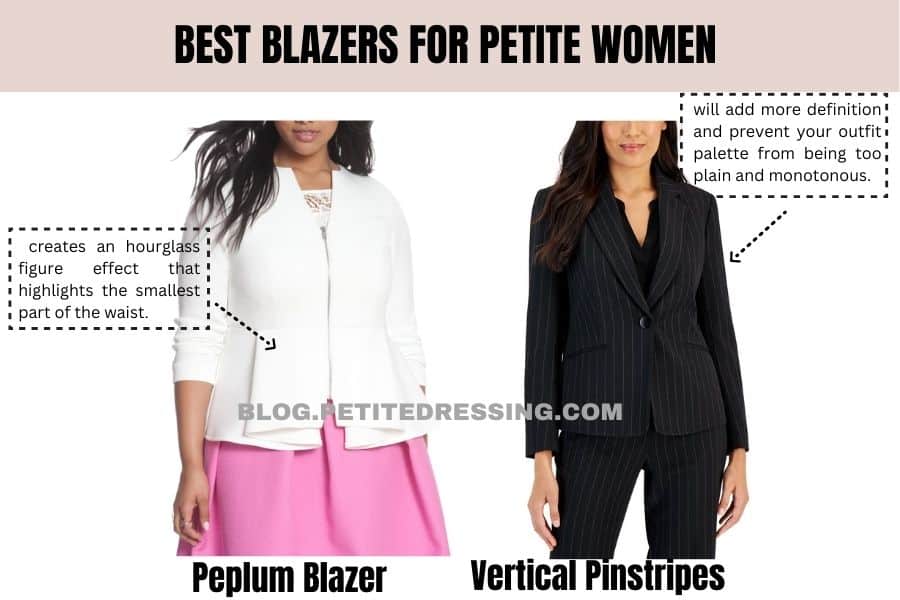 Vertical Pinstripes
Vertical prints in general help create the illusion of being taller as it visually extends your look vertically. However, when it comes to blazers for petite body types, thinner lines such as pinstripes that don't come in bold colors work much better in bringing balance to the overall figure.
Thick vertical stripes may not only look too distracting but may also expand your torso horizontally instead of vertically. The more subtle the pinstripes are, the better.
Vertical pinstripe blazers would look great with your plain-colored tops and button shirts. This will add more definition and prevent your outfit palette from being too plain and monotonous.
Caution with Oversized Blazer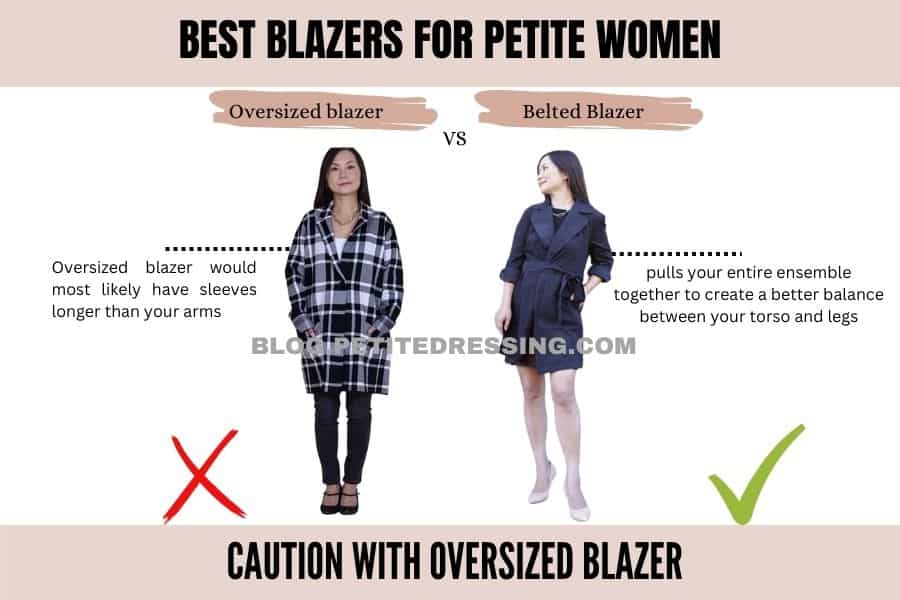 We have talked about the proper fit of a blazer plays a significant factor in making it work on petite bodies. But what if you actually want to give trendy oversized blazers a try?
The good news is that you can actually make it work! One way to style your oversized blazer is to play up and tweak your proportions by pairing it with cropped tops or high-waisted bottoms.
It's already a given that your oversized blazer would most likely have sleeves longer than your arms! In this case, just fold or cuff them up! Doing this style hack will make an enormous difference in the fit of your oversized blazer.
Caution with Long Blazer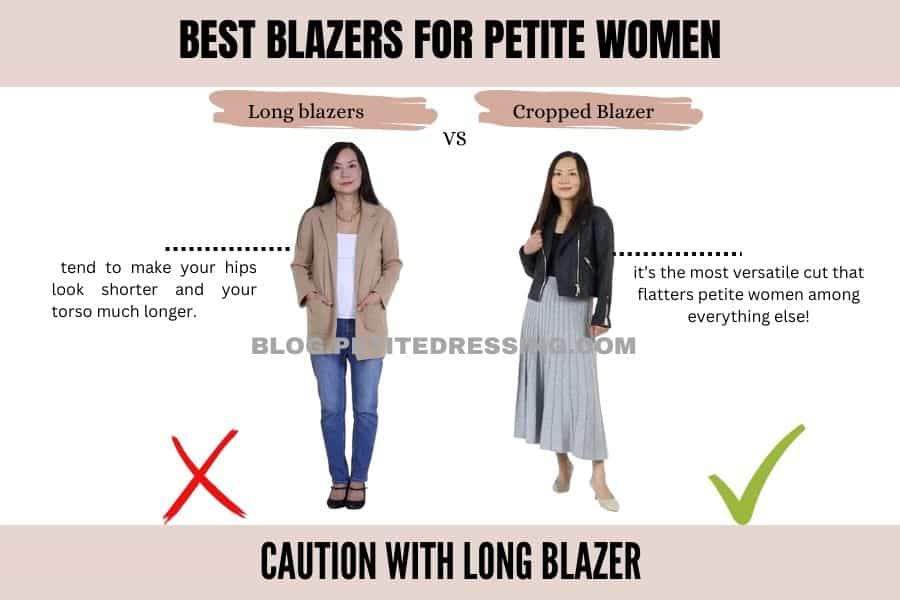 Long blazers that go way past your hips tend to make your hips look shorter and your torso much longer. While this is the case for most long blazers, you can still flaunt them gorgeously with your petite figure!
The first style hack is to wear your long blazers open or unbuttoned. Just like how you can work around the proportions of your clothes for oversized blazers, the same goes for long blazers.
Pair your unbuttoned long blazer with a high-waisted skirt, or high-waisted pants, together with a crop top or by tucking your shirt in. This will visibly bring balance to your look by making your legs look longer and therefore veer the eyes away from your blazer's length.
Another style hack to make your long blazer flatter your petite height is to pair it with mini skirts or mini dresses. This will minimize the length difference between your blazer and inner wear and therefore have your legs as the focal point of the entire outfit.
The Key Takeaway
Styling blazers shouldn't be so frustrating for us petite ladies out there! The key to perfectly flaunting your blazers is always about working around your clothing proportions to achieve a flattering ratio.
Blazers can take you to different occasions – from a sleek smart casual office look to a fancy date night! This is why you should consider going for blazer designs and colors that can serve you different looks while perfectly complementing your petite figure.