Suede is one of those very comfortable materials to wear, especially during colder months. It's very soft and slightly heavy, but it can be styled in warmer months depending on what you choose to wear yours with. They give an interesting outfit, as their texture is quite unique.
If you're looking for more ways to wear a suede skirt, here are some of the best outfit ideas:
With a suede jacket
If you're going to be wearing a suede skirt, why not go full on suede? A jacket in the same material is such a great choice, especially if it comes in the same color as your suede skirt. It gives you a great matching set that will have you looking effortlessly dressed up.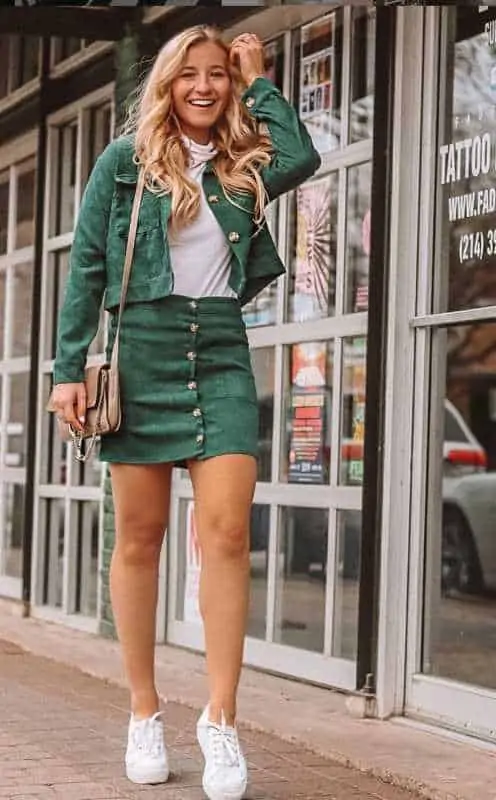 Carly (above) wore a matching suede jacket with her suede skirt, a simple but fashionable outfit that is easy to pull off.
You do not have to limit your suede jacket to the matching color. You can style a brown suede skirt with a white blouse and a different color suede jacket. It's a great way to look polished within a short time.
With a graphic t-shirt
A graphic t-shirt is a great piece for anyone looking to express themselves through clothes. They make you stand out, and at the same time give you that comfort any ordinary t-shirt gives. Graphic t-shirts also look great paired with suede skirts.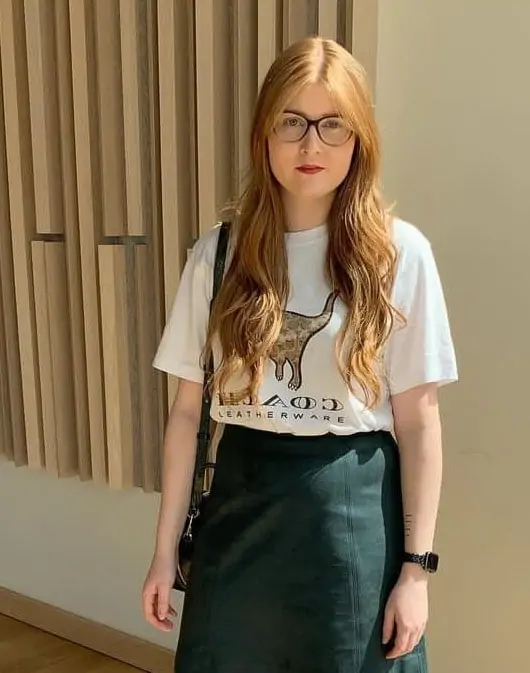 Morgan (above) styled a graphic t-shirt with an A-line suede skirt. This is a great casual look for fall that you can wear with boots, but in case it isn't that cold, you can switch the shoes up with a pair of sneakers for a sporty casual outfit.
With a cable knit sweater
Cable knit sweaters are a fall staple, just like the suede skirt. Wearing the two together makes a perfect outfit in the transitioning weather.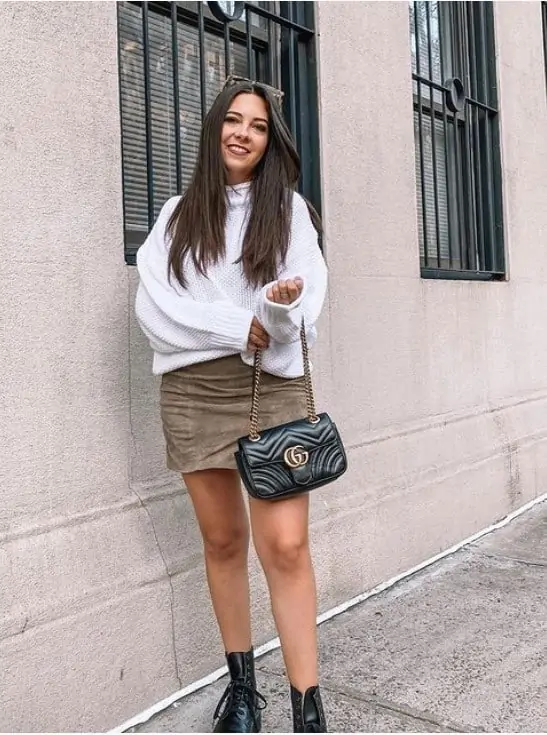 Carey (above) styled a white turtleneck sweater with a mini suede skirt, a classy and youthful combination that never goes out of style.
With a blouse
A blouse, being flattering and easy to wear, can be paired with your suede skirt too.
A blouse is a must-have, considering how feminine blouses usually are. They are perfect for the office, but can also be worn to elevate an otherwise casual outfit significantly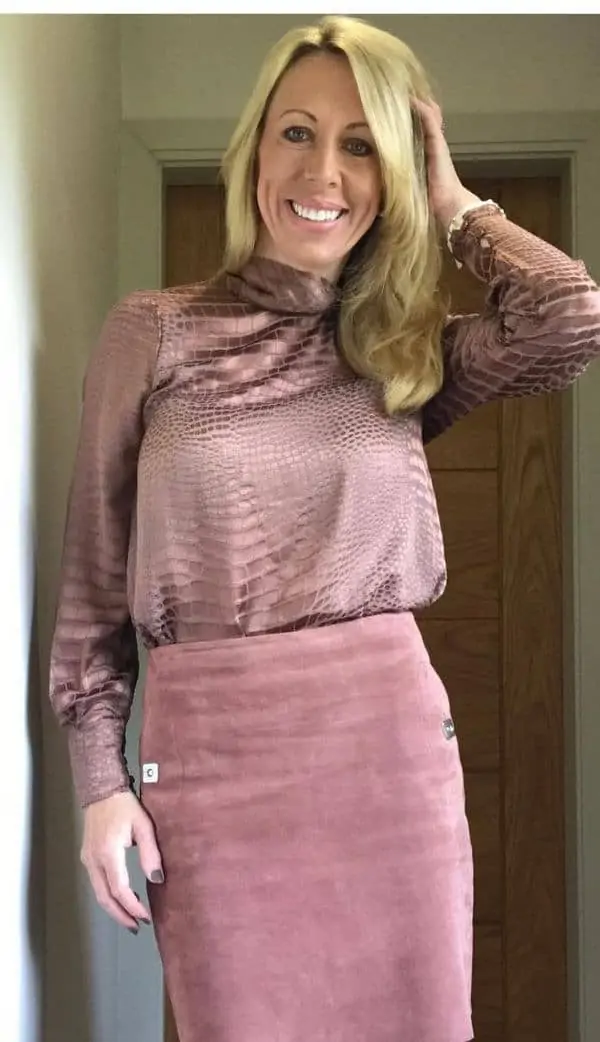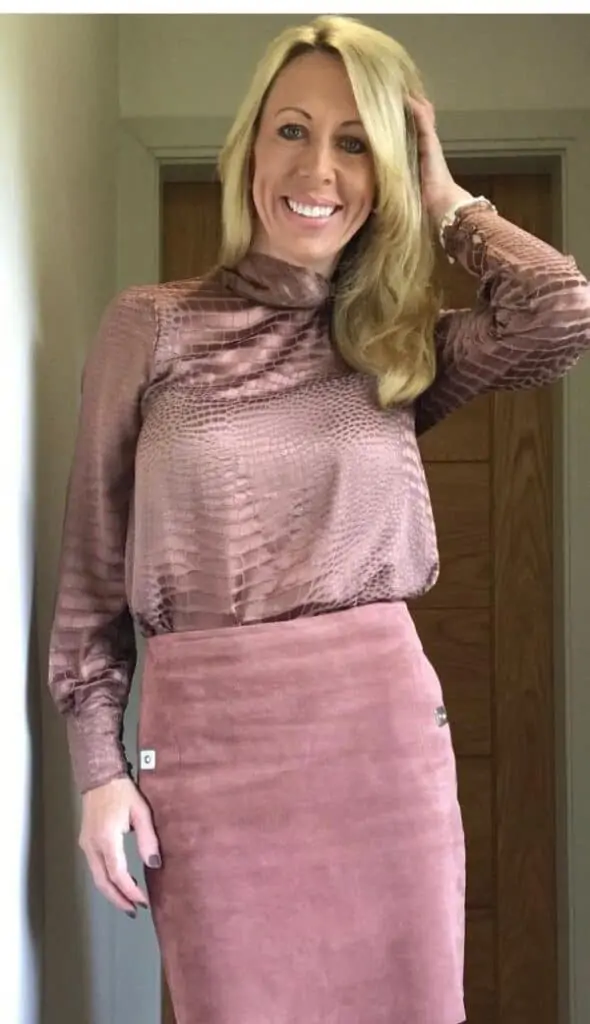 Lizzy (above) styled her simple blouse with a suede skirt for a chic look that works for the office setting, or on a day that you just want to look all dressed up. All it takes is tucking in your blouse to make this outfit look nice and clean. The blouses could be muted or statement ones.
With a coat
A coat is a functional piece, as it keeps you warm during cold seasons. However, coats can also make a great fashion statement, especially since you can find them in different designs that could elevate your look. You can easily wear one over a suede skirt outfit.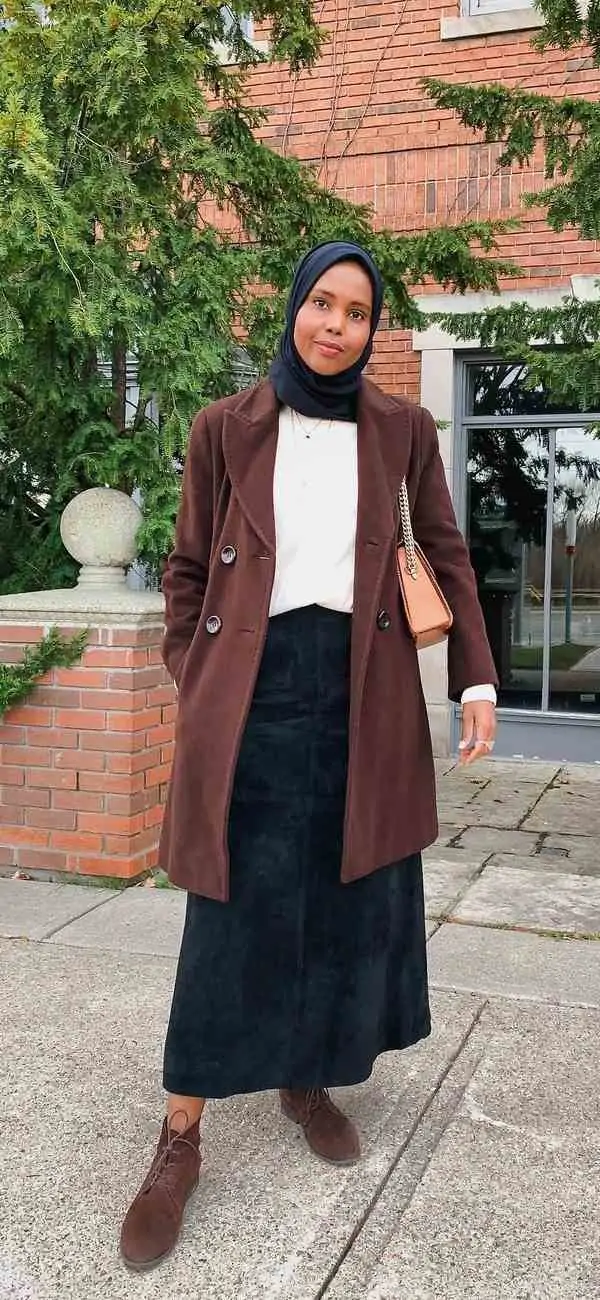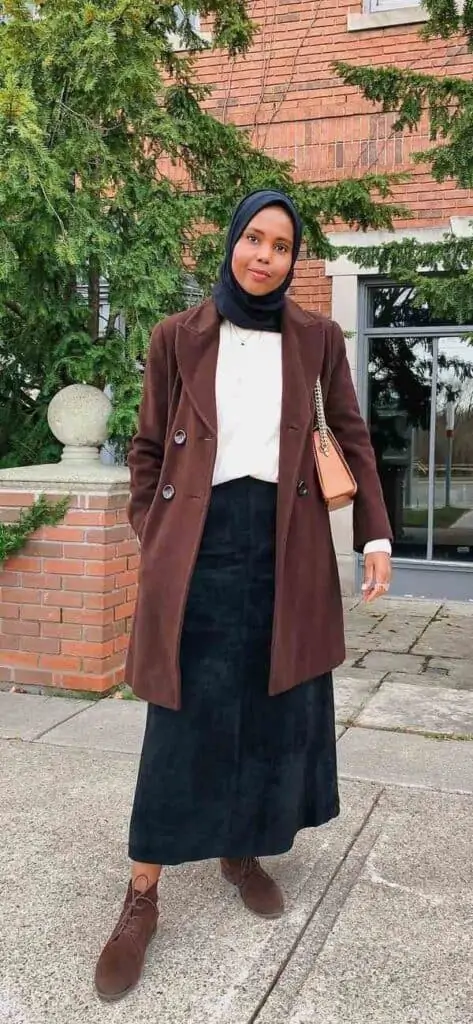 Khadra (above) styled a suede skirt with a simple plain top and some booties, then threw a long coat over her outfit. With this pairing, if you choose a longer suede skirt, it's always best to go for simpler plain pieces to avoid stepping out in an overwhelming look.
With a bomber jacket
You can style you bomber jacket with a suede skirt to give your look that casual chic factor.
Bomber jackets give a youthful look, as they are simple and cool. They can be worn throughout the year, as some come light while others are heavier. These come in handy in transitioning weather, when the temperature is going up and down through the day.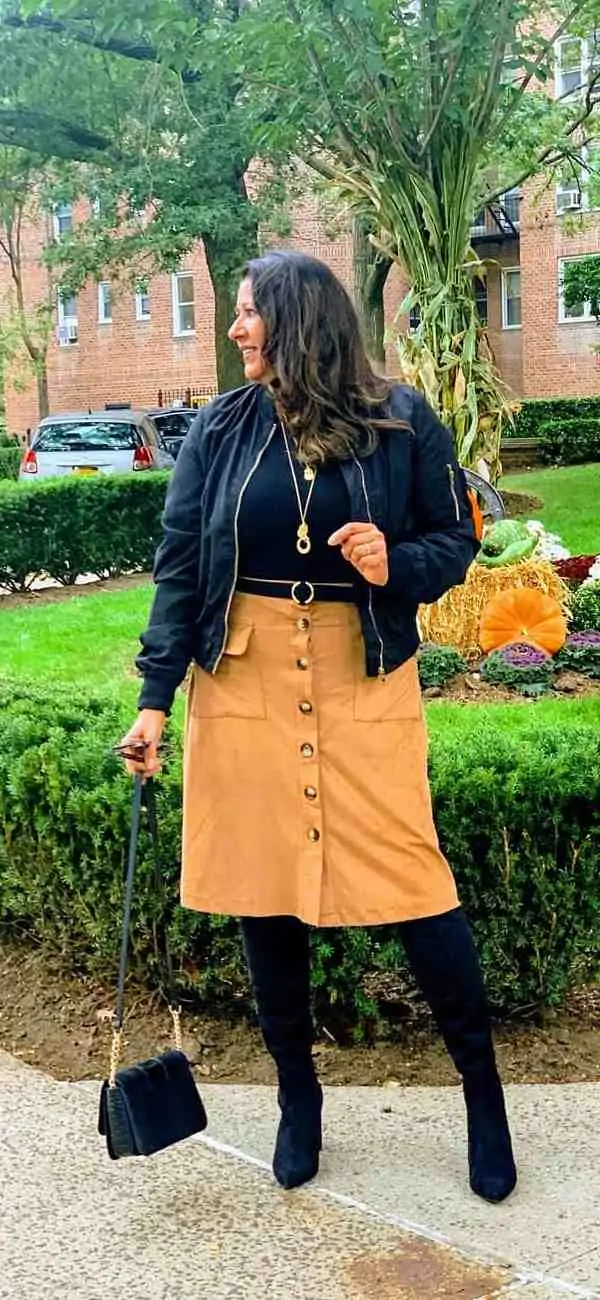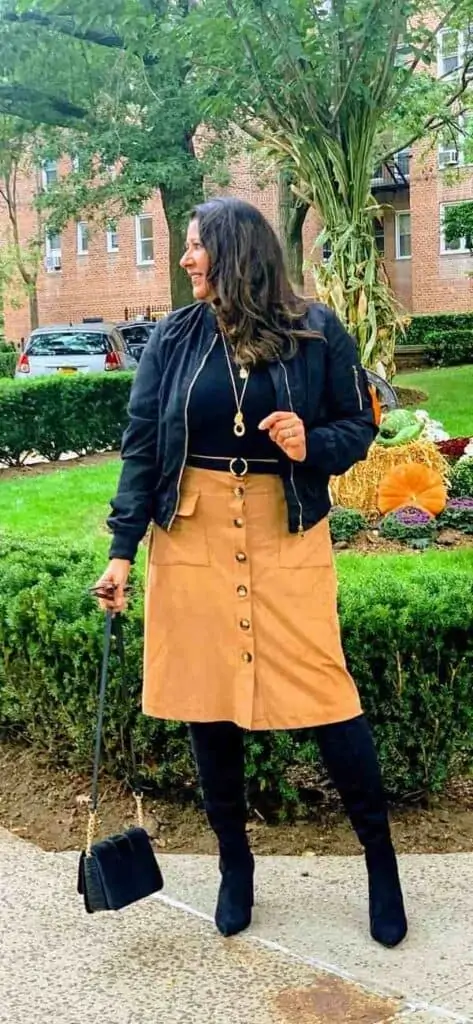 Jaye (above) styled her suede skirt with a black top, black bomber jacket and a black pair of boots. Keeping everything else black aside from the skirt gives you a cleaner look although you can go for different colors that coordinate.
With a cami
A cami is ever so feminine, and gives you that delicate look, which is why it balances so well with a suede skirt. Camis come in different fabrics. Since they are mostly soft and thin, they are great to wear as is when the weather is warm. They are also great for wearing underneath blazers, jackets and coats when it's cold outside.
You can wear a white cami, which will look great with any color suede skirt. Since these tops are minimalist, they look great with suede skirts in different designs.
With a pullover
You can style pullover with a suede skirt to feel comfortable and warm during colder months.
Pullovers are nice and warm. They can also look very stylish, when worn with the right pieces. When wearing with suede skirt, this is also a very stylish look.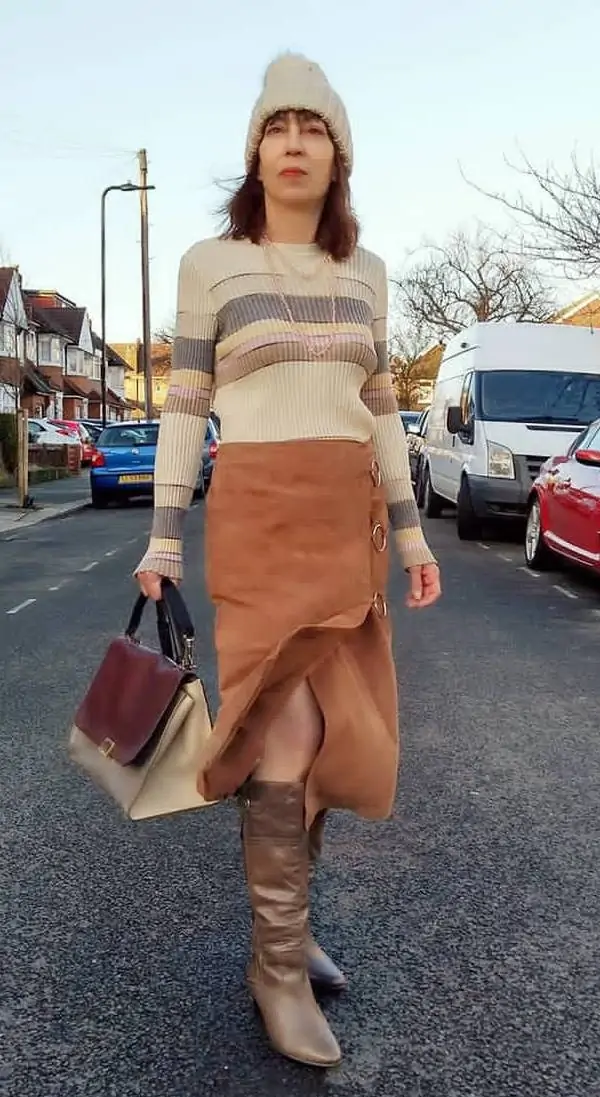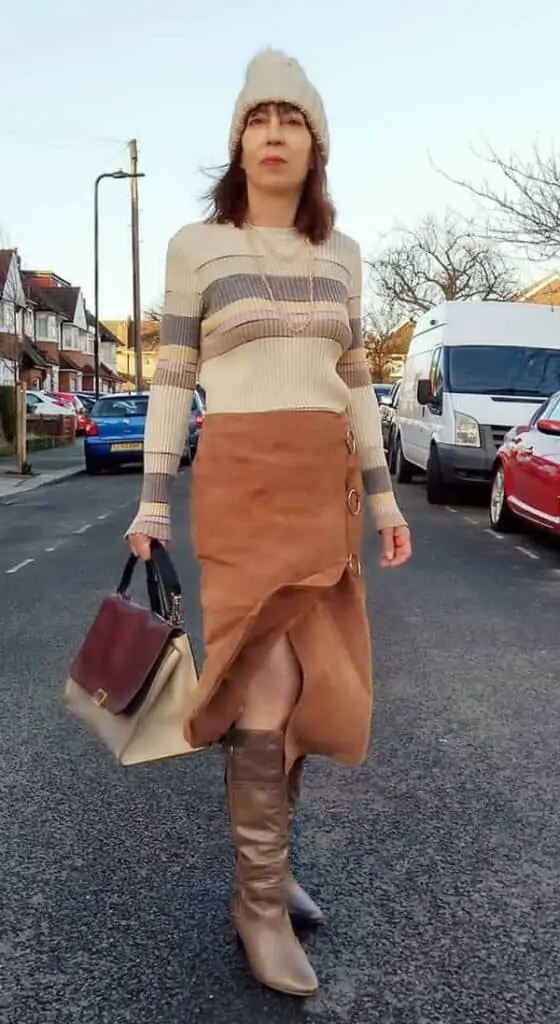 Marie (above) styled her pullover with a brown suede skirt and finished the look off with a pair of boots and a beanie. If you like a more dressed up outfit then you could wear a pair of heels instead for this combination.
With a bodysuit
You can wear a bodysuit with a suede skirt for a youthful and stylish look. Bodysuits are typically in neutral colors such as black or tan, which easily goes with any color suede skirts.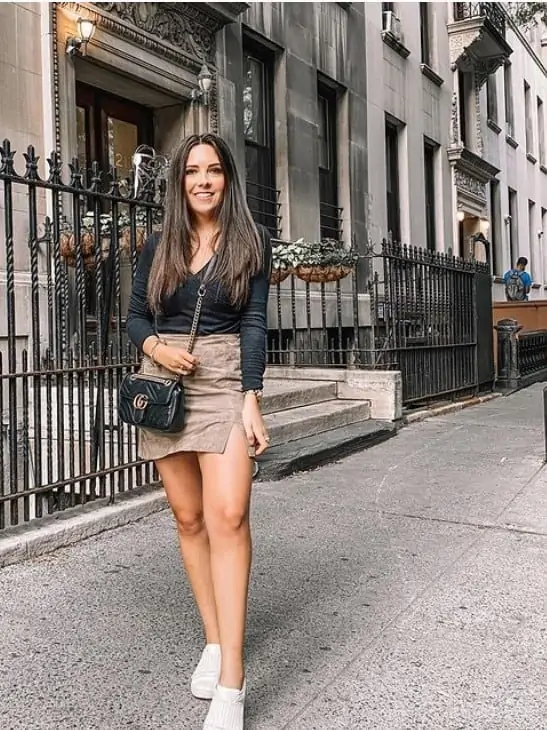 Carey (above) styled her faux leather skirt with a black bodysuit, a simple yet chic combination that can get you out the door in 5 minutes on any day.
With a simple white T-shirt
It's always advisable to get yourself a few plain tops, as they save you on those days when you can't quite figure out what to wear. They come in handy, especially if you want the focus of your outfit to be your bottoms . A white T-shirt in particular goes with just about everything you can think of wearing. An example of a wardrobe piece that would look great with a simple plain top is a suede skirt.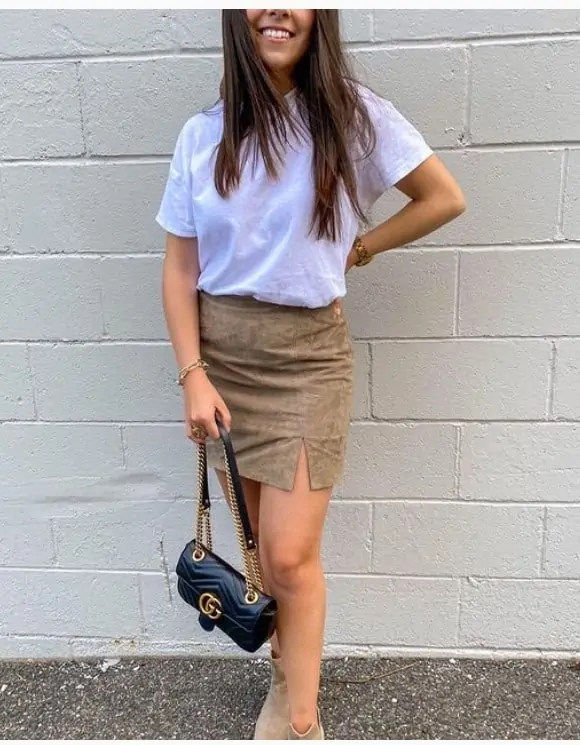 Carey (above) styled a simple T shirt with a mini suede skirt with a slit.
The easiest is to style a skirt with a plain white T-shirt. The white T-shirt, simple as it is, allows the front slit design of the skirt to stand out in the outfit.
A simple plain top could be either short or long sleeved, so you have the options for different weathers. To make it more versatile, ensure you get one that fits you well.
With a blazer
You can wear your blazer with a suede skirt outfit for an elevated look.
A blazer always adds a touch of class and sophistication to any outfit, whether casual or formal. The best part of these pieces is that regardless of your age, body shape or color preferences, there's always a blazer out there that will suit you for sure.
The simpler the blazer, the more sophisticated the look will be because sometimes, less is simply more.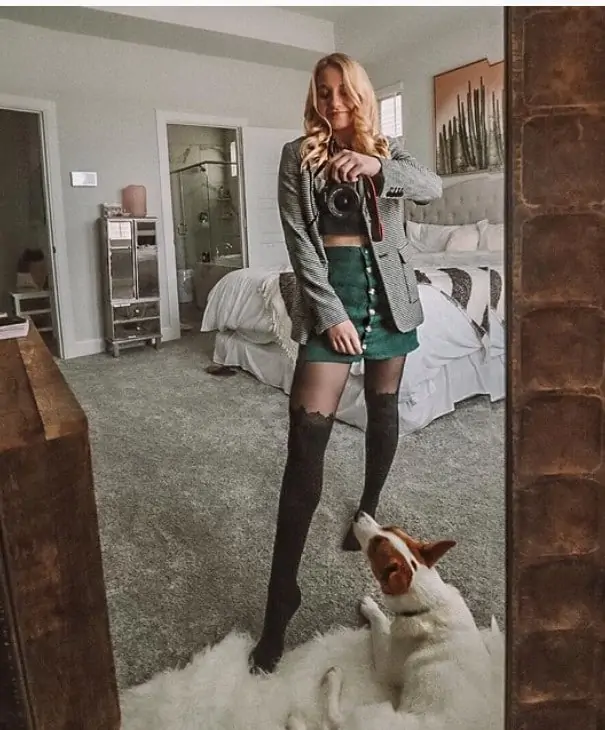 Carly (above) paired her mini suede skirt with a long blazer, which balances out the shorter length of the skirt, a fun and fashion forward outfit for the spring and the fall.
With a denim shirt
Styling a suede skirt with a denim shirt can give you either a very laid back look, or a casual chic one, depending on the cut of your skirt and also the footwear you choose.
A denim shirt is ever so easy to wear, and is a great comfortable casual piece for women of any age and body size, whether you are over 50 or in your 20s. These denim shirts never run out of style ,and can be worn with different bottoms whether dressier or casual ones.
In case you would like to transform it into a more laid back look, the process is as easy as switching the heels for booties or a pair of sneakers.
With a cardigan
Cardigans ,just like pullovers, are warm and cozy, perfect for cooler days. You can dress one up by pairing it with a suede skirt. Depending on the length of your skirt, you can choose a longer cardigan or a shorter one. You can also leave it unbuttoned at the front, or button it up and tuck it into the suede skirt.
Wearing a cardigan that matches your top elevates the look, especially if you pick neutral colors.
With a denim jacket
Wearing suede skirt with a denim jacket gives the ultimate casual look.
Just like a denim shirt, a denim jacket is easy to wear and suits women with different body shapes. The best part of a denim jacket is that you can wear yours throughout the year, whether it's cold or hot . They make great layering pieces in colder months, and are light enough to wear when it's warm. They can be styled with, among other pieces, a suede skirt.
It's a great combination if you prefer a look that's more youthful.
With a sleeveless top
Sleeveless tops are easy to style with a suede skirt.
Sleeveless tops come in handy, especially when it's cold. They also make it easier for you to layer different pieces of outerwear over them, when it's colder outside. You can get printed ones, sleeveless tops with some embellishments on them or just get plain ones.
It's a casual chic look, and is great for a casual day outdoors. It also works for a first date outfit, and brunches with girlfriends. If you will be running errands, you can pick sandals or sneakers for this combination.
With a white button-down
A white button-down shirt is a closet staple, considering it's one piece that goes with absolutely everything you can find in your closet. It easily makes an outfit look smarter and cleaner. As such, it easily looks great with a suede skirt.
Since the button-down is white, you can pick a suede skirt in literally any color.
With a statement t-shirt
A statement t-shirt is another piece that's great if you're looking to express yourself through clothing. This is because people often will wear those with messages they believe in. They are more subtle, compared to graphic t-shirts, and can also be worn with suede skirts.
When you go for neutral colored statement t-shirts, choosing the color of suede skirt becomes easier, as these neutral colors will not clash with the skirt.
With a tweed coat
Adding a tweed coat finishes your suede skirt outfit with a classy and lady like touch.
Tweed is ever so chic, and is a great option for anyone who likes to look like they are wearing a high fashion piece. Tweed mostly reminds fashion lovers of a channel piece. The tweed material also looks great when worn with a suede skirt.
You can finish the look off with some heels. This is a combination that works for an office environment, a date or even an event because it's a classy pairing.
With a turtleneck
Wearing suede skirt with turtle neck is a signature look for the fall, but of course you can wear this other times of the year too.
Turtlenecks, whether in knit style or a simple top style, come in handy during the colder months, as they cover you all the way up to your neck. They are easy to wear, and are suitable for any kind of environment. A great way to dress up your turtleneck is by tucking it into a suede skirt.
The easiest is to wear a black turtleneck top with a midi length suede skirt and some tights for extra warmth, then finish off the look with some simple black shoes. If you're going to be wearing tights with your suede skirt and turtleneck combination, you can always pick a shorter skirt, if you feel like a midi covers you up too much.
With a leather jacket
Leather jackets are classic timeless wardrobe pieces that have been around for decades, and you can be sure they will not go anywhere anytime soon. That's why you should invest in at least one. Leather jackets can be worn with so many outfits including a suede skirt outfit.
Leather jackets make for great layering pieces when it's cold outside.
With a trench coat
Adding a trench coat to your suede skirt outfit finishes the look with a Parisian chic touch.
Trench coats are great for early fall and spring. These are one of the most classy pieces for anybody's wardrobe. They are flattering to almost any outfit and of course when paired with suede skirts too.
You can style a knee-length suede skirt with a simple top and layer a trench coat over her outfit. This is a look that can be pulled off, regardless of your body shape and age as it's quite a simple pairing.
With an off-shoulder top
Off-shoulder tops are so trendy and are great for summery times. They are very feminine, and allow you to show your clavicle and shoulder area. They look great with different types of skirts such as suede ones.
You can style a suede skirt with an off-shoulder top and a pair of heels for a chic outfit. An off-shoulder top can be tucked into a suede skirt of any style, just as long as it coordinates with the color of the skirt.
These 20 style ideas with suede skirts should inspire you to wear yours often. They will enable you to step out looking different every time you feel like wearing the different ones you might have.