A red dress makes you stand out anywhere. A dress is perhaps the most feminine kind of clothing a woman can have. They come in different types, whether a skater dress, asymmetrical, a slip dress, midi, maxi, you name it. Whichever style you love, it's worth getting it in red. It allows you to make a great fashion statement just as long as you get the right fit. If you already have one or some, here are some best shoe ideas you could pick to go with your red dress:
With suede knee-high boots
When it gets cold outside, your best bet to stay comfortable is to wear a pair of boots. Knee-high boots in particular will keep your feet protected from the cold. When picking these, keep in mind the colors on your outfit. Of course certain neutral shades like brown go with most pieces.
Wearing some brown knee-high boots with a red dress is a good way to go about it as these two colors look great together.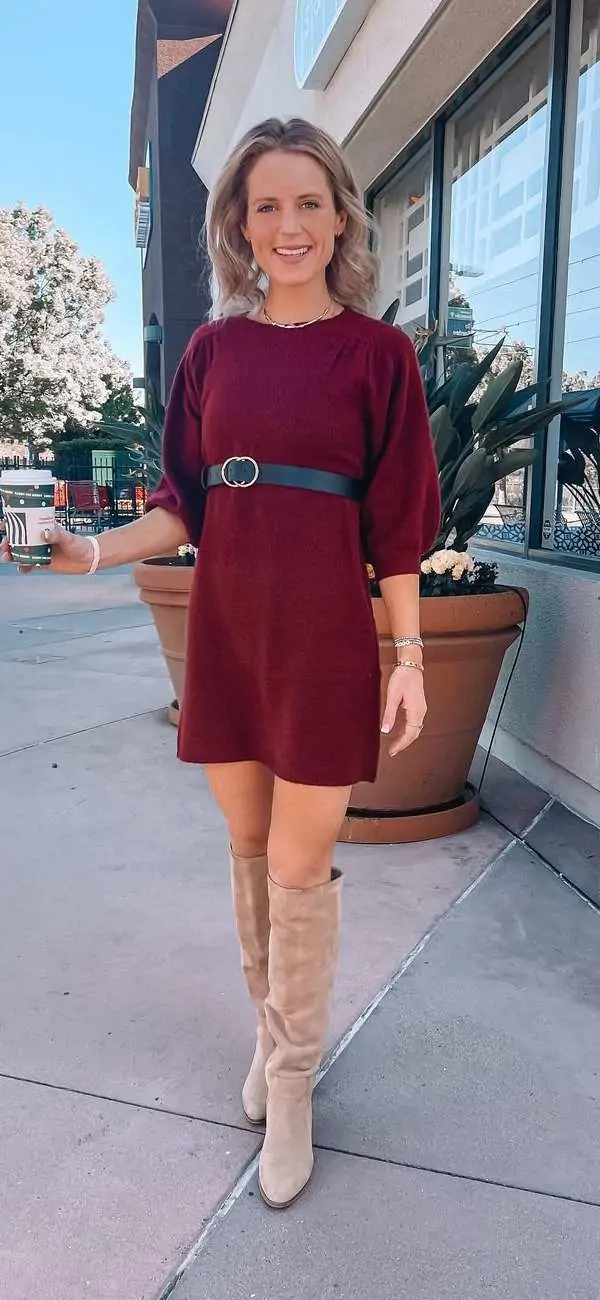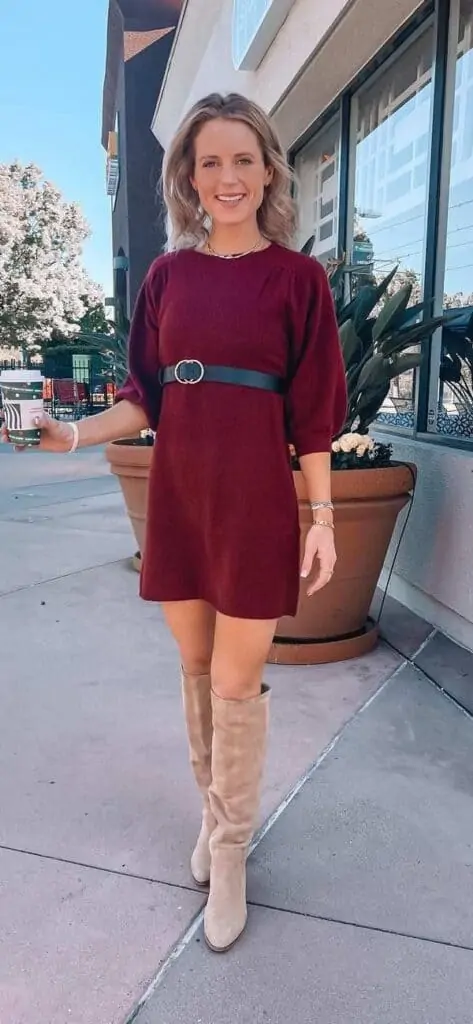 Sarah (above) wore a wine red sweater dress with a pair of brown knee-length suede boots. The fact that the dress is a knit will keep you even warmer. If it gets too cold, this combination allows you to go ahead and wear some dark tights underneath.
Another great thing about suede shoes is that they can easily be wiped should you get some dirt on them by mistake so you will look cleaner in this combination for as long as you're wearing it.
With black thigh high suede boots
Thigh high boots make for great fashion statements and well, they are also functional on very cold days. They make your legs look longer and even leaner. These boots look so stylish when worn with a pair of tights and a red dress. The tights ensure you're even warmer and that you're not showing too much skin in case your dress is a bit short.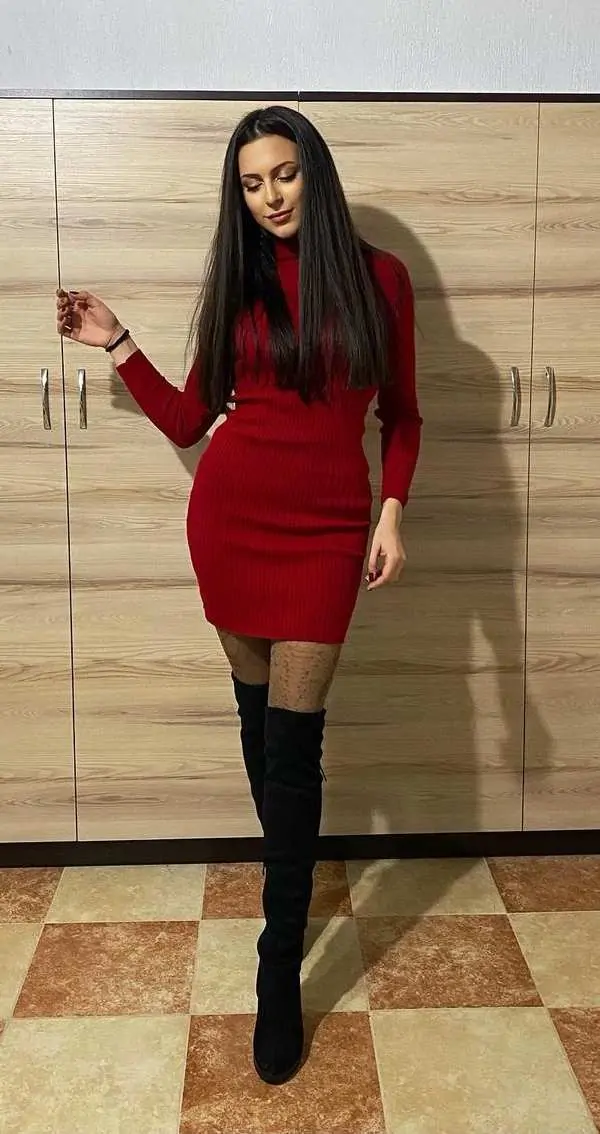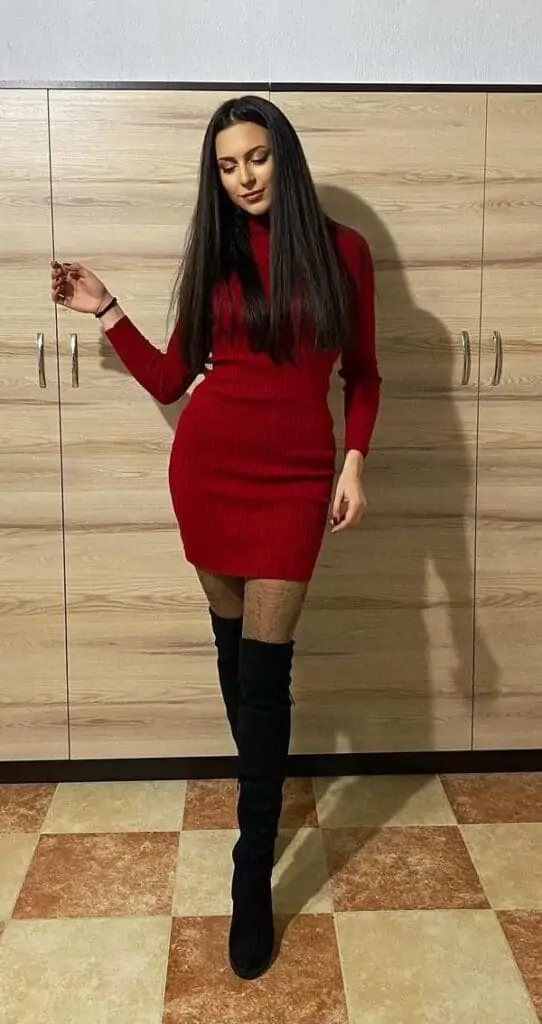 Zeynep (above) styled her red dress with some tights and suede thigh high boots in black. It's a turtleneck red dress although you could always go for a different red dress with this combination and perhaps layer a jacket over the look should it get too cold.
With red strappy heels
While black strappy heels are simple and minimalist, red ones are great if you like footwear that adds a pop of color to your outfit. Whether you want to wear a darker dress or a brighter one, red strappy heels complete an outfit in a way that will have you looking and feeling more elevated fashionwise. Wearing these red strappy heels with a red dress gives you that monochromatic look from head to toe that is so fashion forward.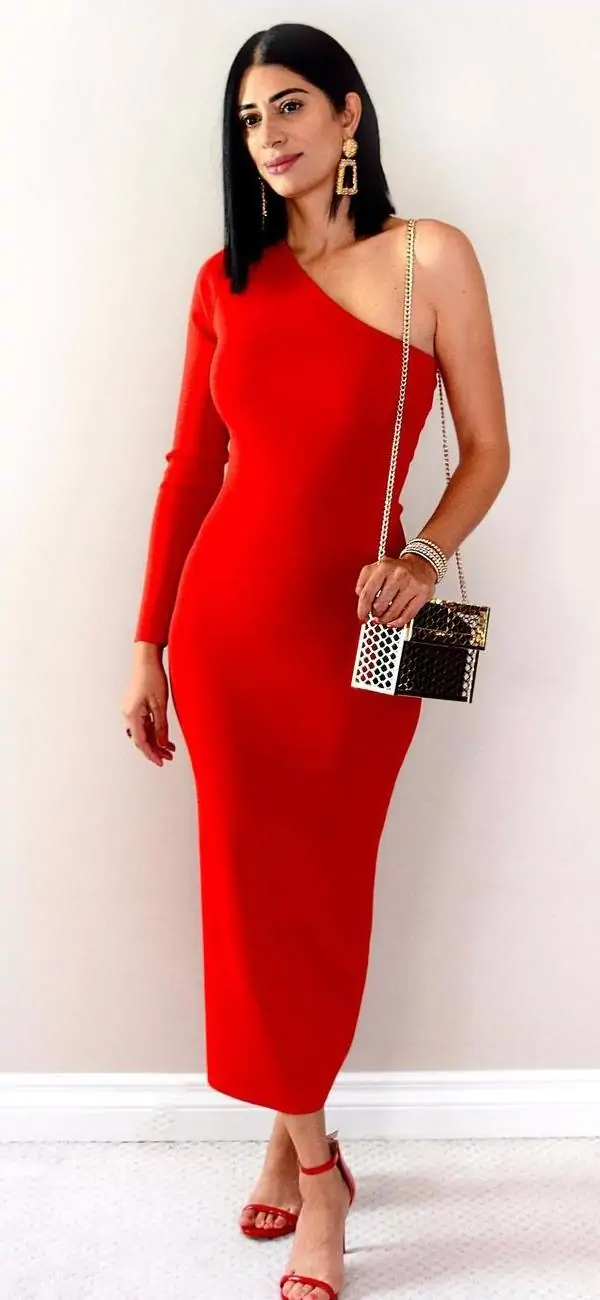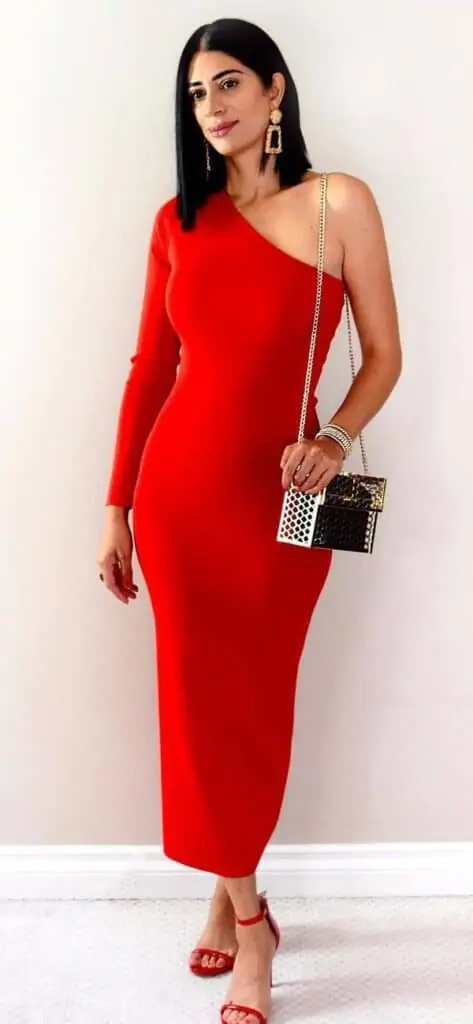 Yalda (above) styled her one shoulder midi red dress with a pair of matching red heels for a sophisticated look. This combination will have you event, brunch or date ready in just a matter of minutes.
With block silver heels
A pair of block heels is a must-have, as these allow you to elevate your style by giving you the extra height. At the same time, they are easier to walk in. These block heels can be bought in several different colors. A silver pair is a great option, as it goes with several different colors of clothing pieces including a red dress.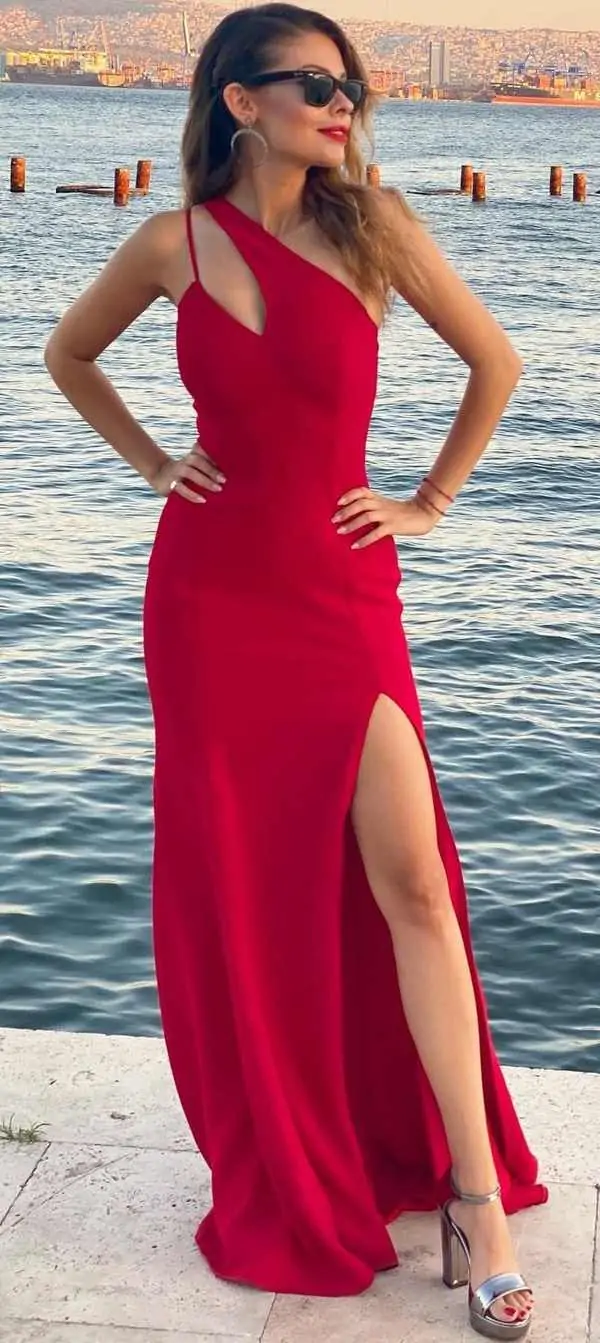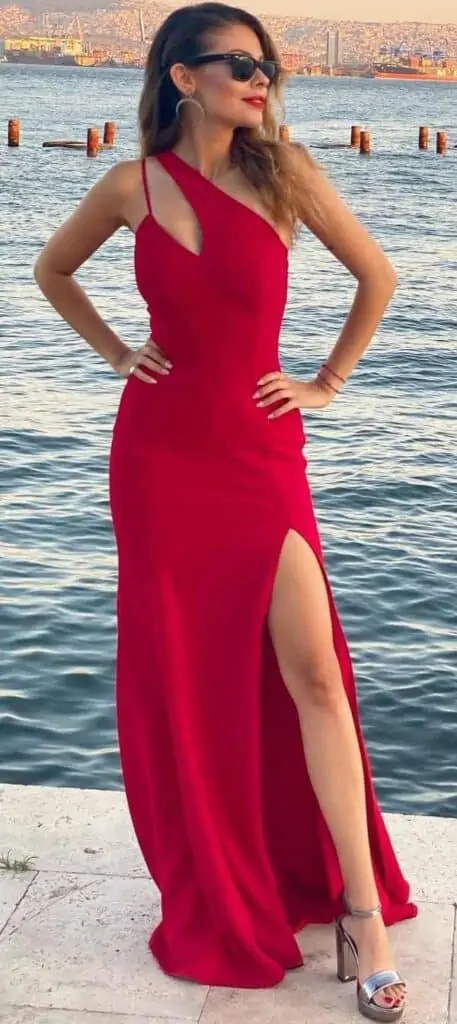 Banu (above) wore a floor-length red dress with a high slit and paired it with a pair of block silver heels.
This is a classy outfit that never goes out of style. The heels give a great but minimal contrast to the beautiful red color and they match the jewelry, making the outfit simpler to pull off despite the dress being a statement one.
With black ankle boots
Ankle boots are ever so trendy and they come in a variety of designs. Black ankle boots in particular are really easy to style and if you pick a pair with block heels, you'll have an easier time walking around in them. They also look great when worn with a red dress.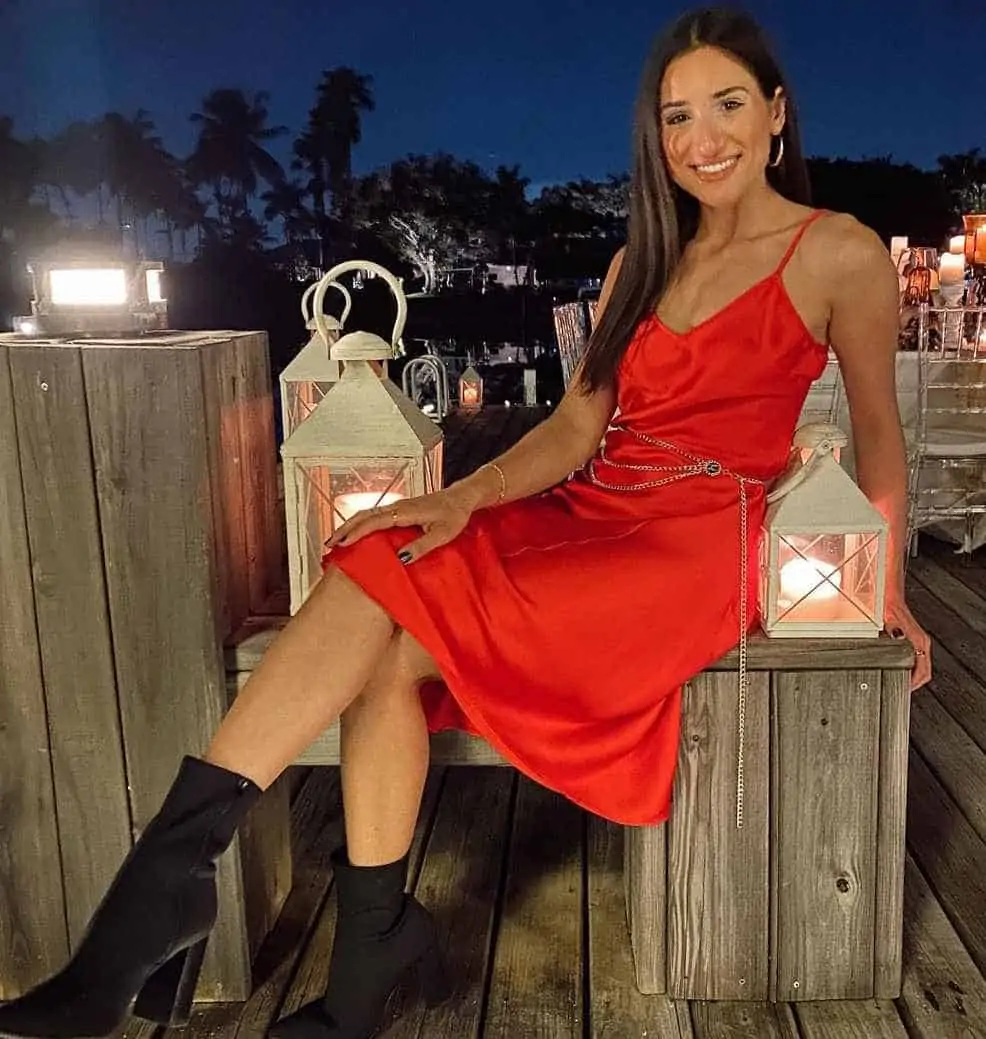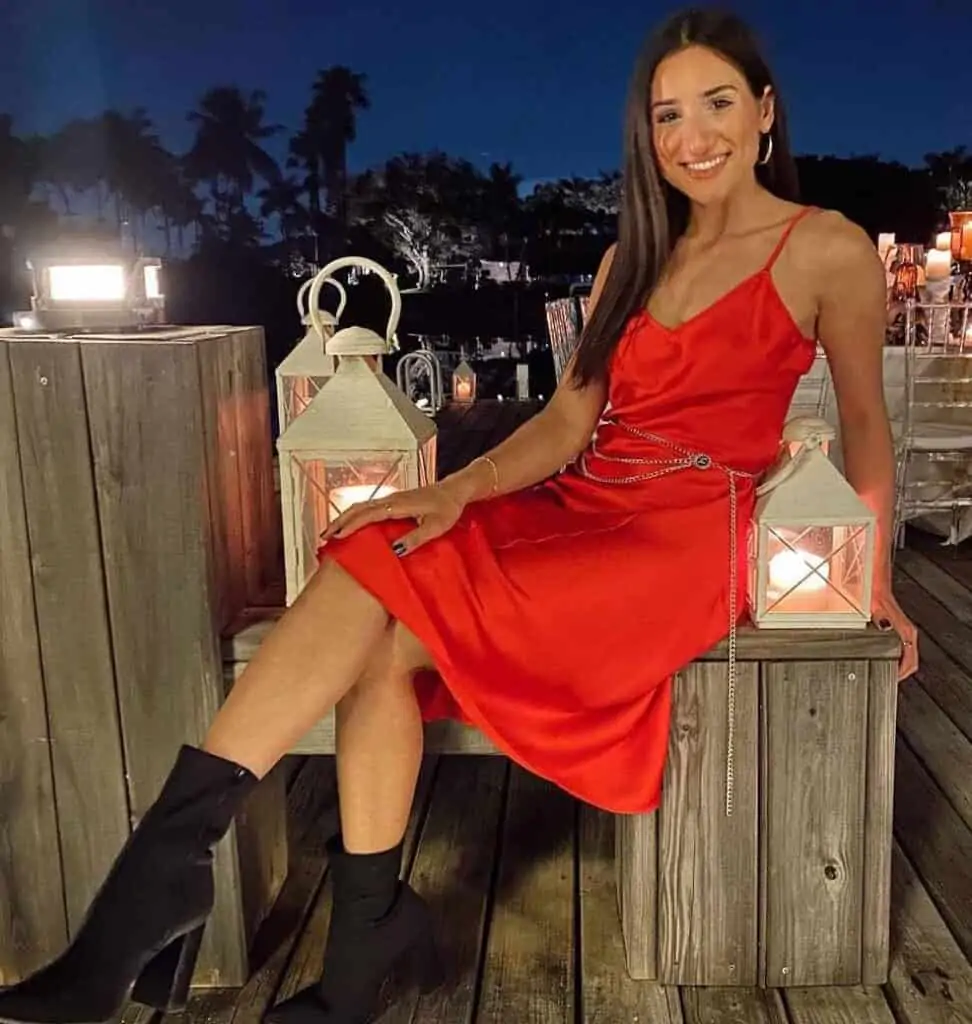 Alexandra (above) wore a red slip dress with a pair of black ankle boots, block ones. The boots add an extra edge to her very feminine slip dress.
You can also pick any other type of red dress as these ankle boots will still look great when worn with different red dresses. It's a combination that will never go out of style, as it is simple yet so edgy at the same time. You are also not limited to block heeled ankle boots as you can pick some with pointed toes.
With sneakers
Sneakers are easy to wear and can easily be styled for a casual day with your jeans or leggings and sweatpants. However, recently, it's become a huge trend to wear sneakers with skirts, dresses and more feminine pieces you can find around. A good example of a feminine piece to wear with some sneakers is a red dress,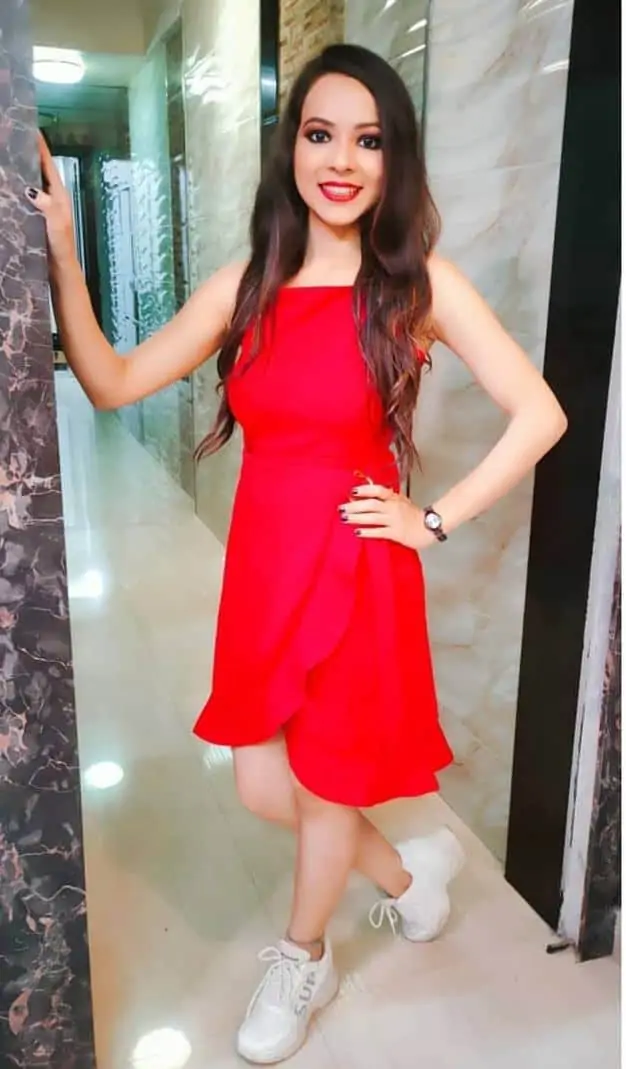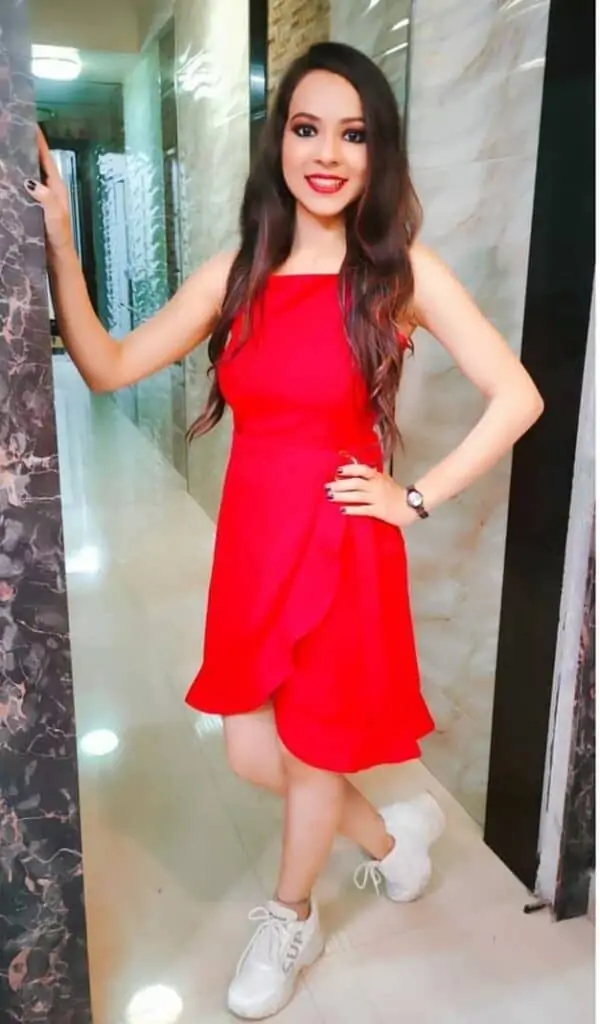 Eshika (above) wore her ruffed red dress with a pair of white sneakers.
Choosing plain white sneakers balances out the look better as white and red are known to go so well together already. That said, the plain nature of the sneakers allows your dress to stand out the way it should.
There are different types of white sneakers you could go for to achieve this casual chic look. You could pick chunky ones or the relatively simple ones. Before you pair them with your dress though, ensure you try them on with the dress to make sure the style of the red dress is compatible with the design of the shoes.
With kitten heels
Sometimes, you want to wear a pair of heels but the thought of keeping your posture right in them for long hours might be off-putting. That's why it's worth investing in some comfortable heels instead such as the kitten heel as your preferred design of heels. These will work with your red dress, whether you were going to wear the dress to work or to a function.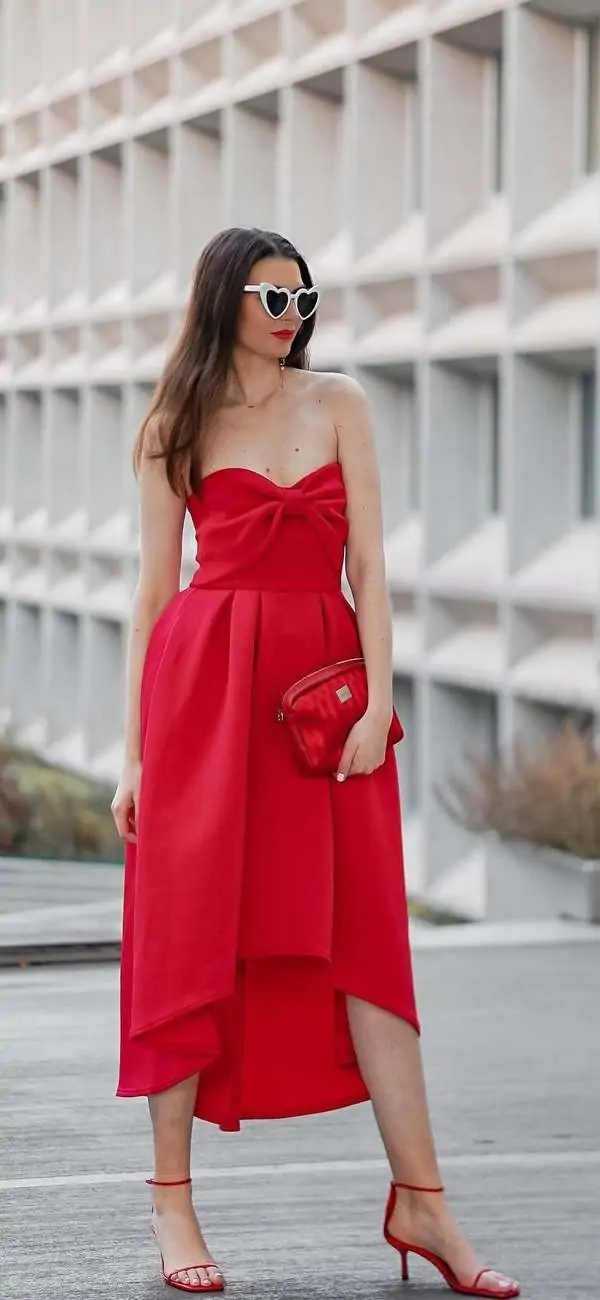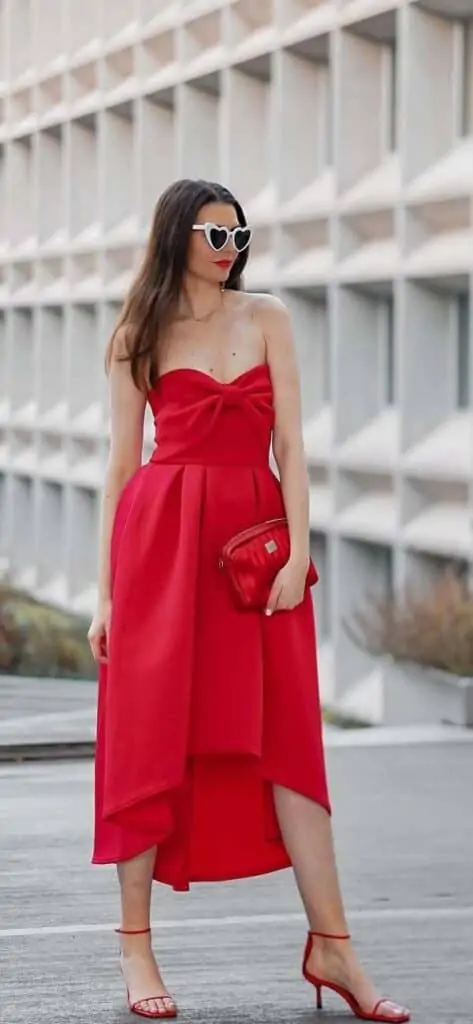 Mirsada (above) wore her red dress with a pair of open kitten-heel shoes. She went for kitten-heels in the same color as her dress. Matching your shoes with the dress makes the look even classier. However, you can go for a black, brown or a navy pair of kitten-heel open shoes.
With black strappy heels
A pair of black strappy heels is a must-have, as you can wear them with just about anything you can think of. Being black and simple in design, they look great when worn with dresses, pants, skirts and so much more. A pair of black strappy heels particularly looks great when worn with a red dress in any design.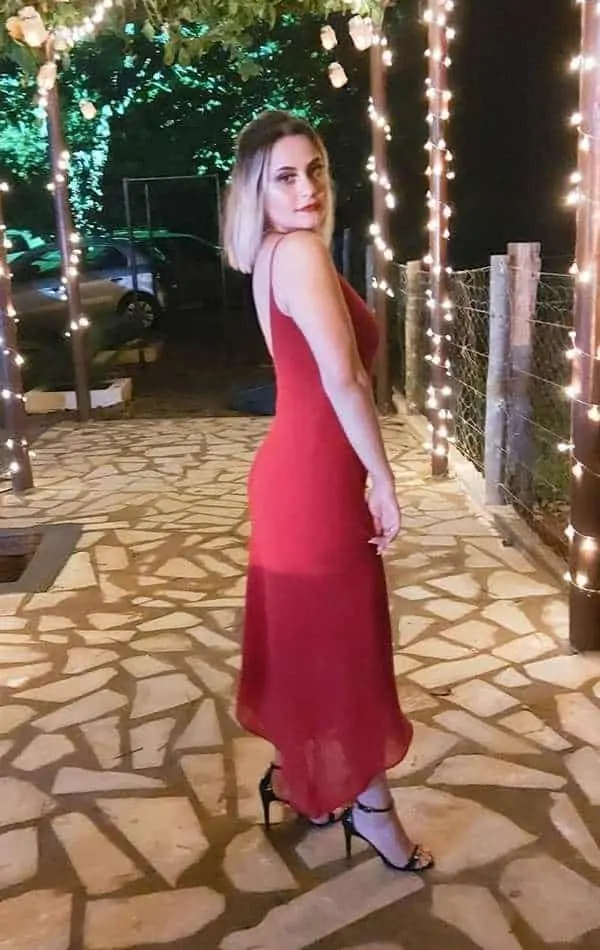 Lanna (above) styled her red dress with a pair of black strappy heels. The simplicity of these heels allows the red dress to stand out more because of its color and the design. Just ensure you get a nice pedicure if you're going to wear your beautiful red dress with your black strappy heels so that you look even classier.
With clear closed heels
Clear closed heels are a great way to make your legs look longer, especially if you pick the pointed ones. They do so because they will simply show the color of your legs, almost like what nude heels would do. The fact that they are clear allows you to wear them with clothes of any color including a shouting one such as a bright red dress.
This is such a simple look to put together but it oozes a lot of class. A midi dress in particular makes you look more ladylike. These shoes are very trendy and will have you ready for that great Instagram photo. You can get clear heels that have some embellishments or just go full on plain with them.  The best part is, anyone can wear them.
With black wedges
Wedges are known to be some of the most comfortable girlie shoes around. They have been around for a while and offer a great alternative to stiletto heels. You can wear these in black with your red dress, especially if you don't like to wear skinny heels or you just find them uncomfortable.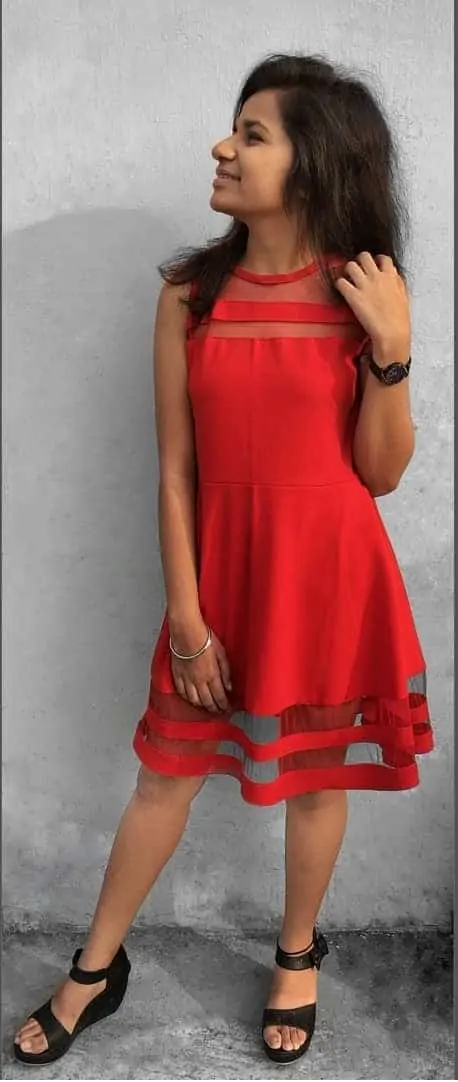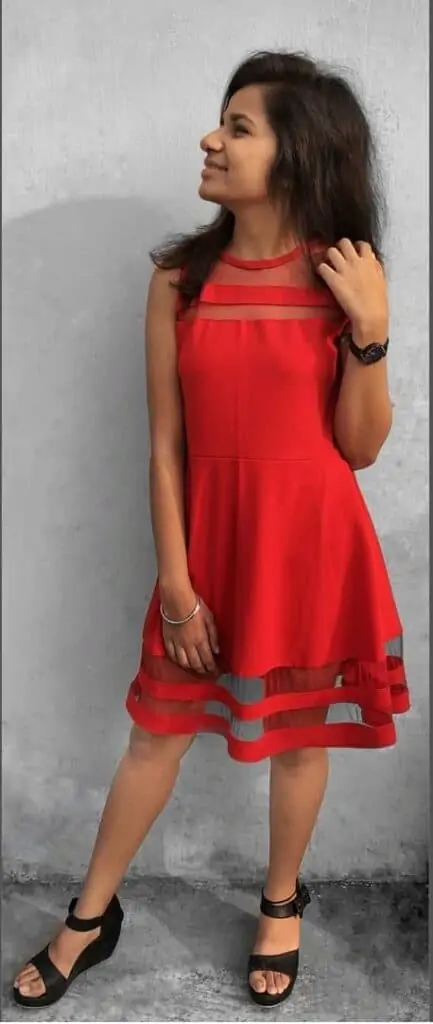 Simran (above) wore her red skater dress with a pair of black wedges. It's a simple outfit, but it still looks classy and will take you from lunch with the girls to a date.
This is because it's a combination that's both casual and dressy. It works for all ages. While a wedge will mostly look great with a skater style red dress, you can also go for a different style red dress such as an assymmetrical style one. The length of your red dress can also determine whether or not it will look great with the wedges.
With red stilettos
Stilettos have a way of adding a more feminine and classy touch to an outfit. They change your posture by improving it and then add to the confidence that you already have, considering how many heads you're likely to turn while wearing them. You can pick a red pair to be precise and wear it with a red dress.
This outfit will have you looking even better if you go for minimal make-up, of course, because the dress and shoes already make quite the statement. You also don't have to be too extravagant with your jewelry for this combination as simple jewelry will do the job just fine.
With black pointed toe pumps
There's something about a black pair of simple pointed heels that just ties an outfit together so well. First, they are so ladylike, then, these heels are known to give you a nice posture as well. Since they're black anyway, they are always so versatile.
Going for a knee-length dress in this shade makes the look appropriate for a work setting, and will also have you looking more mature.
This is not to say that the combination is only limited to the workplace. Thanks to the color of the dress and whatever fabric you choose for it, you can go to a party or even a date in this combination.
With OTK leather boots
If you are after the extra edginess and would like to look more fashion-forward, you might want to go for thigh-high leather boots. They also keep you warm though and if you go for a black pair, you get more versatility. They also look great with a red dress.
This is a fashion-forward look that could take you from a fashion-forward event, to hanging out with your friends, as it can also be a casual chic look. The best part about these leather boots is the fact that they are classic and timeless. Leather will always be in style.
With studded heels
A shoe with studs means you easily get that extra embellishment you need to turn heads. These studded heels became very popular, especially because they add fun to an everyday outfit. At the same time, make that fashion statement that will remind you of high-end designs such as Valentino Rock Studs and the likes. You can wear your studded heels with a nice red dress.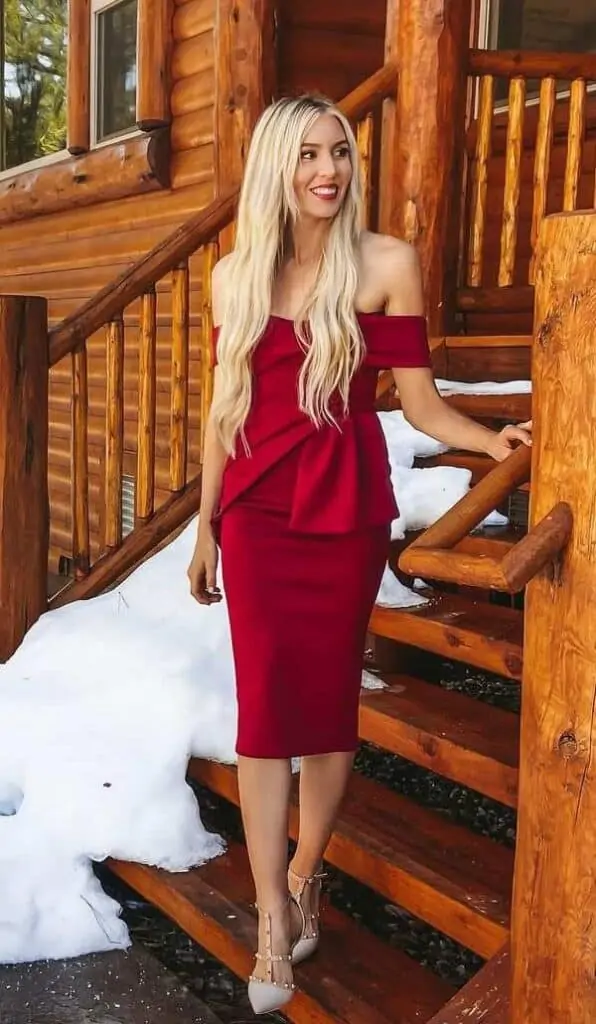 Gabie (above) styled her off-shoulder red dress with a pair of studded closed shoes. It's really a classy look, so elegant especially considering the style of the dress. Even with a plain dress, the studded shoes will have you looking like you spent a lot on your outfit even if that's not the case.
With clear mules
Mules, especially high heeled ones, are a recent trend. If you are avoiding them because these shoes lack the extra support at the back of the shoe, you might need some practice on how to walk in them. They also look great with a red dress especially if you go for clear mules.
Clear mules are better especially if you choose to go for a midi length dress. It allows you to have more of your leg showing,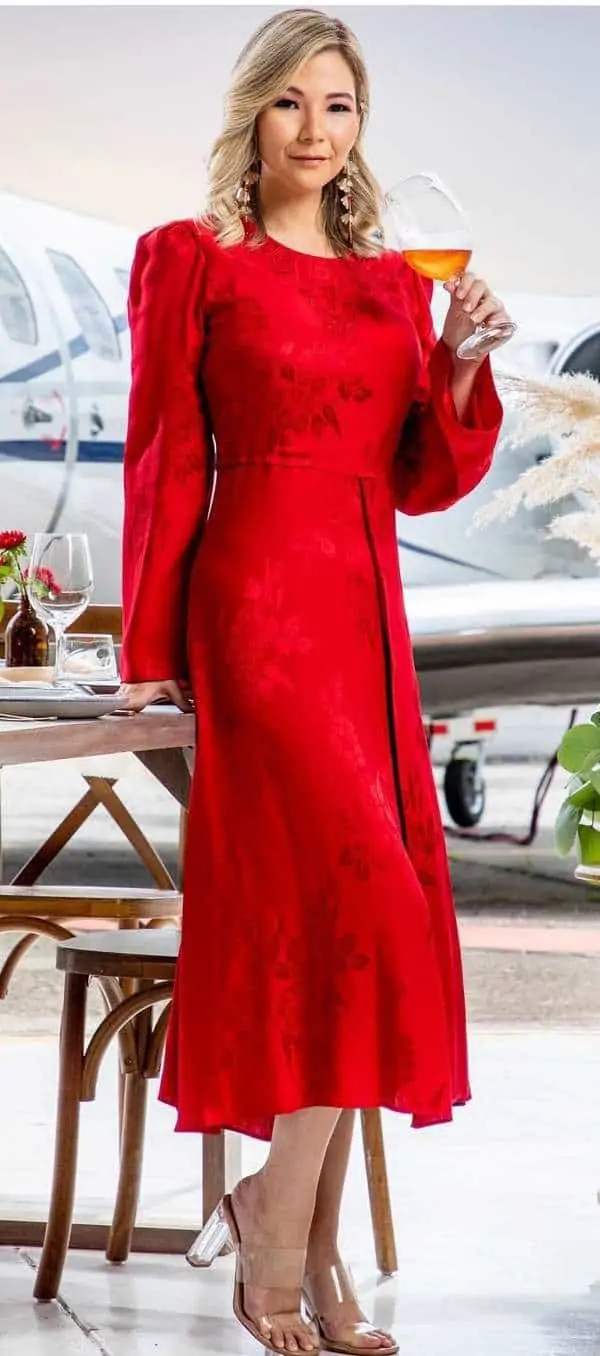 Wineloverpty (above) styled her red dress with a pair of mules.
You can also get clear mules that have a lower heel if you're too worried about comfort. If you're not, feel free to go for a higher pair.
With ballet flats
Ballet flats are some of the cutest shoes you can find. Aside from the fact that they can be worn casually or dressed up, these shoes can really save you. Since they are flat, you can easily pack them in your bag when you have some heels on then switch the shoes up once you get tired. Ballet flats also look great when worn with red dresses.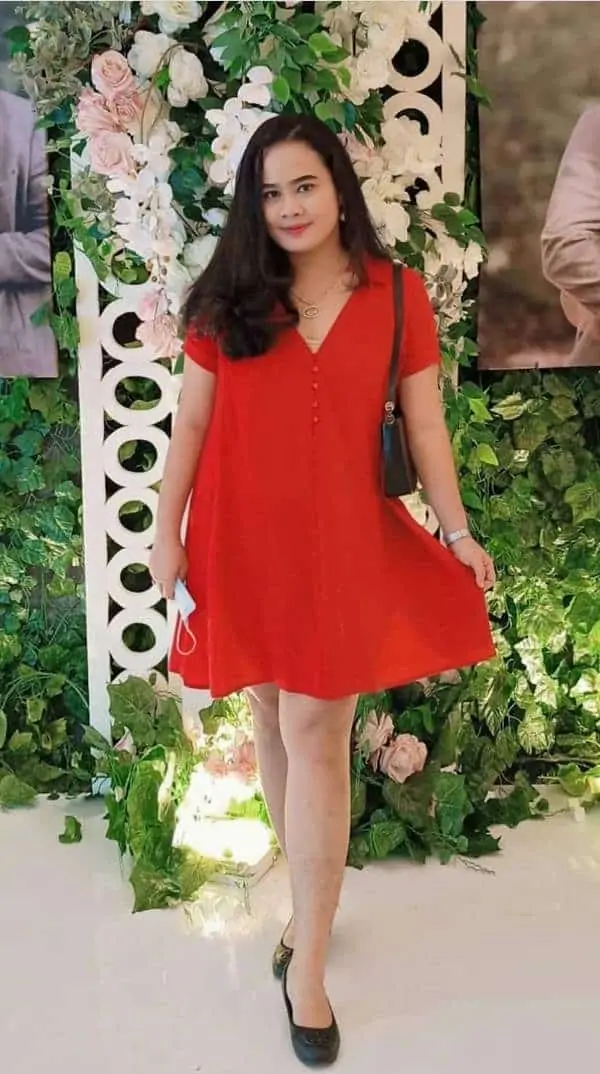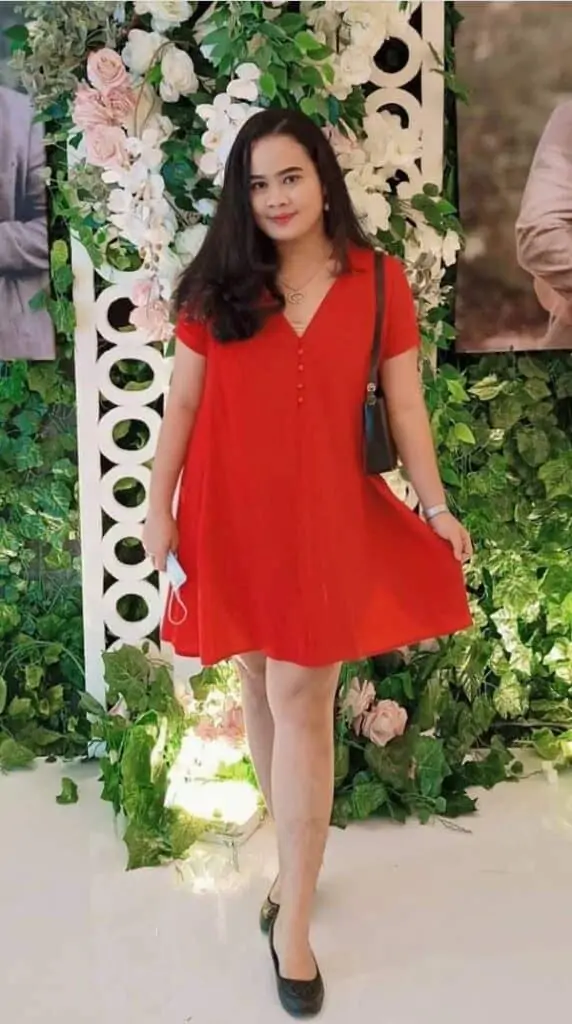 Nia (above) styled her flirty red dress with a pair of black ballet flats. Because ballet flats are minimalist, they will go with just about every red dress you can find out there. Since there has been a lot of demand for such shoes, different brands have come up with different types of ballet flats
With slingbacks
Slingbacks are very stylish and have made quite a comeback recently. This type of shoes ooze class and come in different top notch designs and materials such as velvet, leather and several others. Famous designers such as Channel are known for creating statement ones. Regardless of the type you have, you could pull off an amazing look if you pair it with a red dress.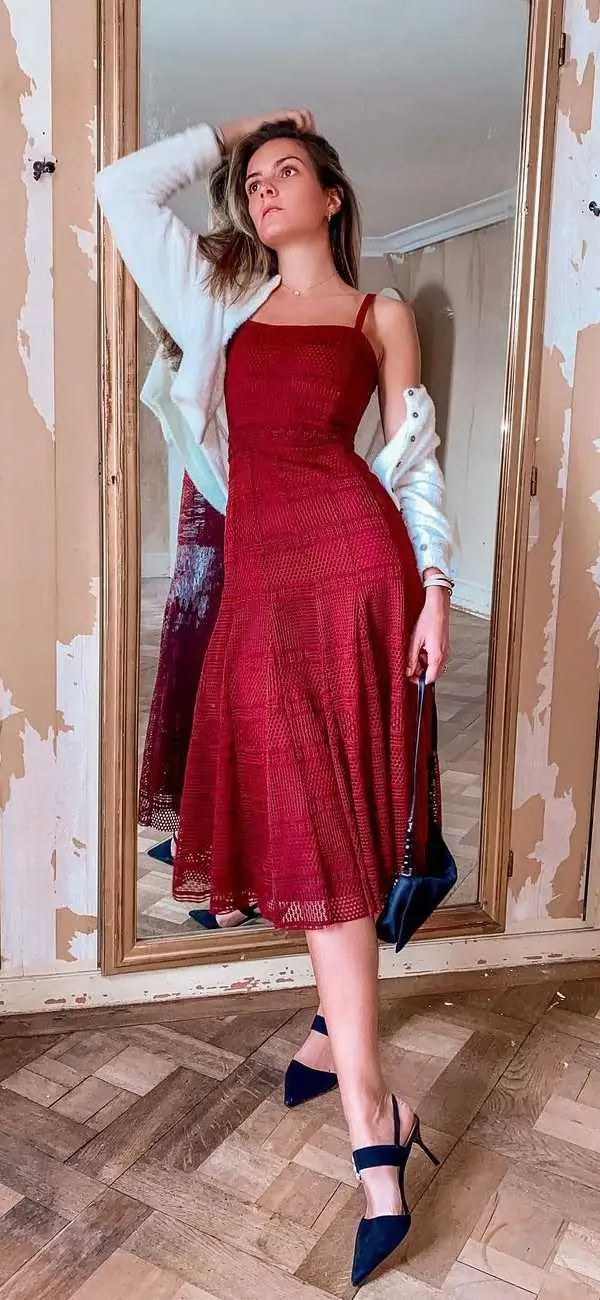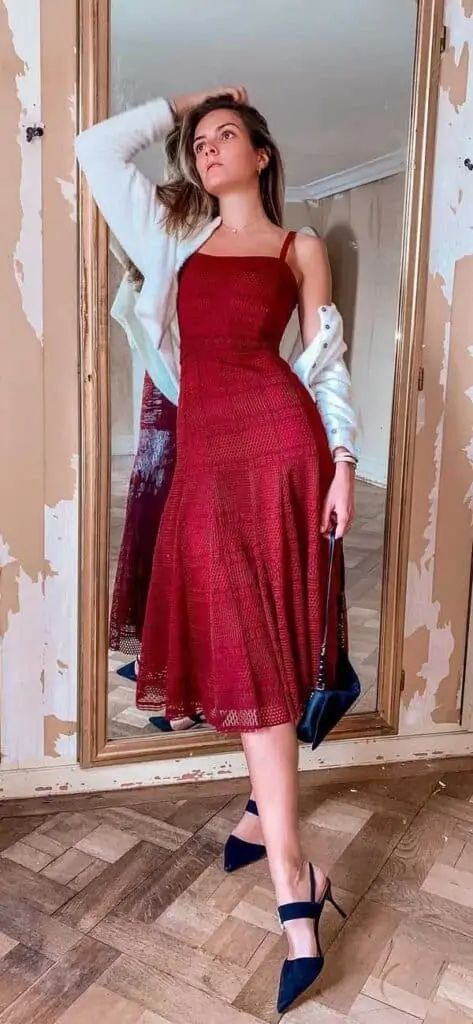 Theratchetlife (above) styled her lace dress with navy slingbacks and a cardigan. With a red dress, you could go for a matching pair of slingbacks or opt for blacks and nudes in order to step out in style.
Slingbacks are most comfortable when they are either flat or in kitten-heel style. You can also get a block heel slingback shoe to wear with your red dress. Also keep in mind that some are pointed at the toe area, while others are more round. The pointed toe ones are the most popular although you can still go ahead and get the round toe slingbacks.
With platform heels
Platform heels are a great way to go if you like some extra height but do not want to feel too strained. The platform at the front ensures your heel doesn't feel too pressured when you're walking around, especially for long hours. Wearing these with a fancy red dress is such a great idea because you'll get to feel and look great in your outfit for long hours.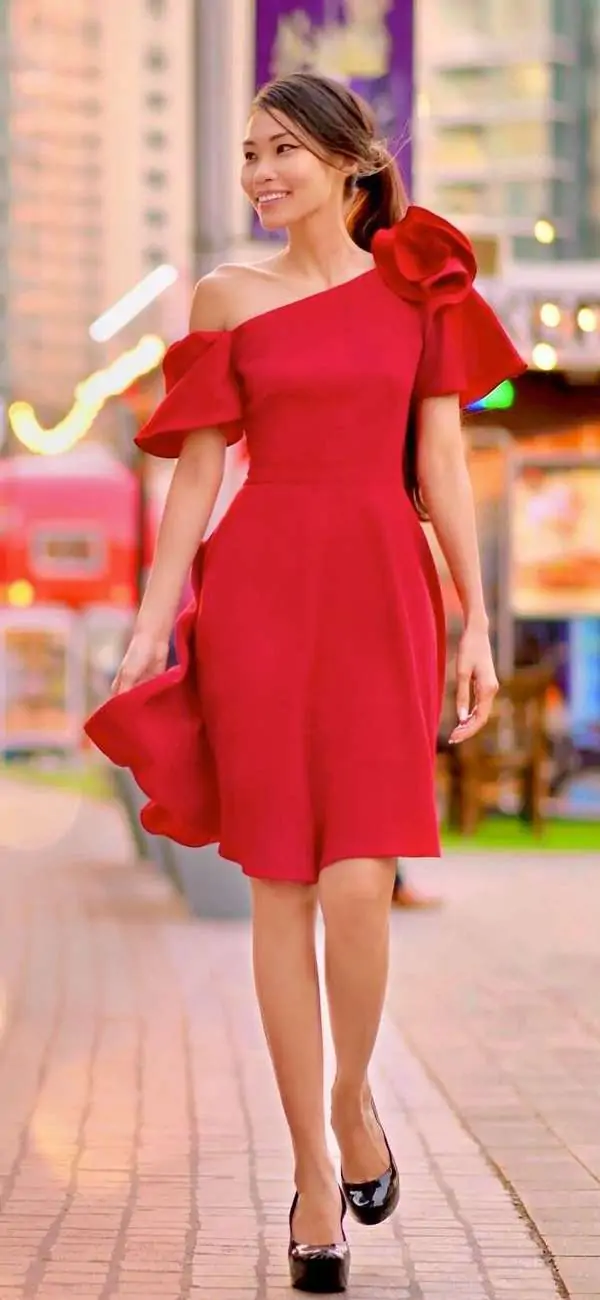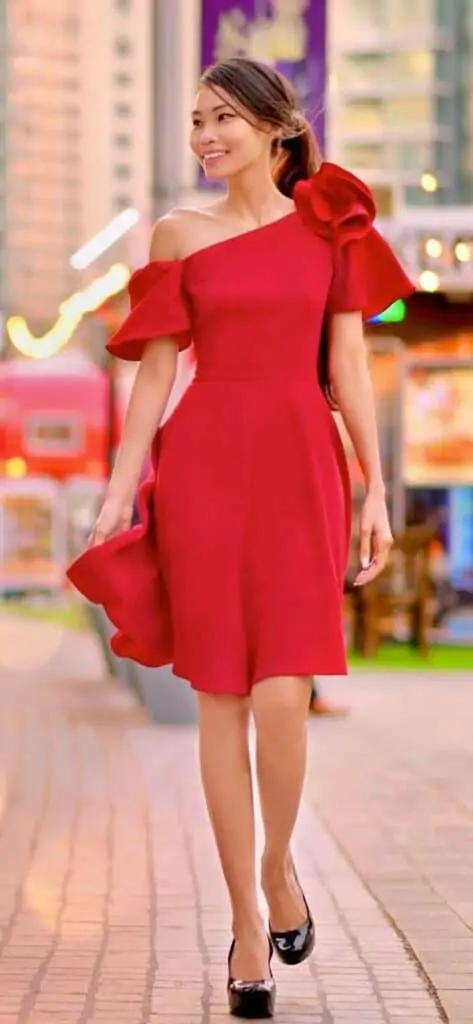 Candice (above) styled her one shoulder red skater dress with some black platform heels. This look is great especially for an evening out.
Of course, if you don't mind turning heads in statement shoes and a statement dress, then you can also wear this combination out during the day. You can also wear some open platform heels if you're not too keen on wearing closed ones.
With white boots
White boots are a great alternative to the blacks and browns during fall season and in winters. Whether you go for a pointed pair or a chunky one, you can be sure that your boots will give your look that nice finish. They go with a variety of colors, which is why they look so good when worn with a red dress. They're also great if what you want is a color blocking type of outfit.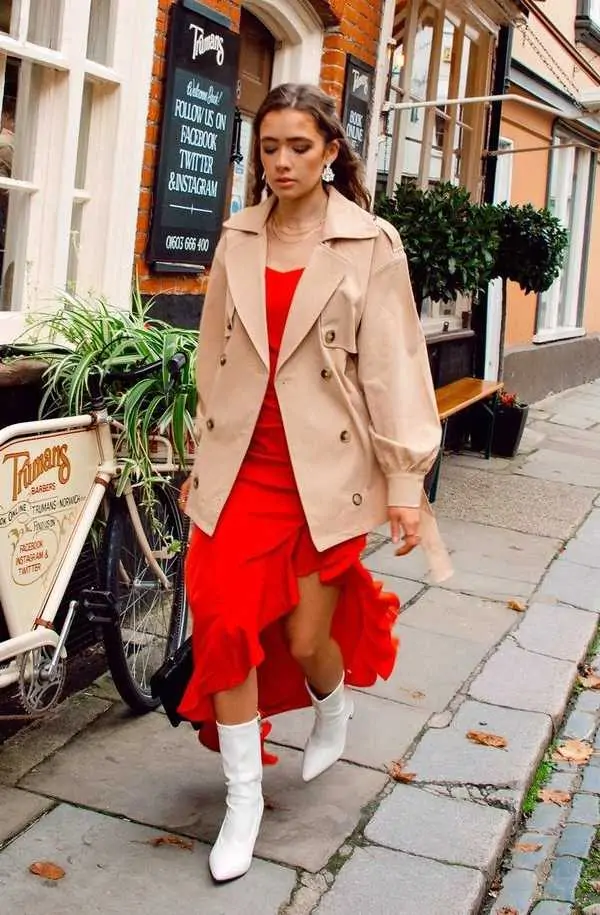 Becki (above) wore a red dress with a brown coat and finished the look off with a pair of white boots.
You could choose a pair that is high if you love a good heeled shoe, or go for a chunky or flat pair. Regardless, your outfit will look great as white boots are flattering when paired with different types of red dresses. Just to be on the safer side, you should try your white boots on with the red dress to confirm that the specific shape or design compliments your red dress.
With nude pumps
Nude pumps will always make your legs look longer, understandably because they come in the same color as your legs. They are also easy to style for the same reason, since nude will look great with any color of clothing you feel is fit for the day. One of the colors that look really good with closed nude heels is red, which is why these shoes look that amazing when styled with a red dress.
It's worth noting that a pair of closed nude heels makes a statement dress stands out so well as the simplicity of the color gives your entire outfit a good balance.
With brown thigh-high suede boots
Sure black thigh-high boots in suede are great with a red dress, but you can go with brown instead. Brown is one of the colors that go so well with red, especially if you pick a bright red dress. Since they are thigh high, you might want to pick a slightly shorter dress since you want the whole boot seen.
With this you look both stylish and can stay warm at the same time. You can go for a darker shade of brown or stick with a lighter one. They both look great with red.
With espadrilles
Espadrilles come either flat or raised, and a lot of them are in wedge form. You can get them in different fun colors or go for simple nudes, blacks or browns. Espadrilles look great when paired with a red dress.
Generally speaking, these shoes go well with most things you own. They're comfortable and are best during summertime as they are very airy.
With criss-cross open shoes
If you want a pair of shoes with more character, then a pair that has some criss-cross straps should do the trick. Such shoes come closed and as open shoes. You can wear such with a red dress. They look great and you can pick thick straps or thin ones.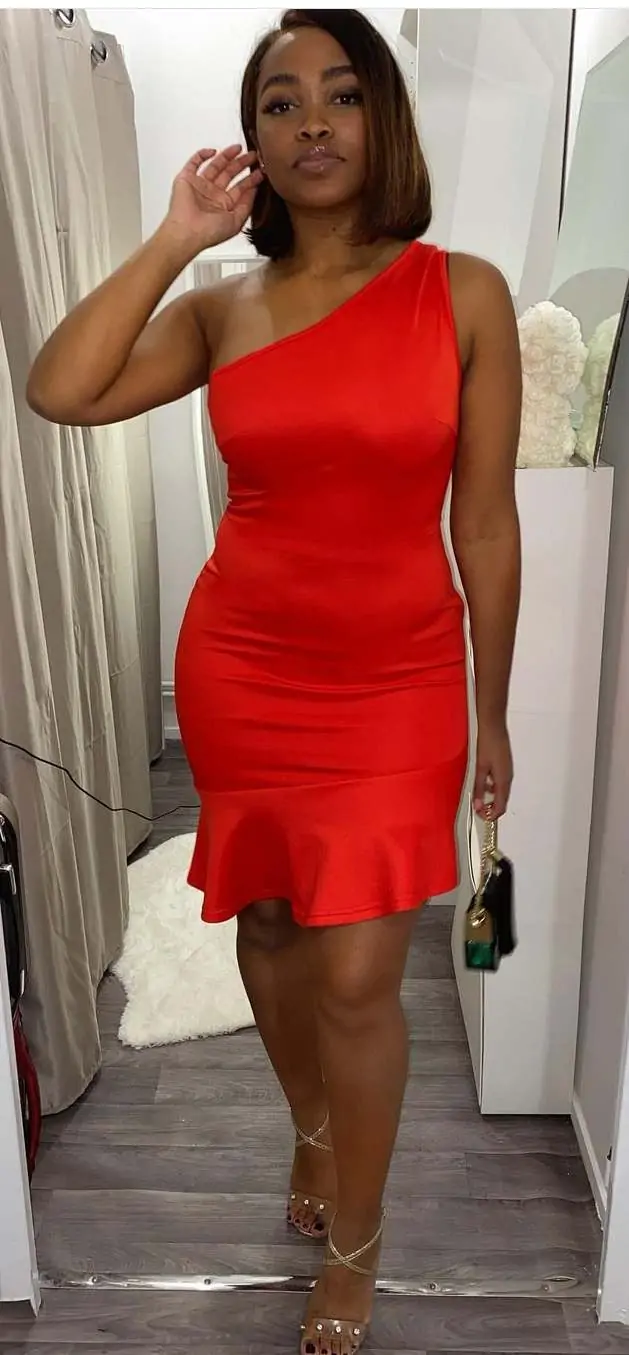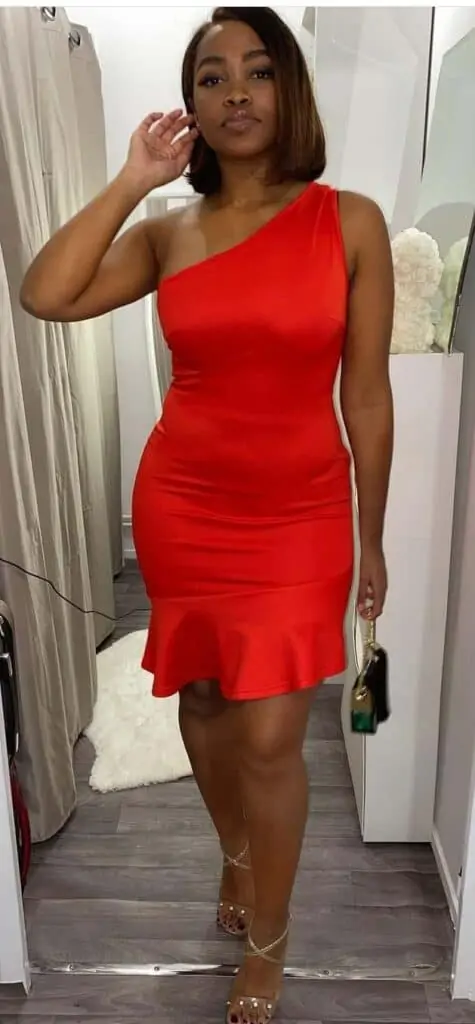 Wendy (above) wore a red asymmetrical, one-shoulder dress with a pair of criss-cross heels. The color of shoes you pick will make or break your outfit so choose colors that go with red to ensure your outfit looks great.
With gold open heels
If you're going to be wearing a red dress and would like to keep that as the focus of your outfit but still want your footwear to get some attention, then you might want to go for a pair of golden open heels.
Gold compliments a variety of colors you already have. After styling your golden open shoes with your red dress, you can wear them with other wardrobe pieces you own such as pants, skirts, and of course dresses in other colors.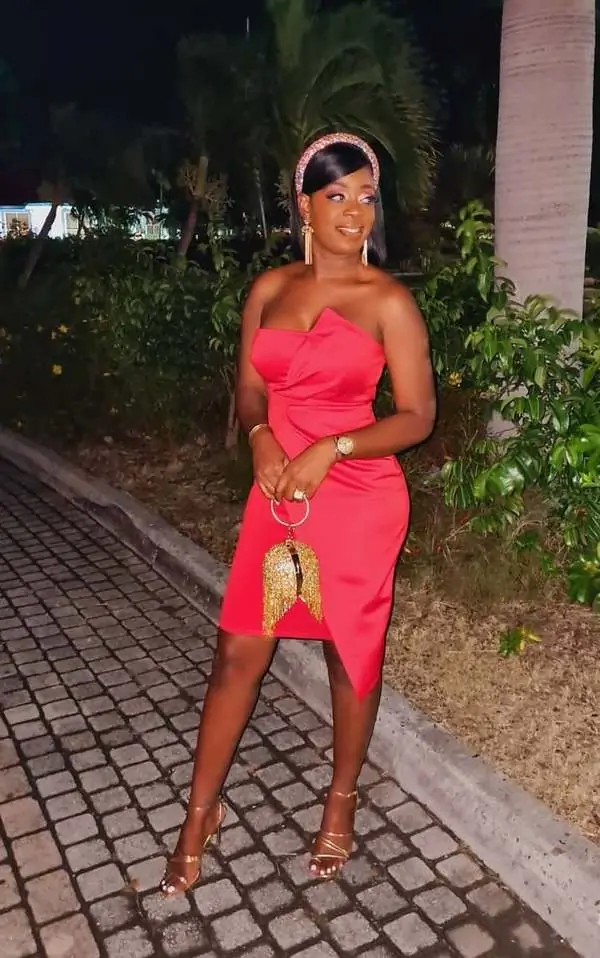 Natii(above) styled a red strapless dress with a pair of open golden heels. The two colors are well balanced. Golden open heels go well with different styles of red dresses so you can wear them with multiple ones you have.
With black booties
Black booties are also great, especially during cold weather but can be worn in the early days of spring too before it gets even warmer. They add a touch of edginess to just about any look as these shoes work with pants, shorts, skirts and dresses. Wearing black booties with a red dress is a good way to go, if you like the idea of wearing something edgy with a dress that stands out.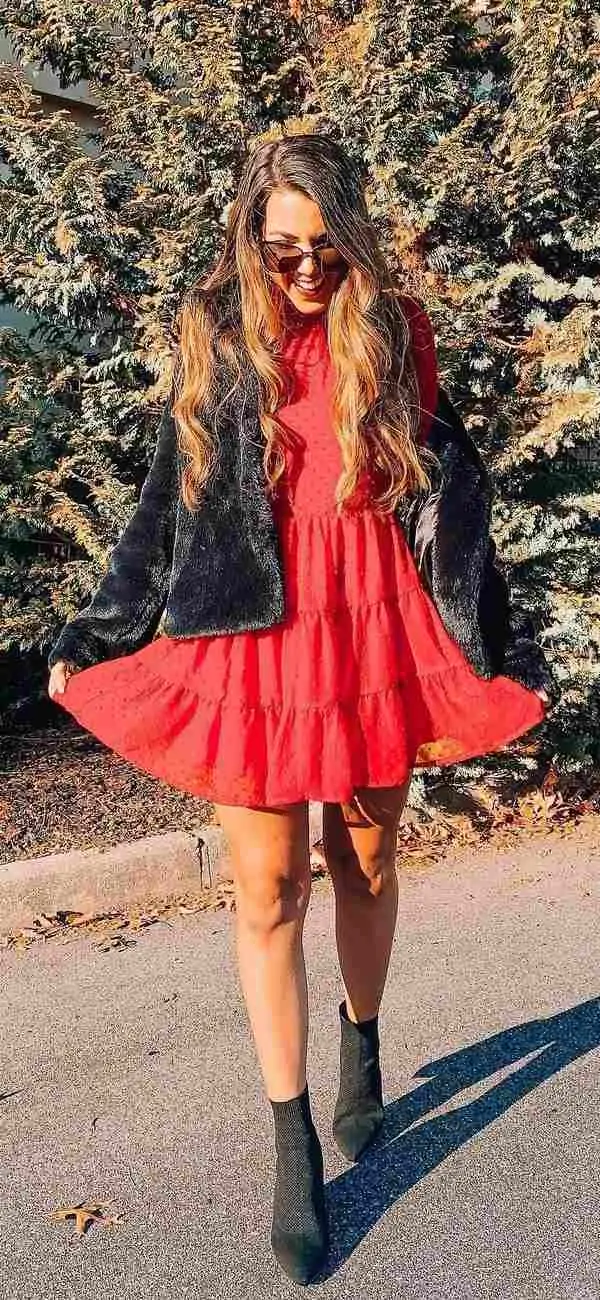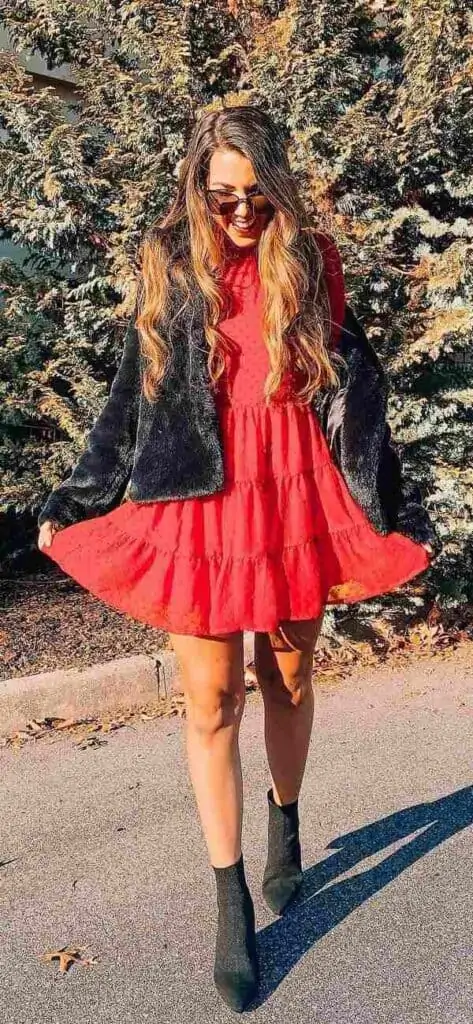 Samantha(above) wore a red dress with a pair of black booties and a faux fur coat. It's a good look to have on when it's cold outside as it's still stylish. These booties, especially if they have heels make your legs look great but they can also be flat. With them, you can pick different materials too such as leather or suede as they both look great with red dresses.
With those 25 shoe ideas, you should be able to step out in style every time you step out in your favorite red dresses. Try the different combinations so that you always get a different look with your red dresses.