Leggings are a must-have in anyone's closet. Not only are they very versatile, but also they are comfortable and give you that easy look. Because of this, a lot of women have a stack of leggings in different colors and fabrics. Leggings are mostly worn casually and a lot of people reach out for them on lazy days, but they can also be dressed up. If you pair leggings with specific wardrobe pieces that are dressier, add some accessories and jewelry, and finish the look with the right shoes, you can also create feminine and classy outfits.
The options are endless when it comes to shoes and if you're wondering which ones to go for. The most important thing is to choose shoes for leggings according to the occasion you are dressing for, and of course the legging style (such as leather legging vs jeggings) also matters. Here's a list of what shoes to wear with leggings to help you complete your leggings outfits right:
With sneakers
We start with the easiest and most common shoes to wear with leggings, that is sneakers. Sneakers are comfortable but aside from that, they are tougher and more durable compared to ordinary flats.
Wearing your leggings outfit with sneakers gives you a sporty look that's great if you're headed for a work-out at the gym or a run in the park. This pairing also works great on days when you have a lot of errands to run because not only is it comfortable but also makes sense.
After all, errands take up a lot of energy and the last thing you need is to be struggling because you picked the wrong shoes to wear with your leggings. If you just want to wear leggings with sneakers without the gym or errands in mind, you could go for an extra athletic edge by choosing sports leggings and a sporty top to wear with your sneakers.
You have the option of wearing something fancier even if you're going to be wearing your leggings with sneakers. Pieces such as a tunic, fancy top, or a duster will do the job.
With ankle boots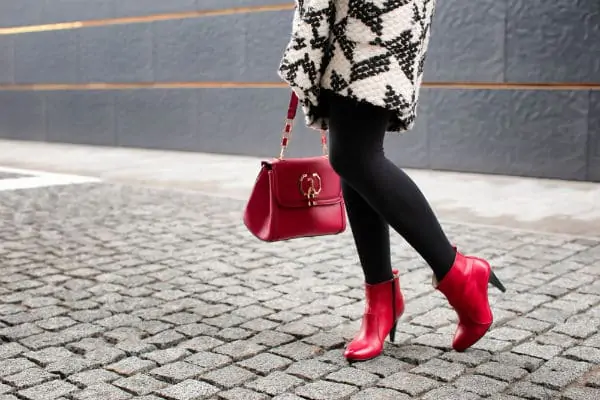 Ankle boots are great when transitioning to fall from warmer months. They are available in different prints, colors, heights and styles which is what makes wearing them all the more exciting.
Pairing your ankle boots with leggings means pairing two favorite fall pieces and it simply works. Ankle boots aside from being classic shoes, make your leggings look either chic or edgy. If you're going to be wearing standard or plain leggings, you can go all out with your ankle boots and let them make a statement.
If you like the idea of some extra height, you can always pair black leggings with black ankle boots to give an illusion of longer legs. The best part about ankle boots is in case you don't feel like walking around in high-heeled ones, you can still look super chic and stylish in low-heeled ones or go for the completely flat ones.
Going for a high waist pair of leggings makes you look taller if you decide not to pick the highest ankle boots.
With over-the-knee boots
Still on boots, over-the-knee boots are also a classic type of shoes that can transform a look instantly. They are versatile and will keep you warm during colder months.
Leggings are some of the best pieces to style with over-the-knee boots. This is because over the knee boots, as the name suggests, go all the way above the knee and it can be a bit difficult to tuck some pants into your boots.
However, leggings are fitting and hug your body all the way from your waist to your toes. This makes it easy to get into those over-the-knee boots. This pairing is chic and can easily take you from day to night since the boots will transform your leggings look from basic to high fashion.
Wearing something a little loose-fitted on top makes leggings with over-the-knee boots pairing more balanced and chic.
With stilettos
Safe to say that there isn't a pair of shoes that's more flattering for a woman's figure like stilettos. Wearing them instantly gives you a confidence boost making you feel like you're ready to take on the world.
You can style your leggings for a night out or to the office with a pair of stilettos. For that chic look, instead of going for plain old leggings, you can go for more textured ones or leather leggings as they look classier and more expensive making them the best to wear with your stilettos. Choosing a black pair of leggings allows you to go for different stiletto colors. Going for darker leggings lets you wear fancier tops, coats, and other fancy outerwear. Pointed stilettos for this pairing will also make you look more stylish.
Pointed stilettos make you look even taller when paired with a similar color of leggings.
With strappy heels
Strappy heels, just like stilettos are a very feminine type of shoes. They are great particularly during summertime when you want to look fancy without your feet sweating.
You can reach for your strappy sandals on days when you want to give a boost to an otherwise effortless look such as one that involves leggings. Strappy heels are great with leggings because they allow you to pair your leggings with just about anything on top from blazers and dusters to kimonos and bodysuits.
Be careful with the sizing of the heels though. You don't want to get loose ones as they'll give you a hard time walking yet the whole point of wearing a leggings outfit is to look effortless.
Leather leggings are a great way to go if you're looking for a chicer, more dressed-up look. Wearing the heels with leather leggings can make you event-ready or date ready in just a matter of minutes.
With flat sandals
So there are just those days when heels are a no-no then there are just those people who are not the biggest fans of heels at all. Whichever the case, sandals are a must-have. Wearing your flat sandals with some leggings, whether simple ones or the more daring options like leather leggings, is a no-brainer.
Anyone can pull off this look and many like to when they're looking for comfort. It's a combination that you can wear when you have no plans of leaving the house or compound. You can also step out in leggings and fancier sandals for a lunch out.
The best thing is that they're usually light and flat so you can stuff them in your bag. If you had to wear your leggings heels or closed shoes for some time during the day and then start to feel tired, you can switch your shoes with sandals and still look great.
When wearing leggings your sandals do not always have to be black. Adding some color makes the look more fun and easier on the eye as it makes you more approachable.
With ballet flats
Ballet flats are very versatile and can be worn throughout the year whether it's hot or cold. They also suit all types of women with different shapes and foot types.
Aside from being minimalist in design, ballet flats are also light comfortable which is why a lot of women will wear their leggings with them. It's perhaps the most comfortable look you can go for especially because with ballet flats it feels almost like you're wearing nothing on your feet. A combination of leggings and ballet flats can take you from a meeting at the office since they are, as already mentioned, minimalist to a lunch out with friends. Since a ballet flats-leggings combination is very simple, you can wear the leggings with more statement pieces on top.
Cardigans and options such as dusters and kimonos make a leggings and flats pairing dressier because otherwise, the look will be too simple. However, if you are that simple girl, you could just go for a tee or vest but accessorize with some nice jewelry pieces.
With loafers
Loafers are comfortable and are a great option if you want to go for a pair of flat shoes but still want to look like you're all dressed up. They have become a favorite among top fashion influencers because not only are they functional but also look great.
When you wear your leggings with a pair of loafers, the loafers will give you that extra sophistication. More like they'll make your entire look dapper enough for you to walk confidently into an office and still look appropriate. For this it's best to wear a blazer with your leggings or layer a sweater over a shirt for a more preppy look.
While loafers are known to give a dapper touch, going for flowy pieces and some color adds a more feminine touch. You could also add some statement jewelry to make the look more feminine.
With combat boots
Combat boots are cool, comfortable and timeless. They have been around for a while and are particularly a fall and winter favorite because they're warm.
It's true that chunkier shoes are not the best when you're wearing leggings since leggings follow the shape of your body, but combat boots are an exception. They are a great way to toughen up your leggings and wearing them will also make you look edgier on any day. You can balance the look out by wearing a flowy shirt, top or coat.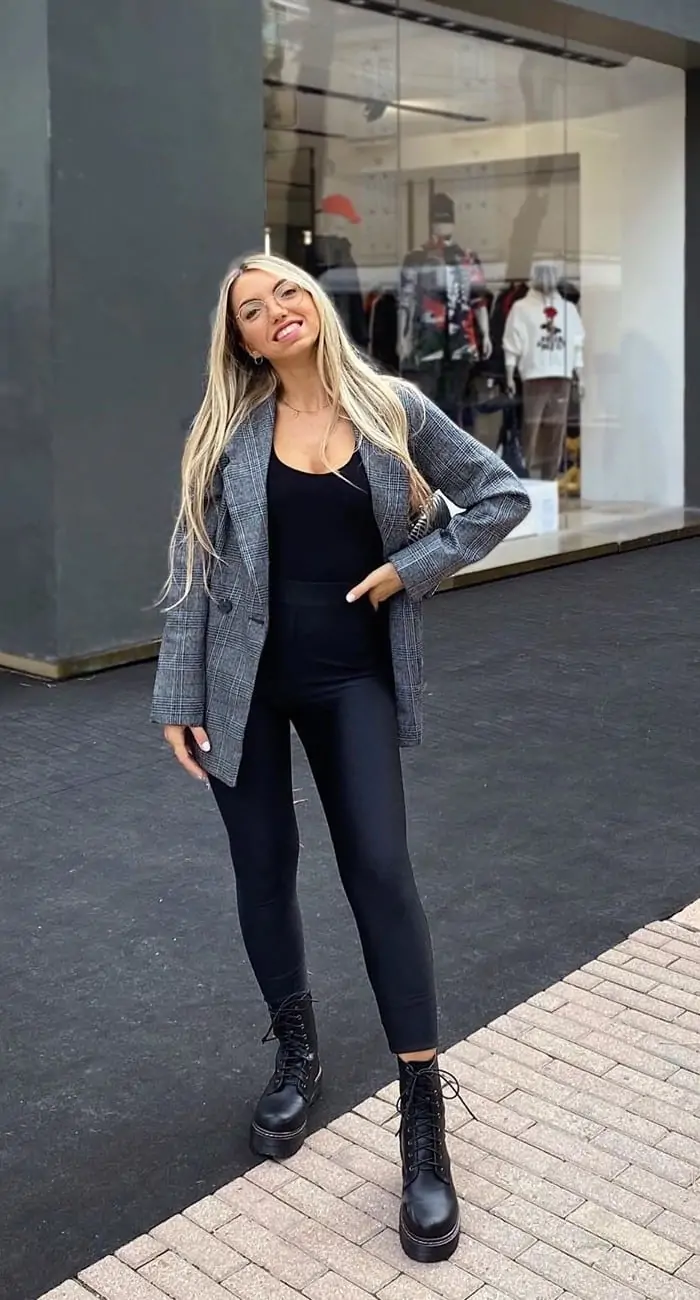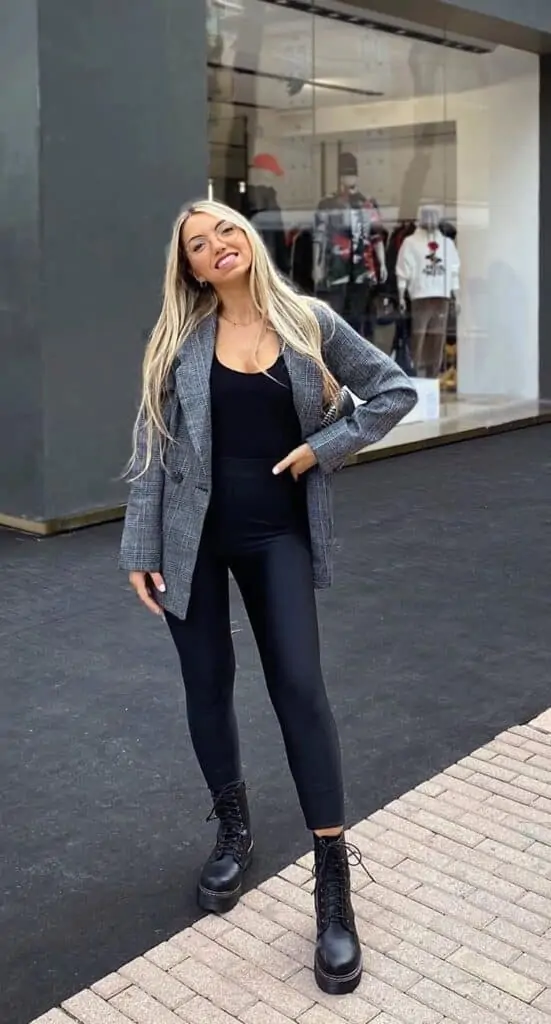 Carol (above) is wearing her combat boots with leggings and a plaid blazer. Blazers are a great way to dress up a leggings-combat boots look and makes the outfit a little more sophisticated. That said, a plaid shirt or a leather jacket makes for the perfect completion to a leggings-combat boots pairing if you want a casual and grungy look.
With slides
Slides were previously looked at as just shower shoes but have in recent times made a comeback as quite the fashionable footwear particularly in summer. They're easy to wear since as the name suggests, all you have to do is slide your feet in them and you're ready to step out.
You can wear your leggings with slides for a cool look since slides blend street and sporty style while maintaining that effortless look. They may be simple but when worn with your leggings they give you that athleisure boost almost instantly and you will end up looking trendy as well.
This pairing can take you through lunch, brunch, or your yoga class depending on what you choose to wear your leggings with on top. You can keep your leggings plain and go all fancy with the slides or go for a bold pair of leggings and tone them down with the slides.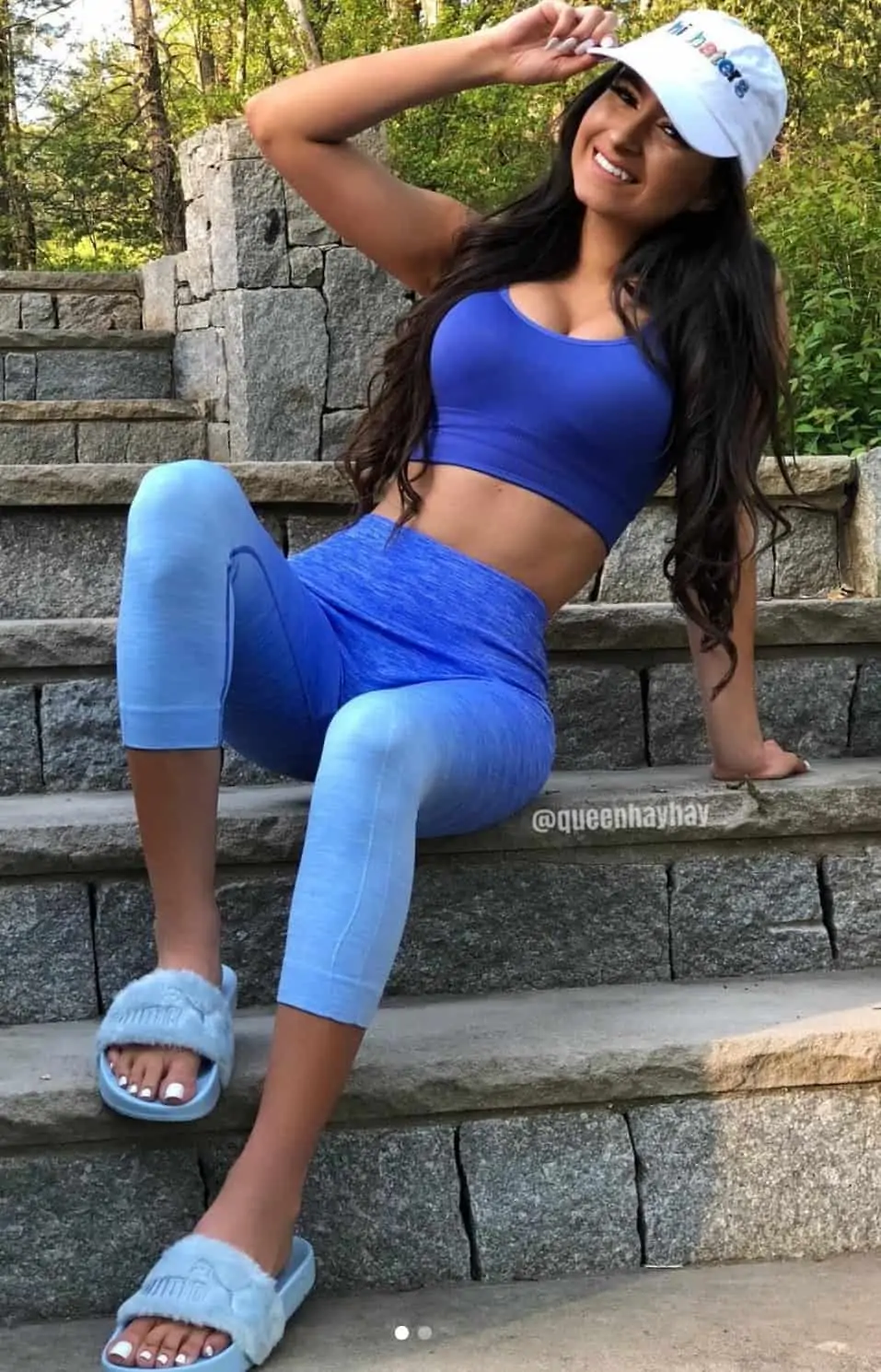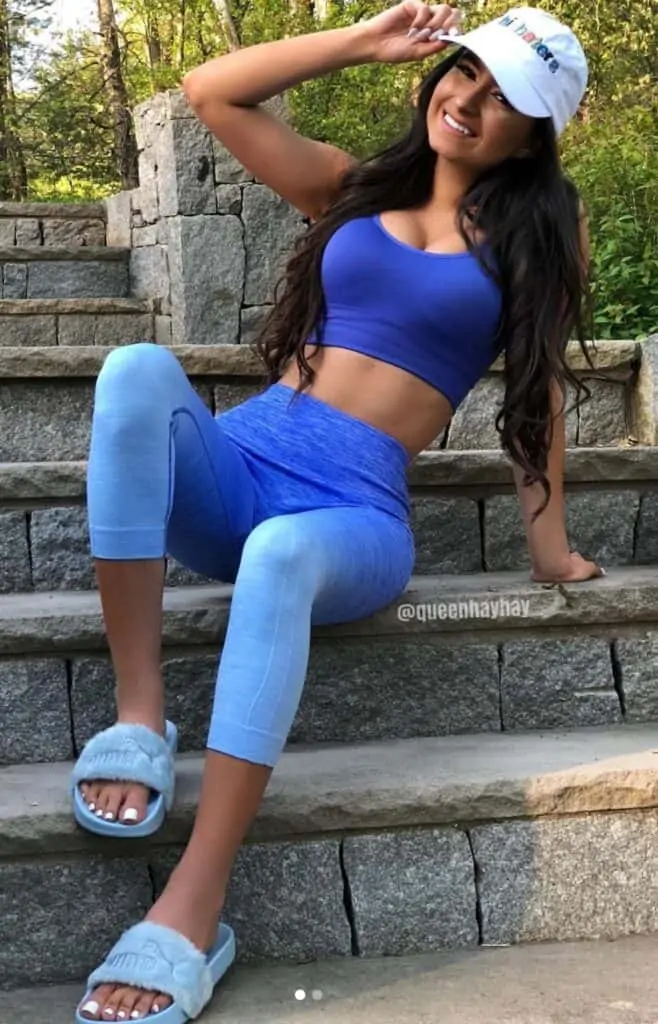 Hayhay (above) went for a completely sporty look pairing her athleisure leggings with some puma slides, a crop top, and a hat. You can always play with proportions with such a pairing since slides are super fun.
So if you're the ultimate fan of leggings, you can achieve different looks just by switching up your shoes. As you can see, you have a lot of choices and it's amazing that just a single change of shoes can take you from a boardroom to a lunch date out with the girls, to the gym or even for a night out thanks to the fact that leggings are versatile. All you need to keep in mind is that balance is important when you're picking shoes. What you wear on top with the leggings should also go with the shoes.