Flare jeans were a huge trend back in the 70s, but have made it back into the modern world of fashion with trendsetters in the last decade. Of all the types of jeans, they are the most universally flattering because:
They are well fitted around the hips but then flare out towards the bottom. They, therefore, give the illusion of an hourglass figure.
Besides, this leg shape has an incredible leg elongating effect, so they are particularly a must-have for petite women who want to look taller .
Flare leg jeans are versatile and can be worn in numerous ways, and it is important to choose flare jeans outfits that look the best for your height and body shape.
Here are some of the best outfit ideas on what to wear with flare jeans:
With a blazer
One of the pieces that can easily be dressed up with a blazer is flare jeans.
Wearing a blazer is the easiest way to elevate any casual or even formal look. They add a touch of sophistication to your look. They are flattering for any woman and come in different styles.
This is a look that would easily work for a casual Friday at work and also a business casual environment generally.
With a blouse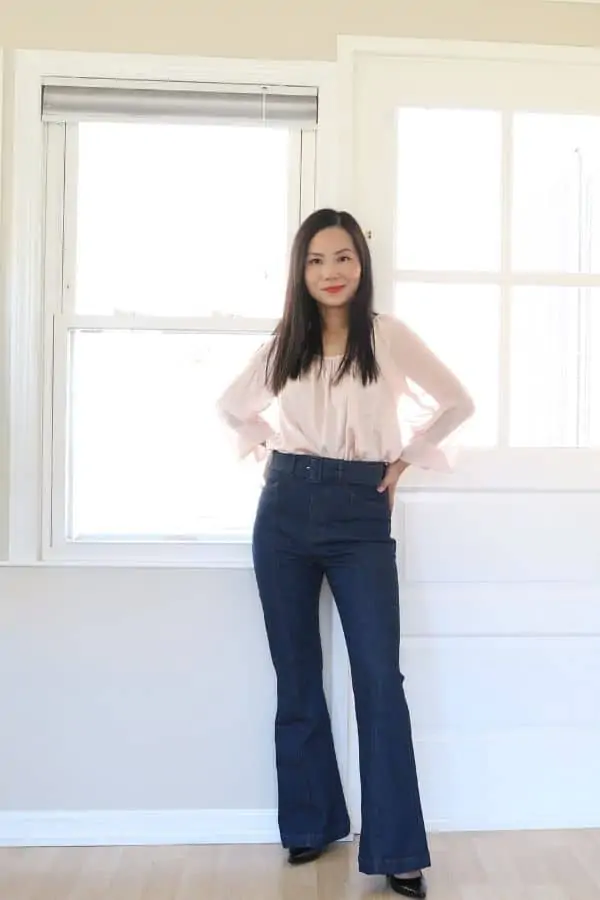 Wearing a blouse with a pair of flare jeans will have you ready for a nice brunch, a casual Friday or even an event if you love looking casual chic.
A blouse is a great piece to have as it is both feminine and stylish. They're great for the office but they also dress up a casual look and make you look more polished.
It's a great look that can be quite dressy, especially if you go for a pair of heels. Make sure you tuck in the blouse for a cleaner look.
With a wool coat
A winter coat is the best piece to keep you stylish in colder months. The best way to wear a flared jeans in the fall and winter is to top off the outfit with a coat. This of course is also a great option in early spring when the temperature is up and down.
With a nice coat, you don't have to worry about a big old' coat covering up your outfit. They look great worn over flare jeans looks by adding that classy and polished finishing touch to to the look.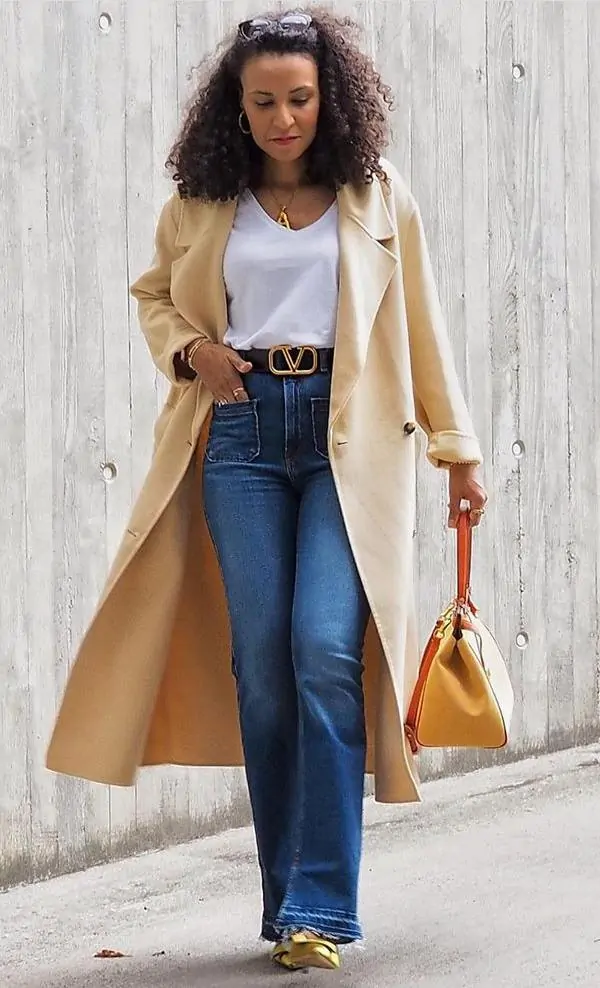 Ana (above) styled her flare jeans with a t-shirt and a coat. Her coat is quite long, but you should choose the best coat length according to your height and body shape.
With a relaxed fit coat, it will still give you a casual chic result. If you want a more dressed up look, go for a well tailored coat.
Neutral shades are the best if you're after a chic look. You can choose brighter colors if you're looking for a fun look.
With a leather jacket
Leather jackets are a great investment, considering how strong and long-lasting they are. They are also good for elevating any kind of look. They can be worn with pieces such as flare jeans to give you an edgy outfit.
They come in different styles that are versatile. Although black is the most common, you can also get them in different colors .
Slkgssns (above) wore her leather jacket with a pair of flare jeans and some boots.
This can be an edgy look, depending on the style of your leather coat and the shoes you wear. If you want to soften the outfit for a more feminine feel, you can always switch the boots with a pair of heels.
With a sweatshirt
Sweatshirts have moved from pieces that were just meant for lounging around to pieces that can be worn outdoors. They are comfortable, and, when worn with different types of jeans such as flare jeans, the outfit can look amazing.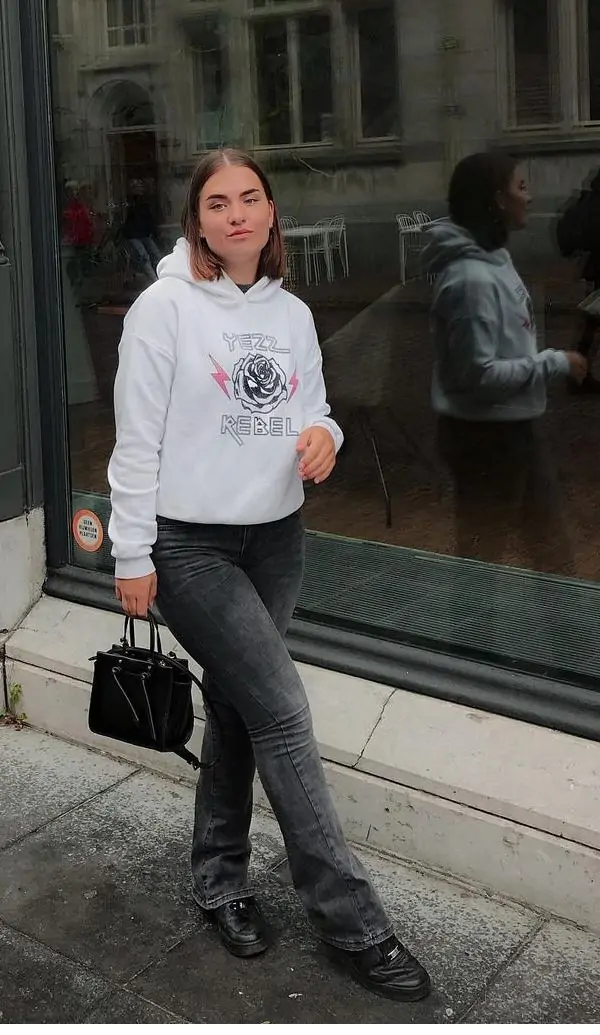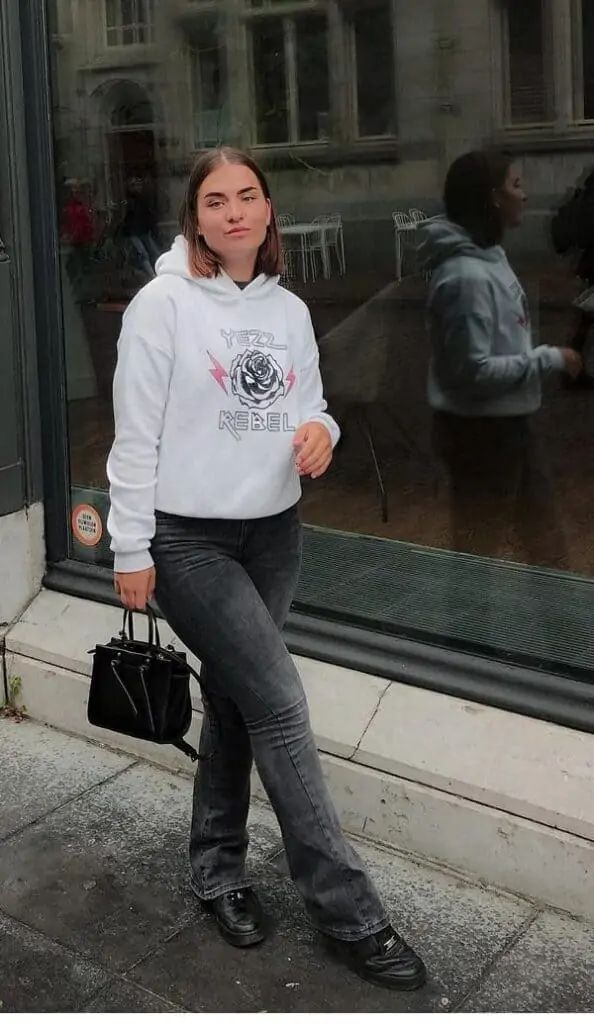 Azra (above) styled her flare jeans with a hooded sweatshirt and some closed shoes. This is a great look for fall as it will have you looking warm and casual.
With a duster
If you're looking for a light weighted layer that will make your flare jeans outfit look even better, then that would be a duster.
Not only can they make you look chic, they can also camouflage any part you do not want to draw attention to, e.g. if you happen to be self-conscious about a bulging mid section, wider hips or thicker thighs.
Dusters can be ankle length or just up to the calves. It's important to choose the right shoes according to the length of your duster. For instance, with longer duster, you look the best with some heels to balance it out.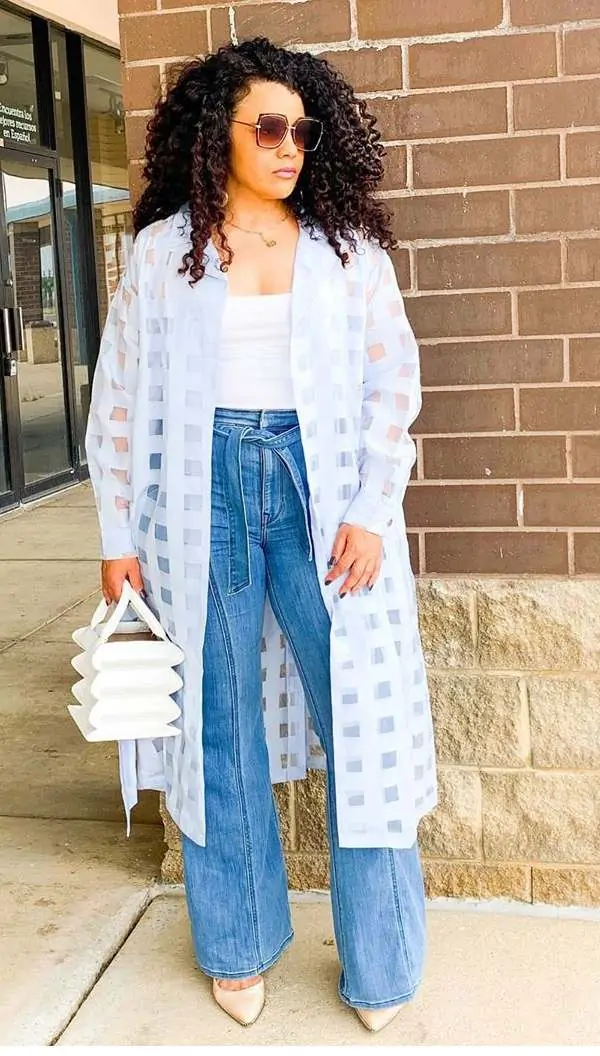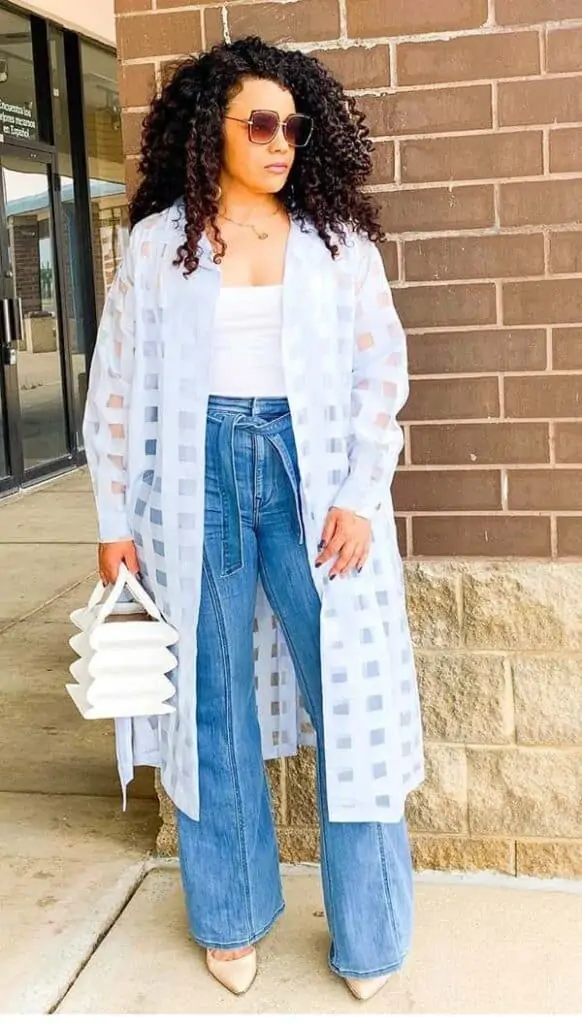 Mary (above) wore her flare jeans with a white top and a see through duster. You can always go for a different type of duster since they don't have to be see-through. With this look, regardless of the footwear you go for, you will still look all dressed up.
With a button–down
A button-down shirt is a must-have considering it goes with everything you can possibly think of. It can dress up your pair of flare jeans, should you decide to tuck it in. It will give you a casual chic look.
Alternatively, you can wear it in a more casual way by leaving it unbuttoned with perhaps a tank or cami underneath.
Chictalkch (above) wore a pair of flare jeans with a striped button-down. She did a loose tuck to show off the details in the high waisted flare jeans. It's a simple look that anyone can pull off and if it's cold outside, you can always wear a jacket or blazer over the outfit.
With a turtleneck
A turtleneck is a great top to style with your flare jeans. Going for simple ones is a great idea as it allows your jeans to stand out. It also balances the look well since the jeans are wide around the legs.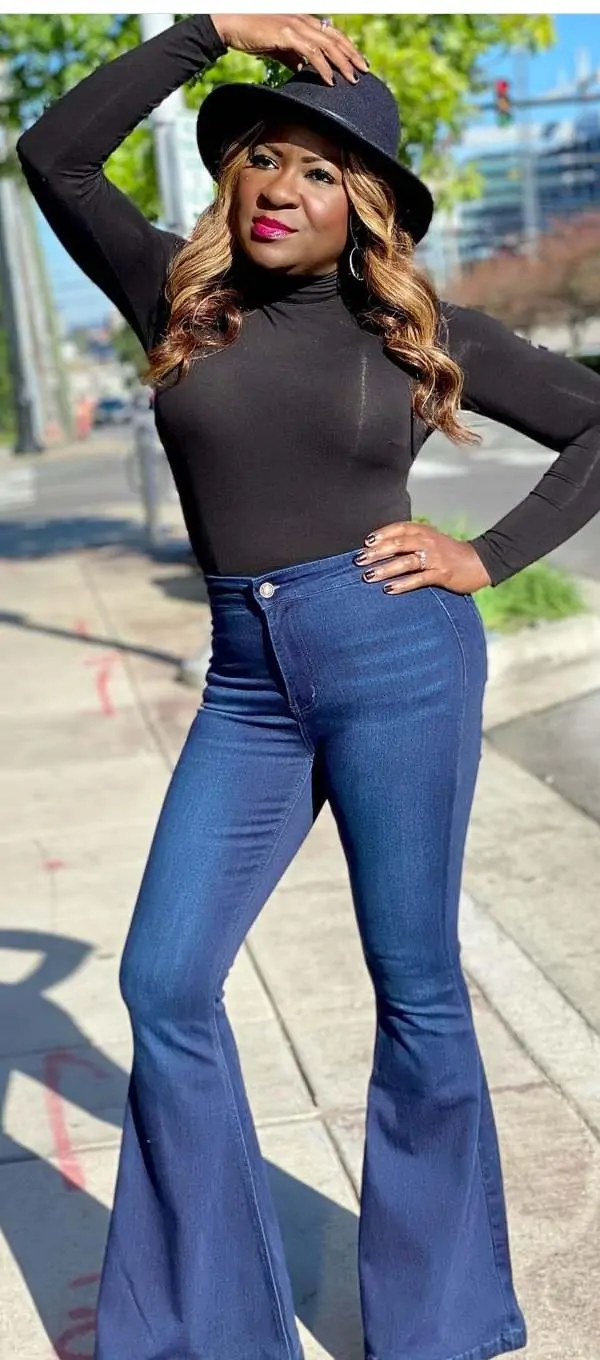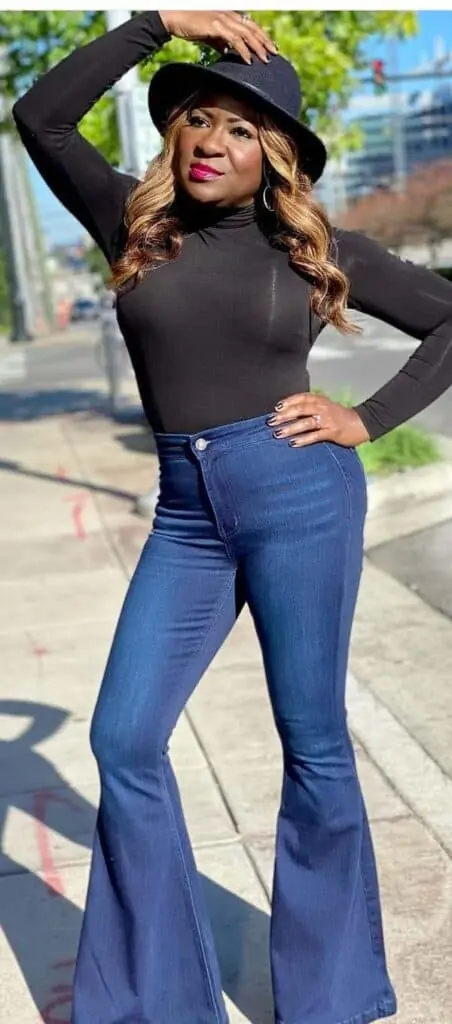 Christy (above) wore her black turtleneck top with a pair of simple flare jeans.
The simpler the jeans, the classier the look. You can switch up the black turtleneck for a white, grey or nude one too.
With a pullover
Pullovers, just like cardigans, are warm and look cute. They can be tucked into flared jeans or worn in a more preppy way by layering a button-down underneath it.
Choose the design that flatters your body shape, since they come in different styles from turtleneck style pullovers to bow neck ones. You can even get asymmetrical ones, among other trendy designs.
Briyoncé (above) styled her pullover with a pair of flare jeans and some boots. You can switch the boots with some brogues or even flats in case you prefer something simpler.
With a plaid shirt
Plaid has been a big trend in recent years, but some may also consider them a classic instead of fad. A simple plaid shirt looks preppy and youthful, and they look great with a pair of flare leg jeans.
With a cropped top
You can also wear a cropped top with your flare jeans, one of the most effective ways to elongate your legs!
Your top could be prints or solids, as long as it's shorter in length, it can serve the purpose of making your proportion look better and legs look longer. A statement top can make denim look more dressed up.
High waisted flare leg jeans are the best for this outfit, because it balance out the shorter top and make you look tasteful and flirty at the same time.
With a graphic t-shirt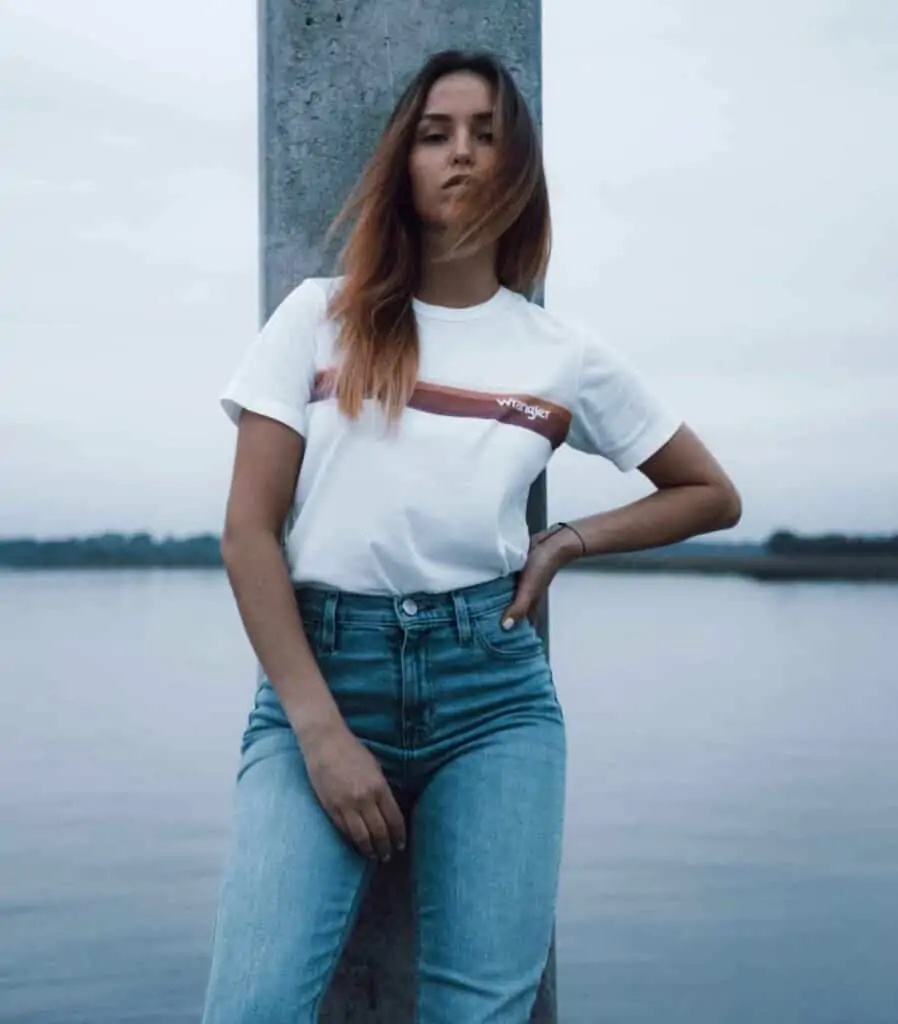 Graphics t-shirts are a way of self expression through clothes, which can make you stand out more in a crowd even with a casual outfit. They make for great pieces to wear with your flared jeans.
Even though graphic t-shirts are generally casual, you can convert a casual look to a more dressed up with a pair of heels. Of course, you can always just wear sneakers if you are indeed going for that casual feel. Neutral colored graphic t-shirts worn with blue flare jeans will effortlessly give you a more sophisticated casual look.
With a denim jacket
Yes, you CAN wear a denim jacket with flare jeans for that denim on denim look.
A denim jacket is one of the easiest outerwear pieces to style. It goes with anything and is suitable for people of different ages and sizes. They can also be worn throughout the year and are versatile too.
You can always go for the same shade of denim pieces, but you also have the option of different ones.
With lace
Lace is delicate and feminine. When paired with flare pants, no matter which kind of lace piece you go for, you will look all dressed up.
The lace fabric contrasts so well with the denim material. Wearing the two pieces together can be looked at as a way of pairing something so girly with something a bit on the rougher side.
Whether you go for the simplest lace top or a more sophisticated one, best believe your flare pants look will be a stunning one.
With a tank
A tank is one of the simplest items you can wear with any type of denim. Since it's got that easy design, you can wear it with your flared pants. Plain tanks in particular allow your flare jeans to be the focus of your outfit.
If both your tank and flare jeans are plain, you can accessorize with some statement jewelry.
With a white shirt
Although this may sound basic, wearing a white shirt with flared jeans can be a very versatile look.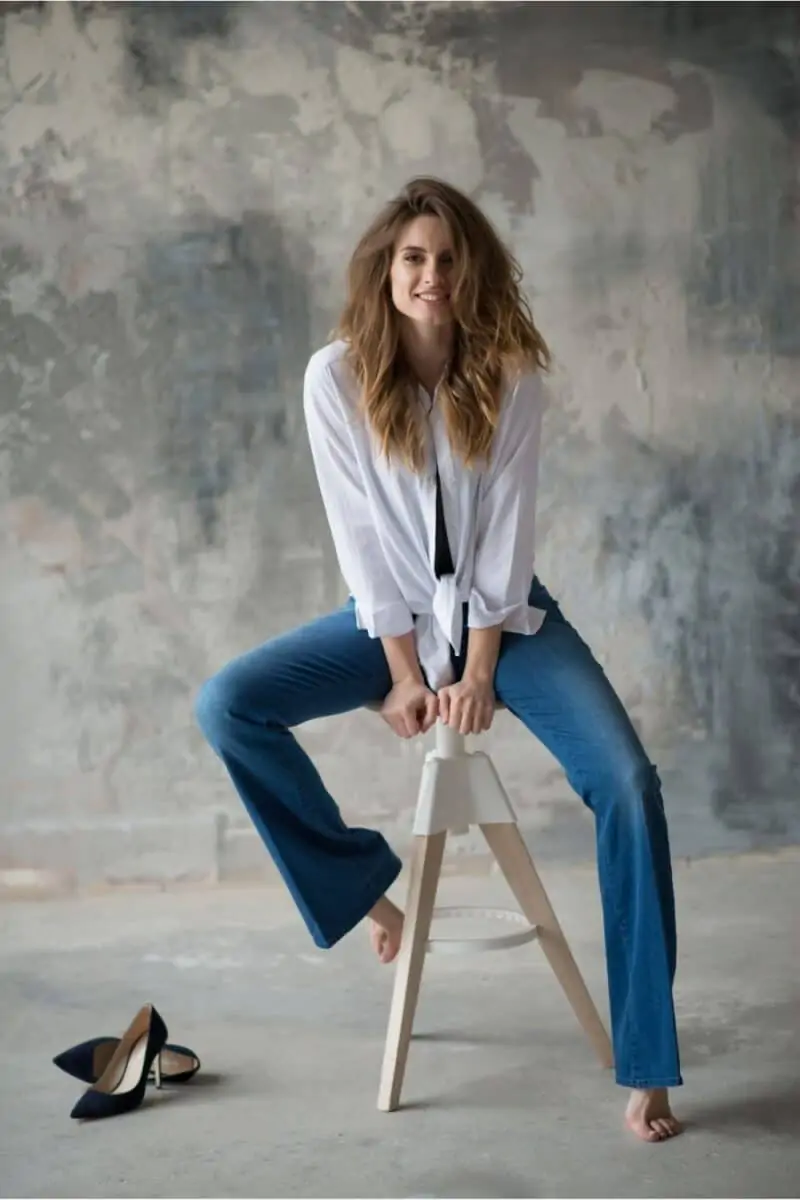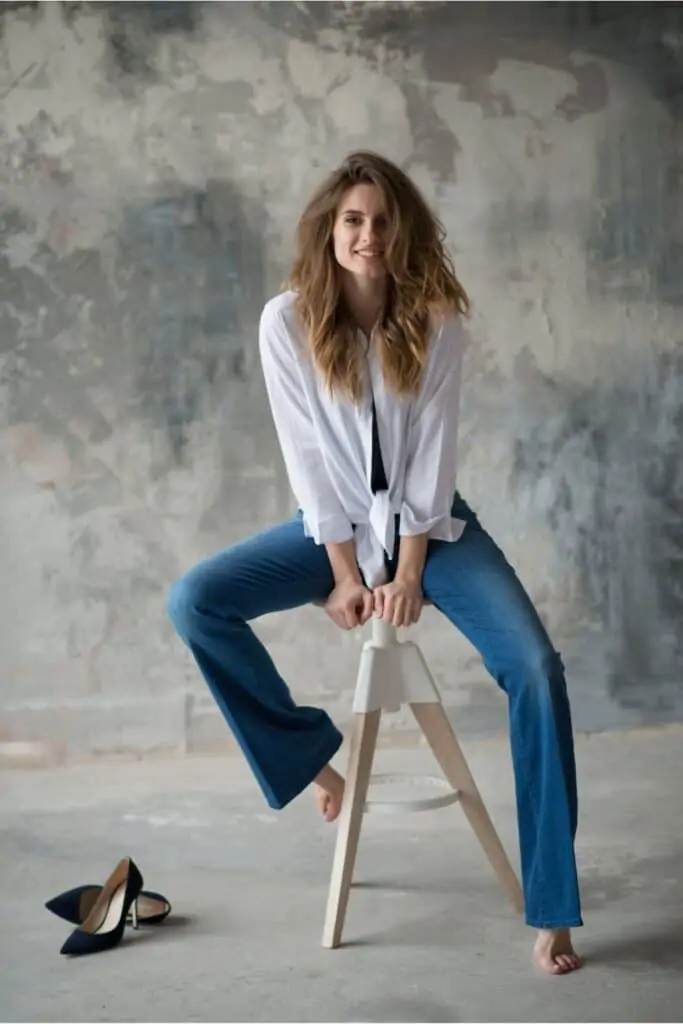 This outfit can take you from the office on a casual Friday to a lunch date, and even to certain events, depending on what shoes you wear and how you choose to accessorize.
White shirts are a must-have for women of any age group. They work on any day and with just about everything you choose to wear, including flare jeans.
This is the look you just can't go wrong with.
This look, however simple, works regardless of the environment and you can always add some outerwear over it.
With faux fur
Wearing a faux fur over flared jeans gives you that fashion forward look.
Faux fur is quite on trend this season. Whether you go for a faux fur vest or coat, best believe you will stand out for the right reasons. They make a great fashion statement, which would explain why they are really common during Fashion Week and other high fashion events.
This look is great if it's too cold outside. Otherwise, you could always switch the coat up with a faux fur vest instead.
With a cami
Camis, just like tank tops, are easy to wear. They are more feminine and can make any flare leg denim outfit look dressier.
They come in a variety of prints and are great especially when it's hot outside. You can also wear them during colder seasons, but be sure to layer something heavy on top of it.
In case you feel like dressing the look up further, switch the sandals for some slip-ons.
With a suede jacket
Suede jackets also go well with your flare leg jeans, thanks to the fact that the fabric contrasts well with the denim.
A suede jacket is great, considering just how light it is compared to others like leather. This is the outfit that not only looks chic, but will keep you warm. Since it's a breathable jacket, you can wear it in spring, fall and winter in different ways.
If you're uncertain about the color of the suede jacket then black or brown will do.
With a trench coat
Trench coats is a must have for every stylish woman, because they offer great functionality during the cold seasons. Even better, they are very classy and will also dress up your flare jeans easily.
Depending on your height and your body shape, you can get longer or shorter trench coats.
You can style your trench coat with flare jeans and some boots. A longer option is always the most chic but you can choose shorter ones in neutral colors for the same.
With a tunic
A tunic is usually a comfortable piece that works for women of all age. On the days when you're not too sure if you should pick a dress or a top, wearing a tunic over flared leg can give you the best of both worlds.
They are often flowy, a perfect option for the warmer weather in spring or summer, or on a vacation. They can be worn with different denim styles such as flare jeans or skinny jeans.
Since a tunic hits you just below the hips, it's advisable that you go for jeans that don't flare too much around the bottom, in order to balance out the volume from the top.
With a message t-shirt
Message t-shirts can be worn with flare jeans for a great casual look.
Message t-shirts are such a great way to express the things you believe in through the simple words on clothes. They come in different colors and can either be dressed up or down.
This outfit can be quite versatile. You can dress up with heels or dress down with more casual footwear like flats or sneakers.
White sneakers would look great with soft colored message t-shirts if you want to go casual.
With a cardigan
One of the best outfit for the transitioning weather in the fall or spring is to wear cardigan with flared jeans.
Cardigans are nice and cozy pieces great for those cooler days. They make you feel like getting all snuggled up when the temperature starts to drop. Aside from that, they can really make an outfit. Since they are versatile, they can be worn with dresses, pants, jumpsuits, and anything else.
Cardigans come either long or short, but whichever you choose to style with your flare jeans, you can be sure it will work well. If your cardigan is shorter, you could always button it at the front and tuck it into your flare pants.
Chictalkch (above) wore her chunky cardigan with a pair of blue jeans, and added a belt to accentuate her waist, a great way to make the cardigan more flattering.
With a kimono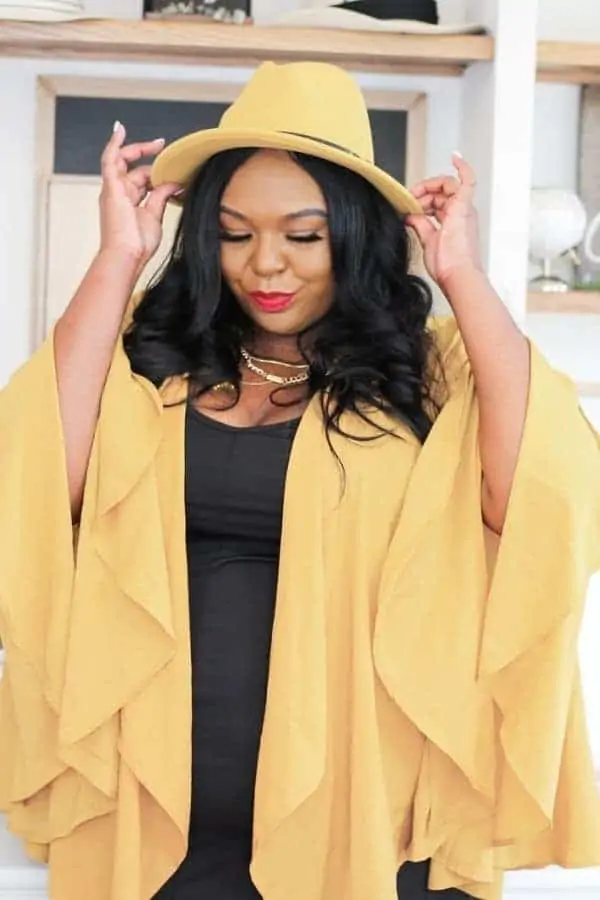 A kimono, just like a duster, is a great last piece to add to your outfit. They can be colorful and printed but then you can always go for a plain top. They are flattering for every figure, considering how flowy they are. When you style a kimono with some flare jeans, it will bring out the best of your figure.
With a printed kimono, it's best to go for everything else simple so that the outfit doesn't end up looking crazy.
With a utility jacket
A utility jacket is a great casual piece you should invest in. They can be either long or short and can also be worn with your flare jeans for a great casual day out. The green ones in particular look amazing with denim.
With a utility jacket, it's great to go with a simple top underneath.
These 25 ideas on what to wear with flare jeans should encourage you to go and get a few for yourself so that you don't miss out on this amazing denim trend. Try your flare jeans with these pieces which are easily already in your closet.