Many petite women find knee high boots to be intimidating. Although only women with a lot of height are typically pictured wearing them, plenty of other body types can successfully pull off a pair of knee-high boots. The following pros and cons will help you determine whether or not knee-high boots are a good choice for you.
Pros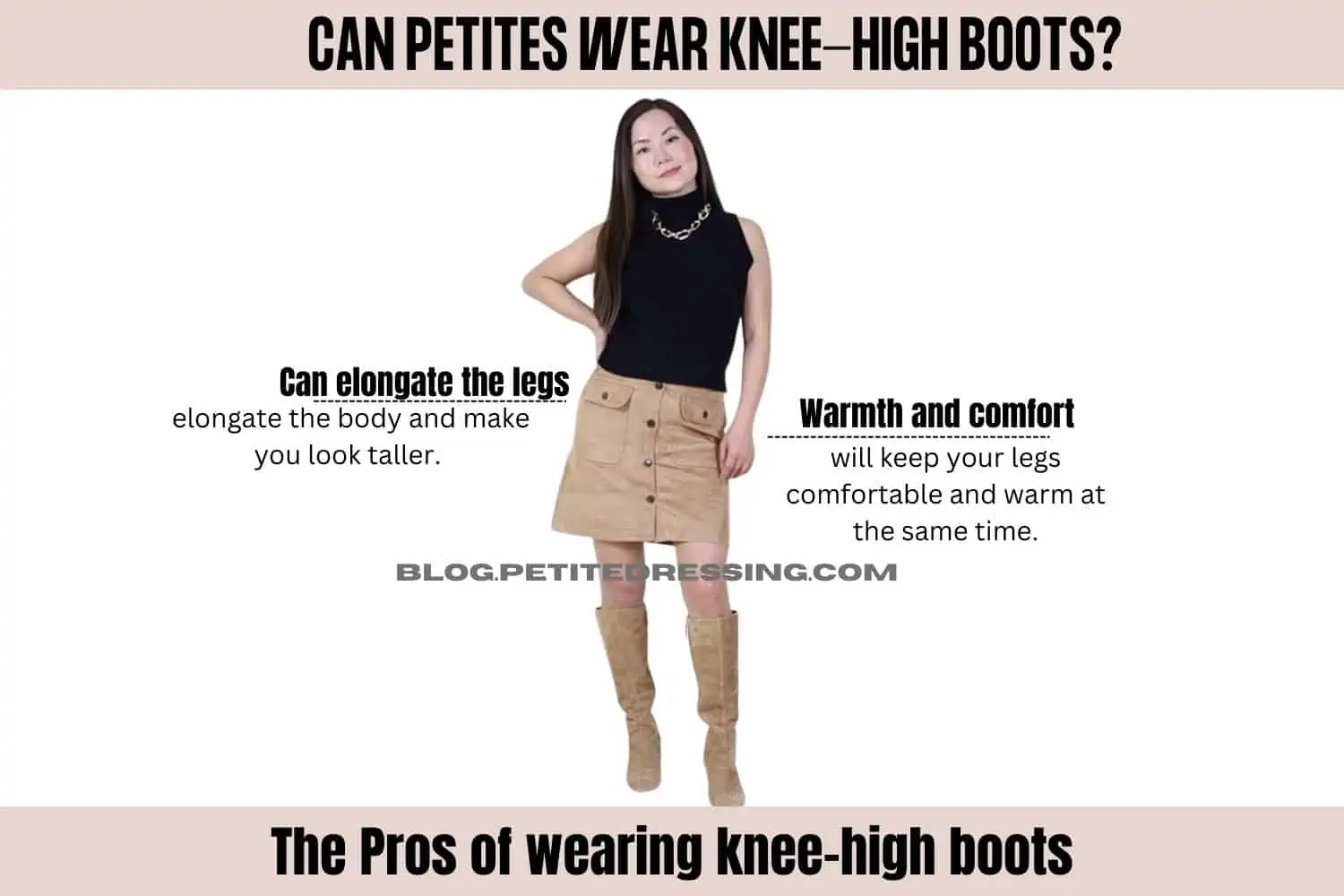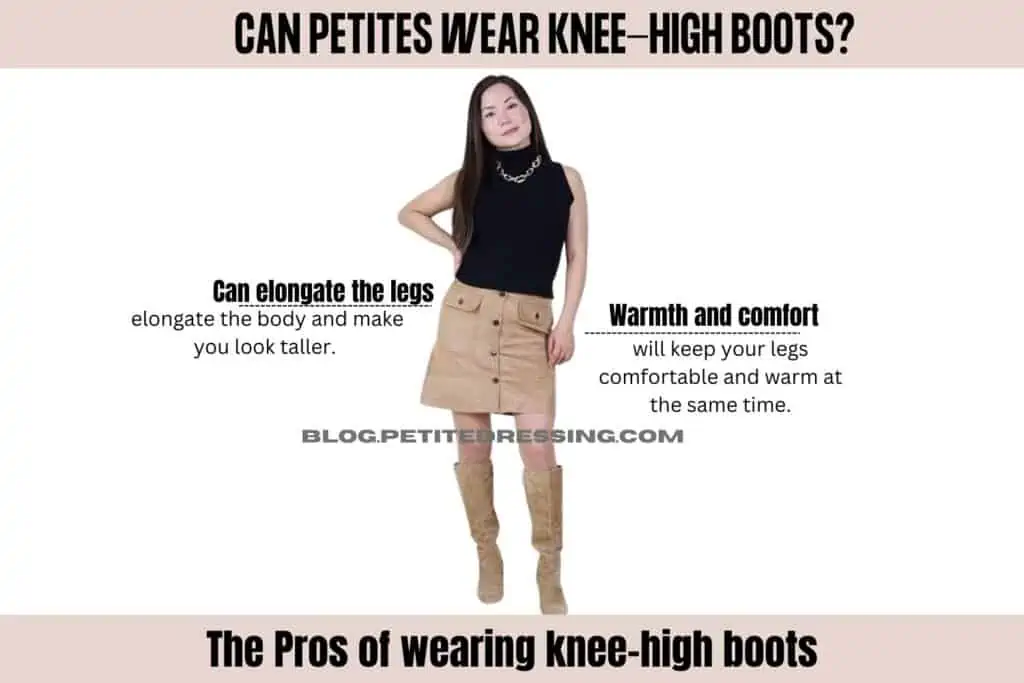 Can elongate the legs
The longer the boots, the longer your legs will look. The goal is to wear flowing fabrics that don't get cut off to create the illusion of height. Knee-high boots cover just about half of your legs and will help to work with the column method.
The column method focuses on vertical lines throughout your outfit in order to elongate the body and make you look taller.
Warmth and comfort
Since knee-high boots cover a major portion of your legs, you can trust that you will be able to keep warm during the colder season. Knee-high boots are most popular during the fall and winter, so you can dress appropriately for the weather.
Knee-high boots typically have a soft lining on the inside that will keep your legs comfortable and warm at the same time. They are often made of thick materials that help to insulate the boots.
Cons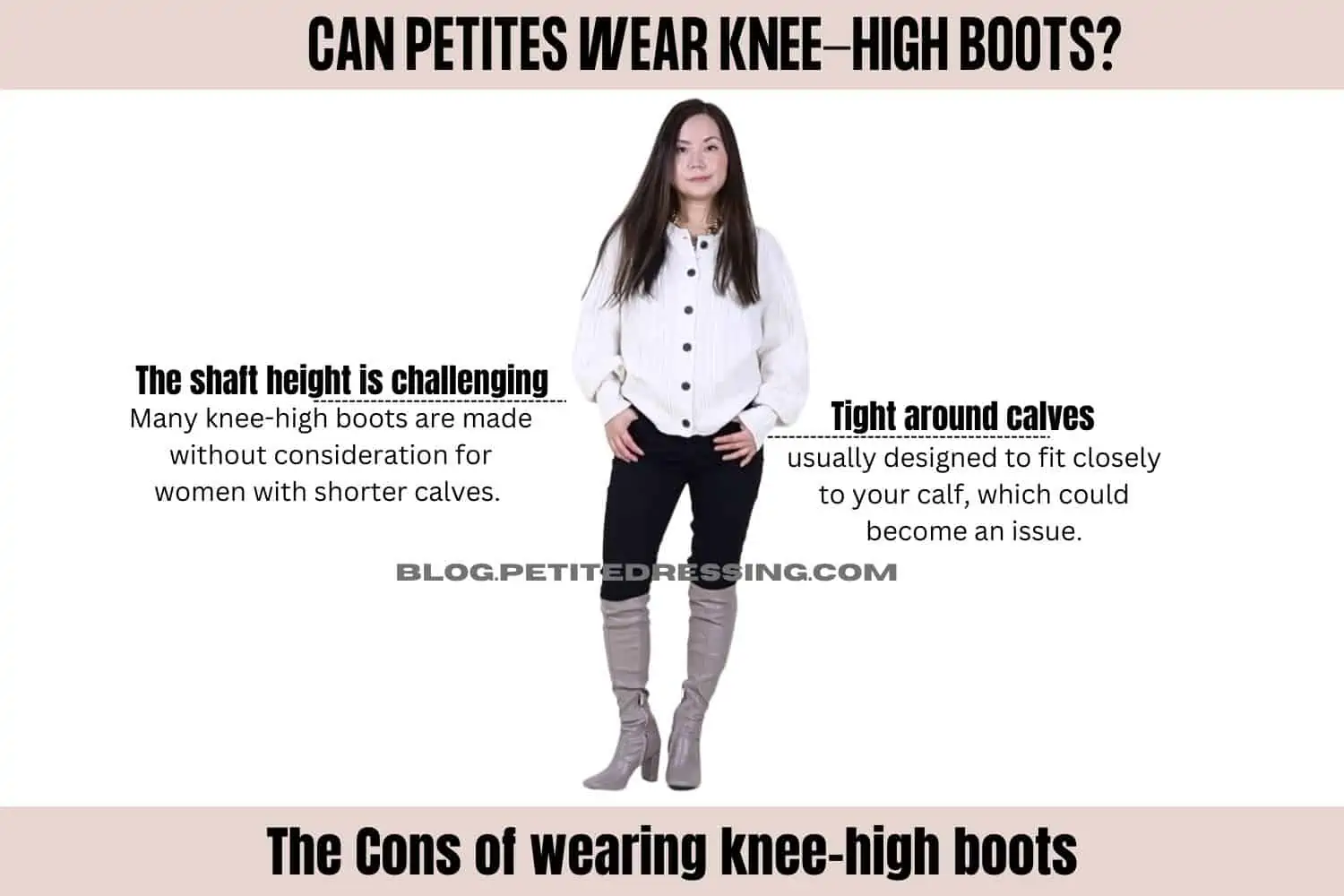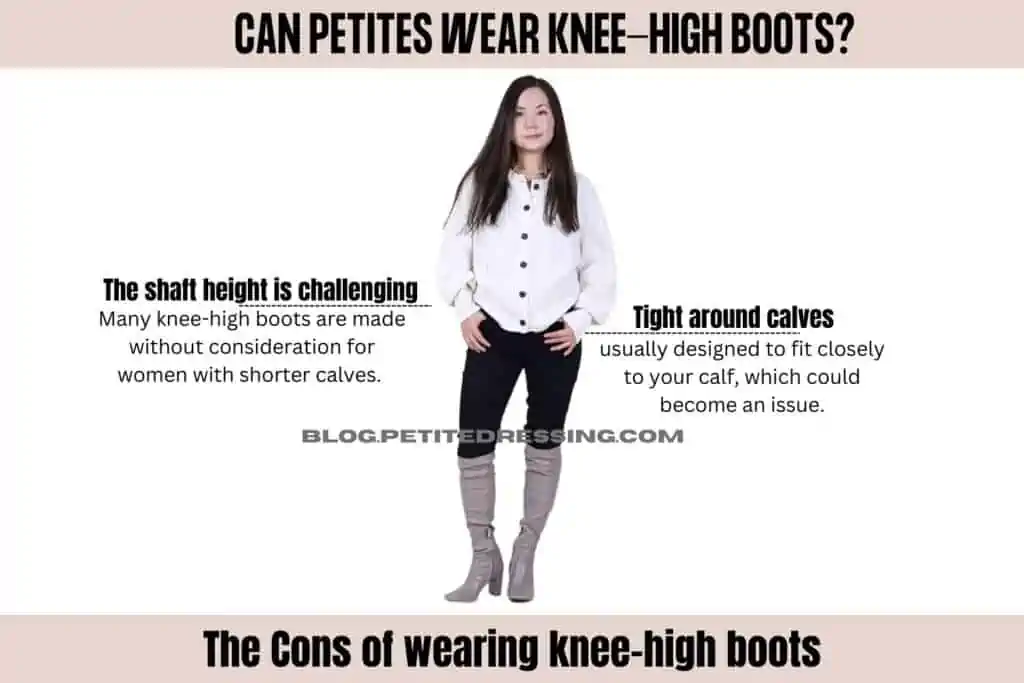 The shaft height is challenging
Many petite women also have shorter legs to fit their proportions. Many knee-high boots are made without consideration for women with shorter calves.
So when you try on a pair, they may come above your knees or directly on your kneecaps. This could be an issue because they are not designed to bend at the knees since they should not ever come that high on someone.
Tight around calves
In case you have small feet or want the height to fit appropriately, you may have to search for a smaller size. This could lead to a pair of boots that don't properly fit around your calves, especially if you are plus-sized. Boots are usually designed to fit closely to your calf, which could become an issue.
Ultimately, knee-high boots can be successfully worn by petite women. There are a few things you will want to avoid in order to create the illusion of a taller frame. These tips will help you learn how to make the most out of your knee-high boots.
How to Style if you are petite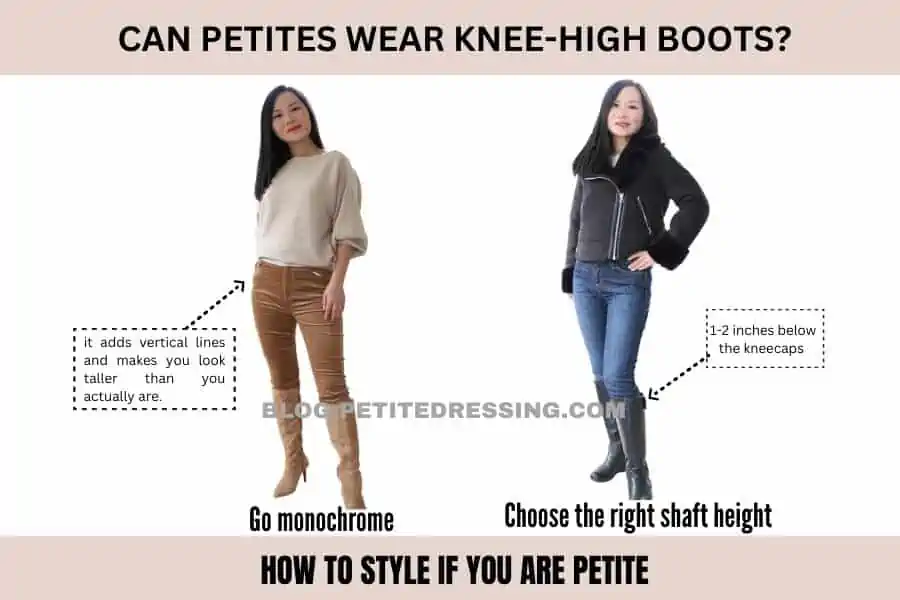 Go monochrome
In order to utilize the column method, try to pair your knee-high boots with pants that are the same color or shade of color. For example, you could wear black skinny jeans with black leather knee-high boots, and then add some color to your blouse choice. 
When you create a line of the same color, it adds vertical lines and makes you look taller than you actually are.
Choose the right shaft height
Although all knee-high boots are around the same height, just a few inches in the wrong direction can completely shrink your frame. Try finding knee-high boots that fall 1-2 inches below the kneecaps. If the boots are too high and bend awkwardly at your knees when you sit down, it won't create a flattering look.
You may have to try on many different pairs in order to find the perfect length, but it will end up being worth your time.
V shape design
Some knee-high boots will have a V cutout at the top of the boot.
It is always placed at the front, and it is a very unique style of boot.
This V cutout helps to craft more vertical lines throughout your outfit, drawing attention to your legs and making your frame appear taller.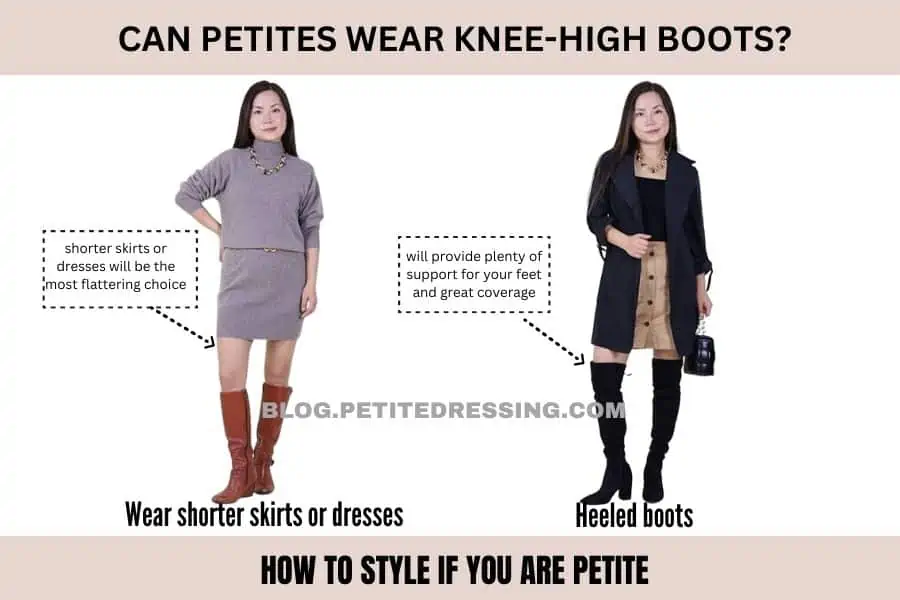 Wear shorter skirts or dresses
When you are deciding what skirt or dress to wear with knee-high boots, shorter skirts or dresses will be the most flattering choice. Try wearing a skirt that falls just above the knees. You will end up showing some skin, but the skirt will still be on the longer side and will not fall at an awkward length over the boots.
If you are set on wearing a long skirt or dress, go for one that has a slit so that you can still show off your fashionable knee-high boots.
Heeled boots
One of the best ways to add some height to your frame is a pair of comfortable heels. Heeled knee-high boots will provide plenty of support for your feet and great coverage. The height is an additional bonus, and can end up completely elevating your look. 
Depending on what you are comfortable with, you can go for any length of heel. If you want heels that are easier to walk in, choose a pair of knee-high boots that have a chunkier heel. If you are not ready for that kind of heel, go for a simple wedge heel for a slight added boost in height.