As a short woman myself (I am 5'2″), I've been told time and time again the midi dress lengths aren't the most flattering for petite girls. I have a clothing line for petite women 5'4″ and under, and midi dresses are actually one of our biggest sellers.
The reason is the midi length could really be a challenge for shorter women, given they end under your knees and above your ankle.
For that reason, midi dresses are sort of an awkward length, because it does have the potential to make your legs look cut off since it ends on the calves and it can also make your calve look thick.
However, you CAN wear midi dresses if you are short and look fabulous! Below I'm going to share with you the tried-and-true tips based on my own experience as well as feedback from thousands of my petite customers on what works and what doesn't. I also use these principals when putting together our dress collection.
Choose the Right Length
According to wiki, midi is used to refer to any dress or skirt that has a hem which hits at mid-calf – halfway between the knee and ankle. So, traditionally midi dresses are below the knee in length. However, as you can see, the length can vary quite a bit for a petite midi dress. It can lay just below the knee anywhere or just above the ankle.
When you're petite, just like when selecting any other type of dress, choosing the right length in your petite midi dresses is key to styling this trend successfully.
The trick to finding the right length in a petite midi dress is to select a dress that rests just above or just below the widest part of your calf. This is going to allow you to fully embrace the midi dress trend but ensure that you're still flattering your petite frame.
Avoid Widest Part of your Calves
You're going to want to avoid any petite midi dresses that rest at the widest part of your calf. The reason behind this is because when a midi dress is at the widest part of your calf, it accentuates that area and causes you to appear shortened.
This is especially critical for those of you who are self-conscious about your wide calves. If you have really athletic and wide calves and you do not want to draw more attention there, then choose a midi dress either shorter or longer than your mid calf.
When you make a minor adjustment to just above or below the widest part, it instantly slims and lengthens your length – a petite woman's dream!
Belted Midi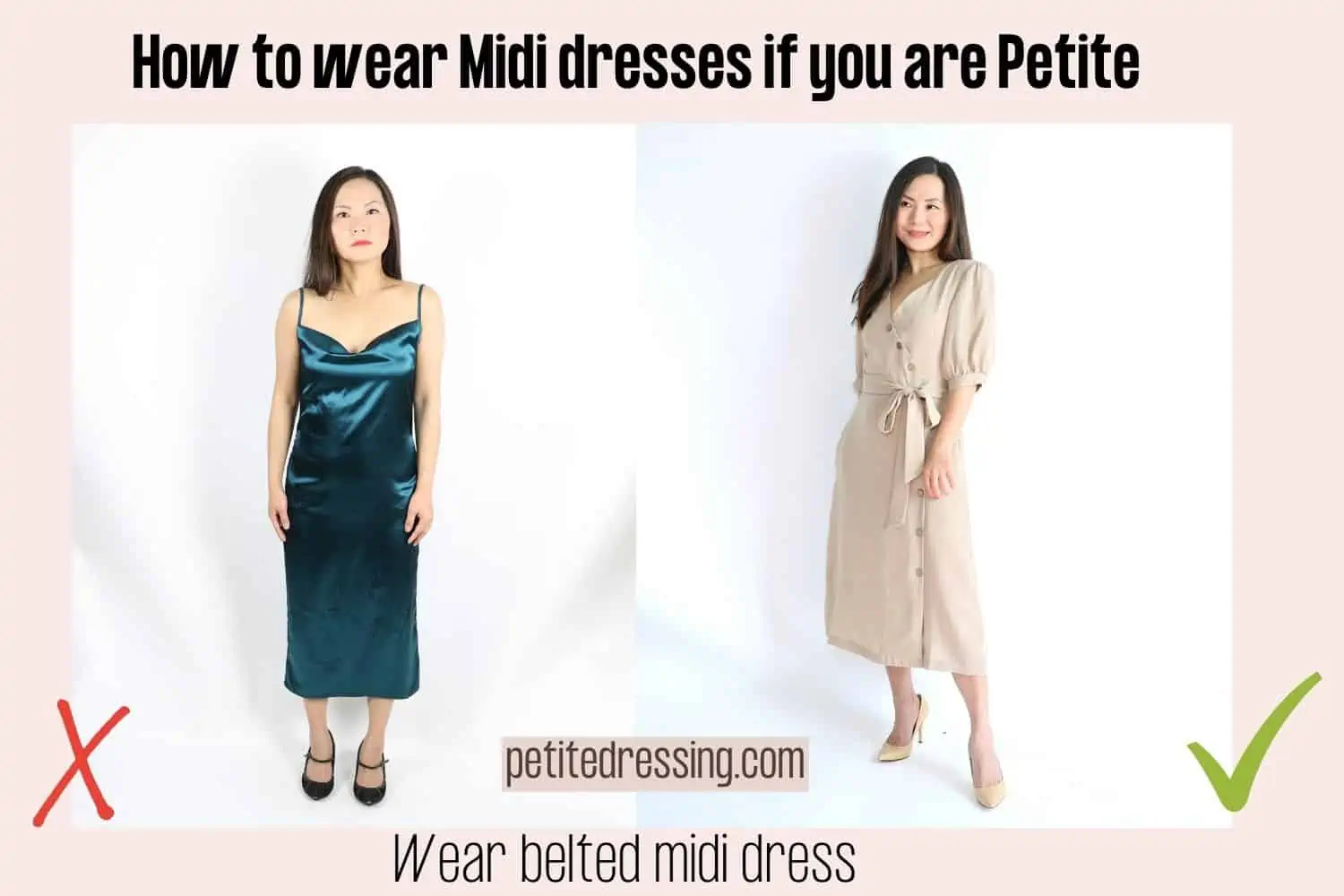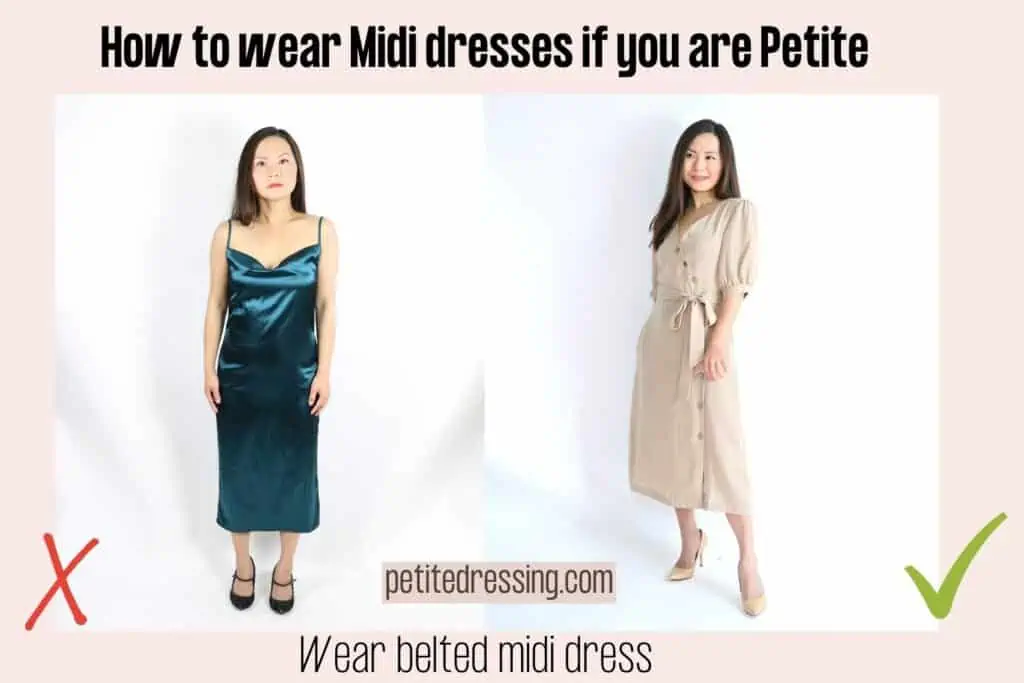 A midi dress that comes with a belt is one of the best choices if you are short!
Here's the most important part: you need to make sure the belt is higher than your natural waist.
Because the belt define your waist, it is going to bring focus to that area, and if the belt sits higher than your natural waist, it is going to make the eye believe your legs are longer than they actually are!
Midi with lace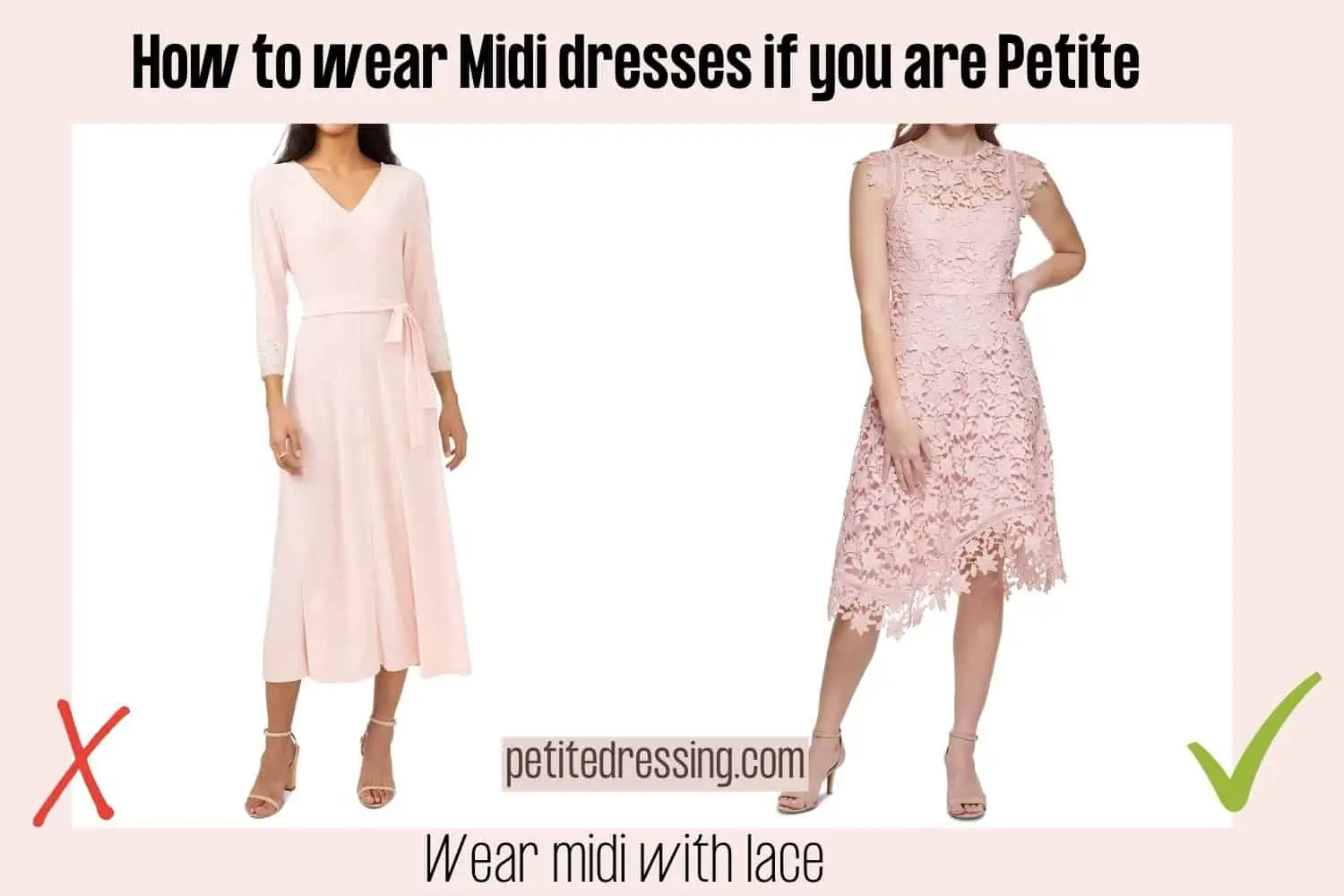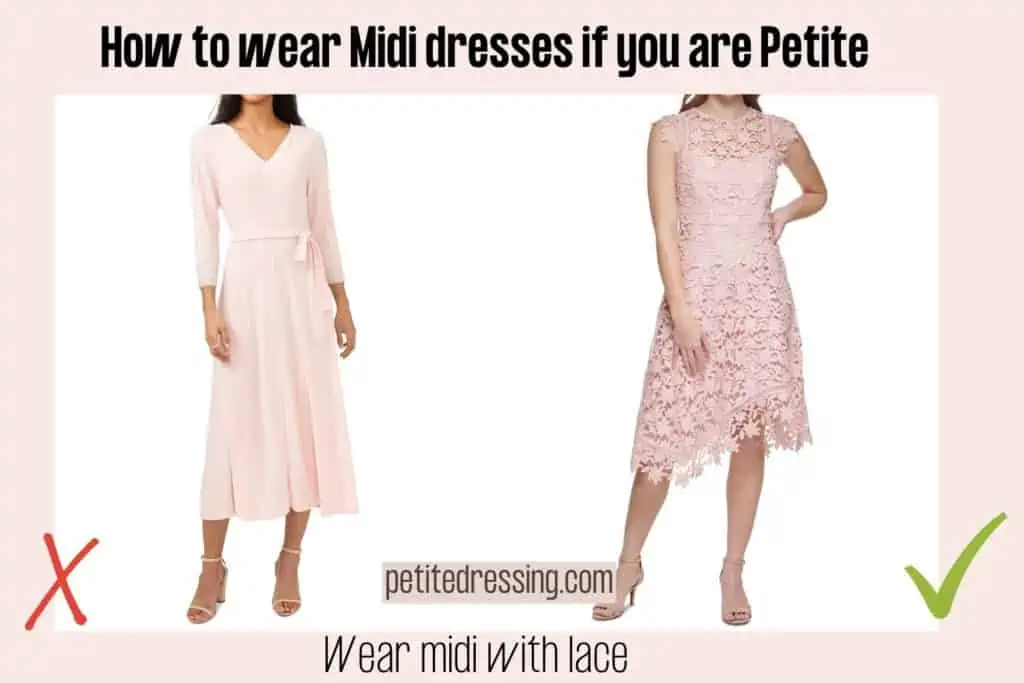 Since the midi length has the risk of making us petite girls look shorter, you really have to be selective with the fabrics.
Because lace midi dresses have a bit of see-through effect, they will reduce the risk of making your legs look cut-off in them.
Get a Slit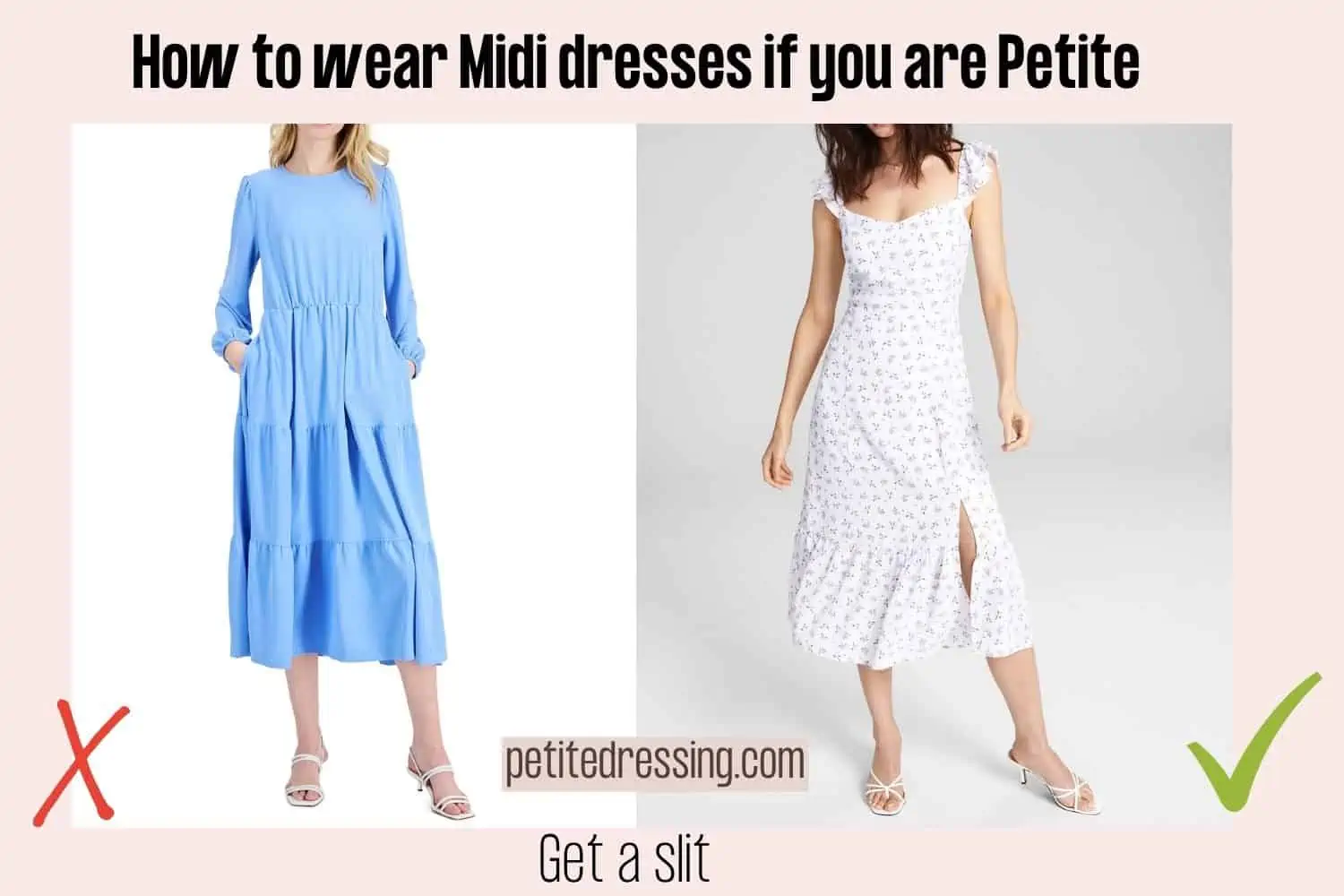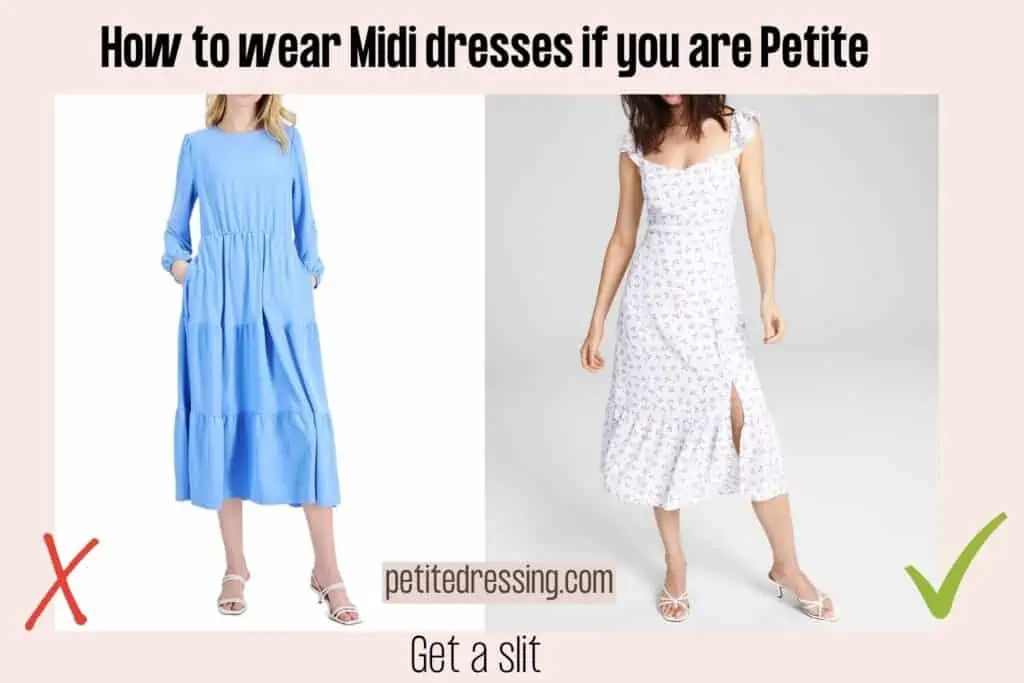 When wearing a midi dress as a short girl, the added length is what tends to cause some of the struggles. One of my newfound favorite ways for short women to rock the midi dress trend for the season is to select a midi dress that has a slit.
The slit could be on the side or in the front. Either way, it is going to look more flattering on a short girl.
The reason?
The slit shows a bit more leg which instantly creates more of an elongated leg line. The aspect that's so great about a petite midi dress with a slit is you're getting the best of both worlds, where you have the midi dress trend but get to show more leg as you would in a shorter dress style.
Plus, a slit adds a flirty feel to the midi dress!
Uneven Hem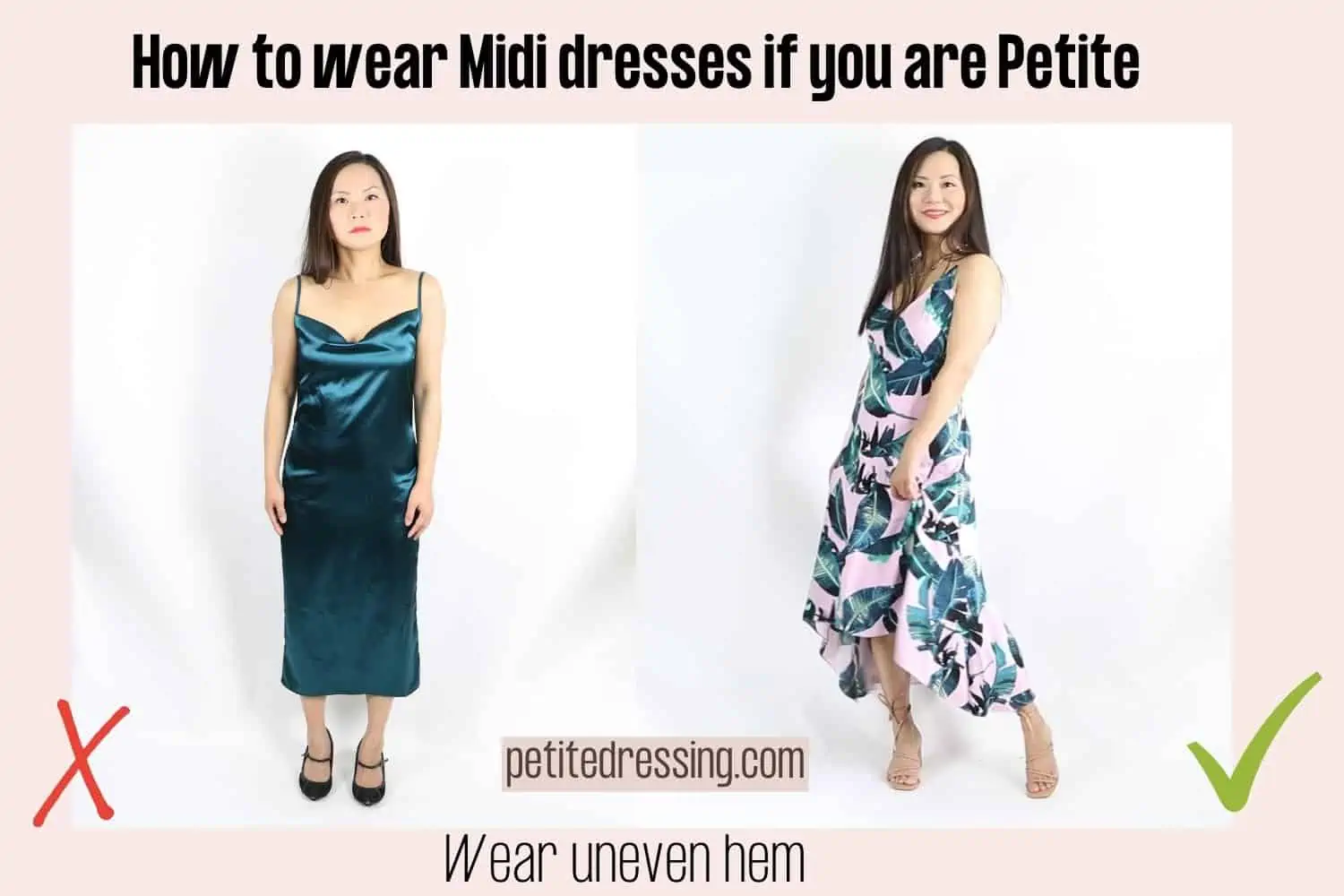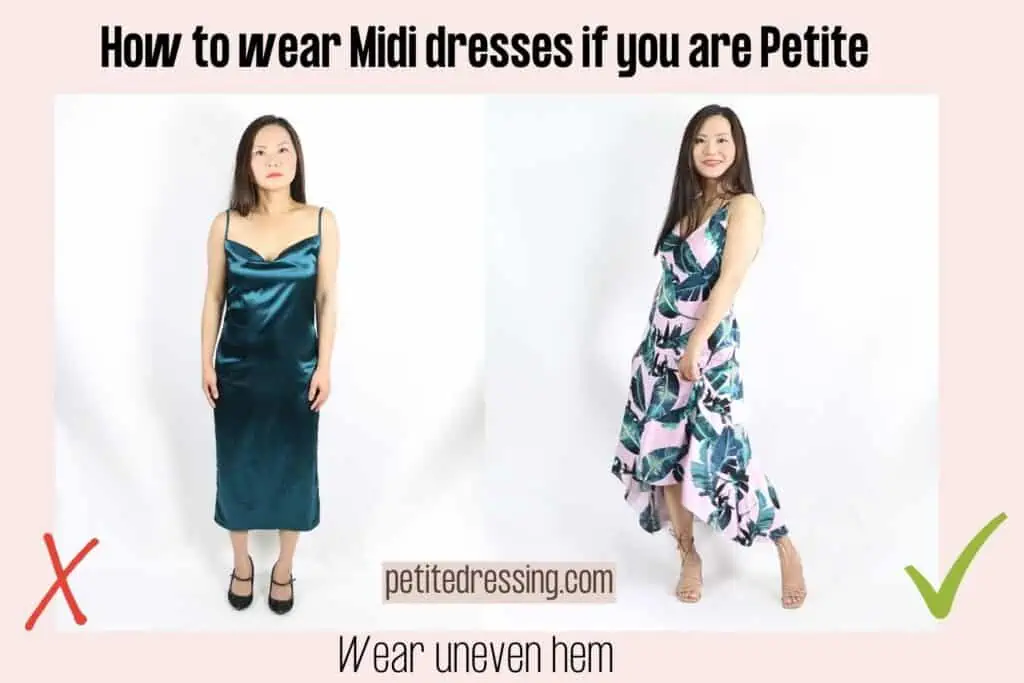 One of the hottest trends right now is the uneven seam. What that means the seam of the dress is not the traditional straight line. The most popular type of uneven seam is the high-low dresses. The front of the dress could be above the knee or right at the knee, but the back of the dress is typically below your knee and above your ankle.
The benefit of uneven seam or high-low dresses for petites is that you enjoy the best of the two worlds! The front is shorter, so you get to show off every inch of leg length you desire. And, the back is midi, so you get to enjoy the midi trend!
Form Fitting Top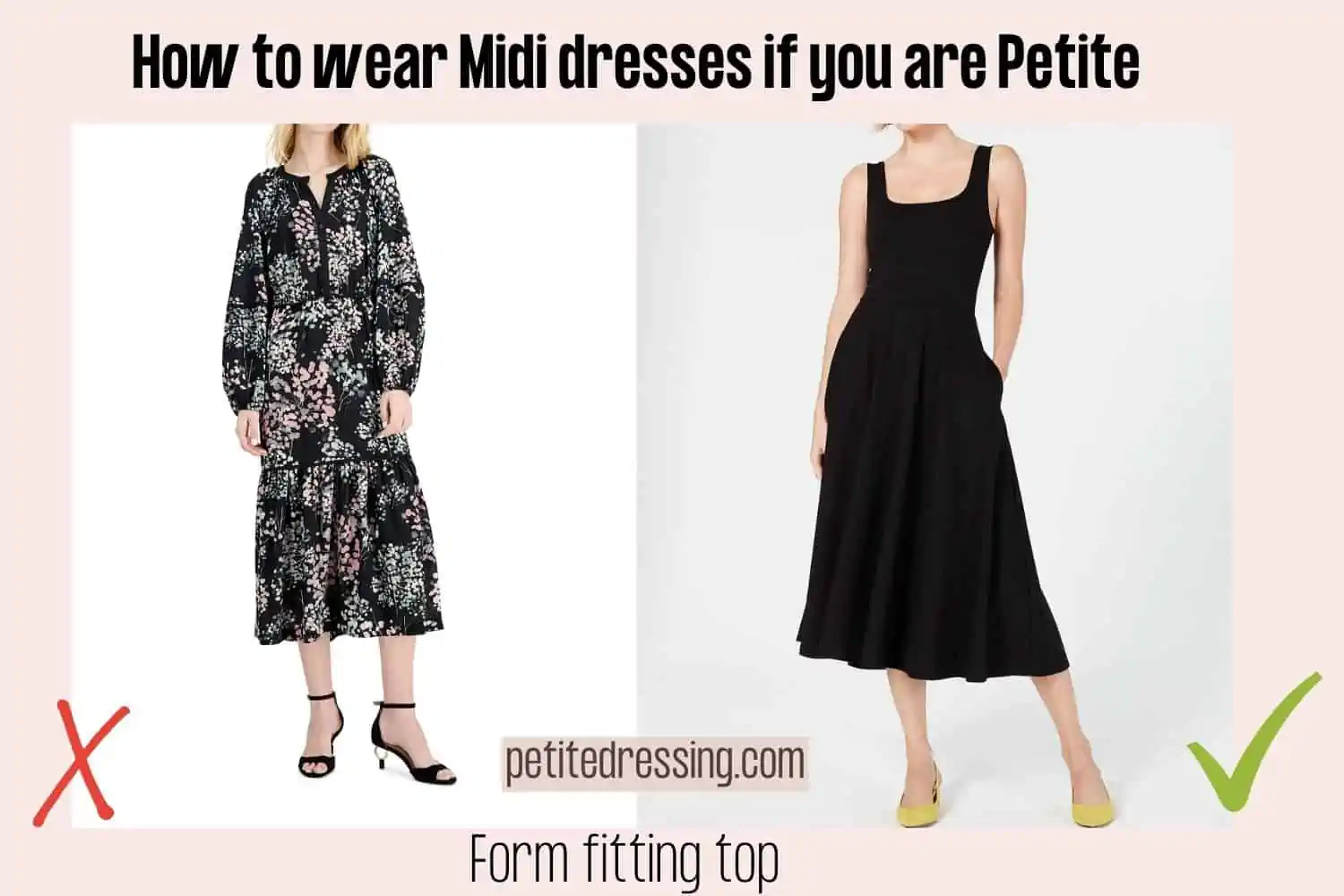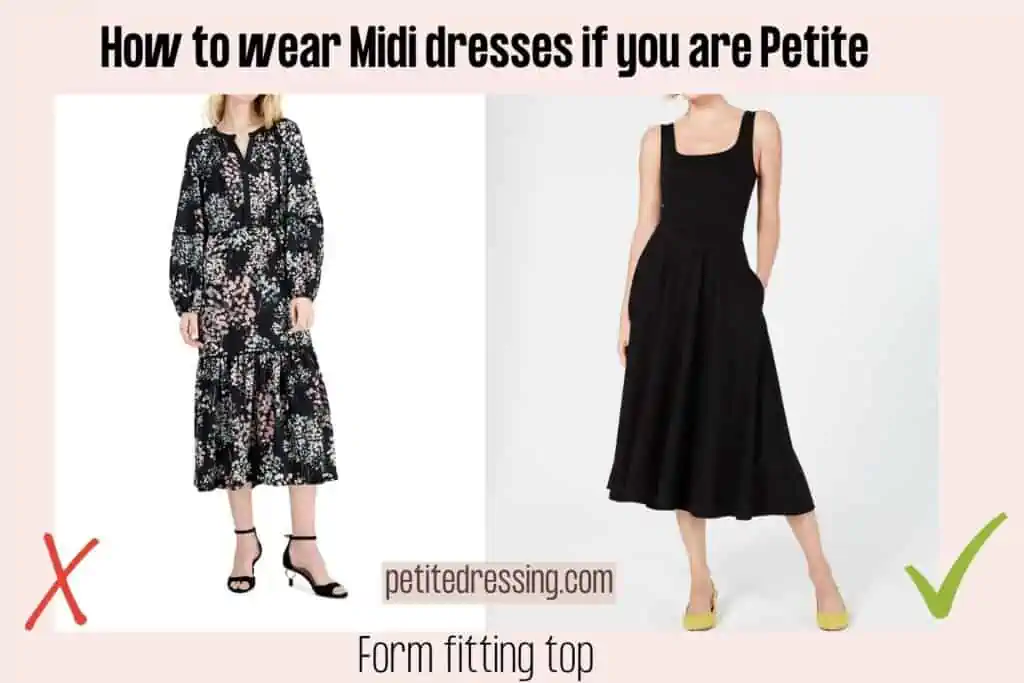 As midi dresses are one solid piece, it's crucial that you pay attention to the entire dress and how it fits to make sure you're selecting the right dress for your petite frame. Aside from the length aspect of the petite midi dress, I also want to encourage you to pay close attention to the top half of the dress.
In order for the midi dress to look good on a short woman, you will definitely want a dress that has some detail at the waistline so that it highlights your waist for major figure flattery. In addition to the waist aspect, always make sure that the petite midi dresses you wear are form fitting at the top half.
This is going to create a lot of balance in your shape with the midi dress length and keep from it being too much material on your petite frame. It doesn't necessarily have to be SKIN tight just as long as it fits closely to your body on the top half.
Cinch your Waist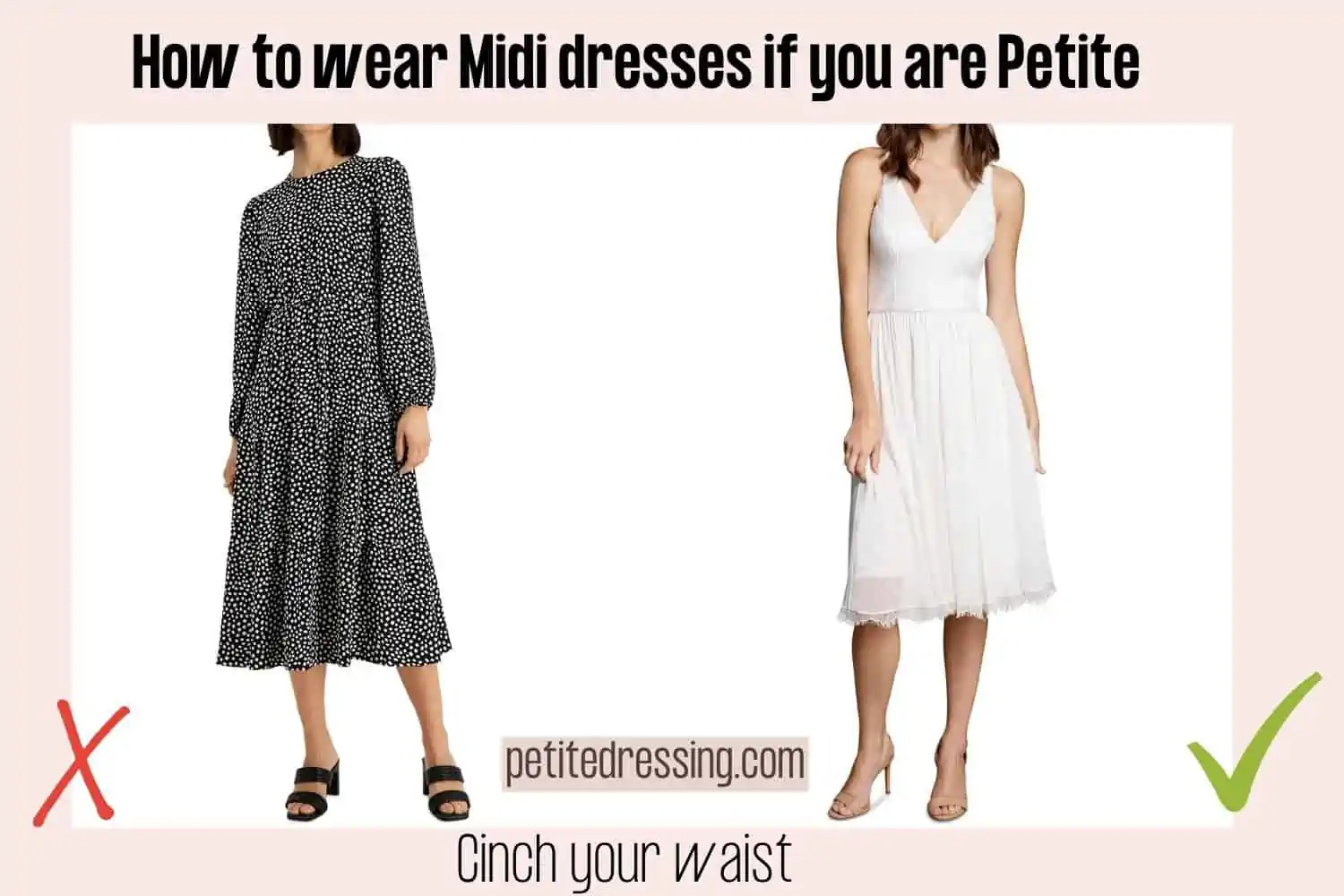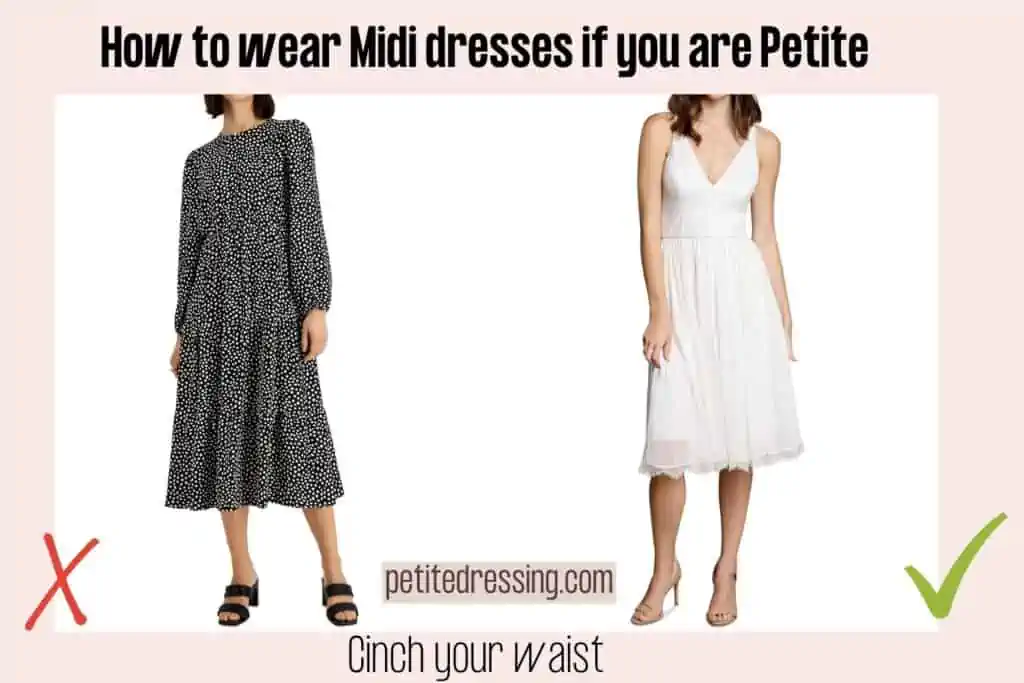 When you wear a midi dress, it is critical you should define your waist. This is the most flattering way for any short woman to pull off the midi length.
If your midi dress does not define your waist, for example, a T-shirt midi that goes straight up and down, it is very easy to make you look bigger than you actually are.
If your dress does not come with a belt, you can also add a belt to your dress to get the waist definition.
Monochrome Colors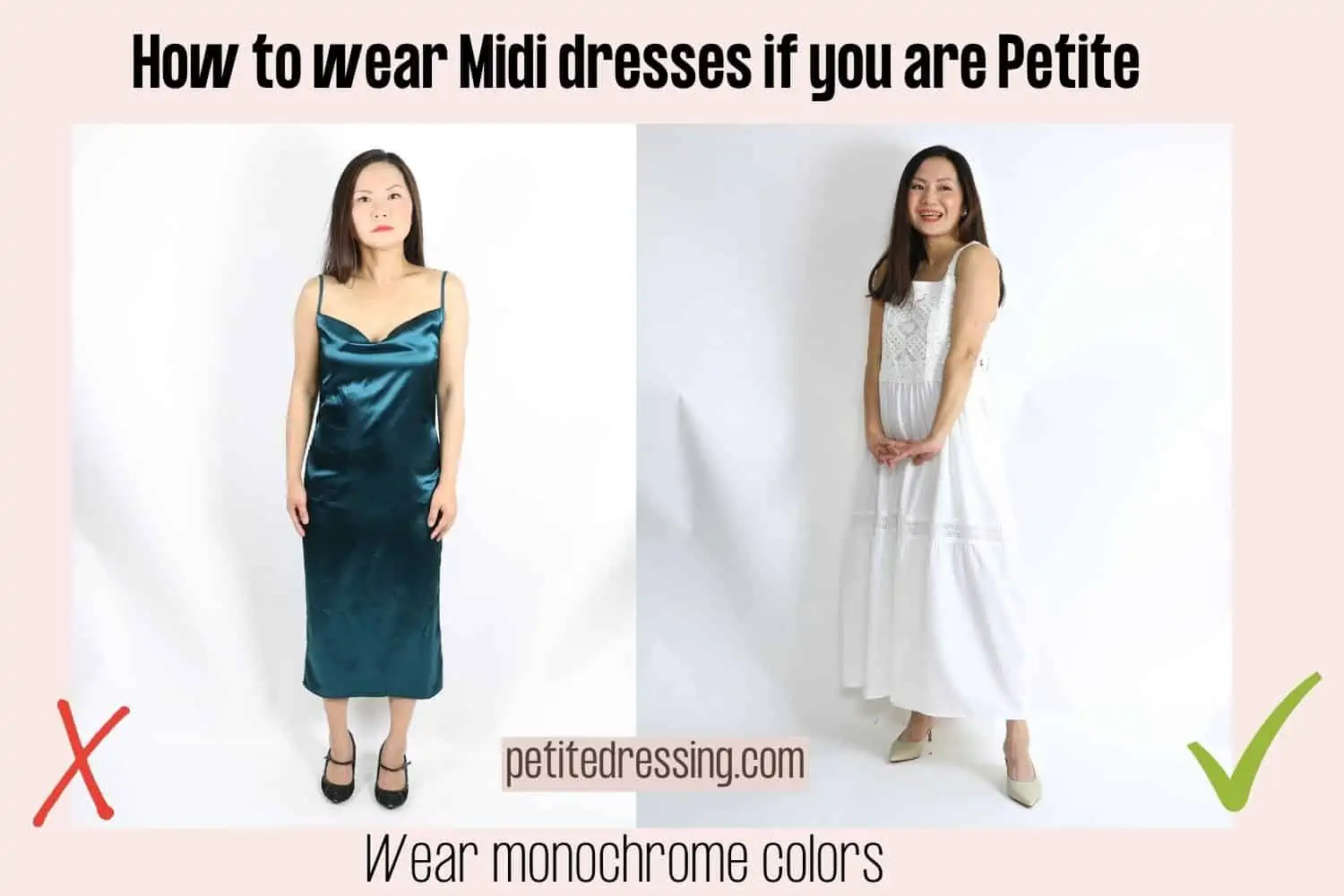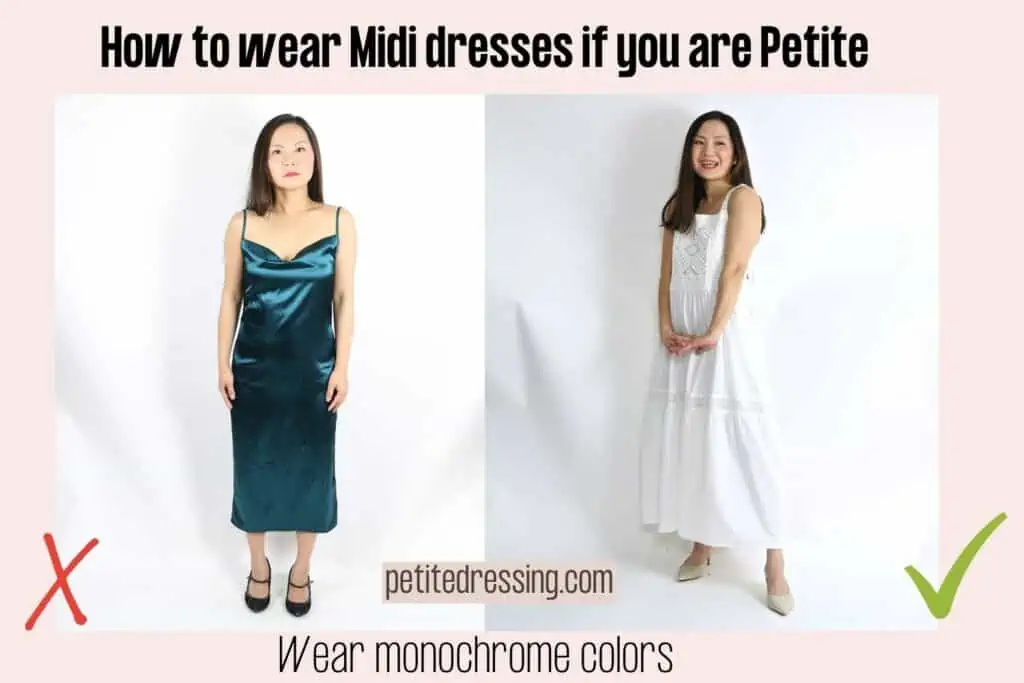 Petite midi dresses can be found in various styles, colors and patterns. Because we need to focus on selecting petite midi dresses that aren't going to shorten our shapes, I suggest choosing something to provide you with a monochromatic color scheme.
Similar to what I mentioned previously, about cutting off your leg line in multiple places, selecting a petite midi dress with a consistent color and/or pattern is going to help keep from the rest of your shape getting cut off. When you choose a petite midi dress that's either one solid color or a print/pattern that is consistent throughout the dress, it's going to create the appearance of a longer, slimmer line on your body.
If you want to take it a bit further and really keep it consistent with the monochromatic styling, keep your shoes in the same color scheme. Even if you have a petite midi dress that is in a print or pattern, select shoes that are in a color similar if not the same as the color(s) in the dress.
I will also talk a bit more about choosing the right shoes to wear with your midi dresses, especially if you are a short girl.
Intrigued about how to work the magic of monochromatic colors? We have a post on "Why Every Short Woman should Know Monochromatic Dressing".
Small Prints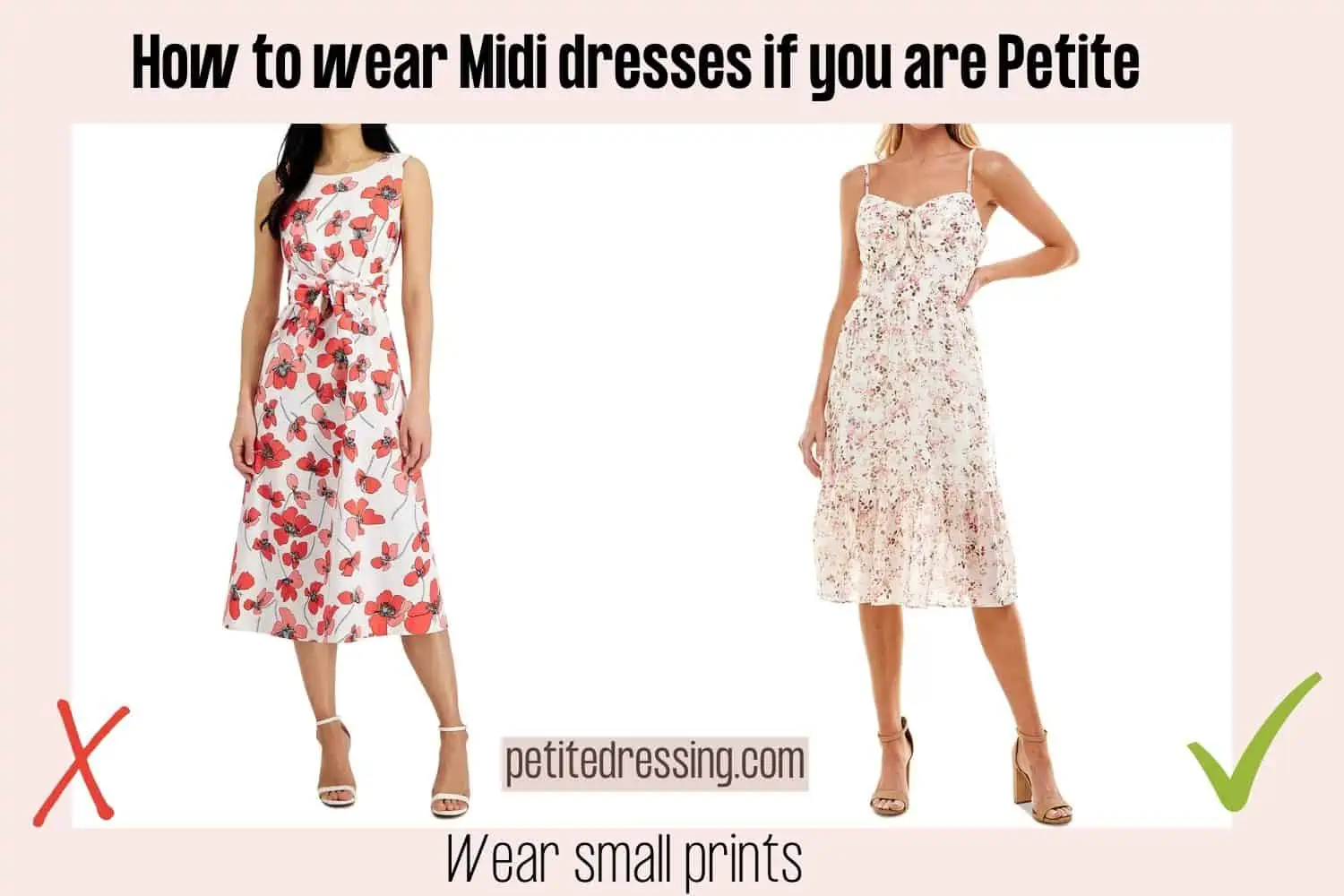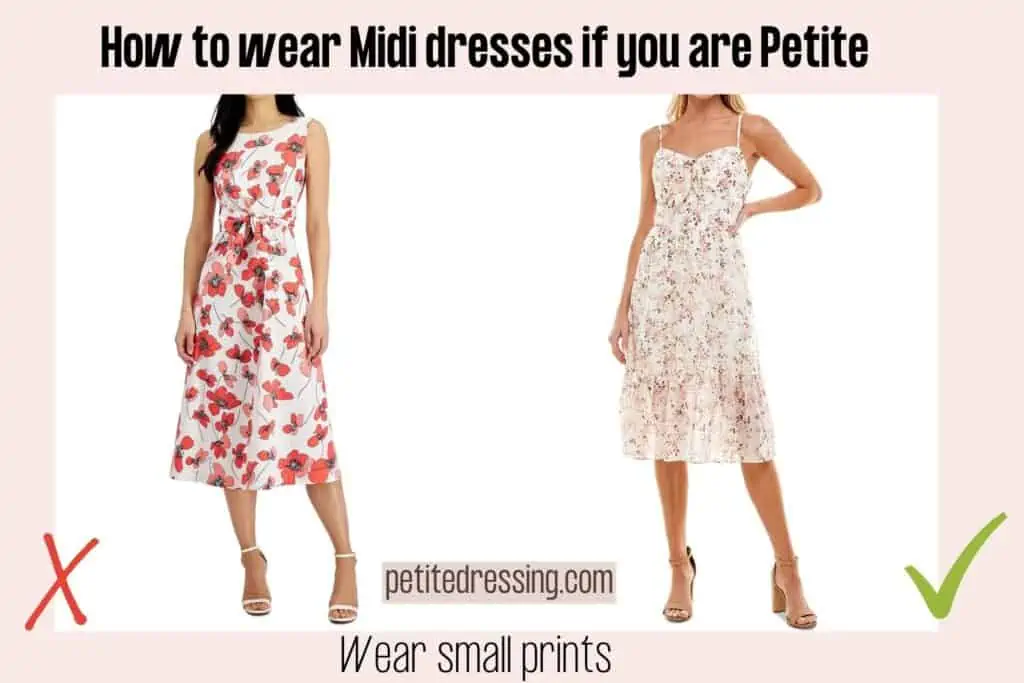 If you are short, the best midi dresses for you doesn't have to be just solid colors, Of course you can also wear midi dresses with prints.
But here's the critical part: you want to be very selective with printed dresses, and ideally you may want to opt for smaller prints.
The reason is obvious. Midi dresses cover quite a big area of your body. It is not as long as a maxi dress, but it is longer than your knee and in some cases they reach a couple of inches above your ankles.
If you go with very big and loud prints, they are only going to overwhelm someone who has a short frame.
Instead, opt for subtle smaller prints, which are the easiest to pull off if you are petite.
Pair with Heels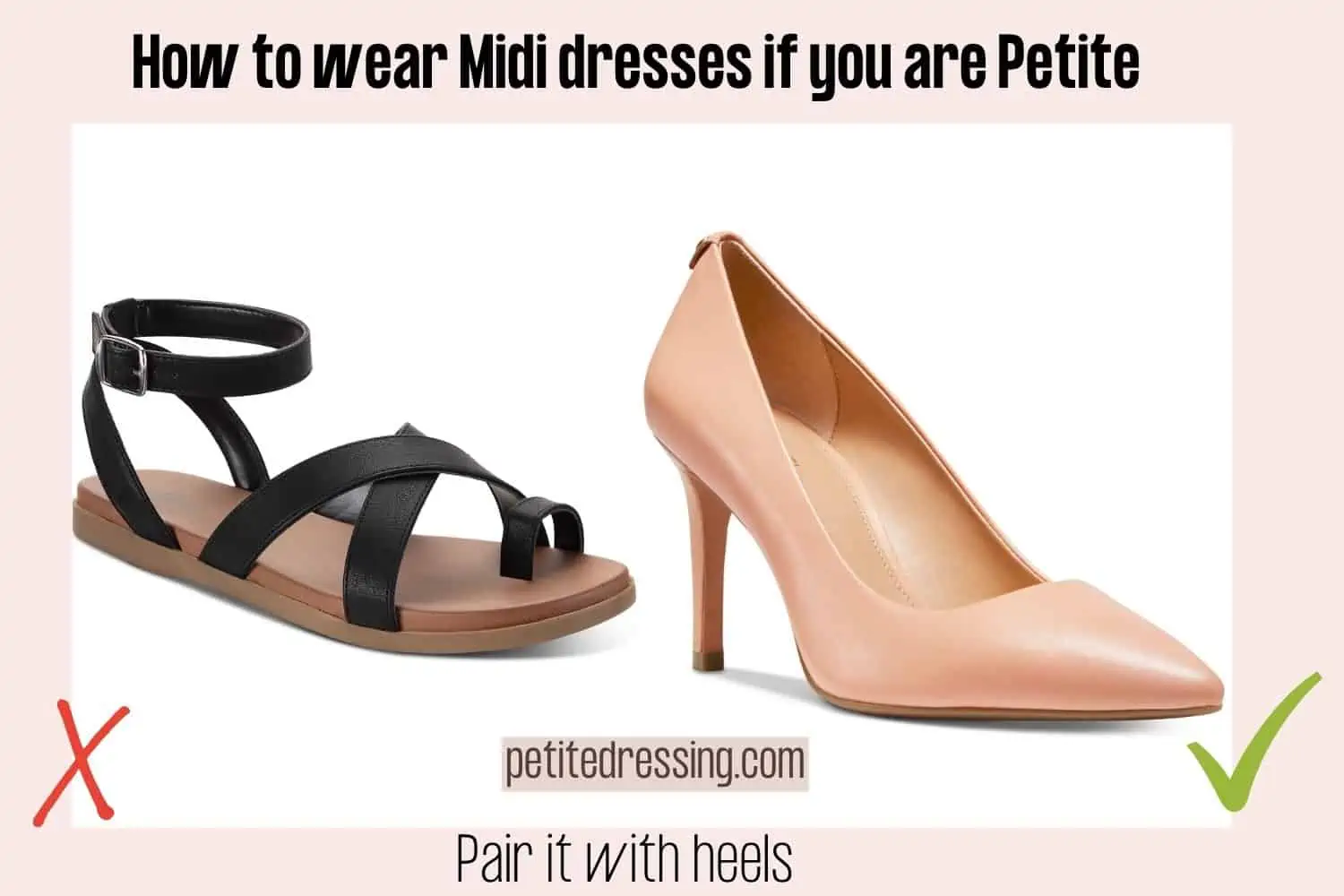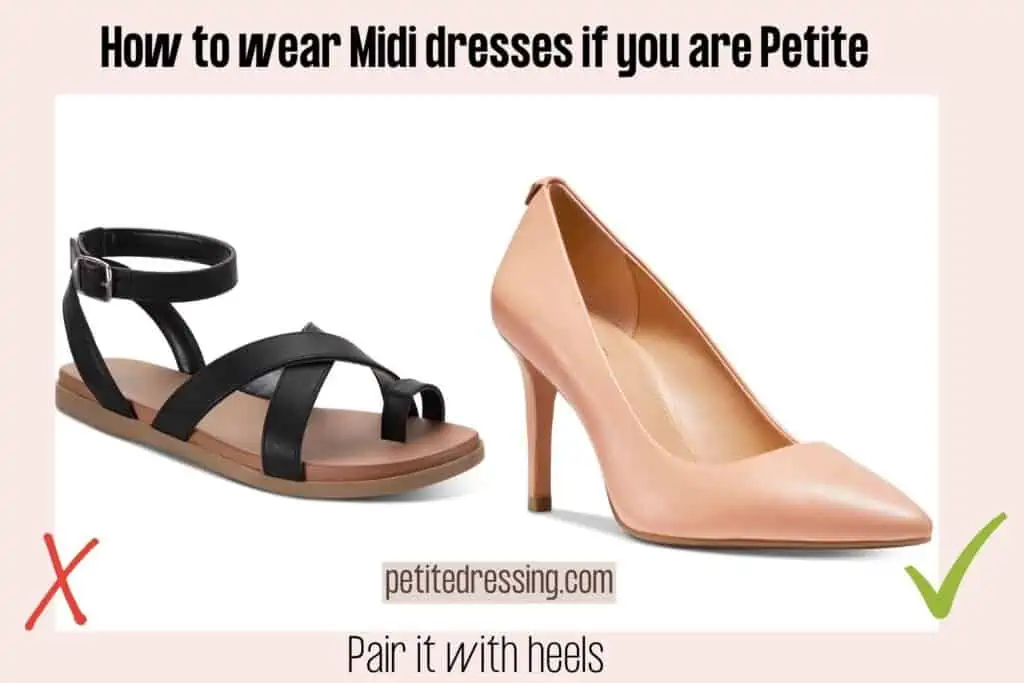 We've established the length aspect of midi dresses is the biggest factor that needs to be worked with when you are a petite woman. Once you've selected a petite midi dress you love, you're going to need to style it up with some shoes, obviously!
Due to the length factor in a midi length dress, heels are going to be a must when you are petite. For obvious reasons, they are going to add some height to your shape to prevent the added length of the midi dress from shortening you too much.
Avoid Ankle Strap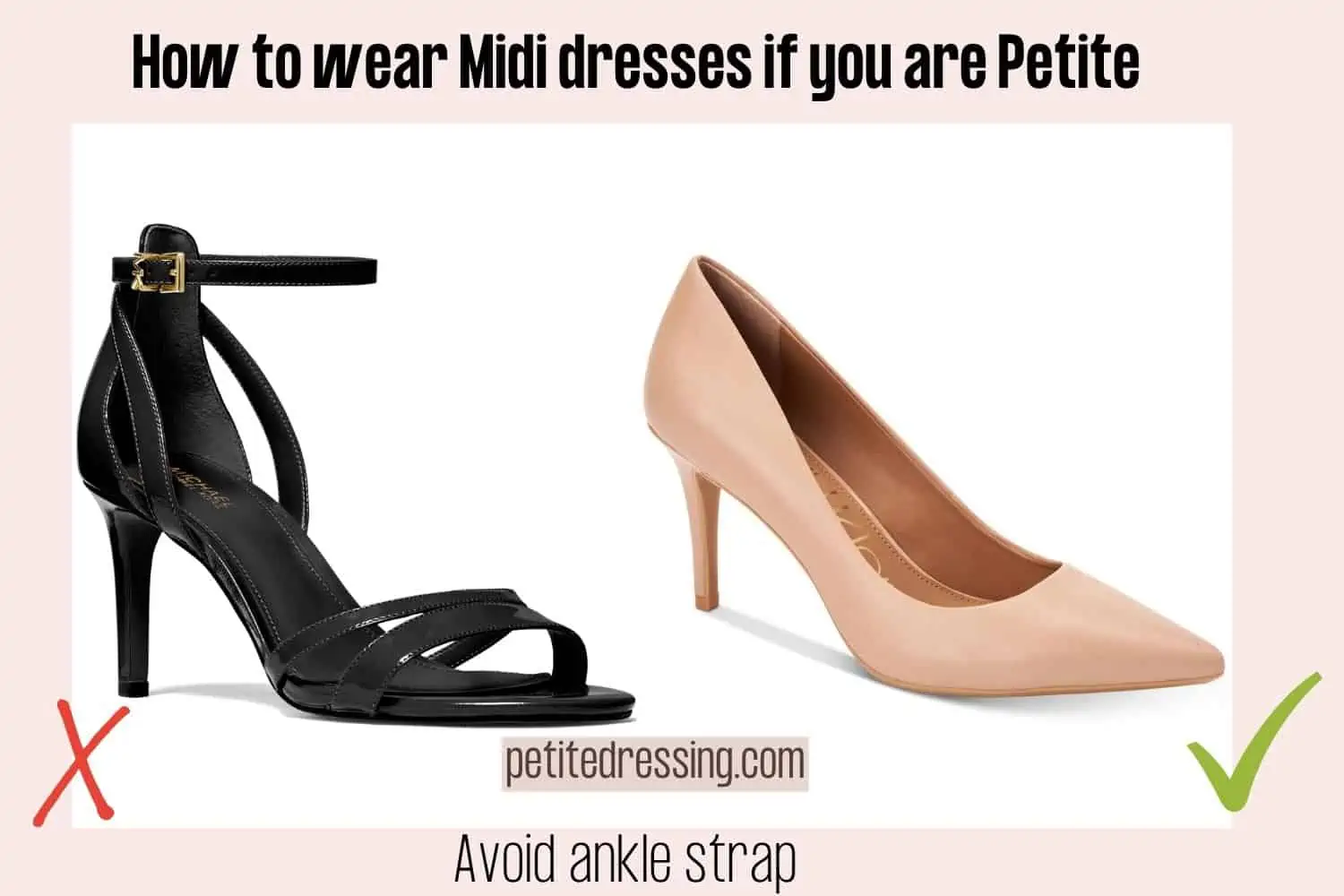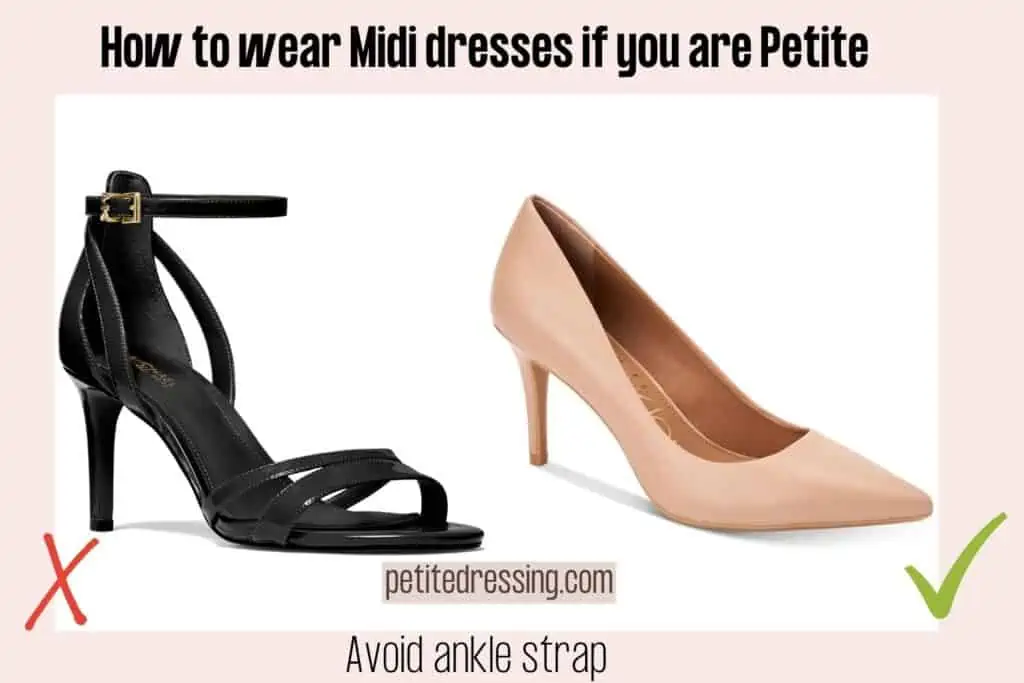 I suggest avoiding any heel (or shoe in general) to pair with your petite midi dresses that has an ankle strap or cuts the leg at the ankle.
Think of ankle strap sandals, ankle booties, etc.
Because your leg line is being cut off where the midi dress rests, you want to make up for that by wearing more flattering shoes.
On the other hand, if you style it with a shoe that cuts off your leg at the ankle, you're essentially chopping up your leg multiple times! That is going to cause you to look much shorter and dare I say stumpy in the dress.
Instead, stick to a shoe that's simple in style like a stiletto pump. This shape is perfection for flattering a petite woman in a midi dress.
If you want to know more about how to find the best shoes for petites, we have another post on "The Best and Worst Shoes for Short Women".