For many years, petites have been told to avoid flare jeans and silhouette pants as they have often been known to look too overwhelming on shorter legs. I know that as I am 5'2″ myself (and I also have a clothing line for women 5'4″ and under), so I've always been cautious about the bell bottoms.
That being said, petite women can certainly wear flare jeans – and look really incredible doing so. If you find the right flare jeans and style them the right way, they can be the best jeans to make you look taller. In fact, in my petite clothing line, flare or bootcut are actually the most popular styles loved by my customers.
There are a few key factors to pay close attention to when selecting flare jeans that are flattering for a petite body. Based on my own experience, as well as feedback from thousands of my petite customers, I've put together this guide to help you with everything you need to know about the flare jeans.
LEG SHAPE
Modest flare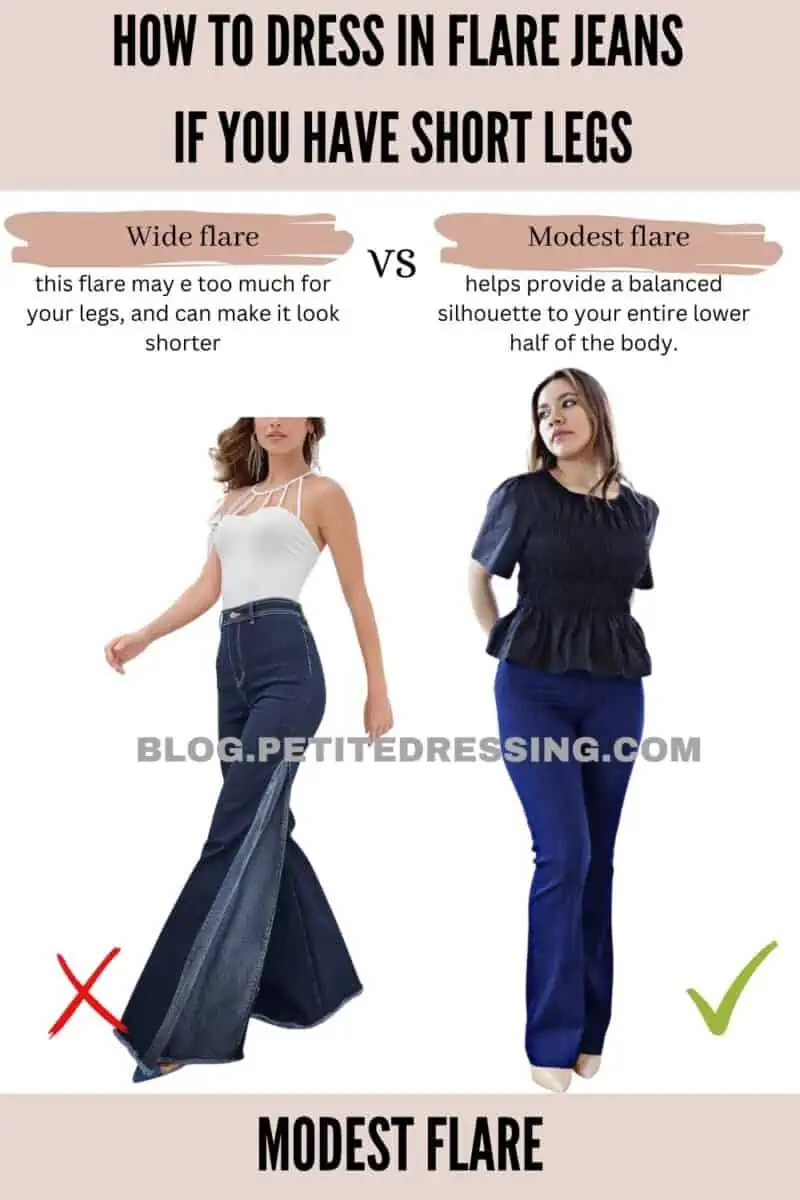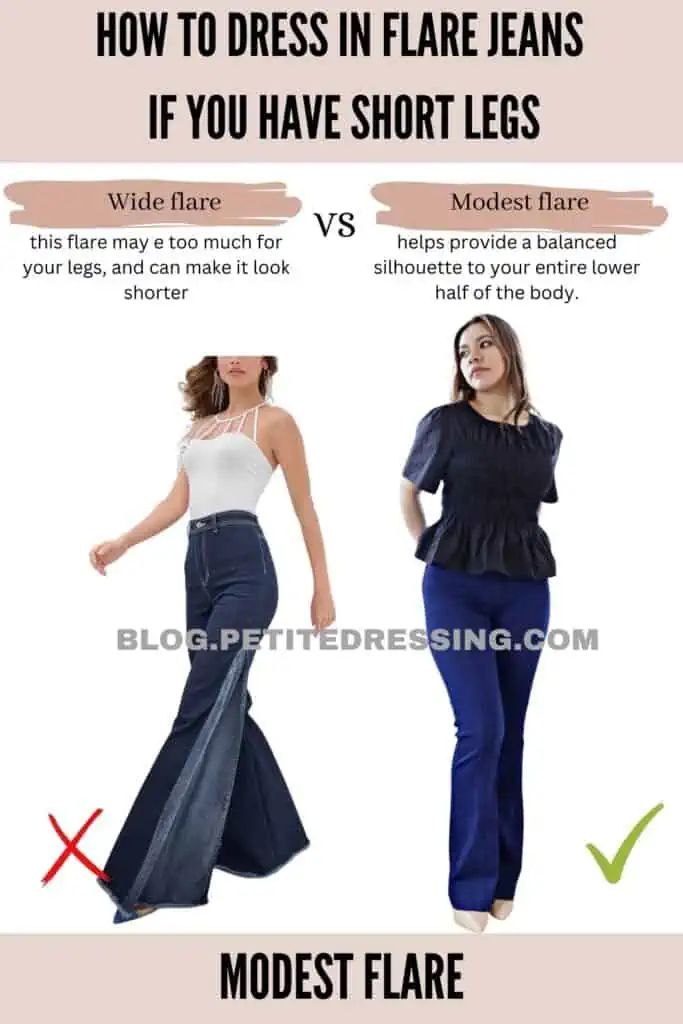 One really good rule of thumb when looking at flare jeans is to ensure that the bottom "bell" shape is modest.
This gives you the flared effect and can also create the illusion of longer legs – major win for petites.
When flares are wider than your hips this is when they become too much and shorten already short legs. When flare jeans are balanced with your hip width they also aid in providing this overall balanced silhouette to your entire lower half of the body.
High flare placement
As a petite woman, you'll want to focus on flare jeans where the flare shape begins right at the knee.
This is something that can be a little more difficult for petite women but it's certainly not impossible.
The reason this placement is so crucial is because if the flare shape begins higher or lower than the knee it will make your legs look shorter and wider.
Avoid big flare
This may go without saying at this point, but not every pair of flare jeans you put on are going to look flattering. One of the main things you should avoid is giant bell bottoms.
Any flare that is too wide will carry too much volume, which will be overwhelming for someone who is short.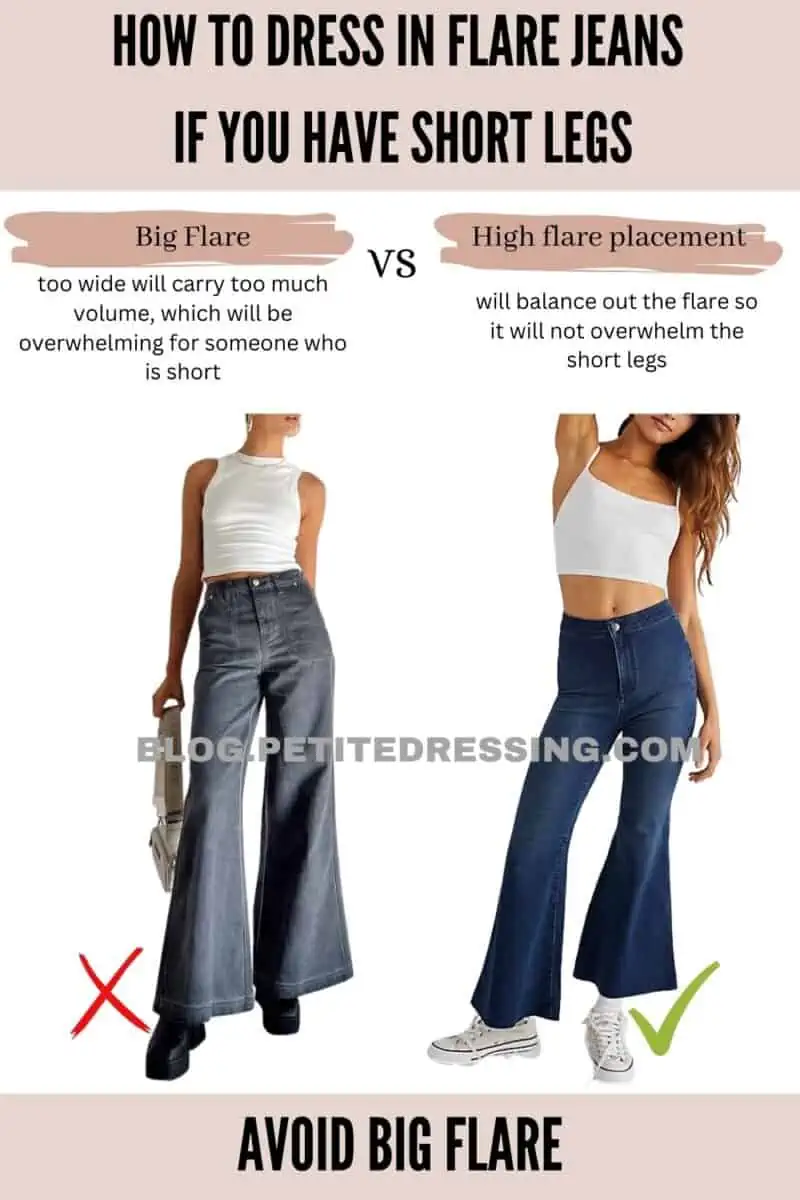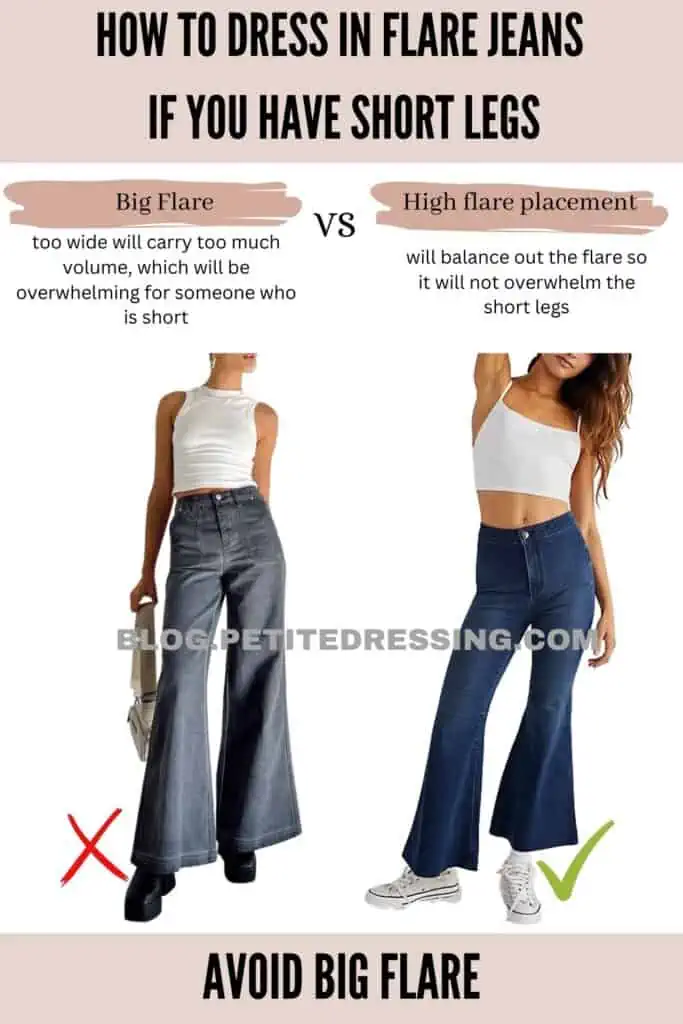 RISE
While flare jeans are known for their exaggerated shape, which is what deters many petites from wearing them, it can be an incredibly figure flattering shape to wear as long as it's done right. One of the key factor is to choose the correct rise.
Mid-rise to high rise
If you are short, always look for a pair of flare jeans that are either mid or high rise.
By lifting the rise of the pants, even just a couple of inches, it lengthens the leg drastically and this is crucial for flare jeans.
Avoid low rise
Low rise pants, in general, aren't the most flattering for petites as they shorten the leg line.
When it comes to flare leg shape, low rise design is especially hard to look good on a petite woman.
The reason is because flare shape already carries a lot of volume, which CAN make your legs shorter. On top of that, lowering the waistline will only make it worse.
Even though low rise everything is making a huge come back this season and is one of the biggest trends, you probably should skip it if you are petite.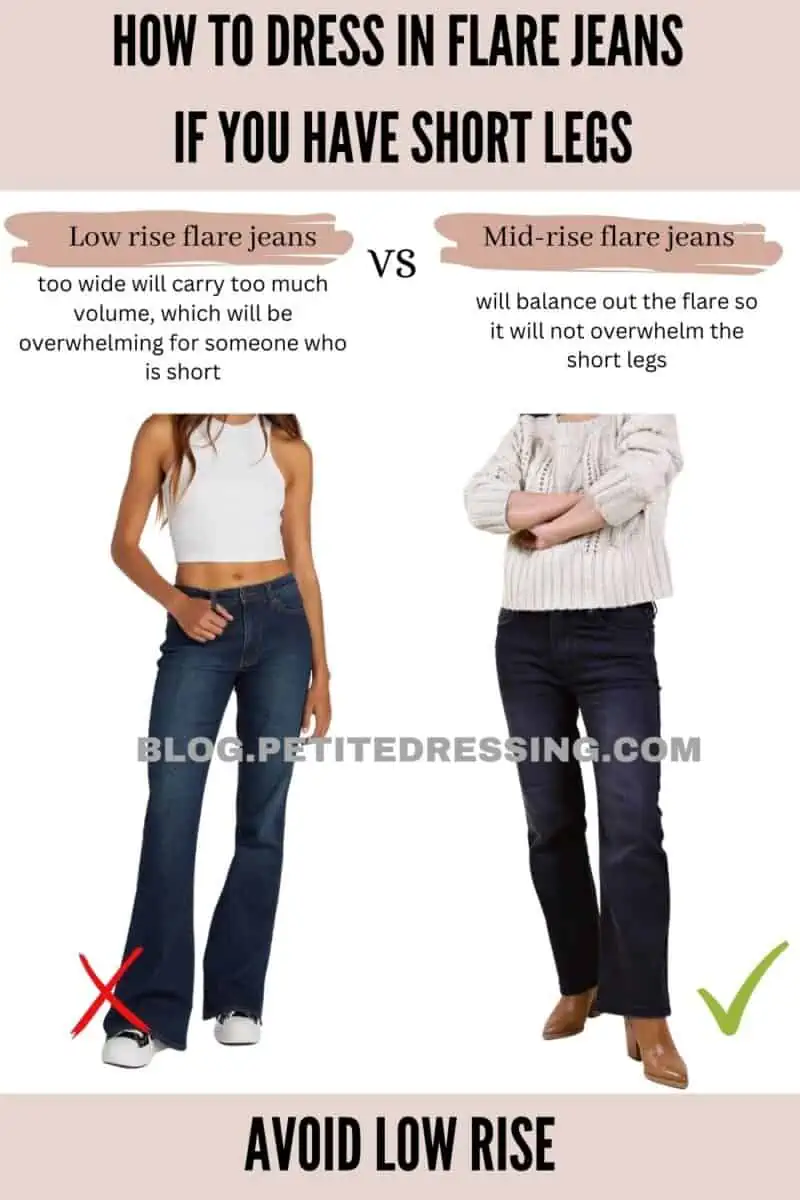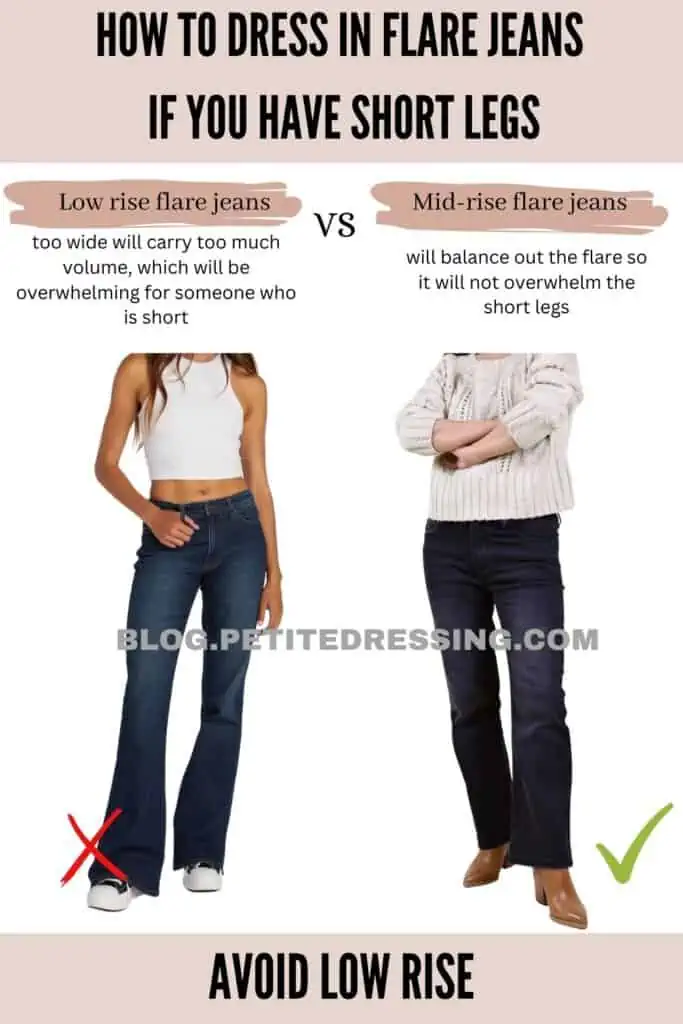 LENGTH
Inseam length is always a struggle for petite women, regardless of the denim style. With flare jeans, however, it can be a little more complicated because you do want the length to be on the longer side.
Full length
The main rule of thumb for flare jeans is that they should cover MOST of your shoe, without the hem reaching all the way to the floor (which can cause them to drag when walking).
This means when trying on flare jeans, it's important to bring the shoes you plan to wear with them most often, it will give you a much better sense of the length and if any additional hemming is necessary.
Avoid too cropped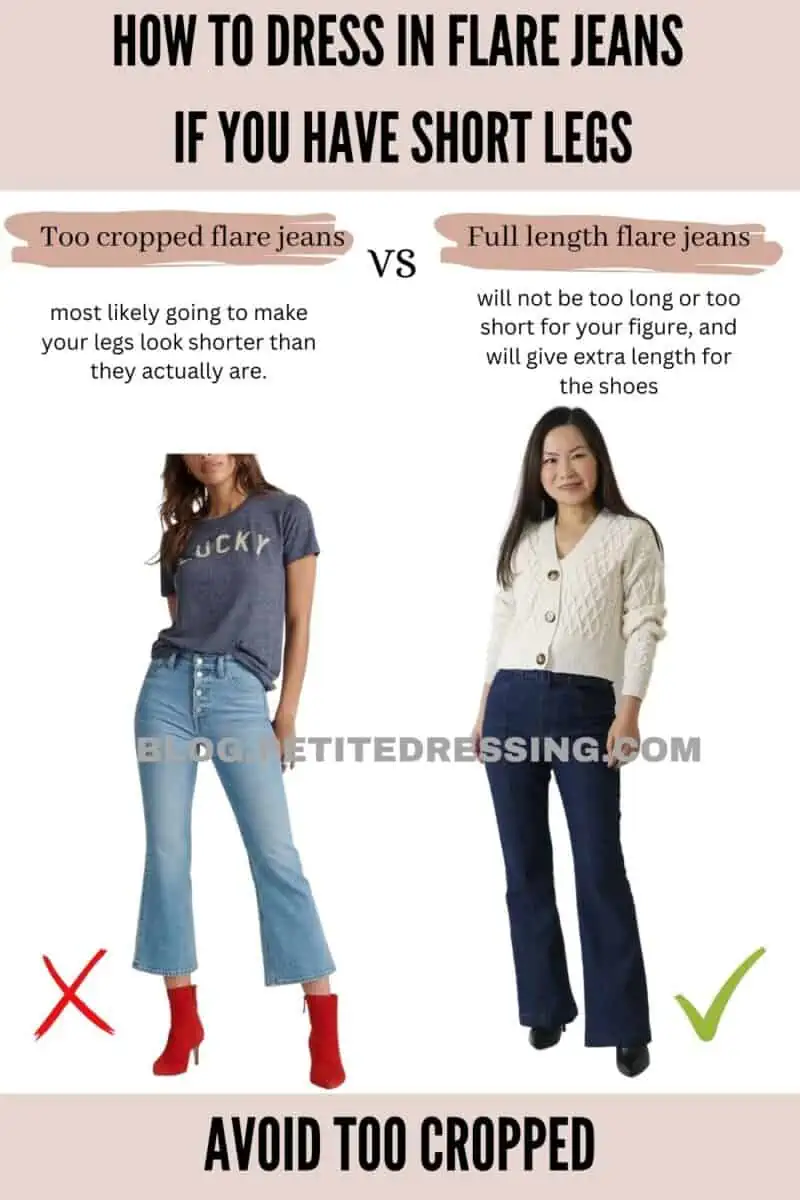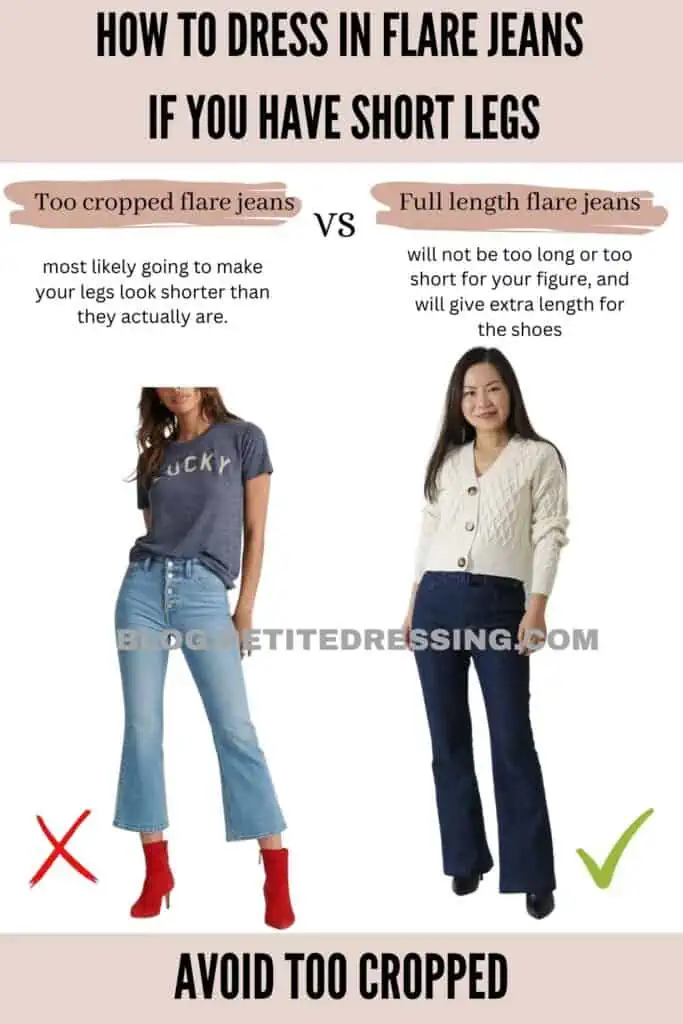 Even though right now a big trend is the "cropped flare", petites should use caution.
The reason is because your legs are only as long as your inseam.
Whenever you wear cropped pants or jeans, regardless of the leg shape, they WILL shortern your legs.
When it comes to flared leg, this is even more obvious, because they have a wide hemline to begin with.
So, if your cropped jeans is hitting above your ankle, they are most likely going to make your legs look shorter than they actually are.
I'm not saying you can only wear full length, but if you are petite, slightly above ankle length is probably the shortest I would go for.
Heming
Chances are, if you are petite, quite often you many need to go to the tailor to get that perfect length for your height,
Now, if you do need to get some hemming done to the flare jeans, you're going to want to bring those shoes along with you there as well.
Because the perfect length is SO important with flare jeans, being prepared is necessary.
WASH
Because flare leg jeans carry so much volume, choosing the right wash is important.
Dark wash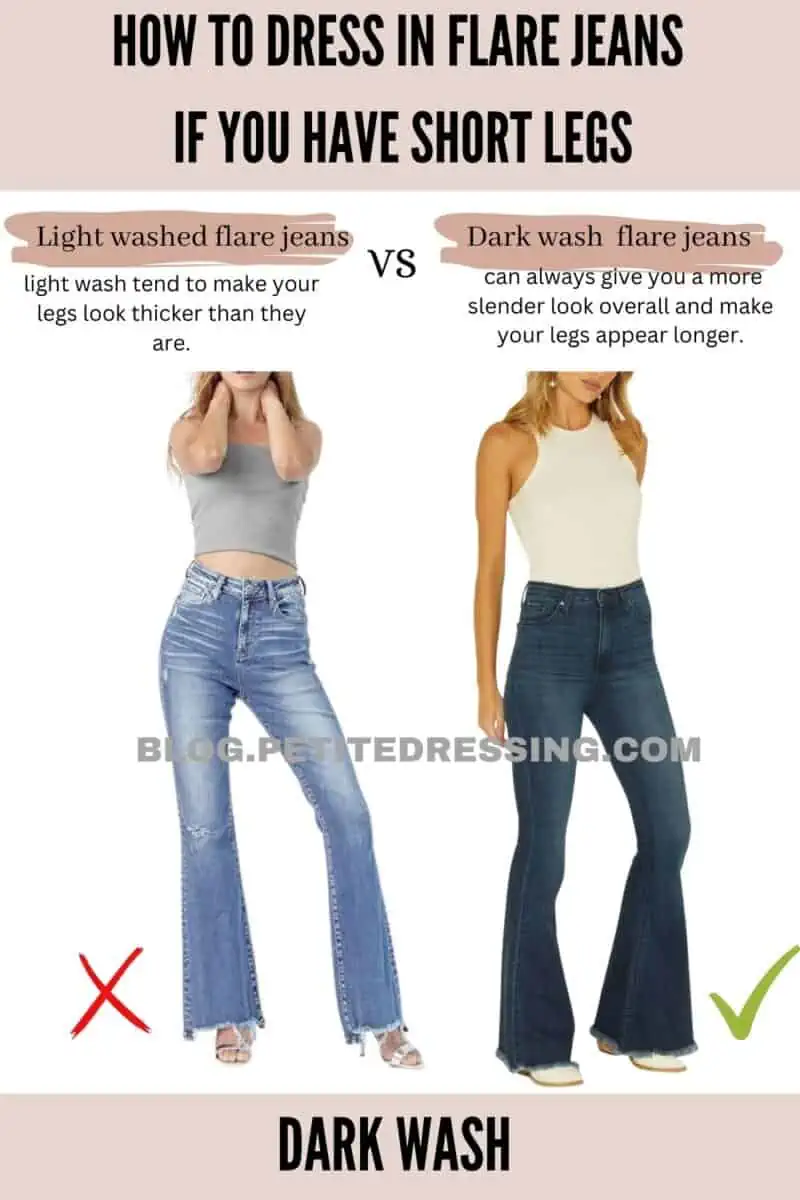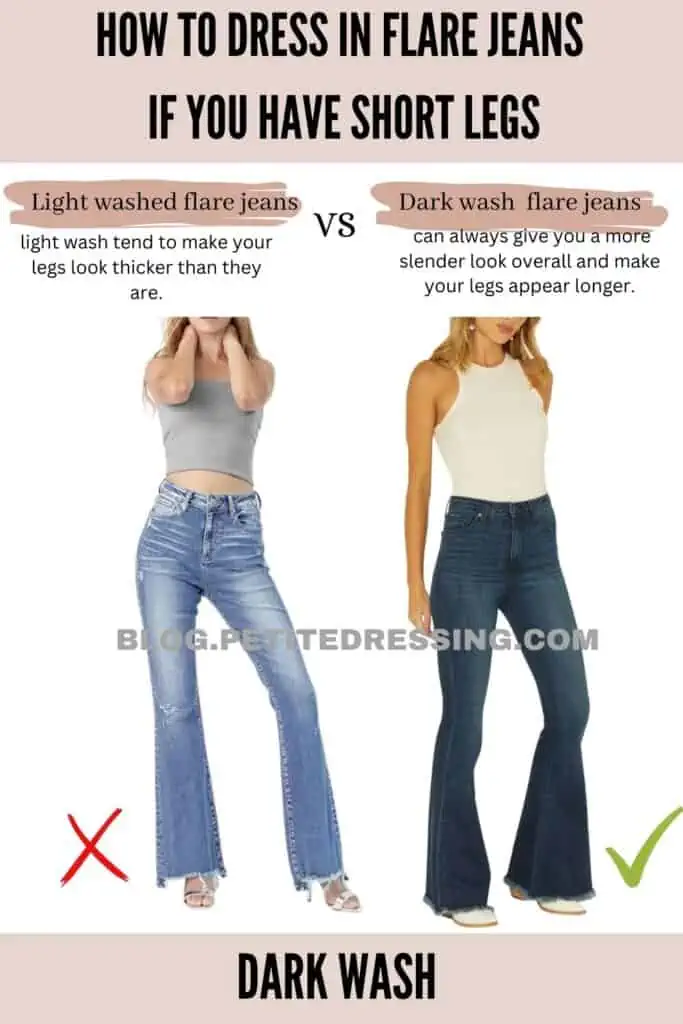 In general, it's best to choose dark washes and colors of denim. It goes without saying that anything with darker shades tend to look more slimming, and that is especially critical when you are choosing flare jeans.
If the flare jeans is light wash, they tend to make your legs look thicker than they are. Since flare jeans are quite fitted on your thighs, sometimes they can make you look heavier than you actually are.
Therefore, choose medium to darker shade of denim wash can always give you a more slender look overall and make your legs appear longer.
Caution with distressing
When it comes to the wash, another thing you may want to pay attention is to avoid anything with a lot of distressing and whiskering.
The reason is these things break up the leg line and can shorten it. One last factor relates to the flare shape but not just how wide it is, but rather where it begins on the leg.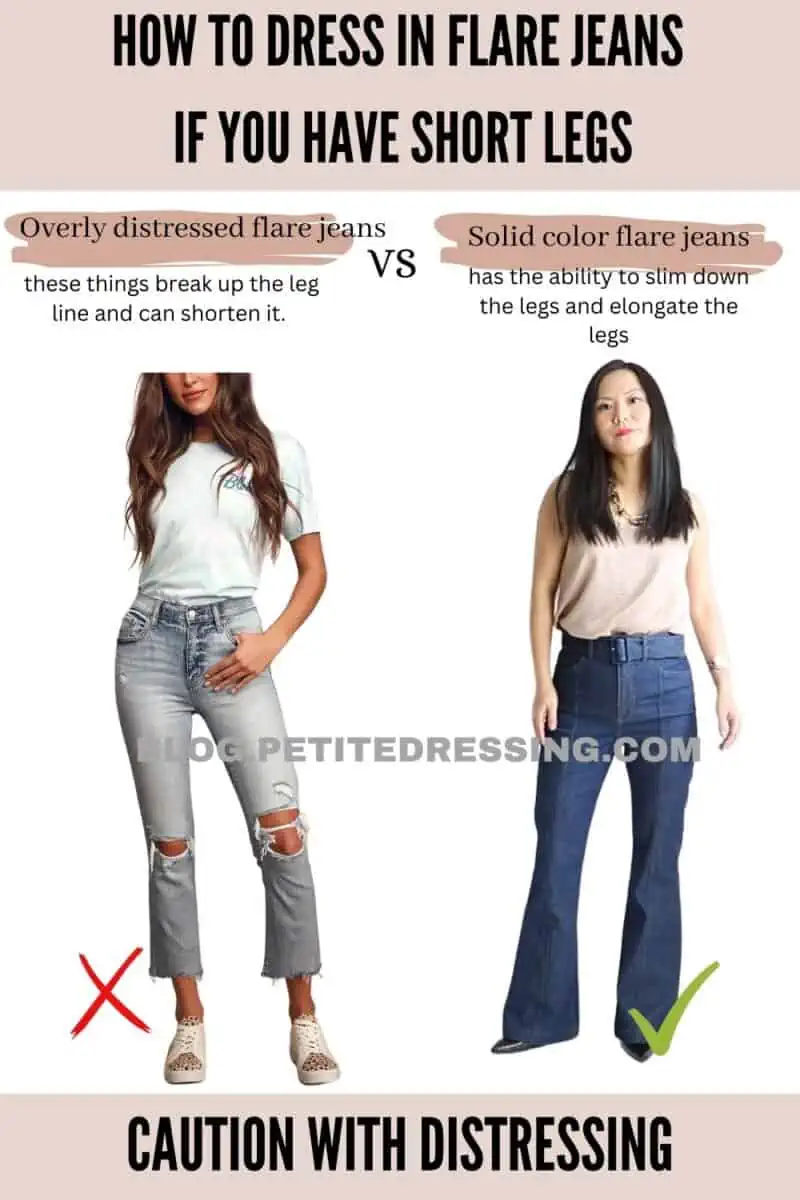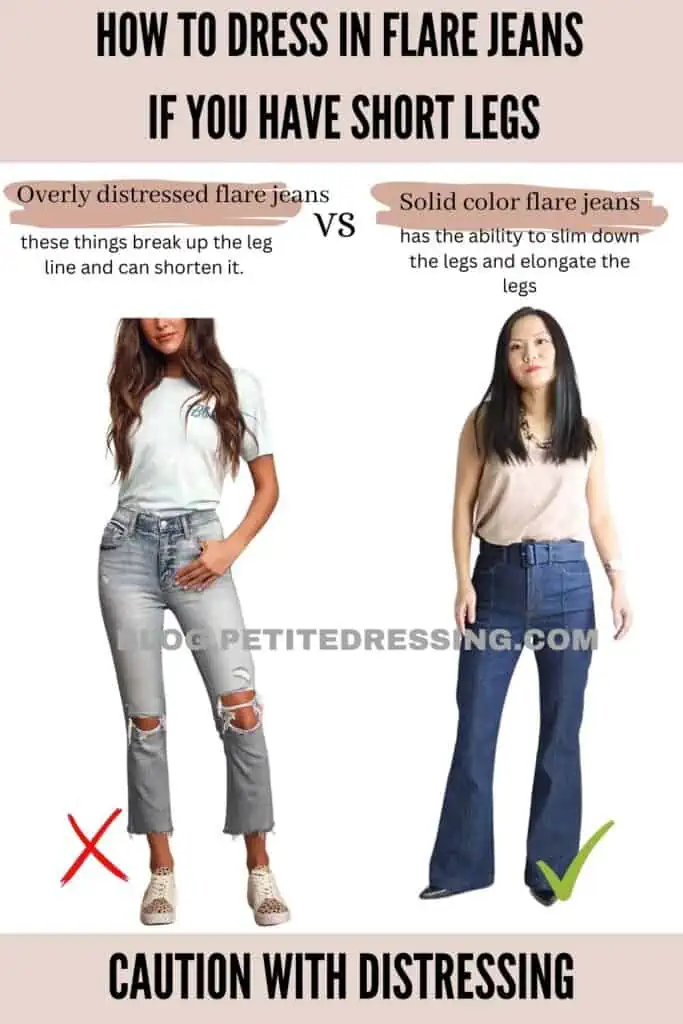 SHOE PAIRING
For many petite women appearing taller and leaner is a big focal point when selecting clothing. Even though flare jeans have been known for their ability to shorten the body, they can also do the opposite and create length, especially when you are pairing them with the right shoes.
As someone who is 5'2″, I cannot stress enough how important it is to choose the RIGHT style for your shoes when you. are wearing flare jeans.
Pumps
In general, anything with a slender toe shape is a good option to wear with flare jeans.
For that reason, pumps are one of the easiest shoes to pair with your bell bottoms.
Not only pumps have smaller toes, which can balance the wide hem of the jeans, but also the heels will elongate your legs.
Double win for petites!
Caution with sneakers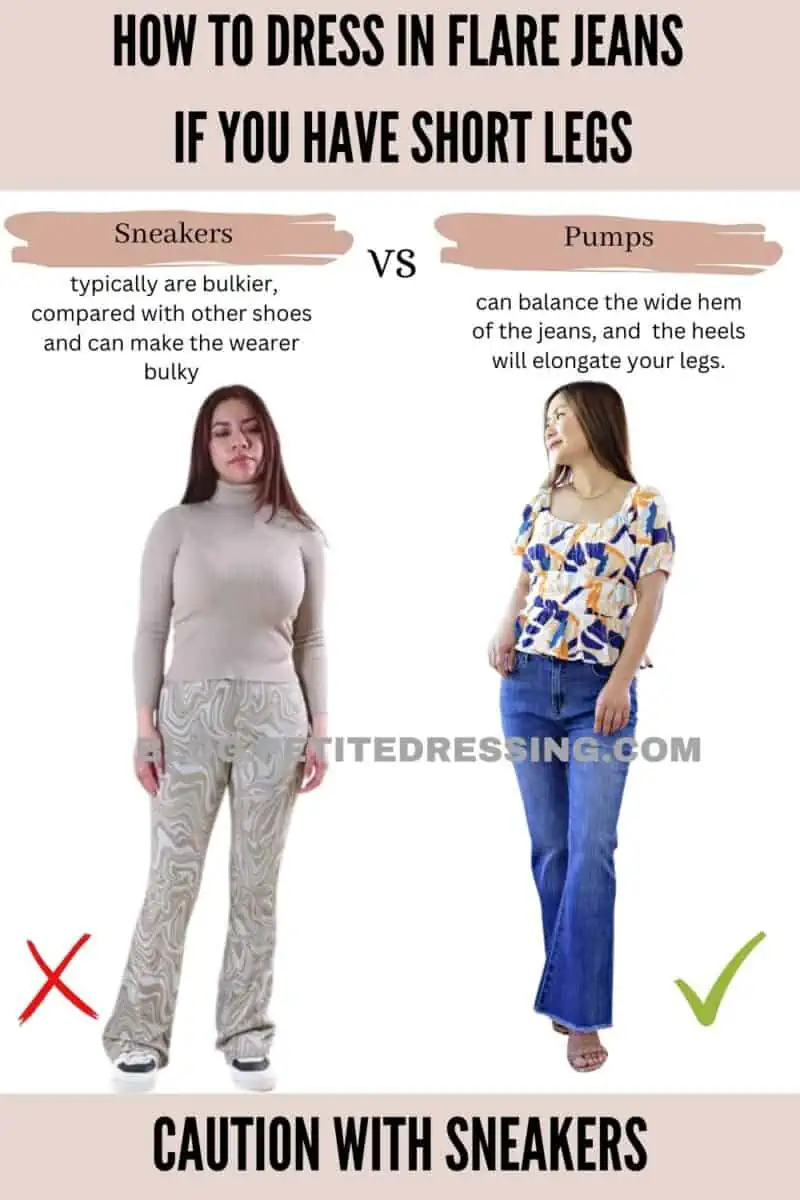 I know it is very tempting to want to wear your jeans with sneakers, but if your jeans are flare leg, you need to use caution.
The reason is sneakers typically are bulkier, compared with other shoes. Not only the toe shape is wider, but also they are overall heavier.
Because of that, when you pair them with bell bottoms, they can double the volume in your bottom heavy, and make you look bottom heavy.
If you are petite, you never want to be bottom heavy!