Flare jeans are a big trend right now, with so many trends from the past resurfacing. While they're on trend, it can be a difficult one to pull off when you are petite.
For many years petites have been told to avoid flare jeans and silhouette pants as they have often been known to look too overwhelming on shorter legs.
That being said, petite women can certainly wear flare jeans – and look really incredible doing so. If you find the right flare jeans and style them the right way, they can be the best jeans to make you look taller.
Here are some of the best tips to pulling off flare jeans as a petite woman.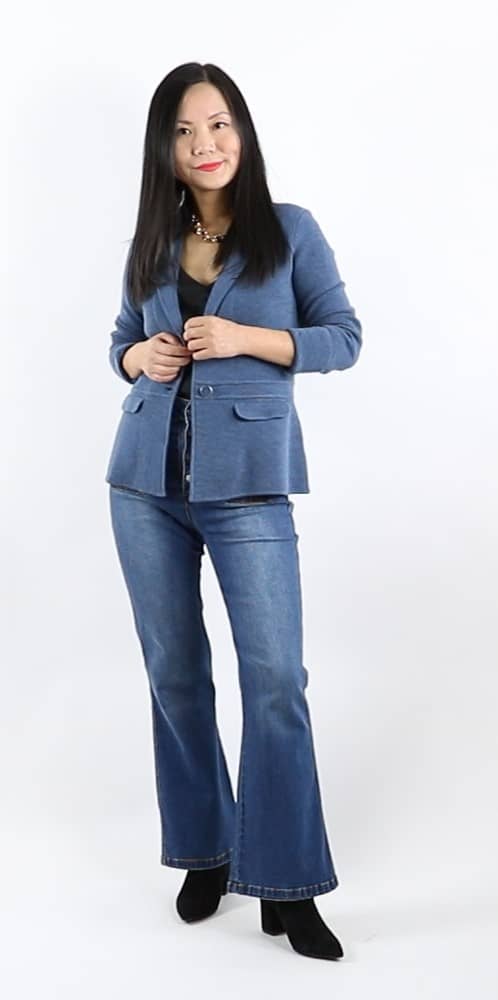 Should You Wear Flare Jeans if you are petite?
The short answer to this is YES.
Petite women can absolutely wear flare jeans, it's just a matter of taking a few things into consideration when opting for this silhouette.
It's no secret flare jeans can be a tad overwhelming on the body, especially if you're short.
However, like all other styles and trends in fashion, there are variations of flare jeans that are better suited when you're petite. Another quick tip to making flare jeans look more flattering when you're short is to simply add some high heels – a petite woman's best friend.
When you pair flare leg with even a little bit of kitten heels, you immediately get more leg lengthening effect!
What Makes Flare Jeans Flattering?
While flare jeans are known for their exaggerated shape, which is what deters many petites from wearing them, it can be an incredibly figure flattering shape to wear as long as it's done right. There are a few key things to keep in mind here.
One really good rule of thumb when looking at flare jeans is to ensure that the bottom "bell" shape isn't wider than your hips. This gives you the flared effect and can also create the illusion of longer legs – major win for petites. When flares are wider than your hips this is when they become too much and shorten already short legs. When flare jeans are balanced with your hip width they also aid in providing this overall balanced silhouette to your entire lower half of the body.
What to Look for in Flare Jeans if you're petite?
There are a few key factors to pay close attention to when selecting flare jeans that are flattering for a petite body. First up is to favor options that are in petite sizing. While hemming is always an option, petite sizing is catered to suit your sizing and makes finding a pair of jeans a whole lot easier.
Next, look for a pair of flare jeans that are either mid or high rise. Low rise pants, in general, aren't the most flattering for petites as they shorten the leg line. This is why mid-high rise is something to favor. By lifting the rise of the pants, even just a couple of inches, it lengthens the leg drastically and this is crucial for flare jeans as they CAN sometimes make legs look shorter. Which is why the rise plays such a vital role.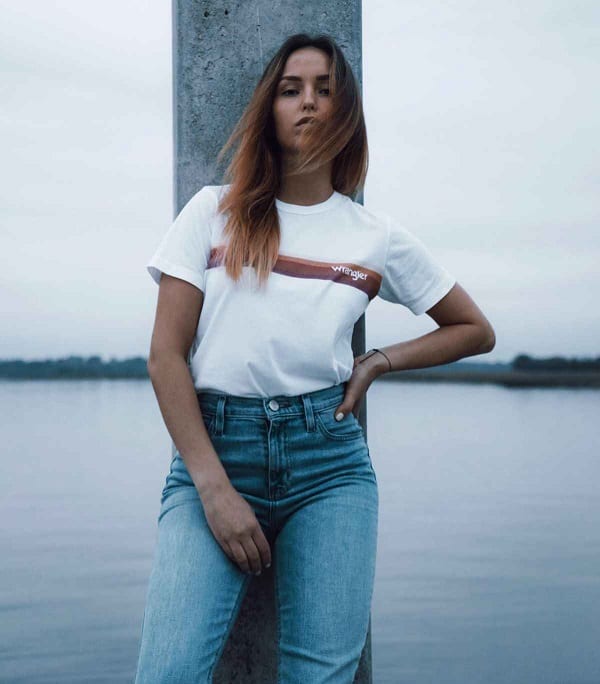 What is the best length for petite women?
Inseam length is always a struggle for petite women, regardless of the denim style. With flare jeans, however, it can be a little more complicated because you do want the length to be on the longer side.
The main rule of thumb for flare jeans is that they should cover MOST of your shoe, without the hem reaching all the way to the floor (which can cause them to drag when walking).
This means when trying on flare jeans, it's important to bring the shoes you plan to wear with them most often, it will give you a much better sense of the length and if any additional hemming is necessary.
Now, if you do need to get some hemming done to the flare jeans, you're going to want to bring those shoes along with you there as well. Because the perfect length is SO important with flare jeans, being prepared is necessary.
How to Look Taller and Leaner in Flare Jeans?
For many petite women appearing taller and leaner is a big focal point when selecting clothing. Even though flare jeans have been known for their ability to shorten the body, they can also do the opposite and create length.
The two main factors that play a role in looking taller and leaner are
First, the length (perfect length tip above)
Second, selecting the proper width of the flare (also found above for more detail).
There are of course a couple of other key components that can help lengthen your shape with this style of denim.
Another being to choose dark washes and colors of denim, avoiding anything with a lot of distressing and whiskering as these things break up the leg line and can shorten it. One last factor relates to the flare shape but not just how wide it is, but rather where it begins on the leg.
As a petite woman you'll want to focus on flare jeans where the flare shape begins right at the knee – this is something that can be a little more difficult for petite women but it's certainly not impossible. The reason this placement is so crucial is because if the flare shape begins higher or lower than the knee it will make your legs look shorter and wider.
What to do if flare jeans don't fit?
It's not uncommon for petite women to struggle with pants fitting perfect right off the rack. Because fit is such a crucial element of flare jeans appearing flattering on the body, spending some extra time focusing on fit is going to pay off in a big way.
That being said, if they don't fit you it's time to take them to get some alterations done – if the fit problems are able to fixed by a quick alteration that is. Things like the hem and waist width are easy fixes for a tailor, for example. Now if the fit is WAY off you may want to find another pair altogether to reap the benefits of the flare jean in your wardrobe.
Not All Flare Jeans Suit Petite Women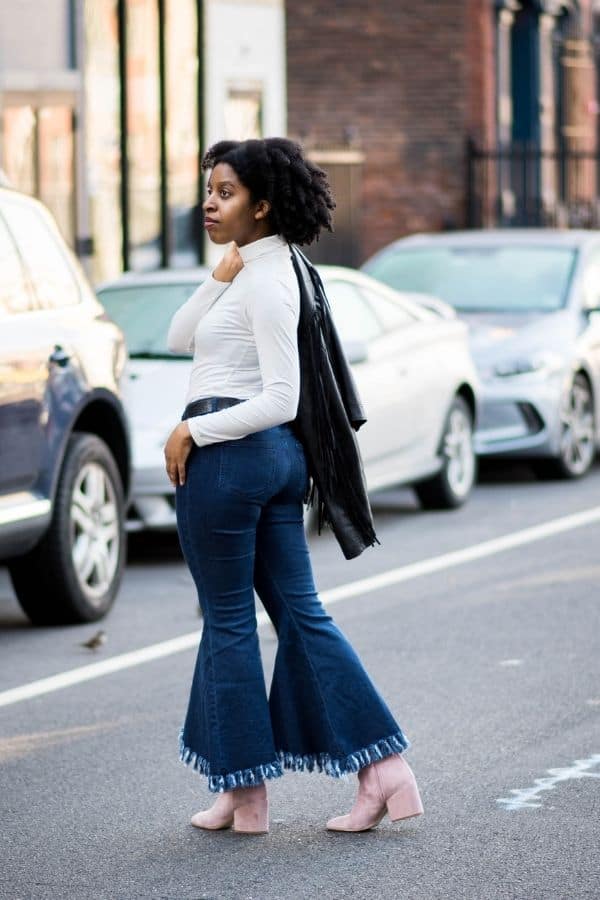 This may go without saying at this point, but not every pair of flare jeans you put on are going to look flattering. Very exaggerated flares, anything that's very loose in fit, and light wash options are best to be avoided for petites. Otherwise, just keep the previous tips mentioned in mind and you're sure to find a pair of flare jeans that look incredible.