If you are an hourglass shape woman with short legs, you are blessed with beautiful curves but you may have noticed not everything looks equally good on you. Being a short woman myself (I'm 5'2″), I understand it can be a challenge to find the right style when you have shorter legs. That is why I've put together this detailed guide to walk you through everything you need to know as a short hourglass figure.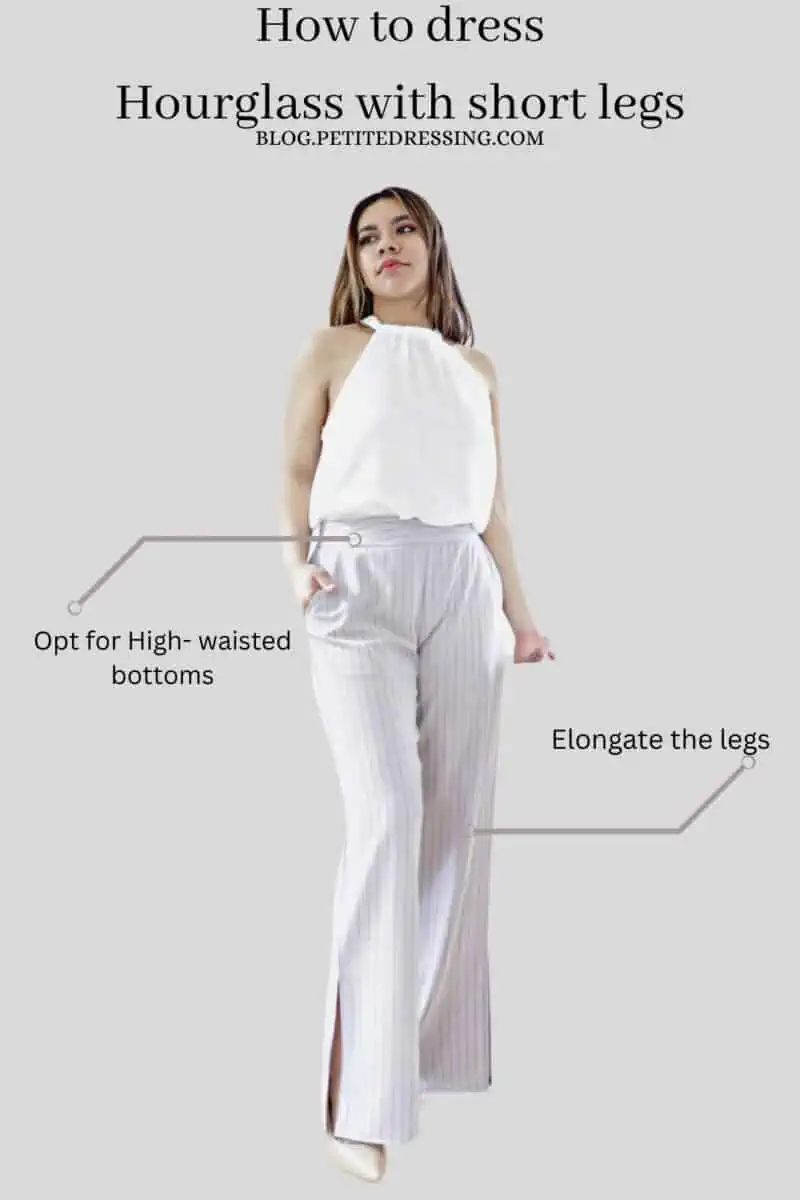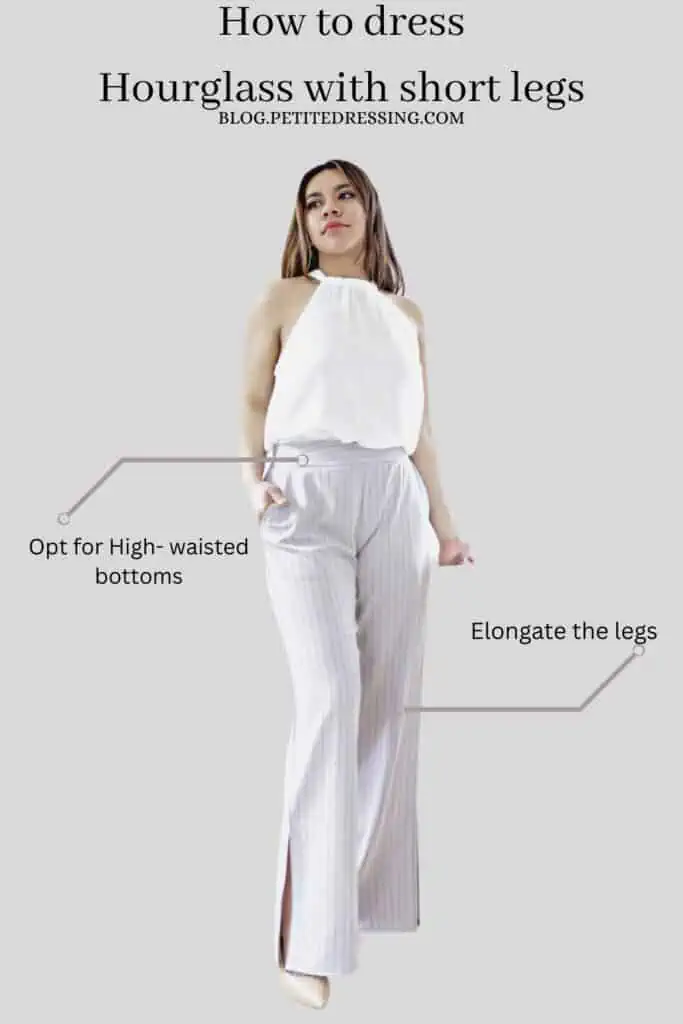 Define your waist
Having an hourglass body shape is something you should definitely flaunt and one of the best ways to fully bring out the beauty of your figure is to cinch your waist. Your best asset is having a very curvy and narrow waistline so defining it will enhance your features even more.
Other than the fact that defining your waist helps enhance and bring balance to your hourglass figure, it's also very helpful in making you appear taller. Cinching your waist instantly creates the illusion of height by visually elongating your legs.
You can do so by going for belts, waist ties, or streamlined seams that nip in the waist for added definition. Just remember to always consider the right tightness of the cinch to ensure comfort and avoid unflattering creases around the midsection area.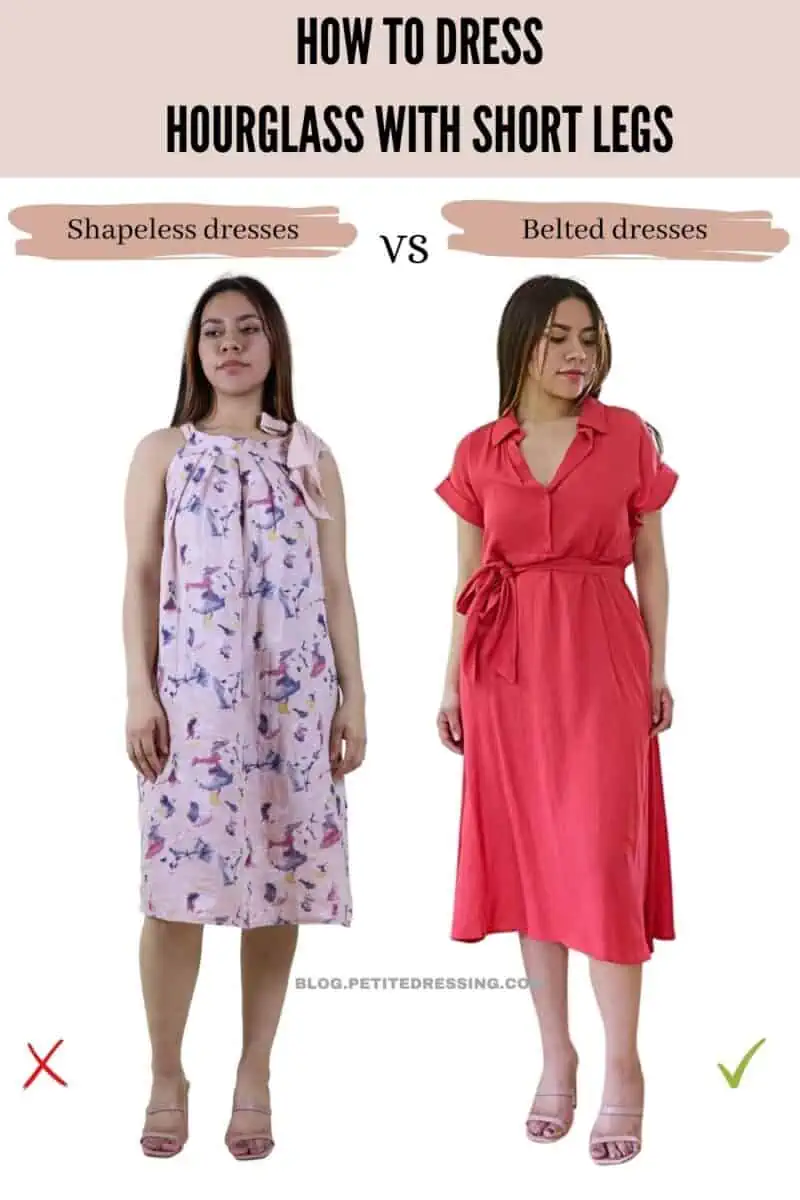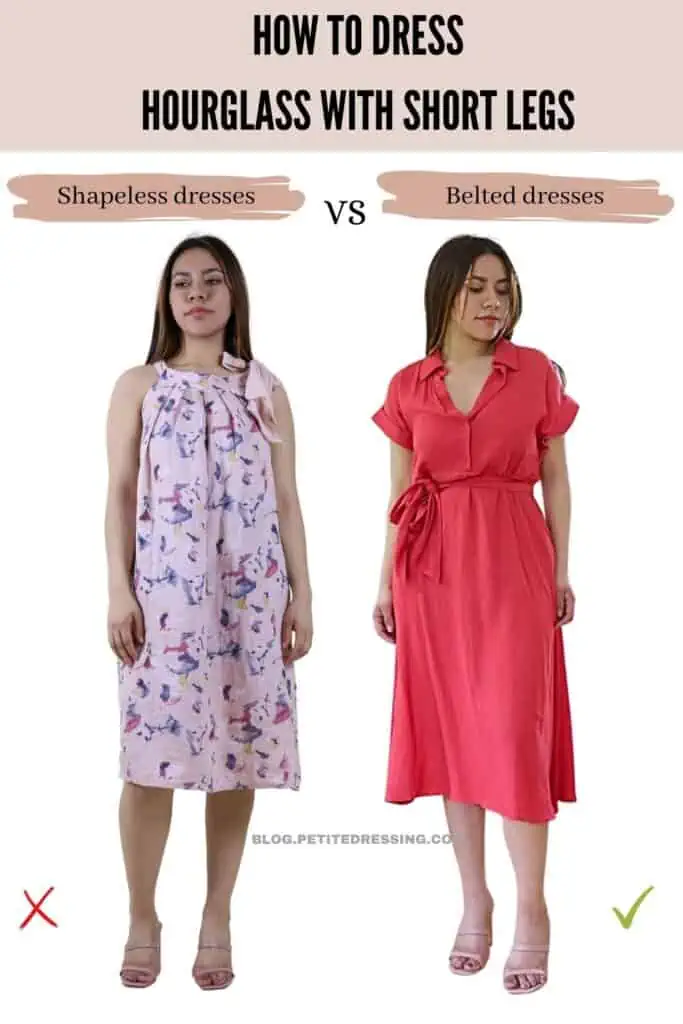 Wear High-waisted Bottoms
High-waisted bottoms perfectly accentuate the waist as the high waistband draws attention to your best feature. They emphasize the narrowest part of the body by having your bottoms sit slightly higher than your natural waistline.
The structure of high-waisted bottoms can absolutely enhance your beautiful hourglass silhouette and showcase your curves! They are also quite helpful in extending the length of your legs to visually make you look leaner and taller.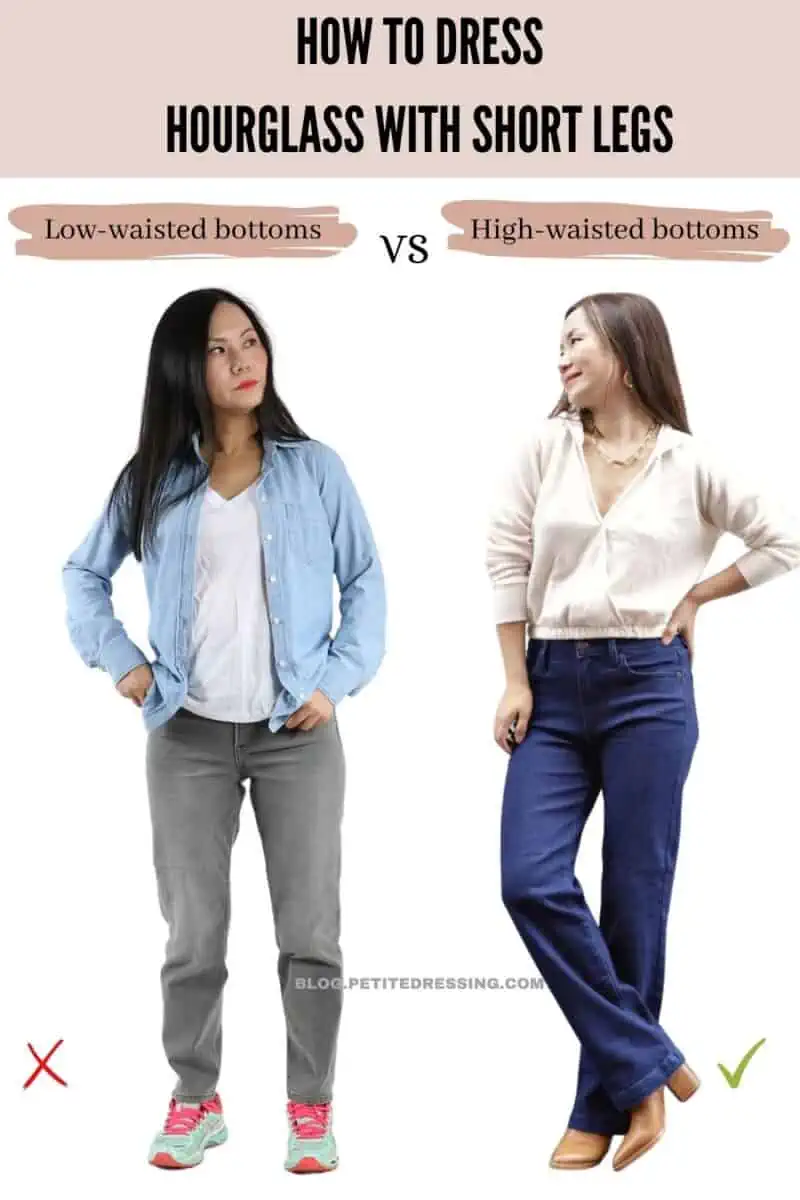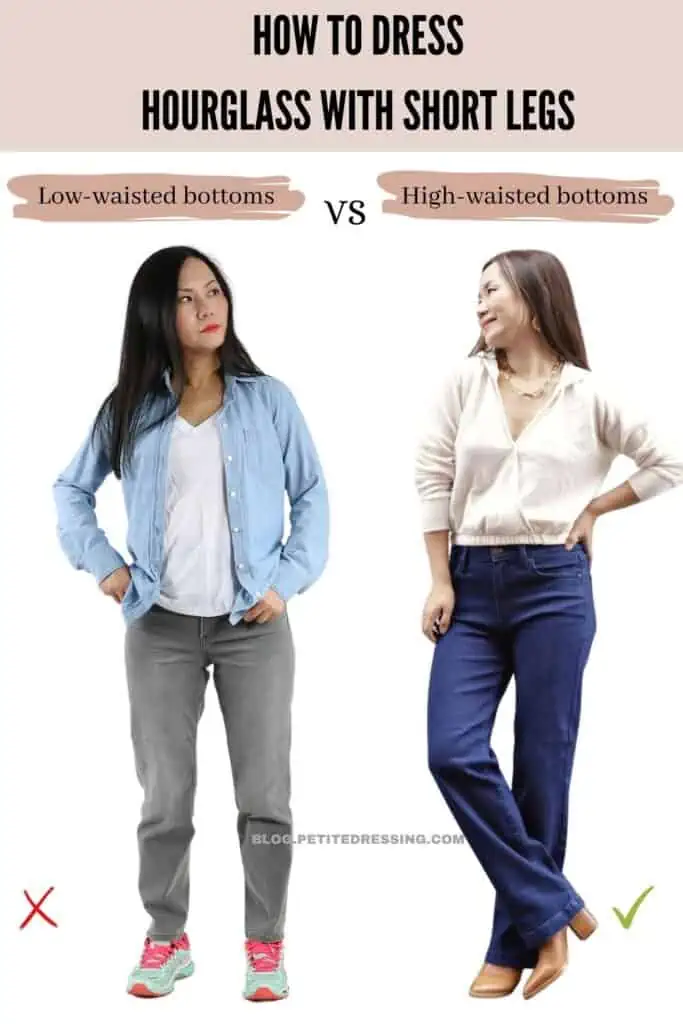 Go for Plain Crop Tops
Plain crop tops can create the illusion of longer legs especially when you pair them with high-waisted bottoms. This flattering ensemble visually raises the waistline to make your legs appear longer and significantly elongated.
But you may be wondering, why go for plain ones rather than those with dramatic details? Well, that's because your hourglass body shape, most particularly your full bust shape is already a masterpiece on its own and you wouldn't want too many details concealing these curves!
Of course, you are free to explore more designs for your crop tops but just try to go for minimal ones. Avoid those with bulky embellishments or huge prints as they can make your top look heavier than your bottom.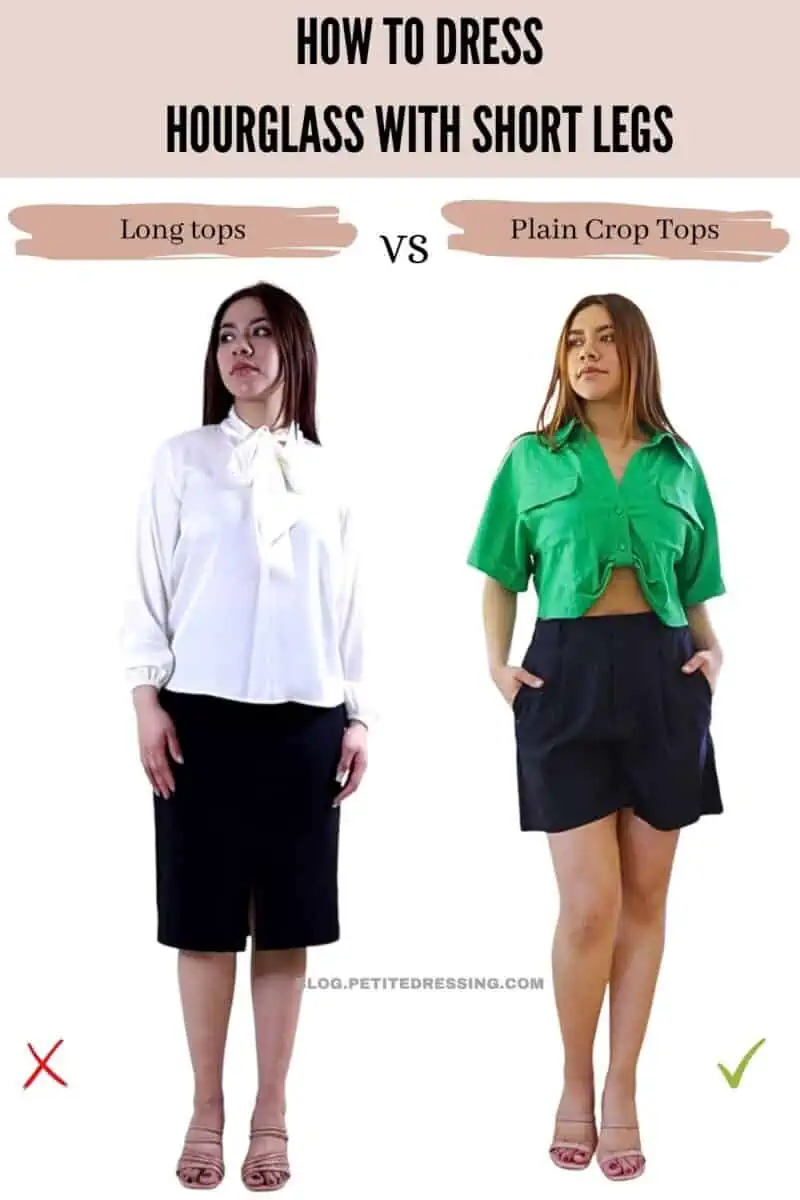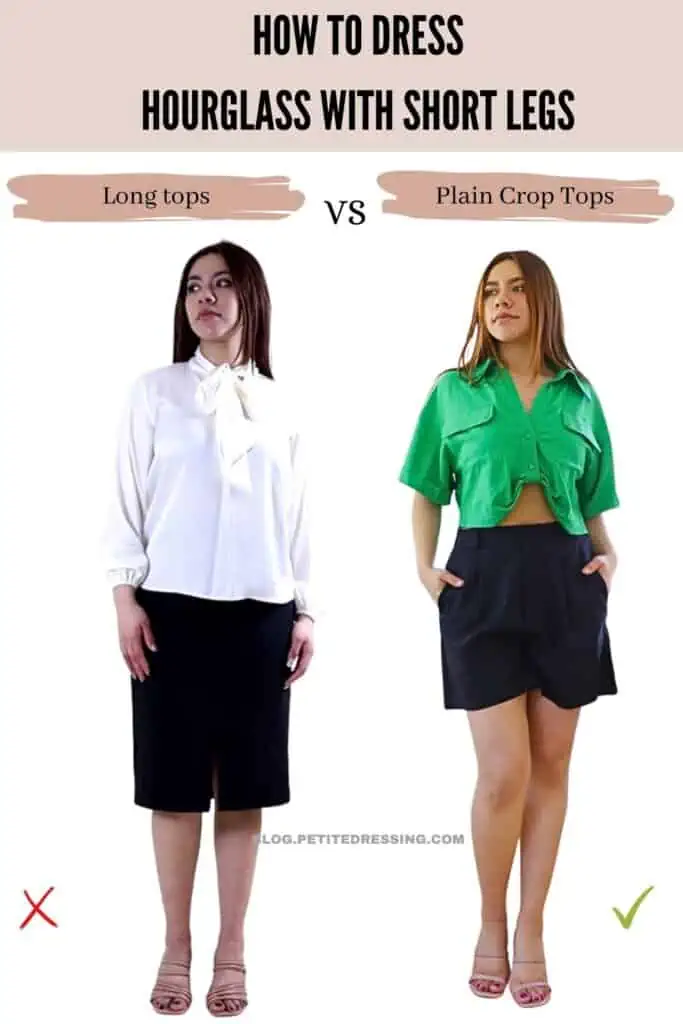 Wear Form-fitting Clothes
Form-fitting clothes don't necessarily mean "tight-fitting". It's more about choosing clothes that give your hourglass body a snug fit without looking too tight or too loose.
Going for form-fitting clothes is one of the best ways to showcase your natural curves without being too overwhelming. By wearing clothes that feature a flattering fit and streamlined seams, you are putting all the attention to your body shape and subtly detracting it from your short height.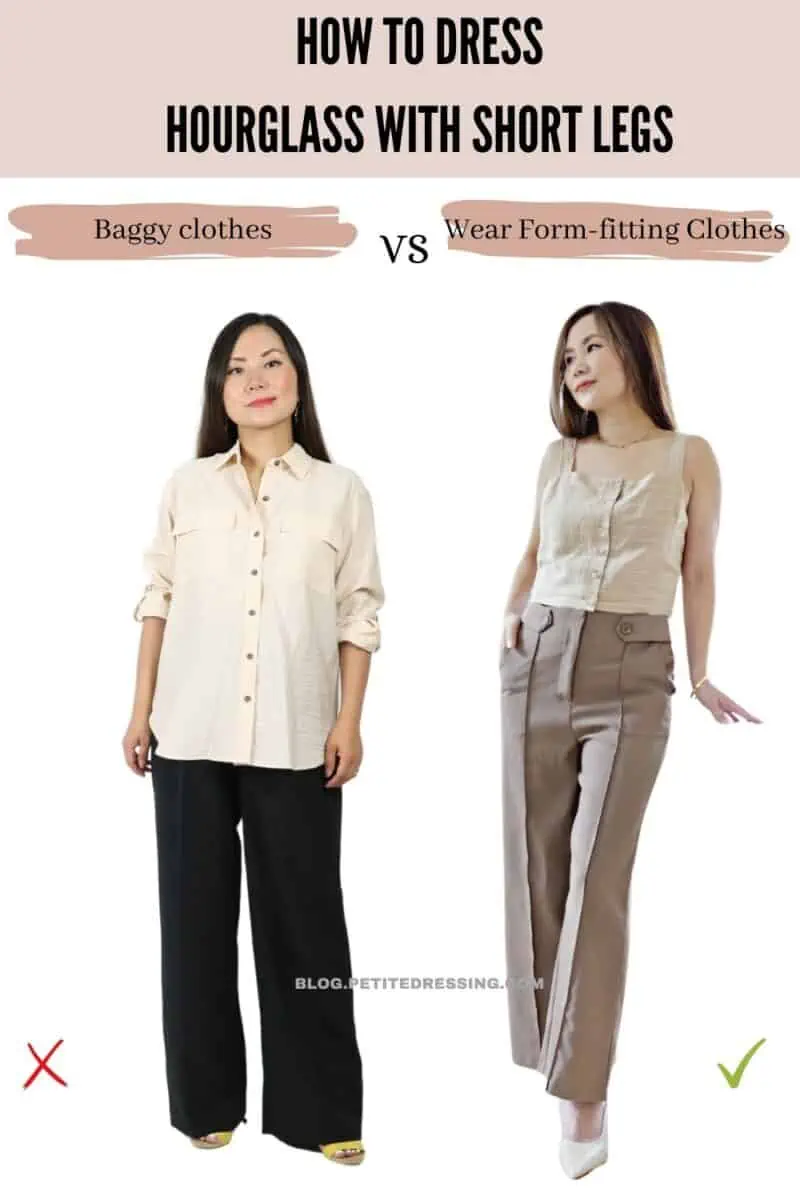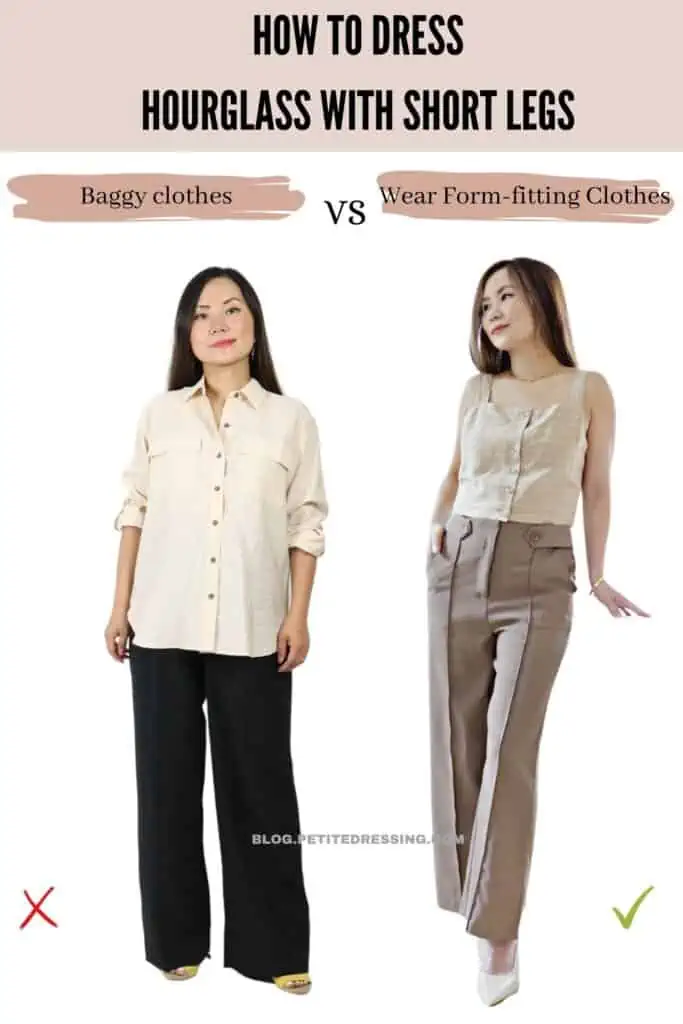 Wear Monochromatic Ensembles
Having the colors of your tops and bottoms uniformed gives your overall figure a sense of continuity. By wearing monochromatic ensembles, you are highlighting your natural curves while also drawing your visual line from top to bottom without interruption.
This visual effect gives you a more streamlined and taller look because your monochromatic outfits don't cause a horizontal break in your silhouette. If you're worried about monochromatic ensembles looking quite mundane, then there's a good way to do it without losing your depth.
It is to wear a complete ensemble in the same neutral palette – meaning, you don't really have to wear the exact same color from head to toe! As long as they are in the same scheme of shade, then you can also get the same elongating and flattering effect.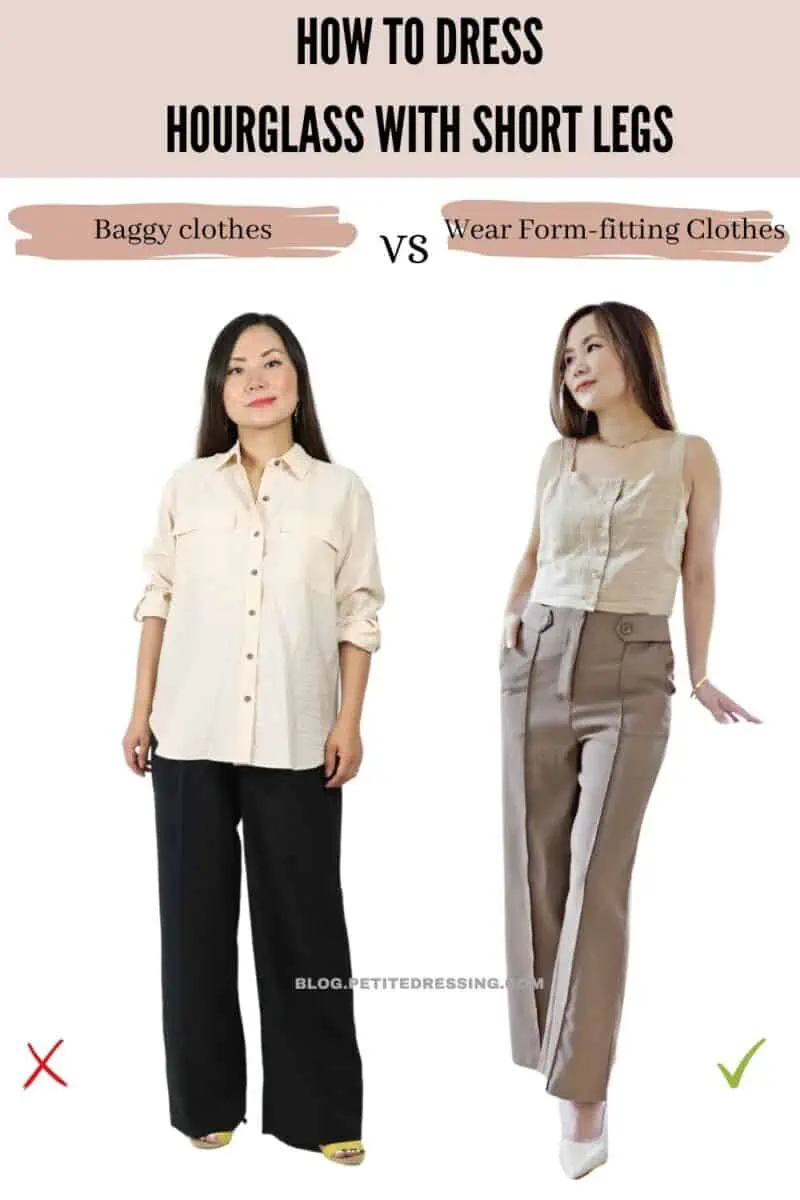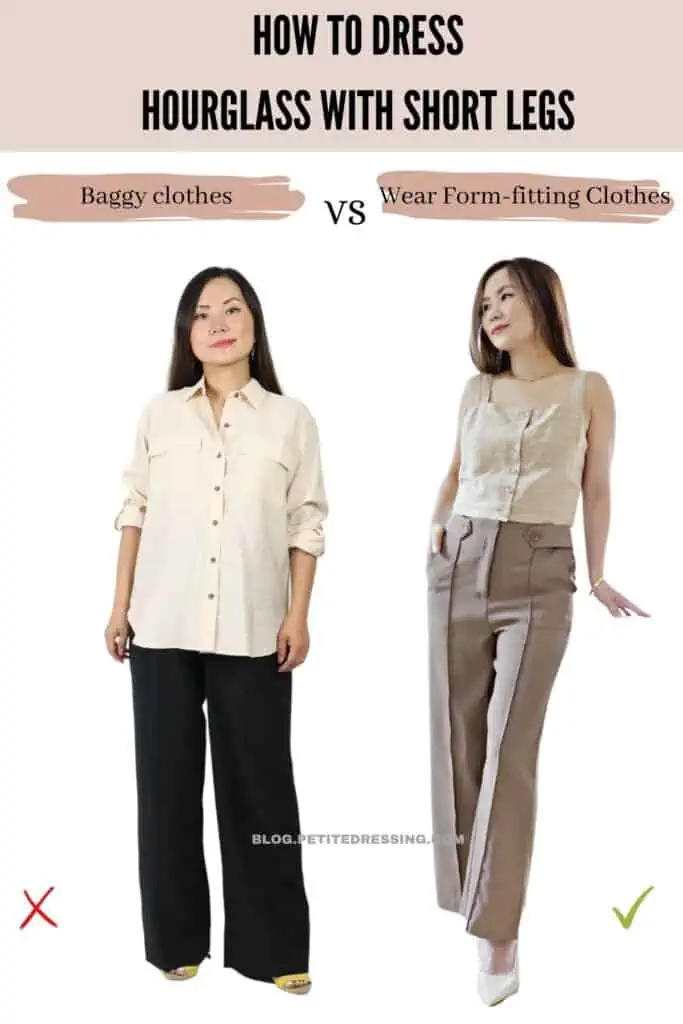 Wear Bootcut/Flare Jeans
Bootcut and flare jeans will always be a short girl's wardrobe staple! But they look even better when worn by a short girl with an hourglass body shape.
The structure of bootcut and flare jeans features a snug fit on the hips and thighs while gradually flaring out from the knee downwards. This line enhances your natural curves and maintains the balance between your upper and lower body.
This also elongates the legs as the flare seamlessly leads the eyes until the hem of the pants. So if you're feeling a bit retro, here's your sign to wear them!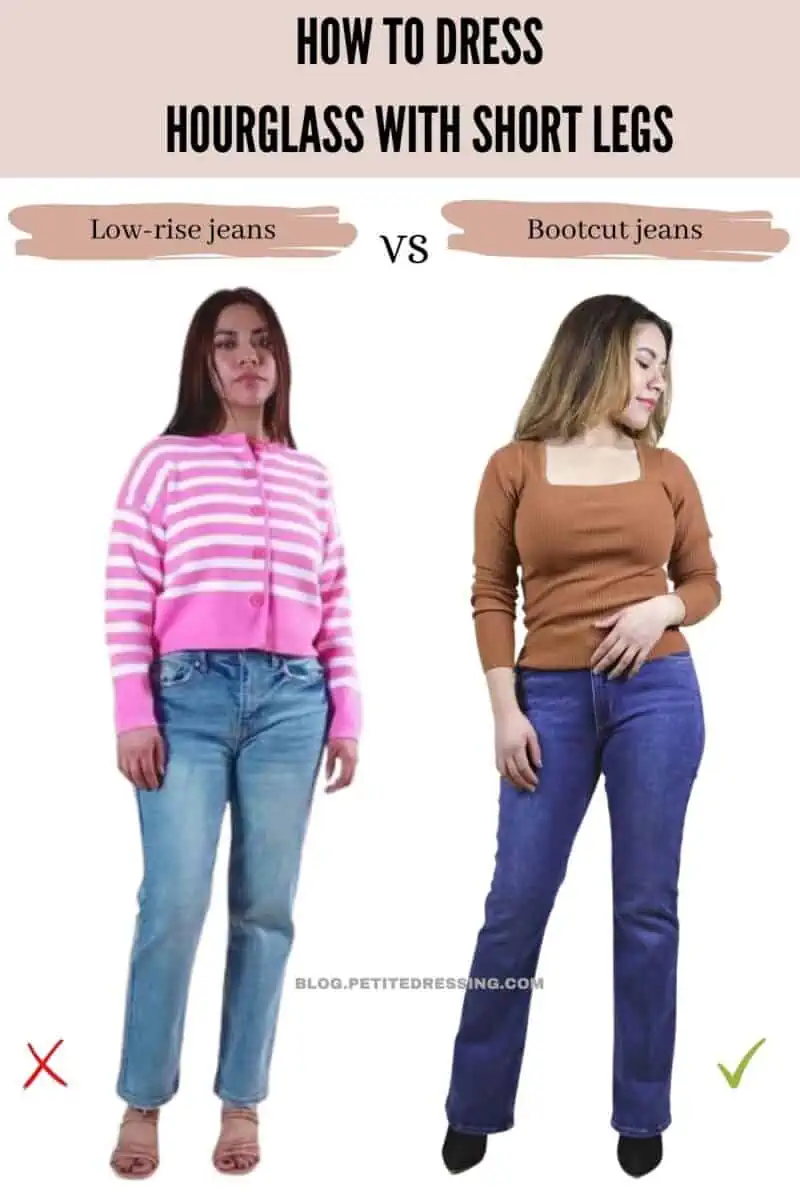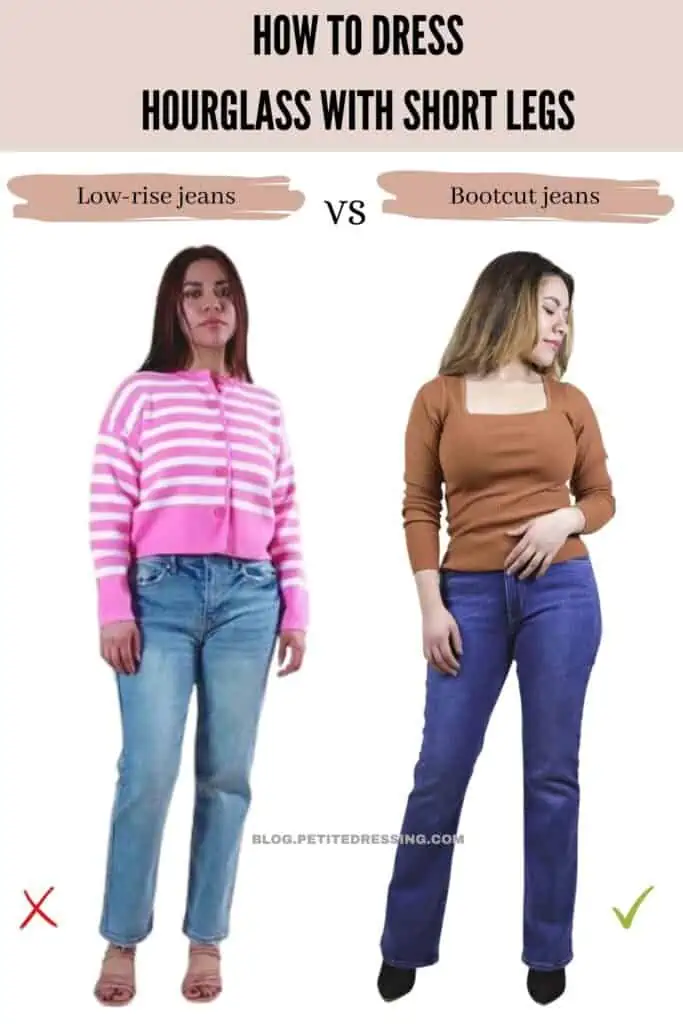 Go for Deep V-Necklines
Hourglass shapes have fantastic-looking bust lines so this is something you should always enhance when choosing your clothes. One good way to draw the focal point to your upper half is by donning deep V-neck tops or dresses.
Additionally, deep V-necklines draw the eye vertically down the body for an added sense of visual elongation. This vertical line helps to lengthen your frame and detract attention from the fact that you have short legs.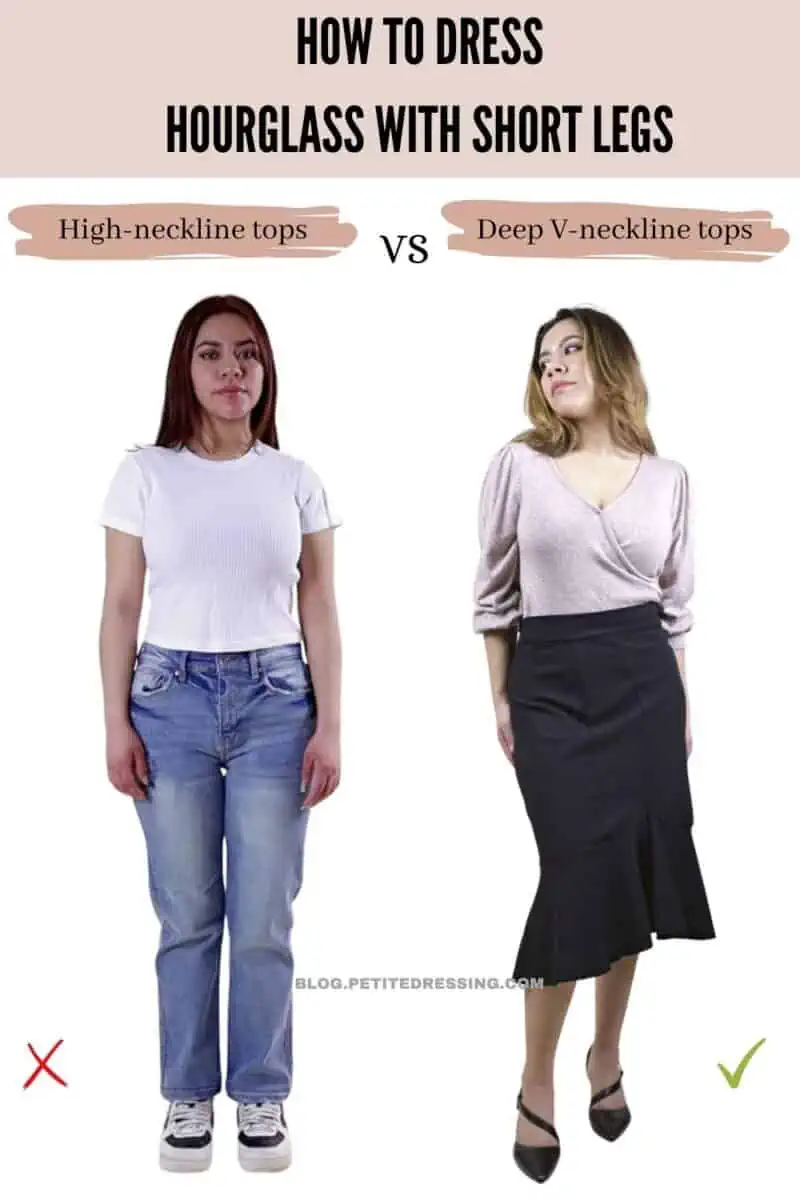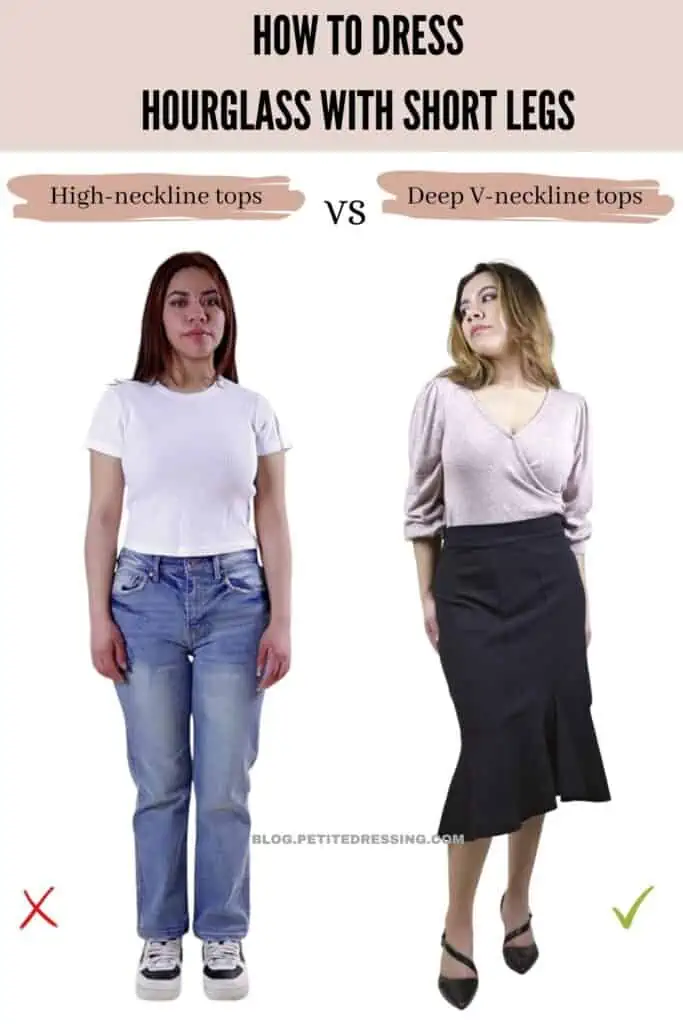 Wear Bottoms with Vertical Details
This can be in the form of vertical prints or pleats such as skirts with electric pleats or trousers with subtle pinstripe details. Basically, vertical details instantly create an illusion of height as it helps draw the eyes up and down without interruption.
Since your short legs are the ones you'd like to work around with, you should consider bottoms with vertical features to make your legs look longer. This is while maintaining your hourglass body's natural curves.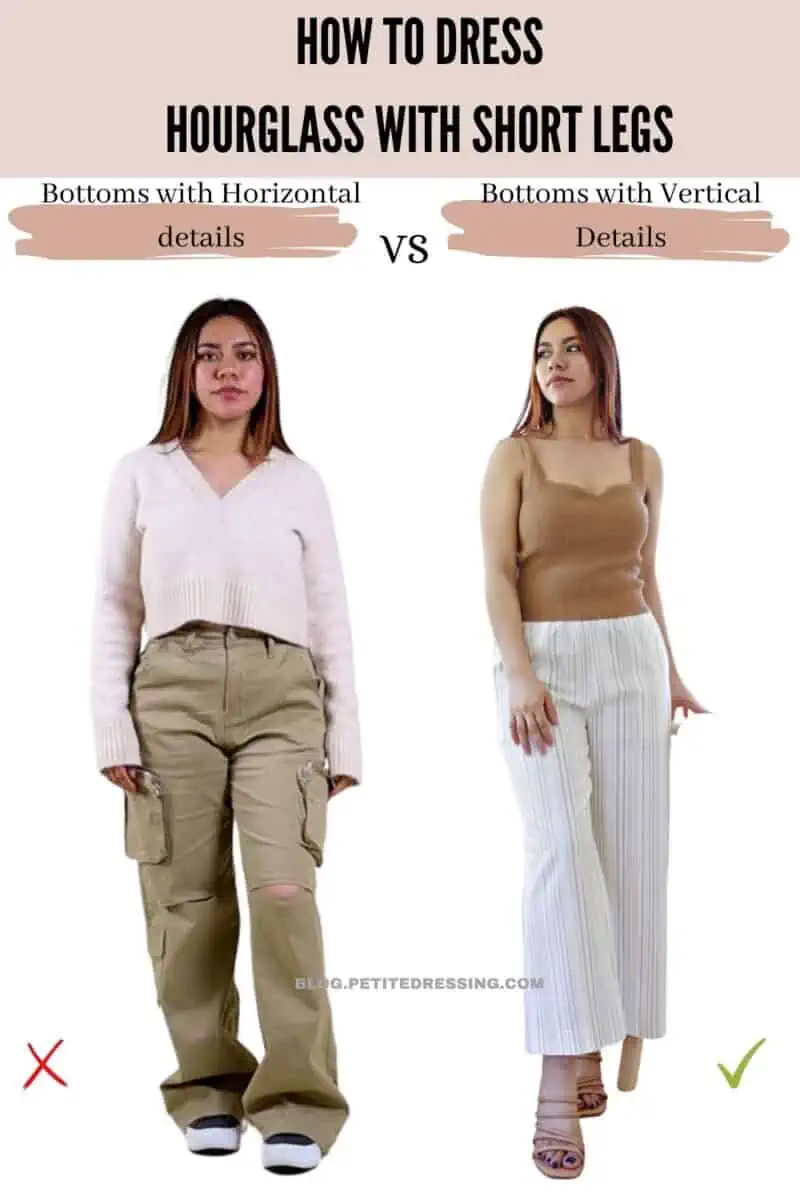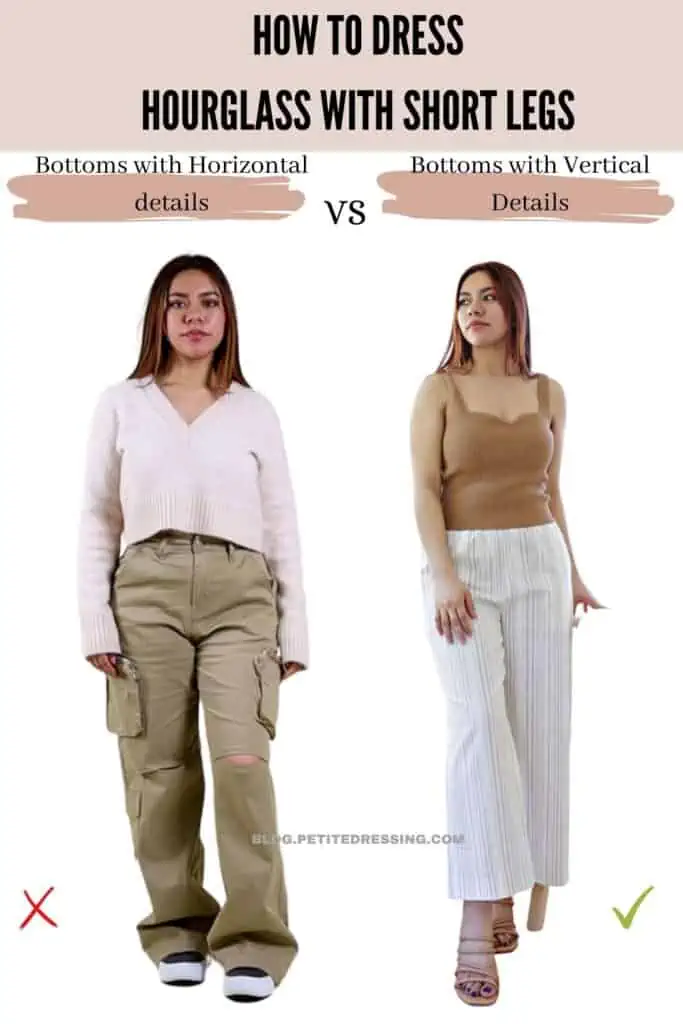 Wear Fit and Flare Dresses
Fit and flare dresses are almost a foolproof choice for ladies with short legs! This can be particularly flattering when you rock a naturally balanced hourglass shape.
The fitted bodice of the dress accentuates your waistline, which is one of the key features of your hourglass figure. They create a beautifully defined waist which enhances your curves and creates a balanced silhouette.
Additionally, the flared skirt of the dress provides additional volume and movement to help create the illusion of longer legs. As the skirt flares out from the waist, it creates a sense of elongation to make your legs appear longer and therefore make you look taller than you actually are.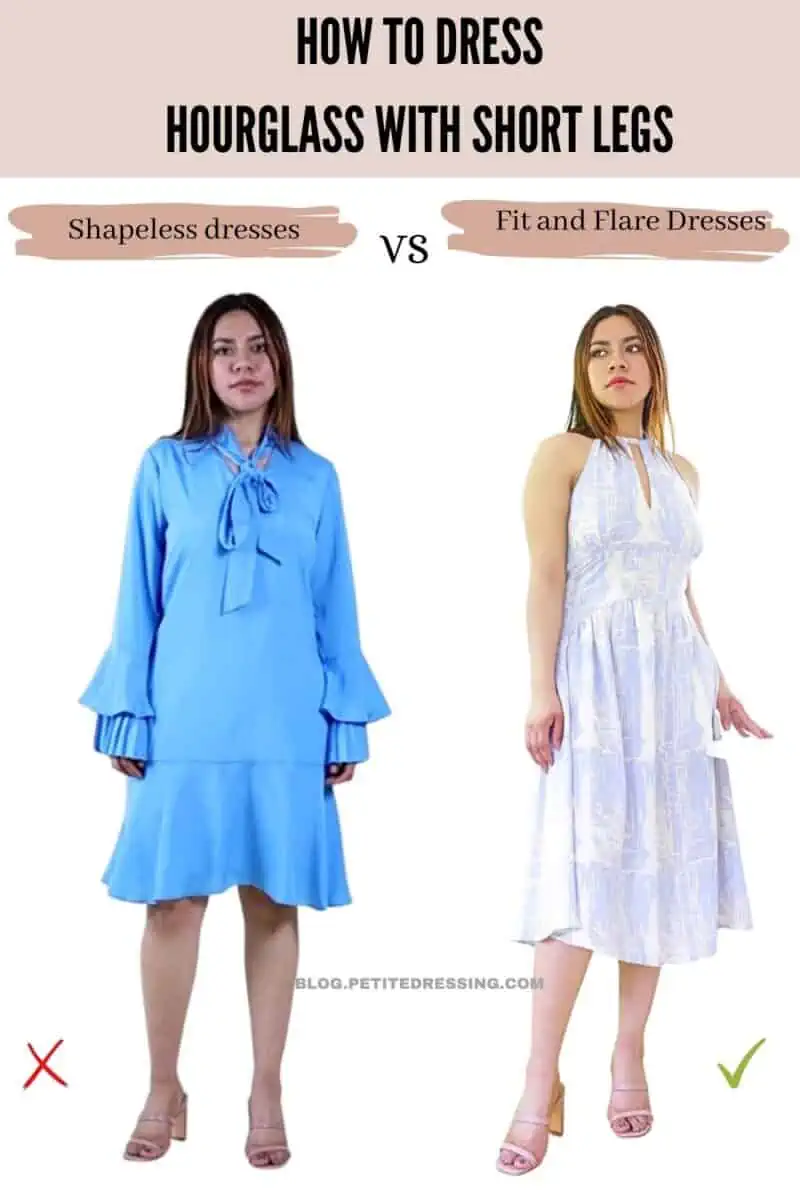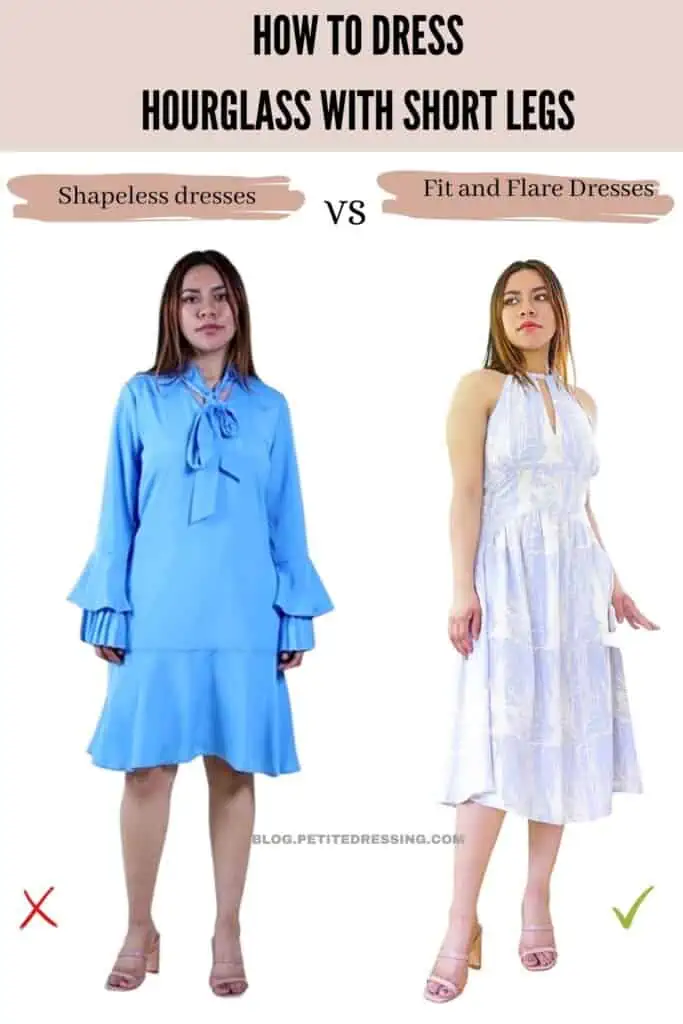 Consider Slits on Dresses and Skirts
Just like what I mentioned earlier, vertical details are quite beneficial for ladies with short legs. This is why slits on dresses or skirts are also very flattering for you because they create vertical lines that visually elongate the body.
These slits add verticality both to your figure and outfit. This visual effect helps neutralize the shorter leg length and create a more proportionate look.
Slits also reveal a glimpse of the leg or thigh, which can be an effective way to highlight the natural curves of your hourglass body. This perfectly showcases the feminine and attractive qualities of your figure.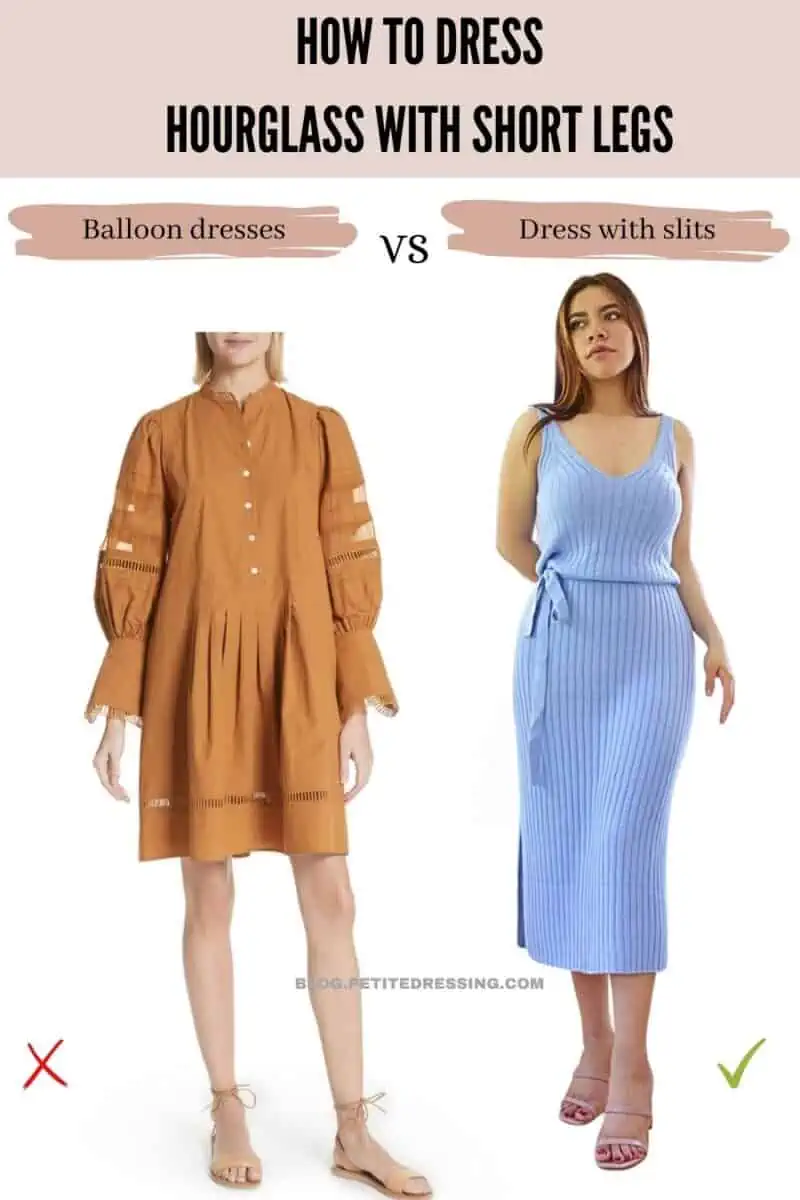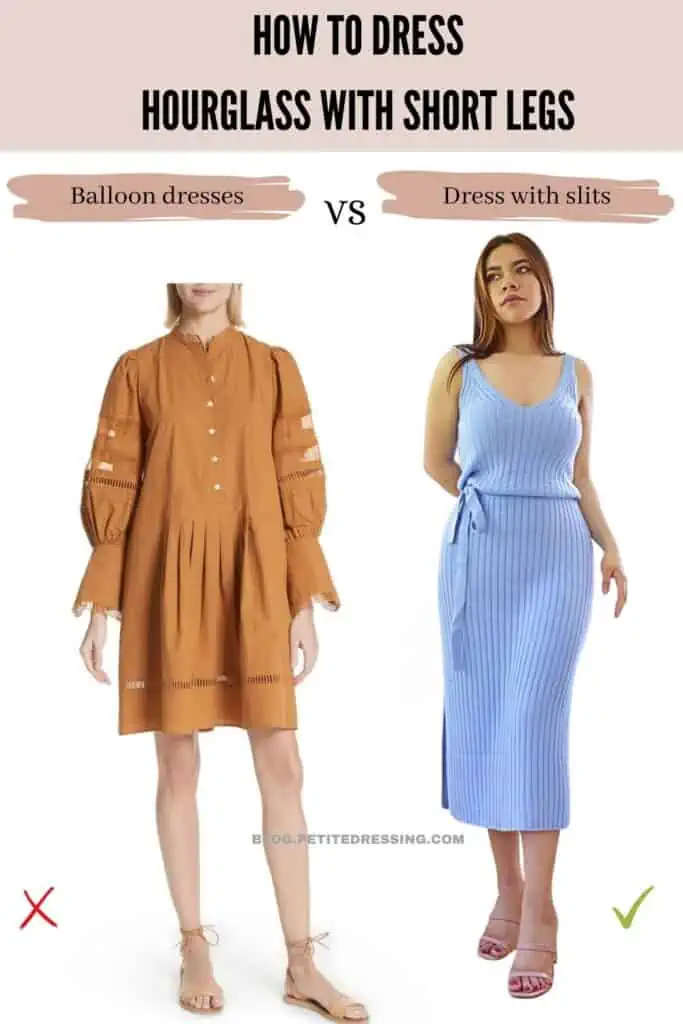 Wear Pointy Toe Shoes
Pointed shoes visually add length to your overall look, most particularly your legs. In addition to this, skin-tone shoes create the illusion of more elongated legs as they seamlessly blend with the natural color of your skin.
With skin-tone-colored shoes, you don't have to worry about creating an unflattering harsh contrast between your complexion and shoe color. Because this break can immediately take some centimeters of your height!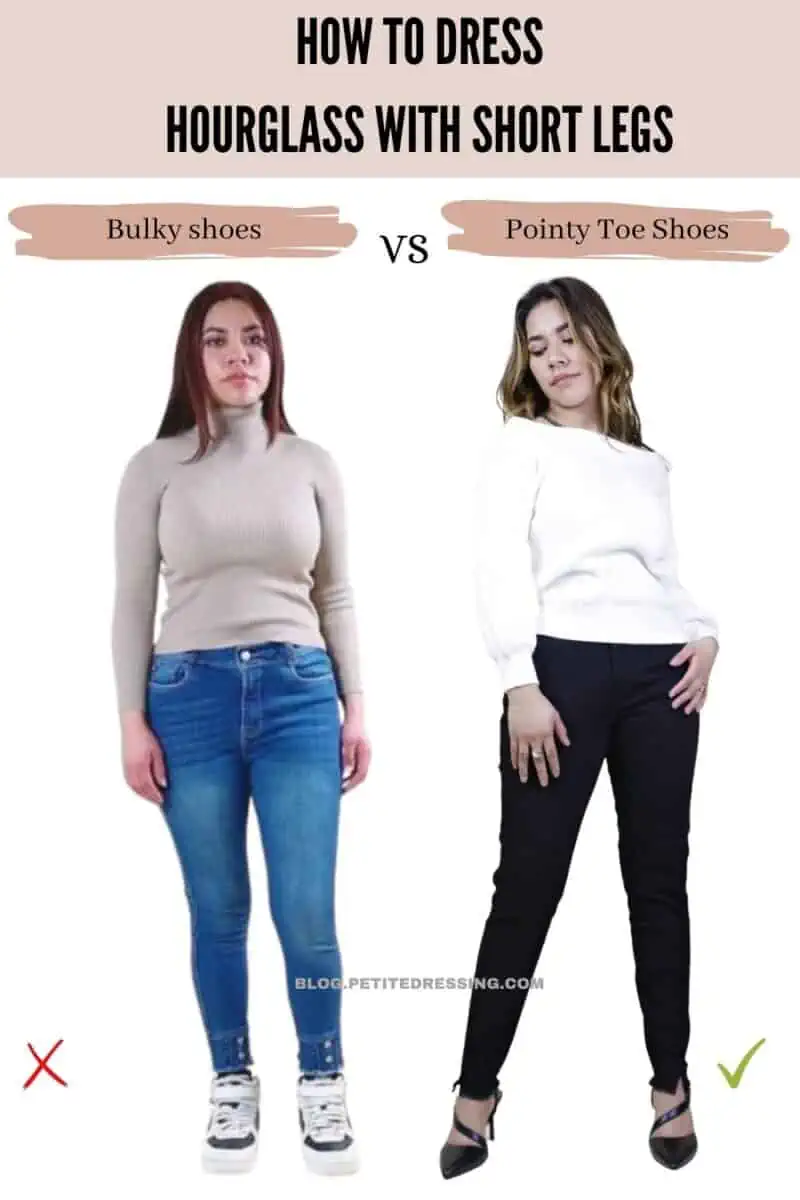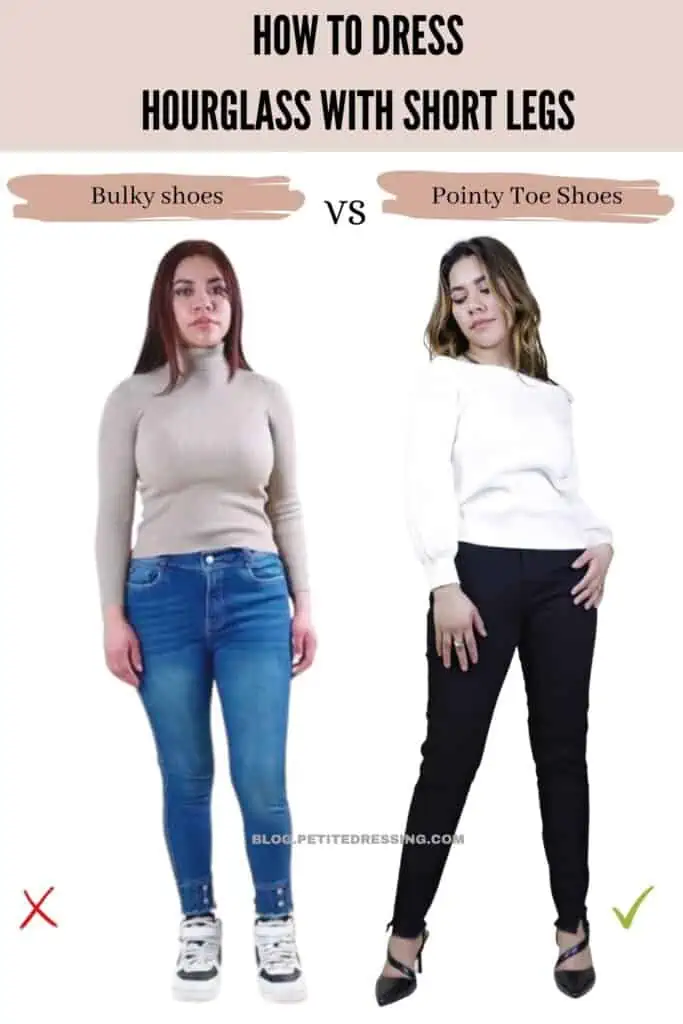 Avoid Voluminous Fabrics
As someone with an hourglass figure, you already have a pronounced upper and lower body in perfect proportion. The worst thing you can do is overwhelm your naturally gorgeous curves with so much bulk and volume!
This is why you need to stay away from large flounces of fabric or dramatic embellishments because they will only disrupt your figure's natural balance.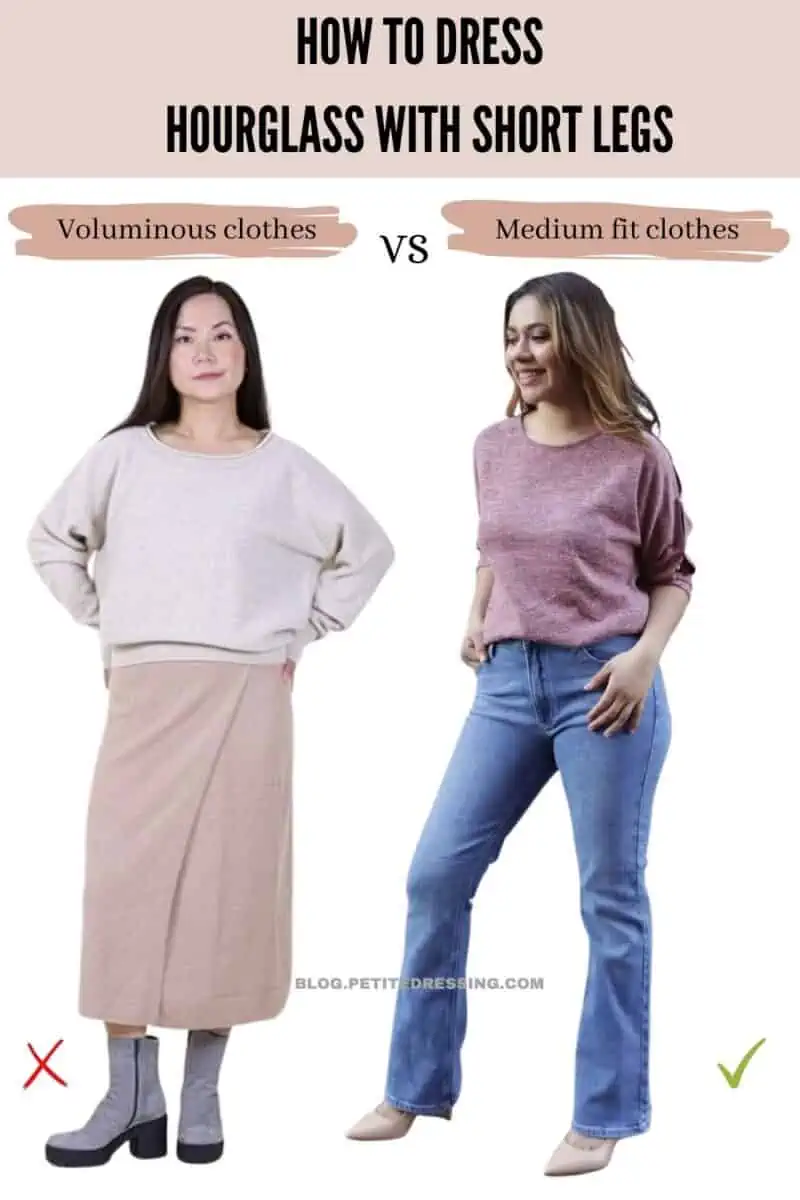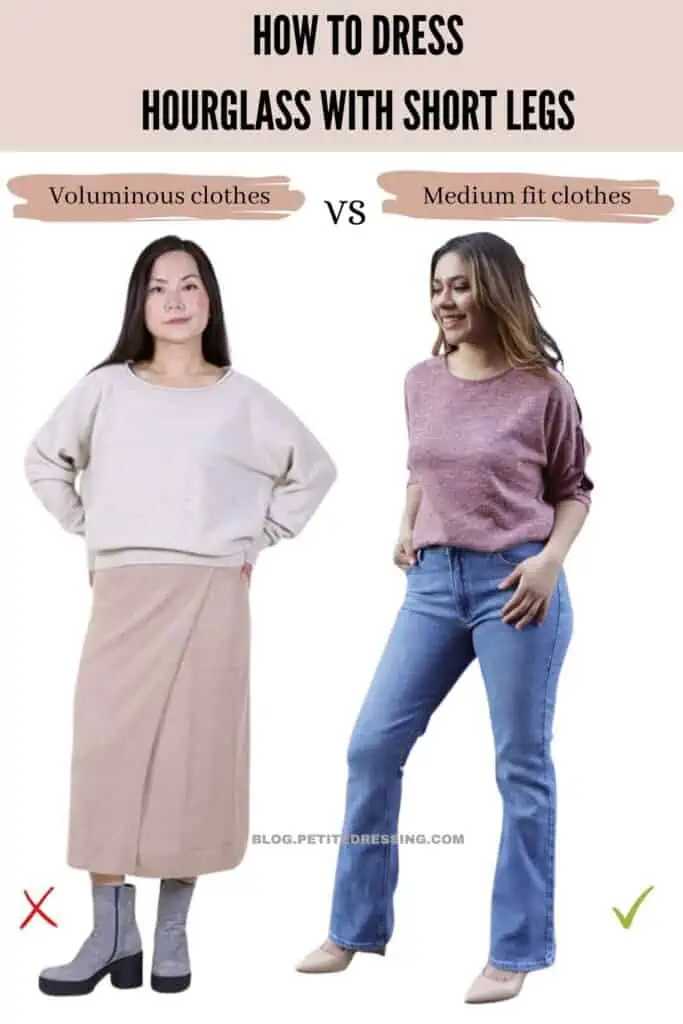 Avoid Ankle Straps
Have you ever wondered why certain sandals, particularly ones with an ankle strap, make your legs appear shorter than they are? Well, it's because these styles can interrupt the continuity of the leg line and actually create an illusion that makes them appear less long.
Basically, if you have short legs, it might be best to stay away from this type of sandals despite their trendy look. Ankle straps can draw the eye to your ankles, and anything that crosses the leg horizontally tends to make it stand out more and they diminish your leg length, making them appear shorter.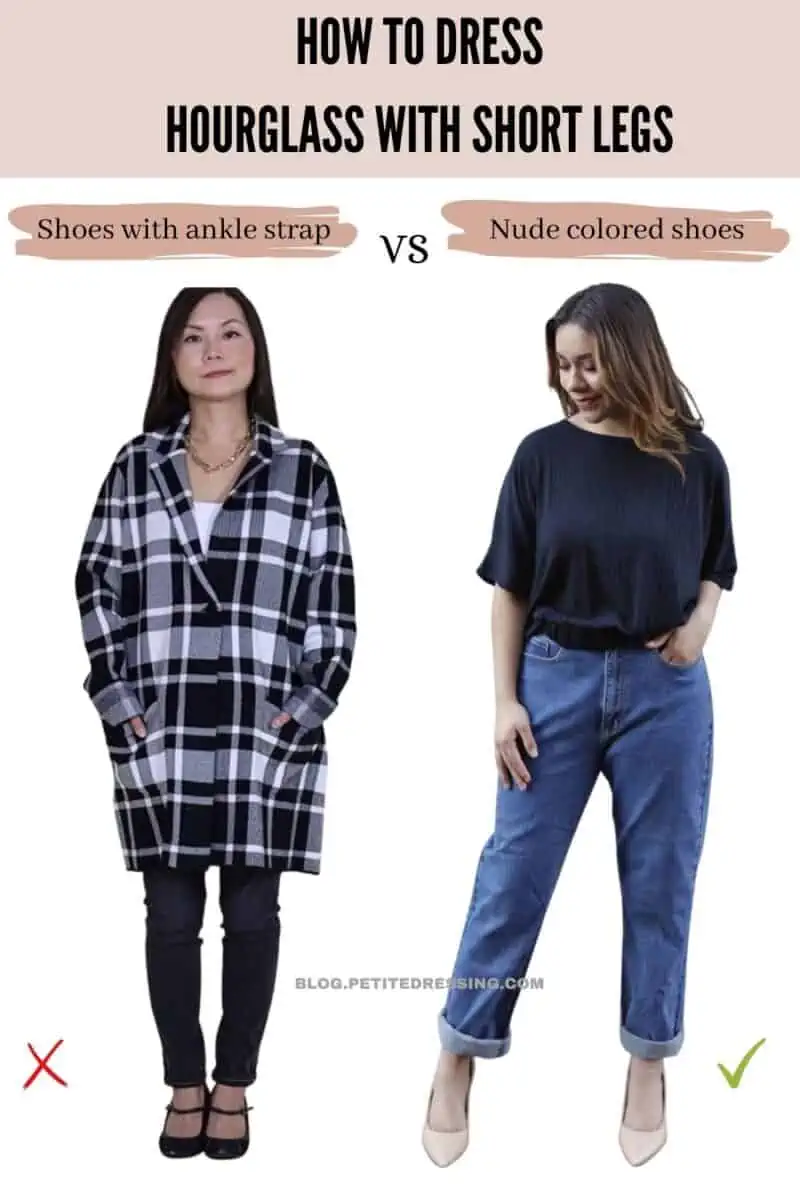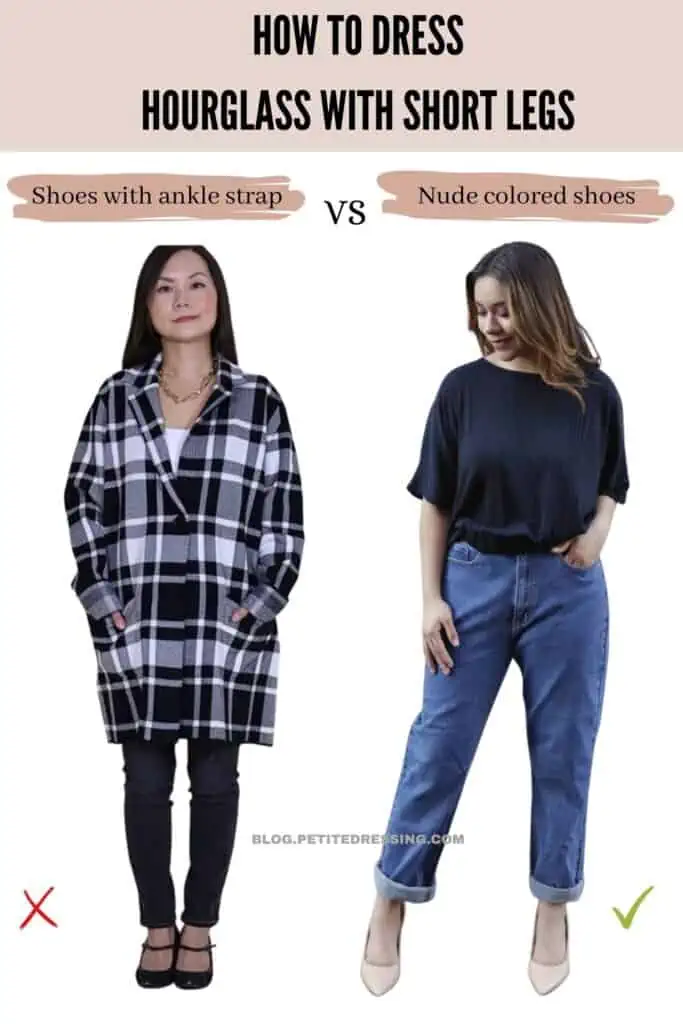 Avoid Baggy Clothes
I know how baggy clothes can feel very comfortable, so many women tend to make them their go-to outfits. However, you're concealing your body shape's best features when you wear clothes that are too loose and shapeless.
Not only do baggy and shapeless clothes hide your gorgeous hourglass curves, but they also create horizontal creases that make you look even wider and shorter.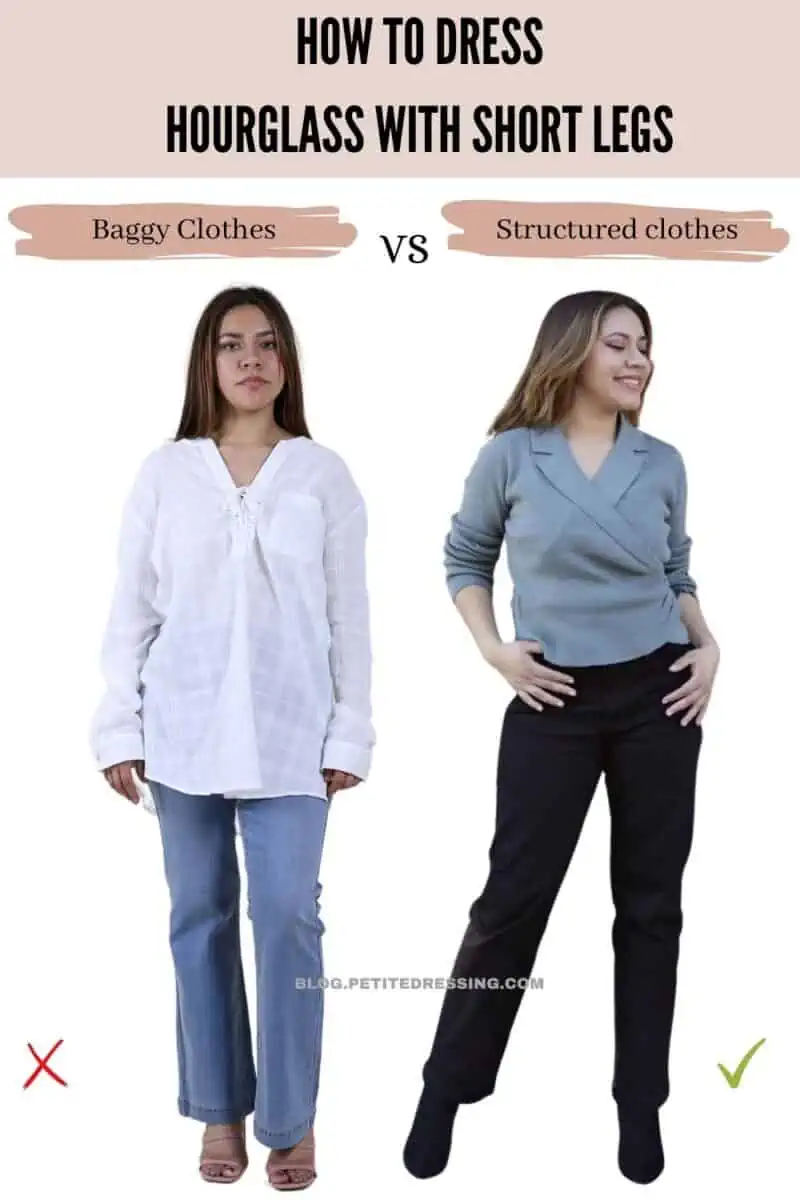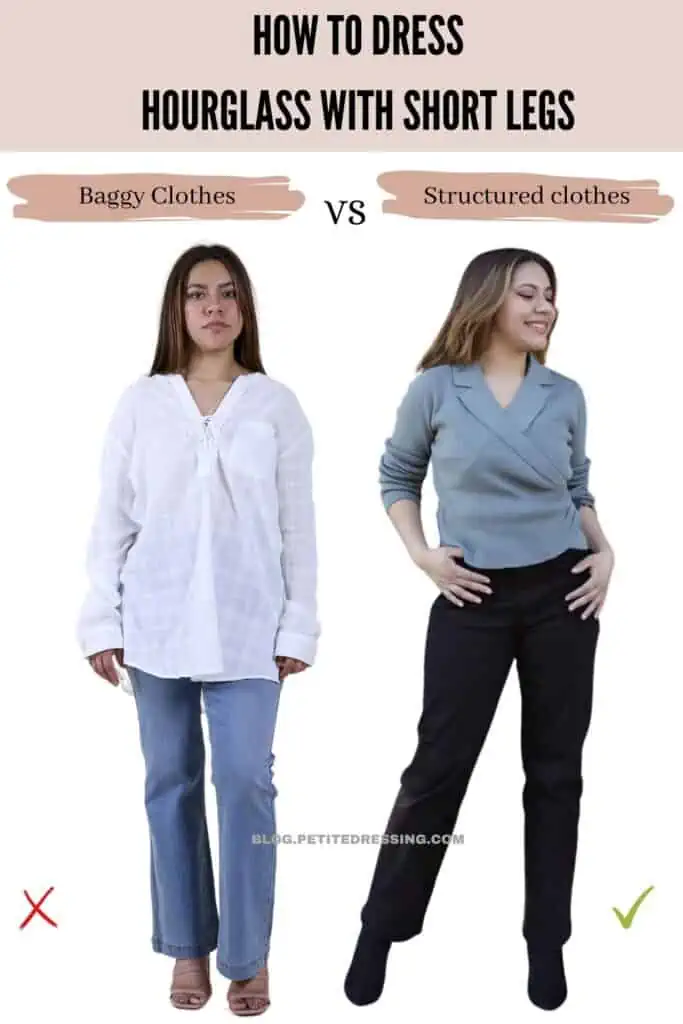 Avoid Wide-Leg Crop Pants
Cropped pants generally create a horizontal break in the leg line and this is something girls with short legs should avoid at all costs. There are many different types of crop pants but when they hit at an unflattering length (such as mid-calf), they can greatly interrupt the smooth vertical visual line of your legs, resulting in a shorter and wider frame.
In addition to this, wide-leg crop pants can shift the focus away from your hourglass body's best feature which is your waist, and draw attention to your short legs instead. This can disrupt the hourglass curve and make the overall figure look unbalanced.
The wide-leg structure of crop pants also adds to the style disadvantage of short girls because its broadness may add more weight to your lower body. This results in the illusion of wider hips and thighs, which may not be ideal if you already have a pronounced hourglass shape.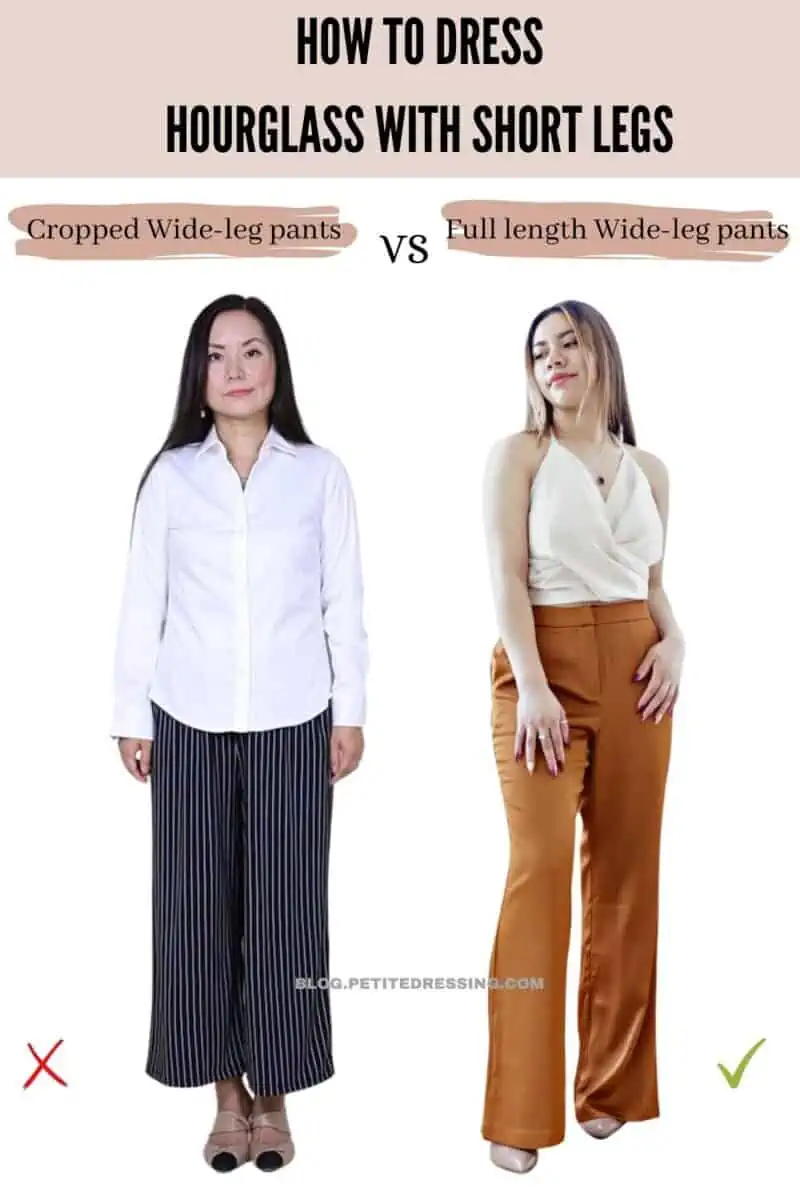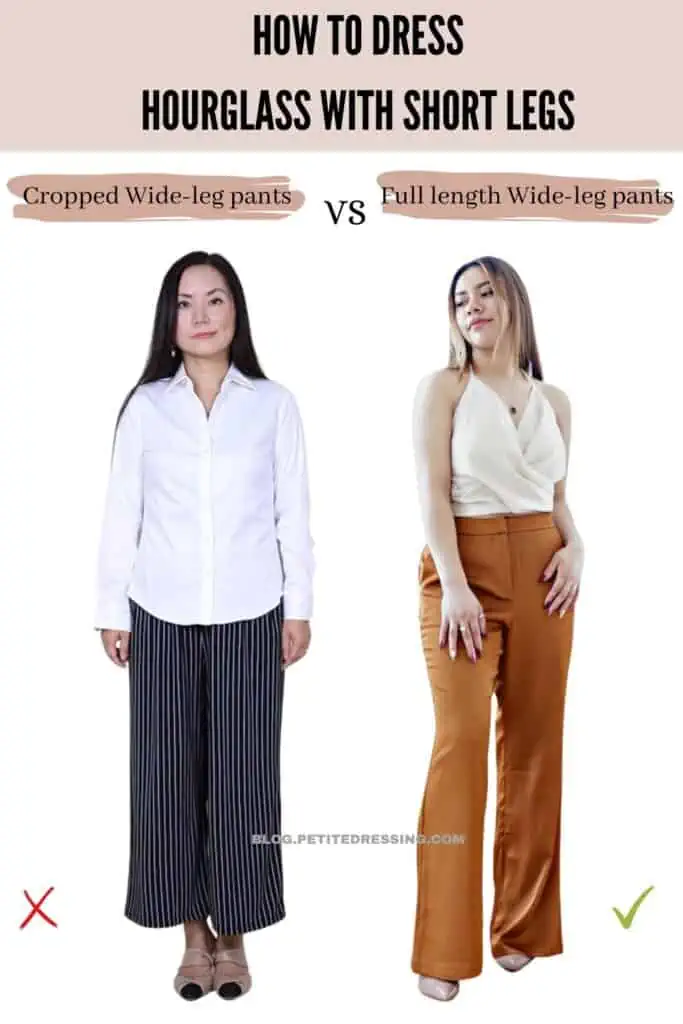 The Key Takeaway
Because of your short height, you may find the voluptuous curves of your hourglass body overwhelming at times. However, that shouldn't stop you from donning your own personal style through your clothing options!
As you can tell from this article, you actually have more style choices than you think. All you really have to do is understand your body shape and work around your best features.