If you have a belly (like me), you might agree that finding the right styles that suit your shape is critical. Even though I am overall thin, I do carry weight in my midsection. I noticed certain styles can make my midriffs more obvious, and therefore it's best to skip them.
Besides, I also have a petite clothing line for women 5'4″ and under, so I receive a ton of feedback from my customers (many of whom have a midsection concern) on what looks flattering and what doesn't on their shape.
Based on their feedback, as well as my own trial and errors, I've put together this list to help you avoid what doesn't suit your body type.
Styling Goal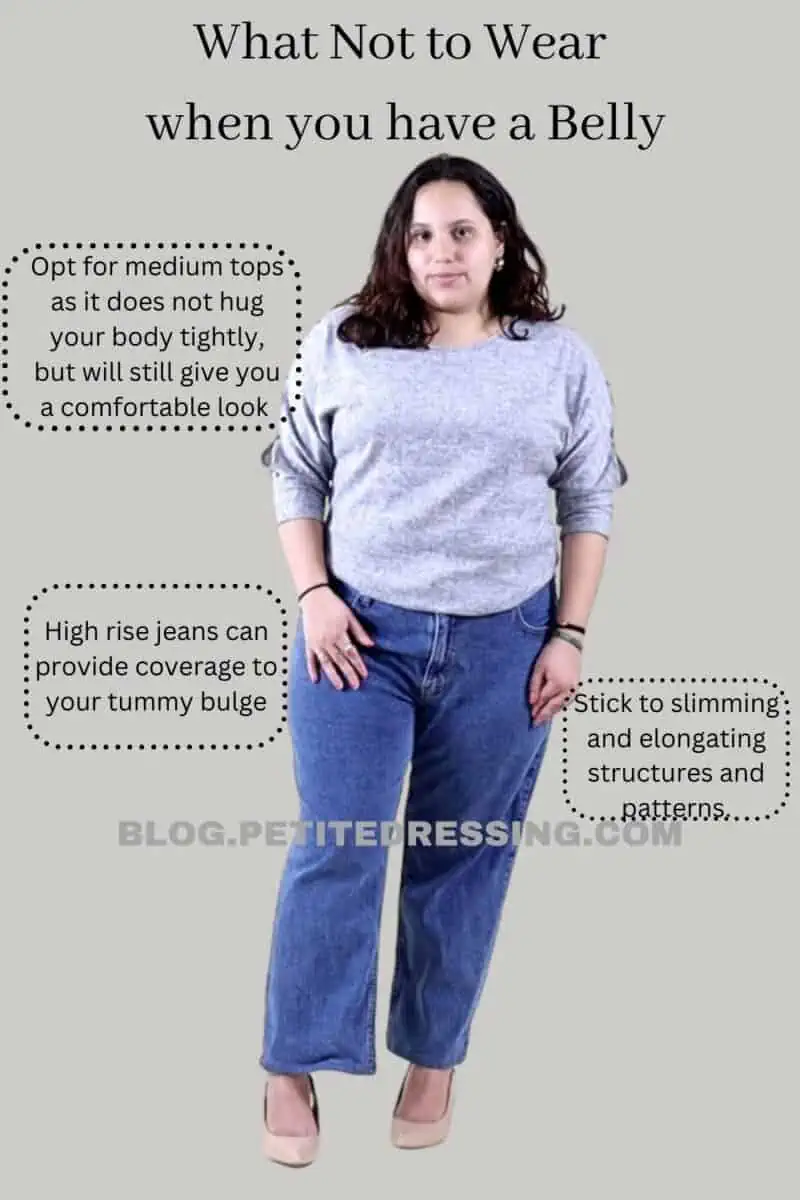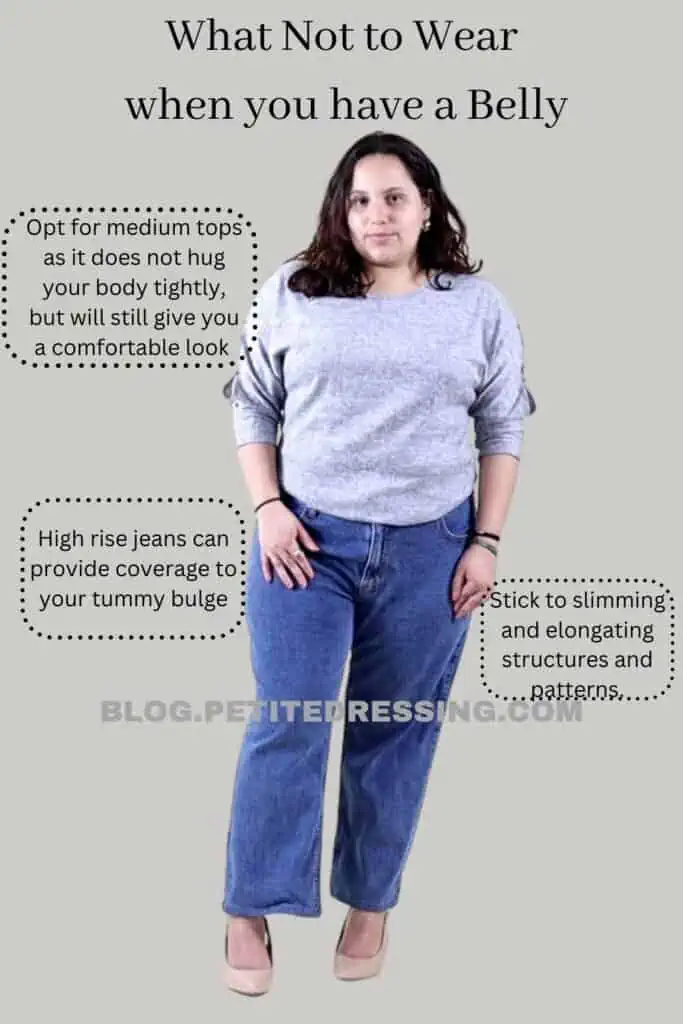 Distract the attention from your midsection by choosing clothes that subtly conceal your belly area. You can do this by focusing on your body's best features and choosing details that highlight these areas rather than your stomach.
Stick to slimming and elongating structures and patterns. Vertical stripes and open necklines are just some of the samples of structures that can help make you appear taller and slimmer.
The proper fit plays a very significant role in toning down the size of your big belly. One of the worst things you can do is wear something extremely tight to the point that it highlights your protruding belly!
The color and quality of your chosen fabric material are more important than you think. Generally, dark colors and thicker structured fabrics are ideal options when it comes to bringing balance to your body and efficiently concealing your big belly.
With these styling goals mentioned, you can now determine whether you should keep or avoid certain pieces you have there in your closet. If you need the style specifics, then here are some of the clothing styles that you should avoid if you have a big belly.
Bodycon Dresses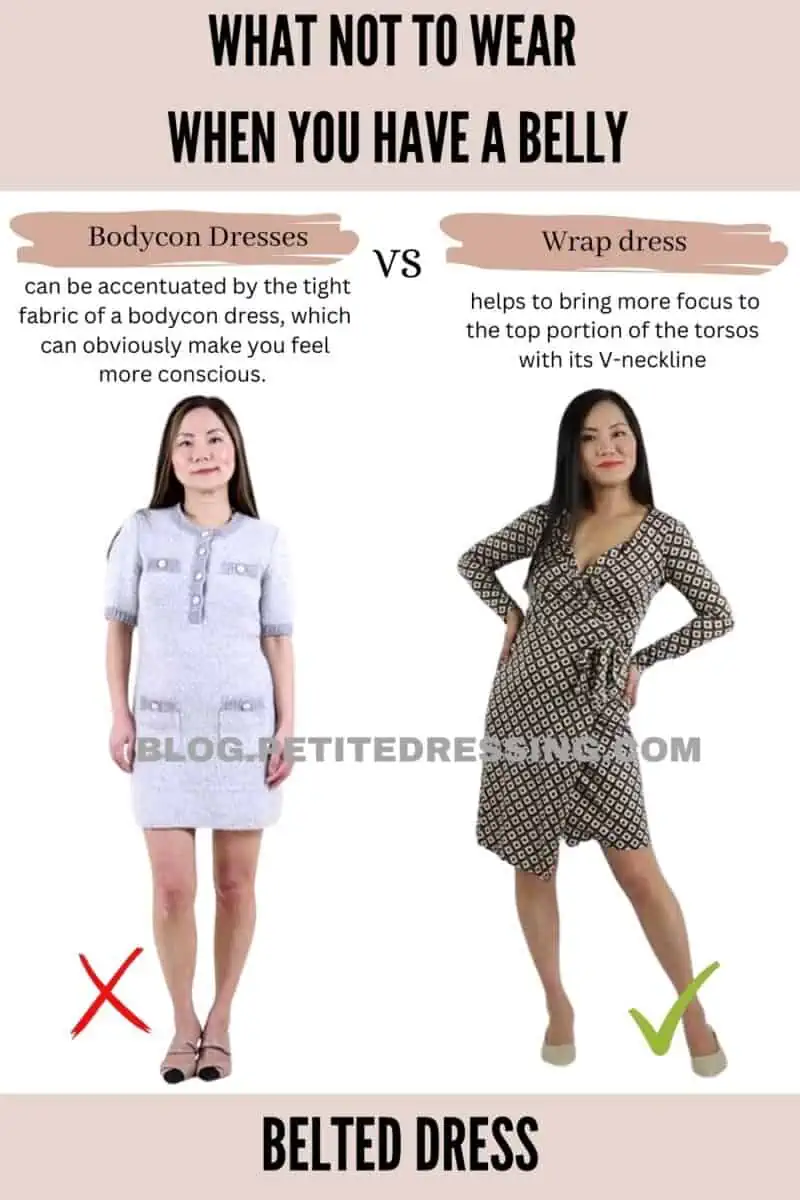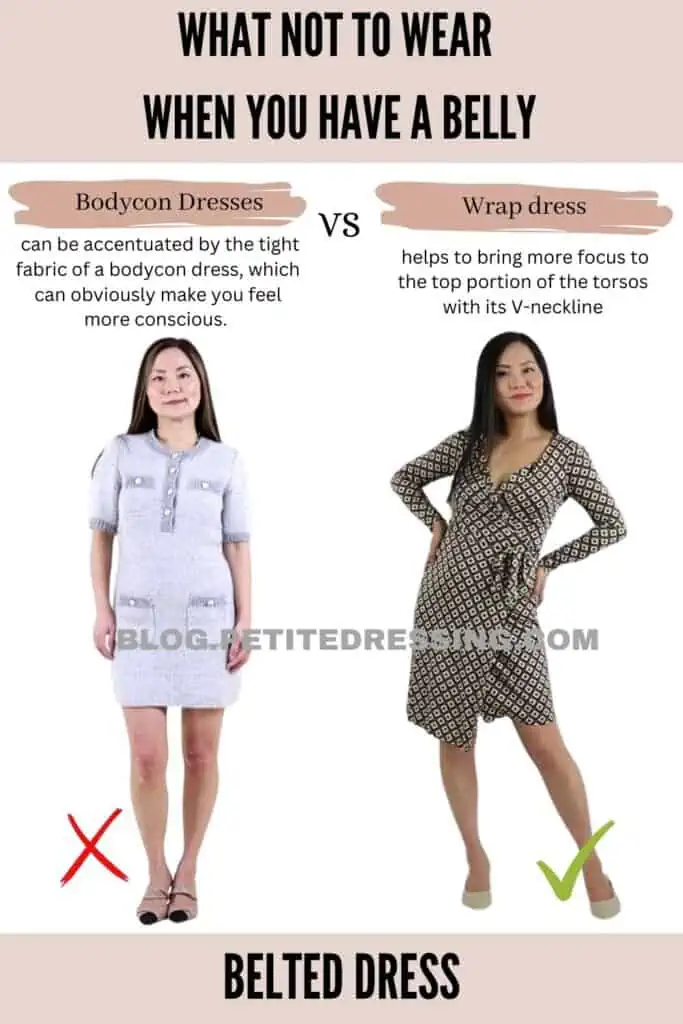 Bodycon dresses have been a popular trend in recent years, often seen on the runways and red carpets as these dresses are designed to be tight in order to hug every curve of the body. However, if you have a big belly, bodycon dresses may not be the most flattering option for you.
The reason for this is simple: bodycon dresses are designed to highlight every curve and contour of your body, including your midsection. If you have a big belly, this can be accentuated by the tight fabric of a bodycon dress, which can obviously make you feel more conscious.
In addition, bodycon dresses often have little to no stretch, which can make them difficult to move around in and may even restrict your breathing. Instead of a bodycon dress, opt for dresses with a more flowy silhouette so that the fabric will just gently skim through your midsection without highlighting its bulge.
Tight-fitting Tops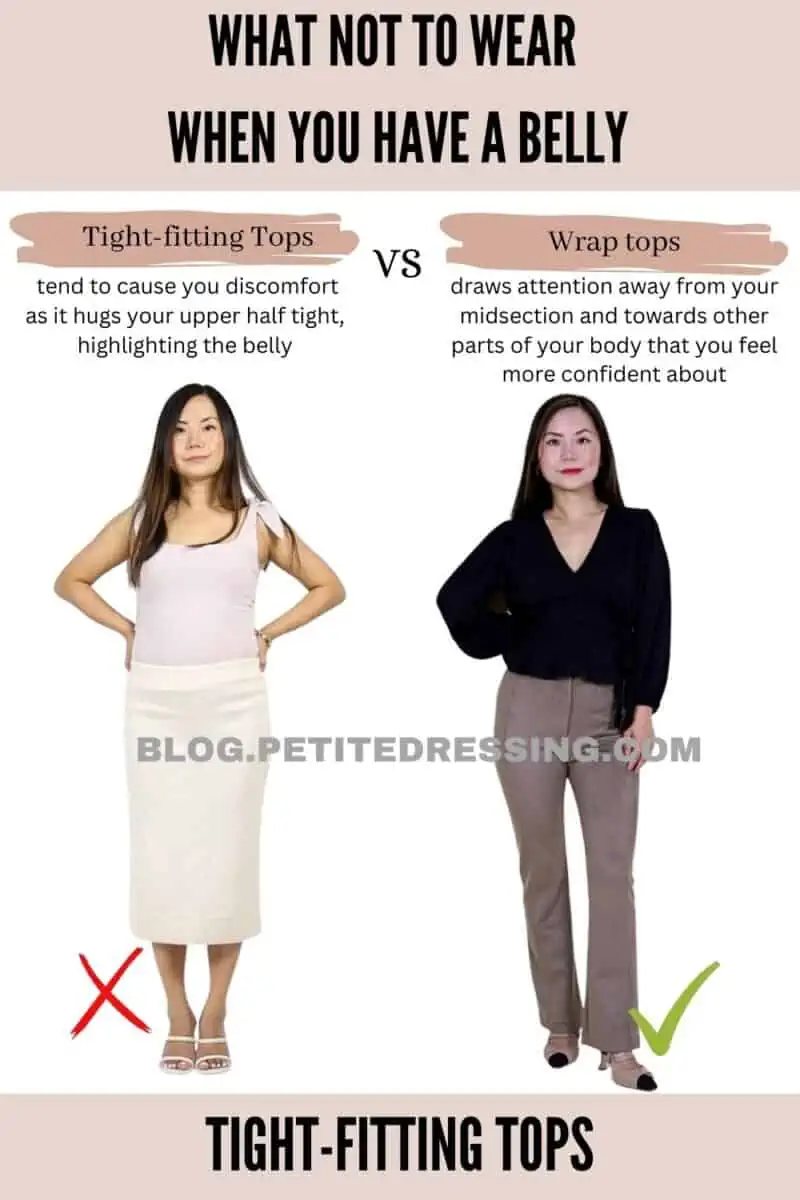 This pretty much shares the same style principle of why you have to avoid bodycon dresses. It's simply because they are too tight! When it comes to dressing for a big belly, one of the key considerations is to avoid tight-fitting tops at all costs.
While it can be tempting to try to suck everything in with a tight top, the reality is that this can actually have the opposite effect of what you want.
The problem with tight-fitting tops is that they cling very closely to your midsection which results in highlighting every curve and bulge. This can be especially true if the fabric has little to no stretch, which can limit your movements.
The fact that tight tops are restricting also means that they tend to cause you discomfort, which is the opposite of what you want when putting together an outfit. So instead of tight-fitting tops, try opting for tops that have a looser, flowy fit as they can help to create a more balanced silhouette, drawing attention away from your midsection and towards other parts of your body that you feel more confident about.
Crop Tops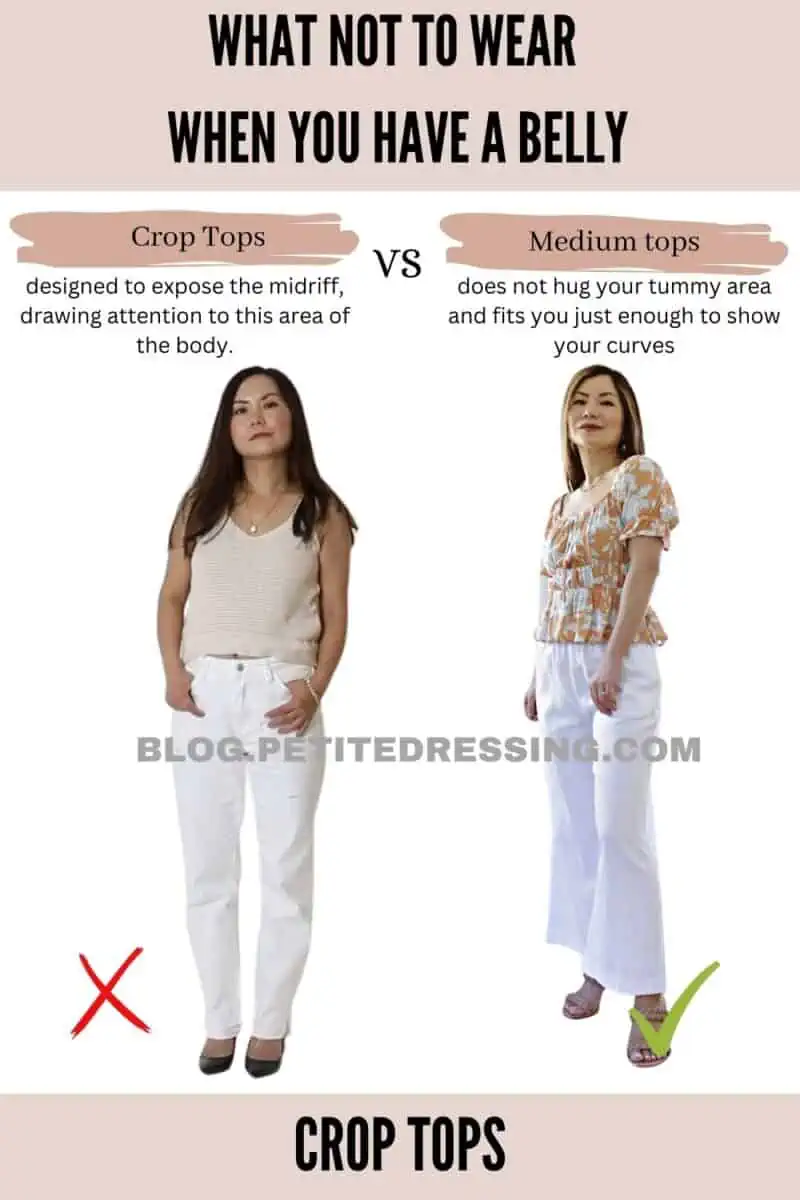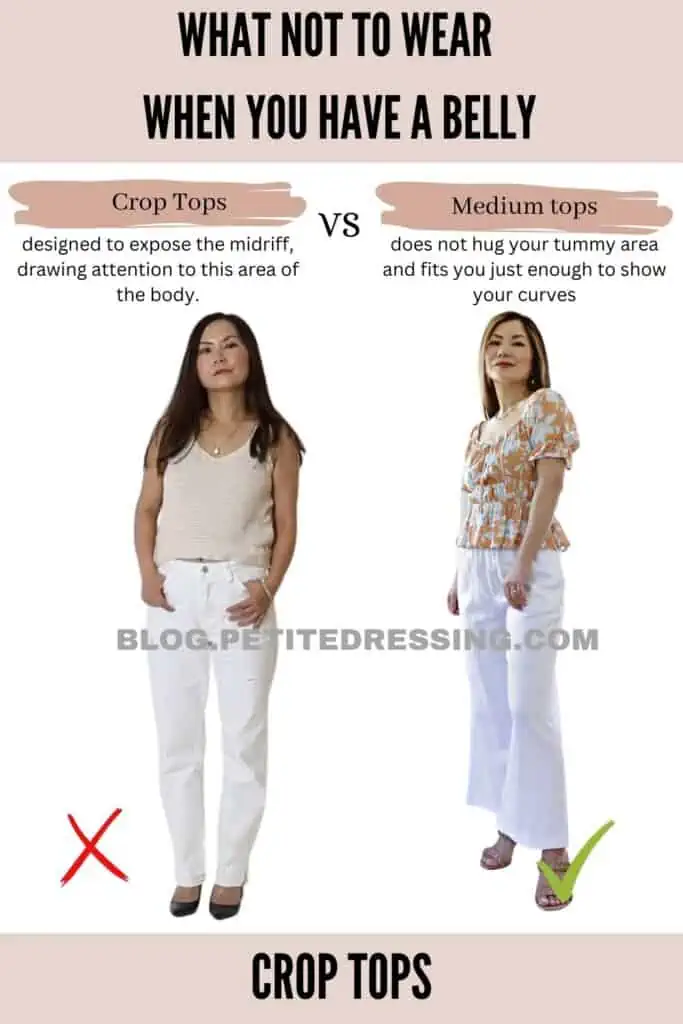 Crop tops are just simply trendy and stylish. In fact, it's one of the most favorite go-to wardrobe pieces many petite girls resort to!
Unfortunately, they may not be the most flattering option for women with big bellies. The reason for this is that crop tops are designed to expose the midriff, drawing attention to this area of the body.
For women with a big bellies, this can be problematic as it can accentuate the size of the midsection and make them feel even more self-conscious. Additionally, crop tops often have a tight fit, which can cling to the belly and highlight the tummy bulge.
Paperbag shorts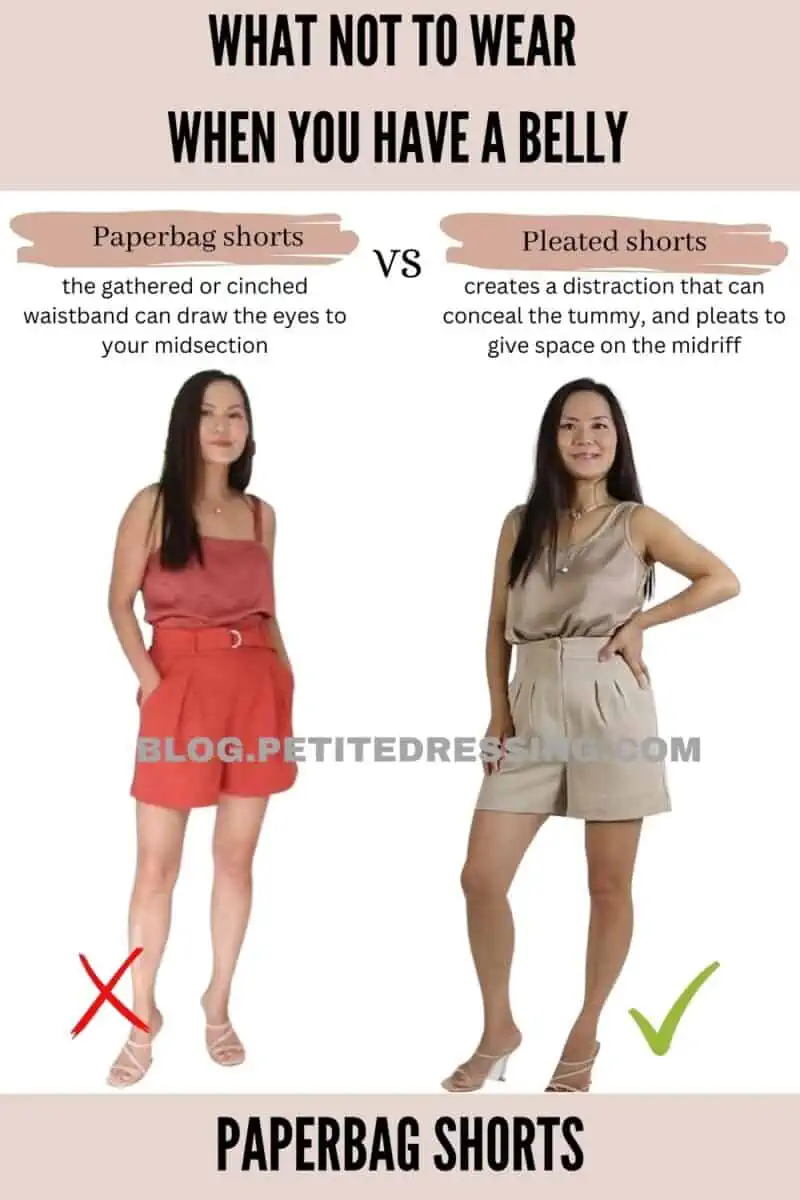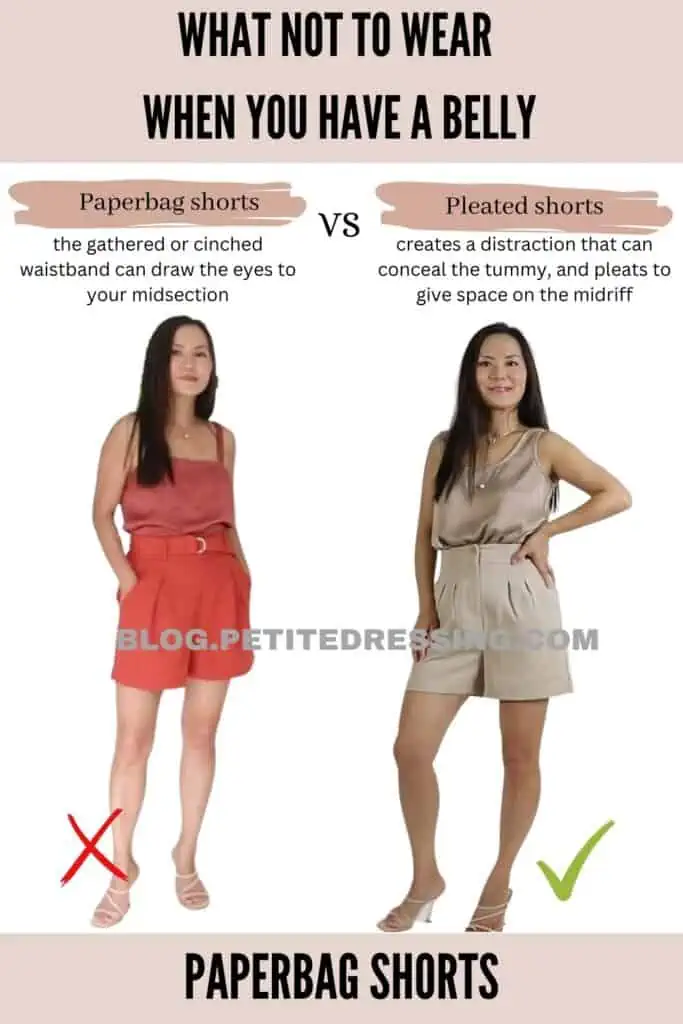 Paperbag shorts are a type of high-waisted shorts that have a gathered or cinched waistband, which creates a "paper bag" effect. They usually offer a comfortable fit thanks to their wide pants opening but for women with big bellies, they are definitely not the most flattering.
The reason why you should avoid this is that the gathered or cinched waistband can draw the eyes to your midsection, which is not always desirable. Additionally, the style of these shorts can create a "muffin top" effect and add bulk to your stomach area.
Instead of paper bag shorts, consider trying other styles of shorts that have a more flattering fit for your body type. For example, high-waisted shorts with a flat waistband can provide some coverage for your midsection while still creating a flattering silhouette.
Baggy or Oversized Clothes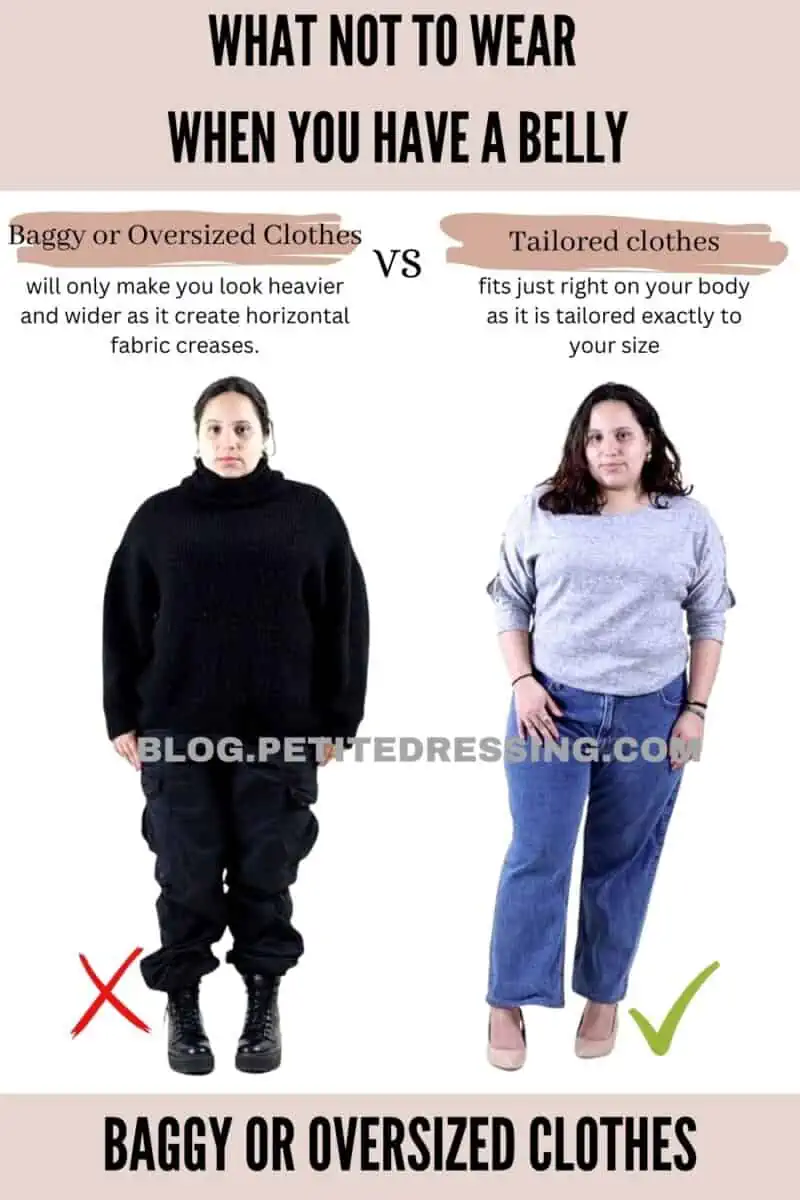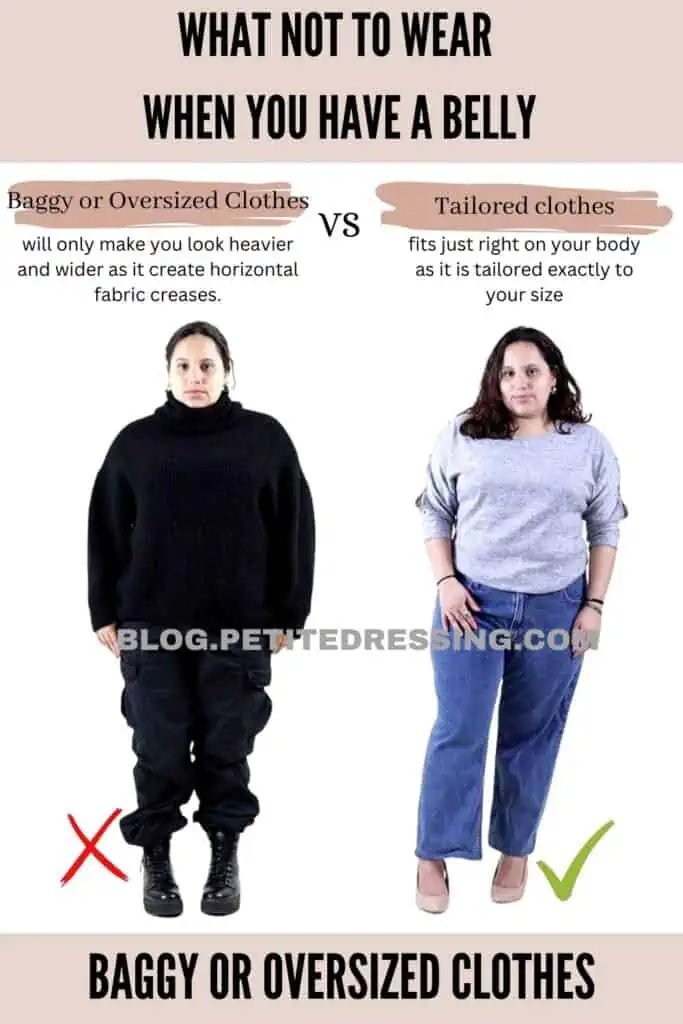 We talked about avoiding clothes that are too tight earlier so one may even ask: "So if not too tight, then how about clothes that are too loose?". Well, there are also many reasons why you should let go of all those baggy clothes you have in your wardrobe if you have a big belly.
One common misconception is that you have to wear loose clothes to "hide" your big belly. However, doing so will only make you look heavier and wider because baggy clothes usually create horizontal fabric creases.
This is because baggy clothes tend to add extra volume and fabric to your body, which can make you look shapeless and unkempt. While baggy clothes may be comfortable and easy to wear, they often do not provide the necessary structure and shape to create a flattering look.
Sheer Tops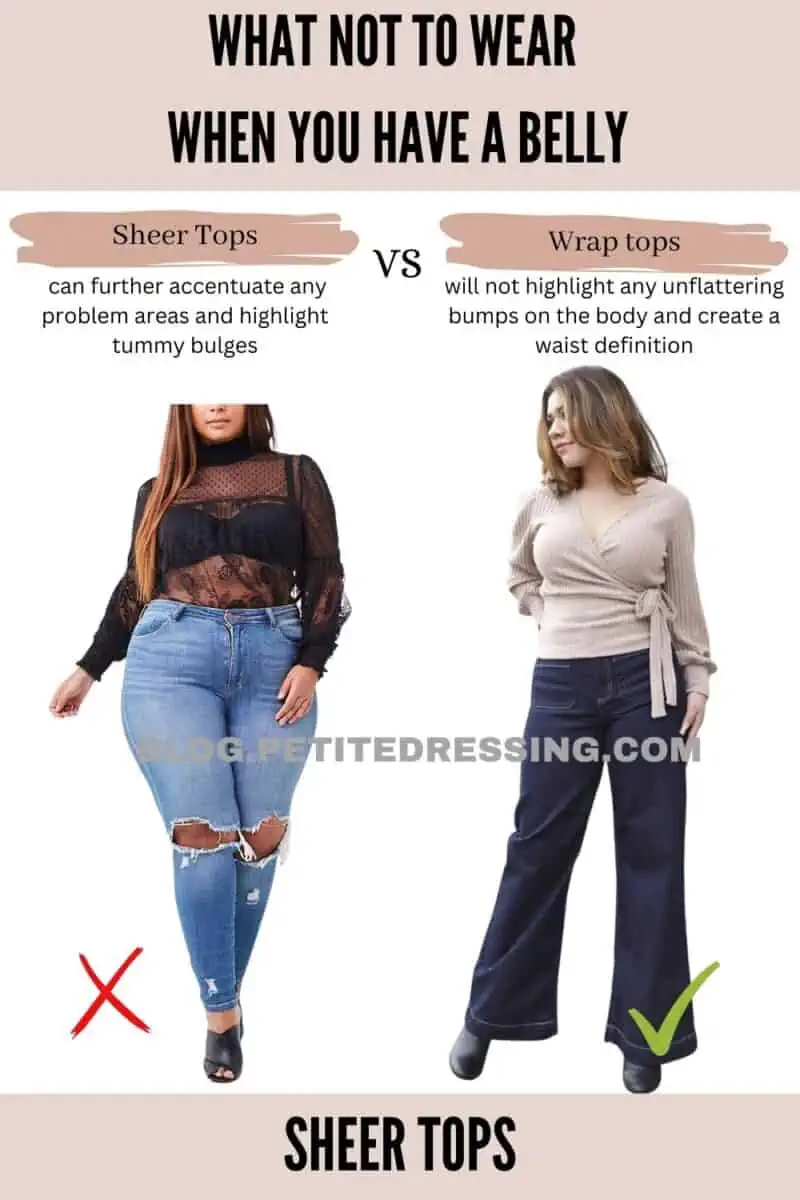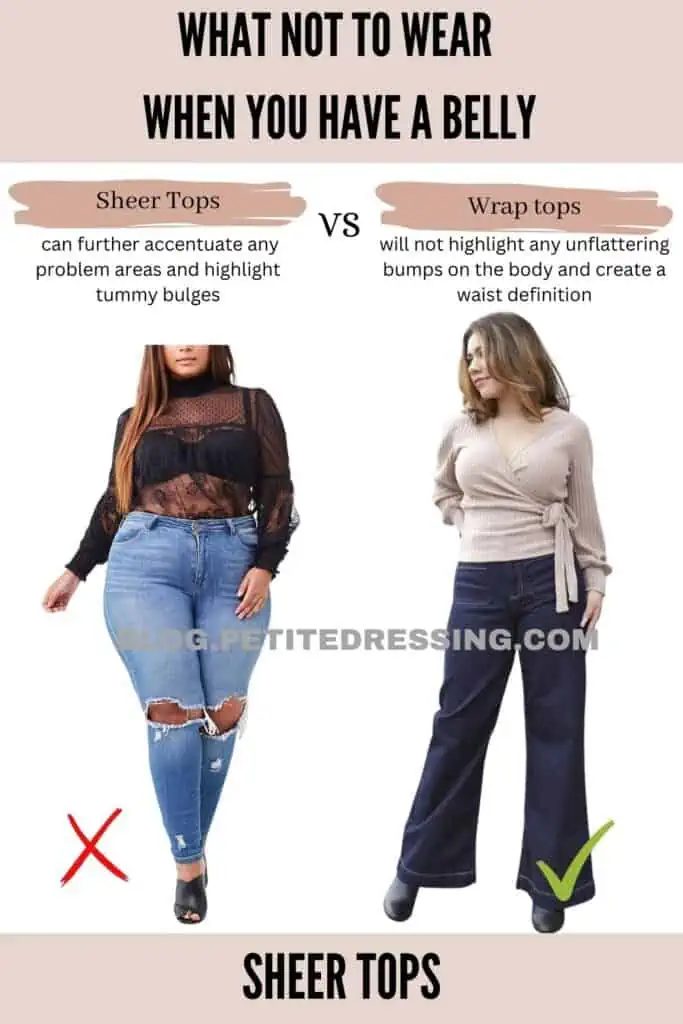 The reason why you should avoid sheer fabrics is due to the fact that they can be revealing. This results in highlighting tummy bulges that you may not want to draw attention to.
Additionally, the see-through nature of the fabric can make it difficult to wear a bra or shapewear, which can further accentuate any problem areas. Another issue with sheer tops is that they often require layering, which can add extra bulk to the body.
If you are trying to conceal a big belly, adding extra layers can make it harder to create a streamlined, flattering silhouette. This is why it's much better to go for somewhat thicker fabrics that have more structure.
Large Prints on the Midsection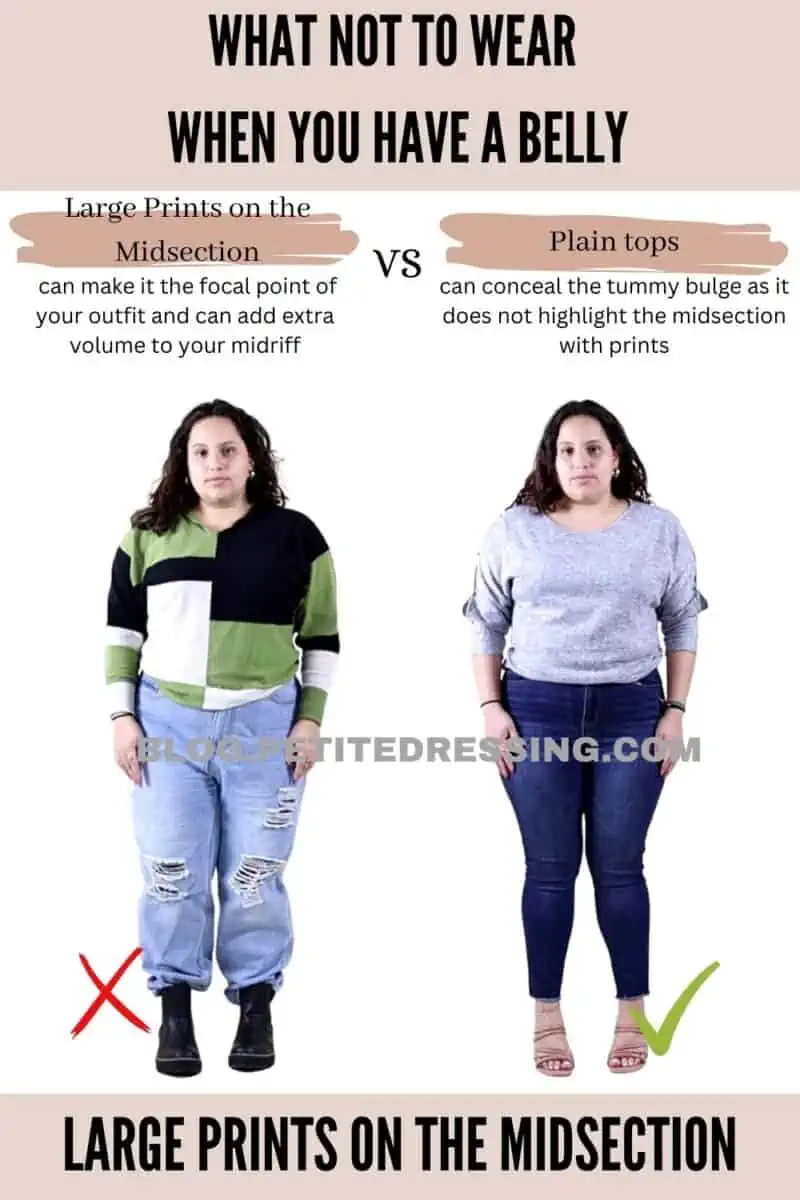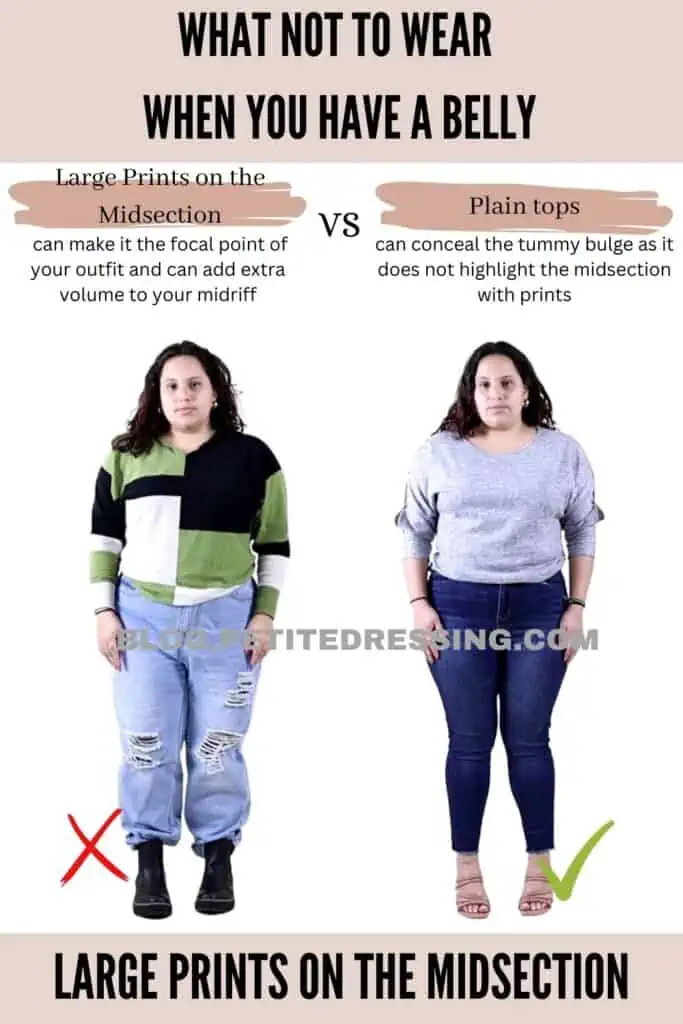 If you have a big belly, you may want to avoid clothes with large prints on the midsection. This is because large prints can draw attention to your midsection, making it appear even larger and more prominent.
The eye is naturally drawn to patterns and prints, so wearing a top with a large print on the belly area can make it the focal point of your outfit. Additionally, large prints can add extra volume to your midsection, which can make you look larger overall.
This is particularly true if the print is not balanced with the rest of your outfit. For example, if you are wearing a top with a large print on the midsection and a plain bottom, your belly may look disproportionately larger.
Low-Rise Pants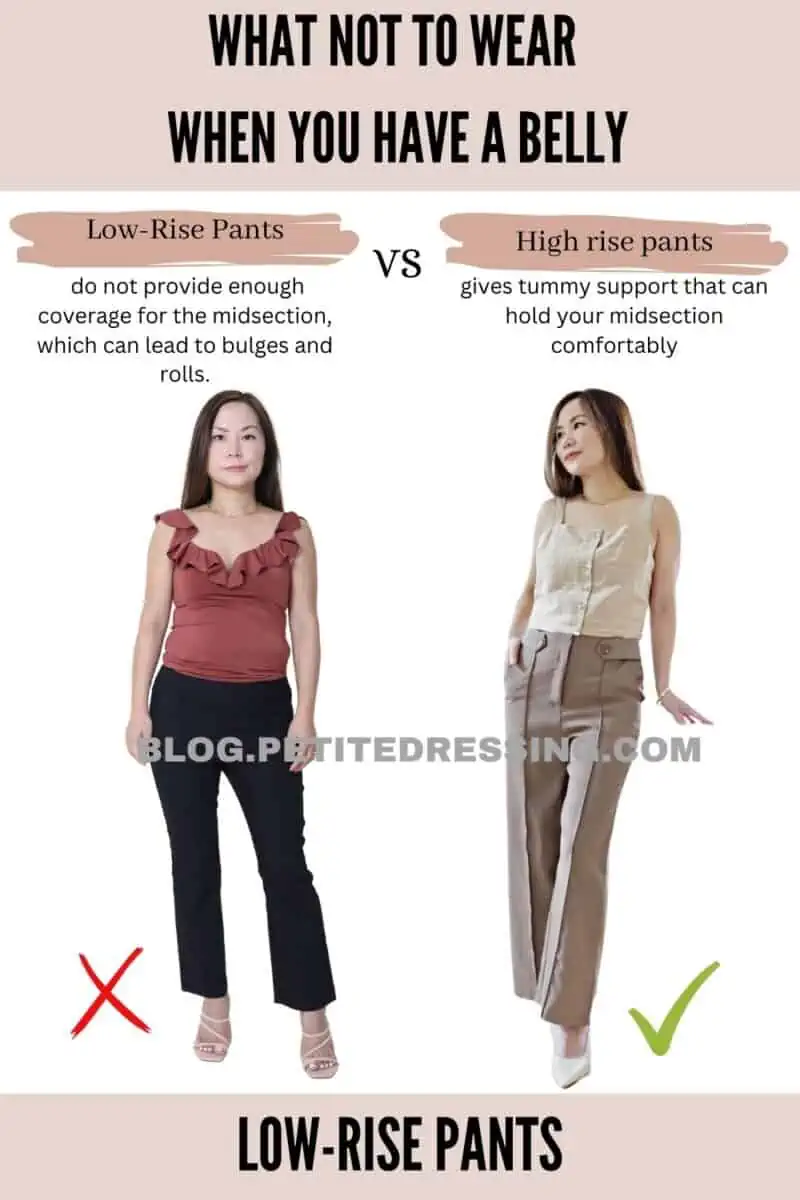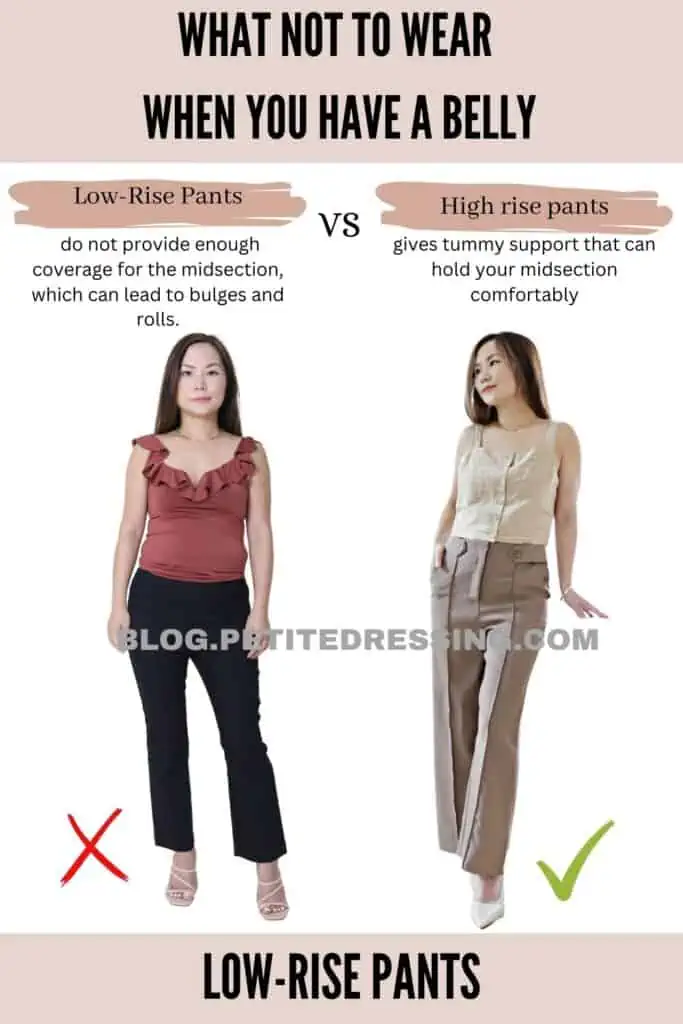 Low-rise pants are not generally recommended for women with big bellies. It's because of the fact that they sit below the belly button, which can create a muffin-top effect and draw attention to the midsection.
When you have a big belly, it's important to choose pants that fit properly and provide coverage and support where you need it most. Low-rise pants can be problematic because they do not provide enough coverage for the midsection, which can lead to bulges and rolls.
Instead of low-rise pants, women with a big belly may want to consider high-rise or mid-rise pants as these types of pants sit at or above the belly button, providing more coverage and support for the midsection.
The Key Takeaway
Along with choosing the right clothing for your body shape also comes a full understanding of the specific types of wardrobe styles you should avoid. You would want to make your body figure the best version of itself so you have to know which types of clothes are unflattering for you.
This way, you will not go through the hassle of dealing with the dilemma of having a stomach bulge just because of a fashion mishap. Whatever you choose to wear, there's always a way around taking your big belly away from the spotlight.