Do you sometimes feel extra conscious about your thick arms? Well, know that you are totally not alone in this because a lot of women share the same sentiments, for sure!
Choosing the right coat to flatter your figure and tone down your thick arms is not really that difficult since you're dealing with the usual huge silhouette of coats. As coats are meant to wrap you up cozily, they provide enough coverage to conceal your thick arms.
But here in this blog post, we'd like to guide you to the best types of coats that are ever-sophisticatedly stylish while also keeping your arm measurements in mind. Let's begin with the basic styling notes we should bear in mind when picking a coat.
Styling Goal
Go for wide sleeves to give your thick arms a more comfortable fit. Naturally, your arms are going to need more room to be able to move freely so wider sleeves should be an ideal choice.
Pay attention to the length of the coat sleeves as they shouldn't be too long. Coat sleeves come in different lengths and while most are long to provide coverage, you need to find the length that won't drown your entire arms.
Other than the length of the sleeves, you should also be mindful of the shape of your coat's sleeves. Some shapes are either too tight that they highlight the thickness of your arms while some are too baggy that it adds an unflattering amount of volume to your arms.
Avoid too much puff and other bulky details placed on the sleeves, most especially on the upper part of your arms.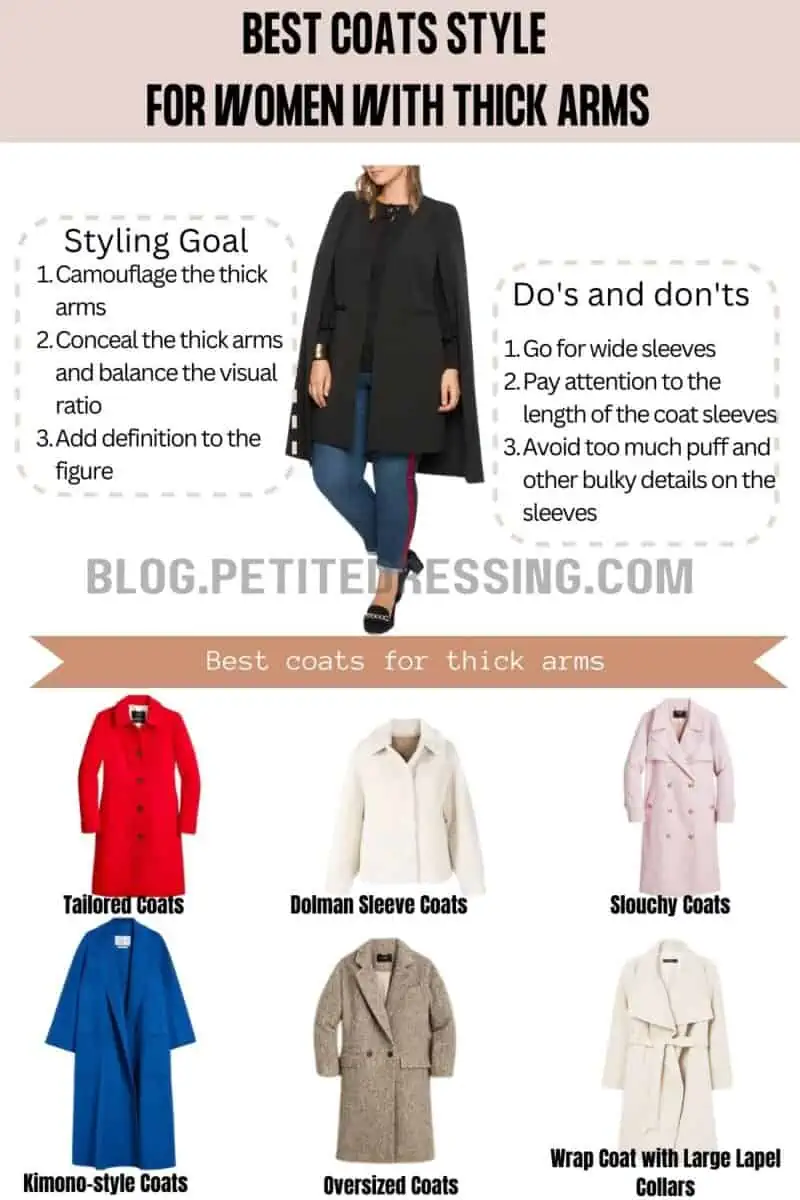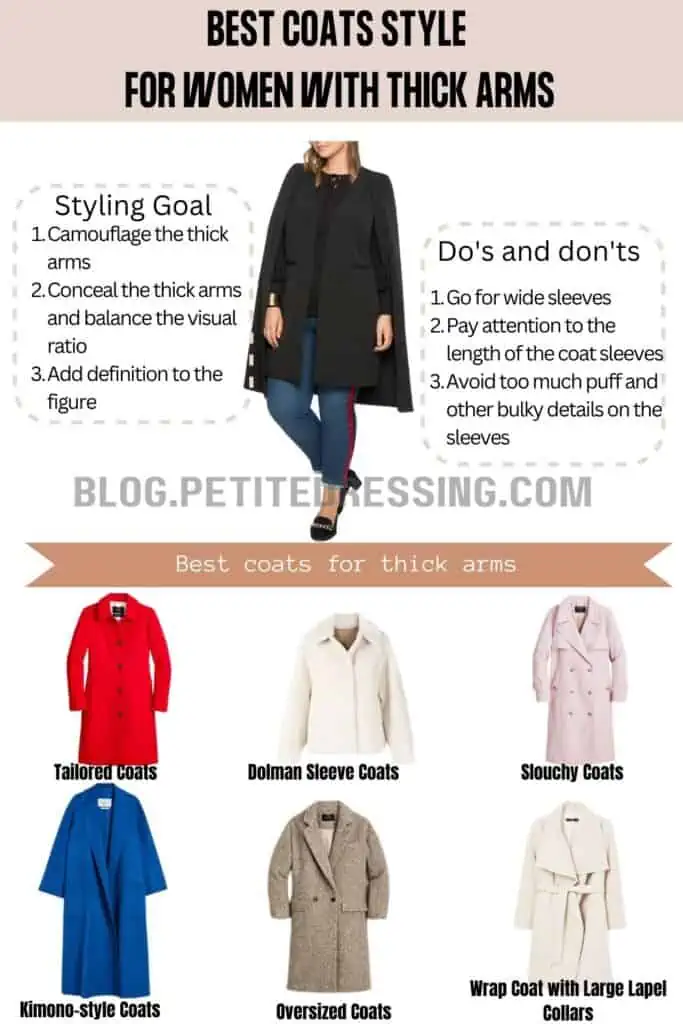 The following types of coats that we have listed below are the ones we think fully possess these styling goals to flatter your thick arms.
Tailored Coats
One can never really go wrong with tailored coats because of their bespoke-inspired structure and neat detailing. Tailored coats usually highlight the shoulder line and the waist so the eyes would be naturally drawn to these areas instead of your thick arms.
Since tailored coats are specifically created to match your measurements, you can be quite confident that the sleeves are of proper fit. The arm circumference should be roomy enough to feel comfortable but at the same time still bring balance to your overall frame.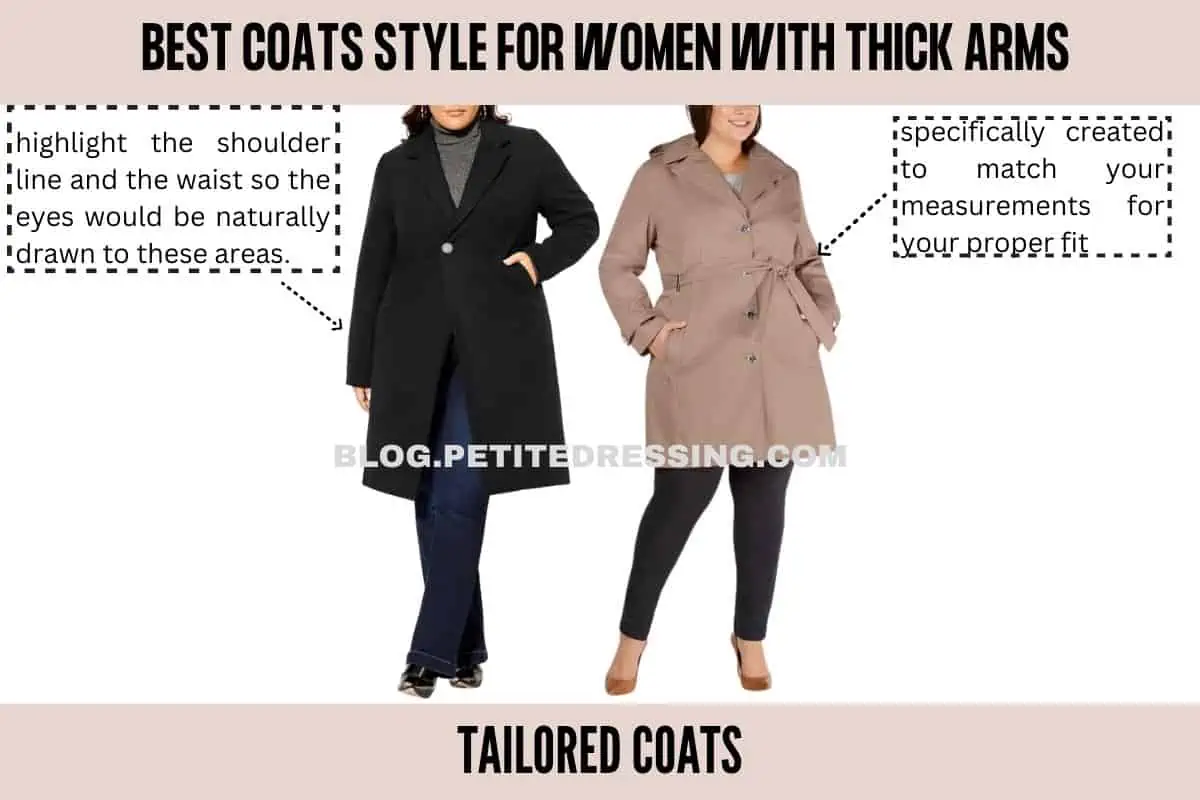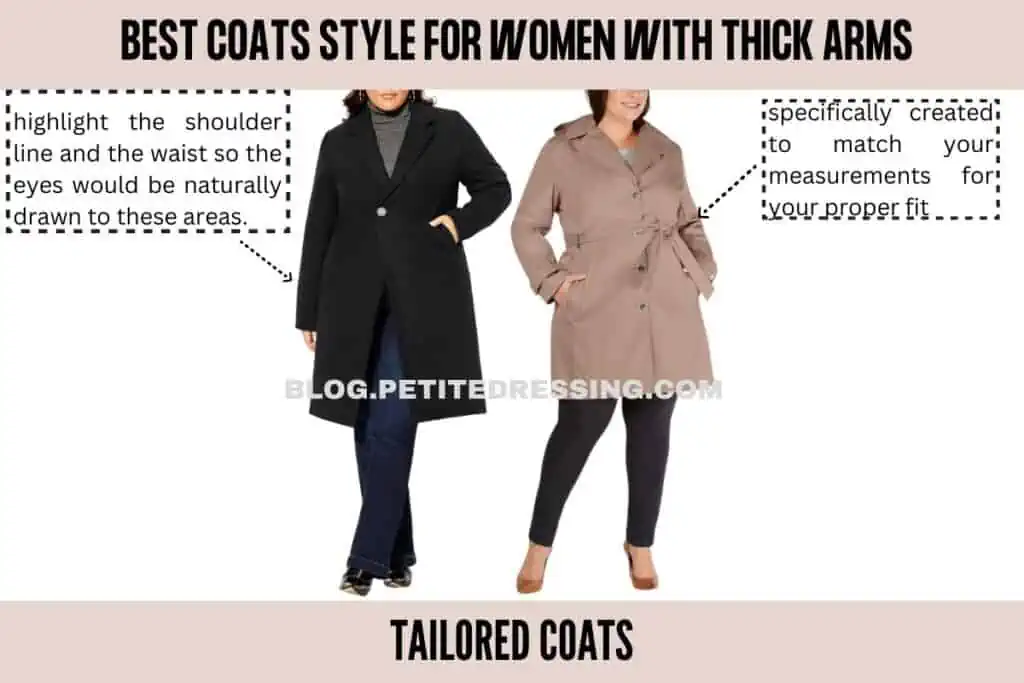 Dolman Sleeve Coats
One of the best types of coat to camouflage your thick arms would be the dolman sleeve coat. It is a type of coat that has loose, wide-cut sleeves that extend to the wrist, rather than being fitted at the shoulder and armhole.
The name "dolman" comes from the Turkish word "dolama" which refers to a type of traditional Turkish robe that features wide sleeves. This wide style of sleeves is flattering for thick arms because, despite its depth, it doesn't add bulk to your arms so you can look slim and stylish in them!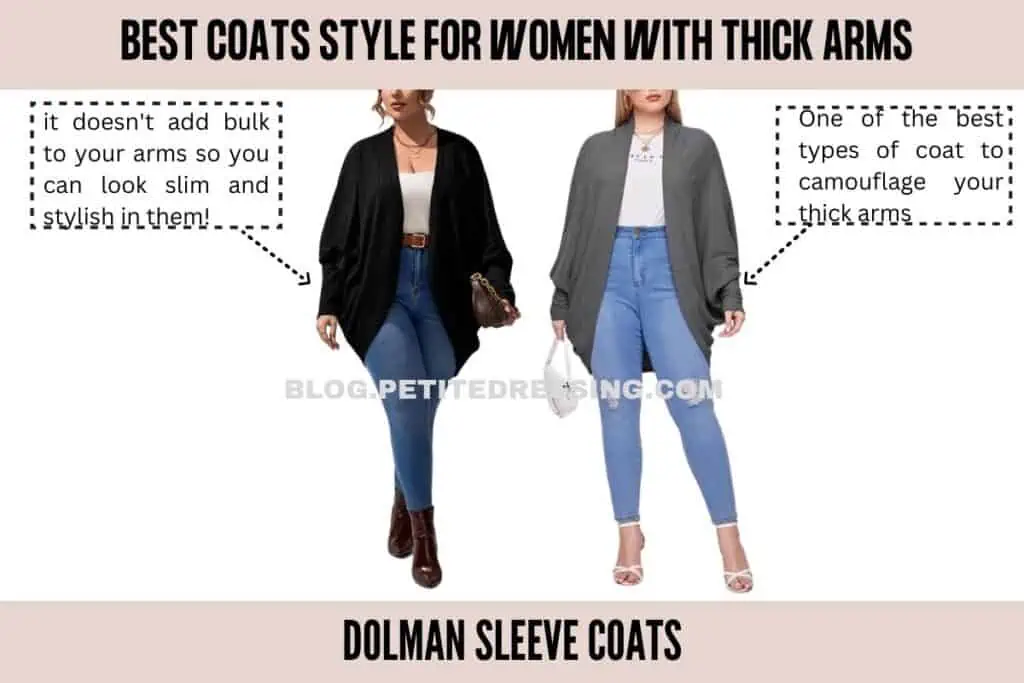 Slouchy Coats
Slouchy coats have been quite a hot trend in recent years because they have the comfort that baggy clothes have but without the unflattering baggy fit! Slouchy coats feature a relaxed and loose fit that brings more emphasis to the shoulders and arms.
Because of the relaxed fit of slouchy coats, they keep your thick arms hidden while still maintaining the natural definition of your frame and not making you look bigger. They have rounded shoulders that sometimes also feature pads that highlight your shoulder line as the focal point of your look.
This visual trick diffuses the attention from your thick arms and creates a more prominent, lean figure instead.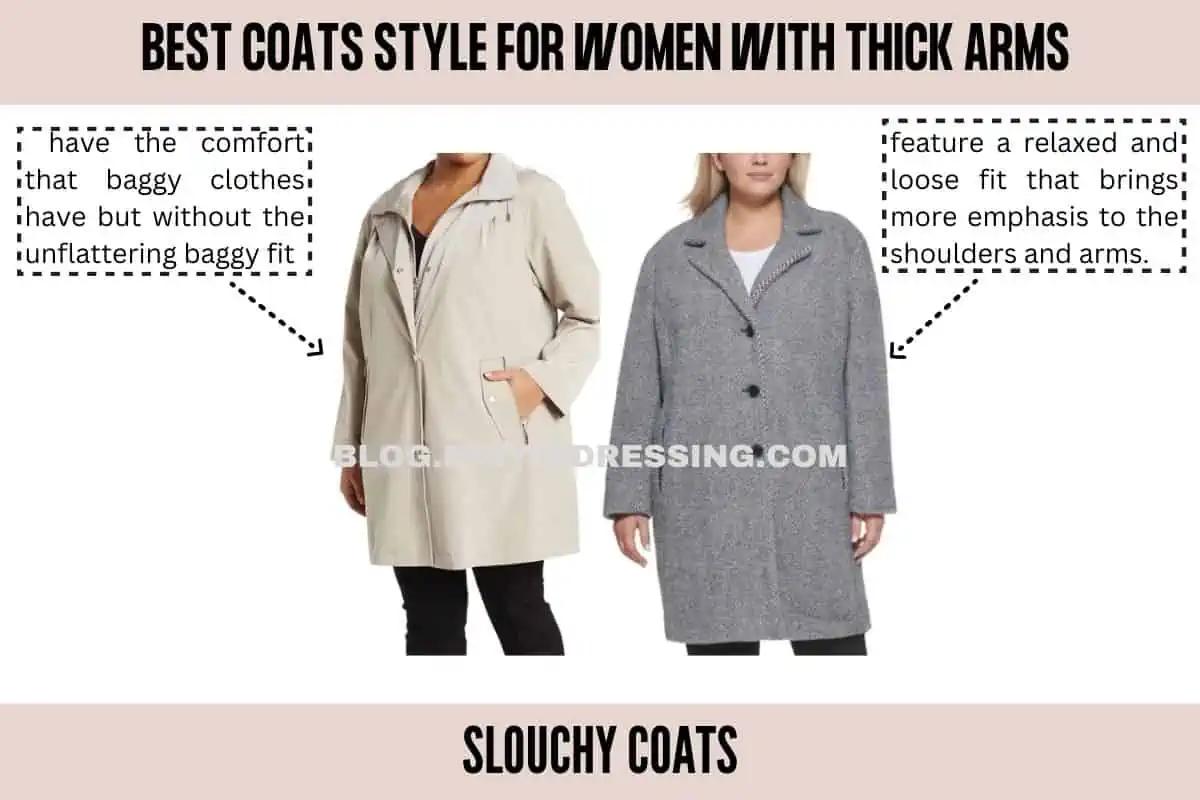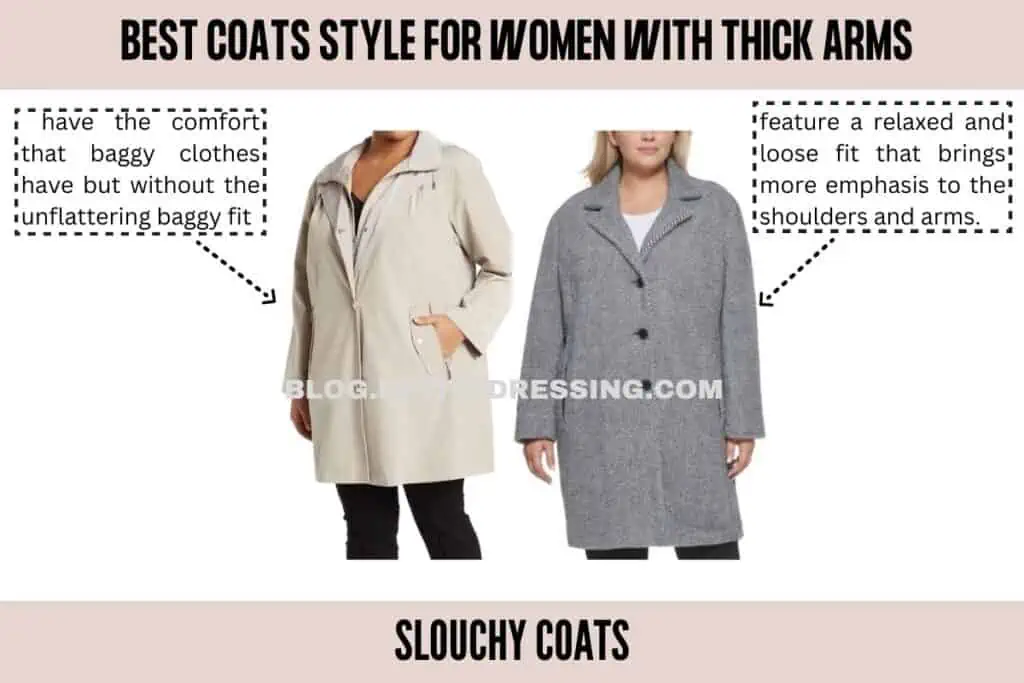 Kimono-style Coats
Kimono-style coats efficiently hide thick arms with their wide and flowy sleeves without looking too baggy. Its very distinct features make it really stylish but on top of that, kimono-style coats strategically concealed thick arms and balance the visual ratio of your upper body.
It is designed to resemble a traditional Japanese kimono which features a T-shaped body structure and distinct sleeve shape. Some kimono coats have a belt or tie around the waist to give your waist a more defined shape.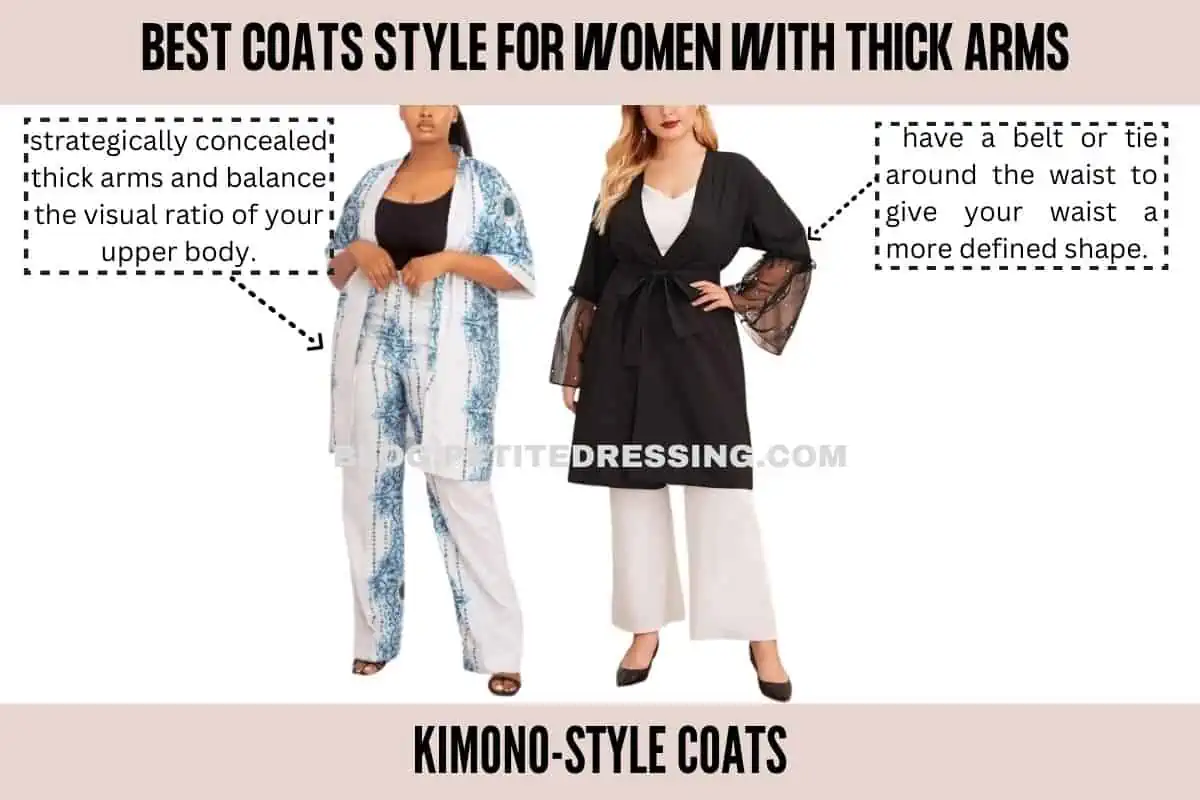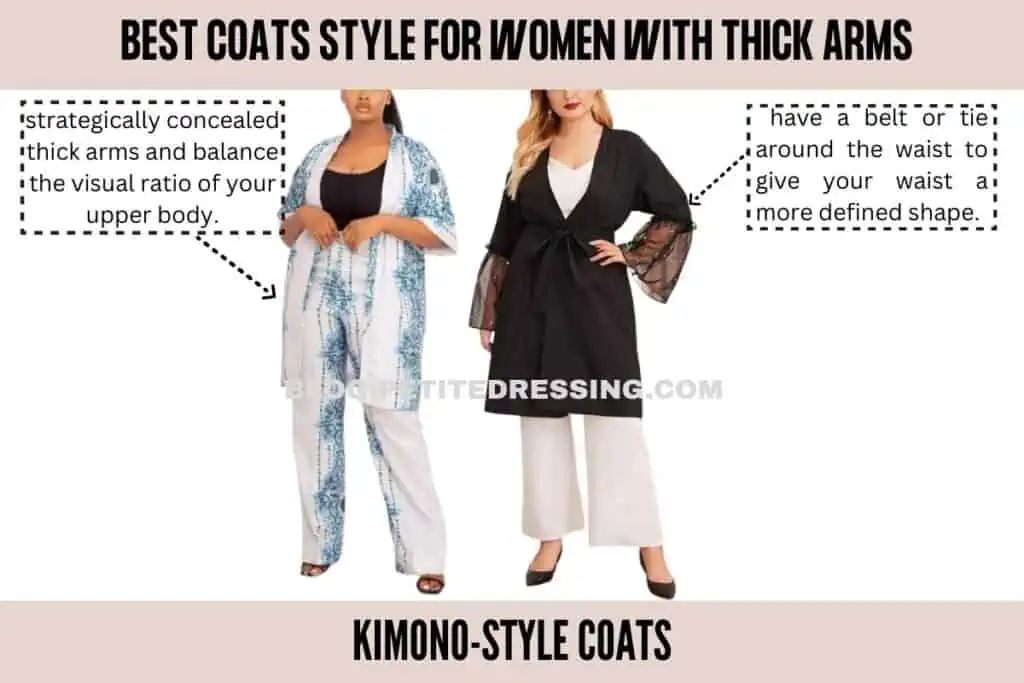 Oversized Coats
Oversized coats are also quite a trendy autumn and winter piece these days and you might find it to be a personal must-have if you're concerned with your thick arms.
They are quite efficient in hiding thick arms because the loose fit of the coat can help to conceal the shape of the arms. Additionally, an oversized coat can be worn with layers underneath, which can help to create a more relaxed and less form-fitting look.
However, it's important to keep in mind that an oversized coat can also add volume to the overall silhouette so depending on your body shape, you have to go for the fit that should flatter your figure. Also, oversized coats that fall around the knee level or lower can also be a good option as they will hide the arms and provide more coverage.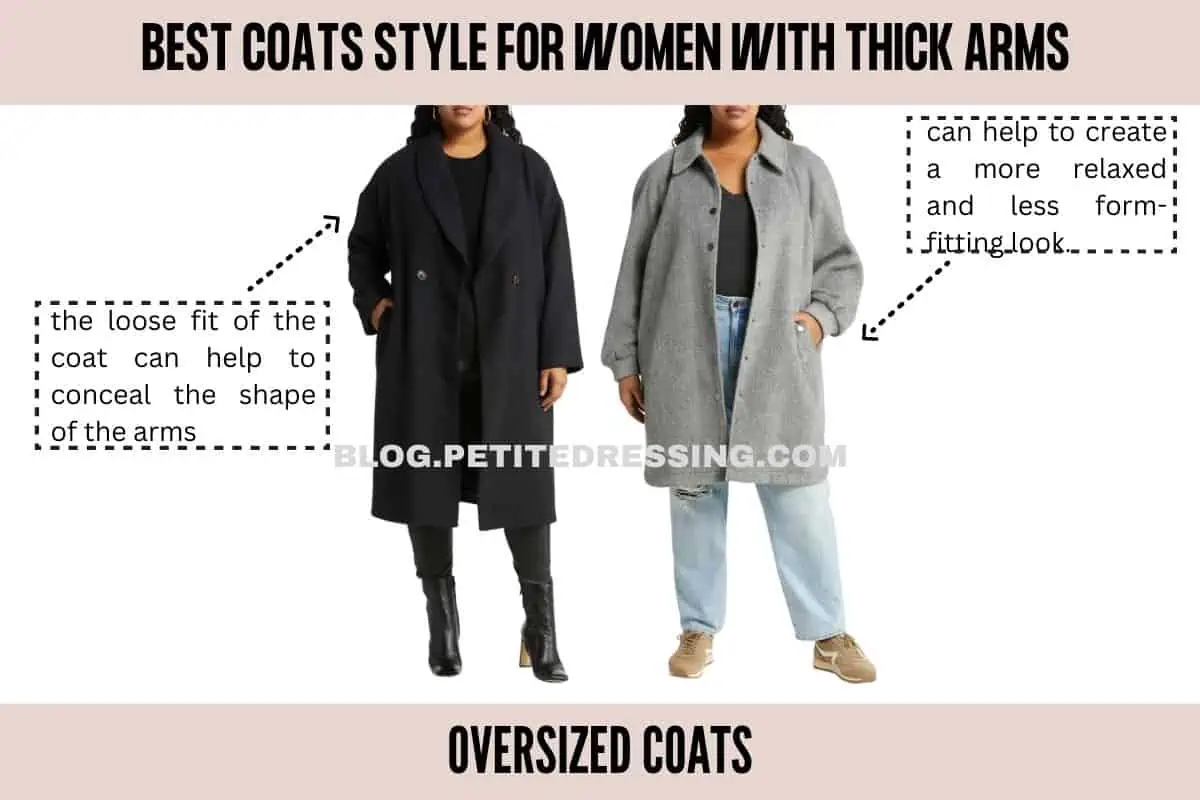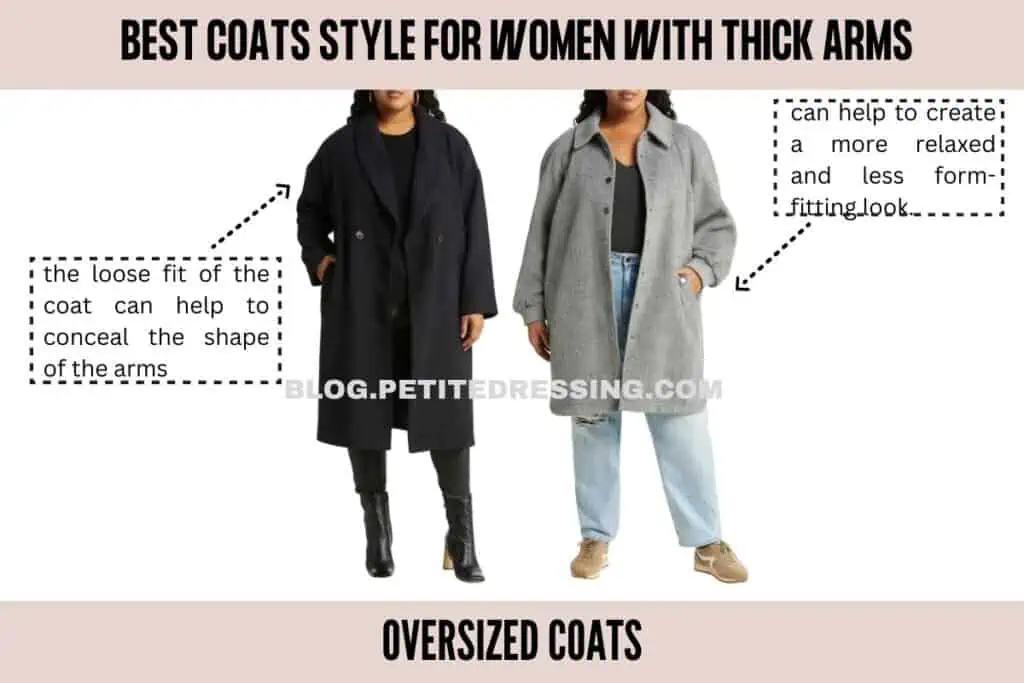 Wrap Coat with Large Lapel Collars
Wrap coats come in different styles and structures too, but if you have thick arms that you're quite conscious about, then you would want a wrap coat that has large lapel collars. It's because these large lapel collars will draw attention toward the center of your frame and therefore minimize the prominence of your thick arms.
In addition to this, its wrap waist tie also strategically adds definition to your figure by cinching the waist in an adjustable fit. This will bring a pleasing balance between your upper and lower body.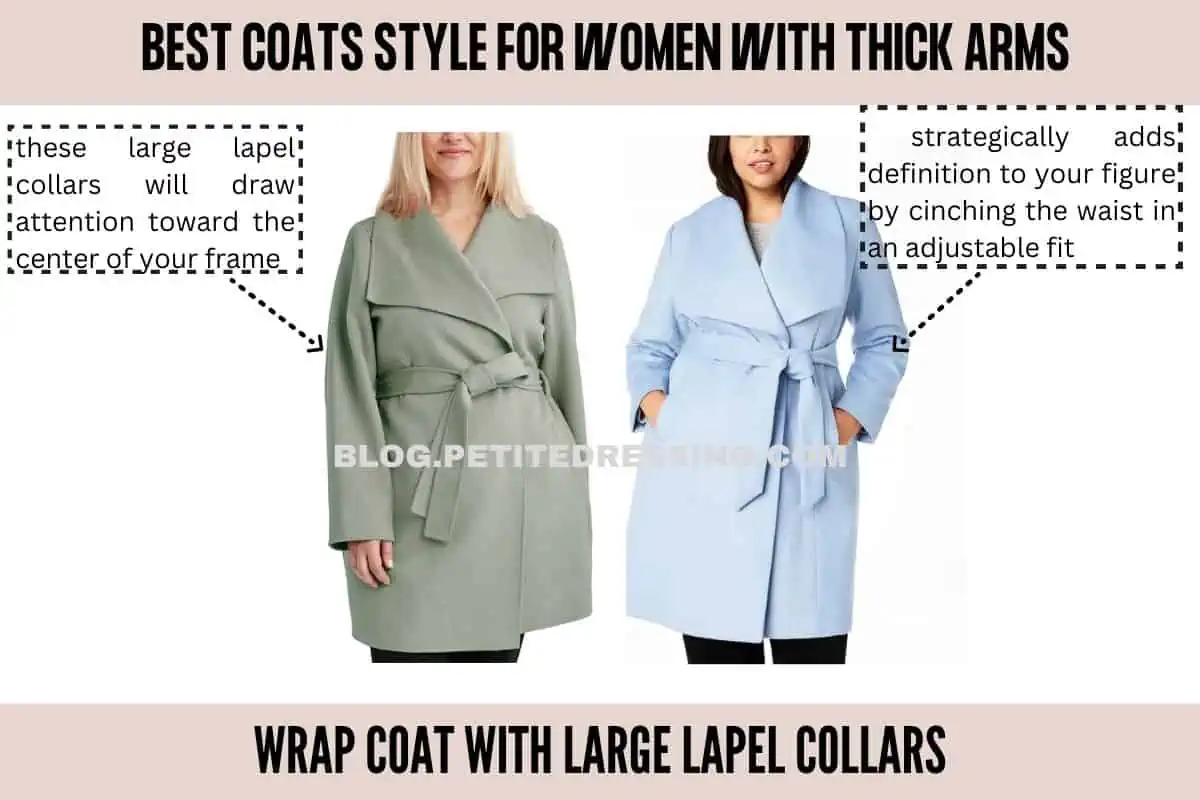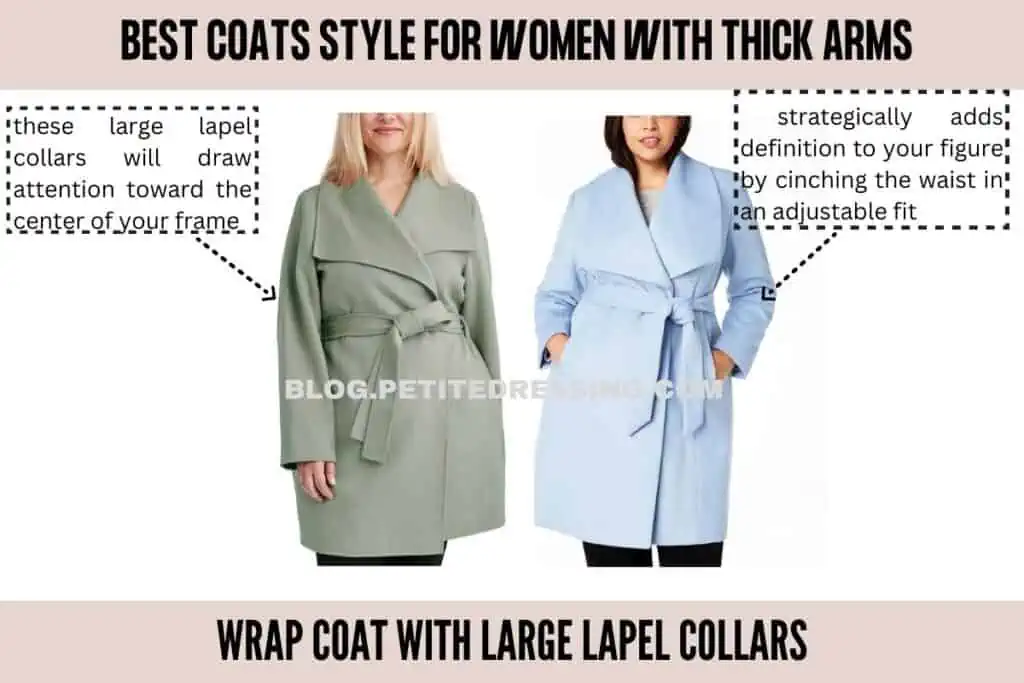 Cape Coats
If you'd like to hide your thick arms, then one of the best ways to do so is to go for a cape coat. Cape coats are very elegant and the cape sleeves and overall structure can be quite flattering for ladies who are concerned about their thick arms because it fully covers the arm area.
Since cape coats are generally very roomy due to their silhouette, you don't have to worry about your movements being limited. It'll be comfortable for your arms to move around.
Its structure where it flows down into a subtle flare makes it a versatile coat that you can use with pretty much any other ensemble (pants or dresses). Some have a belt for extra definition which is a good factor to consider if you want to emphasize your shape.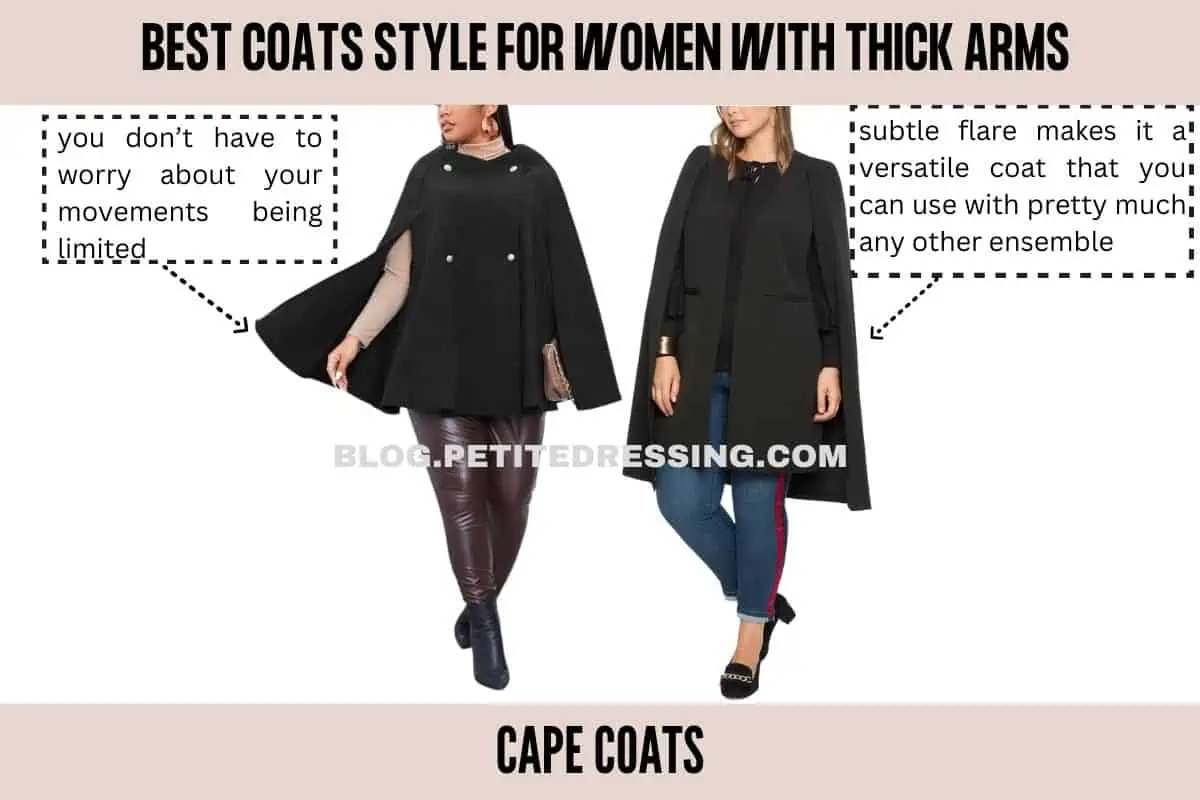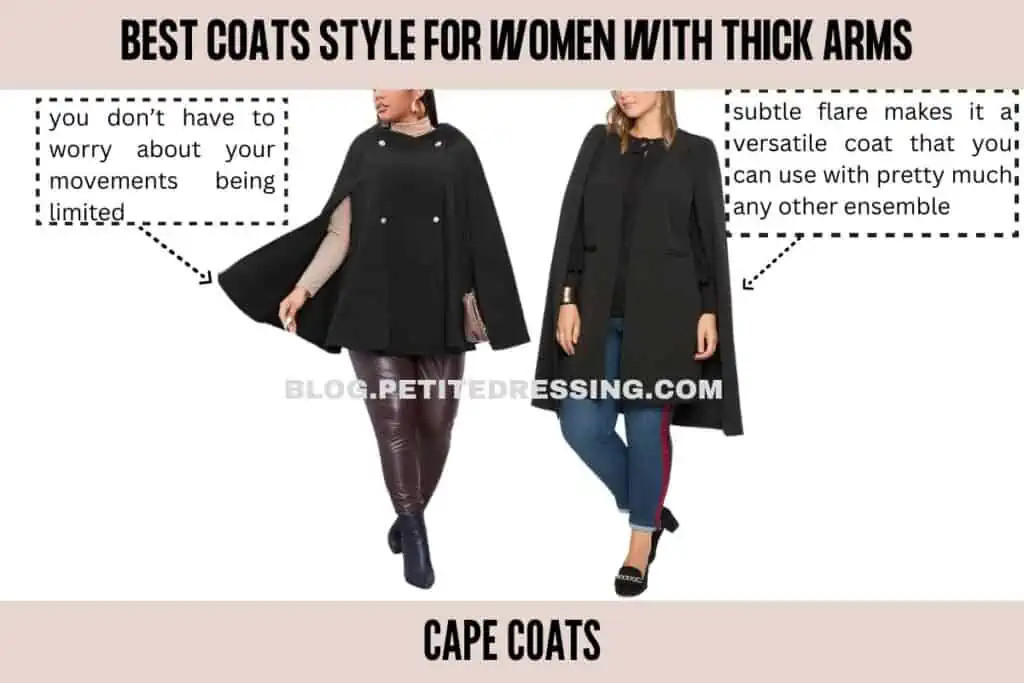 Ponchos
Ponchos are somewhat similar to capes but it's more of a square-shaped throw of fabric that wraps the body from front to back. They also don't have apparent sleeves but their structure fully covers your upper body so it efficiently conceals your thick arms.
Ponchos are quite sophisticated to look at as well although they are slightly more casual compared to structured coats like capes or tailored coats. Most ponchos have a simple, straightforward silhouette but some other style have small belt slots on the waist for that extra cinch.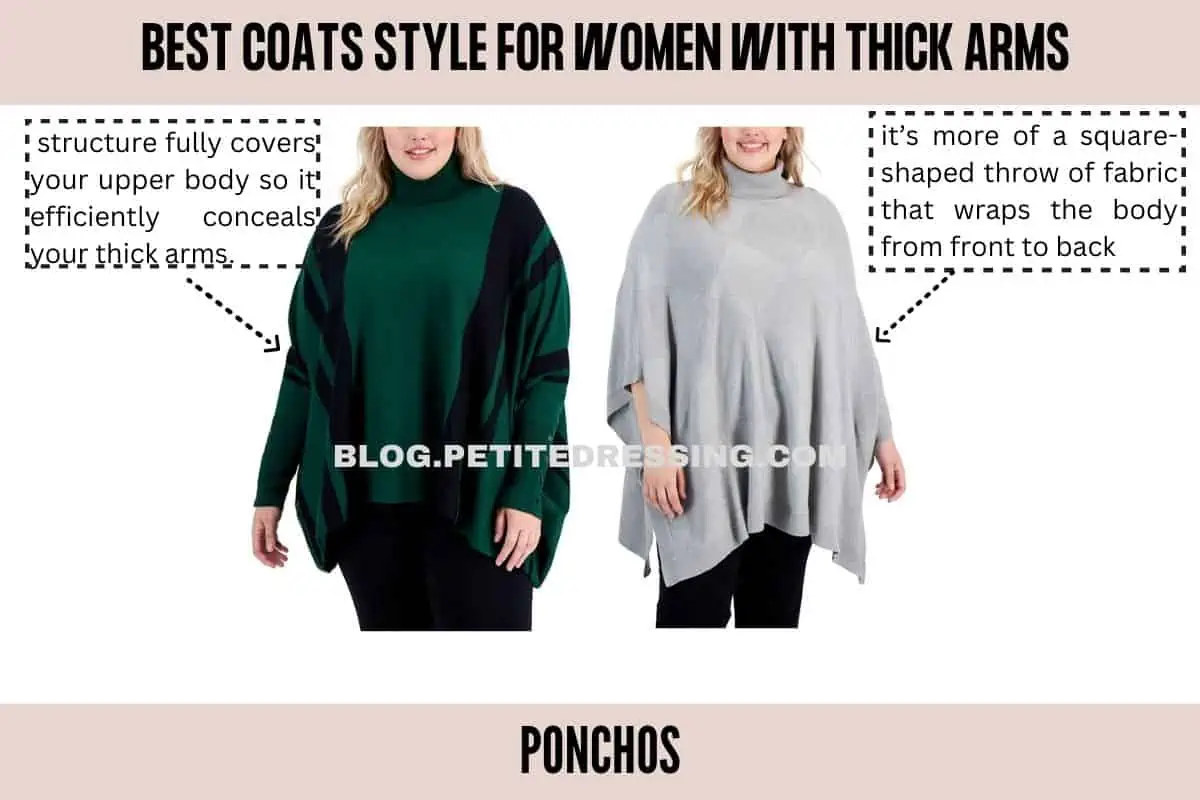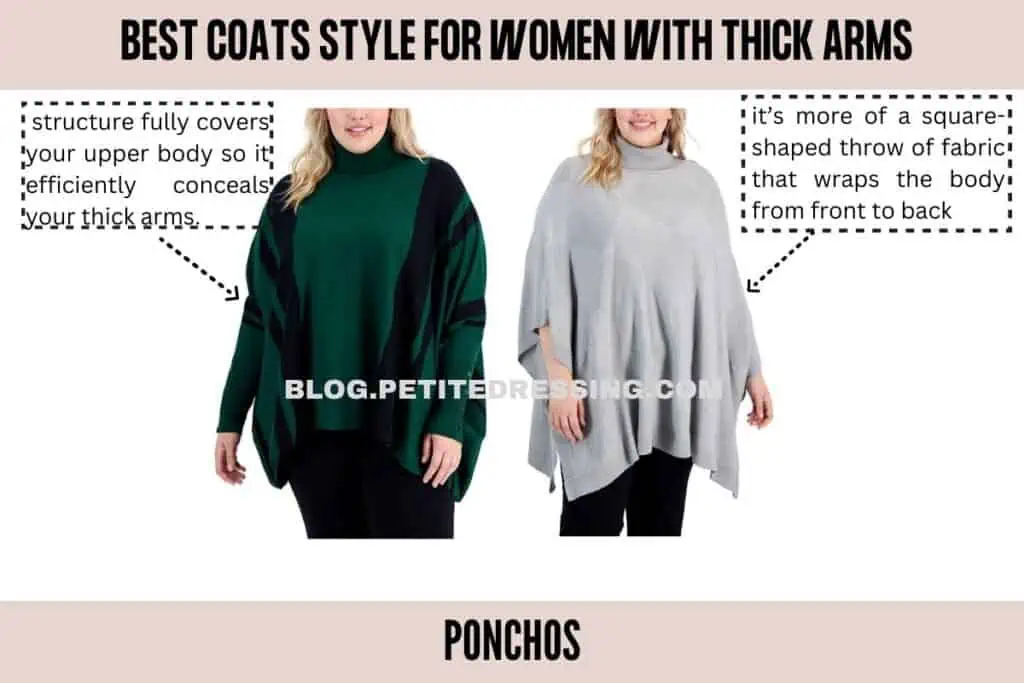 Avoid Tight-Fitting Sleeves
While most coats feature a more relaxed and roomier structure, then it would be easy to determine whether a coat would have tight sleeves. This is where the proper fit becomes a crucial factor because if the sleeves are too tight, then it will not just highlight your thick arms but will also feel very uncomfortable.
Coats rarely feature stretchy fabrics so comfort will definitely be an issue if you go for coats with tight sleeves. It's a common misconception that tight sleeves "slim down" the arms but that is totally not true!
You have to be very mindful of the fit of your coats so you will be able to highlight your best points and tone down the size of your arms.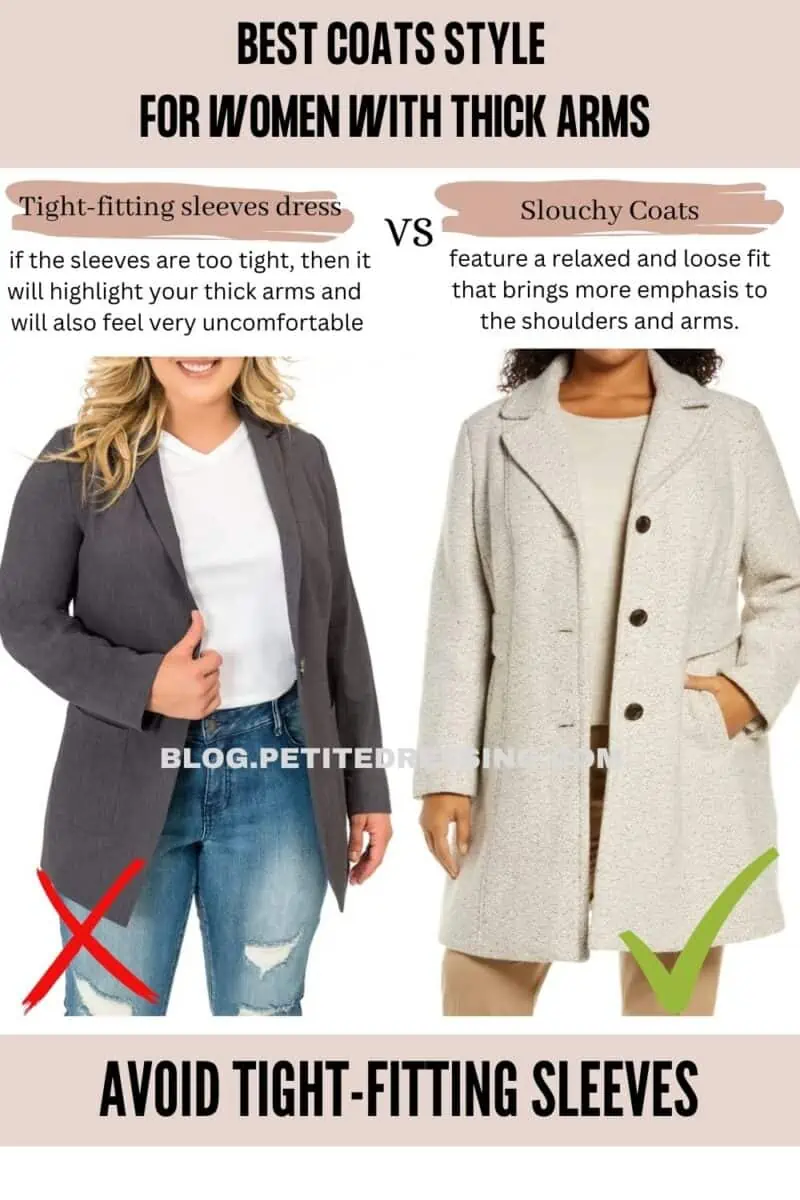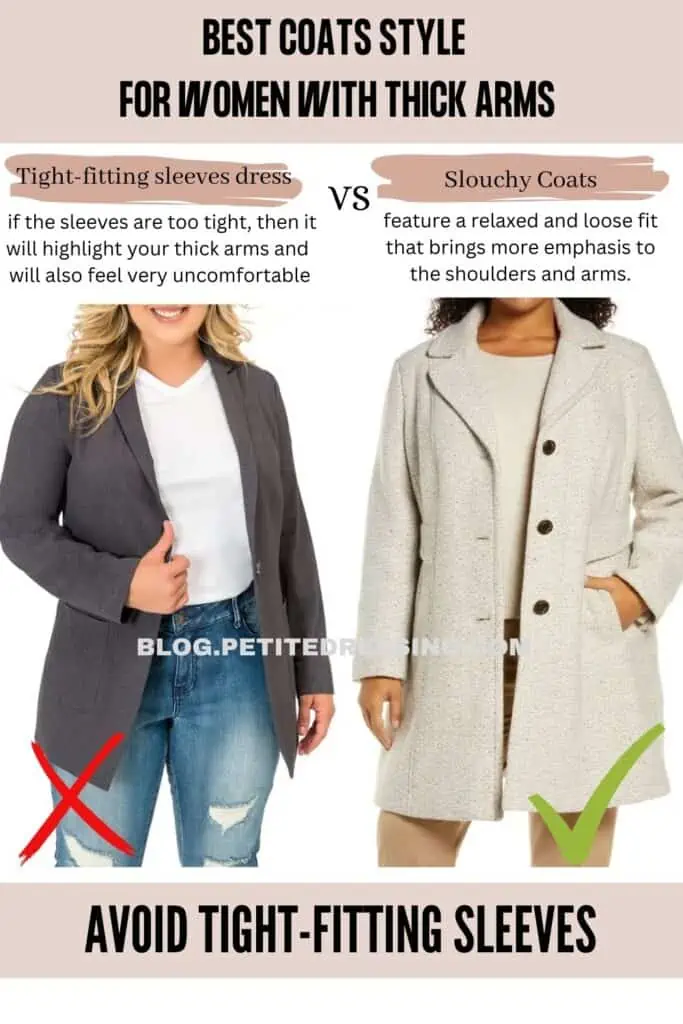 The Key Takeaway
Just like what we have mentioned earlier in this blog post, choosing a coat when you have thick arms is not as tasking as choosing summer tops. The key is to just go by the basic styling goals we have listed for you to get the right fit that will flatter your figure.
In addition to this, women with thick arms come in different body shapes too so it's not always one-size-fits-all when it comes to choosing your wardrobe pieces. A woman can have thick arms but a thin body and with this in mind, you should carefully understand your figure as well.
Understanding your natural body shape is determining your best features. Only then you will be able to choose clothing (such as coats) that will greatly flatter you and balance out your minor concerns such as having thick arms.