High-waisted jeans (like the Mom jeans) continue to have their moment in all the denim trends. The question comes in when you want to wear high-waisted jeans, but not sure if the high rise actually looks flattering for your body shape.
If you are looking for high waisted jeans that will suit you perfectly, there are several things that you should consider, and your body shape is one of the first things that should come in mind.
Here's the 7 body types that look good in high waisted jeans.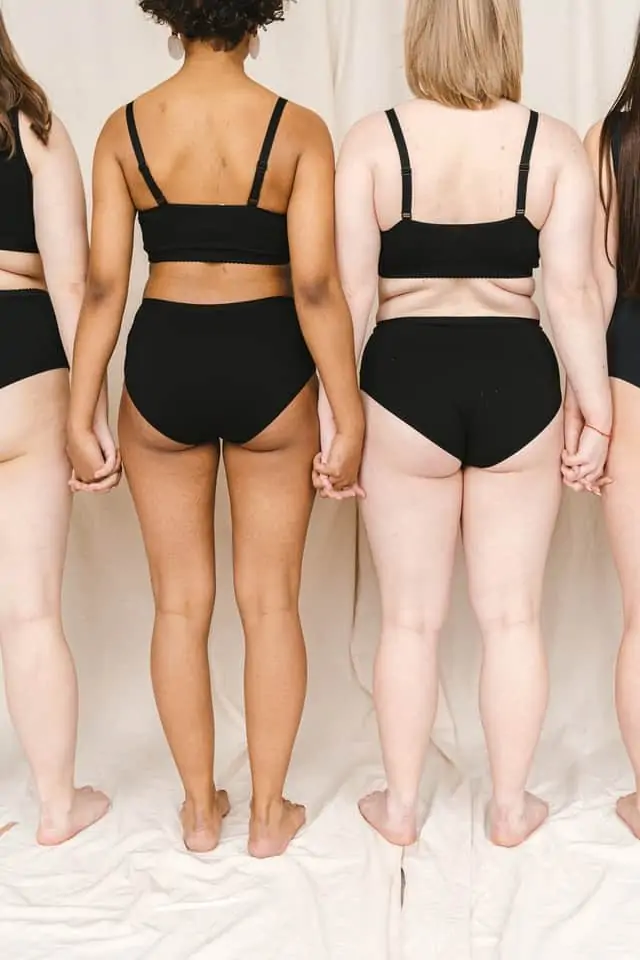 Rectangle body shape/ The straight body shape
If you don't have a well-defined waistline, well, it is quite possible you have a rectangle shape. This is also known as the banana body shape.
In other words, all your body measurements (shoulders, waist and hips) are the just about the same.
High-waisted jeans would look great on your body, but we suggest you wear them with a brightly colored top to remove attention attraction around your waist.
Also, avoid high-waisted jeans that are too tight to make you look even tinier.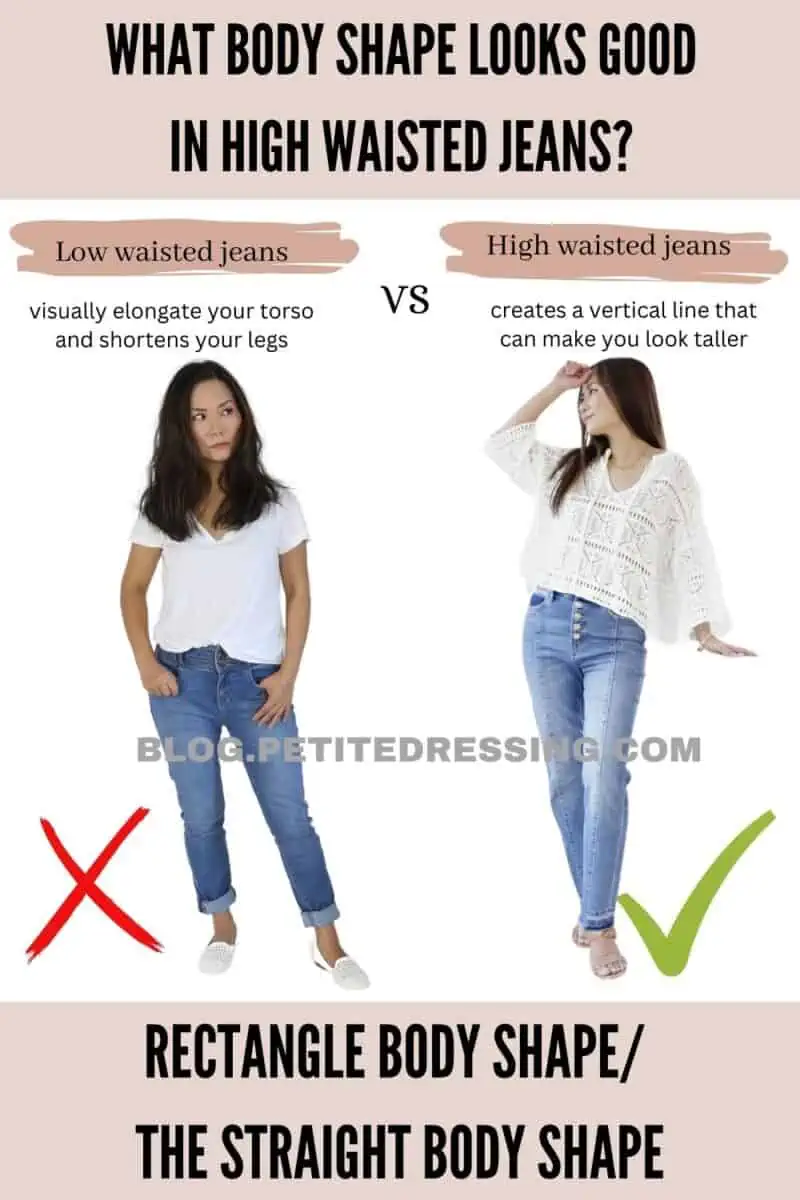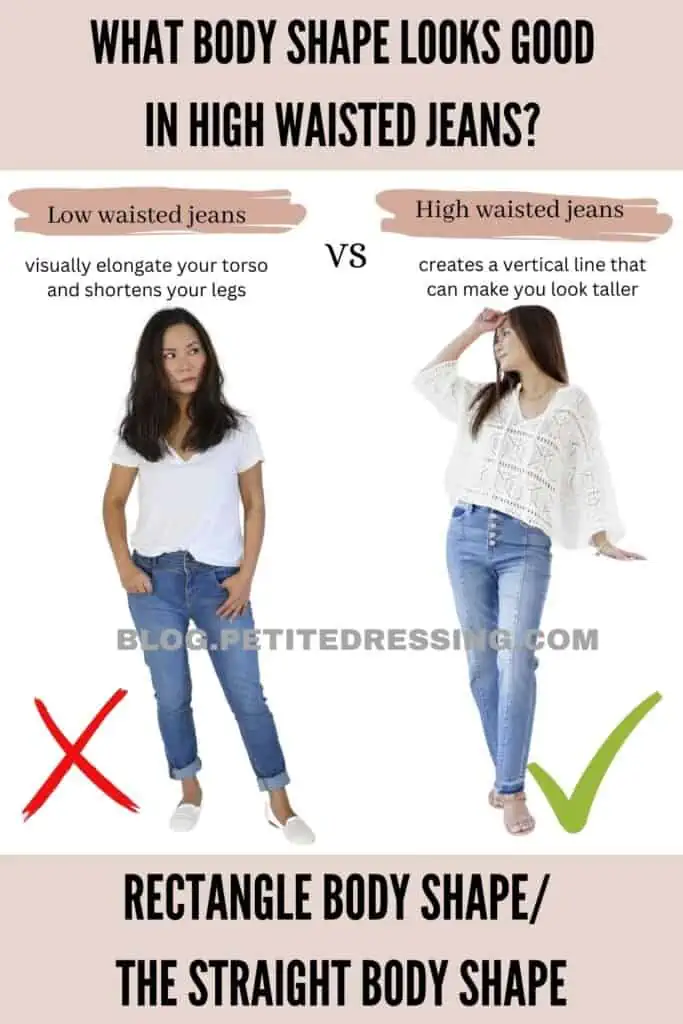 Apple body shape
If you tend to gain weight to your midsection, well, chances are, you are apple body-shaped.
This means you have
rounder shoulders
shoulders and hips are about the same width
undefined waist
slim legs
your breasts are more extensive than your hip section.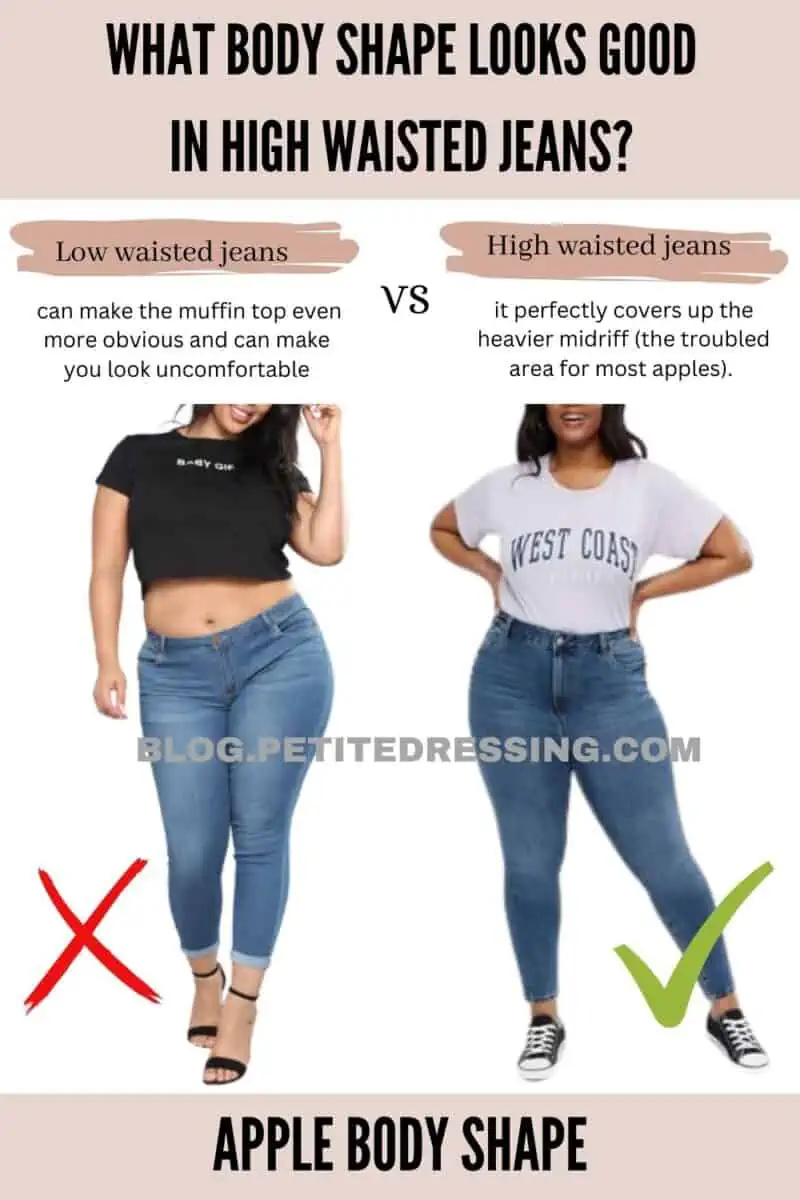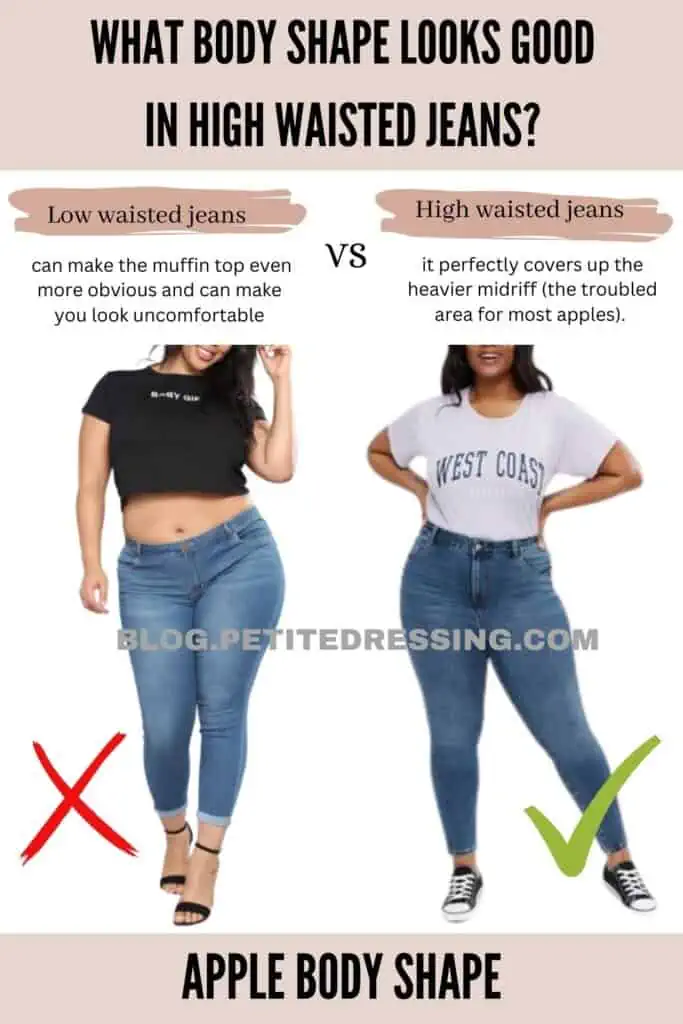 High waisted jeans can be very flattering for your shape, because it perfectly covers up the heavier midriff (the troubled area for most apples).
If you want to rock high-rise jeans, we recommend those that are more spacious around the waist.
If they are too tight, not only can they make you quite uncomfortable around your waist, but also they can make the muffin top even more obvious.
You can also wear shapewear or a relaxed fit top to avoid drawing attention to the tummy.
Pear body shape
Do you have a tiny waist and broad hips?
Are your thighs the widest part of your body?
If so, this is likely your body shape.
Tight high waisted jeans would look good on you, especially if you have a flat tummy, which is a proud feature of many pear-shaped women.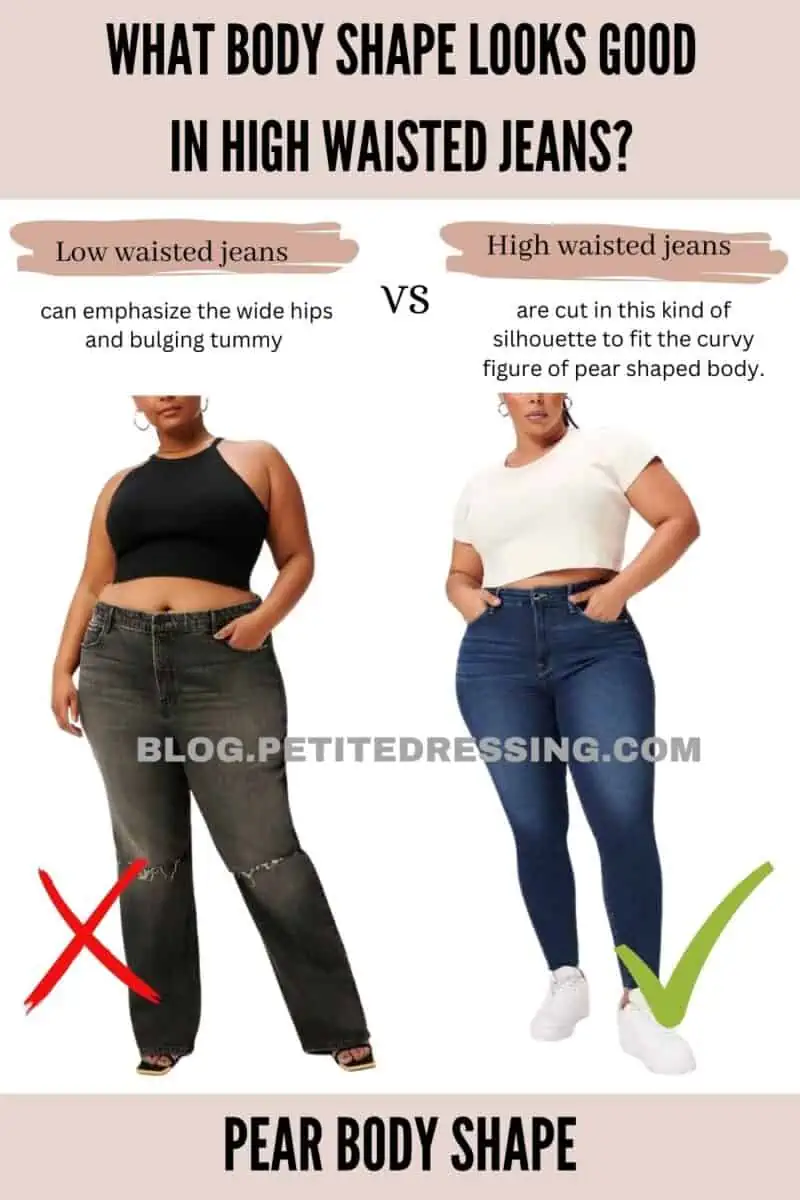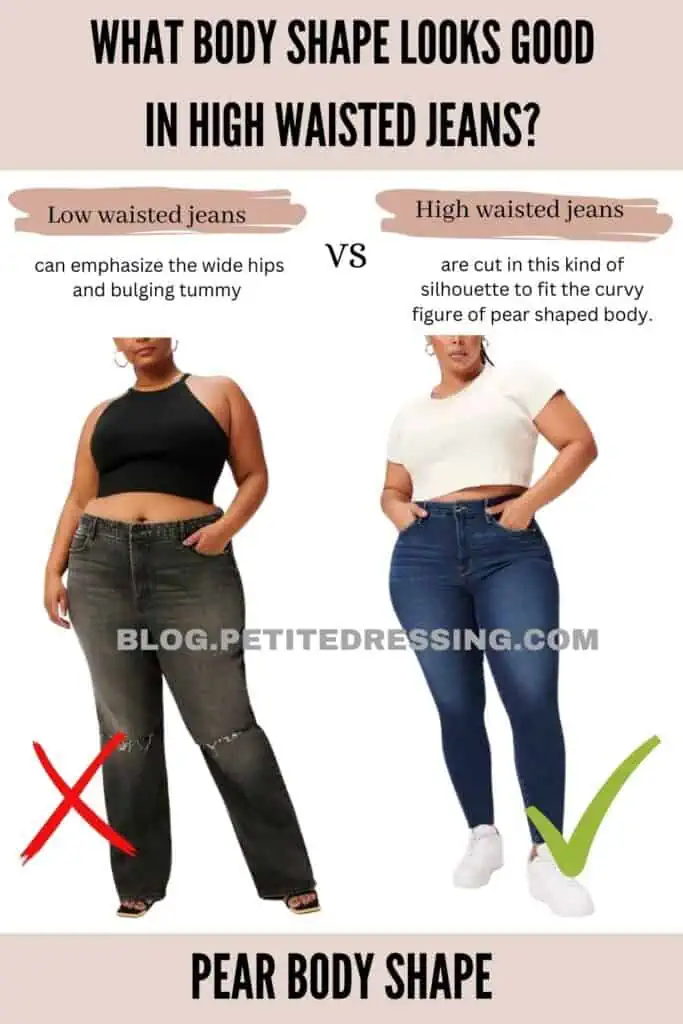 If you don't, you can get e a waist trainer that you will wear before you wear your jeans to get that nice curvy body.
The trick for pear-shaped women to find the best high-waisted jeans is to go for those with narrower cuts in the waist and wider in the hips and thighs.
Typically, the "curvy fit" jeans carried by many popular denim brands are cut in this kind of silhouette to fit the curvy figure of a pear-shaped body.
Hourglass body shape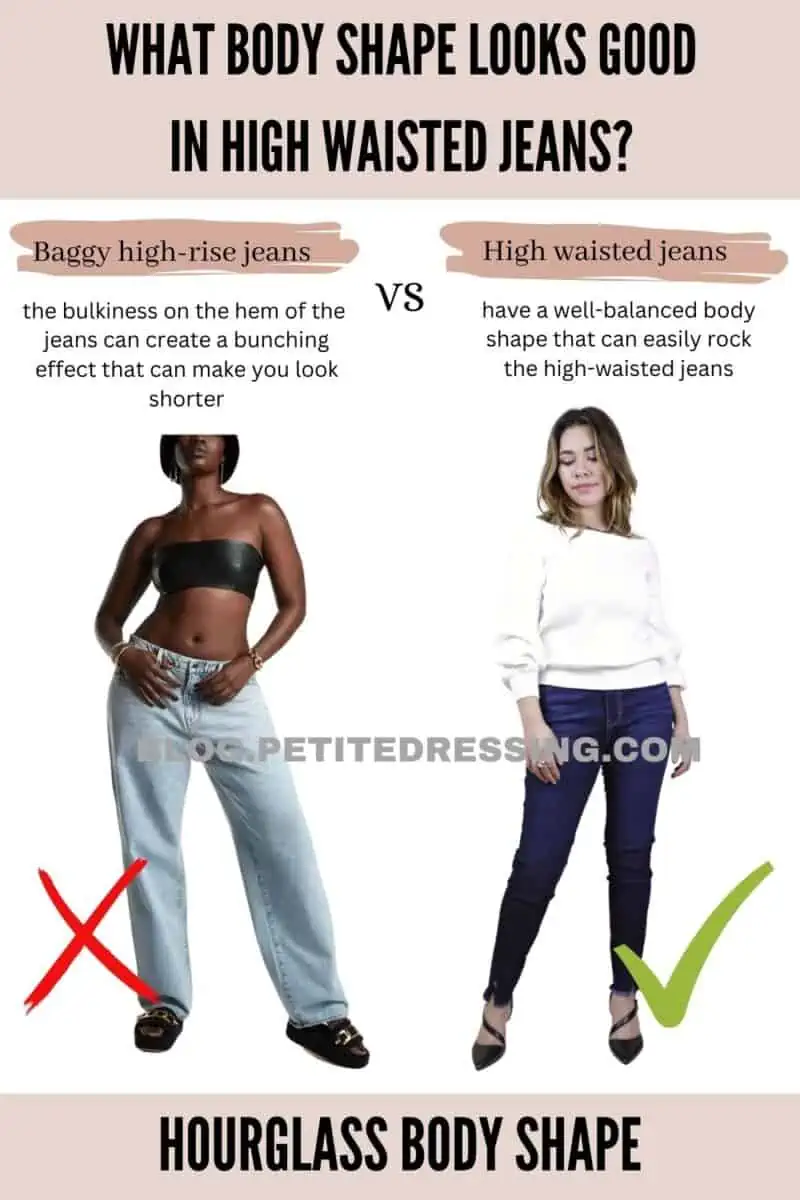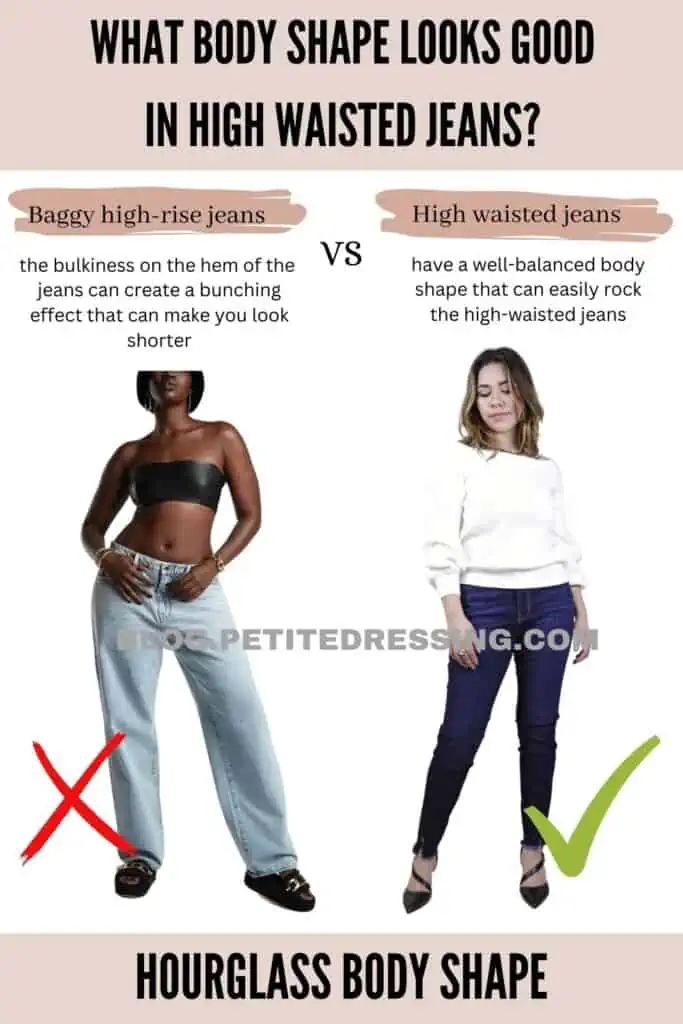 You have a well-defined waist, and a nice butt and your body is well-proportioned everywhere.
The hourglass-shaped women have a well-balanced body shape that can easily rock the high-waisted jeans. Whether a tighter fit or a relaxed fit, you are good to go.
You can even go the extra mile and rock it with a crop top.
Sometimes you can opt to buy high-waisted jeans that are rugged on the thigh area.
Diamond-shaped body
You have wide hips, a bust size that's almost the same as your hips size, and your waistline area is whole, then you are diamond-shaped.
Rock a high-waisted pair of jeans with a brightly colored top without fear.
You can even go the extra mile and draw attention to both your body shape and your busts by wearing a spaghetti top.
Top hourglass shape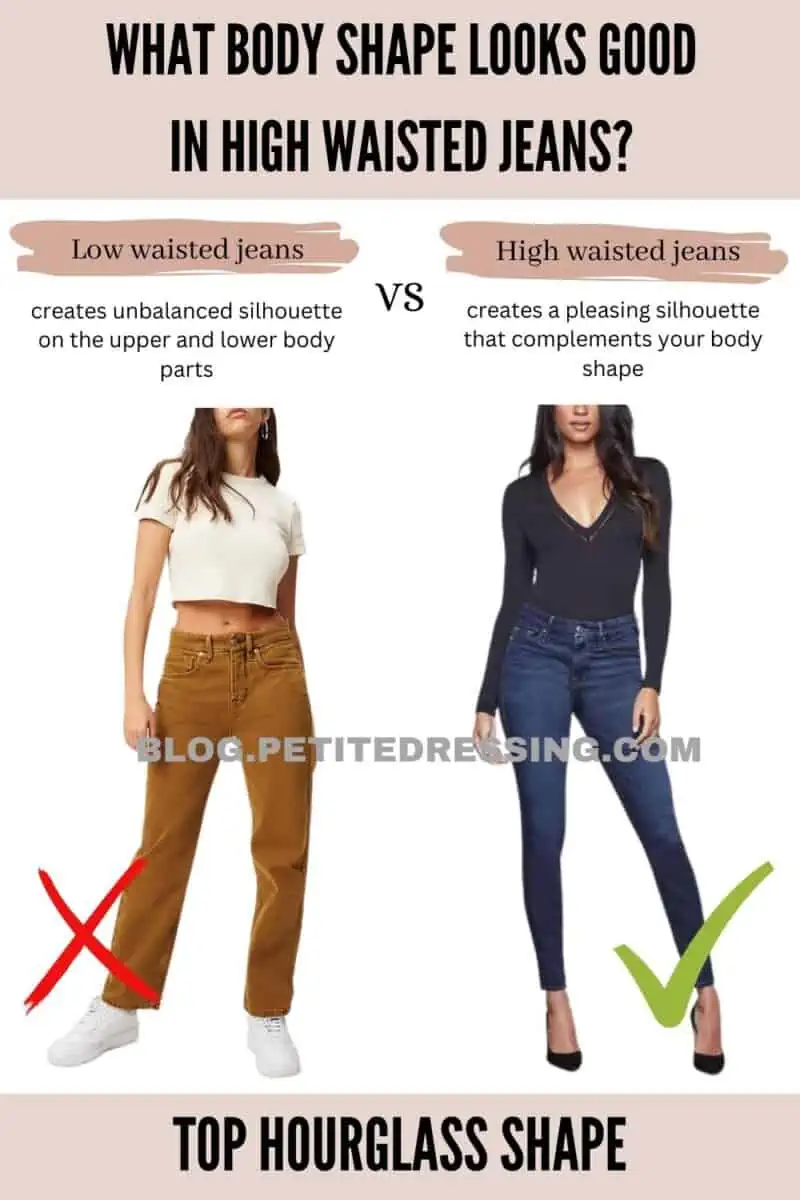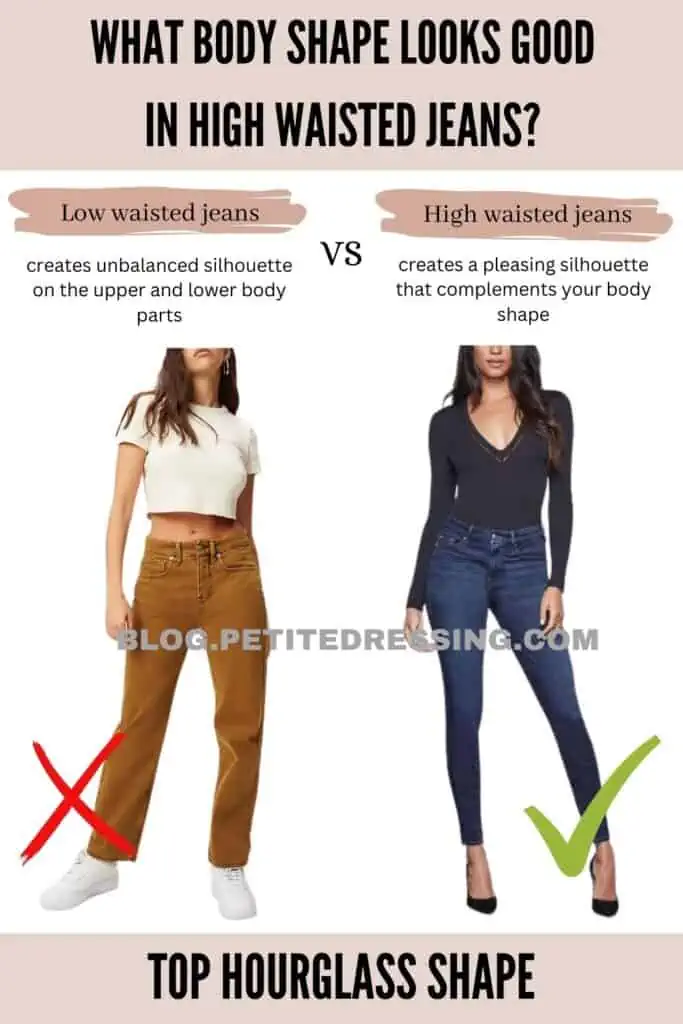 If you have this kind of body shape, then you are lucky.
Having broad hips and a trim waistline is every girl's dream.
Now that you have that privilege get as many high-waisted jeans as you can.
Whether tight or baggy, rock them.
Long-rise body type
This is a different way to look at body types, compared with all the other body types mentioned above.
Rise is referring to the distance between your natural waist and your crotch.
Having a longer rise means high waisted jeans is a heaven sent for you, because your body calls for higher waist design in any bottom you wear, not just jeans !
In fact, your body will not feel as comfortable if you ware wearing anything other than high waisted jeans.
You will especially feel the difference when you sit down. Even when you are wearing mid-rise jeans, they can feel like they are not quite covering you enough, if your rise is long.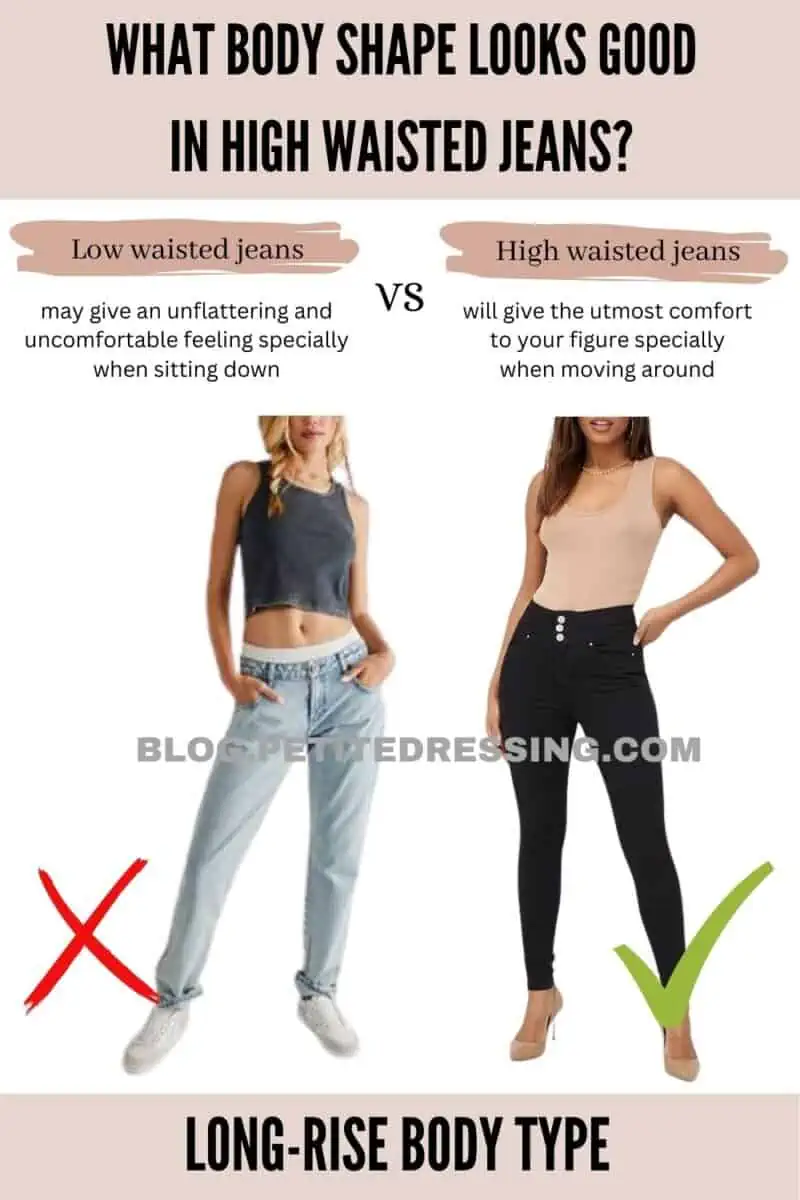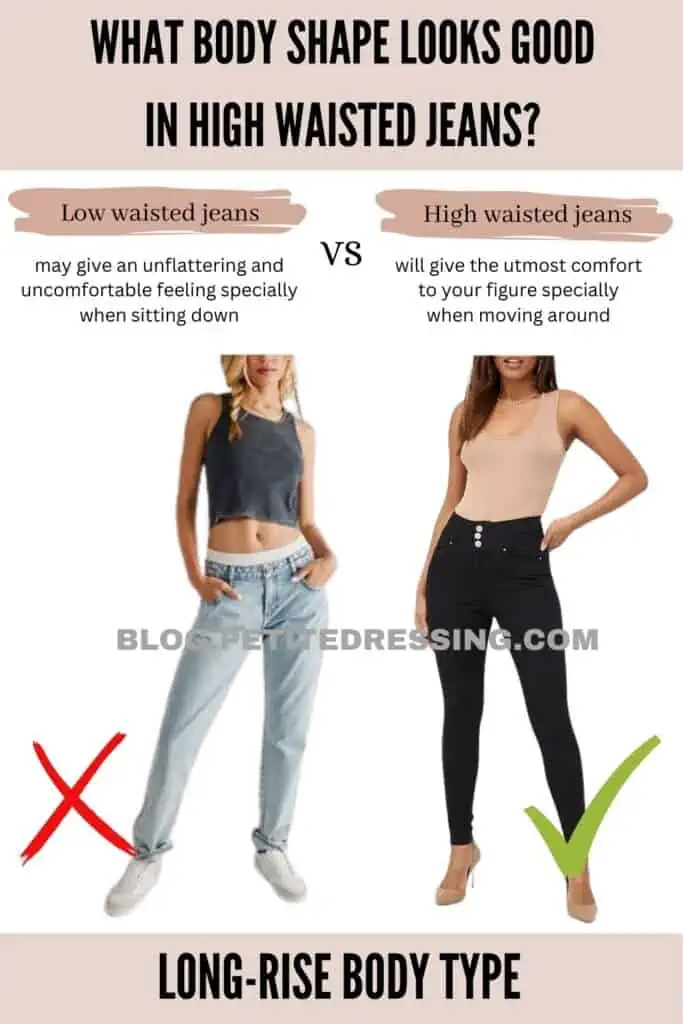 Sometimes you may feel like you want to pull up your jeans all the time.
If that is happening often, it is a pretty obvious sign that you need higher waist jeans.
Not only these are the most comfortable jeans for women with longer rise, but also they are the best jeans to make you look taller and leaner.
Now that we've looked at the body types that are most suitable for high waisted jeans, let's also look at which body shapes do not look good (or feel good )in high waisted jeans.
Short rise
If you have a shorter waist, high waisted jeans is not going to be a wise choice, or obvious reasons.
Because they extend above your natural waist, they can make your already short torso look even shorter.
A much better choice for you is the mid rise jeans.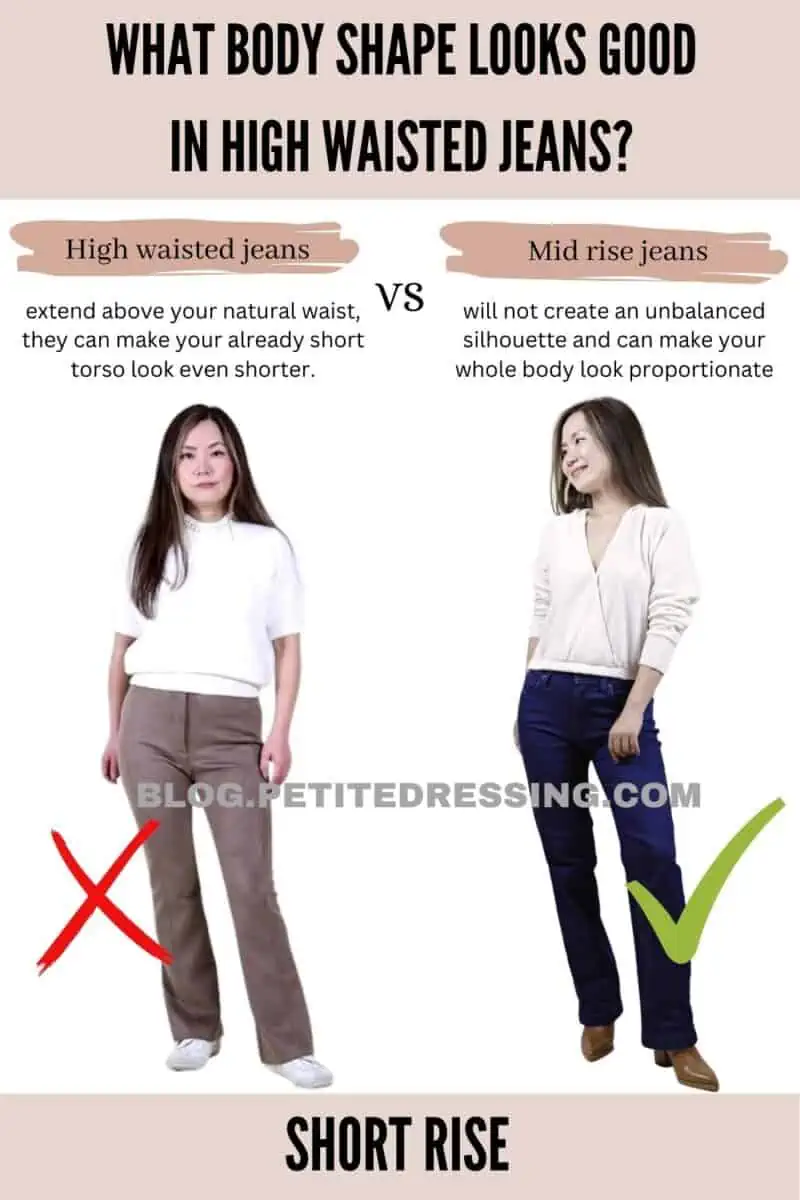 Inverted triangle body shape
High-waisted jeans may not be your best bet.
If you are an inverted triangle, you typically have :
a tiny waist
slimy legs
large breasts
broadened shoulders
The main reason that you will not look (or feel) the best in high-waisted jeans is that inverted triangle shape tend to have shorter rise.
Besides, high-waisted jeans tend to draw attention to the lack of a defined waist.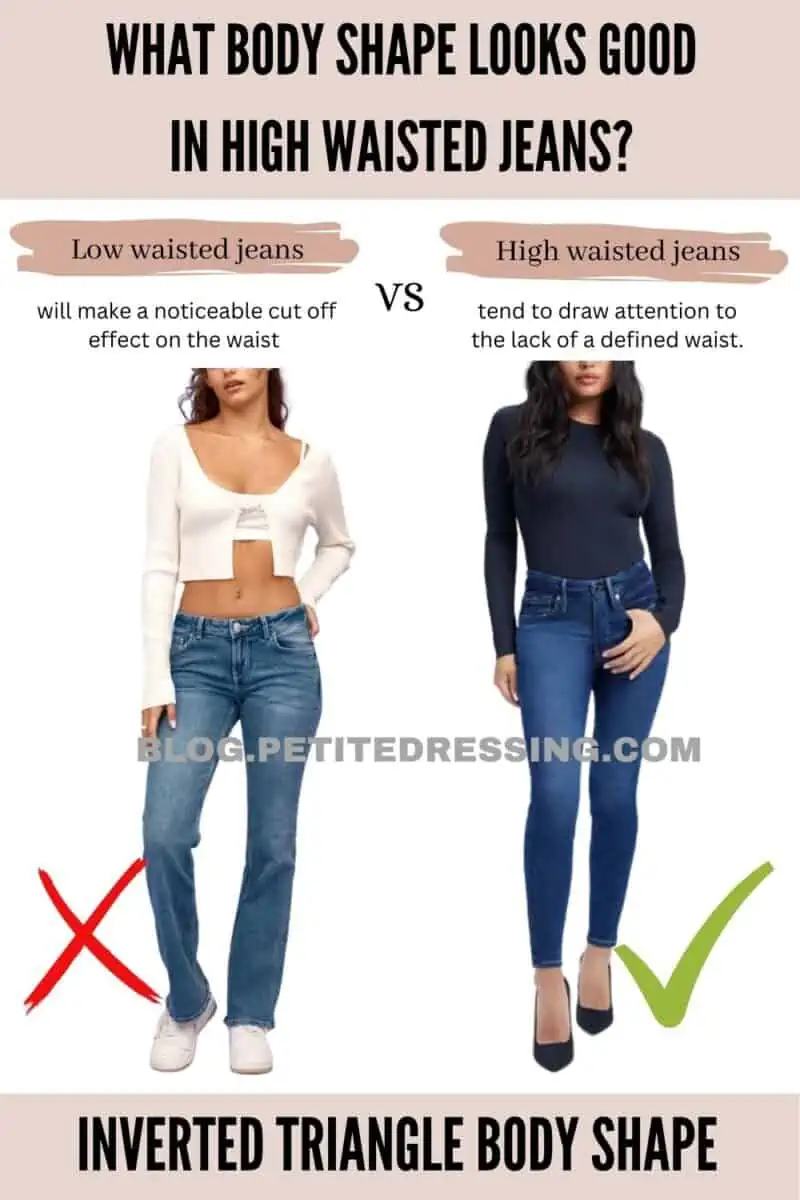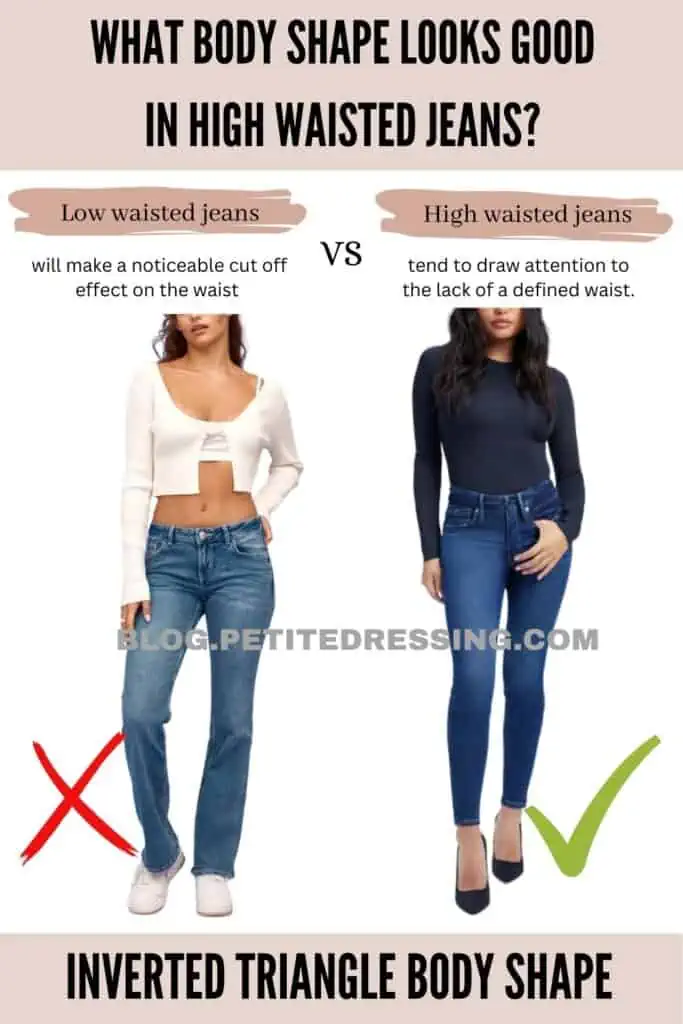 Flat bum
If you have a flatter bum, wearing high-waisted jeans can make that even more obvious.
It is totally understandable if you do not know what body type you have.
The reason is the human body has so many different variations, it is highly probable that you find yourself fitting into description of more than one body type, in other words, you may have a "mixed" body type.
So, if you find yourself do not check the boxes of a certain body shape, you are not alone. Most women feel that way.
We do have a body type quiz that can make you understand your body shape better with several simple questions!