Short and chubby women can wear long dresses and still look fabulous. However, this doesn't apply to every long dress out there. This long dress guide for short and chubby women will help you pick the best styles to rock to different occasions including dinner, birthdays, or even a wedding celebration.
Be sure to stick around for our exclusive tips on styles that are not great for short and chubby women , especially ruffled clothing.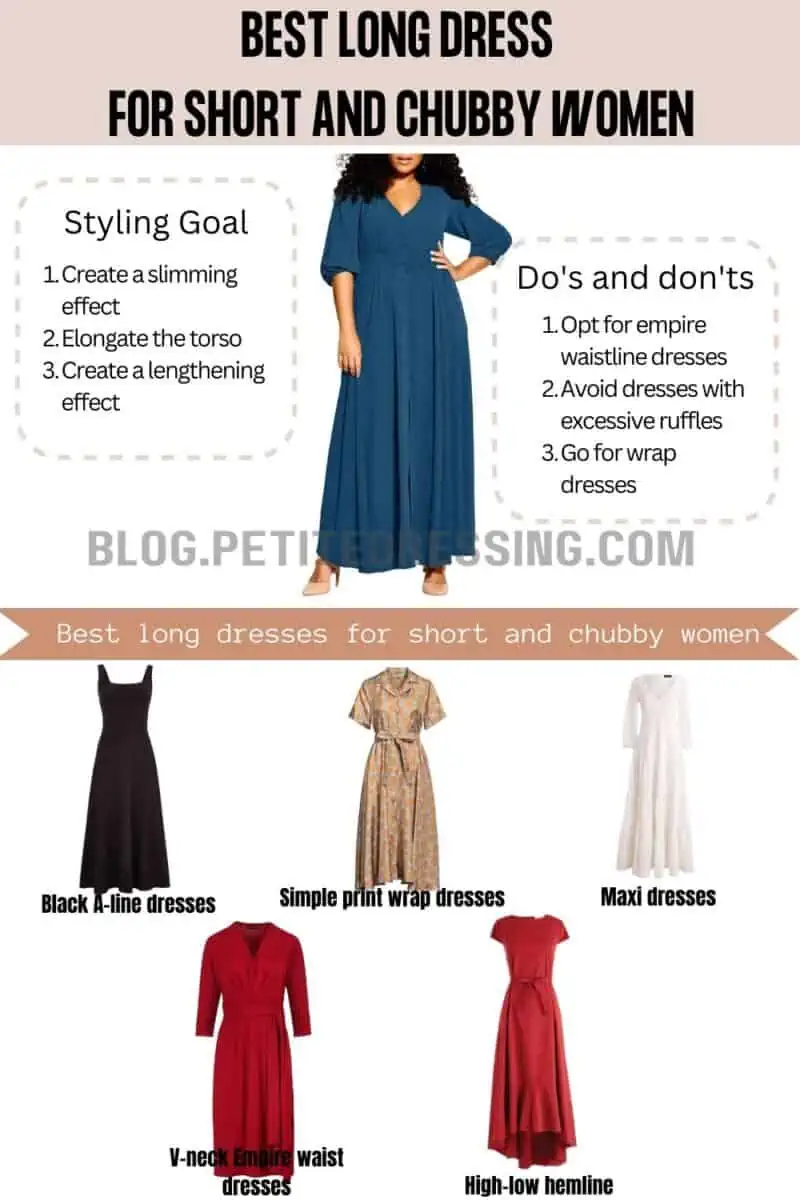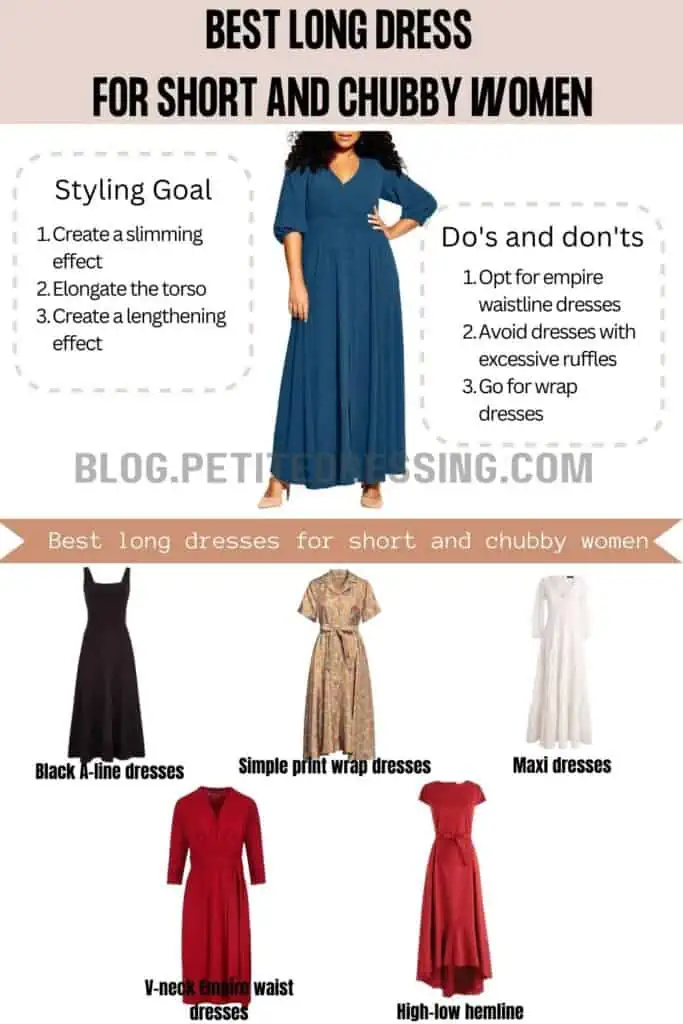 Black A-line dresses
Black A-line dresses are flattering for women who are bottom-heavy and have thick thighs and big hips. These are all features that the average short and chubby woman has, making this a perfect dress style for women with this body type.
The A-line dress gives your thigh a lot of room without any restrictions on your movement. This is because of the flare style which is prominent at the bottom half of the dress and that means it won't cling to your body.
So, if you have big thighs but don't want this to be too obvious through your dress, the black A-line dress will provide the perfect camouflage alongside the slimming effect of the dark color.
Choose black A-line dresses made with structured fabrics that will skim your body shape without being too loose. With this, you can achieve a balanced feminine silhouette and step out in your dress with confidence.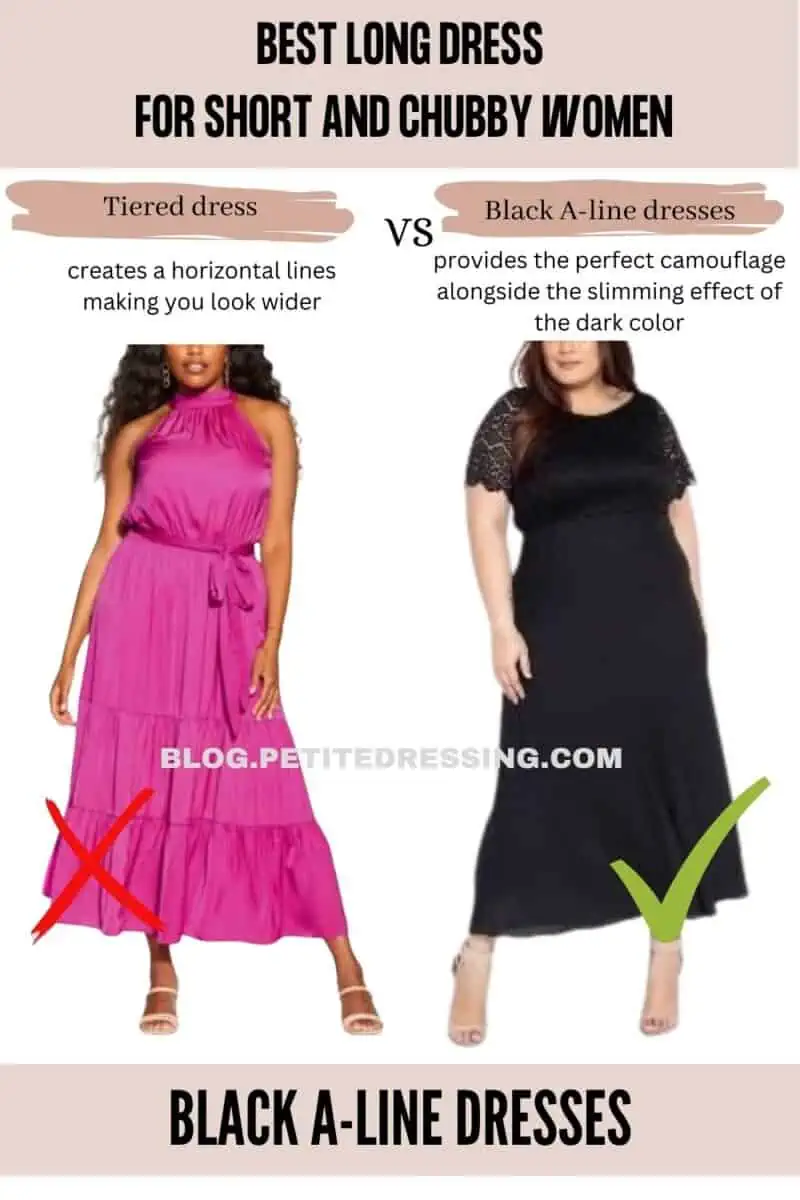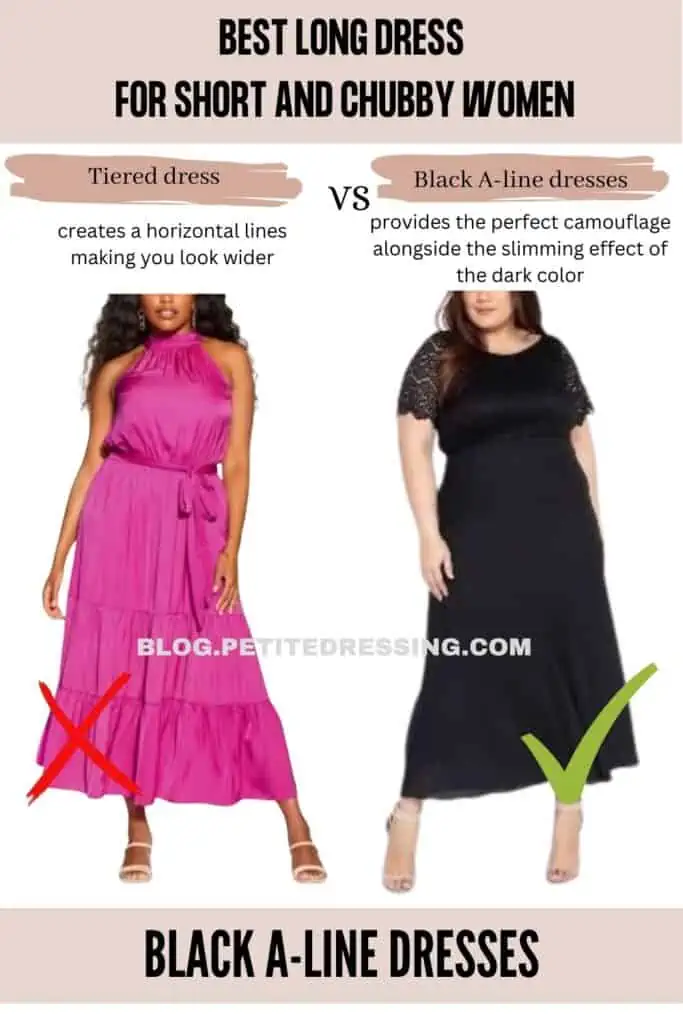 Simple print wrap dresses
The beauty of wrap dresses is that they work for most body types including hourglass, pear, and apple. However, they work even better for short and chubby women, with a super flattering effect that you should take advantage of for occasions.
Most wrap dresses comes with a v-neckline and this is a huge plus for making your waist look narrower and elongating your torso. The v-neckline draws attention away from your waistline and this works seamlessly with the belted style which is great for anyone without a natural waistline.
Since this wrap dress is an adjustable belted style, you can choose how tight or loose you want it to be, which adds a lot to your level of comfort. The wrap dress drapes gorgeously over your bumps and lumps, leading to a super-flattering silhouette.
Need to wear this for work? Just pair it with some sleek accessories and a pair of sensible heels. The v-neckline makes it perfect for a drop pendant necklace. Give it a more casual vibe by switching things up with sneakers and a denim jacket.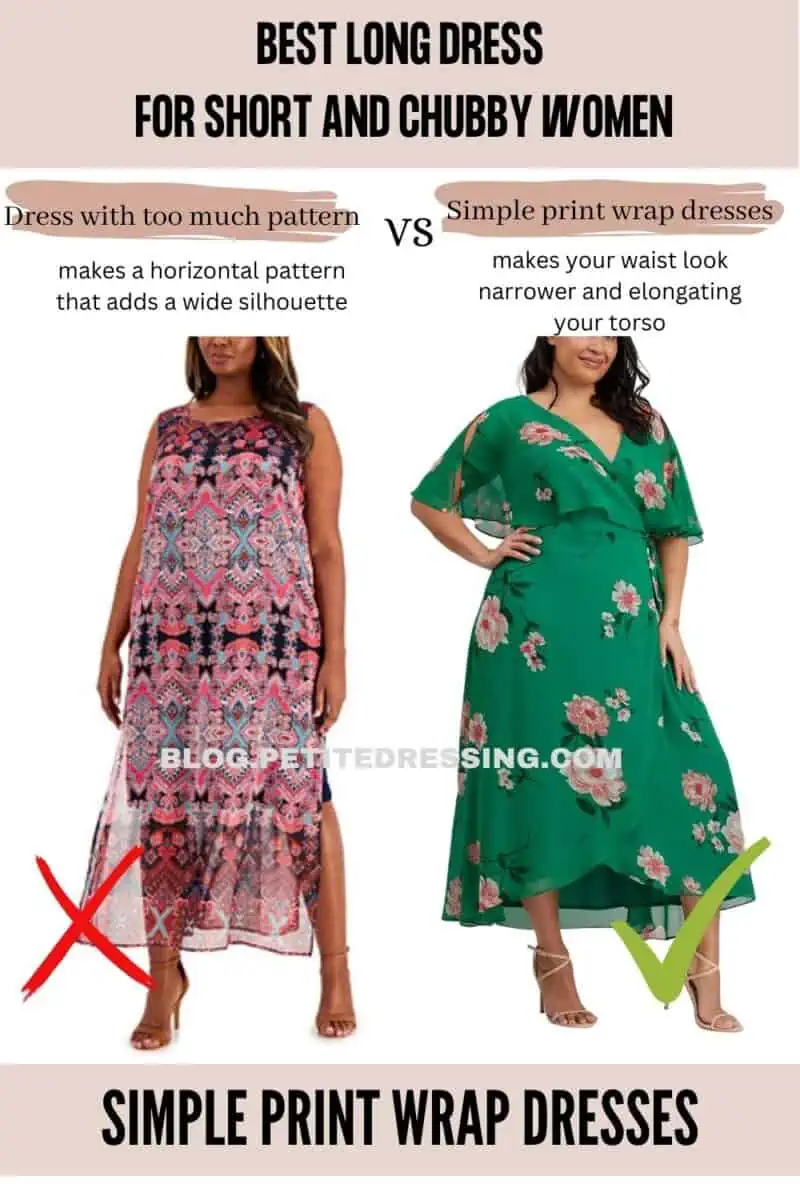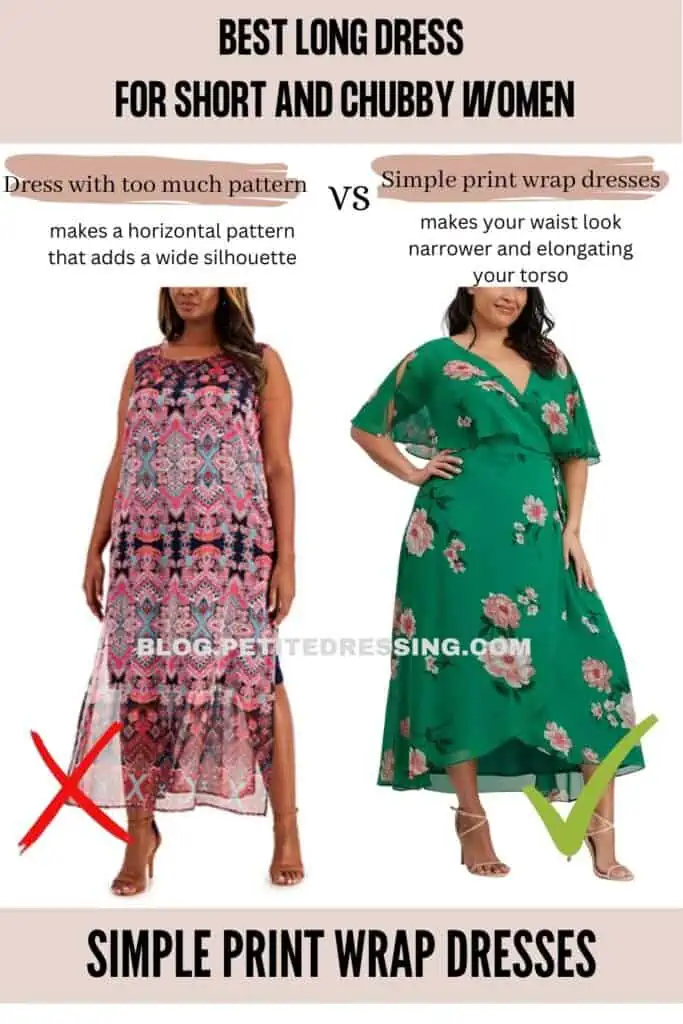 Maxi dresses
Maxi dresses are known as full-length or ankle-length dresses, and the key defining feature is the free-flowing style. If you're a short and chubby woman who wants to hide their tummy bulge without making this too obvious, a maxi dress can get this done.
The flowy appearance of the waistline helps in camouflaging your hips and stomach. Your best bet is to go for maxi dresses with an empire or fitted waistline. However, flowy doesn't mean baggy, as the excessive fabric won't have the desired effect.
To get the best out of maxi dresses, choose v-neck styles that elongate your figure and draw the eye downwards. The goal is to take advantage of this long dress without turning it into a giant drape over your body.
Therefore, ensure that the dress is a perfect fit around your bust line and shoulders. This is important so that it flows beautifully towards your ankle while highlighting your feminine shape. Also, the length matters, so it's best not to go for maxi dresses that hit the floor.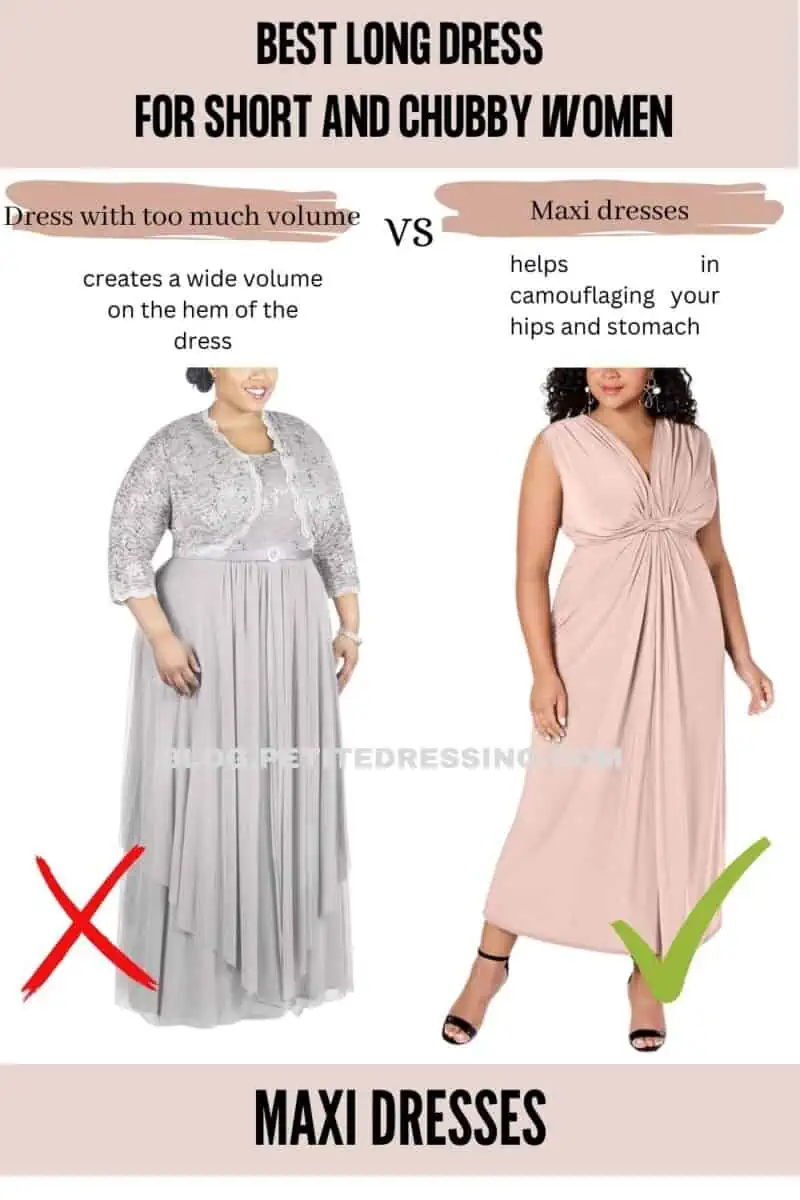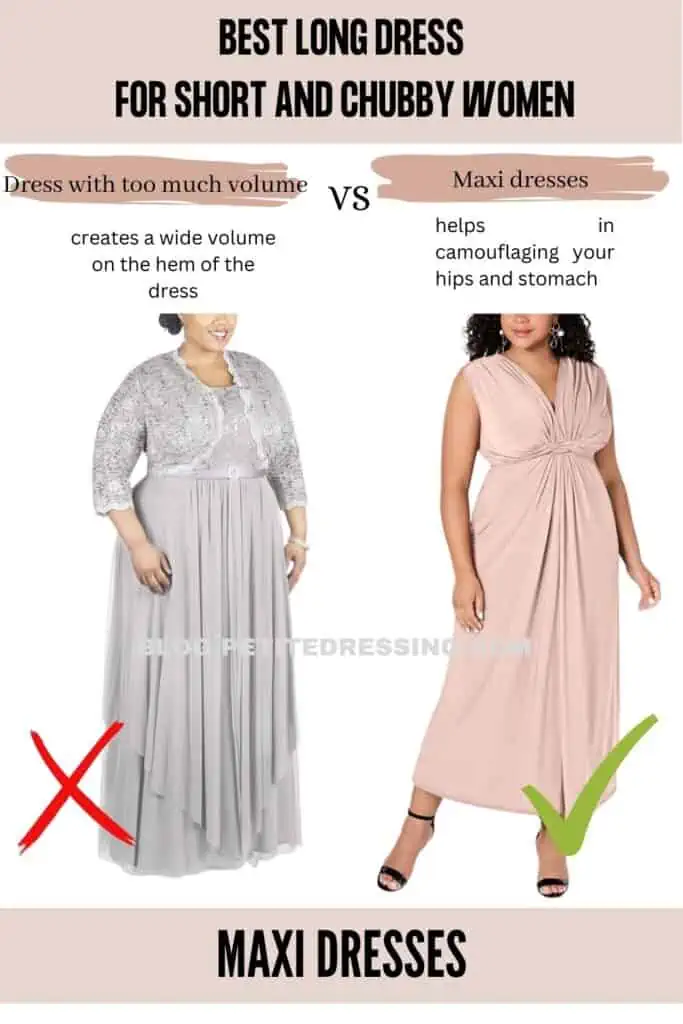 V-neck Empire waist dresses
The v-neck empire waist dress is a flattering and classy choice for short and chubby women who wants a dress that creates longer legs and a leaner frame. Since most short and chubby women have thicker waists, the empire waist dress style is great because you don't need a thin waist to have a flattering silhouette.
This dress cinches above your waist which creates a lengthening effect that's accompanied by the illusion of being slimmer. Therefore, if you're worried about your big bust and how to get a dress that flatters it, the v-neck empire waist dress is the perfect solution.
Overall, the flare accentuates your curves, making you stand out beautifully. The v-neckline is a fantastic addition because it draws more focus to your neck and shoulders, and away from your lower body.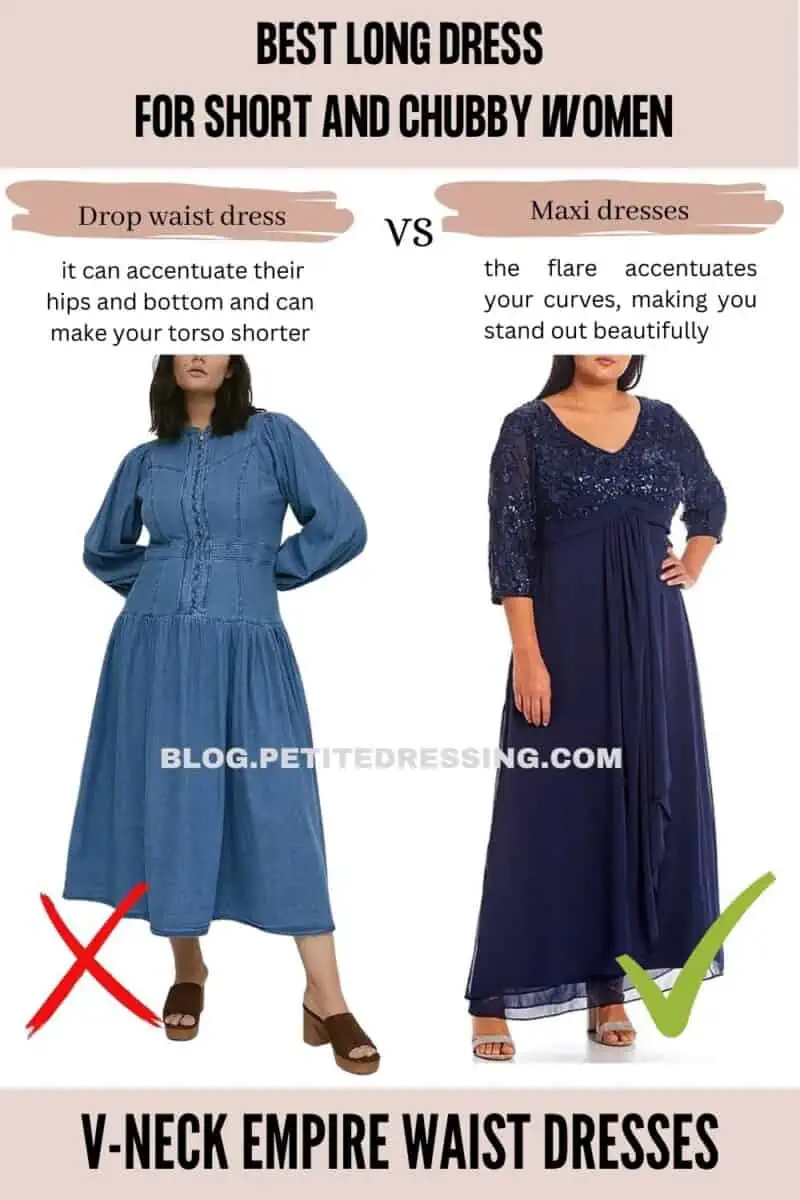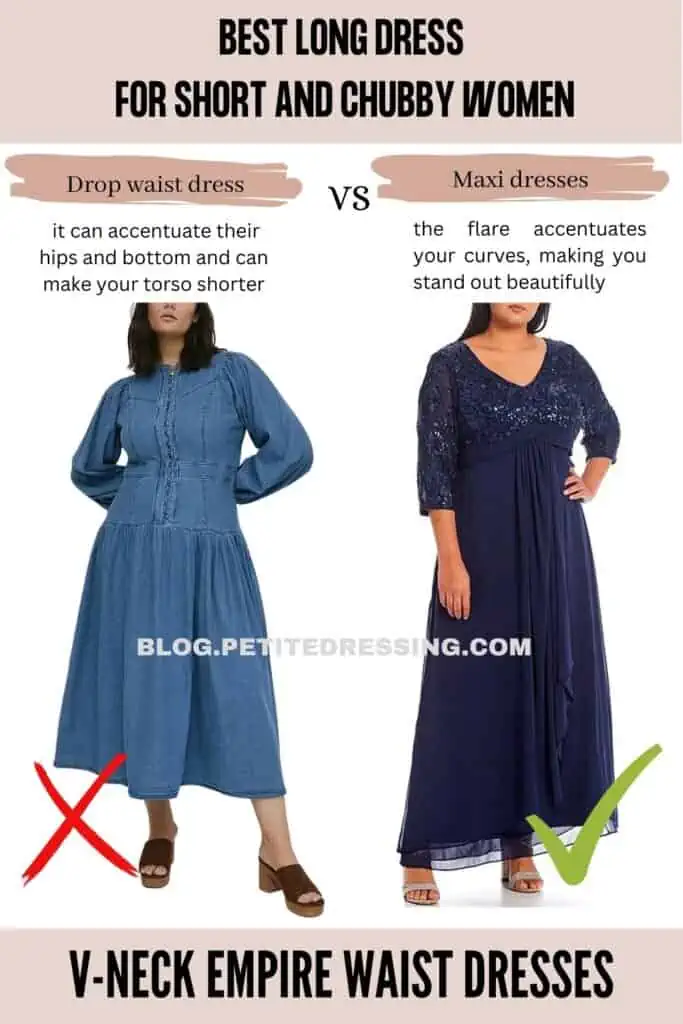 High-low hemline
Dresses with high-low hemlines have always been a win for short and chubby women because they do a good job of elongating the legs and balancing out your body proportions. A high-low hemline features a longer hem at the back and a shorter hem at the front.
This has a great visual effect as it draws the eyes upwards which ultimately draws attention away from your tummy area and supports the illusion of longer legs. So, if you have a tummy bulge or muffin top, this dress can help you conceal it to your satisfaction.
This hemline also makes your dress look classy and interesting, especially when it flatters your curves. For a flowy and relaxed look, look out for high-low hemline dresses with an A-line. However, a more fitted style will give your body a great structure.
Any of these will flatter your figure and help you step out with more comfort and confidence. Short and chubby women should step out in dresses that reflect their personal style and make them look good. High-low hemlines can help you achieve this.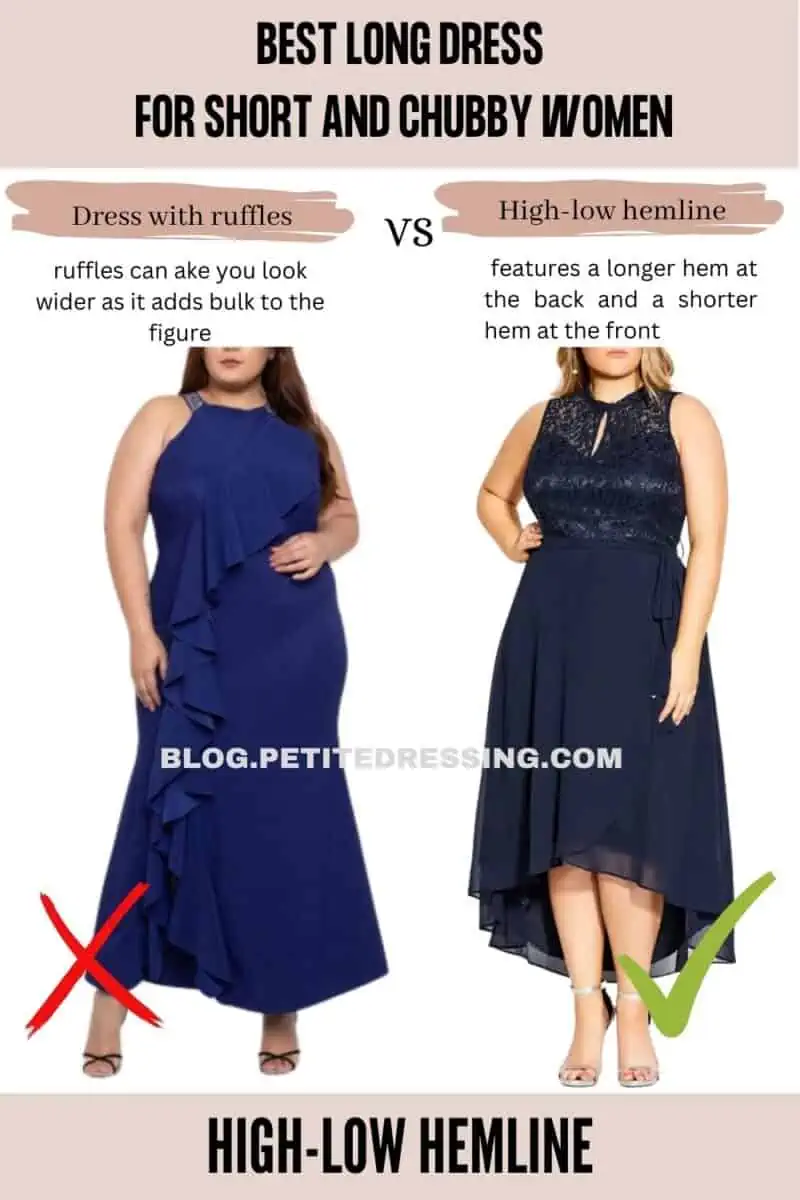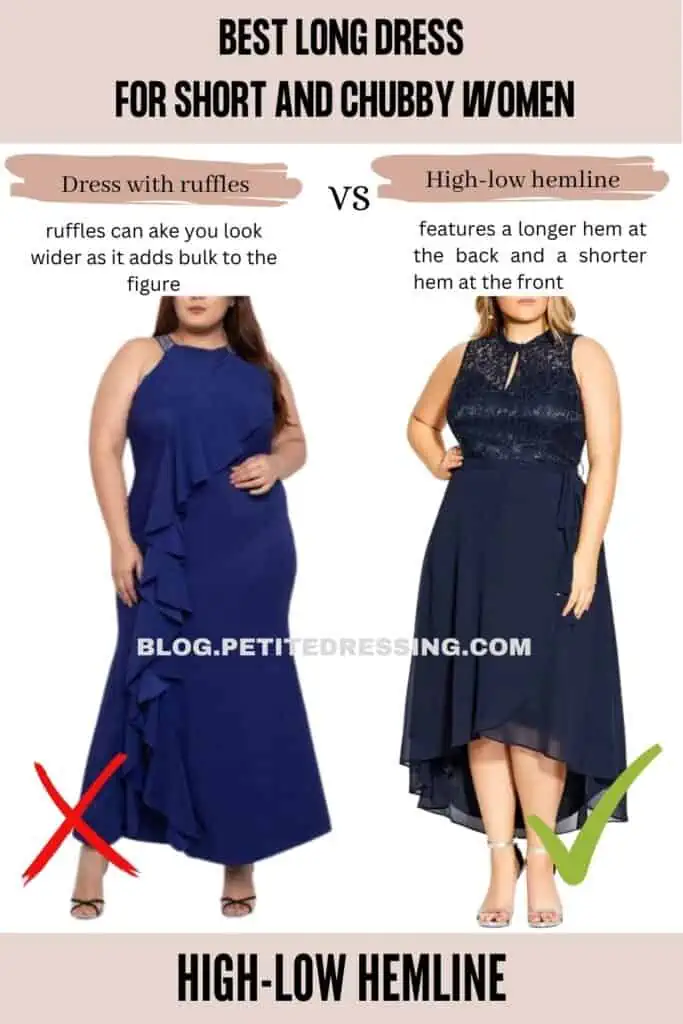 Avoid too much volume at the bottom
Dresses with too much volume at the bottom include ball gowns and corseted dresses. These style of dresses, while beautiful to look at, are not exactly flattering on the figure of short and chubby women.
You should avoid dresses with volume at the bottom as they have the visual effect of making the lower half of your body look bulkier. Therefore, this adds a lot more to your chubby frame, giving you a heavier figure.
The goal is not to look bigger. Therefore, dresses with a lot of volumes at the bottom should be avoided as this is the effect they have on a chubby body frame. They don't balance your body proportions as your lower body won't appear proportionate to your upper body.
It might seem impossible for your lower half to appear bigger than your upper half, but a dress with too much volume at the bottom will do exactly this. Instead, opt for dresses that are not voluminous and take attention away from your lower body.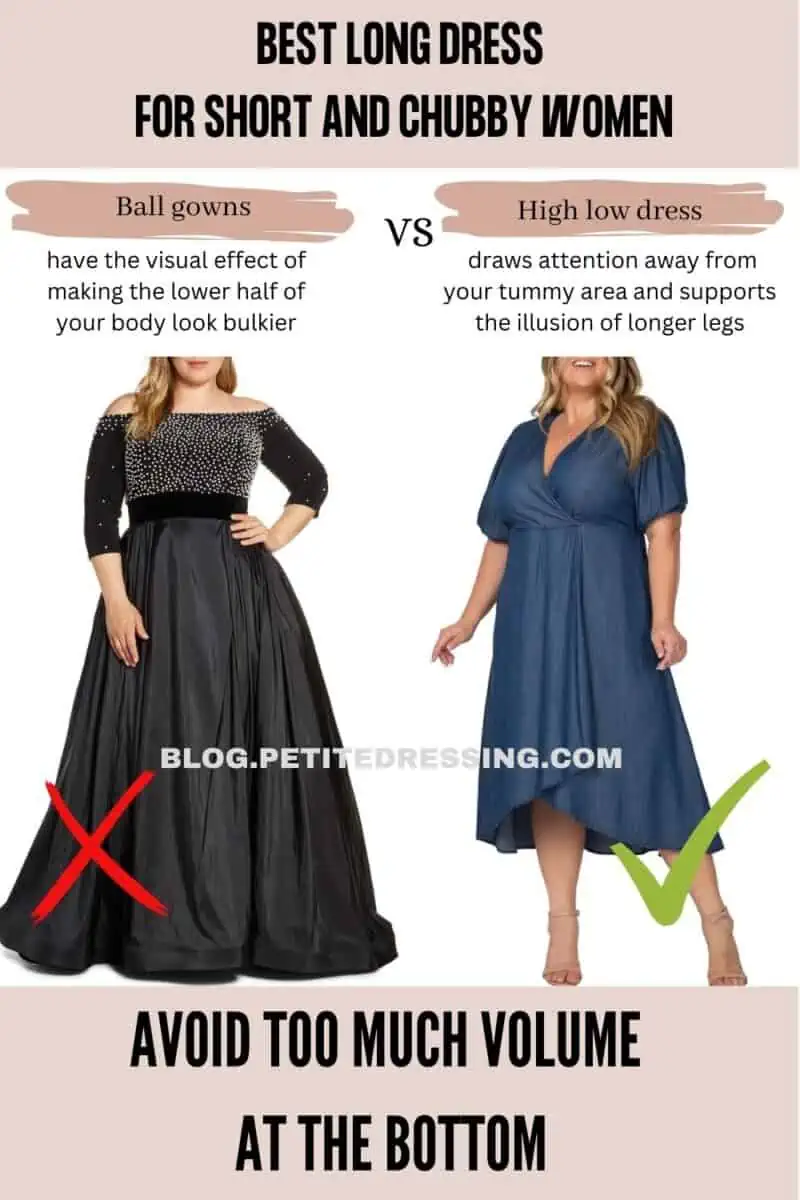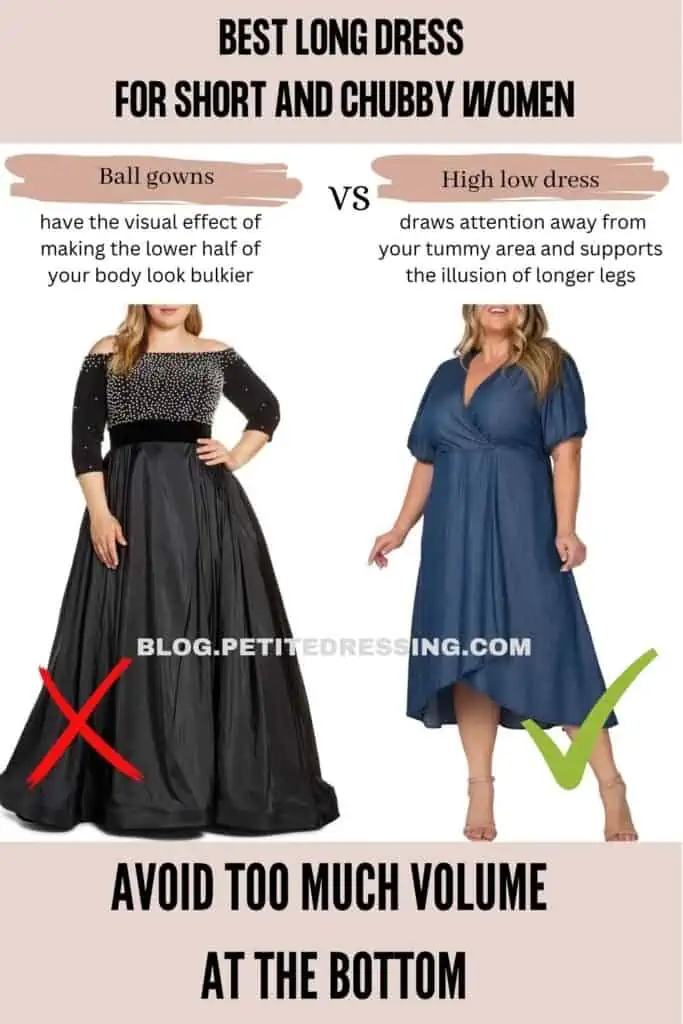 Avoid drop waist
Dresses with a dropped waist are known to have a shortening effect on the body frame of short and chubby women. This is because they emphasize your midsection area, which draws more attention to your tummy bulge.
This results in the illusion of a heavier figure, where your body frame looks wider and shorter. This dropped waistline also falls below your natural waistline which adds to the illusion of your midsection appearing larger.
If you don't have a defined waistline, this won't look good on your figure. Your best bet are dresses that cinch on your waist without being too clingy and flow outwards to highlight your curvy figure while giving a slimmer silhouette.
Since you'll be getting the opposite of this when you wear dresses with a dropped waist, we highly recommend avoiding this dress style completely. Dress styles that are more flattering for short and chubby women including A-line and empire-waist dresses instead.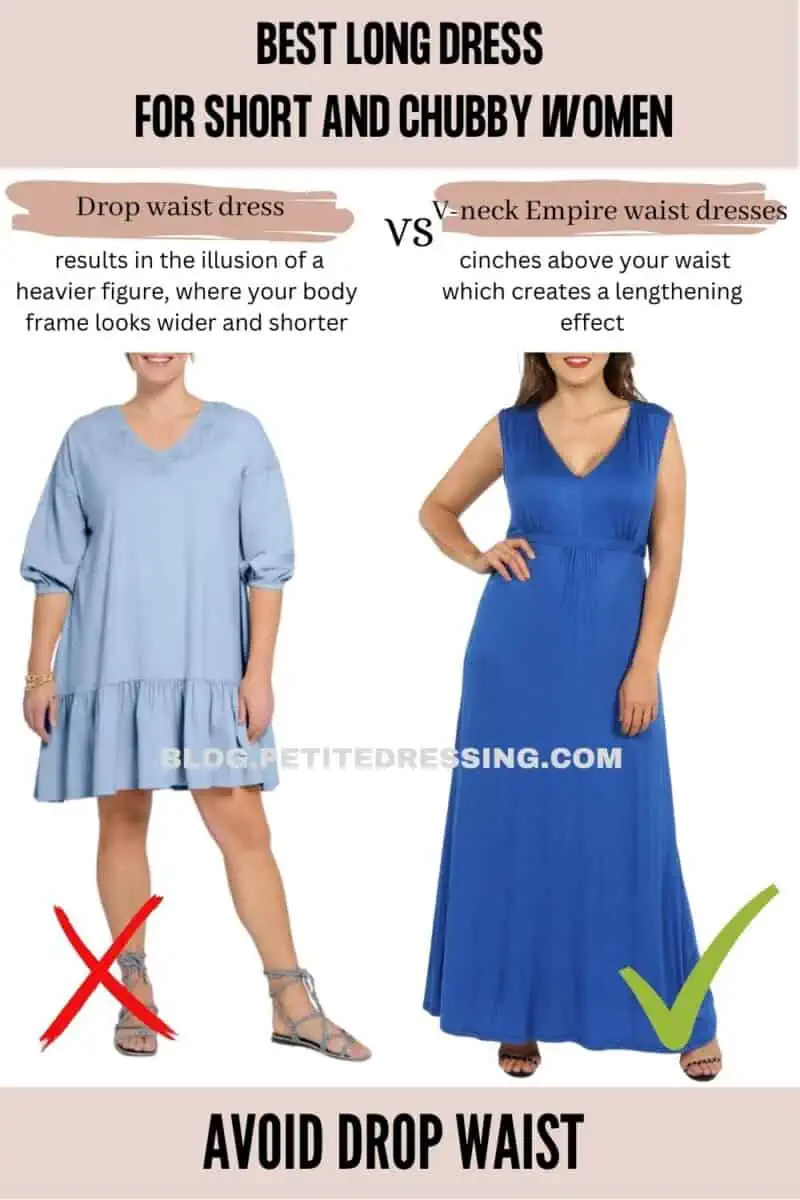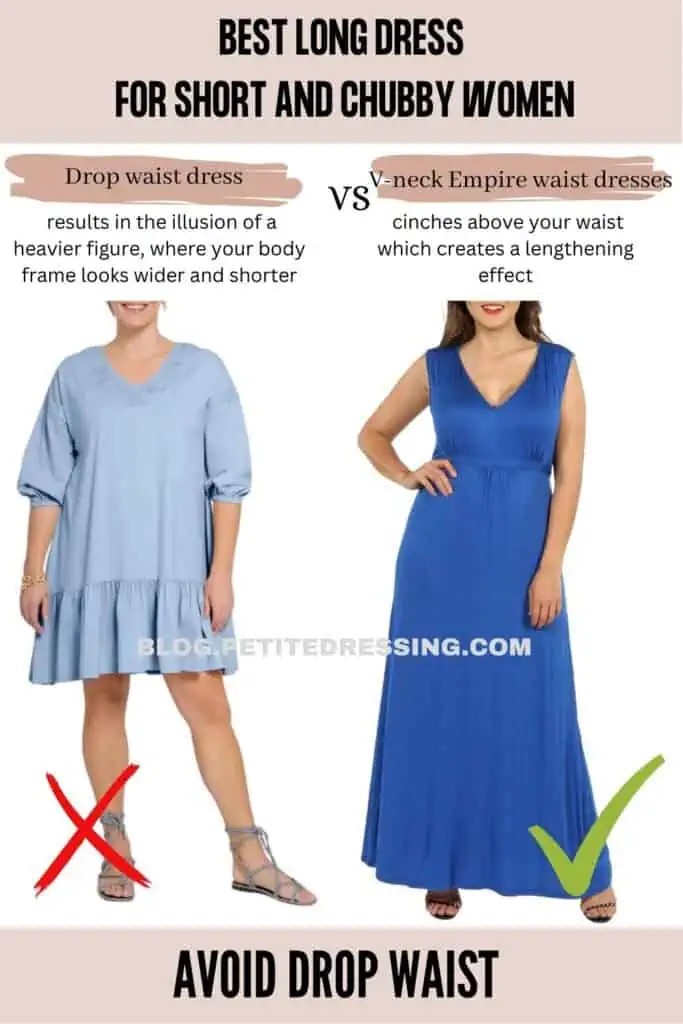 Avoid dresses with excessive ruffles
Dresses with excessive ruffles are a great example of dress styles with too much volume at the bottom. These excessive ruffles could also be around the midsection where they add more bulk.
Ruffles are great on dresses when they are strategically placed and not so much that they draw more attention than they should. Excessive ruffles visually add more volume to your body.
Therefore, this will only make you look heavier and draw more attention to any area where the ruffles are. So, if you have a tummy bulge and wear excessive ruffles around this area, this will only make your muffin top more obvious.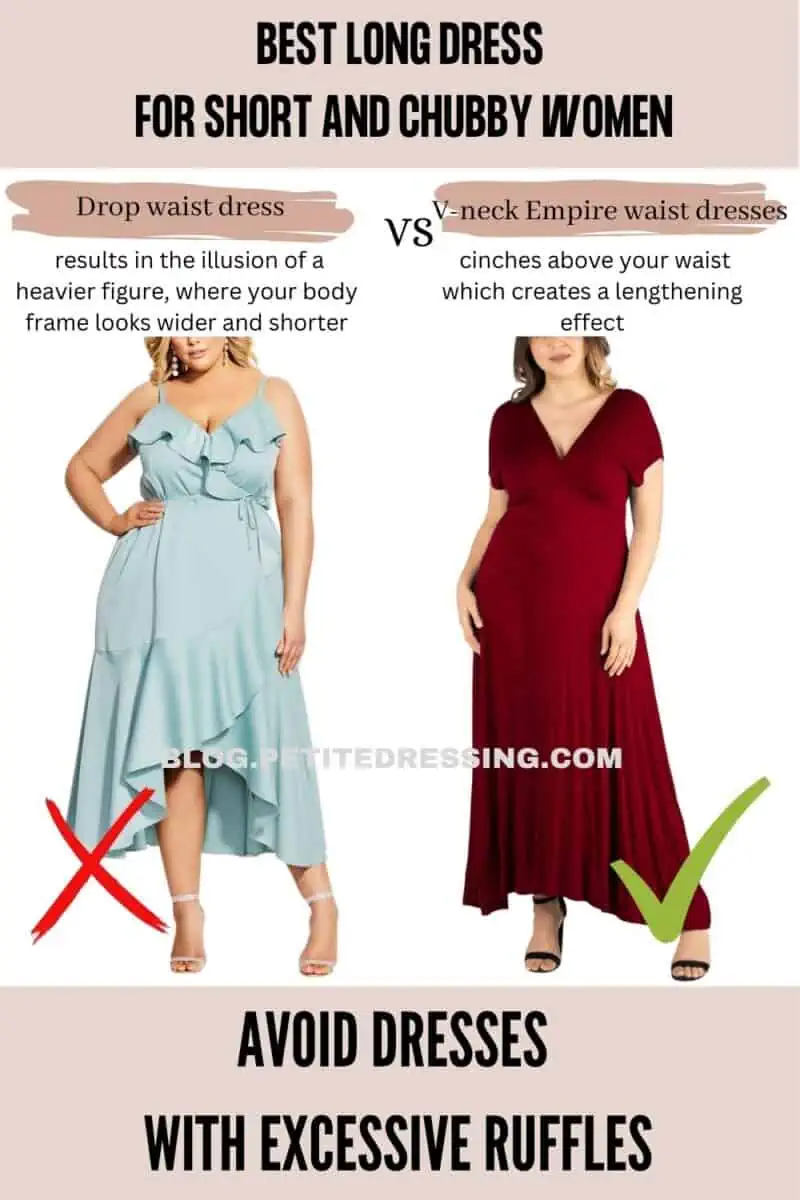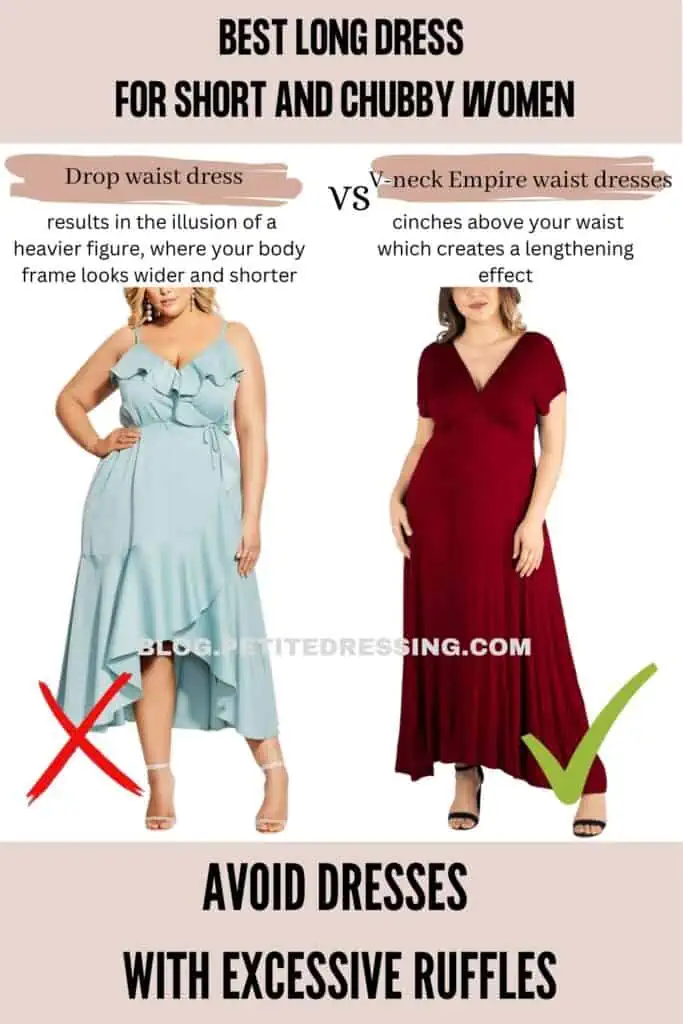 Long dresses can make you stand out and highlight your figure perfectly. Any of the dress styles on our list will make you look amazing. So, be sure to add your unique touch to make the styles truly yours.